Set just 20 minutes east of Savannah, there are plenty of fun things to do on Tybee Island, Georgia!
This beautiful barrier island offers classic coastal attractions including gorgeous beaches, a historic lighthouse, and a famous pier.
It's also a mere 18 miles away from the famous Savannah Historic District (hence Tybee's nickname of "Savannah's Beach").
Whether you're planning to take a day trip to Tybee from Savannah or hoping to spend several days stretched out on the sand, here's what to do on Tybee Island, GA!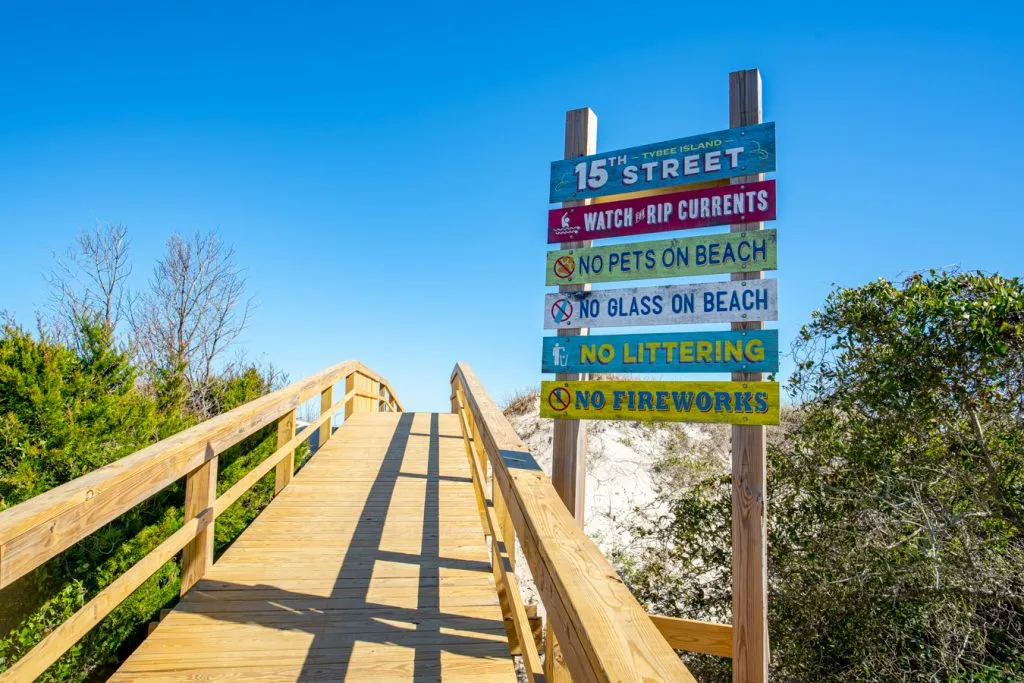 Some links in this post may be affiliate links. If you make a purchase through one of these links, we may earn a small commission at no extra cost to you. Please see our

disclosure policy

for more detail.
The Best Things to Do on Tybee Island, Georgia
Climb the historic Tybee Island Light Station.
Climb all 178 steps of the Tybee Island Light Station, and you'll be rewarded with gorgeous views of the island and coastline!
Once you reach the top, you can walk 360 degrees around the top of the lighthouse in order to enjoy the view from all angles.
At 145 feet tall and with a history going back more than 250 years (though it has been rebuilt several times), the Tybee Island Light Station is both the tallest and the oldest lighthouse in Georgia.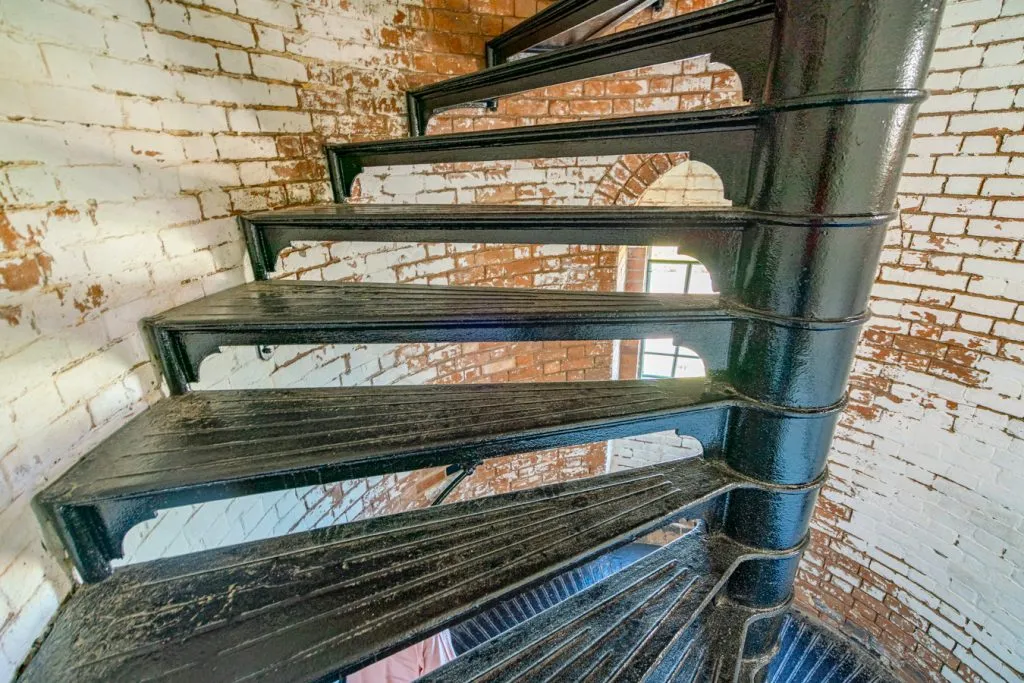 Without a doubt, climbing the lighthouse is one of the most iconic activities in Tybee, and should not be missed!
Once you finish climbing the lighthouse, you can also explore the 3 Light Keeper's cottages that are on the property and explore the history of the lighthouse and the people who worked with it.
You can find updated hours and ticket prices here.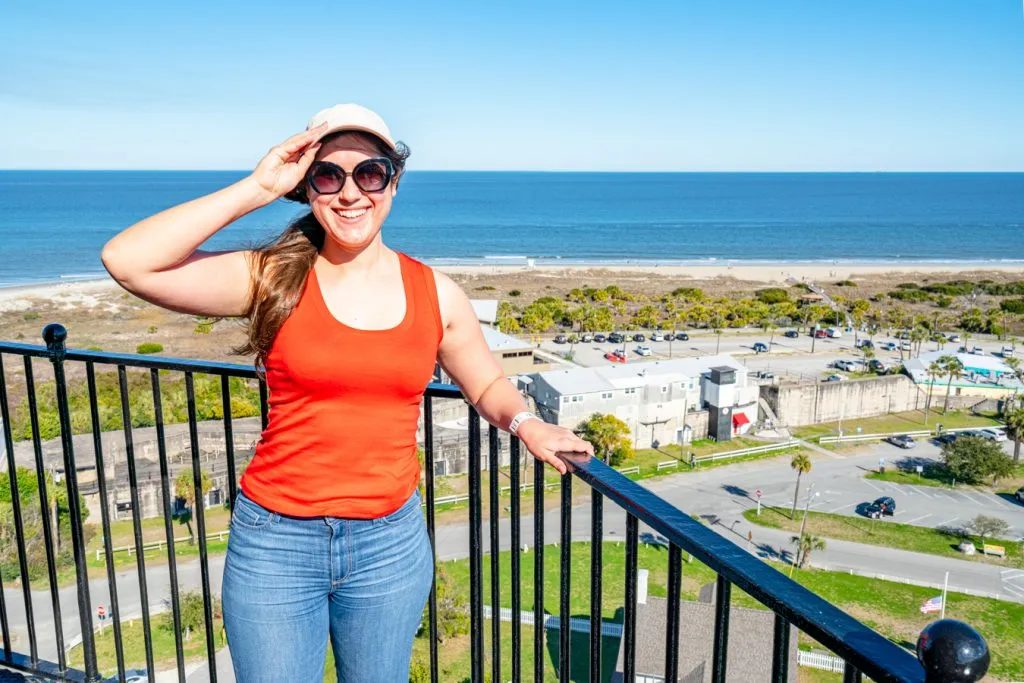 … and visit the nearby Tybee Island Museum.
Right across the street from the lighthouse, you'll find Battery Garland, which dates to 1899 and houses the Tybee Island Museum.
Here, you'll find everything from the history of Fort Screven to details of Tybee Island's growth to information about the Euchee tribe that originally called the barrier island home.
There's no better place to familiarize yourself with the history of Tybee Island, Georgia.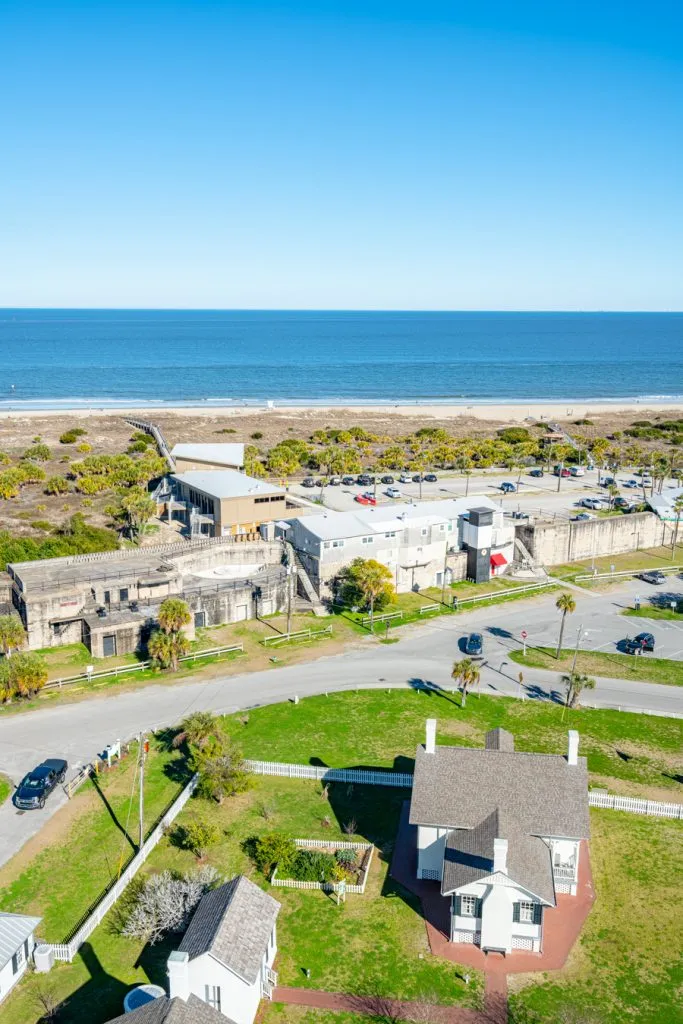 Take a dolphin tour around Tybee Island.
One of the top things to do in Tybee is to enjoy the wildlife–starting with the playful bottlenose dolphins that call the area home!
This popular dolphin cruise is a fantastic way to spot dolphins in their natural habitat, while also enjoying magnificent water views and keeping an eye out for other local wildlife.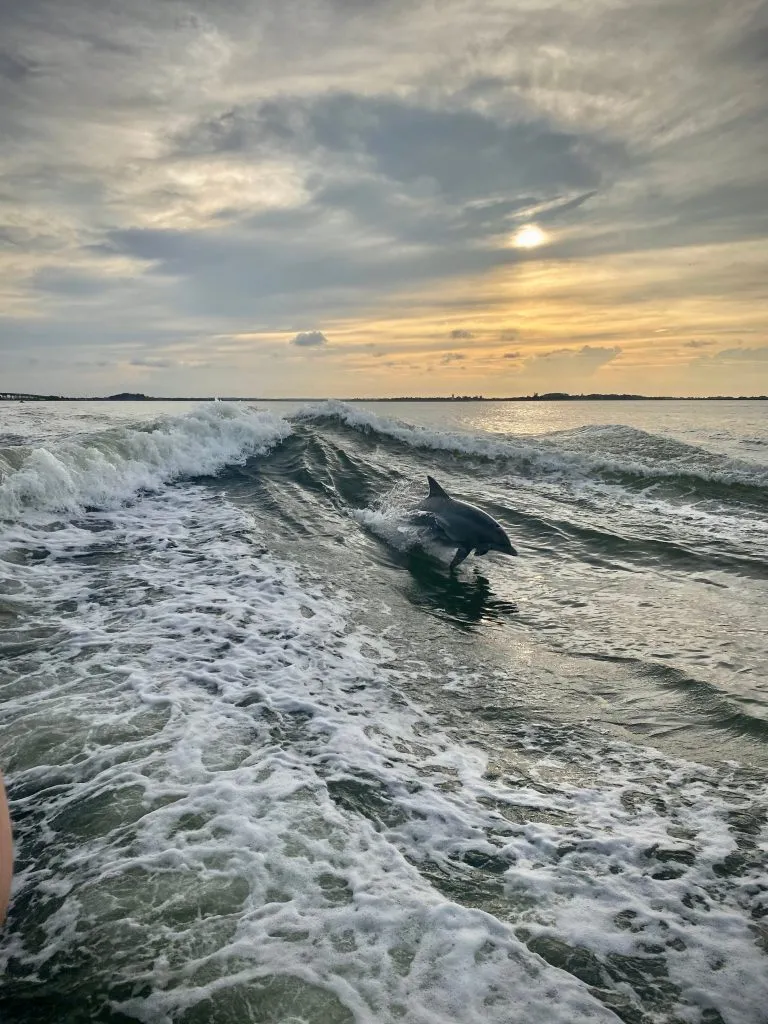 Learn about the local environment at the Tybee Marine Science Center.
Hoping to learn more about Tybee Island's local environment and wildlife?
Head over to the Tybee Marine Science Center in North Beach!
From hands-on exhibits to nature walks, the Tybee Marine Science Center is one of the best places to visit on Tybee Island.
While the main, brand-new facility is a must-see, be sure to also check here to see if there are any interesting educational events happening during your trip!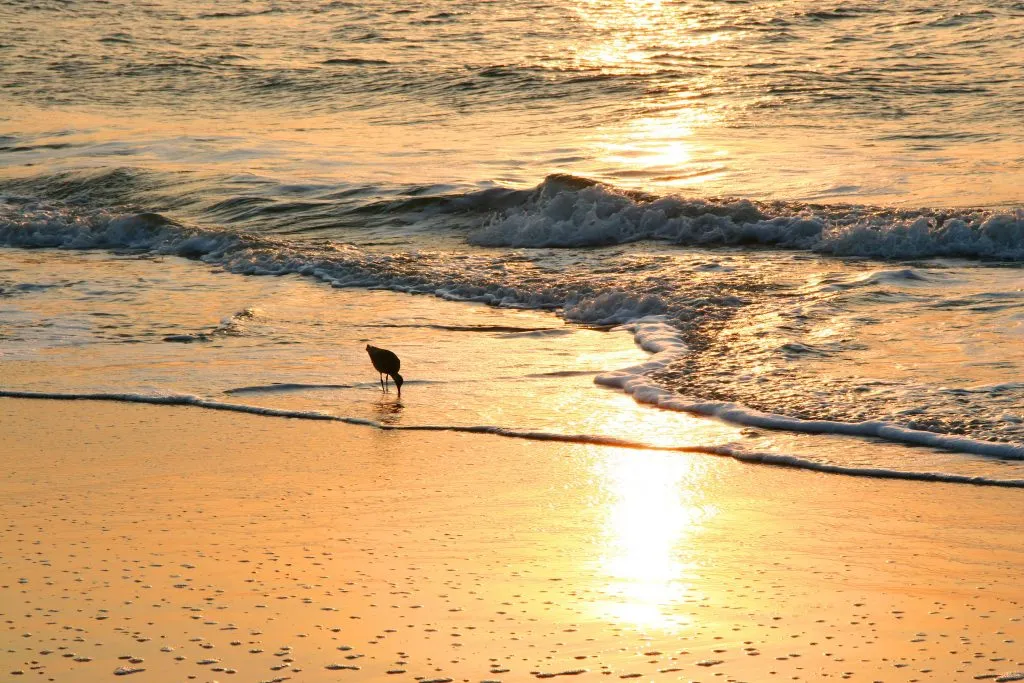 Kayak to Little Tybee Island.
Here's a twist: "Little Tybee Island" is actually twice the size of Tybee Island itself!
This quiet, uninhabited island is a nature preserve, and can only be accessed by water.
While visitors can easily rent a boat to experience this unique island, a more hands-on approach is simply to kayak from Back River over to Little Tybee Island.
No matter how you choose to get there, be sure to ask about the tides and keep an eye on the time: the tide dramatically changes Little Tybee Island as it moves in and out.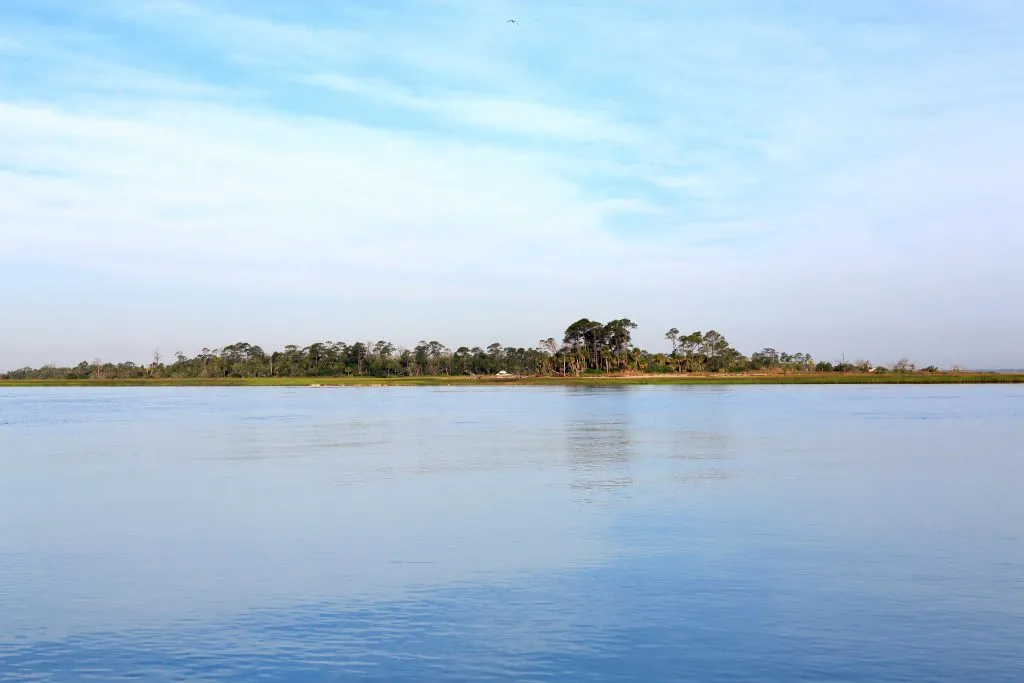 Soak in the views from the Tybee Island Pier and Pavilion.
One of the most-visited places on Tybee Island, the Tybee Island Pier and Pavilion has a long history in Georgia.
The original pier dates to 1891, though it burned down in the 1960s before being rebuilt into the Tybee Island Pier and Pavilion we know and love today.
Located at the end of Tybrisa Street, the pier is known for its beautiful views, fishing opportunities, and being a popular place to hold events on the island (you can even rent the pavilion for weddings!).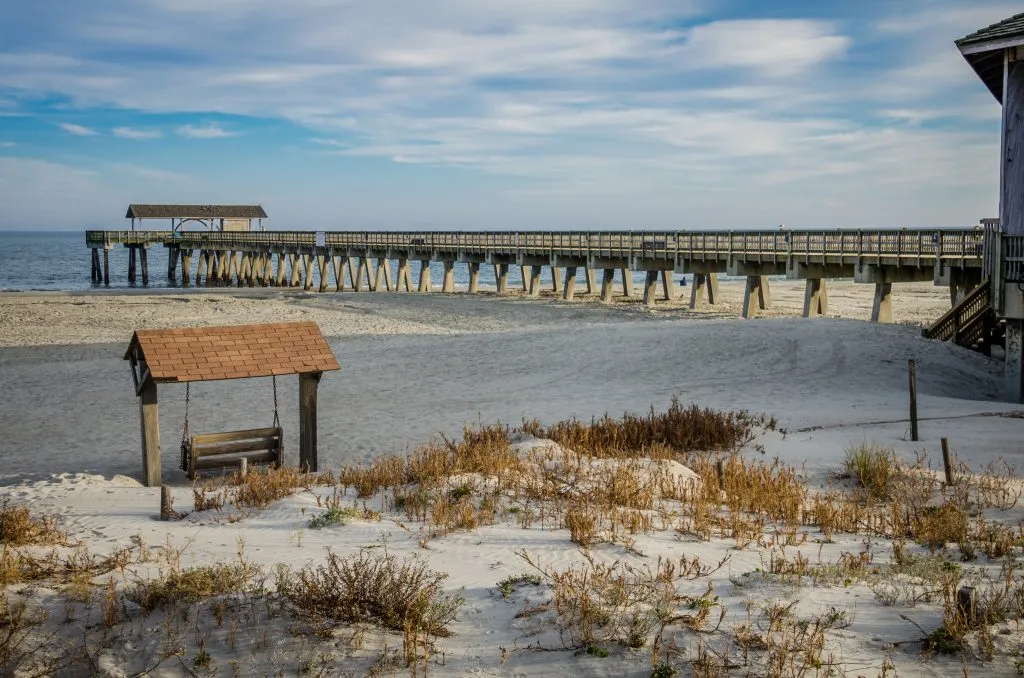 Explore Savannah's Beach by bike.
Tybee is a small, easy-to-navigate island that is incredibly flat and exceptionally casual–in other words, it's the perfect place to explore by bike!
There are plenty of shops in Tybee that will rent bikes by the hour or day, and they make it easy to explore Tybee's different beaches, restaurants, and shopping districts, without having to rely on a car.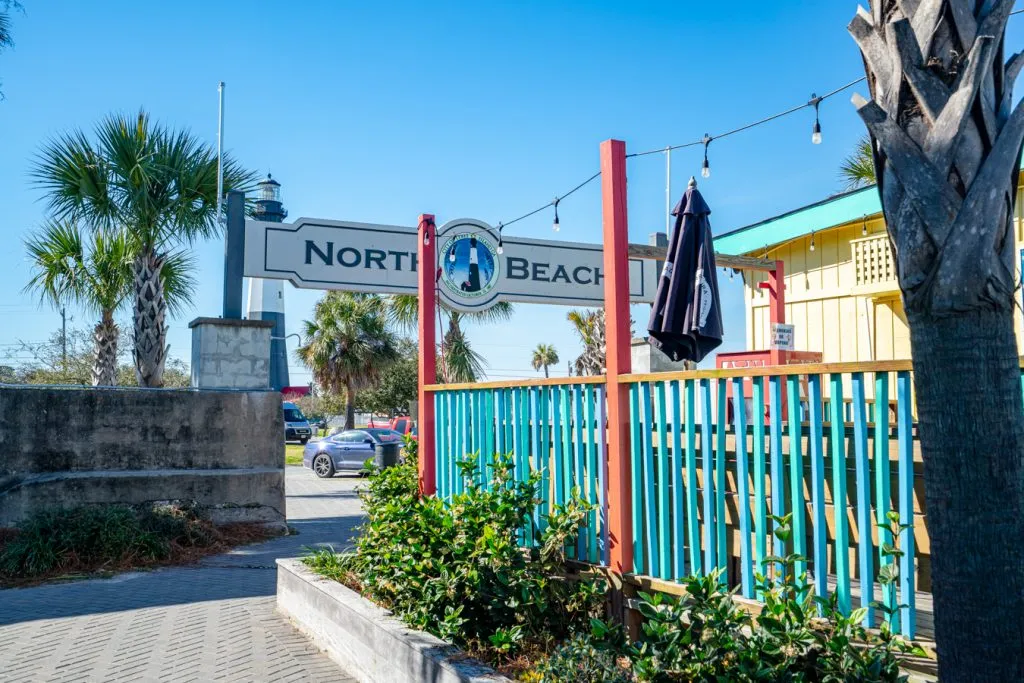 Enjoy laid-back island dining.
From seafood at A-J's to ice cream at the Sugar Shack to breakfast at Sunrise Restaurant, you'll find plenty of tasty restaurants on Tybee Island, GA!
Tybee's restaurants, generally speaking, tend toward being extremely casual–all the better to relax and enjoy a classic beach vacation.
Popular restaurants do get busy, so if you have your heart set on enjoying dinner while watching the sunset, consider making reservations to ensure you don't miss the view.
Watch the sunset from one of Tybee's beaches.
No trip to Tybee Island is complete without watching the sunset over the water!
Whether you enjoy the sunset from a restaurant, the pier, or on the beach itself, make sure to soak in every second.
Of all the beaches on Tybee (more on that below), Back River is best known for its incredible sunsets.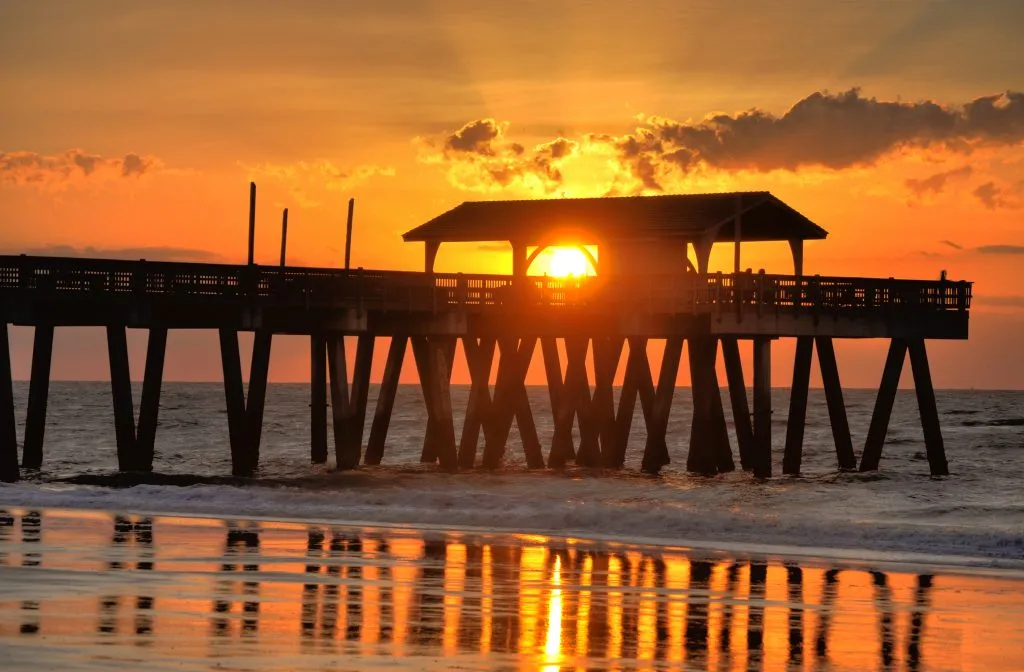 Relax on the beach!
With more than 3 miles of sandy beaches to choose from, there's no shortage of places to dig your toes in the sand on Tybee Island!
Each Tybee beach (and for most of them, their corresponding neighborhood) on the island has its own personality, and the perfect Tybee Island vacation deserves a visit to all of them!
From North Beach (near the lighthouse and close to excellent shops) to Back River (quiet and known for its sunsets) to South Beach (by the pier), visitors to Tybee are spoiled for choice.
You can get the details on each beach, plus the rules you need to follow (for example, no dogs are allowed on the beaches in Tybee Island, much to Ranger's chagrin), here.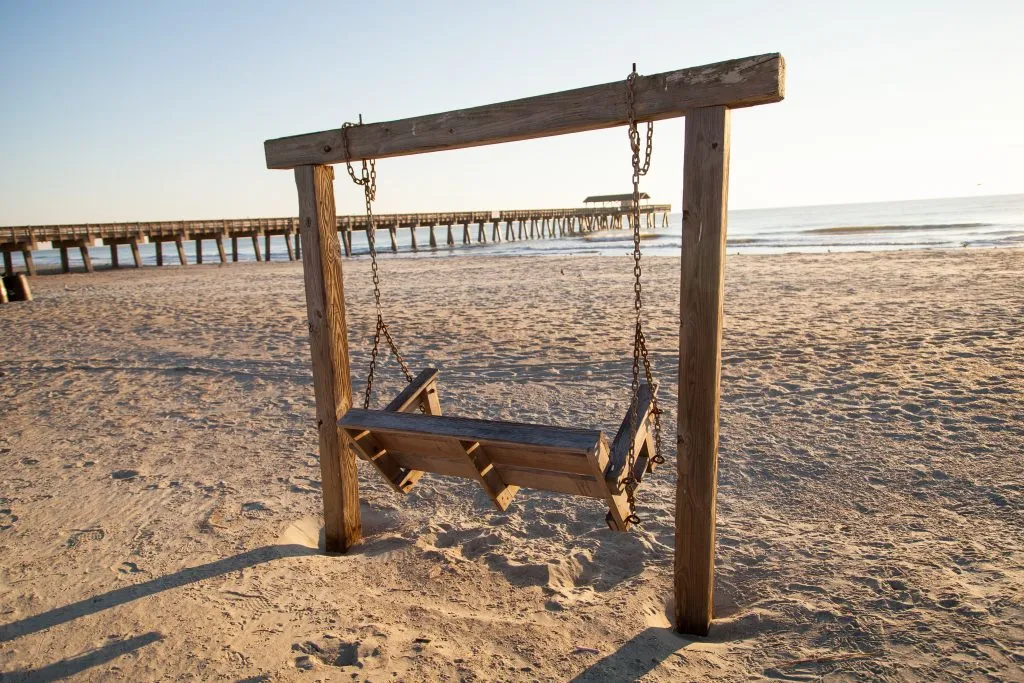 Go fish!
Want to do a little fishing when visiting Tybee Island?
The Tybee Island Pier and Pavilion is a popular place to fish, as is Fisherman's Walk and the Lazaretto Creek Pier.
Alternatively, you can easily arrange a fishing charter if you want to make a day of it.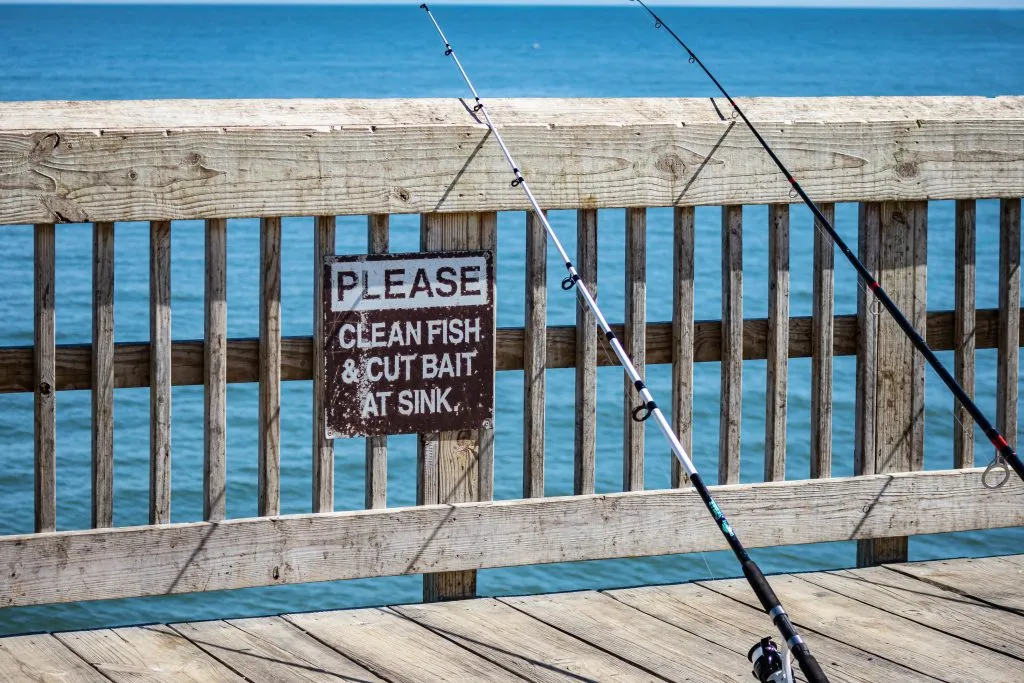 Fun Things to Do Around Tybee Island
Explore beautiful Savannah, Georgia.
Tybee Island may be known as one of the best day trips from Savannah, but if you'd rather stay at the beach, there's no reason why you can't flip that around and visit Savannah as a day trip from Tybee instead!
While you're there, explore some of the 22 squares of Savannah, stroll down Jones Street, explore Forsyth Park, tour a house museum or two, and check out the popular River Street.
One day won't be enough to cover all the fun things to do in Savannah, but you can certainly get a taste (literally and figuratively–Savannah's restaurant scene is magnificent) of one of the most beautiful cities in the USA!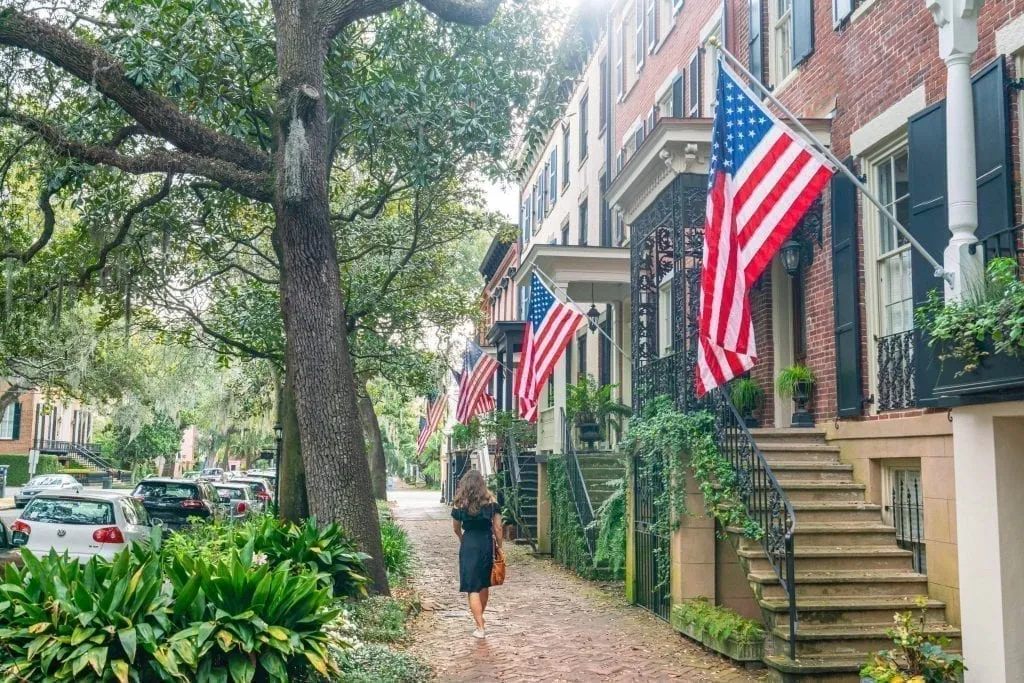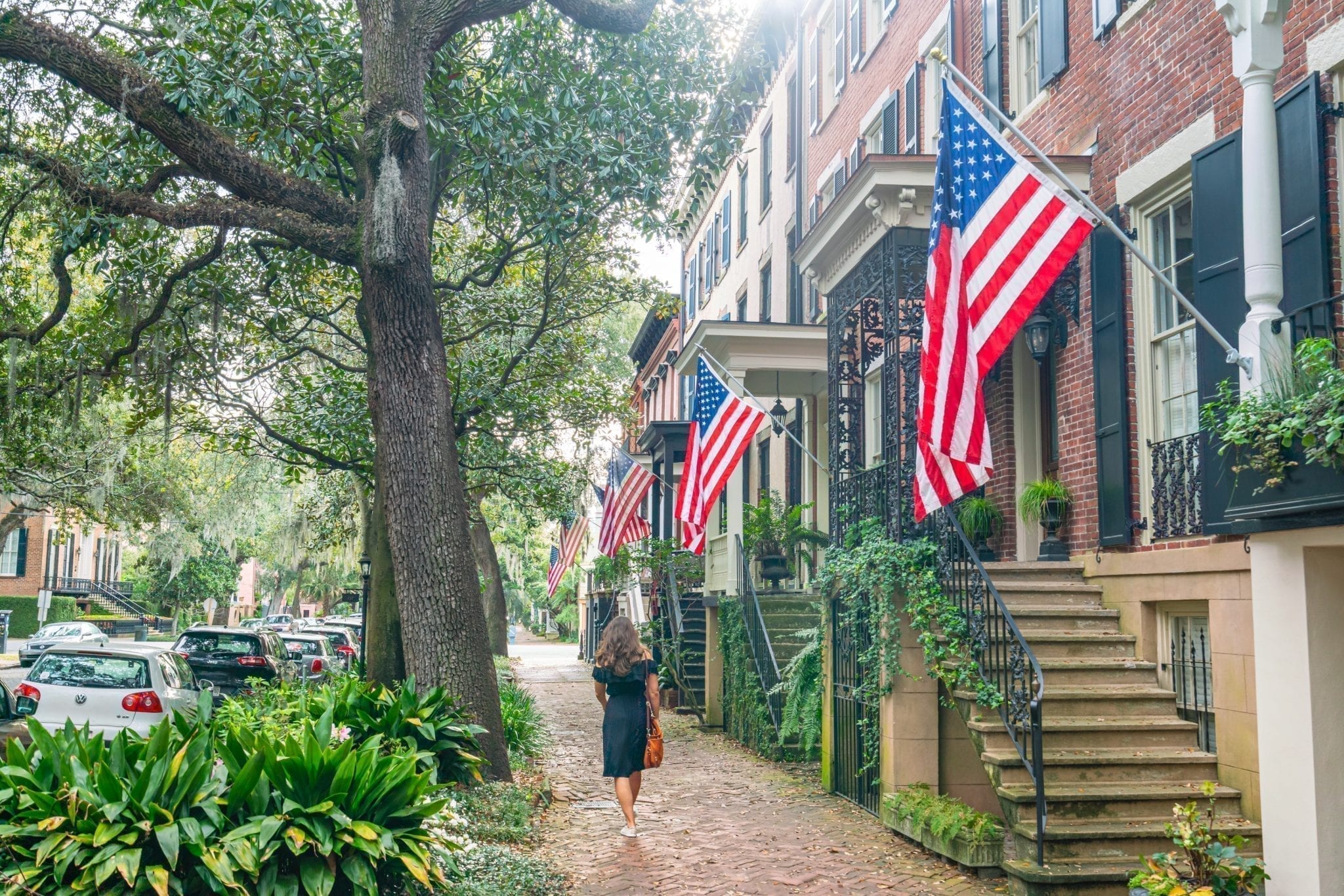 Visit Fort Pulaski National Monument.
Located on Cockspur Island between Savannah and Tybee Island, Fort Pulaski National Monument is a fantastic place to stop when driving between the two destinations.
Built in the mid-19th century and surrounded by an impressive moat, Fort Pulaski is an imposing structure that is packed with history.
Like so many forts along the Atlantic Coast, Fort Pulaski played a role in the Civil War.
The sole battle that took place at Fort Pulaski was between Union and Confederate troops, which ended in the Union taking control of the fort in 1862 and maintaining control of it from then on.
While you're there, be sure to tour the fort and associated museum, as well as sample one of the beautiful nature trails that show off views of the Savannah River, the surrounding marsh, Tybee Island, and more.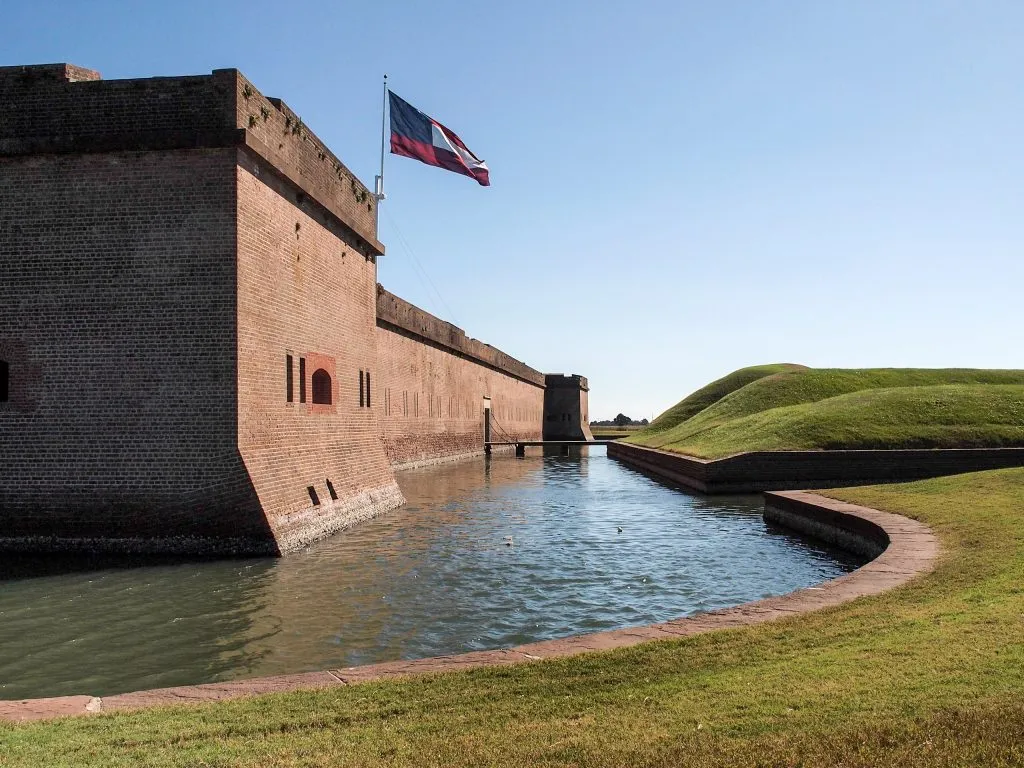 Where to Stay on Tybee Island, GA
Planning to spend the night (or several) soaking up the sunshine on Tybee Island?
Many visitors opt to stay in homes or apartments that operate as self-catering vacation rentals like this beautiful property (which is managed by the same company who runs this property we love in Savannah).
Prefer a more traditional hotel?
The popular Admiral's Inn is located in downtown Tybee, perfect for accessing shops, restaurants, and the beach on foot!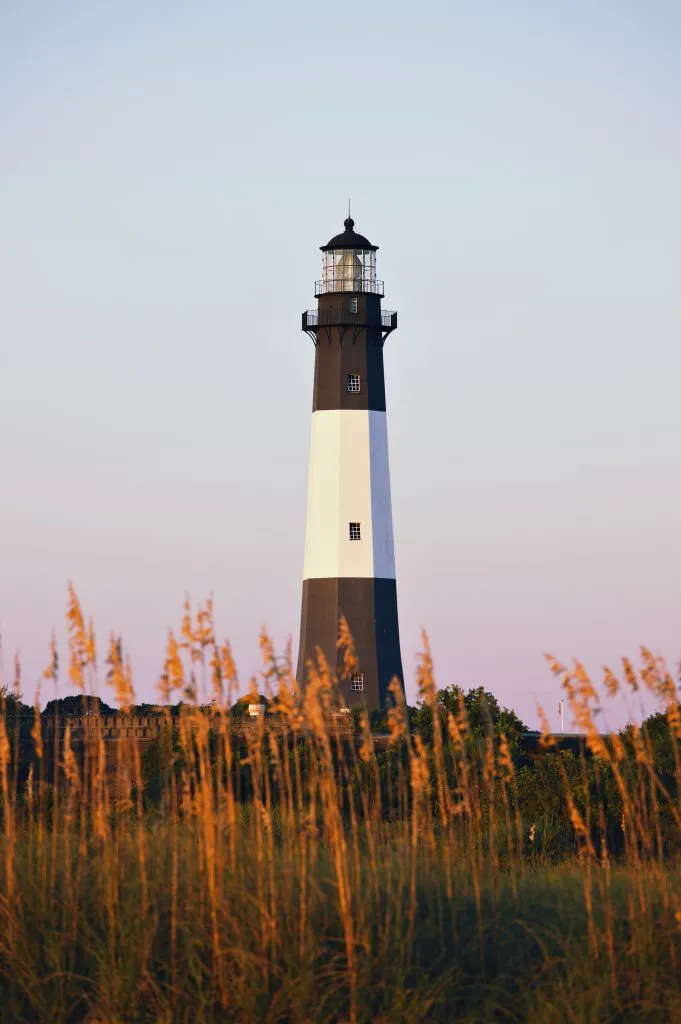 Where is Tybee Island, Georgia?
Tybee Island is a barrier island located in northeast Georgia, roughly 25 minutes (or 17 miles) east of Savannah.
If you're visiting the island as part of a trip to Savannah, you can easily combine some of the best things to do on Tybee Island with visits to Bonaventure Cemetery and Fort Pulaski National Monument.