Of all the cuisines in all the world, southern food continues to be one of our favorites, immediately pulling me to the nostalgia of dishes from my childhood–and the food in Savannah's restaurants is among the best of the best!
More specifically, food in Savannah isn't just southern food, it's Lowcountry food.
Sprouting from the eastern marshlands of modern-day Georgia and South Carolina, Lowcountry food is traditionally inexpensive southern comfort food with an emphasis on local ingredients. 
Today, outside of the south, Lowcountry cuisine is most commonly associated with the world-class restaurants in Savannah and Charleston, but traditionally, it's more of a homegrown affair.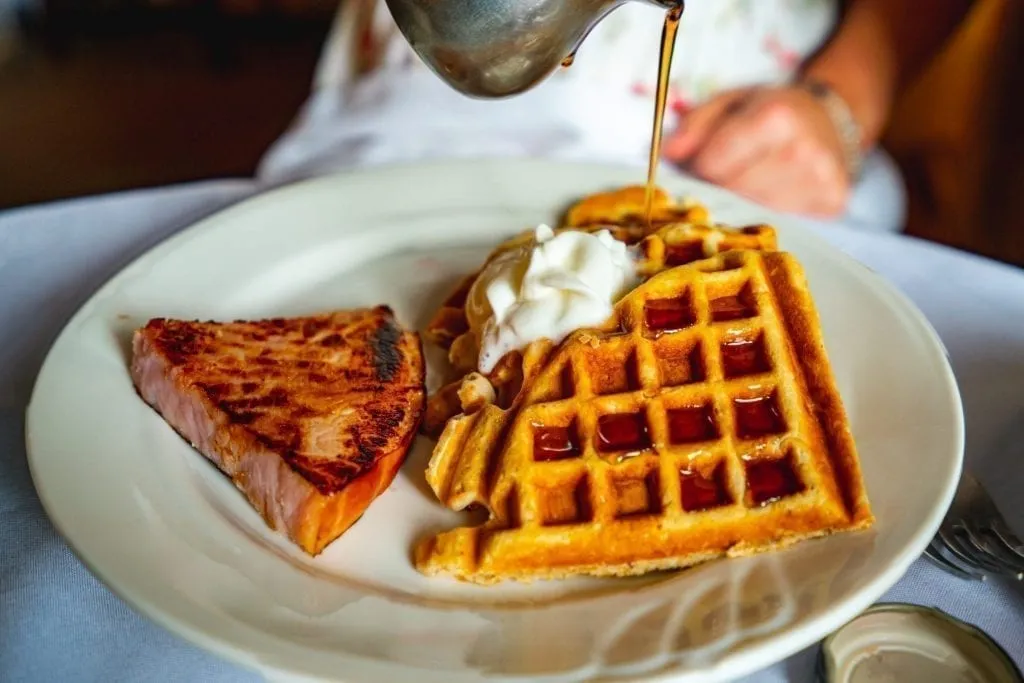 You'll see plenty of rice and seafood on Lowcountry tables, as well as tomatoes, grits, peaches, and of course popular southern staples like biscuits, chicken, and sweet potatoes.
If you're headed to Lowcountry for the first time and trying to decide what to eat in Savannah as well as what Savannah restaurants to head to first, this introduction to the best food in Savannah has you covered!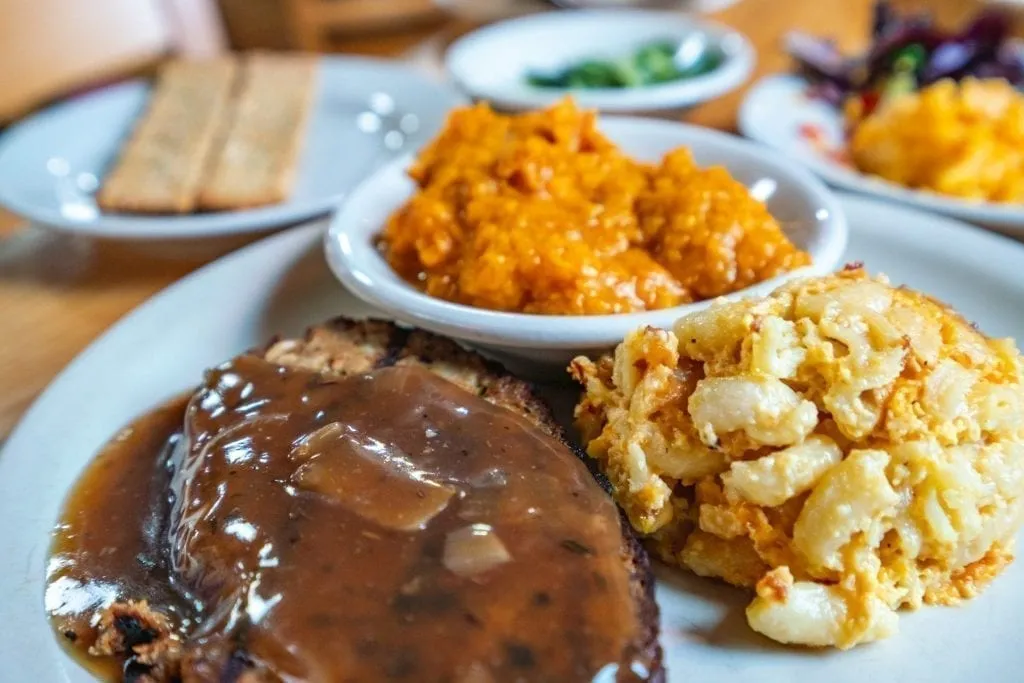 Quick Note on Our Savannah Food Guide
We've tried to be as comprehensive as possible when putting together this Savannah food blog, but of course, we can't possibly include every dish and amazing restaurant, especially as they are ever-changing.
We hope to update this Savannah blog post regularly to keep it current.
Also, I'd like to specifically make it clear that this is an independent guide, and none of these recommendations are (or ever will be) paid placements.
They are all either restaurants in Savannah that we've personally eaten at or have on our Savannah food bucket list based on recommendations we trust.
How to Try Many of These Savannah Foods at Once
Want to sample several of the best foods in Savannah in one fell swoop, or simply want to be able to try small bites of each so you don't accidentally order something you don't like?
Consider signing up for a Savannah food tour!

This popular tour will teach you a bit about Savannah's history and cuisine, all while you get to enjoy a wide variety of classic Savannah foods.
We love taking food tours as we travel, and try to take them early in our stays in new cities when we can–that way, we walk away with plenty of new favorites to try in local restaurants for the rest of our trip, which tends to lead to far more varied orders and adventurous eating along the way!
Book your Savannah food tour today!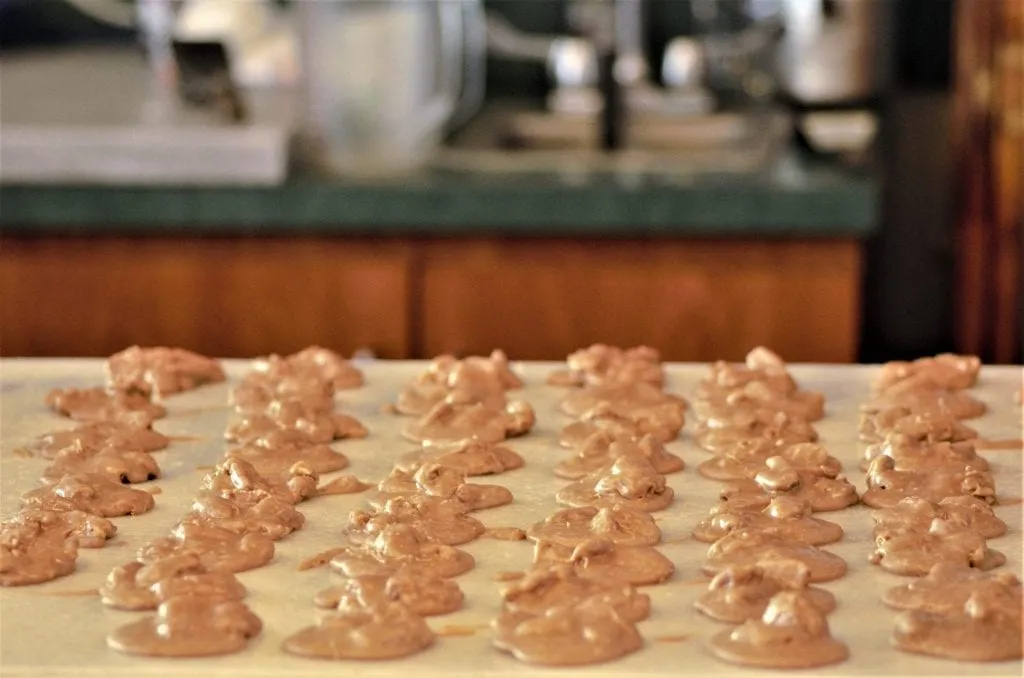 What to Eat in Savannah: 19 Delicious Savannah Foods to Try
Chronicling every single must-try food in Savannah would absolutely be an exercise in futility, but we've put together this section on what to eat in Savannah to give you an introduction to some favorites, and hopefully add a few new dishes to your Savannah food bucket list!
Shrimp & Grits
One of the most iconic Lowcountry foods out there, shrimp and grits is exactly what it sounds like: delicious grits topped with shrimp, served together in the same dish.
Outside of this particular meal, though, grits alone should make your list of things to eat in Savannah–they're a popular and delicious breakfast item!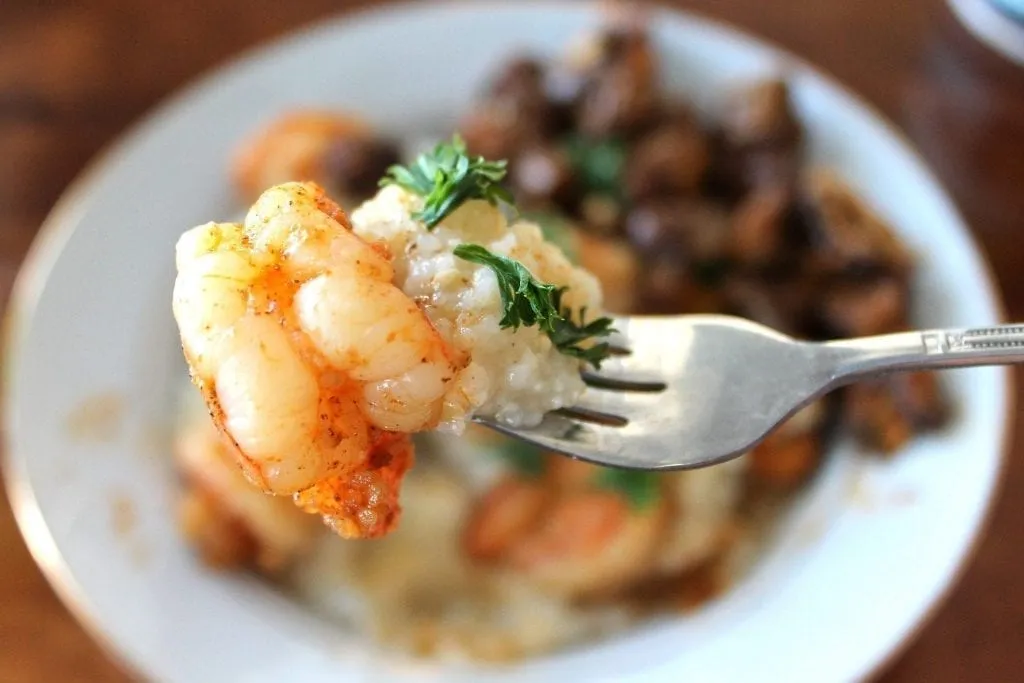 Biscuits & Gravy
No list of southern food items could ever skip over biscuits and gravy: commonly served both as a breakfast item and later in the day, there's nothing quite like a warm buttermilk biscuit topped with sausage gravy!
For lunch and dinner, it's common to see variations like this delicious biscuit from Treylor Park, served with a slice of fried chicken in the center: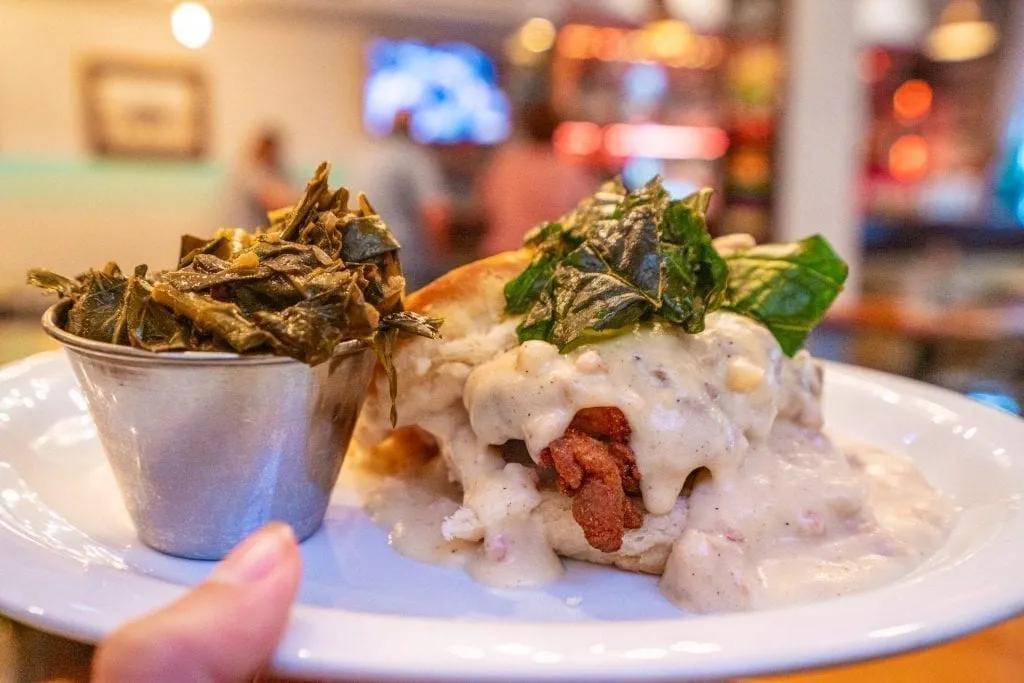 Pralines
Somewhere between a candy and a cookie (okay, mostly just a candy!), southern pralines are made of pecans, sugar, butter, and cream.
Originally hailing from French chefs in New Orleans, pralines are now a Savannah dessert staple as well, and an absolutely delicious treat… especially when a candy shop is handing out warm, freshly made samples.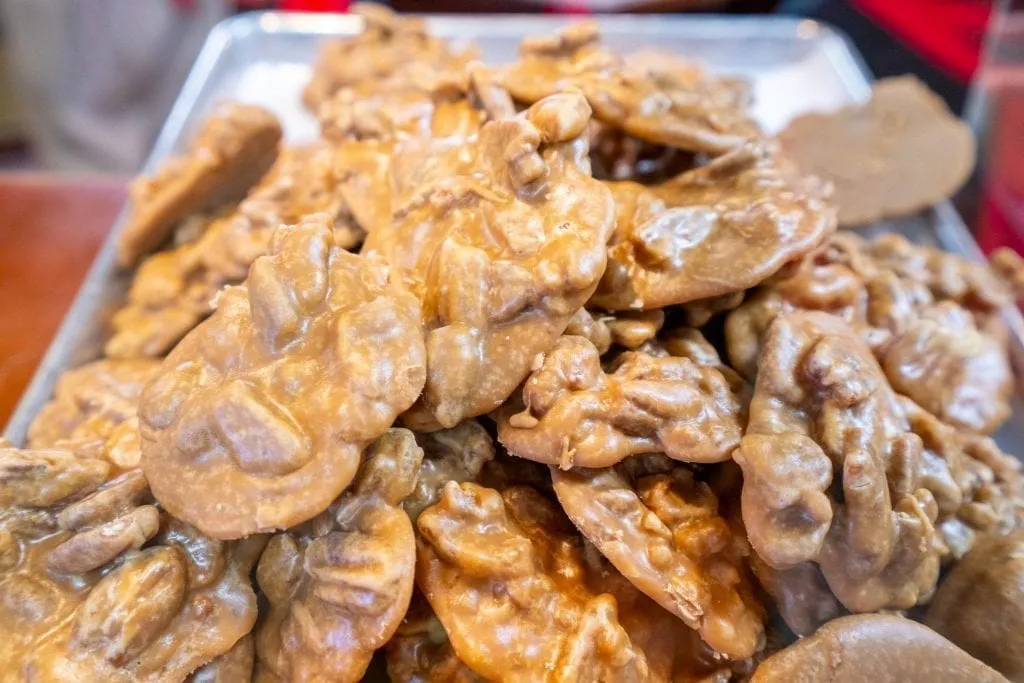 Fried Green Tomatoes
Perhaps better known as a cult-classic movie than a kind of food now, fried green tomatoes are an absolutely fantastic southern food!
Typically fried in cornmeal, you'll see fried green tomatoes offered both as appetizers in Savannah restaurants and incorporated into other dishes, like The Olde Pink House's famous (and phenomenal) BLT salad made with fried green tomatoes.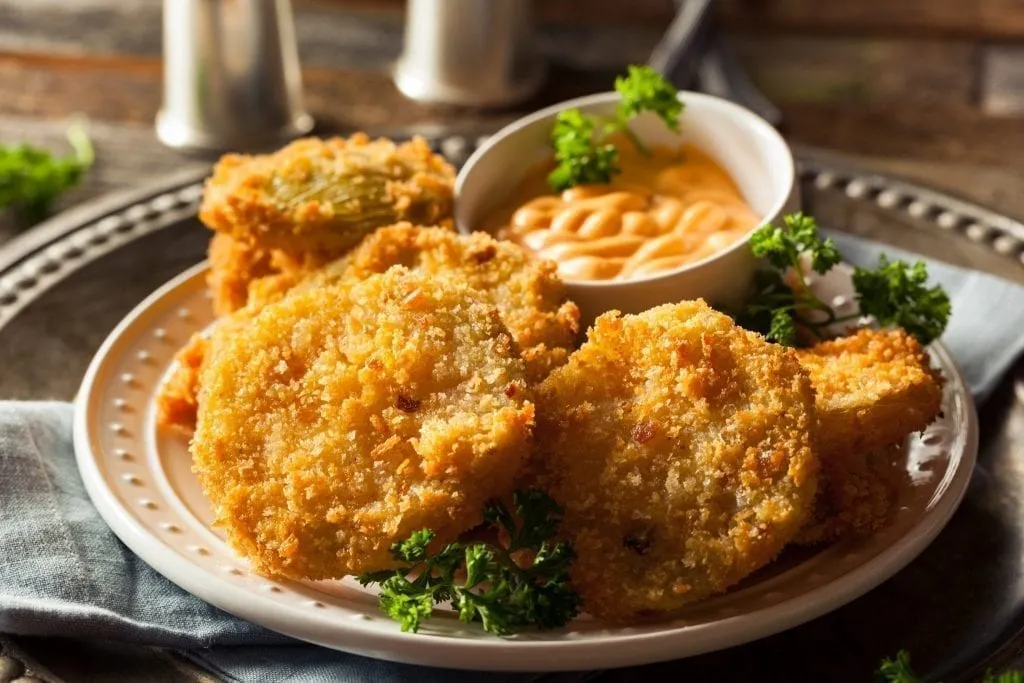 Peach Cobbler
Peach cobbler definitely lives up to its reputation: as one of the most famous southern desserts, peach cobbler definitely belongs on your list of Savannah dishes to try!
And, for that matter, so do peaches in general: you'll see them in plenty of recipes, but if you happen to be in town during Georgia peach season (aka summer), you definitely owe it to yourself to buy a wooden basketful of them from a roadside stand.
Fried Chicken
The holy grail of all southern foods is most definitely fried chicken, and while many cultures around the world have their own version, the south's is special (in our biased opinion, anyway).
Made of chicken coated in seasoned breading that is then fried, it's the spices in the seasoning that truly set southern fried chicken apart.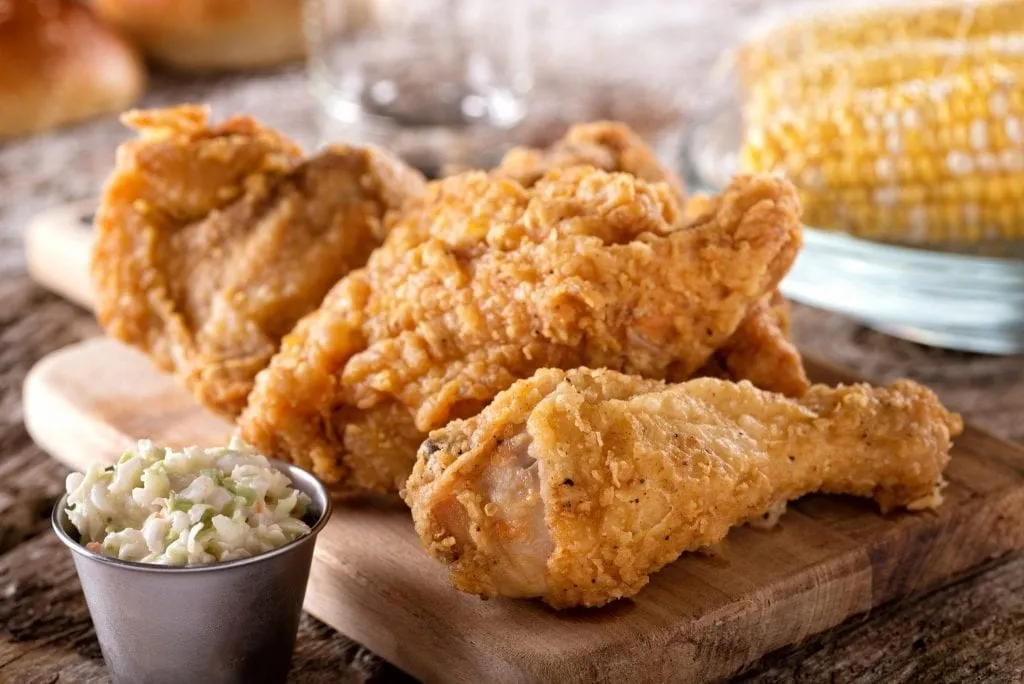 Collard Greens
Typically made with pork, southern collard greens are the example of an occasional vegetable-heavy dish amidst all the delicious carbs that make up much of traditional Lowcountry cuisine.
Pimiento Cheese
One of my personal lifelong favorite southern foods, pimiento cheese is a cheese spread of sorts made with cheddar cheese, mayo, and pimientos. If you're lucky enough to get served sweet, pickled peppers to go on top, even better!
Be sure to order this delicious dish at least once as you work your way through the best food in Savannah, GA.
It's often served as an appetizer and slathered across crackers, but also makes a phenomenal grilled cheese sandwich!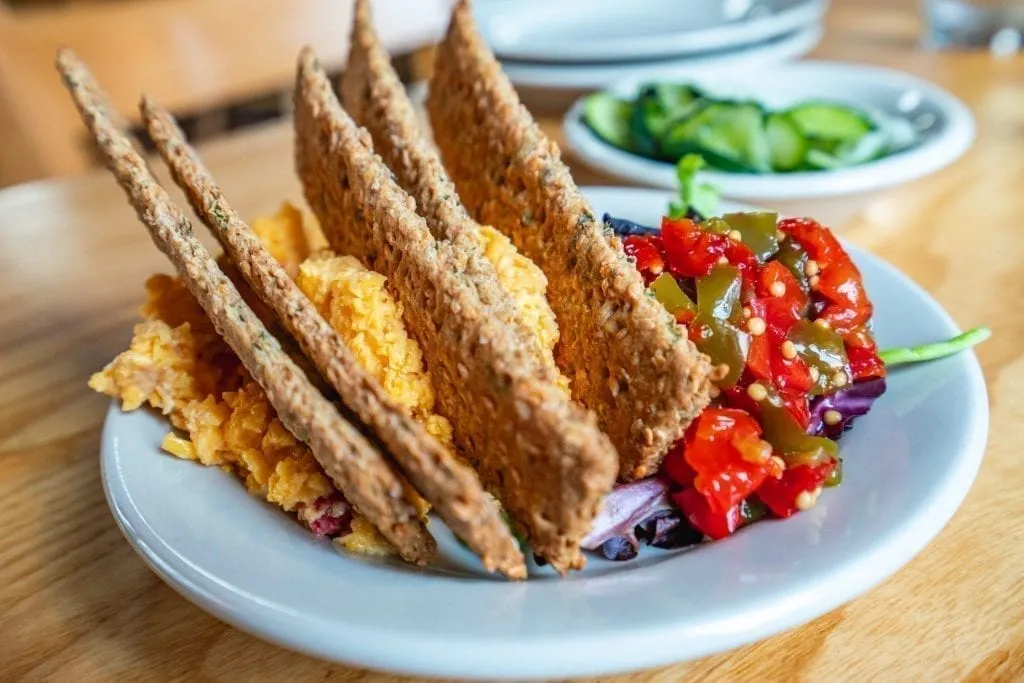 Sweet Potato Pie
Similar to pumpkin pie in many ways and popular during the holiday season, sweet potato pie is a tasty southern staple–longtime county music fans might remember its callout in Song of the South (the song, not the no-longer-spoken-of movie) set during the Dust Bowl.
Pecan Pie
Pecans, in general, are a southern staple and a must-eat food in Savannah–you'll see they're also featured in pralines on this list, for example–but perhaps no dish using them is better-known than pecan pie, made up of a delightful combination of molasses, pecans, and flaky crust.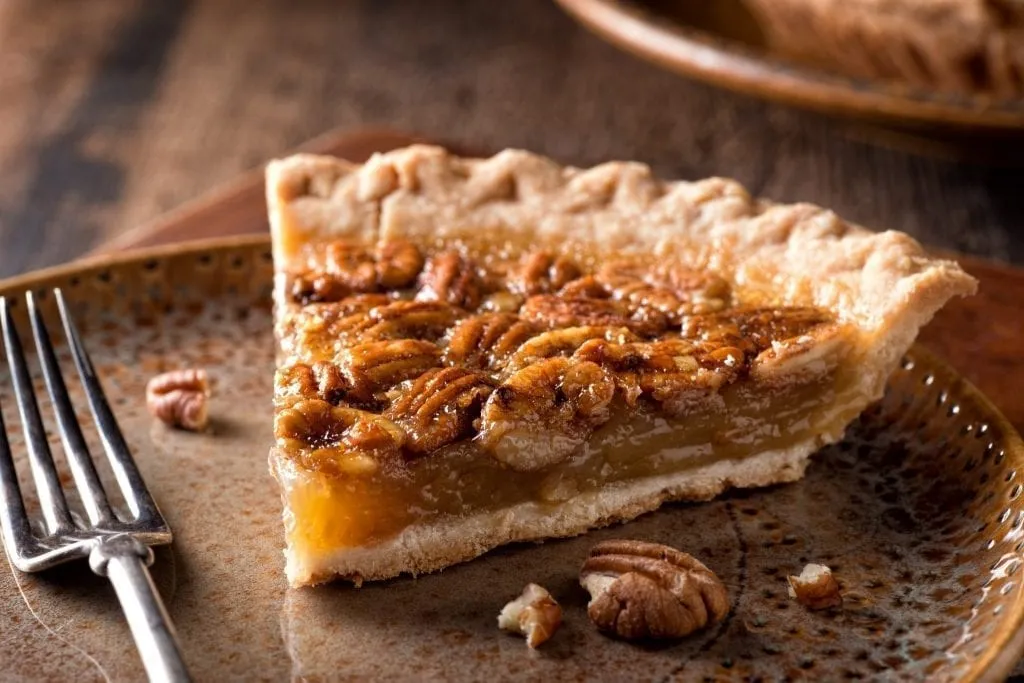 Banana Pudding
Custard, bananas, and cookies: banana pudding is an absolutely delightful concoction.
In addition to pudding, when exploring restaurants in Savannah you'll also likely come across banana cream pie (similar substance, different shape) which is often topped with tasty meringue.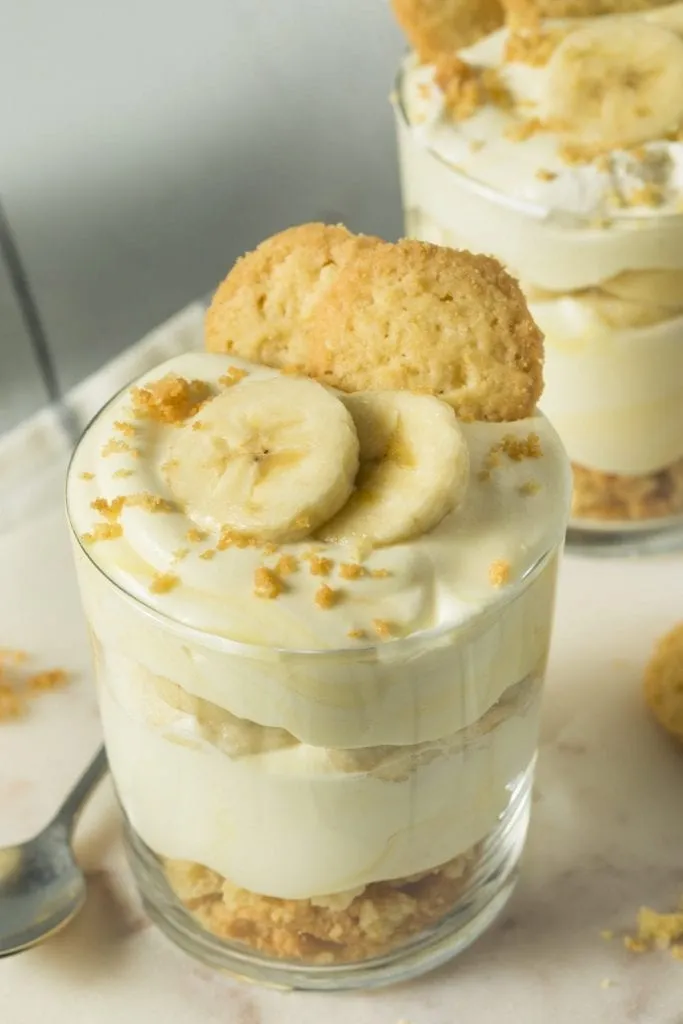 Macaroni & Cheese
Southern macaroni & cheese is a special, carby, cheesy, heaven of a dish.
Unlike its varieties in other parts of the world, southern macaroni & cheese is generally cooked in all of its cheesy goodness, then baked into a casserole–often topped with breadcrumbs or even extra cheese.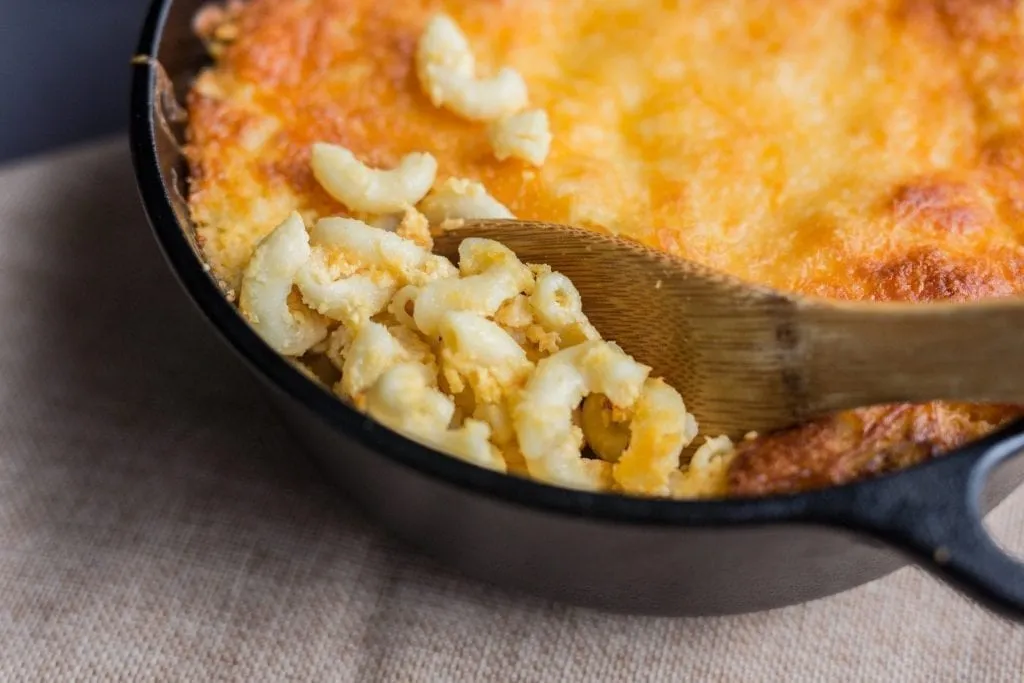 Fried Okra
What better way to eat a vegetable than to coat it in cornmeal and fry it first?
Fried okra is commonly served both as an appetizer and as a side to the main meal when eating in Savannah.
Cornbread
Delicious served either as a part of a meal or simply with a slab of butter, classic cornbread definitely belongs on your list of what to eat in Savannah.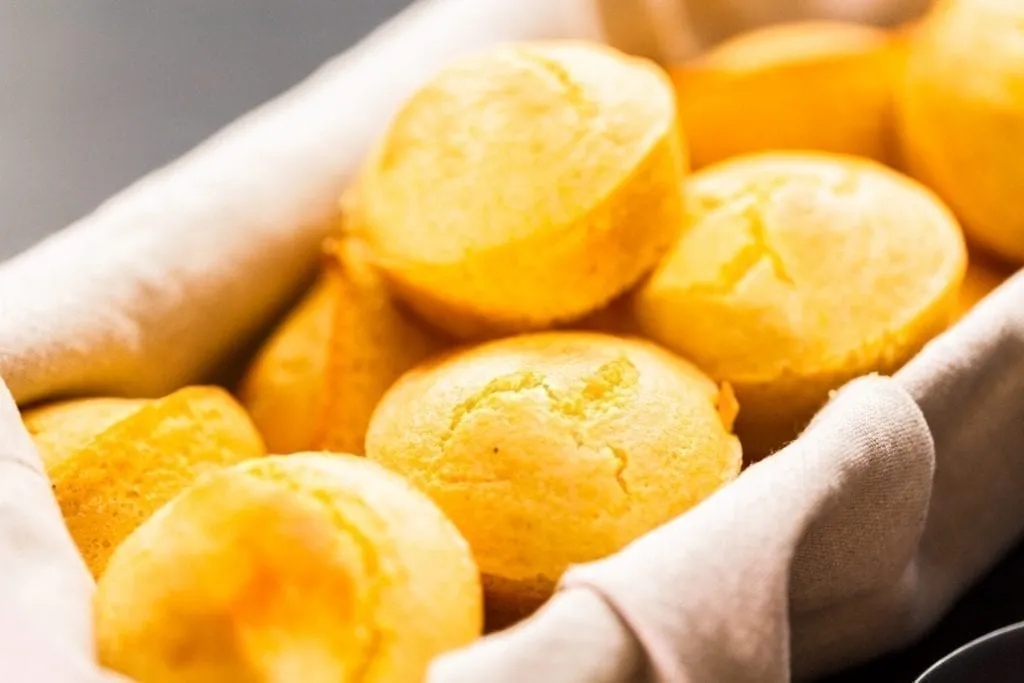 Boiled Peanuts
I'll be honest: of all the things to eat in Savannah listed here, this is one southern food I just don't care for personally… but they are a southern classic and well worth trying for the experience alone.
Boiled peanuts are made from raw/green (unripe–basically full-size but not dry enough to use for other purposes), unshelled peanuts that are boiled for hours in salty water until they take on a legume-like taste and interesting, spongy texture.
Want to go all-in on the local way of eating? Don't bother shelling boiled peanuts–just eat them, shell and all.
Hoppin' John
Also called Carolina peas and rice, this is the Lowcountry's answer to red beans and rice over in New Orleans.
Hoppin' John is made with black-eyed peas (which are a classic food to eat in Savannah in their own right), rice, onion, and meat of some kind–usually pork, often ham hock, or bacon.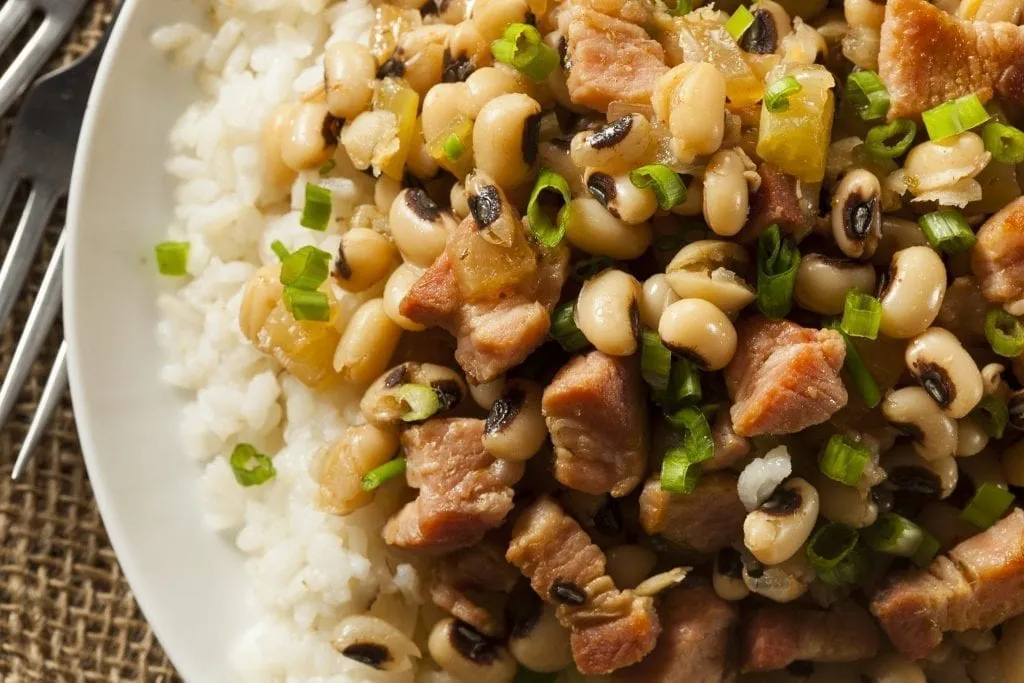 Homemade Pickles
Pickled vegetables (okay, pickled all kinds of things–definitely walked by some pickled pig's feet in southern grocery stores in my day) are a staple of southern and Lowcountry food, and while you'll see all kinds of varieties, good, old-fashioned cucumber pickles are definitely a crowd-pleaser.
Liver
Liver–both beef liver served with onions and chicken liver, more often served fried–is a classic southern food, though perhaps one a bit less palatable to newcomers than, say, biscuits and gravy.
If you're an adventurous eater, though, it's definitely worth adding liver to your list of Savannah foods to sample!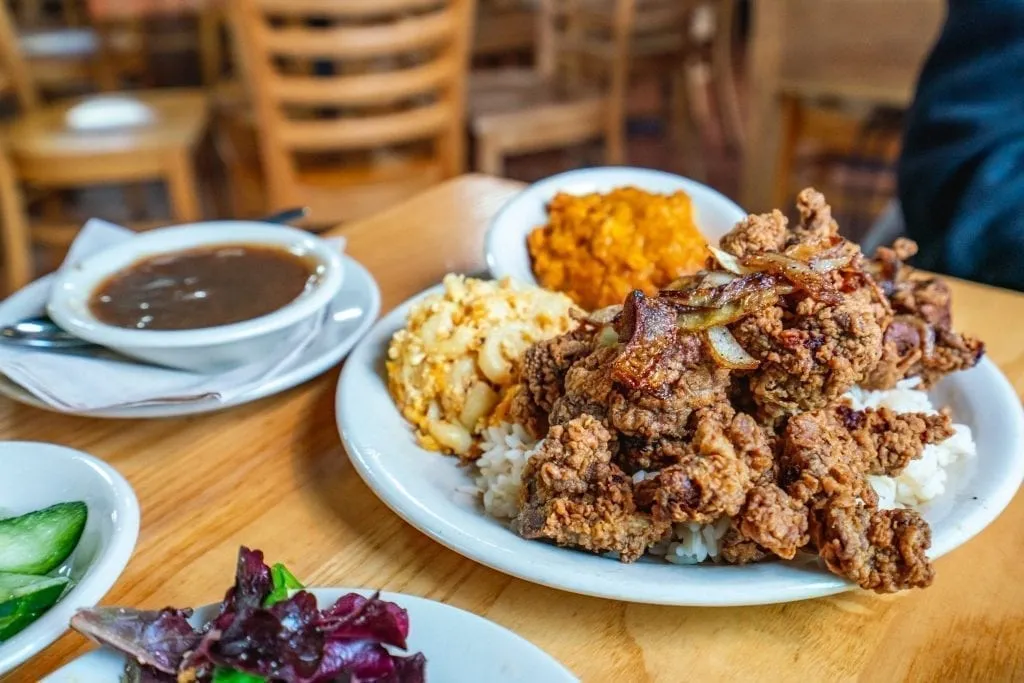 What to Drink in Savannah, Georgia
Chatham Artillery Punch
Dating back to at least the 19th century (and possibly the 18th, though that's up for debate), Chatham Artillery Punch originated in Savannah itself, making it a must-sample when discovering Savannah cuisine.
Made of rum, cognac, bourbon or rye, lemon, sparkling wine, nutmeg, and plenty of sugar, this drink is known for its strength, so proceed with caution!
Sweet Tea
An absolute southern staple, sweet tea is iced black tea mixed with copious amounts of sugar or simple syrup and often served with lemon–and it's as tasty as it is unhealthy.
Map of Savannah Restaurants to Try
Before getting into all the best places to eat in Savannah, you have to know where they are!
This map has all the Savannah restaurants we're about to cover marked to help you efficiently eat your way through the city.
Take This Map With You! Click each highlight to pull up the name of the destination. To save this map to "Your Places" on Google Maps, click the star to the right of the title. You'll then be able to find it under the Maps tab of your Google Maps account! To open the map in a new window, click the button on the top right of the map.
Riveting Savannah Restaurants for Special Occasions
None of the restaurants in Savannah listed in this section are exactly what I would call easy on the wallet, but they are delicious, perfect for special occasions, and staples of the Savannah food scene.
If it's in your budget, we highly recommend splurging on a meal at one of these Savannah restaurants during your trip–just don't forget to make reservations before you go!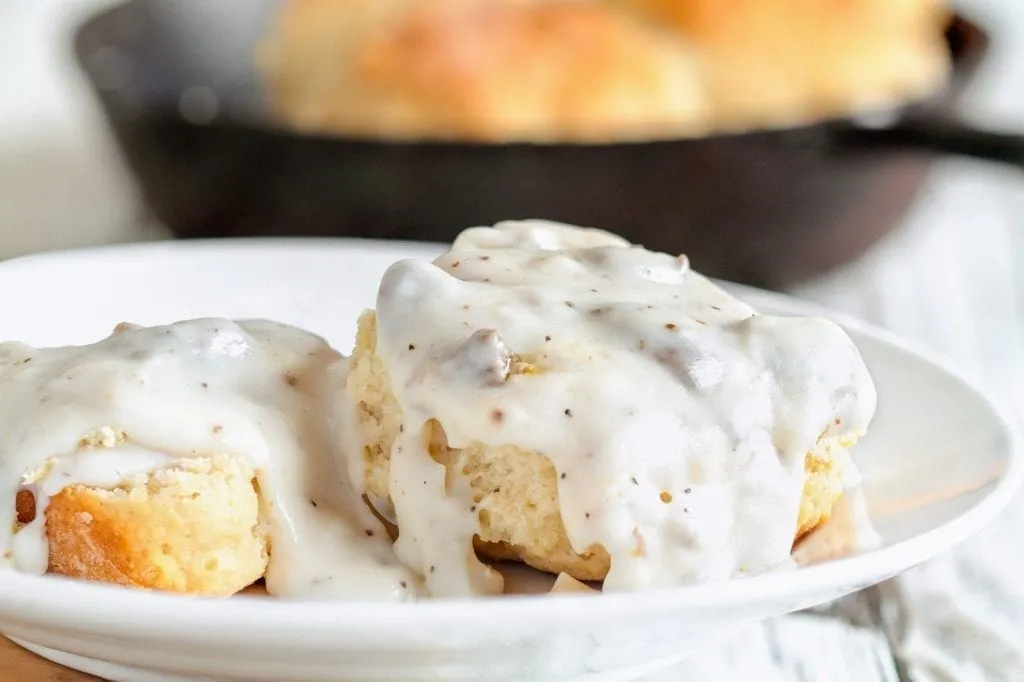 Elizabeth on 37th
If you're a seafood lover, Elizabeth on 37th is the fine-dining restaurant in Savannah for you: everything from the setting in the mansion the restaurant is housed in to the local seafood specialties that the menu is made up of will have you begging to come back.
The Olde Pink House
Want to dine in an 18th-century ballroom under a crystal chandelier?
Head to the Olde Pink House for classic southern food with a modern twist, in one of my favorite settings in the city.
Be sure to order their Food Network-featured BLT salad with fried green tomatoes–it easily makes the list of the most memorable dishes I have ever eaten.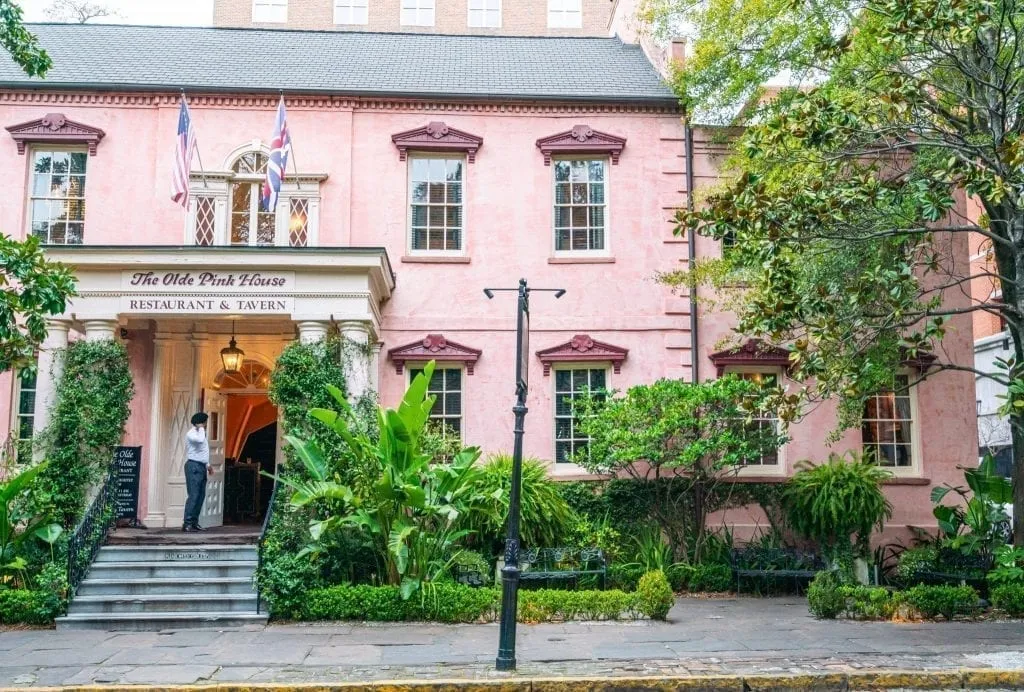 The Grey
Offering up classic Savannah cuisine with a modern twist, The Grey is one of the hottest new(er) restaurants in Savannah.
Housed in a former Greyhound bus station, reservations are a must to eat here–but word on the street is that you can sometimes grab a seat at one of the two bars and order up an excellent cocktail at the last minute.
Husk
Originally opened in Charleston in 2010, Husk has exploded across the south as a series of restaurants specializing in using fresh, hyper-local, southern ingredients to create inventive, modern dishes.
After winning a slew of awards, Husk now operates restaurants in Savannah, Greenville, and Nashville in addition to Charleston, and its Savannah restaurant definitely deserves to be noted on this Savannah food guide!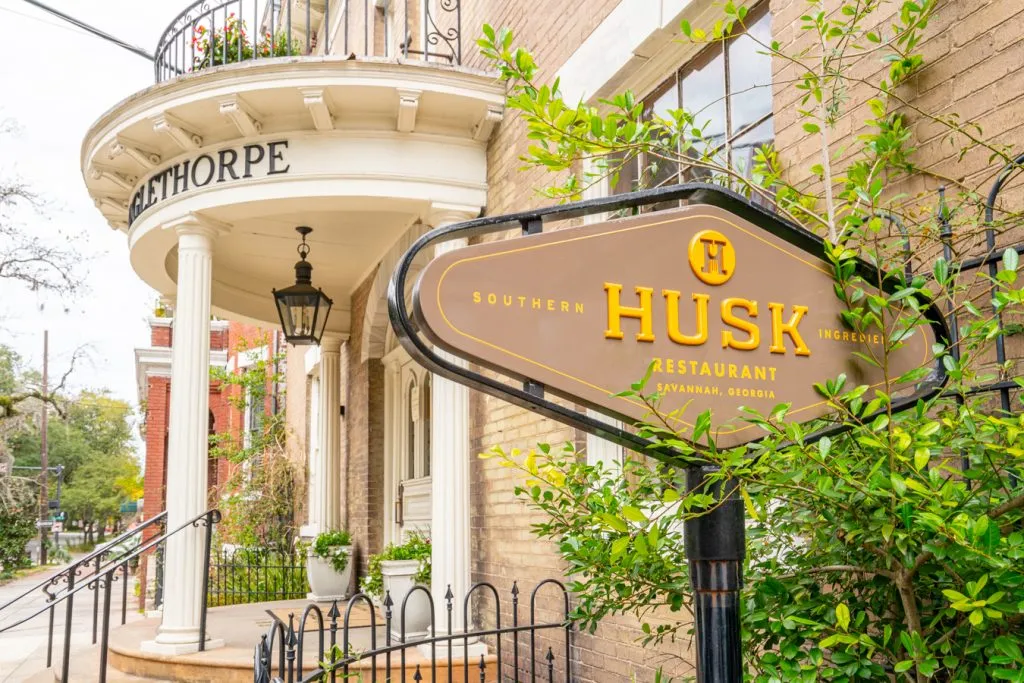 Vic's on the River
Often touted as one of the most romantic restaurants in Savannah, Vic's on the River is housed right on the water in a 19th-century warehouse on River Street, offering beautiful water views to go with their classic southern cuisine.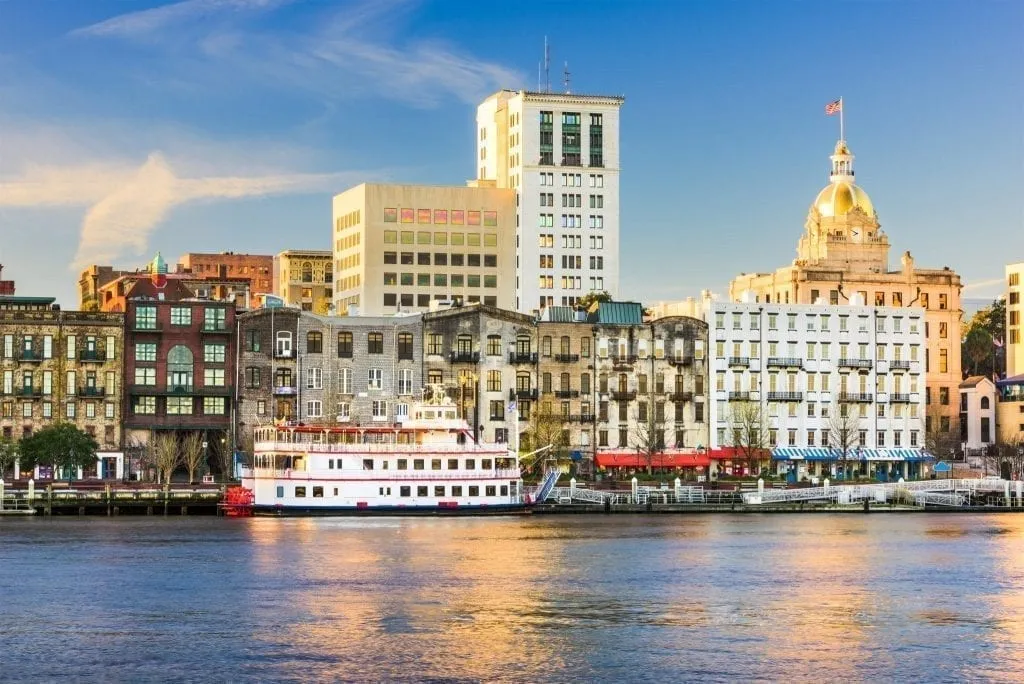 Circa 1875
Billing itself as an "unpretentious Parisian bistro and pub", Circa 1875 is well-known for its phenomenal atmosphere and French cuisine, served up in the heart of Savannah's historic district.
Alligator Soul
Adventurous eaters need to be sure to add a meal at Alligator Soul to their list of places to eat in Savannah. With meats like ostrich, kangaroo, antelope, and (obviously) alligator available, you are guaranteed to find unique flavors on your plate.
For those less adventurous with their meals, don't worry–there's a broad selection of more typical meat and seafood offerings on the menu as well.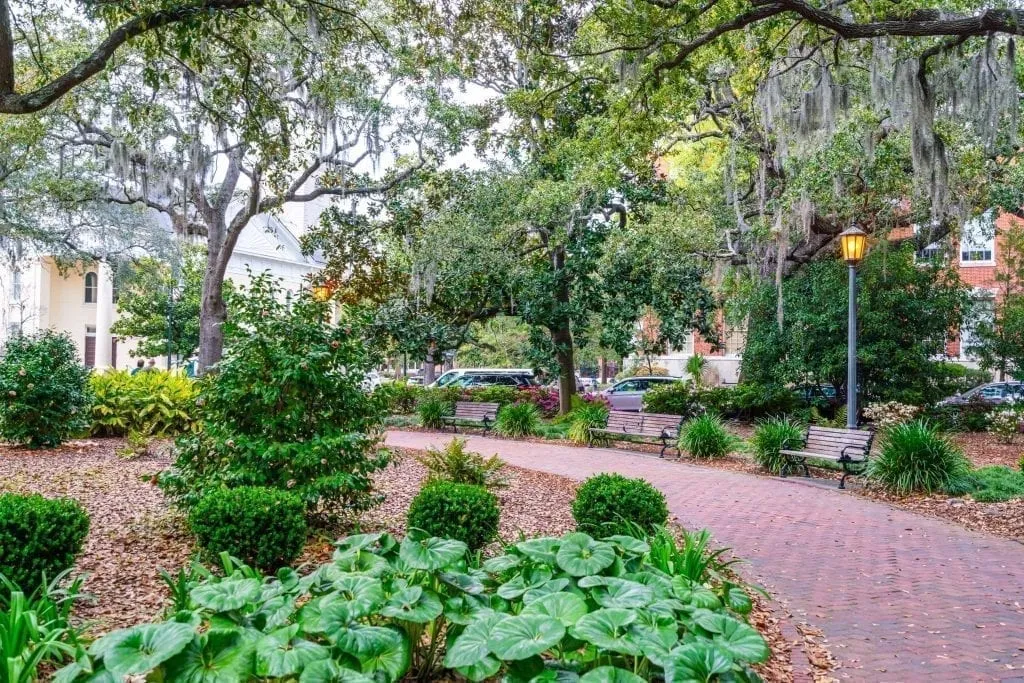 More Places to Eat in Savannah GA
Looking for something a bit more casual?
These Savannah restaurants and coffee shops have a bit more of a casual, down-home feel, while still ranking among the best restaurants in Savannah!
Mrs. Wilkes Dining Room
Mrs. Wilkes is one of the most iconic restaurants in Savannah and is unique among these listed for serving all-you-can-eat, family-style meals.
Line up early (people often start lining up hours before the doors open for lunch at 11am), and then sit down to enjoy a delicious meal with several new friends.
You'll pay your flat fee on your way out the door, $25/person, cash or check only.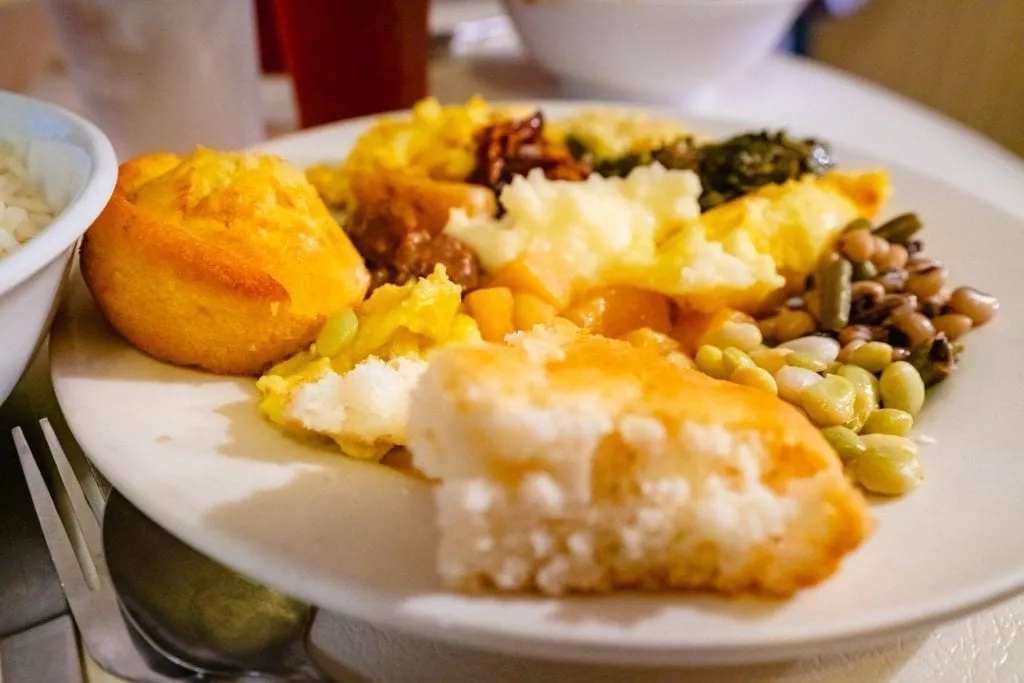 The Public Kitchen & Bar
Featuring modern American classics with a southern twist, served up in a mid-century modern environment with a cozy basement, The Public is reliably delicious and a great option when looking for places to eat in Savannah.
We loved their ribs, collard greens, and cornbread, but the highlight of the meal was definitely this banana bread pudding: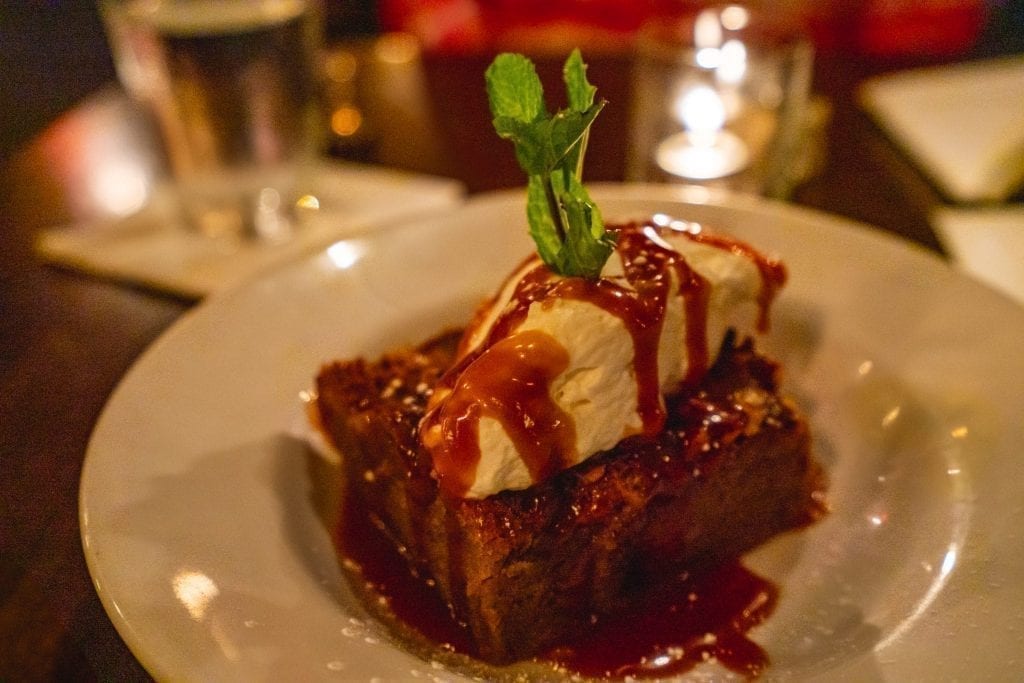 Fox and Fig Cafe
Known as Savannah's most popular vegan restaurant, Fox and Fig Cafe serves up traditional southern fare with a modern and plant-based twist.
It's also run by the same talented people behind the Foxy Loxy Cafe and The Coffee Fox, which are among the best coffee shops in Savannah!
The Collins Quarter
With a well-deserved reputation as the best brunch in Savannah, The Collins Quarter offers a modern environment with delicious Australian-inspired brunch dishes… but most importantly, it's home to the positively famous spiced lavender mocha, which is too phenomenal for words to describe and you absolutely must try when you visit.
If the weather is nice, try to sit outside if you can–watching dogs, carriages, bikes, trams, and cars pass by on shaded Liberty Street definitely adds to the ambiance!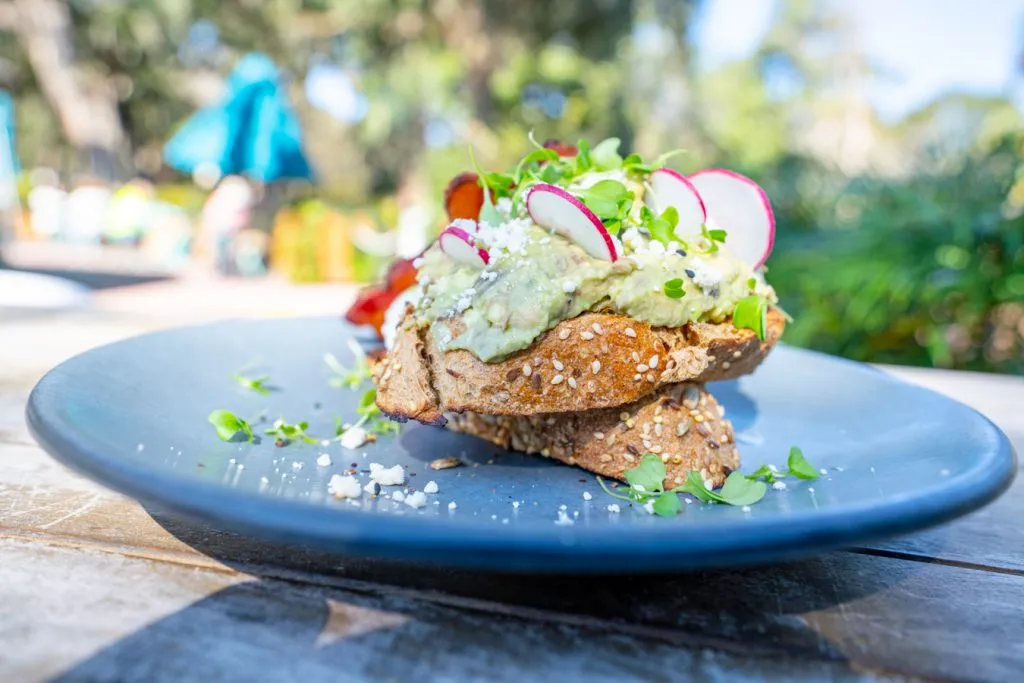 Treylor Park
Serving up casual southern eats with a slightly strange trailer park theme, Treylor Park is a great Savannah restaurant for those looking for something quick, tasty, and a bit more budget-friendly than many of the places to eat in Savannah on this list.
Their avocado fries are legendary and definitely worth sampling!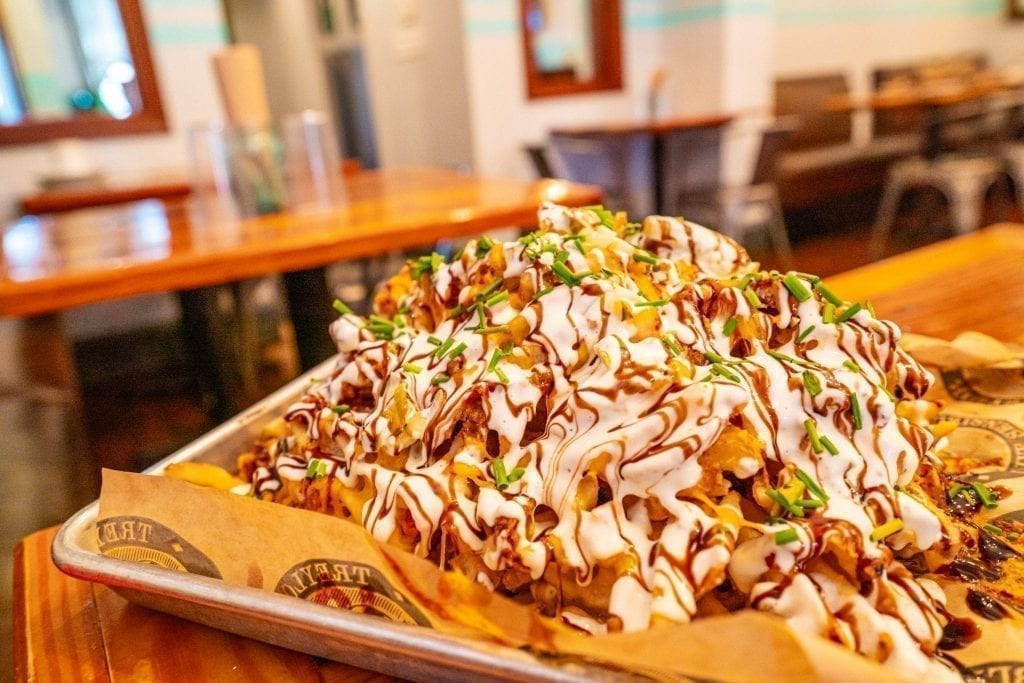 Back in the Day Bakery
Serving up casual-but-delicious breakfasts and lunches, the real star of the Back in the Day Bakery are the biscuits–we recommend showing up early to avoid finding them sold out!
Back in the Day Bakery is popular, but it's one of the most out-of-the-way spots on this Savannah restaurant guide for the average visitor to the historic district.
Consider making it your last stop as you drive out of town–a final southern breakfast before saying goodbye for now to Savannah!
Six Pence Pub
Savannah's own British-style pub serves up tasty American and British dishes–you'll find burgers right next to scotch eggs on this menu!
With a menu that is accurately described by the pub's website as "comfort food", this cozy pub is one of the best places to eat in Savannah when you want a small break from southern food without straying too far.
Located just a short walk from Liberty Street or Chippewa Square, it's also incredibly easy to access when exploring on foot.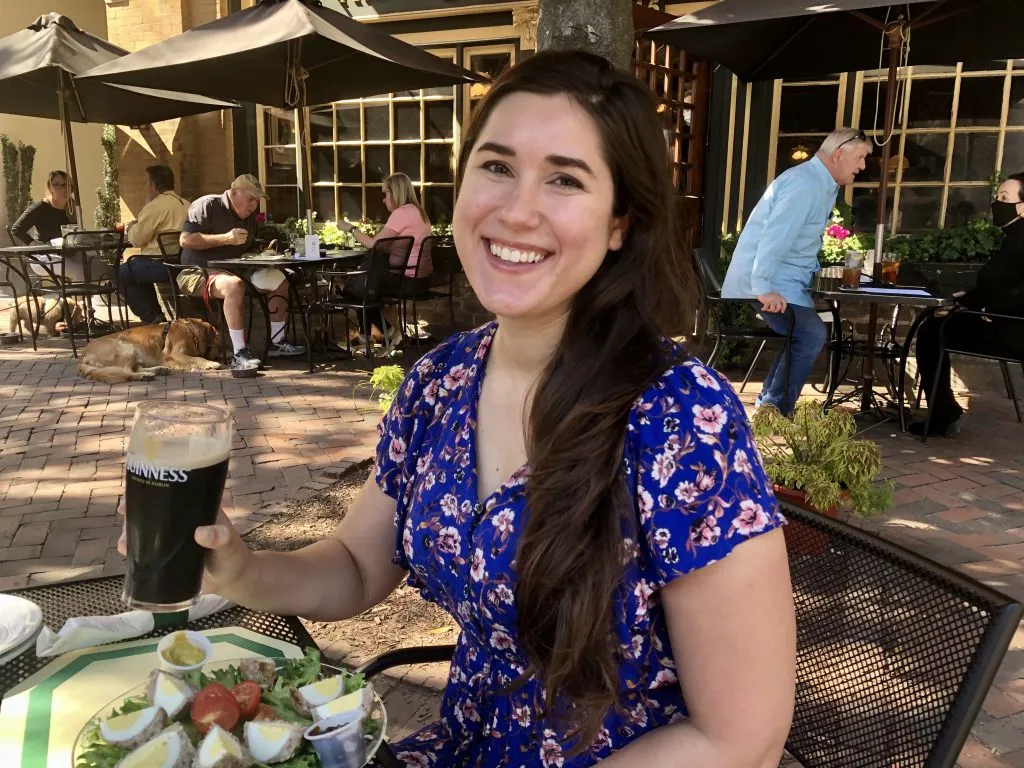 Gallery Espresso
Featuring original art by local artists, fabulous coffee, light food, and plenty of places to sit and work (including both plush chairs and typical tables), Gallery Espresso should be the first stop for anyone working to get a little computer work done while in Savannah–or just anyone craving a coffee while passing by Chippewa Square.
Though we're listing it here rather than in the desserts section, it's worth mentioning that Gallery Espresso also serves up some of the best cakes in town! 
Try the carrot cake for something incredibly rich and delicious.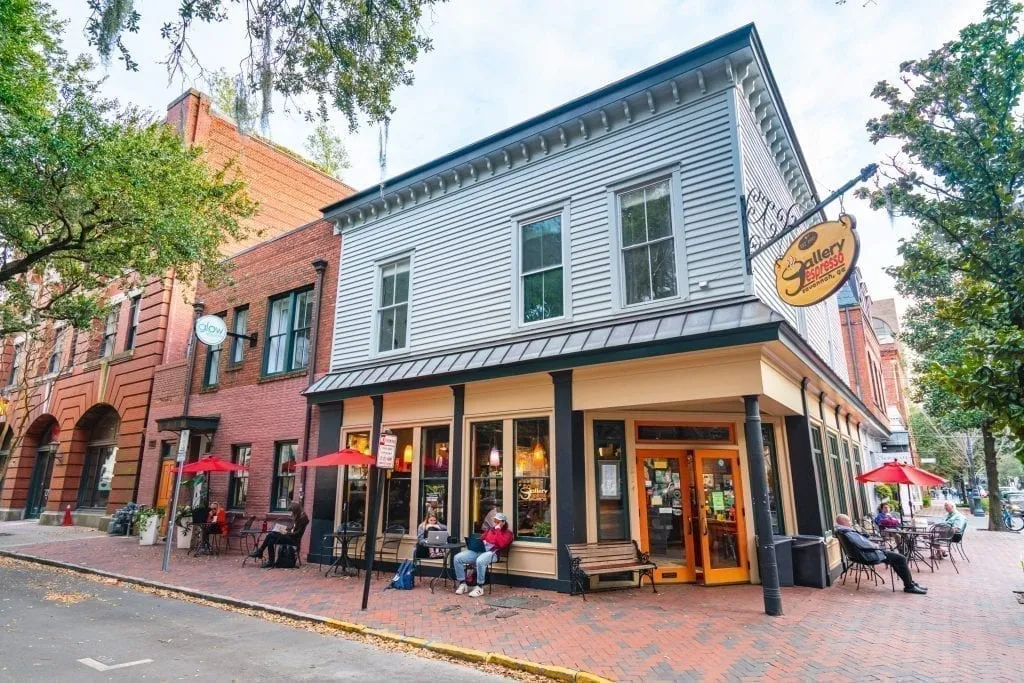 Cotton & Rye
Extremely fresh, delicious ingredients with an emphasis on local craft–think burger meat that is ground on-site–are the focus at Cotton & Rye, one of Savannah's beloved restaurants.
With specialties ranging from braised lamb shank to fried chicken, there's something for everyone here.
Don't miss their incredible cornbread!
Crystal Beer Parlor
Known for their enormous beer menu and casual, delicious American food (lots of burger options) with a southern twist (fried green tomatoes are the first appetizer listed on the menu), Crystal Beer Parlor is a major crowd-pleaser.
Housed in a turn-of-the-20th century grocery store, Crystal Beer Parlor has been serving up great food in Savannah since 1933.
We highly recommend their blue cheese chips for a unique appetizer that you won't forget anytime soon!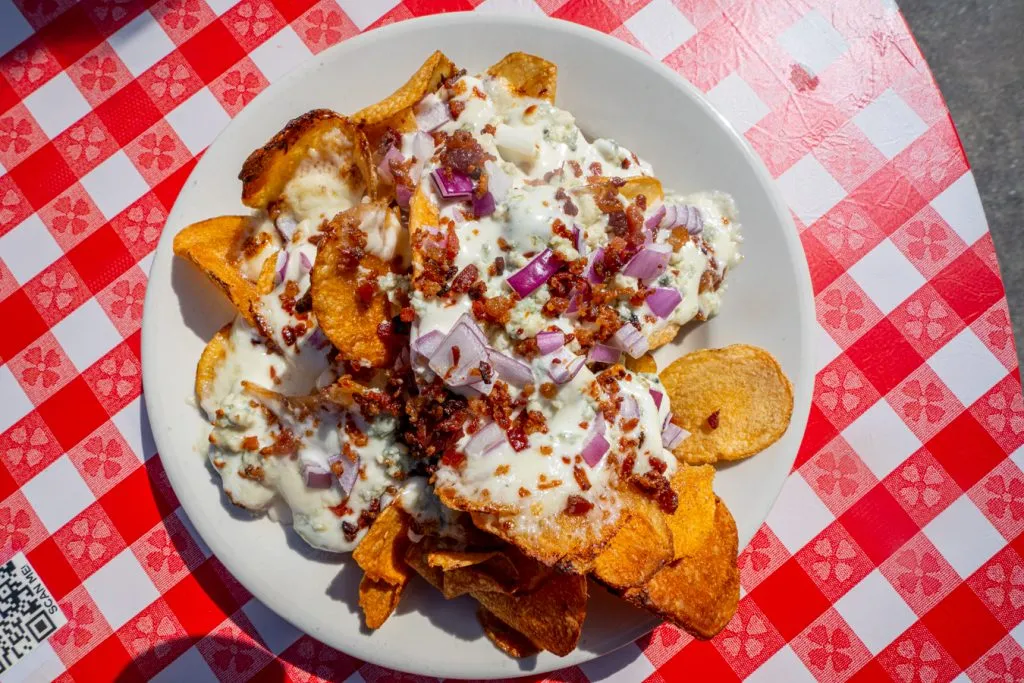 Quick + Cheap Eats in Savannah GA
Want to enjoy tasty food in Savannah without breaking the bank?
It's no secret that while the food in Savannah's Historic District is popular and delicious, it also tends toward being pricey.
For easy and affordable Savannah restaurants that serve up great food, add these to your list!
Fire Street Food
Featuring Asian street food and a collection of American dishes, Fire Street Food is known for being fast, affordable, and conveniently located.
As one of the only places to eat in Savannah where you can order both pad thai and a burger, Fire Street Food is perfect for groups who are all looking for a little something different.
Vinnie Van GoGo's
Located at the corner of City Market, Vinnie Van GoGo's serves up build-your-own, New York-style pizza by the slice (or pie), for a literal fraction of the price that you would expect to pay in one of the most touristy corners of Savannah.
This inexpensive Savannah restaurant is perfect for a quick bite as you make your way through the city!
Be sure not to over order: one of their pizza slices is about the size of 3 typical slices, though the crust is thin.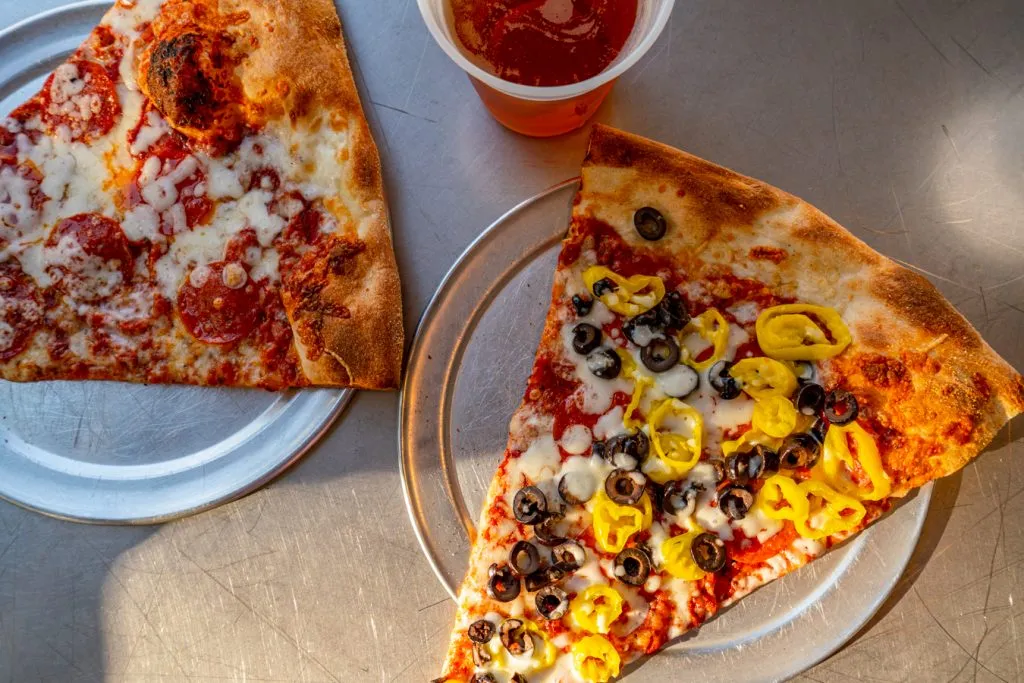 Zunzi's
South African-inspired sandwiches, wraps, and salads rule the menu at this casual takeout joint in the heart of Savannah's Historic District.
Grab a (giant) sandwich to eat on their outdoor patio, or head to one of Savannah's legendary squares to enjoy your meal with a view!
Where to Eat Savannah's Best Sweets & Treats
Looking for a sugar fix? These Savannah shops are the perfect place to snack on something sweet!
Leopold's Ice Cream
Family-run since 1919, Leopold's is Savannah's most beloved ice cream shop, featuring absolutely delicious ice cream in a wide variety of flavors, from the iconic (their famous Tutti Frutti ice cream) to the traditional southern classics (like Butter Pecan).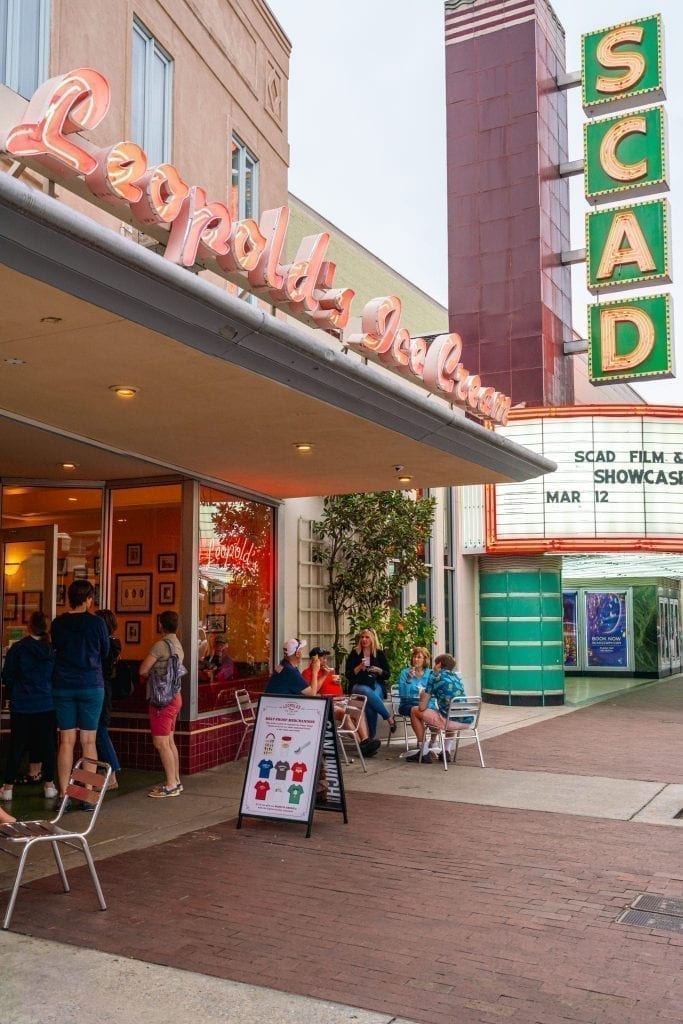 River Street Sweets
Regularly voted the best candy store in Savannah and known for their ridiculously tasty pralines (I bought like 30 the last time I was in there. Not even kidding.), River Street Sweets is a must-see stop when strolling along River Street… especially if they're handing out fresh praline samples as you pass by!
When looking for the best places to eat in Savannah, you can't forget to pick up a sweet treat at a shop like River Street Sweets!