Savannah is famous for being one of the most walkable cities in the USA–and there's no better way to appreciate that than by strolling down some of the prettiest streets in Savannah!
Wandering on foot semi-aimlessly through the Historic District is easily one of our favorite pastimes when visiting Savannah, and it's definitely worth leaving plenty of room in your Savannah itinerary to explore.
This list isn't exhaustive–that would include cataloging (almost) every street in Savannah's Historic District and some of its other districts as well (looking at you, Victorian District)–but includes a variety of beautiful corners that are perfect for releasing your inner flâneur.
From shopping streets to quiet residential lanes, here are some of the best Savannah streets to meander down (ideally with a camera or scoop of Leopold's Ice Cream in hand).
Some links in this post may be affiliate links. If you make a purchase through one of these links, we may earn a small commission at no extra cost to you. Please see our

disclosure policy

for more detail.
Beautiful Streets in Savannah to Visit
Bull Street
Featuring plenty of attractions and a long distance, Bull Street is an unmissable place to visit in Savannah.
It also happens to be one of my personal favorite streets in Savannah for a long walk, and runs straight south from (almost) the Savannah River.
Intersecting with Johnson Square, Wright Square, Chippewa Square (home to the Savannah Theatre, Gallery Espresso, and the lovely-but-potentially-haunted Foley House Inn), Madison Square, and Monterey Square (home to the infamous Mercer-Williams House), Bull Street is home to plenty of sightseeing before you even hit Forsyth Park!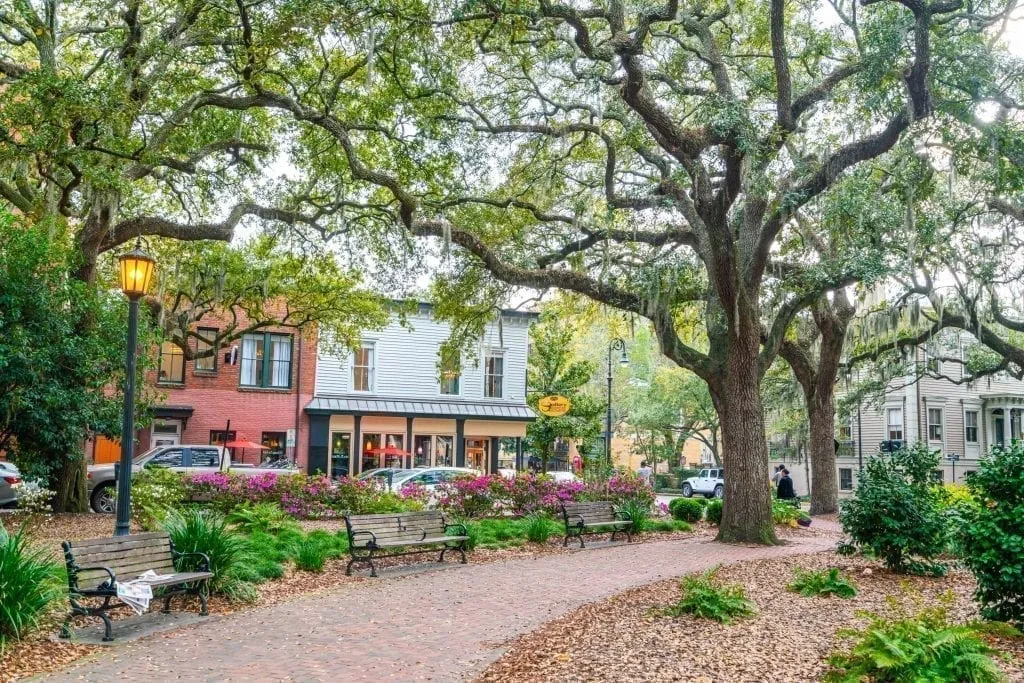 Other stops to consider along Bull Street include the Sorrel-Weed House, the shopSCAD gift shop, the Six Pence Pub, the Juliette Gordon Low Birthplace, The Collins Quarter, and the facade of Savannah City Hall–just to name a few.
If you were to walk all the way from Savannah City Hall to the beloved Foxy Loxy Cafe in the Starland District without stopping (as if that were possible!), it would take about 40 minutes each way.
Where You Can Find Bull Street in Savannah
Bull Street starts at Savannah City Hall near the river, dead-ends into the center of Forsyth Park, and then picks back up and continues further south into the Victorian District and Starland District.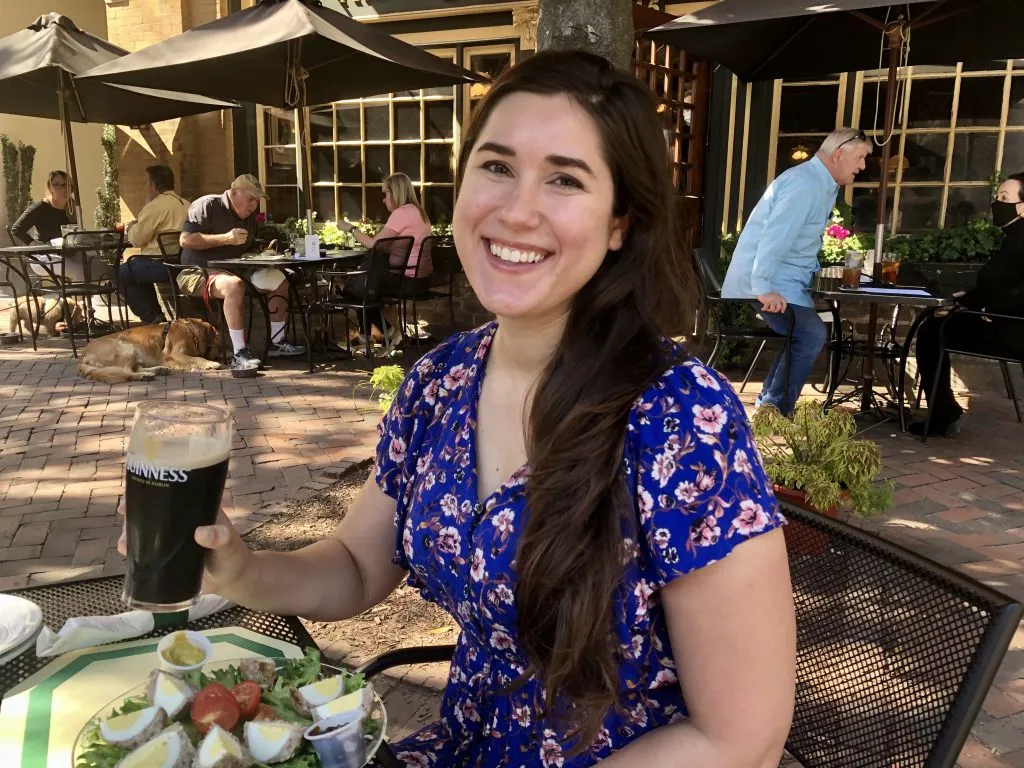 Broughton Street
Known as Savannah's most beloved shopping street, you'll find everything from international brands to unique boutiques along Broughton Street!
Must-see stops along Broughton Street include Leopold's Ice Cream, The Paris Market (don't forget to go downstairs!), The Coffee Fox, and the Savannah Bee Company (where you can do tastings).
The Marshall House, with its distinctive brick facade, begs to be photographed along Broughton Street and is also an excellent place to stay in Savannah!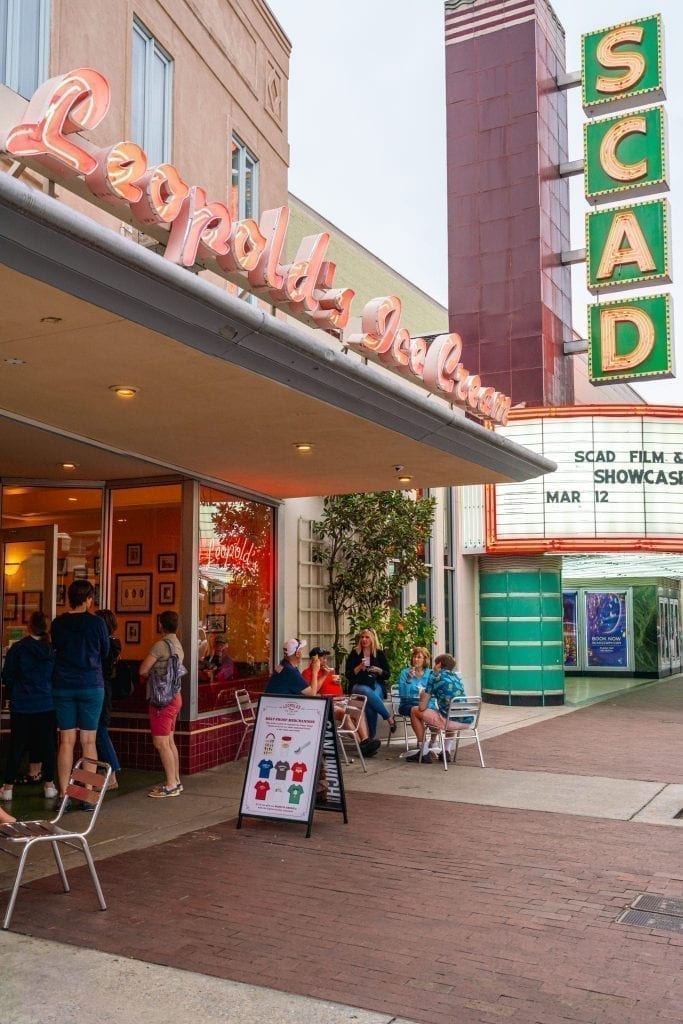 Where You Can Find Broughton Street in Savannah
Broughton Street runs east to west (ish) in the Historic District, between Martin Luther King Jr. Boulevard to the west and Randolph Street to the east.
Congress Street is to the north and York Street is to the south.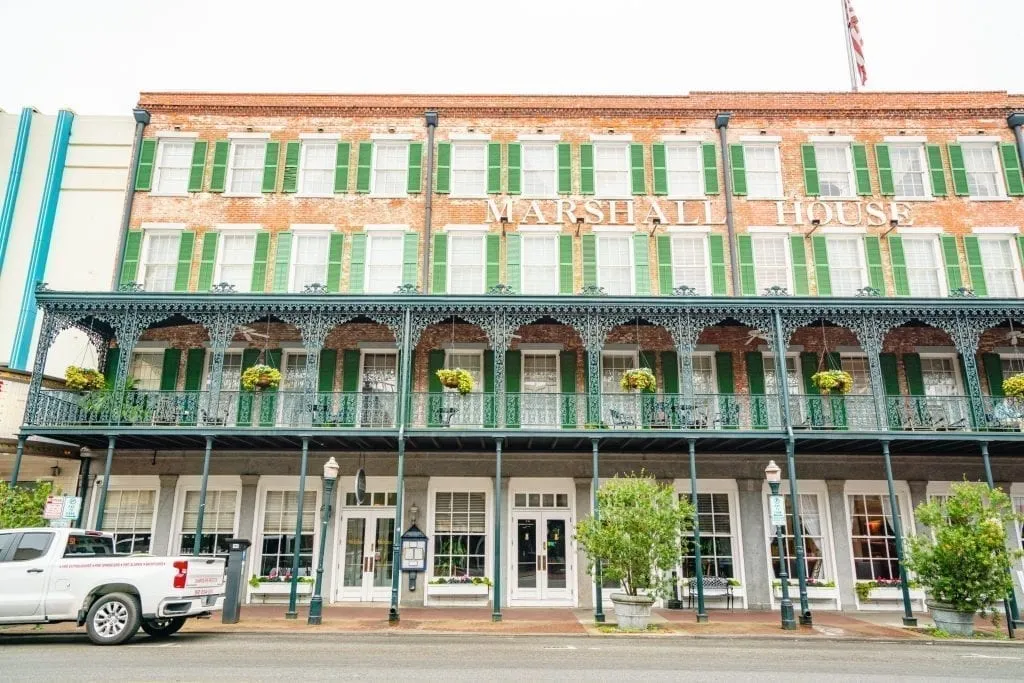 Taylor Street
Located very close to famous Jones Street, charming Taylor Street is another wonderful place for a stroll in Savannah!
Paved with cobblestones, the 18th-century architecture on Taylor Street's many homes is a delight to experience–and as it's still a bit under the radar for visitors, it feels a bit more off the beaten path.
While there are a couple of businesses along Taylor Street, this is primarily a residential area and feels like it: quiet, peaceful, and elegant.
Where You Can Find Taylor Street in Savannah
Taylor Street runs parallel to the famous Jones Street, just one block to the south.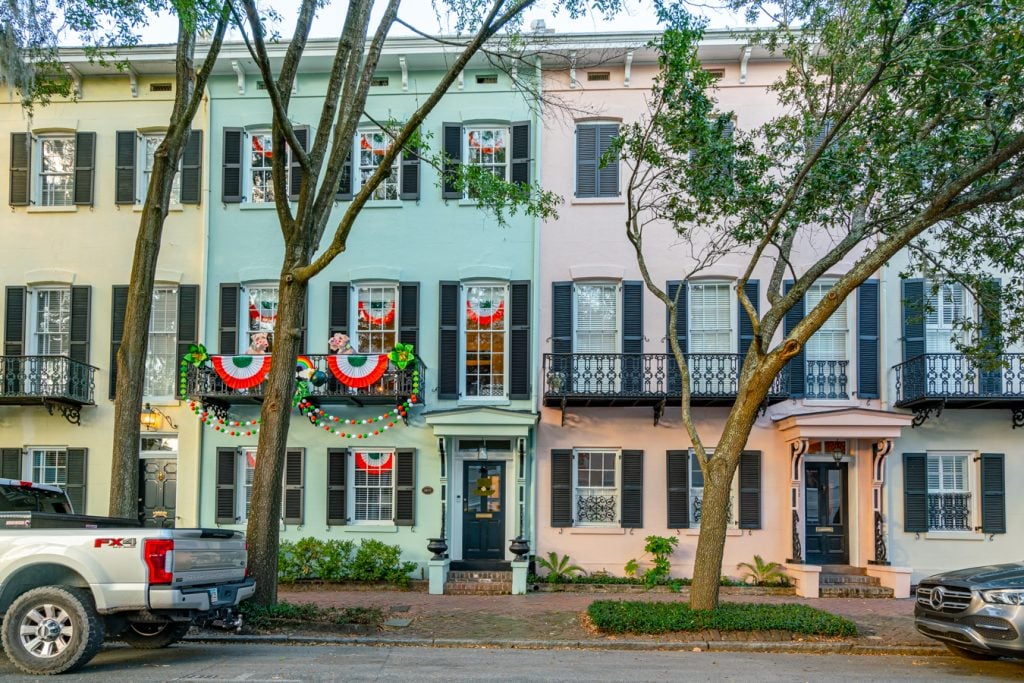 Oglethorpe Avenue
Home to a decent amount of car traffic separated by a shady median, Oglethorpe Avenue is definitely busier than many of the beautiful streets in Savannah covered in this guide–but it's still a gem to explore.
Thanks in part to its avenue that runs heavily toward live oaks and azaleas, Oglethorpe Avenue still manages to feel tranquil and charming, despite its size.
While visiting Oglethorpe, don't miss a chance to stop at The Collins Quarter or the Juliette Gordon Low Birthplace (both at the corner of Bull Street and Oglethorpe Avenue), and of course, the Telfair Museums are one of the best things to see in Savannah.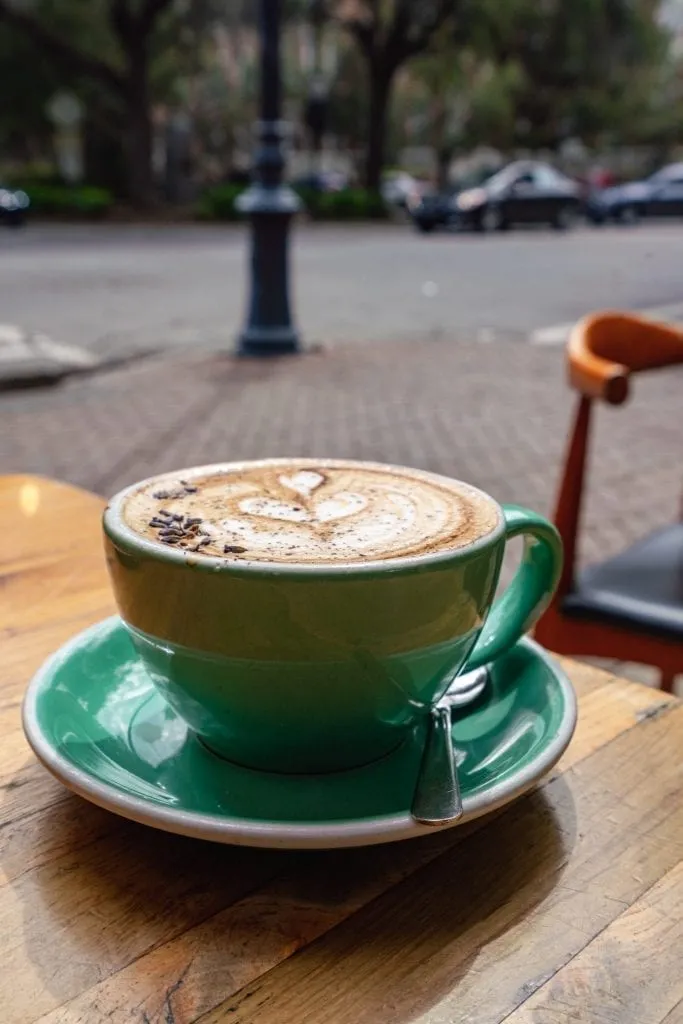 Husk, the celebrated Lowcountry restaurant that originated in Charleston, also has a location here.
And finally, Colonial Park Cemetery, while much more understated than the famous Bonaventure, is worth checking out.
Where You Can Find Oglethorpe Avenue in Savannah
Oglethorpe Avenue is one of the main thoroughfares through the Historic District and runs from roughly West Boundary Street to Broad Street.
Liberty Street
Shady and lovely Liberty Street has quite a bit in common with its neighbor to the north, Oglethorpe Avenue–and it is a beautiful place for a stroll!
Like Oglethorpe Avenue, Liberty Street has 2-way vehicle traffic separated by a picturesque median that features plenty of live oaks, Spanish moss, and azaleas.
On Liberty Street, you can find the beloved Savannah Coffee Roasters (one of our favorite Savannah coffee shops!), The Public Kitchen & Bar, and Hitch.
Liberty Street is also home to the Bird Baldwin House, one of our favorite places that we've stayed in Savannah!
While parts of Liberty Street are prettier than others–some less picturesque architecture does sneak in here and there–the sheer abundance of historic homes to admire makes it one of the best streets in Savannah to visit.
Where You Can Find Liberty Street in Savannah
Liberty Street is located between Perry Street to the north and Harris Street to the south.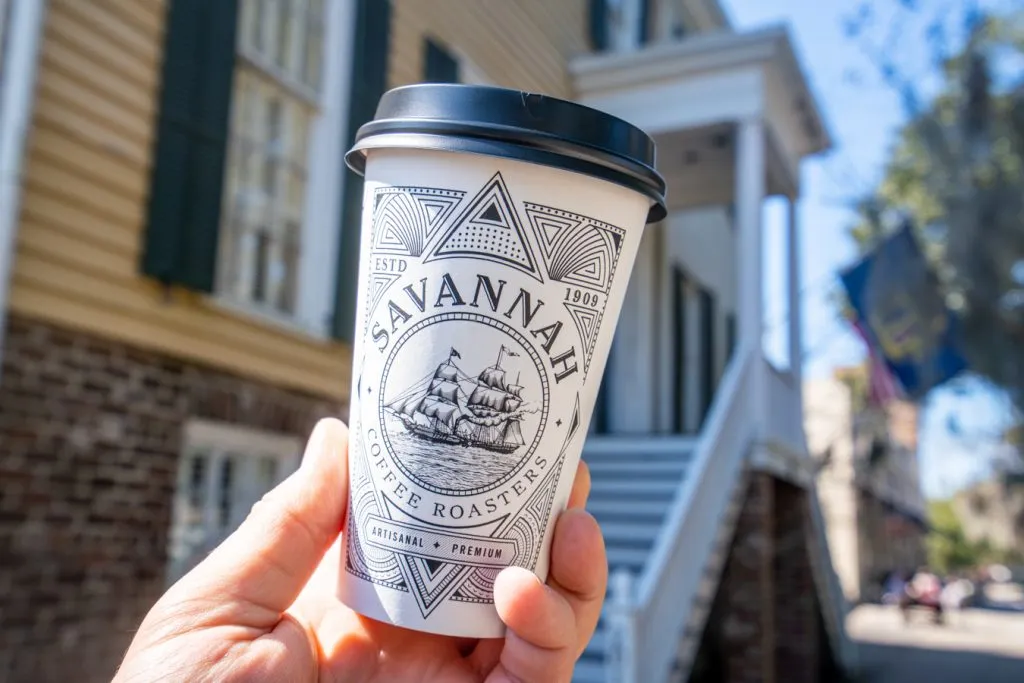 Charlton Street
Lined with historic homes, plenty of trees, and even the beautiful St. John's Episcopal Church, Charlton Street is definitely worth lacing up your shoes for.
With a solid mix of commercial and residential buildings, Charlton Street is generally neither bustling nor deserted.
The southern edges of Pulaski Square, Madison Square, and Lafayette Square (also home to St. John the Baptist Catholic Church on the opposite side) all brush up against Charlton Street.
You can also find the Andrew Low House, one of Savannah's many beautiful house museums, here, as well as Gryphon.
Where You Can Find Charlton Street in Savannah
Charlton Street runs roughly parallel with the Savannah River between Harris Street to the north and the iconic Jones Street to the south.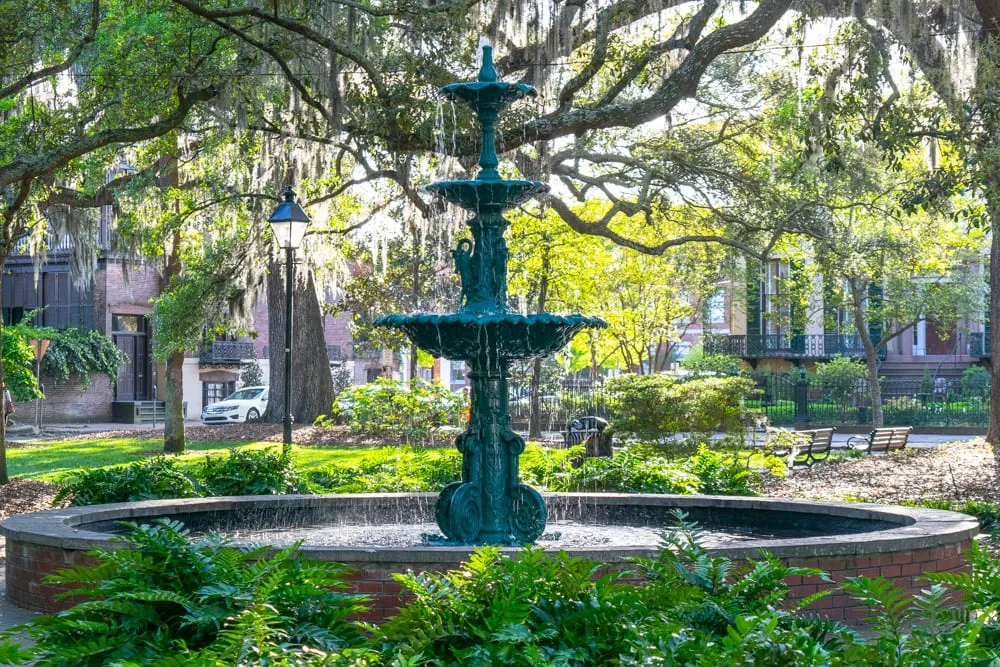 River Street
I'll confess: River Street isn't my personal favorite street in Savannah–but it's still quite beautiful in its own way!
Today, the former warehouses that line the historic port mostly operate as restaurants (mostly very touristy but some lovely), hotels, and souvenir shops.
River Street is the heart of the nightlife in the historic district, which is good to keep in mind if you hope to stay there!
However, the beautiful brick buildings overlook both a cobblestone street and the Savannah River, making it a must-see when exploring Savannah's beautiful streets.
If you'd like to take a riverboat cruise during your trip, they leave from River Street–and even if you don't, snapping a photo with the Georgia Queen as she's parked nearby is worth it!
Where You Can Find River Street in Savannah
Unsurprisingly, River Street is built right on the banks of the Savannah River, making it one of the easiest streets in Savannah to find–just head to the water.
River Street is set much lower than most of the historic center, so you'll need to make your way down to it via one of the staircases, ramps, or the elevator (which is between City Hall and the Hyatt Regency).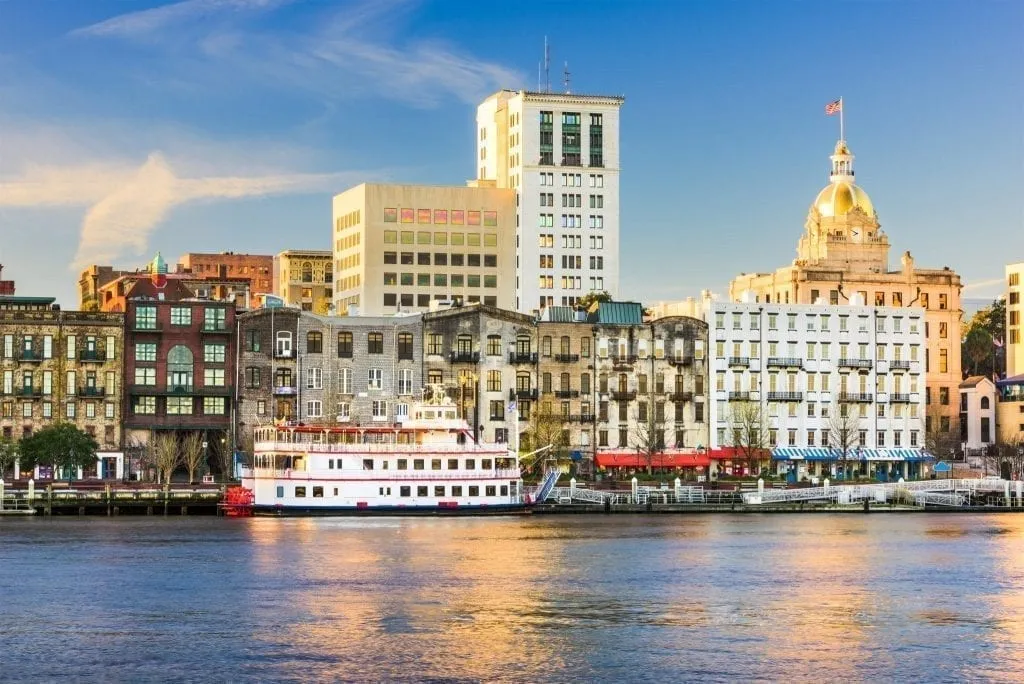 Jones Street
Of course, we couldn't forget Jones Street–arguably the absolute prettiest street in Savannah of them all (and is often even said to be one of the most beautiful streets in the USA).
Lined with gorgeous and impeccably maintained historic homes as well as mature live oak trees dripping with Spanish moss, Jones Street is a stunning place and certainly deserves its reputation!
Add in the fact that the shady, peaceful Jones Street is lined with cobblestones, and it's truly something special.
Other than the many photographers and tourists who stop by for a stroll, Jones Street is a fairly quiet place, and still primarily residential.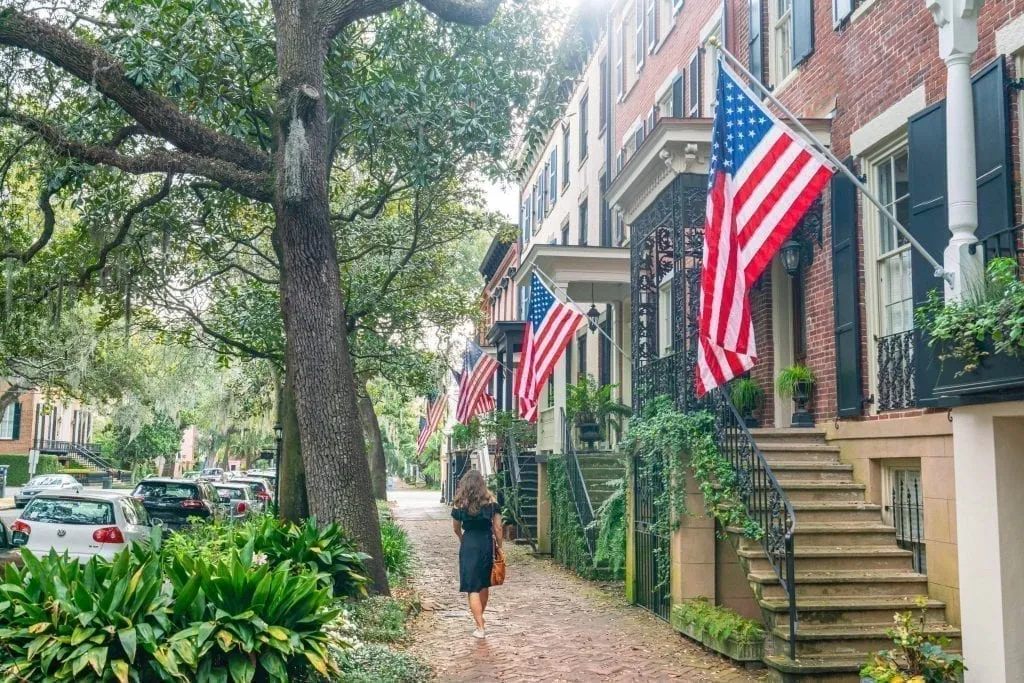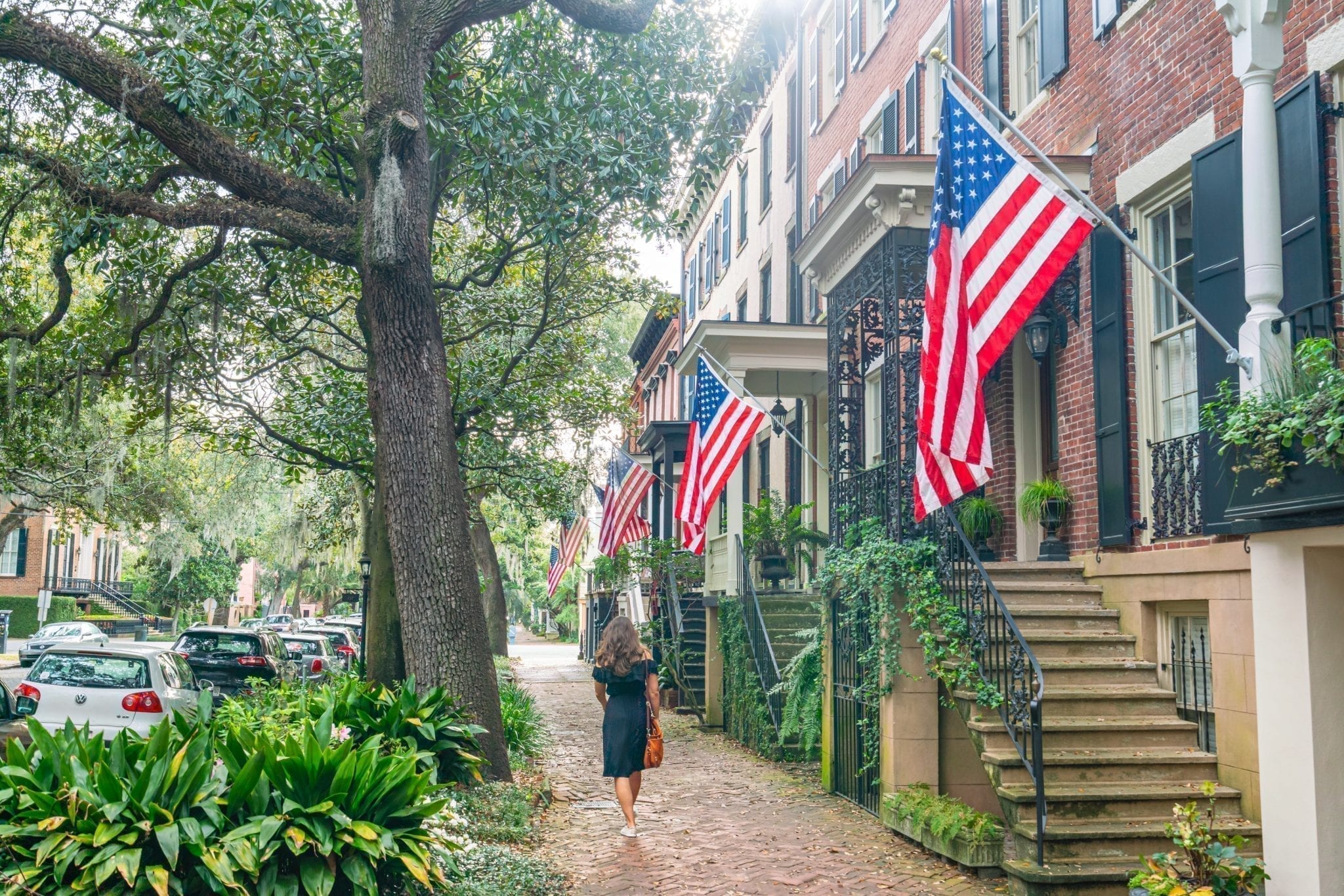 As far as food goes, Mrs. Wilkes' Dining Room can be found here (we highly recommend a visit!).
Jones Street is also home to the renowned Eliza Thompson House, one of Savannah's most popular bed and breakfasts.
Where You Can Find Jones Street in Savannah
Jones Street lies in the southern portion of the Historic District, between Charlton Street and Taylor Street.
It's a few blocks north of Forsyth Park, and runs (more or less) parallel to the Savannah River.
Tips for Exploring the Streets of Savannah, GA
Know your Savannah streets from your lanes.
Especially in the Historic District, many of the prettiest streets in Savannah have a "lane" of the same name set just half a block away from them (Jones Lane versus Jones Street, for example).
The lanes are generally much smaller and less picturesque, so you may be a bit confused if you navigate to the wrong one!
Luckily, you'll be only steps away from the given street at that point.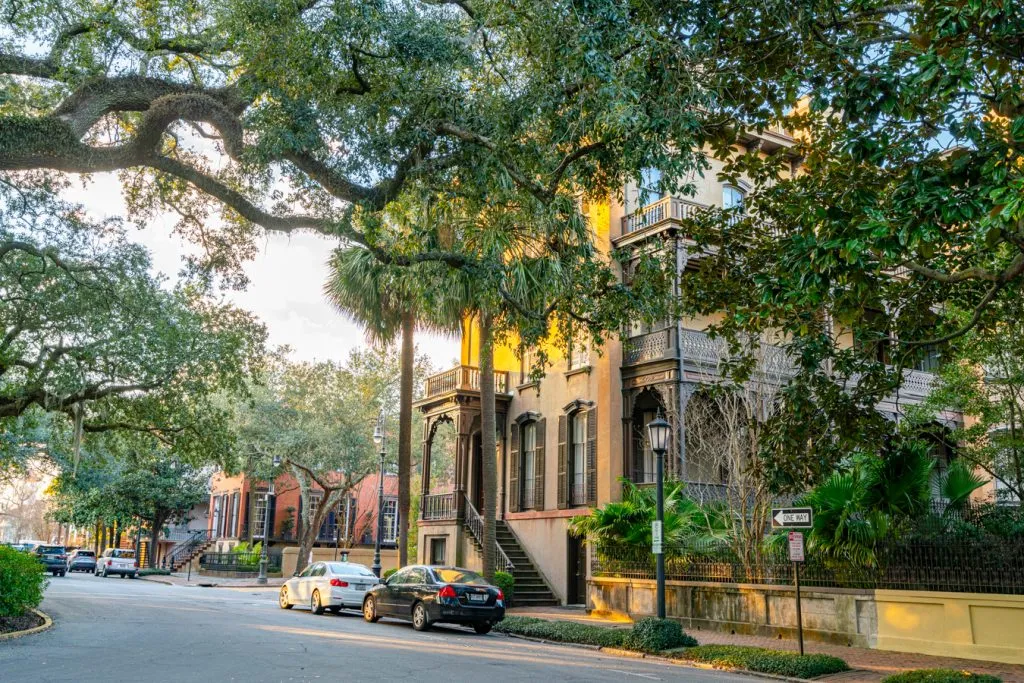 Be aware of the heat and bring plenty of water!
Savannah is notoriously hot, and it can be all too easy to get overheated when exploring on foot, especially in the summer.
Come prepared, and, if you're visiting during particularly hot weather, consider a morning walk.
Don't feel like you have to walk the whole way.
Savannah's free DOT shuttle system and popular hop-on/hop-off tours can be a great way to enjoy some of the prettiest streets in Savannah on foot while still knowing a ride is close by if you're ready to move on.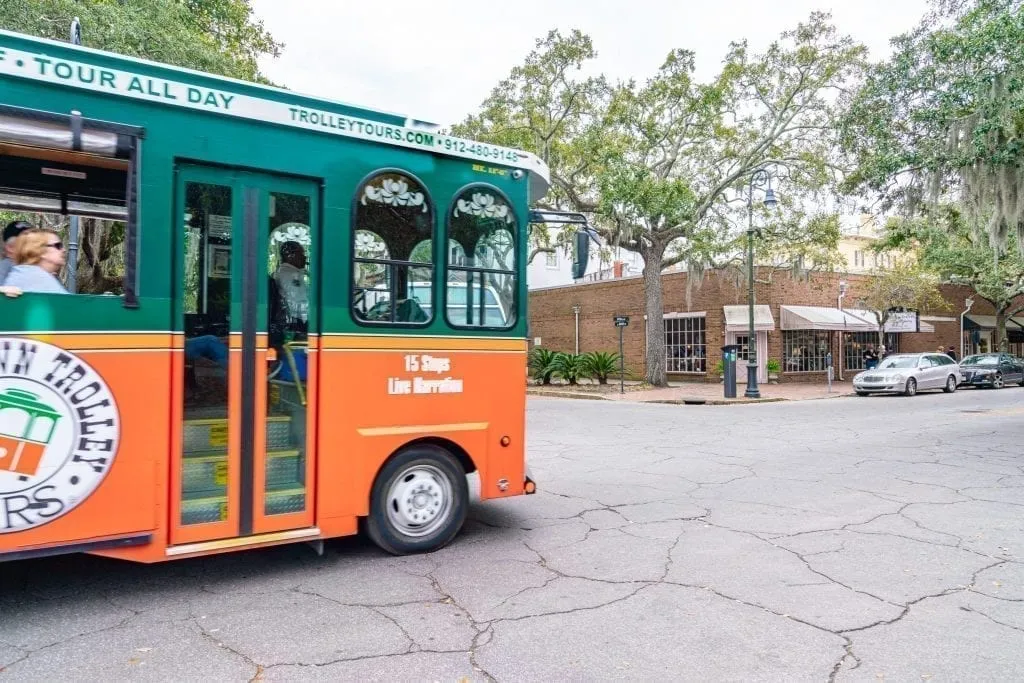 Don't trespass.
I'm sure none of our readers would, but enough people do it every year that it deserves to be said: be sure not to trespass on private property when exploring the streets of Savannah!
Many lucky people do still live along these gorgeous streets and squares, and while they're quite accustomed to photos being taken from the sidewalk, visitors climbing onto their porches or stepping into their gardens are far less welcome.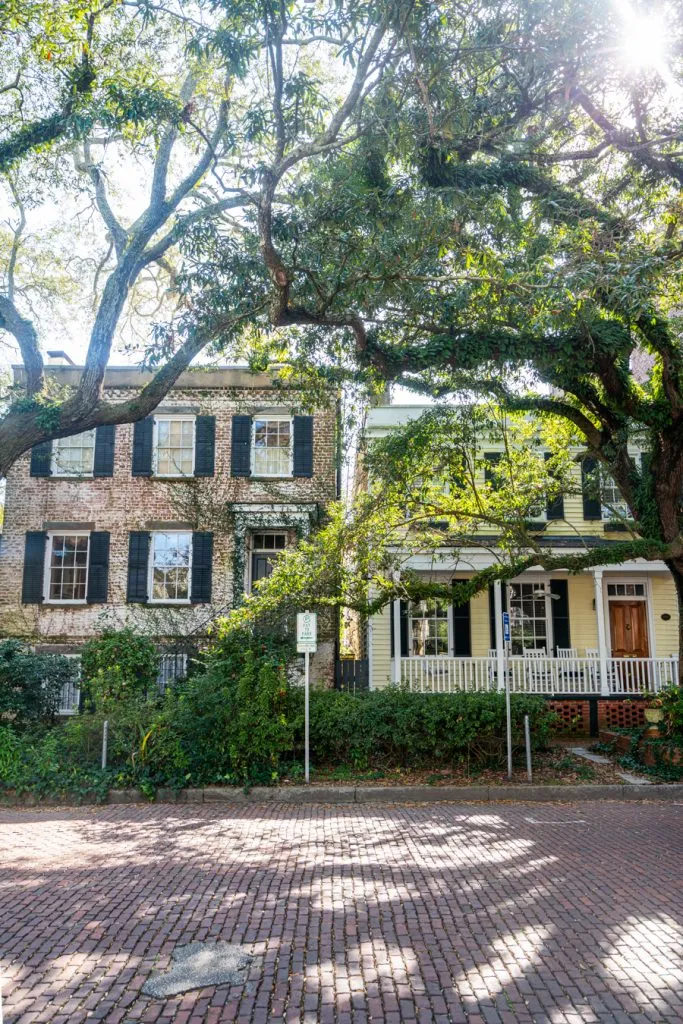 Speed is the opposite of the goal.
Savannah may not be a beach town, but the phrase "island time" still rings true here (and nearby Tybee Island has you covered if you're craving salt water).
Don't feel like you need to rush along in Savannah–the joy of exploring the prettiest streets in Savannah is savoring them.
Sitting on a shady bench in a square for a while, grabbing a coffee, browsing in a boutique, and lingering over minuscule architectural details in the beautiful buildings are all wonderful ways to break up your walks through Savannah.
Ready to Plan Your Visit to the Prettiest Streets in Savannah?
If you're planning a trip to Savannah and are ready to hit the pavement, we'd love to help you plan your trip to the Hostess City in more detail!
After many visits to Savannah (with many more to come in the future), we have lots of advice on how to make the most of a trip to this beautiful place.
Check out our guide to spending a long weekend in Savannah for a full itinerary, or our one day Savannah guide if you're short on time.
We also have blog posts here on Our Escape Clause covering the best day trips from Savannah, where to find the best food in Savannah, and a round-up of our favorite coffee shops in the city.
For a massive guide packed with more ideas than you can fit into one trip, our Savannah bucket list has you covered (and you'll find that many of the city's top attractions are lurking on Savannah's prettiest streets!).