Tiny, beautiful, and firmly off the beaten path for most travelers visiting Italy, Castell'Arquato is a gorgeous medieval town that makes a fun addition to a trip to Emilia-Romagna!
Dominated by its castle perched at the top of the town's hill, Castell'Arquato (also sometimes written as Castell Arquato or Castel'Arquato) doesn't take long to explore–but that's all the more reason to visit.
Castell'Arquato is recognized as one of the "most beautiful villages in Italy", and after visiting, we doubt you'll disagree.
We visited Castell'Arquato as part of a longer Emilia-Romagna road trip and were immediately smitten with the village's peaceful, laid-back, and delightfully uncrowded atmosphere.
Here are the best things to do in Castell'Arquato, plus what to know before you visit!
Some links in this post may be affiliate links. If you make a purchase through one of these links, we may earn a small commission at no extra cost to you. Please see our

disclosure policy

for more detail.
Where is Castell'Arquato?
Castell'Arquato is located in northwestern Emilia-Romagna, in the province of Piacenza.
The town is roughly 30 miles (50 kilometers) west of Parma, or 60 miles (100 kilometers) south of Milan.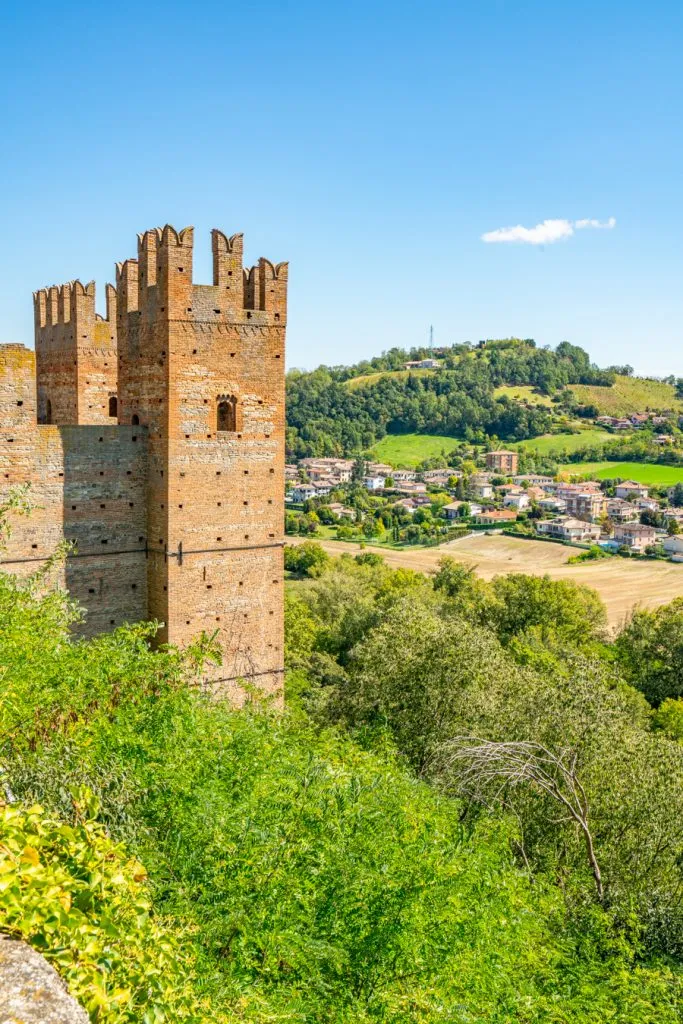 Best Things to Do in Castell'Arquato, Italy
Visit Castell'Arquato's castle (Rocca Viscontea).
Without a doubt, Castell'Arquato's top attraction is its striking castle, Rocca Viscontea.
One of the Castles of the Duchy of Parma and Piacenza, construction started on this medieval fortress in 1343.
Today, the main appeal of the castle is the stunning views from the top of its tower.
As you climb, you'll be able to explore the rooms of the Fortress Museum, which cover the history of the castle and the town.
You can also wander into the courtyard as part of your visit, though there's not much left of it beyond the exterior walls.
… and the garden that is located right next door.
Featuring excellent views of Rocca Viscontea and the surrounding countryside, this small park is a great place to rest your feet for a moment when visiting Castell Arquato, Italy.
There's plenty of shade and a fountain here, too!
Admire the architecture of Castell'Arquato's Piazza del Municipio.
Every Italian hamlet, no matter how minuscule, needs a central piazza–and in Castell'Arquato, that's the Piazza del Municipio.
You can find Rocca Viscontea on one side of this piazza, and on the opposite side, the 13th century Palazzo del Podestà.
Unlike many central piazzas these days, Castell'Arquato is small enough (and untouristed enough) that residents still park in this square, so keep an eye out for the occasional car as you explore!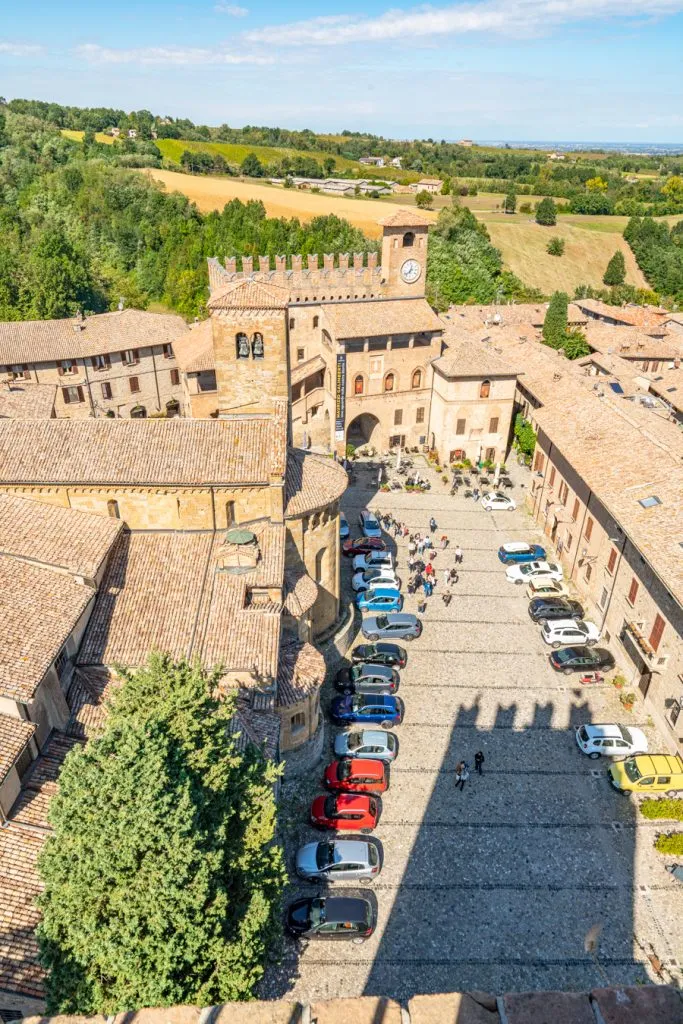 Step inside the Collegiata di Castell'Arquato (and don't miss the frescoes).
This beautiful church, located just steps away from the Piazza del Municipio, is (like many historic buildings) made up of a hodge podge of different architectural styles.
The bulk of the Collegiata di Castell'Arquato as it stands today, though, dates to the 12th century and was built in the Romanesque style, and visiting is one of the best things to do in Castell'Arquato today!
As you step inside, be sure to turn immediately to the right and step inside the Chapel of Santa Caterina, which is positively covered in beautiful 15th-century frescoes that weren't rediscovered until the very end of the 19th century.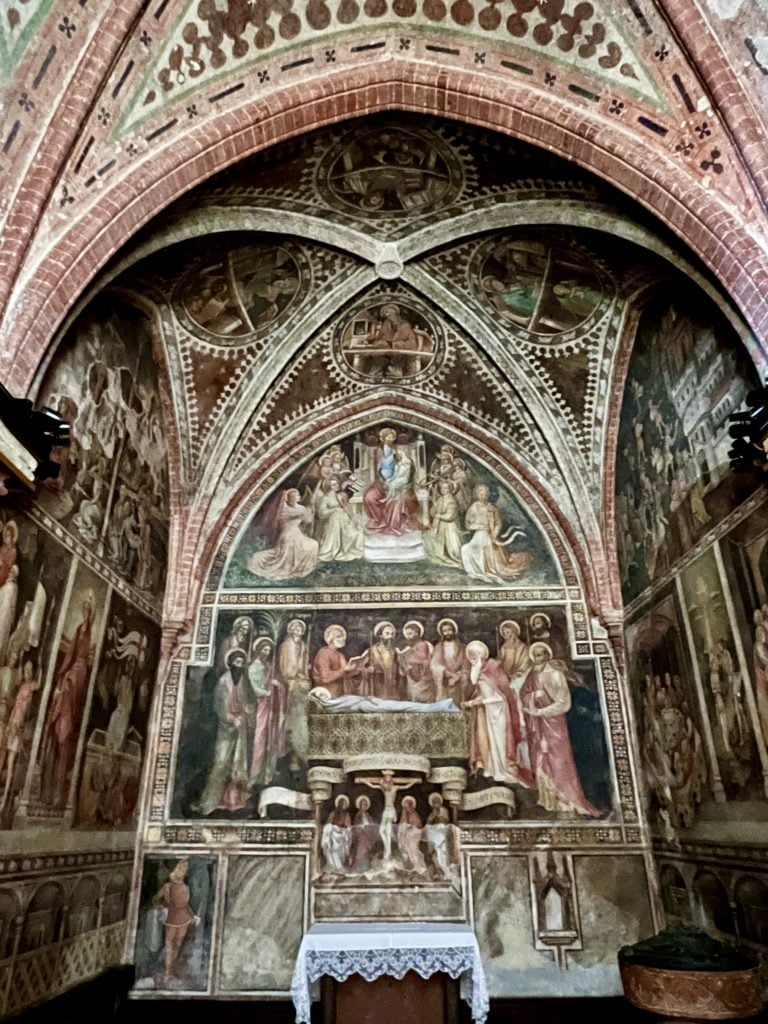 Sample the museums of Castell'Arquato, Emilia-Romagna.
If you're curious to learn more about the history and culture of Castell'Arquato and the surrounding area, consider stepping inside one of the town's few museums!
We've already covered the Fortress Museum above when discussing Rocca Viscontea, but for a tiny town, Castell'Arquato has a variety of museum options.
Keep in mind that these museums tend to have extremely limited hours, so if you have your heart set on visiting one, try to double-check the opening times before arriving.
G. Cortesi Geological Museum
When you think of museums that are located in picturesque towns nestled in the Italian countryside, odds are high that fossils aren't the museum topic you have in mind… and yet that's exactly what you'll find at the renowned G. Cortesi Geological Museum!
Known for its extensive collection of fossils and research pertaining to the local Po basin and its fauna, this museum is an interesting and unexpected attraction in Castell'Arquato.
Museum of the Collegiate Church
Housed in the 13th-century cloister of the Collegiata di Castell'Arquato, this small museum houses local art and artifacts, much of it from the church itself.
Most notably, there are 2 beautiful Byzantine eucharist veils dating to the 13th century that call the museum home.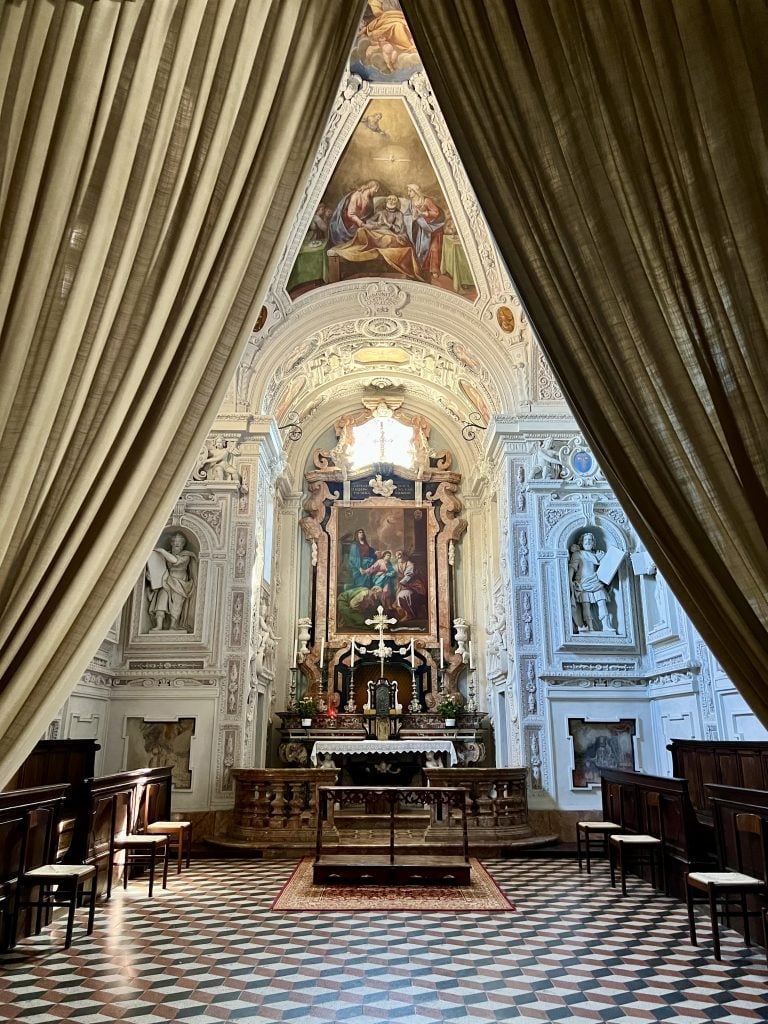 Luigi Illica Museum
This small, very niche museum is for opera lovers out there!
Luigi Illica (1857-1919) was a playwright who worked with the best composers of Italian opera of his time, most notably Giacomo Puccini (you can find the Puccini Museum is just a few hours away in Lucca).
This museum is located next door to the writer's birthplace and is dedicated to his life and work.
Sample local food over a leisurely lunch.
Enjoying a long, relaxed lunch made up of local Emilia-Romangan dishes definitely belongs on your list of what to do in Castell'Arquato!
We loved our meal at Ristorante Stradivarius (I still dream about the pasta pictured here, which was recommended by the waiter), but there are several great places to eat in town.
Keep in mind that restaurant hours can be a bit more limited in small towns in Italy, even compared to the cities.
If you know that you want to eat lunch during your Castell Arquato visit, be sure to keep an eye on the time and aim for the 12:00 PM to 3:00 PM window.
(Or, even safer, the 12:30 PM to 2:00 PM window).
Wander aimlessly through the narrow stone streets of Castell'Arquato.
Like virtually all of the best places to visit in Italy, a bit of aimless wandering is a wonderful way to appreciate the beauty of Castell'Arquato.
Narrow cobblestone streets featuring beautiful buildings that have flowerpots bursting from the windows are the norm here, and experiencing these classic small-town Italian views without a crowd is one of the best reasons to visit Castell Arquato.
It's virtually impossible to get too lost in a town this size, so duck around a random corner or 2 and see what you find!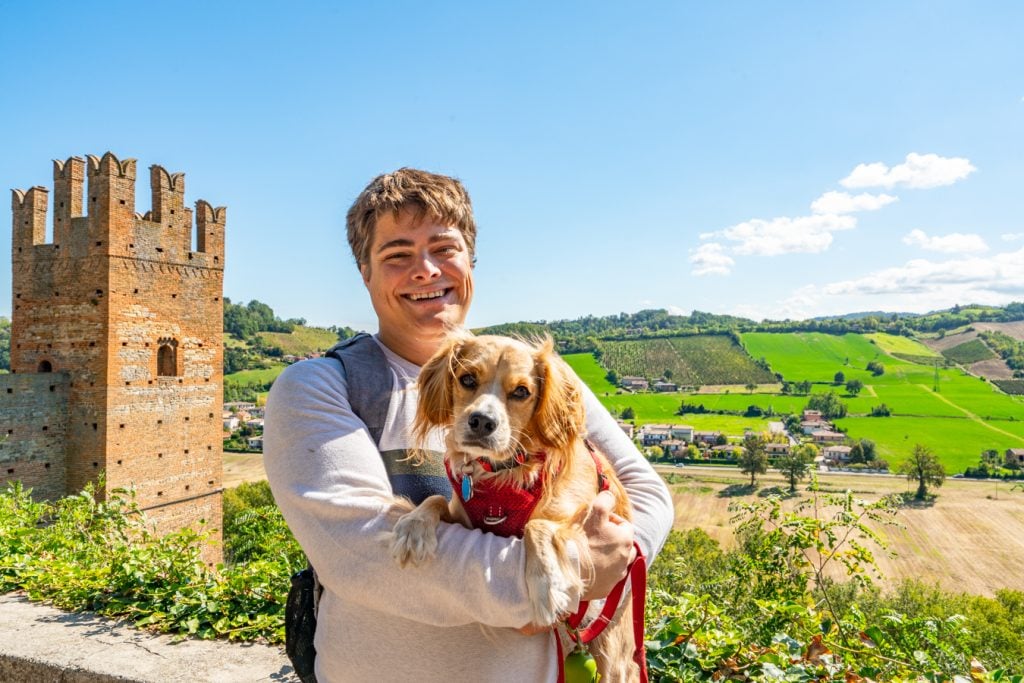 How to Get to Castell'Arquato, Emilia-Romagna
There isn't a train station in Castell'Arquato itself, but you can connect to the town by bus.
We opted to drive to Castell'Arquato as part of our Emilia-Romagna road trip and found it very easy to do.
There are a handful of public parking lots surrounding the historic center (like virtually all towns and cities in Italy, traffic into the historic center is restricted), and you can easily walk to Piazza del Municipio and Rocca Viscontea from there.
If you're planning to drive, whether for the day to visit a couple of villages or for a full Emilia-Romagna road trip, if you'd like to drive to Castell'Arquato, we recommend renting a small car through Discover Cars.
This will allow you to compare prices and inclusions of multiple companies at the same time and choose the best car for you from there.
How Long to Spend in Castell Arquato
You can easily enjoy the bulk of the best things to do in Castell Arquato on a day trip or even a half-day trip to the town.
We recommend making the castle your first priority, followed by the Collegiata di Castell'Arquato, and simply enjoying the atmosphere.
Add in a museum or two if you're so inclined, have a nice meal, and just like that, you'll have enjoyed a lovely day sampling the best Castell'Arquato attractions.