The laid-back city of Parma, Italy may be most famous for its cheese and ham (hello, Parmigiano-Reggiano and Prosciutto di Parma!), but that only scratches the surface of the fun things to do in Parma that make this city so special.
Set along extremely convenient train routes in Emilia-Romagna, you'll find Parma about 60 miles/100 kilometers west of its more-famous cousin, Bologna.
With its colorful architecture, impressive (and uncrowded) monuments, a lively student population, low prices, and some of the best food in Italy, Parma is an extremely easy place to fall in love with.
In many ways, Parma feels like the Goldilocks of northern Italian cities: it is neither too large nor too small, has an array of attractions that are delightful without being overcrowded, is conveniently located for traveling in and out, and is a downright bargain compared to many nearby destinations.
We're not the only ones who love it, either: Parma was named the Italian Capital of Culture for 2020-2021!
If that description sounds like your idea of the perfect Italian getaway, it's time to visit Parma.
We've had a chance to visit Parma twice now, first on a day trip and later over the course of several days, and are completely smitten with it.
Here are the best things to do in Parma, Italy–plus everything you need to know before planning a trip to Parma!
The Best Things to Do in Parma, Italy
Step inside the Duomo di Parma.
Consecrated in 1106, the Duomo di Parma is one of the most striking cathedrals in Emilia-Romagna, if not in northern Italy as a whole!
Featuring an intricately frescoed ceiling and a stunning dome painted by Antonio da Correggio, visiting the Duomo is absolutely one of the top things to do in Parma.
The cathedral is also free to visit and doesn't take long to see, making it an easy addition to even a brief Parma itinerary.
(Also, Ristorante Angiol d'Or is located right next door and serves delicious Emila-Romagnan cuisine).
Pay a visit to Parma's stunning medieval baptistery.
Commissioned in 1196 and built with Verona marble, the beautiful Parma Baptistery is considered one of the most important medieval monuments in Europe thanks to its unique architecture!
The baptistery blends Romanesque and Gothic styles, capturing the moment when European architecture was in the process of leaving the Romanesque style behind in favor of Gothic detail.
The ceiling of the baptistery, with its magnificent frescoes, is particularly striking.
Unlike the cathedral, the Parma Baptistery requires a 12 Euro ticket to enter, which also includes a visit to the Diocesan Museum.
Tickets can be purchased at the Diocesan Museum, which is located opposite the Piazza del Duomo from the baptistery.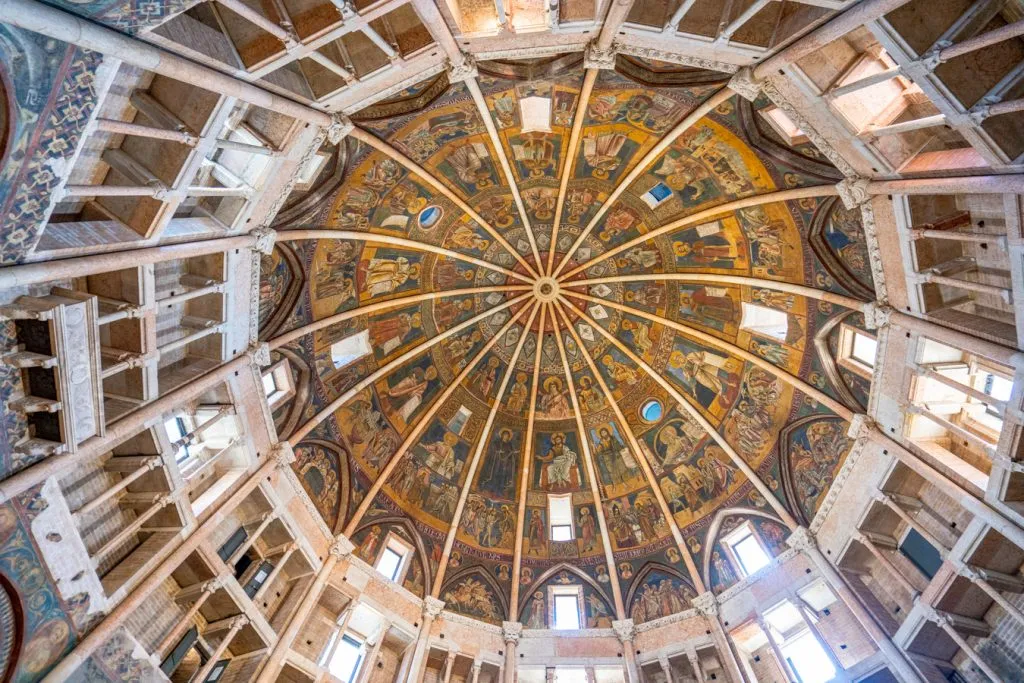 … and the associated Diocesan Museum.
Located in the Bishop's Palace, this small museum complements a visit to the Duomo and the Parma Baptistery.
The museum chronicles the spread of Christianity in Parma, from Roman times to the medieval period which is characterized by the other 2 monuments found on Piazza del Duomo.
Some of the art found inside the museum originally called the cathedral or baptistery home, not unlike at the Museo dell'Opera del Duomo near Florence's Duomo.
As of the time of writing, signage in the museum is mostly in Italian, but there is an English version of the audio guide.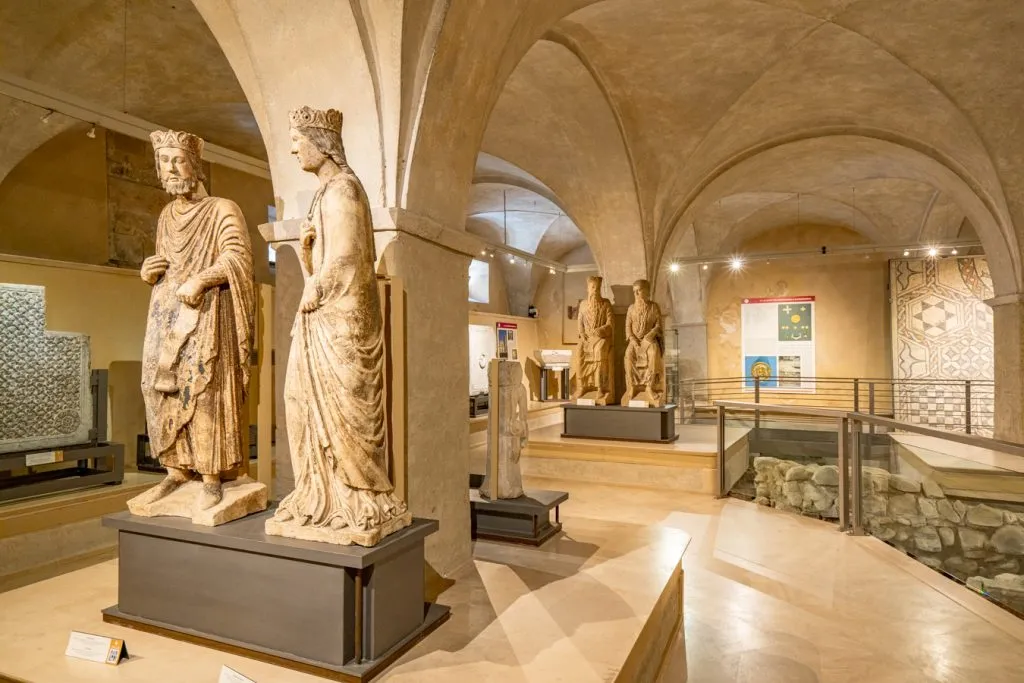 Visit the museums of the Palazzo della Pilotta.
Several of Parma's museums, including the famous Teatro Farnese that features on just about every roundup of Parma attractions out there, are housed inside the centrally located Palazzo della Pilotta.
As of our most recent Parma travels in late 2022, the only way to visit these museums (including Teatro Farnese) is to buy a combined ticket for all of them, which costs 12 Euro as of the time of writing.
We specifically confirmed this with the ticket office, as originally we were hoping to visit Teatro Farnese and the National Gallery on separate days.
Here are the museums you'll find inside the Palazzo della Pilotta!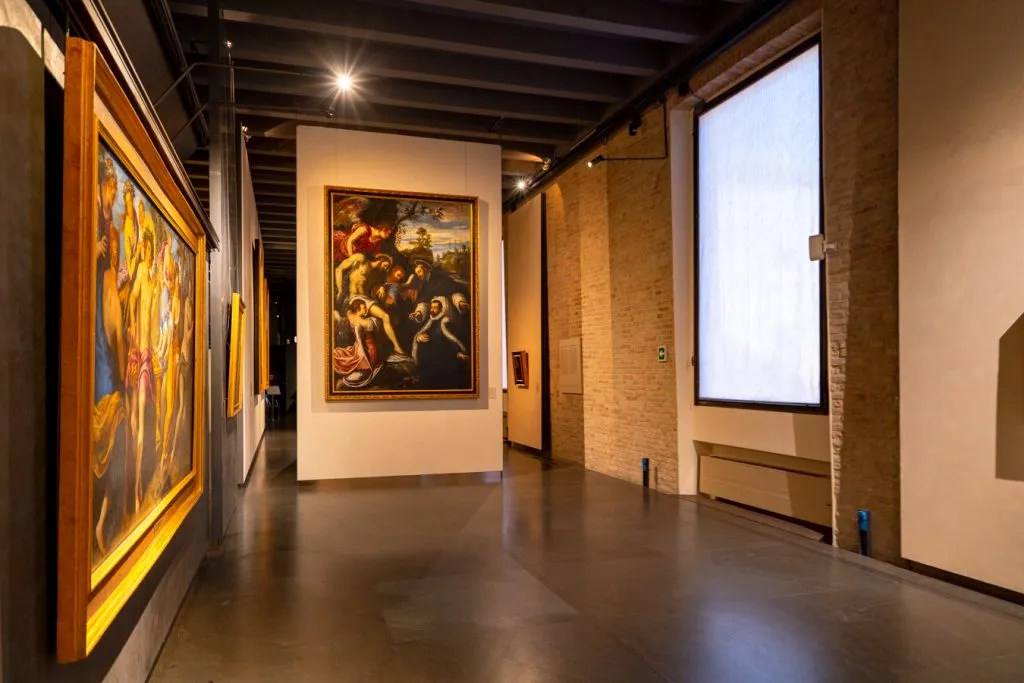 Teatro Farnese
When visiting Parma's famous Teatro Farnese, it's the smell that hits you first: the entire theater is made out of wood!
Originally built in 1618, the Teatro Farnese is one of the only remaining Renaissance theaters in the world.
… With the caveat that it was almost entirely rebuilt after Allied bombing in 1944 damaged the original.
It is a striking place, though, and as you visit, it's easy to see why this is one of the most famous places to visit in Parma!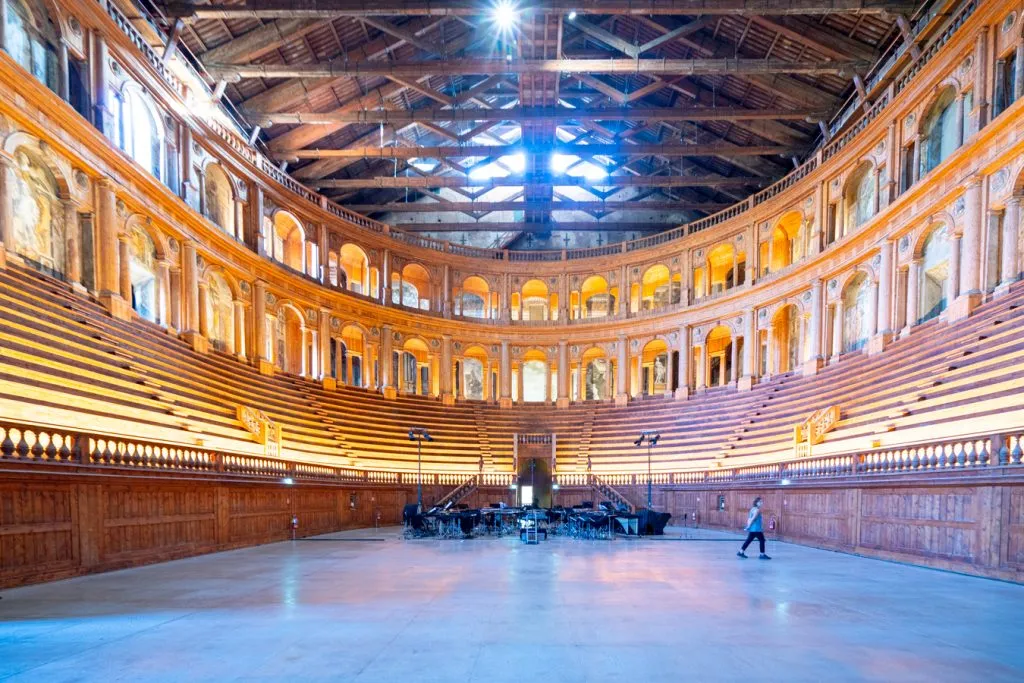 National Gallery of Parma
We were very impressed by the expansive, interesting collection at the National Gallery of Parma.
For starters, we weren't expecting them to have a DaVinci!
The collection has its roots in the Academy of Fine Arts established in Parma in 1752, and features a variety of Italian and other European art.
Biblioteca Palatina + Bodoni Museum
Established in 1761, this beautiful library reminds me quite a bit of Bologna's Library of Archiginnasio, though this one is able to be walked through!
It's attached to the Bodoni Museum, which explores Parma's prominent role in printing starting in the 18th century.
The Bodoni Museum is currently closed for updates, but you can check on future reopening dates here.
With the museum closed, the Biblioteca Palatina alone doesn't take long to see, and is definitely worth adding to your list of places to visit in Parma!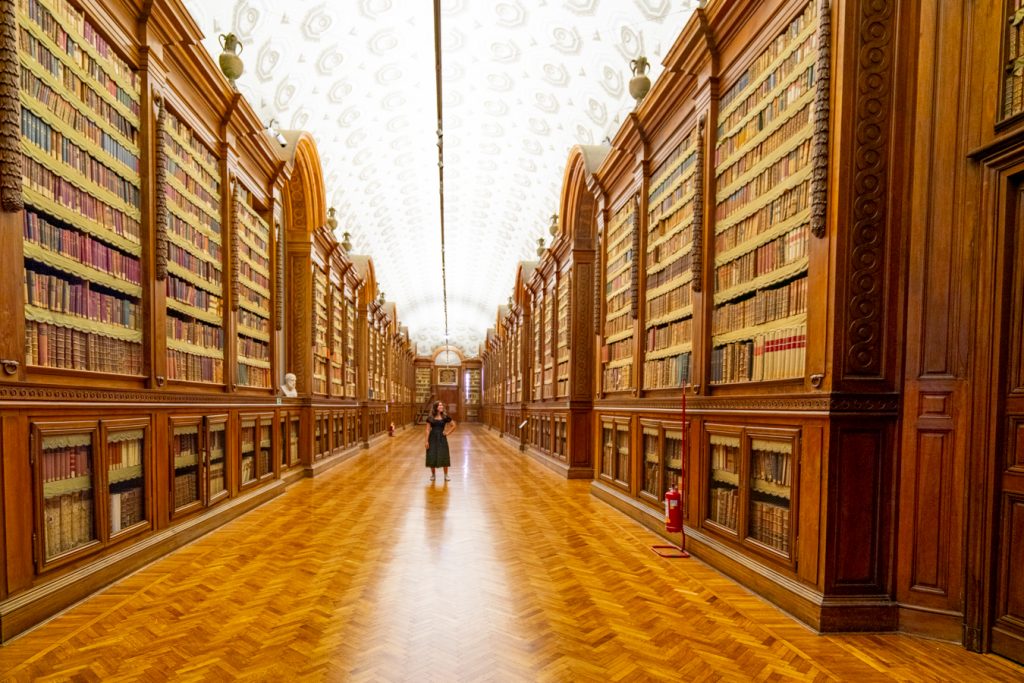 National Archaeological Museum
Founded in 1760 as the Ducal Museum of Antiquity, the National Archaeological Museum in Parma is one of the oldest museums in Italy!
The museum covers not only (as expected) Roman history, but houses artifacts from Ancient Egypt and other ancient cultures as well.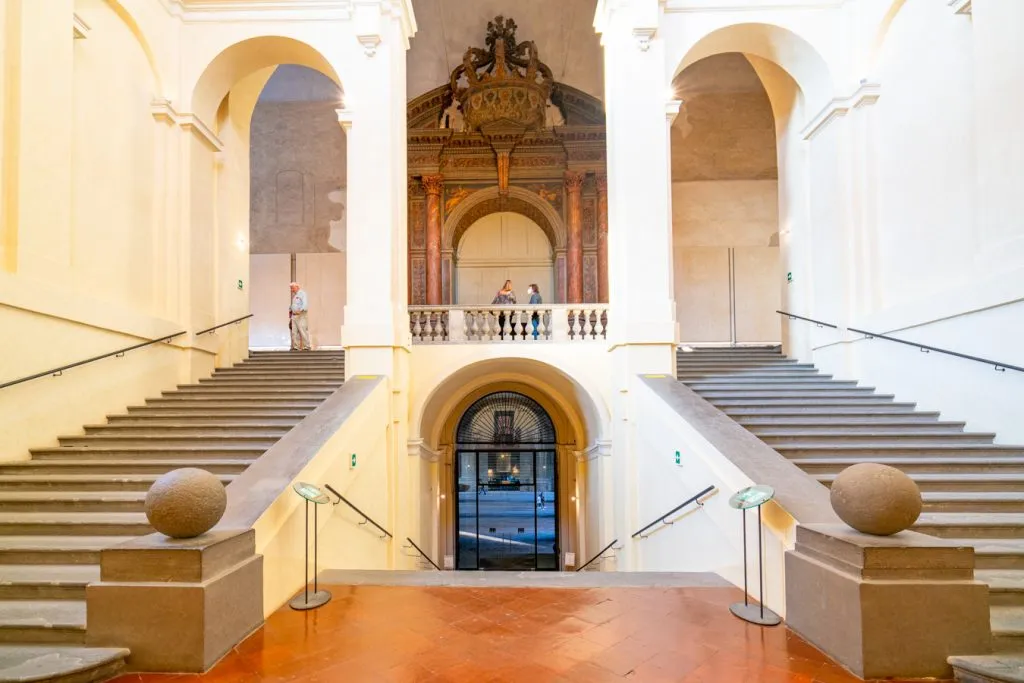 Tour a Parmigiano-Reggiano factory.
Planning a visit to Parma, Italy first caught our eye years ago for exactly one reason: the desire to visit a Parmigiano-Reggiano factory and marvel at endless rows of aging cheese!
Now, of course, we love the city for many more reasons, but touring a Parmigiano-Reggiano absolutely lived up to the hype, and we consider it one of our most memorable travel experiences in Italy.
The factories are in rural areas outside of town, so you'll need to either book a guided tour or arrange a time with the factory in advance and drive out yourself.
Many tours, including this popular one, include a visit to a Prosciutto di Parma factory as well, which is absolutely worth it!
However, if you'd rather stick to just cheese, this shorter tour is an excellent option.
Book your Parmigiano-Reggiano and Prosciutto di Parma food tour today!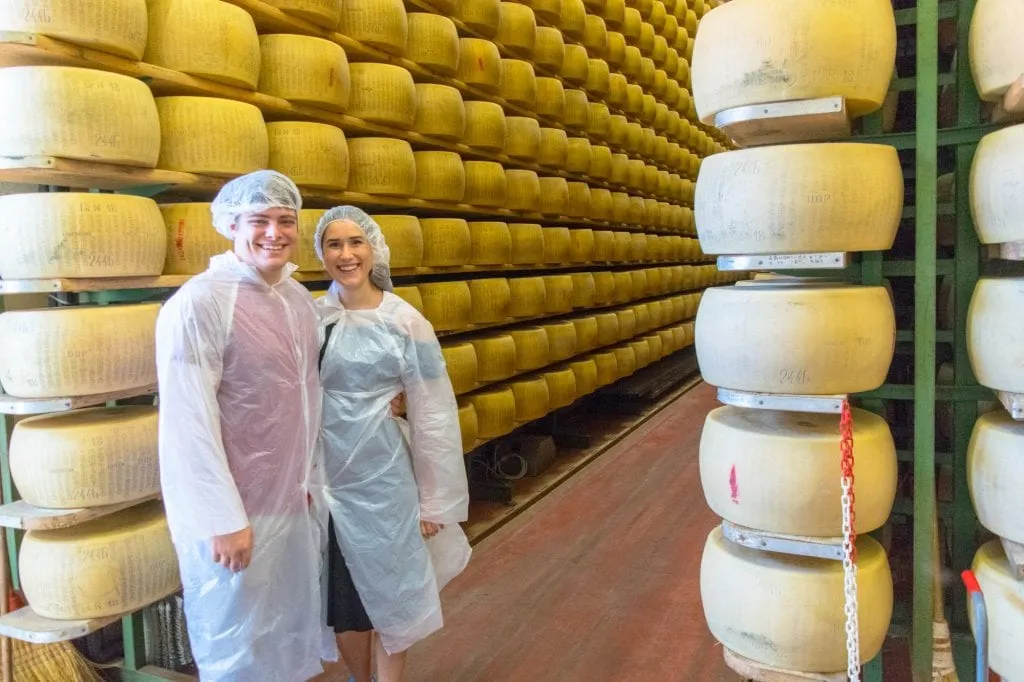 … and a Prosciutto di Parma factory.
Parma's second iconic food, Prosciutto di Parma, is also well worth experiencing via a factory tour and tasting!
The different flavors brought out by the aging process of Prosciutto di Parma are distinct and delicious, and we loved touring the factory as well.
Many Parma tours featuring a visit to a Parmigiano-Reggiano factory, including this popular one, visit a Prosciutto di Parma factory as well.
Book your Parmigiano-Reggiano and Prosciutto di Parma food tour today!
Stroll through Ducal Park and catch sight of the Ducal Palace.
Located just a short walk across the Parma River from the Palazzo della Pilotta and its collection of museums, Ducal Park is one of Parma's most beautiful and relaxing green spaces.
At the center, you'll find the Ducal Palace, which was built in the 18th century by the current Duke of Parma.
The building itself is closed to the public, but it's worth checking out the striking exterior when visiting Ducal Park!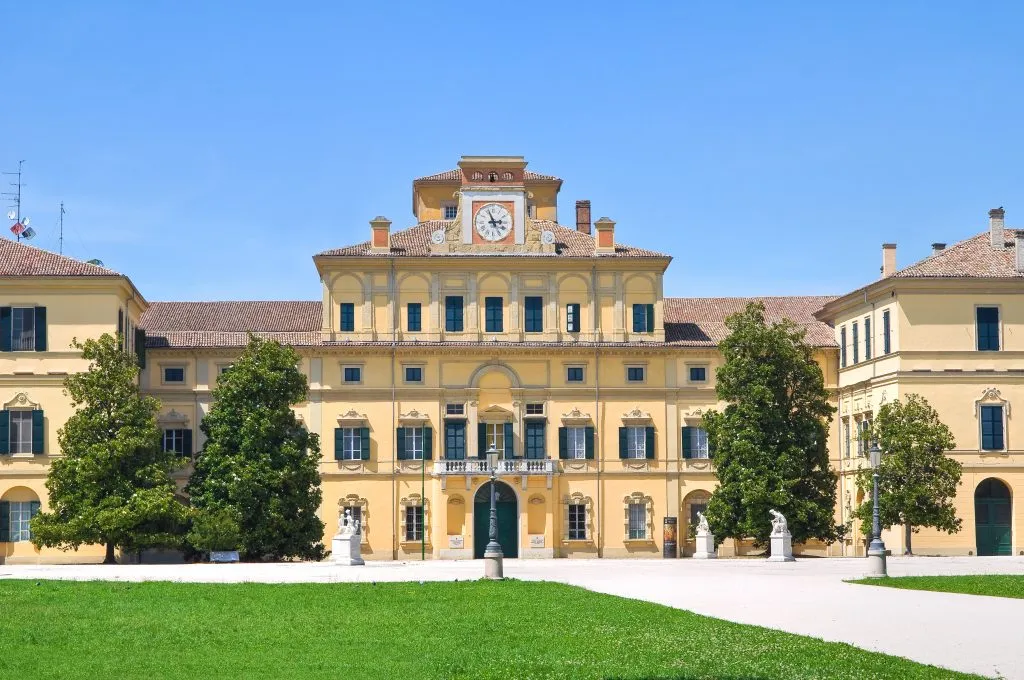 Pay a visit to the Sanctuary of Santa Maria della Steccata.
Built in the 16th century, this beautiful church is both free to visit and relatively uncrowded, as well as historically significant to the city.
The Sanctuary of Santa Maria della Steccata boasts an opulent, primarily Baroque interior that is at contrast with its more plain exterior (a common theme in Emilia-Romagna's churches–just look at the mosaics of Ravenna).
The crypt of the church is the final resting place of 26 members of the Farnese family that ruled Parma from 1545 to 1731.
People-watch at Piazza della Pace.
This beautiful green space, framed on one side by the Palazzo della Pilotta and on the other by a collection of cafes and restaurants, is one of the best places to people-watch in town.
Despite being right next door to some of the most popular things to do in Parma, this piazza has a distinctly local feel, thanks in part to the many students who spend time here.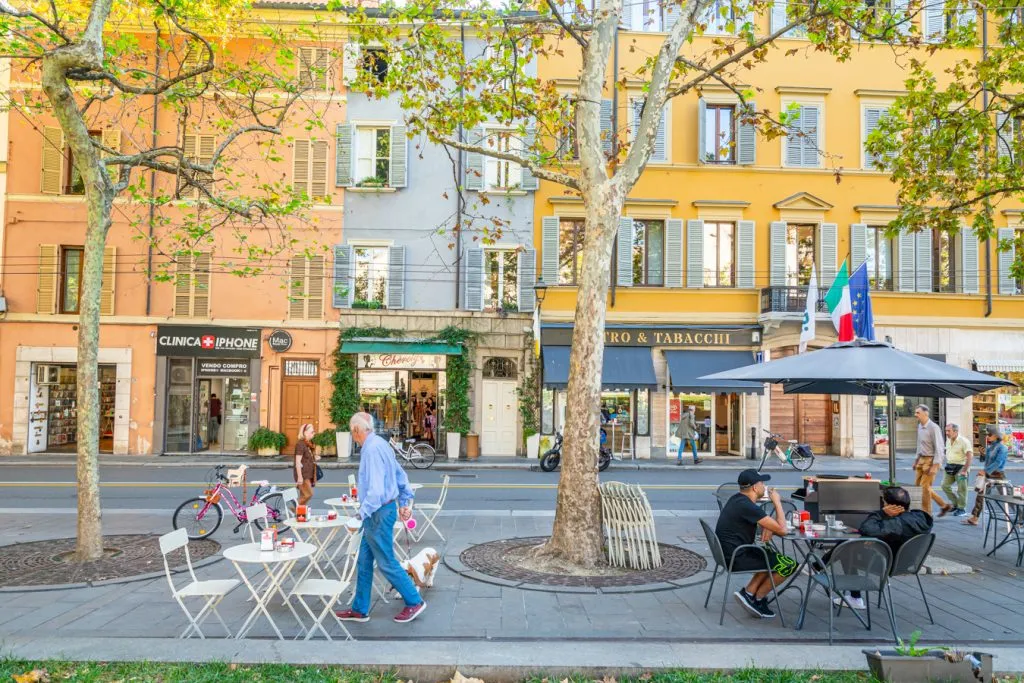 Tour Parma's beautiful Baroque opera house, Teatro Regio.
Parma's Teatro Regio may not have the immediate name recognition of Milan's La Scala or Venice's La Fenice, but it is a stunning building in its own right!
Baroque in style, the theater initially opened in 1829 and is still active today (you can check show dates and times here).
If you'd rather simply tour the theater, guided tours run most days of the week as well.
Maurizio Moro5153, CC BY-SA 4.0 , via Wikimedia Commons
Check out the Castle Puppets Museum.
This small, quirky museum is a bit hard to spot but very cool to visit!
Focused on (mostly Italian, but also international) puppets and puppeteering from the 18th to 20th centuries, the museum is well-done, well-signed, and very interesting.
We don't have a particular special interest in puppets, and were pleasantly surprised by how much this hidden gem in Parma held our attention.
The Castle Puppets Museum is also free to visit!
… and the House of Sound.
Another free, unexpected, and unusual museum in Parma to visit is the House of Sound.
This interactive museum explores developments in sound reproduction, with exhibits focused on phonographs, stereos, and more.
The museum is primarily centered around the 20th century.
Duck inside the Church of San Giovanni Evangelista.
Built in the 1500s, the frescoes decorating this sprawling church were painted, like those in the nearby Duomo, by Antonio da Correggio.
You can find the Church of San Giovanni Evangelista just behind the Parma Cathedral, making it easy to visit both churches very quickly!
Stop by Piazza Giuseppe Garibaldi.
Also known as Piazza Grande, Piazza Garibaldi is where you can find Parma's town hall and is the traditional "main" piazza of the city.
Today, traffic runs through it, making it one of the louder, more modern-feeling corners of Parma's historic center.
For coffee and people-watching, we prefer the smaller, quieter piazzas, like Piazza della Steccata (which you can find just around the corner).
Piazza Garibaldi is worth stopping by for its architecture, though, including the striking clock tower and facade of the Palazzo del Governate.
Sample pesto di cavallo.
Pesto di cavallo is one of Parma's most iconic foods, but for those coming from the USA like us, it's also one of the most outside our typical food culture.
To put it simply, pesto di cavallo is horse meat, served raw (think French boeuf tartare, but with horse meat).
The minced meat is seasoned with salt, pepper, and lemon.
We have both tried it, Jeremy likes it and I thought the taste was fine but don't generally like to eat raw meat, and this was no exception.
The dish is heavily associated with parma, though, and is often served in sandwiches.
If you do want to give it a try, you'll have plenty of opportunities!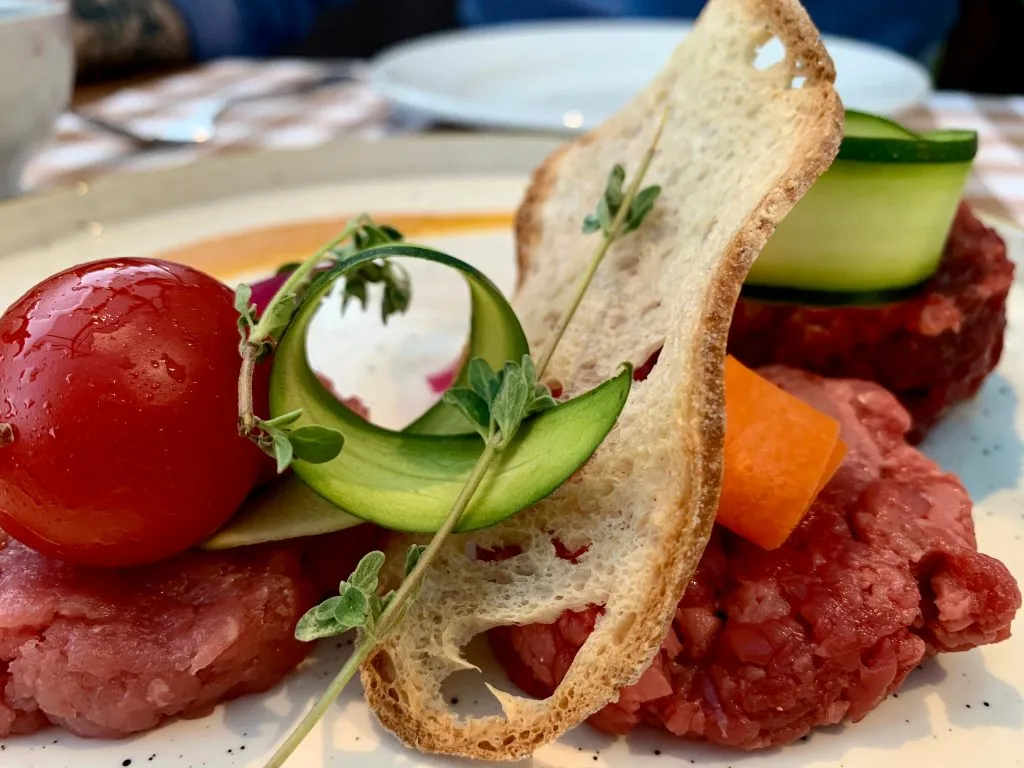 Pay a quick visit to the Church of San Alessandro.
The Church of San Alessandro, located just across the street from the larger and better-known Sanctuary of Santa Maria della Steccata, is a beautiful side stop when exploring the best things to do in Parma.
I walked in here on a whim and was immediately blown away by its intricate, intimate decor–the relatively small space would almost make you think of words like "cozy" if it weren't so grandly decorated.
Built (in its current iteration) in the 1500s, the Church of San Alessandro is well worth the few minutes it takes to step inside.
Check out the Museo Glauco Lombardi.
Empress Marie-Louise, a Habsburg by birth and the second wife of Napoleon Bonaparte, became the Duchess of Parma at the age of 25.
Her life was long and complex, and her marriage to the erstwhile emperor was fairly brief in the grand scheme of things.
However, she ended up spending the bulk of her adult life in Parma, where she is said to have been popular.
The Museo Glauco Lombardi, housed in Marie-Louise's former home, explores her marriage to Napoleon.
Relax in Citadel Park.
Located in and along the walls of a 16th-century citadel, Citadel Park is a beautiful place to enjoy some peace and quiet in between sightseeing stops in Parma.
Honestly, most travelers visiting Parma for the first time probably won't visit Citadel Park, and that is perfectly fine.
It's about a 20-minute walk from the Duomo, and you probably won't make it over there without a good reason.
… But, thanks to Ranger, we had a good reason.
In addition to running and walking trails along the historic fortifications, plenty of shade, and playgrounds, Citadel Park also has an excellent dog park.
If you're hoping to take a run, entertain a kid or dog, or enjoy an afternoon under the trees in a peaceful place during your trip to Parma, Citadel Park has you covered.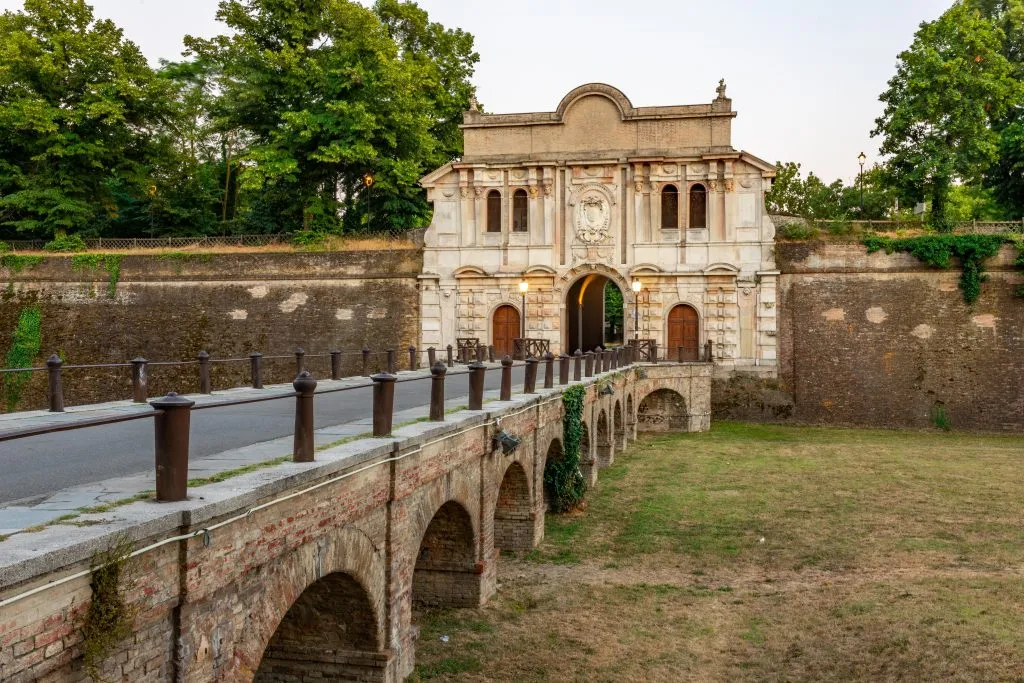 Where to Stay in Parma
We had an excellent stay at the sleek NH Parma during our most recent Parma vacation!
This modern hotel is located right next door to the train station, and we have happily stayed at NH Hotels throughout Europe.
Not only are NH Hotels, including NH Parma, generally very clean with spacious rooms, comfortable beds, and excellent customer service, but they're pet-friendly, a must for us when we travel with Ranger.
A possible downside of NH Parma for some travelers, however, is that as a modern hotel, it doesn't have a traditional or historic Italian feel.
If you want to stay at a hotel in Parma with more character, consider the popular Palazzo Dalla Rosa Prati, which is located right across the piazza from the Parma Cathedral!
Mercure Parma Stendhal, located by the Palazzo della Pilotta, is another excellent choice that blends traditional and modern styles.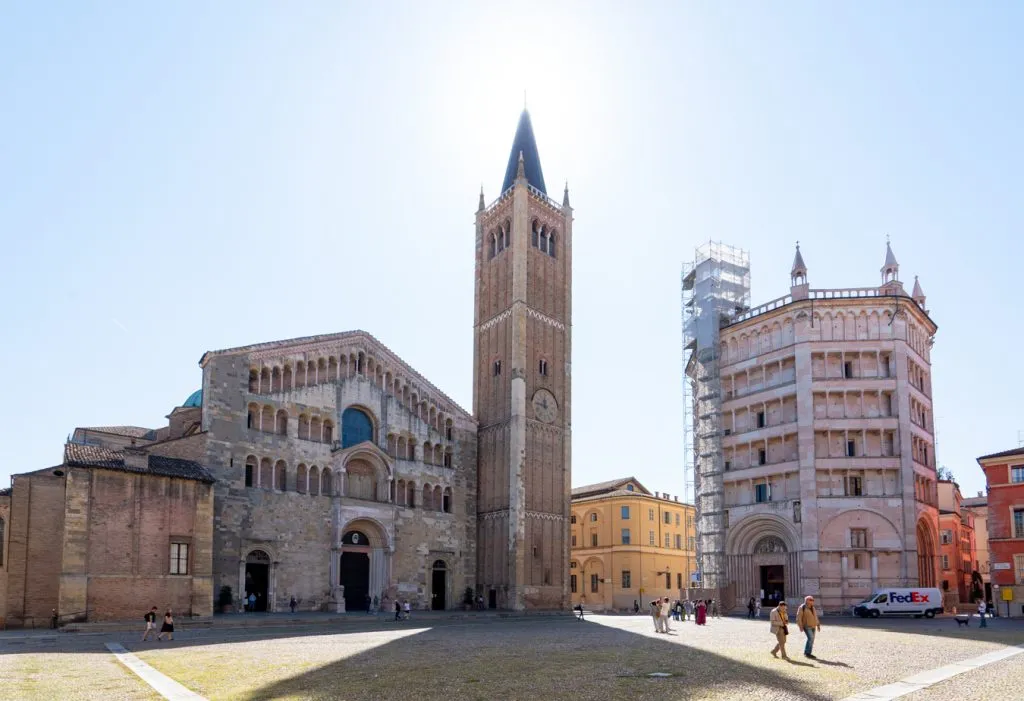 Sample One Day in Parma Itinerary for a Quick Visit
While you can't see all of Parma in a day, you can absolutely get an excellent taste (literal and figurative) of the city in that time frame!
The first time we visited the city, we took a day trip to Parma from Bologna, and we left knowing we would absolutely return for a longer visit.
With one day in Parma, we recommend starting with a half-day food tour to a Parmigiano-Reggiano factory and Prosciutto di Parma factory.
This remains one of our favorite and most memorable foodie experiences in Italy!
From there, head back and spend an afternoon in the historic center.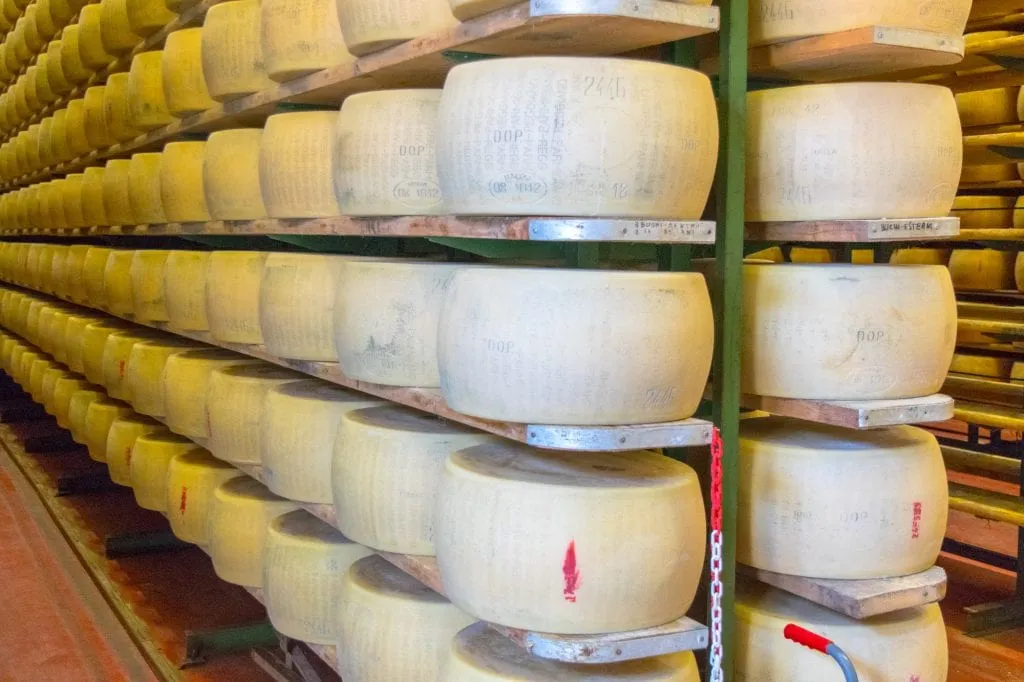 Start at the Duomo before visiting the Baptistery and, a very short walk away, the Church of San Giovanni Evangelista.
If you're hungry, consider grabbing lunch at Ristorante Angiol d'Or (everything single thing we ate there was delicious).
Swing by Piazza Garibaldi (in part because the walk there will show you some beautiful streets), and then loop around to the Sanctuary of Santa Maria della Steccata.
From there, if you have the time and energy, consider adding on one more attraction like touring the Teatro Regio.
If you love museums and are a fairly speedy sightseer, you may be able to do justice to the Palazzo della Pilotta museums, prioritizing the Teatro Farnese and the National Gallery.
If you're not spending the night in Parma, it's a 15-minute walk from the Palazzo della Pilotta back to the train station when you're finished visiting Parma.
Getting Around When Visiting Parma
Parma's historic center is very walkable (and also very flat, making walking all the more pleasant).
The train station is a short walk from the historic center, and there's a parking garage underneath the train station.
Whether you arrive by car or train, most visitors will be able to easily explore the best things to do in Parma on foot from there.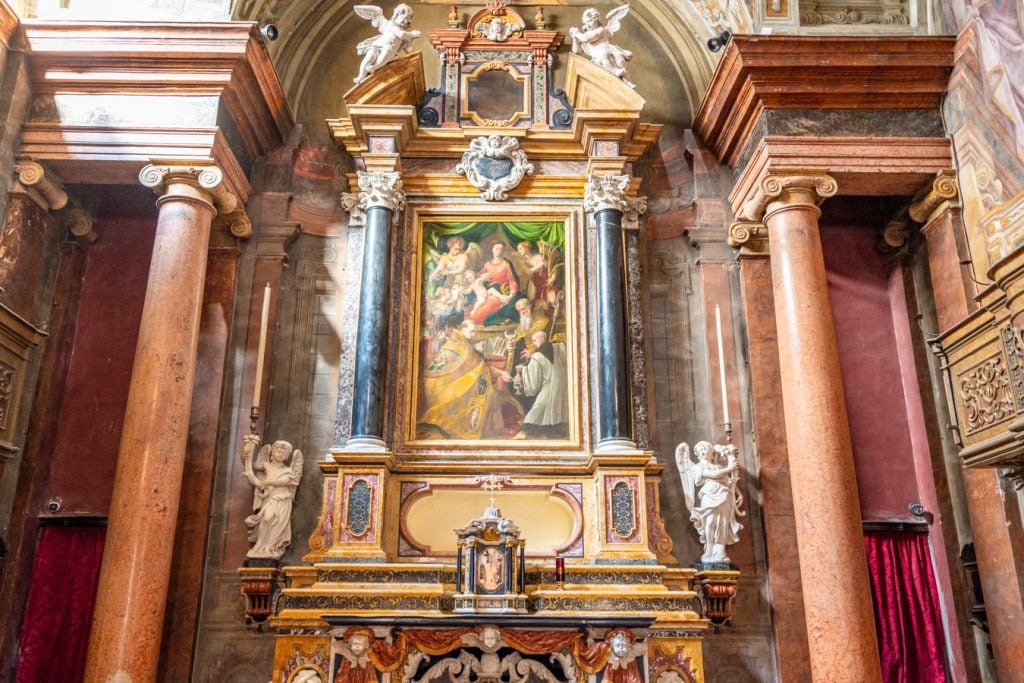 When to Visit Parma, Italy
Parma is an excellent year-round destination, characterized by warm but not brutal summers, and chilly but not freezing winters.
Spring and fall would always be our first picks when planning a trip to Parma (or Emilia-Romagna in general).
Italy's foodie destinations thrive in these seasons, and our visits to Parma have taken place in spring and fall respectively.
Summer can be a surprisingly pleasant season to visit Parma, with highs topping out in August at an average of 86°F/30°C.
More than for the temperature, Parma can be a great place to add to your itinerary for Italy in the summer if you're hoping to escape the intense crowds that descend on places like Venice and Cinque Terre at that time.
Winter, typically cool and damp, will see an opportunity to enjoy the lowest prices and feel like you have the city all to yourself.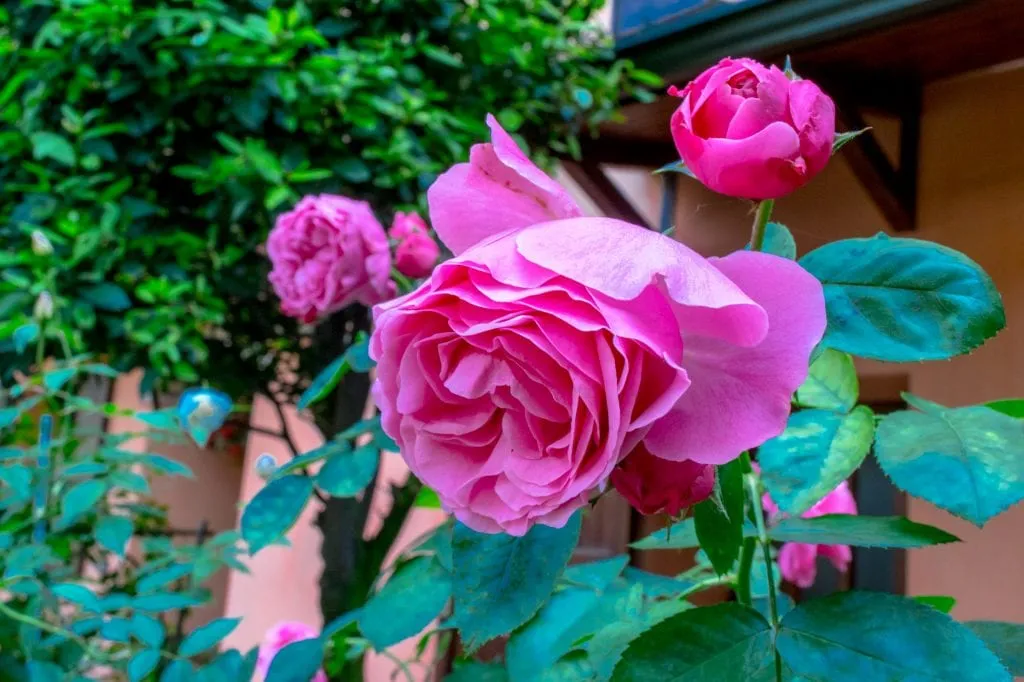 FAQ for Travel to Parma, Italy
Is Parma worth visiting?
Yes, absolutely!
Parma strikes an excellent balance of enough interesting things to do to fill a trip, while still being far enough off the typical tourist trail that crowds aren't an issue.
Add in the fact that it's one of Italy's best foodie cities, and it all adds up to Parma being a very special place.
We expect to return many more times over the years!
What is Parma known for?
Parma is most famous for its food scene!
As the origin of beloved features of Italian cuisine like Prosciutto di Parma and, more significantly, the iconic Parmigiano-Reggiano, Parma's food alone makes it worth a trip.
Among architecture buffs, the Parma Baptistery's unique blend of architectural styles also makes it notable.
Is a day trip to Parma long enough?
Visiting Parma for the first time on a day trip is very typical, and exactly what we did ourselves!
With one day in Parma, you can take a half-day food tour to a Parmigiano-Reggiano factory and Prosciutto di Parma factory (highly recommended–we loved doing this!), and then visit a few places around town.
After your tour, stick around to wander the city and visit a few attractions that catch your eye.
We recommend prioritizing the Duomo and the Baptistery, to start.
Fair warning, though: if you're anything like us, a Parma day trip will be just long enough to tempt you into booking a longer stay next time!
Book your Parmigiano-Reggiano and Prosciutto di Parma factory tour today!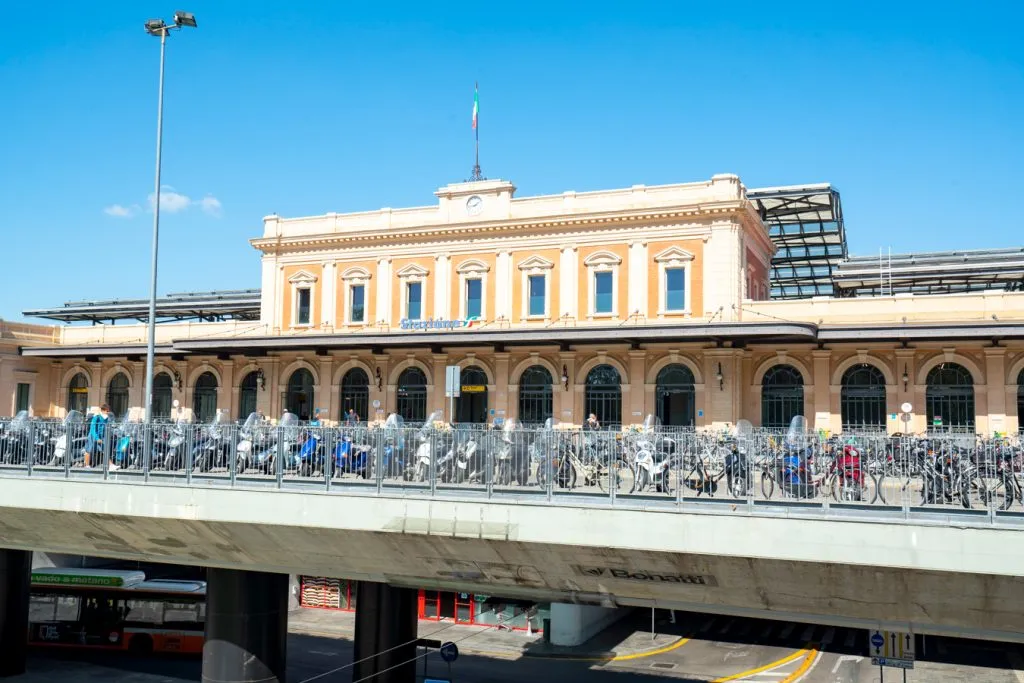 Which city is better, Parma or Bologna?
We absolutely love both cities, so you really can't make a wrong choice when choosing whether to visit Parma or Bologna!
Bologna is larger and busier, and you can tell as you explore.
Bologna also boasts excellent views from above that Parma lacks, and is a bit better-positioned for traveling beyond Emilia-Romagna (it's a stop on many of Italy's prominent high-speed trains that run as far as the length of the country).
Parma, on the other hand, is more relaxing and feels a bit more off the beaten path while still having enough attractions and tourism infrastructure to be a very rewarding place to visit.
The cities are also only an hour apart by train, so you can easily day trip to one from the other and avoid skipping either.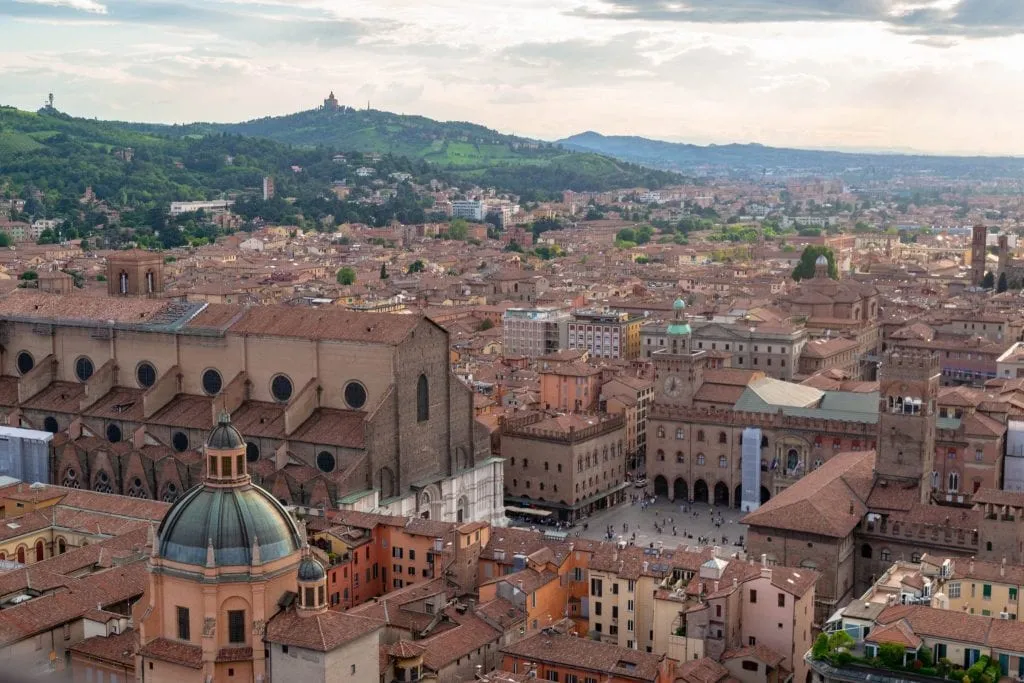 What are the best day trips from Parma?
Bologna isn't the only excellent day trip from Parma!
By train, Reggio-Emilia, Modena (the origin of the true, traditional balsamic vinegar), Piacenza, and Cremona are all extremely easy day trips.
Ravenna, Florence, Ferrara, and Milan require a bit more planning, but are also very doable.
By car, the small village of Castell'Arquato is a great off-the-beaten-path option!
What are the best foods to try when visiting Parma, Italy?
Aside from the iconic Parmigiano-Reggiano and Prosciutto di Parma, there are a few other classic dishes to add to your list of what to eat in Parma!
Culatello di Zibello is, if possible, even more coveted than Prosciutto di Parma, and you can expect a platter of either meat to commonly be served with torta frita.
Pesto di Cavallo, or horse tartare, is extremely popular and definitely stretched our tastebuds.
Lambrusco, a sparkling red wine, is the drink of choice in Parma.
Tortelli (popularly stuffed with pumpkin in the fall, which I can confirm is delicious), anolini, and cappelletti should catch your eye on the pasta menu.
Regardless of what you order, one thing is for sure: in a city this famous for its cuisine, enjoying long meals should be at the top of your list of things to do in Parma, Italy!