Sure, Italy's historic attractions are incredible, the architecture stunning, and the vistas breathtaking… but if you're anything like most visitors, when it comes to things you're looking forward to on your trip, eating in Italy is near the top of the list.
And why wouldn't it be?
Home to one of the world's most beloved cuisines, eating in Italy is a delight from the first sip of cappuccino in the morning to the last swig of grappa at night, and in every mouthful in between.
And, yes–there are quite a few cultural quirks when it comes to dining in Italy, ranging from what time you eat to when to pay the bill.
If you're hoping to learn the ropes before your trip, consider this blog post your crash course introduction.
Here's what to know about eating in Italy!
A Typical Day of Eating in Italy: Scheduling Tips
Unlike our home in the USA, restaurants in Italy typically don't stay open all day–and, in fact, they can have quite limited hours!
For that reason, when traveling, it's much easier to adjust your stomach's schedule to Italy rather than the other way around.
Here are the basic meal times (read: restaurant opening hours) to keep in mind when planning your days.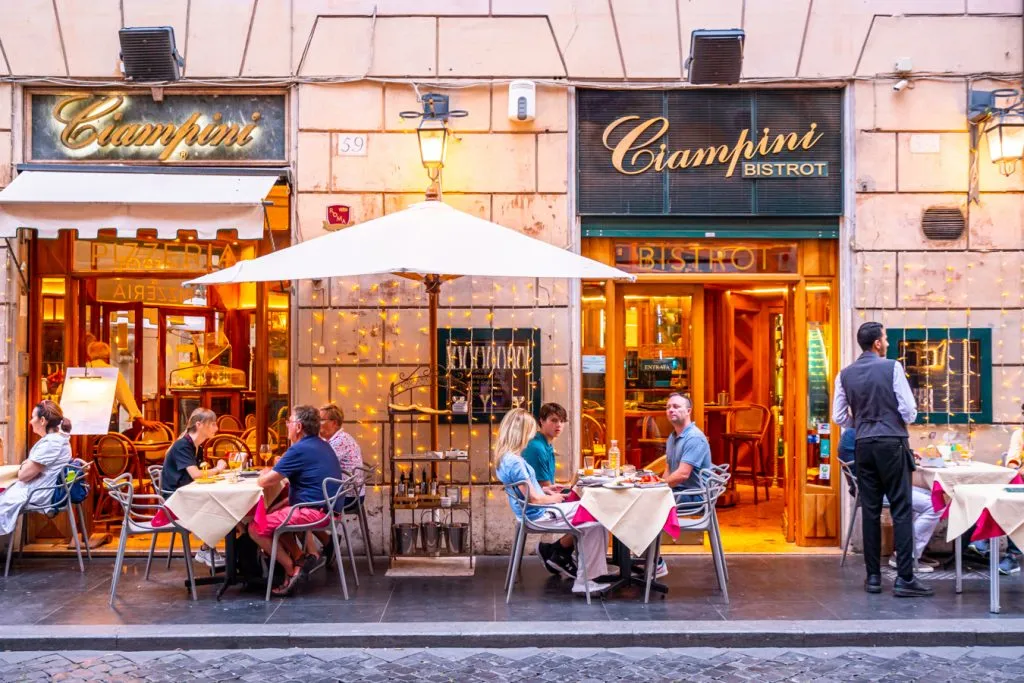 Breakfast: Anytime in the morning.
Breakfast is the most flexible meal in Italy.
Assuming you're sticking with a traditional breakfast of coffee and pastry consumed at a bar (either standing or sitting), you can enjoy it anytime.
It's worth noting that Italian coffee bars typically don't restock their pastries throughout the day–so, for instance, if someone eats all the cornetti alla crema before you get there, I hope you like chocolate!
Typically, though, there will be some pastries available in most bars all day, so it's not like this is usually a big problem.
For more detail, we have a full guide to enjoying breakfast in Italy and a guide to Italian coffee culture here on Our Escape Clause.
Lunch: 12:00 PM – 3:00 PM
Lunch hours are fairly limited in Italy, so it's best to be prepared to strike with the restaurants open!
By 1:00 PM or so, lunch spots will be bustling, and your risk of getting turned away goes up (you can always make a reservation the day before–more on that below).
We've seen restaurants with hours as limited as 12:30 PM to 2:00 PM, but the general 12:00 PM to 3:00 PM opening window is pretty standard.
Lunch is generally the biggest meal of the day in Italy, so feel free to go all out!
Aperitivo: 6:00 PM – 8:00 PM
Aperitivo, ostensibly a quick drink before dinner but in reality a ritual to be savored, is a fairly flexible event.
We've noted 6:00 PM to 8:00 PM here because that is prime aperitivo time, however, depending on where you are, you might see aperitivo as early as 5:00 PM.
So what exactly is aperitivo, other than an excuse to order an Aperol (or Campari) spritz?
Aperitivo is primarily a social ritual–a time to meet up with friends, people-watch in a piazza, sip a drink, and probably whet your appetite with some light snacks.
The snacks are included with the price of a drink, and are generally quite simple–think olives, potato chips, and maybe some peanuts.
Sometimes, you'll luck out and see something more elaborate, like this aperitivo spread we enjoyed in Como:
Dinner: 7:30 PM – 10:30 PM
Dinner happens a bit later in Italy than it does in much of the USA!
While some restaurants will open at 7:00 PM, 7:30 PM is more the norm–and they often won't really start feeling lively until after 8:00 PM.
Pizzerias tend to keep a bit more extended hours than other restaurants do, both opening earlier and closing later, which is good to keep in mind if the "ideal" dinnertime doesn't work for you one day.
If You Get Hungry at the "Wrong" Time…
Feel your stomach rumble, look down, and realize it's 4:00 PM?
No worries–you still have several options.
First: gelato.
It may not be the healthiest snack in the world, but daily gelato is a staple on vacations in Italy, and the shops tend to be open throughout the day.
Or, if you're looking for a hot meal, you can usually find one–by shopping your region.
From panini shops in Florence to pizza al taglio shops in Rome to foccacia shops in Puglia, there is usually some kind of local quick meal shop that keeps longer hours.
Alternatively, coffee bars will often have some pastries, as well as simple takeaway sandwiches, available for a quick bite.
The sandwiches typically won't be much to write home about, but they can get the job done in a pinch.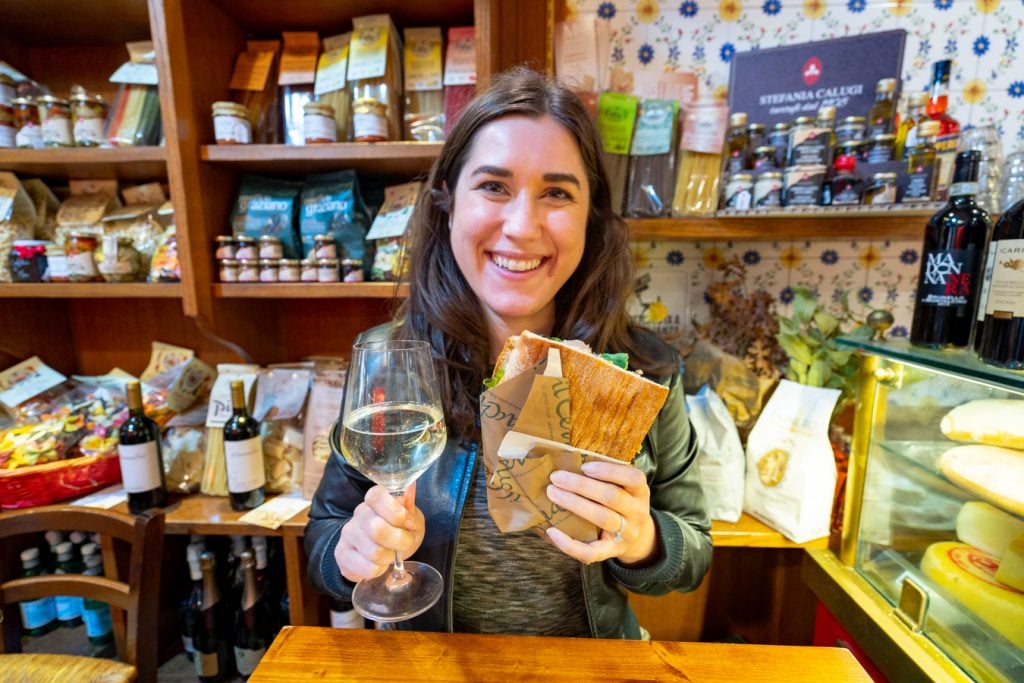 How to Read a Menu in Italy: Courses + What to Expect
Curious about the sections of an Italian menu and what you can expect?
Obviously, it would be unrealistic–and frankly, downright impossible–to list everything you could order in a restaurant in Italy in each section.
However, if you want to know where to look for general items, this is what you need to know.
Antipasti
First up: antipasti, or appetizers.
These can be served either cold or warm (sometimes the menu will have a separate subsection for each kind), and are often meant to be shared.
Cured meats, cheese plates, bruschetta, and crostini with various pates are a few examples of typical appetizers in Italy.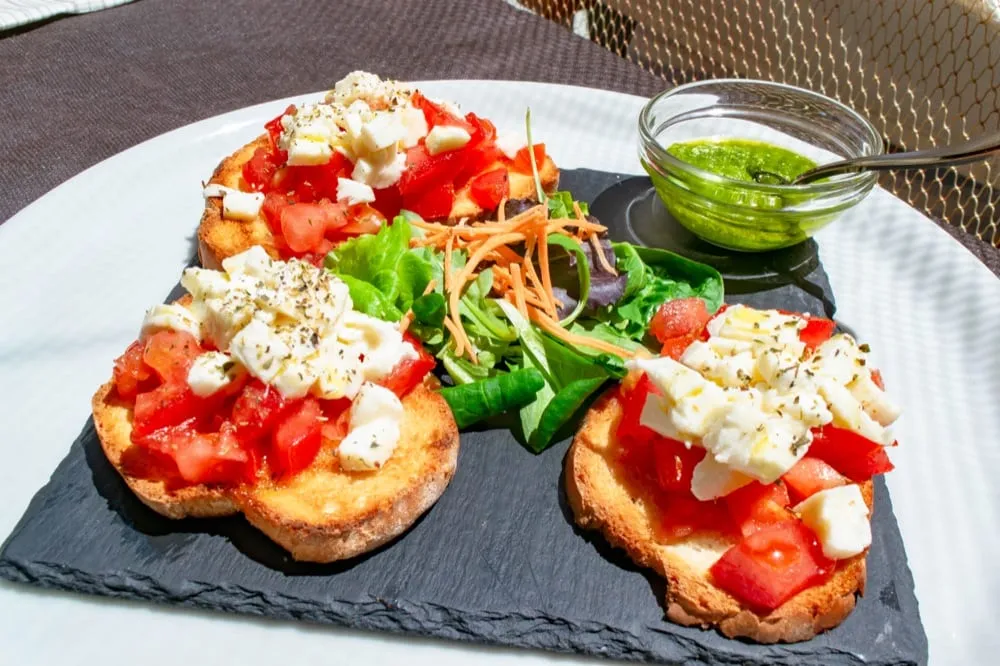 Primi
Primi is the first course, and this is where you'll find what is arguably the most important section of an Italian menu: the pasta (and soups, but pasta is clearly more favored).
While primi is listed as a "first" course and the traditional, full Italian menu would include a primo followed by secondo, it is completely acceptable to only order one or the other as a main course.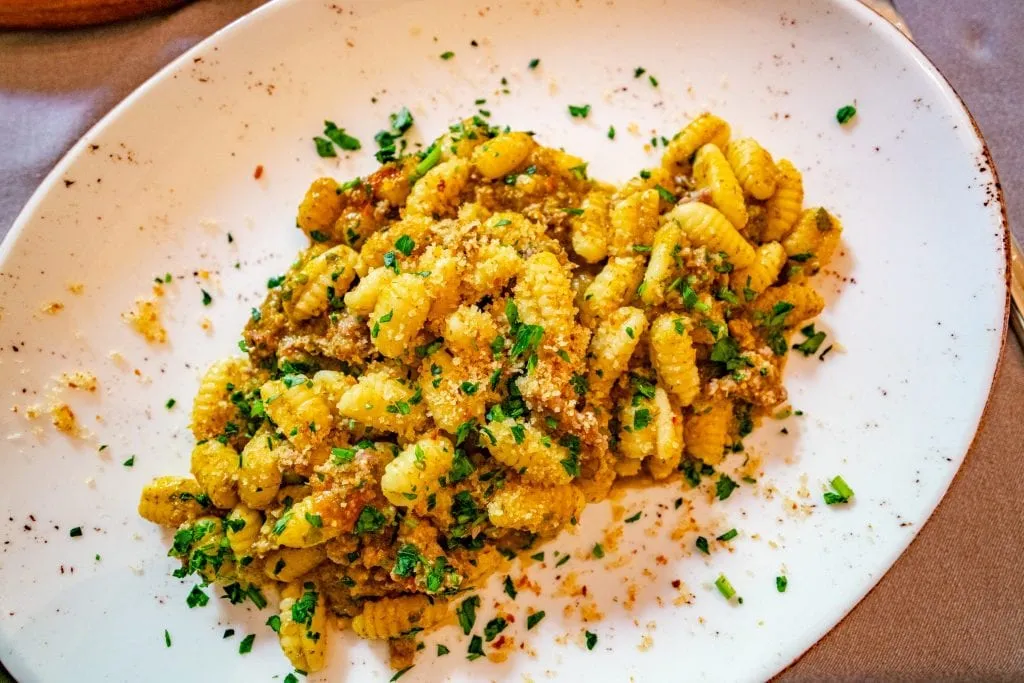 Secondi
This is where you'll find your "main" dishes, typically meat or fish courses, though you will sometimes find vegetarian options here, too.
Dishes listed in this section are typically more expensive than the meals in this primi section of the menu.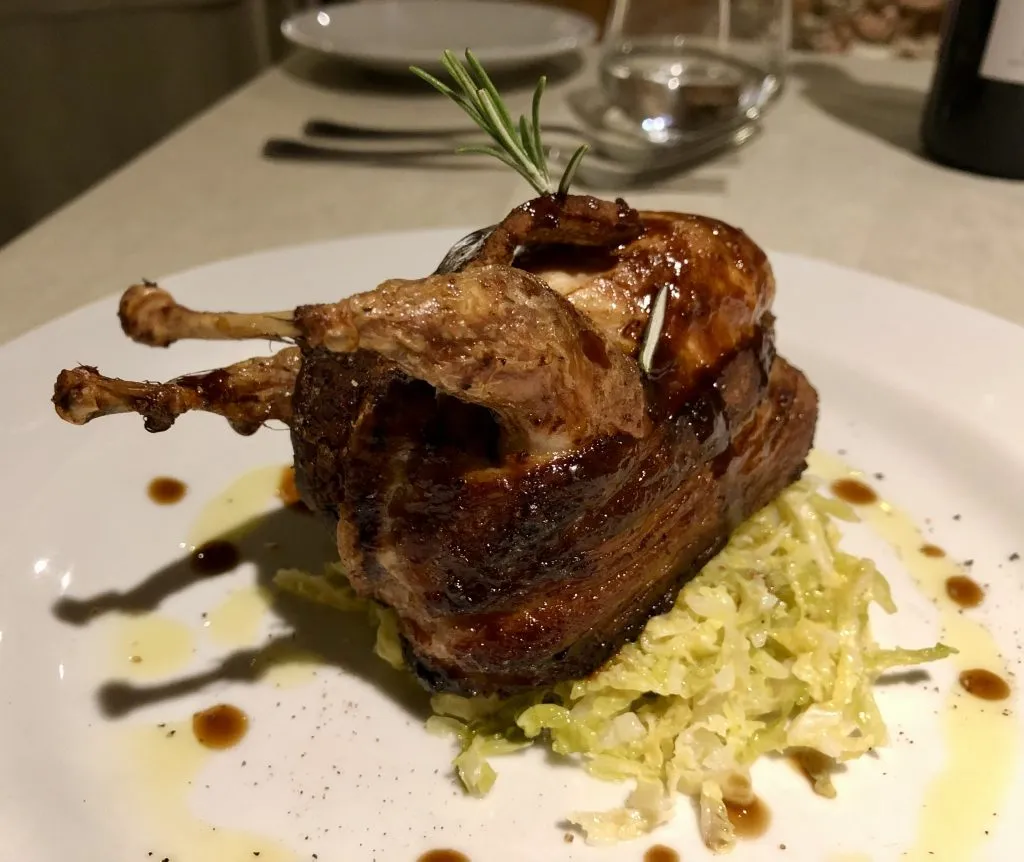 Contorni
If you order, say, a steak–you'll be getting a steak. Nothing else.
Want vegetables to wash that down with?
That's where the contorni section comes in!
Contorni, or sides, frequently include options like roasted potatoes, grilled mixed vegetables, and mixed salad (which generally means a salad of greens).
There are often a few more localized options available as well, but you'll find those 3 all over Italy.
It's very typical to share a contorno between a couple of people (we often split a plate of grilled vegetables between the two of us).
Dolci
This part of the menu is where you'll find desserts, which can include everything from a list of available products to a simple note stating to ask what the dessert of the day is.
And remember: in Italy, it's typical to eat your dessert and then order your final caffè, rather than eat dessert and drink coffee together!
Bevande
Translated as beverages, this section covers everything from water to wine to coffee.
More upscale restaurants will have a separate wine list, as well.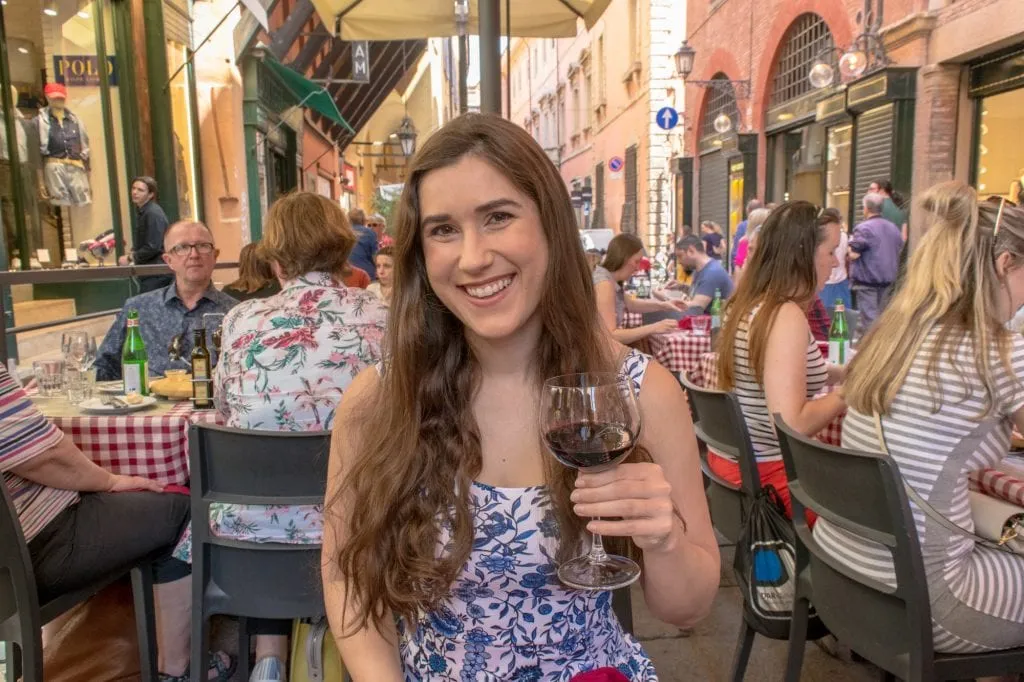 Ordering Food + Enjoying the Meal in Italy
Once you sit down and scan the menu, the fun part starts.
Here's our best advice for ordering when dining out in Italy!
Order by region and season (and don't be afraid to ask for advice).
Italian food is incredibly region-specific–so much so that you'll often run into dishes that are specific to a given town!
No matter how long we travel in Italy, we virtually always come across new dishes on every trip.
And, there's a good likelihood that you'll come across some–shall we say–more adventurous dishes when ordering food in Italy, too.
For example, horse meat is popular in cities like Verona and Parma (in Parma, it's even served raw, in the style of beef tartare–pesto di cavallo).
And there's seasonality to consider, too: truffles, porcini mushrooms, asparagus, artichokes… these are just a few of many very seasonal ingredients that will pop up on menus for a few weeks or months before fading away again.
All of this is to say, don't be intimidated by not recognizing every dish on a menu, and don't be afraid to ask for advice!
We generally find Italian waiters fairly opinionated, and if you ask them which of a couple of dishes is the better choice, you're likely to get a direct answer.
When ordering wine, ask for the vino della casa.
The vino della casa, or house wine, is almost universally affordable, tasty, and available when dining in Italy, even when it's not listed on the menu.
(Over the course of our hundreds of times visiting restaurants in Italy, I think we've been told twice that there wasn't a house wine–both times in very touristy areas, of course).
Vino della casa is typically sold as a 1/4 liter, 1/2 liter, or full liter.
A half liter is usually fine for 2 average drinkers wanting to enjoy a meal out.
Sometimes, we even get away with a 1/4 liter between the 2 of us.
The wine will almost always come in a pitcher like this, and is often accompanied by tiny wine glasses that you'll come to associate with ordering house wine in Italy:
For water, choose between sparkling and still.
In what will never stop feeling like a somewhat odd turn of events to my American self, odds are high that in Italy, your wine will be served in a pitcher–but your water will be served in a bottle.
When ordering water in Italy, you'll be asked if you want it sparking or still (frizzante o naturale).
It seems like a few more restaurants offer carafes of water (to those who ask) every year, but it's still not a common practice–paying for a bottle or two of water is expected.
In some restaurants, you can ask for a big (grande) bottle instead of an individual one, to share.
Don't feel like you need to order every course.
No one is actually expected to eat an antipasto, primo piatto, secondo piatto, contorno, and dolci with each meal!
While tasting menus at high-end restaurants can be set up that way, no one will bat an eye at, say, you ordering a pasta from the primi section, your partner ordering a steak from the secondo section, and calling it a day.
Take a food tour or two to learn the ins and outs of eating in Italy.
In part because of how regional the food is, but also because of how absolutely delicious and interesting it is, food tours are an excellent way to sample many different dishes at once during your trip to Italy.
Even after all this time, we still sign up for the occasional food tour: they're fun, filling, and usually include a walking tour of a neighborhood or two to go along with all the eating.
This food tour in Rome, this food tour in Florence, and this food tour in Palermo were all absolutely wonderful experiences that we highly recommend.
Want to learn more about the work that goes into creating the ingredients that make up Italian cuisine?
A tasting-filled day trip to several locations responsible for creating beloved items like parmigiano-reggiano, parma ham, and traditional balsamic vinegar, remains one of our favorite Italy travel experiences of all time.
Shop food tours in Italy today!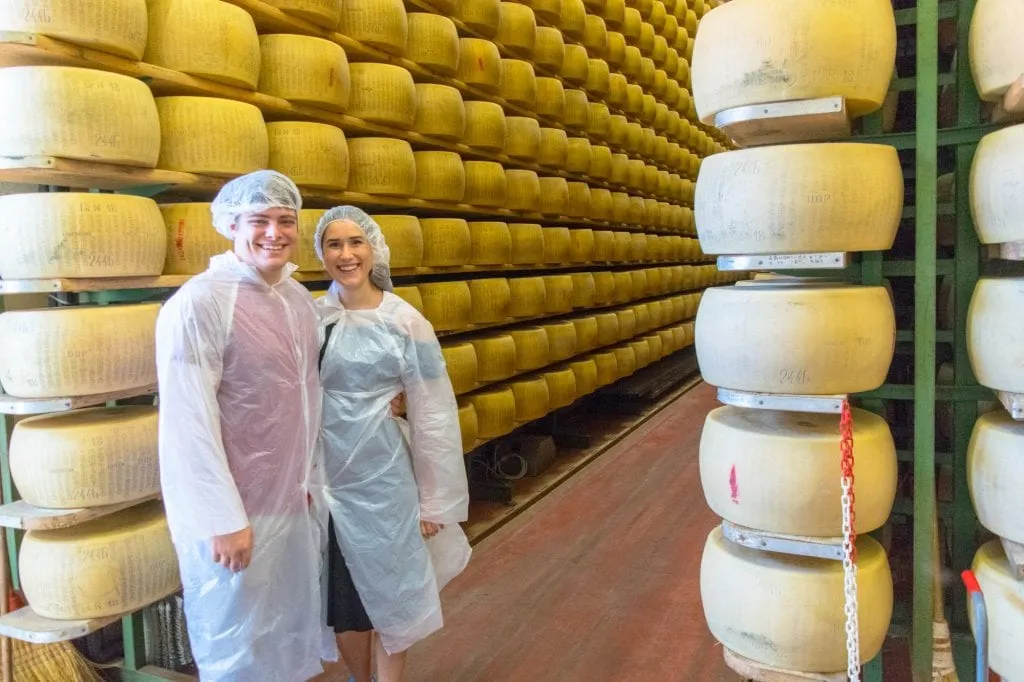 Tips for Paying the Bill in a Restaurant in Italy
So, you've eaten a delicious meal, savored the wine, and even ended with a quick caffè to round things off… what now?
Here's what to expect when paying the restaurant bill in Italy.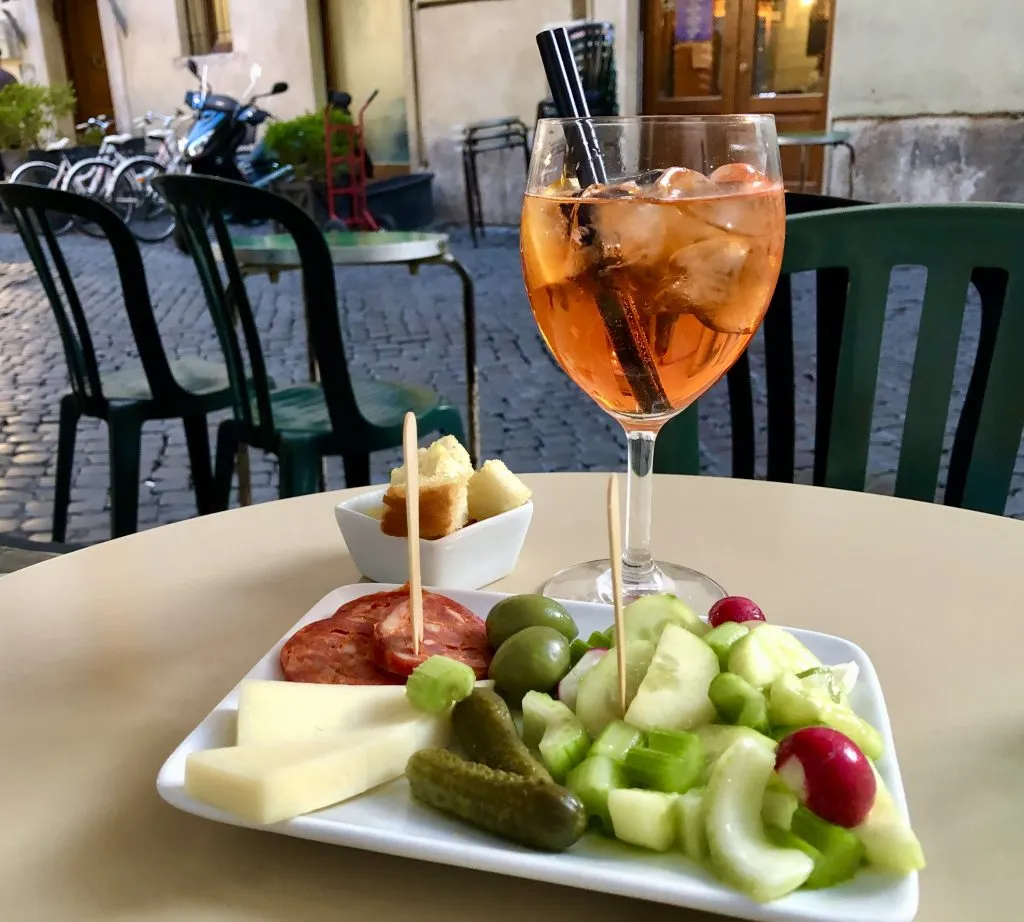 You'll need to ask for the bill.
Generally speaking, the waiter won't ever come by with the bill in Italy–you'll need to ask for it!
Simply ask "Il conto, per favore", and the waiter will bring the bill.
There are some exceptions to this in very casual restaurants.
If your waiter leaves a handwritten note with what you ordered on the table as soon as your order is placed, odds are decent that you'll pay by going up to the cash register with that slip of paper.
(It's always easiest to confirm, though, so you can still ask for the check in this situation).
If you'd like to pay by card, let your waiter know when asking for the bill, because…
If you'd like to pay by credit card, the waiter will bring the machine to the table.
In Italy (and in Europe in general) it is a major faux pas to ever remove a credit card from the sight of its owner.
Instead of taking your card to run it in the back, your waiter will bring the card machine to your table and handle the transaction there.
… But it's best to come prepared with cash.
Most restauarnts will take credit cards when dining out in Italy these days, but it's not a guarantee.
We tend to see a cash-only restaurant or two on each trip, and paying cash is preferred when purchasing small items like coffee or gelato.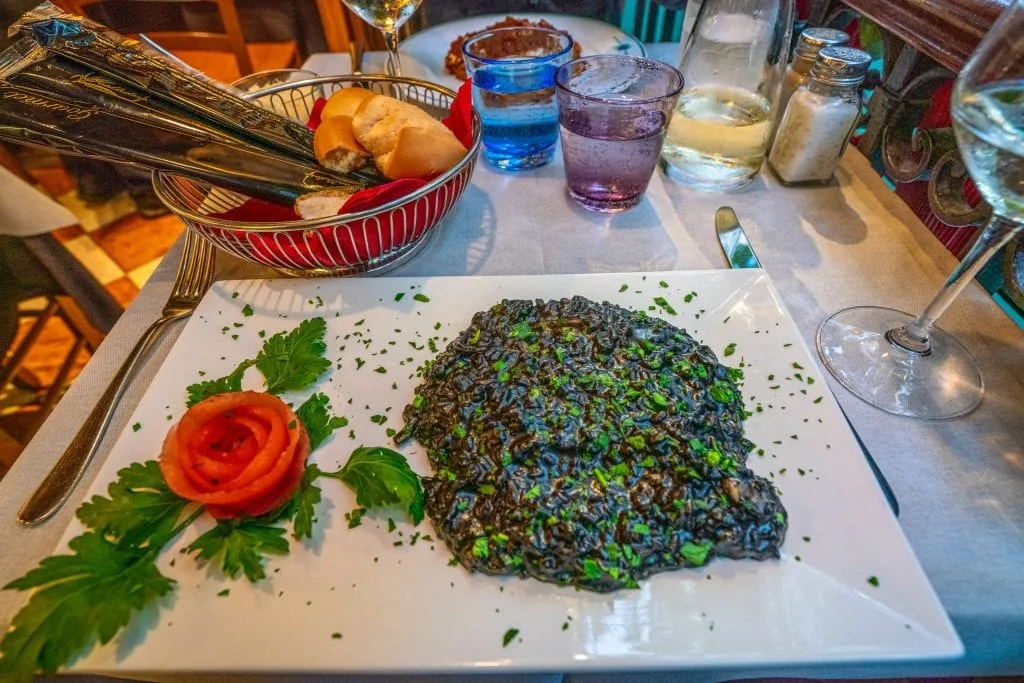 You will almost certainly see a coperto charge–don't worry about it.
A coperto, or cover charge, is standard practice at restaurants in Italy.
Technically, it is illegal in one region–Lazio, where Rome is located–but they mostly just call it a "pane" (bread) charge there and it amounts to the same thing.
A coperto is charged per person and is usually 1-3 Euros, and many a visitor has been shocked to find a mysterious charge added to their dinner bill.
This is completely normal, though–we have a full guide to the Italian coperto here.
Don't feel pressured to tip (much).
Tipping in Italian restaurants isn't standard like it is in the USA, and is never expected.
However, in a sit-down restaurant with good service, it is nice to leave a little something–not 20% though.
One Euro per person, or rounding up the bill (say from 46 Euro to 50 Euro) are both completely acceptable.
For exceptional service, you can tip up to 10%–but again, it's not a must.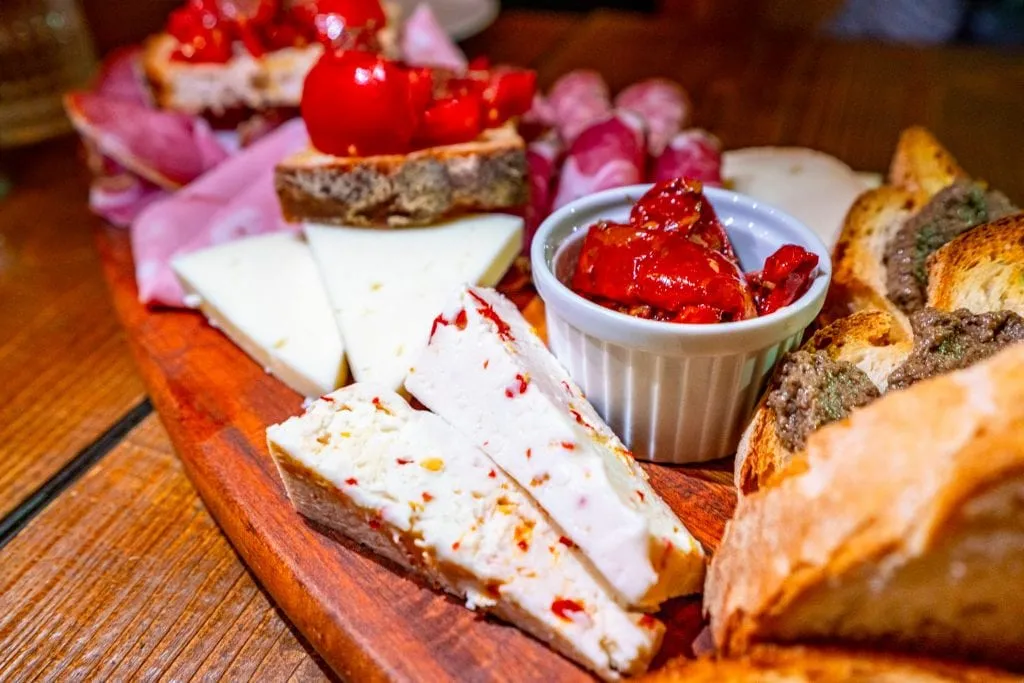 Cultural Tidbits + Tips for Eating in Italy
Every culture has its quirks when it comes to dining out–and Italy is no exception.
Restaurant reservations are the norm.
Italians love restaurant reservations, and your life will be much easier if you join in making them!
This doesn't have to be a complicated process: simply stop by a restaurant you're interested in and make a reservation for later that day or the next day.
If you're trying to get into a famous or highly lauded spot, you may need to plan a bit further ahead, but for the neighborhood trattoria, booking the day before or even earlier the same day is usually fine.
Of course, you can also call or have your hotel concierge help out with making reservations.
If you don't have a reservation for the evening, show up right when the restaurant opens to have the best chance of being seated.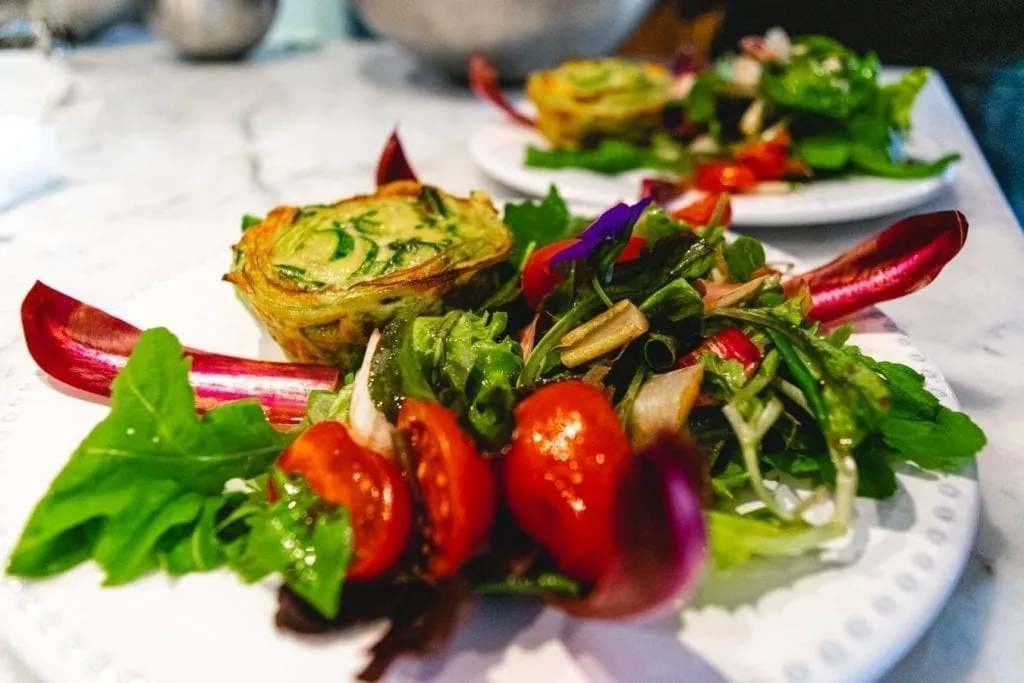 You won't generally wait for a table.
In Italy, there isn't a culture of "waiting" for a table the way we do in the USA.
If the restaurant is full (or empty but has all of its tables earmarked for reservations), you're more likely to be turned away completely than told to wait.
The exception?
If you call to make a last-minute reservation and are willing to eat on the early side, you may occasionally get a restaurant that will seat you and say you're welcome to come, but you have to give up the table by X time so the original reservation can take over.
Once you have a table, you have it all night.
The flip side of not waiting for a table?
You'll never, ever be pressured to give up your table or hurried along.
Once you're seated at a table, it's yours until you give it up or the restaurant closes for the evening, and savoring the meal slowly is encouraged.
Slow service is good service.
In Italy, good service is polite, professional, and slow.
Rather than it being considered a mark of good service to bring your next food out ASAP, for example, the mark of good service in this situation would be to let customers savor each course.
Your waiter typically won't check on you much during the meal, though they'll be happy to help if you catch their attention for any reason.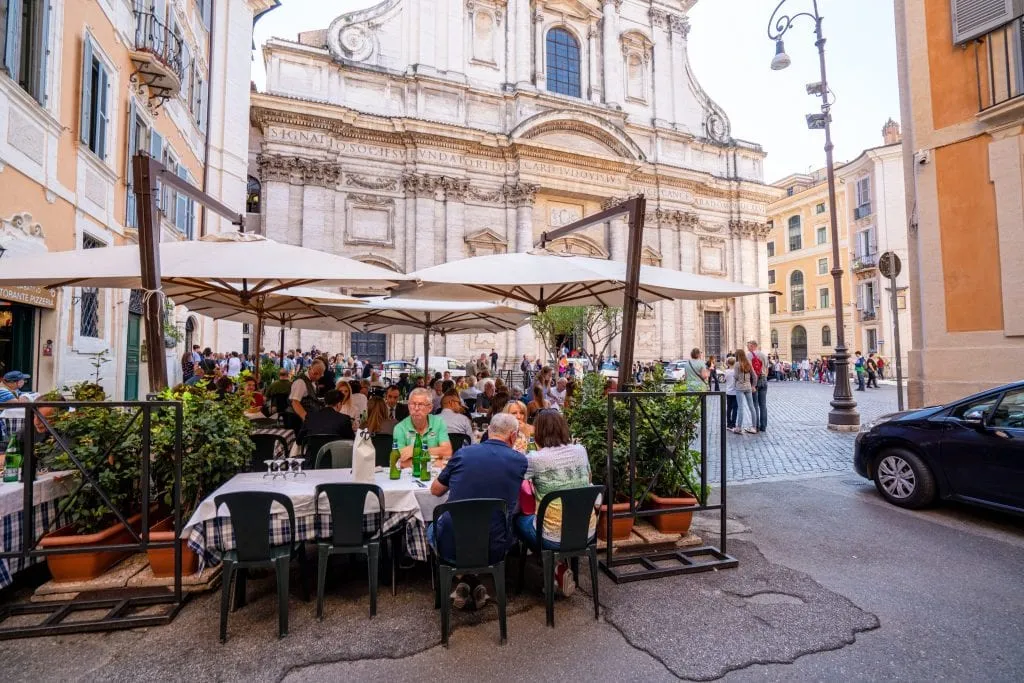 Embrace the fare la scarpetta.
This fun little idiom literally translates to "make the little shoe", but what it actually means is to leave no sauce left behind!
Fare la scarpetta refers to the act of taking your last piece of bread and using it to scrape any remaining sauce off your plate once you finish your meal.
Practical, tasty, and easy to implement, it's a fun addition to any meal in Italy.
Don't expect to see Italian-American classics on the menu.
Spaghetti and meatballs, garlic bread, fettuccini alfredo, any dish that involves serving chicken on pasta–all of these are delicious, but they're not Italian!
Most Italian-American foods have their roots in an Italian dish, but adaptations over generations have led to an enormous divergence in Italian and Italian-American food.
If you do see any of those classics on a menu, especially a menu that involves pictures–run.
I promise that's not where you want to spend one of the few precious meals you have available to eat in Italy.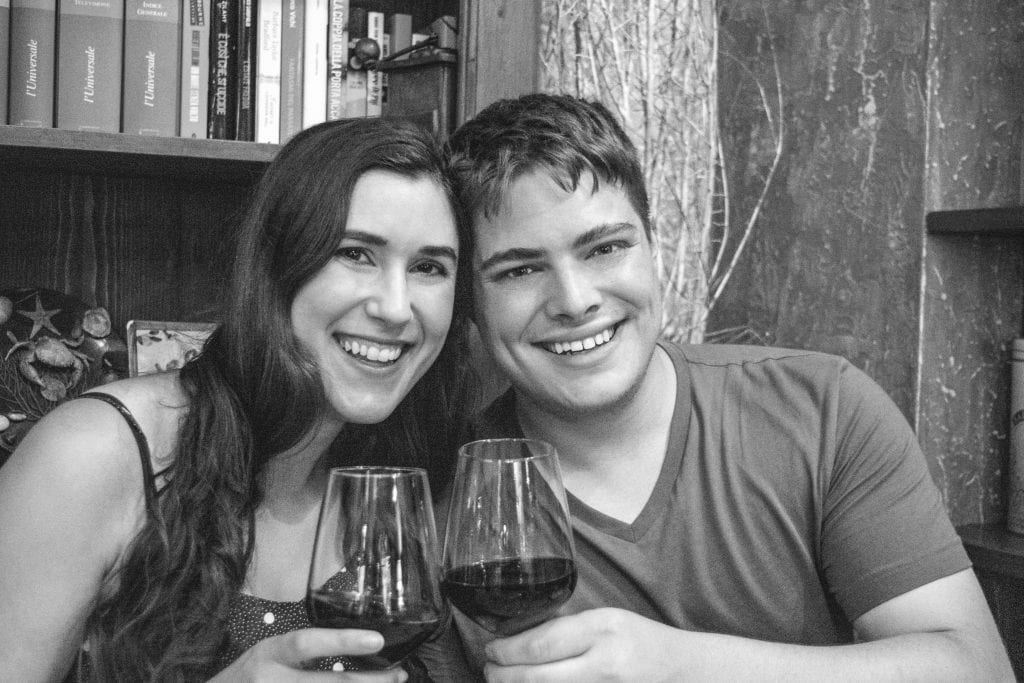 Salad dressing isn't typical.
If anything, Italians will put a bit of olive oil and/or vinegar on their salads.
You definitely won't find a choice of dressings on the menu!
Go ahead–order a whole pizza.
The rumors are true: in Italy, you get a whole pizza to yourself.
Italian pizzerias cook pizzas in exactly one size, and it's meant to be enjoyed by a single person.
In other words, there's no reason to debate toppings with your travel companions!
Your pizza will also come unsliced, and you'll slice it yourself.
If you're feeling Italian, you can do as the locals typically do and eat it with a knife and fork–but I'll confess, I usually opt for the fold-and-pick-up option instead.
(And for pizza aficionados, we have a full guide to eating pizza in Italy here).
Cake for breakfast is encouraged.
If you're staying in a hotel that serves a buffet breakfast, you'll likely see a few things on the menu: coffee, juice, pastries, cold cuts, cheese, butter, jam… and cake.
A slice of cake with your caffè is a completely acceptable breakfast, and I one I definitely encourage partaking in.
When we stayed at Hotel Meridiana when visiting Lake Garda, they even advertised their homemade breakfast cakes as a reason to check in–and we found the reasoning very persuasive.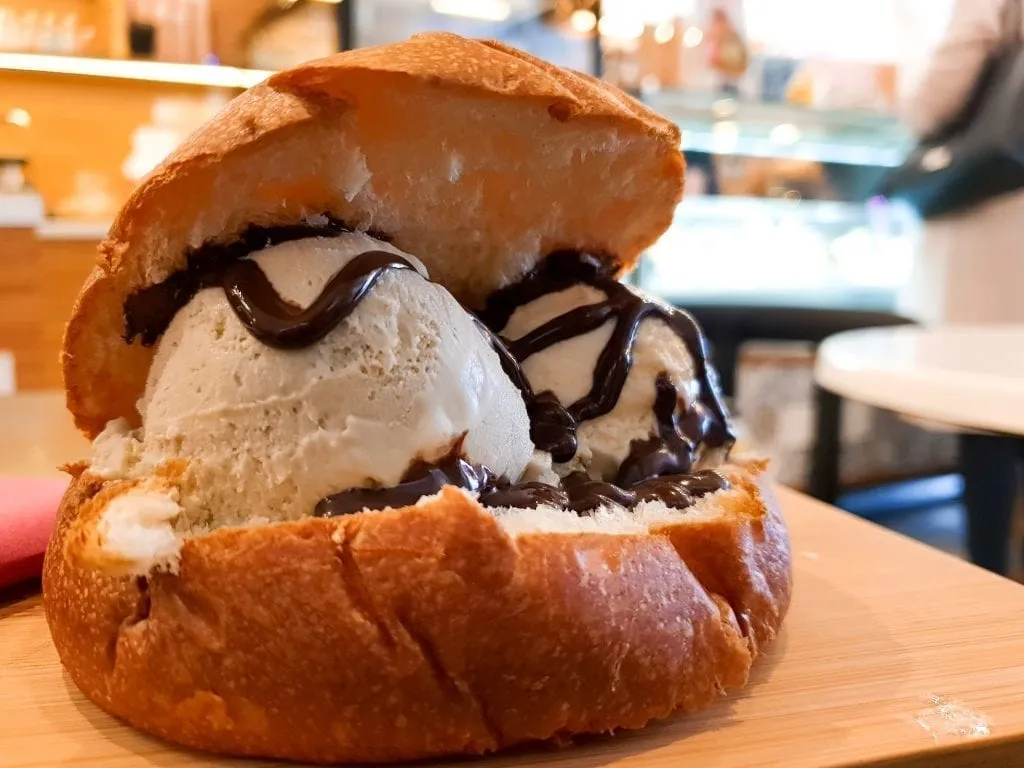 The Most Important Rule for Eating in Italy
And, finally, the most important tip of all for eating in Italy: don't take it too seriously, and don't worry more about it than you need to!
Learning bits and pieces of different cultures and languages is part of the fun of travel, and it's definitely an aspect of respecting the culture you're visiting.
That said, go in with a smile and a friendly attitude, and don't worry too much about making mistakes.
The world will definitely keep spinning if you drink a cappuccino at 3:00 PM, mispronounce a menu item when dining in a restaurant (been there, done that, will do it again), or end up with a scoop of touristy gelato one day instead of the best-of-the-best.
Italians are overwhelmingly incredibly welcoming and are–without a doubt–used to visitors.
Kick back, enjoy the ride, and remember, the best thing about eating in Italy is that it's virtually guaranteed that you'll eat something incredibly delicious every day that you're there.