A legendary food scene, a gently rolling countryside, surprising cities, world-class art that you may not have heard of, and a distinct lack of crowds: these are just a few things waiting to be discovered as part of a 7 day Emilia-Romagna itinerary!
Sandwiched between many of the most popular places to visit in Italy (Florence lies to the southwest, Milan to the north, and Venice to the northeast, just to name a few), Emilia-Romagna is a popular destination with first-time Italy travelers… if you count glancing at it out of train windows.
Make the choice to stop and dive into this incredible region, though, and visiting Emilia-Romagna, Italy, will reward you (and your tastebuds) immensely.
Emilia-Romagna is the origin of Parmigiano-Reggiano cheese, traditional balsamic vinegar, tagliatelle al ragù, and so much more.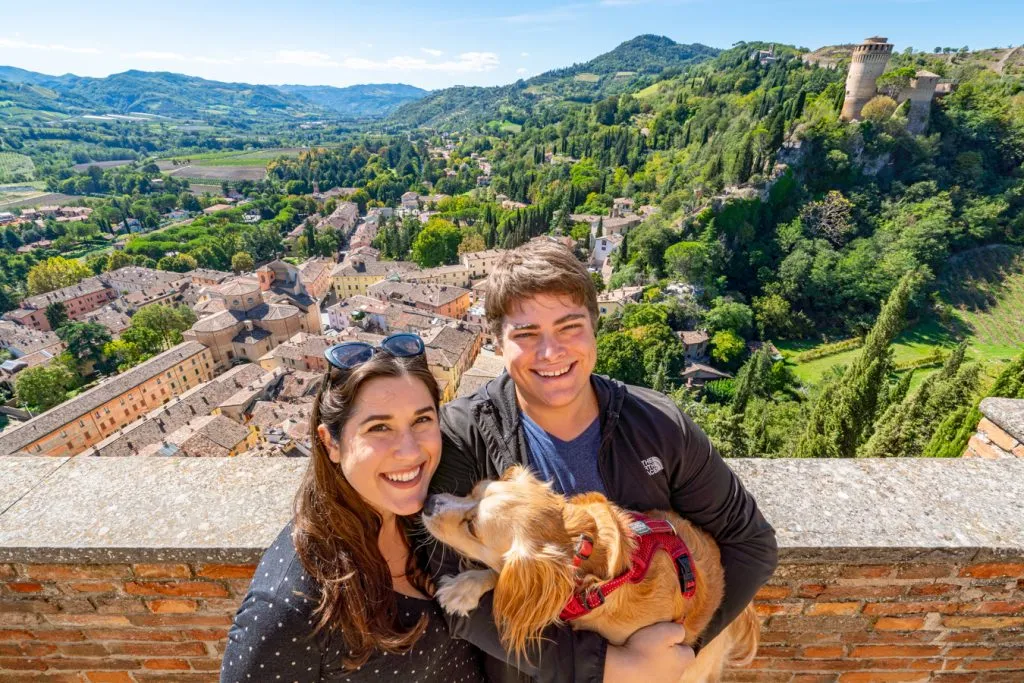 It's also a fairytale land of castles and (the remains of) dukedoms, home of the oldest university in the world, and boasts a downright beautiful topography that is reminiscent of Tuscany in many places (but with a fraction of the crowds).
We've been head-over-heels for Emilia-Romagna for ages, visiting several times and even spending a full month "living" in its capital city, Bologna.
In this blog post, we've used our experiences to craft this detailed itinerary for spending a week in Emilia-Romagna, in the hopes that we can help you fall in love with visiting Emilia-Romagna as much as we have!
How We Structured This 7 Day Emilia-Romagna Itinerary
Unlike many of the recommended itineraries on Our Escape Clause, we designed this 7 day Emilia-Romagna vacation not as a loop or point-to-point trip, but as a star fanning out from the region's capital city of Bologna.
Realistically, you can easily book a stay in Bologna for a week and complete this itinerary as a series of day trips, though there are a couple of places (like Ravenna or San Marino) where you may prefer to shake things up and spend a night in another location.
In addition to the beautiful city of Bologna, we cover stops in Parma, Modena, Ravenna, and San Marino throughout the week.
You'll also have an opportunity to visit a few more cities, towns, and villages, which depending on your travel style may include Ferrara, Brisighella, Cesenatico, and more.
While flying into Bologna is certainly the simplest way to arrive in Emilia-Romagna and start your trip, flying in Milan, Venice, or Florence also works.
And, while we designed this Emilia-Romagna itinerary as a standalone Italy itinerary, you could easily combine it with other regions if you have more than a week in Italy!
Getting Around During Your Week in Emilia-Romagna
With one notable exception that we'll cover on day 6, this itinerary for visiting Emilia-Romagna, Italy, can easily be accomplished via train.
As the capital city, Bologna is extremely well-connected to the surrounding cities in the region (and also, for what it's worth, to the rest of Italy–many national and even international train routes pass through here).
To check train schedules and travel times, we use and recommend Omio.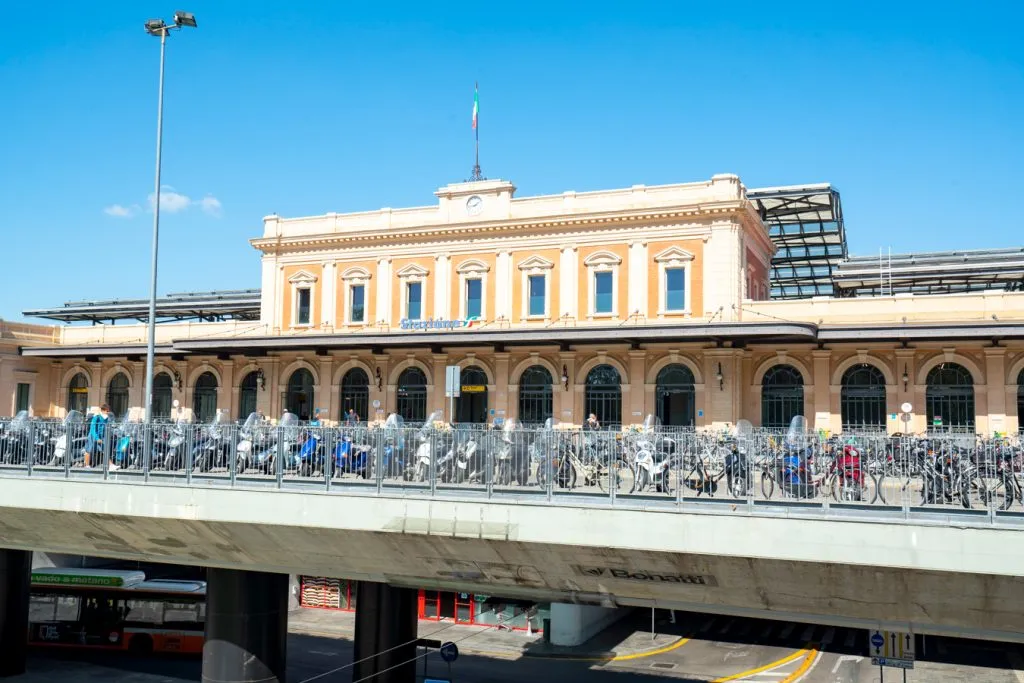 Omio is an aggregate for train tickets (and bus tickets), and their interface makes searching easy.
Since all of the routes detailed in this itinerary are regional routes with fairly frequent connections, you don't necessarily need to purchase your train tickets in advance as you would for a high-speed train between, say, Bologna and Florence, though keeping an eye on when trains are to plan out your day can come in handy.
However, if you'd prefer to dot your i's and cross your t's, so to speak, you certainly can buy tickets in advance as well!
Check train ticket schedules & prices in Emilia-Romagna today!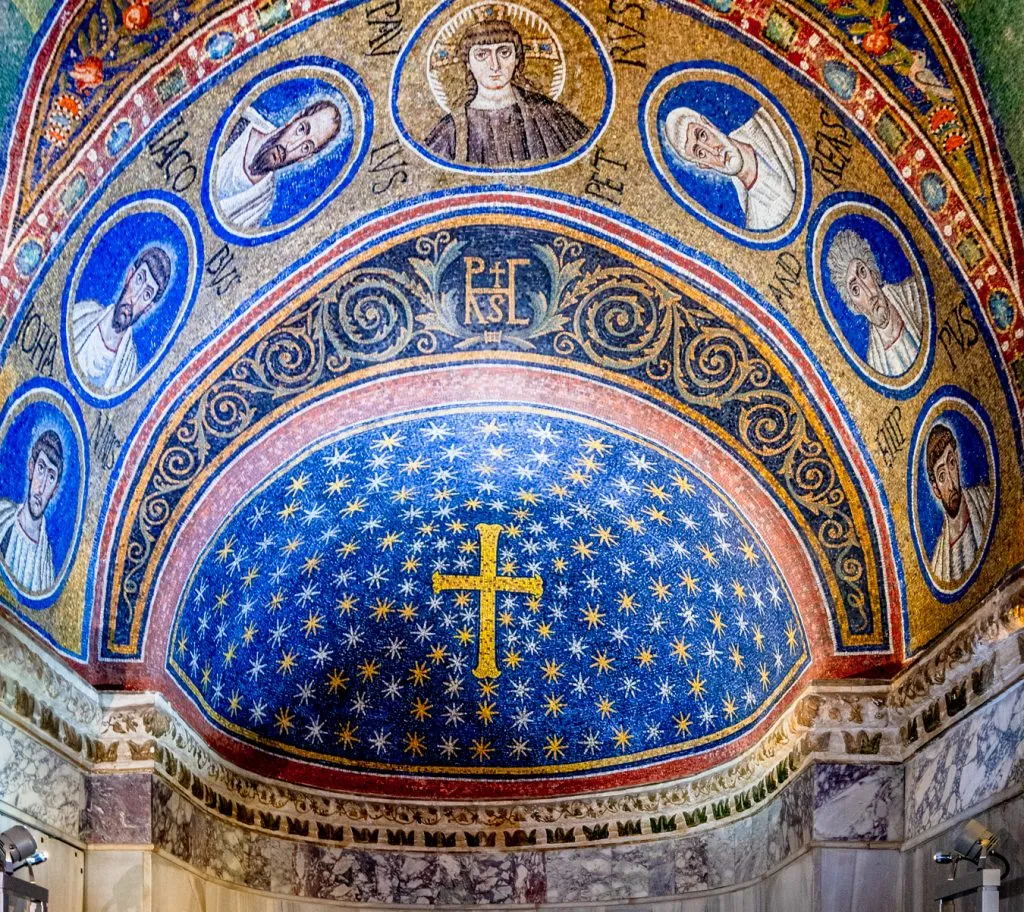 The Ultimate 7 Days in Emilia-Romagna Itinerary
Here's how to sample the best of Emilia-Romagna in 7 days!
Day 1: Arrive in Bologna and start exploring.
There's no better place to kick off your Emilia-Romagna itinerary than in the region's capital city!
(And if you can't help but wonder about a connection to bologna meat here, yes, there is one–but mortadella, the "real" version of what Americans call bologna, is much tastier than you might think!).
Known as La Dotta (the learned, for its university), La Rossa (the red, for its architecture), and La Grassa (the fat, for its food), Bologna is a stunningly beautiful city.
For that reason, perhaps the most remarkable fact about its beauty is that it may come second to its food in reasons to visit!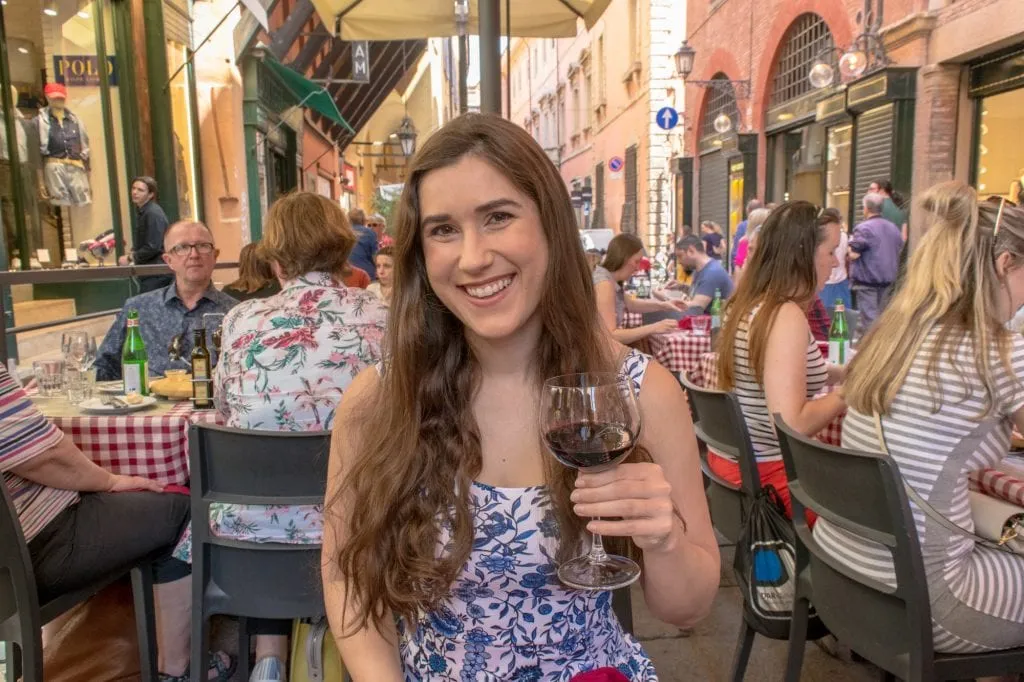 There are very few places in the world where we'd recommend considering taking two different food tours in one week… but is one of them, and this popular food tour is the perfect way to start your week in Emilia-Romagna.
Trust us, you'll want to know exactly what to order as you explore this week!
In addition to eating your way through the city, spend this first day getting acquainted with Bologna: sip a coffee on Piazza Maggiore, wander down Via Drapperie, and step inside the Basilica of San Petronio.
We also highly recommend climbing the Asinelli Tower (you'll need to reserve tickets in advance) for an incredible view of the city–the climb definitely tested my fear of heights, but it was worth it!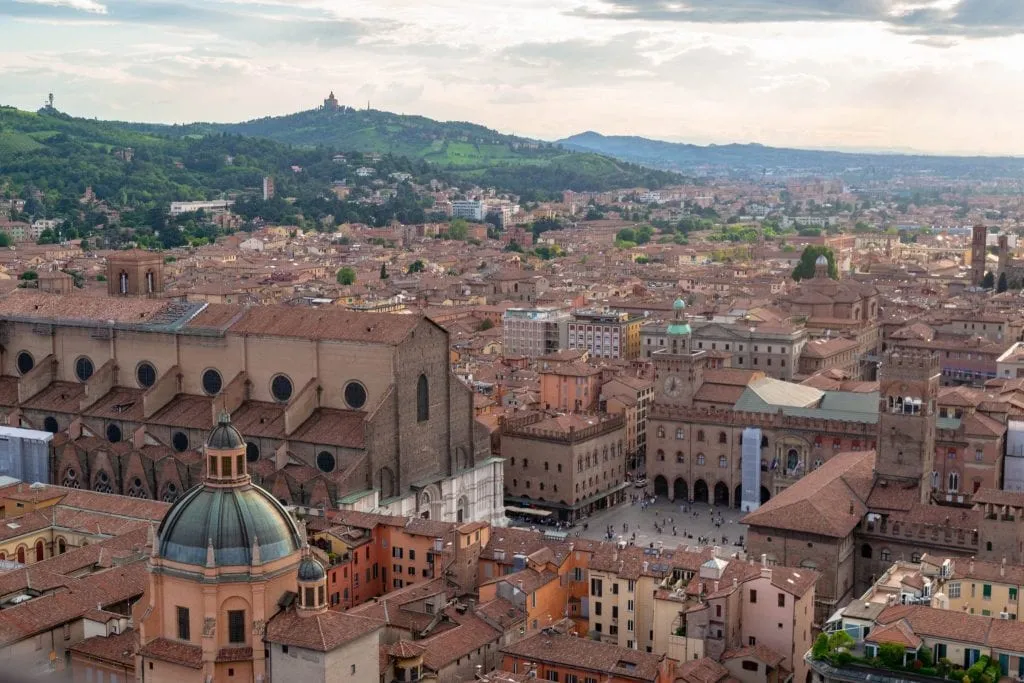 Day 2: See the best of Bologna, Italy.
A full day spent exploring Bologna is a fantastic way to enjoy the second day of your Emilia-Romagna itinerary!
With yesterday's food tour under your belt, you can spend today sampling the region's cuisine at your own pace… in between sightseeing, that is.
Beyond the sights mentioned yesterday, a few of the other best things to do in Bologna include hiking to the Sanctuary of Madonna di San Luca (it takes a bit over an hour from Piazza Maggiore), hunting down Bologna's secret canal views, and visiting San Petronio's Terrace for another incredible view of the city.
Be sure to make time for a couple of Bologna's museums, as well!
A couple of our favorites include the Anatomical Theater in the Palace of Archiginnasio, which is part of the University of Bologna, and the Bologna National Gallery.
The Museum for the Memory of Ustica, which covers a tragic plane crash, is an offbeat, sad, and unique option.
And, of course, be sure to leave plenty of time to browse Mercato delle Erbe and wander through Bologna's seemingly endless porticoes!
Day 3: Enjoy the flavors of Parma.
Way back when we were planning our first trip to Emilia-Romagna, I had one specific travel experience that I couldn't get out of my mind: touring a Parmigiano-Reggiano factory and admiring row after row of aging cheese!
And… it lived up to the hype (and the included tastings even more so).
To this day, we consider learning about Parmigiano-Reggiano and Parma ham at the source to be one of our most memorable foodie travel experiences in Italy, and it helped us fall even more in love with Emilia-Romagna.
And while yes, this is the second of two food tours included on this itinerary for Emilia-Romagna, as you can see, it's a very different kind of tour than the first!
Most Parmigiano-Reggiano factory day trips, including this popular one, leave from the city of Parma, rather than Bologna.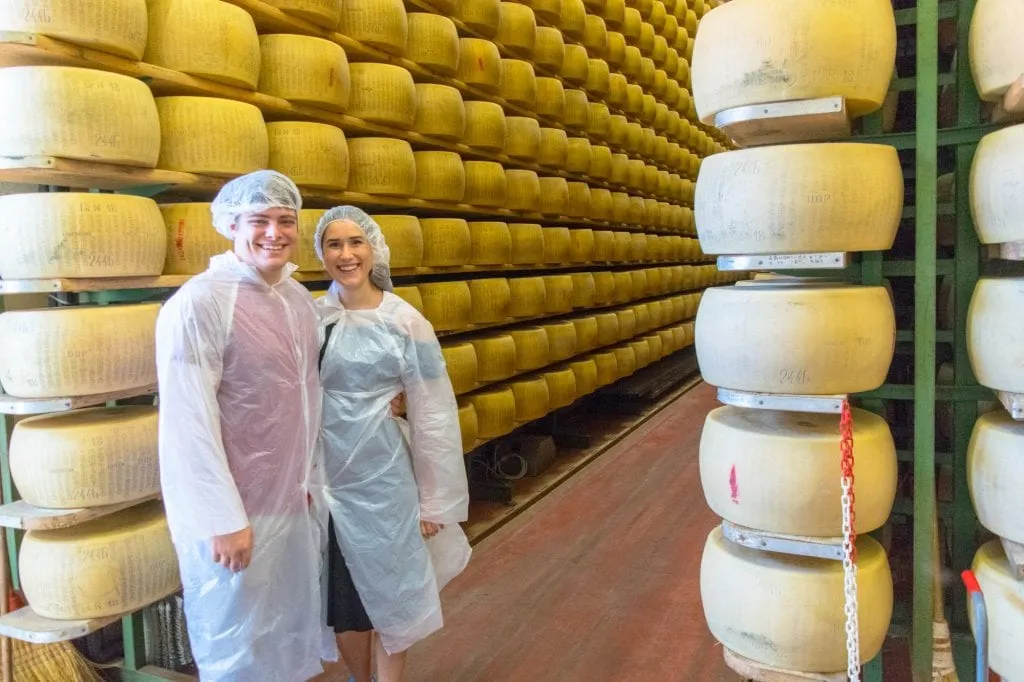 … Which is perfect, because it gives you a chance to spend some time after your tour to enjoy some of the best things to do in Parma!
We recommend prioritizing a visit to the Duomo and Baptistery (the Duomo is free to visit, the Baptistery is not), followed by stopping by Piazza Garibaldi and the Sanctuary of Santa Maria della Steccata.
We go into more detail about how to spend one day in the city in this detailed guide to Parma!
Parma is about an hour from Bologna by train, and there are plenty of trains throughout the day.
Book your Parmigiano-Reggiano and Prosciutto di Parma food tour today!
Day 4: Marvel at the epic mosaics of Ravenna.
The incredible mosaics of Ravenna are, without a doubt, one of the best things to see in Emilia-Romagna.
Built primarily in the 5th and 6th centuries, the brilliant mosaics of Ravenna, formally recognized as the "Early Christian Monuments of Ravenna", are a UNESCO World Heritage Site.
Spread across 8 buildings that include churches, chapels, and mausoleums, seeing most of the Ravenna mosaics (while squeezing in a tasty lunch in town–we can recommend Osteria dei Battibecchi) is doable with a solid plan.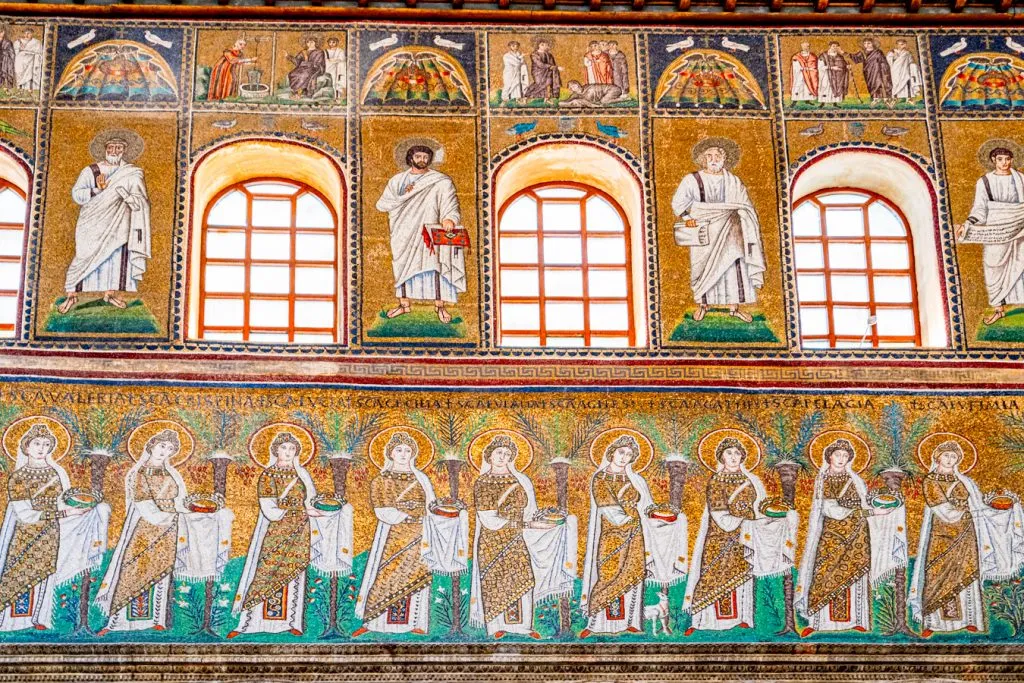 We signed up for this excellent tour to get a solid introduction to the beauty and history of the mosaics (it's remarkable how many more details you can spot with the help of a guide!), and then continued to sights like the Arian Baptistery independently.
With this strategy, you can get a wonderful overview of Ravenna in a day.
However, if you're very short on time, the Basilica of San Vitale and the Mausoleum of Galla Placidia should be your top priorities.
Our guide to the mosaics of Ravenna goes into far more detail about the specifics of planning your day, and we highly recommend giving it a read as you plan your Emilia Romagna itinerary.
Day 5: Soak up the beauty of one (or more) of Emilia-Romagna's smaller cities.
At this point during your week in Emilia-Romagna, it may be hard to decide what to see next… partially because there are so many wonderful options!
With your fifth day in the region, though, we recommend hopping on the train and setting off to one of these destinations–each of them wonderful and distinct.
Modena + Reggio Emilia
In addition to cheese, ham, pasta, and more, there's another category of delicacy that Emilia-Romagna is famous for… balsamic vinegar!
Traditional balsamic vinegar is produced exclusively in Modena, and it alone is a reason to visit this town (if you're picturing salad dressing… this is quite different!).
Shops around town do tastings of balsamic vinegar aged between 12 and 25 years, and partaking in them is one of the best things to do in Modena.
Want to bring some home? Be prepared to spend around 100 Euro for a bottle.
In addition to sampling balsamic vinegar, Modena is a relaxed and beautiful town in its own right–be sure to pay a visit to the Duomo (its interior is stunning), relax in Piazza Grande, and, if you're visiting Emilia-Romagna between April and September, climb the Torre Ghirlandia.
Have a bit of extra time at the end of the day?
Consider visiting the Enzo Ferrari Museum or hopping over to the nearby city of Reggio-Emilia to sample an even quieter Emilia-Romagnan city!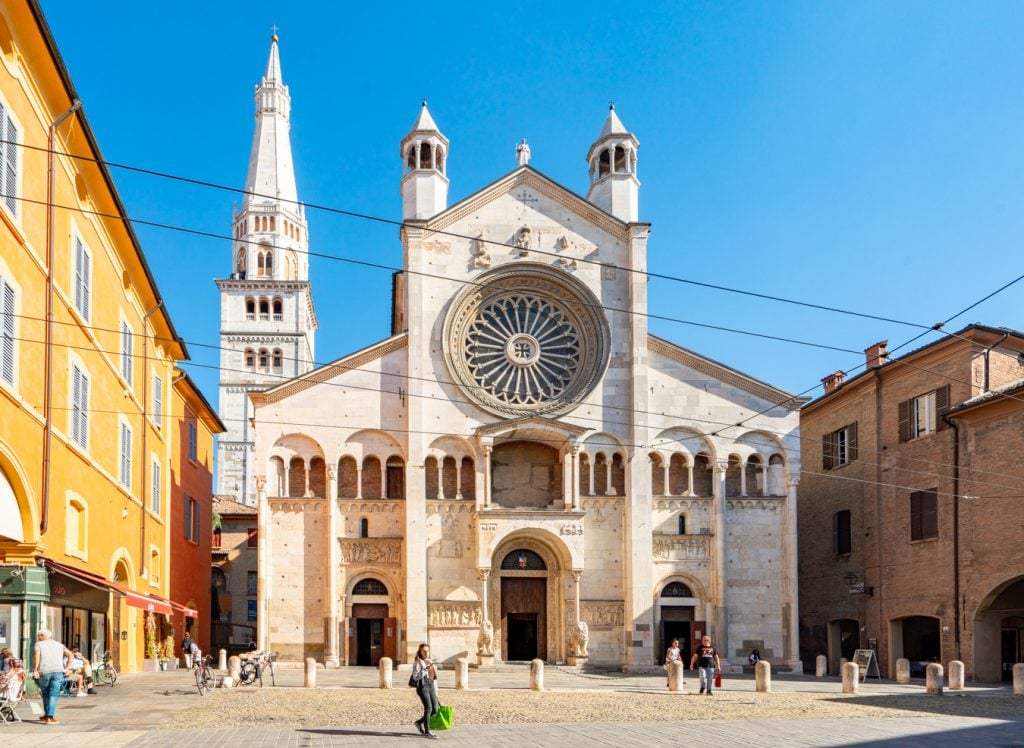 Ferrara
Looking for a different–and arguably more offbeat–city to experience today?
Consider heading north from Bologna by train to visit the magnificent city of Ferrara!
Famous for its spectacular cathedral and beautiful Castello Estense that dates to 1385 (and includes a moat and drawbridge), Ferrara is immediately captivating.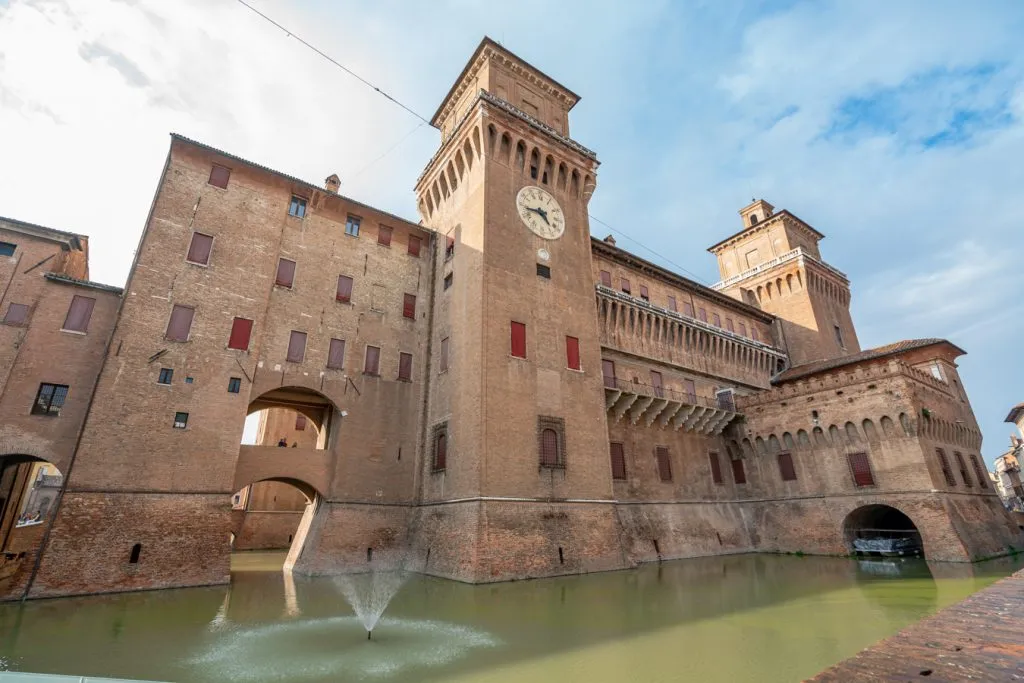 While virtually all of the best-known cities in Emilia-Romagna have medieval history, Ferrara feels viscerally medieval in a way that others may not, from its winding streets to the many shops found around the edges of the Piazza Trento e Trieste (including in the loggia situated against the side of the Duomo).
It's also home to one of the best-preserved Jewish Quarters in Italy!
One downside of visiting Ferrara?
Its cathedral (formally known as the Basilica Cattedrale di San Giorgio), while incredible, has been undergoing various levels of restoration for years, and is probably still quite some time away from being able to be appreciated at its full glory again.
What you can see now, though, is magnificent.
Day 6: Step outside of Italy and visit the Republic of San Marino.
This may be an Emilia-Romagna travel guide, but one of the best things to do in the region is to leave it–and Italy–entirely!
At the southern edge of Emilia-Romagna, you'll find the country of San Marino, the self-declared oldest republic in the world and one of Europe's microstates.
And, in addition to being a quirky and unusual place to visit, it's downright beautiful!
The best things to do in San Marino include visiting its iconic 3 towers (Cesta, Guaita, Montale), meandering through the medieval streets of the city center, stepping inside the Basilica of San Marino, and paying a visit to Parliament (which is free to visit!).
And, while there's no passport control between San Marino and Italy, you can stop by the tourism office for a souvenir stamp if you wish.
While you can–technically–take a day trip to San Marino from Bologna by public transportation (we share how to do that here), you'll have a much easier and more flexible trip by renting a car and driving to San Marino, as well as spending one night there.
We loved our stay at Hotel La Rocca in San Marino, and were so glad we gave ourselves some extra time to enjoy the country!
Plus, with the flexibility of an overnight visit and a rental car, you can add 1-2 very off the beaten path side stops to small towns in Emilia-Romagna along the way.
Brisighella would be our first pick (the views are incredible!), but Cesenatico (home to a beautiful canal) and Rimini (a classic Emilia-Romagnan beach town) are great options as well.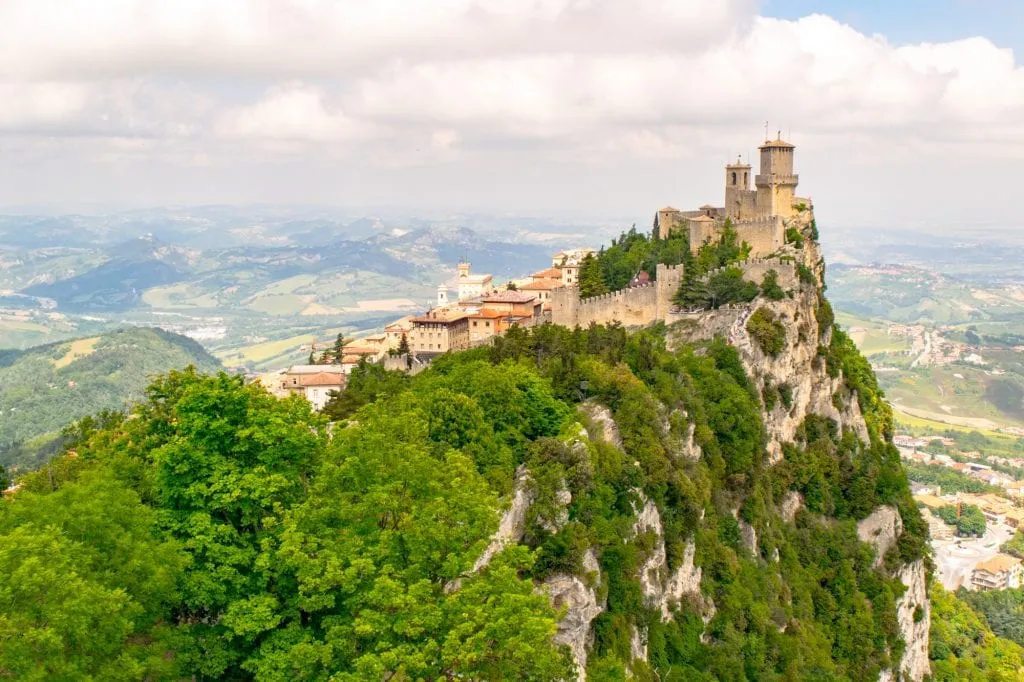 Day 7: Return to Bologna for a last plate of tagliatelle al ragù.
As your 7 days in Emilia Romagna come to a close, it's time to make your way back to Bologna to say goodbye!
If you drove to San Marino and spent the night, we recommend considering a quick stop in one of the offbeat towns you didn't have a chance to see yesterday as you go.
Alternatively, if you have a full day to work with and didn't have a chance to visit Ferrara earlier in the week, you could also detour to the quiet canal town of Comacchio (the drive out there is gorgeous!) followed by a quick visit to Ferrara before looping back to Bologna.
Regardless, a hearty lunch or dinner, complete with tagliatelle al ragù, in Bologna is the perfect end to your Emilia-Romagna itinerary.
From Bologna, you'll easily be able to say goodbye to the region by train or plane–and no doubt leave dreaming of the next time you'll be able to eat your way through Emilia-Romagna.
Where to Stay During Your Trip to Emilia-Romagna
Because of how well-connected the bulk of the best places to visit in Emilia-Romagna are to each other by train, you have quite a bit of flexibility in where to stay during this itinerary!
We do recommend spending one night in San Marino (this is the hotel we loved), but other than that, you can easily base yourself in Bologna for the full week and complete this itinerary as a series of day trips (and if you really want to avoid moving hotels, you can take a long day trip to San Marino as well).
In the center of Bologna, B&B Casa Faccioli and Casa Isolani Piazza Maggiore–both located right by the Piazza Maggiore and therefore in the heart of Bologna's best sightseeing–are excellent options for places to stay.
If you're hoping to stick to more of a budget, B&B Lame 87 is a bit further of a walk from the center, but is still extremely convenient and gets wonderful reviews (especially for its included breakfast).
Hoping to splurge on an extremely memorable place to stay?
You won't forget checking into the grand and opulent Grand Hotel Majestic gia' Baglioni anytime soon!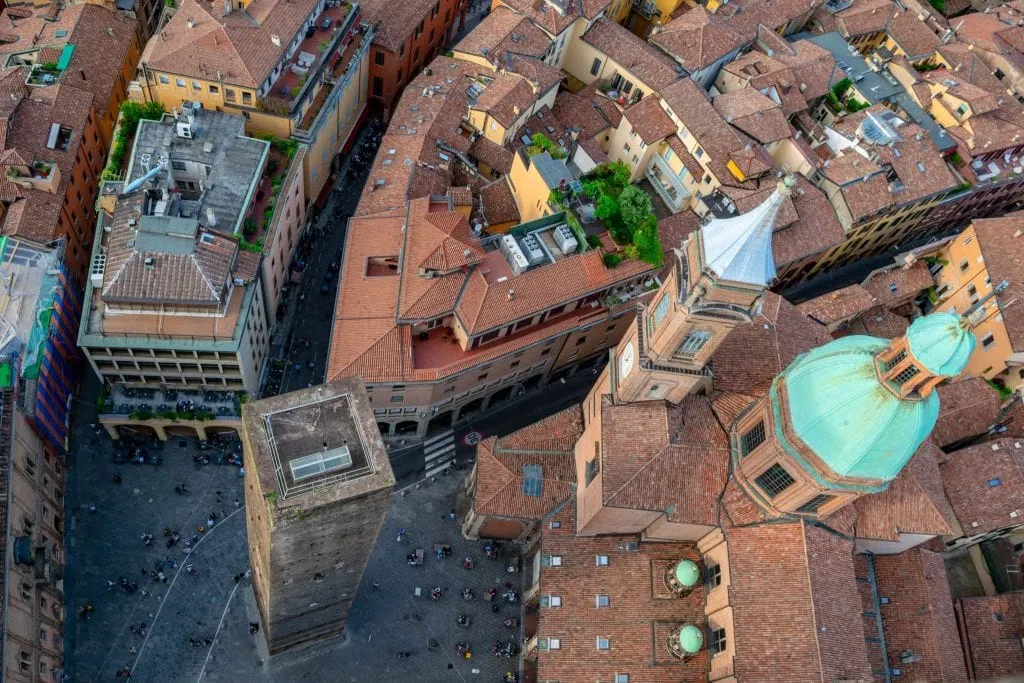 The Best Time of Year to Visit Emilia-Romagna, Italy
With its focus on delicious food and beautiful architecture, Emilia Romagna is an excellent year-round travel destination in Italy, characterized by warm but not brutal summers, and chilly but not freezing winters.
Spring and fall would always be our first picks when planning a trip to Emilia-Romagna (or Italy as a whole, really).
Italy's foodie destinations thrive in these seasons, and the bulk of our time spent visiting Emilia Romagna has taken place in these seasons.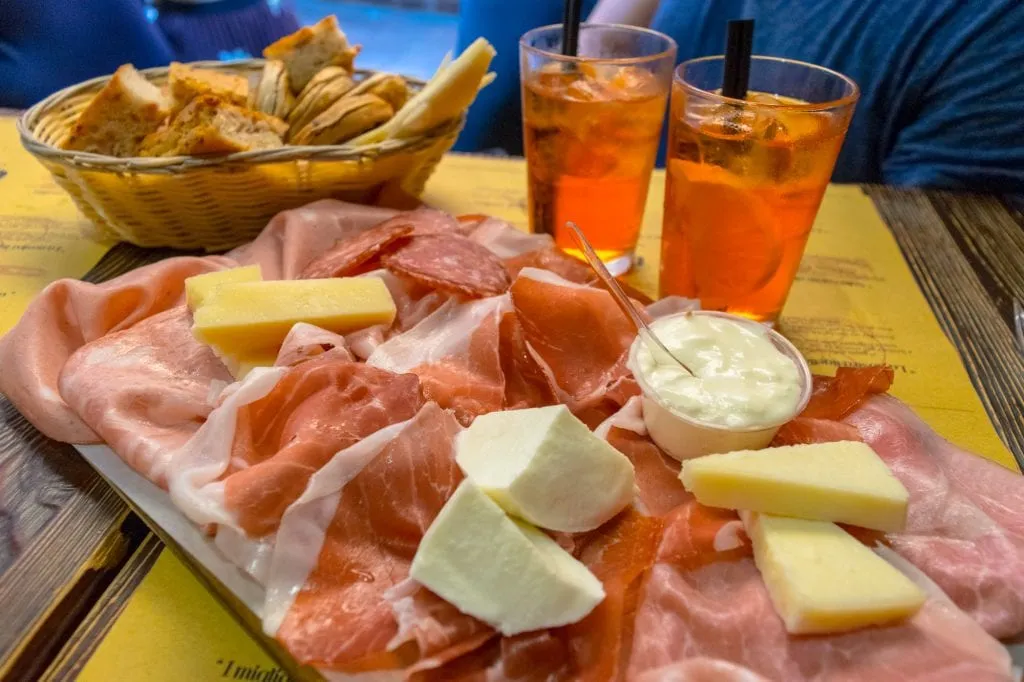 That being said, summer can also be a surprisingly pleasant season to visit Emilia-Romagna, with high temperatures in the capital city of Bologna topping out in August at an average of 86°F/30°C.
More than for the temperature, Emilia-Romagna can be a fantastic place for a summer trip to Italy if you're hoping to avoid the enormous crowds that descend on places like Venice and the Amalfi Coast at that time.
Visiting Emilia-Romagna in winter, which is typically cool and damp, will mean an opportunity to enjoy the lowest prices and feel like you have the region all to yourself.
More Than a Week in Emilia-Romagna?
If you're lucky enough to have more than 7 days in Emilia-Romagna, our first recommendation would be to slow down and savor it!
We designed this one week itinerary to be fast-paced, but all of these cities and towns can easily take up more of your time.
Visiting Modena, Reggio Emilia, and Ferrara instead of choosing between them as we outlined on day 5 would also be at the top of our recommendations list.
Similarly, Brisighella, Cesenatico, and Comacchio, as well as even smaller towns like Castell'Arquato, are memorable additions to an Emilia-Romagna vacation!
Other fun things to do could include adding some beach time to your trip (Rimini and Ravenna are popular, convenient options, Riccione would be another one).
Car lovers will enjoy adding more Ferrari-focused time to their itinerary: in addition to the Enzo Ferrari Museum in Modena, the Ferrari Factory, Track, and Museum in Maranello is a popular destination with autophiles.
If you're visiting Emilia-Romagna with kids, checking out the popular Italian amusement park of Mirabilandia is an offbeat but fun option.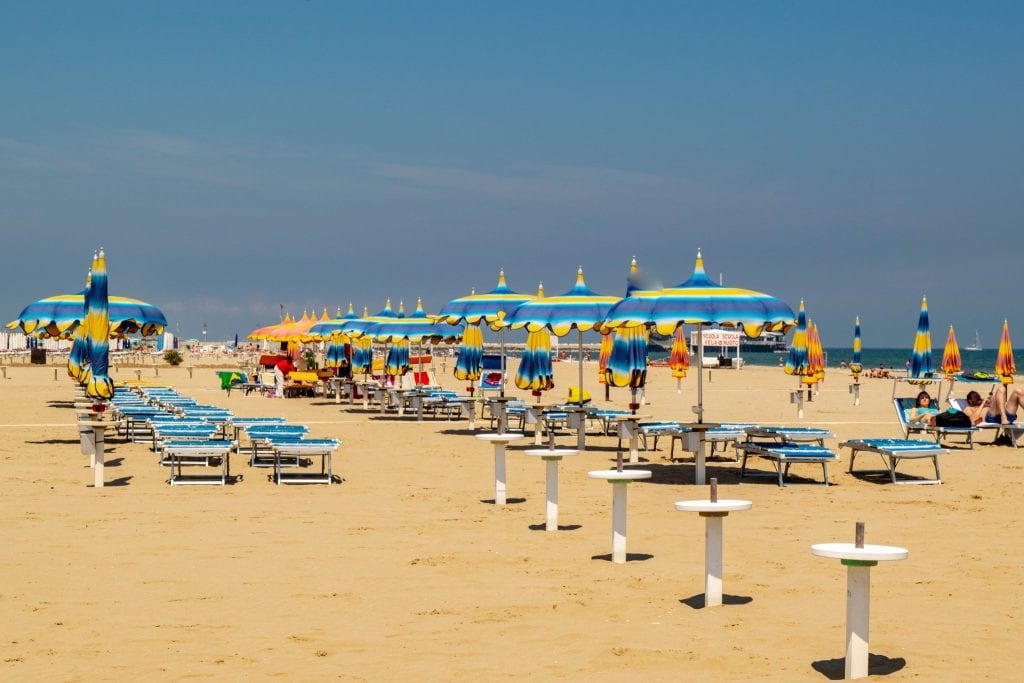 FAQ For Visiting Emilia-Romagna, Italy
What is Emilia-Romagna famous for?
Emilia-Romagna is one of Italy's 20 regions, and it is famous for its food, beautiful medieval cities, and being home to the oldest university in the world (the University of Bologna).
It's also known for its many beaches along the Adriatic Coast, though those are (generally speaking) more famous among Italian travelers than international ones.
Where is Emilia-Romagna in Italy?
Emilia-Romagna is located in northern Italy, and primarily borders the regions of Lombardy (home to Milan) and Veneto (home to Venice) to the north, and the regions of Tuscany (home to Florence) and Marche to the south.
Smaller portions of Emilia-Romagna border the regions of Liguria (home to Cinque Terre) and Piedmont to the west.
Do you need a car in Emilia-Romagna?
You don't need to rent a car to have a wonderful trip to Emilia-Romagna, but if you'd like to get off the beaten path, it can be helpful!
Emilia-Romagna's most popular cities, including but not limited to Bologna, Parma, Modena, Ferrara, and Ravenna, are all very well connected to each other by train.
However, small towns like Brisighella and Castell'Arquato are more easily accessed by car and offer a chance to get far off the beaten path in Italy.
Additionally, if you'd like to visit any foodie destinations–like a parmigiano-reggiano factory, for example–without booking a tour, you'll want to rent a car.
We've visited Emilia-Romagna both by train and by taking a full Emilia-Romagna road trip, and love both styles of travel.
Want to drive? Shop rental cars for your trip to Emilia-Romagna today!
Is Emilia-Romagna worth visiting?
Yes, Emilia-Romagna is definitely worth visiting!
This beautiful region has a unique charm all its own, and offers a wonderful opportunity to get off the primary Rome-Florence-Milan-Venice track when visiting Italy.
Emilia-Romagna also offers one of the absolute best food scenes in the country, unique cities, and an enormous variety of things to do–plus a special opportunity to leave Italy entirely and visit one of Europe's micro countries.
What food is famous in Emilia-Romagna?
The best traditional foods to eat in Emilia-Romagna could fill a book!
A couple of especially notable pasta dishes include tagliatelle al ragù, cappelletti, and tortellini en brodo.
Some of the most iconic cured meats include mortadella (the "real" version of bologna–it's amazing), Prosciutto di Parma, and Culatello di Zibello.
For "ingredients" of a sort, there's no doubt that Parmigiano-Reggiano and traditional balsamic vinegar from Modena are two of the most iconic foods from Emilia-Romagna.
Some Emilia-Romagnan dishes tend to be hyper-specific to a town or city, like Pesto di Cavallo from Parma, so don't hesitate to ask waiters for their recommendations during your Emilia-Romagna vacation!
Is Emilia-Romagna expensive?
As compared to the most popular places to visit in Italy, like Rome, Venice, Florence, and Milan, Emilia-Romagna tends to be very affordable.
This is especially true outside of Bologna.
However, this is still northern Italy–so expect to pay more for hotels and (especially) meals here than in southern Italian cities like Palermo, Bari, and Naples.
Overall, though, Emilia-Romagna feels like quite the bargain given its location and incredible food scene!
What is the best season to visit Emilia-Romanga?
For the ideal combination of good weather and the harvest, spring and fall are particularly wonderful times to visit Emilia-Romagna.
However, Emilia-Romagna is a year-round destination and you can enjoy a vacation here during any month of the year!
How many days do you need in Emilia-Romagna, Italy?
We have spent months traveling Emilia-Romagna and still have lots left to see, but even a few days in Emilia-Romagna is enough to make it worth a visit!
This is especially true since Bologna's central location along many of the most prominent train lines in Italy mean that it is a very easy addition to a wide variety of Italy itineraries.
We designed this Emilia-Romagna itinerary around a one week visit to allow enough time for a broad overview of the region, while still keeping the trip compact enough that it could fit into a short Italy trip or even be combined with a visit to another region (like a Tuscan road trip, for example).
Read More About Visiting Emilia-Romagna + Beyond
Planning a trip to Emilia-Romagna soon?
You can browse our 100+ Italy blog posts here, or check out some more of our Emilia-Romagna travel guides:
Map of This Itinerary for Emilia-Romagna, Italy
Take This Map With You! Click each highlight to pull up the name of the destination. To save this map to "Your Places" on Google Maps, click the star to the right of the title. You'll then be able to find it under the Maps tab of your Google Maps account! To open the map in a new window, click the button on the top right of the map.