The hardest part about visiting any National Park is narrowing down what hike(s) we're going to do. As if that isn't normally hard enough, Great Smoky Mountains National Park (GSMNP) is home to some of the best hikes on the east coast!
Even still, we managed to get two solid hikes in: the Alum Cave Trail and Rainbow Falls. Both hikes were only half a day, as we got started on the first one in the afternoon, and completed the second immediately before leaving town to start our trek back to San Antonio.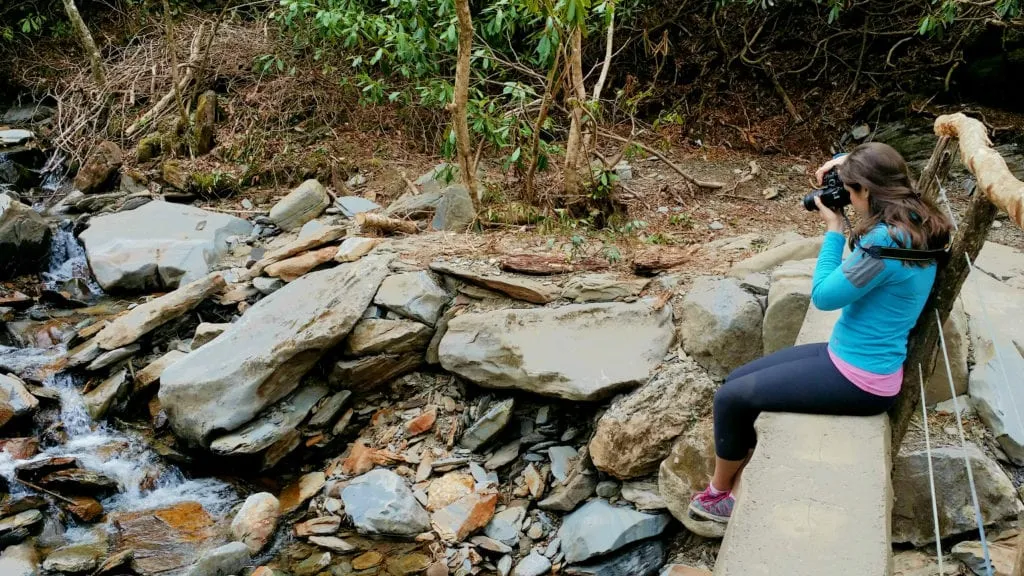 GSMNP is an incredible park. It's enormous, with tons of varying trails and views, and the surrounding areas are beautiful as well (you can go on all kinds of adventures in the region, from horseback riding to ATV riding to exploring the Biltmore Estate and renting a cozy cabin in Asheville).
It enters both Tennessee and North Carolina (we've always visited by staying in Maggie Valley on the North Carolina side, but Gatlinburg is another popular access point), and is one of the only US National Parks that is free to enter.
It's also named a UNESCO World Heritage site, in large part because of the mind-boggling number of plant and animal species that live there.
The Appalachian Trail passes through here, and small sections of it can make great beginner backpacking trips.
Plus, it's also incredibly serene, despite being very popular and definitely not one of the USA's many beautiful but overlooked national parks.
With what turned out to be time for only two hikes, Jeremy and I made sure to pick one of each major theme: one with a view, and one with a waterfall.
Hike 1: Alum Cave, 4.4 miles, 1125 feet elevation gain
This trail met its goal: a hike with a view. The first portion of the trail stays close to the river, giving you ample opportunity to watch and listen to the beautiful water. When the elevation gain starts picking up speed, the views of the tree-covered mountains start opening up before you (giving plenty of excuses to stop and take photos when you need to catch your breath).
Directly before the more serious elevation gain begins, the trail passes through a small cave. It's very cool, but it is not Alum Cave. Alum Cave isn't actually a cave at all, but a gigantic bluff that reaches out from the mountain and over your head. It's very much a you'll-know-it-when-you-see-it sort of thing, but Jeremy and I were a little concerned we had gone too far after passing through the little cave before clarifying with other hikers heading back down the trail.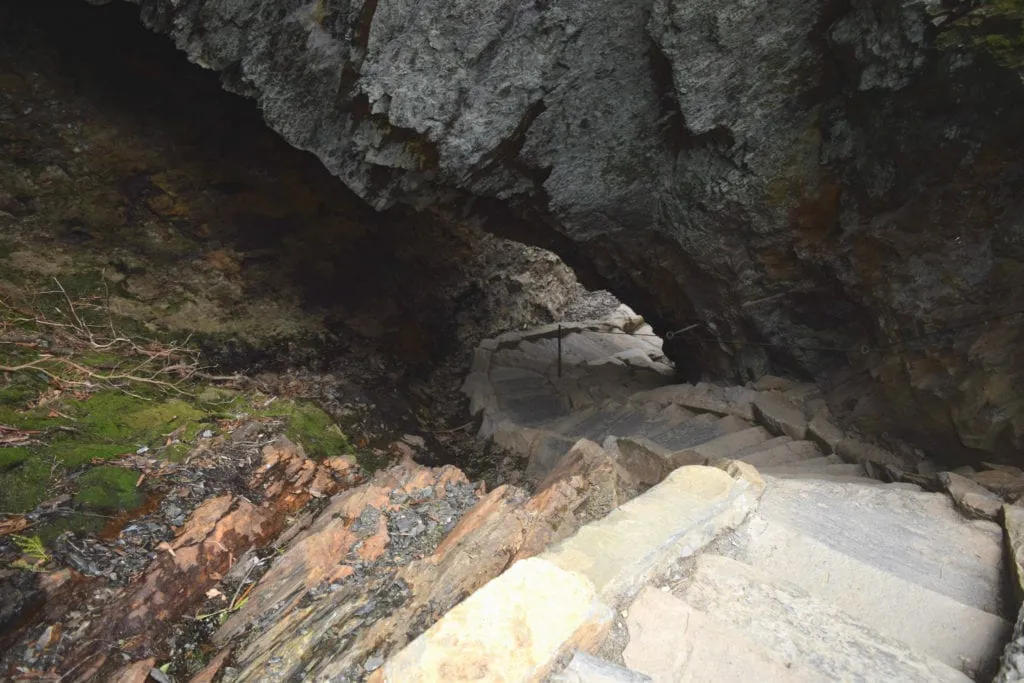 The trail is not particularly well-marked in the sense that you know exactly where you are and reassuring you that your destination is still ahead, but you certainly won't make the mistake of accidentally going off the trail altogether–the structure itself is quite clear.
Overall, I'd rate the trail 7/10. It was beautiful, and the bluff interesting, but it didn't have that "wow factor" that would make me want to immediately call my dad and tell him all about it (which is my usual reaction to knockout trails). I'm very glad we went and saw it once, but I wouldn't feel compelled to hike this one again when we return to the area.
Ironically, my favorite portion of the Alum Cave trail was actually the lower section close to the water, even though the point of the trail was to find a view. The views were great, don't get me wrong, but GSMNP has oodles of incredible overlooks. I would prefer that a hike I complete reward me with a view that can beat the pants off of one I can pull over to the side of the road for, and this one didn't deliver that.
Hike 2: Rainbow Falls, 5.4 miles, 1500 feet elevation gain
I once made an Instagram tagline that read: "I've never met a waterfall that I didn't fall in love with." True then, true now. This hike was worth every minute of the delay it caused in us getting out of town on the day we were due to leave.
The views from this trail located near Gatlinburg are not overlooks of the mountains like Alum Cave provided, but rather the serene beauty of the forest and river. This is one of those trails that makes you feel like you're in a fairytale, as if it wouldn't be out of place catch a nymph or an elf darting away out of the corner of your eye.
We hiked this on a beautiful spring Saturday, so the trail — and the parking lot leading to it — appeared to be crowded. We had to end up parking about a half-mile away from the trailhead, as the parking lot nearby was full, and saw plenty of people at the beginning of the trail and at Rainbow Falls. In between, though, people were spread out enough that we would have maybe one other small group visible at a time, and there were moments we were completely alone.
This trail does cross a few streams, and there are signs noting that it can become impassable after heavy rainfall, but it rained all day the previous day and there wasn't an issue, so I imagine that becomes more of a problem if it has been raining many days in a row.
This hike definitely earns a 9/10 rating. I loved every minute we spent on it, including sitting for half an hour while eating lunch and relaxing on a boulder in front of the falls. The views and sounds of the rushing water were incredibly peaceful, and I would be happy to hike this one again, especially if I'm with someone who hasn't seen it before.