The US national park system is one of the crown jewels of our home country. Home to everything from white sand beaches to otherworldly glaciers, the breadth, depth, and extreme diversity of the best national parks in the USA is a delight to behold.
Exploring all 63 (and counting!) national parks, plus the hundreds of other properties run by the National Park Service, is a lifelong project for even the most fervent lovers of the parks.
The scope of exploring every last one of the national parks in America is positively overwhelming!
To help you narrow it down, start planning some trips, and maybe even add a park or two that you haven't considered in the past to your bucket list, we've teamed up with several other travel bloggers to round up some of the most beautiful national parks in the US.
From sea to shining sea, here are the top United States national parks that you just can't miss–starting with a round-up of the five most visited national parks in the USA!
First Step: Pick Up an America the Beautiful Pass!
Planning to explore several of the best national parks in the USA over the next year?
If so, consider picking up an America the Beautiful Pass, also known as the USA's annual national parks pass! For only $80–less for certain groups like seniors and military personnel–the park covers day-use fees to over 2,000 federally managed lands, including all 62 national parks, for an entire year.
It's one of the best travel deals around and will pay for itself within 3-4 visits to popular US national parks (for example, as of the time of writing, many popular national parks such as Arches and Yosemite cost between $25-35 per vehicle to visit).
Buy your national parks pass today!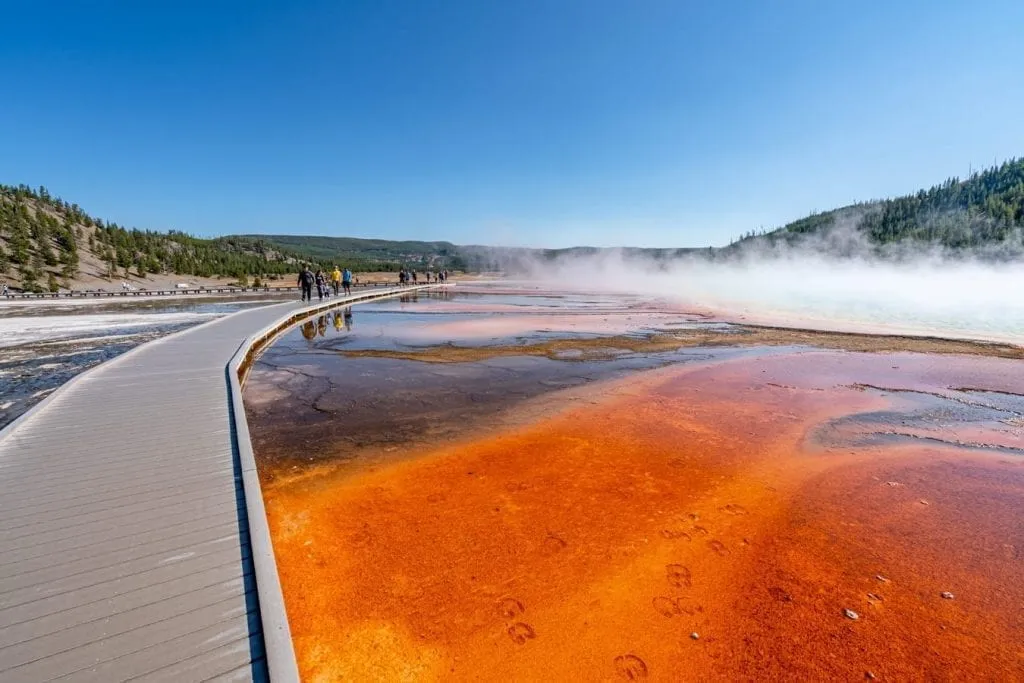 Top 5 Most Visited National Parks in the USA
Based on 2019 visitor numbers, here are the most visited national parks in America (I have to admit I'm surprised that Yellowstone didn't make the list–it was #6).
Great Smoky Mountains National Park, North Carolina & Tennessee
From Stephanie of Explore More, Clean Less
Great Smoky Mountains National Park is the most visited national park in the United States, and for good reason!
This park is easily accessible from a number of airports, has free admission, and offers lots of wildlife viewing opportunities within an hour's drive of several major cities.
When to Visit
In the relatively temperate climate of eastern TN/western NC, there isn't a bad season to visit GSMNP.
Spring brings a bounty of wildflowers, summer has lush greenery and roaring waterfalls, fall brings beautiful foliages and rutting elk, and winter has frozen creeks and snowy mountain views. Some areas of the park may not be open during winter, so keep winter plans flexible and refundable if possible.
Grand Canyon National Park, Arizona
One of the most famous national parks in the USA by a landslide, the aptly-named Grand Canyon is the largest canyon in the United States.
Meticulously carved by the Colorado River over the last several million years, Grand Canyon National Park is one of those places that you simply have to see to believe: pictures, however beautiful, fail to do it justice.
Grand Canyon National Park is divided into two sections, the more-famous South Rim and the lesser-visited North Rim.
While the North Rim is beautiful, for the iconic Grand Canyon views, head to the South Rim.
Sunrise and sunset at the Grand Canyon are legendary and not to be missed–and luckily, there are plenty of places along the rim that are perfect for admiring it from.
When to Visit
The Grand Canyon is accessible and beautiful year-round. Summer and winter both bring their own challenges for hiking: the brutal heat of the summer and potentially icy conditions paired with shorter days in the winter mean that extreme caution is required when descending into the canyon in either season.
However, both are beautiful, and we wouldn't recommend turning down an opportunity to visit the Grand Canyon, regardless of what month it presents itself.
Rocky Mountain National Park, Colorado
From Meg of Fox in the Forest
If you're looking for a high-alpine adventure, look no further than Rocky Mountain National Park.
Featuring stunning mountain scenery from rich pine forests to the Continental Divide, there's a reason that RMNP is one of the most visited national parks in the United States.
Start by exploring one of the best hikes in Rocky Mountain National Park.
For beginners and experts alike there are endless miles of gorgeous trails and even world-famous mountains to climb. Long's Peak is on many alpinists' bucket lists, while Dream Lake, Gem Lake, and Sky Pond are all bucket list hikes.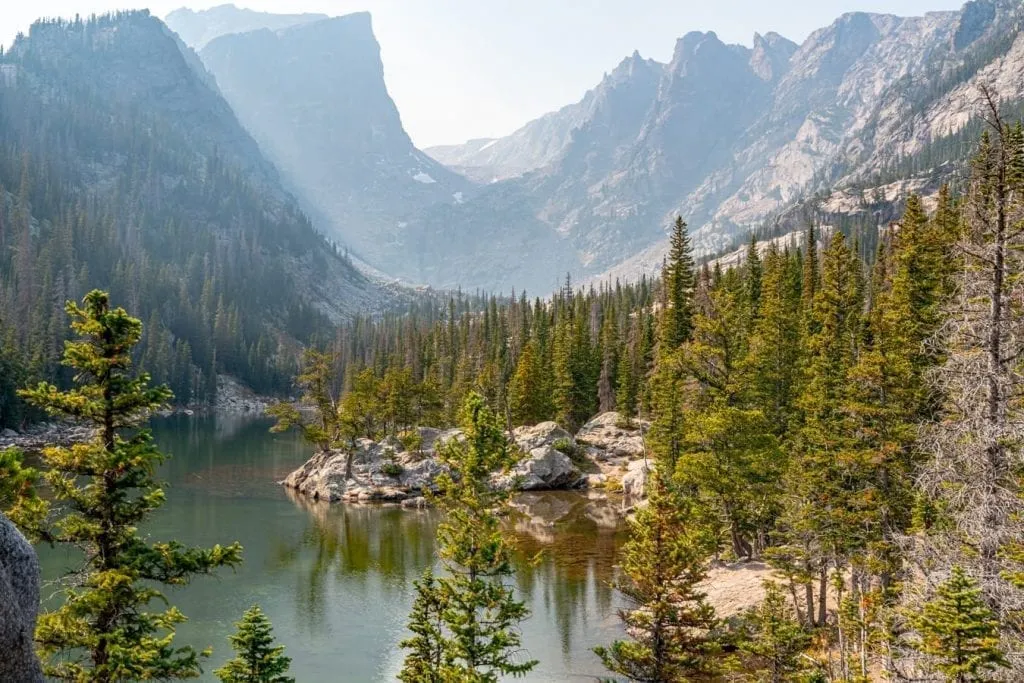 A signature activity in Rocky is to drive the scenic Trail Ridge Road. With plenty of pullouts and endless amounts of wildlife, you can easily spend the day traveling this beautiful road.
Speaking of wildlife, during the summer months it's quite common to see chipmunks, marmot, pika, elk, moose, coyote, ram, and maybe even a black bear. Bring your camera, but keep a good distance between you and the wildlife (elk are known to charge).
Other activities include rock climbing, visiting scenic vistas, and backpacking.
Aside from the main (east) side of the park, there are plenty of auxiliary areas to discover such as Lumpy Ridge, Wild Basin, and the Long's Peak area. The west side of the park is also plenty beautiful but sees fewer visitors.
When to Visit
The best time of year to visit the park is between July and September. Keep in mind, this park is no secret, so it's also the busiest time in RMNP and in nearby Estes Park.
Expect to wait in long lines or be required to take a shuttle as most of the parking lots fill up by 6 am. Winter and spring are also excellent times to visit, however, Trail Ridge Road is usually closed and lots of the trails become dangerous due to avalanche activity.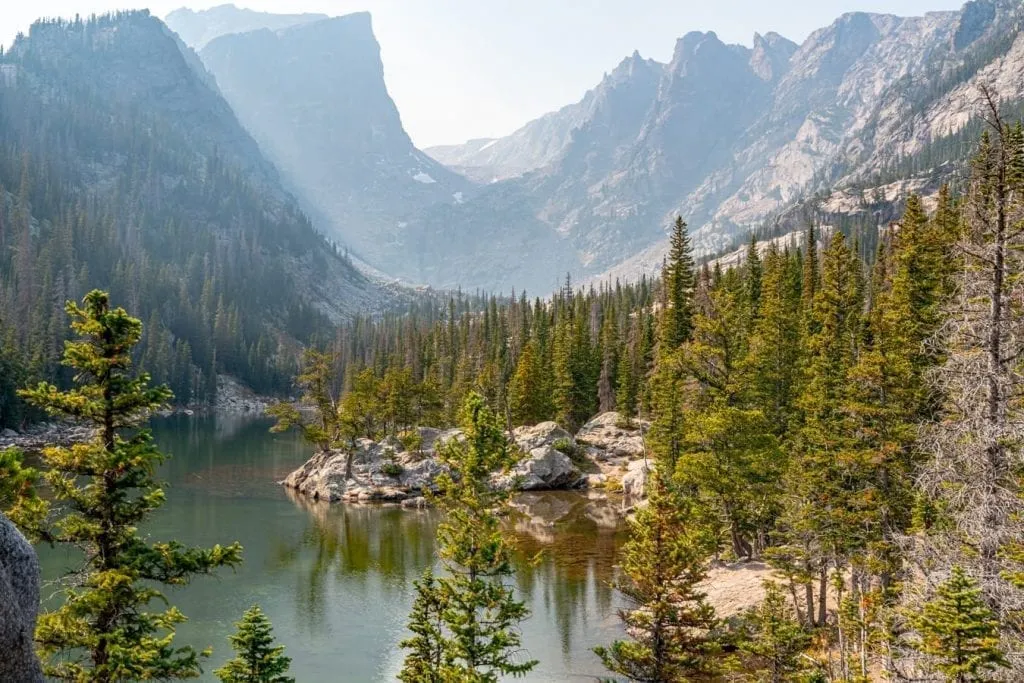 Zion National Park, Utah
Home to some of the most legendary hikes in the United States, stunning Zion National Park is the most-visited of Utah's Mighty Five.
Surrounding Zion Canyon and the Virgin River, Zion National Park is incredibly beautiful, combining the craggy, bright orange landscapes synonymous with the southwest with somewhat more lush views.
The best-known hikes in Zion NP include Angel's Landing, the Narrows, and the Subway. All are magnificent and extremely different from each other. Only the Subway requires a permit, but as Angel's Landing severely tests hikers' fears of heights and the Narrows involves hiking through a river, none of them are easy.
Other popular trails include the Canyon Overlook trail, Observation Point, and the Emerald Pools trails.
When to Visit
Zion National Park is stunning year-round, with extreme heat to contend with in the summer and some snow and ice to deal with in the winter.
The biggest factor in deciding when to visit Zion NP, though, is crowds: Zion is generally one of the most crowded national parks in America, and the Zion Scenic Drive is even closed to private vehicles for most of the year (you can drive yourself to the most popular hikes during the winter, otherwise, prepare to use Zion's shuttle system).
For this reason, if you can, strongly consider planning a trip outside the busy summer months!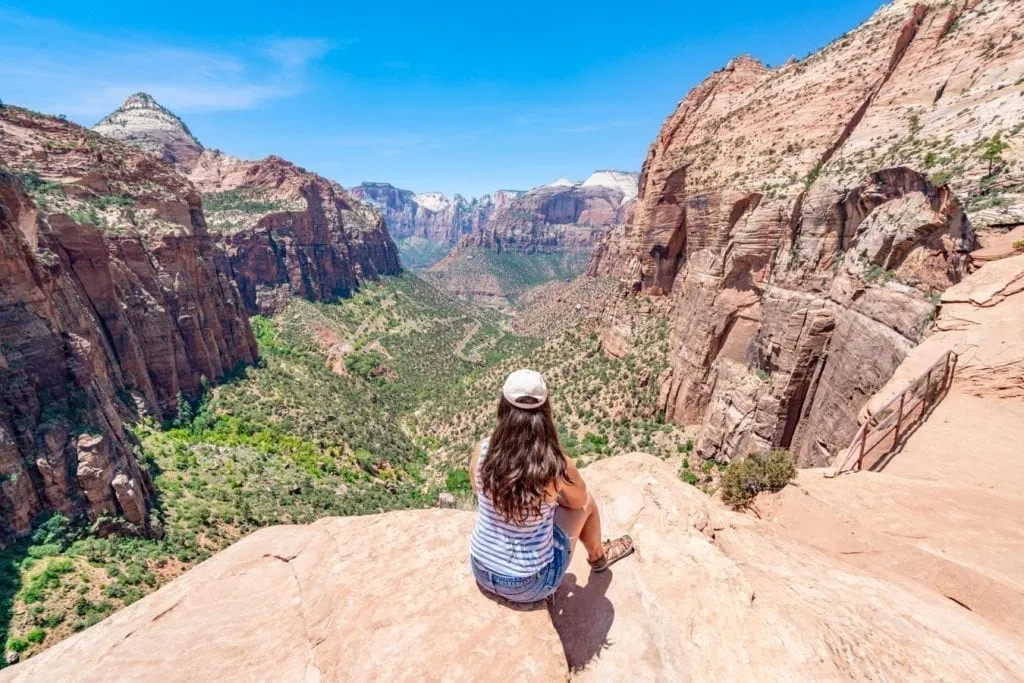 Yosemite National Park, California
From Kelsey of Sights Better Seen
The towering granite cliffs, giant sequoias, and thundering waterfalls are awe-inspiring and make for an unforgettable experience.
There are plenty of trails, and popular hikes include the Mist Trail leading to Vernal Fall (be prepared to get wet) and Nevada Fall, Yosemite Falls, Bridalveil Fall, Mirror Lake Loop, and if you manage to score a ticket in the lottery, Half Dome.
Most people visit in the summer, but it can be packed with people. To avoid the crowds, go in the spring, preferably May or June to avoid the likelihood of snow (although it is still possible!). The waterfalls will be flowing, there will be fewer tourists, and the temperatures should be comfortable.
Fall also comes with mostly perfect temperatures and fewer crowds, but it may be risky considering California's late summer and early fall have seen severe wildfires in the past few years.
Winter is beautiful and also less crowded, just be prepared for the snow (and the possibility of canceling due to a snowstorm), and be sure to carry chains!
Best West Coast National Parks in the USA
Olympic National Park, Washington
From Sarah of Live, Dream, Discover
Olympic National Park is on the Olympic Peninsula of Washington state. The park is large with nearly 1 million acres of perfect Pacific Northwest wilderness and more than 70 miles of coastline. Here you can view and explore old-growth rain forests, several different eco-systems, rugged coast beaches, and snow-covered mountain peaks. 
Nature lovers will be in heaven with so much natural beauty to experience. Some of the must-see spots are the magical Hoh Valley Rain Forest, the steamy Sol-Duc Hotsprings, crystal clear Lake Crescent, cascading Marymere Falls plus the wild Ruby, First, Second, and Third beaches.
For hikers, there's an almost endless list of hiking trails in Olympic National Park. There are trails for all levels of experience, but some favorites are The Hall of Mosses, Hurricane Ridge, Klahhane Ridge, and Elk Mountian. 
For a fully immersive Olympic Park experience consider camping for a night or two. There are several campgrounds to choose from but they are all quite basic and most have just pit toilets and no showers. If you want to backpack one of the longer hiking trails you can purchase a wilderness camping permit for overnight stays.
One of the more unique places to camp is right on the beach. Second Beach is perfect for this as long as you don't mind the short hike in with your gear.
When to Visit
The Olympic Peninsula sees a lot of rainfall year-round so although summer is generally the best time to see the sun it's still far from guaranteed to be dry. Spring is a good time for waterfalls and wildlife.
Hiking is best from May through October, but unless you're planning to hike the higher elevations most trails are open year-round.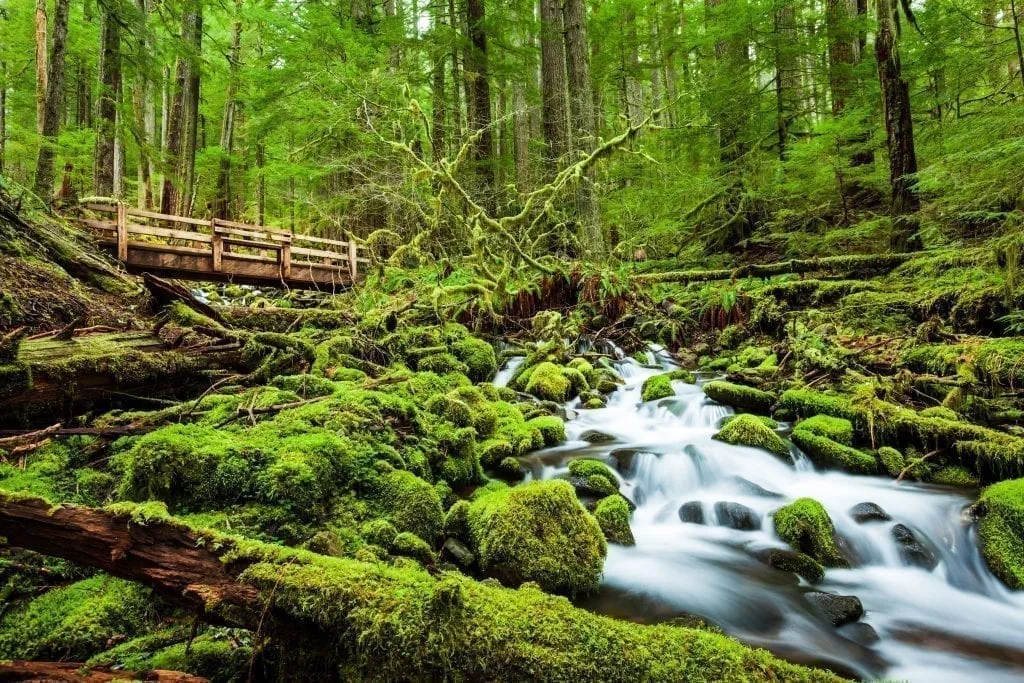 Pinnacles National Park, California
From Dhara of Roadtripping California
Pinnacles National Park is California's youngest national park, and one of its lesser-visited parks. Visitors that do make the decision to explore Pinnacles National Park are rewarded with an extraordinary wilderness experience.
Hiking is quite unequivocally the most popular reason to visit Pinnacles. There is no road that runs through the park, and in order to explore it, you have to be able to hike.
If you are up for it, take one of the lower trails up to High Peaks Trail, where you can take in the views from the higher elevations of the pinnacles. Here you can also look for roosting California condors! The park is one of the few places where you can see the endangered birds with their enormous wingspans.
Pinnacles is also known for its talus caves. There is a talus cave you can explore from each of the park's two entrances. Trails leading to the caves are relatively easy and family-friendly. On the eastern end of the park, you can go from Bear Gulch Cave to Bear Gulch Reservoir, a scenic place for a few minutes of relaxation.
When to Visit
The best time to visit Pinnacles is from late fall through early spring when temperatures in the park are pleasant. Summers in the park are very hot and best avoided.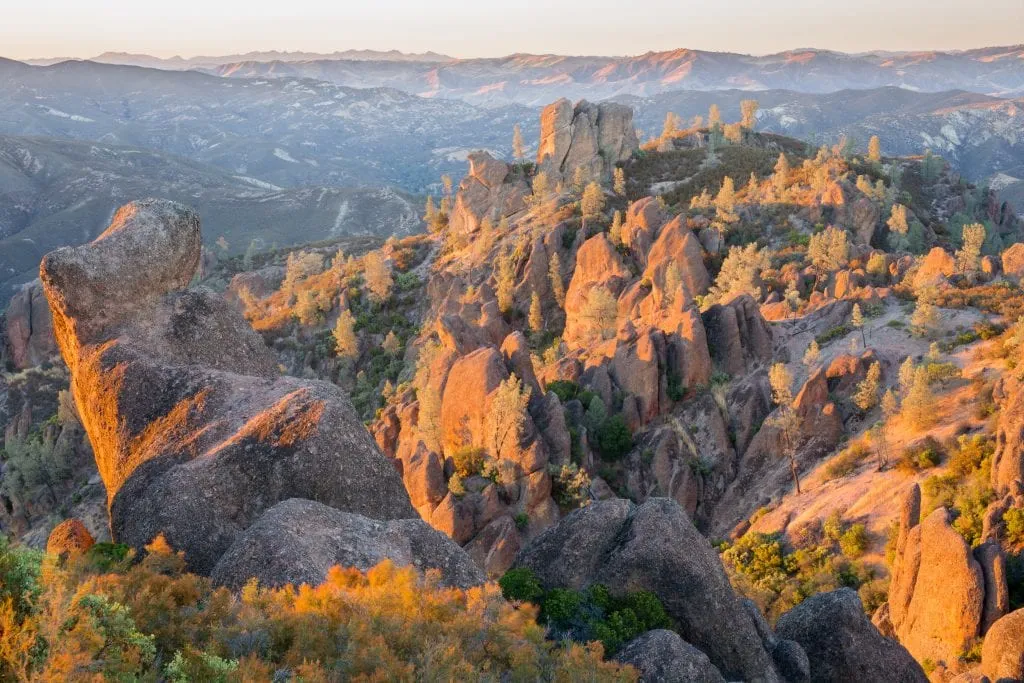 Mount Rainier National Park, Washington
From Jarrod of Ramble Around the World
From its snow-capped peaks to its 14,410-foot active volcano towering over 369 square miles of protected land, Mount Rainier National Park is one of the most uniquely diverse and splendid national parks in the country.
Home to some of the most incredible drives and hikes near Seattle, it can take the average person a few visits during different times of the year to see everything in its true beauty.
Mount Rainier National Park is known for its incredible reflecting lakes, like Tipsoo and Reflection Lakes, world-class hiking like Skyline Trail and Mount Fremont Lookout Trail, and mountaineering, as around 10,000 people each year brave the bitter-cold temperatures and sweeping storms to take a crack at summiting Mount Rainier.
The park is also home to picturesque flora, including some of the most colorful wildflowers that start blooming in late July and early August in the Paradise area of the park. The reason for the late wildflowers is due to Mount Rainier National Park's location, tucked inside many towering mountains and only a few hundred miles away from the Pacific Ocean.
When to Visit
Although snow blankets the park year-round, the best time to visit Mount Rainier is late in the summer. That's when the roads are all open, waterfalls are spewing with freshly melted snow and wildflowers are blooming.
Although you can visit the park during other parts of the year, you may be met with bitter cold and many feet of snow covering the park's hiking trails.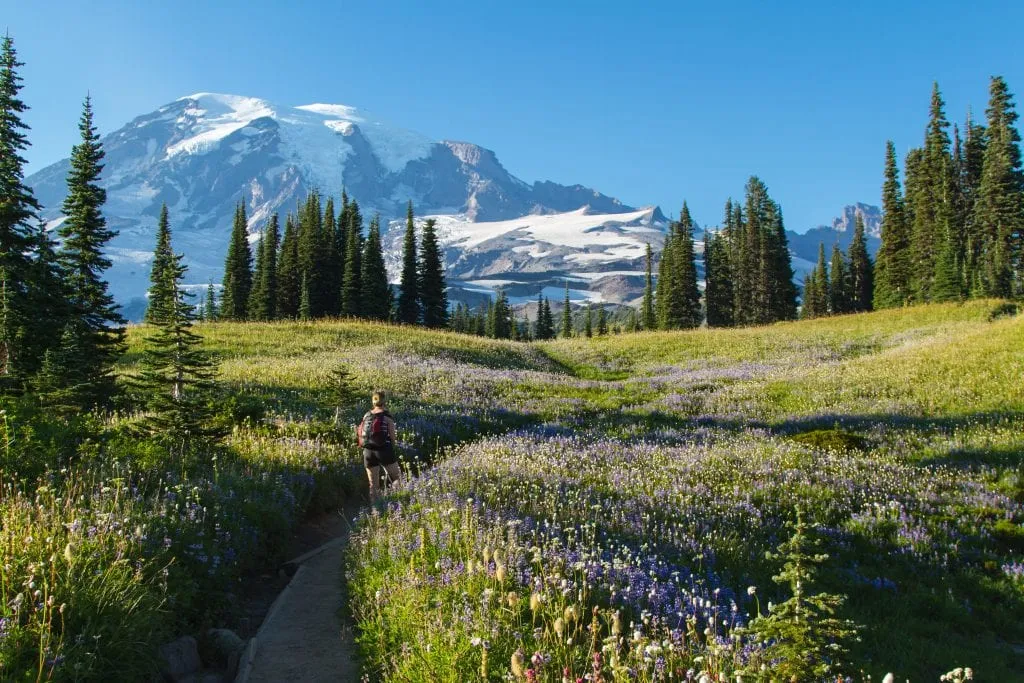 Joshua Tree National Park, California
From Nadine of Le Long Weekend
With an incredibly intriguing landscape, unique flora, and native wildlife, a trip to the Joshua Tree National Park is never dull. The park spans over two deserts – the Colorado and the Mojave – yet the well laid out navigation means it's easy to experience in a day.
However, if you do decide to stay longer, there are campgrounds to enjoy for the night too.
Don't miss the Hidden Valley Nature Trail for chipmunks and plenty of Joshua Trees, the Barker Dam Nature Trail for birdlife, and the Skull Rock Nature Trail from where you can take in the mighty Jumbo Rocks.
Visit the Keys View viewpoint for a beautiful view of the Coachella Valley and Mount San Jacinto in the distance. And be sure to stop by the Cholla Cactus Garden where you'll find the iconic "teddy bear cactus" to walk among – just be careful not to get too close!
When to Visit
The seasons of spring and fall are best for visiting Joshua Tree. Both summer and winter can see extreme temperatures and unfavorable conditions for exploring.
At any time of the year, go prepared for temperature fluctuations and carry enough water, layers of clothing, and sun protection.
Crater Lake National Park, Oregon
As the name suggests, Crater Lake National Park is quite literally a giant crater filled with water. The lake was formed after the eruption of the ancient volcano Mt. Mazama, sacred to the indigenous Makalak people, and it's the second cleanest freshwater lake in the country (and also the deepest).
While you can't kayak or boat in the lake, you can hike down to the water via the Cleetwood Cove Trail and jump in for a swim. Other iconic spots include Watchman Overlook, the Pinnacles Trail, and of course – Plaikni Falls. There are even wheelchair friendly trails such as the Sun Notch Trail, though you can enjoy 360 views of the lake straight from your car if you choose to drive.
Since the park is small, there aren't too many food options. Either stop by the Rim Village Cafe for a bite or bring your own snacks.
When to Visit
The best time to visit is either summer or early fall when you have full access to the park. In the winter through spring, the entire rim is not open due to snow, and many hikes and trails are closed.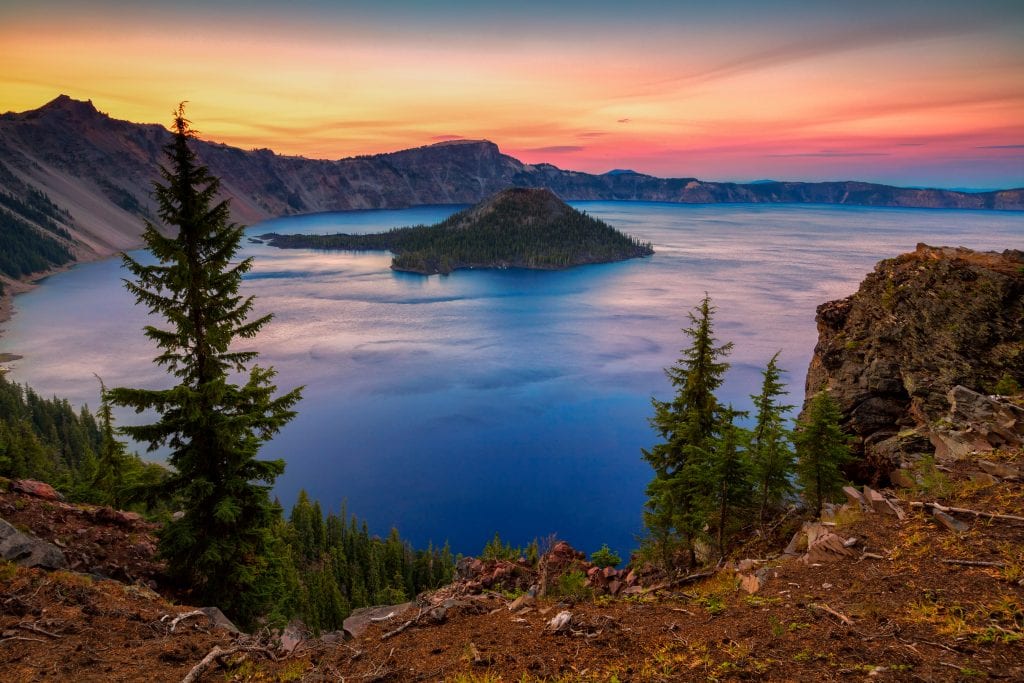 Sequoia National Park, California
Most Beautiful US National Parks in the East
Acadia National Park, Maine
From Elena of The Carry-On Chronicles
Acadia National Park is affectionately known as the "Crown Jewel of the North Atlantic Coast." Located on Mount Desert Island, Acadia is an outdoor adventurer's playground. This popular park offers terrain for hikers and bikers of varying abilities, as well as spectacular scenery for photographers. Whether biking or exploring on foot, there's a vast network of carriage roads located throughout the park. 
Park visitors can warm up with a family-friendly stroll along the Ocean Path and admire spectacular coastline views from Sand Beach to Otter Cliff.
The Jordan Pond Loop offers another comfortable stroll and features views of unique South Bubble Mountain and North Bubble Mountain. Here, hikers can't miss a stop at The Jordan Pond House for some popovers and tea.
More advanced climbers may consider iron-rung-equipped trails, including The Beehive Trail, The Precipice Trail, The Jordan Cliffs Trail, and The Beech Cliff Trail. 
Regardless of ability, visitors cannot miss a hike (or a drive) up to Cadillac Mountain, the highest point along the Atlantic Seaboard featuring breathtaking views of the Porcupine Islands. 
When to Visit
While Acadia is beautiful year-round, it's best between late spring and early fall, when the weather is moderate. November through March is least favorable, with cold temperatures and numerous attraction closures.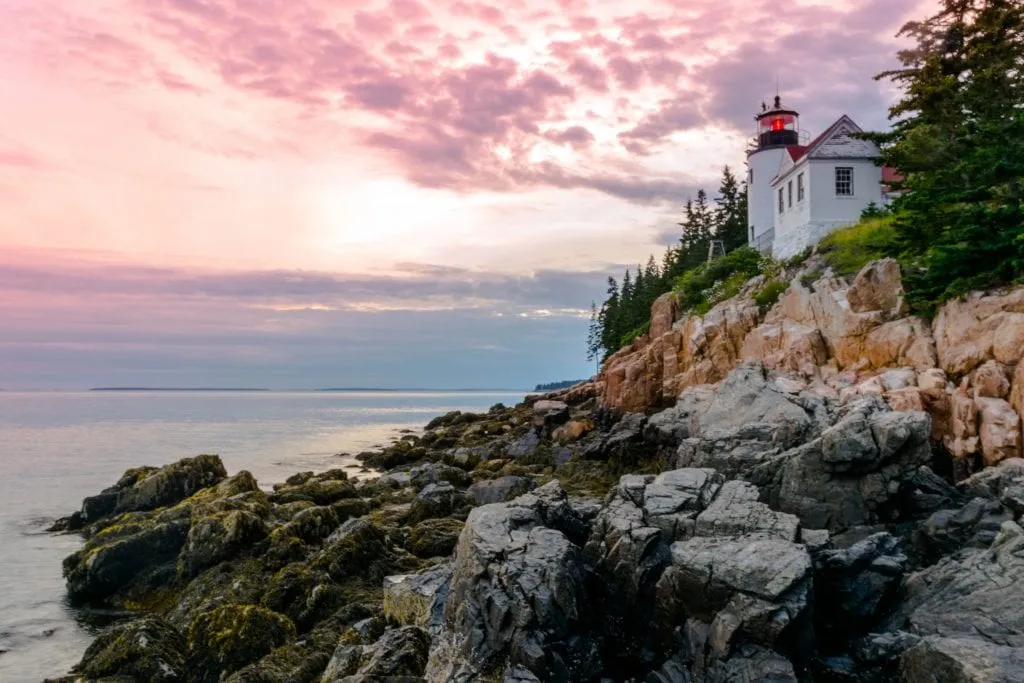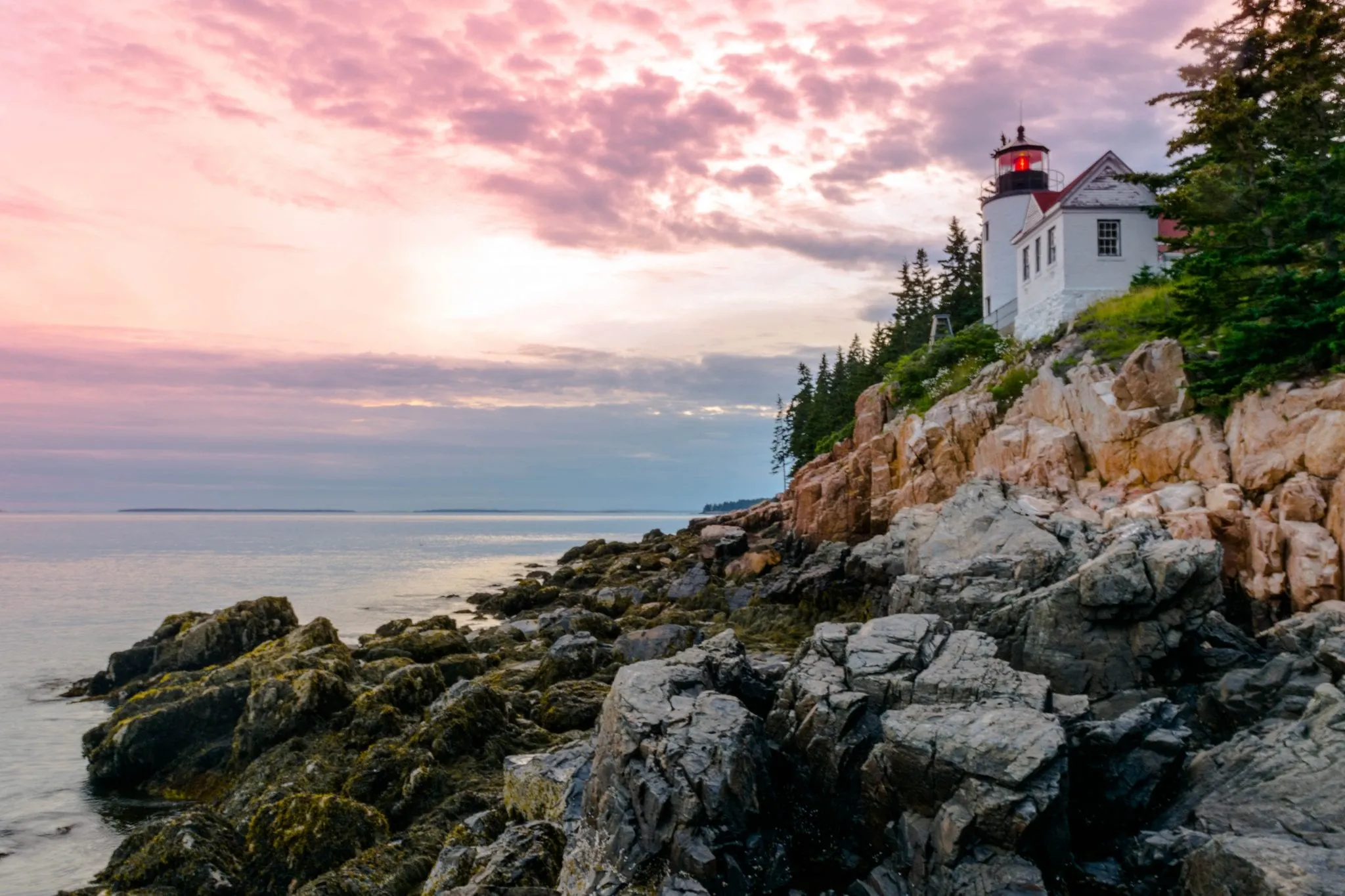 Everglades National Park, Florida
From Paula of Paula Pins the Planet
The Everglades National Park is a fascinating ecosystem and a UNESCO World Heritage Site.
Located in the sunny state of Florida, just west of Miami and Fort Lauderdale, it makes a great side trip to visit this heaven for lovers of outdoor activities. With loads of nature, many hiking trails to choose from, and water activities like the traditional airboat.  
Another must-visit place during your trip to the Everglades is the Ten Thousand Islands Wildlife Refuge, the second largest mangrove forest in the world forming fascinating labyrinths of water and islands with very rich wildlife, including some endangered species.  
When to Visit
The best time to visit is between October and May when the weather is cooler and drier. The temperature and the humidity levels are lower, the mosquitoes are not around, and hurricane season has passed. During this time, the average temperature ranging between max 78.4°F (25.8°C) and min 59.7°F (15.4°C). It is also the best time to see the local wildlife.
This is the time that manatees migrate to the Everglades, also the water levels drop during the dry season and a large number of animals congregate around the water holes, making wildlife viewing an easy endeavor.  
If you visit during the summertime, between June and September, book your hikes and outdoor adventures for the morning, to avoid the hottest parts of the day and the frequent summer storms in the afternoon.
Shenandoah National Park, Virginia
From Cosette of KarsTravels
Shenandoah National Park is a beautiful US national park that covers part of the Blue Ridge Mountains. Prepare for mesmerizing views at every turn. Visit for the views from the Skyline Drive, the waterfalls, hiking, and for a chance to see bears.
On top of things to do in Shenandoah is driving the 105-mile long Skyline Drive. It crosses the park from North to South and has many overlooks. Next to this drive, there are over 500 miles of hiking trails.
The most popular hike is to Old Rag Mountain, a 9.4-mile circuit hike that takes about 8 hours. Although physically demanding, the adventurous rock climbing (scrambles) and views all around on the Blue Ridge Mountains make it worth it.
There are numerous smaller and less strenuous hikes available. The 20 hikes towards waterfalls are popular. Perfect with kids is the Stony Man Nature Trail, which leads to the Stony Man's Summit, the highest point in the park.
When to Visit
The best time of year to visit is October, for the fall foliage. It's also the busiest time of year. In winter, the snow can give beautiful views, in spring wildflowers and trees are in full bloom.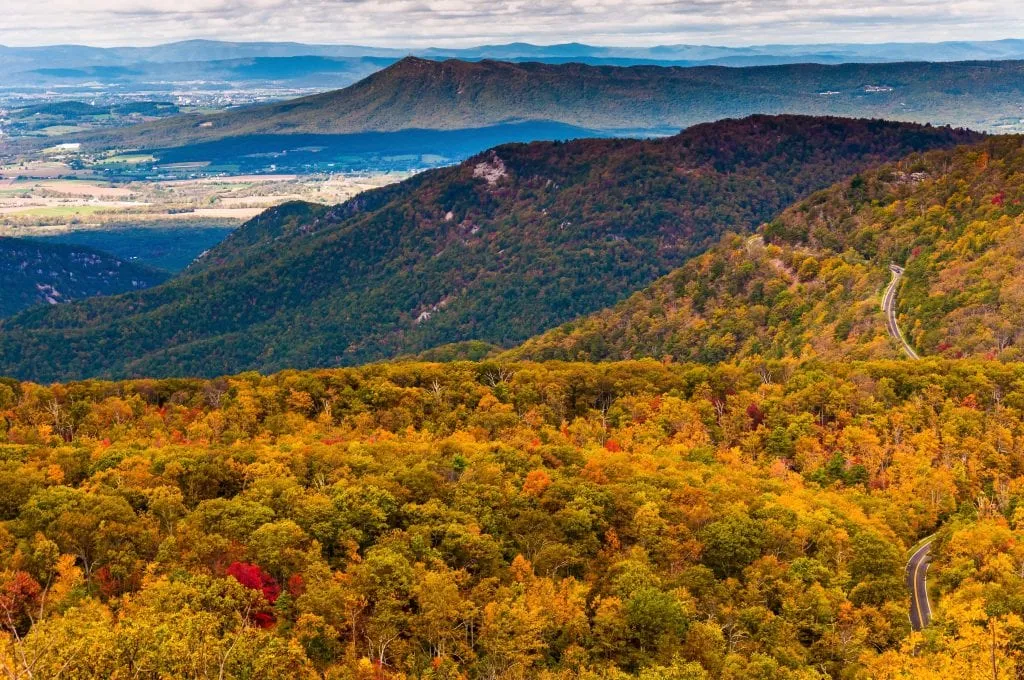 Top National Parks in the Southwest
Bryce Canyon National Park, Utah
From Chris of The Aquarius Traveller
Viewing Bryce Canyon for the first time is an awe-inspiring experience and makes you feel like to have landed on another planet. It's located on a higher elevation in Utah, not far from the more famous Zion National Park.
These irregular columns of rock, or what are known as hoodoos, are formed from frost weathering and stream erosion. Visiting Bryce Canyon gives you a chance to see the largest concentration of these hoodoos in the world.
There are 4 main viewpoints in the park that can be accessed without significant hiking – Bryce Point, Inspiration Point, Sunrise Point, and Sunset Point. A shuttle service is also offered between April and October to help get you around.
There are a number of day hikes through Bryce Canyon that can vary from 1 mile to 23 miles, so you will be sure to choose one suited to your situation and time frame. Some of the more popular trails are the Queen's Garden trail, and the Navajo Loop trail (especially the Wall Street section).
When to Visit
April to October tends to be the busiest season with temps ranging from 75 to 98 degrees F, but if you're after some snow-topped views then you can't go past a winter visit in January or February. Either way, you're sure to enjoy this very unique area of the world, but be sure to catch a sunrise. You won't be disappointed!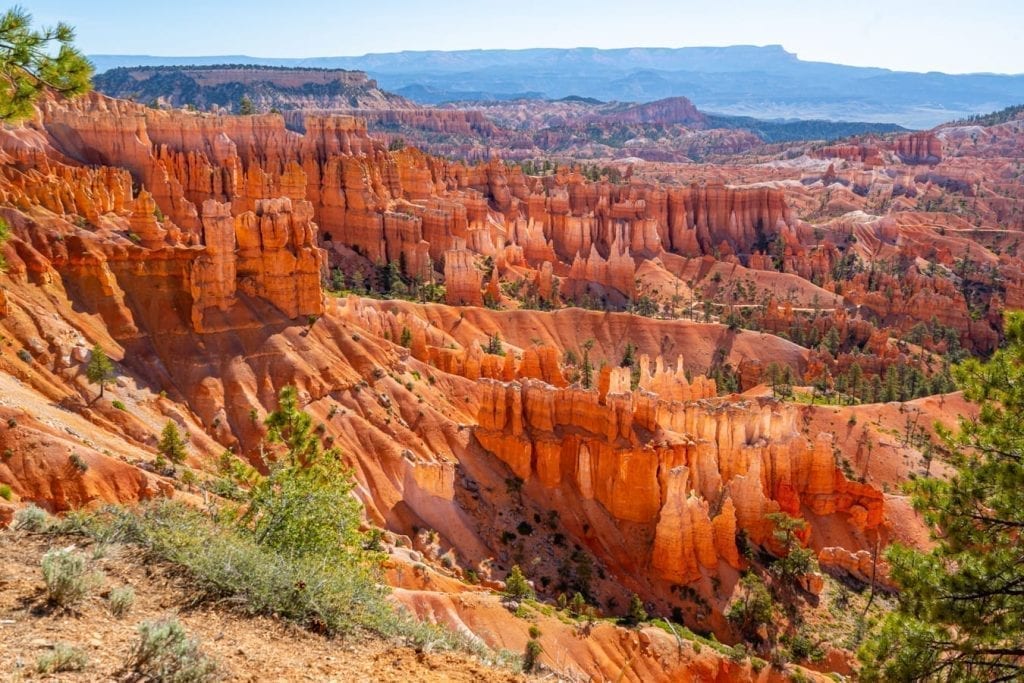 White Sands National Park, New Mexico
From Jeanine of Le Wild Explorer
White Sands National Park is one of the most beautiful places in the state of New Mexico. Located only about an hour outside Las Cruces you'll find the largest gypsum dune field in the world.
It just became a national park in December 2019 but has been around some 250 million years ago when it was covered by a shallow sea. This unique place is a must-visit and will have you feeling like you're in heaven as you step onto the sparkling white sand. 
There are many things to do in White Sands National Park and the sunset is not to be missed. For the adventure seekers, opt to go sand sledding. It's a fun activity that can be enjoyed by both kids and adults and so much fun.
If you love to gaze at the stars stay the night with a backcountry camping excursion.
And for those who are looking to just take in the beauty, a scenic drive is a wonderful experience. White Sands National Park can be enjoyed by just about everyone, it's a stunning national park with lots of charm.
When to Visit
You can enjoy incredible views at White Sands National Park year-round, but to have the best experience at this incredible USA national park, consider avoiding the summer months when the heat can be extreme.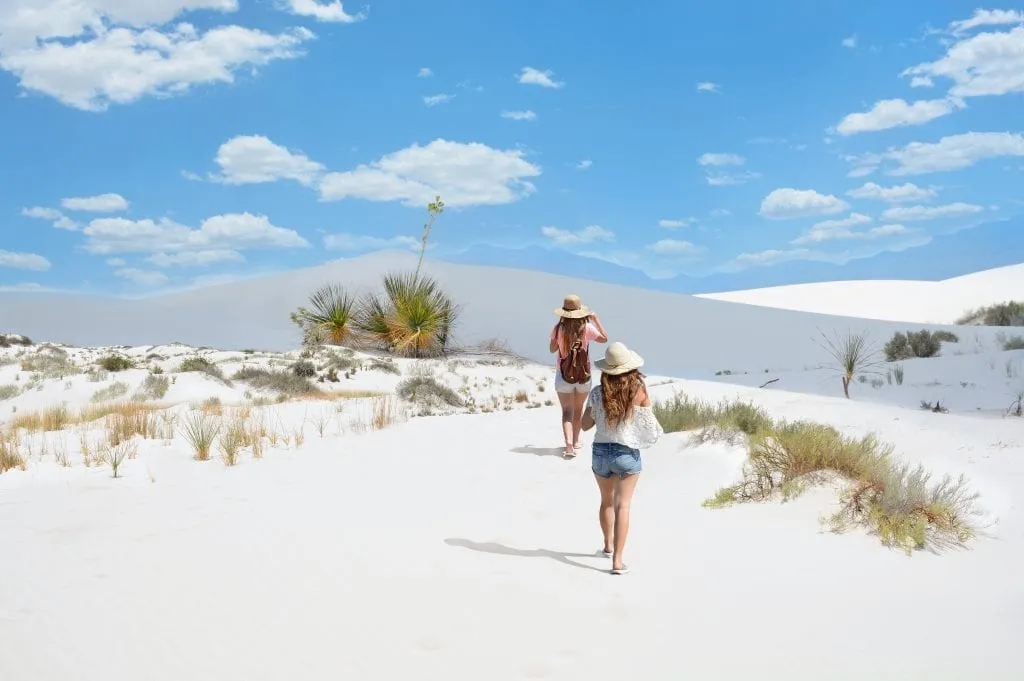 Canyonlands National Park, Utah
From Hannah of That Adventurer Blog
Canyonlands is enormous (337,598 acres), and is divided into 4 different districts, but most people visit The Island in the Sky district as it's the easiest to get to. Some of the most popular things to see in this part of Canyonlands National Park are Mesa Arch, Grand View Point Overlook, and Green River Overlook. Each involves a short, easy walk from the parking lot where you'll come out to an impressive viewpoint out onto the canyon down below. 
Mesa Arch is perhaps the most famous and makes a great photo opportunity. It's where the rock has eroded in such a way that an arch has formed and through this arch, you can see the canyon.
Green River Overlook offers incredible views of the Green River (you'll see where it gets its name from!). The Green River joins up with the Colorado River at Confluence Overlook and it's the Colorado River that then goes onto the Grand Canyon and is responsible for creating that landscape! 
When to Visit
The best times to visit Canyonlands National Park are in April/May and September/October when it's not too hot or too cold. Canyonlands is in the desert but can see snow over winter and can get uncomfortably hot in the summer. 
More of the Best National Parks in America
Yellowstone National Park, Wyoming
From Megan of Bobo & Chichi
While exploring the best US national parks, you don't want to miss the very first national park in the world, Yellowstone. Located in Wyoming at the border with part of the park edging into the state of Montana, Yellowstone is easily one of the most unique corners of the United States.
Yellowstone National Park is full of surreal otherworldly landscapes and is famous for its wildlife and geothermal activity including geysers and prismatic spring pools.
There are 5 different entrances or access points into Yellowstone National Park for beginning your exploring.
You can stay and explore Yellowstone from accommodation options within the park, for example, there are a few options by Old Faithful, or you can find plenty of lodging outside the perimeter of the park at each of its entrances.
When to Visit
While summer is the most popular time to visit Yellowstone, if you can swing a visit in the late spring or early fall, you'll have an even better experience. Intense crowds can cause enormous traffic jams in the summer, and in the winter, most parks of Yellowstone are closed to private vehicle traffic.
Glacier National Park, Montana
When to Visit
Going-to-the-Sun Road is closed and much of the park is inaccessible from October to May due to heavy snow. The best time to visit Glacier National Park is from July to September, but expect heavy crowds due to the short tourism season.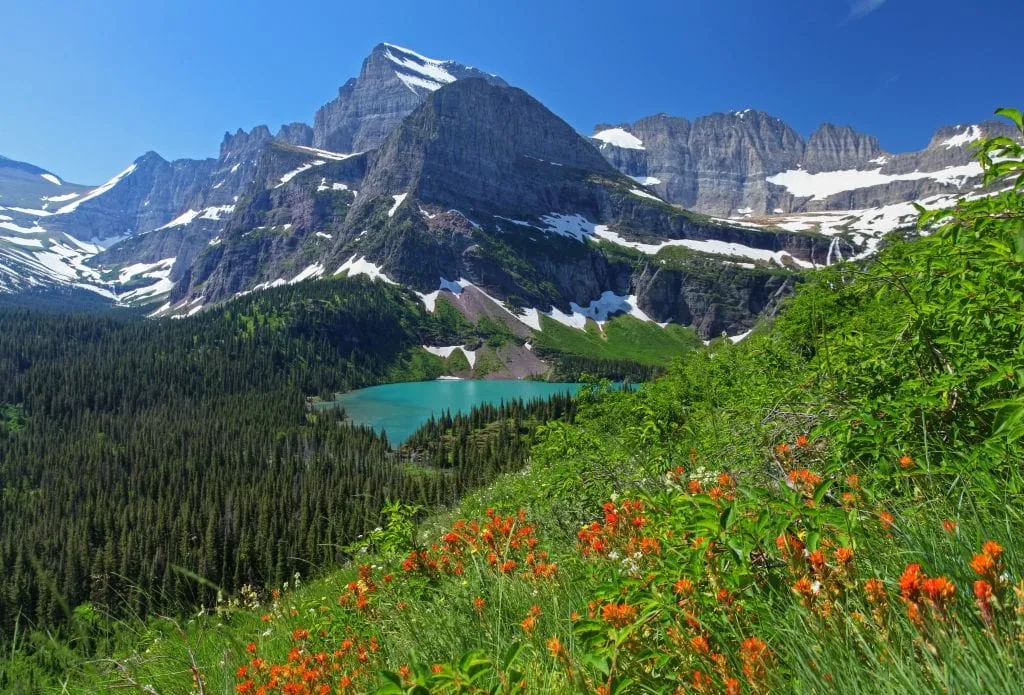 Hot Springs National Park, Arkansas
From Victoria of Tori-Leigh
While Hot Springs National Park in Arkansas is one of the smallest national parks in the US, it is by no means under- impressive. Ancient thermal hot springs, along with gorgeous mountain hikes and picturesque vistas, sit right in the middle of a historic town, creating a unique and memorable experience.
Numerous easy trails, along with a paved promenade and drivable viewpoints, make Hot Springs National Park one of the best US destinations for kids, seniors, and less seasoned travelers.
In fact, there are 26 miles of hiking trails, many easy, within the park's borders. Along with the Grand Promenade, the trails provide quick access to the park's natural hot springs. More difficult trails, including the Sunset Trail, are less traversed and provide more opportunity for unique wildlife sighting.
Visitors looking to skip the physical hike can drive up the mountain and take in the Arkansas mountain views at the 1920s observation gazebo and the Hot Spring Mountain Tower. Sitting next to the park are the nine historic Bathhouses. Learn about the rich past of Hot Springs National Park along Bathhouse Row or participate in one of the many thermal spa experiences.
Regardless of what type of traveler you are, Hot Springs National Park will charm you with its beauty and uniqueness.
When to Visit
The best time to visit Hot Springs National Park is during the warmer months between April and October, when drying off from the thermal baths won't induce shivering.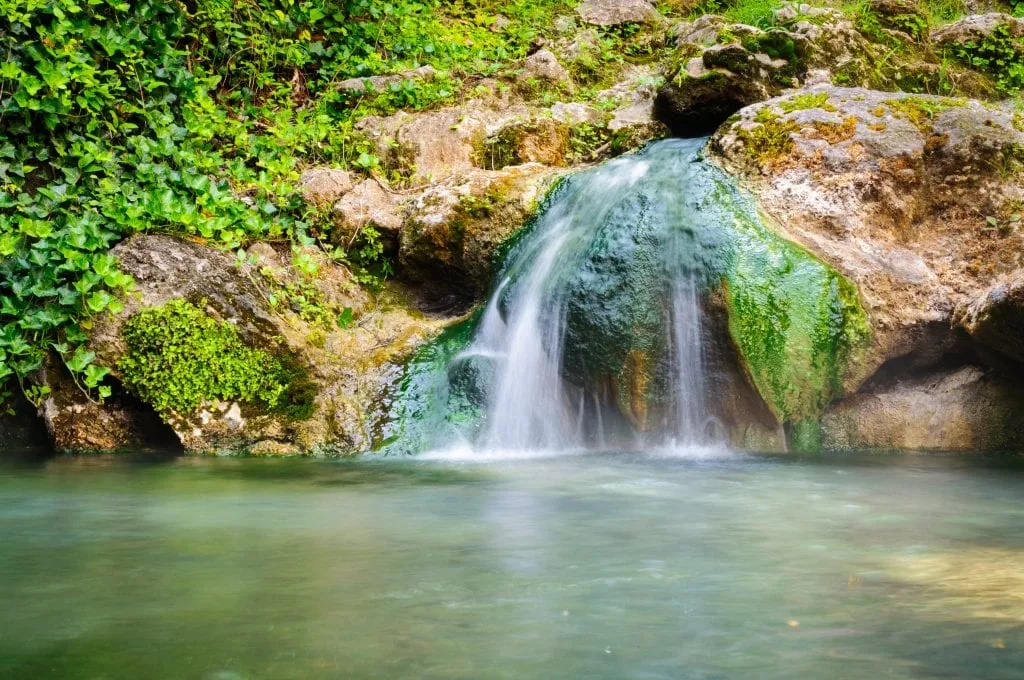 Glacier Bay National Park, Alaska
Glacier Bay National Park in Alaska could not be harder to get to. Only accessible by boat or by a small floatplane to the nearest city of Gustavus, and with limited options to get to this national park, it takes a bit of planning and coordination to visit.
However, the scenery and wildlife are amazing. Icebergs are floating all over the bay, and a few dozen seals, sea lions, and otters can be found in their own little colonies on top of the icebergs.
One can also see the majestic glaciers that gave the national park its name and if you listen close enough, you can hear the rumbling as some of them prepare to calve. 
Grand Teton National Park, Wyoming
Indiana Dunes National Park, Indiana
When to Visit