There's something special about Great Smoky Mountains National Park: no matter how many times we visit, we seem to fall a little bit deeper in love with America's most-visited national park.
If you're looking for a great way to enjoy the Smoky Mountains on your next visit, consider adding the Rainbow Falls trail to your next trip!
With over 100 waterfall hikes to choose from, narrowing down what east coast hike to tackle in GSMNP is quite the challenge.
However, at a towering 80 feet tall, Rainbow Falls holds the distinction as the tallest single-drop waterfall in the Smokies (Ramsey Cascades is the tallest overall) and makes an indisputably excellent choice.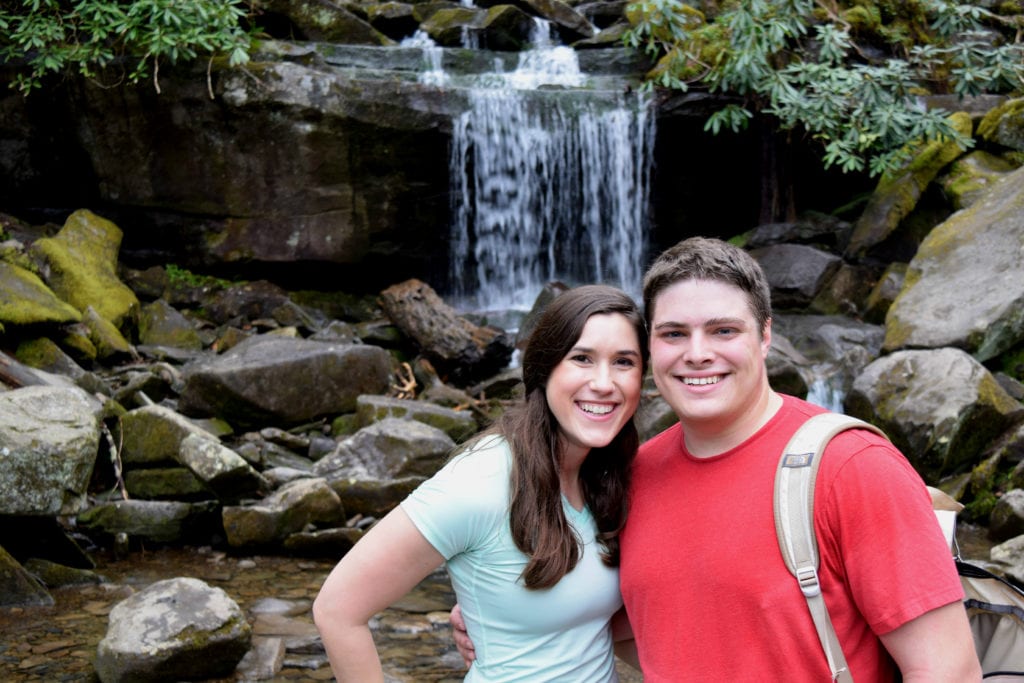 Some links in this post may be affiliate links. If you make a purchase through one of these links, we may earn a small commission at no extra cost to you. Please see our

disclosure policy

for more detail.
And, if you're lucky enough to hike Rainbow Falls on a sunny afternoon, all the better: you just may have the chance to see the waterfall's namesake rainbow for yourself!
Located near Gatlinburg, Rainbow Falls is a popular, moderately-rated trail that can fit into most itineraries for travelers looking for a beautiful day hiking in Great Smoky Mountains National Park.
Planning a weekend getaway in Gatlinburg and hoping to tackle the Rainbow Falls Trail in the Smoky Mountains while you're there?
Here's what to know before you go!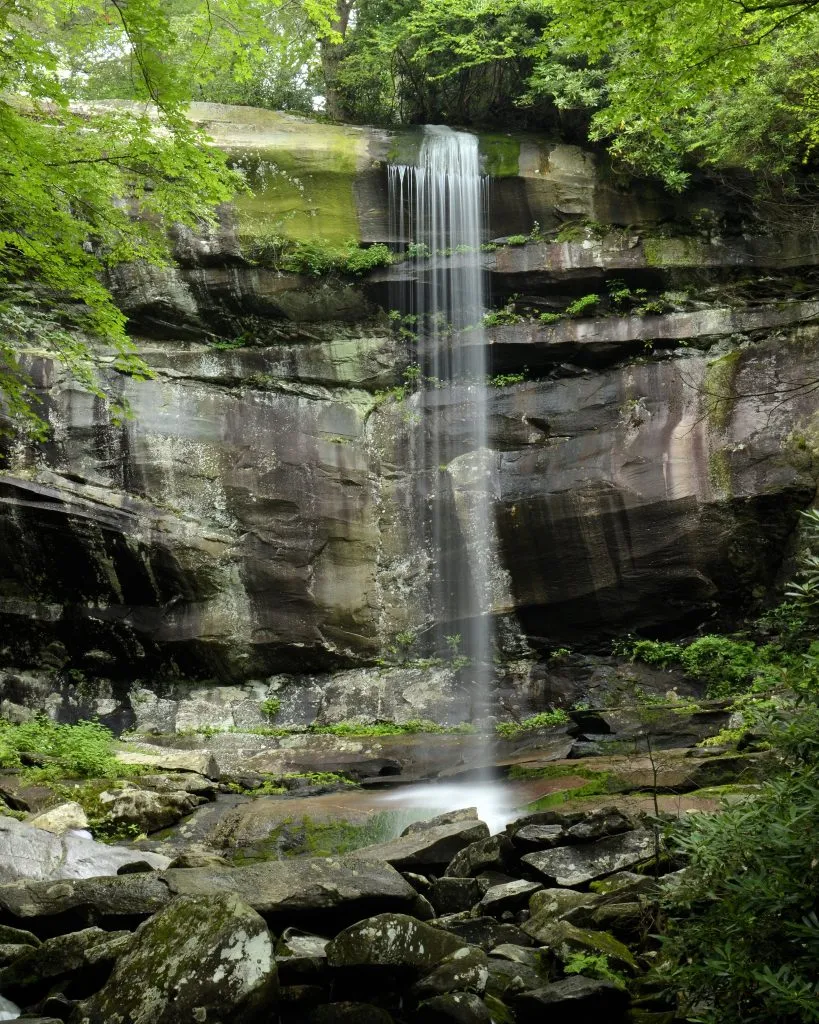 Essential Info for the Rainbow Falls Trail
The Rainbow Falls hike in GSMNP is a 5.4-mile round-trip hike located on the Tennessee side of the park.
The hike is rated as moderate, and is mostly shaded.
You'll need to navigate over plenty of boulders along the way, as well as cross 2 narrow (and charming) footbridges.
The trailhead is about a 15-minute drive from Gatlinburg, and on gorgeous weekend days, the parking lot can fill up.
Consider an early start if you have your heart set on enjoying this hike during a popular time of year (summer and the fall foliage season tend to be the most crowded times to visit).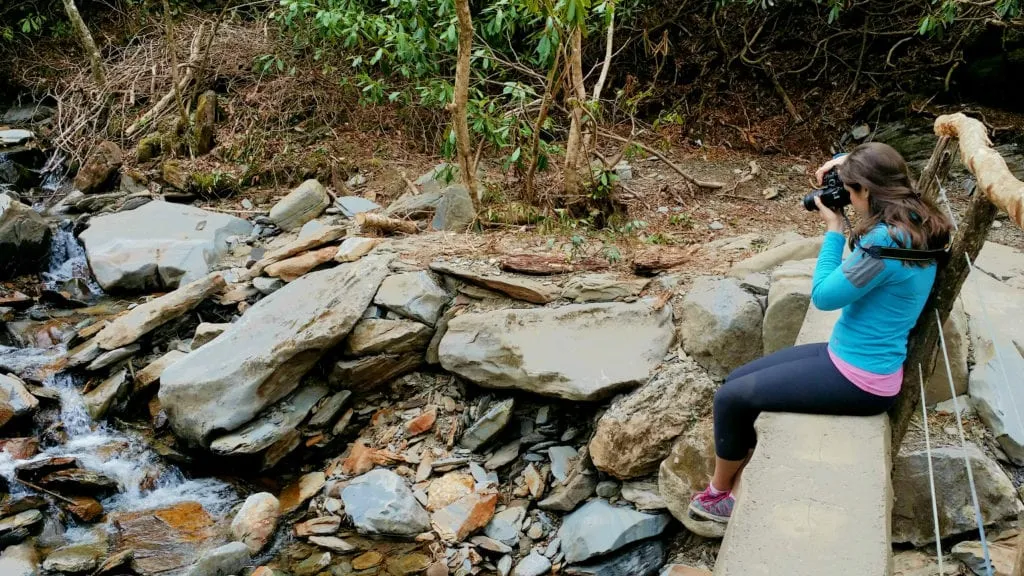 What's It Like to Hike Rainbow Falls in Great Smoky Mountains NP?
Offering the serene beauty of the forest and river, we found the Rainbow Falls hiking trail to be incredibly peaceful and well worth adding to your Smoky Mountains itinerary.
This is one of those trails that makes you feel like you're in a fairytale, as if it wouldn't be out of place to catch a nymph or an elf darting away out of the corner of your eye.
We completed the Rainbow Falls hike on a beautiful spring Saturday, so the trail–and the parking lot at the trailhead–were quite crowded.
We had to end up parking about a half-mile away from the trailhead, as the parking lot nearby was full, and saw plenty of people at the beginning of the trail and at Rainbow Falls.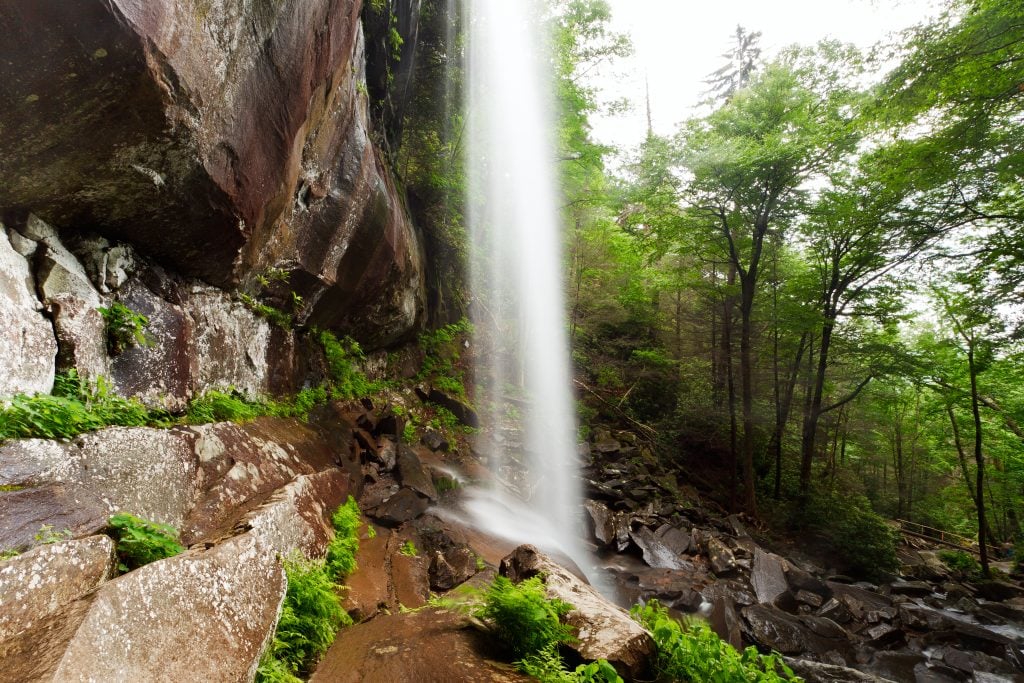 In between, though, people were spread out enough that we would have maybe one other small group visible at a time, and there were moments we were completely alone with the babbling creek and beautiful forest.
This trail does cross a few streams, and there are signs noting that it can become impassable after heavy rainfall.
However, when we completed the Rainbow Falls hike, it had rained all day the previous day and there wasn't an issue, so I imagine that becomes more of a problem if it has been raining many days in a row.
Ultimately, I loved every minute we spent both hiking to Rainbow Falls and enjoying the view once we got there, including sitting for half an hour while eating lunch and relaxing on a boulder in front of the falls.
The friendly chipmunks who busied themselves nearby were a delight too, but be sure not to feed or touch them!
The views and sounds of the rushing water were incredibly peaceful, and I would be happy to visit Rainbow Falls again.
Beyond Rainbow Falls in the Smoky Mountains
Great Smoky Mountains National Park is enormous, stretching into both North Carolina and Tennessee.
There are gorgeous mountain towns in North Carolina and Tennessee, and partially as a result of this, there is a near-limitless number of things to do both in and around the Smokies.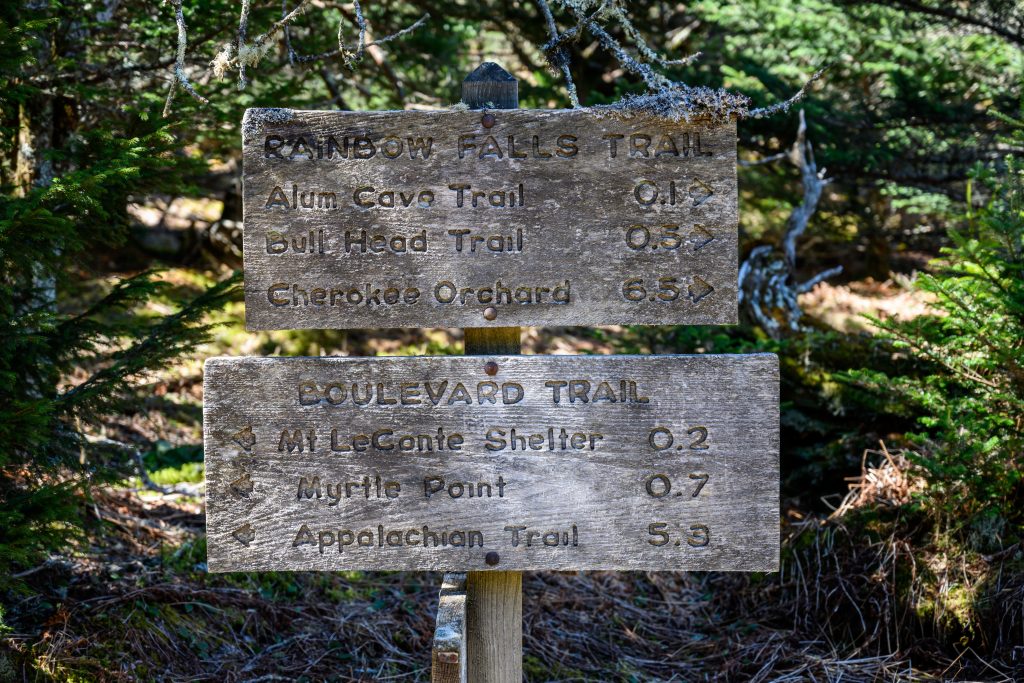 Consider renting a cabin near Asheville for a few days to enjoy NC's beloved mountain city and the nearby Biltmore Estate, or renting an ATV for a day.
If you prefer trails to towns, stretching your hiking muscles with a beginner backpacking trip by spending a few days on a small section of the Appalachian Trail, which runs through GSMNP, is a very memorable way to experience the park.
Other popular hikes in Great Smoky Mountains National Park include the Alum Cave trail, Abrams Falls, Gregory Bald, and many more.
You will absolutely never run out of beautiful hiking in the Smokies, starting with hiking to Rainbow Falls.