Looking for the best places to visit in Virginia on your next vacation?
This travel guide has been curated by a local Virginian and is here to help!
With mountains, beaches, cities, small towns, and an enormous array of historical attractions–not to mention a fun and diverse wine country–the best Virginia vacation spots are both varied and exciting.
In Virginia, you can find the homes of founding fathers George Washington, Thomas Jefferson, and James Madison (no wonder the state is sometimes called the "Mother of Presidents").
In Jamestown (first populated by Europeans in 1607) and in the famous Colonial Williamsburg, visitors can walk in the footsteps of the USA's early history.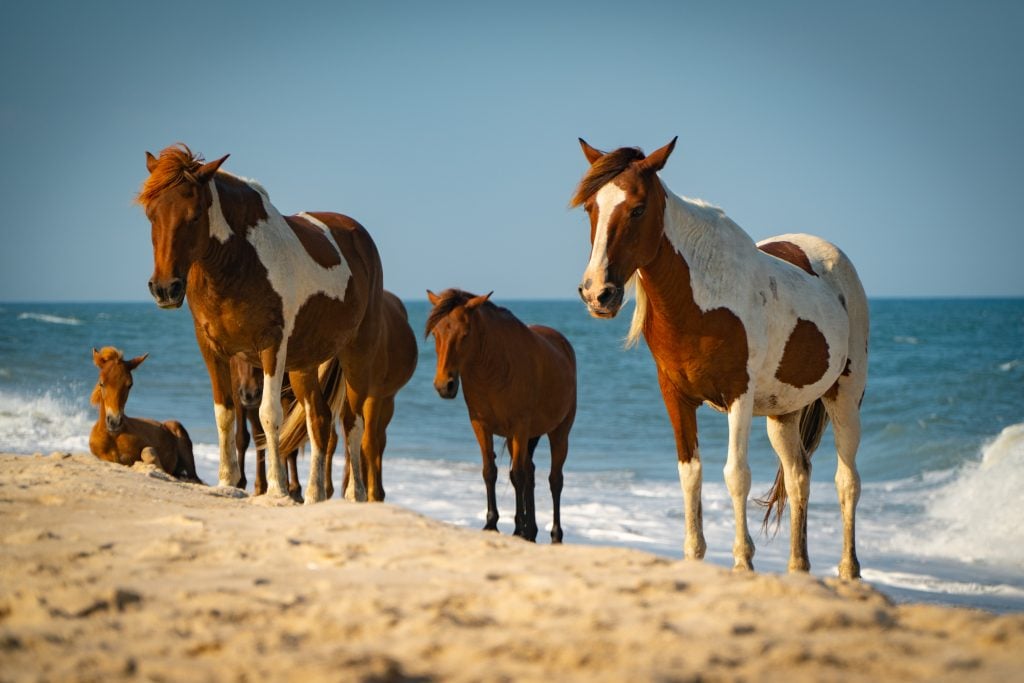 Alongside these historic sites, Virginia is also home to rich and diverse natural beauty, including Shenandoah National Park, Great Falls National Park, and Assateague National Park.
The state features excellent hiking and cycling trails throughout the many parks, ski resorts in the western mountains in the winter, and beach resorts along the eastern coast in the summer.
No matter what kind of weekend getaway or vacation you're looking for, one thing is for sure: Virginia has something to offer.
We have offered suggestions for the best hotels in Virginia for each place but you could also combine a few of these stops and turn it into a Virginia road trip! You can rent incredible RVs and camper vans from Outdoorsy, book here for your next road trip!
Here are the best places to visit in Virginia!
This guide to the best vacation spots in Virginia was written by native Virginian Merry Allison of Virginia Vacation Guide. Thanks for joining us, Merry!
The Best Cities to Visit in Virginia
Alexandria (and Mount Vernon)
Alexandria, located in northern Virginia, is home to what is perhaps the most famous attraction in Virginia: Mount Vernon.
The house, which lies near the Potomac River, served as the home of George Washington.
Guided tours will give you an opportunity to learn more about the historic home and the life of the founding father.
Mount Vernon is especially lovely around Christmas when the home is decorated with candles and wreaths for the holidays.
Just north of Mount Vernon is Old Town Alexandria, which is a lovely historic area with a great restaurant and shopping scene.
Visitors can stroll down King Street, Prince Street, and Duke Street to take in the historic colonial brick houses and shops while stopping at restaurants such as The Majestic and Virtue Feed & Grain, as well as clothing stores and excellent consignment shops such as Bishop Boutique and Current Boutique.
You can also take a walk down to the waterfront for lovely views across the Potomac River.
You can even take a water taxi ride between the following destinations: The Wharf, Georgetown, Old Town Alexandria, and National Harbor.
Alexandria is located just south of Washington, D.C. and makes an excellent day trip or weekend getaway from the nation's capital!
Where to Stay in Alexandria, Virginia
Arlington
Arlington is also located in northern Virginia, just north of Alexandria and right outside of Washington, D.C.
There are a number of metro stations throughout Arlington that allow visitors to easily and quickly travel to many of the major attractions, monuments, and museums in the nation's capital.
One of the most significant attractions in Arlington is Arlington National Cemetery, which marks the burial site for those who served in the armed forces dating back to the Civil War.
It also includes the Tomb of the Unknown Soldier, Arlington House, numerous monuments and memorials, and the Memorial Arboretum.
Arlington is also home to a diverse number of lively, walkable neighborhoods, such as Clarendon and Ballston, which have many great restaurants, bars, and shops.
You'll also find a major shopping center at Pentagon City when visiting Arlington.
Where to Stay in Arlington, Virginia
Charlottesville (and Monticello)
Charlottesville is located near the center of the state, about 70 miles west of Richmond and about 100 miles southwest of Northern Virginia.
It has an envious position at the foot of the lovely Shenandoah Mountains in the west.
Charlottesville is most famous as the home of Thomas Jefferson, as well as the school he founded: the University of Virginia.
The main attraction in Charlottesville is Monticello, which was constructed between 1768 and 1809.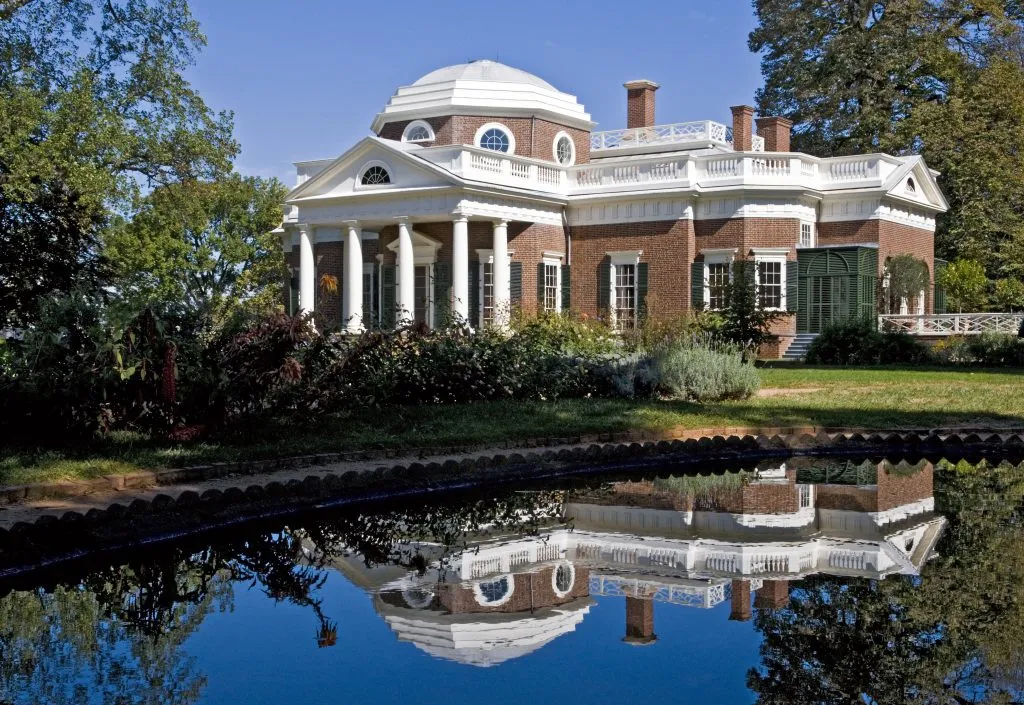 Monticello has a distinctive rotunda design, and it sits atop a hill with lovely views of the surrounding countryside.
You can take a guided tour of parts of the home and learn more about the life and times of Jefferson. Not to be missed is an exhibit devoted to Sally Hemings.
The grounds around Monticello are also worth exploring, with lovely gardens and a cemetery.
Another top attraction in Charlottesville is the Downtown Mall, which is a great central hub of restaurants and stores in downtown Charlottesville.
It is an outdoor walking mall featuring brick sidewalks and historic charm. The mall features more than 120 stores and 30 restaurants.
Where to Stay in Charlottesville, Virginia
Richmond
Richmond is located near the center of the state, about 100 miles south of Northern Virginia and about 100 miles northwest of Virginia Beach.
It is located close to several major Civil War battlefield sites, including Richmond National Battlefield Park, and makes for an interesting vacation in Virginia for Civil War buffs.
Richmond is also home to many breweries, which have become a major staple of the city in recent years.
Some great breweries to check out include Stone Brewing Tap Room, Main Line Brewery, and Hardywood Park Craft Brewery.
You can also get a sample of some of the best breweries by taking a guided brewery tour.
Where to Stay in Richmond, Virginia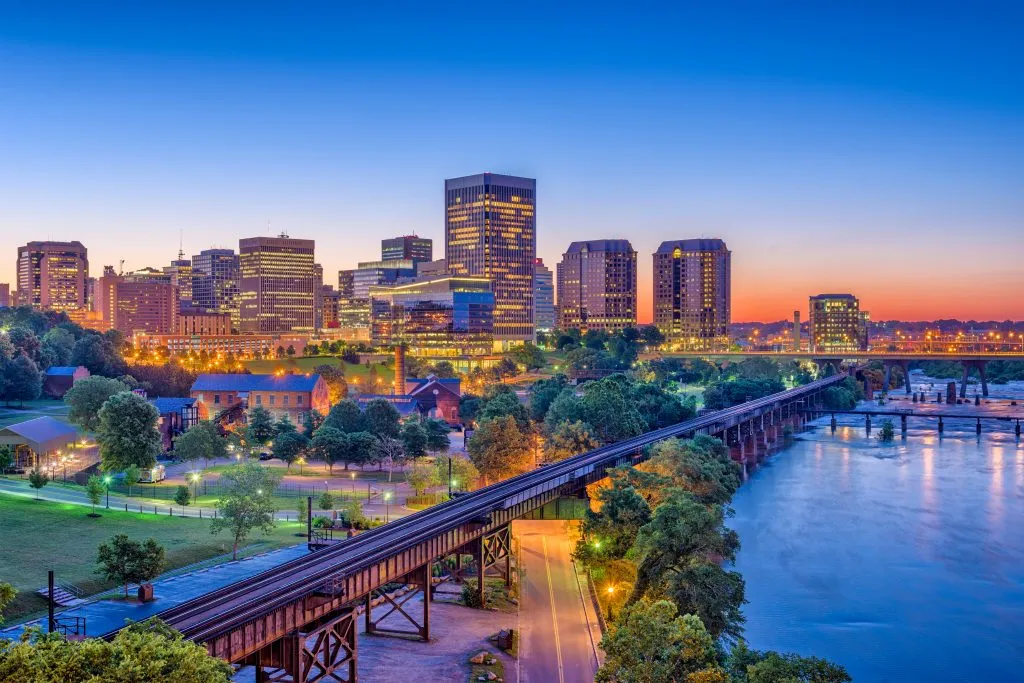 National + State Parks for Your Virginia Bucket List
Virginia is home to 24 national parks and National Park Service-managed sites, plus over 40 state parks.
These range from Revolutionary War and Civil War battle sites, to natural wonders, and even to a performing arts center.
Some of the main parks include Shenandoah National Park, the Appalachian National Scenic Trail, Assateague Island National Seashore, Manassas National Battlefield Park, and Colonial National Historical Park.
Here are some of the most striking natural wonders and parks to add to your Virginia bucket list!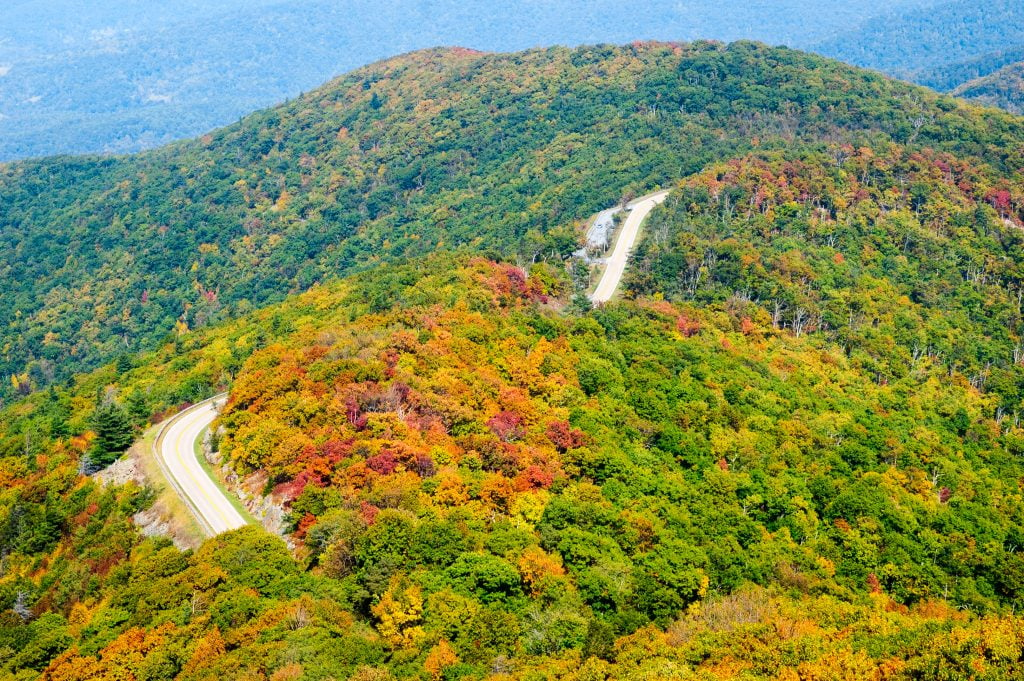 Shenandoah National Park
The largest and most famous park in Virginia is Shenandoah National Park, which is located in the western region of the state.
You can enter the park from multiple points along Skyline Drive.
The park is 200,000 acres in size and spans much of the Shenandoah Mountains in the western part of the state.
The famous Blue Ridge Parkway connects Shenandoah National Park with Great Smoky Mountains National Park to the south.
Shenandoah is home to a wide variety of hiking trails, wildlife, gorgeous mountain views, waterfalls, picnic shelters, and more.
The park is perfect for nature lovers, and Shenandoah is even home to black bears!
Some of the most popular hikes in Shenandoah include Marys Rock, Hawksbill Summit, Stony Man, and Bearfence Summit.
With more than 500 miles of hiking trails to explore, Shenandoah National Park is one of the most beloved vacation spots in Virginia for outdoors lovers, and one that you can easily revisit again and again.
Where to Stay in Shenandoah National Park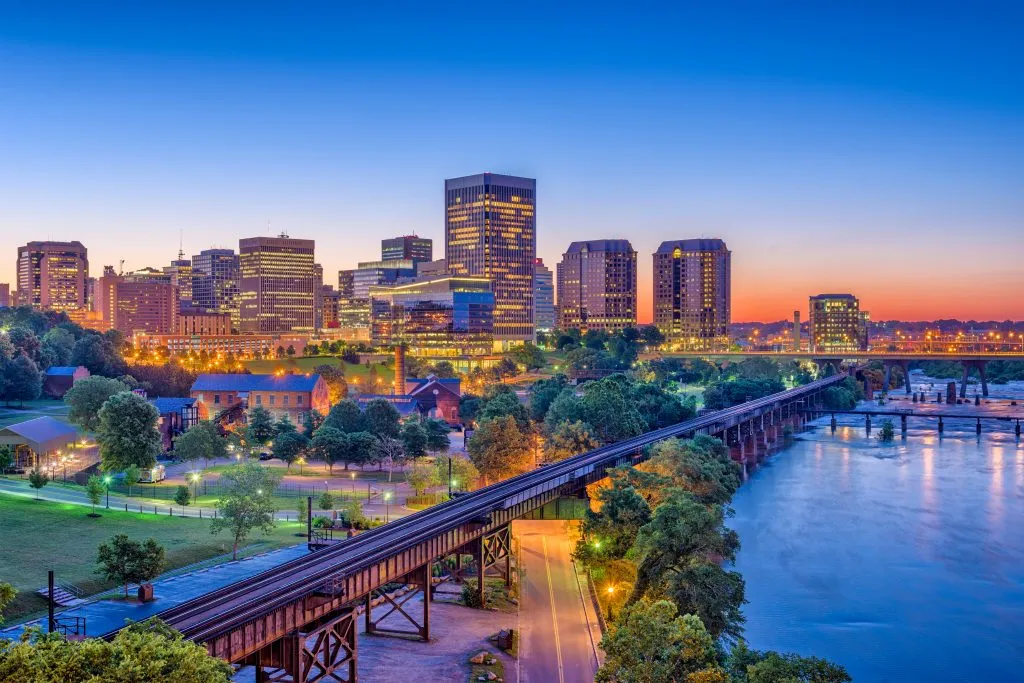 Great Falls Park
Located near the Potomac River, Great Falls Park is one of the most beautiful places in Virginia and features a stunning series of rapids and falls that visitors can see from 3 overlooks.
Two of the overlooks are wheelchair and stroller-accessible, and each of the overlooks is a five to ten-minute walk from the Visitor's Center.
Along with the rapids, there are several hiking trails to enjoy in the park, perfect for admiring Mather Gorge, the rapids, and more.
Other amenities at Great Falls include a picnic table area, grills, and a snack bar (open seasonally).
Where to Stay in Great Falls Park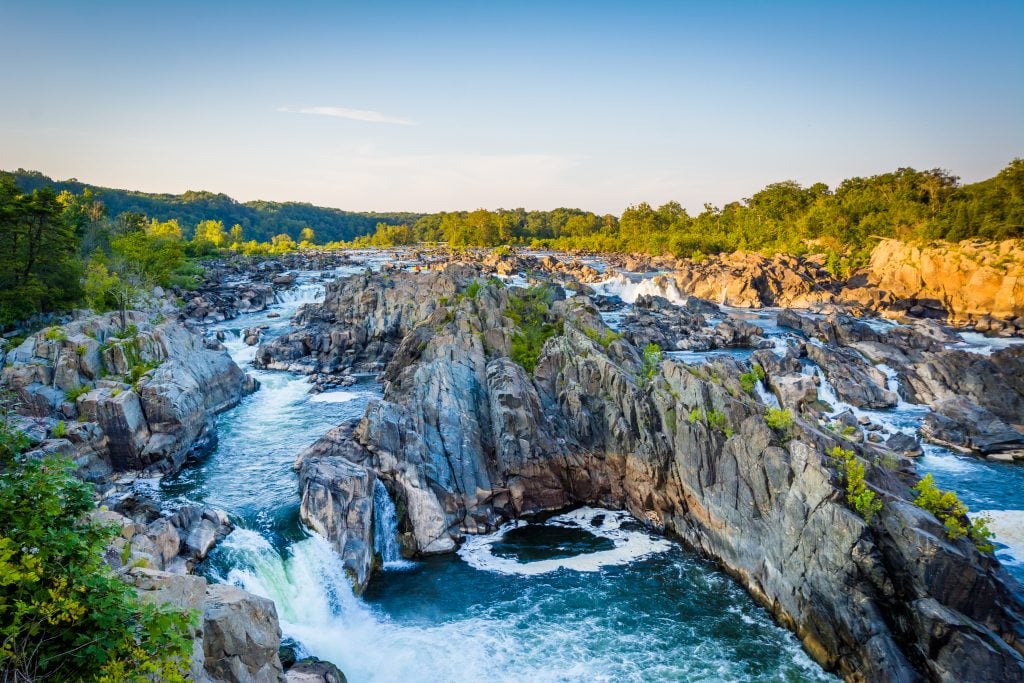 Natural Bridge State Park
Natural Bridge is one of the most stunning, can't-miss attractions in Virginia.
It is a natural limestone gorge arch structure that is in the shape of a bridge.
Virginia's Natural Bridge spans an immense 215 feet tall and is an absolutely incredible sight.
In addition to the bridge itself, Natural Bridge State Park also includes lovely forests and meadows, as well as 7 miles of hiking trails.
The Cedar Creek Trail features a stop at the Monacan Indian Village as well as the 30-foot-tall Lace Falls.
Where to Stay in Natural Bridge State Park
Chincoteague
Anyone who has fond memories of reading the Misty of Chincoteague book series growing up will be eager to add Chincoteague and the Chincoteague National Wildlife Refuge to their list of unique places to visit in Virginia.
While you're there, in addition to admiring the horses, be sure to also head over to nearby Assateague Island to climb the Assateague Lighthouse, stop by the Museum of Chincoteague, and of course, spend plenty of time on the beach.
If you visit in late July, be sure to check the dates for the annual pony swim and attend if you can.
Where to Stay in Chincoteague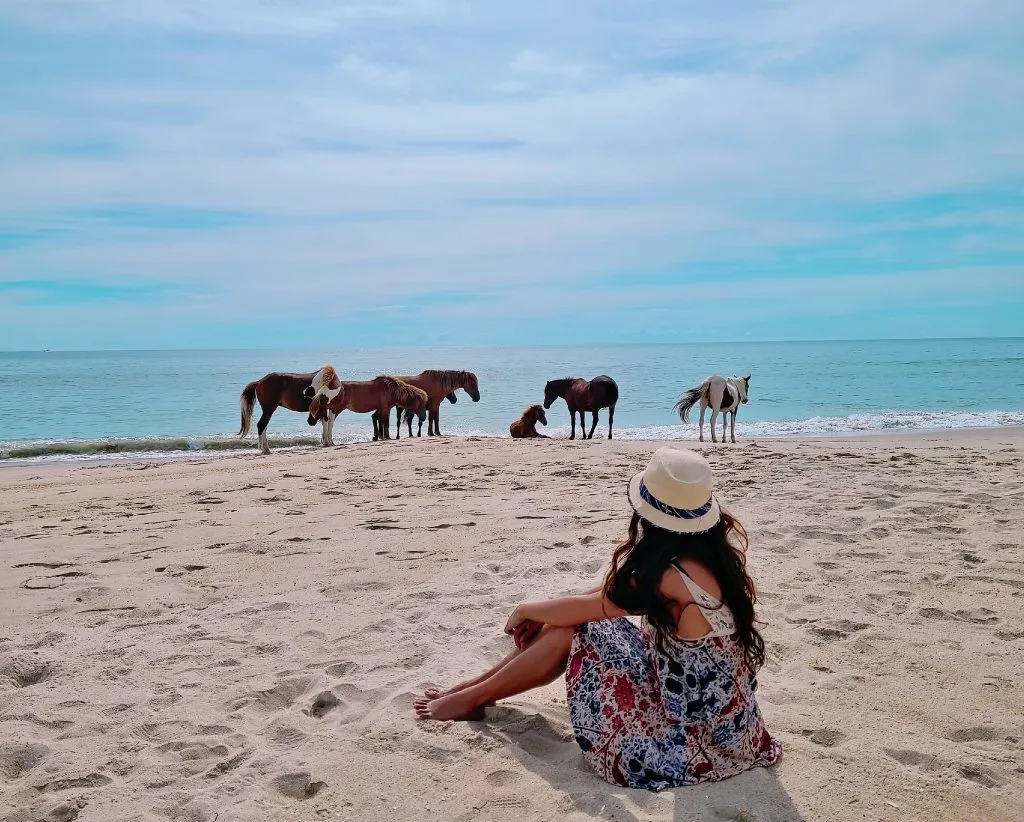 Virginia Beach
Virginia Beach may be a city, rather than a park, but it's best known for its natural VA attraction: the beach!
Located in the southeastern part of Virginia, Virginia Beach is most famous as a beach destination that is particularly popular during the hot summer months.
Visitors can enjoy the beaches along the Chesapeake Bay and the Atlantic Ocean.
One of the top attractions in the area is the Virginia Beach Boardwalk, which features a 3-mile path for walking, biking, and rollerblading; live entertainment during the summer; restaurants; and shops.
There is also a 24-foot-tall statue of King Neptune.
Other top attractions in Virginia Beach include the Virginia Aquarium and Marine Science Center and the Cape Henry Lighthouse.
Where to Stay in Virginia Beach
Luray
Nestled in the western mountains of Virginia, the town of Luray is most famously known for the caverns of the same name.
A ticket to see the stunning Luray Caverns will also gain you admission to the Car & Carriage Caravan Museum, Shenandoah Heritage Village, and Toy Town Junction.
There are a surprisingly large amount of other attractions in the comparatively small town.
Make sure to check out The Garden Maze at Luray Caverns, which is the largest in the mid-Atlantic states! It features eight-foot tall hedges on one acre of land.
Other major attractions in and near Luray to add to your VA bucket list include Rope Adventure Park, Shenandoah National Park, the Luray Singing Tower, and the Luray-Hawksbill Greenway.
Where to Stay in Luray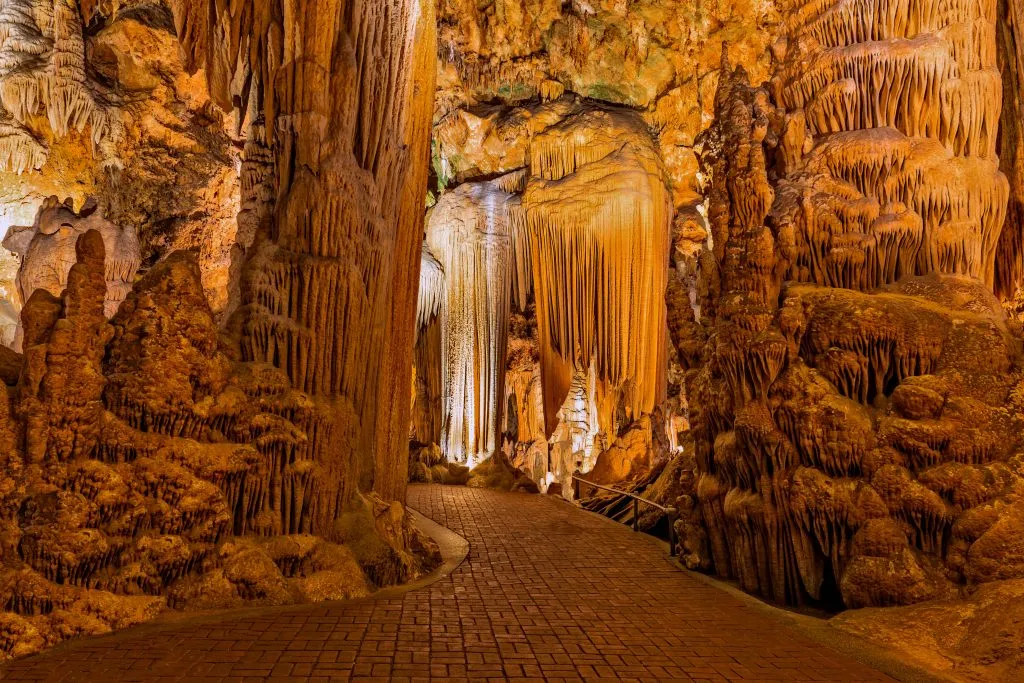 More of the Best Places to Visit in Virginia
From historical attractions to wineries, these interesting places in Virginia are well worth a visit.
Colonial Williamsburg
Williamsburg is located in the tidewater region in southeast Virginia and is famously the site of Colonial Williamsburg.
Visitors can walk through the historic town dating back to the 18th century, which includes guided tours of the Governor's Palace and Wythe House; arts and crafts demonstrations; lovely gardens to explore; and farm animals such as chickens, sheep, and horses.
You can also take a horse-drawn carriage ride through the town, enjoy a play, and even attend an evening haunted house tour with stories dating back centuries.
Colonial Williamsburg is part of the historic triangle that also includes nearby Jamestown Settlement and Yorktown.
Where to Stay in Colonial Williamsburg
There are some great options in the area and many are really well located for the attractions. We do have some favorites which are also great spots for Jamestown and Yorktown.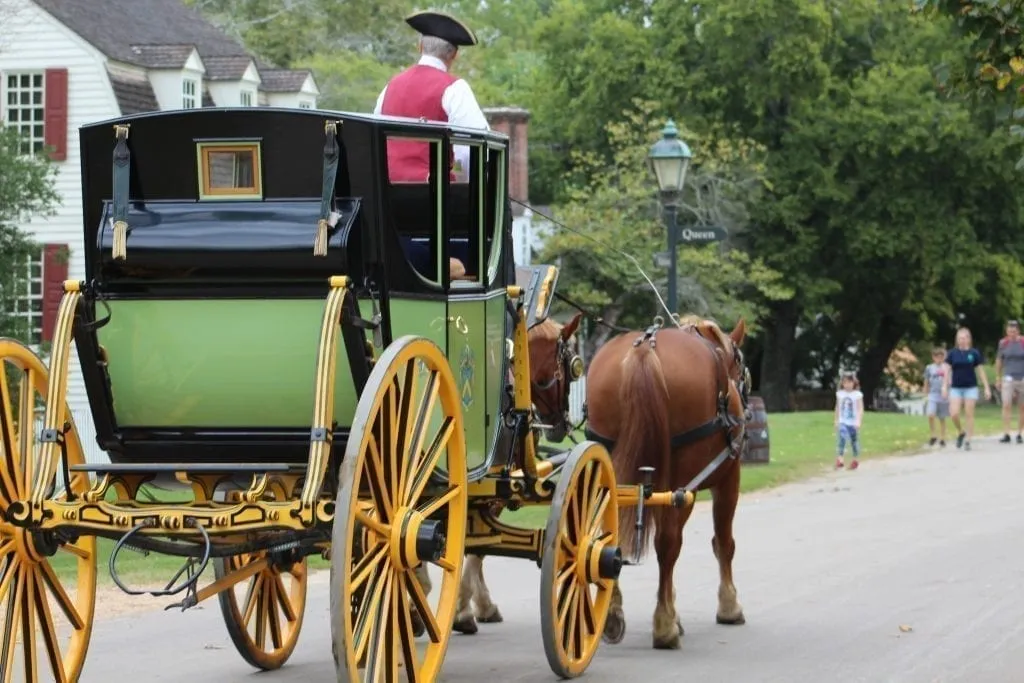 Jamestown
Jamestown marks the site of the early 17th-century settlement in Virginia from England.
The site includes a fantastic museum about the history of the land and its people.
There is also an excellent replica of some of the buildings that existed at the original settlement that visitors can walk through, including a schoolhouse, homes, and a blacksmith.
Nearby there are also replica ships of the original English ships that journeyed there over 300 years ago.
Yorktown
Yorktown is a charming town nearby that is also worth a visit.
It is home to the Museum of the American Revolution, Yorktown Battlefield, and the Watermen's Museum.
The region has much more than just history to offer. Adventure lovers can also visit the amusement park Busch Gardens Williamsburg.
There are also several wineries in the area, including the Williamsburg Winery and New Kent Winery.
Market Square, which is within walking distance to Colonial Williamsburg, also boasts excellent restaurants such as the Amber Ox, The Cheese Shoppe, and Blue Talon Bistro.
Colonial Williamsburg, Jamestown, and Yorktown can be easily combined into one history-focused weekend getaway in Virginia.
The Many Wineries of Virginia
The state of Virginia is home to over 300 wineries, and a vineyard-focused vacation in Virginia makes for a fun romantic getaway or trip with friends.
Almost every region of the state features a large number of wineries, many of which are located near each other and can be easily visited by either car or guided tour.
Here are a few wine regions in Virginia to consider!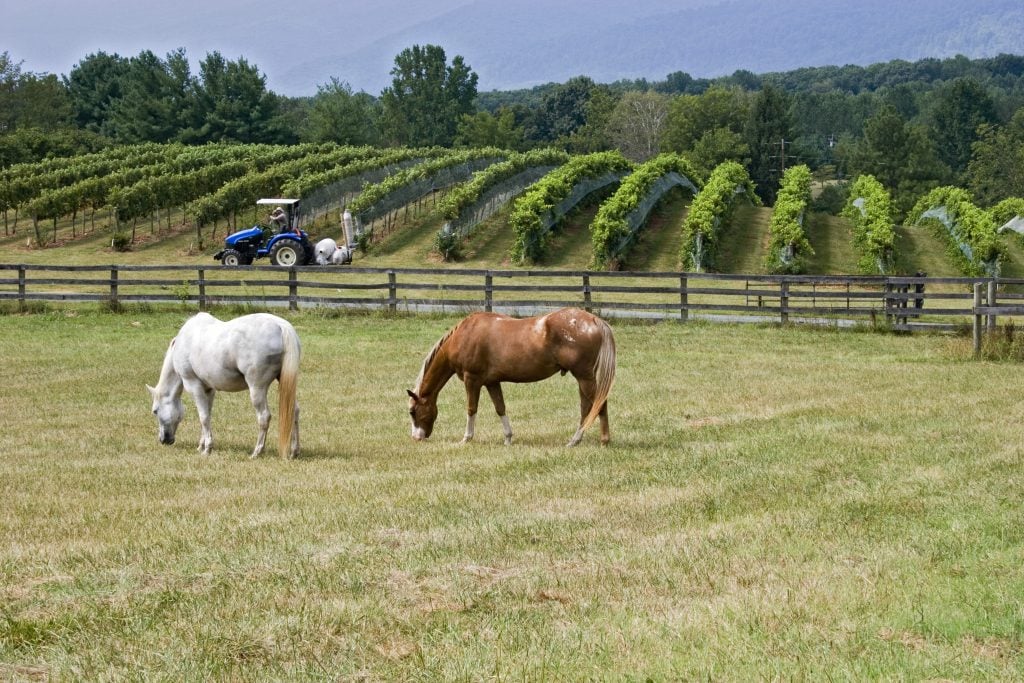 Northern Virginia Wineries
Northern Virginia has a large number of wineries located within just an hour's drive from Fairfax County.
Many of the wineries are located in the nearby counties of Loudoun, Fauquier, and Warren.
Visiting Loudoun County will give you the chance to visit wineries such as Stone Tower Winery, while the historic town of Middleburg features the wineries Cana Vineyards and Winery of Middleburg and Greenhill Winery and Vineyards.
Other notable wineries in the region include Paradise Springs Winery, Grey Ghost Vineyards, and Narmada Winery.
Where to Stay for the Northern Virginia Wineries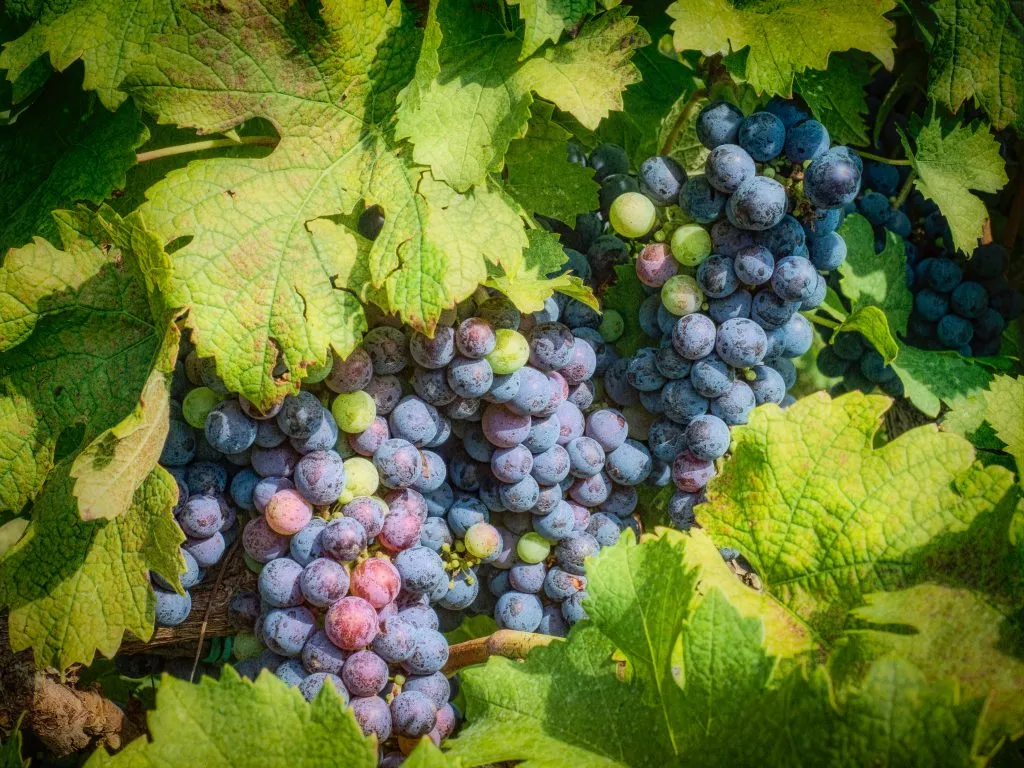 Charlottesville Area Wineries
Charlottesville is also home to a large number of excellent wineries, including some with famous roots.
Jefferson Vineyard is located at the site where the founding father originally tried to cultivate grapes and produce wine in the state.
Blenheim Vineyards is owned by famous Charlottesville resident Dave Matthews of Dave Matthews Band fame.
Barboursville Vineyard is the largest vineyard in Virginia, and it has noteworthy ruins that you can visit nearby.
If a mixture of wine tastings, history, and culture is what you're looking for on your next Virginia vacation, Charlottesville and its surrounding wineries are one of the best places to visit in VA.
Where to Stay in Charlottesville