If there's one travel bucket list experience that our home country of the United States is best for, it's road trips.
From small towns to big cities, from mountain ranges to deserts, from forests to plains, and from sea to shining sea, there is no shortage of epic destinations for road trips in the USA.
We've taken USA road trips in about 30 of the 50 states ourselves (and hope to finish them all off one day!).
To help fill in the gaps, we asked fellow travel bloggers to share some of their favorites for this Great American road trips blog post.
They delivered an enormous variety of USA road trip itinerary ideas, from weekend trip options to weeks-long excursions!
Dreaming of taking a road trip in the United States and not sure where you want to go?
This list of exciting USA road trip itinerary ideas will help you decide where to hit the open road next!
Quick Tips for Your USA Road Trip
Before we dive into exploring the best USA road trips, there are a few tips to be aware of–especially if you're visiting as an international tourist and haven't explored the United States before!
If you're renting a car, shop around.
The best company to rent a car from for your United States road trip will likely vary dramatically depending on where and when you're traveling.
Sometimes large international carriers offer the best prices, sometimes local outfits.
Sometimes one company has an excellent base price, but terrible rental requirements.
The best way to find your rental car is to search through Discover Cars, which will sift through dozens of companies to find the best combination of low prices and reasonable rental terms for your USA road trip.
Browse rental cars for your American road trip today!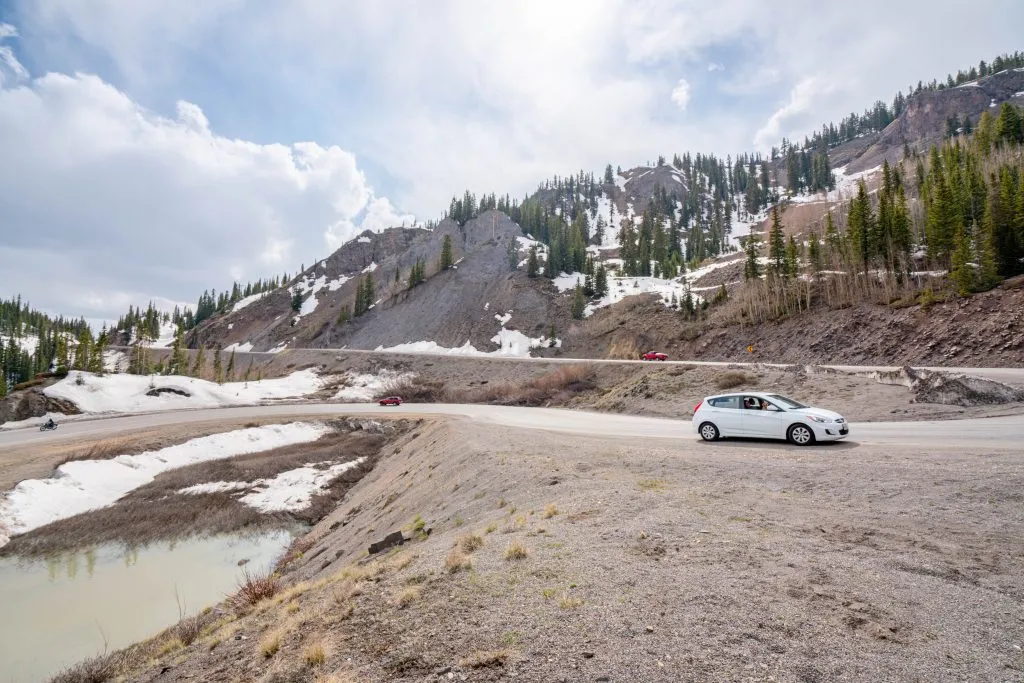 Read the rental requirements carefully.
Especially make sure you know how many miles you've been allotted (or ideally, if they're unlimited), if you need to return the car empty or full of fuel, what to do if the car breaks down, and what damages you're liable for in the event of an accident.
On the off chance that you're planning on continuing your road trip into Canada or Mexico, be sure to check any requirements for crossing the border as well.
Book travel insurance.
We don't ever suggest traveling without travel insurance–anything can happen on the road, and an epic road trip is definitely a case of better safe than sorry.
Check prices and inclusions with Safety Wing for road trips in the USA!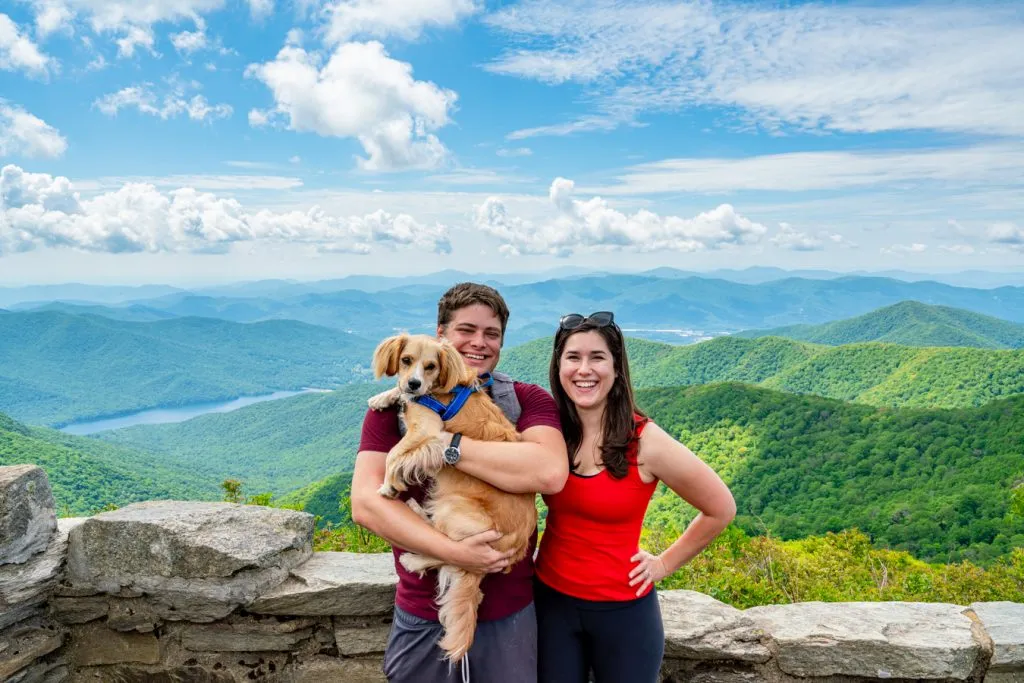 Don't underestimate how sparsely populated parts of the USA are.
If this is your first time visiting the USA, you may be surprised to see just how long you can drive in the United States without coming across a town or even a gas station–especially out west.
Be sure to keep an eye on your directions, and fill up your gas tank before heading into any particularly unpopulated areas!
Make sure you pack the right gear.
From safety gear to snacks, a big USA road trip requires bringing the right tools along, whether you're taking a short vacation, diving into van life, or somewhere in between.
We recommend taking a look at the suggestions in our road trip packing list before you go!
Consider bringing your sleeping arrangements along with you.
It's not right for everyone, but there's a reason that using an RV or campervan is such a classic American road trip experience!
And, you don't need to dive into the RV lifestyle and buy one for your next trip in order to try it out: you can try out the experience by renting RVs and camper vans from Outdoorsy.
If possible, stop in at least one national park!
Our home country is filled with an enormous number of interesting and beautiful places, but perhaps none shine quite as brightly as our national park system.
Want to climb sand dunes? We have that.
Marvel at glaciers? Check.
Hike across mountains? Take your pick.
Go scuba diving? Definitely.
Admire the power of incredible geysers? Got that, too.
Whatever kind of outdoor wonder you have in mind, you can find it at one of the most beautiful national parks in America!
Cross-Country USA Road Trip Ideas
Route 66
From Stephanie of Oklahoma Wonders
Route 66 is the quintessential American road trip, inspiring songs, movies, and novels.
Starting in Chicago and ending in Santa Monica, Route 66 passes through nine states: Illinois, Missouri, Kansas, Oklahoma, Texas, New Mexico, Arizona, Nevada, and California.
Some of the best things to do on the route are enjoying the kitschy 1950s motels, gas stations, and restaurants that harken back to the days of the Great American Road Trip.
You'll also find tons of quirky roadside attractions like the Catoosa Whale, Cadillac Ranch, and the Twin Arrows that are must-sees.
If you want to enjoy some nature along the way, you can visit the Grand Canyon or Petrified Forrest National Park.
The most typical way to explore Route 66 is to start in Chicago and drive all the way to Santa Monica, but there are many who drive smaller portions of it or go from west-to-east instead of east-to-west.
There's no single "right" way to make the drive. Just make sure you enjoy yourself as you go!
Recommended Road Trip Length
Because the route is so long and there's so much to see, it's recommended you spend two weeks exploring it one way.
New York to Los Angeles
Driving across the United States from New York to Los Angeles is one of those classic American road trip routes that, quite honestly, is not suited to most USA vacations–you'll be looking at a lot of cornfields and open plains along the way and spend many days on the road.
… But that being said, the legend and myth of this USA road trip route endure because it does make for quite the adventure!
With nearly 3,000 miles of driving to do between NYC and LA, you have extreme flexibility to create your own USA road trip itinerary!
However, the most direct route (a mere 44 hours of drive time, not including stops and traffic!) will take you to Chicago, across the open fields of Iowa and Nebraska, through some stunning nature in Colorado and Utah, and right through Las Vegas before delivering you to the beauty of the Pacific Ocean.
If you're open to detours, plenty of national parks will be within your reach on this USA road trip, including Rocky Mountain National Park, Joshua Tree National Park, Zion National Park, and even the Grand Canyon!
Recommended Road Trip Length
If you'd like to enjoy a coast-to-coast road trip in the USA, we recommend setting aside at least two weeks to ensure you have enough time to experience the route along the way (and avoid spending too many days at a time looking at nothing but highways)!
Southern Road Trips in the USA
Blue Ridge Parkway
From Carl of NC Tripping
If you're exploring the western parts of North Carolina or Virginia, the Blue Ridge Parkway is always lingering somewhere nearby.
It's the most popular road trip between the two states and connects two of the United States' most-visited national parks, Great Smoky Mountains National Park and Shenandoah National Park.
At 469 miles in length, this road will take some time to explore!
Narrowing things down to a few places you must visit is tough, but here are some "musts."
Moving north to south, highlights on the Virginia side include Humpback Rocks (Milepost 5), Mabry Mill (MP 176), Peaks of Otter (MP 85), and the Blue Ridge Music Center (MP 213).
Across the border in North Carolina, you at least need to see Linville Falls (316), Craggy Gardens (MP 364), Graveyard Fields (418), and Oconoluftee (MP 469) at the end of the line.
Of course, there are more spots scattered throughout that are within a short drive of the Parkway, such as the ever-popular Asheville, NC, the Biltmore Estate, and more charming mountain towns than you can count.
That, along with its length, is why this is one USA road trip that will take some time, if ever, for you to complete.
Please note that some areas of the Blue Ridge Parkway close during winter through parts of spring. The NPS is pretty good about keeping information up to date on their website.
Recommended Road Trip Length
While you can drive the Blue Ridge Parkway in less time, ideally, if you want to hike and explore along the route, a week is a great starting point for this USA road trip route.
Kentucky Bourbon Trail
From Katie-Beth of Her Life in Ruins
Who doesn't love a nice glass of bourbon?
On the Kentucky Bourbon Trail, you tour 18 different distilleries, try multiple bourbons (and other treats) at each, and take in tons of bottled-up history throughout the gorgeous Bluegrass State.
While there is no official route for the Kentucky Bourbon Trail, stay in either Lexington or Louisville as a "home base" for the experience, as all of the distilleries are within a few hours' drive of these cities (some are mere minutes!).
Each day, pick 4-5 distilleries to visit, starting when they open in the morning and touring until they close.
Try to do the distilleries that are closest together on the same days (less driving and easier to get from one place to another).
If you're a serious drinker, there are some bus tours that will chauffeur you throughout the Trail!
You're never given more than about 2 ounces of alcohol at each distillery, but you may want a designated driver just in case.
On the drive between distilleries, you'll see the rolling hills of Kentucky, some of our famous horse farms, and, of course, rick houses holding millions of gallons of the delicious spirit.
Recommended Road Trip Length
In order to visit all of the distilleries, I recommend spending 4-6 days on the Kentucky Bourbon Trail.
Southeast Coastal Road Trip
The stretch of coastline running from St. Augustine, Florida to the Outer Banks of North Carolina is packed with beautiful sights, historic cities, and laid-back beach towns.
We consider this area one of our personal favorites for road trips in the USA, and we've taken dozens of road trips in the region!
Start in St. Augustine, founded in 1565 by Spanish settlers and one of the most historic cities in the USA.
Explore its beautiful Castillo de San Marcos, check out the Fountain of Youth, relax on the beach, and explore the Colonial Quarter.
From there, head north to Savannah, where you can enjoy its incredible architecture and town squares, and then move on to Charleston, where you'll find compelling American history and the lovely Folley Beach.
As you move up the coast, consider detouring for brief stops in Beaufort, South Carolina and/or Hilton Head Island, before heading into North Carolina.
Historic Wilmington and New Bern are always worth a look as you pass by, and while you'll need to head all the way up to Kitty Hawk and Nag's Head to experience the classic Outer Banks destinations, the Crystal Coast (Emerald Isle, Morehead City, Beaufort, Atlantic Beach, etc.) has been my family's haunt for generations and is also well worth experiencing.
And, the Crystal Coast also happens to be closer geographically to the rest of the stops on this United States road trip itinerary!
Want to continue north to the Outer Banks?
Ocracoke Island, Nags Head, Duck, Kitty Hawk (famously home to the Wright Brothers' first-ever flight!) and more are all ready to welcome you.
Recommended Road Trip Length
We recommend spending about 10 days enjoying this USA road trip route.
Orlando to New Orleans Road Trip
From Christine of Live Love Run Travel
Driving from Orlando to New Orleans gives you plenty of options for stops along the way as well as enough to fill up an entire vacation at the starting point and ending point of the road trip.
From natural springs to beaches to caverns, there is plenty to see along this route to break up the trip.
Orlando is of course known for its iconic theme parks including Disney and Universal Studios.
However, Orlando and Florida also offer plenty of natural highlights including the natural springs.
On the way from Orlando to New Orleans, stop at Rainbow Springs, Silver Springs, or Ginnie Springs along I-75.
Once you get onto I-10, make sure to stop at Florida Caverns State Park for a unique Florida experience.
Plus, if you are taking this trip in the summer, you'll appreciate the cooler air in the caverns!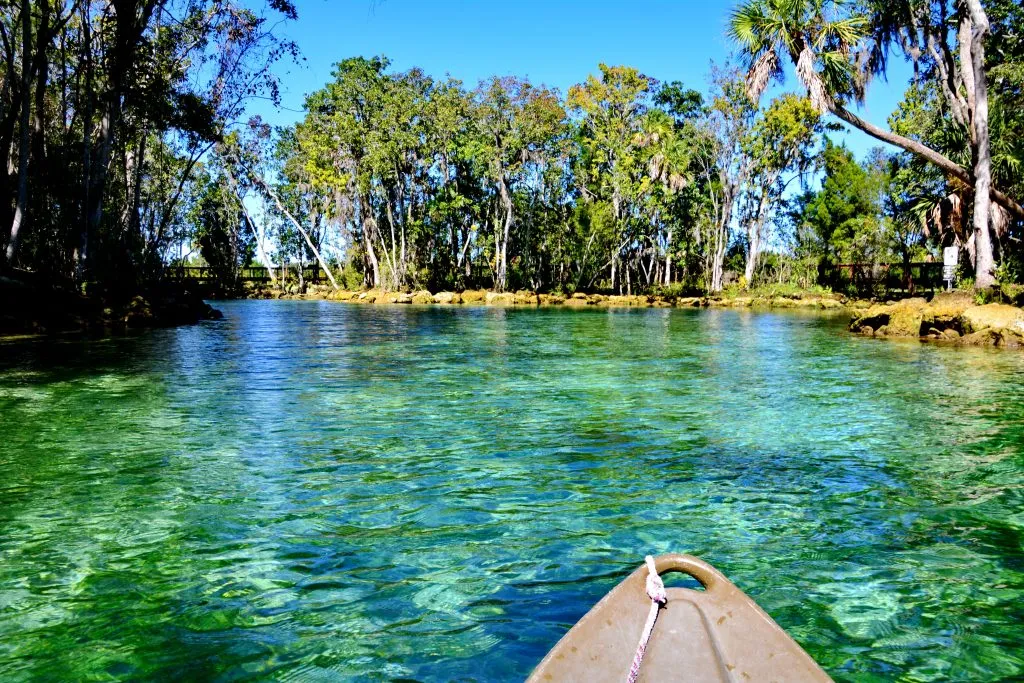 Along I-10, there are also plenty of opportunities to stop for some time at the beach.
Consider Pensacola, Florida, or the Gulf Shores, Alabama, or any of Mississippi's beaches to avoid a long drive off the main road.
From there you are in New Orleans where you can enjoy the bayou, lots of amazing food and live music, and plenty of history and beautiful architecture in the various districts within the city.
Recommended Road Trip Length
The length of this road trip depends on a few factors including how long you want to spend in Orlando and New Orleans.
The drive itself only takes about 9 hours, but if you want to spend time at the springs, beaches, and caverns, stretch it out to a 2 or 3 day drive, with a few days on either end to explore Orlando and New Orleans.
United States Road Trip Ideas in the West
Washington State
From Katie of Two Wandering Soles
With rugged driftwood-strewn beaches, snowcapped peaks, small towns, and major cities, Washington State is a true gem.
Home to incredibly diverse landscapes and endless adventures to be had, this Pacific Northwest destination is one of the best places to take a road trip in the United States.
Start by exploring Seattle (if you have the time) because there is plenty to do in this PNW hub. But when you're ready to get out of the city, head straight to the Olympic Peninsula.
With temperate rainforests, waterfalls, remote beaches, and a towering mountain range, Olympic National Park is arguably the most diverse swath of land in the state, if not one of the most unique places in the country, and is the perfect place to try out some hikes in Washington.
Another drive well worth your while is to head northeast toward the iconic Mount Baker.
If you have the time, continue north to Highway 20 which brings you into the breathtaking North Cascades National Park.
Make photo stops along the way (like at the spectacularly beautiful turquoise waters of Lake Diablo), set off on epic hikes, and refuel at the small towns along the way.
Eventually, you'll reach Lake Chelan, which is a perfect spot to cool off on a hot summer day.
From Lake Chelan, you have a stunning drive on Highway 2 back to Seattle with many more opportunities for exploring small towns and hiking along the way, if time allows.
Recommended Road Trip Length
If you want to cover this whole route, you should allow 1.5 – 2 weeks. If you have less time, shorten your USA road trip itinerary accordingly.
Southwest Colorado Road Trip
From Tanya of Rad Family Travel
Exploring Southwest Colorado on a memorable summer road trip through the mountains offers adventure in every direction.
Sand-sled through Great Sand Dunes National Park, drive breath-taking mountain passes, soak and swim in hot springs, and climb ladders to ancient Puebloan dwellings at Mesa Verde National Park.
From there, imagine taking a jeep ride to old mining towns, biking along scenic trails, and hiking among wildflowers.
Arrive in Telluride in style via a free gondola, go whitewater rafting or alpine sliding, sleep under the stars, and top it all off with local burgers and cold brews.
In other words: whatever kind of outdoor adventure you're looking for, southwest Colorado has you covered.
A Southwest Colorado road trip highlights diverse outdoor fun in Great Sand Dunes National Park, Pagosa Springs, Durango, Mesa Verde National Park, Telluride, Ridgway, Ouray, Black Canyon of the Gunnison National Park, Crested Butte, and Buena Vista.
Choose from tent camping, cabins, or hotels, or a mixture thereof, for lodging along the way.
Recommended Road Trip Length
Allow at least nine to ten days for this epic southwest Colorado Road Trip, starting from Colorado Springs.
If you prefer slower travel and lots of outdoor adventure, consider making it a fourteen-day loop by staying longer in Ouray, Crested Butte, and Buena Vista — and really delve into these sweet mountain towns.
Utah's Mighty Five
From Ali of Travel Made Simple
Utah is home to five amazing national parks, all close enough to each other to visit on one iconic national parks road trip.
These national parks are Arches, Bryce Canyon, Canyonlands, Capitol Reef, and Zion. Since they're all in the southern half of the state, you can drive in a loop to get to them all.
This also works well as part of a bigger southwestern US road trip.
If you're short on time or not in great shape, you can see a lot by driving or taking park shuttles, where available.
Hop out at designated parking lots, lookout points, or shuttle stops, take pictures, and go for a short walk.
For more activity, each park has hiking trails for beginners to expert-level hikers.
You can see the highlights of each park in about a day, but allow more time at any park where you want to experience more hiking.
Start and end in Las Vegas and drive counterclockwise.
Since driving from Las Vegas to Moab, where Arches National Park and Canyonlands National Park are located, is quite long, consider stopping in Page, AZ (home of the famous Horseshoe Bend), or Monument Valley on the AZ/UT border. Or both!
From Moab, drive to Capitol Reef National Park, then Bryce Canyon National Park, and lastly Zion National Park before heading back to Vegas.
If you prefer, you can also do this route in reverse!
Recommended Road Trip Length
Give yourself at least a week to do this road trip, or longer if you're stopping in Page and/or Monument Valley.
South Dakota
If you're craving wide open spaces, plenty of buffalo and prairie dog sightings, gorgeous caves, and a quirky roadside stop or two, then South Dakota is the American road trip for you!
Driving from east to west (though you can easily reverse it), pay a quick visit to Sioux Falls and then The World's Only Corn Palace (their words, not mine) before diving into Badlands National Park.
Drive the Badlands National Park scenic loop, do some hiking (the Notch Trail is not to be missed), and when you're ready for a break, detour to Wall Drug for a heavy dose of kitsch.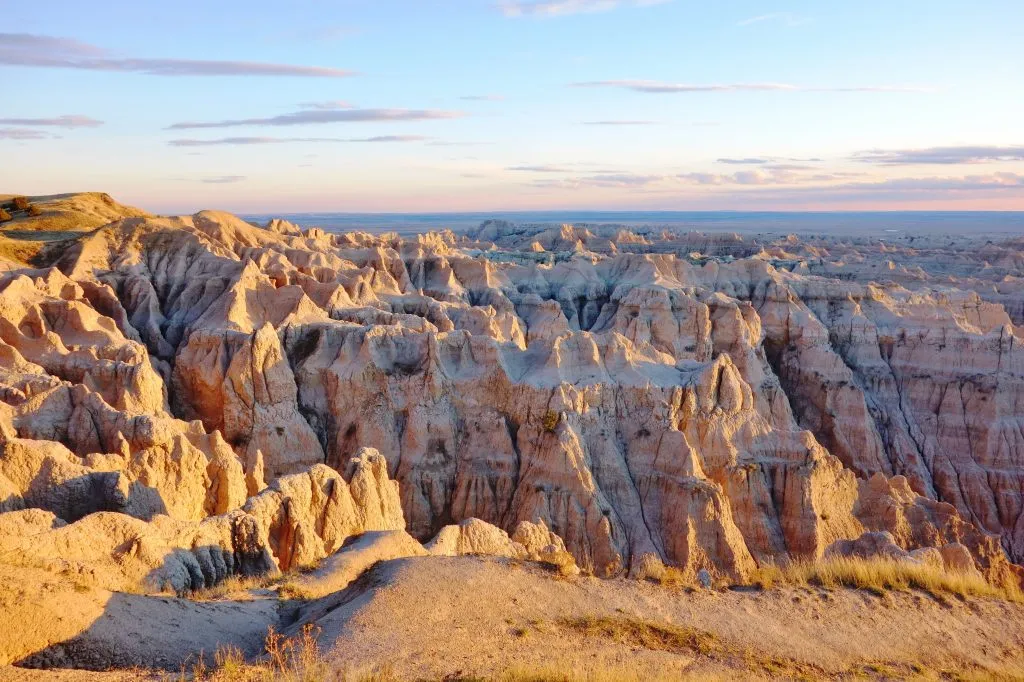 Head north to visit the Wild West town of Deadwood, and if you're up for it, detour into Wyoming for a quick visit to Devil's Tower, the first US national monument!
Back in South Dakota, base yourself in or around Keystone to explore Mount Rushmore, Custer State Park, Wind Cave National Park, and–if you have time–Spearfish Canyon.
Going inside Wind Cave National Park requires a guided tour, so be sure to book in advance!
Recommended Road Trip Length
Determined road-trippers can do justice to this South Dakota road trip route in about 5 days, though 7 allows for a bit more hiking and a chance to add on places like Rapid City.
South Dakota is also perfectly located for combining with road trips in Wyoming and beyond, so you can easily use this route as a building block for a bigger US road trip itinerary!
Scenic I-90 from Portland to Yellowstone
From Catherine of Passports and Adventures
Visiting Yellowstone National Park from Portland, Oregon is easy and there is no better route to take than the scenic I-90.
This 812-mile trip starts from Portland and takes the I-84 along the very beautiful Columbia River Gorge.
As you get started, stop at Multnomah Falls to photograph the famous waterfall!
Continue to Richland where you could rest overnight before jumping onto the I-90, the longest interstate in the United States.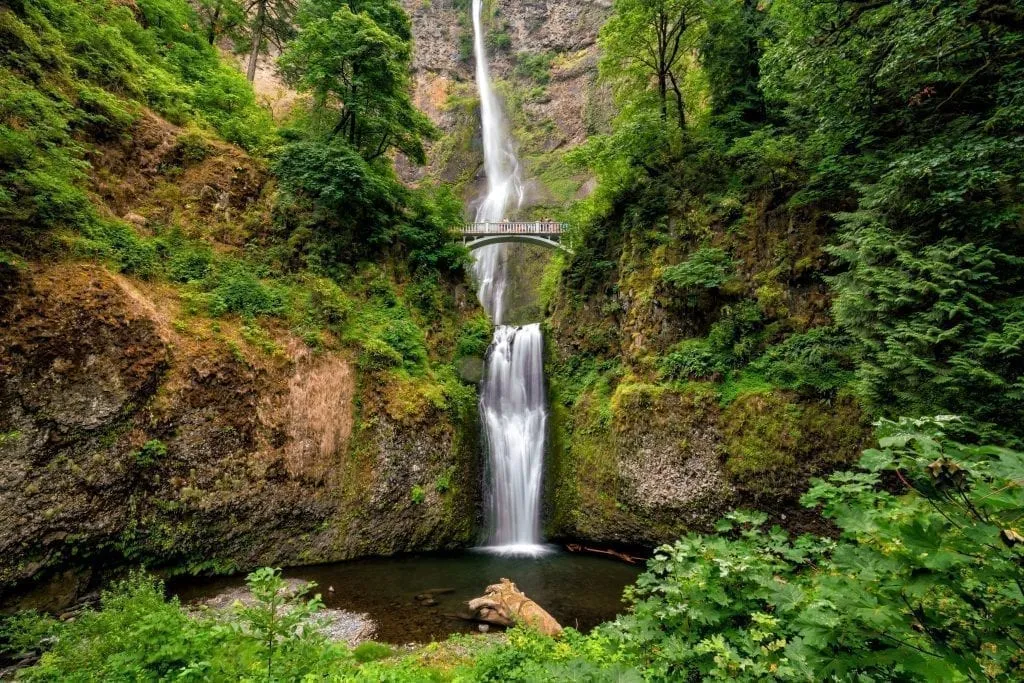 This interstate highway passes Spokane before trailing alongside the lake of Coeur d'Alene, a beautiful part of the country, and then snakes through the Nez Pearce-Clearwater National Forests.
Imagine a highway surrounded by forests on either side, and you have an idea of what this part of I-90 is like.
A great town to stop along the I-90 is Missoula, which sits along the Clark Fork River and has plenty on offer including a great park, Caras Park where families and visitors can unwind.
After Missoula, continue along the I-90 and join Highway 287 which will take you to West Yellowstone to start your visit to the first national park.
Recommended Road Trip Length
This route from Portland to Yellowstone is 812 miles via these interstates and highways and could be done in two days but is best enjoyed over a few days before your Yellowstone vacation.
As you get close to the national park, you can also find some great camping near Yellowstone along this route.
Northern New Mexico
From Stella Jane of Around the World in 24 Hours
Northern New Mexico is one of the most beautiful places in the United States to have a road trip.
The weather is gorgeous and sunny at almost any time of year, and many of the state's most interesting places are just an hour's drive away from each other!
Start the road trip in the state's largest city, Albuquerque. Almost all people arriving in New Mexico start here because this is where the major airport is located.
Tourism in Albuquerque has really taken off since the show Breaking Bad was filmed here, but those who are not Breaking Bad fans will still love seeing Albuquerque's charming Old Town.
If you're lucky enough to be able to plan your trip around the famous Albuquerque International Balloon Fiesta, you won't be sorry you did!
After a couple of days in Albuquerque, drive an hour up to Santa Fe and spend a couple of days here. This is New Mexico's capital and its most beautiful city.
You can stop for a bath in the hot springs at Ten Thousand Waves and see the historic Spanish Colonial Palace of the Governors.
Finally, check out some smaller towns like Los Alamos, where the atomic bomb was developed, Chimayo, which is a popular pilgrimage site, and Taos, where you can visit a Native American pueblo that's also a UNESCO World Heritage Site.
You'll be amazed at how much Northern New Mexico has to offer!
Recommended Road Trip Length
I recommend spending about a week on this USA road trip route.
Denver to Yellowstone Loop
Starting from Denver, you can easily craft a fantastic road trip plan.
USA national parks are in abundance in the west, but from Denver, you can hit three of the most legendary in short order: Rocky Mountain National Park, Grand Teton National Park, and the ever-popular Yellowstone National Park.
For your first stop, base yourself in the beautiful mountain town of Estes Park, where you can access some of the best hikes in RMNP while also enjoying this idyllic mountain town.
From there, head up to Yellowstone to enjoy a few days of geysers, geothermal pools, wildlife spotting, and utterly unique views.
On your way back to Denver, head to Grand Teton National Park to visit highlights like Jenny Lake, enjoy some hiking, and soak in iconic views like those along Mormon Row.
Don't miss the chance to spend a bit of time in Jackson Hole, one of the USA's most iconic mountain towns, while you're there!
Recommended Road Trip Length
We recommend setting aside at least a week for this all-American road trip–if you'd like to spend some time in Denver, a full two weeks is best.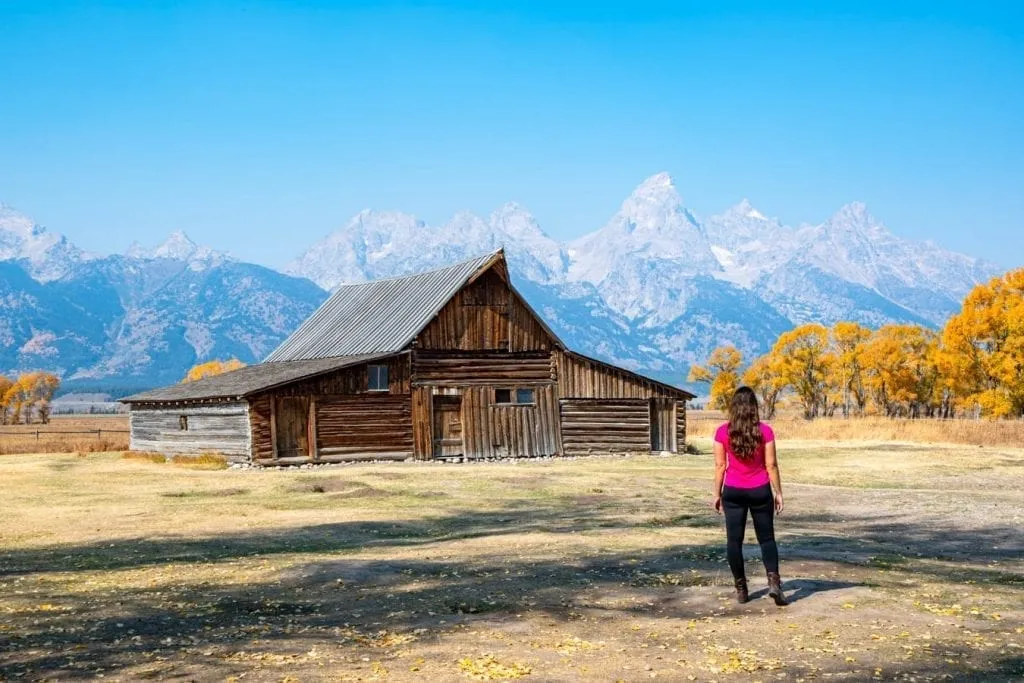 San Francisco to Yosemite Loop
From Julie of More Than Main Street
Typically, you think of the Pacific Coast Highway when you think of the best California road trips, right? Well…consider something a little different!
This 10 day California road trip, forming a loop from San Francisco to Yosemite National Park and back, is one of the best road trips in the USA.
You'll get the best of big-city excitement, some time by the ocean, beautiful scenic vistas, and outdoor fun galore!
After spending a few days in San Francisco, hit up Monterey, Carmel, and part of the Pacific Coast Highway.
Can't-miss destinations include the Golden Gate Bridge, Lombard Street, Alcatraz, Big Sur, and the world-class Monterey Aquarium.
Next head east over to Yosemite National Park for some incredible hiking, followed by a little wine tasting in Sonoma or Napa Valley, a stop in Muir Woods to see the giant redwoods, then finally back to San Francisco.
This road trip is perfect for families, couples, or even solo travelers and is guaranteed to be one you won't forget!
Recommended Road Trip Length
You'll need at least 10 days to do justice to this epic California road trip.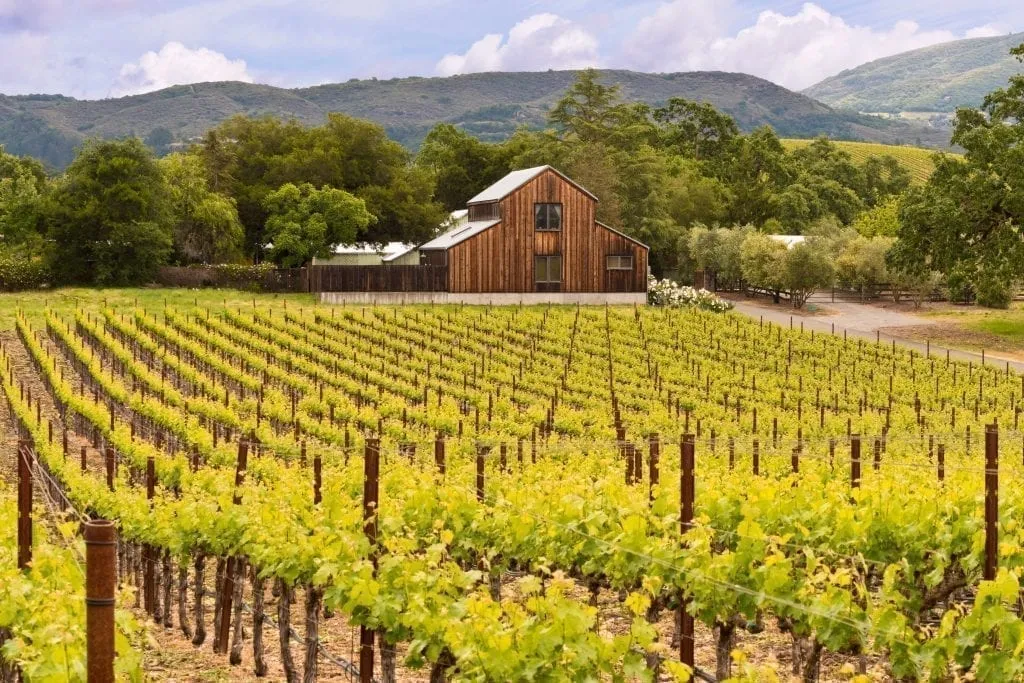 The American Southwest from Las Vegas
Thanks to inexpensive flights, a convenient location in southern Nevada, and its widespread appeal, Las Vegas is a fantastic place to kick off a road trip through the southwest!
With Las Vegas as a starting point, head off to Valley of Fire State Park in Nevada before making your way to the ultimate USA road trip destination: the Grand Canyon.
From there, loop up to Moab to explore Arches National Park and Canyonlands National Park, head west to visit Bryce Canyon National Park, and then move onto Zion before circling back to Vegas.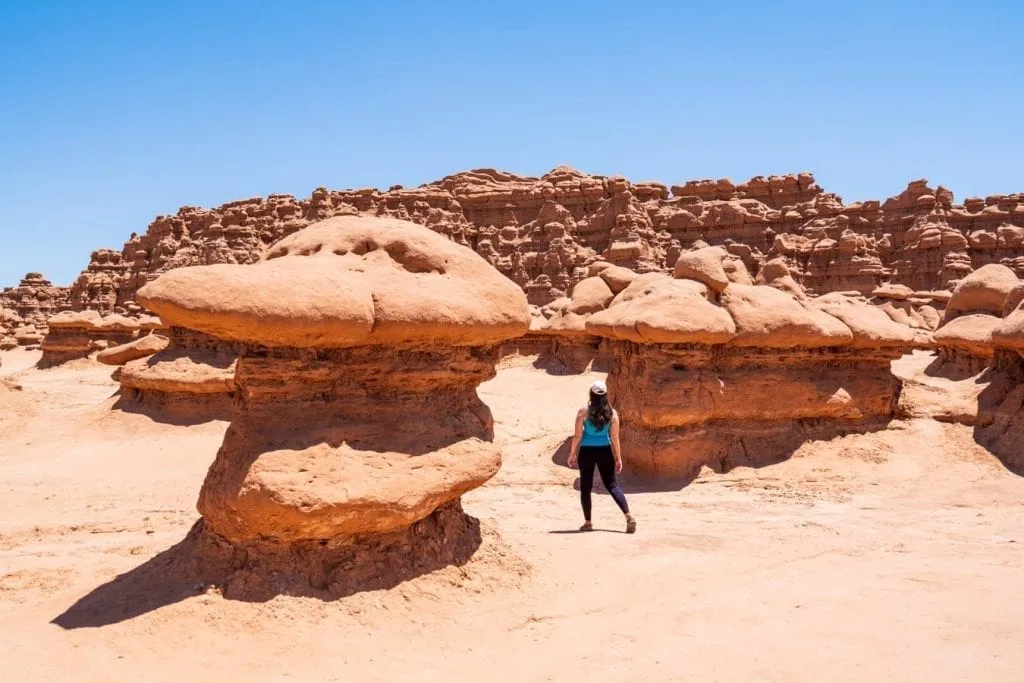 With extra time, you can add on more exciting stops in Arizona and Utah like Monument Valley, Page (home of Antelope Canyon and Horseshoe Bend), Capitol Reef National Park, Goblin Valley State Park, and more.
Recommended Road Trip Length
Ten days is a good starting place for this American road trip, but you can do an abridged version in one week, and the sky is the limit as far as how long you can take to explore every nook, cranny, and slot canyon in the region!
East Coast Road Trips in the USA
New York State Road Trip
From Melissa of Navigation Junkie
The route from Buffalo, NY to New York City is full of great attractions and small towns to explore, and the variety of stops along the way will be sure to entertain every member of the family!
To begin the journey, start at Niagara Falls in Buffalo, NY.
See the roaring power of the American and Canadian falls, and if you are up for it, take a ride on the Maid of the Mist to get up close and personal with the falls.
After visiting the falls continue on to Letchworth State Park, the Grand Canyon of the East, for a day of hiking and enjoying nature.
Continue on to Rochester, NY, where you will find a variety of fun attractions, history, and nature experiences.
The next stop along the route is the Finger Lakes region, where you can enjoy the lakes, waterfalls, and some wine tasting.
From there, head to Saratoga Springs, known for horse racing and mineral baths.
After visiting Saratoga Springs, continue on to the Catskills Region, where you will find plenty of scenic views and hiking trails for hikers of all abilities.
Finish up your road trip in New York City, where you can visit the Statue of Liberty, The World Trade Center Memorial, Central Park, and Times Square, among many other iconic attractions!
Recommended Road Trip Length
We recommend taking a minimum of one week to fully experience all stops along this USA road trip route.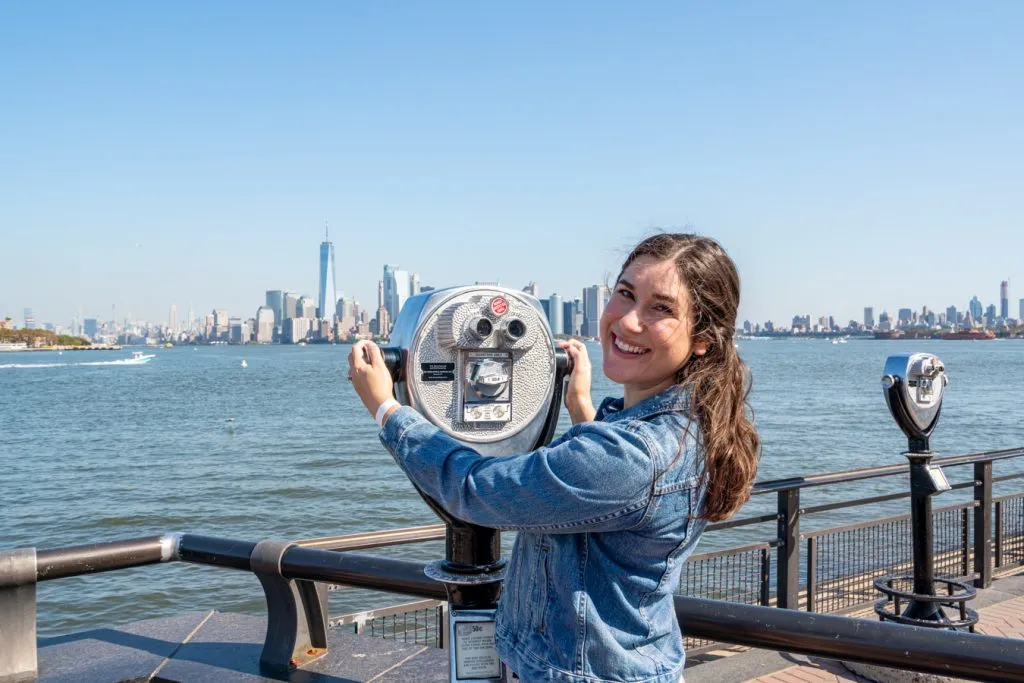 Miami to Key West Road Trip
From Hannah & Adam Lukaszewicz of Getting Stamped
If you're looking for a tropical road trip, consider making the drive from Miami to Key West.
On this US road trip, you'll travel through the islands that make up the Florida Keys on the "Overseas Highway."
It's said to be one of the best road trips in the country!
While the drive to Key West isn't too far (165 miles), the stops and the scenic beauty along the way are what make it worthwhile. The road trip is full of fun and quirky things to do and see!
The John Pennekamp Coral Reef State Park and the Spiegel Grove Shipwreck are two great spots for exploring under the surface, where you'll find coral reefs, sea life, and a sunken Navy ship.
For above the water, consider taking a cruise on The Africa Queen through the canals of Key Largo.
There are great restaurants and bars along the way too.
Some popular stops include Plantation Key's Mile Marker 88 Beach & Bar for all the tiki vibes, Islamorada Beer Company, and Robbie's Restaurant, where you can feed tarpons from the dock.
Recommended Road Trip Length
This road trip is best for a weekend (2-3 days).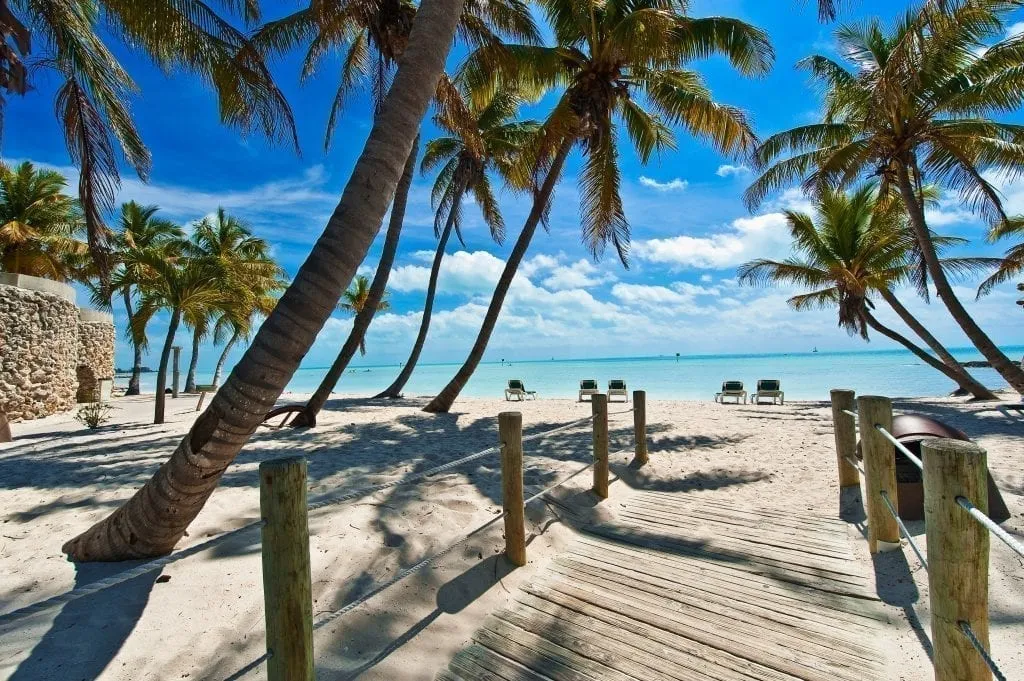 New England
Made up of some of the USA's smallest states, the northeast region of New England is one of the best places for a road trip in the USA.
Featuring historic cities (hello Boston!), adorable small towns, a rugged coastline, gorgeous harbors, and plenty of lighthouses, New England spots a charm and culture all its own.
Consider starting and ending your New England road trip in Boston, the region's largest city and airport hub, where you can walk the Freedom Trail, stroll cobblestone lanes, and visit some of the most impressive universities and museums in the country.
From there, make your way to beautiful Acadia National Park in Maine, stopping at charming coastal villages like Portsmouth, New Hampshire, and Kennebunkport, Maine along the way–plus of course, a stop in the charming city of Portland.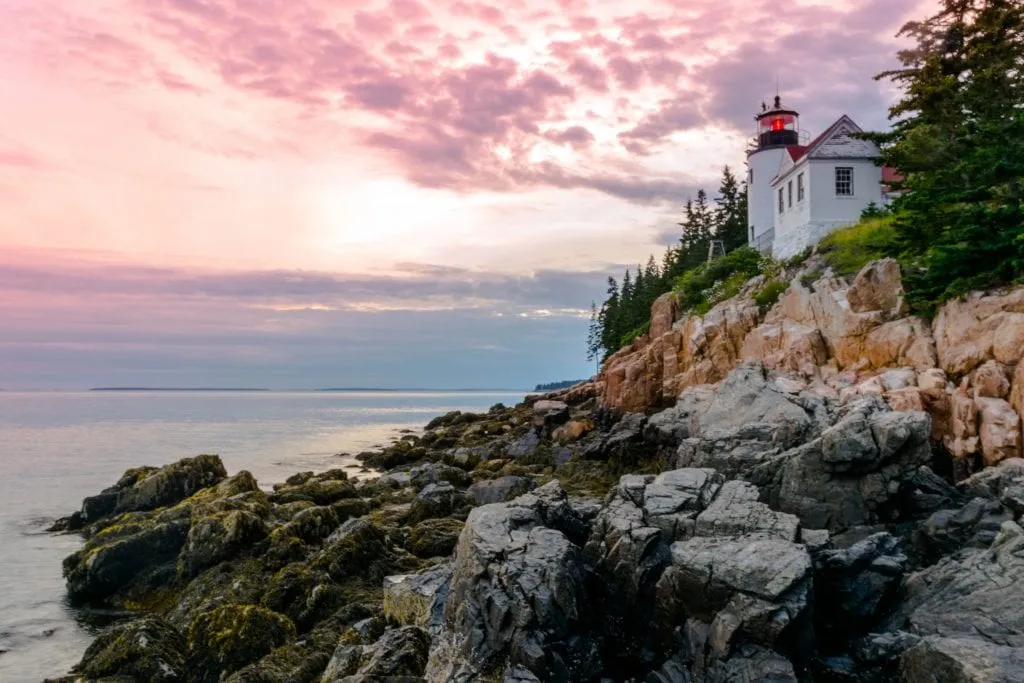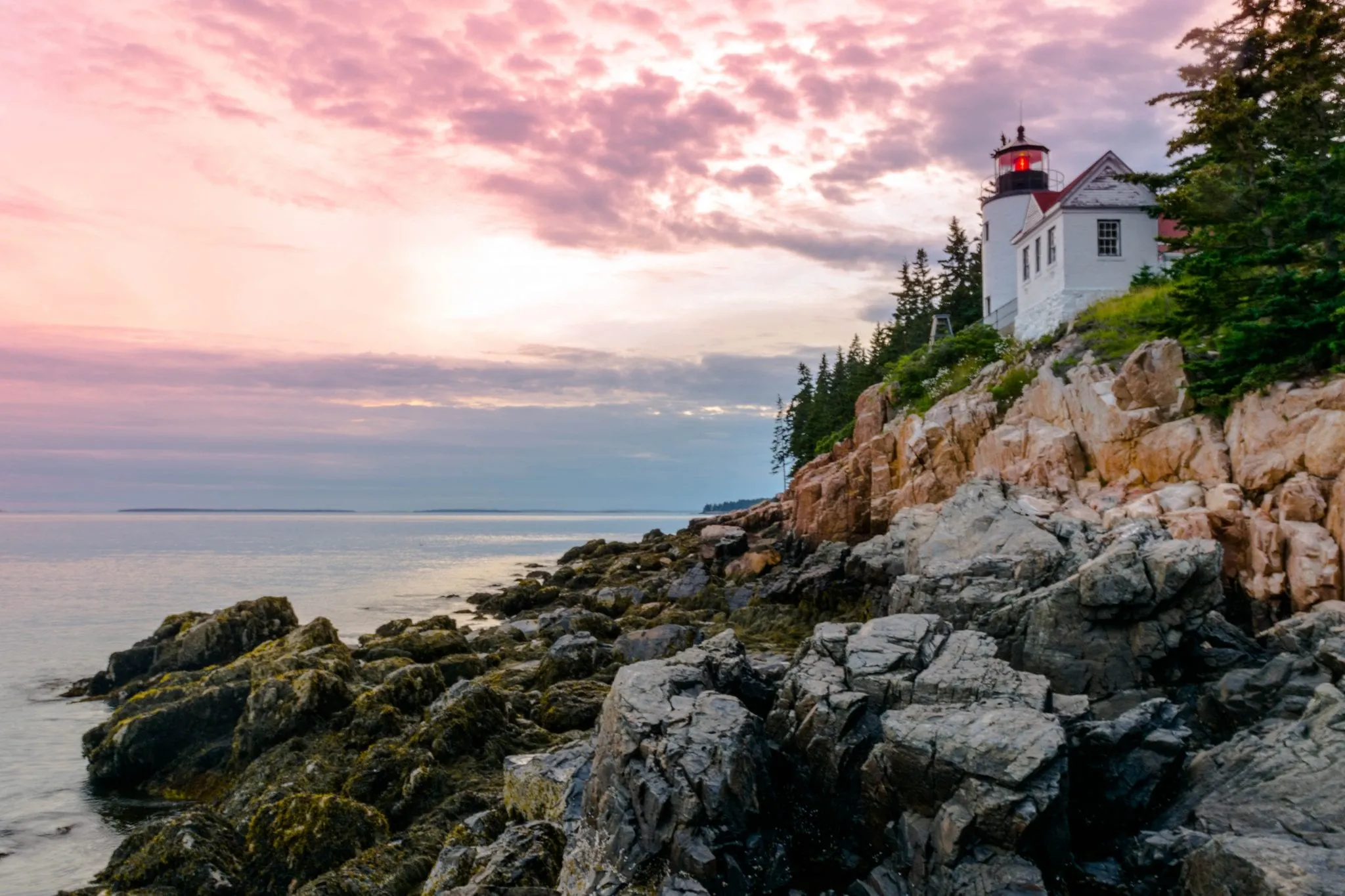 On your way back south, drop by the White Mountain National Forest, and beautiful towns like Stowe, Vermont (legendary for its fall foliage) and Woodstock.
If you have time, head south of Massachusetts before heading back to Boston, visiting the Gilded Age mansions in Newport, Rhode Island, and the idyllic small town of Mystic, Connecticut.
Recommended Road Trip Length
To take a USA road trip through all six New England states, two weeks or more is best.
However, with less time you can easily pick and choose a couple of states to visit and still have an amazing road trip experience!
Central USA Road Trip Routes
Texas Hill Country
Tucked into the central part of the Lone Star State, west of both Austin and San Antonio, lies an oasis of beauty.
Visit the Texas Hill Country for sparkling rivers, charming small towns, incredible hiking, beautiful waterfalls, excellent Texas barbecue, magnificent wildflowers, and more wineries and distilleries than you can count.
Some of the best things to do in the Texas Hill Country include visiting the town of Fredericksburg, which is known for its German heritage, enjoying a wine tasting, exploring beautiful Wimberley, climbing Enchanted Rock, exploring dramatic limestone caves, sampling barbecue, and visiting some of the best swimming holes near Austin, including the legendary Hamilton Pool and Jacob's Well.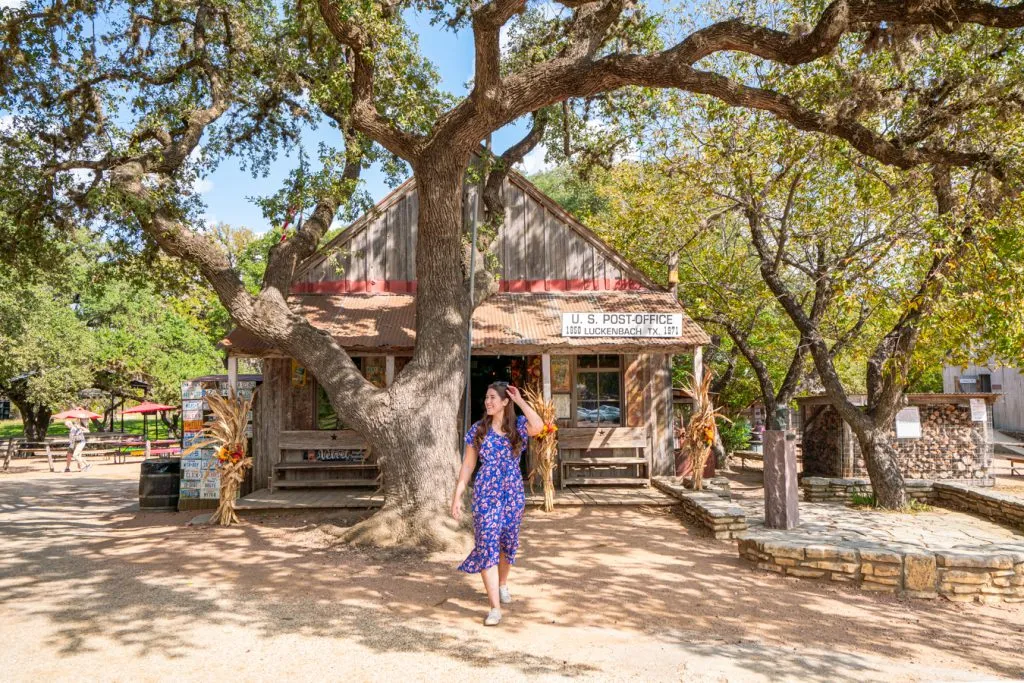 Be sure to save time for a couple of state parks, as well!
In addition to Enchanted Rock, popular state parks in the Hill Country include Garner State Park, Guadalupe River State Park, and Colorado Bend State Park (home to 70-foot Gorman Falls).
The lakes are also unforgettable: don't miss a chance to admire the beauty of Canyon Lake or Lake Travis during this incredible US road trip!
Recommended Road Trip Length
Even if you only have one day, it's worth taking a quick Texas Hill Country road trip–but ideally, we recommend setting aside a week to explore.
While you can visit year-round, bluebonnet season (roughly late March-April) is undoubtedly the most scenic time to visit!
Northwest Arkansas
Packed with beautiful forests, idyllic hot springs, historic towns, and a lesser-known but beautiful national park, Northwest Arkansas is the perfect option for travelers looking for an interesting but off-the-beaten path US road trip destination.
Start your road trip at Hot Springs National Park, one of the only US national parks to be set in an urban (really, more like small-town) setting.
Nine historic bathhouses in the national park line Bathhouse Row, where visitors flocked to enjoy the local hot springs in the late 19th and early 20th centuries.
You can still soak in two of them today!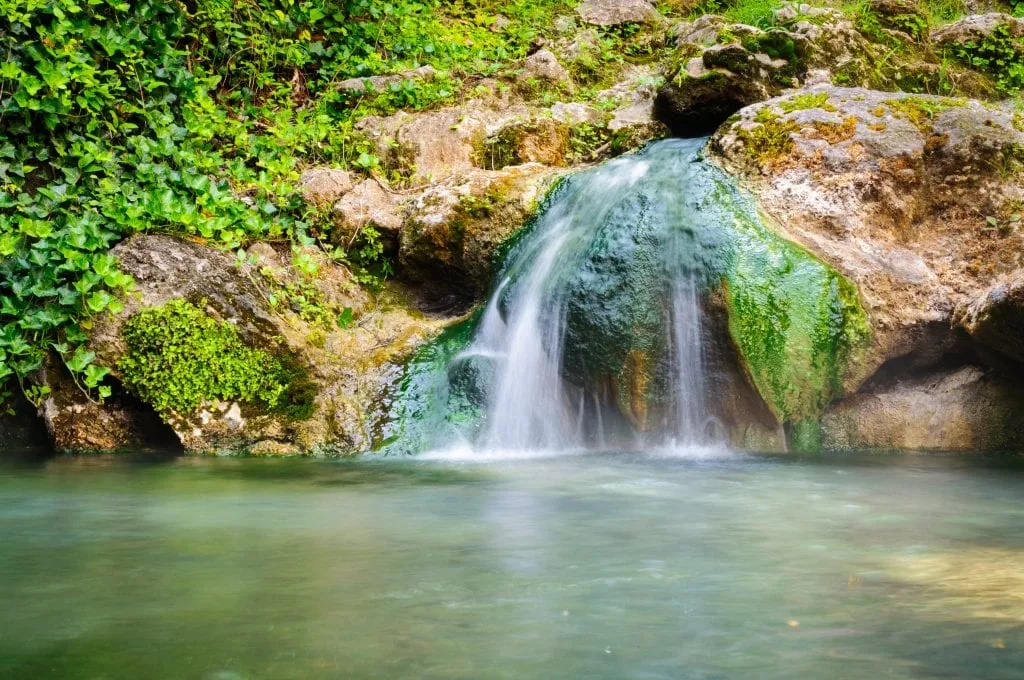 From there, head north all the way to Eureka Springs, which is known for its historic architecture, beautiful setting in the Ozark Mountains, and even more hot springs.
Along the way, consider detouring slightly to visit Hawksbill Crag (pictured below), one of the best viewpoints in Arkansas.
Whether you want to hike, soak, shop, or simply relax and enjoy the views, Northwest Arkansas is a delightful getaway.
Recommended Road Trip Length
This trip can be completed over a long weekend, but 5 days would be ideal.
West Texas
From Carole of Travels With Carole
For one of the best road trips in Texas, begin in El Paso and head southeast.
West Texas is filled with art, much of it BIG Texas art.
Before reaching the iconic West Texas art hub of Marfa, you'll encounter some roadside art stops that include the "Giant" movie set installation featuring huge cutouts of stars Elizabeth Taylor, James Dean, and Rock Hudson.
This is followed by stops at the Prada Marfa store that never opens, and at the railroad-side World's Smallest Target Store that is complete with a shopping cart.
The tiny town of Marfa itself is home to the Chinati Foundation's series of huge indoor and outdoor installations located on a former military base, as well as a plethora of art galleries–one of which displays Andy Warhol's "The Last Supper."
In addition to art, Marfa has a viewing center where locals and visitors alike congregate at night hoping to see the area's legendary and unexplained bouncing light orbs.
And if that's not enough, you can also dine at the Stripes convenience store where Anthony Bourdain ate a fried burrito while filming what turned out to be his last episode of "Parts Unknown."
This is just the tip of the iceberg of a fascinating visit to this area.
Recommended Road Trip Length
Allow 3 nights to visit this area and another night or two for an excursion to Big Bend National Park.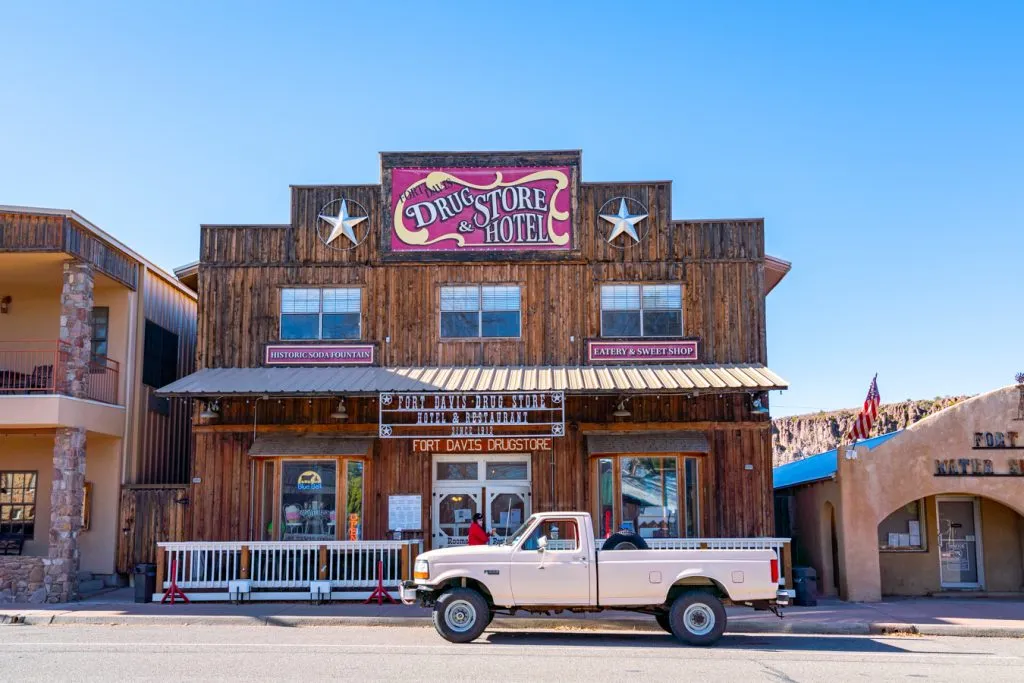 Northern Michigan
When considering the best road trips in America, the Great Lakes are often overlooked in favor of the Atlantic and Pacific coasts–but for a magnificent summer road trip through one of the USA's hidden gems, head to northern Michigan.
Sleeping Bear Dunes National Lakeshore on Lake Michigan and Pictured Rocks National Lakeshore on Lake Superior are located a mere five hours or so apart if you drive directly.
And, if you've never set eyes on the Great Lakes, this road trip will defy your expectations of what lakeshores look like!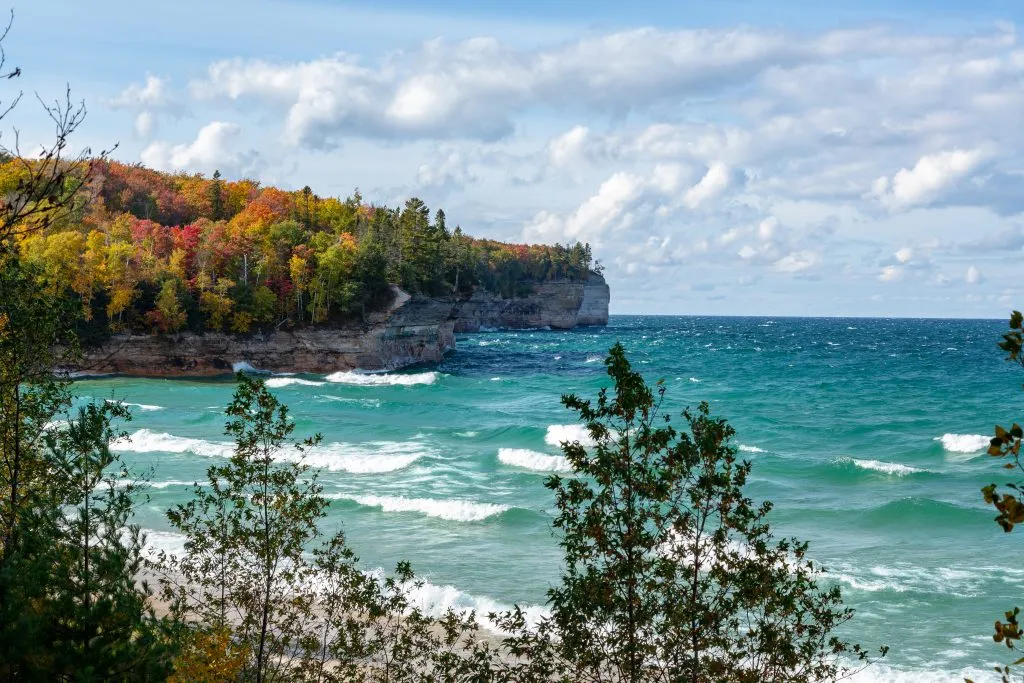 Between them, be sure to take a step back in time at Mackinac Island, one of the best places to visit in Michigan.
Here's the twist, though: no cars are allowed on the island, so you'll need to leave yours on the mainland during your island escape!
Recommended Road Trip Length
Plan for about a week to make the most of this USA itinerary.
Non-Continental USA Road Trips
Kauai
From Zach & Julie of Ruhls of the Road
Kauai is one of the most unique and beautiful destinations on earth.
However, when most people visit, they experience the inside of their resort and maybe a few beautiful places on day trips.
In truth, the best way to experience this incredible island is on a road trip to all of the best places on the island!
To start your Kauai road trip, go to the number one destination on the island: the Na Pali Coast.
The Na Pali Coast defies description, it is a place you have to see to believe.
The best way to see the area is on the Awa'awapuhi Trail, but make sure you hike the trail on a clear day for the best views!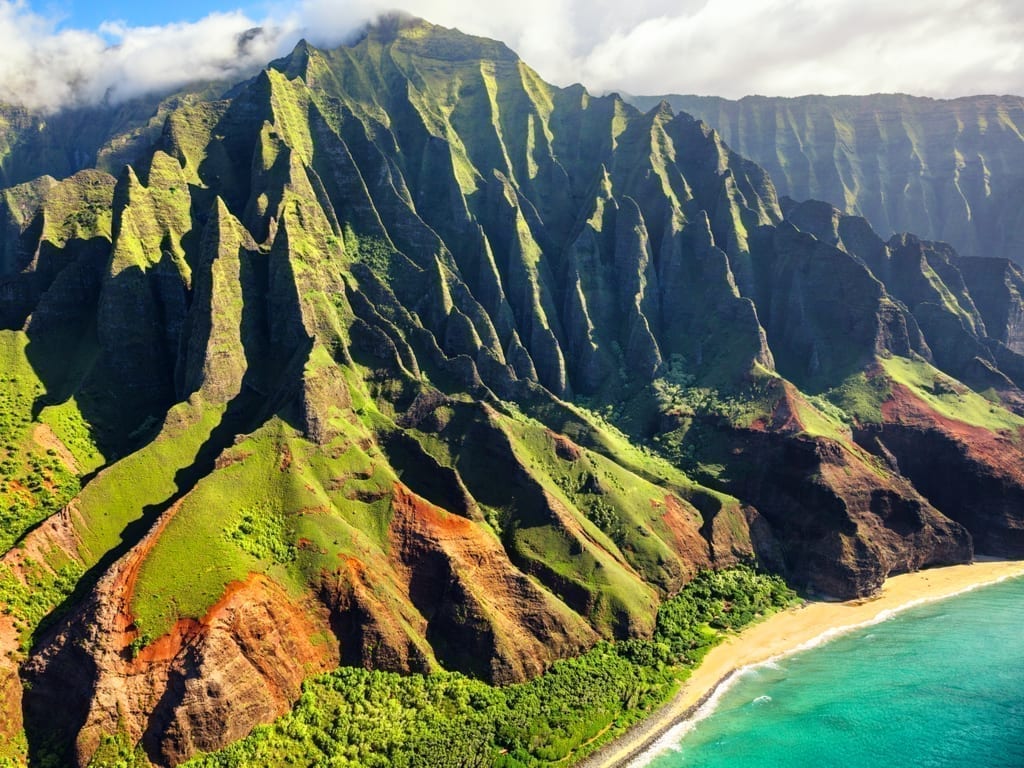 From here, check out the Alakai Swamp, a boardwalk that also boasts incredible views.
As you leave the Na Pali Coast area, head down towards Waimea and see the Waimea Black Sand Beach.
Moving along the coast, stop at the Poipu area and see one of Kauai's famous Hula shows.
Continue this coastal route and head into Wailua State Park. In this beautiful area, you'll want to see Wailua Falls, Opaeka'a Falls, and hike the Kuilau Ridge.
The Kuilau Ridge Hike offers a 360-degree view of the Kauai landscape that will leave your jaw on the floor.
Finish your road trip by heading up to the Princeville area and checking out Queen's Bath.
This is a beautiful tide pool that will make for the perfect ending to your Kauai road trip.
Make sure to check tides and go at low tide, as this area isn't safe at high tide.
Recommended Road Trip Length
We recommend completing this Kauai road trip in 3 days.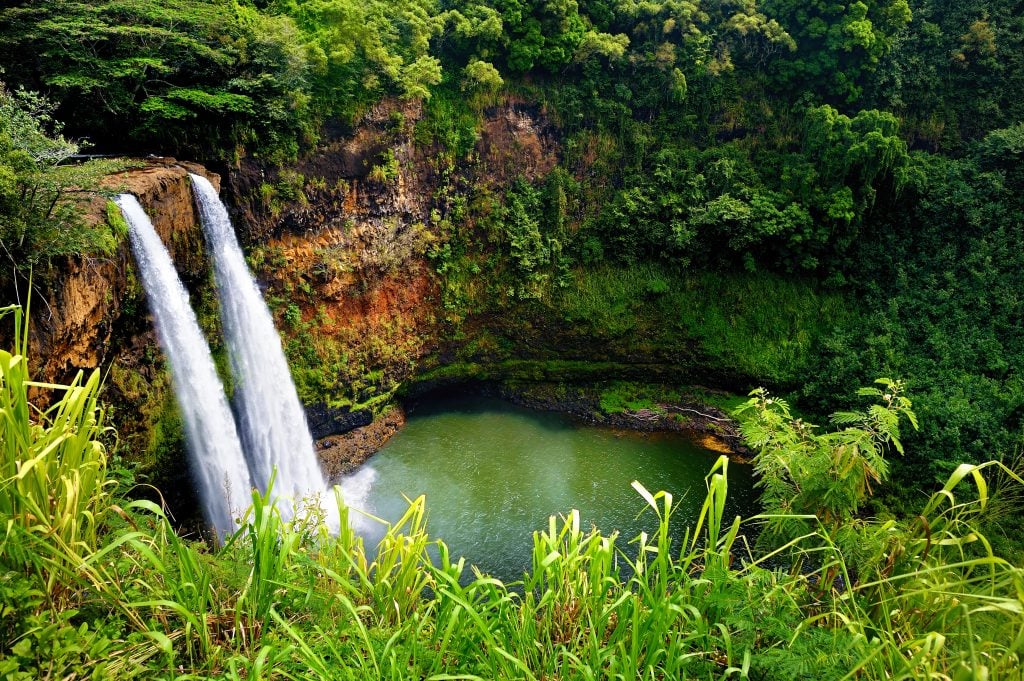 Road to Hana, Maui
From Jess of I'm Jess Traveling
When you think of Hawaii you may not think of a road trip but prepare to have your mind altered.
When traveling on the island of Maui driving the Road to Hana is a must!
The scenic drive takes you from Kahului to the east side of the island to the town of Hana.
The Road to Hana is 52 miles of one-lane bridges, hairpin turns, and curves.
This drive will take up an entire day so make sure you pack lots of snacks and fill up for gas beforehand.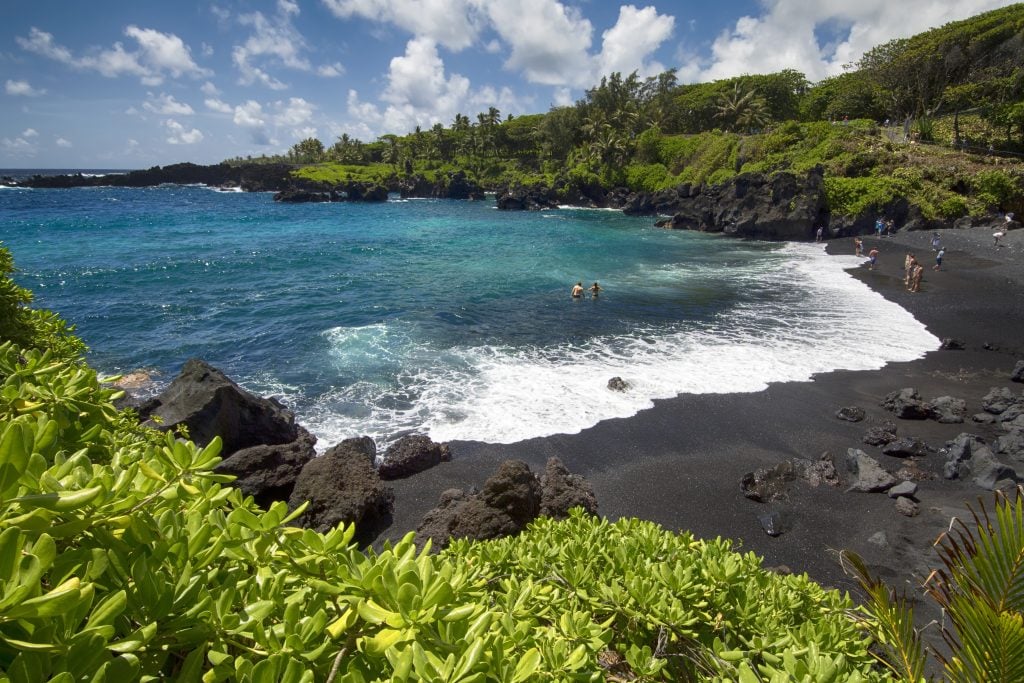 The winding road takes you past jaw-dropping seascape views, roaring waterfalls, and exotic flora.
Some highlights of this drive include Ho'okipa, Twin Falls, the Painted Forest, Honomanu Bay, Wailua Falls, and the awe-inspiring Wai'anapanapa State Park.
Don't forget to wear your bathing suit and pack a towel because pulling off the side of the road to take a dip in the ocean or swim under a waterfall is the name of the game.
Buckle up, enjoy the ride, and prepare for a trip of a lifetime.
Recommended Road Trip Length
You can drive the Road to Hana in a day, but if you'd like to savor the experience, consider camping or staying in Hana town for a few days to make sure you see all the best sights along this road trip in the USA.
Alaska Road Trip (Anchorage to Valdez)
From Wendy of Adventurous Retirement
Alaska is filled with excellent American road trip opportunities, especially in the summer.
Start in Anchorage, when the museums are open.
Visit the Alaska Native Heritage Center to learn about the indigenous people of the 'last frontier', and the Alaska Public Lands Information Center to learn about the history and culture of Alaska for free.
Take the Trolley tour for a fun overview of Anchorage, its history, and the earthquake of '64.
Ride the free shuttle to the Ulu factory, and check out the salmon runs at Ship Creek.
On day 2, head to Palmer and visit the Iditarod Museum before driving to Hatcher Pass.
Go to the high point for incredible views, hike the trails, and admire blue mountain lakes.
Continue on this road to loop back to town.
From there, head to Matanuska Glacier, located one hour from Palmer. Spend day 4 hiking to and on the glacier.
After that, drive toward Valdez Alaska on the Scenic Richardson Highway. It's about 3 hours to Valdez.
Stop at Worthington Glacier Recreation Area to see the glacier or hike it. Stop at the various pullouts to view the waterfalls along Thompson Pass and the Highway.
If the salmon are spawning, visit Crooked Creek and see if you can spot a bear fishing for dinner.
While in and around Valdez, also consider taking an all-day wildlife glacier cruise, visiting the Valdez Museum and Annex, and visiting the Maxine & Jesse Whitney Museum.
Recommended Road Trip Length
This is a 5-day, 6-night road trip that keeps visitors busy every day.