Italy may be best known for its wine, food, and cities (all of which are wonderful), but Italy's nature has so much to offer as well–and that includes some stunning lakes!
We teamed up with several other travel bloggers to catalog some of the most beautiful lakes in Italy, and we'll definitely be working in some these destinations into our future Italy trips.
Want to plan a trip that includes a visit to one of the most beautiful lakes in Italy?
Here are some gorgeous destinations to inspire your route!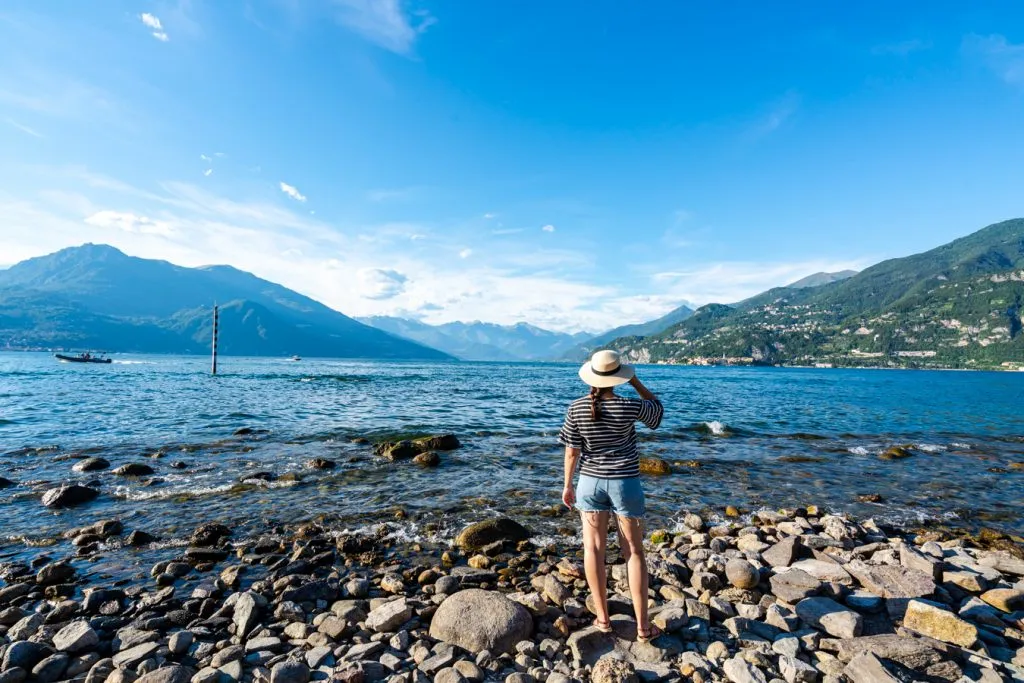 Some links in this post may be affiliate links. If you make a purchase through one of these links, we may earn a small commission at no extra cost to you. Please see our

disclosure policy

for more detail.
Lake Carezza
From Mike of 197 Travel Stamps
Lago di Carezza, or Karersee in German, is set in the mountains of South Tyrol and is easily one of the most beautiful lakes in Italy.
Thanks to rare algae in the lake, it has an incredible, turquoise-blue color. Legend has it that a beautiful mermaid used to live inside the lake. A powerful king, who was desperately in love with the mermaid grabbed a rainbow and threw it into the lake once he realized that his love will not be returned. Since that day. The lake has its beautiful colors.
Lake Carezza is located around 6 km from the town of Nova Levante and is surrounded by the UNESCO protected mountain ranges Carezza and Latemar – both part of the Dolomites Mountains. The area is predominantly German-speaking since it was part of Austria until WWI.
There is a car park close to the lake and walking around it takes around 15 minutes. If you feel like exploring more of the beautiful forests around the lake, just follow one of the numerous hiking trails that start from the lake.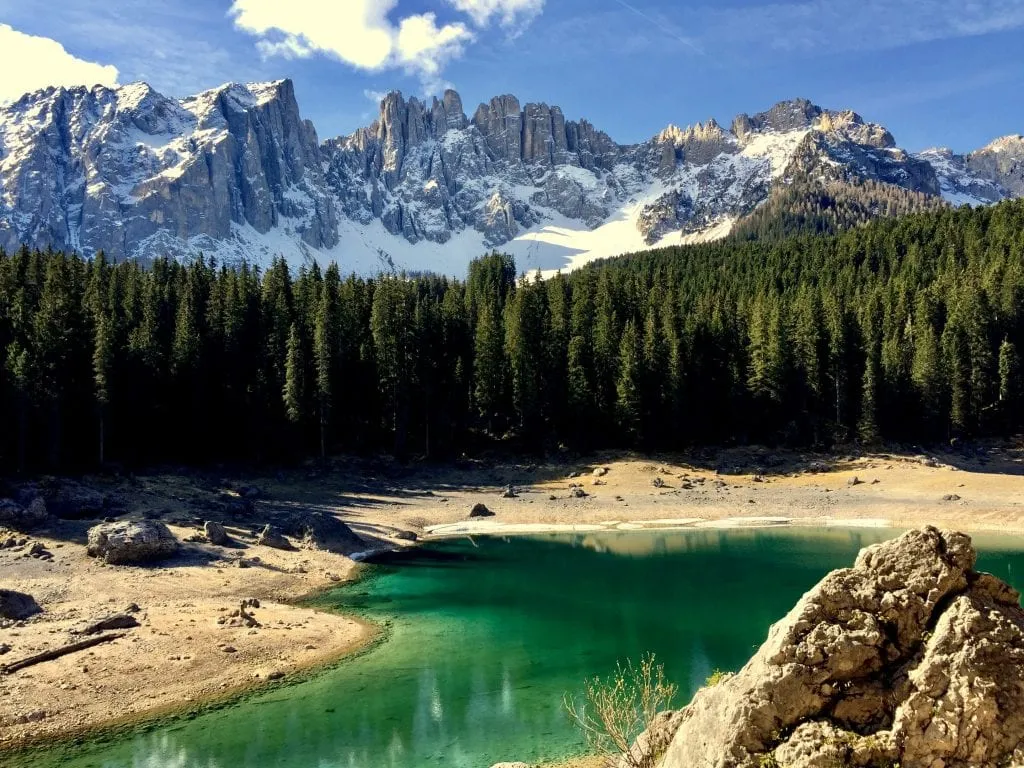 Lake Ledro
From Margherita of The Crowded Planet
The Lake Garda region is one of my favorites in Italy, but in summer it can be unbearable – half of Europe heads there for their holidays, and it can get very hot and humid. One of my favorite things to do from is taking a short trip to Lake Ledro, a smaller but no less beautiful lake located in the valley of the same name, about half an hour drive from Riva.
Lake Ledro is 650 meters above sea level, so it's usually much cooler than down in the valley.
You can go walking around the lake, go fishing, rent pedal boats or swim in the cool emerald waters of the lake.
There are some wonderful hikes to do in the vicinity – one of them is the section of the GardaTrek Top Loop passing by Rifugio Pernici. The trailhead is just a short drive from Lake Ledro and in just 40 minutes it will take you to some WW1 trenches with wonderful views over the lake, and you can stop at the Rifugio on the way back for a traditional lunch before making your way back down. It's one of my favorite hidden secrets in this region!
Lake Braies (Prag)
From Alex of Swedish Nomad
Lago di Braies is known as the pearl among the Dolomites Lakes, and a lot of tourists and Italians consider it to be one of the most beautiful lakes in Italy–or even in Europe. It's a stunning place where you get magical reflections from the mountain Croda del Becco in the calm waters of Lago di Braies.
Lago di Braies is also the backdrop for the popular TV-show – Un Passo dal Cielo. Don't forget to bring good walking shoes, water, and some snacks. The hike around the lake takes about 2 hours, and offers several picturesque views!
It's possible to visit on a day trip from Innsbruck, Venice or Milano, but I suggest to stay somewhere in the Dolomites since the driving would otherwise be 3-4 hours. It's doable in a day trip, but the experience will be better if you overnight in let's say Brunico, which is just 30 minutes away.
I recommend you to arrive early since it tends to get crowded later during the day. Also, the reflections are most common in the mornings, so you'll get the best photos and views then.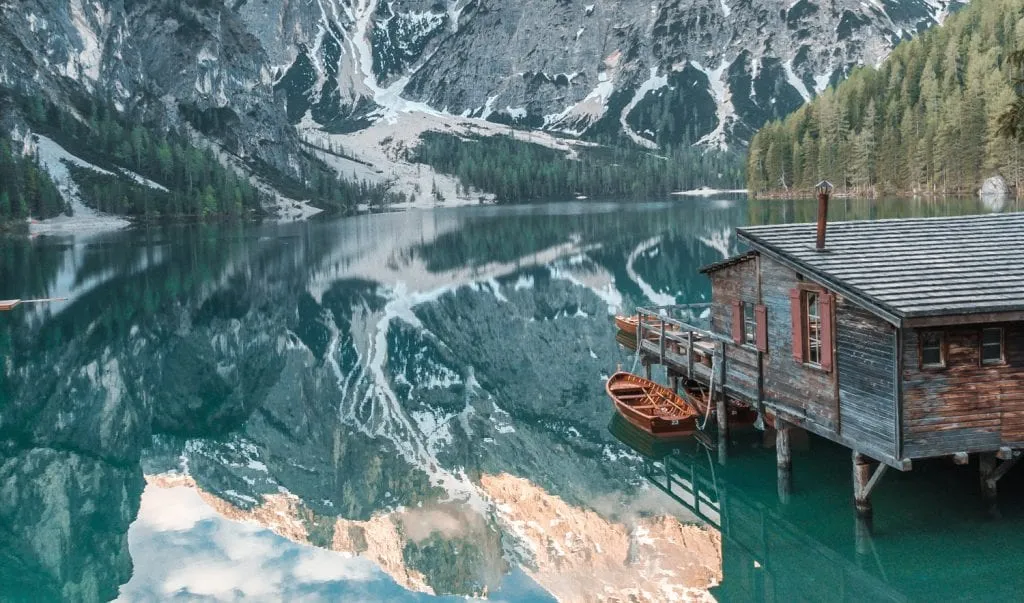 Lake

Caldonazzo
From Linda de Beer of Travel Tyrol
Lake Caldonazzo is the largest lake belonging entirely to Italy's Trentino province. That said, with a surface area of 5.38 km² and only 5 km long, it's much smaller and less busy than nearby Lake Garda.
Situated in the beautiful Valsugana valley, the water temperature in Lake Caldonazzo reaches up to 25 °C – perfect for swimming, windsurfing, sailing, and rowing. Or you can rent a paddle boat with its own waterslide. If you like fishing, you can even try to catch your own trout or perch for supper. The beaches are family friendly, guarded by lifesavers, and there is ample parking, along with plenty of restaurants and bars.
The town of Caldonazzo, which is about 2 kilometers away from the lake shore, is charming and quaint with cobbled streets and restaurants serving authentic, hearty Italian food.
Renting a bicycle and cycling around the lake is a great way to get to know the area and appreciate its beauty. You can even ride almost 80 km down the Valsugana Valley on a dedicated cycling path. Getting back is no problem. Simply hop on a train with a dedicated bicycle wagon.
Lake Caldonazzo is easily reached by car or train via Trento and a perfect day trip from Verona in the south or Bolzano in the north. Even Venice is not that far away. We love it as a family holiday destination, combining relaxed days on the beach with more active ones cycling and even taking history tours to nearby World War I sites.
Lake Iseo
From Isabella of Boundless Roads
Less than an hour from the beautiful historic city of Brescia and two hours from the popular ski area of Ponte di Legno sits Lake Iseo.
Though Lake Iseo is smaller and more offbeat than other lakes in Lombardy like the famous Lake Como, Lake Iseo is a lovely and quiet spot to visit (and still a great contender for being one of the most beautiful lakes in Italy).
When visiting Lake Iseo, consider exploring the nearby wine routes, going for a hike, taking a bike tour, or even simply enjoying the view of the lake with some delicious Italian food in the town of Iseo.
If you'd rather be on the lake itself, paddle boarding and windsurfing are both popular on Lake Iseo!
Lake Lecco
From Ryazan of Everything Zany
Lake Lecco is located in Northern Italy, near the famous Lake Como.
The Lake Lecco might not be huge and popular like Lake Como, it has its own merits and charm surrounded by the rocky cliff mountains of Lombardy region and it can definitely contend as one of the most beautiful places to visit in Italy.
The northern part of the lake intersects with Lake Como and the two lakes meet at the tip of the charming town of Bellagio. Bellagio is one of the most popular towns in Lombardy region and has been famous film shooting location of some Hollywood films.
It is possible to take a day trip to Lake Lecco from Milan. You can either take an hour train or rent a car from Milan to Lecco. Alternatively, you can also drive to Lecco from Como (30+ minutes) or via train (with change train in Monza).
Another option to see the beauty of Lake Lecco is via the taxi boat and ship Lecco from Varenna, Bellagio, Menaggio or Tremezzo.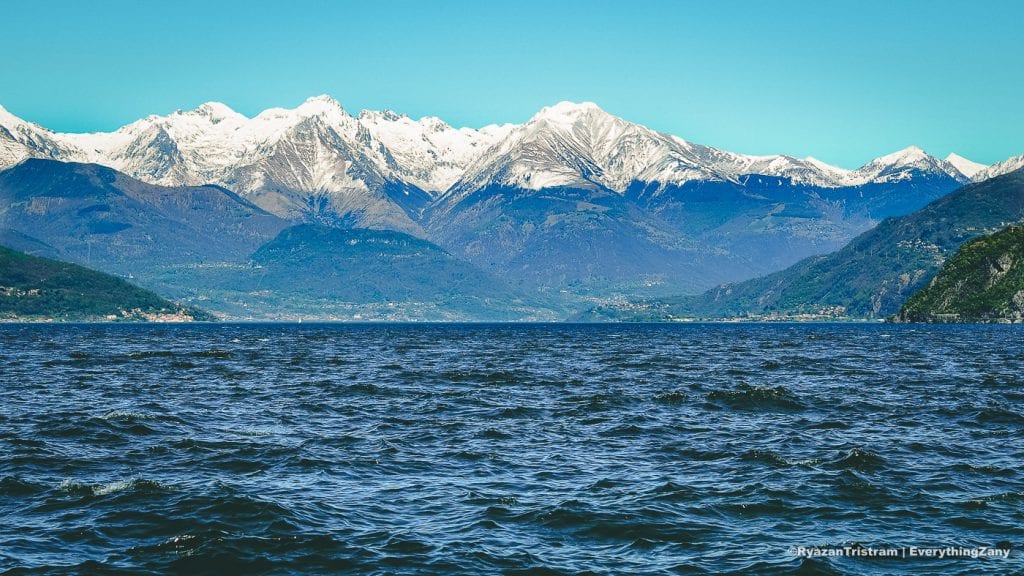 Lake Garda
From Sanne of Veni Vidi
Lake Garda (or Lago di Garda in Italian) is a lake in northern Italy. It is the largest lake in Italy and has a lot of things to offer, such as stunning views and lovely villages.
On the south bank of the lake, you can find Sirmione. This lovely town has an impressive fortified castle. In Sirmione, you can also visit the ruins of a Roman villa overlooking Lake Garda.
On the east bank, you can find the village Malcesine. Here, a little further up north than Sirmione, you'll discover that mountains have replaced the hills.
From the castle in Malcesine, there are stunning views over the lake and the village. On the west bank, Salo deserves a quick mention, since this village was the seat of government of the Italian Social Republic from 1943 to 1945.
Lake Garda is located only 30 kilometers from Verona and 140 kilometers from Venice. This means that a day trip is completely doable. If you decide to go to Lake Garda on a day trip, make sure to do a boat cruise.
However, I would recommend staying for 3 or 4 days and taking your time to explore this large lake. Peschiera del Garda on the south bank of the lake is the perfect base for exploring the lake. If you're traveling with kids, you can visit the large theme park Gardaland.
Lake Orta
From Katie of Untold Morsels
Lake Orta is a small lake in Italy's Piedmont region where you will find one of the prettiest villages you will ever see and a mysterious island, home to a community of nuns.
Just over an hour from Milan by car, you can also reach Lake Orta by train, which takes a leisurely 2 hours each way.
The town of Orta San Giulio on the southern shore of the lake has cobbled streets, draping wisteria and tiny laneways from where you catch glimpses of the lake.
Walk up the hill to Sacro Monte di Orta, a UNESCO world heritage site dedicated to the life of Saint Francis of Assisi, for panoramic views. Then make your way to the town's main piazza. Here you will find several cafes looking out towards Isola San Giulio with its Basilica rising high above the lake.
If you can tear yourself away from the cafe (and honestly it's very hard), it is a short boat ride to the island. Here you can walk the "Way of Silence and Meditation" toward the Basilica, itself filled with beautiful frescoes and paintings.
I have no doubt this quiet contemplation will have you plotting your return to Lake Orta.
You can also check out this Turin travel guide if you're visiting Lake Orta as a day trip from Piedmont's capital city!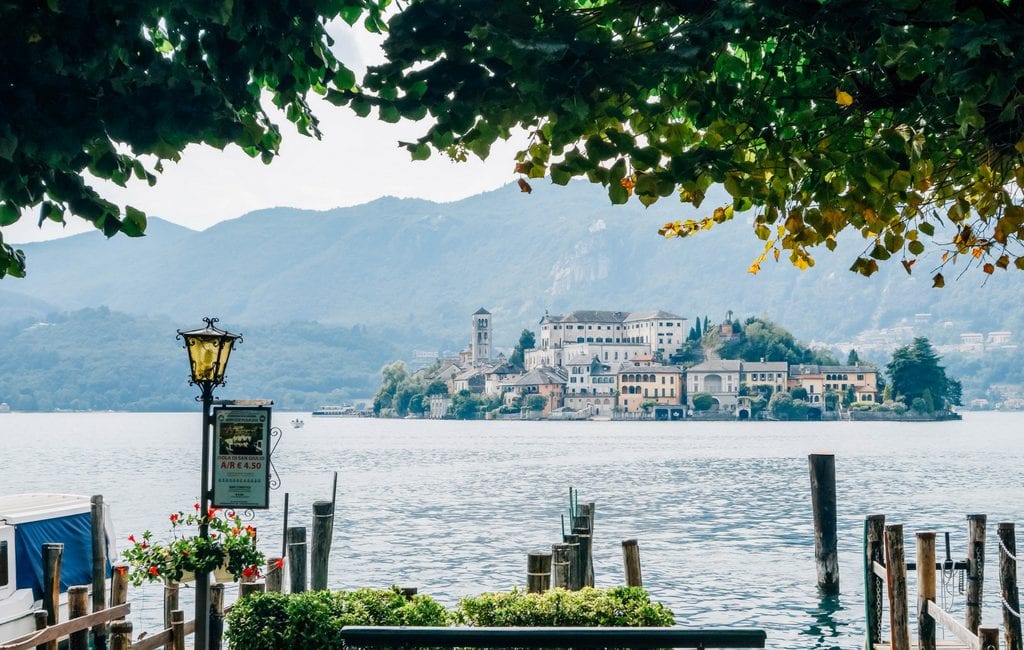 Lake Como
From us!
Tucked into the Rhaetian Alps in Italy's Lombardy region, Lake Como just may be the most famous lake in all of Italy.
Set only a couple of hours from Milan, Lake Como has long been the haunt of movie stars and royalty–and considering its epic setting and high-profile status as being widely regarded as one of the most beautiful lakes in Italy, that's hardly a surprise.
Come to Lake Como to tour stunning villas, explore the beautiful resort town of Bellagio, to go hiking and admire the lake from viewpoints high above the water, and of course to hit the water.
From swimming to sailing to kite surfing to paddle boarding and beyond, there's no shortage of water sports to enjoy on Lake Como!
Want to continue exploring the region?
Nearby Lake Maggiore also has lots of beauty to offer!