As one of the most picturesque towns on Lake Como (which is truly saying something), the best things to do in Bellagio, Italy, run heavily toward activities that help you appreciate the beauty of the lake itself.
Situated at the foot of the Alps, a short journey away from either Milan or Switzerland, Lake Como is the most famous of Italy's northern lakes–and Bellagio is quite possibly its most beloved town.
Whether you want to hit the water, meander through town, or simply visit the waterfront and enjoy a scoop of gelato with a view, Lake Como's Bellagio has something to offer.
While Bellagio is a popular day trip stop (and it's small enough that you can cover the essentials in that time frame), we chose to base ourselves in Bellagio for a few days to savor "The Pearl of Lake Como" in more depth.
Here's what to do in Bellagio, Italy, plus some tips for visiting!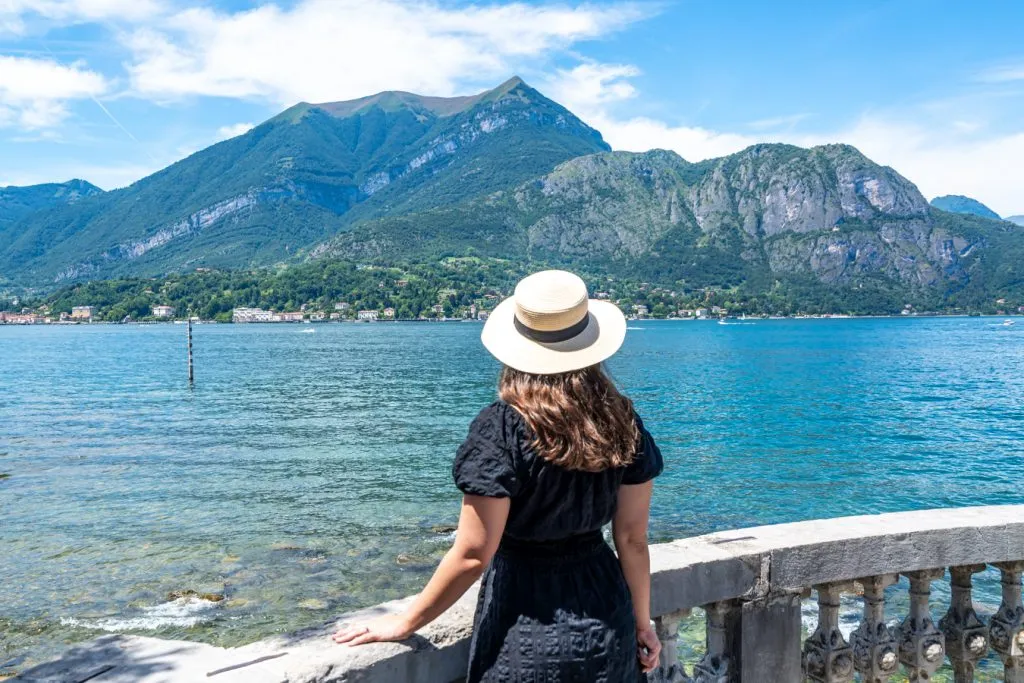 Some links in this post may be affiliate links. If you make a purchase through one of these links, we may earn a small commission at no extra cost to you. Please see our

disclosure policy

for more detail.
Where Exactly is Bellagio, Italy?
Italy's Lake Como is famously shaped like an upside-down "Y", and Bellagio is conveniently located in the dead center, right where all 3 stretches of the lake converge.
This makes it fairly simple to access, and as a result, it's one of the best towns to base yourself in to explore Lake Como as a whole.
We'll cover this in more detail below, but if you hope to include Bellagio on a day trip from Milan to Lake Como, you'll need to either drive (not recommended–parking is a challenge), or take a train combined with a ferry or bus.
This is doable independently, but if you're short on time and would rather not stress about it, guided day trips like this are also a fantastic option.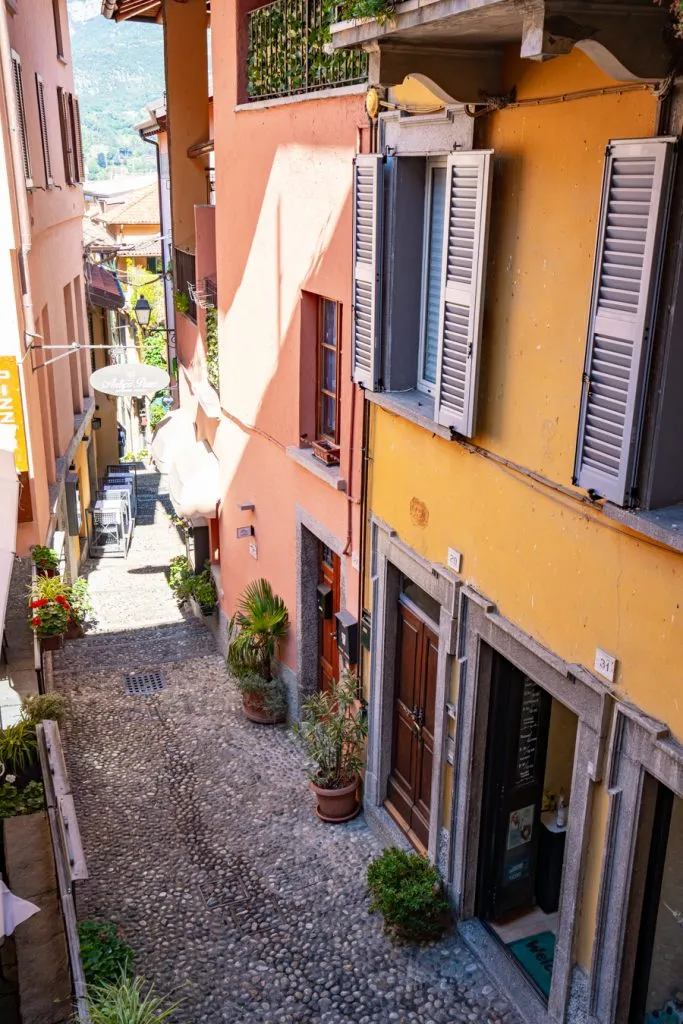 The Best Things to Do in Bellagio
Wander along the waterfront.
Bellagio's waterfront promenade, which overlooks the lake and is shaded by flowering trees in the summer, just may be one of the most picturesque spots in all of northern Italy.
If you're visiting Bellagio in the summer, consider bringing a swimsuit and joining in with the fun of swimming along the shore.
Otherwise, you can easily content yourself with enjoying the views.
Whether you spend a couple of hours or a couple of days in town, visiting the waterfront should be at the top of your list of what to do in Bellagio.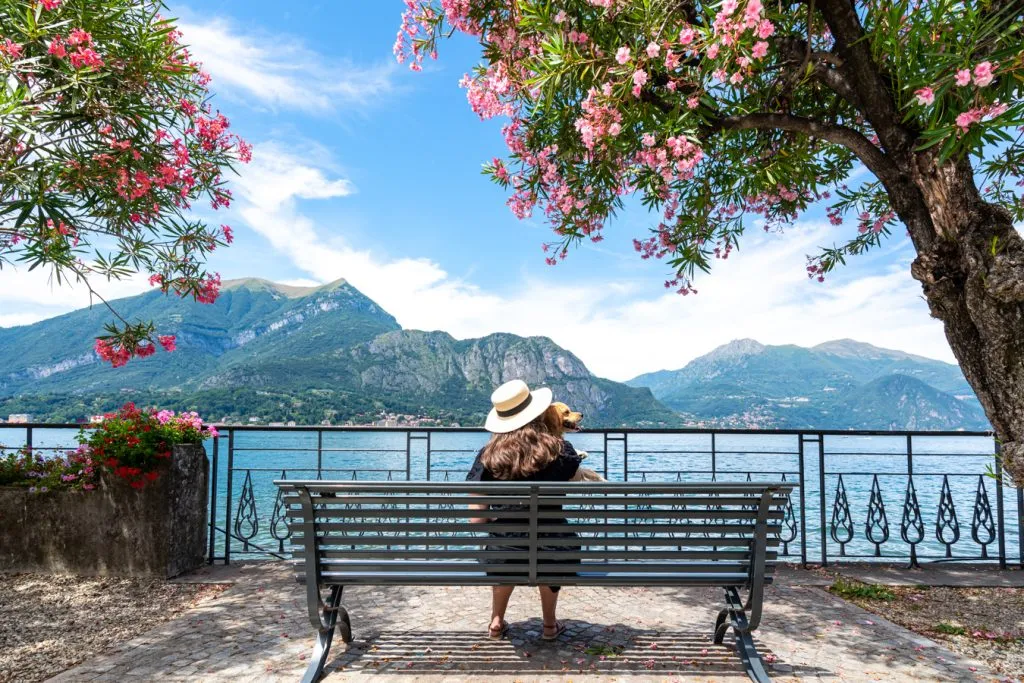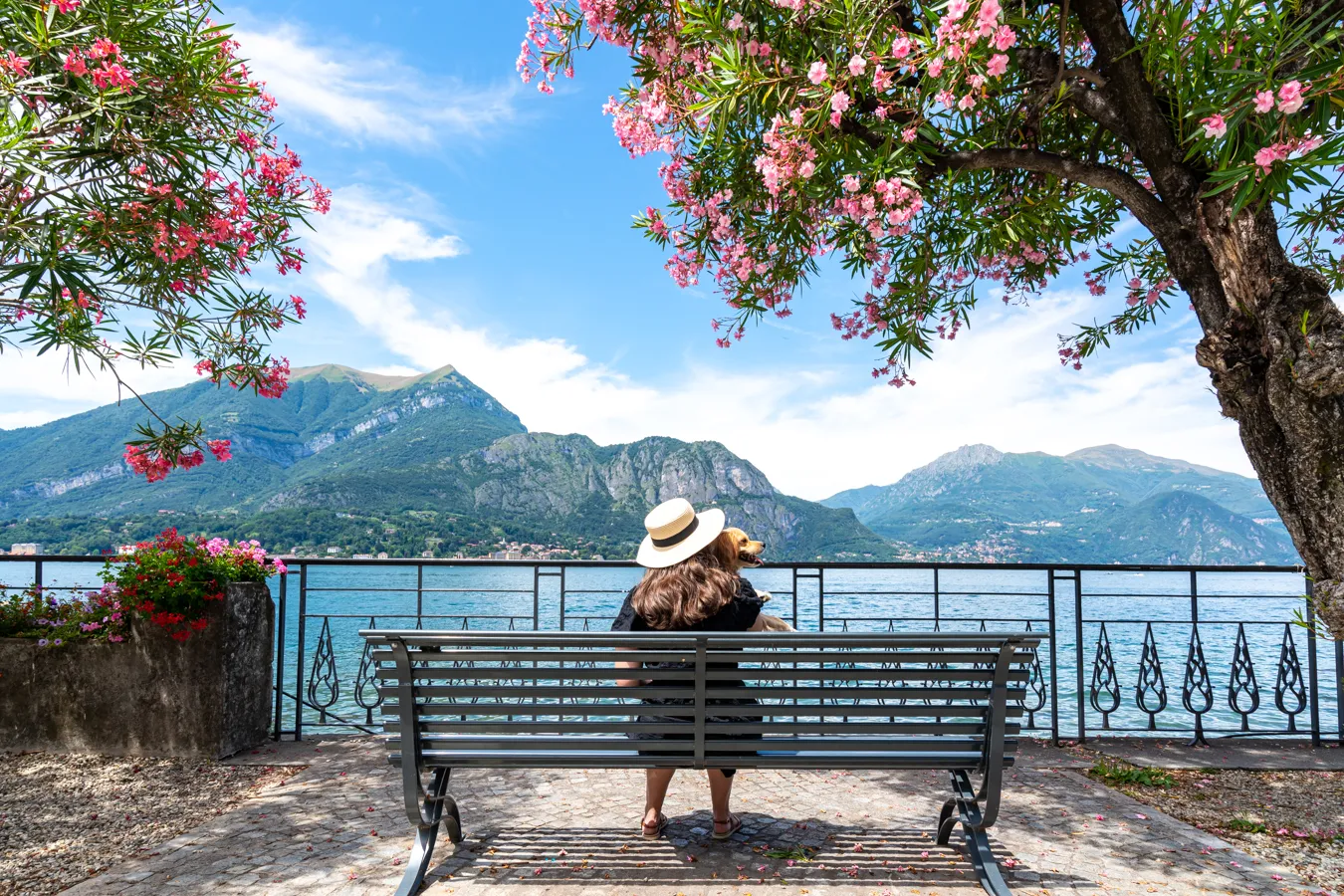 Explore the winding (and steep) streets of Bellagio.
While Bellagio's waterfront is flat, paved, and generally easy to access, the rest of the town is quite steep!
Despite its downright tiny size, you can easily work up a bit of a sweat climbing the narrow streets of Bellagio.
It's worth the effort, though–and you can always reward yourself with a scoop of gelato at the top.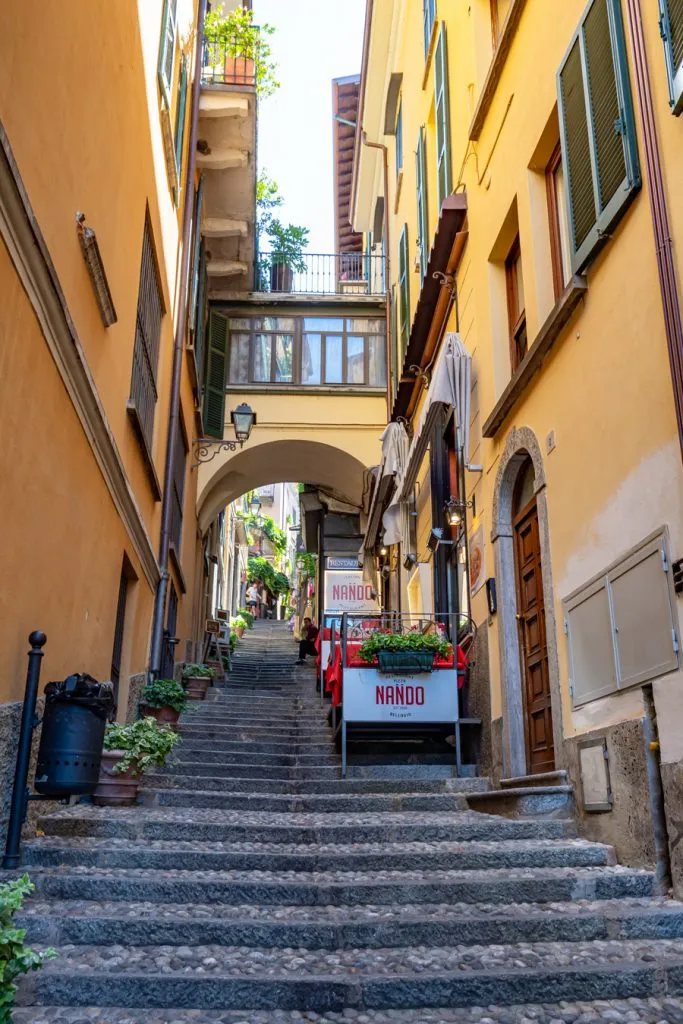 Take a boat tour around Lake Como from Bellagio.
Without a doubt, one of the top things to do in Lake Como, in Bellagio or otherwise, is to take a tour of the lake via a small speed boat.
The typical tour lasts for an hour and will allow you to enjoy views of the lake, the various towns, and some of the more famous villas along the way.
Easily one of the best things to do in Bellagio, a boat tour is a standout way to experience Lake Como in general.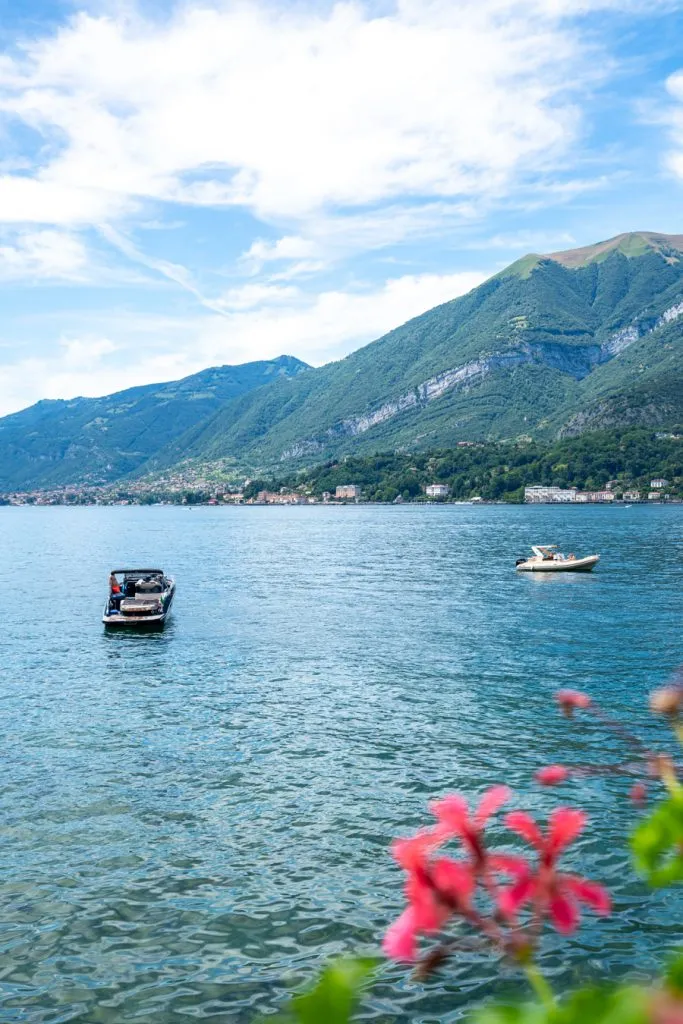 … or a kayaking tour!
Want to get out onto the water, but looking for something a bit more active?
A kayaking tour like this is a fantastic way to enjoy the lake!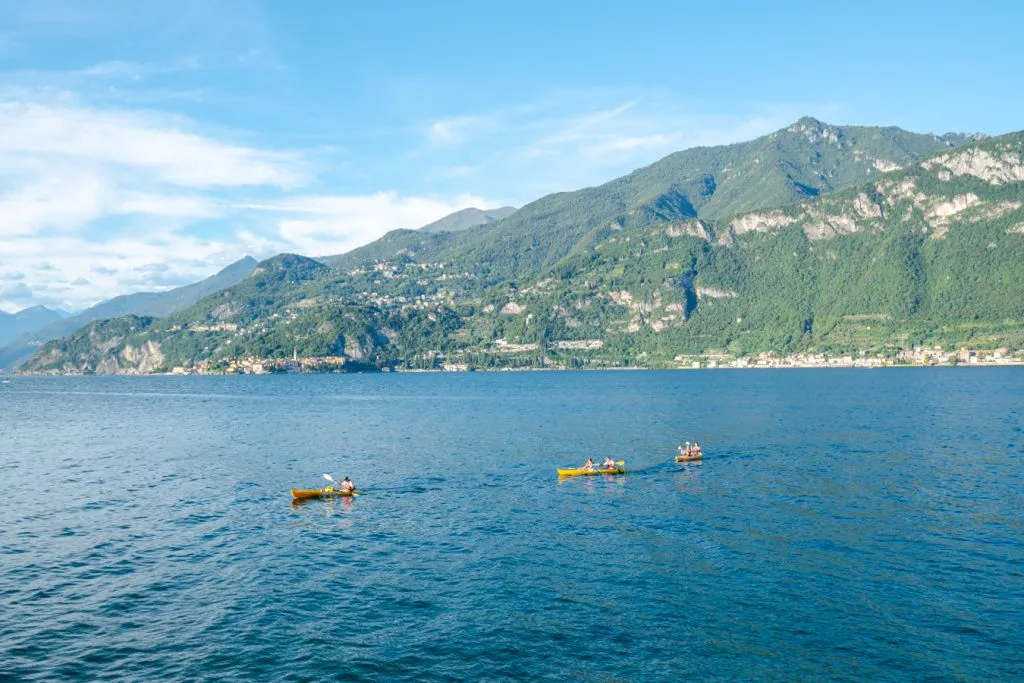 Get "the" Bellagio photo looking down Salita Serbelloni.
If you've seen one photo of Bellagio, it's probably one snapped looking down Salita Serbelloni from Via Giuseppe Garibaldi.
This incredibly picturesque spot requires a bit of a climb (past plenty of restaurants, shops, and cafes) to access, but it's just as charming in person as it is in photos!
As is typical for popular photo spots like this, it can get quite crowded, especially in the middle of the day.
If you have your heart set on a more peaceful photo op, try to arrive early in the morning or in the evening (after most day trippers have left for the day).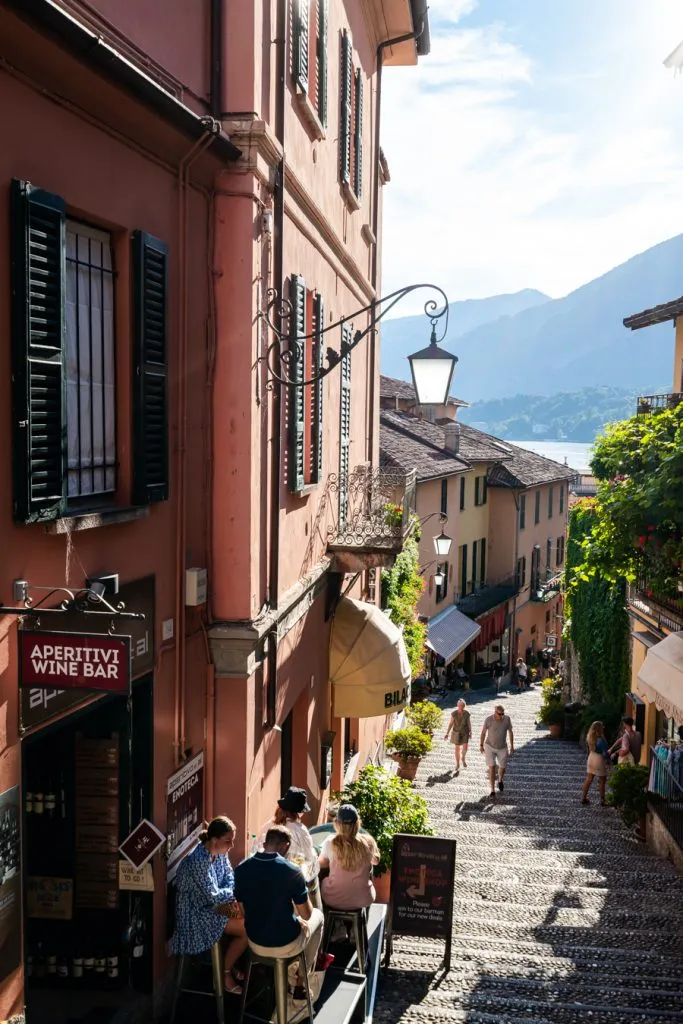 Pay a visit to the beautiful Melzi Gardens.
Built as a summer home in the 19th century, Villa Melzi d'Eril is just one of Lake Como's many idyllic villas–but this one happens to be located within a short walk of central Bellagio!
While the villa itself isn't open to the public, its gorgeous surrounding botanical gardens are open to the public seasonally.
You can check current opening hours and prices here.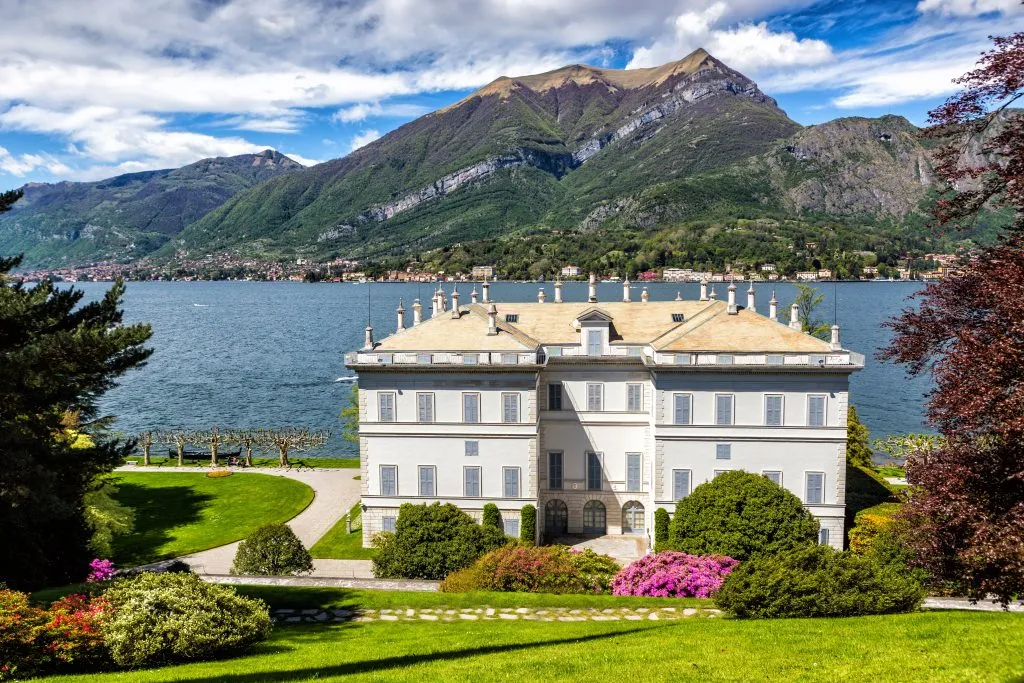 Admire the views from Punta Spartivento.
For an unforgettable view of Lake Como, head to Punta Spartivento and meander along its observation deck.
The on-site restaurant gets good reviews, and the views themselves are free to access.
Whether you come for dinner or just for a stroll, it's worth the walk out to Punta Spartivento when visiting Bellagio.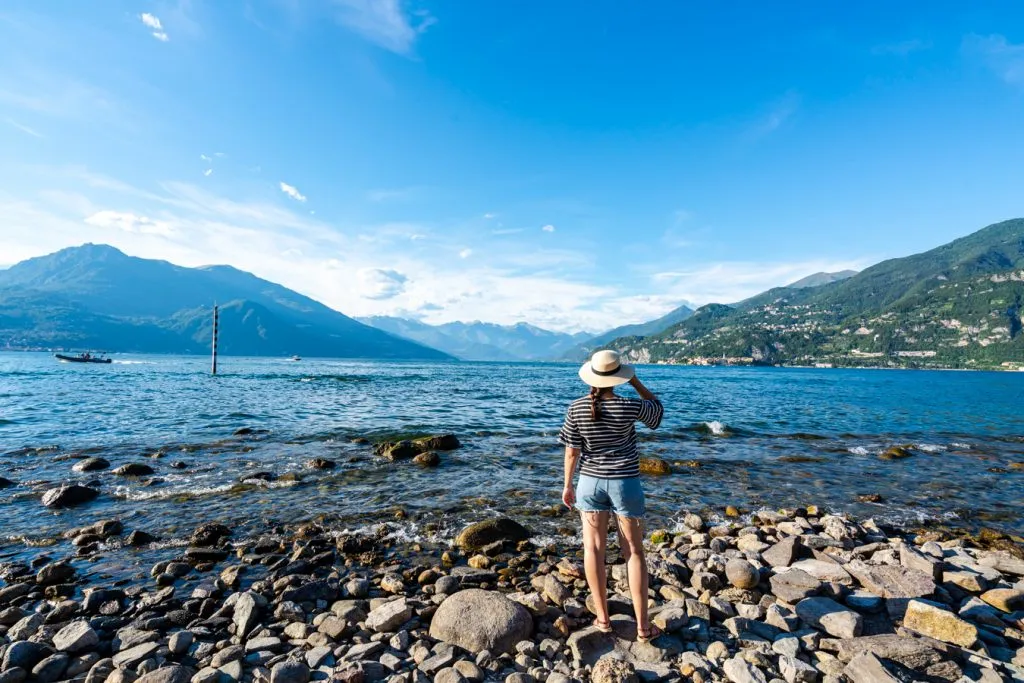 Step inside the Basilica San Giacomo.
Dating to the 11th and 12th centuries, the Romanesque-style Basilica San Giacomo stands along the aptly named Piazza della Chiesa in Bellagio's town center.
It's quick, easy, and free to step inside for a moment, and well worth adding to your list of things to see in Bellagio.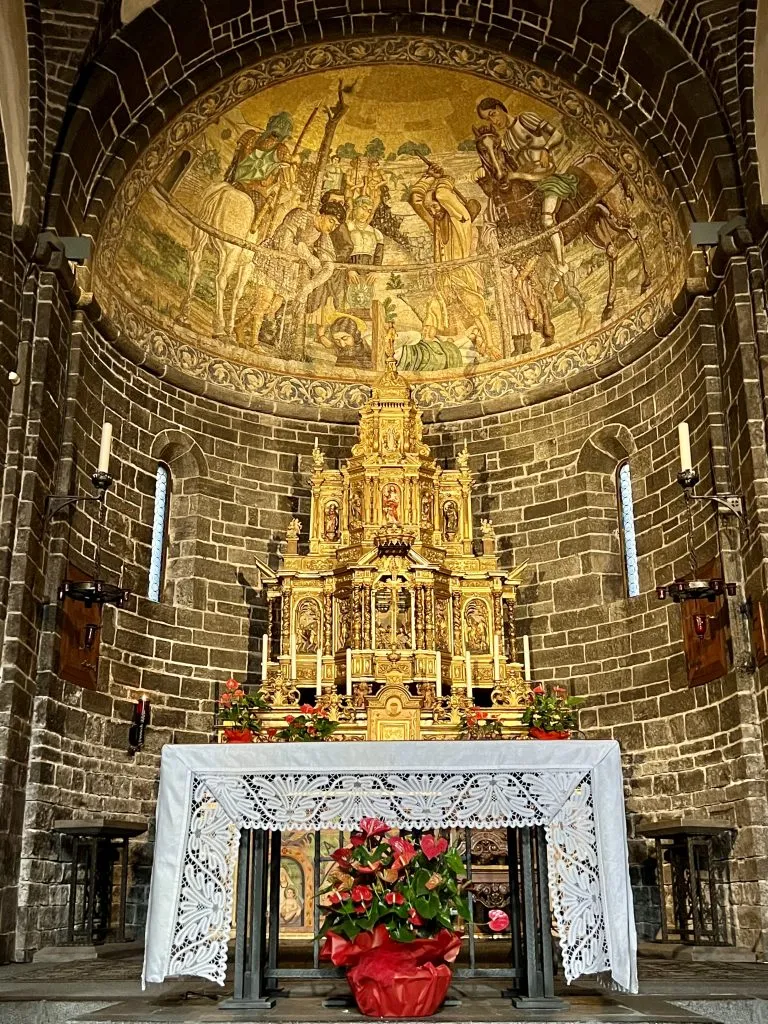 Stroll over to Pescallo.
Looking to get away from the crowds and resort vibes of Bellagio?
Less than a mile away, you'll find Pescallo: a tiny, picturesque fishing village with a small harbor and a fraction of the visitors of nearby Bellagio.
And, as is often the case when visiting Lake Como, the journey is half the fun: the walk from Bellagio to Pescallo offers plenty of views in its own right.
Shop the boutiques.
As one of Italy's most popular resort towns, you can't throw a stone in Bellagio without hitting a beautiful boutique attempting to tempt you inside with beautiful clothes, accessories, food products, and more.
If you're hoping to splurge on some of the best souvenirs from Italy during your trip, Bellagio is an excellent place to browse.
Hop a ferry to some of the other beautiful towns on Lake Como.
Due to Bellagio's relatively central location on Lake Como, it makes for a fantastic base for day trips!
Whether you want to check out the gorgeous nearby towns of Varenna and Menaggio or head over to Tremezzo to tour the stunning Villa Carlotta, you're bound to have a wonderful time.
Thanks to ample ferries and easy connections, you can even visit a couple of towns in one day when visiting Lake Como.
Be sure to keep an eye on the ferry schedule as you explore, though!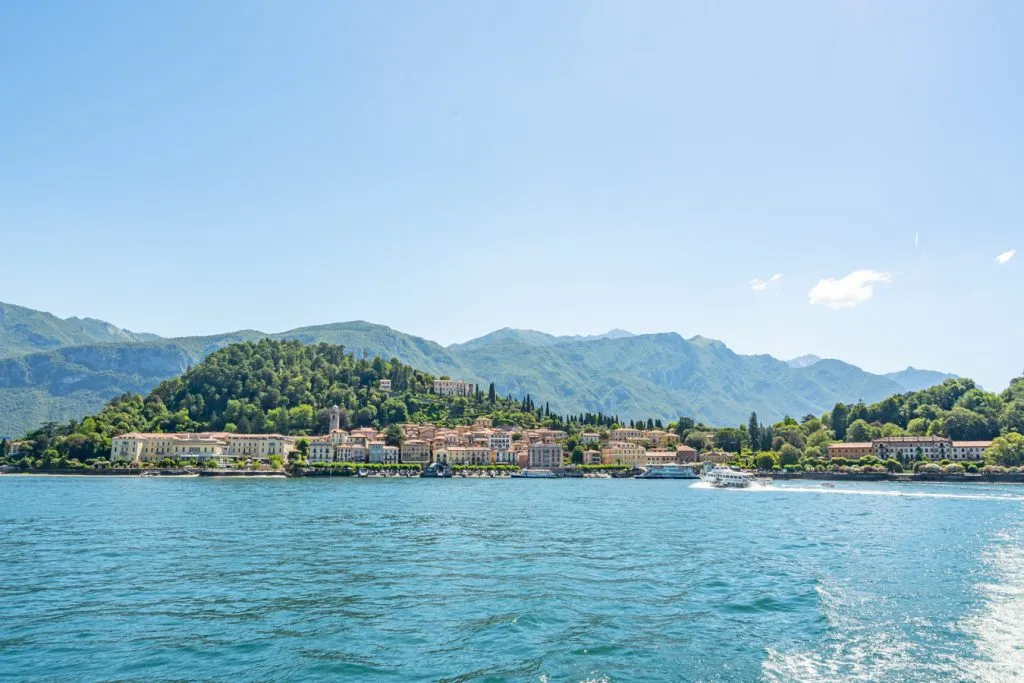 Sample the restaurants of Bellagio.
As a resort town, Bellagio has an outsized number of restaurants, ranging from sublime to absolute tourist traps.
If you want to eat on a terrace overlooking Lake Como, be prepared to pay–and wait–for the privilege!
It was recommended to us by locals that if you're eating on a lakefront terrace such as those at Alle Darsene di Loppia, it's best to make reservations in advance.
Even if the restaurant has room for you as a walk-up, if you're going to pay for the view, you'll want to reserve one of the tables closest to the water!
We opted to stick with more casual options during our time in Bellagio and enjoyed meals at Bistro Antichi Sapori and Antico Pozzo Ristorante.
We were particularly impressed with the mushroom and saffron risotto at Antico Pozzo Ristorante, but recommend arriving right when they open to avoid a wait!
Go for a swim.
Whether you want to sample the trendy Lido di Bellagio (beach club) or simply throw a towel down along the shore and go for a casual dip, swimming is one of the top summer activities in Bellagio.
Despite visiting in July, the water was still a bit cold for our tastes–but that wasn't stopping many travelers from enjoying a swim!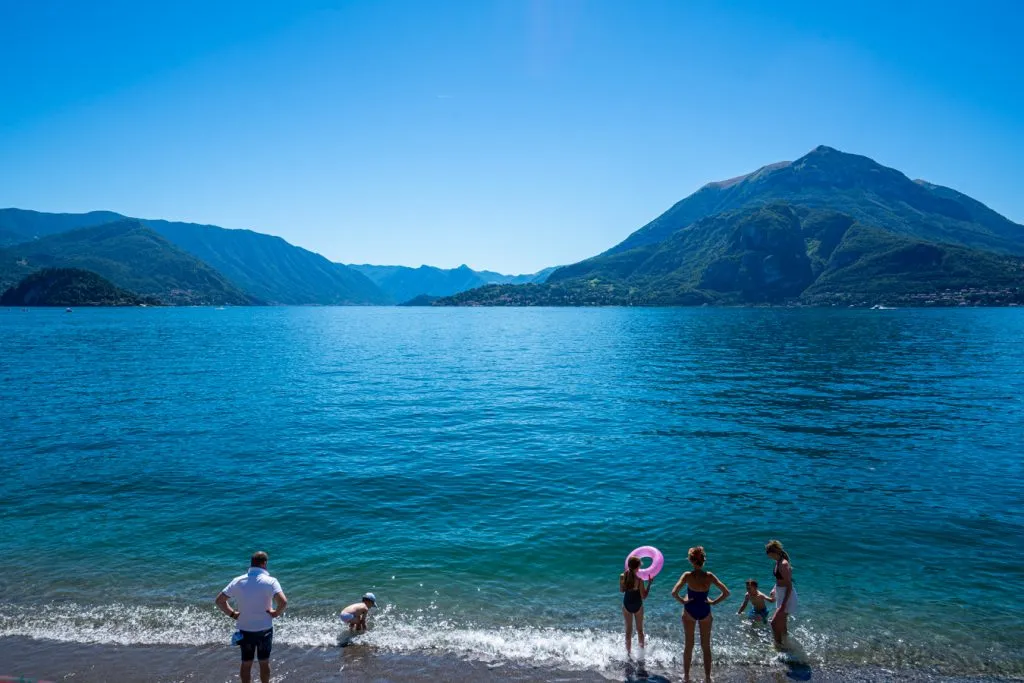 Where to Stay in Bellagio, Italy
Bellagio may be tiny, but it does offer several options on where to stay, ranging from opulent hotels to small apartments for rent.
There is a catch, though: as an extremely popular and extremely small resort town, properties in Bellagio do book up!
We recommend booking your lodging in Bellagio as soon as you can commit to dates.
And, if you're visiting Bellagio without a car (which we recommend to most travelers), make sure to book a place within walking distance of the town center, if not in the center itself!
We rented a beautiful one-bedroom apartment from Appartamenti Meraviglia for our trip to Bellagio and loved that it was simultaneously in the center of the action and very quiet at night.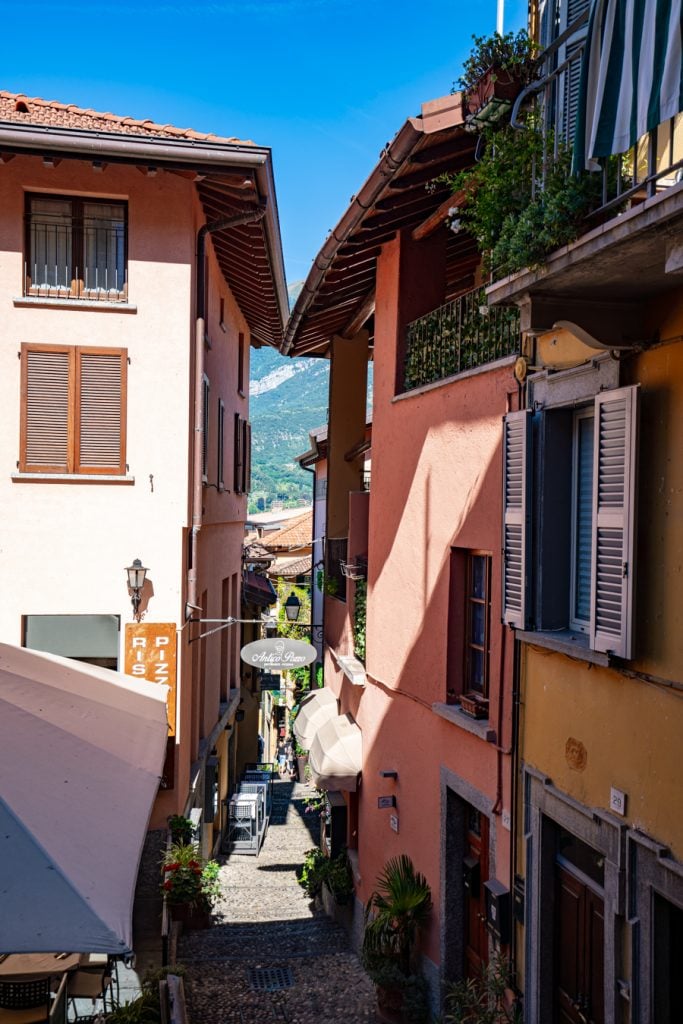 The apartment itself was spacious and beautiful, and the balcony with a view of the town was a bonus!
When we return to Bellagio, we'd be happy to stay at one of the apartments run by Appartamenti Meraviglia again.
If you're looking for a more traditional hotel option, Hotel Centrale Bellagio gets excellent reviews, is in a wonderful location, and includes a hearty breakfast in the morning.
Looking to splurge on a very memorable experience?
Checking into the famous and opulent Grand Hotel Villa Serbelloni isn't an experience you'll forget anytime soon!
A private villa for 3 generations before being transformed into a luxury hotel, the Grand Hotel Villa Serbelloni opened in 1873 and has been thoroughly pampering its guests ever since.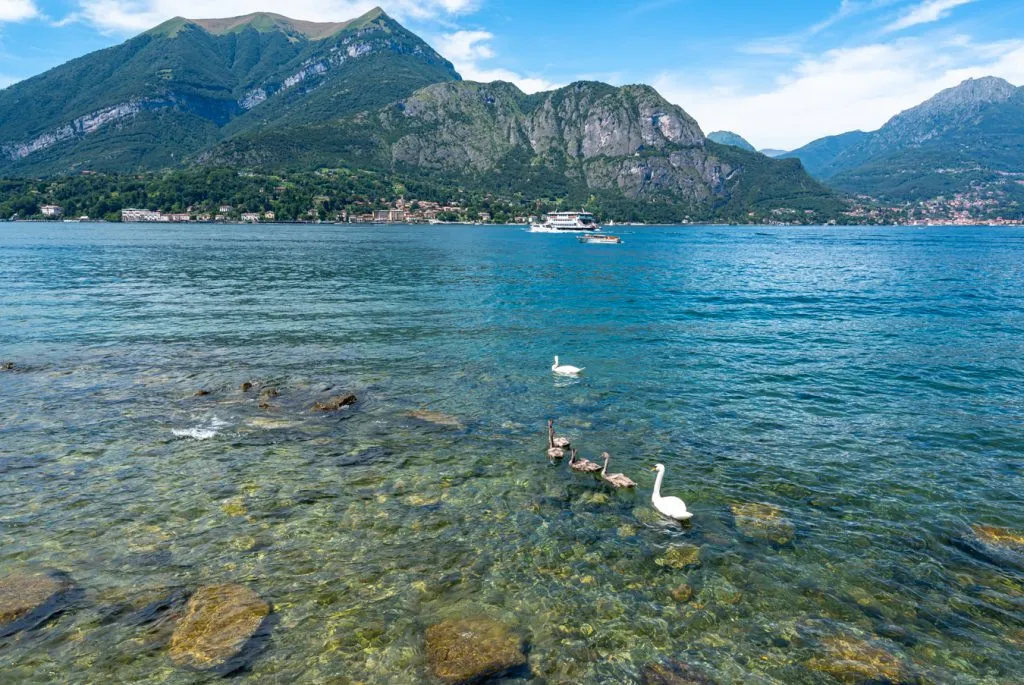 Getting To + Around Bellagio, Lake Como
Bellagio may be centrally located on Lake Como, but it's not the simplest town on the lake to get to!
Since the town doesn't have a train station, you'll need to access Bellagio either by bus or ferry.
Buses may be a bit faster if you take the "local" ferry that stops in different towns or the hydrofoil, but the ferries are undoubtedly the more scenic!
If you opt for the direct hydrofoil, your ferry route will be faster.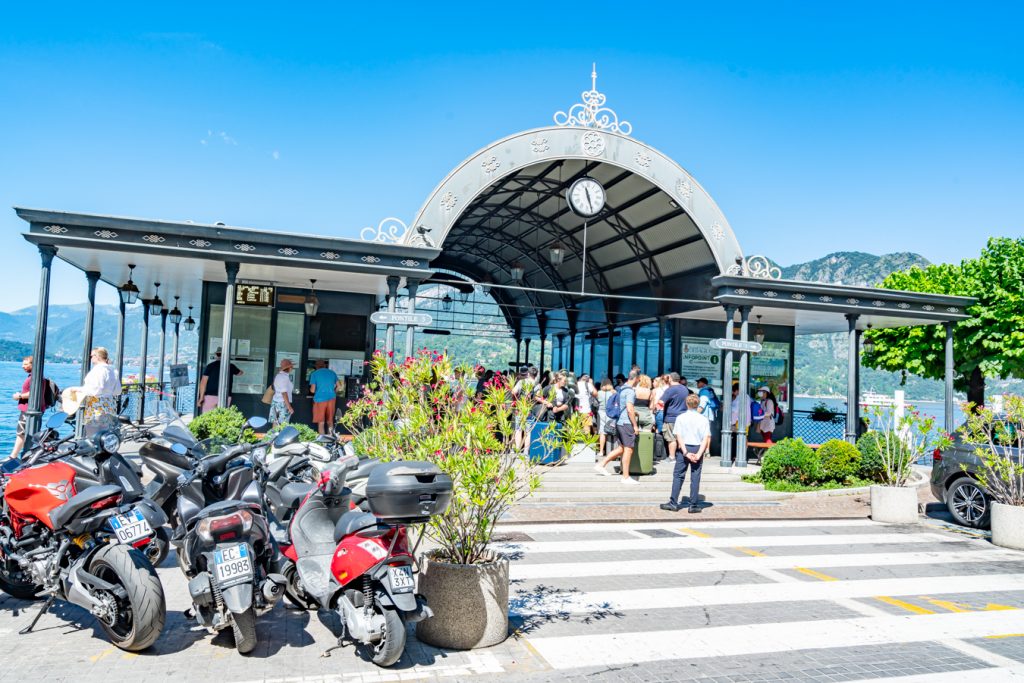 For example, it takes about 15 minutes to get to Bellagio from Varenna via hydrofoil.
You can the ferry schedule here.
Once you're in Bellagio, getting around by foot is by far the best option.
Parking is competitive and limited, so unless you're visiting Bellagio as part of a wider road trip in northern Italy, we recommend opting not to drive here.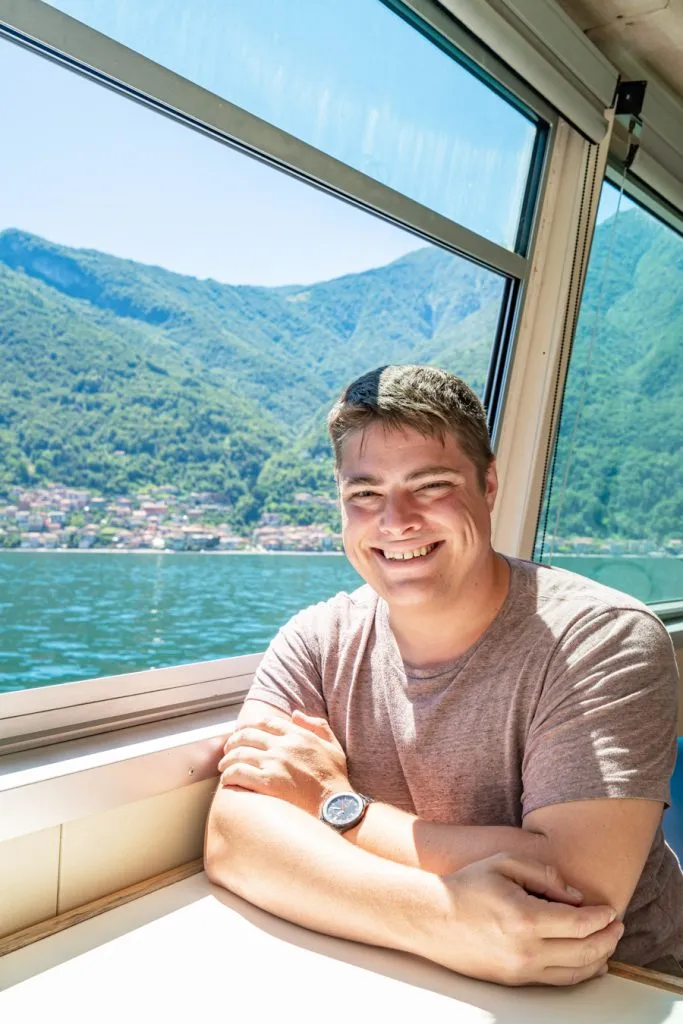 Taking a Day Trip to Bellagio From Milan
The first thing you need to know about taking a day trip to Bellagio from Milan is that it is not the easiest way to see Lake Como for a day.
The charming town of Varenna, as well as the laid-back city of Como itself, both have direct train access to Milan and are quicker to access from the city.
If you're planning to visit Lake Como independently, we strongly recommend considering sticking with one of these destinations instead!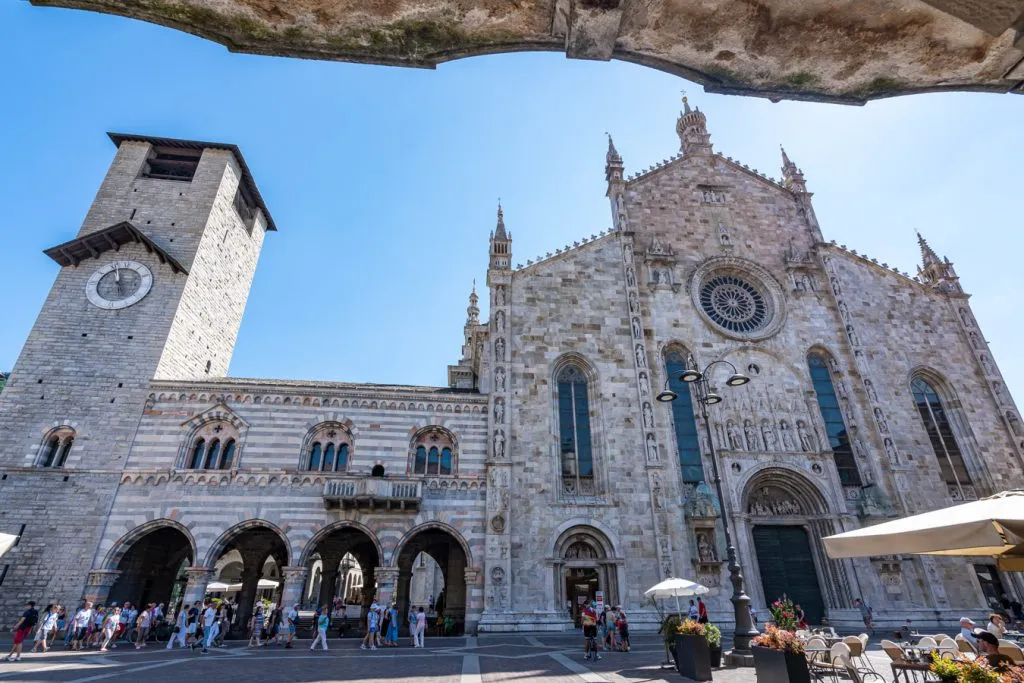 There is a reason Bellagio is one of the most popular places to visit on Lake Como, though–and it is doable to visit from Milan, either independently or as part of an organized day trip.
To get to Bellagio from Milan independently, you'll want to first take a train from Milan to Varenna, which takes about an hour (you can check the schedule and shop for tickets here).
From there, you'll walk downhill to the ferry station.
Most of the other people from the train will be heading to the same place, so there's no danger of getting lost.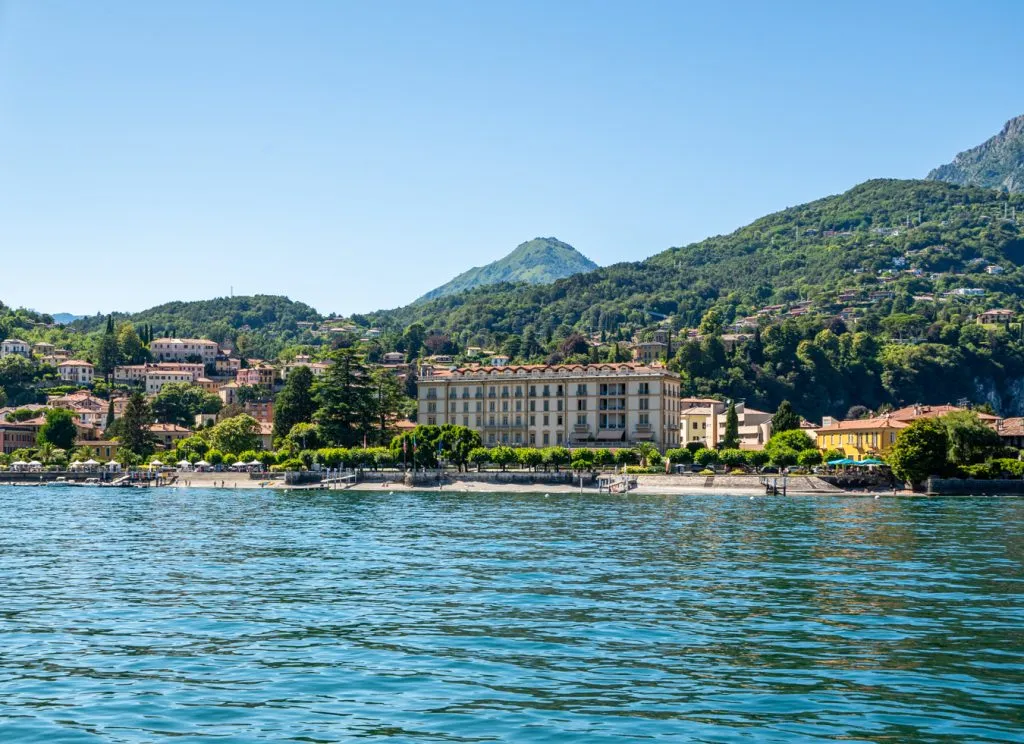 After that, you'll board the ferry (either local or direct) to Bellagio.
As soon as you arrive in Bellagio, we recommend checking the ferry schedule and planning your route back, so you know how long you have to explore the best things to do in Bellagio.
This is a long and somewhat complex day trip, and if you don't want to worry about the logistics, this organized day trip from Milan offers excellent value!
With this day trip, you will get to see both Varenna and Bellagio, as well as Como and Villa Olmo, and not have to worry about transportation at all.