If you're dreaming of enjoying early mornings among ancient monuments, afternoons by the sparkling sea, and evenings exploring on foot with (yet another) scoop of gelato in hand, it's safe to say that this guide to spending the summer in Italy is for you!
A quick glance at the map is enough to see why visiting Italy in summer is so tempting for travelers from around the world: with its long coastline, dramatic mountains, and gorgeous lakes, Italian summers have a lot to offer–and that's even before we start talking about the food, history, and dynamic cities.
We absolutely adore visiting Italy year-round, and have been lucky enough to explore the country in-depth over the years, including visiting several times in June, July, and August!
Summer in Italy has seen us relaxing at lidos (beach clubs, Italian-style) in Puglia, cooling off with Vaporetto rides along the Venetian Lagoon, touring the Colosseum after dark, road-tripping through Tuscany, and much, much more.
… including, yes, sweating uncomfortably at popular viewpoints, dealing with an occasional lack of air-conditioning in the sweltering heat, and fighting crowds in Italy's most popular places.
We've taken all of our lessons learned and distilled them into this guide to visiting Italy in the summer!
If you're curious about whether visiting Italy in summer is worth it, the answer is yes.
This is how to make the most of it.
Pros and Cons of Visiting Italy in June, July, or August
While June, July, and August are all very popular months to visit Italy, each one has distinct differences from the others that go a bit deeper than the weather.
Generally speaking (and this is very general–Italy is a big place!), July is the hottest month in Italy, with August temperatures being slightly lower than July's and June temperatures staying a bit milder than that.
I'll include brief examples of weather averages in popular places to visit in Italy under my summary of each month, but take them with a spoonful of salt, as of course weather can vary wildly from year to year and week to week.
Be sure to stay up to date on the predicted weather as your trip gets closer!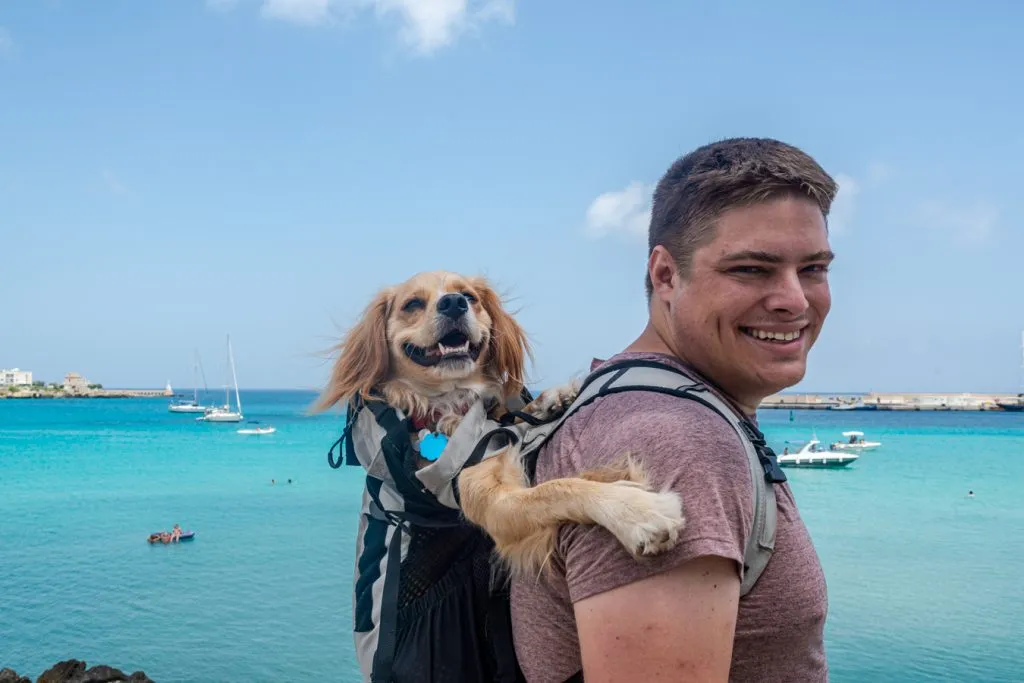 June
In our opinion, June is the perfect month to plan a summer vacation in Italy.
Typically, June is a bit cooler and less crowded than July or especially August, while still offering warm enough weather to swim and advantages like ferries and seasonal attractions being open.
It has become a bit of a running joke in our house that paradise would be spending every June on the Italian coast followed by every July in the Swiss Alps!
Average high temperatures in June are around 83°F/28°C in Rome, 83°F/28°C in Florence, and
78°F/25°C in Venice.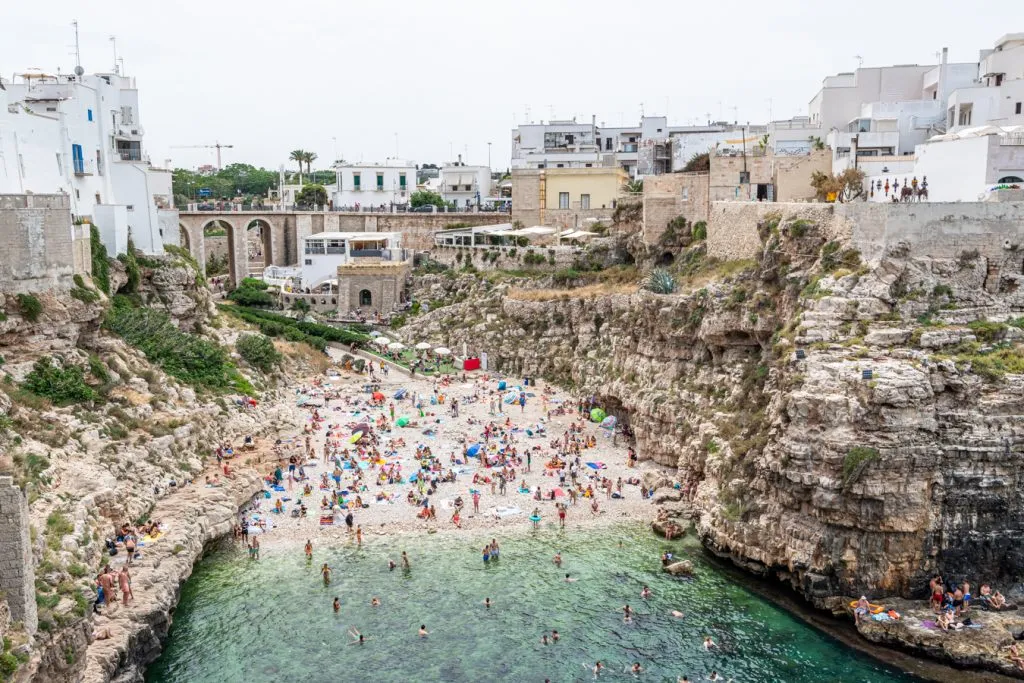 July
If June doesn't work for your summer holiday, visiting Italy in July would be our next choice of the season!
Generally hotter and more crowded than June, July is still much less crowded than August a great time to enjoy a classic summer vacation in Italy.
Average high temperatures in July are around 88°F/31°C in Rome, 90°F/32°C in Florence, and
83°F/28°C in Venice.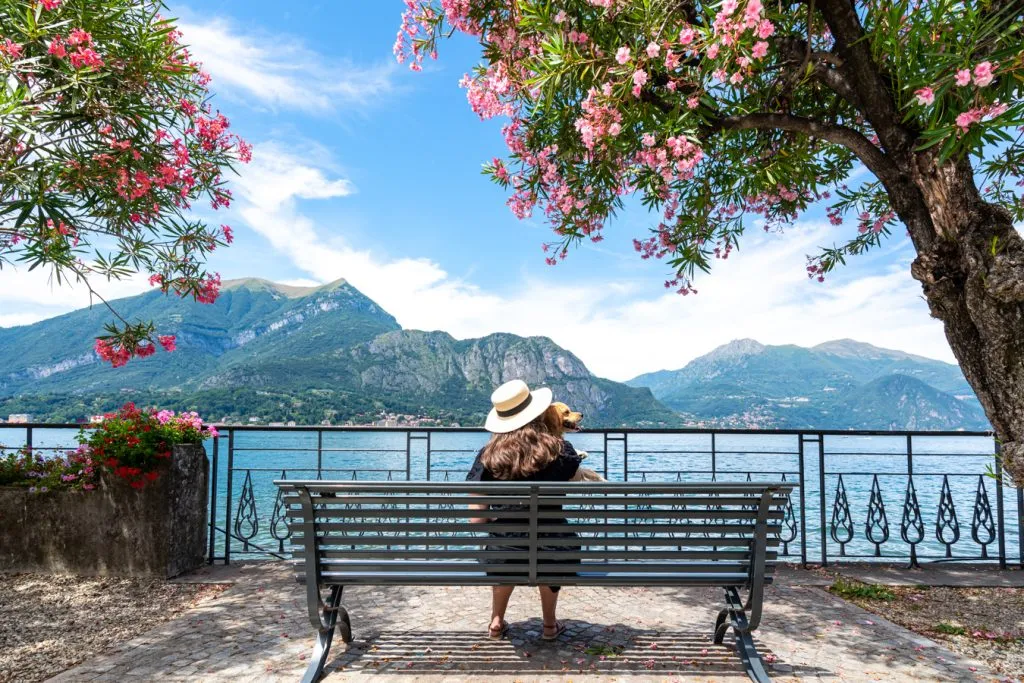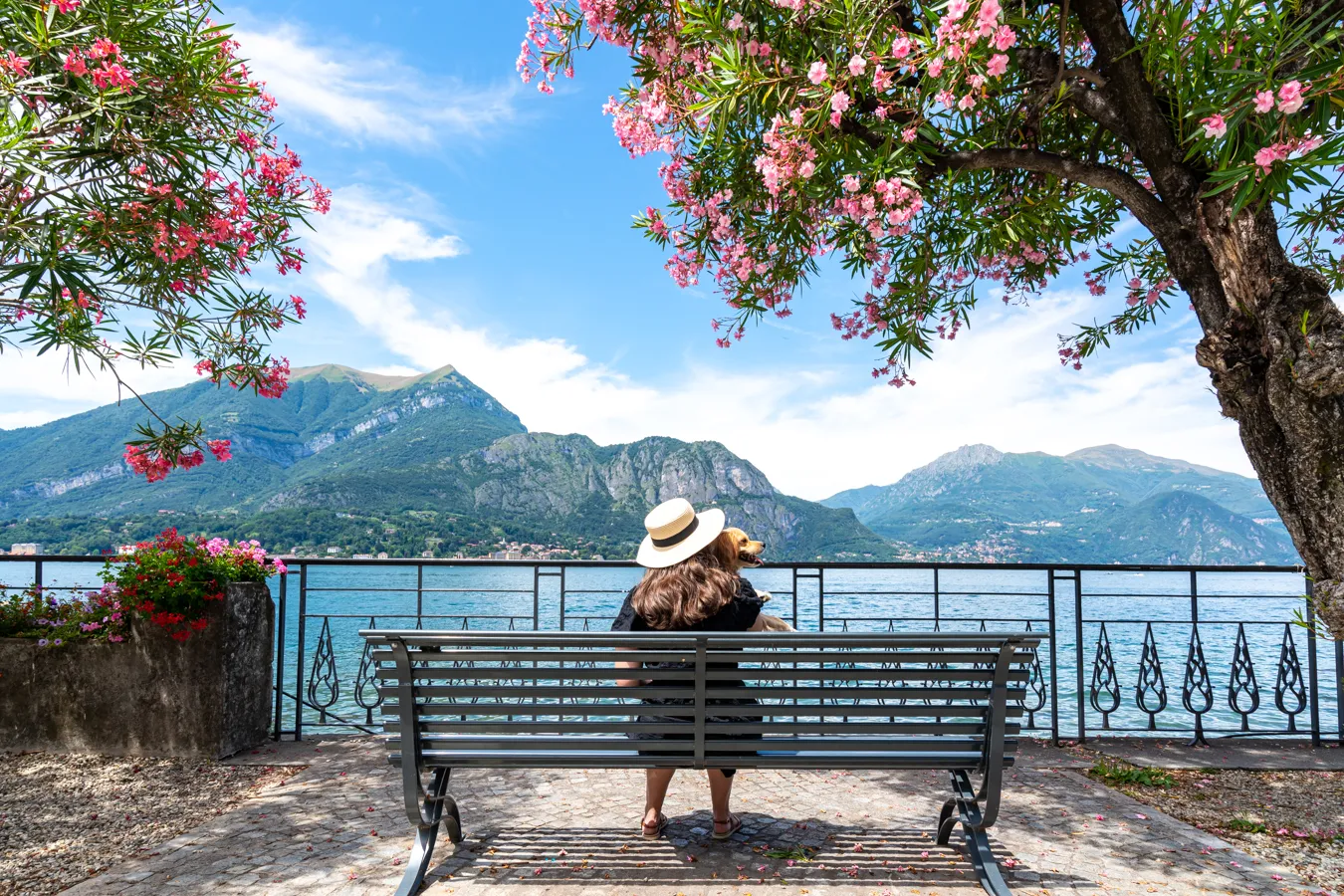 August
August is generally the hottest and most crowded month to visit Italy, especially in beach towns and mountain resorts where the atmosphere can be downright competitive during the middle of the month.
August 15 is officially ferragosto, an Italian summer holiday that has roots dating all the way back to Emperor Augustus!
Traditionally, August 15 and the days and/or weekend surrounding it is a time for Italians to take time off of work and head to the coast or mountains for a bit of rest and relaxation.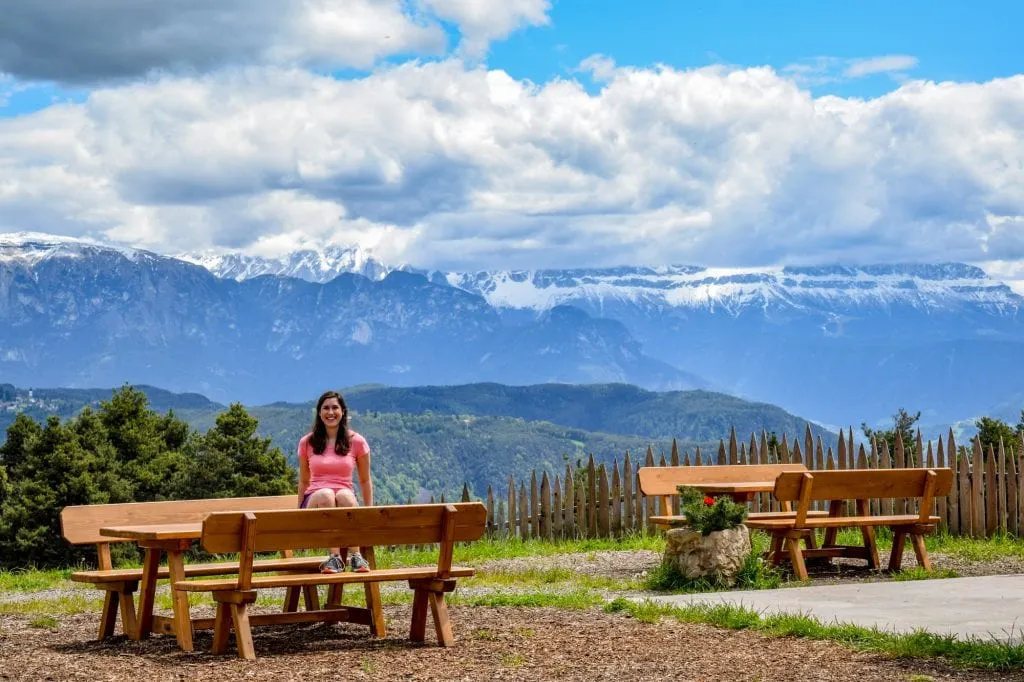 But, while ferragosto may officially fall in the middle of the month, all of August is a popular time for Italians (and other Europeans who like to visit Italy) to head to the beach–and the result is packed beaches and expensive hotels along the coast and in the mountains throughout the month.
If August is the most realistic month for you to visit Italy, plan to book your lodging for small beach and mountain towns well in advance!
In Italy's most popular cities, average high temperatures in August are around 88°F/31°C in Rome, 90°F/32°C in Florence, and 88°F/31°C in Venice.
What About May and September?
The summer-adjacent months of May and September can both be good compromises for travelers looking to combine shoulder season with a summer vacation.
May (especially late in the month) can bring warm weather and sunshine, though the water may be a bit cold for swimming in some places and attractions like lidos (Italian beach clubs) may not be running yet.
It's also a bit of a dice roll on the weather: it could be sunny and warm, or you could experience spring rain.
We once planned a May trip to Sicily, the Amalfi Coast, and Cinque Terre, and ended up wearing jeans more often than bathing suits!
On the flip side, September (especially the first half of the month) will offer warmer water for swimming than May, with the advantage of far fewer crowds than in August.
For us, September is second only to October on our personal list of favorite months to visit Italy!
If you hope to enjoy a summer-style trip to Italy in May or September, we recommend checking the opening dates for any seasonal attractions you hope to enjoy (ferries, lidos, hiking trails in the Dolomites, etc) before committing.
Stunning Places to Visit in Italy in Summer
While there's nowhere in Italy that should necessarily be actively avoided during the summer (though we get into the trade-offs of visiting cities a bit further down), there are certainly some parts of the country that are particularly lovely in June, July, and August.
Here are a few incredible destinations to add to your Italy summer bucket list!
The Dolomites
More than any other destination here, the Dolomites are a strictly seasonal travel destination, and if you want to hike here, summer holidays are ideal.
In between the hiking season in the summer and the ski season in the winter, many of the resorts and attractions in the Dolomites (especially in smaller towns) close up shop–and the hiking weather is by far at its best during the summer!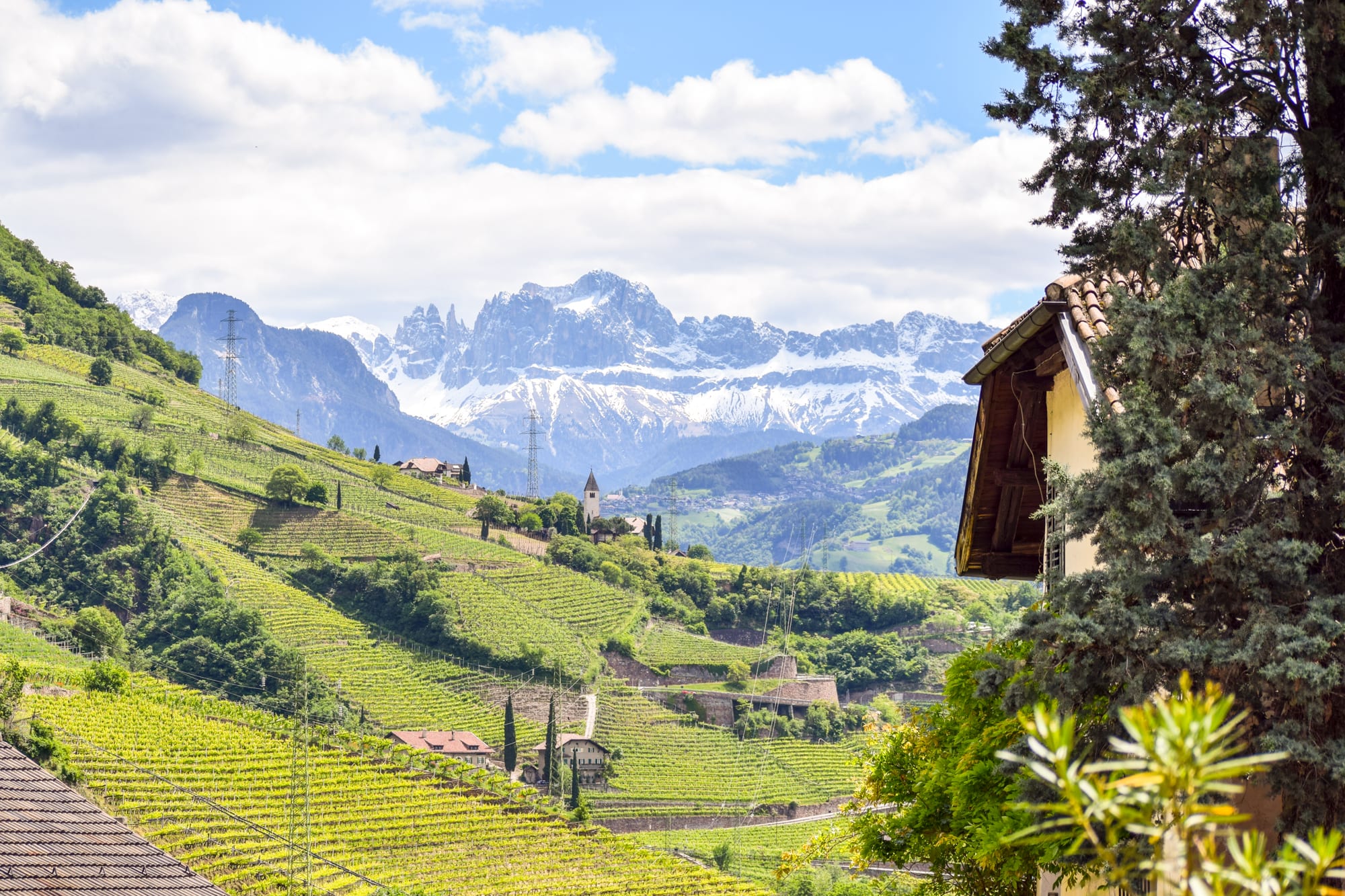 You can stretch this to the "edges" of summer–we've had wonderful trips to the Dolomites in late May, and September has its perks–but June, July, and August are ideal.
Whether you want to drive the Great Dolomites Road from Cortina d'Ampezzo to Bolzano, visit the legendary Seceda, marvel at the Val di Funes, visit mesmerizing lakes, or all of the above, the Dolomites are the place to be.
Prager Wildsee (Lago di Braies) and Lago di Sorapis are both magnificent, and hiking the Tre Cime di Lavaredo Loop will feel like you're watching postcards come to life.
Sicily
The largest island in the Mediterranean makes an ideal summer destination in Italy!
With a fantastic mix of history, culture, and beach time, Sicily has so much to offer all kinds of travelers.
While Sicily's cities and towns can be uncomfortably hot, especially in August, in the early summer you can enjoy the ideal mix of milder temperatures in town while still having a chance to swim.
While visiting Sicily, be sure to explore the fascinating city of Palermo (don't miss the Cathedral of Palermo, the Church of Martorana, or if you don't mind bones, the mummy-filled Capuchin Crypt)!
The city of Syracuse (particularly the island of Oritigia) and the Baroque towns of Ragusa, Modica, and Noto, are also unforgettable.
Beach towns not to miss include Cefalù and Taormina (the setting of The White Lotus Season 2–the San Domenico Palace played the resort, and yes, you can stay there), Agrigento (the nearby Scala dei Turchi are a must-see), and San Vito lo Capo.
Don't miss Sicily's incredible food scene, either!
We absolutely loved this food tour run by Fabrizio if you'd like a detailed introduction to what to eat in Sicily.
Puglia
Puglia, or the region that makes up the "heel of the boot", is one of our favorite places on the planet to visit in summer!
Much more casual and laid-back than a place like the Amalfi Coast, but positively covered in gorgeous beaches, whitewashed villages, and delicious food, Puglia is a delight to explore.
Coastal towns like Monopoli, Polignano a Mare, and Otranto make for incredible bases on the coast, with a selection of swimming spots available both within walking distance and driving/bus riding distance.
Don't miss the Cave of Poetry if you have a chance to visit!
Inland towns in Puglia like Ostuni, Alberobello, and Locorotondo can get sweltering in the afternoons but are beautiful and well worth visiting.
Matera, located close to Puglia in the region of Basilicata, is one of the most unique places to visit in Italy, but gets extremely hot over the summer, so plan on only morning and evening sightseeing if you'd like to visit.
If you'd like to explore the region in-depth, taking a road trip through Puglia is a fantastic option.
However, if you just want to enjoy the water, picking a town and relaxing there also makes for an incredible Italy summer vacation!
The Amalfi Coast + Surrounding Islands
Italy's legendary Amalfi Coast is among the most famous summer vacation destinations on the planet, and definitely makes for an incredible trip to Italy!
The Amalfi Coast is where you'll find the iconic villages of Amalfi, Ravello (home to incredible views), and, of course, Positano, among many others.
Don't miss the chance to hike the Path of the Gods to admire some of the best views in Italy from above!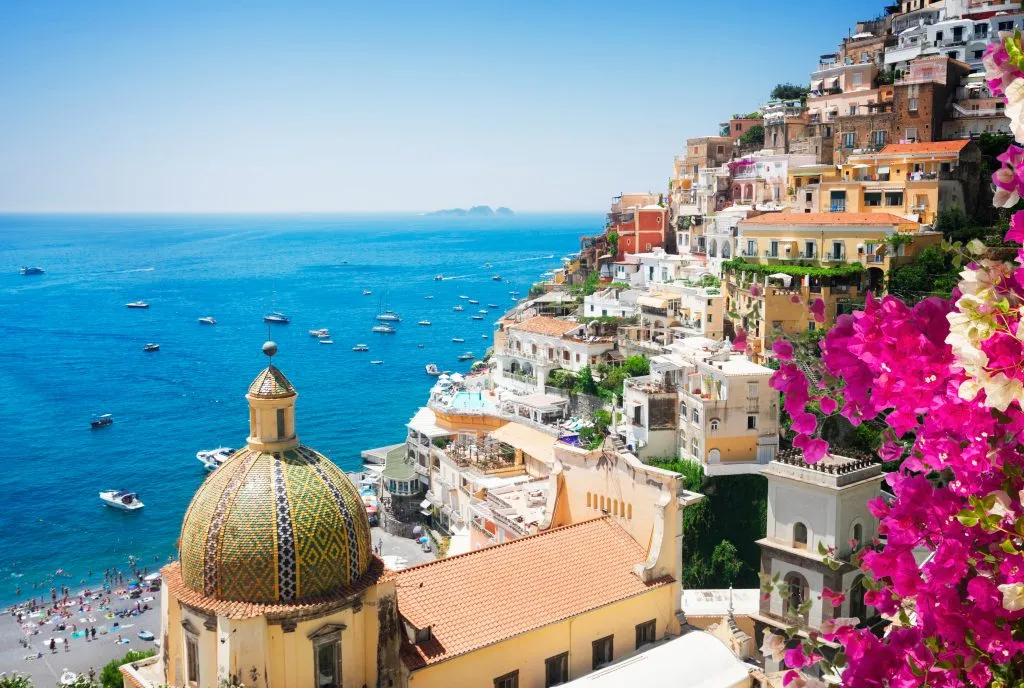 No trip to the Amalfi Coast is complete without heading out to at least one of the nearby islands, either.
Capri, with its blue grotto and mesmerizing viewpoints, is by far the most famous, but more laid-back islands like Ischia and tiny Procida are also worth a visit.
And, while they aren't on the Amalfi Coast specifically, nearby destinations like Sorrento, Mount Vesuvius, Pompeii, and Herculaneum are easily combined with this summer trip.
Don't skip Naples, either: it may be too hot to stick around long over the summer, but no trip to the region of Campania is complete without devouring pizza in Naples!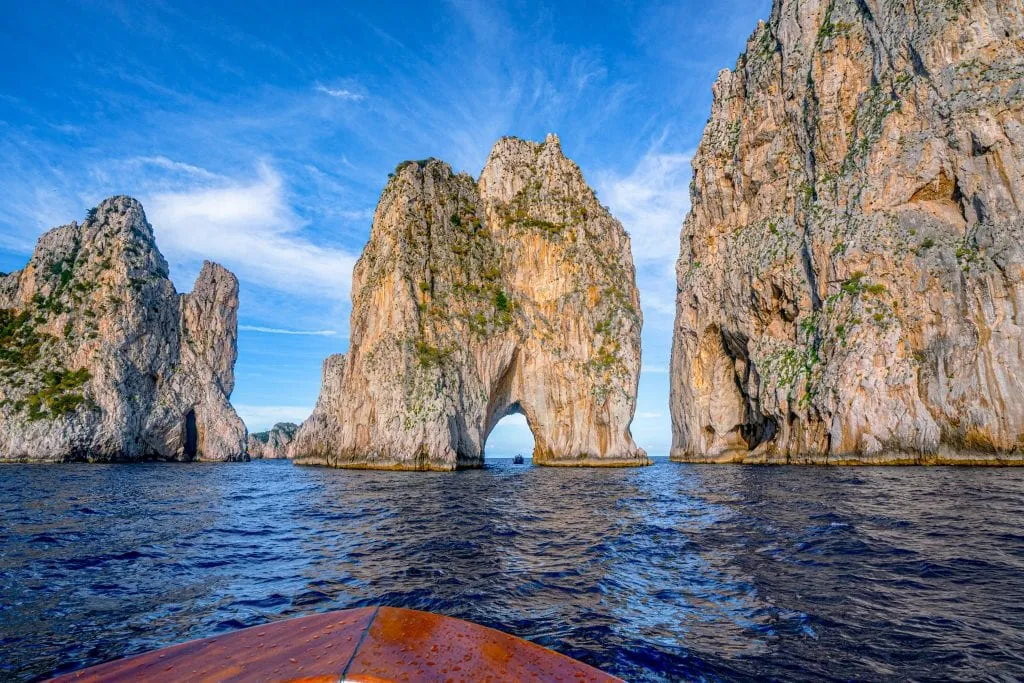 The Lakes of Northern Italy
If your idea of the perfect summer in Italy leans more toward idyllic mountain lakes instead of coastal villages, heading north to visit some of the most beautiful lakes in Italy may be in order.
Italy's most famous lake, of course, is the iconic Lake Como situated about an hour north of Milan.
Villages like Bellagio, Varenna, and Cernobbio are just as picturesque as you might imagine, and the city of Como itself has lots to offer, too!
Beyond Lake Como, beautiful Lake Garda (home to the famous resort town of Sirmione), more peaceful Lake Maggiore, and small and laid-back Lake Orta also make fantastic summer getaways in Italy.
The small towns dotting each lakeshore, especially around Como and Garda, can get very crowded each summer, as they're popular retreats for locals and visitors alike.
There's a reason for their popularity, though: these lakes are beautiful and relaxing retreats in northern Italy.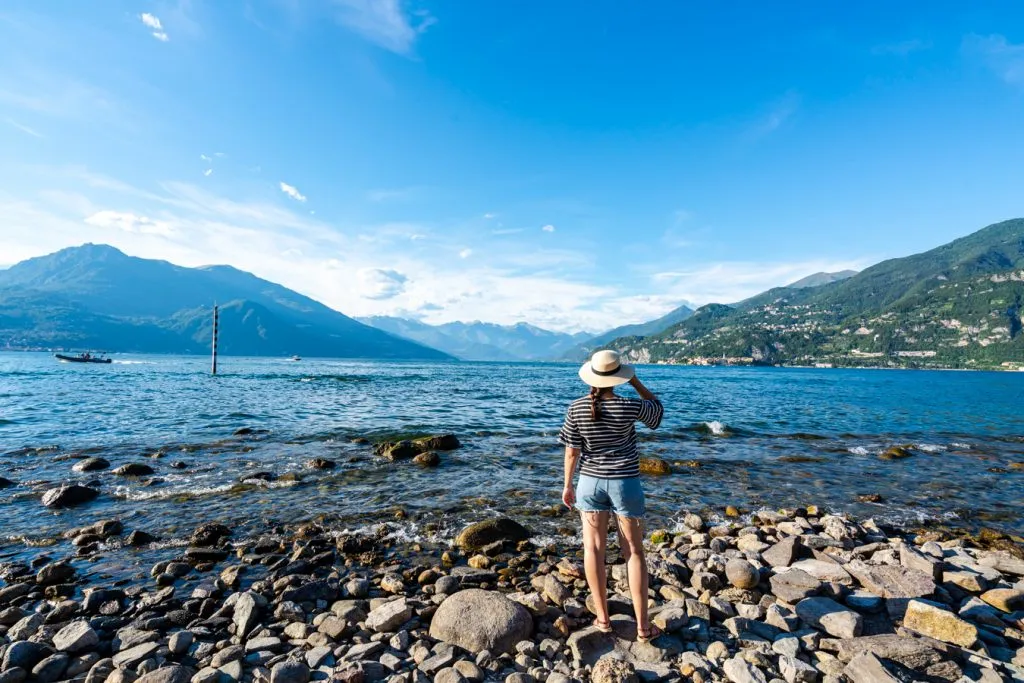 Sardinia
Situated in the Mediterranean Sea, Sardinia is Italy's second-largest island and one of its most incredible beach destinations.
If your idea of the perfect summer in Italy is enjoying beaches that might almost make you think you're in the Caribbean–if it wasn't for all the delicious Italian food to enjoy onshore–then Sardinia is the place for you.
Some of the best things to do in Sardinia include a sailing tour of the Maddalena Archipelago, relaxing at the glamorous resorts of Costa Smeralda, visiting Neptune's Cave near Alghero, and checking out the colorful houses of Bosa.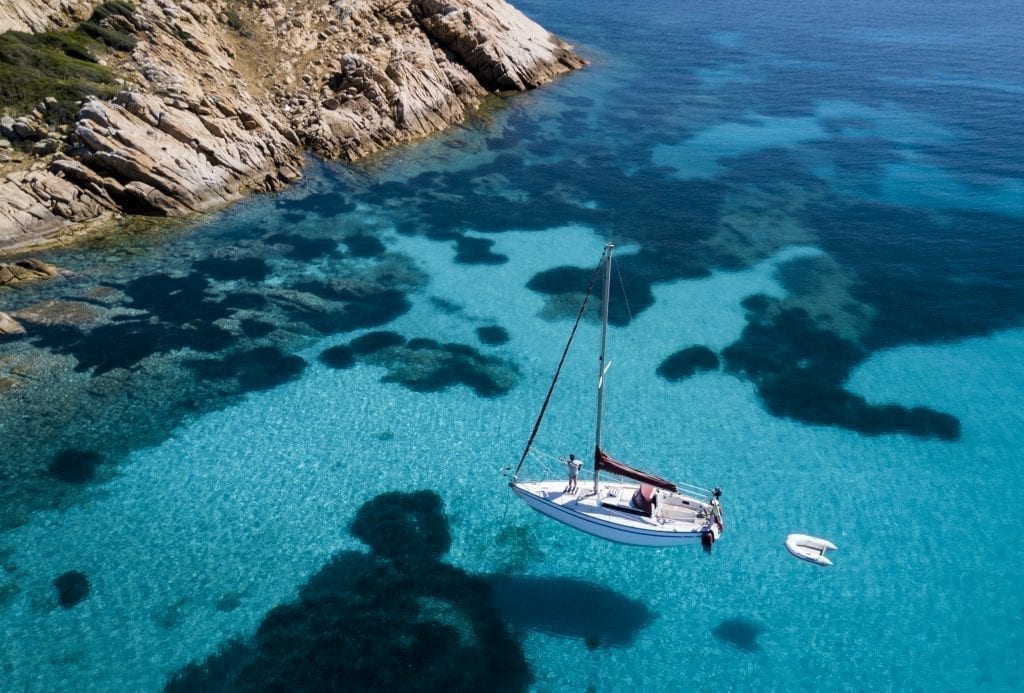 History lovers will also find plenty to see in cities like Cagliari, as well as Roman and even pre-Roman ruins scattered around the island.
Over the summer months, though, it may be near-impossible to tear yourself away from the sparkling water!
And, if you want to add a second country to your summer trip, keep in mind that the French island of Corsica is an hour's ferry ride away from northern Sardinia.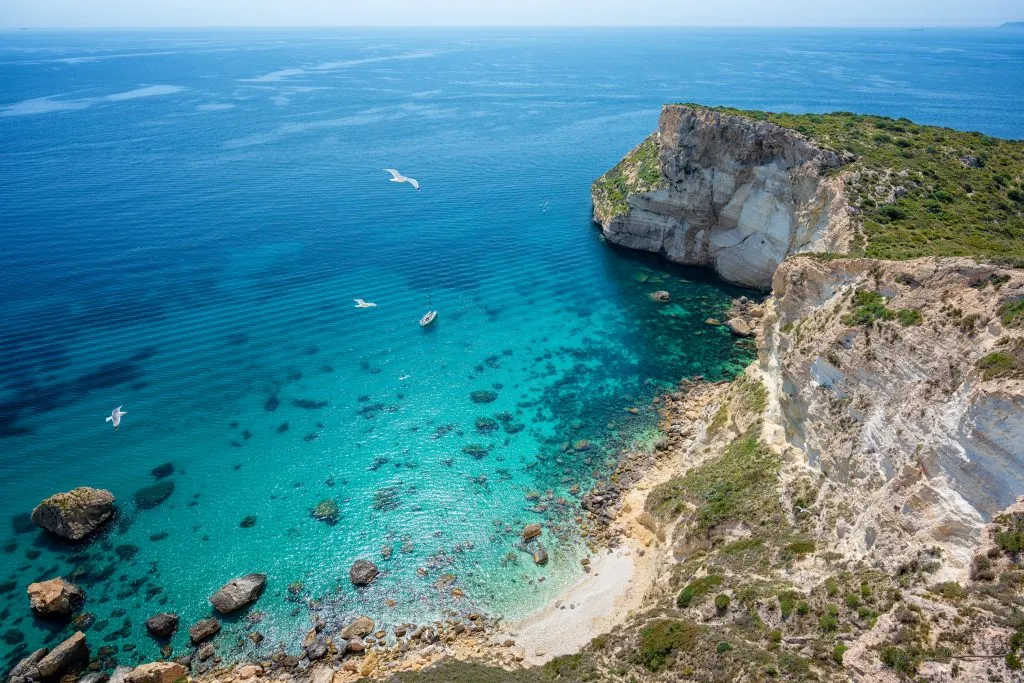 Langhe Region, Piedmont
It may not be the most traditional summer destination in Italy, but if you love delicious wine, refined food, and beautiful views, the somewhat off the beaten path Langhe region in Piedmont might be the place for you.
Home to Barolo (home of the famous Barolo wine), Alba (home to one of Italy's most famous truffle festivals), and more, the Langhe region is a UNESCO World Heritage Site and a fantastic place to visit.
Bring a car, because this area makes for an incredible road trip in Italy!
Don't miss the views from the tiny and picturesque villages of La Morra, the small city of Asti, or the town of Bossalasco!
The nearby Roero region is easily combined with a trip to the Langhe area, and pleasant average temperatures throughout the summer months make Piedmont in general a great place to escape the heat.
And, though it lies just outside the Langhe region, Turin, the capital city of Piedmont, is a refined and underrated city in Italy that makes for a fantastic addition to a summer trip.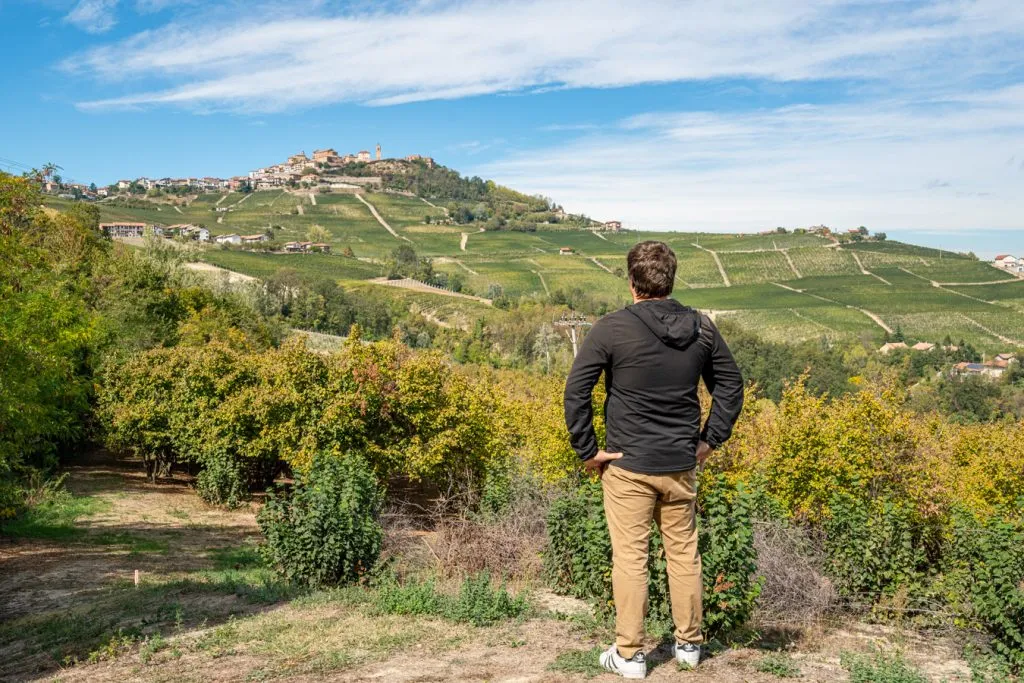 The Seaside Villages of Liguria
The northern Italian region of Liguria, which hugs the coast of the Meditteranean Sea, is positively covered with colorful coastal towns that make for delightful places to visit over the summer in Italy.
The most famous of these, of course, are the villages of Cinque Terre, which have graced postcards and guidebook covers alike for generations.
Cinque Terre is a delightful place to visit in June, July, and August, with one caveat: be prepared for intense crowds.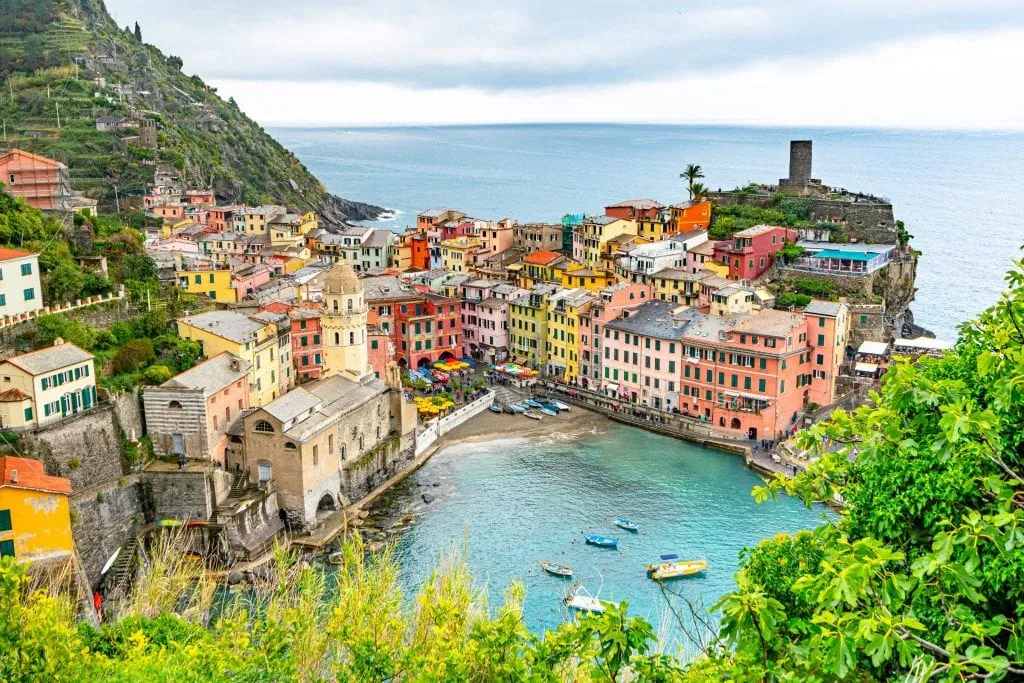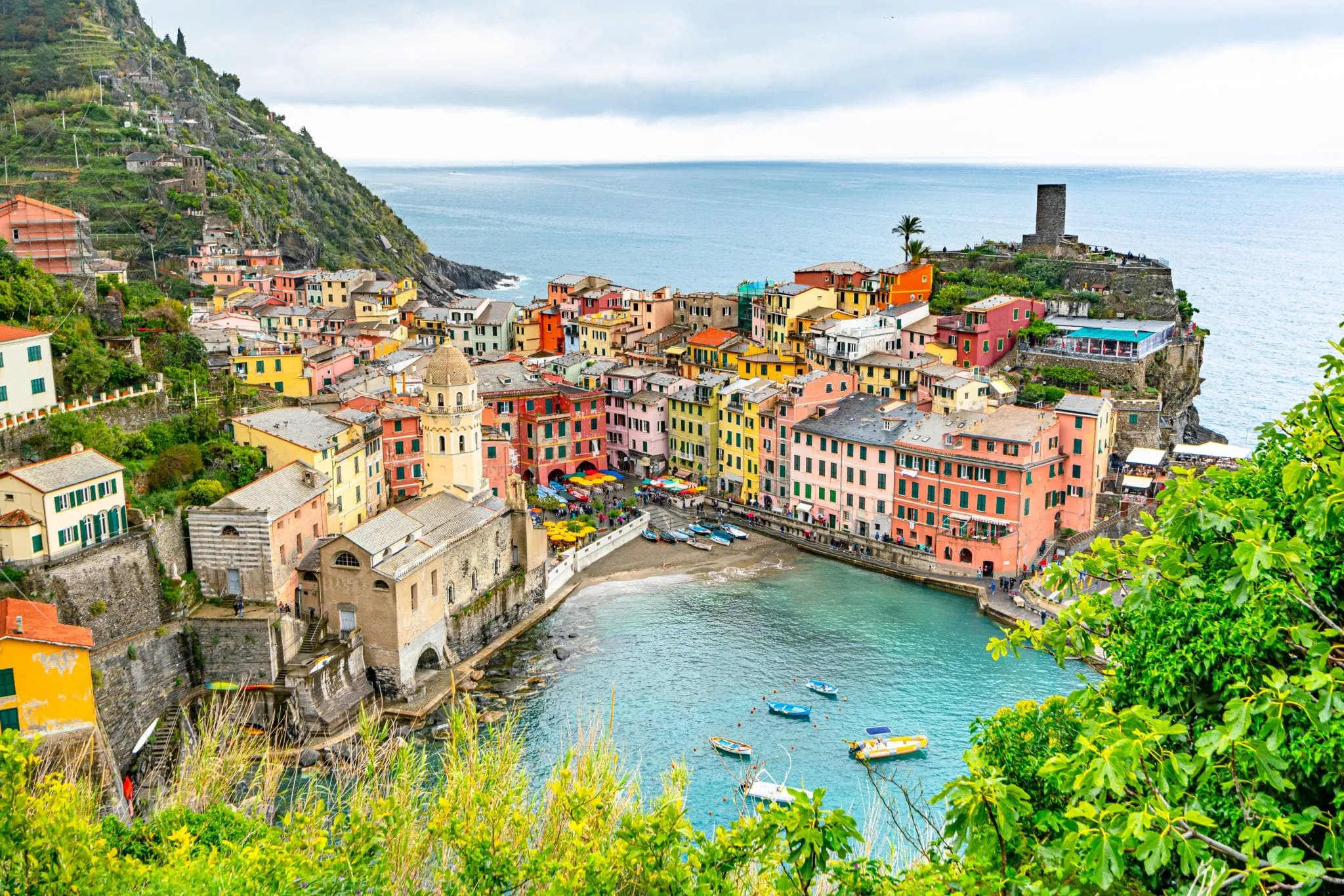 While beautiful, for many visitors Cinque Terre is more of a hiking destination than a swimming one, and travelers interested in the hiking trails may prefer to visit during the spring or fall.
For those who want to make the most of swim spots, gelato, and the ferry system, though, summer is the ideal time to visit.
Beyond Cinque Terre, though, Liguria still has plenty to explore: from glitzy Portofino to laid-back Camogli to colorful Portovenere (also known as the "sixth town" of Cinque Terre), don't make the mistake of thinking Liguria's most famous seaside villages are the only ones worth visiting.
Is Summer a Good Time to Visit Rome, Florence, Venice, and Milan?
When talking about planning a trip to Italy in summer, one question we receive more than most is whether or not Italy's most popular cities make good additions to a summer trip.
After visiting Rome, Florence, Venice, and Milan each in most seasons, here's the answer: it's not necessarily ideal, but it's doable.
The reality is that while, yes, Italy's cities can get very hot in the summer (especially the further south you go), and the tourist crowds tend to be at their peak, summer is often the easiest time for Americans like us to visit Italy.
So, while a spring or fall trip would be ideal weather-wise, and winter offers a refreshing lack of crowds and a drop in prices, that doesn't mean you can't have a wonderful trip to Italy's most popular cities in the summer.
If you hope to cover a typical first-timer's itinerary for Italy over the summer, and it's the most realistic season for you to visit, don't overthink it: with a little careful planning, you can have a wonderful trip!
In most cases when visiting inland cities in Italy in summer, we recommend a split schedule of sightseeing in the mornings and evenings, and either taking a break or heading somewhere air-conditioned during the hot afternoons.
If you're curious about what it's like to visit one of Italy's most popular cities during peak season, we have a full guide to visiting Venice in summer here.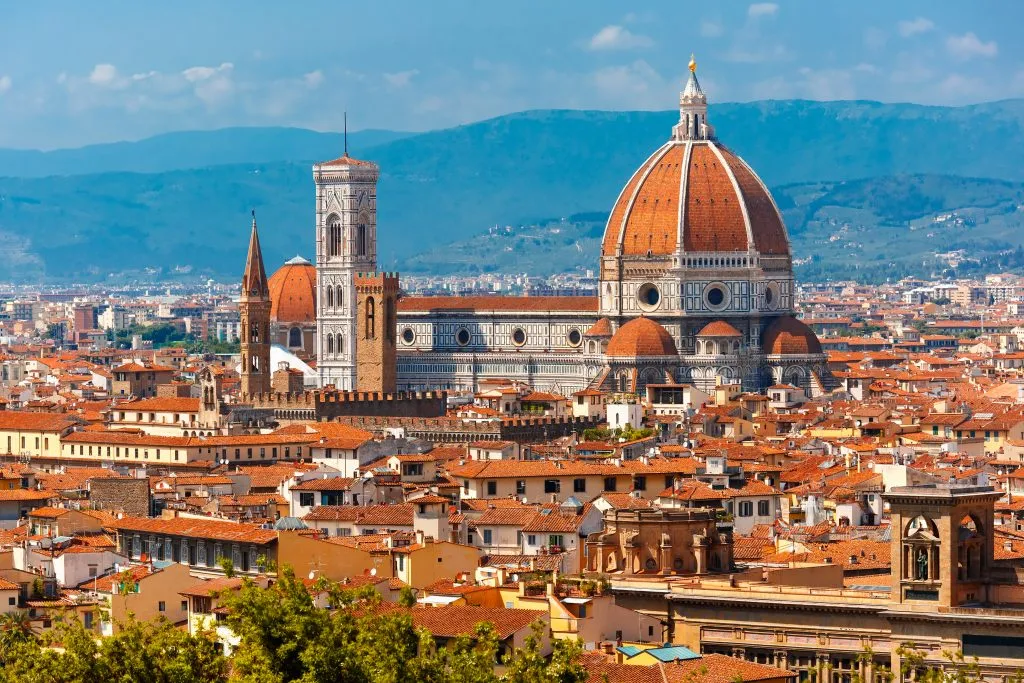 Tips for Planning a Summer Trip to Italy
Be prepared for crowds, especially at iconic attractions.
Despite the less-than-ideal weather in some of Italy's most popular cities, summer is still the most popular time of year to visit Italy!
The result is heavy crowds at Italy's most popular destinations and attractions.
This includes ticketed attractions like the Colosseum and Uffizi Gallery, as well as popular tours like taking a guided day trip to Capri.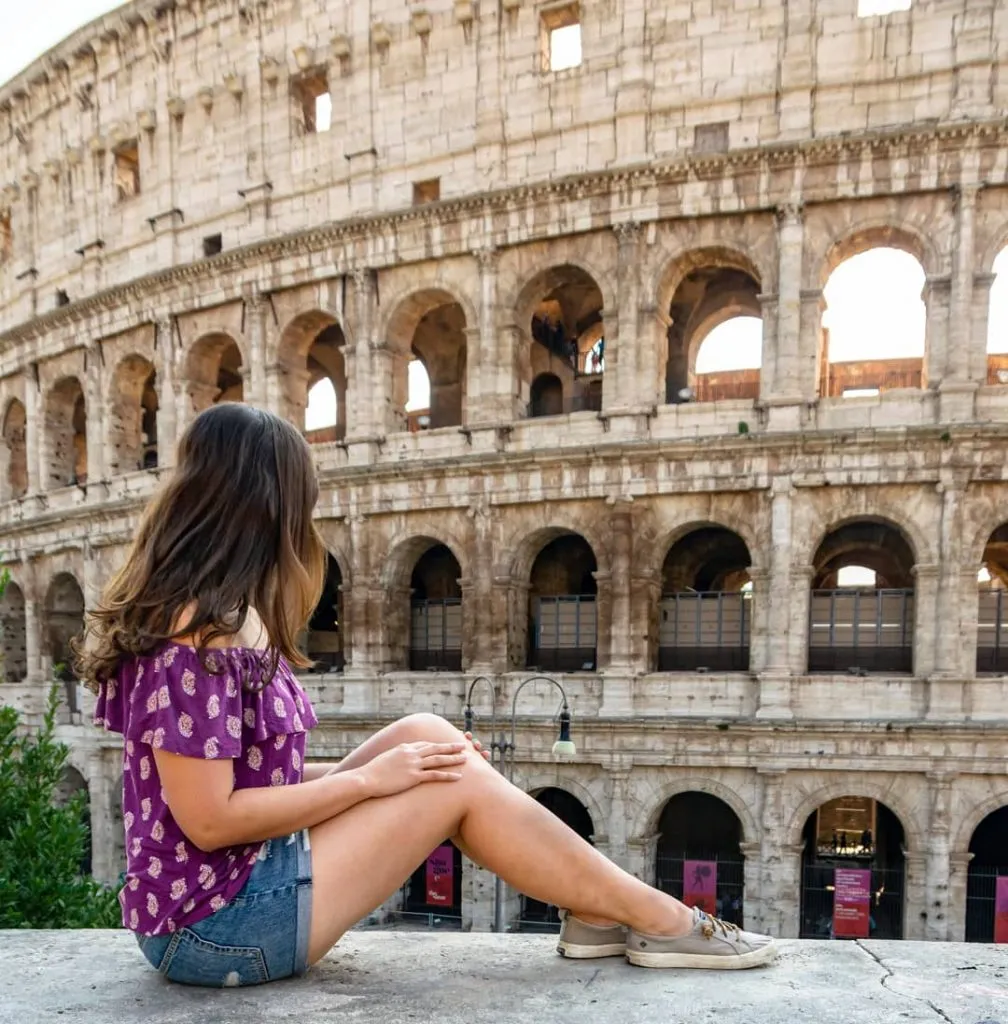 Because of this, your trip will go much more smoothly if you book day trips and/or skip-the-line tickets for major attractions in advance.
We never visit Italy without pre-booking our visits to major attractions these days, and primarily book through Get Your Guide.
For more boutique tours in certain popular cities like Rome and Florence, we love the options from Take Walks.
If you prefer a more spontaneous travel style, consider traveling in the offseason or choosing more offbeat destinations that will be less overwhelmed by crowds.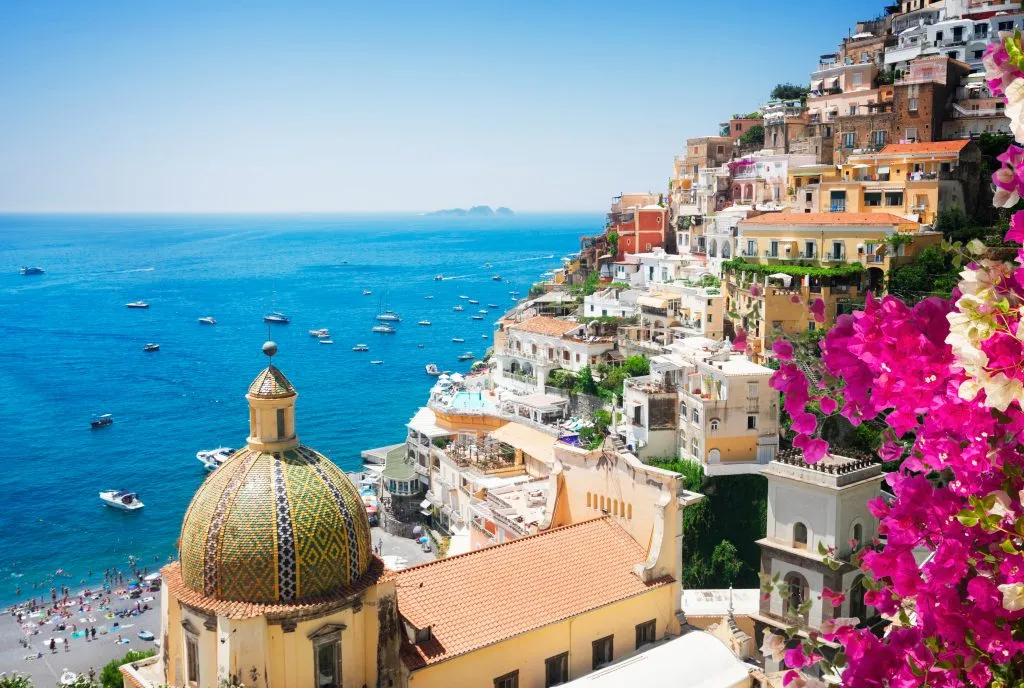 Book your lodging in advance, especially in popular small towns.
When planning a trip to Italy during summer, you'll definitely want to book your hotels and/or vacation rentals in advance… but it matters in certain places more than others.
Resort towns that are very popular but also have a limited number of places to stay due to their size, like the villages of Cinque Terre, Bellagio, Positano, etc, absolutely sell out over the summer.
If you have your heart set on staying in a popular small town, book as soon as you're able to commit!
For major cities like Rome and Milan, you'll certainly have more choice of places to stay if you book ahead of time, but the cities are large enough that you'll almost always be able to find somewhere to stay, even if you don't book until the last minute.
These days, we tend to book all of our hotels, apartments, and agriturismos through Booking.com.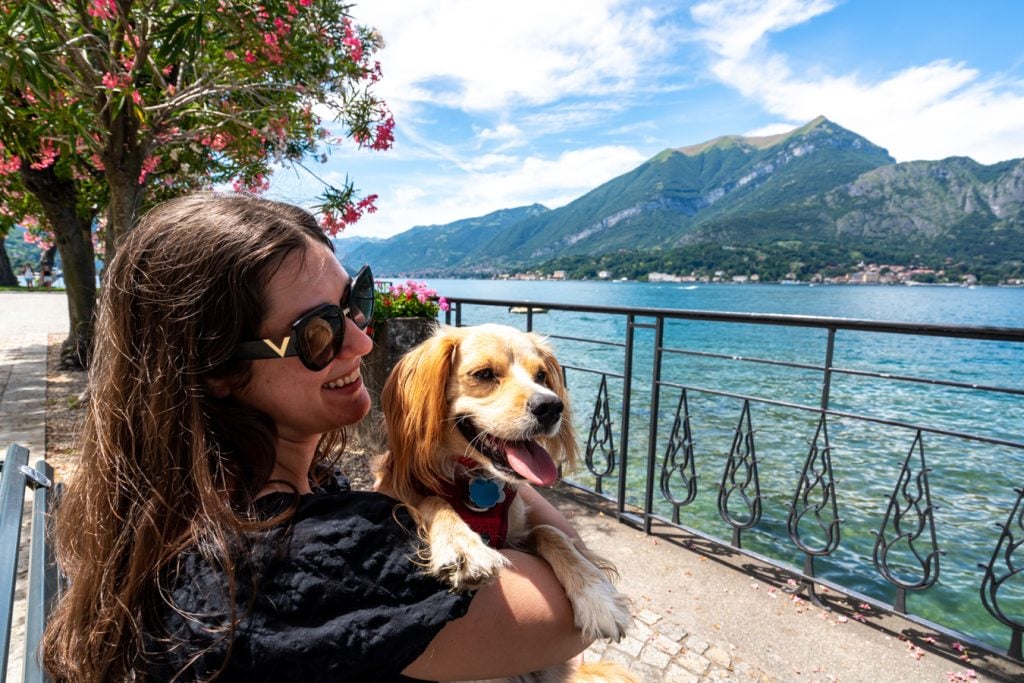 Beat the heat by sightseeing at night!
Sure, it's standard advice to get an early start with your sightseeing on hot days… but staying out late works too!
Many of Italy's top attractions offer a chance to visit at night, especially over the crowded summer months.
Usually, this involves booking a tour, but the trade-off is far fewer crowds, less heat, and a much more pleasant atmosphere overall!
We had an amazing time both touring the Colosseum at night and visiting the Vatican Museums at night, and were way more comfortable than we would have been if we had visited during the heat of the day.
It's the norm to pay to visit the beach in Italy.
While beaches in Italy are technically public–which is true, as far as the sand right in front of the water goes–the reality is that the most common way to enjoy a beach day in Italy is to buy access to a lido, or Italian beach club.
Lidos line the coasts of Italy, and generally feature sunchairs, colorful umbrellas, a bar and/or restaurant of some kind, restrooms, and sometimes more elaborate amenities.
Prices can vary wildly, but a fee 20-40 Euro per person, per day, is considered normal for renting the use of chairs and an umbrella.
If you are staying in the same place for an extended period of time, you can also rent space at a lido for the week, month, or even for the whole summer season.
While this process can be frustrating for travelers who are used to free beach access, it does come with perks, like having a place to leave your belongings and constant access to shade without having to bring your own equipment.
Truly public beaches do exist, but they're generally smaller and less refined–if you see a cluster of mismatched umbrellas on one end of the beach past all the refined lidos, that's where to head if you want to swim for free.
However, there is another option…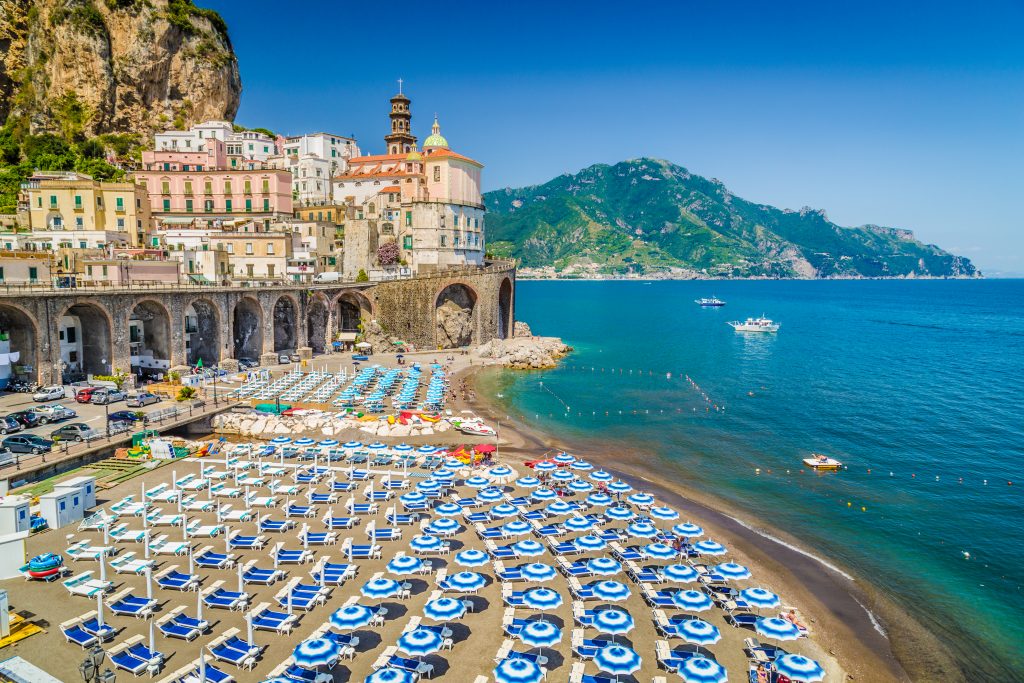 If you can throw down a towel there, you can probably swim there.
Thanks to the culture of often-pricey lidos, another form of swimming in Italy over the summer has sprung up: throwing down a towel and jumping in the water anywhere that looks refreshing.
Follow the lead of locals here, but in Italian beach towns, the general rule is that if you can nestle a towel and a beach bag among the rocks or harbor, you can swim there.
This allows for free swimming access, perfect for days when you just want to go for a quick dip and don't want to commit to a full beach day like at a lido.
Don't forget about ferragosto!
We covered this a bit in the month-by-month section above, but ferragosto is a very big deal in Italy and it's worth pointing out again!
Ferragosto, the Italian summer holiday that technically falls on August 15 but affects travel on the surrounding dates as well, is when Italians leave the cities en masse to spend time with their families at the beach or in the mountains.
This will absolutely affect crowds, prices, and availability in vacation spots (much less so in the cities–there, you'll be competing mostly with non-Italian tourists), so plan accordingly!
… And Festa della Repubblica.
Festa della Repubblica, which commemorates Italians voting for a new form of government after World War II, is celebrated on June 2 each year.
The day features ceremonies in Rome (which can interfere with crowds around the Colosseum area in particular, as the Altare della Patria is nearby), and is also a day most Italians have off of work.
While not nearly as big of a deal to plan a vacation around as ferragosto, it's definitely worth being aware of if your plan to be visiting Italy at the beginning of June.
Plan afternoon breaks (ideally with gelato).
The afternoons are by far the hottest part of the day when sightseeing in Italy over the summer–even in inland cities, early mornings and evenings can be pleasant throughout the year.
In the afternoons, though, you'll want to plan breaks from the heat and sun.
Gelato, of course, is a fantastic accompaniment to any downtime over the summer in Italy!
If you need to cool off, step inside a church.
Find yourself getting uncomfortably hot when sightseeing in Italy?
Duck inside the closest church, which undoubtedly won't be too far away–Rome alone has more than 900!
While most churches in Italy don't have air conditioning, they don't need it: the combination of soaring ceilings, marble in every direction, and darkness keeps them cool.
Not only do churches make interesting, quick sightseeing stops in Italy, with most of them feeling a bit like free-to-access miniature art museums, but they're also a great place to rest your feet and take a break, or even look up directions to your next stop.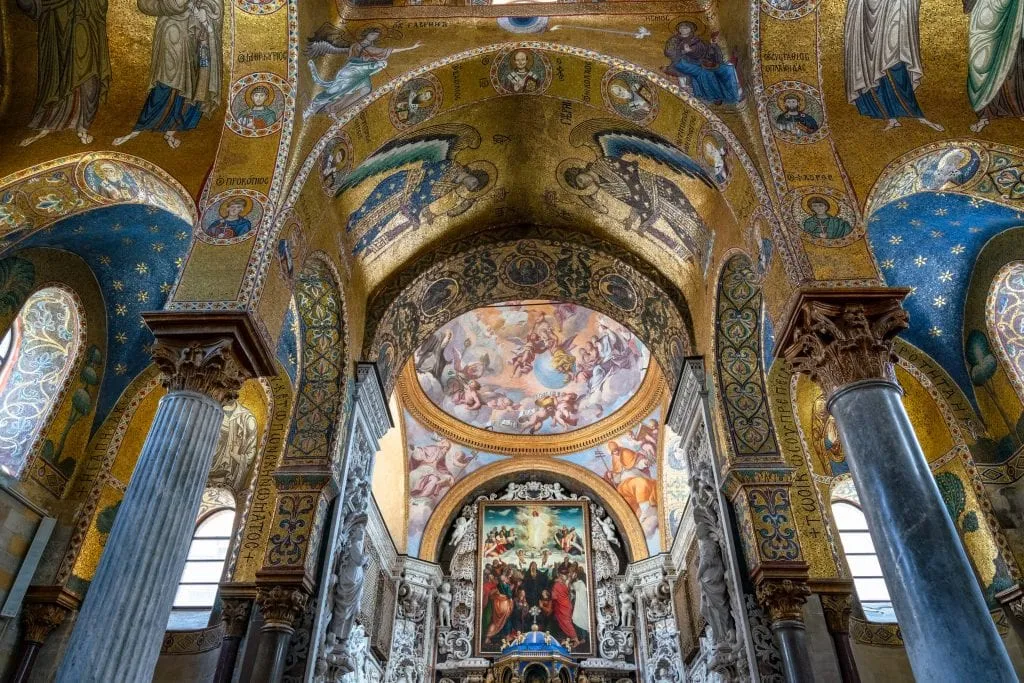 Pay attention to whether your hotel has air conditioning.
While most hotels in major cities that cater to foreign visitors will have air conditioning, it's absolutely not a guarantee!
That's especially true in older, standalone buildings like villas, or in smaller, less touristic beach towns.
Booking.com, where we book our hotels and apartments, allows you to search for properties that specifically note that they have air conditioning, and I recommend searching for hotels with that parameter in mind.
Keep in mind that air-conditioning in Italian hotel rooms generally means ceiling units, not central air (this is true in most places across Europe).
… and whether or not museums do, too.
Some of Italy's most famous museums, like the Vatican Museums and the Doge's Palace in Venice, either have no air-conditioning or only have air-conditioning in some rooms.
While large spaces, good ventilation, and lots of marble can go a long way to keeping things cool, they can still get unpleasantly warm on hot summer afternoons when the crowds are thick.
For museums without air conditioning (or with limited air conditioning), consider visiting at the beginning or end of the day.
If you'd like to add an experience above and beyond the norm during your Italy summer trip, this would also be a great opportunity to splurge on a tour that takes place when the museums are typically closed.
For example, the incredibly popular Pristine Sistine Chapel tour lets you tour the Vatican Museums before they open to the public, and the Alone in St. Mark's and the Doge's Palace After Hours tour takes you to the Doge's Palace after it is closed!
For the ultimate splurge, you can even be the first one to open the Sistine Chapel in the morning and tour the Vatican Museums with only your group in the building!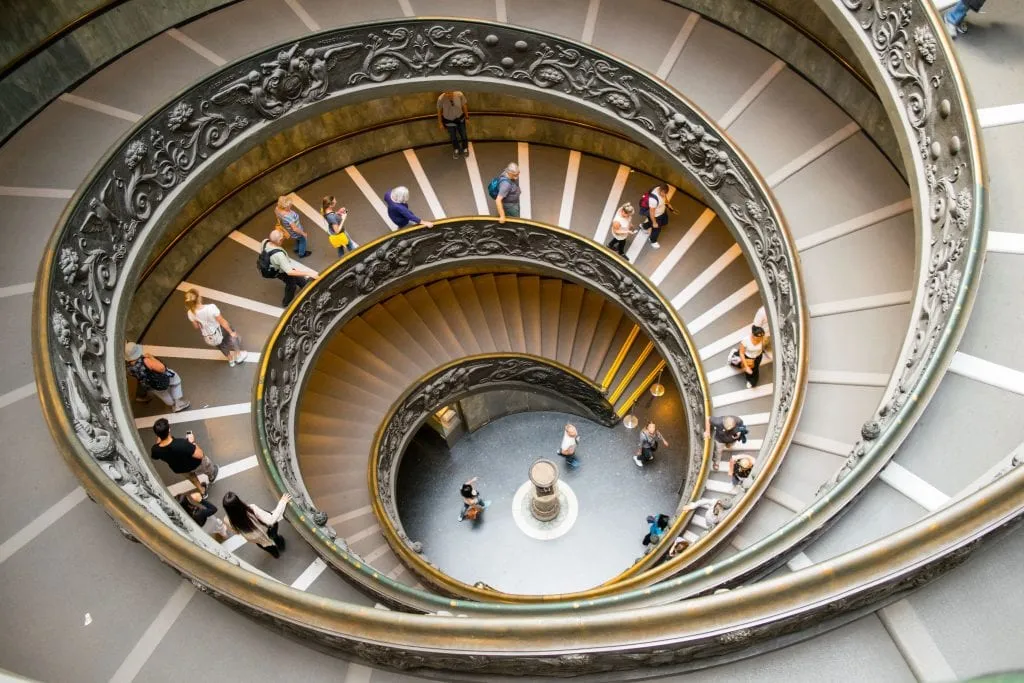 Keep an eye out for the public water fountains!
In many places throughout Italy, including in major cities like Rome and Venice, you'll find free water fountains with cold water flowing from their taps 24/7.
You can usually find these in a piazza or sometimes along a walkway, pouring out a steady stream of crisp, drinkable water that is no doubt much colder than any water you've been carrying in your day bag!
These fountains are easy to find and completely free to use, and you'll spot locals doing everything from having a drink to splashing water over themselves to cool off.
They're also a great place to fill up your reusable water bottle (and will likely save you some money, too–no need to buy plastic water bottles from street vendors).
Don't forget about ferries as you plan your Italy summer trip!
Planes, trains, buses, and cars all have their place, but don't forget about traveling by ferry over the summer!
Whether that means taking a short ferry ride between the villages of Cinque Terre, cruising between towns on Lake Como, heading out to the islands near the Amalfi Coast, or even taking a large ferry out to Sardinia instead of flying, traveling Italy by boat is a memorable experience.
You can even take international ferries: last summer, we traveled to Civitavecchia (near Rome) from Barcelona via ferry!
Keep in mind that many ferries in Italy are either strictly seasonal or have more limited schedules outside of the summer, so if you're traveling in the shoulder season, be sure to keep an eye on the schedule.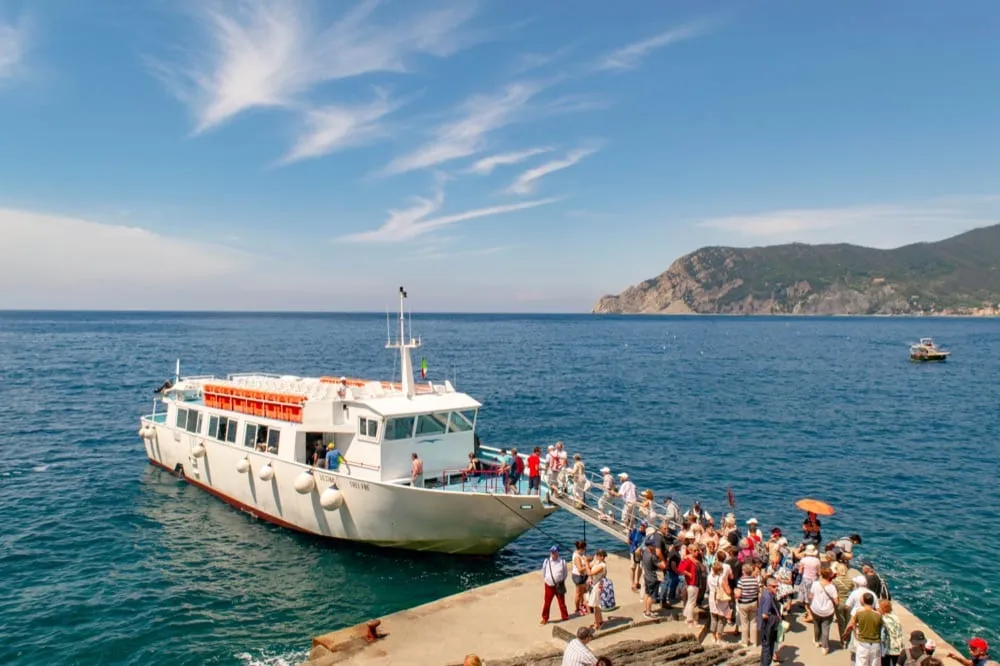 Plan (air-conditioned) indoor attractions in the afternoon.
Even in cities that get unpleasantly hot, mornings and evenings over the summer in Italy can be lovely–but the afternoons can get sweltering.
For that reason, we recommend doing the bulk of your sightseeing early in the mornings and in the evenings, leaving the afternoons open for more laid-back activities.
In cities, that might mean visiting air-conditioned museums, and in beach towns, it means it's a great time to hit the water!
Cool off with Italian-style iced coffee.
While the large cups of iced drip coffee that Americans like us love are not something you can find in Italy, there are options for travelers who want a refreshing cold coffee.
First, caffè con ghiaccio (literally "coffee over ice") is a popular summer drink originating in Puglia, though you can order them all over Italy–Jeremy has enjoyed them as far north as Venice!
Essentially, this is a shot of espresso with a cup of ice (by which I mean 2-3 cubes of ice) served on the side.
You can then pour the coffee over the ice, making your own Italian version of iced coffee.
Alternatively, a somewhat fancier way to order cold coffee in Italy is to ask for a "caffè shakerato".
This is espresso shaken up with ice and sugar, and often looks a little bit like a cocktail when served.
If you're curious about what to expect at Italian coffee bars, we have a full guide to Italian coffee culture here.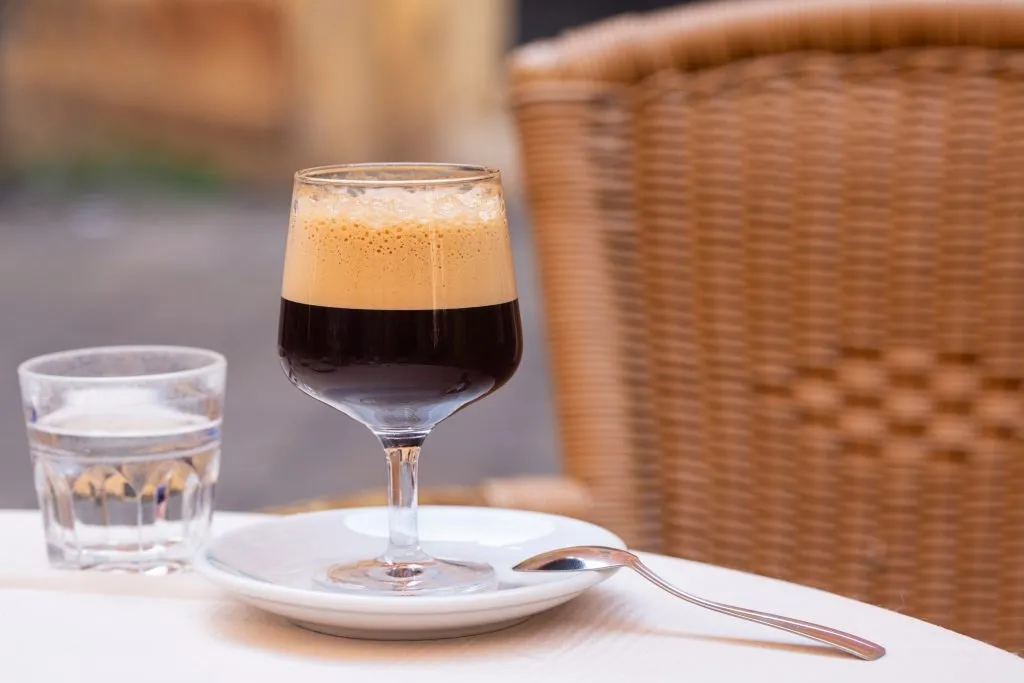 Tips for Packing for Summer in Italy
Pack for comfort and sun protection.
Sure, you want to look good, too–but uncomfortable shoes that you haven't broken in, or shirts or dresses that stick to the skin in the heat, are quick ways to make your summer vacation in Italy more memorable for the heat than the sparkling sea or historic architecture.
Dress to keep cool with light, flowy fabrics, and very comfortable shoes (I wore these white sneakers all the time last summer in Italy, sometimes swapping for a pair of sandals like this).
A sun hat like this is also a great idea, though they'll be for sale on every corner in Italy if you'd rather shop once you're there.
For Americans like us, baseball caps will instantly identify you as an American–but honestly, I sometimes wear mine hiking anyway. Stick with what's comfortable!
And, for the shoppers among us: designer sunglasses from European (and especially Italian) brands are generally far less expensive (we're talking sometimes half the price) to buy in Italy than in the US, so consider planning on doubling up your sunglass needs with your souvenir shopping.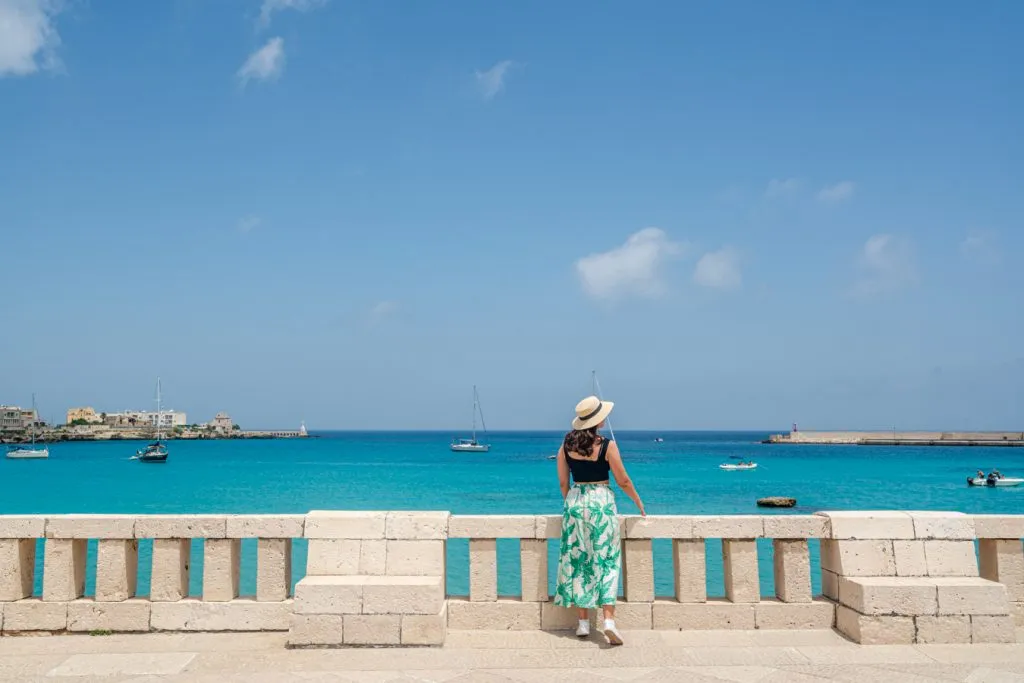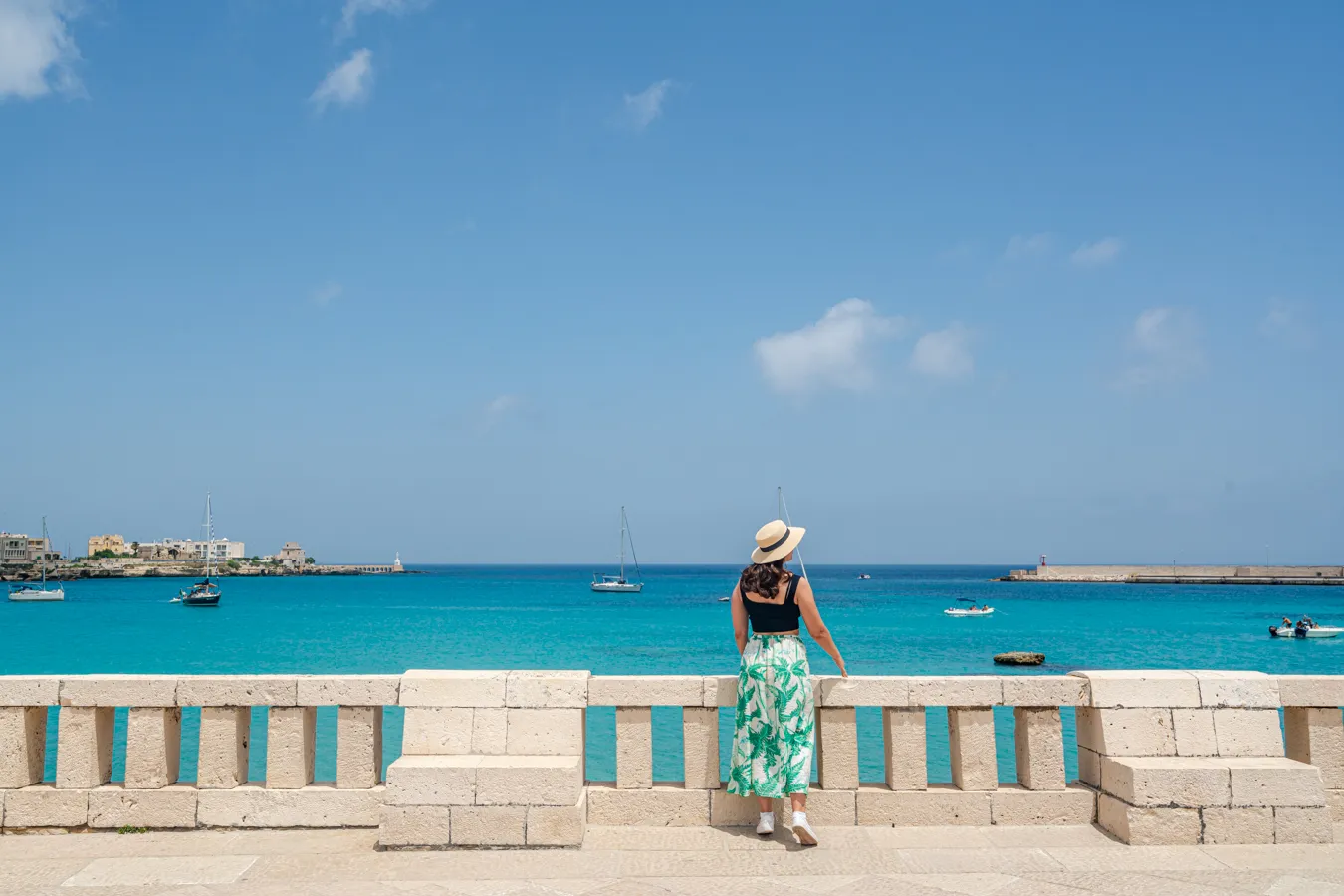 Depending on your destination, consider packing bug spray.
Unfortunately, some places in Italy (like Venice and Tuscany, for example) contend with mosquitos over the summer months.
If you're prone to bug bites, especially if you're staying somewhere without air-conditioning and will likely sleep with your windows open, consider bringing bug spray with you this summer in Italy.
Don't forget to bring church clothes!
Shorts, tank tops, and crop tops are all easy to reach for when planning a long day of sightseeing during the summer in Italy, but don't forget about church dress codes!
While enforcement of dress codes varies wildly across Italy (the Vatican is notoriously strict), even during the summer it's best to expect that you'll need to keep your shoulders and knees covered.
I usually go about this by wearing a light and airy sundress and throwing a scarf or cardigan in my day bag when sightseeing in Italy in summer.