Tucked away in a small corner of France, just south of Geneva, sits the absolutely stunning town of Annecy: bordered by the cleanest lake in Europe and boasting a city center worthy of fairy tales, discovering all the fun things to do in Annecy is, without a doubt, an excellent use of a few days.
Looking for your next getaway in France? Here are all the best things to do in Annecy!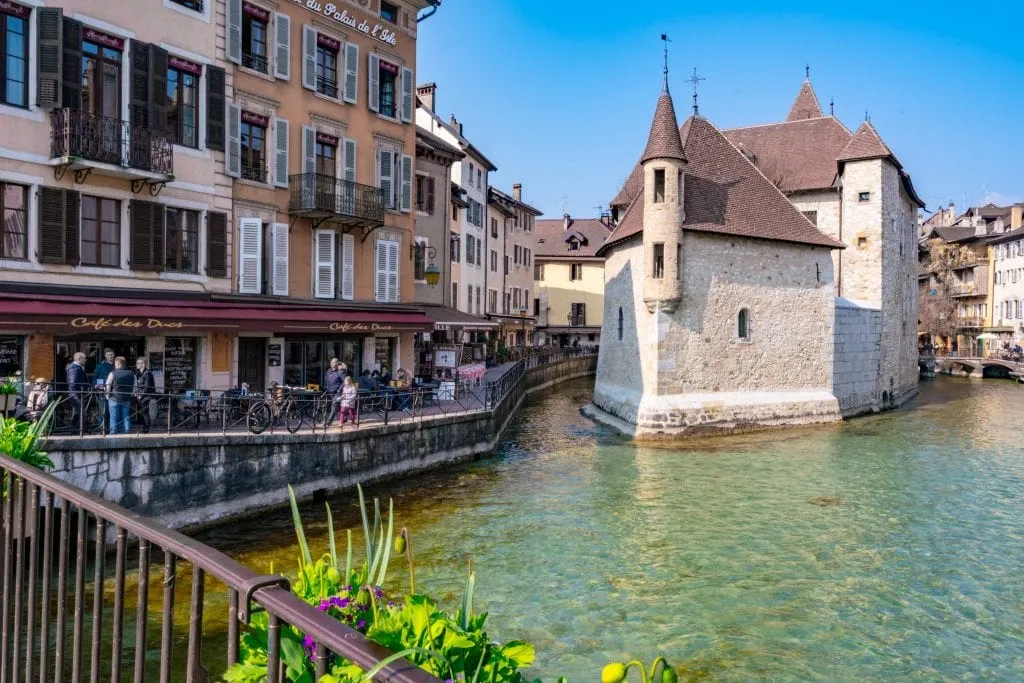 Some links in this post may be affiliate links. If you make a purchase through one of these links, we may earn a small commission at no extra cost to you. Please see our

disclosure policy

for more detail.
The Best Things to Do in Annecy
Stroll around Lake Annecy.
Just steps away from Annecy's storybook-worthy Vieille Ville (Old Town) sits the absolutely stunning Lake Annecy: crystal-clear and known as Europe's cleanest lake, no trip to Annecy is complete without strolling along these shores.
When you're deciding what to do in Annecy, be sure to put a visit to Lake Annecy at the top of the list!
Hit the water in a paddleboat.
Not content to simply look at Lake Annecy? Hit the water in a colorful paddleboat to get a new perspective on the lake.
… Or go swimming, or biking, or paragliding…
There's truly no shortage of ways to enjoy the lovely Lake Annecy, but if you're visiting during the summer, swimming in the lake and biking along the trails that border it are definitely some of the most popular!
If you're looking for a way to admire Lake Annecy while also getting your adrenaline pumping, you can even consider adding paragliding over the lake to your list of things to do in Annecy!
Feel like royalty at the Chateau d'Annecy.
What would a fairytale town be without a castle? The lovely Chateau d'Annecy dates back to the 12th century and once served as the home to the Counts of Geneva–today, it's a museum and home to a beautiful view over the town.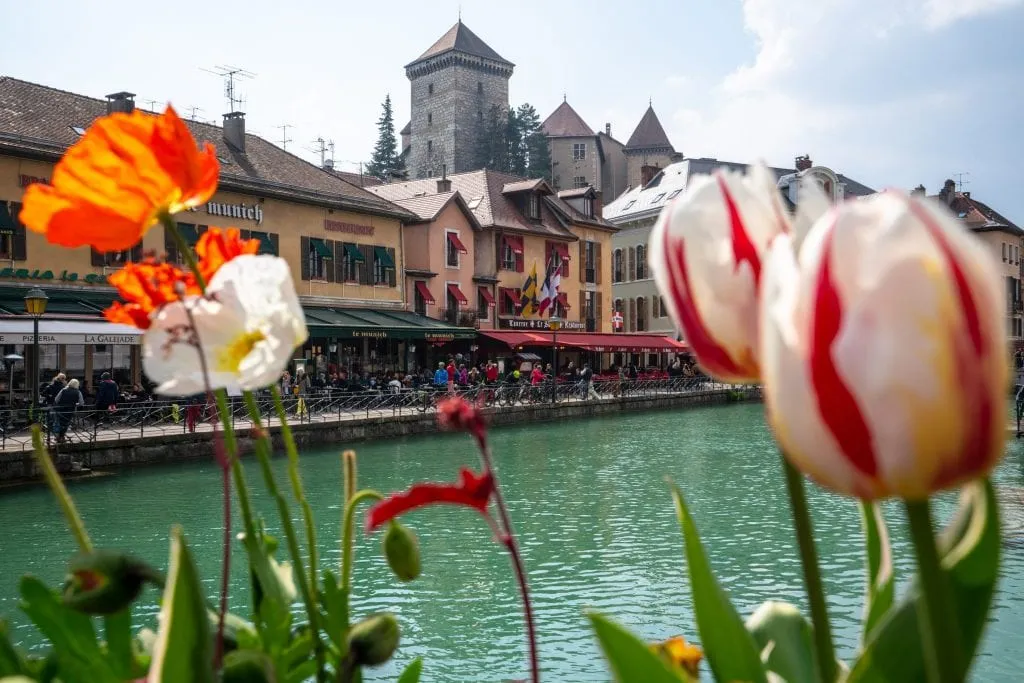 Taste all the cheese.
Annecy is home to some absolutely delectable French cheeses, and an Alpine cuisine that shows them off at their best.
In between stuffing your face with all the specialties in town (more on that below), be sure to stop by a fromagerie or two to stock up on souvenirs!
Award-winning Pierre Gay is one of the best-known fromageries in town, and we highly recommend that all cheese lovers add a stop here to their list of fun things to do in Annecy: merely the smell of the place makes it worth a visit.
Be sure to wander past the busy front room into the back room of the shop, where you can look down and see wheels upon wheels of cheese aging underneath your feet!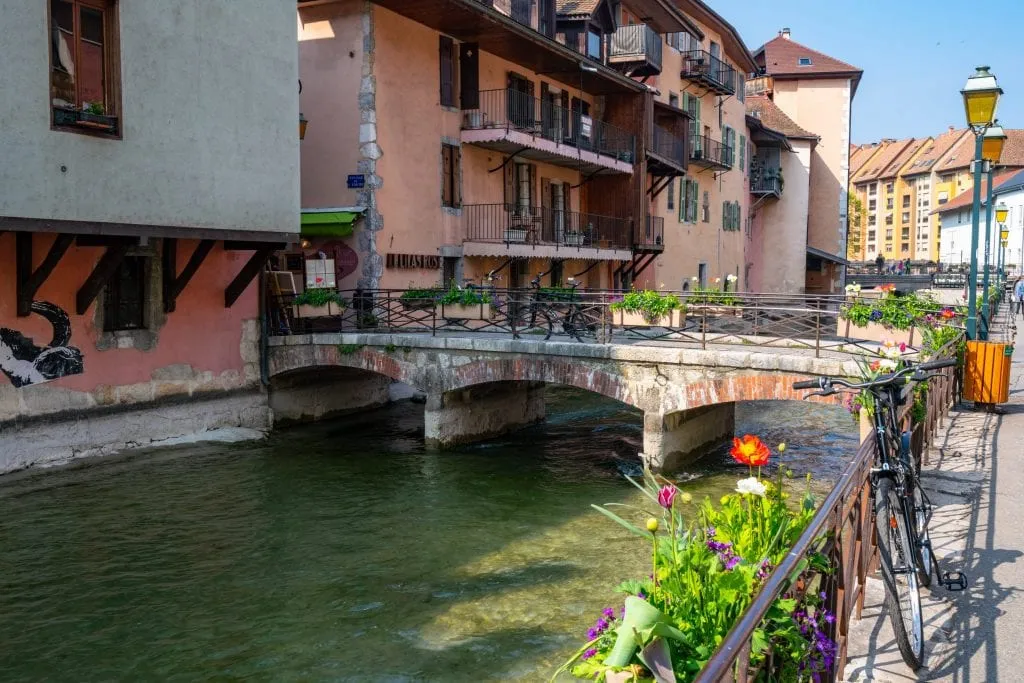 … And also indulge in the delicious local dishes.
With its Alpine culture and location that brushes right up against Switzerland, it should come as no surprise that the food in Annecy tends to be two things: heavy, and full of cheese.
This, of course, is an absolute delight to experience (though you may want to consider eating lightly most of the day and splurging on one meal in the afternoon or evening–this food fills you up!).
Be sure to try fondue, tartiflette (potatoes, cheese, onions, bacon), baked reblochon, and raclette (a fantastic cheese that is often served by scraping it out of the wheel at your table!).
If you're looking for restaurant recommendations in Annecy, we had a delicious tartiflette lunch at Le Freti, and though we didn't order the raclette, the one that was delivered to the table next to us looked phenomenal.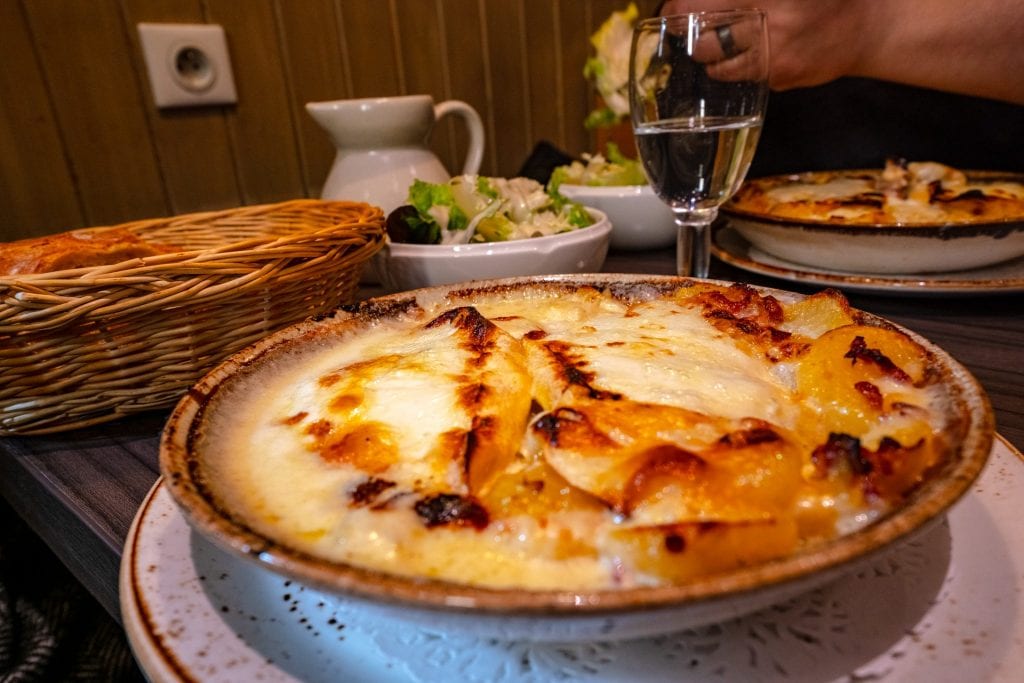 Wander aimlessly through Vieille Ville.
Annecy's Old Town is ridiculously beautiful: canals, small bridges lined with blooming flowers, and tiny shops with wares spilling out into the picture-perfect streets are all common sights.
Add in the smell of fresh-baked breads and croissants that wafts down the street each morning, and you have a combination that makes a walk through Vieille Ville, even without a particular destination in mind, one of the best things to do in Annecy.
We loved sipping our (expensive for what it was, but still) coffee in one of the cafes lining the canal each morning in Annecy, and consider the slight upcharge to be well worth the chance to savor such a magnificent location.
Steal a smooch on Lover's Bridge.
Visiting Annecy with your beloved? Add a trip to Lover's Bridge to your list of things to do in Annecy!
Legend says that couples who kiss in the middle of the bridge will experience eternal love–and romance aside, the views of Lake Annecy, the Jardins de l'Europe, and Vieille Ville from the bridge are worth seeing as well.
Stock up on fresh food (and other goodies) at the market.
Tuesday, Friday, and Sunday mornings are market mornings in Annecy, and if you can, definitely plan your trip to Annecy to coincide with at least one of the market days!
On these days, the streets and even the bridges throughout Old Town swell with stalls hawking their wares, and if you hope to add a little shopping to your list of what to do in Annecy, this is the best time to do it!
Tuesday is the smallest market of the week, with just food up for grabs, while on Fridays and Sundays, hard goods like clothes and other textiles are also available.
Picnic in the Jardins de l'Europe.
Designed in the 19th century, this beautiful, English-style garden borders Lake Annecy, and is the perfect place to stop and relax while exploring–or even to have a picnic made up of all the treats you bought at the market!
Admire the most famous view in Annecy at the Palais de l'Isle.
If you've seen one photo of Annecy, it's probably of Palais de l'Isle: this tiny, castle-like structure is located on a tiny island in the middle of the Thiou River is Annecy's best-known building.
While the structure has served many purposes since it was built in the 12th century, it is perhaps most notorious for being a prison–that was its function during times as far apart as the 13th century and World War II, and at many points in between!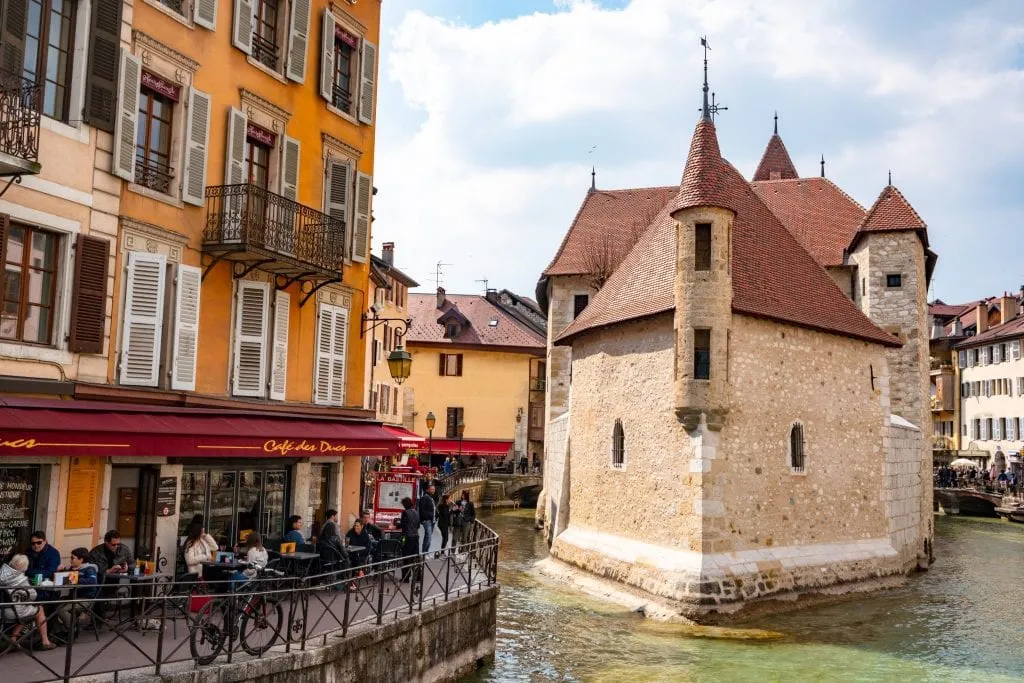 Where to Stay in Annecy
When deciding where to stay in Annecy, the biggest thing to consider is location: while prices might push you into staying outside of Vieille Ville, the closer you can get, the better. If staying within walking distance of Vieille Ville, make sure to choose a property with excellent public transport options.
Budget
Ace Hotel — Crisp, clean, modern, and comfortable: Ace Hotel makes the perfect base for budget travelers in Annecy. Though the 3-kilometer walk to Vieille Ville is less than ideal, consistent bus service to the area makes Annecy's top attractions easy to access from the Ace Hotel.
Mid-range
Hotel du Palais de l'Isle — The hotel with the absolute best view in Annecy… is also affordable on a midrange budget! This gorgeous hotel overlooks Annecy's famous Palais de l'Isle and is literally in the perfect location for exploring the city. Pair that with comfortable rooms and excellent reviews, and it's hard to imagine a better place to stay in Annecy!
Luxury
Les Loges Annecy — Located in the heart of Vieille Ville, these beautiful, self-catering apartments will allow you to truly live in the lap of luxury. You'll spend your stay just steps away from the best things to do in Annecy, while also having a beautiful retreat to rest in during your stay.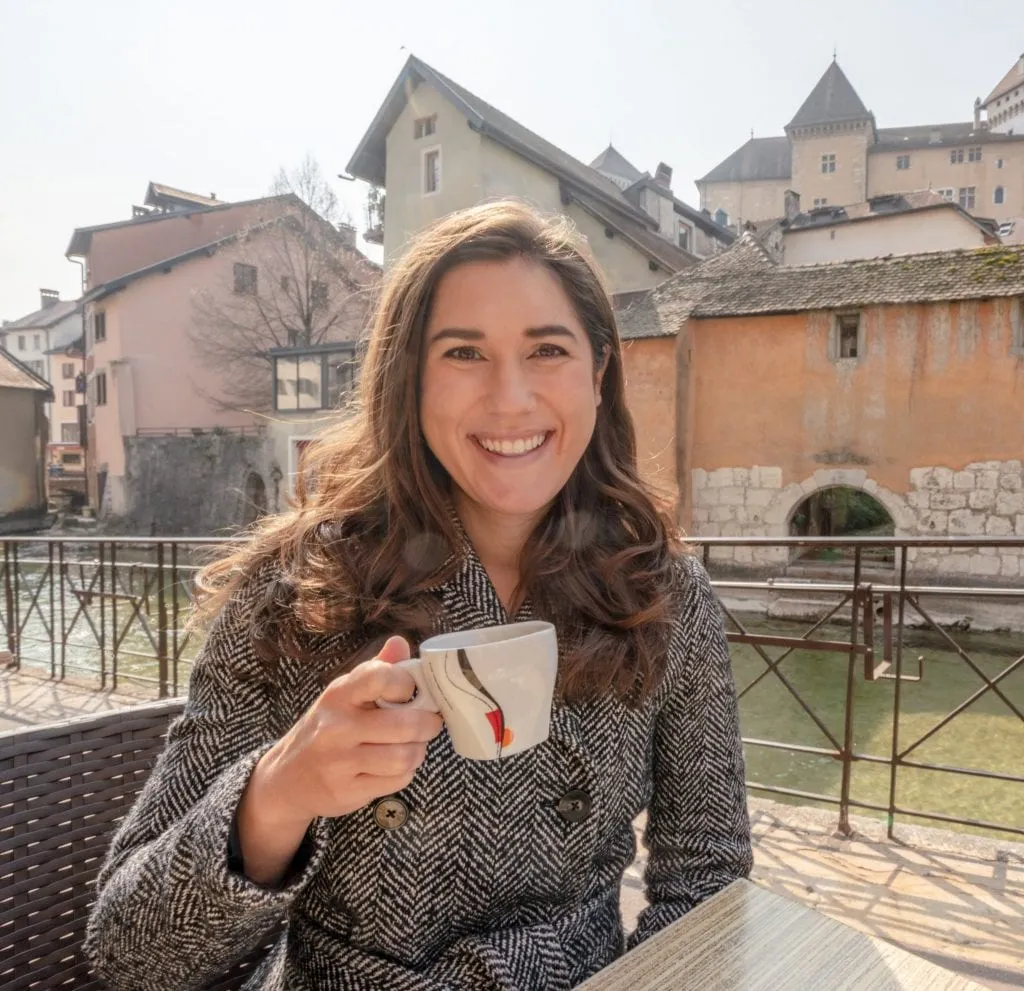 How to Get to Annecy
Annecy is small enough that it doesn't have its own airport, but it's not terribly complicated to reach.
The closest airport to Annecy is in Geneva (yep–you can visit two different countries when heading to Annecy!), and another solid option is to fly into Lyon.
From there, you can take a bus, train, or rental car to Annecy itself. We personally took a Flixbus from Geneva to Annecy and found it a simple and affordable process. The bus took about an hour and dropped us off at the Annecy train station.
Since Annecy is located within a day's drive of plenty of France's highlights, from the Luberon Valley of Provence to Chamonix for those who would like to try skiing in France, it might be worth renting a car simply to use Annecy as a launching pad for a larger trip to France!
---