Ah, Paris: the architecture, the food, the art, and the iconic sights are legendary for a reason, and even one day in Paris can be an absolute dream of a quick getaway.
One day in Paris may not be enough to work through a long wish list of what to see in the city (we're still going strong on ours about 10 visits later), but don't worry–you can indeed get a fantastic glimpse of Paris in one day.
Planning to spend a day in Paris and want to make sure you have the perfect itinerary?
Here's how to see the best of the City of Light in a limited time!
If you're anything like us, when the sun sets on your day in Paris, you'll say goodbye already dreaming of your next visit.
Want to plan a day in Paris the easy way?
The independent one day Paris itinerary we outlined below will show you many of our favorite places in the City of Light, from Notre Dame to the Louvre to the Eiffel Tower and beyond.
However, if you would rather not worry about navigating through Paris yourself, and your goal is to see absolutely as much as possible of Paris in one day, you can also consider signing up for this extremely well-reviewed tour.
Take Walks, who hosts this popular Paris in a day tour, is one of our favorite companies for small group tours in Europe, and we've used them in many cities (including on this Paris food tour).
While there are trade-offs to booking a full-day tour of Paris–the thrill of meandering aimlessly through the streets of St. Germain and being beholden to no one's schedule but your own as you munch on a crepe in front of the Eiffel Tower would be hard to give up–there are benefits to a tour, too.
The biggest one is that thanks to a knowledgeable and efficient tour guide, Take Walks' tour covers an enormous amount of ground–be prepared for sore feet but a very satisfying day if you sign up.
The Perfect One Day in Paris Itinerary
Start at Notre Dame (though you can no longer go inside).
Located on Île de la Cité (one of the islands in the middle of the Seine, and the place where Paris was founded), there's no better place to kick off your one day in Paris than at Notre Dame.
Iconic, beautiful, and centrally located, Notre Dame is an excellent starting point for any trip to Paris.
Sadly, after the awful fire at Notre Dame in April 2019, the cathedral is closed to visitors.
We continue to recommend starting your one day in Paris here for a couple of reasons: Île de la Cité is still an incredibly central spot to start a day in Paris, and Notre Dame, though wounded, is still a beautiful structure.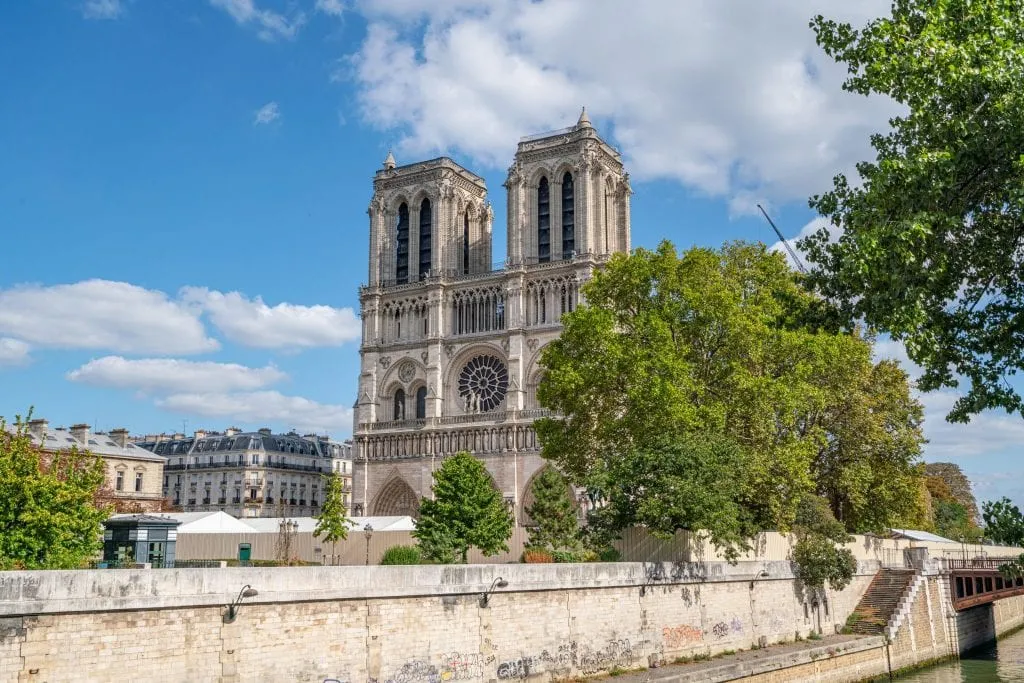 As of December 2022, the area in front of and surrounding Notre Dame is closed to the public, and the damage from the fire is obvious from most angles (you can see lots of cranes if you look at the back of the building in particular).
Notre Dame is slated to reopen to visitors in 2024, so fingers crossed we'll all get to marvel at the interior of this Gothic beauty again soon!
For now, if you'd like to get the most "normal" view of Notre Dame possible at the moment as you start your one day in Paris, we recommend heading to the corner Rue de la Cite and Quai de Montebello, near the Pont de Coeurs, where you can photograph the tops of the towers and some of the front of the cathedral looking semi-normal.
The front view of the Notre Dame, though not flawless, is worth a look too.
The views of Notre Dame from a Seine river cruise are also lovely, but more on that in a bit.
Stroll over to Shakespeare & Company.
5-minute walk from Notre Dame.
Just a short walk over the Seine from Notre Dame sits Shakespeare & Company, which is easily the most famous English-language bookstore in Paris.
Known as the haunt of Lost Generation writers like Ernest Hemingway and F. Scott Fitzgerald, and later (in its current location), the gathering place of writers like Langston Hughes and Ray Bradbury, Shakespeare & Company has a storied history that includes many famous names, an eccentric owner or two, and even a closure during the Nazi occupation of France.
Today, Shakespeare & Company is stuffed with beautiful books and is worth visiting during even a one day trip to Paris.
Be sure to check out the view of Notre Dame through the second-floor window, say hello to the cat who lives upstairs, and purchase a book (they'll stamp the title page with their seal at checkout, which makes for a wonderful Paris souvenir).
Be sure to avoid taking photos inside–they are explicitly forbidden, so stick with admiring the books in real-time instead!
Grab a cup of coffee from a typical Parisian cafe.
Several gorgeous Parisian cafes are located within easy distance of Shakespeare & Company, and after an early start to your day in Paris, enjoying a traditional French breakfast is a great way to soak up the atmosphere of the city.
A few great options on or near Île de la Cité include Odette for something popular and photogenic, the cafe at Shakespeare & Company for surprisingly delicious and affordable options (their scones, while not typically French, are delightful).
For something iconic, Au Vieux Paris d'Arcole is an option for the late risers among us (though the cafe is extremely famous and photogenic, it also doesn't open until noon).
For a less-famous but delightful option that we love, A. Lacroix Patisser offers wonderful drinks and pastries.
We've been eating there for years and love its cozy atmosphere and views of Notre Dame!
Check out the oldest clock in Paris.
8-minute walk from Shakespeare & Company or Odette.
On the side of the Conciergerie, mere steps from the Seine and affixed to the Tour de l'Horloge, sits the oldest clock in Paris.
Installed in the 14th century, the clock is both functional and absolutely stunning.
It also only takes a quick moment to stop to admire its beauty on the way to Sainte-Chapelle.
Make your way to Sainte-Chapelle.
3-minute walk from Tour de l'Horloge.
Since visiting the interior of Notre Dame is no longer an option, you now have time during your mad dash through Paris in a day to tour the interior of Sainte-Chapelle, which is–in my totally biased opinion–one of the prettiest church interiors in the entire world.
Built in the 13th century to hold precious Christian relics, including the Crown of Thorns that now typically lives at Notre Dame, Sainte-Chapelle's magnificent upper chapel is home to soaring 15-meter walls that are made up almost entirely of stained glass.
And, as beautiful as it is, the sheer amount of stained glass becomes even more impressive when you realize that over 70% of it is original!
The lines do get long here, so we recommend purchasing a skip-the-line ticket in advance.
Like many attractions around Paris, they're available with no upcharge at all!
Head to the Luxembourg Gardens.
13-minute walk from Shakespeare & Company.
Home to the beautiful Luxembourg Palace, the Luxembourg Gardens are the perfect example of Paris' iconic gardens.
Flowering and beautiful in the summer, it's impossible to walk by during almost any kind of halfway-decent weather without seeing plenty of people gathered for a picnic, some gossip, or a quiet afternoon of reading.
Be sure to check the fountains for miniature sailboats in the summer: young Parisian children have a long tradition of playing with them there!
We have visited the Luxembourg Gardens in all seasons, and while each season has its pros and cons, summer is absolute magic.
Make your way to the Louvre through Saint-Germain-des-Prés.
18+ minute-walk from the Luxembourg Gardens to the Louvre.
Saint-Germain-des-Prés is widely considered to be one of the most iconically Parisian neighborhoods, and for good reason.
With its lovely buildings, shuttered windows, and wrought-iron balconies, St. Germain feels like quite the Parisian postcard.
It's also a wonderful place to eat, which means that a stroll through St. Germain as you vaguely make your way toward the Louvre serves 3 purposes: enjoying a beautiful Parisian neighborhood, resting your feet during lunch, and making your way to your next destination!
We enjoyed eating at Eggs & Co. in St. Germain, and, though it isn't technically lunch, Laduree (makers of some of the best-known French macarons) has a beautiful store here as well.
Technically a few blocks outside of St. Germain but still delicious, we also love our lunches at Le Prince Racine.
The walk from the Luxembourg Gardens to the Louvre is technically under 20 minutes, but depending on how much you want to meander around the neighborhood, it could take quite a bit longer!
Dive into the Louvre.
Giant, overwhelming, and incredibly iconic, no attempt to see Paris in one day could leave out the Louvre.
There's absolutely no way you could possibly see it all–we've been several times for many hours each and still feel like we've barely scratched the surface!
With only one day in Paris to work with, strategy and prioritization will both be important to making the most of your time in the Louvre.
We recommend spending 2 hours here, more or less, depending on what time it is when you arrive and how quickly you have moved during your day in Paris so far (keep an eye on the time of sunset–you don't want to miss seeing the Eiffel Tower before dark!).
Start by heading directly to the piece or collection that is most important to you–maybe that's the iconic Mona Lisa, maybe it's the Venus di Milo, maybe it's the Egyptian artifacts. Who knows!
Alternatively, if you'd like some structure and a timeline to your visit, consider booking a guided tour (we loved this one, and this popular tour is a more traditional option).
Regardless of whether you choose to take a guided tour of the Louvre or not, like with Notre Dame, we absolutely recommend purchasing a skip-the-line ticket for the Louvre before arriving.
The lines can be insane, and even with a skip-the-line ticket, you'll still have security to worry about!
Book your guided tour or skip-the-line tickets to visit the Louvre today!
Pay a visit to the Palais Garnier.
17-minute walk from the Louvre.
One day in Paris definitely isn't enough time to visit Versailles–but you can get a small taste of Parisian glitz and glamour at the Palais Garnier (also called the Opera Garnier) all the same!
Paris' iconic opera house is gilded and stunning–the incredible Grand Foyer might just make you think you've stepped into a smaller version of the Hall of Mirrors at Versailles.
While the interior of the theatre itself is a bit standard, the rest of the building, from the Grand Staircase to the Loggia, is truly remarkable.
And while there's unlikely to be a phantom under the opera house, some of the legends connected to the famous story do hold true, including a deadly accident involving the famous chandelier in 1896 (though in the real story the counterweight, not the chandelier itself, fell to the ground).
Though the lines are not typically as long at the Palais Garnier as opposed to the Louvre and Notre Dame, we still recommend purchasing skip-the-line tickets ahead of time at no additional cost to ensure your one day in Paris runs as smoothly as possible.
(The Palais Garnier is also right around the corner from the famous Galeries Lafayette, which boasts a beautiful, free view of Paris from its rooftop–if you have a bit of extra time to work with by this point in your Paris itinerary, consider making taking a quick detour).
Purchase your skip-the-line tickets for the Palais Garnier today!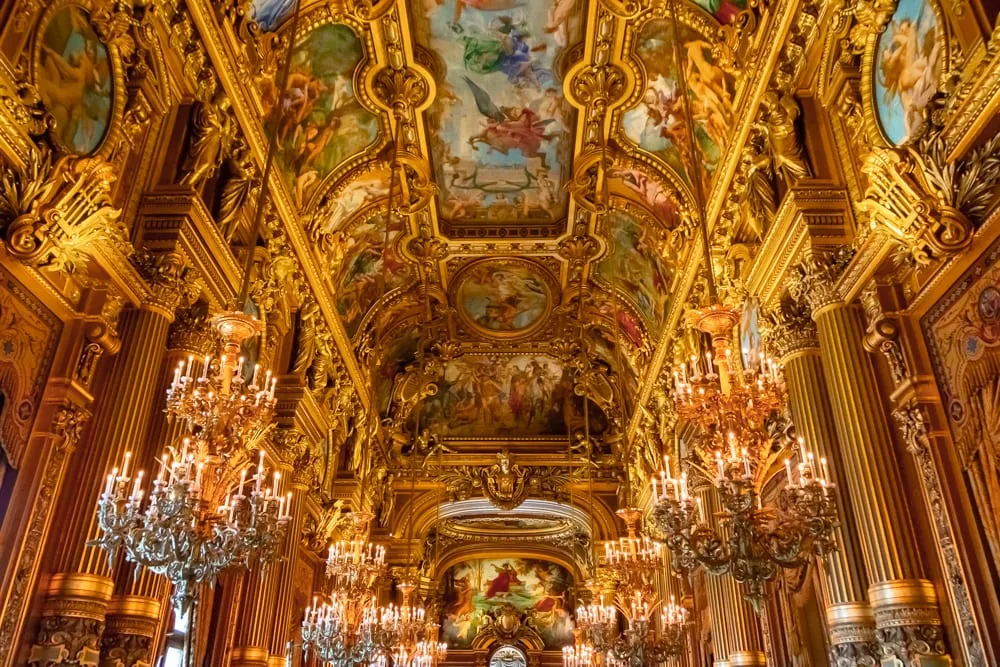 Head to the Trocadero Gardens and enjoy iconic Eiffel Tower views.
23 minutes from Palais Garnier via metro line 9.
No one day Paris is complete without enjoying an iconic view of the Eiffel Tower!
The Trocadero Gardens offer the best view of the Eiffel Tower in all of Paris–so grab a crepe from one of the nearby vendors (the prices are surprisingly reasonable to be right next to the Eiffel Tower) and get ready to soak in some beautiful views.
If you'd like to wander closer to the Eiffel Tower, feel free to make your way through the Trocadero Gardens, past both the carousels, across the Seine, and to the Eiffel Tower itself.
Sadly, increased security measures have recently been imposed that prohibit anyone from walking directly under the Eiffel Tower without a ticket to the top, but you can still get pretty close!
Wrap up your one day in Paris with a Seine river cruise.
To be perfectly honest, it took us many trips to Paris before we signed up for a Seine river cruise… and after taking one, we can't believe that we waited so long!
Yes, they're a bit touristy, but there's nothing quite like admiring Paris and its many gorgeous monuments from the water.
Add in the possibility of a sunset, and the view is even better.
Many Seine river cruises leave from very close to the base of the Eiffel Tower, too, making taking one an easy addition to this one day Paris itinerary!
Want to splurge a bit for your first night in Paris?
You can even sign up for a full dinner cruise if a standard one-hour cruise doesn't sound like quite enough time on the Seine.
Book your Seine river cruise today!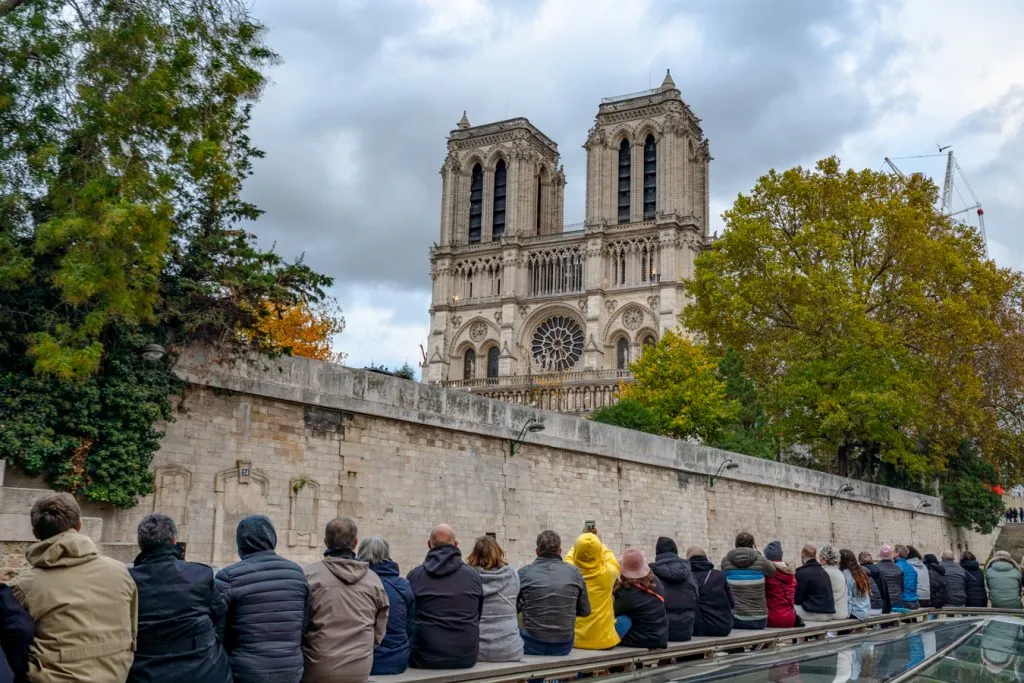 Where to Stay With One Day in Paris
In a city as large and dense as Paris, deciding where to stay (especially when you only have 24 hours in Paris to work with) can be quite daunting!
Paris is famously divided into 20 arrondissements, or neighborhoods, that are named via a number system that starts with 1 in the center of the city (where you'll find the Louvre) and circles outward like the shell of a snail.
After roughly 10 trips to Paris, we've stayed in many neighborhoods spread across the city, from Montmartre (we loved this aparthotel) to the Bastille area (an underappreciated place to stay, and this hotel was wonderful).
And, while everyone has their own opinions about where to stay in Paris (there's no one right answer) we love and highly recommend Saint-Germain-des-Prés (6th arrondissement) or the Latin Quarter (5th arrondissement) to travelers visiting Paris for the first time and frequently choose to stay there ourselves.
In these areas, you'll be within walking distance of attractions like Île de la Cité (home of Notre Dame and Sainte-Chapelle), the Seine, the Luxembourg Garden, the Louvre, and many more.
Here are a few hotels we've personally stayed in and loved in the 5th and 6th, arranged more or less from most budget-friendly to most luxurious (though if it's Parisian charm you're after, this one is the clear winner).
We love this cute boutique hotel in Paris, mostly because of its truly unbeatable location less than a 10-minute walk from Notre Dame and therefore an easy walk away from much of the attractions of Île de la Cité (and a metro stop, of course).
Despite the super central location, the streets outside were still quiet at night, a huge benefit, and the views during the day were lovely.
The customer service was excellent, the bed cozy, and the room, while still very small by global standards, was a bit roomy compared to what we've gotten used to in Paris.
We'd be happy to stay again!
Relais Hôtel du Vieux Paris (Classic Parisian Charm)
Located on a quiet street less than a block from the Seine and Île de la Cité, Relais Hôtel du Vieux Paris offers all the advantages of a central location while maintaining its peace and quiet.
… and it does all that while still managing to have one of the most charming interiors we've experienced in a Paris hotel!
The ceilings, wallpaper, and overall decor never let you forget that you're in the City of Light, and we loved every second.
The breakfast is also delicious, served at the table, and includes a generous selection of pastries as well as fruit, cheese, orange juice, coffee, and tea.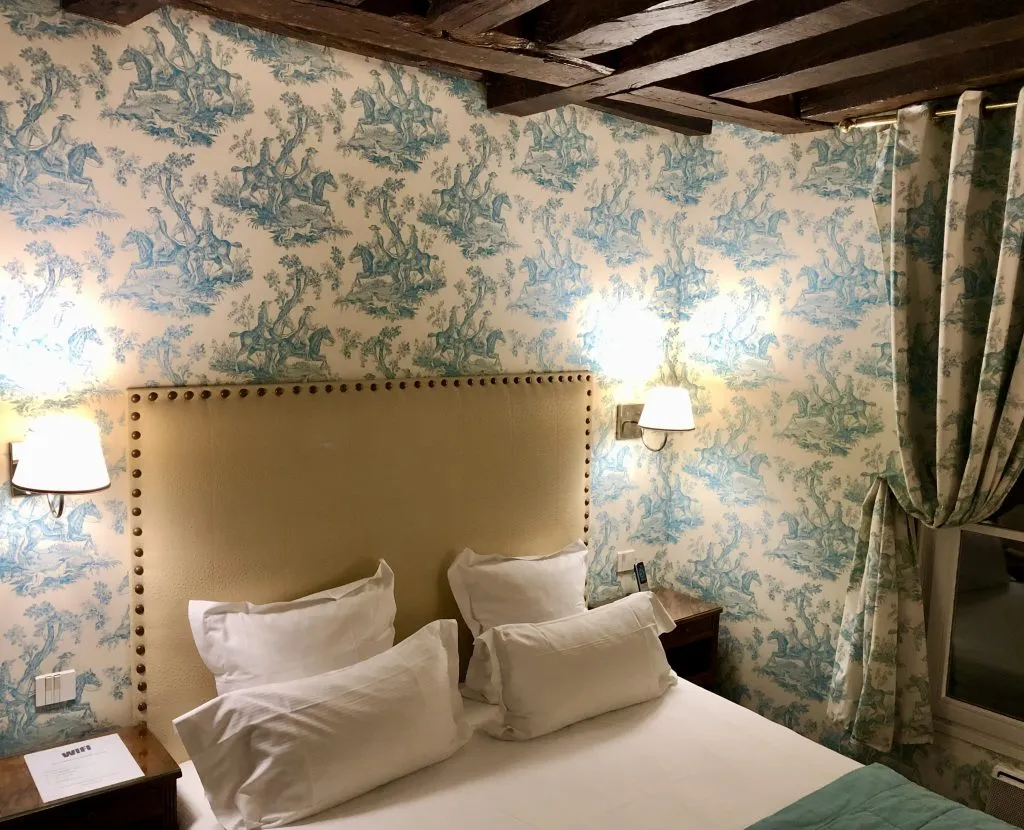 Located right on the Seine in one of the most convenient locations in Paris, the crisp and modern Citadines Saint-Germain-des-Prés Paris offers ease at every turn.
And, that includes the fact that studios and apartments here include kitchens or kitchenettes!
If you're looking for a peaceful retreat from sightseeing in Paris, a chance to enjoy an occasional dinner of cheese and baguette you picked up at the market, and a bit more elbow room than is traditional in the City of Light, this is the place for you.
We loved our stay here–and, thanks to the hotel being pet-friendly, so did Ranger.
Check rates & book your stay at Citadines Saint-Germain-des-Prés Paris!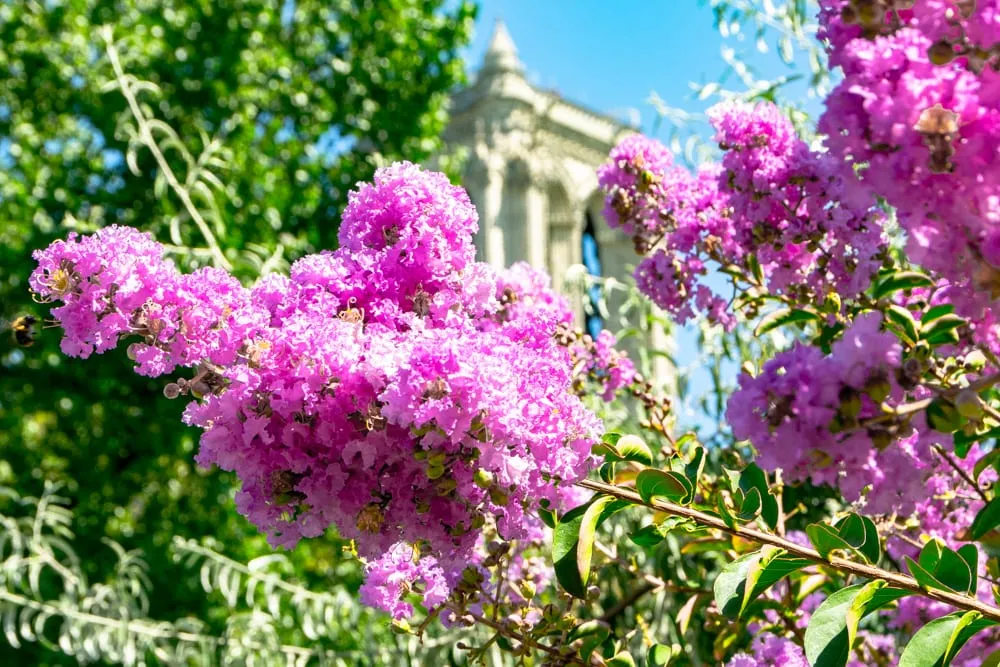 Tips for Enjoying One Day in Paris
Don't let simple mistakes cost you time during your one day in Paris!
These Paris travel tips will help you make the most of your limited hours in the city!
Get started early.
We are the absolute opposite of early risers, but with one day in Paris, we would be amiss to suggest anything but an early start.
The earlier you start, the more time you can spend enjoying Parisian cafes, shops, and views, and the most ambitious among us may even want to squeeze in one more attraction or museum along the way.
Here are the best things to do in Paris if you're looking for even more ideas on what to see in the city!
For those who like to stay out late and want to expand their one day Paris itinerary a bit further, here's what to do in Paris at night.
Strategize your metro use.
For most of this itinerary for seeing Paris in a day, the best way to enjoy the city is on foot.
You'll experience the neighborhoods, the sights, the cafes, and so much more on a different level by spending as much time on your feet as you can!
For that reason, we've only suggested one metro ride in this guide to spending one day in Paris.
However, if your feet are killing you (even one day in Paris could mean many hours of walking), the weather is terrible, or you're short on time, you can definitely consider adding more metro rides into this itinerary.
Skip-the-line passes are your best friend.
Without planning in advance, one day in Paris during the popular summer months could easily mean spending your whole day in line!
Skip-the-line passes are absolutely the way to go in Paris–we use them ourselves whenever we visit–and often don't cost even a penny extra!
Based on the itinerary sketched out here for one day in Paris, we recommend purchasing skip-the-lines passes for Sainte-Chapelle, the Louvre, and the Palais Garnier.
You'll also want to book your Seine river cruise in advance to make sure you end up with the time slot you want.
Embrace the weather.
Paris is a cloudy, rainy city–there's just no getting around it.
For that reason, we recommend planning your one day in Paris expecting the weather to include thick clouds with the occasional rain shower.
That leaves you room to be pleasantly surprised with a beautiful day, but lowers the risk of disappointment with a dreary one.
Regardless of what the weather is like when you arrive in Paris, try not to let it get you down–Paris is beautiful in the rain!
While a particularly rainy day may make you swap the Luxembourg Gardens for some extra time at the Louvre, overall this plan for one day in Paris is pretty rain-proof–especially if you bring an umbrella
.
If you're a museum buff who gets caught in the rain and wants to enjoy more art, the Musée de l'Orangerie is small, conveniently located for this itinerary, and one of our favorite museums in the city.
Dress with Paris in mind.
Deciding what to wear for one day in Paris requires taking a few things into consideration–even for those who aren't particularly concerned about fashion.
Be sure to wear comfortable clothes (especially shoes!) that are easy to wear for an entire day.
Shoes are by far the most important–if your feet are incredibly pained by noon, your one day in Paris won't be nearly as fun as it could be.
We'd also recommend wearing something classically fashionable (think dark colors, flattering cuts, and simple lines)–this is Paris, after all, and you'll want to look good in your photos!
More Than a Day in Paris?
If you're lucky enough to have more than one day in Paris, you have so much to look forward to!
With a little extra time–say an afternoon or a morning–consider adding on a visit to the Arc de Triomphe and Champs-Elysses, or a visit to the Musée d'Orsay.
To enjoy a different side of Paris, consider heading out to the gorgeous and wildly popular neighborhood of Montmartre, which is home to some of the most charming streets in the city (not to mention phenomenal views from the Sacré-Coeur).
If you have a few days in Paris, be sure to check out our detailed 3 day Paris itinerary to help you find the best sights.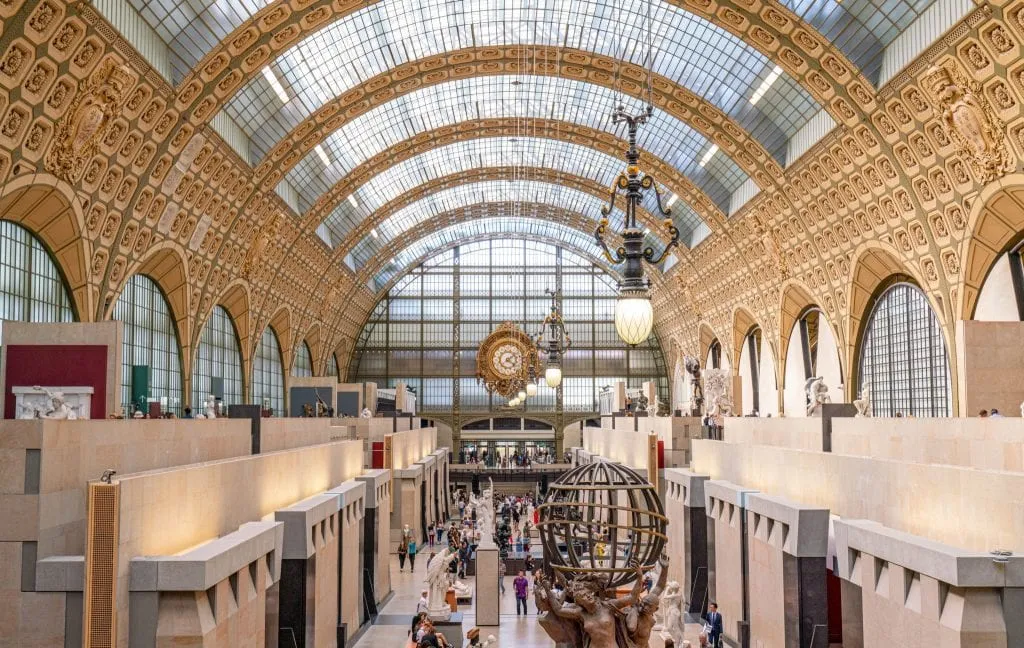 Getting Around During One Day in Paris
We've intentionally structured this one day in Paris guide to include a lot of walking.
Walking directly between every attraction before heading to the Trocadero Gardens (we definitely recommend a metro there) will require about an hour of walking total, but that doesn't include time spent on your feet in places like the Luxembourg Gardens and the Louvre.
Be prepared for sore feet after your day in Paris!
If you'd like to use the metro several times throughout the day instead of walking, consider purchasing a "carnet" of metro tickets–by buying 10 tickets at once, you save a little money.
Alternatively, if you'd like to avoid as much walking as possible, a hop-on, hop-off bus tour can help.
Coming from Charles de Gaulle Airport
To get into the center of Paris from the Charles de Gaulle airport, take the RER B line into the city.
If you're arriving in the morning ready to start your one day in Paris, you won't even need to make any changes!
The Saint Michel – Notre Dame metro stop is on the same line, so you can jump on the train at the airport and get off right at Notre Dame.
Travel time is about 40 minutes, though I'd recommend allowing an hour for any delays.
Coming from Orly Airport
Coming from the Orly airport, you'll follow almost the same directions as arriving from Charles de Gaulle.
The only difference is that you'll need to hop onto a train called the "Orlyval" first, which will take you over to pick up the RER B line.
The signs are very clear, so don't worry–getting into the center of Paris is the goal of just about everyone arriving at the airport, so the directions are designed to be easy to follow.
Travel time is about 40 minutes, just like Charles de Gaulle, and I'd recommend allowing an hour for any delays here, as well.
One Day in Paris Itinerary Map
Take This Map With You! Click each highlight to pull up the name of the destination. To save this map to "Your Places" on Google Maps, click the star to the right of the title. You'll then be able to find it under the Maps tab of your Google Maps account! To open the map in a new window, click the button on the top right of the map.
---