Playa Blanca, Isla Baru, with its shockingly bright turquoise water and golden sand, is Cartagena's most famous (and infamous) beach.
This beautiful stretch of golden sand paired with the turquoise sea is known for its jaw-dropping beauty, but also its congested crowds, pushy salespeople, and reportedly less-than-stellar levels of cleanliness.
Before heading out to Isla Baru to experience Playa Blanca for ourselves, we honestly weren't sure whether or not we'd come to regret making the trek out to the beach.
Ultimately, though, our day on Playa Blanca ranked among our top 5 days from our month in Colombia!
We found the highlights to be just as beautiful as described, and the criticisms to be overblown.
Want to plan your own perfect day on Playa Blanca?
Here's what to know before you go.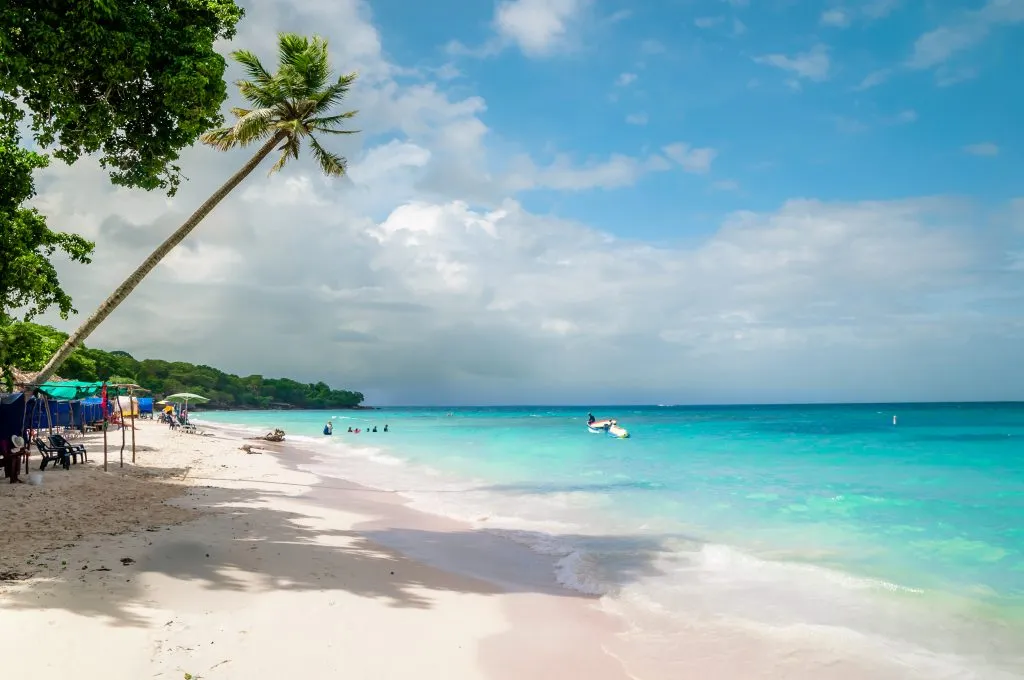 Some links in this post may be affiliate links. If you make a purchase through one of these links, we may earn a small commission at no extra cost to you. Please see our

disclosure policy

for more detail.
The Easiest Way to Visit Playa Blanca
Want to enjoy a day trip to Playa Blanca from Cartagena but don't want to deal with the hassle of getting there?
This popular catamaran tour is one of the top-rated day trips in Cartagena, and includes a stop on the beach!
If you want something more focused on Playa Blanca in particular, this day trip to Playa Blanca is a great option (especially now that the shuttle we used is no longer running–more on that below).
Book your day trip to the Rosario Islands from Cartagena today!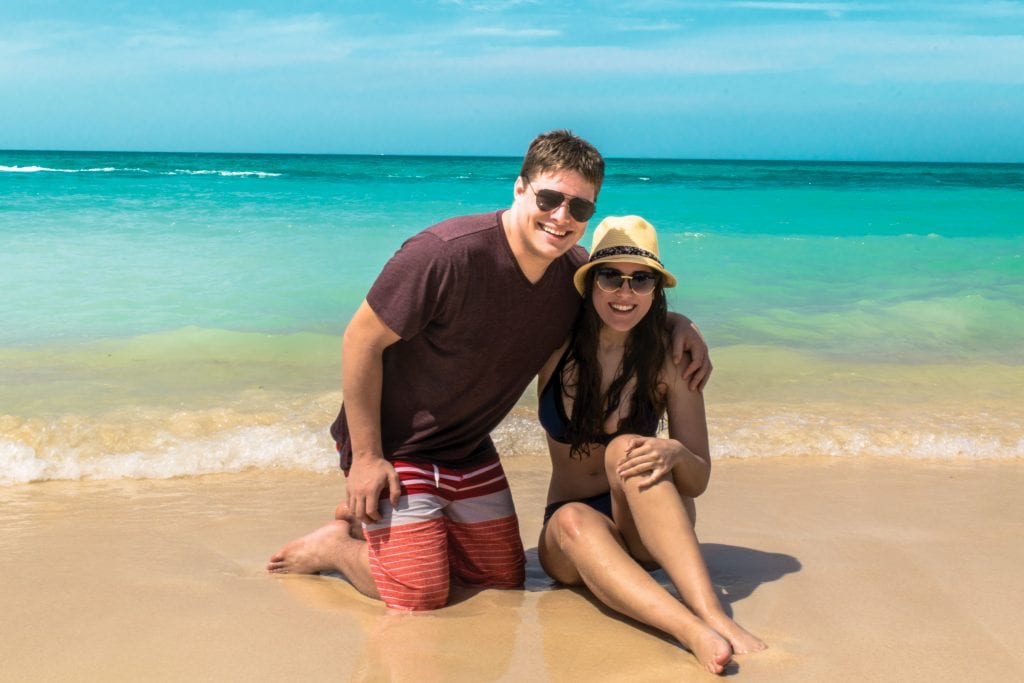 What to Know about Visiting Playa Blanca
Playa Blanca is not technically in Cartagena–instead, it sits about a 45-minute shuttle or speedboat ride away from the city on the beautiful Isla Baru.
Its proximity to the city, though, means that Playa Blanca is widely considered to be one of the best beaches in Cartagena!
Isla Baru is one of Colombia's Rosario Islands, an island chain that reaches into the Caribbean.
Though many of the islands are small and privately owned, Isla Baru is larger and is home to about 20,000 people.
Playa Blanca is absolutely stunning, stretching as far as the eye can see in either direction and has become far more popular in recent years.
The main reason for that?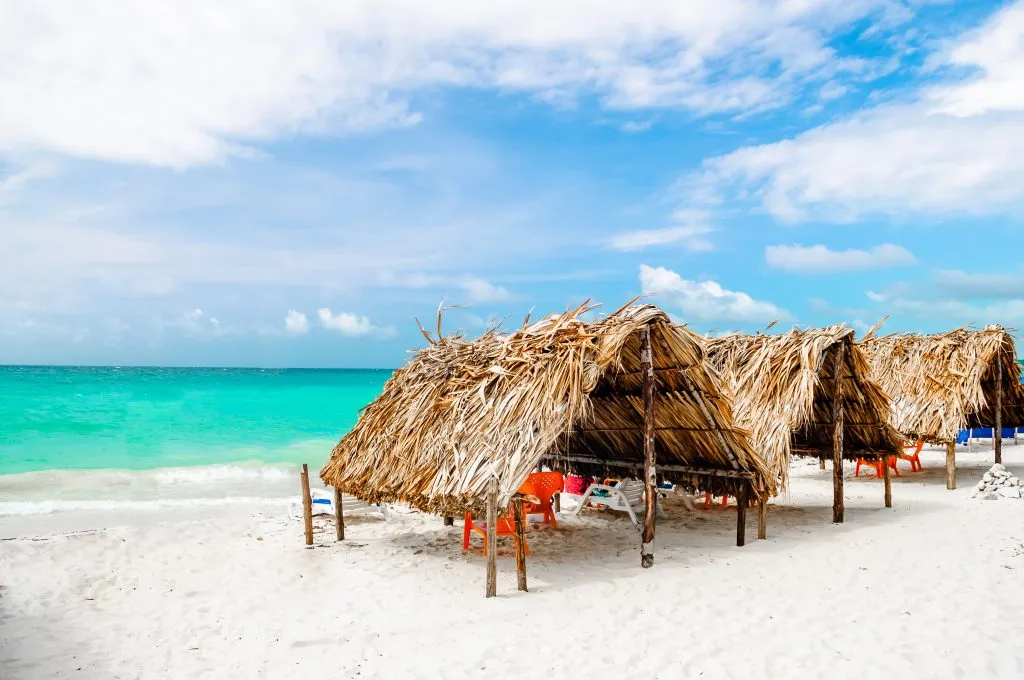 Within the last several years, a bridge has opened connecting Isla Baru directly to Cartagena, meaning that tourists can arrive with much less effort than they used to be able to–and traffic has picked up as a result.
The development of the beach into a more and more popular tourist destination has come with all the double-edged swords that development often does, providing jobs and income to local families, but also causing issues with trash disposal, a shifting economy, and more.
We feel it's important to have those changes in the back of your mind before visiting Playa Blanca, not to discourage anyone from going, but just to make sure that you keep perspective (and to make sure you pack your trash in and out and try to maintain patience with energetic locals trying to make a living from this new income source).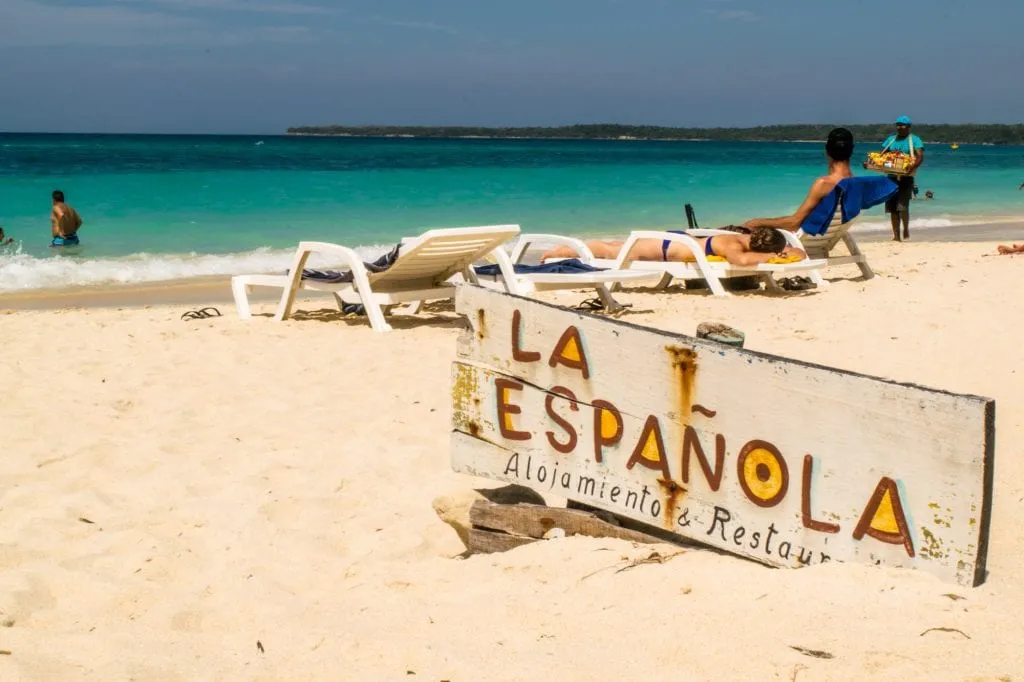 When to Visit Playa Blanca, Isla Baru
If you're looking for a deserted beach, Playa Blanca is not the Colombian beach for you.
If you're looking for a quiet, one, though, the earlier you get there, the better.
We arrived at Playa Blanca via our shuttle bus about an hour before the first speedboats of tourists did, and that first quiet hour with a less crowded beach was wonderful.
If your goal is to avoid crowds, also consider a weekday visit if possible, as Playa Blanca (and Cartagena in general) is a popular weekend getaway for Colombian families.
How Long to Stay on Playa Blanca & Isla Baru
Though most people (including us) tend to only visit Playa Blanca as a day trip from Cartagena, if you'd like to have the stunning beach (almost) entirely to yourself, consider spending a night on the beach on Isla Baru.
Or, for an even quieter experience, you could consider a few days on Isla Grande!
Though conditions typically aren't luxurious when staying on Isla Baru, there are several options for staying on or near the beach overnight, and therefore experiencing some of the best times that Playa Blanca has to offer: sunrise and sunset.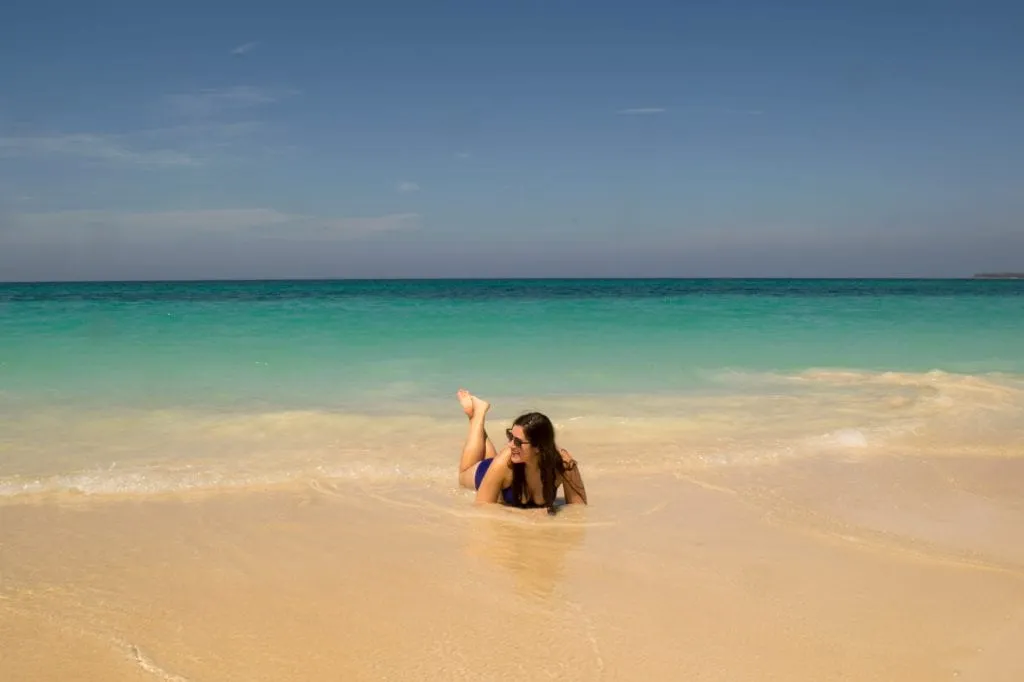 How to Get To Playa Blanca from Cartagena (Without a Tour)
When wandering the Old Town of Cartagena, you'll likely be bombarded with salesmen attempting to sell various "Rosario Islands" and "Playa Blanca" tours at steep prices.
We'd recommend avoiding these: not only are they expensive, but they also tend to be very regimented.
Whether or not any of the "inclusions" actually end up being included is a bit of a shot in the dark, and extras like visits to aquariums and such tend to only eat up time that could be better spent on the beach.
Better options are to take a shuttle, take a speedboat, or use public transportation to reach Playa Blanca independently (we're not very familiar with that final option, but it can be done).
We chose to take a shuttle through Hostel Mamallena, which ran 50,000 COP (or about $17.50 USD as of the time of writing) per person round trip, and got us to Playa Blanca earlier than the crowds.
Hostel Mamallena is located in the Getsemani neighborhood of Cartagena.
We arranged for our tickets the evening before heading to Playa Blanca via email, and the hostel was incredibly fast to respond and easy to work with.
2023 Update: Sadly, we have confirmed with the Hostel Mamallena team that the hostel is now closed and the shuttle we used is no longer running. The team didn't know of any other available shuttles.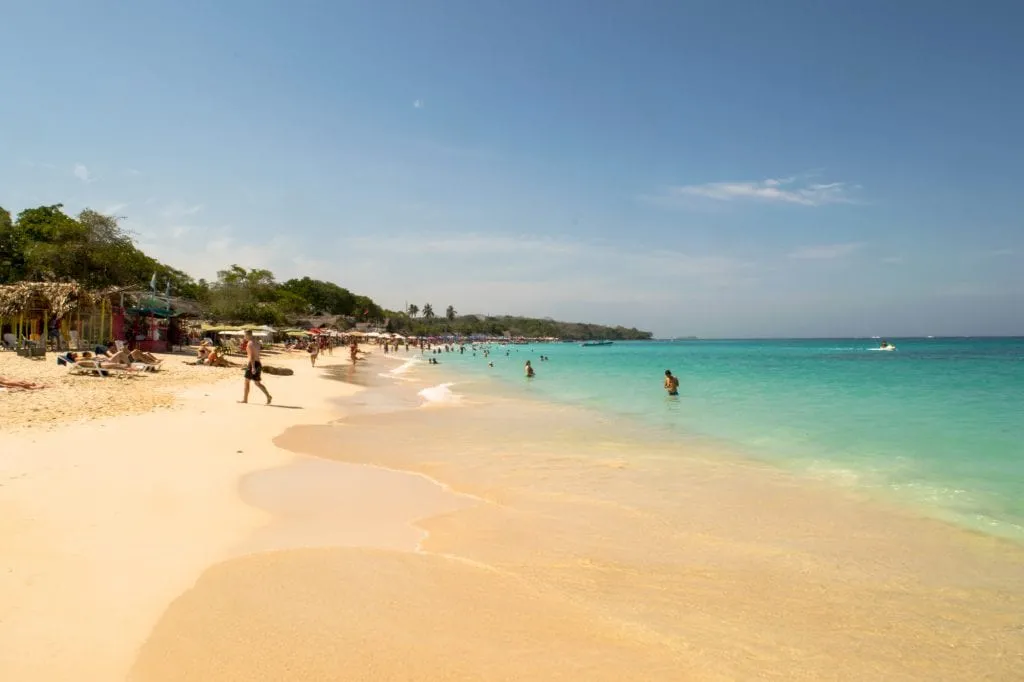 Sound like too much hassle?
I get it–taking shuttles isn't for everyone, and there are days when a pre-arranged tour is just our speed.
In that case, we'd recommend opting to take one that has already been reviewed rather than choosing a random one off of the street.
This day trip from Cartagena includes plenty of time at Playa Blanca and is well-reviewed on Get Your Guide.
Alternatively, this catamaran tour includes less time on Playa Blanca, but plenty of time enjoying the Rosario Islands overall.
It's also one of the most popular day trips leaving from Cartagena!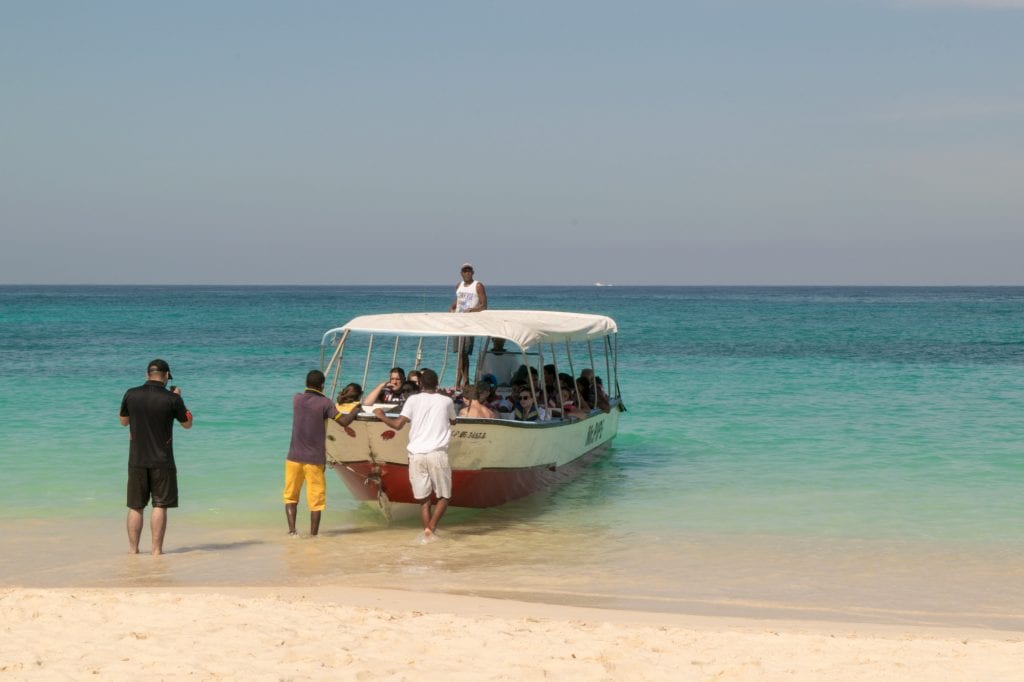 Tips for a Great Playa Blanca Experience
We loved our time at Playa Blanca, but some people definitely have a less-than-ideal experience there.
Here are a few things that we think really helped our day go smoothly.
Take a shuttle instead of a boat.
Taking the shuttle with Hostel Mamallena allowed us to arrive on the beach before the bulk of the crowds, and get a taste of a quieter side of Playa Blanca.
Consider renting a cabana.
We're not normally the types to pay for extras on beaches, but our shaded cabana cost less than $10 USD for the day and paid off in a big way.
Not only was it comfortable (and kept us from getting burned), but using a cabana also meant we were set up a bit further back on the beach than most visitors, so we had to shake off far fewer salespeople throughout the day.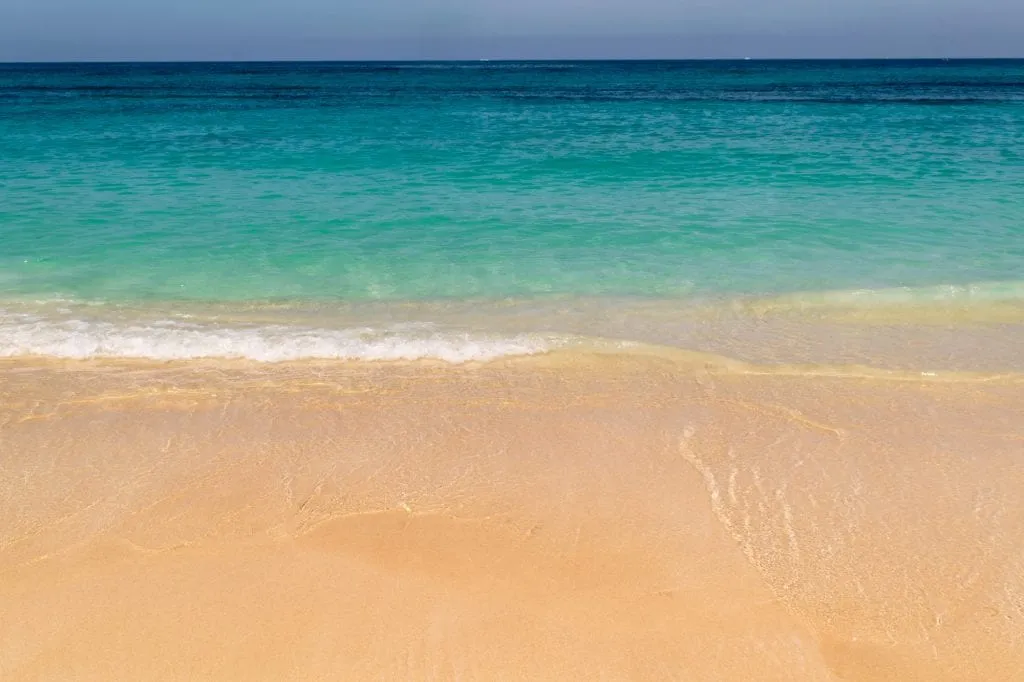 Come with the right expectations.
Playa Blanca is busy, there's no doubt about it.
Come prepared for that, and you're much more likely to have a great time.
Set up away from the most popular entrance points to the beach.
Though we were definitely still among the crowds where we set up on the beach, we were far enough away from the most congested points that dealt with far fewer jet skis and boats close to us in the water, something that is a challenge for some visitors.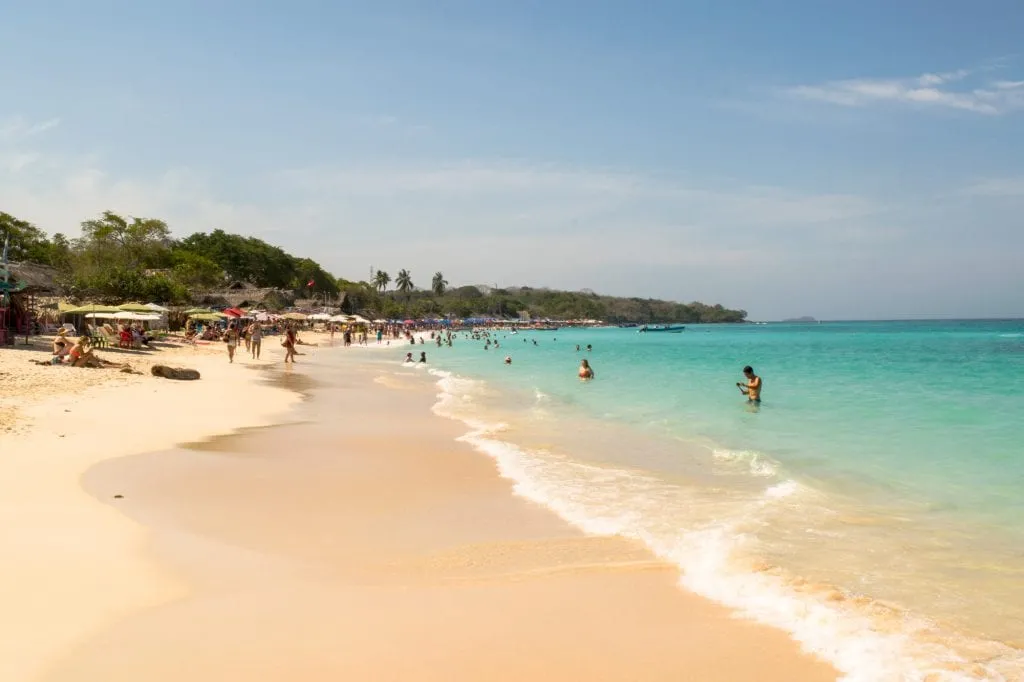 What to Pack for Playa Blanca + Isla Baru
Travel Insurance — We don't ever suggest traveling without insurance–anything can happen, and this is definitely a case of better safe than sorry.
Traveling to Colombia is generally quite safe, but also likely involves stepping outside your comfort zone and trying out new adventures in a foreign land… where you may or may not speak the language. Safety Wing is a popular option for trips to Colombia.
Sunscreen
— The sun is very strong in Colombia! Don't forget to reapply every couple of hours.
Cash — Not too much, but not too little: consider if you're going to want to partake in an extra activity like renting a jetski or getting a massage, and decide from there how much to bring.
At least bring enough for some cold drinks!
Swim Goggles
— Swimming is much more fun if you can see underwater.
Sunglasses — Playa Blanca is incredibly bright! We barely removed our sunglasses when we weren't swimming.
Water & Snacks — While you'll likely want to buy drinks and maybe a snack or lunch at the beach, we recommend coming prepared–you'll pay much less for whatever you bring over yourself.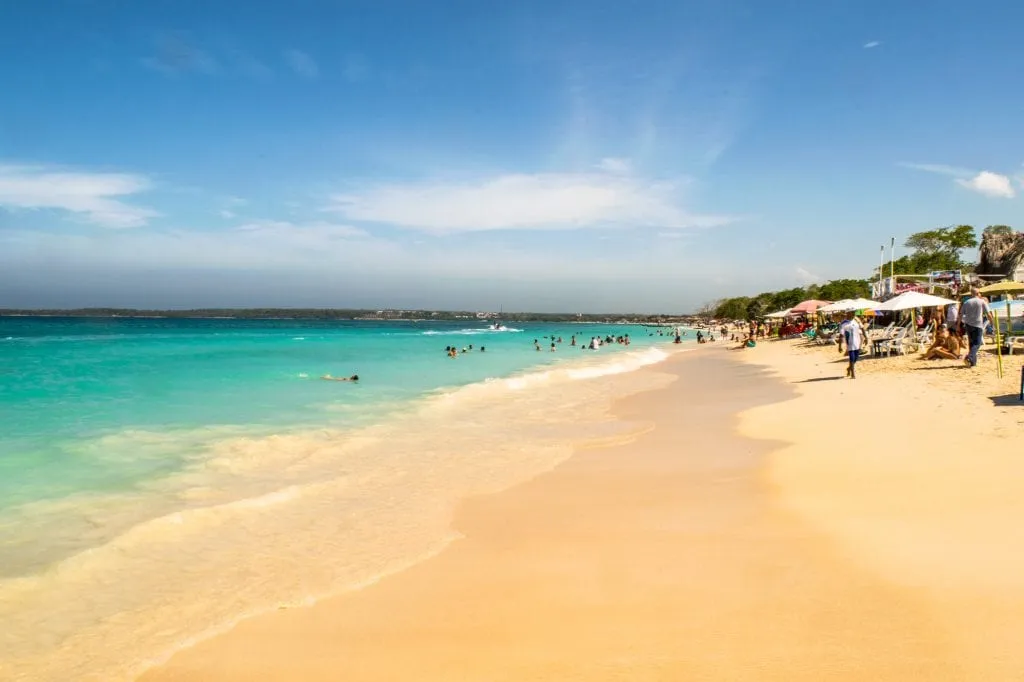 Was Visiting Playa Blanca from Cartagena Worth It?
Yes, yes, absolutely yes.
While this wasn't necessarily a deserted-island type beach, we had an incredibly fun and relaxing day hanging out together reading, lounging in front of the sea, swimming, and just chatting and catching up with few distractions.
The crowds, while present, didn't feel overwhelming, and we didn't find the salespeople to be disruptive at all, as almost all of them moved on immediately after a simple shake of the head and friendly "gracias" if we weren't interested.
We are so glad we decided to make the trek to Playa Blanca, and it definitely enhanced our time in Cartagena.