Chilly water, cool breezes, and slightly-less-oppressive high temperatures: after enjoying the heat of the Caribbean coast and Tayrona National Park for a week, is it any surprise that the prospect of the delightful Pozo Azul and Marinka Falls were calling us to explore the waterfalls of Minca, Colombia?
Whether you're coming from Tayrona, Cartagena, or Colombia's famous Ciudad Perida trek, Minca is an excellent place to decompress when you're tired of the heat.
We set off to Minca from Santa Marta with the hope of cooling off and enjoying some of the laid-back charms of Colombia's mountainous Sierra Nevada, and that is exactly what we found.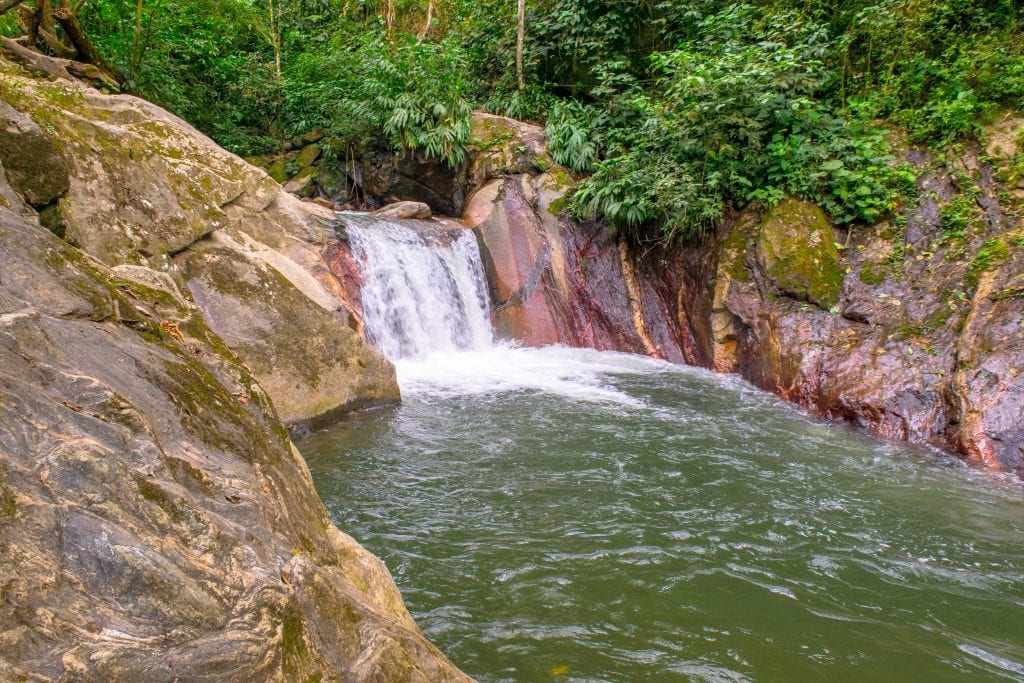 Some links in this post may be affiliate links. If you make a purchase through one of these links, we may earn a small commission at no extra cost to you. Please see our

disclosure policy

for more detail.
While the town of Minca itself was delightfully charming and the views in the area were beautiful, it was the waterfalls in Minca, Colombia that really caught our eye.
Here's our guide to two of Minca's most popular waterfalls: Pozo Azul and Marinka Falls!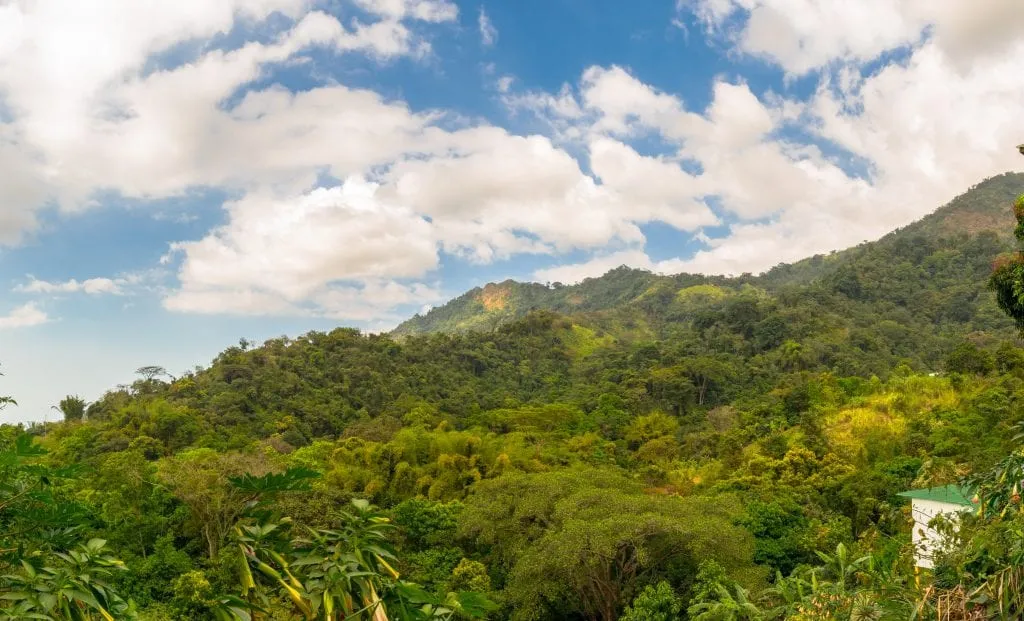 How to Visit Pozo Azul, Minca, Colombia
Pozo Azul is arguably the most famous waterfall in Minca.
Home to two swimming holes stacked on top of each other, these falls are crisp (or freezing, depending on who you ask–I didn't want to do more than dip my feet in, but Jeremy went for a long swim!), beautiful, and a popular hangout for locals and tourists alike.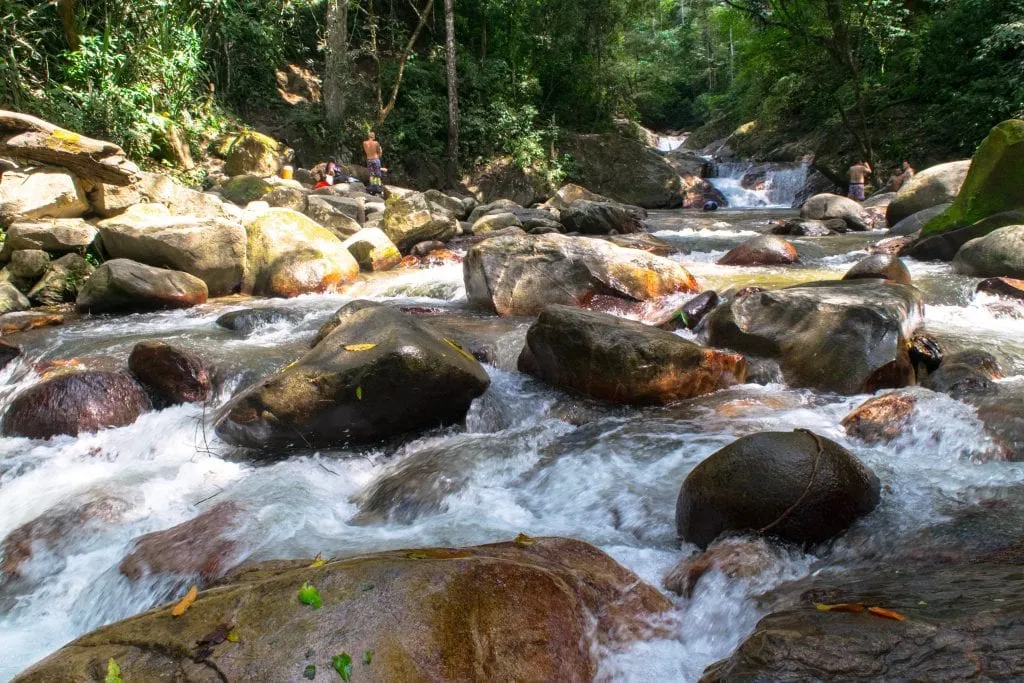 Getting to Pozo Azul from Minca
There are two main options for getting to Pozo Azul from Minca.
Rent a moto-taxi.
You can rent a moto-taxi for about 10,000 COP (about $3.60 USD at the time of writing) each way to drive you to and from the falls.
Hike to Pozo Azul.
Alternatively, you can hike to Pozo Azul.
The hike takes about an hour, and is fairly simple–just be sure to pay attention to signs along the way!
There are occasional restaurants selling juice and snacks along the road/trail, so there's usually someone around to ask for directions if you need them.
Technically, there are also collectivos that run to Pozo Azul, but they are pricier, require four people to run, and can only take you about 2/3 of the way, because there's a locked gate that they can't maneuver around (the moto-taxis manage just fine).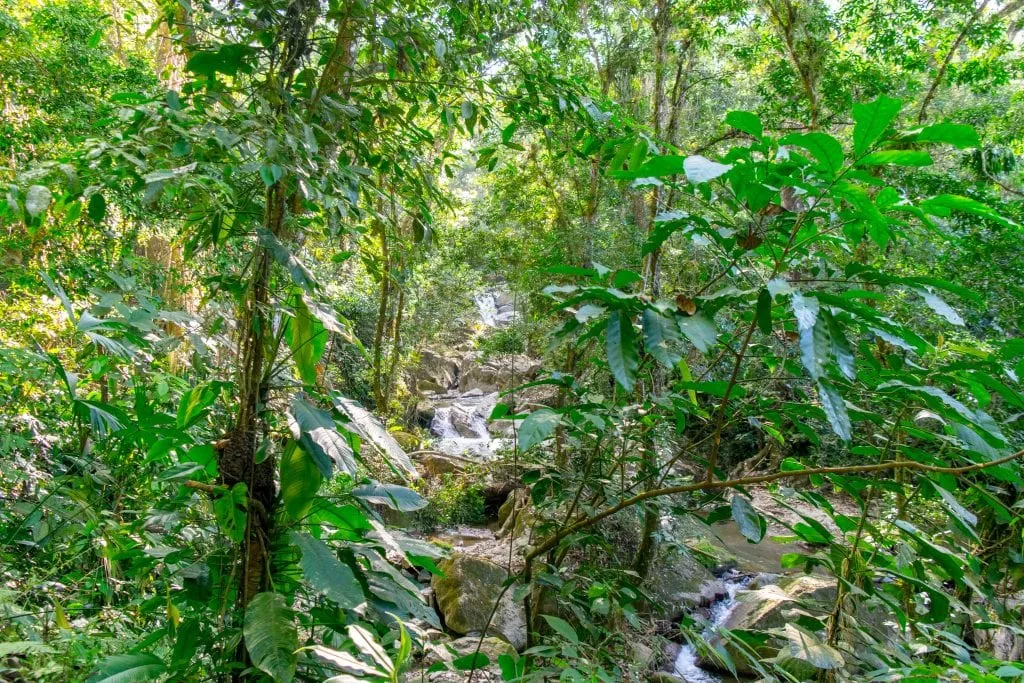 What to Expect at Pozo Azul
We found Pozo Azul to be popular, but not crowded.
There were plenty of people around, but enough room to spread out that everyone was still able to relax and have a good time.
Unsurprisingly, the higher of the two pools (you have to cross the first swimming hole on foot and climb along the ridgeway to get to it) was less crowded than the first swimming hole everyone sees when they arrive.
There's a small restaurant on-site, so if you need to pick up snacks or water, you do have that option.
As of the time of writing, there is no entrance fee for Pozo Azul.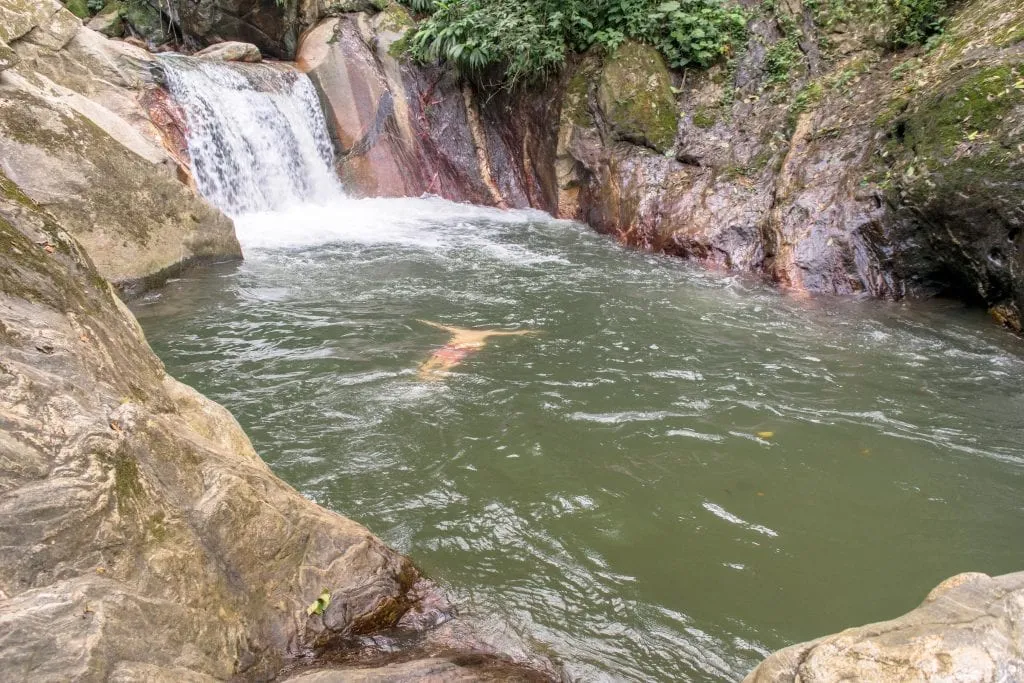 How to Visit Marinka Falls, Minca, Colombia
While Pozo Azul is Minca's most famous waterfall, Marinka Falls are arguably the prettier of the two.
Taller and more majestic, Marinka Falls also boasts two swimming holes set on different tiers (though there's a further climb between these pools than the ones at Pozo Azul!).
They are beautiful to observe, and that first whiff of the cool breeze coming off the river will be a very welcome feeling if you made the climb up on foot as we did!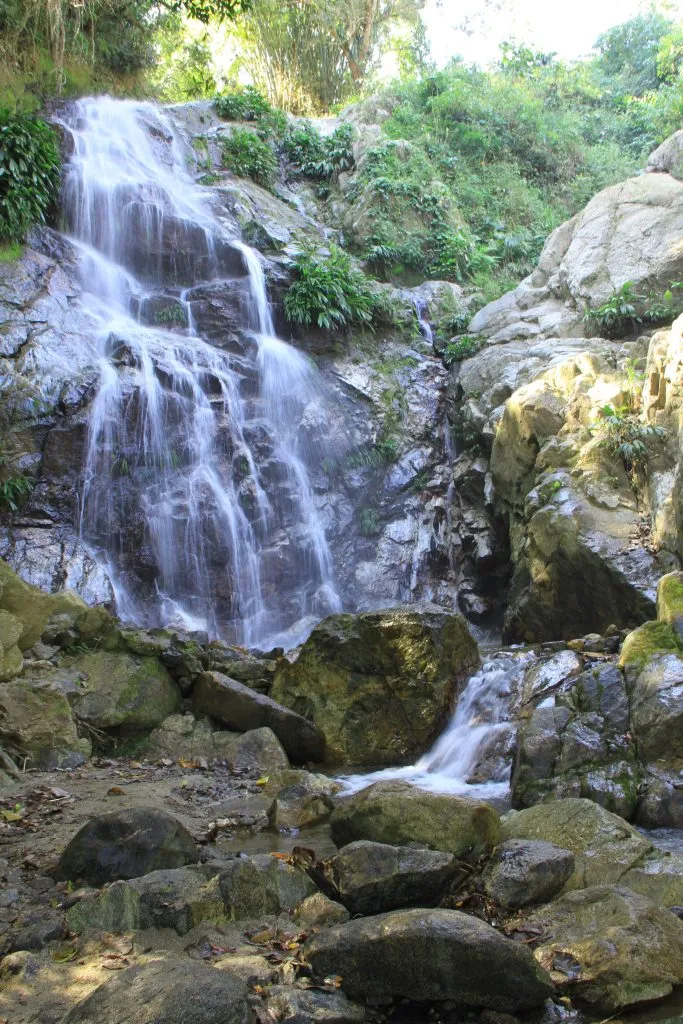 Getting to Marinka Falls from Minca, Colombia
There are three ways to reach Marinka Falls from the center of Minca, and they are very similar to Pozo Azul.
Hike to Marinka Falls.
This is the way we chose to reach Marinka Falls.
The hike took a little longer than an hour, and while the bulk of it was very shaded and quite peaceful, you do need to keep an eye out for fast-moving trucks and moto-taxis barreling around corners.
Don't be afraid to ask for directions along the way–we needed to a few times, but everyone was very helpful.
For the most part, the path is self-explanatory.
Rent a moto-taxi.
Like Pozo Azul, rates run about 10,000 COP (about $3.60 USD at the time of writing) each way.
Keep in mind that this isn't the safest form of transportation–you are riding on the back of a motorcycle on a bumpy dirt road with no helmet, so ride at your own risk!
Take a collectivo.
Tourist collectivos leave from the center of town, and require a minimum of at least four people to run.
They are pricier than the other two options, but unlike at Pozo Azul, there's no gate preventing them from taking you all the way to the falls.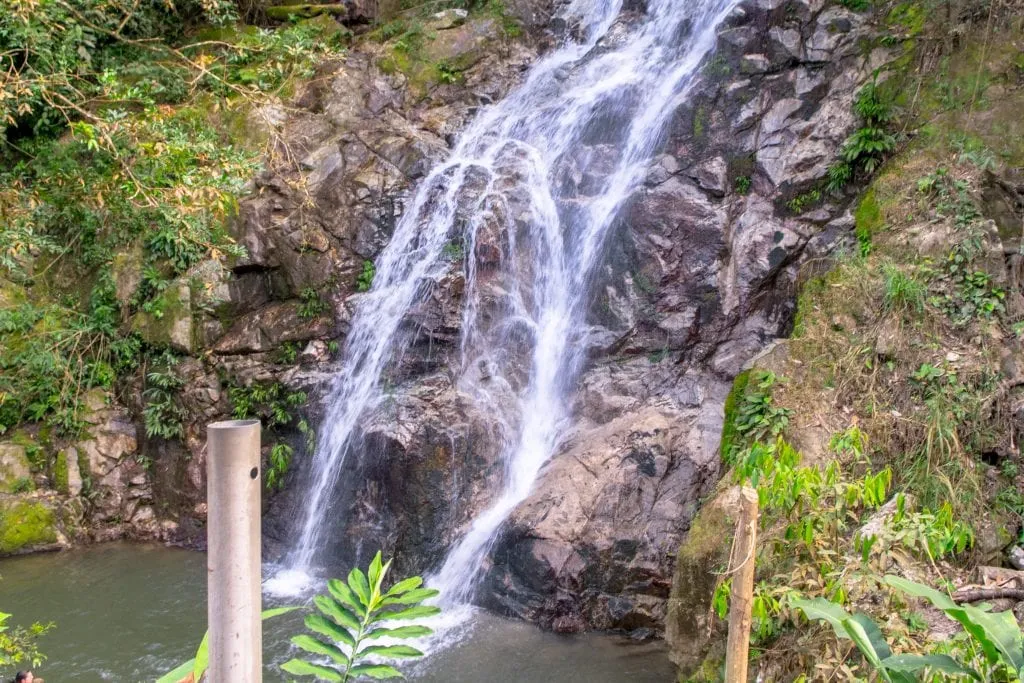 What to Expect at Marinka Falls
Unlike Pozo Azul, Marinka Falls is privately owned, and there is an entrance fee.
As of the time of writing, the fee is 5,000 COP (under $1.50 USD).
In exchange for the fee, though, the family who owns Marinka Falls has put a lot of development into the area.
There are treehouses to sit in, a large hammock overlooking the falls to lie in, picnic tables, and a restaurant on-site.
You can swim in both the upper and lower pools, but be prepared for a climb between the two!
We would recommend heading out to Marinka Falls earlier in the day in order to give yourself plenty of time to relax and enjoy your time there.
We made the mistake of heading out too late in the day and weren't able to enjoy the falls for as long as we would have liked.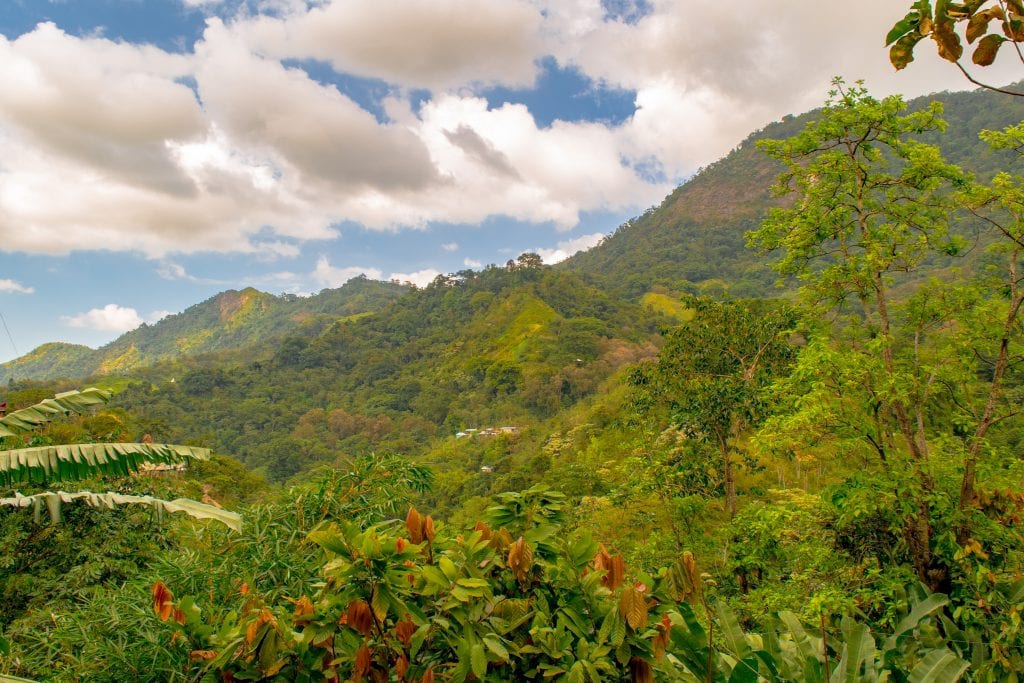 Where We Stayed in Minca, Colombia
Hotel Restaurante Casa d'Antonio — This pretty property was the perfect budget stay: it had decent wifi for the area, big rooms, a beautiful front porch, and back garden, and served a tasty (included) breakfast every morning.
The location was perfect, right on the edge of town and a 5-minute walk to popular Minca spots like the Lazy Cat.
We wouldn't hesitate to stay here again!
What to Pack for Chasing Waterfalls in Minca, Colombia
Bug Spray
— If you pack nothing else for a visit to the waterfalls near Minca, pack bug spray. So. Much. Bug. Spray.
The mosquitos will try to eat you alive–just look at the legs of all the other tourists when you get to town.
The ones who didn't bring bug spray are easy to pick out.
SteriPen
— We love using our Steripen to cut down on the waste from plastic bottles around the world, and Minca was no exception.
Bathing Suits — Don't get all the way to the falls without something to wear swimming!
Sunscreen
— It may be (slightly) cooler in Minca than at the beach, but the sun is still very strong.
Put on sunscreen before every hike!
Sunglasses and Hat — The more sun protection, the better.
Comfortable and Cool Hiking Shoes — You don't need full-on hiking boots for these Minca waterfall hikes, but you do want to be comfortable.
I personally love my KEEN Whisper Sandals
, available for both men and women.
Don't forget to add travel insurance to your packing list for Colombia!

We use & recommend Safety Wing for their affordability, the ease of purchasing and the clarity of their contract!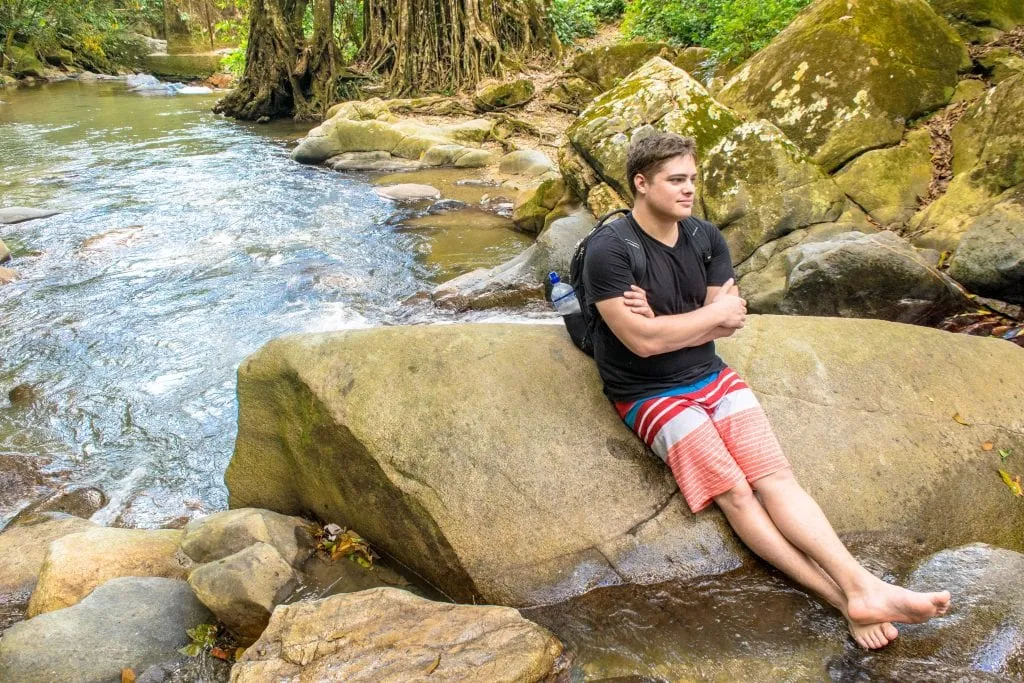 Getting to Minca, Colombia from Santa Marta
Getting to Minca from Santa Marta is very simple: collectivos leave from the center of Santa Marta about every half hour (any taxi driver will be able to get you to the right place) and cost 8,000 COP/person (or about $2.90 USD).
Alternatively, taxis are said to cost about 100,000 COP (or $36.00 USD) per car, however, that price can be highly negotiable–we paid less than half of that for a taxi ride out to Minca.
The ride takes about 30-45 minutes and does go through some winding mountain roads.
If you're prone to motion sickness like I am, this is a great time to break out your Sea-Bands and/or Dramamine
as needed!