You don't have to dig deep to know what the most popular thing to do in Guatape, Colombia is: images from the top of El Penol have become Instagram famous in the last couple of years, and deservedly so.
But as much fun as climbing 700+ steps up for an overview of the lake surrounding Guatape is, Guatape itself would be worth visiting even without its most famous attraction.
And, though Guatape is a popular day trip from Medellin, there are more than enough things to do in Guatape to make this colorful town worth spending a night (or even more) in.
We were lucky enough to spend a couple of days and nights exploring the best activities in Guatape, and we left feeling like it would be very easy to let a peaceful, slow-going week pass by in Guatape.
Planning a getaway soon and looking for the best things to do in Guatape?
Here's where to look!
Some links in this post may be affiliate links. If you make a purchase through one of these links, we may earn a small commission at no extra cost to you. Please see our

disclosure policy

for more detail.
The Best Things to Do in Guatape
Climb El Penol.
First things first: you can't come to Guatape without taking in the views from the top of El Penol.
True, the climb is 700+ steps, but the views are worth it.
When you arrive at the top, feel free to stay awhile–you worked for it, after all!
The top of El Penol is home to a small cafe selling snacks and drinks, as well as a couple of souvenir stands and plenty of places to sit down and soak up the view.
Get your adrenaline pumping.
Guatape makes an excellent hub for adventure activities of all kinds.
Whether you want to rappel down a giant waterfall, give paragliding a try, try out an exhilarating hike, or bike down curving mountain roads, Guatape will leave you spoiled for choice.
One thing we don't recommend in Guatape? Ziplining.
There's a small zip line near the shore in Guatape, but quite frankly, it looked like one of the most boring (though inexpensive!) ziplines imaginable.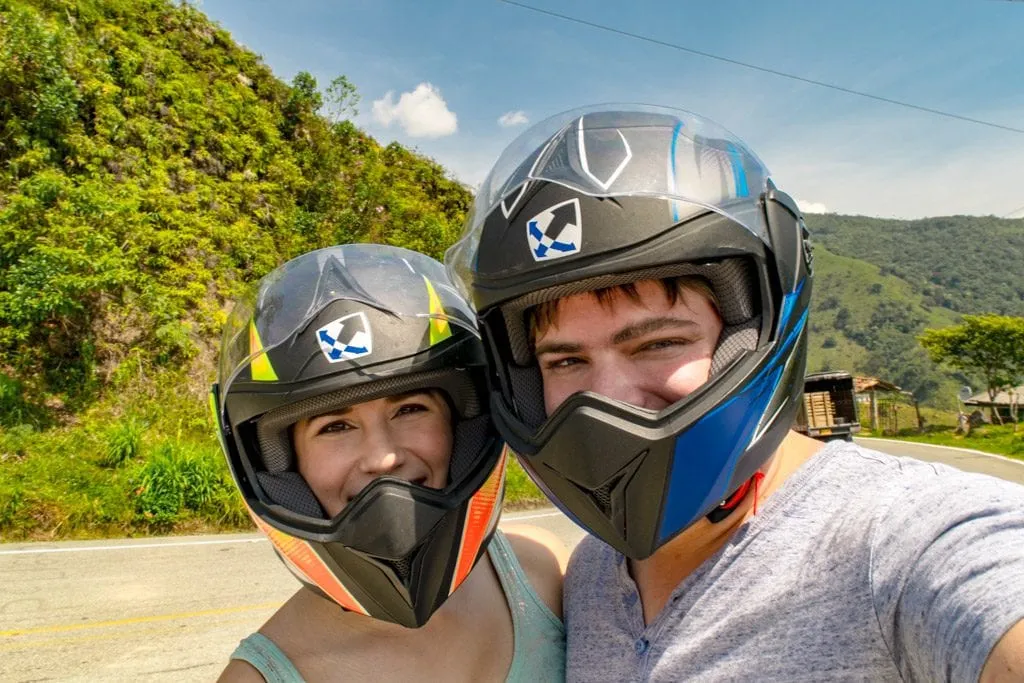 Explore Guatape's colors.
Guatape is, hands down, the most colorful town we visited in Colombia, beating out even famously colorful Cartagena.
The buildings in the center of town are all brightly painted, and pretty zocalos (patterned designs that remind me a tiny bit of wainscoting with a very Colombian twist) cover the bottom halves of many of them.
We passed hours of time wandering through town ducking into shops, watching street performers in the main square, sipping coffee from cafes, and of course, photographing everything in sight.
Downtown Guatape is also a great place to shop for memorable Colombia gifts and souvenirs to take back home with you!

Take to the open road to visit San Rafael.
The area surrounding Guatape is made up of beautiful countryside with more than enough mountain and river views to leave your jaw permanently dropping open as you go by.
Jeremy and I rented a motorbike from Colombia Getaway for the day and set off, unsure of where we would end up or what we would find.
We ended up seeing the cute town of San Rafael and stopped to rest at a gorgeous river… but what we most remember about that day were the random views of the Andes mountains that we found along the way, and pulling over and photographing them whenever we got the chance.
We don't often use our own transportation on the road, preferring to use public transport and avoid renting cars when we can–so the sheer freedom of a motorbike and some epic views on a beautiful day in the countryside was incredibly invigorating to us.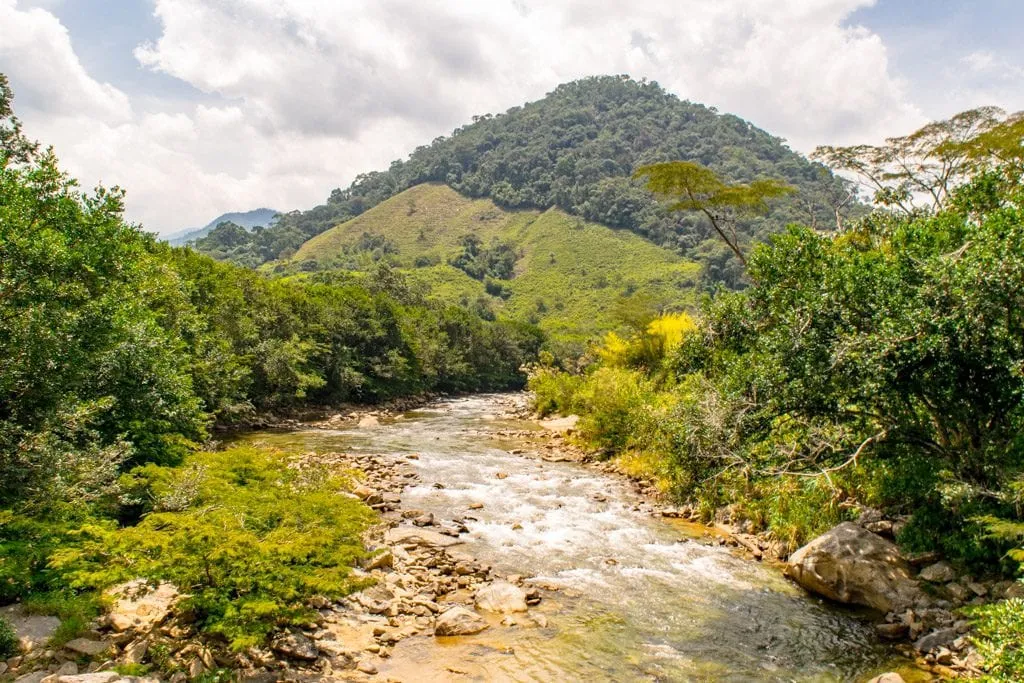 Visit one of Pablo Escobar's mansions.
… And play paintball in it.
I'll admit, I'm a little hesitant to include this as I feel a bit strange about the idea of playing with toy guns in the former property of a man who famously used very real guns to destroy the lives of a lot of very real people–but it is one of the most popular things to do in Guatape.
The mansion, La Manuela, was named for Escobar's daughter and was famously bombed by a vigilante group in 1993.
Today, the mansion is in ruins, with nature starting to take back over, making it a very interesting place to play paintball on many levels.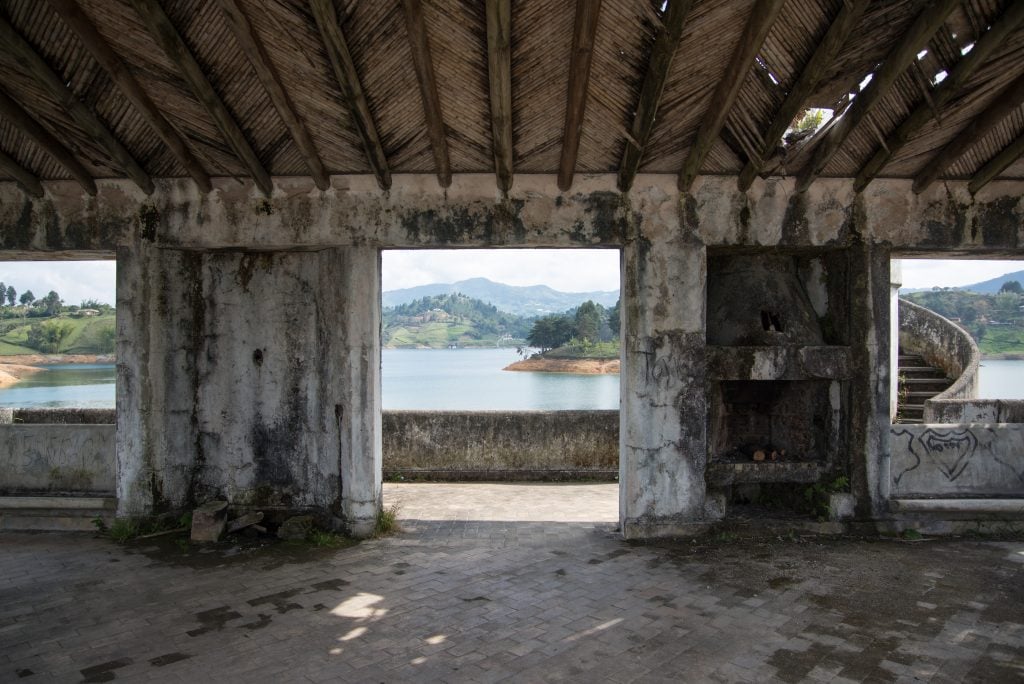 Take a break from Colombian food.
It's inevitable: after several weeks of any given cuisine, you're going to start craving something radically different.
In Latin America, that often means that we get a hankering for flavors from various Asian cuisines!
Luckily, Guatape is (somewhat unexpectedly) home to a Thai restaurant–and unlike our disastrous encounter with something billed as Thai food in Nicaragua, Thai Terrace produces some tasty Thai food!
Our pad thai, red Thai curry and spring rolls were a delicious change of pace for our pallets while visiting Guatape.
The fact that the restaurant was located at Lake View Hostel, where we were staying, was an added bonus.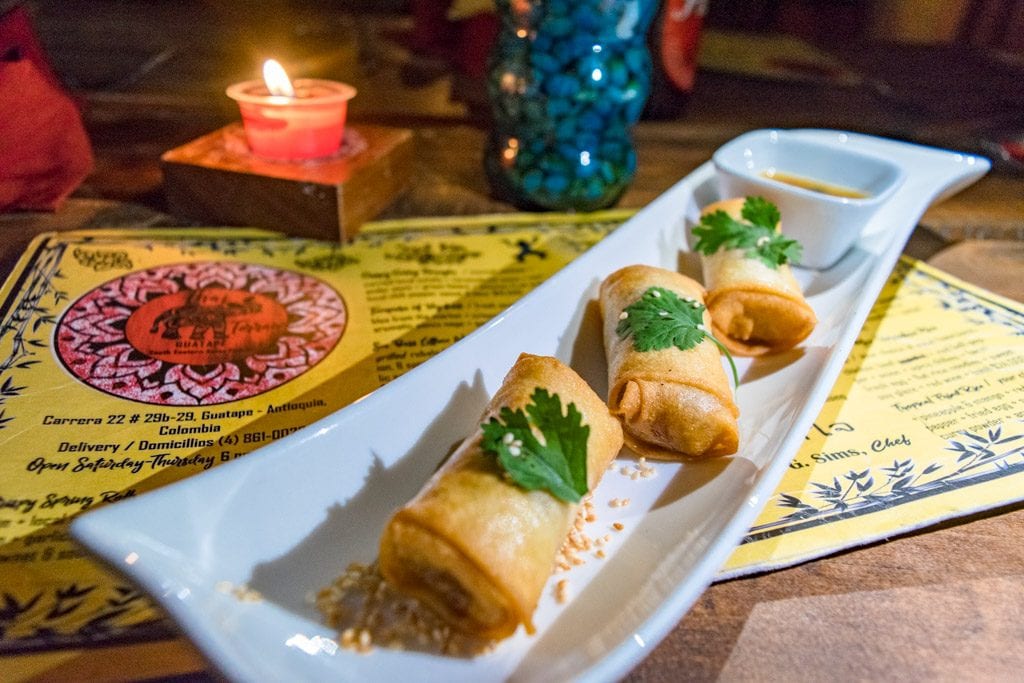 Hit the lake.
What's a lake town without plenty of things to do on the lake itself?
Whether you want to try out jet skiing, head out on a kayak, jump on a tour boat or even rent a boat to take out on the lake yourself, Guatape has plenty of options to make sure you take full advantage of Guatape Lake.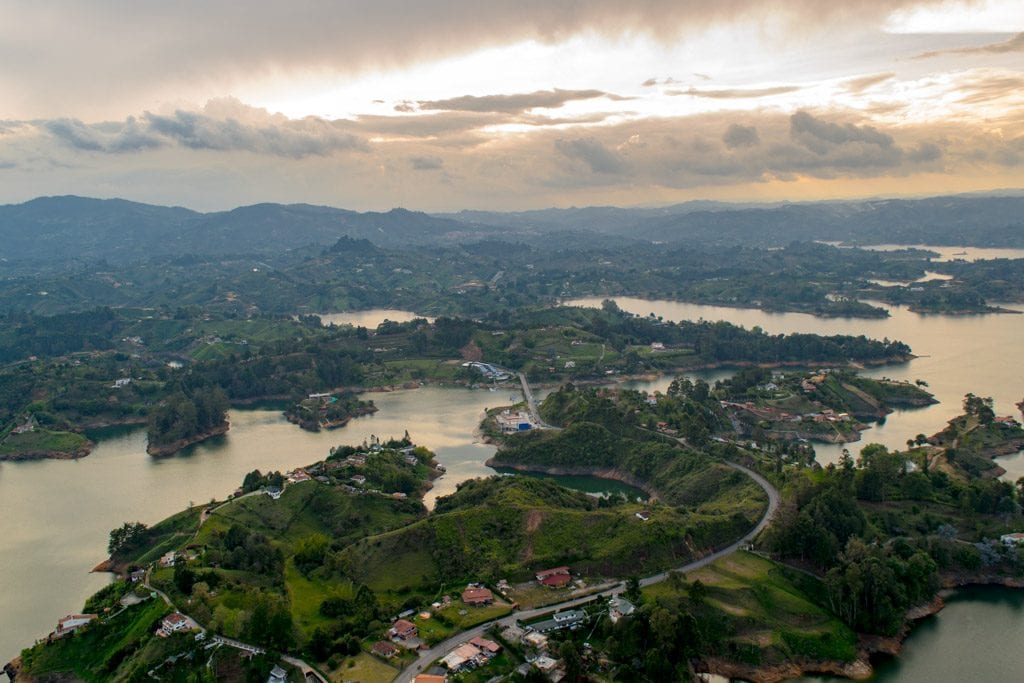 Where to Stay in Guatape, Colombia
Our stay at Lake View Hostel was exactly what we were looking for in a place to stay in Guatape, Colombia.
Our private room was clean and quiet (with a view of the lake to boot!), and having both the Thai Terrace and a delicious breakfast on site was a major win (try the breakfast burrito in the morning–you won't regret it).
The hostel itself was lots of fun: there were plenty of communal spaces for hanging out, relaxing, or just enjoying the view.
Having the Dragon Bar onsite to grab a drink after dinner was convenient as well (and since the bar shut down around 11, it was a win/win in our opinion–a bar with no late-night noise to contend with!).
We loved being just a short walk away from both the center of Guatape with all of its vibrant colors and also the lakefront, and would not hesitate to stay again!
The only downside we would note is the slow wifi connection: you'll be fine to check social media, but don't plan on doing any intensive internet-based work while here.
Check availability and book  your stay at Lake View Hostel!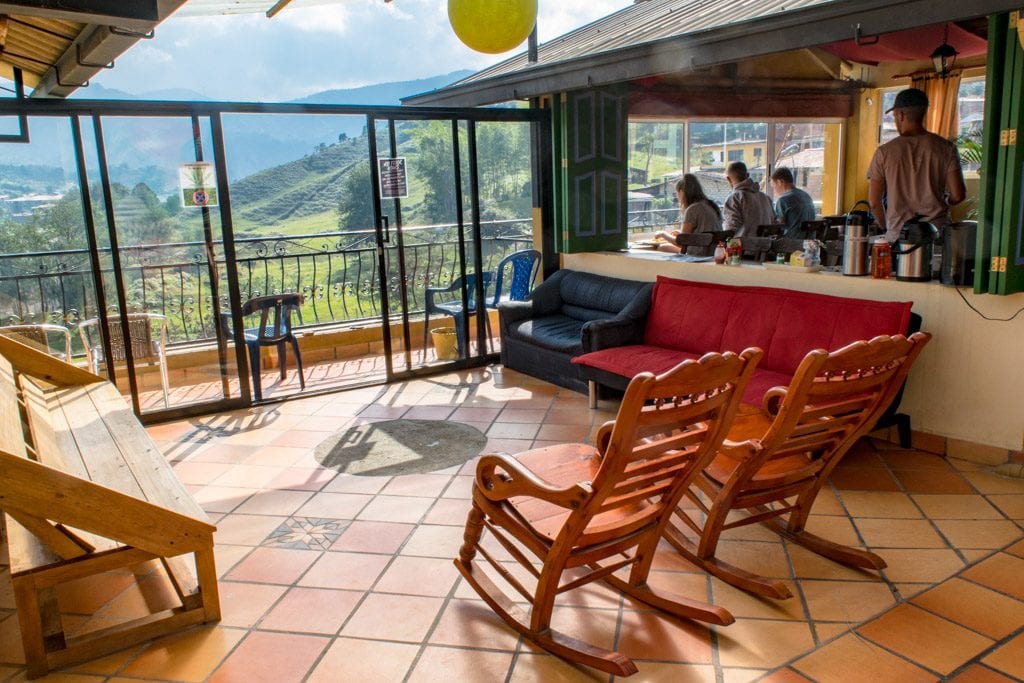 Should you book a day trip to Guatape?
Most travelers visit Guatape as a day trip from Medellin, and if that's all your schedule allows for, you can book a day trip while in Medellin.
If you're the type who likes to plan ahead, you can also book day trips to Guatape from Medellin.
You will pay a bit of an increased price if you book in advance as opposed to booking on the ground, but if you want to avoid the hassle of dealing with transportation and ensure you have your day trip to Guatape planned in advance, this wildly popular tour is a great option.
Book your day trip to Guatape from Medellin today!
However, we really recommend spending at least one night in Guatape if possible: Guatape is worth the extra time.
Getting To + Around Guatape, Colombia
If you don't come with an organized tour, you can easily get to Guatape from Medellin via bus.
Buses leave roughly every hour from Medellin's North Bus Terminal, and the trip to Guatape takes about two hours.
If you're visiting Guatape at the end of your trip to Colombia like we were, note that Guatape is about the same distance from Medellin's airport as Medellin itself is–so don't worry about getting back to Medellin before going home!
We headed to the airport directly from Guatape via transport booked with Colombia Getaway, which saved us the trip back to Medellin that we originally thought we would have to make.
Within Guatape itself, most spots are walkable, but you'll want to pick up a tuk-tuk to take you to the entrance to El Penol.
The tuk-tuks gather right on the lakeshore and are easy to find.
What to Pack for Guatape
Sunscreen
 — I'm sad to say that I ended up with my worst sunburn in many years while in Guatape–turns out, forgetting to reapply sunscreen while on a motorbike will do that.
Don't make my mistake: be careful with sunscreen!
Bathing Suit — Feel like hiking in a river to a waterfall, rappelling down one, or simply swimming in the lake?
You'll want a bathing suit!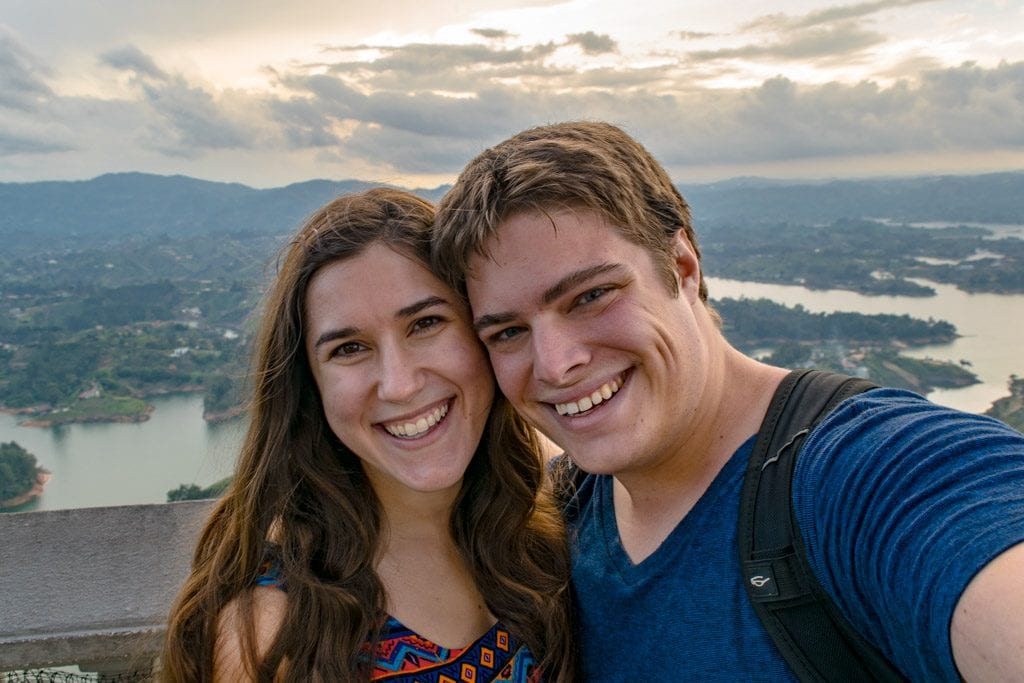 SteriPen
 — The water in Guatape is not safe to drink, but like everywhere else we go with unsafe tap water, we used our Steripen to keep an ample supply of drinkable water on hand while being friendly to both our wallets and the Earth.
Sea Bands
 & Dramamine Non-Drowsy Naturals
 — Less for Guatape itself than for the bus ride to and from–but if you get motion sickness, you'll want to have these on hand.
Don't forget to buy travel insurance before heading to Colombia!

We use and recommend Safety Wing for their affordability, the ease of purchasing policies and the clarity of their contract!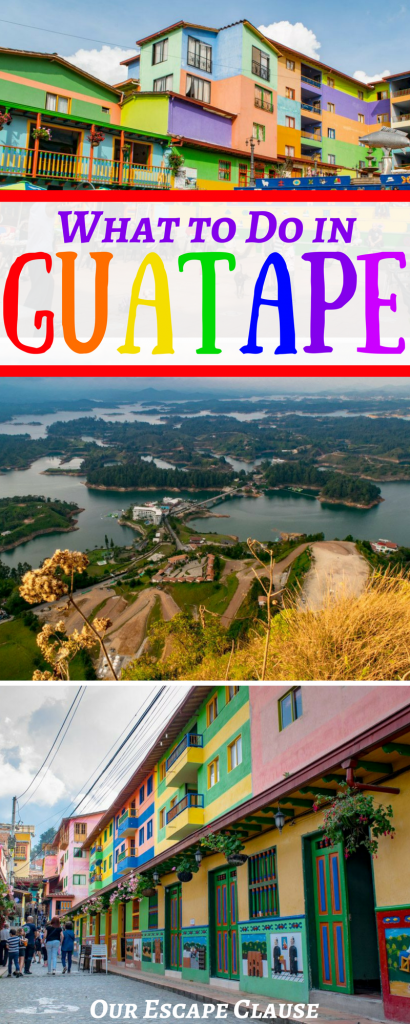 Many thanks to Lake View Hostel and Colombia Getaways for hosting us for two nights in a private room, providing dinner at the Thai Terrace and one breakfast to us, and providing us with a motorbike rental!
All other costs of exploring the best things to do in Guatape were incurred by us and all opinions are, as always, our own.