Oh, Ghent: this small university city in the Flanders region of Belgium may be perpetually overshadowed by the ever-gorgeous Bruges, but it is a beautiful and charming city in its own right–and since Ghent is so small, it's very reasonable to conquer the best things to do in Ghent in one day.
We fell hard and fast for this walkable canal city, complete with beautiful architecture, interesting history, and–of course–excellent waffles.
If you're planning a trip to Belgium, here's how to make the most of spending one day in Ghent!
Some links in this post may be affiliate links. If you make a purchase through one of these links, we may earn a small commission at no extra cost to you. Please see our

disclosure policy

for more detail.
The Best Things to Do in Ghent in One Day
Take a walk down Werregarenstraat.
What do you do if you want to encourage street art in your city, but also want to protect priceless buildings?
Dedicate an entire street to art, of course!
Werregarenstraat (say that five times fast!) is a walking street home to a bright and ever-changing collection of street art in Ghent.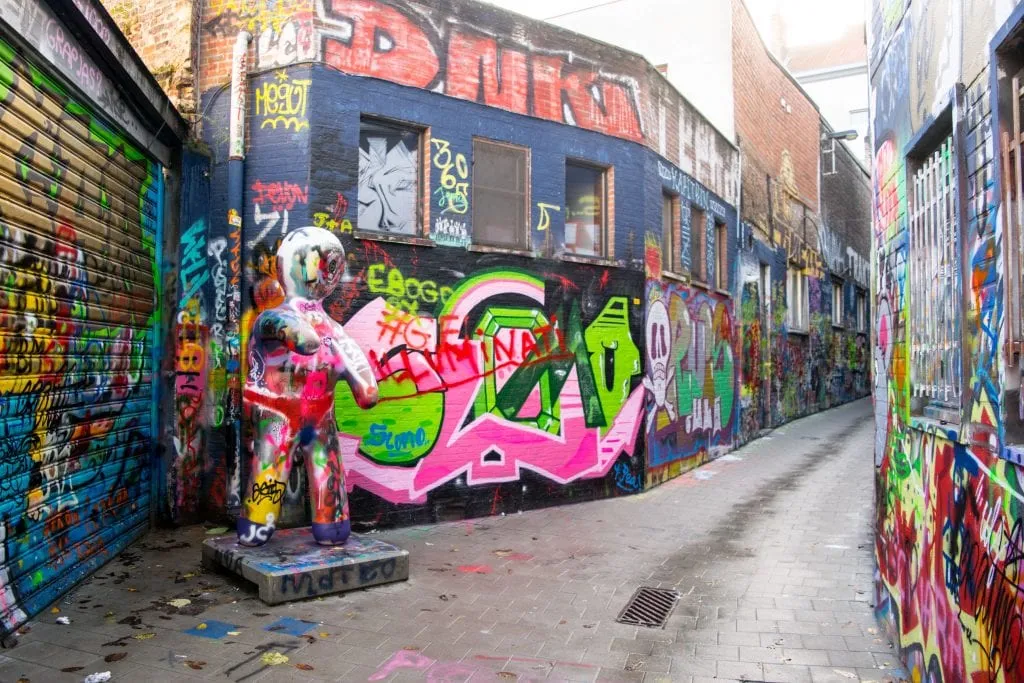 Pay a visit to Gravensteen.
If you're looking for a castle that looks like it belongs in a fairytale, look no further than Gravensteen.
Dating back to the Middle Ages and set directly next to one of Ghent's canals, Gravensteen is majestic and impressive to behold.
Depending on your priorities during your day in Ghent, you may have time to tour the interior, which operates as a museum open to the public.
Either way, be sure to stop by the castle for gorgeous views!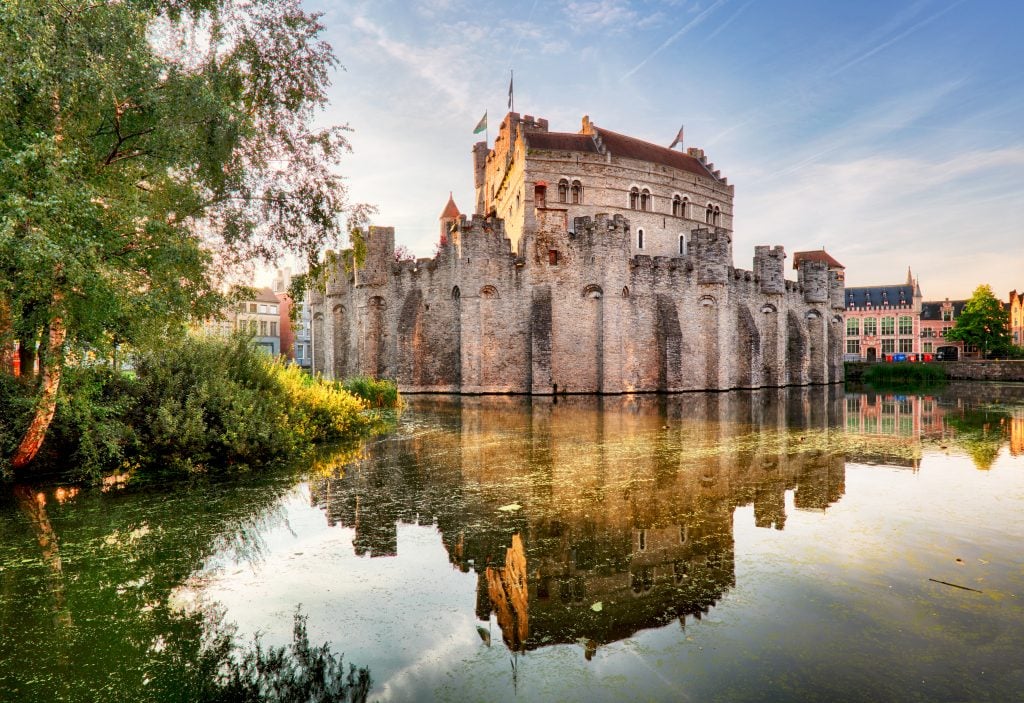 Soak in the views from St. Michael's Bridge.
One of the most famous views in Ghent is found by standing on St. Michael's Bridge.
From there, you can admire all three of Ghent's medieval towers in one view: the towers of St. Nicholas' Church, the Belfry, and St. Bavo's Cathedral.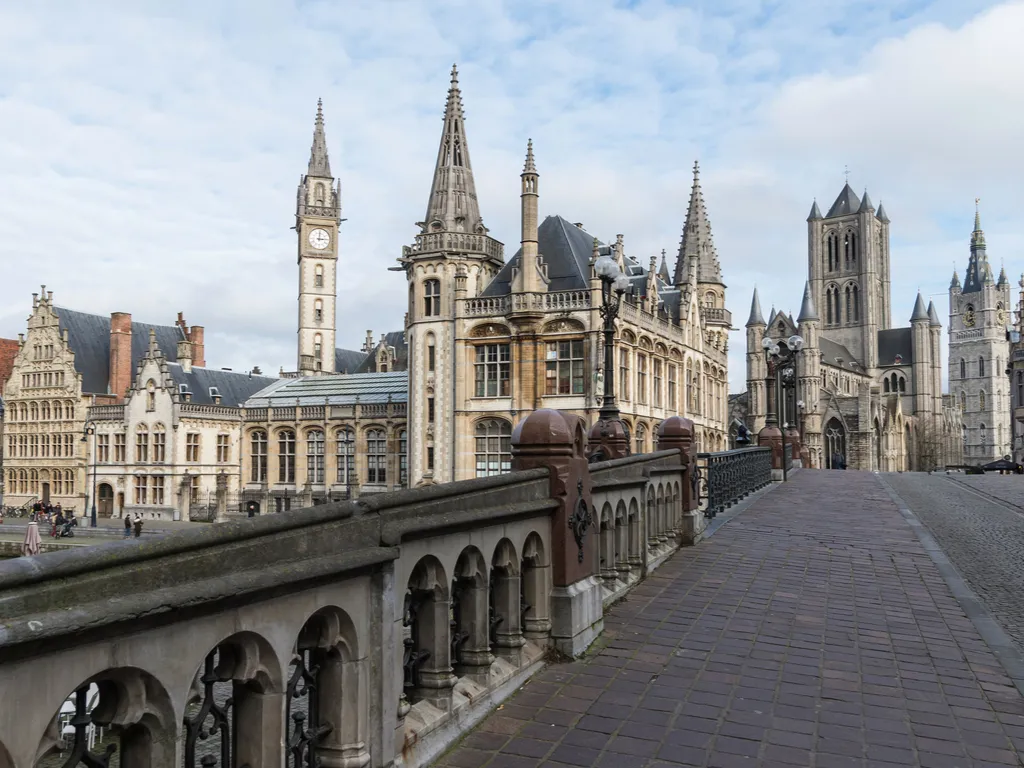 Wander through Patershol.
Stepping into the picturesque neighborhood of Patershol is like stepping into a storybook: think cobblestone streets and classic Flemish rooflines.
Though the main street has plenty of cafes and restaurants to choose from if you're looking for something to eat, it's the quiet back streets that are our favorite to explore.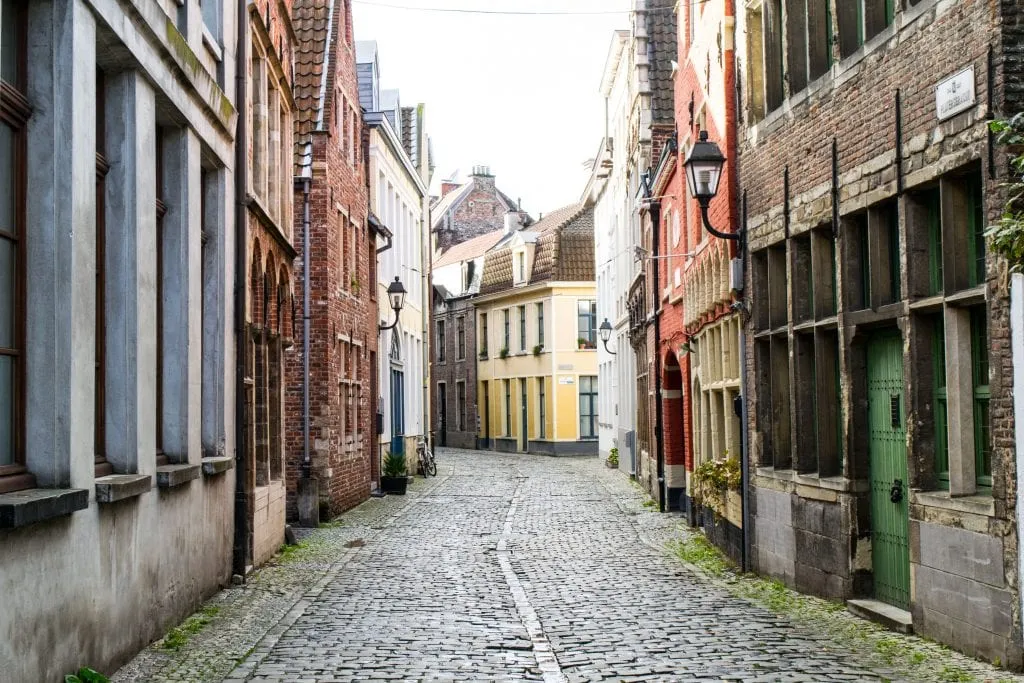 Visit St. Bavo's Cathedral.
St. Bavo's Cathedral has a gorgeous interior (and as of our visit in late 2017, a temporary display of a whale's skeleton hanging from the ceiling), but is best known for being home to the Flemish art piece The Adoration of the Mystic Lamb.
Climb the Belfry for great views over Ghent.
If you want to see the best views of Ghent's rooftops and get an epic view of St. Bavo's Cathedral, make your way up the Belfry–366 steps up, to be exact.
When weighing the pros and cons of what to do in Ghent (or any other city, for that matter), we tend to find that we never regret making the climb up to beautiful viewpoints!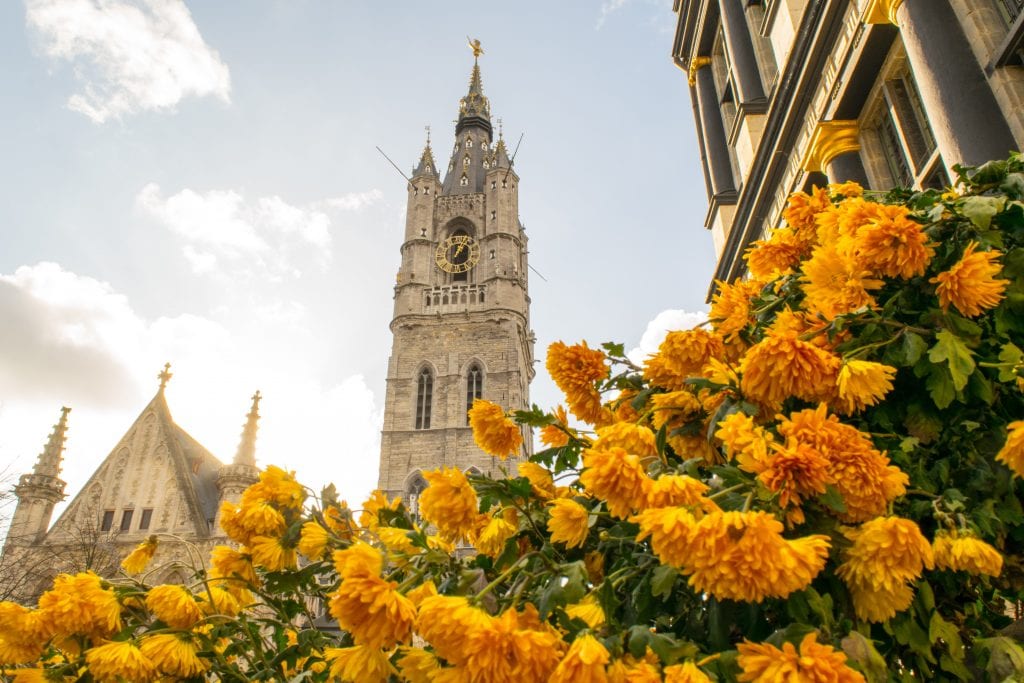 Take a ride through the canals.
Riding through Ghent's many canals while admiring the views and learning the city's history is one of the most popular things to do in Ghent for a reason.
There's nothing like taking to the water to get a different perspective on Ghent: staring up at Ghent's beautiful architecture from the canals will give you a whole new perspective on the city.
Book your Ghent canal cruise today!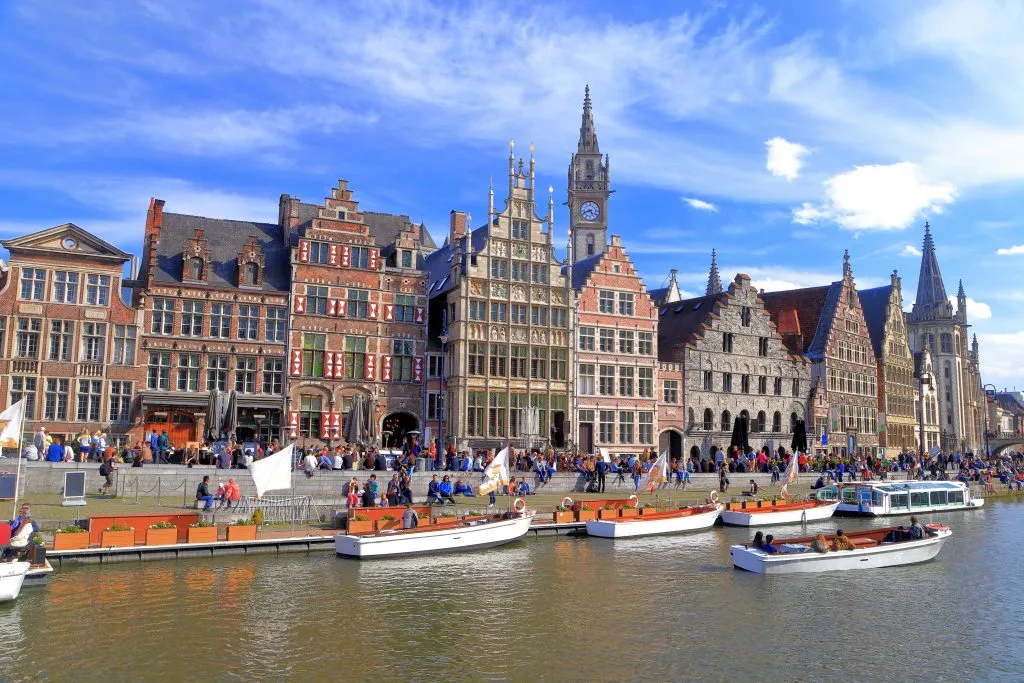 Admire the lights of Ghent by night.
Ghent doesn't want its magical beauty to fade away when the sun sets–and with a little ingenuity and some clever light installations, it definitely doesn't.
A series of lights work at night to light up Ghent, casting gorgeous reflections into the canals below.
A walk along Ghent's canals at night definitely can't be missed when trying to see Ghent in one day!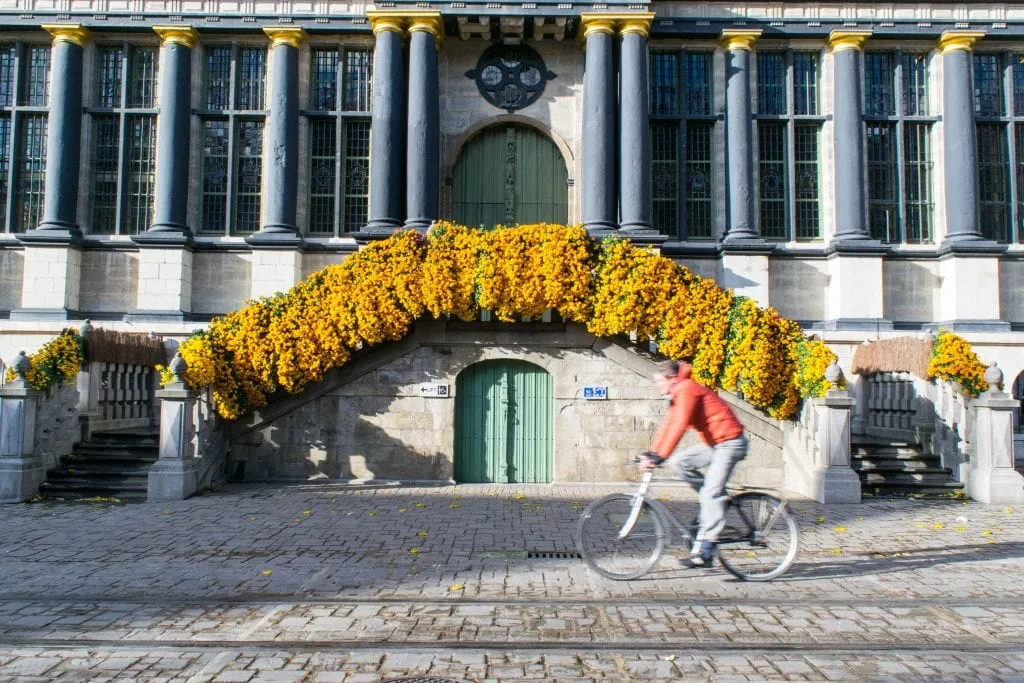 What to Eat When Visiting Ghent, Belgium
One day in Ghent may not give you enough time to eat your way through all of the city's restaurants, but there are a few indulgences (primarily unhealthy ones) that cannot be missed.
Frites
Think that French fries are, well, French?
If so, don't say that in Belgium: what Americans call French fries are very proudly known as Belgian frites in Ghent and beyond within Belgium, and they are incredibly tasty.
Typically served with Belgian mayo (which is utterly delicious and not to be confused with the bottled stuff from the grocery store), Belgian frites are a can't-miss snack in Belgium.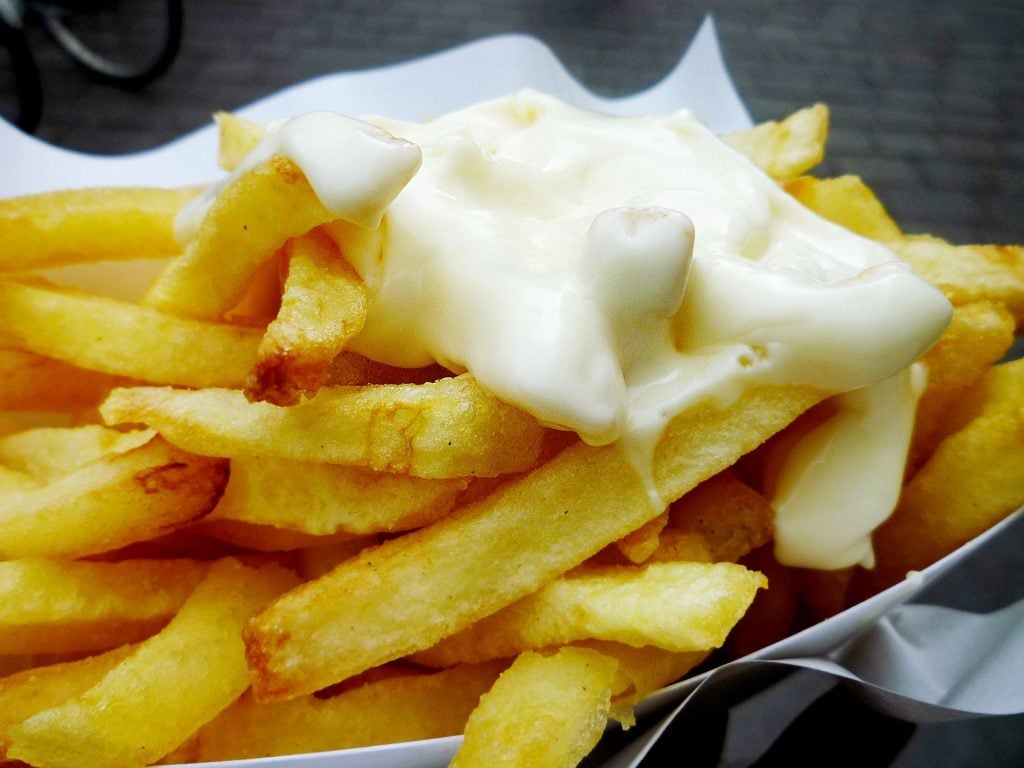 Chocolate
Like Belgian waffles, Belgian chocolate is iconic: find a delicious chocolate store and go crazy.
Since chocolate is so portable, don't forget to pick some up to bring home!
Waffles
Belgian waffles are known worldwide, but there is nothing like the real thing!
We recommend buying one from a street cart that is cooking them fresh (not simply reheating ones that are hours old).
There are plenty of toppings to choose from, but we're partial to Nutella.
Beer
No day in Ghent can be considered complete without a taste of Belgian beer!
If you're a beer lover, consider purchasing a flight of Belgian beer in any number of Ghent's pubs to make sure you try as many variations as possible during your one day in Ghent.
If you're a beer lover and want to make the most of your one day in Ghent, consider booking a beer crawl to sample several drinks in one go, all while learning the ins and outs of the local beer scene.
Book your Ghent beer tour today!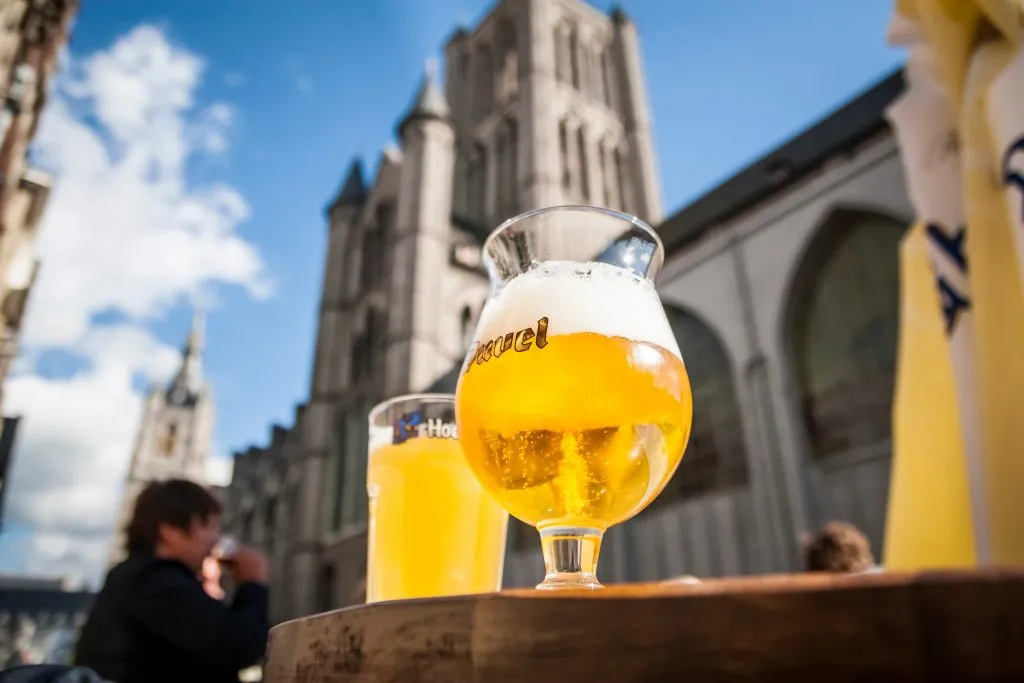 Neuzekes
During our trip to Belgium, we had guides in both Bruges and Ghent claim these candies as originating in their city, but one thing is clear: they're definitely Flemish.
Also known as Cuberdons, these small candies have a soft raspberry syrup in the center and can be purchased from any number of street stalls and candy shops in Ghent.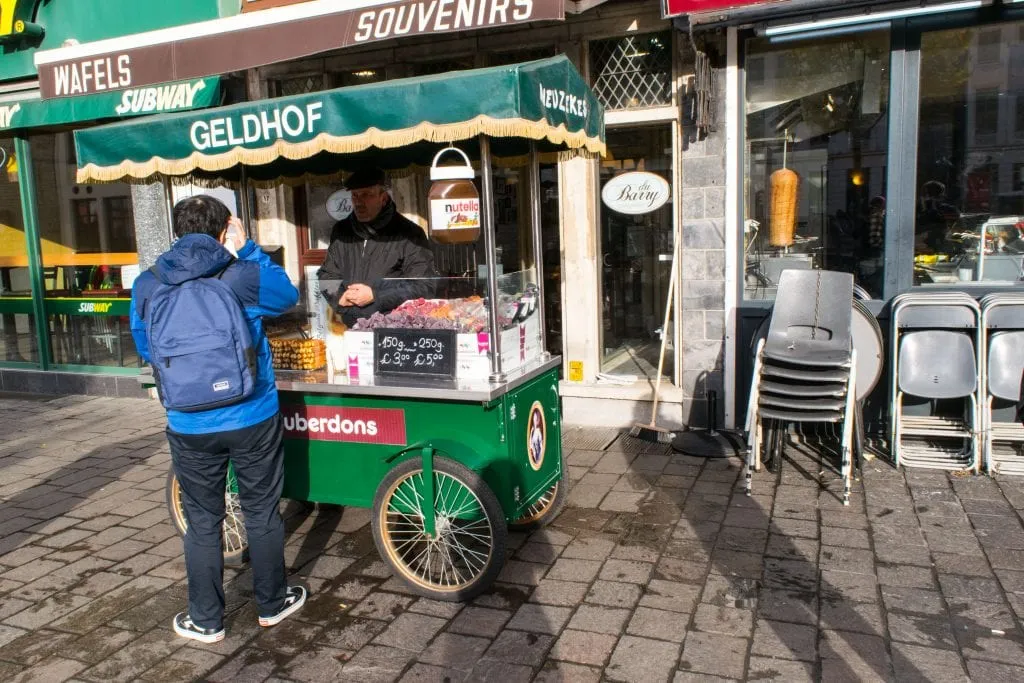 Getting Around Ghent, Belgium
Ghent is a very walkable city, and depending on where you stay in Ghent, there's a good chance you won't need anything more than your feet to explore the city.
However, if you want to move a little faster when exploring all of the things to see in Ghent, the public transportation system is excellent and easy to use.
Please note that tickets for buses and trams can be purchased either near the stops from vending machines or on the bus or tram itself–but if you wait to purchase until you're on board, you'll pay more.
You can also consider using a Ghent City card when visiting Ghent–it includes access to public transportation as well as several sights in the city.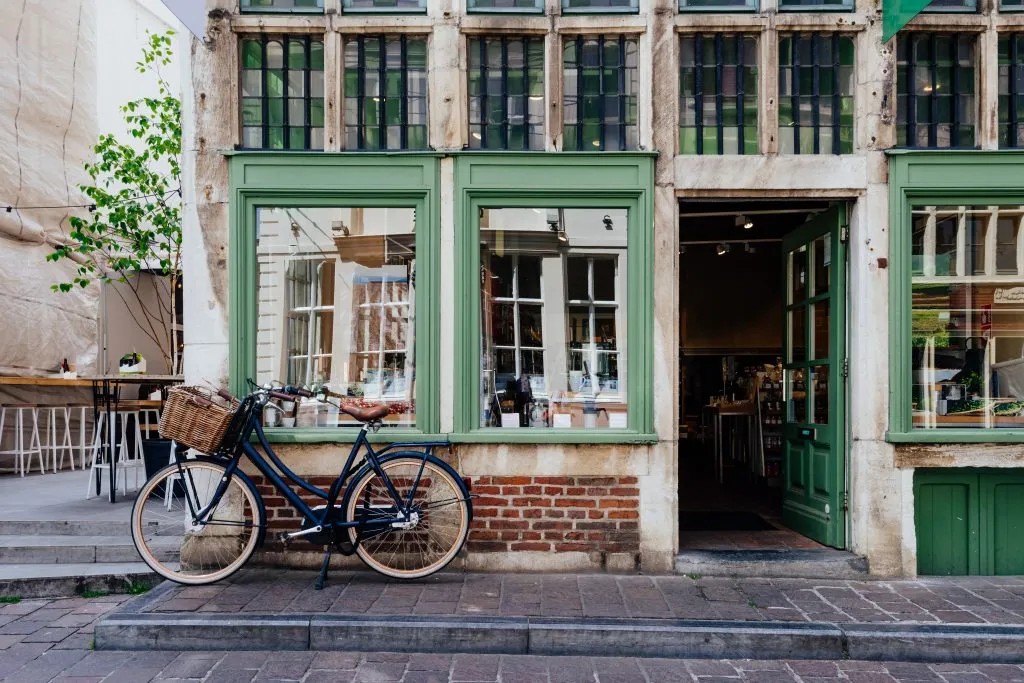 Getting to Ghent from Brussels or Bruges
Ghent is conveniently located right in between Brussels and Bruges on Belgium's easy-to-use train system: it's about a 30-minute ride from each city, making it the perfect addition to any Belgium itinerary.
You can visit Ghent in one day from either city, or you can do what we did and stick around for a few days.
Trains run from Ghent to both Brussels and Bruges all day, every day.
While you should definitely check the train station in advance, you should have no problem hopping on a train to Ghent just about whenever you need to.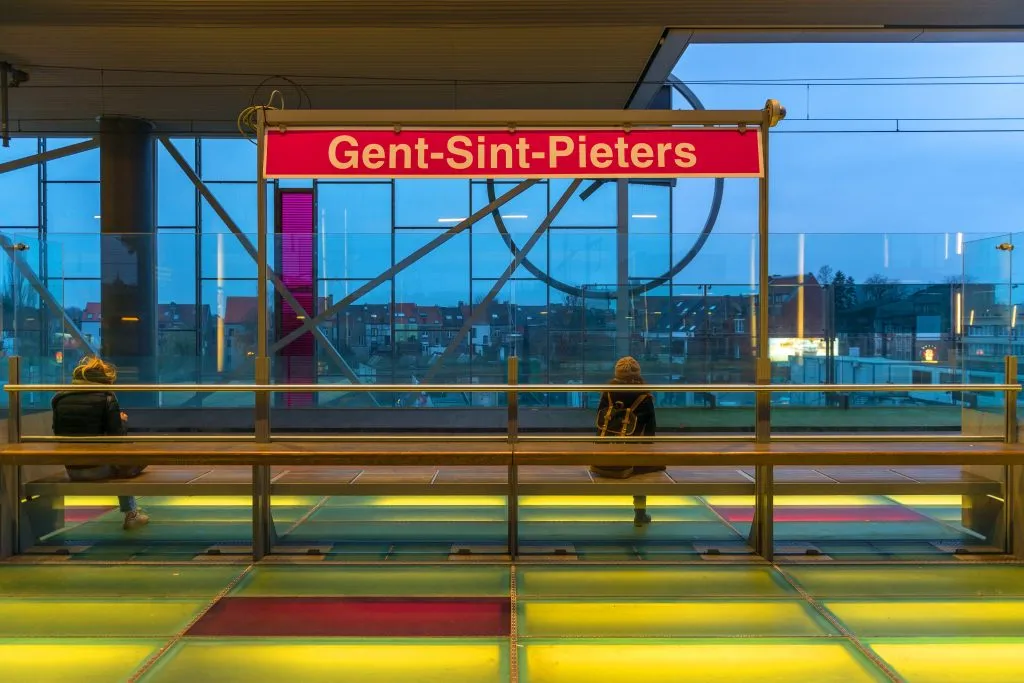 Looking for a day trip to Ghent?
If you're limited on time and would rather have someone else handle the logistics, consider booking a day trip to Ghent!
Day trips are perfect for visitors who want to make the most of a short timeframe and can help you see the best Ghent attractions in the most efficient fashion.
This day trip to Ghent and Bruges from Brussels is incredibly popular for good reason!
Book your day trip to Ghent (and Bruges) today!
Ultimately, we loved our time in Ghent: the city is adorable and relaxing, home to beautiful views, some of the prettiest architecture we've ever seen, and absolutely delicious snacks (always a plus in our book).
We would love to go back, and absolutely believe that spending one day in Ghent (or even more!) is a worthy addition to any Belgium itinerary.
Where We Stayed in Ghent
Airbnb: Complete Private Floor — We adored our stay in Ghent!
This Airbnb is listed as a private room, though it was actually a private floor, including a bedroom, living room, and bathroom.
Everything was incredibly clean and well decorated, the bed is one of the most comfortable we slept on all year, and the couple who owns the home took absolutely amazing care of us.
Though the property is a bit of a walk from the city center (about 25 minutes), we didn't mind and would absolutely stay here again.
---