Beautiful, busy, and home to some of the best views in all of Sicily, it should come as no surprise that there are plenty of fun things to do in Taormina.
We adored this small city and definitely plan to revisit any time we're in eastern Sicily–the views of the Ionian Sea alone would make it worth the trip.
Here are the best things to do in Taormina, Sicily!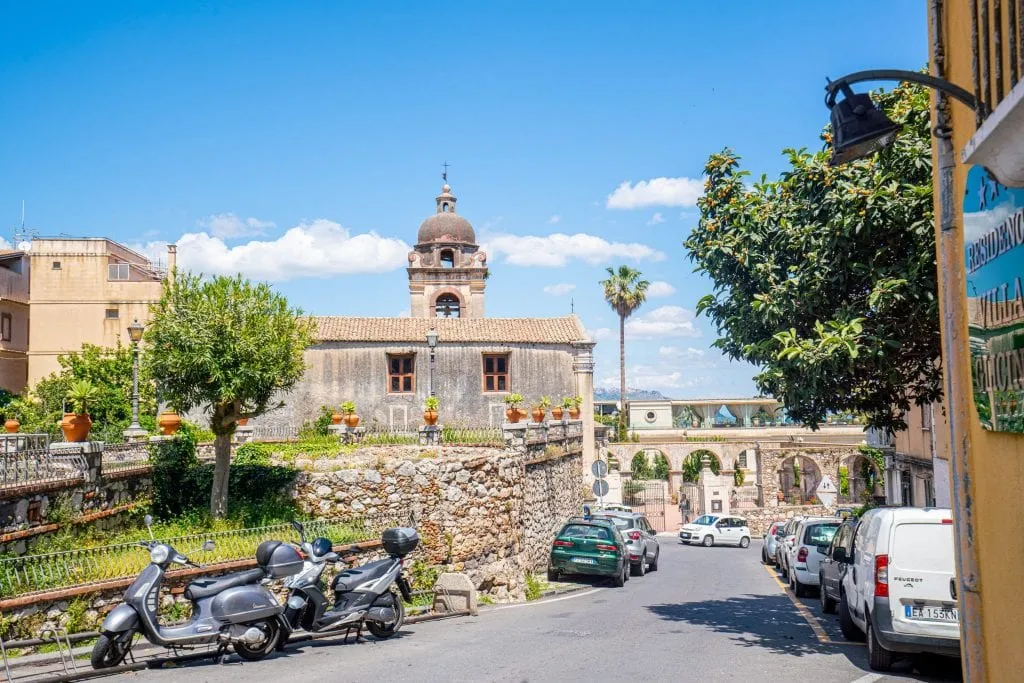 Some links in this post may be affiliate links. If you make a purchase through one of these links, we may earn a small commission at no extra cost to you. Please see our

disclosure policy

for more detail.
Best Things to Do in Taormina
Visit the Greek Theatre.
Of all the Greek theatres we have visited in world–including ones in Greece itself–this one is by far the prettiest we have ever seen, and a visit here absolutely belongs on the top of your list of things to do in Taormina.
On a perfectly clear day, you'll see an epic view of Mount Etna and the Ionian Sea behind the theatre–but even on a slightly cloudy day like when we visited (at least over Mount Etna, that is), the views are still pretty phenomenal.
Stroll through the gardens at Villa Comunale.
These public gardens boast incredible views of the Ionian Sea.
In our opinion, the views from here are just as stunning as from the popular Piazza IX Aprile… and there are far, far fewer crowds at Villa Comunale!
Meander down the Corso Umberto.
Corso Umberto is the major pedestrian street of Taormina–as major as anything in Taormina gets, anyway.
Stuffed to the brim with restaurants and shops full of wares that spill out into the street, Corso Umberto is incredibly fun to walk through.
Be sure to stroll all the way from Porta Messina to Piazza IX Aprile (or visa versa).
Bonus: visit the Corso Umberto at night.
As lovely as Corso Umberto is, the daytrippers and cruise ship visitors who come through during the day can also make it very, very congested.
If you're staying overnight in Taormina–and you definitely should!–be sure to visit Corso Umberto in the evening, long after the daytrippers have left. The vibe is definitely more relaxed, and you'll have far more space on the street!
Take a day trip to Mount Etna.
Want to add a little thrill to your list of things to do in Taormina? Book a day trip to the crater of an active volcano!
On a clear day, the views of Mount Etna from Taormina are fantastic–but there's still nothing like standing on an active volcano with your own two feet.
Whether you want to book a morning hike, a scenic tour, or a full day trip that also includes a visit to the beautiful Alcantara Canyons, you're bound to find a visit to Mount Etna that appears to your travel style.
Book your day trip to Mount Etna today!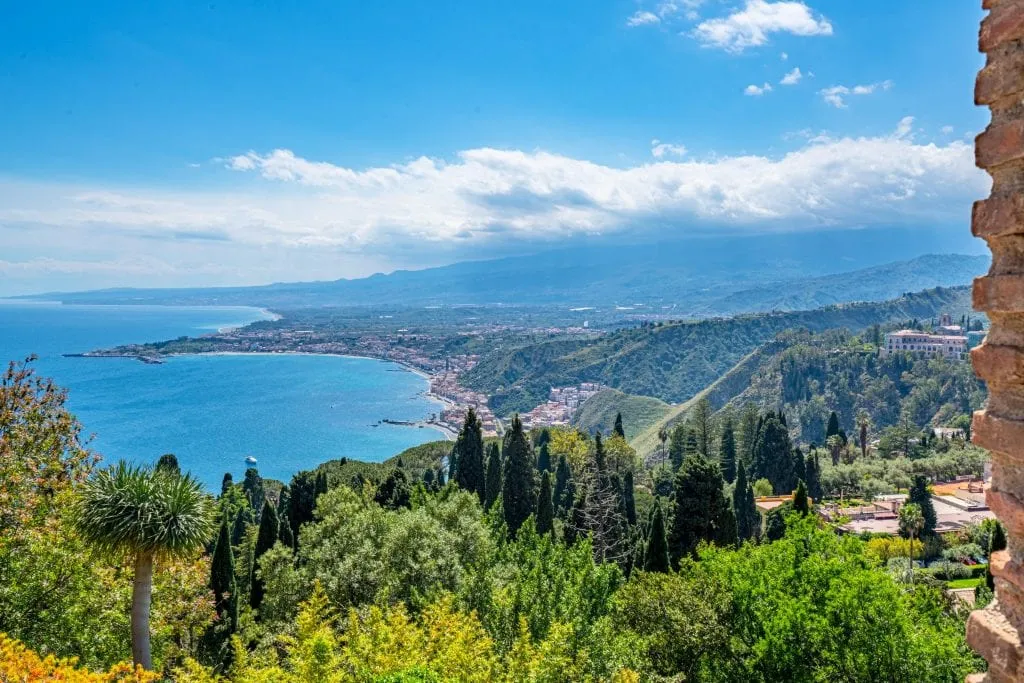 Stop by the Piazza del Duomo.
Home to both Taormina's lovely Duomo and an impressive Baroque fountain, the Piazza del Duomo is a quick and interesting place to visit in Taormina.
Enjoy a granita at BamBar.
Meet the best slushie–for lack of a better descriptor–you'll ever meet in your life: a granita.
Served all over Sicily, these semi-frozen desserts are made only with water, sugar, and flavorings like fruit or coffee… and yet, they're so creamy and delicious that you'll swear there has to be dairy in them.
While you can have them served with milk or cream, the standard version is not–and especially if you're visiting during a hot summer day, you'll find granitas utterly irresistible.
Head to BamBar for some of the best granitas in Taormina that are definitely served with some of the prettiest decor–we adored all the tile work here!
Admire the view from Piazza IX Aprile.
Possibly the most famous viewpoint in Taormina, no visit to the city is complete without walking across this checkered piazza and admiring the views below.
If possible, aim for a sunset visit!
Head to the countryside on a food + wine tasting tour.
The area surrounding Mount Etna isn't known just for its views or the history of the volcano–the food and wine produced in the rich volcanic soil is also an absolute treat for the tastebuds.
Head out from Taormina today on a food and wine tour of the Etna region, and you're bound to return to town at night stuffed to the gills with local food, wine, and knowledge of the area.
Book your food and wine tour of the Etna region today!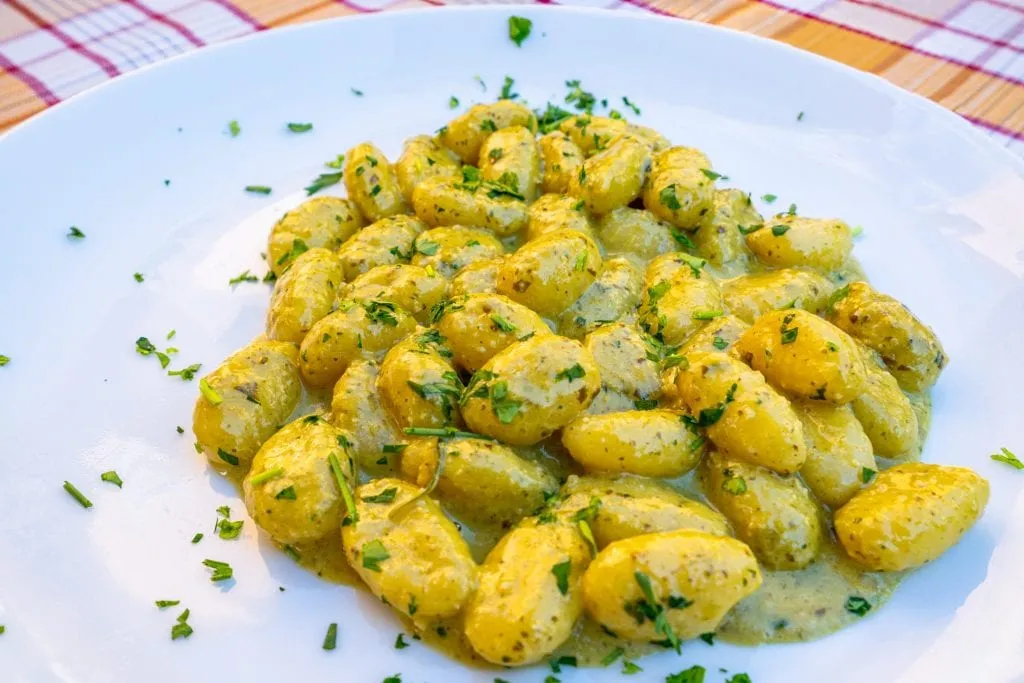 Ride the cable car to the beach.
Due to Taormina's location high on a cliff, in order to reach the local beaches, you'll need to board the cable car.
Inexpensive and home to great views, head this way if you want to check out the beaches of Mazzarò or Isola Bella.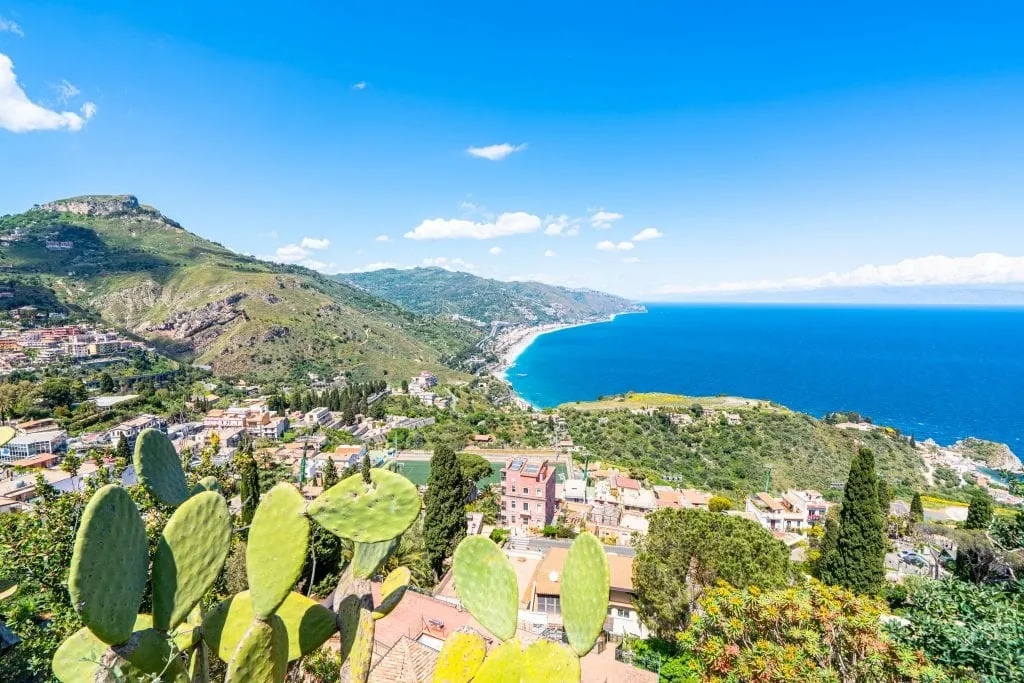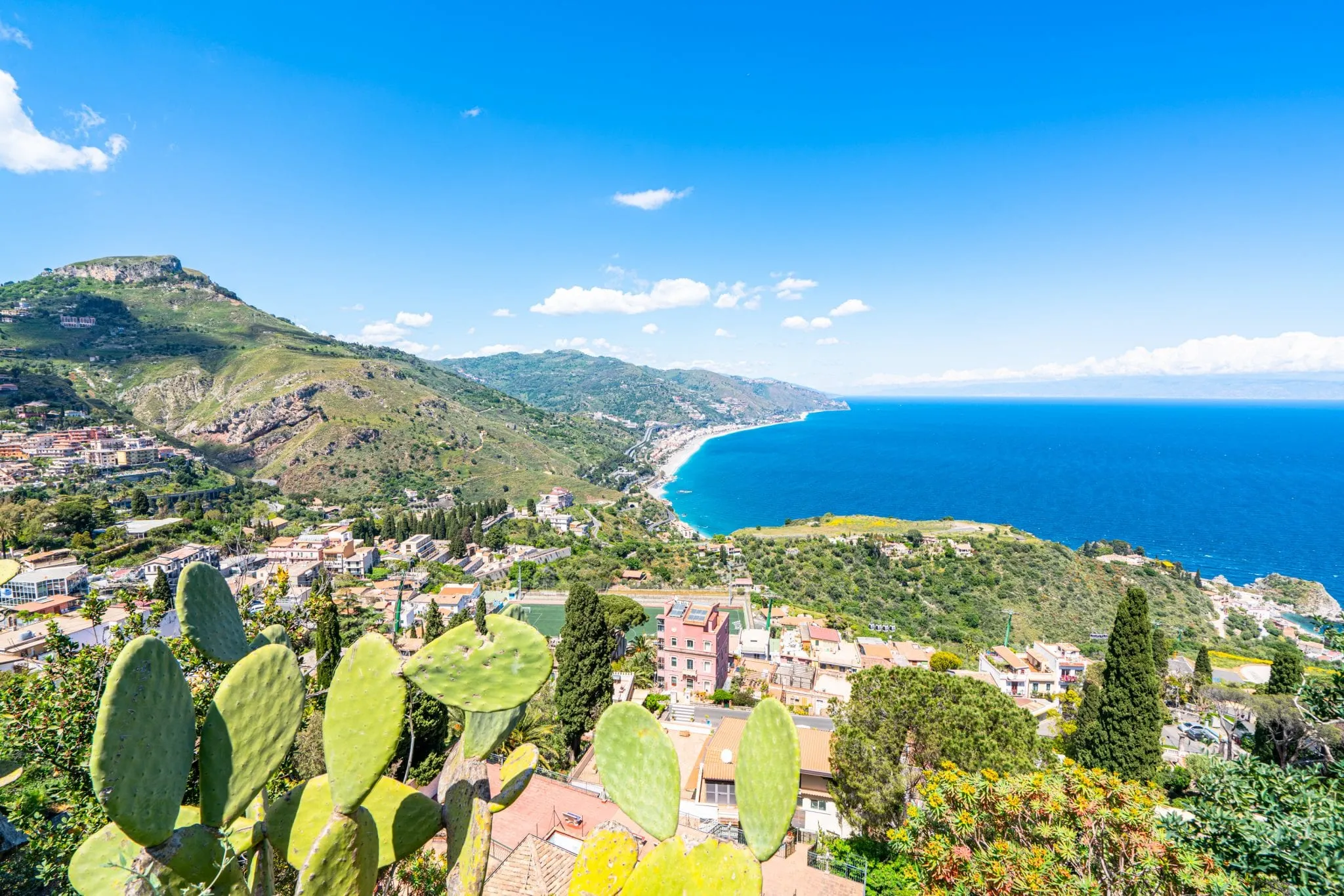 Pay a visit to Isola Bella.
Home to what are widely considered to be the best beaches in Taormina, summer visitors should definitely add a visit to Isola Bella to their list of things to do in Taormina!
Though you can easily reach the island yourself from Taormina via the cable car, a cruise along the coast paired with visits to the island's best swimming spots is an excellent day to spend a hot day in Taormina!

Book your boat cruise around Isola Bella today!
Just stare at the sea for a while.
Sound silly?
Honestly, staring out at the Ionian Sea from all angles was among our favorite things to do in Taormina–the views from this tiny town are absolutely stupendous, and they alone are worth visiting Taormina for.
Where to Stay in Taormina
The two most important things to consider when deciding where to stay in Taormina are whether it's within walking distance of the center of the city (you can check the walking time to Piazza IX Aprile from the hotel you're considering for a good estimate), and, if you have a car with you, whether they have parking available.
Budget
Hostel Taormina — Boasting great reviews and a perfect location in Taormina's Old Town, Hostel Taormina is the perfect place for budget travelers looking to keep costs down in what is arguably Sicily's most expensive city.
Both private rooms and dorms are available, and a shared kitchen is located in the hostel.
The only downside? No parking options–so keep that in mind if you choose to book a stay here!
Mid-range
Hotel Natalina — We had a great time at this little hotel!
The location is a short walk from Taormina's Old Town, the included breakfast quite large by Italian standards, and the customer service excellent. The staff helped us park our rental car for free nearby, which we greatly appreciated!
The rooms are large, but a bit dated–this certainly isn't a luxury hotel, but it's definitely a cozy enough place to stay while visiting Taormina, and we'd be happy to stay again.
Luxury
Hotel Continental — Want to admire the sea views that Taormina is famous for from the comfort of your hotel, while also staying in the lap of luxury?
If so, the Hotel Continental is for you!
Known for its superb location in the heart of Taormina, its views, and its wonderful included breakfast, luxury travelers can't go wrong with a stay here.
How Long to Spend in Taormina
The major sites of Taormina can easily be covered with one full day in the city, but that doesn't necessarily mean you need to hurry on!
A three-day stay in Taormina would allow you to spend one day enjoying the town, one day relaxing on the beach, and one day taking a day trip to Mount Etna.
It will also allow you to be a bit flexible with your trip to Mount Etna and essentially give you three possible days to visit the crater. If you get unlucky with the weather like us and find Mount Etna stubbornly covered in clouds when you arrive in Taormina, you'll be happy for the extra time!

That being said, if you're short on time in Sicily, you can get a great taste of Taormina without sticking around more than one full day and night (not counting visiting Mount Etna).
Getting to & Around Taormina
You can reach Taormina fairly easily via train from Catania, or with some effort, from Palermo.
However, the absolute best way to reach Taormina from either of Sicily's two major cities with an airport (aka most likely the place you'll be coming from unless you're visiting Taormina via cruise ship) is with a rental car. Sicily is the perfect island for a road trip, and Taormina makes an excellent stop.
Within the center of tiny Taormina itself, though, you can give your rental car a break–central Taormina is small and extremely walkable, so you'll only need a car for day trips once you arrive in the city.