As the capital of Burgundy and the historical seat of a once-powerful dukedom, the beautiful city of Dijon offers far more to enjoy than just mustard and Burgundy wine–though sampling both certainly ranks among the best things to do in Dijon, France.
We ended up in Dijon on something of a whim, after perusing a map of Eastern France for a fun stop between Lucerne and Paris.
And, in the end, we're so glad we stopped–because we ended our trip completely smitten with Dijon.
If you clicked on this blog post wondering if Dijon is worth visiting, the answer, as far as we're concerned, is a resounding yes.
Simultaneously beautiful and incredibly laid-back, Dijon, France offers a cozy French getaway that's light on crowds and heavy on gorgeous architecture, interesting history, and delicious local cuisine.
Add easy access to the many vineyards that can be found along the Route des Grand Crus (or Burgundy Wine Trail), and you have all the ingredients for a wonderful trip.
Here's what to do in Dijon, France, plus some tips for planning your own trip!
Where is Dijon, France?
Dijon is located in Northeastern France and is the historical capital of the Burgundy region.
The city is just under 200 miles (around 315 kilometers) southeast of Paris, and around 125 miles (or 200 kilometers) north of Lyon.
Dijon is easily accessed via train, with the fastest routes only taking a little over 90 minutes to travel between Paris and Dijon (in other words, yes, Dijon is one of the many possible day trips from Paris!).
You can check train schedules, routes, and ticket prices for Dijon here.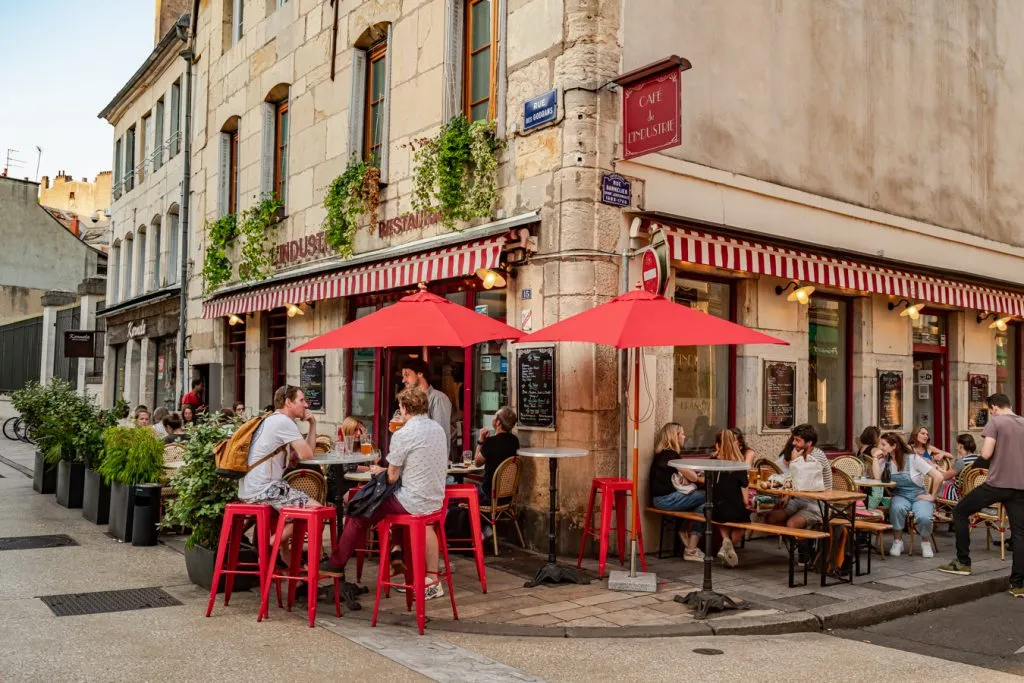 The Best Things to Do in Dijon, France
Shop for mustard!
If you know one thing about Dijon, it's probably that it's the home of mustard.
Unsurprisingly, Dijon is an excellent place to buy some unique mustards to bring home (or to eat immediately, for that matter).
While there isn't much mustard seed grown in the Burgundy area anymore–France actually imports most of their mustard seed from Canada these days–Dijon is still a wonderful place to shop for the product (and the French still eat more mustard per capita than any other nationality).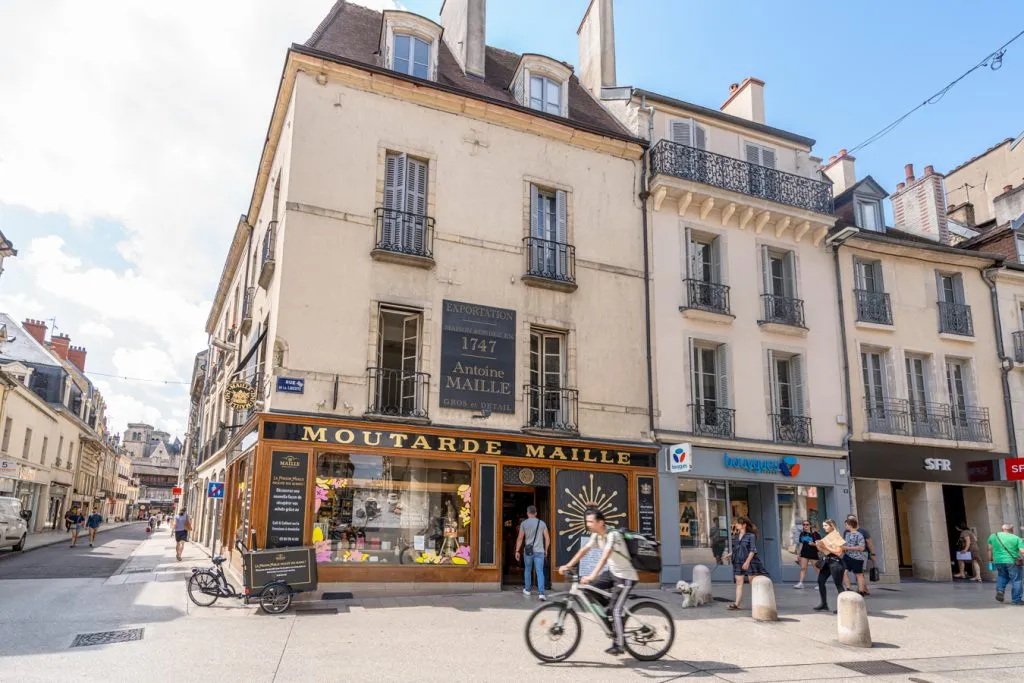 Moutarde Maille and Edmond Fallot both have storefronts in the city, and browsing is quite the experience!
We ended up tasting several mustards at Moutarde Maille and buying a few different ones, including a delicious mustard infused with truffle.
Our favorite mustard was purchased on tap, and the adorable jar it came in made for an excellent souvenir once we finished the product (which, frankly, did not take long).
Meander down Rue de la Liberté.
Connecting Darcy Square with Liberation Square, Rue de la Liberté is Dijon's main pedestrian avenue and a must-see when visiting Dijon, France.
You'll find a fun mix of shops along the street, ranging from standard international stores and restaurants to the photogenic Moutarde Maille storefront, a Galeries Lafayette location, and plenty of historic half-timbered buildings.
Most of the best things to do in Dijon are located within a short walk of Rue de la Liberté!
Follow the Owl Trail to the best attractions in Dijon.
If you're looking for the most interesting historic attractions and points of interest in Dijon, the city has a remarkable tour guide to offer: owls!
Small owl placards dot the ground of the city center, leading visitors to many of the best things to see in Dijon.
You can pick up a map of the Owl Trail at the tourist office for a few Euros, or simply keep an eye out for them on the ground as you explore.
Either way, it's worth noticing this whimsical detail when visiting Dijon.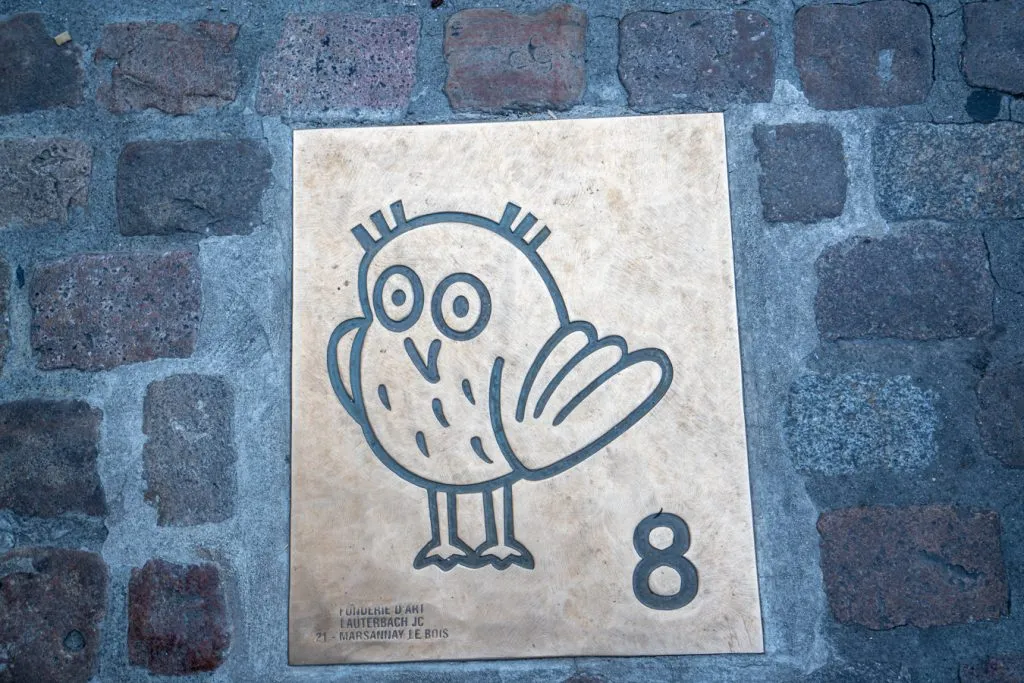 Visit the Ducal Palace.
For more than a century, the Dukes of Burgundy ruled over the region surrounding Dijon–and they left plenty of architecture behind.
Today, the Ducal Palace is a full complex of buildings, including the Museum of Fine Arts, the Tower of Phillip the Good, and even administration offices for the modern-day government of the city of Dijon.
While the oldest parts of the standing palace date to the 1400s, the bulk of what we see today is from the 17th and 18th centuries.
Enjoy a coffee while overlooking Liberation Square.
Liberation Square offers, among other things, the absolute best view of the front facade of the Ducal Palace.
This expansive square also features fountains and many cafes, perfect for enjoying a snack or drink while overlooking one of the top attractions in Dijon, France.
We found ourselves lingering in Liberation Square much longer than we intended, enjoying the laid-back atmosphere and sunny weather.
Step inside the Church of Notre Dame of Dijon.
Travel France for any length of time, and you'll quickly notice that while Paris is certainly home to the most famous Notre Dame, there are churches with the same name all over the country–including in Dijon.
Dijon's Church of Notre Dame is a magnificent Gothic building dating to the 13th century and is full of brilliant, colorful stained glass set beside the soaring stone columns so indicative of the style.
It's well worth the effort to step inside this building, as the exterior–while lovely–absolutely does not do the church justice.
The exterior of Notre Dame, though, is where you can find Dijon's original owl carving, which is the inspiration behind the mascot of the city's modern-day Owl Trail.
Dive deep into the Burgundian food scene.
Burgundy is home to some truly phenomenal French food, and just may be one of our favorite parts of the country to eat in!
French food is highly regional, but several of France's most famous foods, including boeuf bourguignon, hail from this region and are best enjoyed locally.
Other specialties include but certainly are not limited to nonnettes di dijon, creme de cassis, coq au vin, and of course, mustard and Burgundian wine.
For foodies interested in French cuisine, visiting Dijon will be a dream come true.
Browse the stalls at Les Halles.
It wouldn't be a French city without a local food market–many of which are named Les Halles.
Dijon's market is no exception and is housed in a beautiful, 19th-century iron building in the center of the city, just a hop, skip, and jump from Notre Dame.
If you're lucky enough to have your trip coincide with a full market day, you'll also get to experience the surrounding streets filled with vendors.
You can check hours and opening days here.
Explore the Museum of Fine Arts.
Dijon's Museum of Fine Arts (in French, Musée des Beaux–Arts de Dijon) is indisputably one of the top attractions in Dijon.
Open since 1787, it is one of the oldest museums in France (older than the Louvre, which opened in 1793!) and is housed inside the Ducal Palace.
In other words–like a delightful number of European museums–the building itself is a worthy attraction, in addition to the art it houses.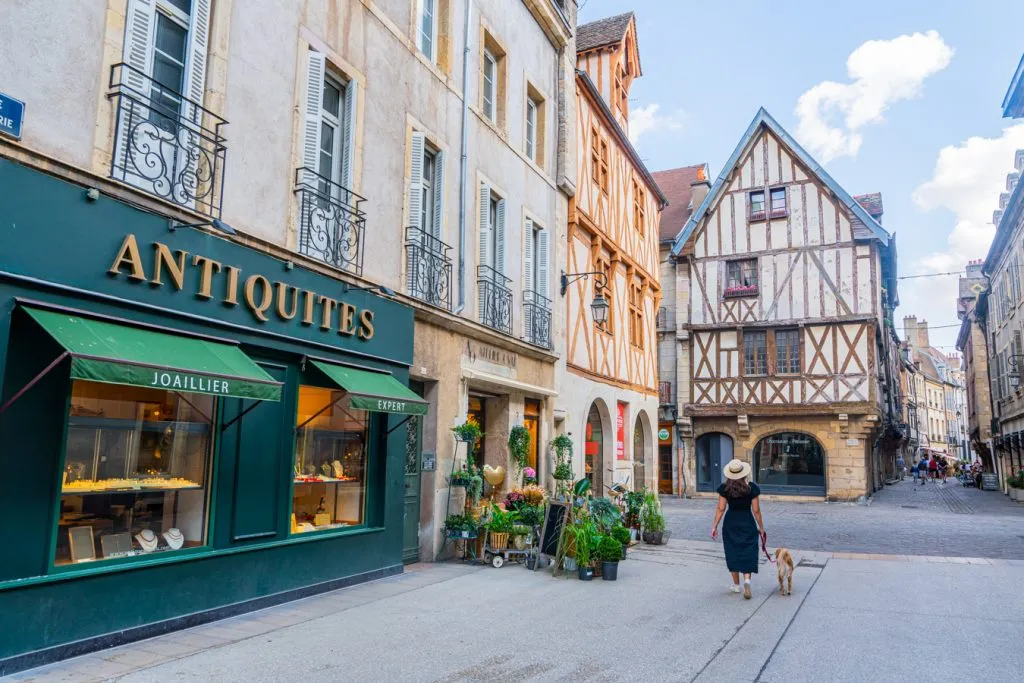 Step inside the Cathedral of Saint-Begine.
Built during the 13th and 14th centuries, Dijon's soaring cathedral is a Gothic masterpiece, complete with the distinctive tiled roof that is so indicative of Burgundy.
Like Notre Dame, it features plenty of Gothic arches and colorful stained glass.
Keep in mind that the church closes between 12:00 PM and 2:00 PM, so don't plan to visit during lunchtime!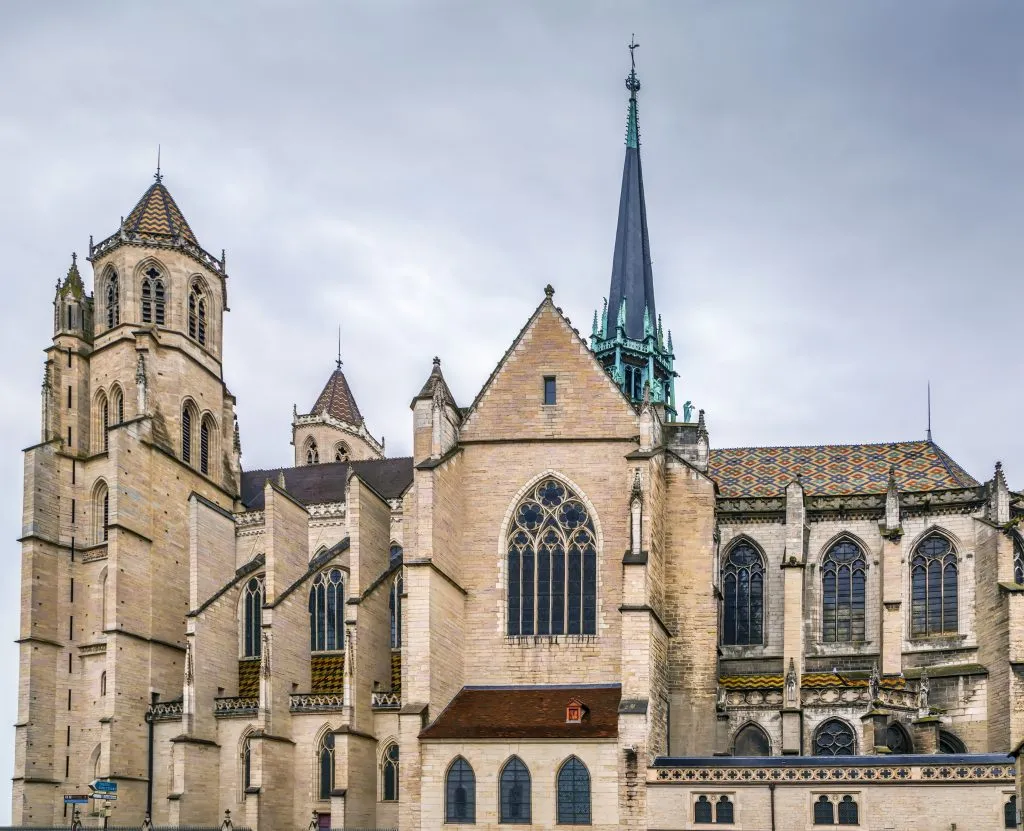 Snap photos at the charming Francois Rude Square.
This whimsical square, featuring plenty of half-timbered buildings, some restaurants, and a gorgeous carousel, is one of the many fun places to visit in Dijon for people-watching.
We stumbled across it randomly within our first few hours of visiting Dijon and were immediately enchanted.
The square doesn't take long to see, but be sure to slow down long enough to snap some photos of the carousel!
Climb to the top of the Tower of Phillip the Good.
Want to admire Dijon from above?
Add climbing the 316 steps to the top of the Tower of Phillip the Good (Phillippe le Bon) to your list of activities in Dijon!
Unfortunately, this isn't the simplest tower to climb in France–you'll need to make a ticket reservation in advance and then climb with a guide–but climbers are rewarded with a beautiful view of Liberation Square and the city.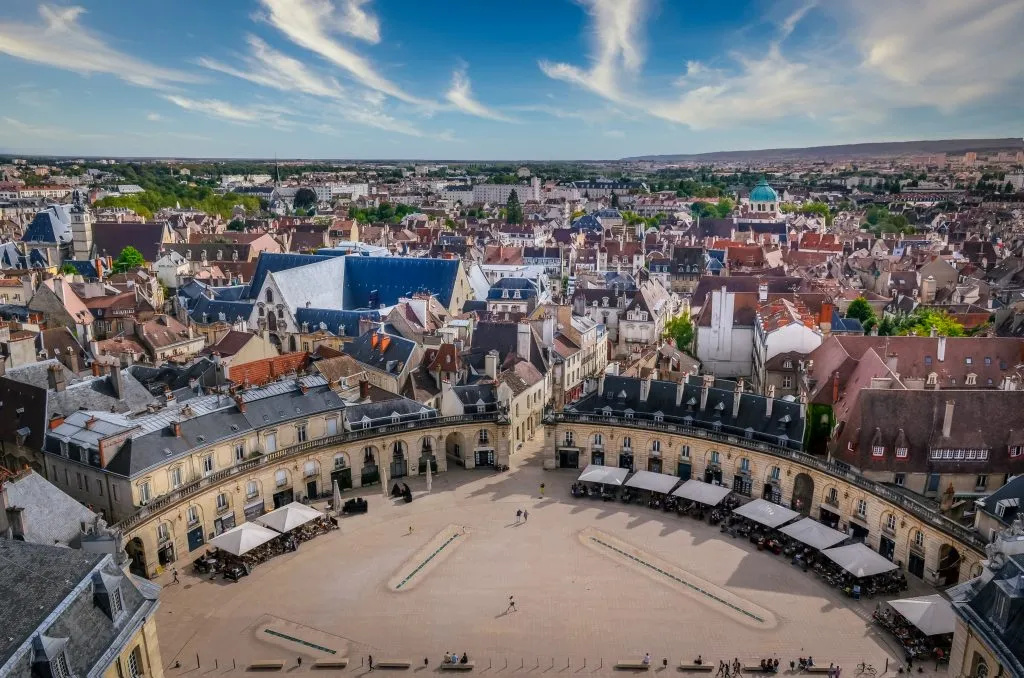 Learn local history and culture at the Museum of Burgundian Life.
Housed in a monastery dating to the end of the 18th century, the Museum of Burgundian Life is one of the most unusual things to do in Dijon!
While it may sound like a standard local museum based on its name, this quirky museum takes a unique spin on sharing 19th-century Burgundian life with visitors, complete with dioramas, and a fully furnished "street" of shopfronts, all decorated with period-appropriate wares.
Relax in the Darcy Garden.
Open since 1880, the charming Darcy Garden was the first public garden in the city and makes for a fun place to visit in Dijon, France.
Pull up some shade, grab a drink from the kiosk, and enjoy the water features and statues that make Darcy Garden a lovely place to relax.
We particularly got a kick out of the whimsical polar bear statue near the entrance!
Get out of the city and follow the Route des Grand Crus (Burgundy Wine Trail).
It's no secret that Burgundy produces world-class and globally famous wine–and when visiting Dijon, you're in a prime location to experience the wine first-hand!
The Route des Grand Crus winds through 38 towns and villages, and whether you have an afternoon or a week to spare, it's well worth experiencing.
You can explore independently via rental car (with a designated driver, of course!), or book a guided day trip experience like this, in order to experience the route when based in Dijon.
Don't have time to head out to the countryside?
A wine tasting in a traditional cellar in the heart of Dijon is also a fantastic option.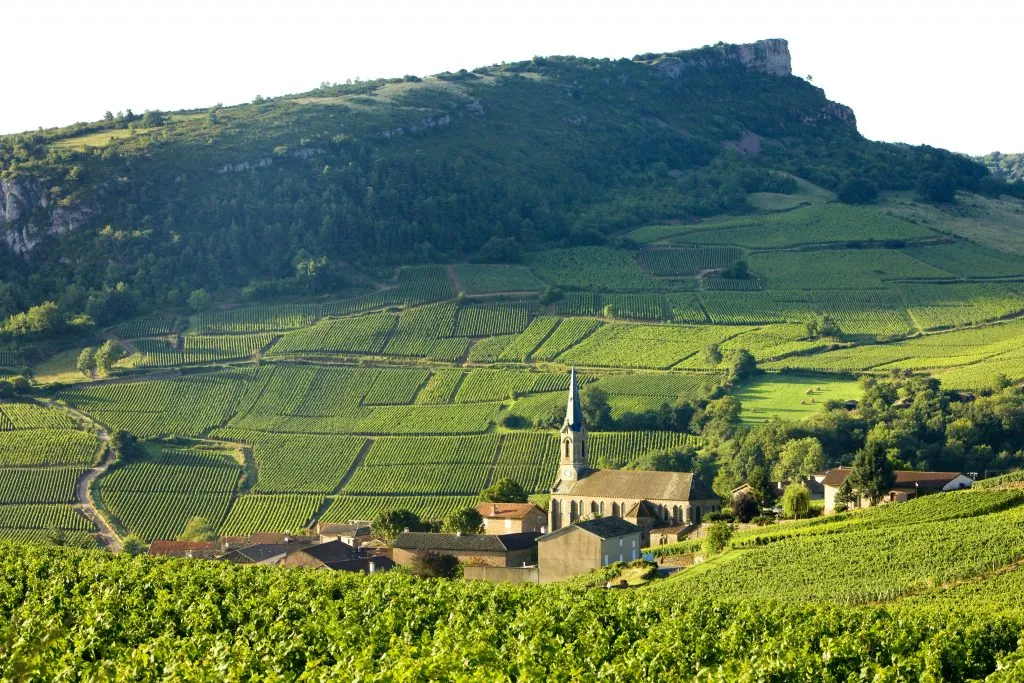 Where to Stay in Dijon
We checked into ibis Styles Central Dijon for our visit to the city and had an excellent stay!
The location is absolutely unbeatable, with a combination of quiet rooms and easy access to the best things to do in Dijon.
The included breakfast was a great place to fill up in the mornings, and the view from the balcony attached to our room was an unexpected bonus.
Looking for something a bit different?
Grand Hotel La Cluche Dijon, located right by the Darcy Garden, is a crisp, modern option that also gets excellent reviews.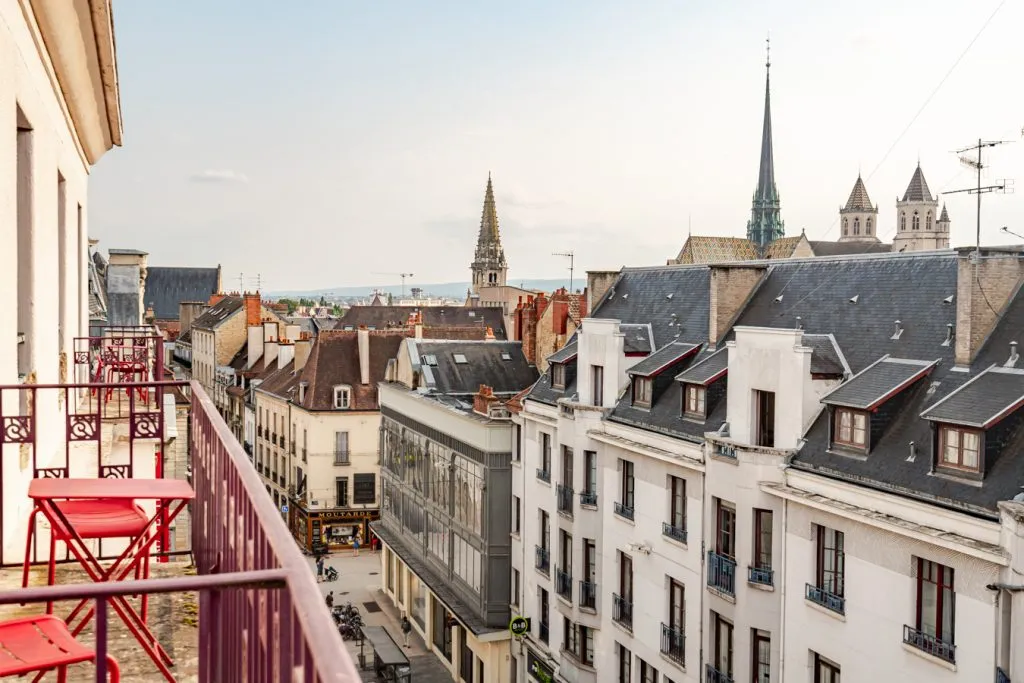 For a gorgeous property that feels a bit like escaping to the French countryside while staying in the heart of Dijon, Maison Philippe Le Bon, Les Collectionneurs is a fantastic and well-reviewed choice.
The gorgeous courtyard alone makes it worth considering!
On average, Dijon is a much more affordable city than tourism hotspots like Paris and Nice, making it a great place to splurge on a more memorable place to stay.
Getting Around When Visiting Dijon
Central Dijon is extremely walkable, and with the exception of things like visiting vineyards outside the city, you can easily walk between all of the fun things to do in Dijon discussed in this travel guide.
In addition to being compact, Dijon is also very flat, making it easy and fun to enjoy the city on foot.
If you'd like to explore Burgundy beyond Dijon, such as by touring a vineyard or visiting smaller towns like Chablis and Auxerre, renting a car is an excellent choice.
We recommend searching for your rental car through Discover Cars, which will allow you to sift through all your options and choose the right car for you based on price, the reputation of the company that is renting it, and the terms of the rental contract.
Prefer not to drive?
A guided day trip like this is an excellent way to get a (literal) taste of Burgundy.
Shop rental cars for your trip to Dijon, France today!