Snow-capped mountains, turquoise beaches, or otherworldly deserts–regardless of which one of these options sounds like the perfect winter getaway, one of these beautiful US national parks to visit in winter is for you!
With 62 parks to choose from, the US national park system is incredibly diverse, offering magnificent winter getaways to travelers looking to make the most of the coldest months of the year, no matter what that means to them.
A white Christmas at a national park in December or a break from dreary gray days on a tropical beach at a national park in February are equally accessible.
For the purposes of this blog post, we are more or less defining winter visits to national parks as trips taking place in December, January, and February.
However, depending on the park in question, winter weather may stretch to November and March as well!
Here's where to find the best US national parks to visit in winter!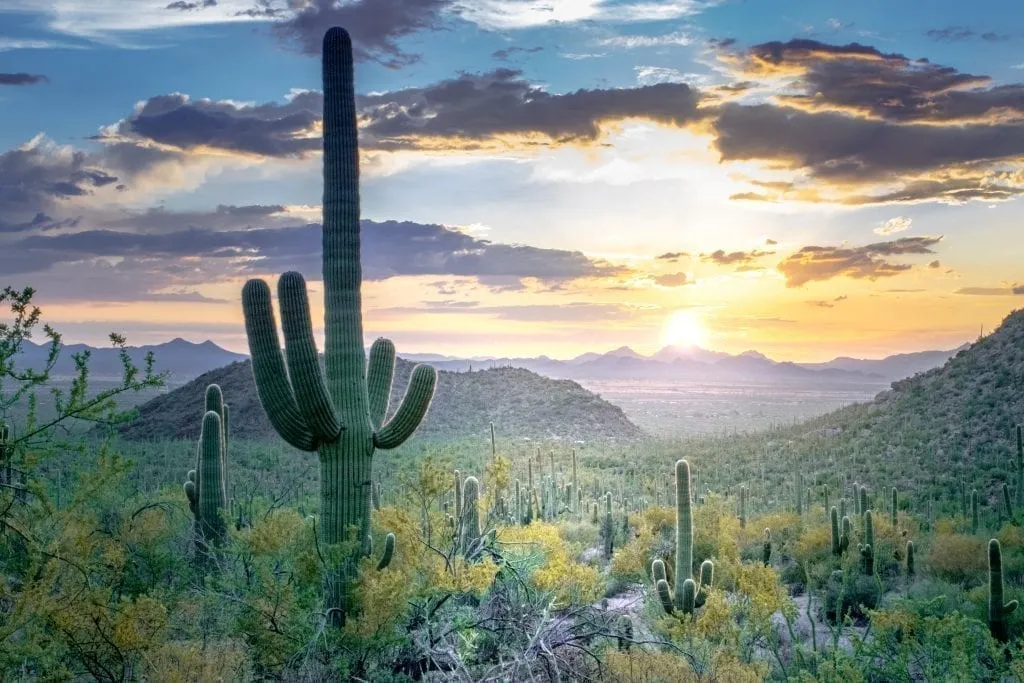 First Step: Pick Up an America the Beautiful Pass!
Planning to check out several of the best national parks to visit this winter? 
If so, consider picking up an America the Beautiful Pass, also known as the USA's annual national parks pass!
For only $80–less for certain groups like seniors and military personnel–the park covers day-use fees to over 2,000 federally managed lands, including all 62 national parks, for an entire year.
It's one of the best travel deals around and will pay for itself within 3-4 visits to popular US national parks (for example, as of the time of writing, many popular national parks such as Arches and Yosemite cost between $25-35 per vehicle to visit).
We adore having a national parks pass and have replaced ours several times.
Buy your national parks pass today!
Best Snowy National Parks to Visit in Winter
Arches National Park, Utah
From James Ian of Travel Collecting
Arches National Park is home to over 2,000 natural arches, and several areas crammed with rock 'fins' or narrow vertical ridges that the arches form in. 
It is a stunning place to visit, and when the ground is covered in light snow, the arches are perfectly and beautifully highlighted.
Add in trails that stay accessible year-round, and it's no surprise that Arches is one of the best national parks to visit in winter!
There are several main areas to visit.  At the far end of the road is Devil's Garden.  The Devil's Garden Trail has several sections. 
While the challenging primitive trail is inadvisable in winter, the first section to Landscape Arch, the longest single-span arch in North America, is easily accessed by a flat, mostly paved trail. 
Nearby Sand Dune and Skylight Arches are also easy to see even in snow, as they are near the road. 
The Window's Sections is also great to go to in the winter; the trails are short and Double Arch and the North and South Windows are especially photogenic in the snow. 
The Park Avenue section, which is a small canyon of towering cliffs, can also easily be visited in winter.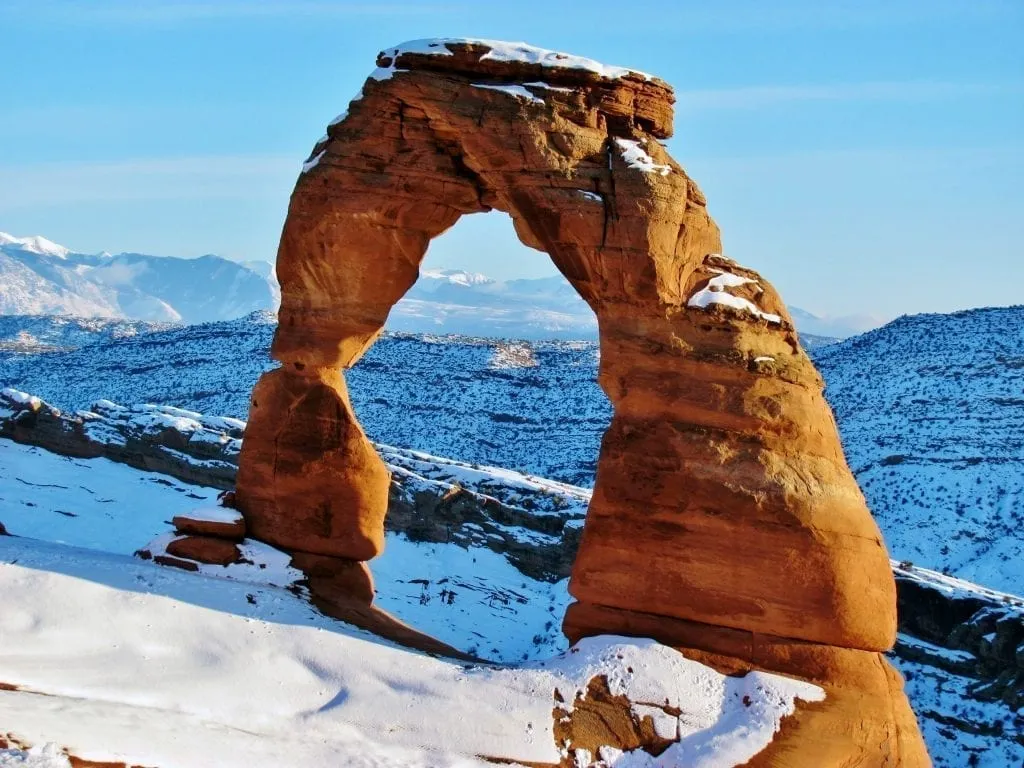 What to Know Before Visiting in Winter
Arches National Park is open all year round. 
There is only one road in and out of the park, and in summer, it gets crammed and the parking lots are often full, so winter is actually a great time to go. 
The park entrance is only five miles from Moab, where there is a wide range of accommodations, so it is easy to visit. 
Although Arches National Park is open throughout the winter, the road and trails may be closed after heavy snowfall until they are cleared.
The visitor center also keeps shorter hours in the winter.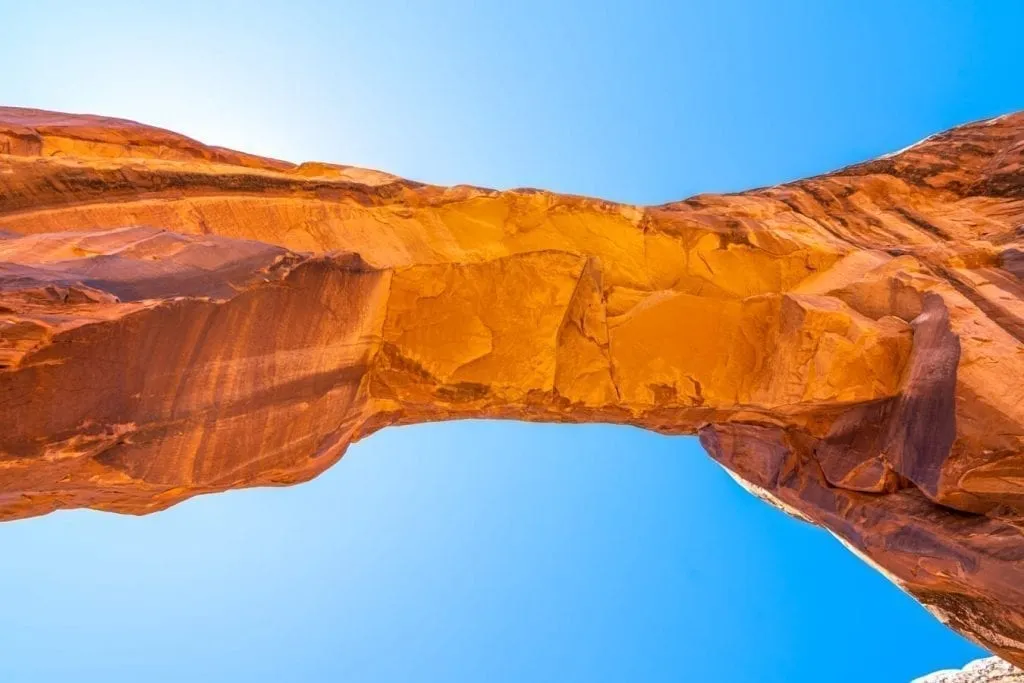 Grand Teton National Park, Wyoming
From James of Wanderus Living
Grand Teton National Park is one of the most beautiful winter getaway destinations.
Whether you want to have an adventure in the backcountry or get cozy by a fire, the Tetons have it all. 
The Tetons are located in northwest Wyoming, near Yellowstone, and are home to so much wildlife, hiking trails, ski slopes, and small towns to visit. 
The most common reason to visit the Teton range is to ski and snowboard in the winter.
Grand Teton and Jackson Hole are world-famous for their gorgeous skiing and spectacular winter views.
The most famous ski areas in the region are Jackson Hole Mountain Resort, Grand Targhee Resort, and the Snow King Resort. 
If you aren't a skier, Jackson, Wyoming has a lot more to offer! A lot of the wildlife really starts to come out during the beginning and end of winter as there are a lot fewer tourists.
Located in the Teton range are bears, bison, moose, elk, and plenty of other smaller animals. You will almost be guaranteed to see some bison or moose during your visit.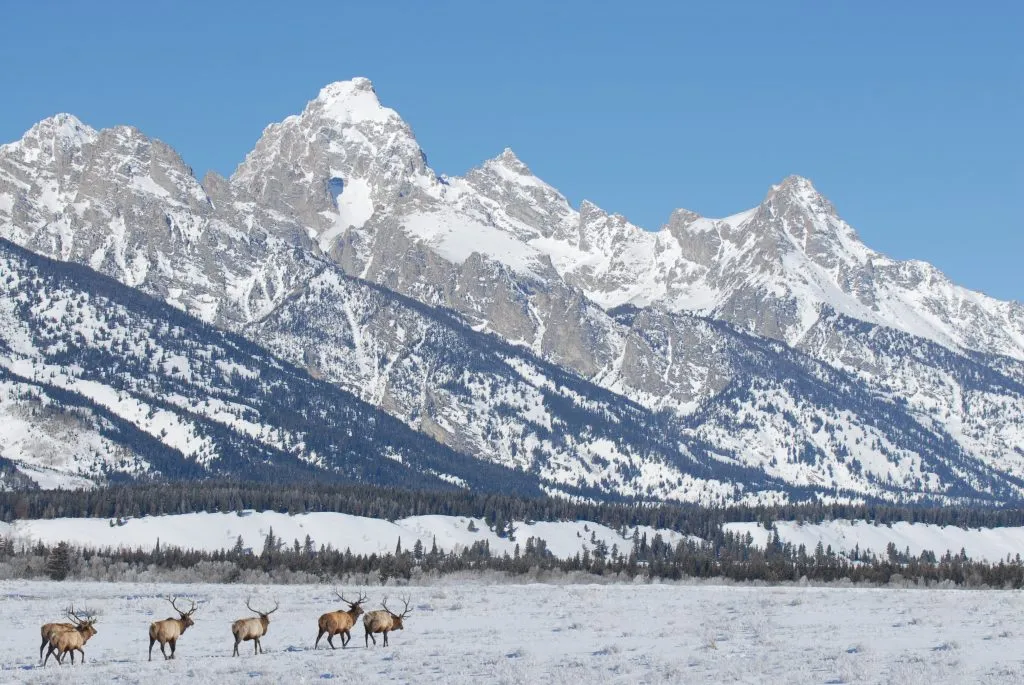 You can even opt for a wildlife tour if you want to have a better chance of seeing wildlife during your winter trip!
One of the first things that any visitor of the Teton's does is capture a stunning photograph of the national park.
The park really shines during the winter and looks incredible with its snowcapped peaks. Consider driving to coordinates (43.763782, -110.553818) to get one of the best possible views of the park!
Consider staying in Jackson Hole, Wyoming which is one of the coolest winter towns in the United States and a must-see on a Wyoming road trip.
There are so many amazing shops, restaurants and cool places to stay. Even if you just want to relax for one day, Jackson Hole has plenty of things to do in town to keep you occupied. 
What to Know Before Visiting in Winter
The Tetons are an extremely popular skiing and snowboarding destination in winter, so lodges book up quickly and prices are high.
Also, the majority of the Teton Park Road is closed to vehicles but is open to hikers and skiers, so come prepared for a different visit than you would during the warmer months.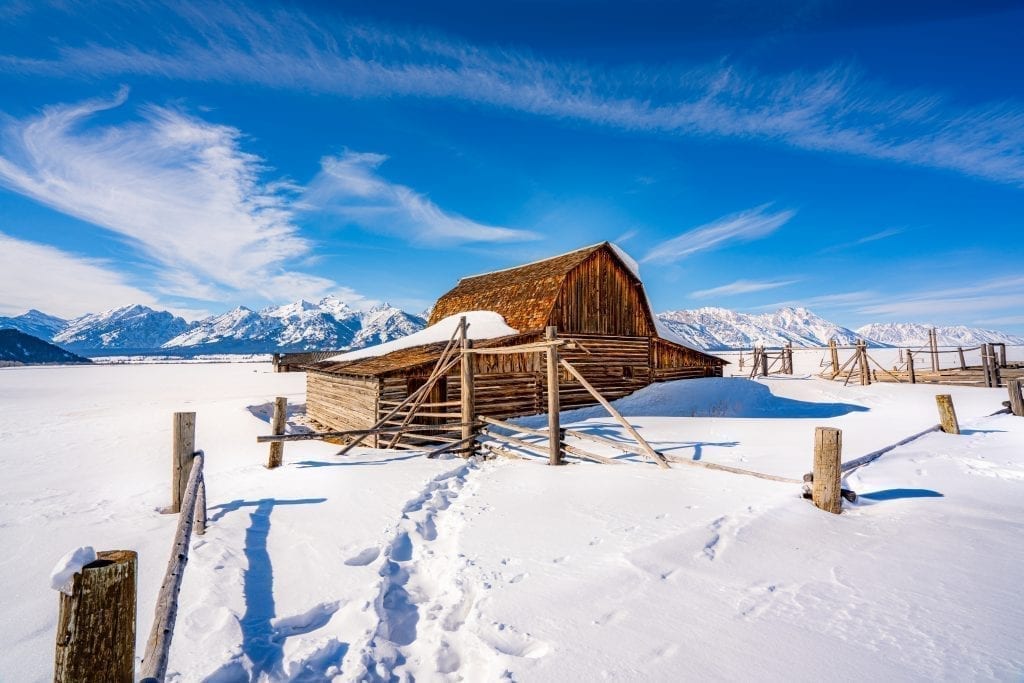 Grand Canyon National Park, Arizona
Remember hearing that the floor of the Grand Canyon can be 20 degrees warmer than the top, as a warning against the perils of the summer heat?
Well when visiting the Grand Canyon during winter, that same logic makes hiking a lot more pleasant!
Popular hikes like the Bright Angel trail and the South Kaibab trail are incredibly pleasant on a sunny winter's day (though still difficult–never underestimate hiking in the Grand Canyon!), both due to the (usually) fairly temperate weather in the canyon and the lack of crowds as compared to the summer months.
If you get lucky, there may even be a dusting of snow on the upper layers of the canyon, giving the entire park a beautiful, otherworldly vibe. 
What to Know Before Visiting in Winter
The North Rim of the Grand Canyon closes during winter, but the more popular South Rim typically stays open year-round.
Be sure to carefully track the time when hiking in the Grand Canyon in winter!
Shorter days mean that hikers need to be extra vigilant to ensure that they leave enough time to exit the canyon before sunset.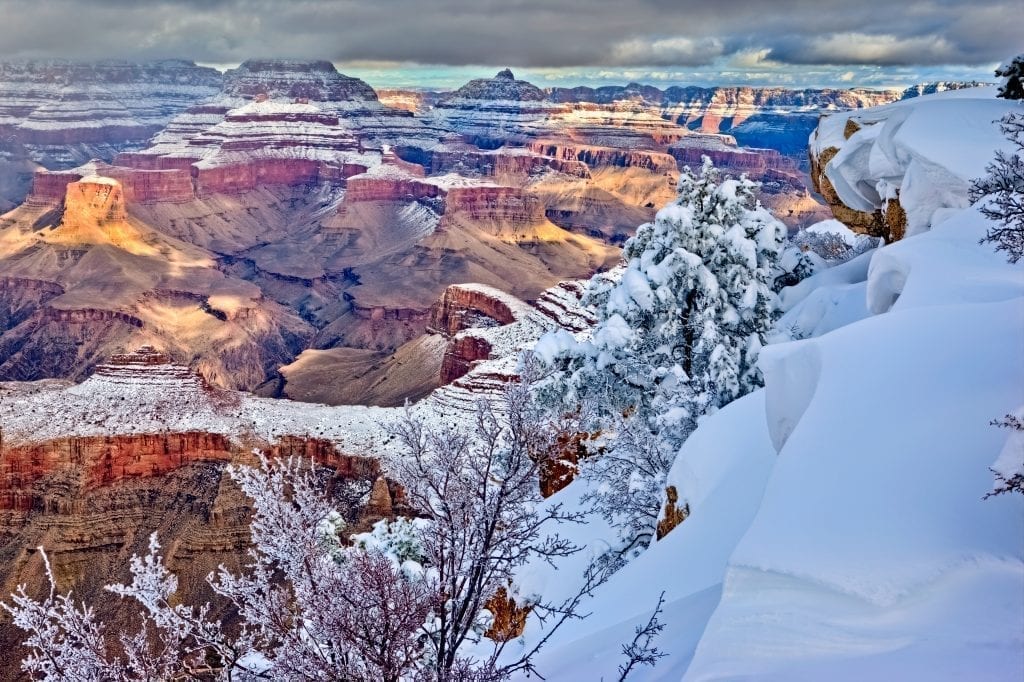 Rocky Mountain National Park, Colorado
Ever wanted to learn how to snowshoe?
There's no better place to try it out than when visiting Rocky Mountain National Park in winter!
With over 350 miles of trails dotted with snowy peaks and alpine lakes, Rocky Mountain NP is a paradise year-round–but to beat the crowds and see a completely different side of the park, head out in winter.
Ranger-led snowshoeing hikes help newcomers learn a new skill (it's not as intimidating as it sounds!), opening up a whole new world of trails.
Dream Lake, for example, is one of the most incredible and easy to access lakes in the park, and it's even more stunning in winter.
For those who prefer to stick to hiking boots, spots like Old Fall River Road are closed to vehicle traffic in winter but turn into great hikes instead.
In addition to snowshoeing, cross-country skiing and sledding are also fun winter activities in RMMP!
What to Know Before Visiting in Winter
Short winter days are made shorter by the beautiful mountains surviving Rocky Mountain National Park, so watch the time carefully as you explore! 
With large amounts of snowfall each year, it's imperative to check trail conditions and avalanche risk before heading out each day.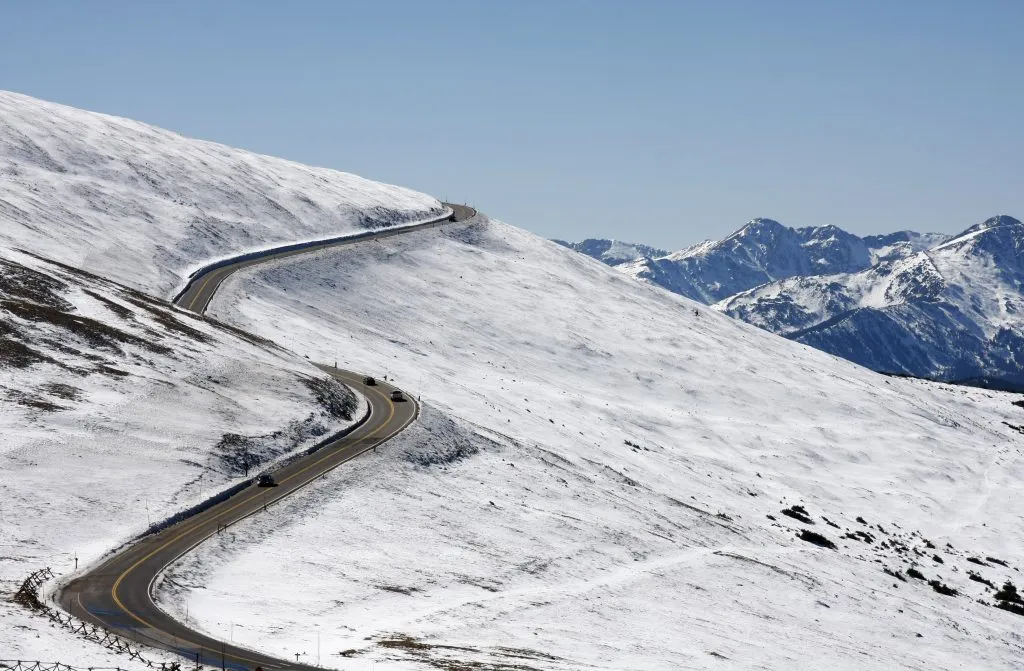 Canyonlands National Park, Utah
From Brittany of Bucket List Bri
Did you know that Canyonlands National Park in Moab is Utah's largest national park?
It's actually so big that it's sectioned into three parts, namely: Island in the Sky – the most visited and panoramic with jaw-dropping vistas; the Needles district filled with towering spires of colorful sandstone; and the Maze – an adventurous "no man's land" that requires backcountry permits and a high-clearance 4×4.
But what could be more beautiful than the red rocks and panoramic vistas in Canyonlands National Park?
Those same rocks, vistas, and trails but under a gentle, white blanket of snow.
In winter, Canyonlands becomes a quiet place to escape to; a stark contrast from the summer months when jeeps and hikers are sprawling over the trails.
While some trails will be closed due to dangerous snowfall covering guiding cairns and marked paths, other areas remain open to the cautious traveler.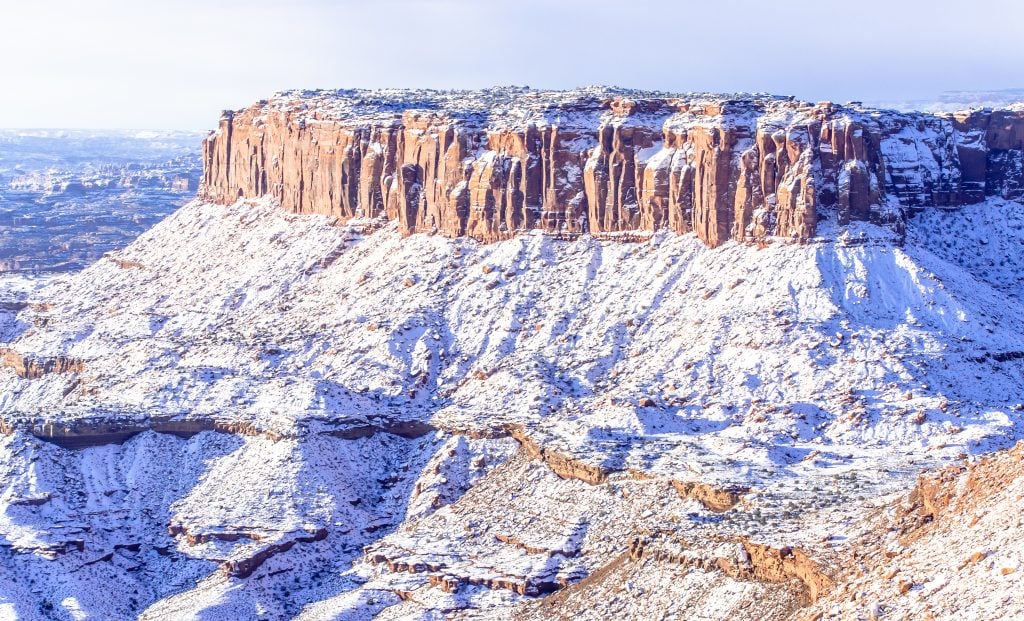 One of the best things to do during this season is to visit Grand View Overlook for sunrise or sunset.
The golden hues reflect off the glittery snow to create a magical experience.
If you're feeling up for it, consider hiking the easy 0.9-mile White Rim Overlook Trail to immerse yourself in the wintery landscape.
Not only is this trail the perfect time to take epic photos, but you will be rewarded ten-fold by the vast panoramic views.
The best way to visit Canyonlands in winter is by spending 2 days in Moab.
This way, you can visit Canyonlands slowly and carefully without rushing to explore Moab's other famous park: Arches NP. 
What to Know Before Visiting in Winter
Since the Island in the Sky sits at a higher elevation, there might be some trail closures.
Paved roads might be temporarily blocked until they can plow.
There's no gas, food, or lodging here during winter.
The Visitor's Center is closed on Wednesdays and Thursdays from January-March.
If you intend to hike, come prepared and be sure to pack crampons.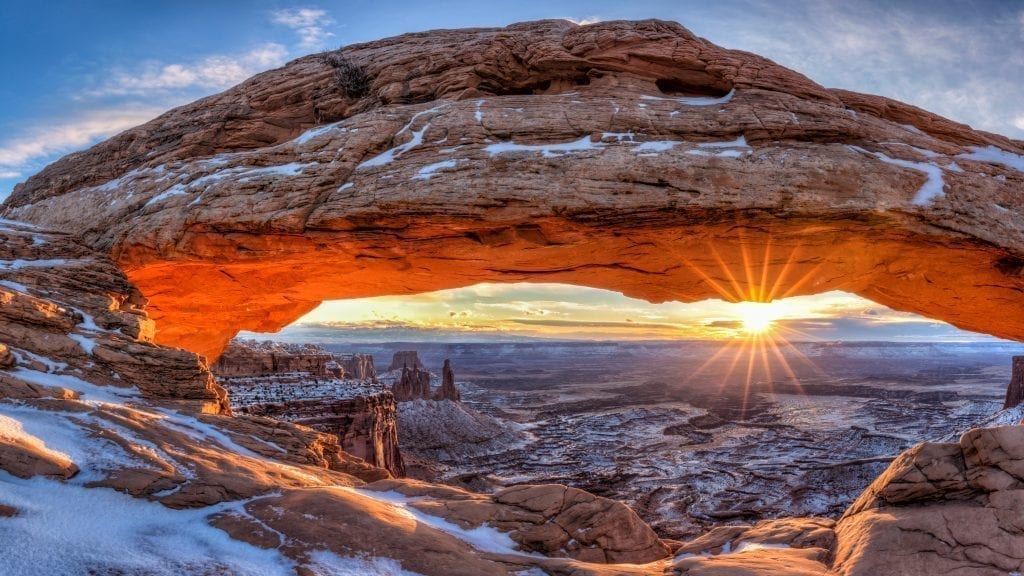 Yosemite National Park, California
Yosemite National Park is one of the most popular national parks in the USA, and summer visits can require planning months in advance and contending with intense crowds.
Want to have the awe-inspiring landscape a bit more to yourself?
Consider planning a winter national park trip to enjoy Yosemite instead!
Heavy snowfall and ever-changing conditions will mean needing to plan a trip that's a bit different than a summer trip–casual hikers won't be able to take on some of the classic trails, and some roads are closed.
But, when staring up at a magnificent view of Yosemite Falls framed by snow, odds are good that you'll consider the trip worth it.
What to Know Before Visiting in Winter
Tioga Road, Glacier Point Road, and Mariposa Grove Road are closed to vehicle traffic each winter, starting at some point in mid-November and lasting all the way until May.
Roads that remain open often require tire chains in order to access them.
Bryce Canyon National Park, Utah
With its otherworldly hoodoos and magnificent amphitheater that can easily be explored from above, Bryce Canyon National Park is one of the best national parks to visit in December, January, and February.
In fact, you can even make the argument that the canyon is more beautiful during Utah's winter months when the bright snow offsets the brilliant orange of the canyon than in the more popular summer months.
The park's four main viewpoints–Sunrise Point, Sunset Point, Bryce Point, and Inspiration Point–all offer magnificent views of the Bryce Canyon amphitheater without needing to take on the task of winter hiking at an elevation of 8000 feet.
However, for those inclined to bundle up and hit the trails year-round, many popular hikes remain open, weather-permitting (you should always check conditions before heading out).
When hiking during the winter, boots are required and crampons highly recommended.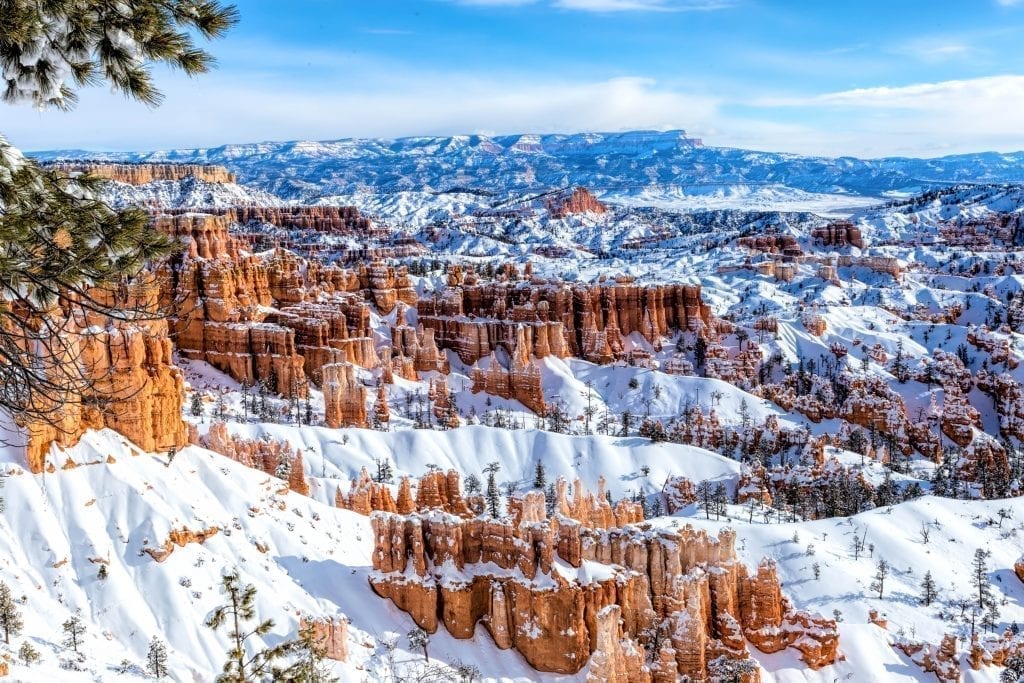 What to Know Before Visiting in Winter
Many trails in Bryce Canyon NP are closed during winter, including popular Wall Street and portions of the Rim Trail. 
While park rangers work hard to keep the main scenic drive open, it may sometimes partially close due to weather, so be flexible!
Paria Road and Fairyland Loop Road are closed to vehicle traffic during winter.
The visitor's center keeps slightly shorter hours in the winter months, closing at 4:30 PM each day rather than 6:00 PM.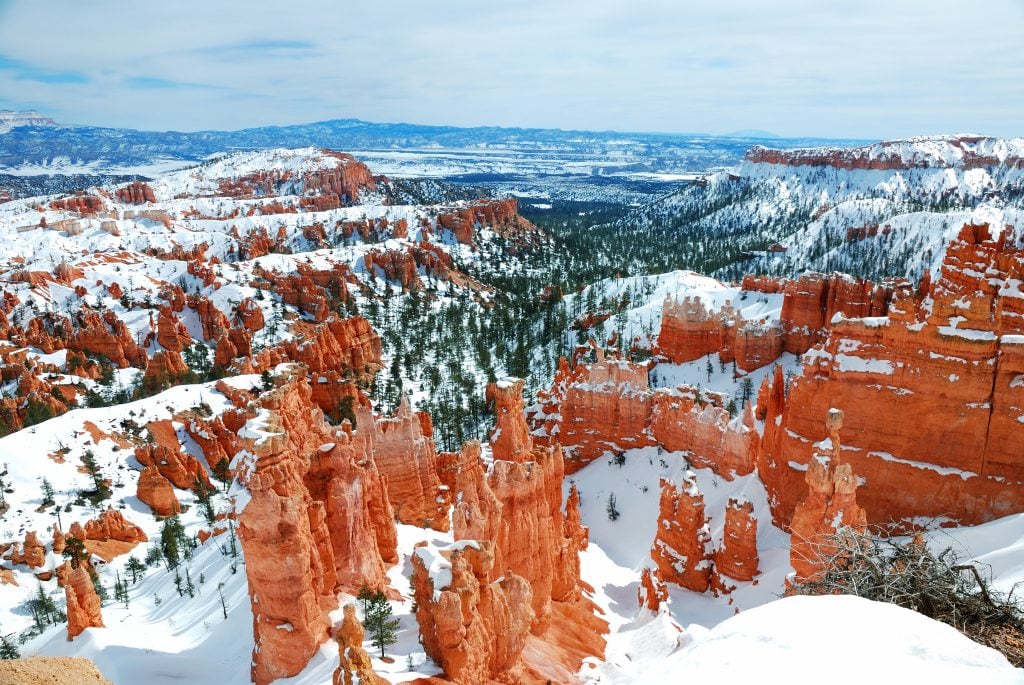 USA National Parks to Visit to Escape the Cold
Volcanoes National Park, Hawaii
From Noel of Travel Photo Discovery
If you are looking for a fantastic national park to visit this winter that will allow you to stay warm, check out Volcanoes National Park.
Located in the southeastern region of the Big Island of Hawaii, Volcanoes National Park is home to a spectacular and deep caldera, as well as incredible lava trails.
The first thing to do at the park is to visit the information center for the fantastic ranger talks, video introduction and places open or events you can participate in the day that you visit.
You can do a nice road trip, take a fun hike or have a fantastic meal in the main lodge with a gorgeous view of the caldera and panoramic view of the entire park range.
While you visit the park, make sure to visit the artist coop center located in the first historic lodge in the park and where you can check out the fabulous art of local artists sharing their favorite inspirations of the park and their work.
There is an entry fee for the park, but you can visit for four consecutive days.
What to Know Before Visiting in Winter
Due to Hawaii's tropical climate, Volcanoes National Park is accessible year-round.
Big Bend National Park, Texas
With cool, sunny days and a chance to enjoy Big Bend National Park's incredible views while avoiding West Texas' notorious summer heat, there is no doubt that Big Bend is one of the best national parks to see during winter.
Saguaro National Park, Arizona
More Beautiful National Parks to Visit During Winter
Mesa Verde National Park, Colorado
From Oksana & Max of Drink Tea & Travel
Mesa Verde National Park is a four season destination, and one of the best US national parks to visit in winter.
However, since it is not as frequently visited in the winter months, it is perfect for those who are looking to avoid the summer crowds, get outside in the colder months, and to gain a greater appreciation for the conditions the ancestral pueblo people lived in.
Mesa Verde National Park is a UNESCO world heritage site.
It is located in southwestern Colorado and contains the dwelling remains of the Ancestral Pueblo people.
It was named a UNESCO site in 1978 for its archaeological and historical significance.
On entry into the park don't forget to stop by the Visitor Center and Museum.
You can pick up a map at the visitor center and the park rangers will give you guidance on what trails are open at the moment or any information on possible activities taking place.
In the museum, explore the interactive exhibits and watch the 45-minute documentary to get a sense of the history of the park.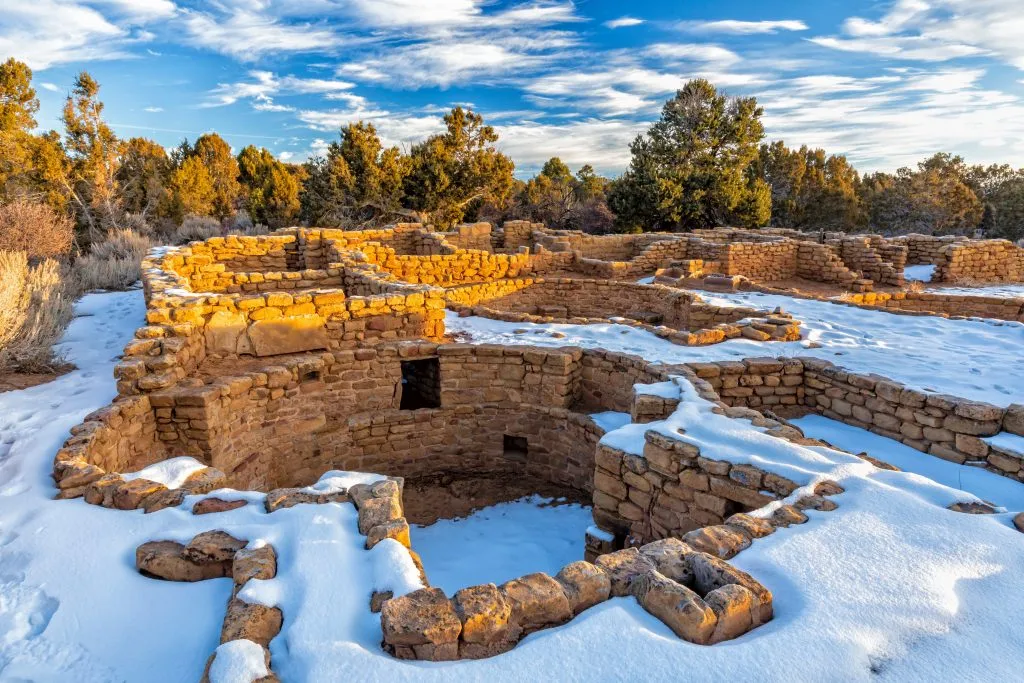 Those looking to stay dry and warm can explore the lookout points along the Mesa Top Loop road from the comfort of your car.
This 6-mile road has several lookout points, which offer the best views of some of the most spectacular ruins within the park.
Don't miss Sun Point lookout, Sun Temple, and Cliff Palace!
However, if you want to brave the cold, there are several winter trails suitable for cold weather hiking, snowshoeing, or cross country skiing.
Just be sure to tell someone where you are going and to bundle up for your winter adventure in this fascinating park.
What to Know Before Visiting in Winter
Some parts of the park, including Wetherill Mesa, are closed during the winter. 
You cannot camp overnight in the park during winter.