A complex, interesting, beautiful city is among the most remarkable kinds of places we can experience in our lifetimes, and there's no doubt that the best cities to visit in Europe rank among the absolute best in the world.
There's something magical about cities: the best ones have a life all their own, made up of the millions of moments lived and stories told in (and about) them each and every day.
I truly believe that there's a city for every personality when traveling, even for those who don't consider themselves "city people", so to speak, in their day-to-day lives.
Once upon a time, we didn't think we loved cities… and then we fell in love with traveling.
We've since moved to Europe, and picked a beautiful city (Lisbon) as our home base.
We've rounded up the best cities to visit in Europe, from the absolute icons to smaller gems tucked in quiet(er) corners of the continent.
No matter what kind of European city you're looking for, you'll find it here.
Once You Narrow Down Your Dream Cities in Europe…
If you're ready to start planning your trip in more detail after reading this guide to the best cities in Europe, consider checking out our guide to planning a trip to Europe next!
We also have a detailed guide to train travel in Europe, a guide to the best European road trips, several packing lists for Europe, and a roundup of the best travel tips for Europe here on Our Escape Clause that might help kickstart your general planning.
In addition, we've also written about most of these European cities in more detailed guides!
We'll link relevant blog posts throughout this list of the best cities to visit in Europe, if you're curious about our coverage of any particular city, you can use the search bar in the top right corner of the site to see what we've written.
The Most Iconic Cities to Visit in Europe
These cities almost need no introduction: woven into our collective culture, from books to movies to historical stories, the most iconic cities to visit in Europe are certainly all well worth the trip to reach them.
Paris
As one of the most visited cities on the planet, Paris tops plenty of Europe bucket lists around the world, and even travel bucket lists more generally.
Home to the iconic Eiffel Tower, the world's largest art museum at the Louvre (not to mention the hundreds of other incredible museums in Paris), legendary cuisine, and plenty of other highlights like Notre Dame, Montmartre, and the beloved banks of the Seine, Paris is absolutely one of the best cities to visit in Europe.
London
The capital of the United Kingdom and once the seat of the most powerful empire in the world, London is positively packed with an interesting history and iconic sites.
However, London also feels like an extremely modern city, allowing for visitors to put together an excellent London bucket list that includes historical attractions like the Tower of London, Buckingham Palace, and Trafalgar Square, right alongside the bustling Theatre District (London has one of the best theater scenes in the world).
Plus, for millennials like us, London is home to the Harry Potter Studio Tour and plenty of other related sights–not to mention plenty of Harry Potter-themed gifts and souvenirs to shop for!.
Rome
It's a close race, but on more days than not, we consider Rome to be our absolute favorite city in the world.
Nicknamed the Eternal City, Rome has a captivating quality of impressing upon you its endurance, its consistency, and its strength with every street explored and monument admired.
Home to icons like the Colosseum and Trevi Fountain as well as equally impressive spots that are nearly devoid of tourists, exploring Rome, and peeling back its layers one by one, can easily be a lifelong project.
Barcelona
Gaudi, beaches, and the Gothic Quarter: unique and fascinating Barcelona is an incredibly popular place to kick off European adventures!
With its colorful neighborhoods, coastal location, thriving city center, and utterly unique architecture, it's not hard to see why.
Of course, the most famous landmark in Barcelona, its basilica La Sagrada Familia, remains incomplete: construction began in 1882 and is currently projected to wrap up in 2026!
Amsterdam
With its stunning architecture primarily dating to the 17th-century Dutch Golden Age and its many canals juxtaposed with its modern reputation for partying, visiting Amsterdam can often feel like visiting a city of extremes.
Whichever part of the city appeals to you, Amsterdam is certainly worth visiting.
As one of the most popular cities to visit in Europe and one of the most unique cities in the world, Amsterdam lives up to its reputation as a compelling and incredibly beautiful place to visit.
Want to ditch (some of) the infamous crowds?
Consider bundling up and visiting Amsterdam in winter!
Venice
Venice is, without a shadow of doubt, one of the most unique cities in the world–so of course it also ranks among the best cities to visit in Europe!
Venice's mere existence is improbable.
Made up of 118 islands divided by 150 canals and then knitted together by 400 footbridges, Venice's topography is like nowhere else.
Once a powerful empire that controlled the seas all the way to Crete and held the title of the wealthiest city in Europe, Venice's 13th-century peak can still be felt in certain places today, including in its iconic Piazza San Marco, in its ornate palaces, and along its gorgeous bridges.
Before visiting, we were Venice skeptics–but less than a day into our first trip there, we were completely smitten with Venice.
Now, we can't imagine that we'll ever stop going back!
Istanbul
Byzantium, Constantinople, New Rome: Istanbul has had many names throughout its more than 2500 years of history, and today it is celebrated as one of the most unique cities in the world.
With one of the longest and most complicated histories of any of these cities in Europe, Istanbul is actually, technically, only half European.
One half of the city lies on the European continent, and the other half, located an easy ferry ride across the Bosphorus Strait, is located in Asia.
In addition to being able to visit two continents in a single day, the top things to do in Istanbul include touring the phenomenal Hagia Sophia, shopping in the Grand Bazaar and Spice Market, admiring the Blue Mosque, and enjoying the views from the top of the Galata Tower.
Other Best Cities to Visit in Europe (That Are Slightly Less Iconic)
Emphasis on slightly less iconic: these cities are still easily among the most popular cities to visit in Europe.
Unlike some of the longstanding icons above, though, many of these European cities gained (or regained) popularity on the tourism circuit at some point within the last few decades.
Budapest
In our slightly biased opinion, as it's one of our personal favorites, Budapest easily ranks among the top ten best cities to visit in Europe.
Set on the Danube, with its iconic Parliament nestled right up against the river and majestic architecture rising on both sides of the river, Budapest is simultaneously incredibly regal and beautiful, and incredibly laid-back and affordable.
Known for its compelling history, thermal baths that dot the city, stunning architecture, and engaging nightlife, there is an overwhelming number of things to do in Budapest!
And, it packs plenty of variety in, too: in Budapest, you can have breakfast in a luxurious coffee shop in the morning, explore the city's caves and thermal baths in the afternoon, and then relax at a ruin pub in the evening–and that's just within the first day!
Prague
Known as the City of a Hundred Spires, Prague absolutely looks the part of the quintessential European city, all ornate buildings framed by a winding river and overlooked by the majestic Prague Castle.
Once known as an offbeat European city to visit, the Prague of today is immensely popular (with the crowds to match, especially during the height of summer), but it is still absolutely magical to visit.
Be sure to meander your way across the Charles Bridge, explore the Prague Castle, admire the Old Town Square, and drink plenty of that famous Czech beer while visiting Prague.
And yes, the legend is true: at some restaurants, the beer is indeed cheaper than water!
Madrid
Less popular with foreign tourists than colorful Barcelona, but no less captivating, Spain's capital city is simultaneously regal and relaxed.
Home to incredible sights like the Royal Palace, Prado Museum, and gorgeous Plaza Mayor, spending a few days in Madrid means having a chance to experience fantastic food, incredible art, and a hearty dose of Spanish culture.
Madrid's biggest park, El Retiro, is among our favorite urban parks in all of Europe, and definitely belongs on your list of things to do in Madrid!
Nice
As the largest city (and airport hub) on the French Riviera, Nice is both busy and beautiful.
In other words, Nice is exactly what you would hope for from a coastal city that boasts one of the most iconic urban beaches in the world!
A visit to Nice practically requires spending some time on the beach and a taking stroll along the picturesque Promenade des Anglais, of course, but there are plenty of other fun things to do in Nice as well.
While you're there, be sure to climb Castle Hill, check out the Sun Fountain, and enjoy the colorful architecture of the old town.
Nice is also perfectly placed to use as a base for incredible day trips, including to nearby Monaco, Eze, St. Paul de Vence, and Menton.
Athens
To be perfectly frank, Athens doesn't rank among the most beautiful cities in Europe as far as we're concerned… but it's still one of the best cities in Europe to visit.
Greece's capital is often used as a gateway to its (rightfully) famous islands, but the city itself absolutely deserves to be explored as well.
Athens is home to some of the most famous Greek ruins in the world, including the phenomenal Acropolis (where you'll find the Parthenon) and the Temple of Olympian Zeus.
Ancient Greece is only the beginning of the story, though!
You'll also find trendy neighborhoods like Plaka and incredible museums like the National Archaeological Museum when exploring Athens.
And, quite honestly, even if there was nothing else to do there, it would be worth visiting Athens just to eat enormous amounts of Greek food.
Vienna
If there's one word that comes to mind for describing Vienna, it's regal.
From the world-famous opera house to the Hofburg Palace to the glitz and glamour of Vienna's cafe culture, Vienna gives the impression of wealth, strength, and beauty at every turn.
This is hardly an accident: as the seat of the Hapsburgs for around 600 years, Vienna definitely shows signs of being ruled by a fairly modern empire.
For example, while other European city centers frequently maintain a good portion of their small streets and medieval architecture, wide swaths of Vienna's were cleared away in favor of wide boulevards and sweeping avenues.
If you're not sure when to visit Vienna, it's hard to argue that there's a better time than during the holiday season.
Not only is the cafe culture particularly lovely when it's cold outside, but Vienna's Christmas markets are among the best in Europe, and the perfect way to kick off a Christmas trip in Austria!
Copenhagen
Canals, cyclists, and hygge: these are just a few of the delightful things you'll find in Copenhagen.
Denmark's capital city is known for its many cyclists, its beautiful canals and picturesque harbor (Nyhavn), and recently, its extreme culture of coziness.
Hygge, a word that means something approximating coziness and contentment, is a large feature of Copenhagen.
Since the word has been popularized in popular culture worldwide, even more travelers flock to Copenhagen not just to snap photos at Nyhavn or determine for themselves if the Little Mermaid Statue is, in fact, as underwhelming as they say, but to experience Danish hygge for themselves.
And, while hygge and a northern climate may not be words that bring "beach trip" to mind, Copenhagen's picturesque location also makes it one of the most beautiful cities in Europe with beaches!
Munich
The capital of Bavaria is definitely known best for one thing on the tourism circuit: its incredible Oktoberfest celebration that draws travelers from across the globe.
Even outside of the annual festival, though, Munich remains one of the best cities to visit in Europe.
While there, check out Marienplatz and the gorgeous Munich Residence, as well as the Nymphenburg Palace and (at least) one of the city's fun beer gardens.
Munich is also within day-tripping distance of the famous Neuschwanstein Castle, so if you have a few days to spend in the area, consider escaping to the Bavarian countryside for a day!
Berlin
Germany's capital city may not be one of the most beautiful cities in Europe, but it is an incredibly interesting one.
It's well worth experiencing at least a few days in Berlin to get a feel for this unique European city.
Known today primarily for its intense Cold War history and its quirky, artistic culture, Berlin is packed with interesting sights and things to do.
While in Berlin, be sure to check out the famous Brandenburg Gate, see the Reichstag Building, and, of course, see the remains of the Berlin Wall and accompanying memorials.
For great views of the city, consider heading up the Berlin TV Tower, and to see the city's best museums, head to Museum Island.
Edinburgh
Scotland's stunning capital city is easily one of the best cities to visit in Europe and one that captures the adoration and imagination of most who visit it.
With hints of fairytale magic in the air (helped along, no doubt, by the city's ties to Harry Potter lore), Edinburgh is packed with fun things to do.
During your visit, be sure to stroll down Royal Mile, admire the views from Arthur's Seat and Calton Hill, and enjoy Edinburgh Castle.
Travelers who love the arts may want to plan their visit for August when the Edinburgh Fringe Festival takes over the city.
Fair warning, though: prices in the city absolutely skyrocket during the festival!
Best Small Cities to Visit in Europe
If you're hoping to see a smaller city in Europe, then these cities in Europe might be for you!
In most of these cities, you can enjoy most of the major tourist attractions in only a couple of days or less and/or more or less exclusively tour the city on foot.
Strasbourg
As the capital city of Alsace, Strasbourg is a unique delight of a city nestled in northeastern France and is a gateway to the famed Alsace Wine Route, glorious mountains, and the charming, colorful smaller villages of Alsace.
The region of Alsace was once held by Germany, and the result is that in Strasbourg you can find hints of German influences among the French culture, all blended together to create the unique Alsatian culture you will find in the city today.
Dubrovnik
Croatia's most famous city has risen to international stardom in recent years, in large part thanks to its role as King's Landing on Game of Thrones, but this bite-sized coastal city is a magical place to visit even for those who have never seen a single episode of the show.
Dubrovnik's crown jewel is its intact town walls that still encircle the old town, where you can walk fully around the city, with the terracotta rooftops of Dubrovnik glistening on one side and the shimmering Adriatic Sea on the other.
While visiting Dubrovnik, be sure to also check out the view from Mount Srd, the views from the Lovrijenac Fortress, and, if you're up for a bit of a physical challenge, a kayaking tour to Lokrum Island!
Florence
As the Cradle of the Renaissance and one of the most popular places to visit in Europe, you might expect Florence to be a large city, but no.
Travelers can easily walk the bulk of the historic center, and some of the areas beyond it, in just a couple of days–no other transportation is necessary!
Florence is an endlessly beautiful city, and so packed full of world-class artwork that the city is almost a work of art unto itself.
From the magnificent Cathedral of Santa Maria del Fiore to the incredible masterpiece that is Michelangelo's David to the Ponte Vecchio to all the treasures of the Uffizi Museum, looking at Florence is like looking at Renaissance-era art, architecture and engineering come to life.
Heidelberg
Nestled in southwestern Germany, the small university city of Heidelberg is far from the most popular city to visit in Germany, but it absolutely deserves to make the list.
Set on the beautiful Neckar River and overlooked by the impressive Heidelberg Palace, Heidelberg looks every bit the part of a fairytale-esque small European city.
And it's not just modern visitors and the students who flock to study at Heidelberg University who understand the magic of Heidelberg: Mark Twain was inspired by the city and spoke of it very fondly after spending a summer living there.
In fact, according to some accounts, the idea for The Adventures of Huckleberry Finn was conceived thanks to the Neckar River.
While that's partially inaccurate, there's no doubt that Twain was captivated by the beauty of Heidelberg!
Ljubljana
When travelers plan a trip to Slovenia, it's rare that the charming capital of Ljubljana tops the list of what they hope to see.
And that's understandable: it's hard to beat the majesty of Lake Bled, the beauty of Triglav National Park, or the adorable seaside beauty of Piran.
That being said, though, Ljubljana itself is also a great place to spend a couple of days in Slovenia.
Not only is it conveniently located within day-tripping distance of ever-popular Bled, it's a fun city to experience in its own right.
Home to the lovely Ljubljana Castle, the fascinating street-art-covered neighborhood of Metelkova, the quirky Dragon Bridge, and colorful Preseren Square–not to mention plenty of charming cafes and delicious restaurants–Ljubljana is an easy European city to love.
Salzburg
As the hometown of Mozart and as a city surrounded by hills that are alive with The Sound of Music, charming Salzburg, Austria is easily one of the best cities to visit in Europe.
Regardless of whether you choose a sunshine-and-blooming-flower-filled summer trip or a festive Christmas market trip, Salzburg is bound to charm!
Overlooked by the striking Hohensalzburg Fortress, Salzburg is a feast for the eyes.
It's also home to highlights like the beautiful Mirabell Palace (known, among other things, for its status as a filming location for The Sound of Music), the incredible Salzburg Cathedral, and both Mozart's Birthplace and later Residence, and is an incredibly fun city to visit.
Krakow
Located in southern Poland, Krakow is best known on the tourism circuit for its proximity to two things that lay entirely outside the city: Auschwitz-Birkenau and the Wieliczka Salt Mine.
While both of those places are worth visiting (and in the case of Auschwitz-Birkenau, arguably very important to experience if you're in the area and feel up to a very emotional day), the charming city of Krakow itself is also home to interesting sights that make it one of the best city breaks in Europe.
Be sure to explore the impressive Wawel Castle as part of your trip to Krakow, as well as St. Mary's Basilica, Town Hall Tower, and, of course, a milk bar or two to enjoy classic Polish pierogi.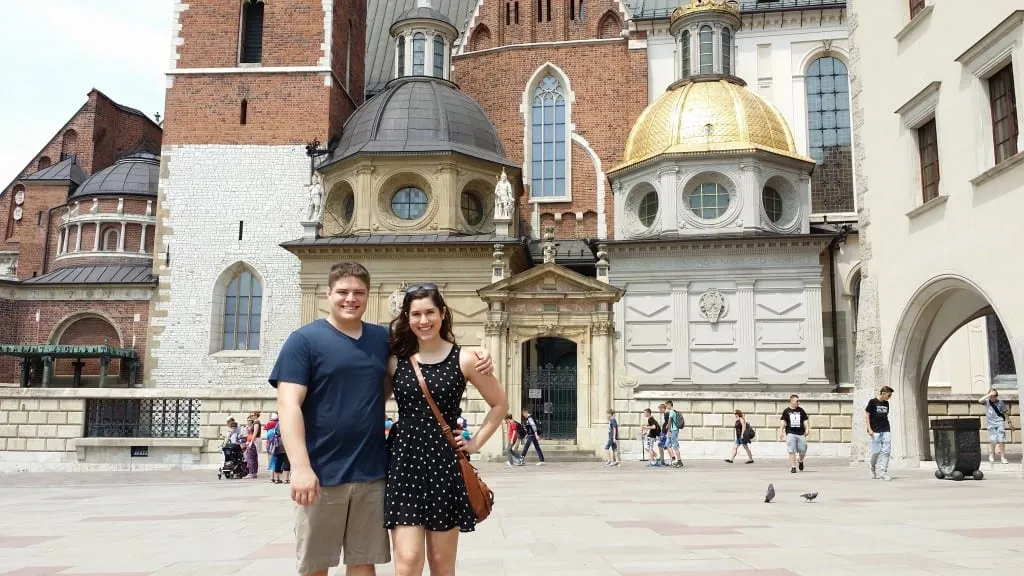 Bruges
The prettiest city in Belgium (in our opinion, anyway) is bite-sized and beautiful, easy to cover in just a day or two, and absolutely gorgeous from every angle–though if you ask us, its best angle is from the water during a canal cruise.
While visiting Bruges, consider climbing to the top of the Belfry for incredible views, seeking out the beautiful Bonifacius Bridge, enjoying a canal cruise, checking out the colorful Market Square, stopping by the Basilica of Holy Blood, and relaxing at Minnewater Park.
As a small and incredibly popular European city to visit, Bruges can feel crowded at times–but by planning a winter trip, you can experience (somewhat) reduced crowd levels.
San Marino
It may be a bit of a stretch to include an entire country of roughly 33,000 people on a list of the best cities to visit in Europe, but San Marino is worth making a slight exception for.
Styled as the oldest republic in Europe (founding date: 301 AD) and simultaneously the least-visited country in Europe, San Marino is an absolutely gorgeous (though yes, quite small) country that is entirely surrounded by Italy.
Featuring castle and countryside views from Mount Titano that are worthy of any fairytale and very interesting history (you can stroll right into Parliament to check it out–no tour necessary), San Marino is definitely well worth a visit!
While you can take a San Marino day trip from Bologna, it's a fun place to see at night (once the day-trippers leave) as well.
Annecy
Nicknamed the Venice of the Alps, the beautiful city of Annecy, France, is located less than an hour south of Geneva and features beautiful views of Lake Annecy (considered the cleanest lake in Europe), delicious Alpine cuisine (including all kinds of amazing cheese), and stunning canals.
The combination of Annecy's incredible gastronomy, colorful old town surrounded by canals, and crisp Alpine air make it one of the best city breaks in Europe.
While Annecy is a popular day trip from Geneva, this small city is worth enjoying for at least a couple of days if you can spare the time.
If you can, schedule your trip to Annecy to coincide with at least one market day.
Fridays and Sundays are the biggest market days of the week, but there is a smaller market that takes place on Tuesdays as well.
Brasov
Surrounded by medieval walls dating to the Saxons, and then by the Carpathian mountains beyond that, Brasov is an incredibly beautiful city to visit in the heart of Transylvania, and definitely deserves to feature on any trip to the region!
Must-see sights include the impressive Gothic-style Black Church, both the Black and White Towers, the views from Tampa Mountain, and the charming Council Square.
And, though it's not within the city itself, we can't mention Brasov without mentioning Bran Castle.
This infamous castle is located about a 30-minute drive away and is an absolutely incredible sight (though, fair warning: the Dracula connections are nothing by myth).
Bologna
Set less than an hour away from Florence by train, Bologna is the capital of the Emilia-Romagna region in Italy, and is absolutely beautiful, packing in gorgeous Italian architecture and plenty of museums in its small size.
The biggest reason to visit, though, isn't its beauty: it's the food.
Bologna is one of the absolute best cities to visit in Europe for foodies.
As the capital of Emilia-Romagna, you can thank the region surrounding Bologna for mortadella (the original and far superior version of what non-Italians call bologna), parmigiano-reggiano, traditional balsamic vinegar, and tagliatelle al ragu (aka pasta bolognese)… just to name a small sliver of its delicacies.
Even with one day in Bologna, you can eat extremely well, see several of the most popular attractions, and even seek out a few hidden gems like the city's canals.
More Cool Cities to Add to Your Europe Bucket List
Away from bustling capital cities and world-icon status, Europe boasts hundreds of other incredibly cool, lesser-visited cities that are still absolutely worthy of being considered one of the best cities to visit in Europe.
Here are just a few of them–consider mixing a couple of these into your Europe bucket list along with the more iconic options above!
Seville
As the capital of Spain's southern Andalucia region, beautiful Seville is known for its stunning architecture (including its magnificent cathedral), its many orange trees that bloom in the summer, its flamenco culture, its seemingly endless sunshine (and heat), its beautiful Alcazar, and its photo-worthy Plaza de Espana.
It's also known for acting as a filming location for two of the most famous franchises around!
The Alcazar played the Water Gardens of Dorne in Game of Thrones, and the Plaza de Espana was featured as the city of Theed in Star Wars: Attack of the Clones.
Seville is also an excellent launchpad for a full Andalucia road trip!
Belgrade
The capital of Serbia is definitely one of the least-visited of the European cities rounded up in this travel guide, but it certainly deserves more attention.
Colorful, historic, and incredibly affordable, Belgrade is a fun and invigorating city that is absolutely packed with things to do.
While you're there, be sure to check out the gorgeous Church of Saint Sava, the Belgrade Fortress, and the Knez Mihailov shopping street.
If you have a few days to spend in Belgrade, consider also adding on a day trip to colorful, nearby Novi Sad!
Lisbon
With its waterfront setting, steep hills, iconic trams, and gigantic red suspension bridge, Lisbon draws a lot of comparisons to San Francisco–but luckily, a trip to Lisbon is far more affordable.
Colorful and laid-back, Lisbon's architecture is beautiful, its culture warm and inviting, and its attractions beautiful, making it one of the best cities in Europe to visit.
While you're there, be sure to stroll through the historic neighborhood of Alfama, ride the popular Tram 28 past beautiful views (or at least snap photos of it going by), admire the city from a couple of different miradouros (viewpoints) check out the Time Out Market, and enjoy the sunset along the Tagus River.
Be sure not to leave without eating a dozen or so pasteis de nata, either!
Naples
Hilly, crowded, chaotic Naples is certainly a bit controversial among these best cities to visit in Europe–people tend to either love or hate it–but as we adore it, we want to include it here.
Built on the coast of Campania and boasting phenomenal views of Mount Vesuvius from its shores, Naples is an absolutely dynamic city.
Its streets are generally packed, its salesmen a bit more intense than those further north in Italy, and yes, it is a bit dirtier and rougher around the edges than Florence or Venice.
However, it's also gorgeous–places like the San Carlo Theater, Piazza del Plebiscito, and Galleria Umberto I are all beautiful–and incredibly interesting.
Features like the Bourbon Tunnel, Naples Underground, Castel Nuovo, and Naples Archaeological Museum are all incredible places to visit, and even if you don't find Naples' environment or attractions quite to your taste, there's always its world-famous pizza to grab (and hold) your attention.
With incredible day trip options like Pompeii and the legendary Amalfi Coast, you sure can't beat its location, either!
Tallinn
Estonia's small-yet-stunning capital city has long been under the radar as far as tourism is concerned, but luckily, that is starting to change.
With a beautiful cityscape right on the water, affordable prices, and plenty of fun things to do (be sure to add checking out the views from Toompea Hill and strolling through the hipster haven of Telliskivi Creative City to your list of things to see), Tallinn is a fantastic city to explore for a few days.
Once you wrap up, you can even travel by boat to easily extend your trip to another country!
Helsinki, Finland is only about 2 hours away from Tallinn by ferry.
Porto
Portugal's "second city" has been gaining in popularity in recent decades, but still remains somewhat under-the-radar when compared to busy Lisbon.
Set on the Duoro River, Porto is known for its gorgeous, colorful architecture, churches covered in gorgeous azulejos (Portuguese hand-painted tiles), its dramatic views, and–most of all–for its port!
Once upon a time, the famous port grown in the nearby Duoro Valley was floated down the river to Porto, and today, you can still tour traditional port houses along the banks of the river (complete with tastings, of course).
Verona
Less visited than Florence or Milan, and yet stunningly beautiful, Verona is set in southern Veneto, nestled on the banks of the Adige River.
Home of a remarkably well preserved Roman amphitheater, amazing views, and the legend of Romeo and Juliet, Verona is as captivating as it is beautiful.
Be sure to enjoy the views from the Castel San Pietro and the Torre dei Lamberti as part of your visit.
And, if you're up for a bit of adventure, consider taking a whitewater rafting trip down the Adige!
Bergen
As the second-largest city in Norway and nicknamed the Heart of the Fjords, Bergen doesn't generally top European bucket lists (at least for those of us that hail from outside the continent)–but perhaps it should.
Featuring highlights like the traditional wooden houses of Bryggen, a bustling fish market, and sweeping views from Mount Fløyen, Bergen makes for a fantastic introduction to Norway.
As the gateway to Norway's incredible fjord beauty and home to what is arguably one of the most picturesque harbors in Europe, stunningly beautiful Bergen definitely ranks among the best cities to visit in Europe!
---