Ah, beautiful Siena: delightfully Tuscan and yet still distinct from the cities around it, Siena is a gem of a city–and if you're headed to Tuscany, a Siena day trip is not to be missed.
We were lucky enough to spend several days exploring Siena this summer, but Tuscany's second-largest city is commonly visited as a day trip from Florence, and it's with that in mind that we've structured this guide.
Hop on a train in Florence, and an hour and a half later you'll be deposited in the land of horse races, Gothic architecture, and stunning vistas.
Welcome to Siena.
Some links in this post may be affiliate links. If you make a purchase through one of these links, we may earn a small commission at no extra cost to you. Please see our

disclosure policy

for more detail.
The Best Things to Do on a Siena Day Trip
Start your day in the Piazza del Campo.
Any day in Siena is best begun in the Piazza del Campo, which is the heart and soul of Siena (not to mention one of its most distinct landmarks).
Here are a few things you should be sure to take notice of while you're there.
Palazzo Pubblico
The Public Palace is home to Siena's Civic Museum as well as some truly incredibly frescoes dating to the 14th century that depict the effects of good vs bad government–and, very uncommonly for 14th century Italy, they were commissioned by the secular government rather than the Church.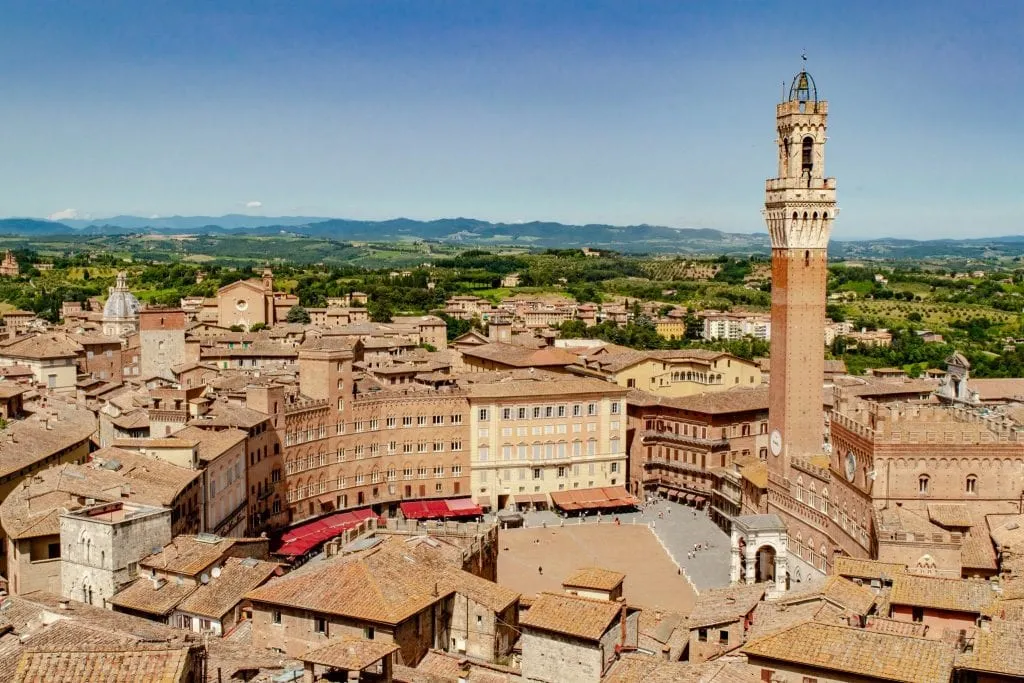 Torre del Mangia
Torre del Mangia sits to the left of the Public Palace and is probably the most recognizable structure in Siena.
While you can climb the tower, with only a day trip to Siena to work with, we'd recommend passing on the climb in favor of the Porta del Cielo tour at the cathedral.
Fonte Gaia
Beautiful, eye-catching, and incredibly intricate, the Fonte Gaia has been delivering water to the Piazza del Campo since the 15th century (though the original is now held in the Loggia of the Palazzo Pubblico–the current fountain was built in the 19th century).
Palio di Siena
Okay, to be fair–this one only comes around two days a year, and the odds that you happen across it accidentally are small.
But, no discussion of the Piazza del Campo could be complete without mentioning the Palio di Siena!
Siena's bi-annual horse races are held on July 2 and August 16 each year–just as they have been since the 17th century!
Additional events are held in the few days leading up to the race, so if you're going to be in Tuscany during those weeks and don't get scared off by crowds, schedule your Siena day trip the see Il Palio in action.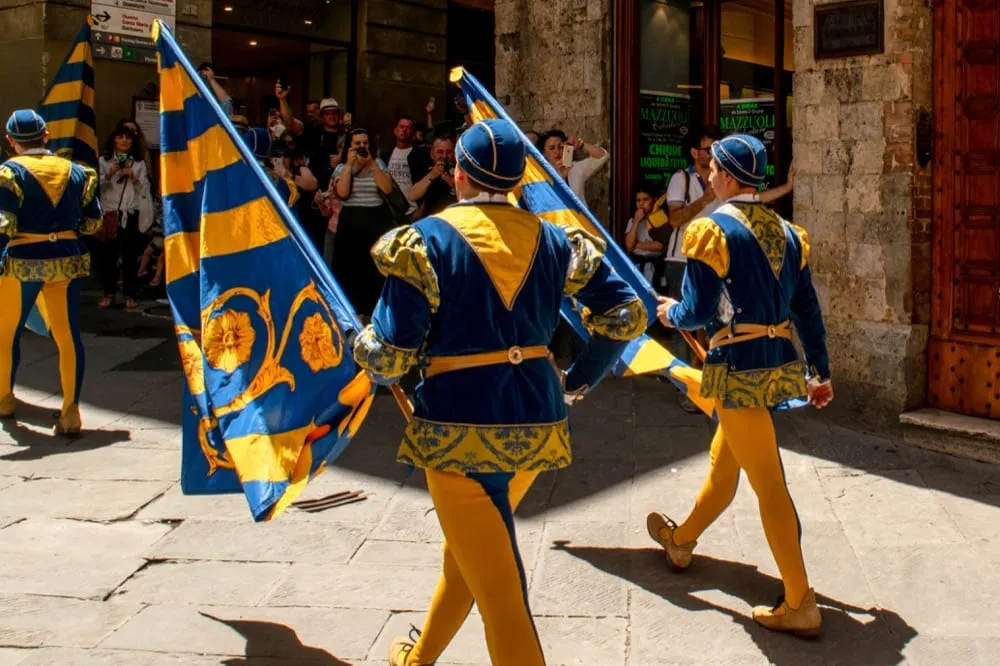 Il Duomo di Siena
Siena's Gothic cathedral is one of our favorites in Tuscany, and is often considered one of the most beautiful churches in Europe. Home to a more opulent interior than even the Duomo of Florence while still maintaining a distinct Tuscan flair, Siena's Duomo is definitely worth a peek inside.
While you're there, don't forget to duck inside the exquisite Piccolomini Library, which was partially painted by Michelangelo.
Though it has a separate entrance, you'll also want to be sure to check out the exquisite baptistery in the Duomo complex, which is one of Siena's best-known buildings.
Don't waste time on your Siena day trip in line! Purchase tickets to explore the Duomo Complex before you go!
Take a tour to the 'Porta del Cielo' (Gate to Heaven).
There are plenty of viewpoints to consider climbing to the top of in Siena, but during your Siena day trip, we recommend prioritizing your time on the best: the Porta del Cielo.
The tour of the rooftop of the Siena's Cathedral is one of the most memorable tours we have ever taken in a house of worship. It weaves in and out of the cathedral, allowing you to glimpse up-close views of the interior of the cathedral as well as views of Siena and the Tuscan countryside outside.
Do note that this tour is very popular, so if you want to do it, reserve your time slot as soon as you get to Siena!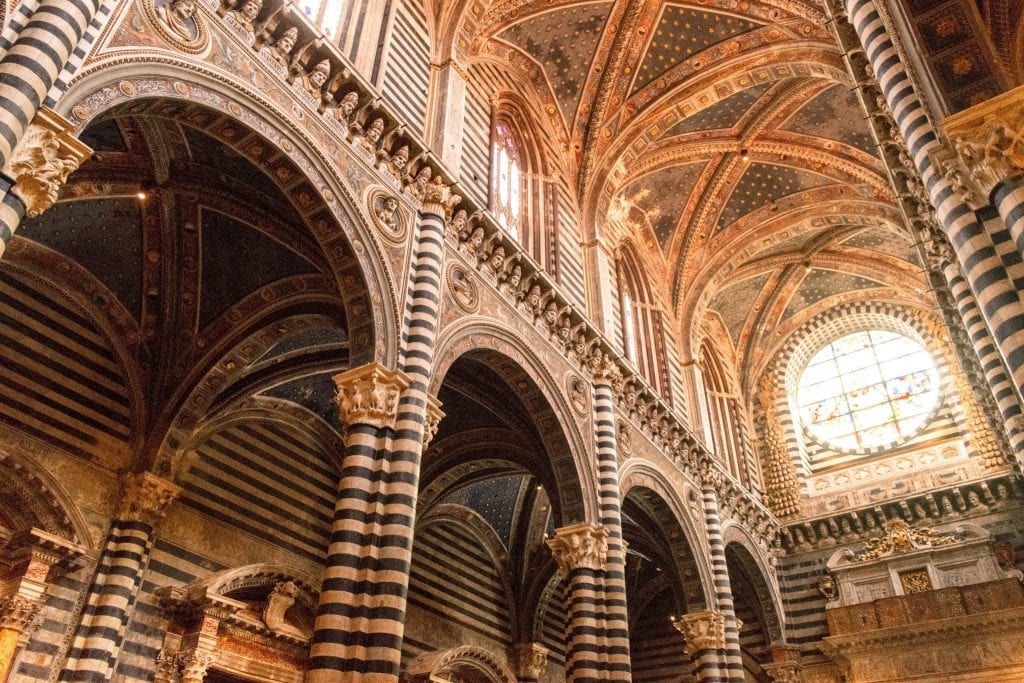 Pay a visit to the Santa Maria della Scala.
One of the oldest hospitals in Europe is now a maze of frescoes, chapels, stone hallways and art displays, and it is a delightful combination.
Visit the Santa Maria della Scala to learn a bit about the Siena of the Renaissance (and to thank your lucky stars that medical treatment has vastly improved in the centuries since).
Step inside the Siena Opera della Metropolitana.
I'll be quite honest: you may not have time to do this during your day trip to Siena, as the list of things to do is already packed rather full.
But, if you have a little time to spare and are itching for another epic view over the countryside, the view from the top of the Opera della Metropolitana (called the Facciatone) is absolutely magnificent The museum you see on your way up isn't bad, either!.
If you'd like to go up, double-check that you have the right ticket–entrance to the museum doesn't automatically include entrance to the viewpoint.
This combination Duomo Complex ticket will allow you access to the Facciatone!
Keep your eye out for the Contrade.
The Contrade, or districts, of Siena are all distinct and memorable neighborhoods, noted by an insignia, such as a Tower, Eagle, Snail, Wave, or Panther.
Today, 17 rival Contrade still exist in Siena, down from an original 54, and they make up the teams in Siena's horse races each year (10 at a time–not all of the Contrade race in a given year).
When strolling through Siena, you'll likely spot small signs of what Contrade you are in, especially on flags. Each Contrada flies their own distinct flag!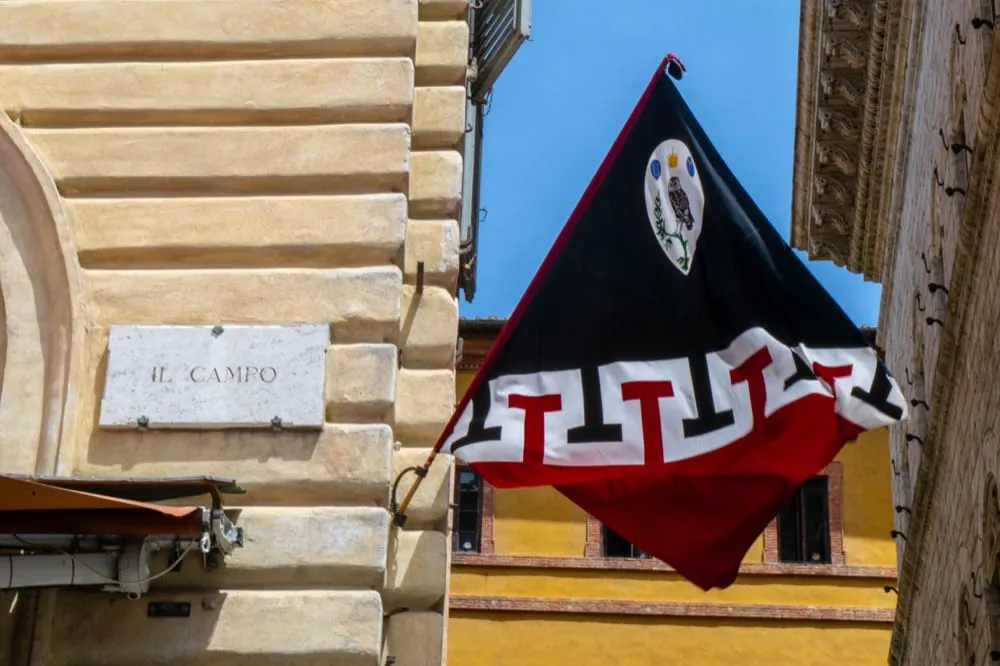 Indulge in delicious food.
No discussion of a Tuscan city can pass without a small discussion of the food, right?
Siena is home to impeccable Tuscan cuisine, and is an excellent place to taste truffles, boar, pecorino cheese, and, of course, Chianti wine!
Be sure to build in time during your Siena day trip for a delicious lunch–you won't be sorry.
A Florence to Siena Day Trip: Tour vs. Independent Travel
When taking a day trip from Florence to Siena, there are pros and cons to doing it yourself as opposed to taking an organized tour. Neither option is wrong, so go with whichever is right for you!
Pros and Cons: Organized Siena Day Trip from Florence
The biggest benefit to taking an organized Siena day trip (other than having transportation handled for you) is that your tour will likely also stop by the world-famous Chianti wine region as well!
You'll also have a structure to your day, not worry about getting lost, and know you're making the most of your time.
The cons, of course, are that you will pay more than you would by traveling independently and that you'll likely have less time to spend in the city of Siena itself.
This well-reviewed day trip is extremely popular and covers Siena, San Gimignano (another of our favorite Tuscan cities), and the Chianti region!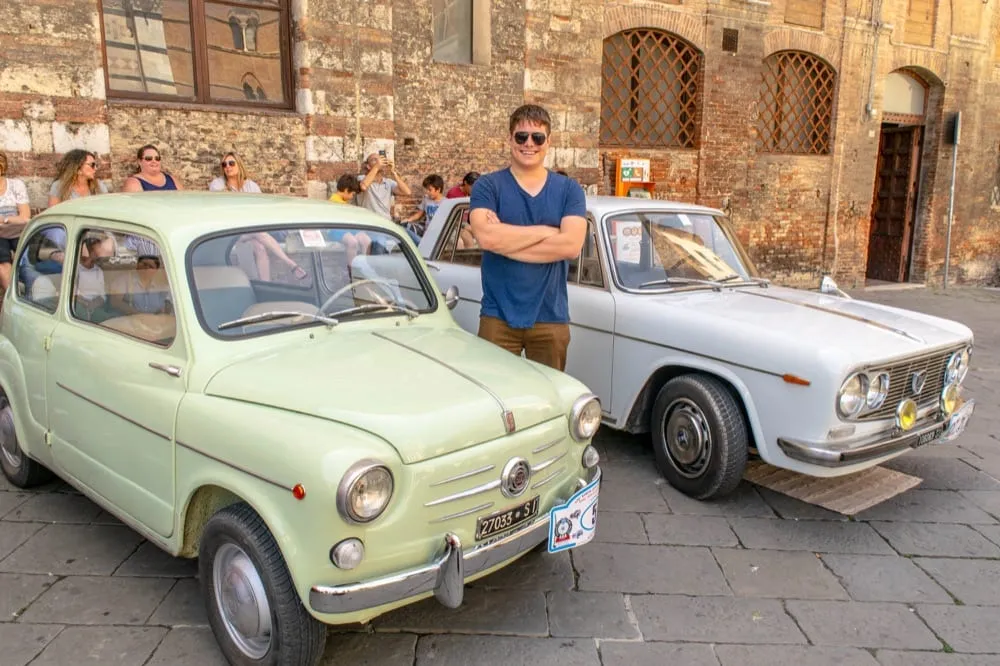 Pros and Cons: Independent Day Trips to Siena
When taking an independent Siena day trip, you'll be in complete control of your time, spend less money on transportation, and likely end up spending more time exploring Siena specifically.
On the other hand, you probably won't be able to partake in any wine tourism in the Chianti region, and you might lose a little time handling travel arrangements and navigation.
If you'd like to handle transportation yourself but still have a structured tour in Siena, this guided walking tour is an affordable option!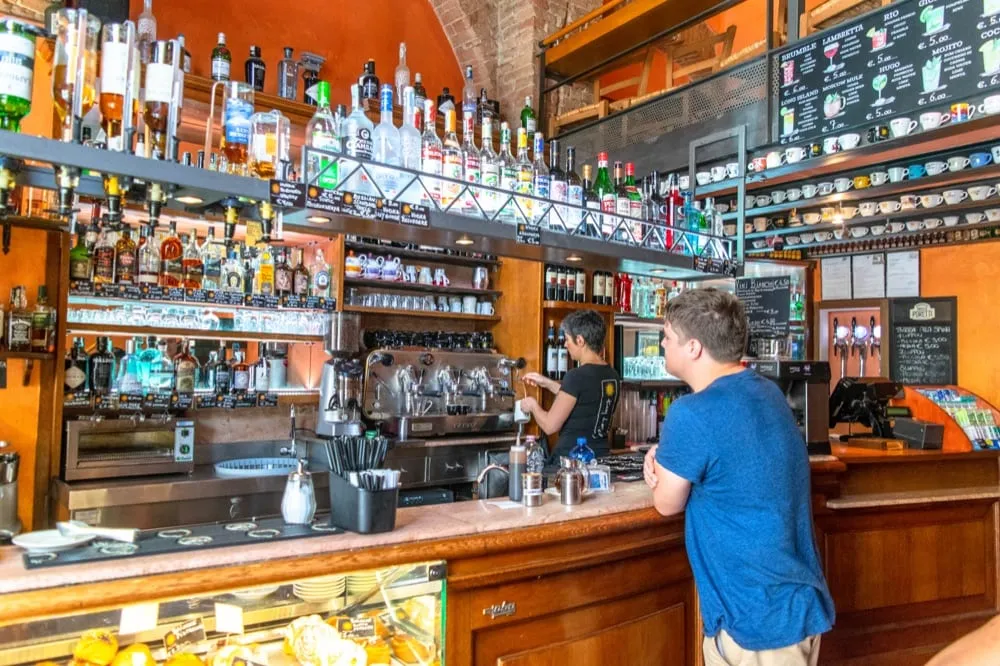 Getting from Florence to Siena & Back Independently
If you choose to take your Siena day trip independently, we strongly recommend that you take a train.
The train takes about an hour and a half, there are several options each day, and the trains are regional (meaning the prices are fixed and the seats unassigned–there's no reason or need to purchase tickets in advance).
If you buy your train tickets at the station rather than on your phone via Trenitalia, don't forget to validate them before boarding!
Though it's tempting, we don't recommend driving between Florence and Siena: both cities are difficult to park in and don't require a car once you're there (or, as our hotel receptionist in Siena put it when we told her we didn't have a car, "Good! It is better this way.").
Getting Around Siena
Siena is a small and walkable city–once you arrive near the city center by either train or car/bus, people without mobility issues should have no problem walking through the city throughout their Siena day trip.
Fair warning, though–there are a few hills you'll need to be prepared for!