From the peaks of the Great Smoky Mountains to the sandy beaches of the Lowcountry, and from the music of Nashville to the food scene of New Orleans, there is no shortage of wonderful options when looking for the best southern USA road trip itineraries.
I've been taking road trips in the south for my entire life, crisscrossing across the southeast USA visiting cities, towns, national parks, beaches, marshes, and beyond.
And yet, even after all that time, there are still plenty of southern road trip routes on my wish list.
In order to give perspectives beyond my own, I asked several other travel bloggers to share their favorite road trips in the south, and the result is a road trip bucket list that would take even the most dedicated road-tripper years to complete!
From weeks-long deep south road trip itineraries to quick weekend getaways, these southeast US road trip ideas cover an enormous variety of landscapes and interests.
No matter what kind of adventure you're looking for, we have a southern USA road trip itinerary here for you!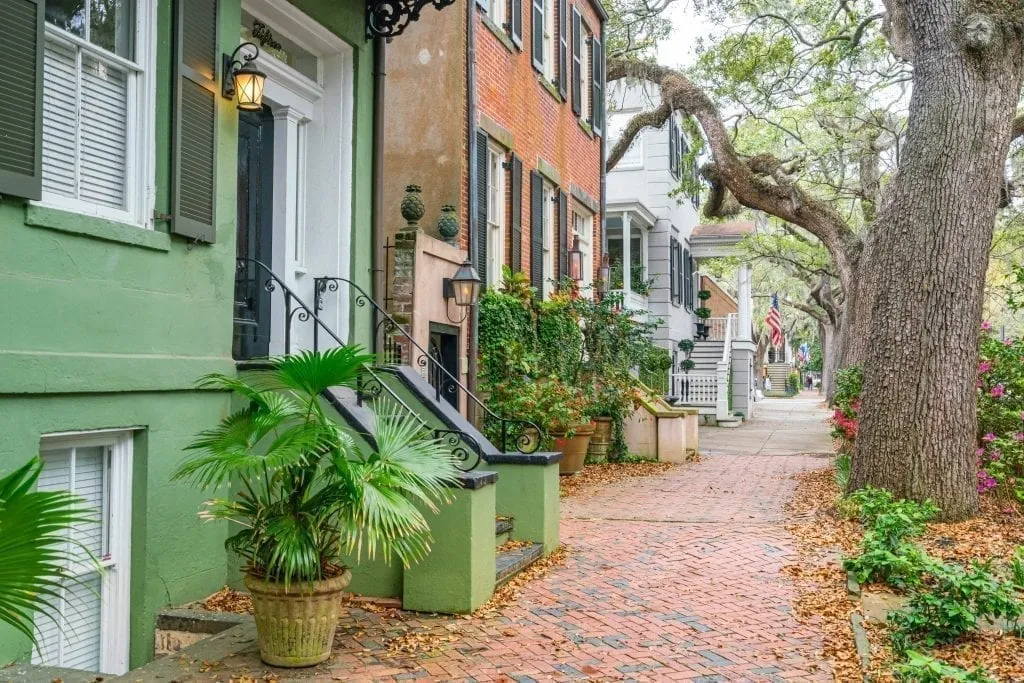 Quick Tips for Your Southeast USA Road Trip
Ideally, take your southern road trip in the spring or fall.
While you can technically take all of these southern USA road trips year-round, the south's notoriously brutal summer means that it's best to avoid the months of June, July, and August if you can (unless you plan to spend most of your time on the beach, of course).
Winter, depending on the location, can be gray and rainy, but can also be a joyous time to visit cities, towns, and mountains that see far less tourism in the winter (but don't underestimate the possibility of snow in the mountains, either: it may be the south, but the Smokies still get snow!).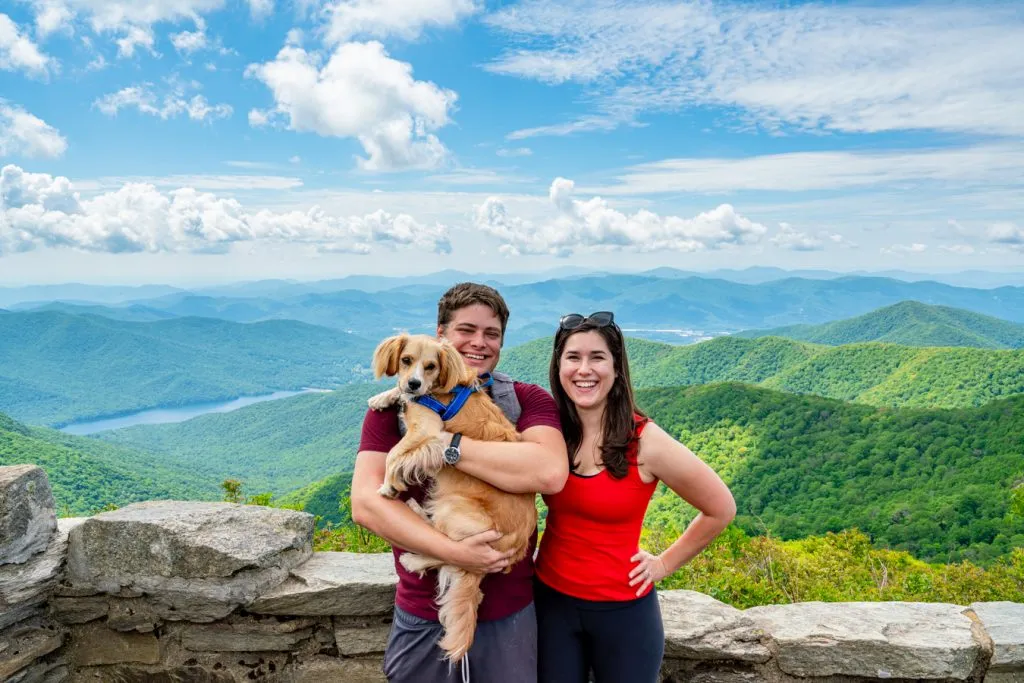 If you're renting a car, shop around.
The best company to rent a car from for your US south road trip will likely vary dramatically depending on where and when you're traveling.
Sometimes large international carriers offer the best prices, sometimes local outfits. Sometimes one company has an excellent base price, but terrible rental requirements.
The best way to find your rental car is to search through Discover Cars, which will sift through dozens of companies to find the best combination of low prices and reasonable rental terms for your USA road trip.
Browse rental cars for your southern USA road trip today!
We have offered suggestions for the best hotels in each place but if you are doing this as a true road trip it is really cool to do it in an RV. You can rent incredible RVs and camper vans from Outdoorsy, book here for your next road trip!
Read the rental requirements carefully.
Especially make sure you know how many miles you've been allotted (or ideally, if they're unlimited), if you need to return the car empty or full of fuel, what to do if the car breaks down, and what damages you're liable for in the event of an accident.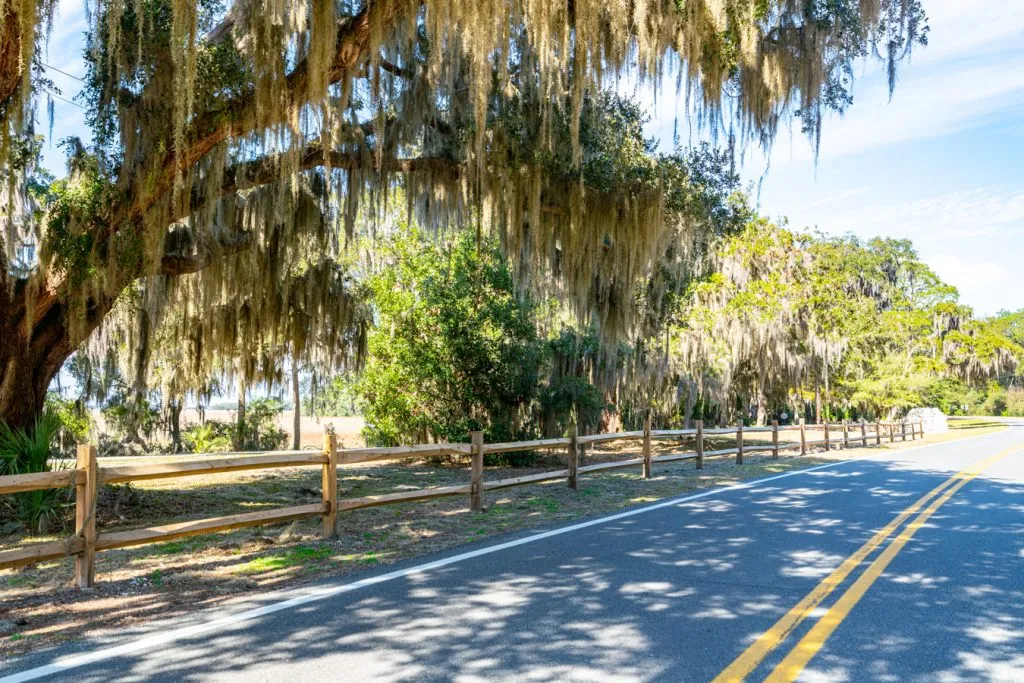 Don't underestimate the south's national parks!
The wide-open spaces and epic landscapes of the American West are often the typical images conjured up when imagining the USA's national parks–but the south has plenty to offer, as well!
In fact, Great Smoky Mountains National Park in North Carolina and Tennessee is the most-visited national park in the country, and its gorgeous vistas and jaw-dropping waterfalls are well worth exploring.
Other southern national parks to consider adding to your road trip through the south include Shenandoah National Park in Virginia, Everglades National Park in South Florida, and Congaree National Park in South Carolina–just to name a few!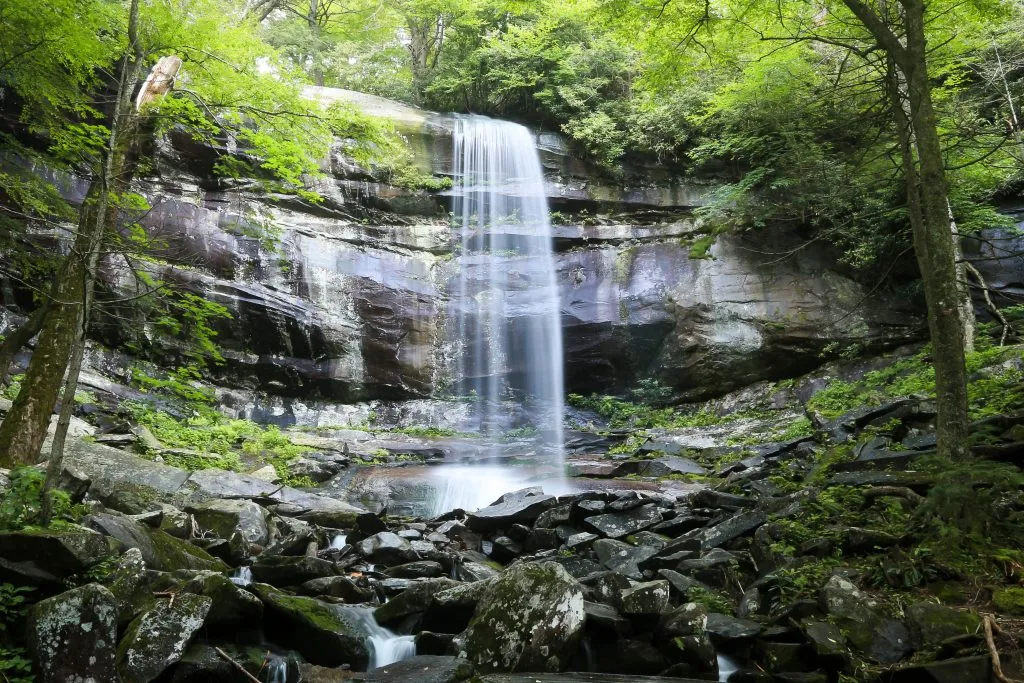 Make sure you pack the right gear.
From safety gear to snacks, a deep south road trip requires bringing the right tools along, whether you're taking a short vacation, trying out van life, or something in between.
We recommend taking a look at the suggestions on our road trip packing list before you go!
Don't overextend yourself.
Exploring every nook and cranny of the US south is a project for a lifetime, not one trip!
As tempting as it is to add on additional driving to stop at just one more beach or small town, make sure that you leave enough time to thoroughly explore each destination rather than spending the entirety of your road trip driving from one spot to the next.
Deep South USA Road Trip Itinerary Ideas
Mississippi Gulf Coast Scenic Byway
From Charles of US Gulf Coast Travel
One of the best scenic coastal drives in the United States is the Gulf Coast Scenic Byway (US Highway 90 / Beach Boulevard) in Coastal Mississippi, where for 11 glorious miles there is nothing between you and the soft sugar sand and Gulf of Mexico water.
The most awe-inspiring section of the Gulf Coast Scenic Byway is from Henderson Point Beach to the Port of Gulfport Mississippi.
Drive this portion, or this entire road trip, in either direction, but we suggest west to east because you are closer to the water.
Start this road trip after an overnight in Bay St Louis or New Orleans (55 miles away).
In Bay St Louis, fuel up at Mockingbird Cafe (try their pulled pork and grits) or Serious Bakery (superb chicken salad).
Drive across the iconic St. Louis Bay Bridge and your senses will activate and heighten with your first Gulf and sand view.
Stop as often as you want because parking is free!
The coastal drive continues through Gulfport and into Biloxi.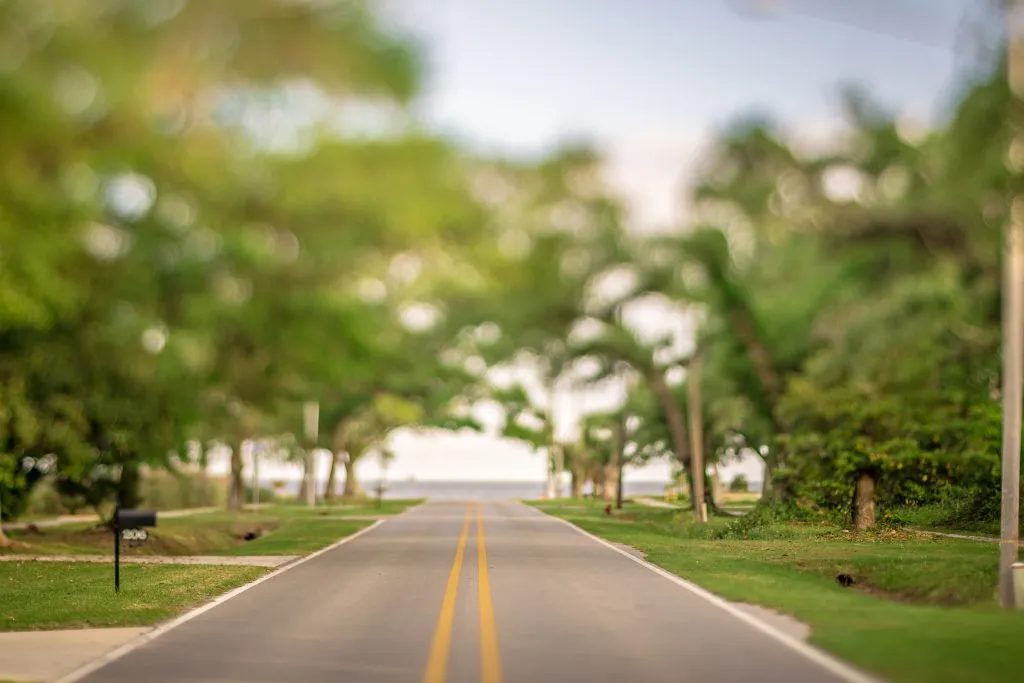 Visit the new Mississippi Aquarium, stroll the Biloxi Beach Boardwalk, and eat at White Pillars or The Blind Tiger.
After crossing the Biloxi Bay Bridge, make time to explore the wonderful small town of Ocean Springs.
Stroll the gorgeous oak-lined Washington Avenue, stop at Walter Anderson Museum of Art, and eat at Vestige.
Highway 90 continues through Pascagoula (Jimmy Buffett's birthplace) and into Mobile, Alabama, where you can turn around and complete this classic deep south road trip again.
Driving Distance
Bay St Louis to Pascagoula is 50 miles. New Orleans to Pascagoula is 107 miles and it is another 35 miles to Mobile, Alabama.
Recommended Road Trip Length
You can drive this coastal scenic drive in a couple of hours but we suggest allowing three or more days to fully experience the spectacular sugar sand, seafood, sunsets, and small beach towns of Coastal Mississippi.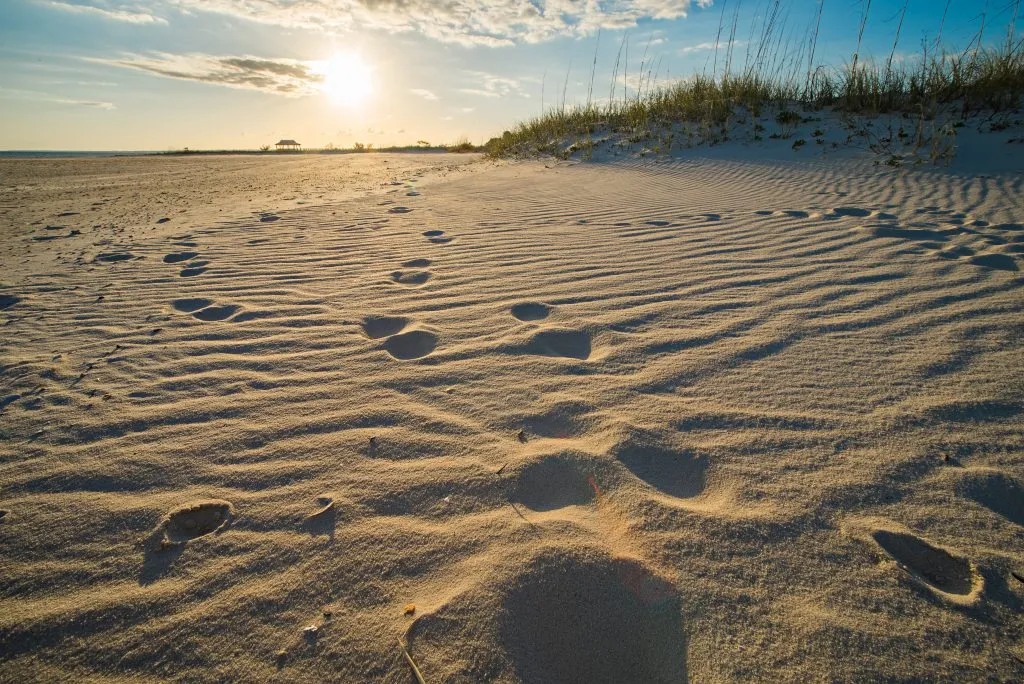 Alabama Black Belt Road Trip
From Lori of Southerner Says
A road trip through the Black Belt region of Alabama is one of the best southern USA road trips around.
Named for the dark fertile soil of the region, the Alabama Black Belt is made up of twenty-three states across central and south Alabama.
This part of Alabama is the place where significant law-changing history was made, where literary giants were born, and is home to some of the best food that can be found in the United States.
For first-time visitors or someone flying in, there's no better way to start an Alabama southern road trip than by including the capital – Montgomery.
Plan on visiting important civil rights sites and the renowned Legacy Museum and the National Memorial for Peace and Justice.
Next, drive west approximately fifty miles to Selma, Alabama on Highway 80.
This route is the same route as the important Selma to Montgomery march for voters' rights that took place in 1965.
See the places that put this small town on the map and made it crucial in the civil rights movement.
Walk the Edmund Pettus Bridge, eat locally caught catfish, and sleep in a hotel that was built in 1837.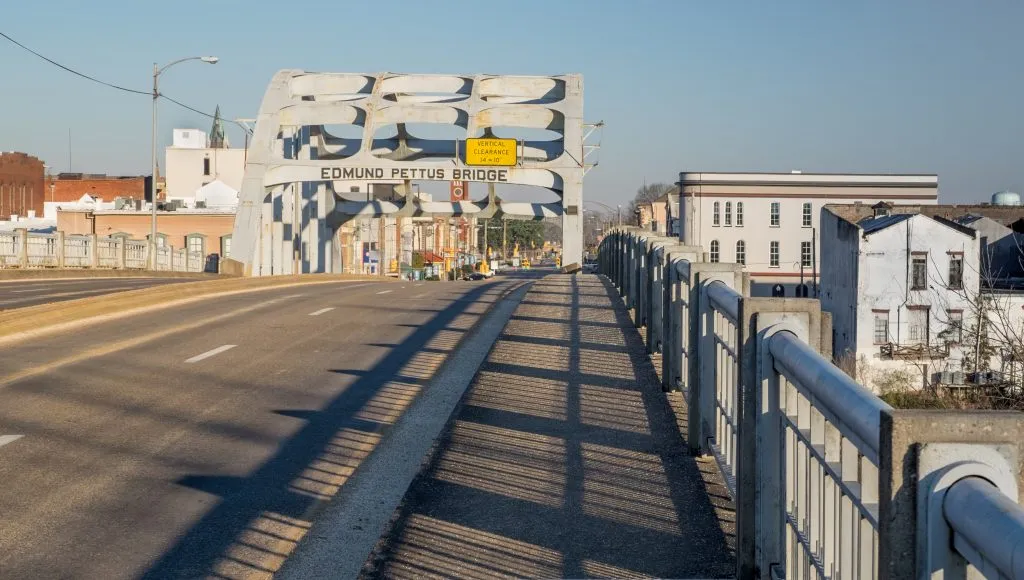 After saying a farewell to Selma, drive county backroads approximately seventy miles to the literary capital of the south.
As unbelievable as it may seem, Harper Lee – To Kill a Mockingbird and Truman Capote – Breakfast at Tiffany's were childhood friends in the south.
They both grew up in Monroeville, Alabama – the next stop on this southern road trip. Take a walk around the charming downtown square to spot murals that pay tribute to these well-known books and authors.
From Monroeville, it's easy to hop on Interstate-65 north to return to Montgomery or take the scenic route for a few more towns and sites on your southern road trip.
Driving Distance
225 miles.
Recommended Road Trip Length
This itinerary would be good for a weekend or long weekend.
Since the Alabama Black Belt is a rather large region there is an abundance of small towns and sites that can be added to a southern road trip.
Visitors could easily spend a week or two in the area.
Mississippi's Highway 61 (Blues Trail)
From Hannah of HH Lifestyle Travel
A road trip from Memphis to New Orleans down Mississippi's Highway 61 is rich in music history; and the inevitable river lore that pervades a road trip running parallel to the Mighty Mississippi.
In true road trip style, the road itself is part of the fun of the journey.
Highway 61 is long and flat and often sits higher than the fields and levees below it. It is punctuated by quaint southern churches, glimpses of the Mississippi River, and cities rich in blues history.
Enjoy visiting one of the legendary 'juke joints' in Clarksdale, Mississippi.
If there is one stop on the road trip to learn about the history of blues music in the area, it's Clarksdale.
Visit the Devil's Crossroads, the Delta Blues Museum, and many more Blues Trail plaques.
Your next stop is Vicksburg. Brimming with Civil War history, Vicksburg mixes reverence with rejuvenation.
Pay your respects to meaningful Civil War history, but then enjoy a day spa and quality craft brewpub experience.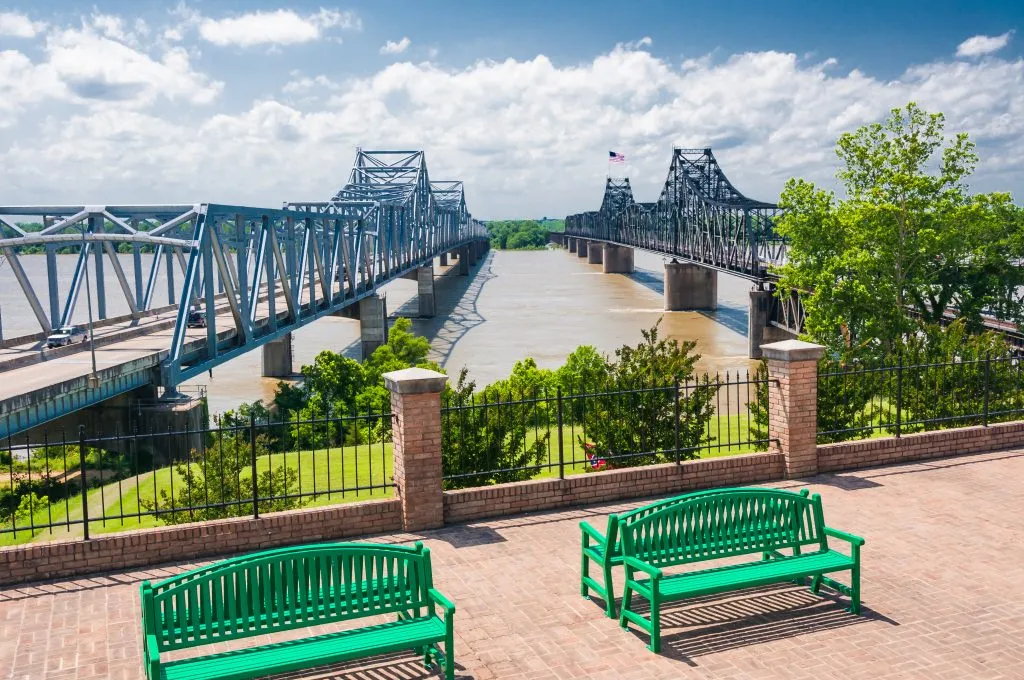 Natchez sits on an important bluff on a bend in the Mississippi River with a long history.
The historic district of Natchez Under-the-Hill has a prime position along the river and was once famous for gambling and river pirates.
Nowadays it's a cute place to see the Mighty Mississippi and have lunch in one of the historic buildings.
End your road trip in the vibrant and magnetic city of New Orleans.
Driving Distance
470 miles.
Recommended Road Trip Length
It takes around 9 hours of non-stop driving time from Memphis to New Orleans, but with time spent in the stops above it would suit a 5–7-day road trip.
Plan a bit longer if you want to spend time in both Memphis and New Orleans before and after this deep south road trip experience.
Coastal Georgia and South Carolina Road Trip
From Noel of Travel Photo Discovery
One of the fabulous road trips in the southeastern USA travels along the historic coastal corridors of Georgia to South Carolina, finishing in Charleston.
From the Georgia border to Florida, the major artery is Hwy 95, you'll pass through so many historic and recreational sites along the way to make this a few days or even a longer visit depending on how many places you want to see and experience.
Some of the cool and historic places to visit in Georgia include St. Marys and Cumberland Island, Brunswich and St. Simons Island, Jekyll Island, Tybee Island, and Savannah.
Places to explore around South Carolina's southern coastline from Savannah include Hilton Head, Beaufort, Edisto Island, and Charleston.
Each of these areas caters to historic sites or recreation getaways that are fun to explore when you have more time to visit each area on this road trip.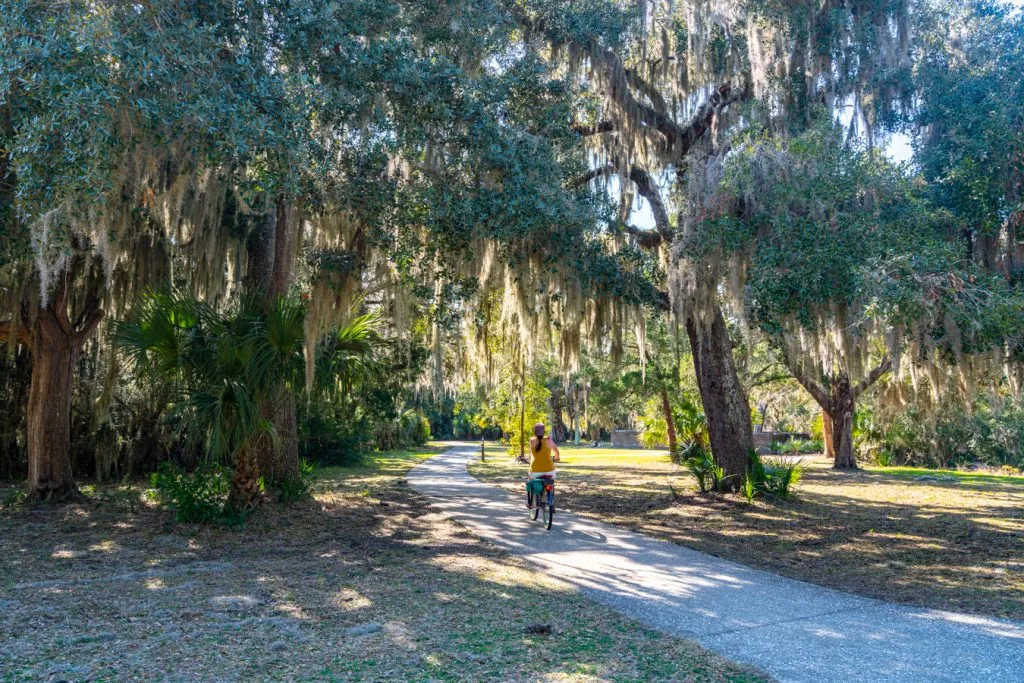 Even though you can go directly on Hwy 95 from the Georgia border all the way to South Carolina, it's the small detour expressways and backcountry roads that will give you a better insight into visiting some of these gems in the region.
If you only have a few days or longer then the major cities of Savannah and Charleston are memorable cities to prioritize to experience the local lifestyles foods that you'll enjoy on this southern road trip experience.
Savannah, with its historic squares, fabulous architecture, and historic district that remains intact includes so much to see, do and experience around the historic center of the city.
Charleston on the other hand is more compact and walkable with a tighter historic district to enjoy and explore on your own or with some tour operator sharing the main attractions to see in town.
Driving Distance
It's 107 miles to drive straight from Savannah to Charleston.
Recommended Road Trip Length
If you're focusing on Savannah and Charleston, 5 days is a comfortable length for this USA southern road trip itinerary.
Add additional days for each city, small town, or island that you'd like to visit.
Other Multi-State Southern USA Road Trip Routes
The Classic Blue Ridge Parkway Road Trip Route
From Bret Love & Mary Gabbett of Blue Ridge Mountains Travel Guide
The Blue Ridge Parkway, which stretches 469 miles from Great Smoky Mountains National Park in North Carolina to Shenandoah National Park in Virginia, is such an unimaginably epic USA road trip, that veterans almost envy people who are experiencing it for the first time.
There are a lot of reasons it's the #1 most visited unit in the US National Park system (with more than 15 million annual visitors), including 200 jaw-dropping BRP overlooks that offer stunning Blue Ridge Mountain vistas and provide access to the region's most incredible hiking trails, landmarks, mountain towns, and waterfalls.
Designed as part of FDR's New Deal to protect American wilderness and provide jobs in the wake of the Great Depression, construction of the Blue Ridge Parkway began back in 1935.
Most of the scenic route was completed by 1966, but the popular 8-mile stretch around the iconic Grandfather Mountain in North Carolina (including the engineering marvel known as the Linn Cove Viaduct) wasn't finished until 1987.
The BRP is the longest linear park in the country, taking travelers through the Jefferson, George Washington, Nantahala, and Pisgah National Forests.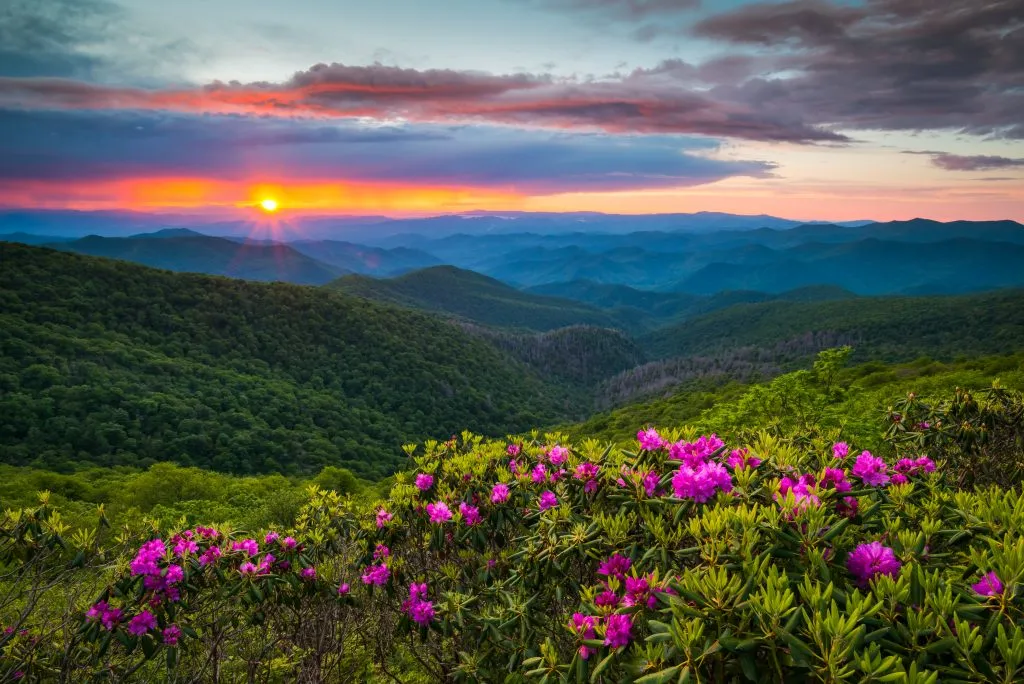 So naturally, there are a lot of exciting things to do along the way.
At 6,684 feet, Mount Mitchell is the tallest mountain east of the Mississippi River, with lots of challenging hiking trails and a relatively easy paved path to the observation platform at the summit.
Grandfather Mountain State Park is also home to epic hiking trails (including several with ladders to climb massive boulders), and the neighboring Grandfather Mountain attraction is home to the Mile-High Swinging Bridge, a small zoo featuring native North Carolina animals, and myriad picnic areas.
Virginia's Mabry Mill is the most photographed spot on the Blue Ridge Parkway, and one of the region's many historical attractions.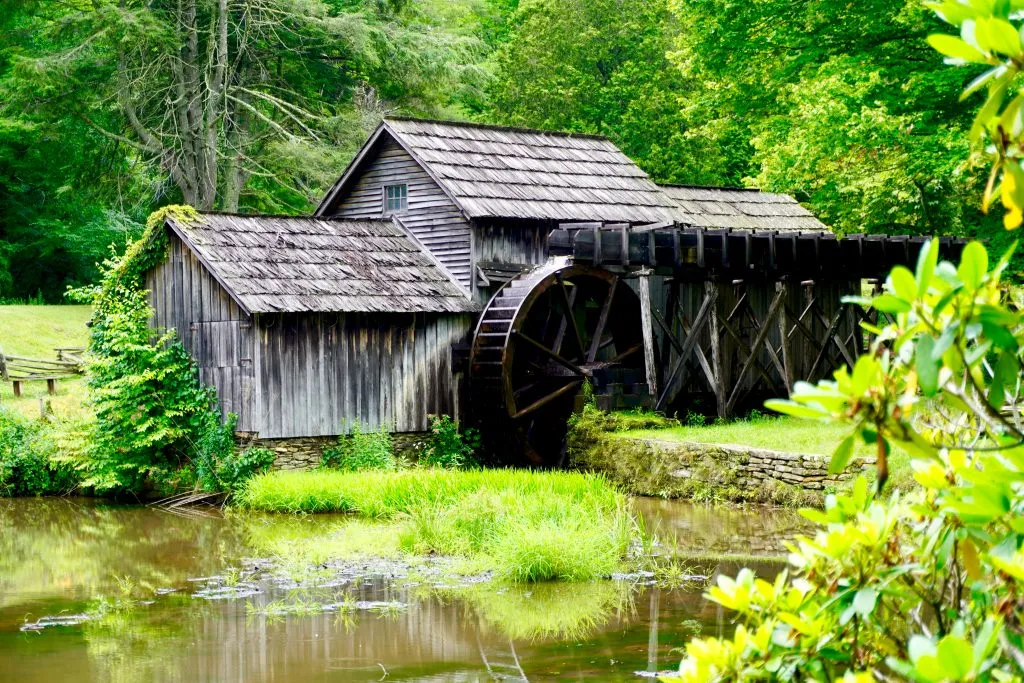 There's very little commercial development along the Parkway, with only a few hotels and resorts (including the historic Switzerland Inn in Little Switzerland NC, and the Peaks of Otter Lodge in Bedford VA).
But part of the fun is exploring some of the charming little mountain towns along the way, including Cherokee, Blowing Rock, and Boone in NC, and Bedford, Lexington, and Waynesboro in VA.
Driving Distance
469 miles.
Recommended Road Trip Length
You could drive the entire Blue Ridge Parkway in as little as 15-16 hours if you wanted, but that would totally defeat the purpose.
Some people like to break it up into weekend getaways, basing themselves in a local town.
But you could also spend a week or two driving the entire route, spending nights in lots of little towns along the way.
Chattanooga, Tennessee to Cherokee, North Carolina
From Kim of Traveling Swansons
A Chattanooga, Tennessee to Cherokee, North Carolina southeast road trip takes you on a tour of some of the most breathtaking scenery in the region.
Chattanooga is a beautiful city surrounded by mountains and located along the Tennessee River.
There are many fun things to do here including the Tennessee Aquarium, Lookout Mountain, Rock City, Ruby Falls, and the Incline Railway.
After leaving Chattanooga, your next stop will be Knoxville, Tennessee.
Check out the Sunsphere Tower, which was built for the 1982 World's Fair. Walk around Market Square and grab a bite to eat and shop.
After leaving Knoxville, your next stop will be Pigeon Forge.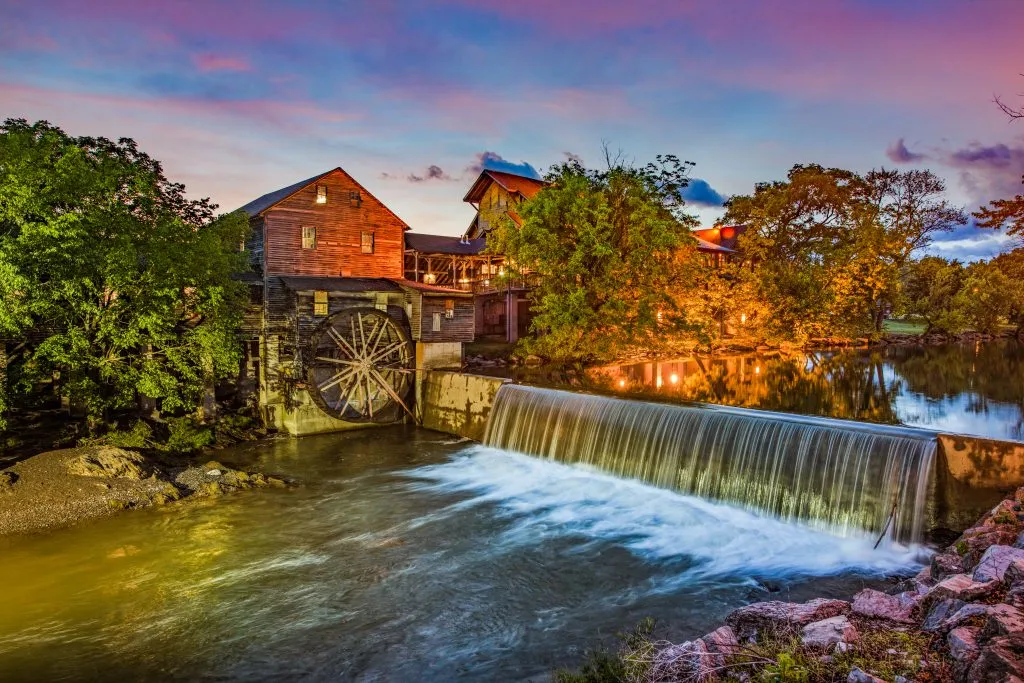 Here you find no shortage of attractions including the popular Dollywood.
Right next to Pigeon Forge, you'll find the town of Gatlinburg.
In Gatlinburg, you will also find plenty of attractions including Anakeesta and the Gatlinburg Skybridge.
Gatlinburg is one of the busiest and most popular gateway towns to Great Smoky Mountains National Park.
Great Smoky Mountains National Park has many amazing hiking trails, waterfalls, and views.
Drive the breathtaking scenic Newfound Gap Road to Cherokee, North Carolina. Jump out along the many turnouts along the way and enjoy the scenery.
Once you reach Cherokee, explore the Oconaluftee Indian Village and the Museum of the Cherokee Indian. Shop for some authentic Cherokee arts and crafts.
Driving Distance
The drive from Chattanooga, Tennessee to Cherokee, North Carolina is 191 miles and takes 3 hrs 51 minutes if driving straight through.
Recommended Road Trip Length
Since there is so much to do on this southern USA road trip, you will want to spend at least 5 days here in order to take in as much as you can along the way.
NOLA to Nashville Southern Road Trip Itinerary
From Agnes of The Van Escape
The southern USA road trip from New Orleans to Nashville is extraordinary.
Why? Nashville and New Orleans are music cities.
New Orleans – the world capital of jazz and Nashville – the capital of American country music – anyone who likes live concerts will appreciate this combination.
And indeed, in both cities, you can listen to music at every turn!
Concerts, music events, live music in almost every restaurant, bar, and even on the streets – Nashville and New Orleans are alive with sounds.
Moreover, there are many great things to do in Nashville and in New Orleans.
In Nashville visit Jonny Cash Museum, Country Music Hall of Fame & Museum, Grand Ole Opry, reproduction of the Parthenon, and Downtown with famous Broadway Street.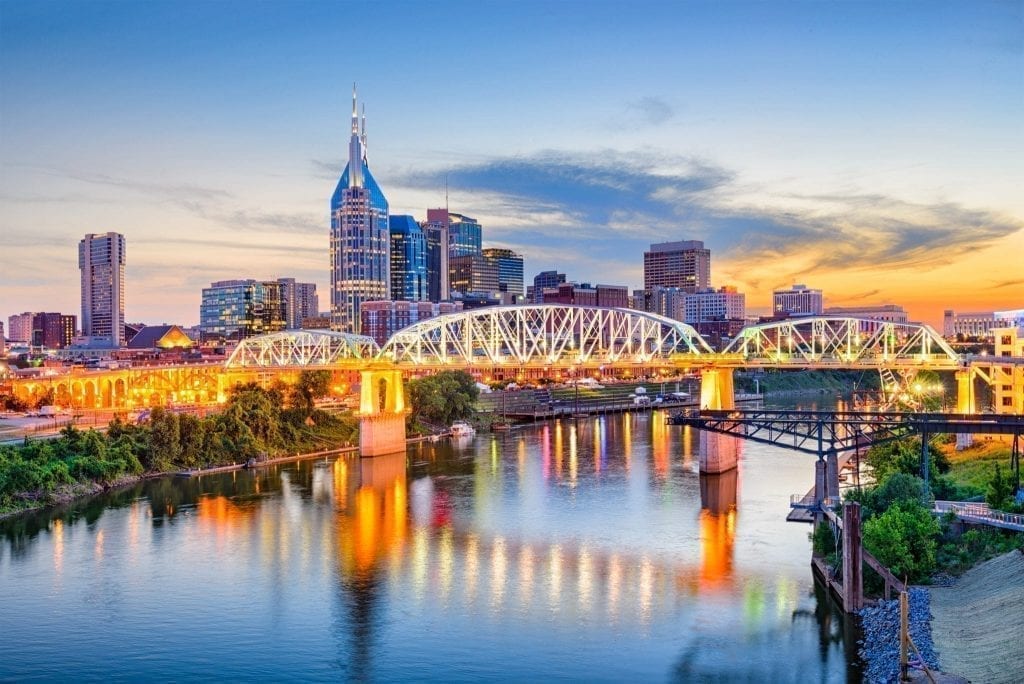 In New Orleans, visit the French Quarter, the Jazz Museum, the Woodoo Museum, the National WWII Museum, explore one of the famous cemeteries, sign up for a swamp tour. Enjoy the best cocktails at the famous Bourbon Street.
Both cities are also known for their excellent cuisine. In New Orleans, you'll melt at the tastes and smells of Louisiana Creole cuisine, and in Nashville, you'll delight at the famous juicy BBQ ribs and more.
That's not all. Both cities are famous for the finest spirits.
New Orleans offers great alcoholic cocktails and in Nashville, you can try classic Tennessee Jack Daniels whiskey, whose distillery is nearby.
Driving Distance
532 miles.
Recommended Road Trip Length
The driving time from NOLA to Nashville is about 8 hours, and 4-5 days is perfect for this road trip.
You can cover the distance in one day or split it into two days and spend one night in Birmingham, the largest city in Alabama.
To feel the atmosphere of each city and immerse yourself in its music world, we recommend two nights in New Orleans and two in Nashville.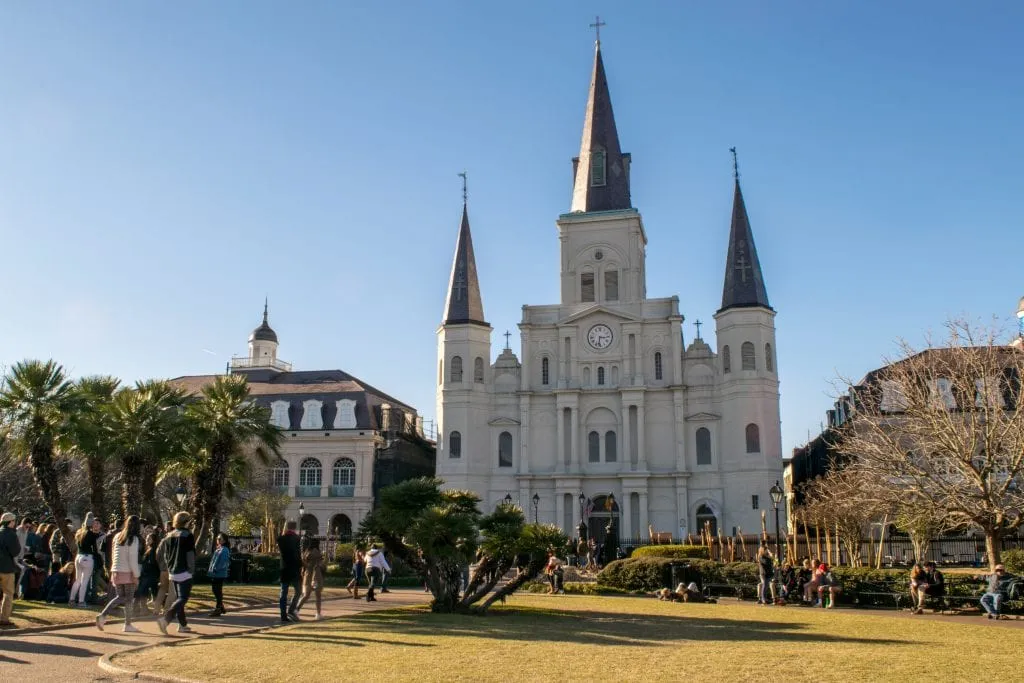 Virginia Beach, Virginia to Hilton Head, South Carolina
From Alex of Wander With Alex
If you're planning a road trip from Virginia Beach, VA to Hilton Head, SC, and need a few stops along the way, we've got you covered!
While Virginia Beach and Hilton Head are both popular southern beach towns, the experience is very different!
They are both, however, family-friendly vacation destinations with lots of unique things to do and see.
While in Virginia Beach, VA you'll want to check out the main beach at the Oceanfront.
There are 35 miles of beachfront, an amusement park on Atlantic Ave, and tons of souvenir shops for you to choose from.
If you're looking for something free to do, check out the Creative ViBE District for murals, sidewalk art, and other creative artwork!
Now that'll you've explored Virginia Beach, it's time to hit the road!
After being on the road for seven and a half hours, you'll be nearing Savannah, GA! If you've never been to Savannah, consider staying overnight.
You can take a riverboat dinner cruise on the Savannah River or enjoy a low country dinner at one of the best restaurants in Savannah.
And since Hilton Head is only 45-minutes from Savannah, you can stick around for a few hours in the morning and to Tybee Island before heading over to Hilton Head!
Hilton Head Island in South Carolina is a laid-back resort town offering beautiful beaches and tons of golf courses.
Additionally, Hilton Head is incredibly bike-friendly.
Head over to Hilton Head Outfitters, rent bicycles for the whole family, and go exploring!
And if you are a seafood lover, you'll have tons of waterfront restaurant options!
Driving Distance
A road trip from Virginia Beach, VA to Hilton Head, SC via Interstate-95 is approximately 589 miles.
Recommended Road Trip Length
If you do not want to stay overnight in Savannah, you can make the trip in seven and a half hours.
However, if you prefer slow travel and wish to explore Savannah, you should consider making this a two-day drive.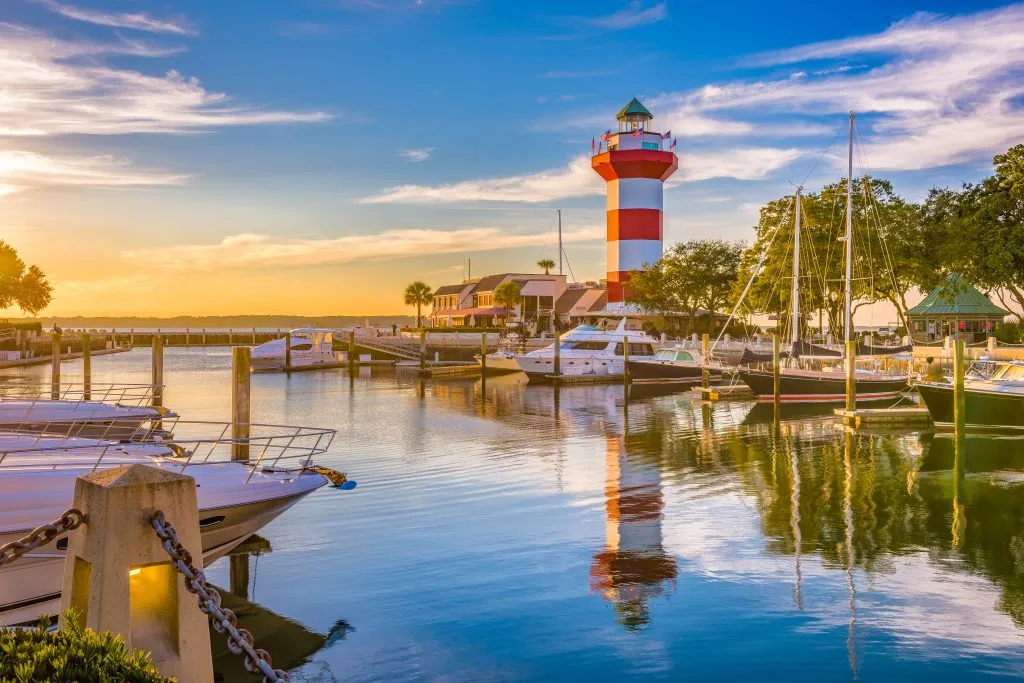 Gulf Coast Beach Road Trip from Alabama to Florida
From Ashlee of The Happiness Function
One of the best-kept secrets in the South are the sugar-white sand beaches along the Gulf of Mexico from Alabama to the Florida panhandle.
If you have never heard of Dauphin Island, Alabama, it is a must-visit southern destination.
Take the ultimate beach road trip from Dauphin Island, Alabama, to Pensacola, Florida!
Dauphin Island, Alabama, is a beautiful place to visit. The island is home to many different wildlife species, including sea turtles, and the scenery is simply stunning.
If you're looking for a place to relax and enjoy nature, Dauphin Island is the perfect spot. Plan to stay at least two days.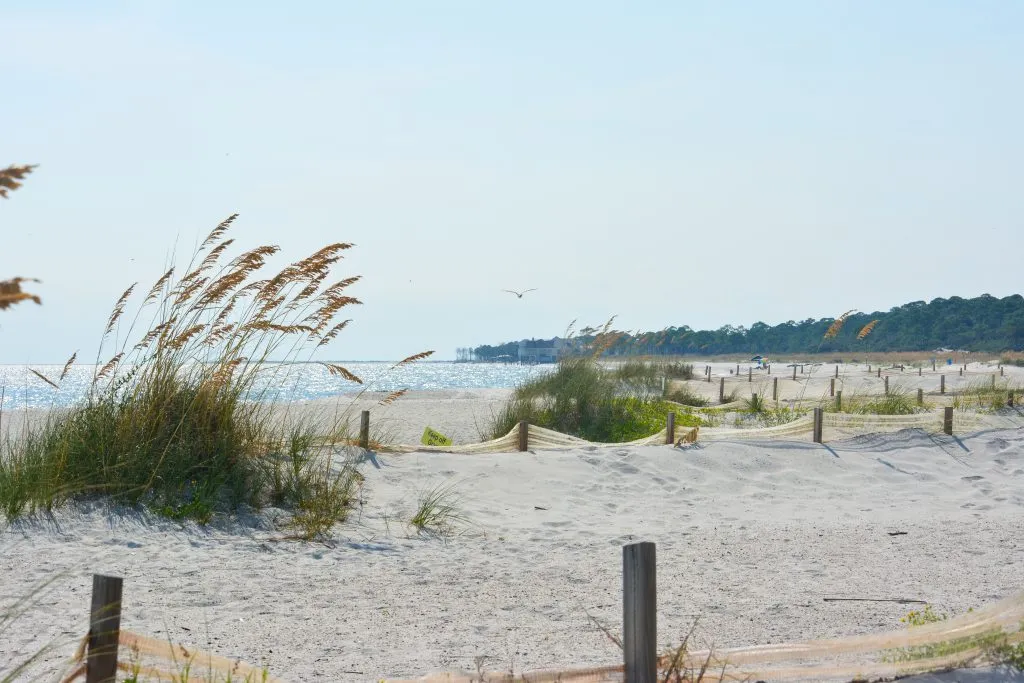 From Dauphin Island, take the ferry across Mobile Bay to Fort Morgan, where visitors can continue the road trip to Gulf Shores.
Be sure to visit Gulf State Park and enjoy the incredible beaches from Gulf Shores to Orange Beach! Plan at least two days in Gulf Shores.
Gulf Islands National Seashore in Fort Pickens is a popular tourist destination offering a variety of activities such as catching some sun on beaches, kayaking, fishing, hiking, and exploring the historic fort.
Camp at the Fort Pickens Campground for a few days to enjoy all the island offers.
From Gulf Shores, continue east into the Florida panhandle towards Pensacola.
A road trip along the southern coast of Alabama into the Florida panhandle makes for an incredible beach road trip any time of year.
Driving Distance
110 miles.
Recommended Road Trip Length
We recommend taking about a week to enjoy this road trip in the US south.
This way, road trippers can enjoy each destination for two days.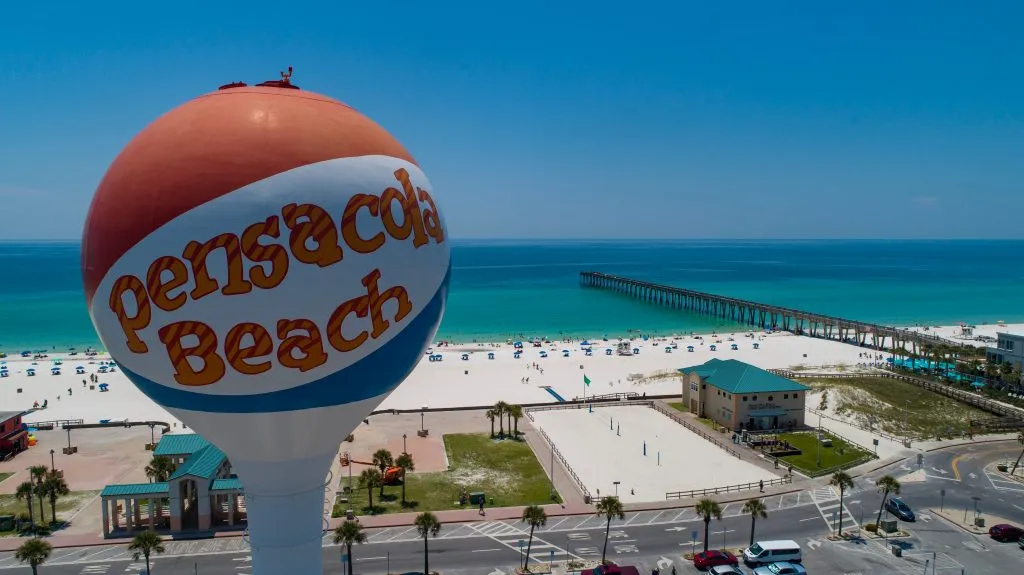 Savannah, Georgia to Clearwater, Florida Road Trip
From Terri of FemaleSoloTrek.com
If you're looking for beautiful beaches and fun in the sun, plan a short southern road trip route from Savannah to Clearwater.
Plan to start at dawn from Savannah on a Saturday so you can arrive by noon in Clearwater, Florida.
Google Maps or Waze will offer you the choice of traveling down I-95 toward Orlando and then across to Tampa/St. Pete outposts.
Alternatively, you can drive through Jacksonville and then cut across the state via US-301 S and I-75 S.
The estimated time is 6 hours if you don't hit bad traffic on I-95.
You will also have time to eat fried grouper at Clearwater Beach for lunch, then hit the Clearwater Aquarium for an afternoon adventure.
Dedicate the evening to drinking margaritas and watching the sunset.
You might want to watch the sunset (while sipping a cocktail) at Pier 60 on Saturday night or delay until Sunday because you will be exhausted from your early morning drive.
Clearwater is also a great place to settle while you plan day trips to Tampa, St. Pete, and Sarasota.
Driving Distance
357 miles.
Recommended Road Trip Length
While you can easily make the drive in a day, it's best to set aside a week for this US south road trip as you will lose two days to travel.
Florida's Gulf Coast deserves a minimum five-day stay so you can experience different beaches.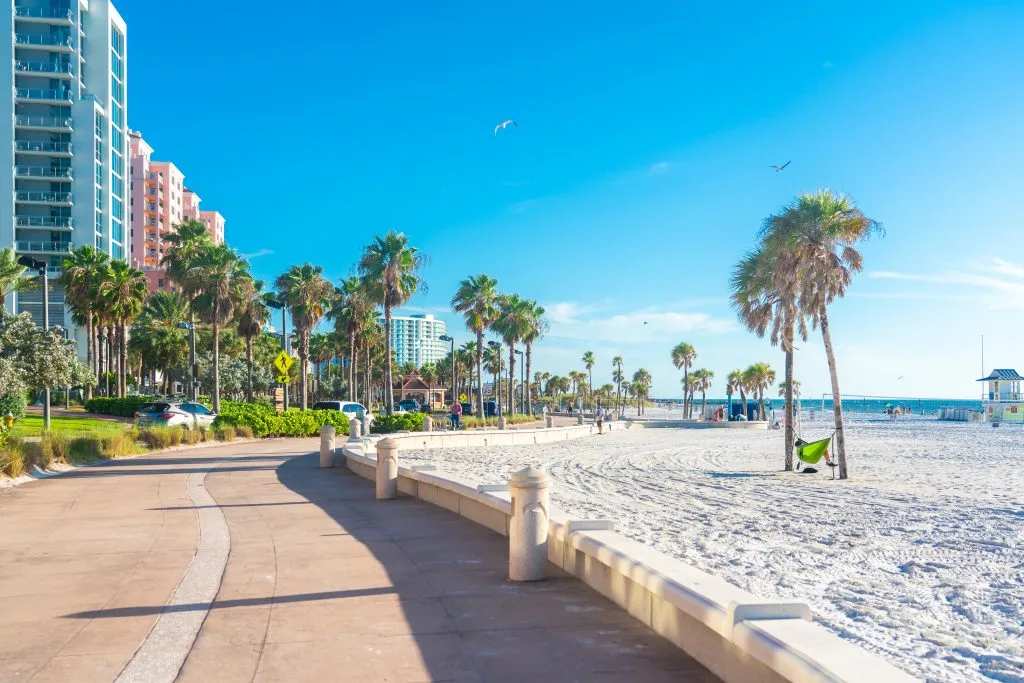 Southeast USA Road Trip from Washington DC to Florida
From Keri of Bon Voyage With Kids
One of the best road trips in the southeast US is from Washington, DC to Anna Maria Island, Florida.
If you want to break it up with overnights and stops, I recommend going from Washington DC to Raleigh, NC on Day 1. On Day 2, drive from Raleigh, NC to Savannah, GA. Then on Day 3, drive from Savannah, GA to Anna Maria Island, FL.
Starting in Washington, DC, where there is much to see from the Capitol to the Washington Monument to the Smithsonian Museums, you can begin heading on the road toward Virginia and the Carolinas.
In Virginia, the historic college town of Williamsburg is well worth a visit.
In addition to being a beautiful town, home to William and Mary College, it is also where you can step back in time at Colonial Williamsburg and learn a bit about American history.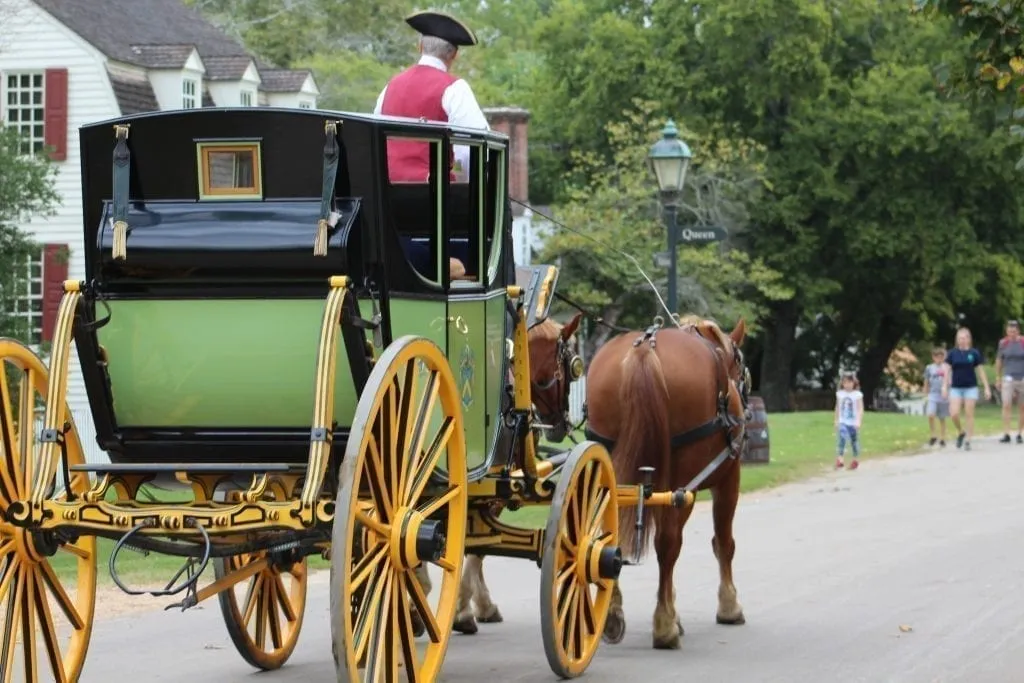 From here, head into North Carolina and stop in Raleigh if you plan to spend the night.
Then head into South Carolina, where a drive-through or stop in Charleston is a great thing to do.
The historic and lavish architecture is well worth a look, and the southern hospitality and walk on the waterfront are worth it even just for a short visit.
From here, continue into Georgia, where a stop in Savannah is a must.
If you have a bit of time to spend in this southern city, the hop on hop off trolley, walking tours, and a 90-minute riverboat sightseeing cruise would be worth doing.
This beautiful and historic city really is a gem on this road trip, so be sure to build in a bit of time, and even book a bed and breakfast for the night.
Continue on from Georgia into northern Florida, where if you can stop in Jacksonville for a visit to the University of Florida or in St. Augustine for lunch or a walking tour of this beautiful and historic city.
There is an old town part of St. Augustine well worth visiting, and depending on the time of day, is a great stop for a lunch. Continue on from St. Augustine to Anna Maria Island, Florida.
You may pass through Orlando and Tampa, which if you have time, may want to stop in one of these cities.
While Orlando is home to many theme parks and activities, you won't have time on this drive to do many of those unless you build in another day or two to your drive.
Instead, I suggest stopping in Tampa, where you will get to view this fantastic seaside city, where you can enjoy a cruise, walk around Ybor City, or grab a meal at the famous (and delicious) Columbia Restaurant.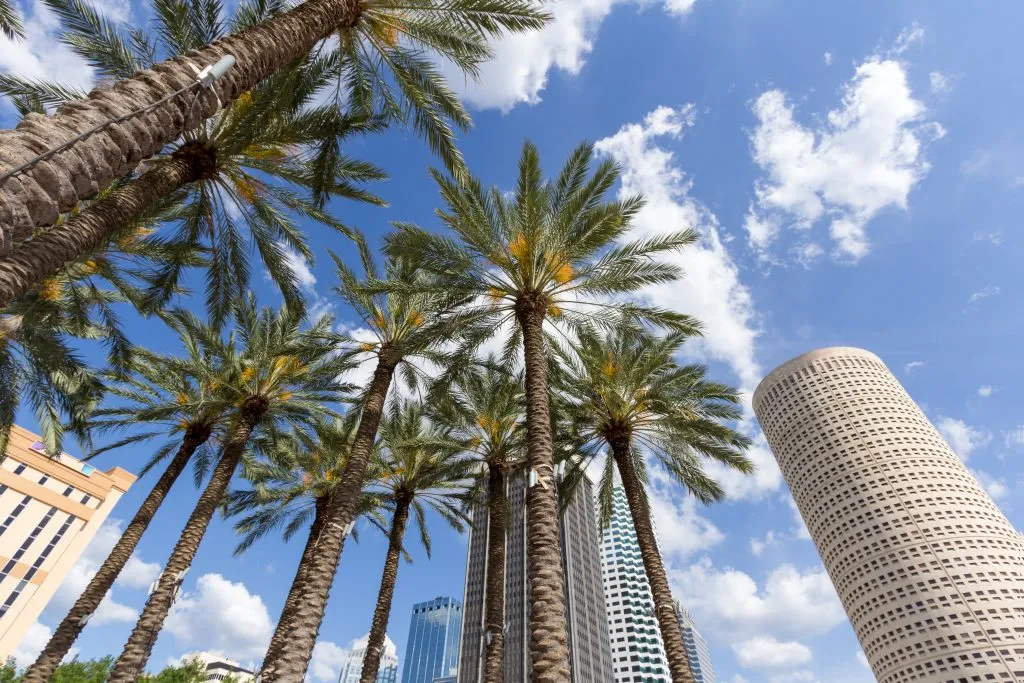 While you are also right at Clearwater Beach, you may want to save that beach visit for Anna Maria Island, just about an hours drive from Tampa, on the Gulf Coast, and renowned for its teal Caribbean-like water, white soft sand, quieter beaches, and home rentals perfect for a beach getaway.
It's the perfect destination to such a cultural and historic road trip, and one of the best road trips in the south USA.
Driving Distance
Approximately 945 miles (about 14 hours total) one way.
Recommended Road Trip Length
Approximately 945 miles (about 14 hours total) one way, this road trip is at least a two to three-day drive, depending on how much you would like to stop along the way.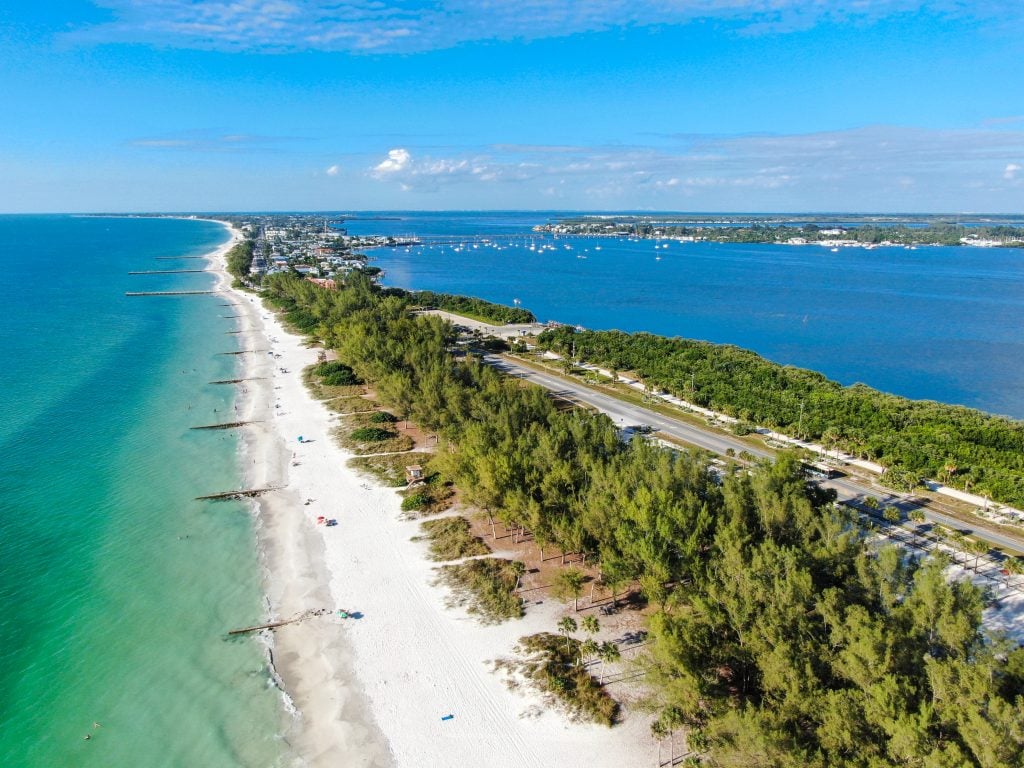 More Single-State Southeast Road Trip Itineraries
The Outer Banks of North Carolina Road Trip
From Candice of CS Ginger
One of the best Southern USA road trips is driving through the Outer Banks. There are so many fun things to do in the Outer Banks and its sweeping coastal scenery is gorgeous.
The Outer Banks is a chain of barrier islands off the North Carolina coast filled with beautiful beaches, lighthouses, and fun beach towns.
A great historic stop in the Outer Banks is at the Wright Brothers National Memorial.
This is where the Wright brothers completed the first controlled flight in December of 1903.
There are a fun visitor's center, some historical markers, and a replica of the first plane.
The Outer Banks is also home to the tallest brick lighthouse in the world. You can climb to the top of the Cape Hatteras Lighthouse. There are 257 steps to the top.
The lighthouse and Cape Hatteras National Seashore is a great place to spend the afternoon. The beaches are beautiful and not crowded.
After spending time at Cape Hatteras, you can take the ferry over to Ocracoke Island.
There is another lighthouse on this smaller island, but it is not open to visitors.
There are, however, beautiful beaches making this island a fun spot to explore.
Driving Distance
The distance from the northern town of Corolla through Hatteras, the southern point, is about 95 miles.
If you continue to the ferry to Ocracoke, the mileage is longer.
Recommended Road Trip Length
You can easily fill 4-5 days with fun activities during your Outer Banks road trip, and spend even more time in the area if you want to relax on the beach.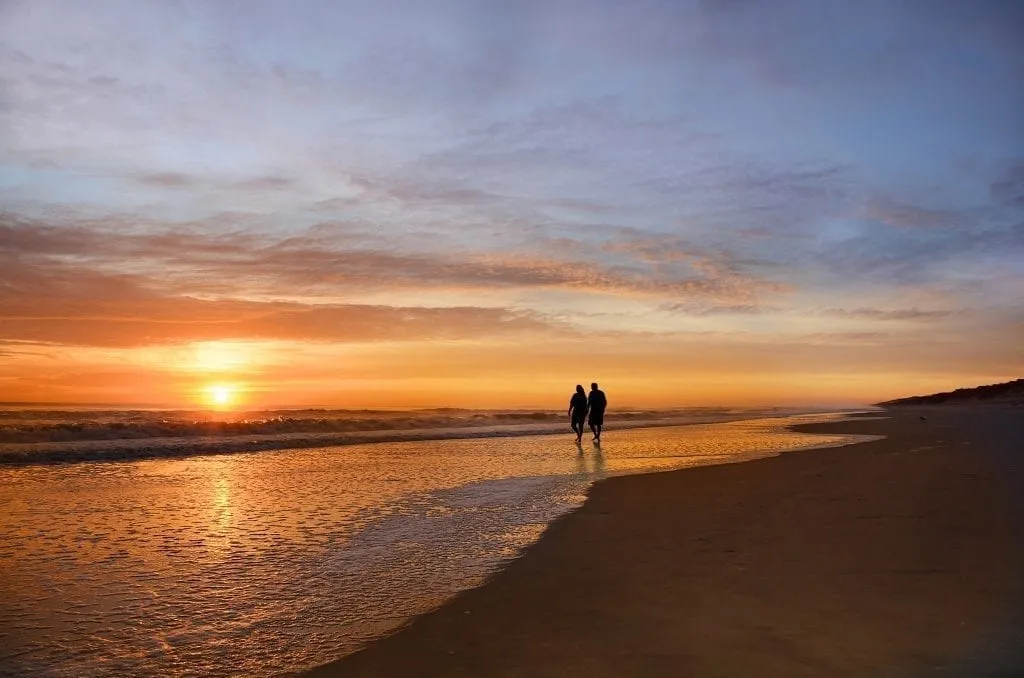 Skyline Drive in Shenandoah National Park
From Anna of Stuck On The Go
One of the best road trips in the southern US winds through Shenandoah National Park offering stunning views of the Blue Ridge Mountains.
If you drive Skyline Drive straight through it only takes a little under 3 hours but there are so many hikes, overlooks, and small towns to stop and explore. This is the perfect road trip for outdoorsy people.
You can start at the Front Royal Entrance Station and on your first day hike to Compton Peak where you'll find a gorgeous view as well as unique geological formations that resemble the Giant's Causeway in Ireland.
In the afternoon, head out to the town of Luray where you can shop in the boutiques along Main Street and visit the famous Luray Caverns.
If you like to camp then stay the night in Mathews Arm Campground, otherwise rent a room at the Skyland Resort inside the park.
For day two you can fit in two hikes – Stony Man and Hawksbill – which both offer stunning mountain views and are 2 of the best hikes in Shenandoah.
Have lunch at Big Meadows and make sure you get the blackberry ice cream pie for dessert!
In the afternoon you can hike Dark Hollow Falls or just head into Elkton or Sperryville.
Visit Sperryville for wineries and Elkton for breweries. Tonight stay at the Lewis Mountain Cabins & Campground.
On the last day of the road trip, hike Doyles River Falls and Blackrock Summit.
Stop for lunch at Blue Mountain Brewery and check out some of the other Waynesboro breweries. Main Street in Waynesboro is also very quaint.
Driving Distance
104 miles.
Recommended Road Trip Length
For many people, 3 days is enough to spend in Shenandoah National Park.
However, if you are very outdoorsy and love to hike and explore small towns then you can spend a week in the Shenandoah Valley.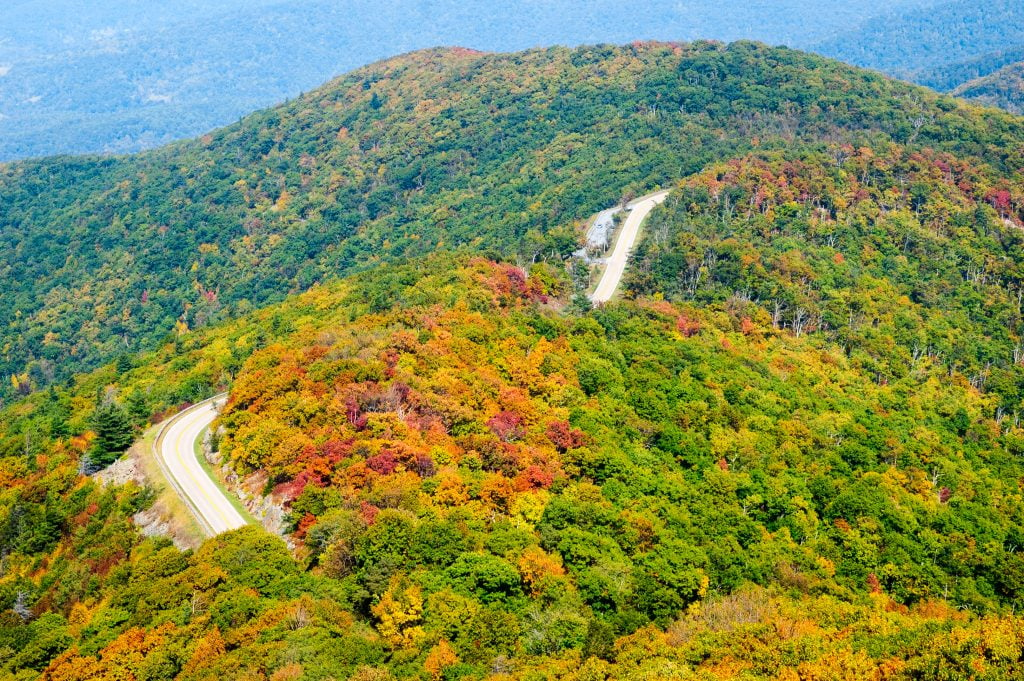 Northwest Arkansas Road Trip Loop
From Lydia of Lost With Lydia
Arkansas is an underrated state with a lot to offer for outdoor adventurers!
The state has beautiful state parks, incredible mountain biking trails, a uniquely historic national park, and much more.
The northwest portion of Arkansas is where you'll find the most beautiful natural areas along with some fantastic cities.
This road trip begins in Bentonville, a city known for mountain biking, modern art, and as the Walmart headquarters.
There are miles of mountain biking trails in parks around the city and trails range from beginner to advanced.
Continue on from Bentonville to Buffalo National River, a beautiful river with epic canyon walls towering above it.
After the National River, enjoy hiking in the Ozark National Forest (the most famous hike is Whitaker Point) and take in the views at Mount Magazine and Mount Nebo. Mount Magazine is the highest point in the state.
Be sure to not miss the most iconic state park in Arkansas: Petit Jean. This state park is a favorite of many and is home to a 95-foot waterfall, caves, and several unique rock formations.
Spend some time in Little Rock for great food and interesting history.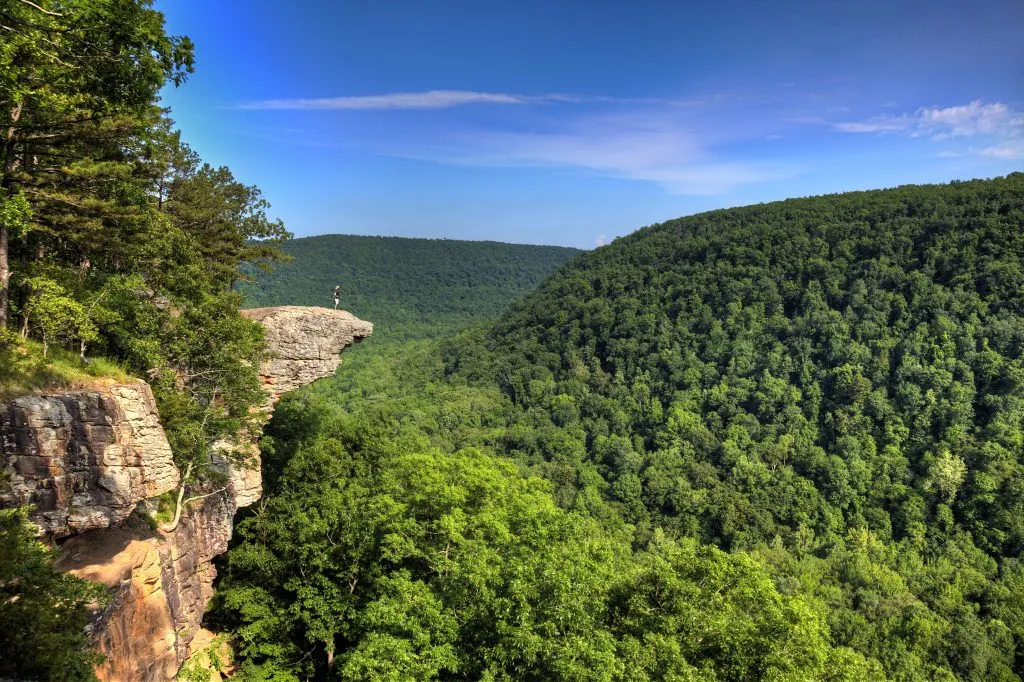 Things to do in Little Rock include visiting the Little Rock Central High School Museum, exploring the vibrant SOMA neighborhood, and hiking at Pinnacle Mountain.
Finally, end your road trip with a visit to Arkansas' only national park: Hot Springs.
Hot Springs National Park was a resort destination in the early 1900s and there are a couple of bathhouses still in operation today.
In addition to the spas, you can visit a brewery inside of a bathhouse and enjoy the views from the observation tower.
Driving Distance
380 miles.
Recommended Road Trip Length
A week is the minimum amount of time you'll want to fully explore the cities and hiking destinations along the way.
Ideally, take 10 days or more to take your time and enjoy this underrated southern USA road trip itinerary.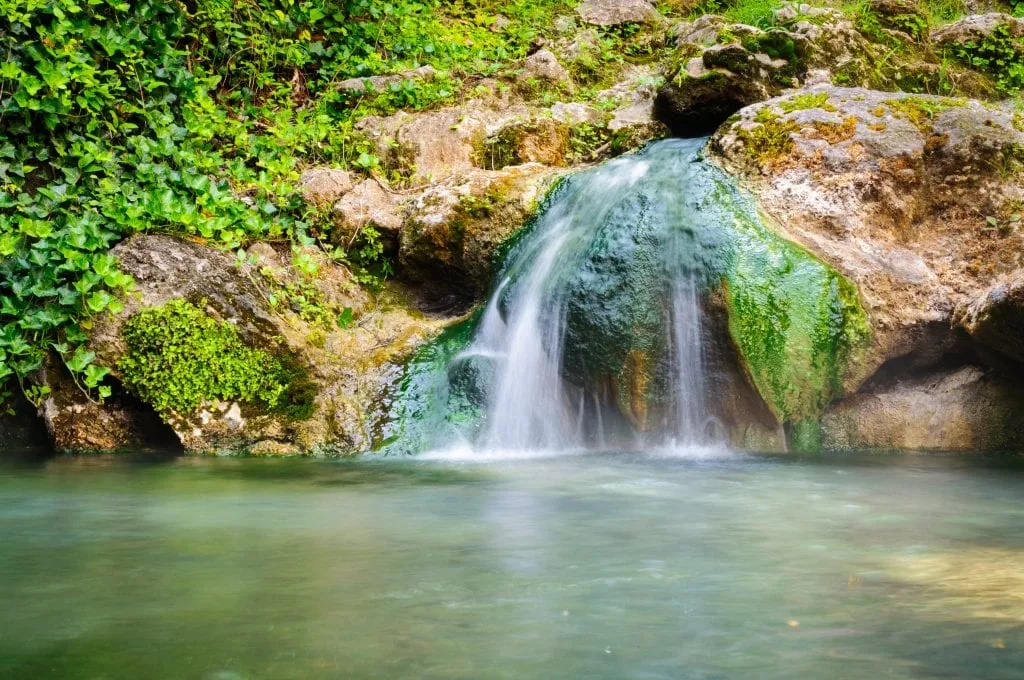 Florida's Southwest Gulf Coast Road Trip
From Lori of Travlinmad
If you're looking for an ideal year-round road trip destination, Florida's Gulf Coast offers dreamy beaches, fantastic food, and some of America's most (in)famous history!
Begin your road trip in Tampa, where you can spend 2 days exploring the city's Cuban history in Ybor City and enjoy the amazing cuisine before heading south to Sarasota and Siesta Key.
Spend the next day in Sarasota admiring the mid-century architecture and visiting the Ringling Museum.
Shoppers will no doubt stay longer on St. Armand's Circle, then head to Siesta Key later in the day to take in the new age vibes of the nightly drumming circle on the beach at sunset.
The next day, drive south to Casperson Beach in Venice and rent a "Florida snow shovel" for a few dollars to dig in the sand for prehistoric megalodon shark teeth.
Millions of them wash ashore every day and you just might find a big one to treasure!
Spend the night at Boca Grande on Gasparilla Island, one of Southwest Florida's most historic towns before heading out the next morning for Fort Myers.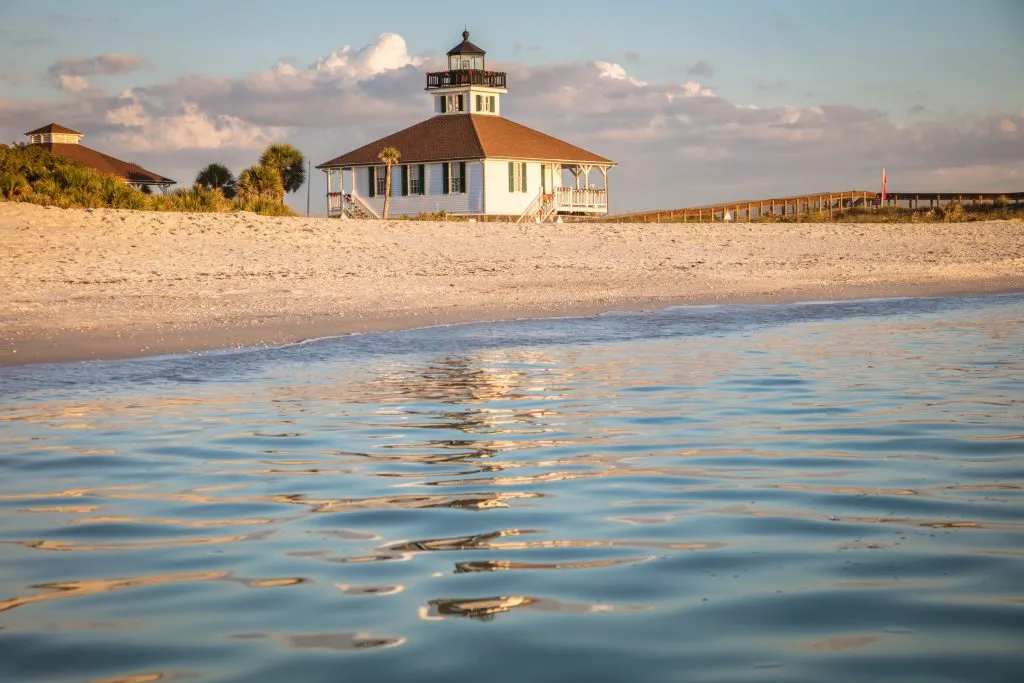 Situated where the Caloosahatchee River meets the Gulf of Mexico, the city of Fort Myers is worth a few days to explore the history and the beautiful beaches on Sanibel and Captiva.
Visit the summer homes of neighbors Thomas Edison and Henry Ford, whose mansions are popular tourist attractions today.
The last stop on your road trip is Naples and Marco Island on the southwestern coast. This stunning region is known as the Paradise Coast and it's easy to see why.
Spend your days on the soft white sand beaches, shopping at the luxury stores and dining downtown, or get out into the Everglades for some adventure.
Driving Distance
It is 180 miles from Tampa to Marco Island.
Recommended Road Trip Length
Plan on 7-10 days for this southern road trip route.
There is plenty to see in the major cities of Tampa, Sarasota, Fort Myers, Naples, and Marco Island, but you'll find the real gems in between!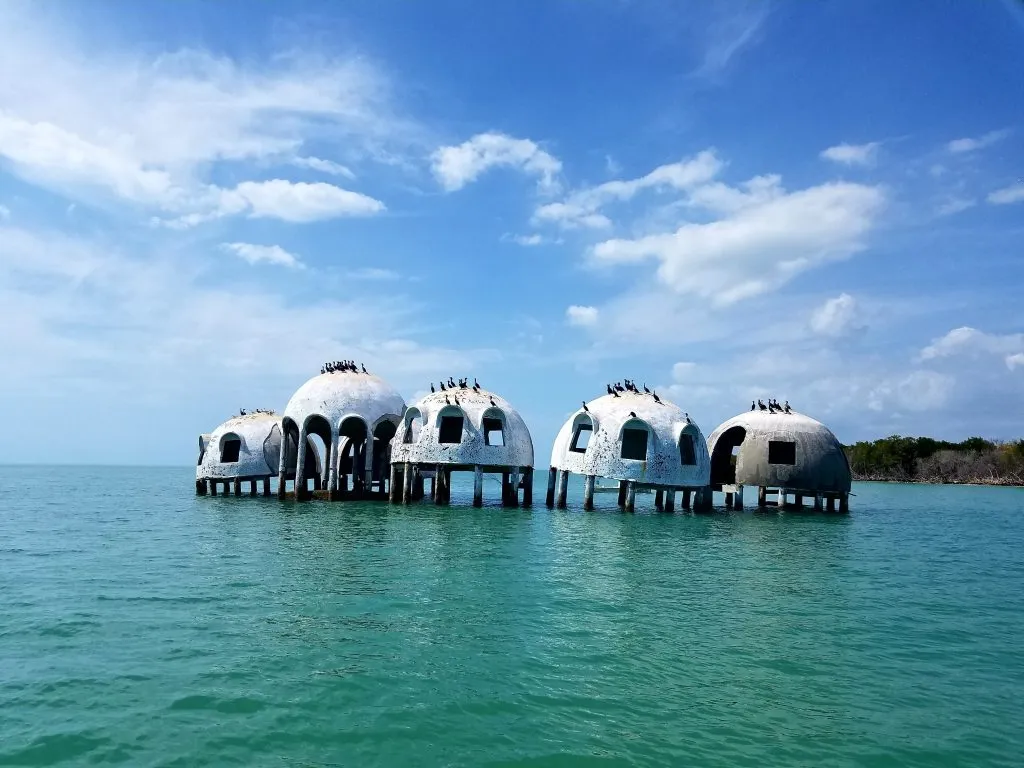 Virginia's Eastern Shore Drive: Chincoteague to Cape Charles
Recommended by Erin Gifford of Go Hike Virginia
There's so much to love about Virginia's Eastern Shore.
Roll down the windows and breathe in the salt-infused air as you make the 70-mile drive north to south from Chincoteague to Cape Charles.
Get ready to make stops for sandy beaches, ice cream shops, and verdant wetlands just right for a scenic paddle.
Start at Chincoteague National Wildlife Refuge, which is home to miles of stroller-friendly hiking and biking trails.
The Chincoteague Lighthouse Trail is a must-visit to ogle the red-and-white striped Assateague Lighthouse.
Take a guided kayak tour or nature cruise across pristine coastal waterways with Assateague Explorer.
Keep your eyes open for wild ponies, as well as native wildlife, like sandhill cranes and eastern mud turtles, that call the wildlife refuge home.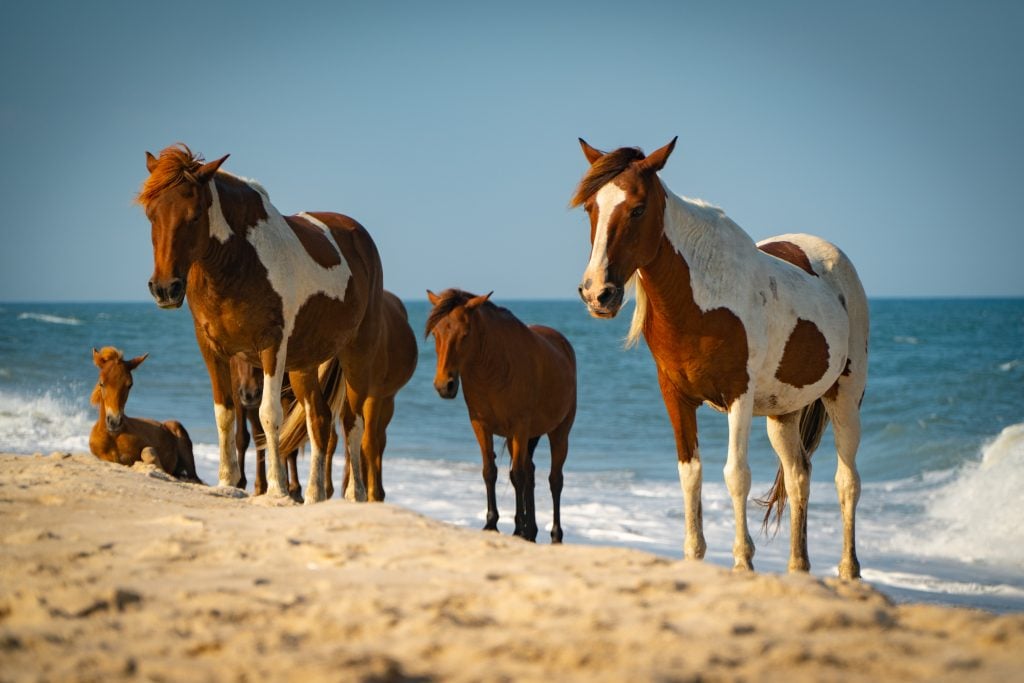 Order up a scoop of Mint Chip or Pony Tracks at Island Creamery.
Spend the night at the Refuge Inn, a mainstay in Chincoteague since 1973. Chincoteague is also home to several camping resorts, including KOA and Jellystone Park.
Continue on to Onancock, a historic waterfront town.
Start your day with a delicious breakfast sandwich at Janet's Café before strolling the hamlet's tree-lined streets that wow with Victorian-style homes.
Take a tour of Ker Place, a historic Federal-style home.
On the south end of Virginia's Eastern Shore is Cape Charles, which is home to gentle beaches and vibrantly-colored sunsets.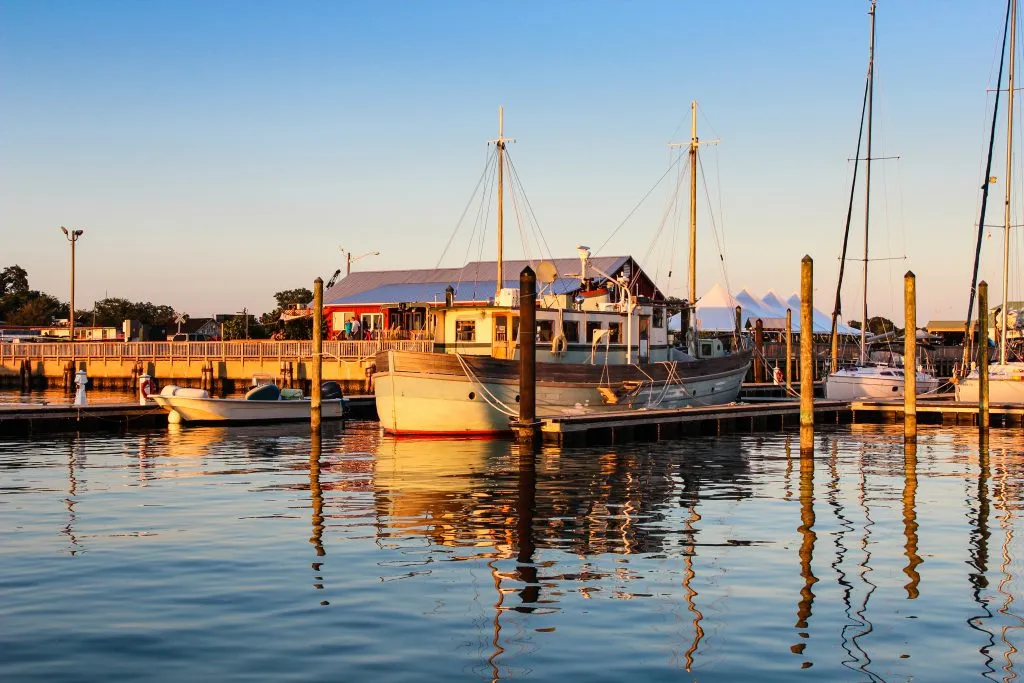 Spend the day on the beach at Kiptopeke State Park, then order hush puppies at The Shanty.
Cap off the day with a scoop at Brown Dog Ice Cream and settle in at the Sunset Beach Hotel on the Chesapeake Bay.
Driving Distance
70 miles.
Recommended Road Trip Length
This trip is best enjoyed over at least 3 days, including one day in Chincoteague, one day in Onancock, and one day in Cape Charles.