One of my absolute favorite things about Rome is its layers: no matter where you are in the city, from the quietest neighborhood to the most crowded tourist hotspot, there's undoubtedly something interesting and beautiful nearby that is tucked just out of sight–and a lovely example of this is Rome's Galleria Sciarra.
When you stand inside this calm, quiet courtyard, perhaps catching a breath after a day of overwhelming sightseeing, it's almost hard to imagine that the intense crowds of the Trevi Fountain are a mere two-minute walk away.
If you're looking for a stunning hidden gem in Rome that's both easy and free to visit, look no further than the Galleria Sciarra.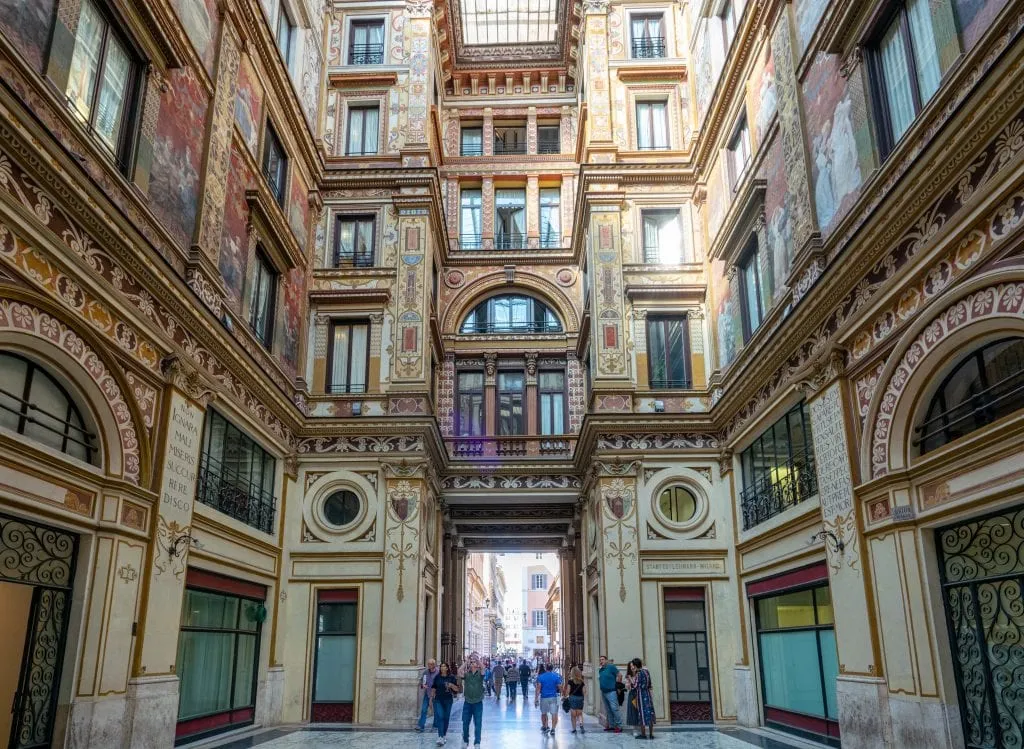 Some links in this post may be affiliate links. If you make a purchase through one of these links, we may earn a small commission at no extra cost to you. Please see our

disclosure policy

for more detail.
Brief History of the Galleria Sciarra
Built between 1885 and 1888, the Galleria Sciarra is, at the end of the day, merely a courtyard in the center of an office building–but it is one that is undoubtedly beautiful to admire.
Designed by architect Giulio De Angelis and commissioned by Prince Maffeo Barberini-Colonna di Sciarra to connect several pieces of his property, the Galleria Sciarra was built at a time of great change and modernization in Rome (for context, Rome only became the capital of Italy in 1870, and Italy itself was only unified in 1861, though that date is somewhat fluid).
The gallery is covered in frescoes painted by Giuseppe Cellini in 1887 celebrating the "Glorification of Women". The paintings are designed to symbolize what the artist saw as various female virtues: faithfulness, strength, patience, mercifulness, and justice, among others.
The frescoes are both intricate and beautiful and are done in an Art Nouveau style. They are immediately entrancing and cover enough space that half a dozen visits to the Galleria Sciarra wouldn't be enough to admire them all in detail.
The vaulted roof, made of iron and glass, was a popular and modern style at the time of construction, and though it's not immediately as eye-catching as the art coating the walls, it adds a beautiful light to the space.
In the 1970s, the Galleria Sciarra was almost completely redone, but the frescoes and iron and glass ceiling were preserved.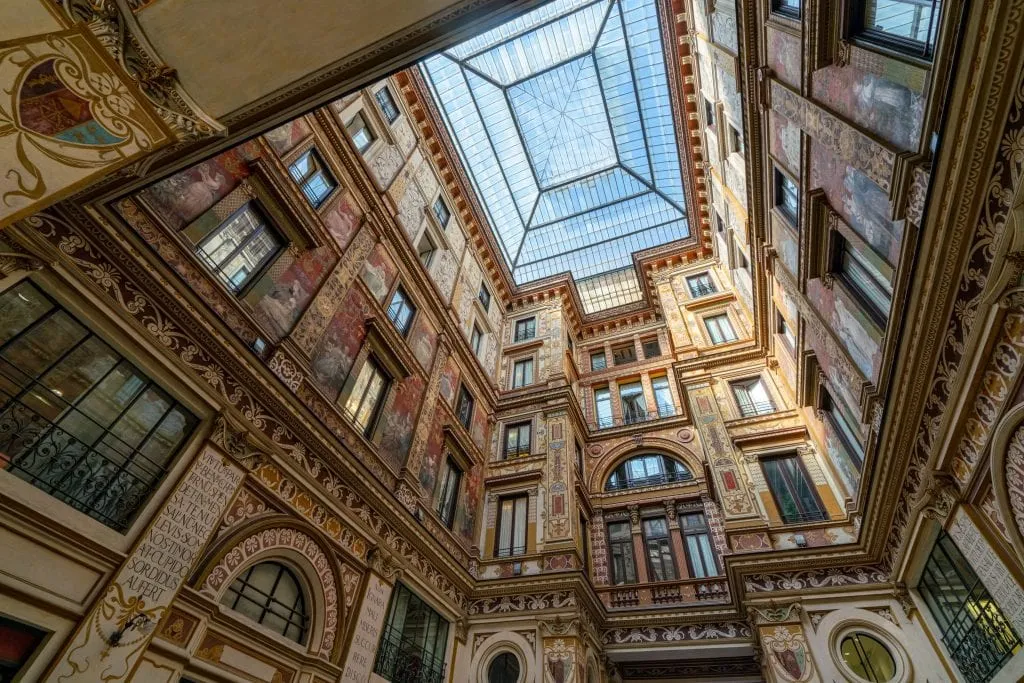 How to Visit the Galleria Sciarra
Since the Galleria Sciarra today is used as a pedestrian walkway and is housed in a functioning office building, it is open to visitors during business hours.
To get there from the Trevi Fountain, head west onto Via delle Muratte until you reach the McDonald's at the corner of Via delle Muratte and Via Santa Maria in Via.
Turn left right after the McDonald's, and you'll be facing the Galleria Sciarra. This is the view: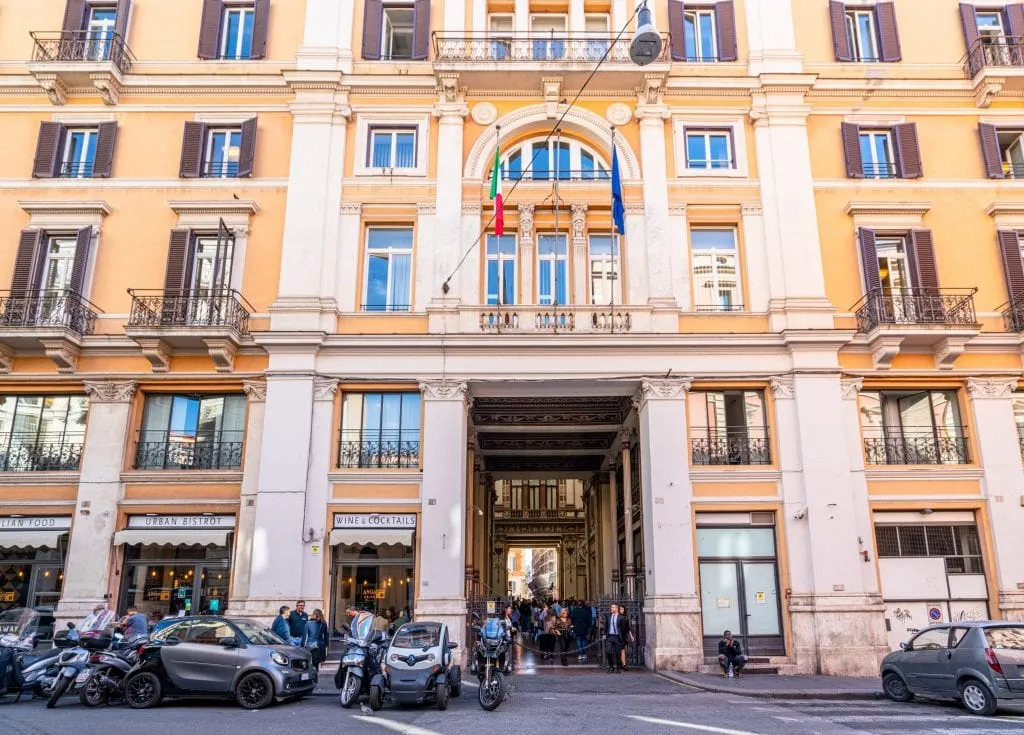 In total, the Galleria Sciarra is only about a 2-minute walk from the Trevi Fountain, but unless you know what to look for, it's easy to miss–the facade is far less exceptional than the interior courtyard.
Map + Address of the Galleria Sciarra
Via Marco Minghetti, 10, 00187 Roma RM