In Rome, piazzas are literally around every corner: from the gigantic to the tiny, from the bustling to the deserted, piazzas in Rome are an inescapable and delightful part of daily life.
Traditionally, the piazzas in Rome (aka the town squares in Rome) are used as gathering places for everything from political meetings to casual lunches with friends, and many of Rome's piazzas are still used for exactly that!
Others have been taken over by traffic, time, or tourism, or some combination of the three.
Still, though, Rome's piazzas remain a heartbeat of the city.
No matter how many times we visit Rome, we'll never tire of people-watching from peaceful benches, listening to the sound of fountains that have been running for centuries, savoring an Aperol Spritz, grabbing a quick Italian coffee, or shopping for produce from local vendors–and all of those and more can be enjoyed in the piazza.
We've rounded up what we consider to be 15 of the absolute best piazzas in Rome here, ranging from the ever-popular to the semi-obscure.
And, with a well-planned Rome itinerary, a good pair of walking shoes, and a few days in the city, you can almost certainly visit them all!
Here's where to find some of the most memorable squares in Rome.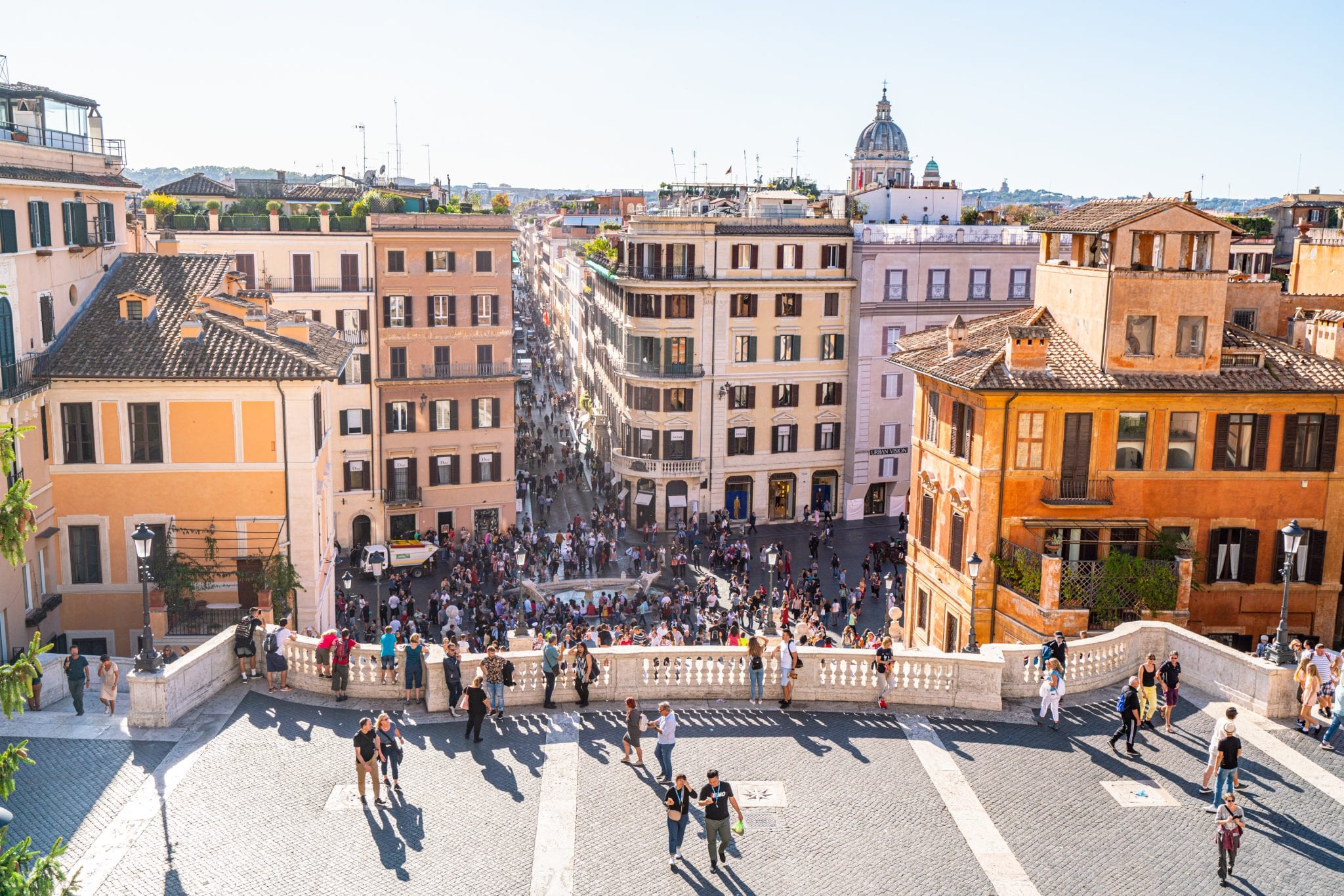 The Best Piazzas in Rome
Piazza Navona
One of the most famous of the piazzas in Rome, Piazza Navona's history is long and involved.
Piazza Navona has served as an arena for public games, as a gathering place for locals, the home of a major market in Rome (that stands today in Campo de' Fiori), and even as a waterpark during weekend summer days from the 17th to 19th centuries.
Today, Piazza Navona is popular for its beauty, including three gorgeous Baroque fountains whose edges are the perfect place to perch while eating a generous serving of gelato in Rome.
It's also one of the biggest piazzas in Rome, so while it is popular, there's always room for the crowds to spread out (and if you visit Rome in winter, you'll be treated to either a small Christmas market or, if you visit after the holidays, a near-empty square).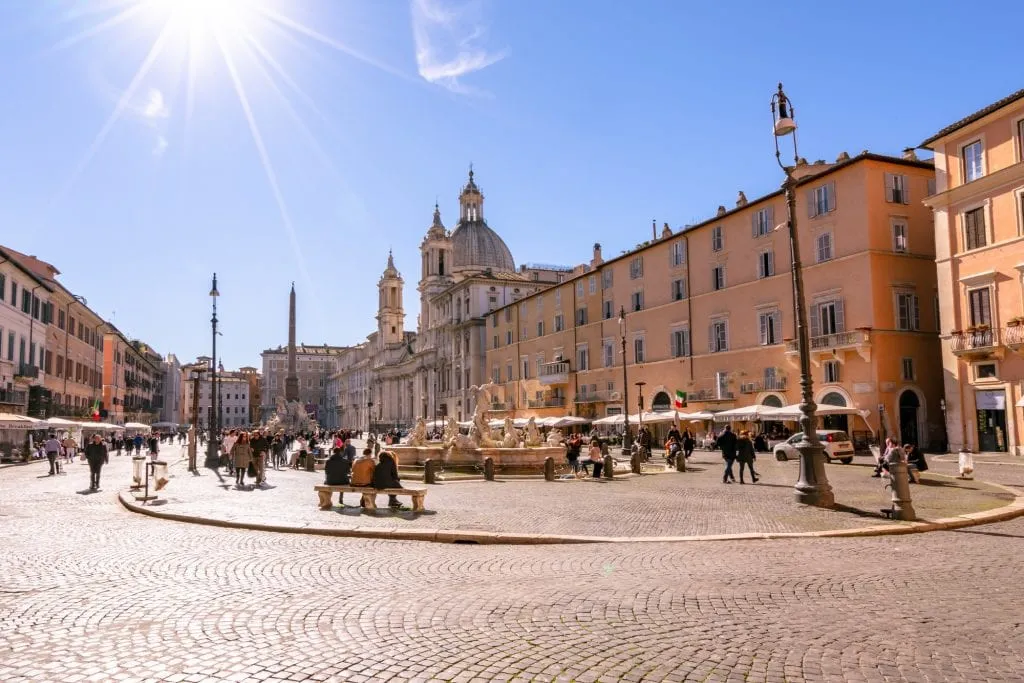 Campo de' Fiori
Campo de' Fiori is home to Rome's most popular outdoor market, whose roots reach back to the Middle Ages.
Once upon a time, the market that now sits in Camp de' Fiori was populated by locals and held in Piazza Navona.
The modern version that you see today is truthfully more touristy than local, but it's still a beautiful and picturesque spot that deserves to be counted among the prettiest piazzas in Rome.
In December 2022, we were lucky enough to spend a week based on a quiet street just around the corner from Campo de' Fiori, and loved walking through the market every day!
(We stayed in this lovely apartment–the roof deck and location are absolutely incredible).
Piazza di Santa Maria
Located in the heart of Trastevere, Piazza di Santa Maria is a surprisingly quiet and tranquil place given its location in such a popular neighborhood.
There are only a couple of restaurants perched around the edge, but be sure to take a few minutes to admire the beautiful fifteenth-century fountain in the center of the piazza!
This is also where you'll find the Basilica di Santa Maria, which is absolutely worth a quick look inside.
The mosaics that cover the walls are magnificent, and remind us (with good reason) of the famous mosaics in Ravenna!
Piazza del Campidoglio
Piazza del Campidoglio, with its oval shape and gorgeous surrounding buildings, is at the top of my personal list of the prettiest piazzas in Rome, and it's one of my favorites to visit!
Its beauty isn't surprising in the least when you find out who designed the piazza–Michelangelo himself.
You'll find the entrance to the main section of the Capitoline Museums here, which are home to an incredible collection of Ancient Roman artifacts, including many sculptures.
And, if you walk around the side of and behind the building in the center of this Roman piazza (where you see the clock tower), you'll quickly find a gorgeous and free view of the Roman Forum!
Piazza della Madonna dei Monti
Casual and laid back, the Piazza della Madonna dei Monti is the center of social life in popular and lively Monti, where artistic culture has reigned since the 1930s.
If you're looking for a piazza in Rome to sit back and relax, head directly to the fountain in the center of the Piazza della Madonna dei Monti, where you'll find people sipping beers and slurping gelato at virtually all times of the day.
Once upon a time, Monti was a slum on the outskirts of Rome, but today it's a place to find popup art galleries, quirky boutiques, students, and self-described hipsters.
Piazza di Spagna
Just about anyone visiting Rome will find their way to the Piazza di Spagna eventually!
Set at the base of the Spanish Steps, this piazza is both enormous and nearly constantly crowded with visitors (we took the below photo around dawn in February).
To get the best view, either climb the Spanish Steps and look down at it from above, or stand behind the gorgeous Fontana della Barcaccia and look up at the iconic steps.
Admiring this iconic Roman square is also lovely as you approach it from Via dei Condotti.
And, for a unique view of Piazza di Spagna, the small but memorable Keats-Shelley Memorial House boasts beautiful views from its windows!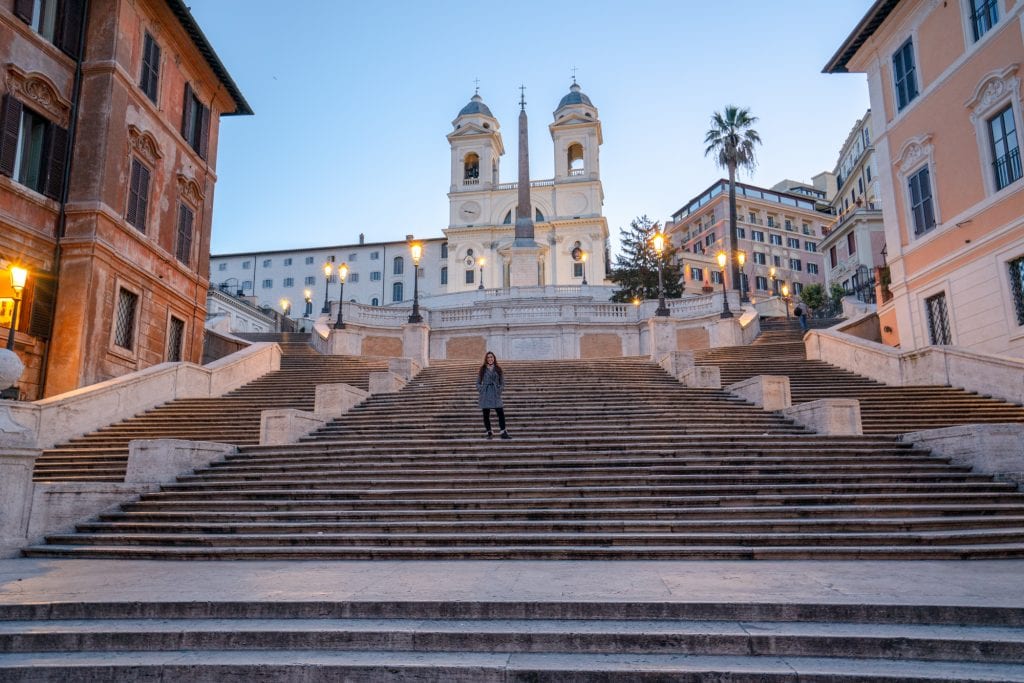 Piazza della Rotonda
Like the Piazza di Spagna, the Piazza della Rotonda is visited by just about everyone who comes to Rome because of what sits inside it: the Pantheon.
The Pantheon itself is still a bit of a mystery, including how (and out of exactly what material) it was constructed.
It's one of the best-preserved pieces of architecture from Ancient Rome and is free to enter, so be sure to make time to duck inside!
While you're admiring the Piazza della Rotonda, be sure to take a look at (and possibly sit on, as many people do) the beautiful Fontana del Pantheon that sits in the center of the square.
It's hard to imagine a better place to relax, and we've enjoyed several evenings that included sitting on these steps!
The Pantheon's interior is also both magnificent and free to visit, so be sure to take the time to step inside when visiting Piazza della Rotonda!
Piazza di Pasquino
In addition to being a beautiful, small piazza tucked inside Centro Storico, Piazza di Pasquino is also home to a fun feature of Rome–its first "talking statue".
Named such because of the anonymous criticisms that used to be (and still are) attached to the base of the statue, if you feel the need to complain about something anonymously during your trip to Rome, this is the place to do it!
If, on the other hand, you have absolutely no complaints in life because you're in Rome, head across this tiny piazza to Enoteca Cul de Sac, which features an incredibly expansive wine list and is a delightful place to relax.
Piazza San Pietro
Arguably the most famous piazza in the entire world, let alone in Rome, the Piazza San Pietro in Vatican City is home to St. Peter's Basilica, an Egyptian obelisk.
This is also where the public, weekly papal audiences take place when the pope is in town.
For the best view of Piazza San Pietro, though, you need to climb high above it.
Looking down on the piazza from the top of the dome of St. Peter's Basilica is a fantastic experience to have while in Rome, but be warned: the climb is not for the claustrophobic among us!
Even still, though, it remains one of our top 3 favorite views of Rome, and we highly recommend climbing if you can.
Piazza del Popolo
The large and beautiful Piazza del Popolo has a bit of a bloody history: for centuries, all the way until 1826, it was the site of public executions in Rome.
On a slightly less violent note, the Piazza del Popolo is also set right inside the former Aurelian Walls of Rome and is the starting point of the Via Flaminia that runs north of Rome.
(Remember the saying "all roads lead to Rome"? This was one of those roads).
Today in Piazza del Popolo you can find an Egyptian obelisk, plenty of open space, and a lovely place to start or end a day in Rome.
While you're there, be sure to climb up to the Pincio Terrace, which offers one of the best views in Rome (and is where we took the below photo).
From there, it's a pretty walk through the Borghese Gardens to the Galleria Borghese.
Piazza Mattei
Small and quiet, Piazza Mattei is located inside the Jewish Quarter and is one of the piazzas in Rome that still maintains its original purpose.
Here, unlike more touristy piazzas like the Piazza di Spagna, you'll find a handful of Romans quietly reading or chatting on their phones in Italian, and only a few tourists in sight–despite the piazza being easily accessed from the rest of Rome.
My favorite feature of the piazza, though, is the fountain.
Aptly named the Fontana delle Tartarughe (or Turtle Fountain in English), this fountain is covered in adorable turtle statues that add a fabulous touch of whimsy to the square!
Piazza de' Mercanti
Want to feel like you're stepping back in time to a different era in Rome?
Come to the Piazza de' Mercanti: with beautiful buildings covered in ivy and plenty of traditional restaurants, Piazza de' Mercanti is an excellent place to use one of Rome's piazzas for its intended purpose: long meals and time spent savoring a peaceful spot slowly.
Piazza Farnese
Dominated entirely on one side by the Palazzo Farnese, Piazza Farnese is a quiet escape from the popular Campo de' Fiori, which is mere meters away and yet a world apart.
Duck into Piazza Farnese for some peace and quiet between visiting tourist hotspots, and also to check out its two beautiful fountains, which were crafted from bathtubs taken from the Baths of Caracalla!
Piazza di Pietra
Not to be confused with the Piazza San Pietro mentioned above, this small piazza is beautiful and dominated entirely on one side by the ruins of the Temple of Hadrian.
There are a couple of coffee shops in the piazza with excellent views of the ruins, making Piazza di Pietra the perfect spot for an afternoon espresso in between sightseeing stops.
You can duck inside the ruins, too!
The interior is disconcertingly modern, but features an audiovisual presentation about the history of the temple and–importantly for long days of sightseeing–toilets.
Piazza Testaccio
If you're looking for a piazza in Rome that feels quiet, local, and far from crowds of tourists, head directly to Piazza Testaccio.
This piazza is fairly large but only has a few restaurants and shops around the edges–making it an incredibly peaceful place to visit.
Each time we visit this delightful Roman piazza, we find ourselves sitting down and staying longer than expected.
This is a place where kids play, locals gossip, and the neighborhood gathers to simply live life.
If you want to relax and enjoy the piazza for longer than a quick look, we can recommend grabbing an aperitivo at Oasi della Birra!
Bonus: More Notable Piazzas in Rome
Piazza di Trevi
While the Piazza di Trevi is technically one of the best-known squares in Rome, I didn't include it on the list above for one simple reason: it's too crowded to feel like one!
True, the Piazza di Spagna and Piazza San Pietro can get very congested as well, but the Piazza di Trevi is much smaller and is typically so packed with people during the day it's hard to see it as a piazza at all.
That being said–the fountain is incredibly impressive, one of my personal favorite spots in Rome, and for those reasons alone, I can't completely leave it off a roundup of the prettiest piazzas in Rome!
If you want to grab a seat and enjoy the Trevi Fountain area as a piazza (without waking up at dawn), check the steps of the Church of Santi Vincenzo e Anastasio a Fontana di Trevi located at one corner of the piazza–you can often grab a seat there.
(There are also several very cool hidden gems near the Trevi Fountain if you want to ditch the crowds after your visit).
Piazza Venezia
Piazza Venezia makes it onto plenty of lists of notable piazzas in Rome for the enormous Altar of the Fatherhood monument that dominates it and is visible from just about every viewpoint in Rome (the monument stands in honor of Vittorio Emanuele II, the first king of unified Italy).
However, today the piazza is the intersection of a few major roads in Rome and is essentially a place of vehicle traffic, not relaxation.
I'll note it here because the monument is impressive and its location near the Colosseum and various Ancient Roman forums means that it's worth seeing, and also because the view from the top of the Altar of the Fatherland is one of our favorite views in Rome!
… But even with that, calling this one of the prettiest piazzas in Rome in its current form is a bit of a stretch.
Rome Piazza Map
Take This Map With You! Click each highlight to pull up the name of the destination. To save this map to "Your Places" on Google Maps, click the star to the right of the title. You'll then be able to find it under the Maps tab of your Google Maps account! To open the map in a new window, click the button on the top right of the map.