Rome off the beaten path: an oxymoron, perhaps?
You'd be surprised, but no!
While every last inch of the Eternal City has certainly been "discovered" by some visitor at some time, if you're looking for secret spots and hidden gems in Rome, they're surprisingly easy to find!
The bottom line is that while Rome is one of the most touristed cities in the world, it's also one of the most densely packed with fascinating buildings, museums, neighborhoods, and pieces of history.
Two thousand years plus years is a long time to be an interesting, vibrant city, and a lifetime wouldn't be long enough to discover all the treasures that Rome has to offer (though we're definitely trying).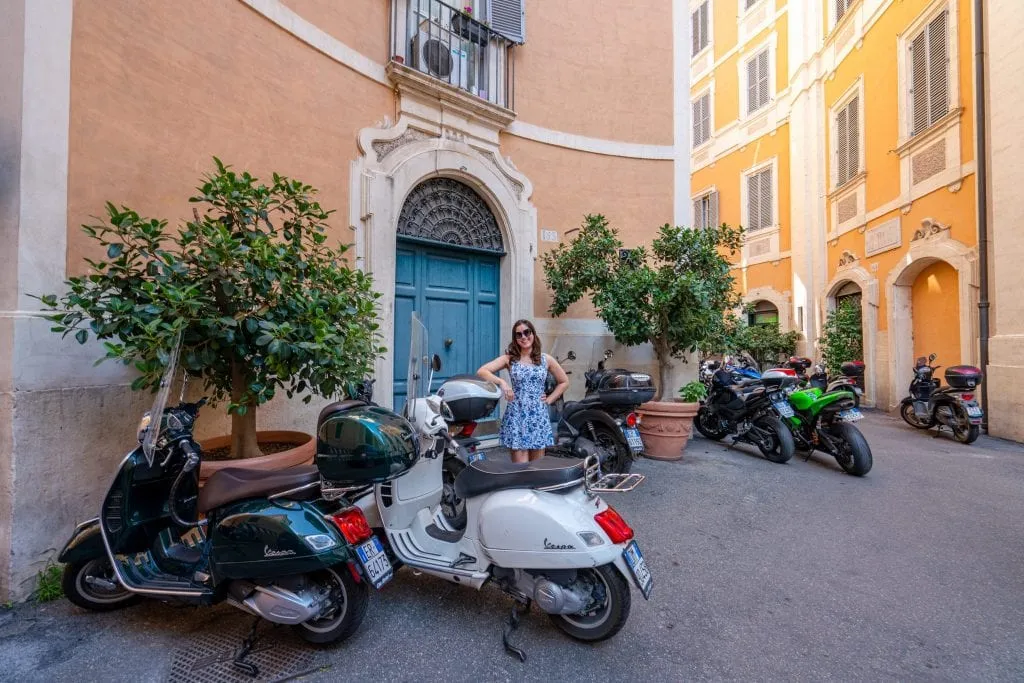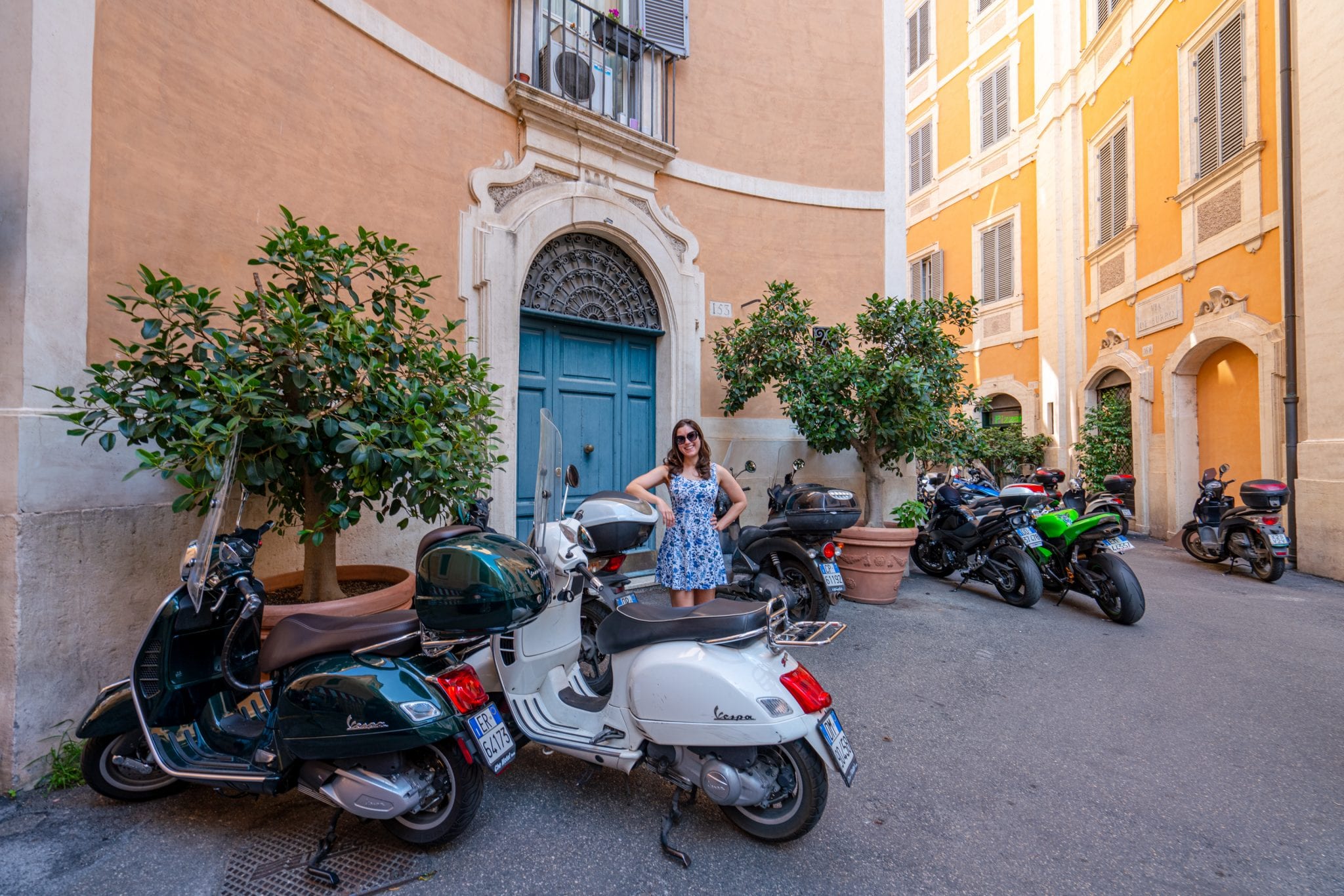 Once you leave the path of the Colosseum – Trevi Fountain – Spanish Steps – Pantheon – Piazza Navona – Vatican Museums, it can be fairly simple to find a quiet corner of Rome to have (mostly) to yourself.
While we adore each and every one of Rome's highlights, we love discovering Rome's secret corners, too.
This guide has grown in scope over the years (and we'll continue to update it), as we tend to fall in love with new hidden gems with every one of our many return trips to Rome.
Hoping to escape the crowds, go somewhere unusual that you haven't seen 1,000 times on social media, and discover Rome off the beaten path?
Here's where to look!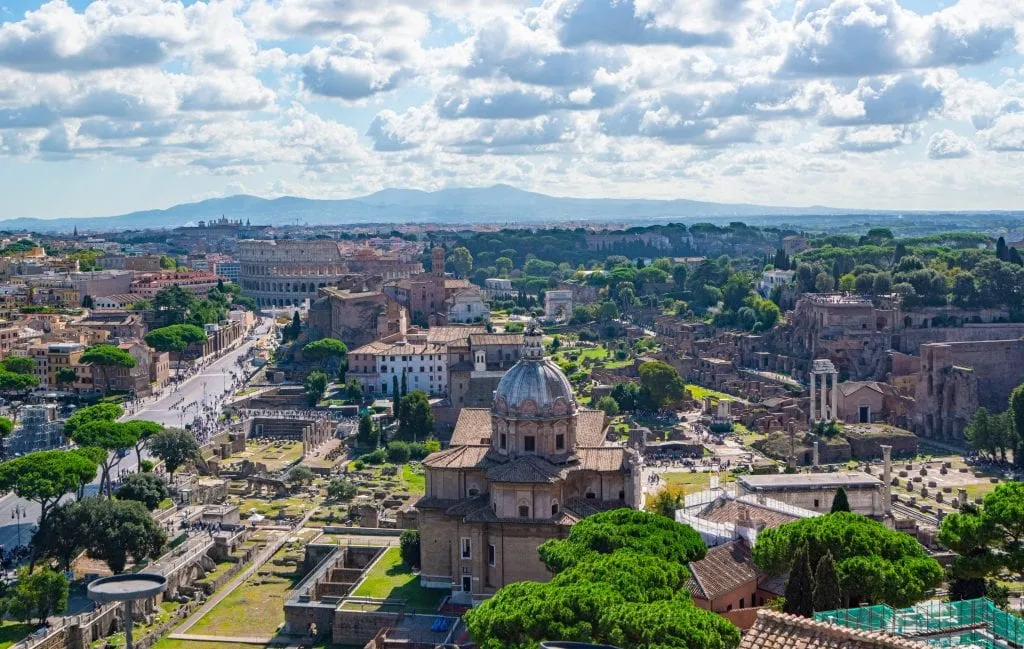 The Best Hidden Gems in Rome, Italy
Galleria Sciarra
You don't have to go far off the beaten path in Rome to appreciate the Galleria Sciarra!
This quiet, beautiful courtyard is hidden in plain sight, just a couple minutes away from the stunning-but-crowded Trevi Fountain.
Step inside the fairly unremarkable looking (at least for Rome, that is) facade and you'll find an absolute treat in the courtyard: enormous Art Nouveau frescoes painted by Giuseppe Cellini in the late 19th century.
The frescoes have a very specific theme: women, or more specifically various female virtues.
Today, the building is used as an office building–what a cool view for the people with interior windows, right?–but the courtyard is open to the public during business hours and you can walk right in.
Vicus Caprarius (The Water City)
Located just a quick walk from the Trevi Fountain, the uncrowded and delightful Vicus Caprarius feels worlds away from the hustle and bustle of Rome's highlights.
Only rediscovered in 1999, these underground ruins date back to Ancient Rome and are a fascinating look at Rome's (literal) layers.
Most notably, the plumbing that Ancient Rome is so famous for is literally still in action here–you can see and hear the water flowing through the building as you visit.
While visiting Vicus Caprarius definitely qualifies as one of the more unusual things to do in Rome, the limited space means you'll need a reservation if you visit on the weekends, and possibly other days if you visit during the high season.
We walked right in during our winter visit, though, and almost had the place to ourselves!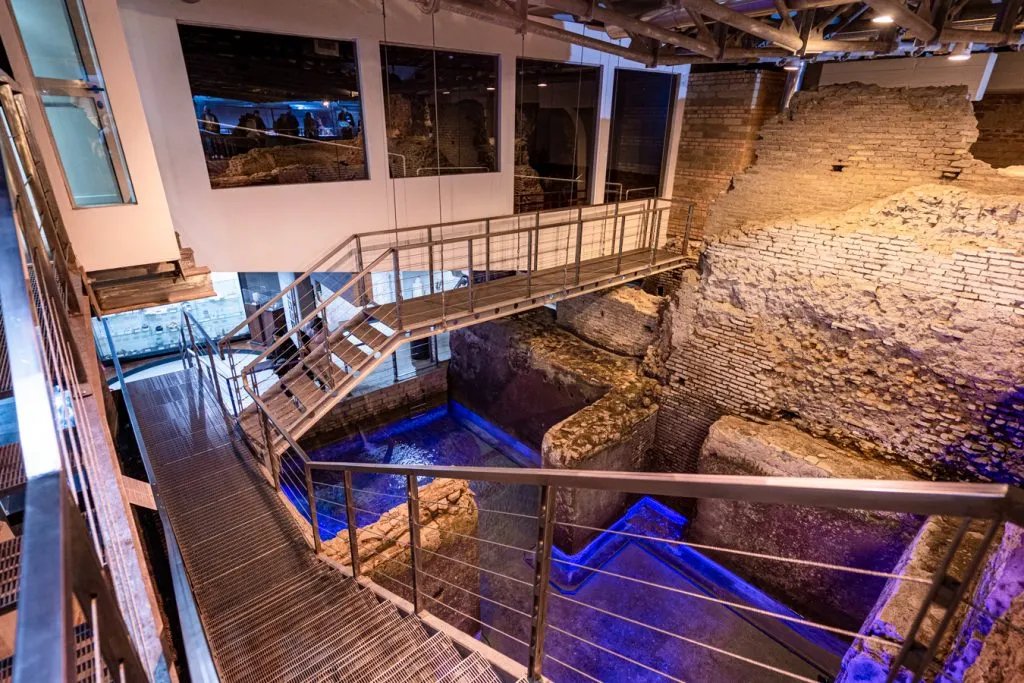 Basilica di San Clemente
Nowhere sums up just how many layers there are to Rome quite like the Basilica di San Clemente, where you can admire them literally!
Not only can you step inside the lovely current basilica, but you can also visit the fourth-century church that today's basilica was built directly on top of… and some of the ruins of the Roman home that the fourth-century church was built on top of!
At less than a 10-minute walk from the Colosseum, the Basilica di San Clemente is an easy way to get off the beaten path in Rome, even if you're short on time.
Palazzo Doria Pamphilj
Palazzo Doria Pamphilj is definitely near the top of our personal list of the best hidden gems in Rome–and like the Galleria Sciarra, it's hidden in plain sight!
Set just steps away from the famous Piazza Venezia sits this palace, whose exterior–while impressive–fades into the scenery among all the beautiful buildings in Rome.
Once you're inside, however, the palace is absolutely dazzling.
Whether you want to tour the impressive art gallery (the collection is impressive and so uncrowded as compared to the more popular art museums in Rome), the family's impressive apartments, or both, definitely consider adding the Palazzo Doria Pamphilj to your list of reasons to get off the beaten path in Rome.
Want an extra-special experience at the Palazzo Doria Pamphilj?

Book yourself a night of opera in the throne room!
Capuchin Crypt
The Capuchin Crypt is truly one of the most unique, unforgettable sites in Rome!
And, as one of the least-toured crypts (technically, it's an ossuary) in the Eternal City, it is the very definition of exploring Rome off the beaten path.
However, fair warning–it's not for everyone.
In the 17th century, the Capuchin Crypt was slowly built with the skeletons of the friars that died at this monastery.
Skeletons are arranged as works of art in several small chapels here, including everything from altars made of human bones, to chandeliers made with human bones, to full skeletons in the robes of a monk resting on a bed of bones (noticing a theme here?).

The chapels bear unsettling messages like: "As you are, we once were. As we are, soon you will be."

Clearly, not a place for small children or those not comfortable around the dead–but the level of detail of the… art (for lack of a better word) is a sight to behold.
No photos are allowed inside, but if you're interested in ossuaries, it's definitely worth checking out this secret spot in Rome for yourself.
Baths of Caracalla
Move over, Baths of Diocletian!
The better preserved and far more vast (in their modern form, anyway) Baths of Caracalla are where you want to go to admire the ruins of what was once the second-largest set of public baths in Ancient Rome.
The sheer scale of these ruins is hard to describe, and while it does take a bit of effort to reach them (they're about a 10-15 minute walk beyond Circus Maximus), the Baths of Carcalla are a delightful–and generally uncrowded–peek into Ancient Rome.
Top of the Altar of the Fatherland (Vittorio Emanuele II Monument)
Despite dominating Piazza Venezia and being at least glanced at by the majority of Rome's visitors, visiting the top of the Altar of the Fatherland still remains an under-the-radar thing to do in the Eternal City.
That's a shame, though, because the view is fantastic–in fact, it's probably my favorite view of Rome (the third photo in this blog post shows off one angle of it).
From the roof of the Altar of the Fatherland, Ancient Rome stretches out on one side, with the Colosseum, Palatine Hill, and several forums visible.
From the other side, you can view the (relatively speaking) more modern section of Rome, including gorgeous views of Piazza Venezia.
You can climb to the 5th floor of the monument for free, however, it's definitely worth the 10 Euro (cash only) fee to take the elevator all the way to the top!
Santo Stefano Rotondo
When you approach Santo Stefano Rotondo, you may first wonder if you're in the right place.
Hidden off a quiet road, behind a wall, and then behind a garden, you'll find one of the most unique churches of Rome–specifically, the National Church of Hungary in Rome.
The church itself is round, and in addition to its unusual shape, it is known for its rather intense frescoes of Christian martyrs being tortured.
With over 900 churches to choose from in Rome, this one is definitely not for those with a weak stomach.
Domus Aurea
Want to feel like an explorer during your quest for hidden gems in Rome?
Check out a historical site that requires a hard hat!
Visiting Domus Aurea, a former palace of Emperor Nero, gives you a chance to visit a working archaeological site while in Rome.
Here, you can step into a fascinating piece of Ancient Rome that hasn't quite been cleaned up and optimized for tourism yet.
Because of the unique nature of visiting Domus Aurea, you need to plan ahead to visit: the site is only open on the weekends, and booking your tickets in advance is essential.
The Keats – Shelley Memorial House
Literally steps away from the Spanish Steps (see what I did there?) sits the Keats – Shelley Memorial House, a blink-and-you'll-miss-it small museum to the British romantic poets.
Keats briefly lived in the apartment the museum was housed in before dying of tuberculosis (you'll find the cemetery where he's buried, the Non-Catholic Cemetery in Testaccio, located further down this list of hidden gems in Rome).
Today, the house stands as a memorial to both him and the Romantic poets as a whole.
The library in the museum is absolutely beautiful, as are the views of the Piazza di Spagna and Spanish Steps from the windows.
Basilica of St. Paul Outside the Walls
If you're interested in Catholic history, the Basilica of St. Paul Outside the Walls, located on the spot where it is believed St. Paul lost his life, is an unmissable stop in Rome.
After he perished, the location became a shrine, and then later a beautiful church was built in its place.
The Basilica of St. Paul Outside the Walls (also known as St. Paul's Outside the Walls) is one of the four major, ancient basilicas in Rome.
However, due to its slightly out-of-the-way location in Ostiense, it does not get nearly as many visitors, as, say, the popular St. Peter's Basilica in Vatican City.
Villa Farnesina
Located close to the Tiber between Vatican City and Trastevere, the Villa Farnesina is one of those places that you step inside and immediately wonder how on Earth there aren't more people there.
Not only is this villa beautiful and very uncrowded, but it's also home to some incredible frescoes by Raphael!
Yep–the same Raphael whose work people (including us) cram together to catch a glimpse of when visiting the Vatican.
Raphael painted some absolutely stunning frescoes in this quiet mansion–and the rest of the home is quite gorgeous, too!
Appian Way
"All roads lead to Rome," and one of the most important of them is the Appian Way (in Italian, Via Appia Antica).
Though the road was particularly important for transporting troops in Ancient Roman times, today it is known as a great place to escape the busy pace of the city.
This is especially true on Sundays when the area is closed to traffic, and it makes an especially lovely place for a walk or bike ride.
Near the Appian Way is also where you'll find some of Rome's best-known catacombs, including the Catacombs of San Sebastiano and the Catacombs of San Callisto.
Centrale Montemartini
Ancient Greek and Roman sculptures plus gigantic steam engines–how's that for an interesting combination?
Centrale Montemartini is part of the Capitoline Museums and puts two very different pieces of Rome's past side-by-side.
The combination is a fascinating way to admire the pairing of ancient and still-old-but-not-remotely-ancient pieces of Roman history.
(It's also worth noting that the main part of the Capitoline Museums, though not necessarily a hidden gem, is quiet enough to feel like one as compared to places like the Colosseum and Borghese Gallery!).
Carole Raddato from FRANKFURT, Germany, CC BY-SA 2.0 https://creativecommons.org/licenses/by-sa/2.0, via Wikimedia Commons
Passetto del Biscione
Located just around the corner from touristy Campo de' Fiori, the quiet Passetto del Biscione is as beautiful as it is unexpected.
This small covered passage connects Piazza del Biscione to Via di Grotta Pinta, but it does so with style–and frescoes.
Built over the ruins of Rome's first theater (the Theater of Pompey), this small passageway was said to be the site of a miracle in the late 18th century.
Eventually, it fell into disrepair, but was restored within the last decade.
Today, the beautiful, fresco-covered passageway is an easy-to-access hidden gem in Rome (and if you're visiting during the summer, it's a great place to pause in the shade for a second, too).
The passageway does have a gate that locks, but it tends to be open during daylight hours.
Largo di Torre Argentina
This set of ruins is home to two memorable things that are wildly different from each other: the spot where Julius Caesar was assassinated, and a cat sanctuary.
The ruins are open-air, laid out in the center of the square, and are made up of the remains of various temples as well as part of Pompey's Curia (the Roman Senate) where Julius Caesar was stabbed nearly 2,000 years ago.
And as a bonus point of interest, the archaeological site also acts as a cat sanctuary.
There's an organization onsite that works to feed and care for them, and I can only imagine that they have a delightful life living in what is essentially the world's most elaborate set of cat trees.
We almost never visit Rome without taking a stroll past the Largo di Torre Argentina to see if we can spot some cats!
Tiber Island
As the only island in the part of the Tiber River that flows through Rome, it makes sense that this tiny island has a long and storied history.
Situated between Trastevere on one side and the Jewish Quarter on the other, Tiber Island has long been considered a place of healing, and there's an active hospital on the island to this day.
As the legend goes, Ancient Rome was once hit by a plague and sent a delegation to Greece to fetch a sacred snake to honor Asclepius, the god of medicine.
When the delegation returned, their boat sank by hitting Tiber Island, and the snake escaped by curling around a tree branch.
This story is where we get the common symbol of a snake wrapped around a stick that still symbolizes medicine today.
Clearly, the historical accuracy of that story is very much up for grabs, but Tiber Island's history of being a place of healing is certainly true!
In addition to being historically relevant, Tiber Island is also a peaceful, fun place to visit, home to great views of the river, and is easily accessible due to its location between two popular areas of Rome.
Portico of Octavia
Rome is so full of ruins that it's not unheard of to simply stumble across them on your way to visiting something else, which is exactly how we ended up admiring the Portico of Octavia!
Built in Ancient Rome as the site of two temples and a library, the Portico of Octavia is a fantastic example of how Rome continues to grow over and through itself.
Located in the Jewish Ghetto, the site acted as a fish market from the Middle Ages all the way up to the 19th century.
Today, it is a tourist attraction and an easy place to visit if you're already checking our nearby Teatro Marcello or Tiber Island.
Janiculum Terrace
Just a short (and steep) walk away from popular Trastevere sits Janiculum Terrace, home to one of the best views of Rome.
From here, you can see an enormous portion of the city, including the Colosseum (you do have to look closely to spot it), the Altar of the Fatherland, and an incredible view of St. Peter's Basilica.
Plus–a climb up the Janiculum Hill is the perfect way to burn off the gluttonous meal you almost certainly ate in Trastevere before heading up, right?
Orto Botanico
Exotic flowers, greenhouses, Japanese gardens, and even a couple of waterfalls–there are oodles of treasures waiting behind the gates of Rome's botanical garden.
Located in Trastevere and home to more than 3,000 species of plants, the botanical gardens are surprisingly quiet considering their obvious beauty.
They're also an easy way to enjoy cultivated gardens in Rome while avoiding the crowds at the also beautiful, but far more popular, Villa Borghese.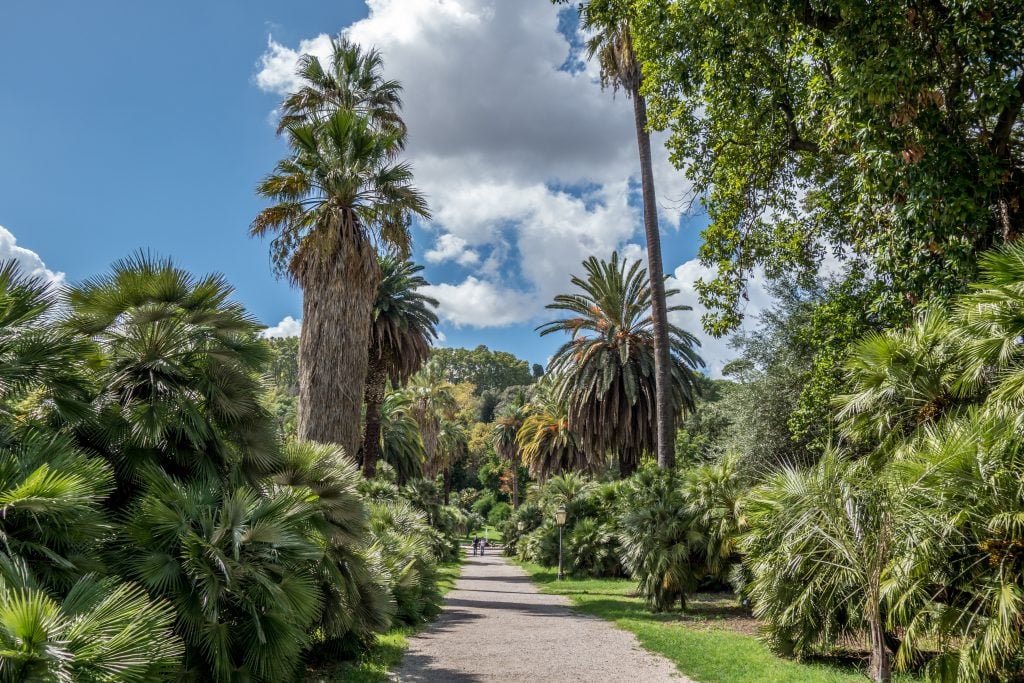 Pyramid of Caius Cestius
Did you know Rome is home to its very own 2,000-year-old pyramid?
Like the Egyptian pyramids, this one was also built as a tomb–fitting, as today it borders the Non-Catholic Cemetery.
The Pyramid of Caius Cestius is the very definition of unexpected and absolutely belongs on any list of hidden gems in Rome.
… Though to be fair, it's a bit arguable how hidden it is, given that you find it by hopping off the metro at the Piramide stop!
Villa Doria Pampili
Not to be confused with the Palazzao Doria Pamphilj discussed above (though yes, both properties do come from the same family), this 17th-century villa is home to the largest landscaped park in Rome.
Located in Monteverde, the Villa Doria Pampili is the perfect escape if you're looking for a quiet place to meander after paying a visit to (somewhat) nearby Trastevere.
Non-Catholic Cemetery
It's no secret that Rome is an extremely Catholic city–which makes the Non-Catholic Cemetery, located in Testaccio, a very interesting place to visit.
You'll find some notable names buried in the cemetery, including John Keats and Percy Shelley, and the cemetery itself is quite beautiful (and also still active!).
Be sure to walk through not only the more dense section of graves but also the lawn that offers beautiful views of the Pyramid of Caius Cestius.
For cat lovers, be sure to keep an eye out for furry friends here, as well.
There is a cat colony onsite that has been around since the 19th century and is looked after by volunteers.
You'll undoubtedly stumble across at least a couple of them during your visit to the cemetery!
Keyhole on Aventine Hill
If you peer through the keyhole on Aventine Hill, you'll be greeted with a fabulous view: the dome of St. Peter's Basilica, framed by garden hedges.
It's a lovely spot… that we totally missed the first time we were nearby on account of skimping on research.
When I had seen the many photos of this spot in the past, I mistakenly assumed that the "keyhole" in the name was merely referring to the small break in the hedges that framed St. Peter's–but no, you do indeed peer through a literal keyhole to see it.
Don't make our mistake and end up walking right by without checking it out!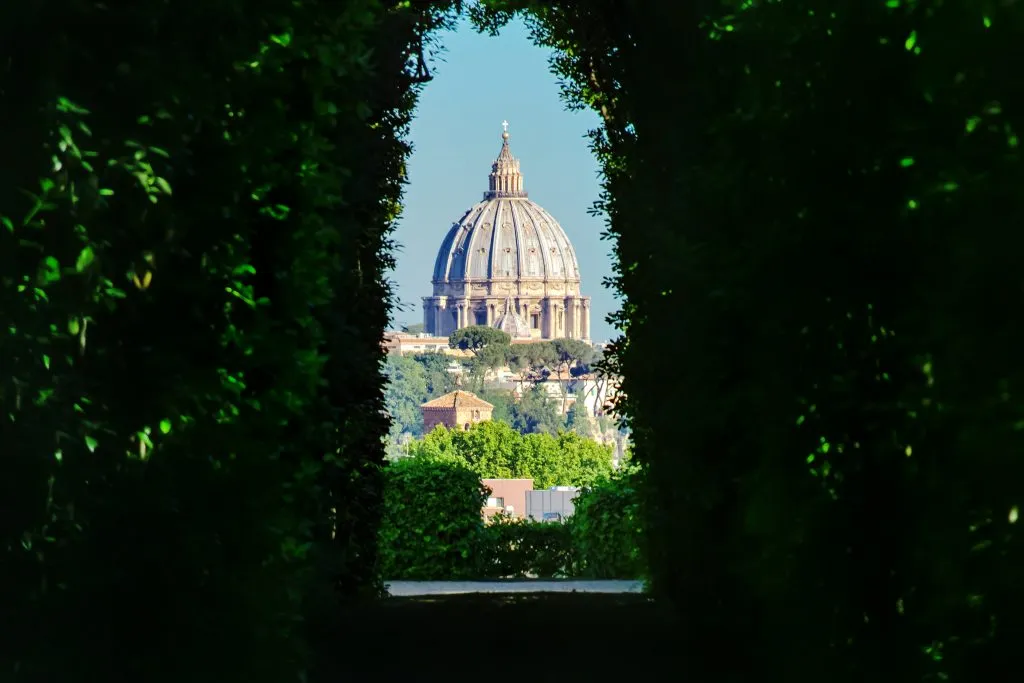 Orange Garden
Manicured orange trees, a beautiful shady setting, and stunning views of Rome–what more could you ask for in one of Rome's hidden gems?
Also known as Savelli's Park and located on Aventine Hill, the Orange Garden is the perfect place to relax after exploring the highlights of Testaccio.
There's also a lovely view of Rome from here, and it is an excellent place to enjoy the sunset!
Rose Garden
Located near the Orange Garden, if you're lucky enough to be visiting Rome while the roses are blooming, you can't ask for a better place to get some peace and quiet than this little-known and beautiful garden.
Rose season in Rome runs roughly from late April to mid-June, making this the perfect offbeat spot to visit in Rome if you're visiting during the spring or very early summer.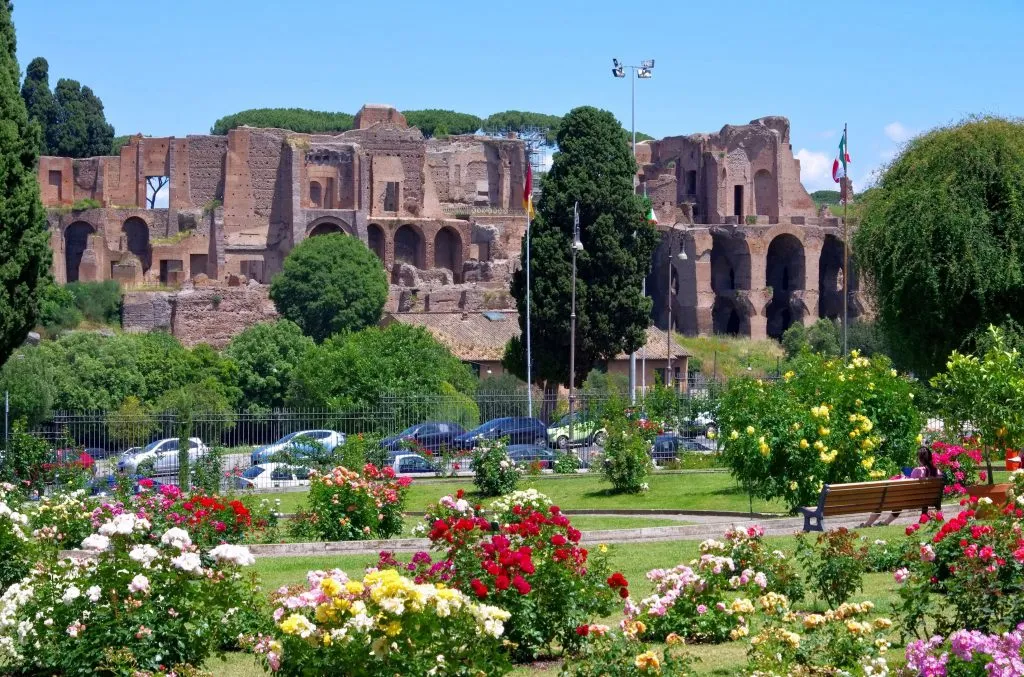 Palazzo Spada
Though it is home to beautiful art, the Palazzo Spada is best known for its clever optical illusion.
Intrigued?
Inside the Galleria Spada sits a corridor of columns, dead-ending in a modestly-sized statue, that is meticulously designed to appear nearly 4x longer than its actual 9m length.
Want to give your eyes a workout?
Discover Rome off the beaten path with a visit to Palazzo Spada.
Teatro Marcello
At first glance, this Ancient Roman theater looks a lot like the Colosseum–just, you know, much smaller… and also older!
Julius Caesar himself ordered the land to be cleared for the construction of the theater, though he was assassinated before it could be built (it ended up being inaugurated by Augustus).
Today, it's not possible to go inside, but it is well worth admiring the exterior while in Rome.
Be sure to note the windows at the top!
The top half of the building is home to private apartments today, and I have to admit, it's hard to imagine a cooler place to live.
Offbeat Rome Neighborhoods to Check Out
There's no such thing as a neighborhood in central Rome that is completely devoid of tourists.
But, once you leave the hotspots of the Centro Storico and Trastevere, it is possible to enjoy a slice of Roman life without crowds… and perhaps even surrounded primarily by Italians!
Here are a couple of neighborhoods worth looking into if you want to get off the beaten path a bit in Rome, but still be close to the action and somewhere with plenty of highlights to discover.
Quartiere Coppedè
Quartiere Coppedè, located within the greater Trieste neighborhood, is the very definition of whimsical.
This is a place where an outdoor chandelier frames the entrance to the neighborhood, the architecture is so over-the-top that it looks like a fantasy world, and the streets are quiet.
Quartiere Coppedè isn't necessarily a place you need to spend very long in, but as far as hidden gems in Rome go, it sure is a fascinating one.
Monti
Once upon a time, Monti was a slum and a red-light district in Rome.
And, like so many other similar areas in the world, today it has morphed into an under-the-radar hipster enclave of tasty restaurants and cool boutiques, all surrounded by beautiful cobblestone streets.
Monti is also a big student area, so if you're looking for slightly less-expensive cuisine, Monti is a great place to look.
Ostiense
Ostiense is known for a few things, most of all for its cool street art scene and the Basilica of St. Paul Outside the Walls.
Those might seem like two very different things for one neighborhood to be known for, but hey. That's Rome for you!
Ostiense is a fantastic mix of the old and the new, is popular with students and self-described hipsters alike, and is a great place to check out Rome's nightlife.
Pigneto
With a working-class-neighborhood-meets-up-and-coming-area vibe, Pigneto isn't so much a hidden gem in Rome as one that most visitors simply don't make it to.
However, if you're looking for trendy restaurants (perhaps even ones serving cuisines other than traditional Roman food, if you want to shake things up during your trip), cool boutiques, and plenty of bars, a visit to Pigneto might be a great way to spend one of your evenings in Rome.
Testaccio
Home to the Pyramid of Caius Cestius, the Non-Catholic Cemetery, the delicious (and fairly local) Testaccio Market, and a beautiful, tree-filled piazza, Testaccio is a delightful place to spend your time.
If you would like to get off the beaten path in Rome and still be surrounded by interesting treasures, Testaccio should be on your Rome bucket list.
The neighborhood also borders Aventine Hill, making spots like the Orange Garden and Keyhole at Aventine Hill easy to access.
Getting Around Rome Off the Beaten Path
While Rome's (limited) metro system tends to be sufficient for visiting the major attractions in the city, if you want to properly experience Rome off the beaten path, you'll need to think a bit broader in terms of transportation.
We included a map of the hidden gems in Rome that we've outlined at the bottom of this post.
You'll notice that while some of them are within walking distance of other unmissable places in Rome, others are a bit harder to access.
If you'd like to stick to public transportation, look into trams and buses, both of which offer more expansive networks than the metro.
Otherwise, we love using FreeNow in Rome (and in many other places in Europe).
FreeNow essentially acts like Uber for official taxi rides, taking the negotiation process out of the equation.
It's cheaper and easier to use in the city than Uber (Uber is in a back-and-forth battle for legitimacy and doesn't have a lot of presence in Italy–it's only available at all in Rome and Milan).
We've used FreeNow to visit several of best hidden gems in Rome, and highly recommend the service.
Map of Rome's Off the Beaten Path Destinations
Take This Map With You! Click each highlight to pull up the name of the destination. To save this map to "Your Places" on Google Maps, click the star to the right of the title. You'll then be able to find it under the Maps tab of your Google Maps account! To open the map in a new window, click the button on the top right of the map.