With its winding cobblestone lanes, colorful buildings, bustling shops, and a plethora of classic Roman restaurants, it's no surprise that Rome's Trastevere is one of the most popular neighborhoods in the Eternal City!
Set just across the Tiber from Centro Storico (the name "Trastevere" literally translates more or less as "across the Tiber"), visiting Trastevere in Rome is both fairly simple and very memorable.
If you're wondering if Trastevere is worth visiting… the answer is absolutely yes.
The best things to do in Trastevere lend themselves to opulent churches and delicious food, with a solid side of wandering through idyllic streets.
Thanks in part to this relaxed typical itinerary, we continue to visit Trastevere on every trip we take to Rome, and have now lost count of our forays into the cobblestone streets.
If you're looking for the best places to visit in Trastevere, we've rounded them up here–plus tips for visiting this famous neighborhood in Rome!
Here's what to do in Trastevere, Italy.
The Best Things to Do in Trastevere, Rome
Step inside the Basilica of Santa Maria in Trastevere.
Without a doubt, the Basilica of Santa Maria in Trastevere is one of the most popular places to visit in Trastevere–if not the most popular place.
This beautiful, mosaic-laden church dates back to the 1100s, though the floorplan and other details date back much earlier, as far as the 200s.
The exterior is beautiful (take a minute to admire the mosaics!), but the interior is even more striking.
The mosaics on the apse are particularly exquisite (and remind me of the stunning mosaics of Ravenna), and the ceiling is striking as well.
The basilica is free to visit and easy to find, making it one of the top things to see in Trastevere!
… and relax outside in the Piazza di Santa Maria in Trastevere.
If you're hoping to relax in a traditional piazza in Rome, do a bit of people-watching, and rest your feet by pulling up a seat on a fountain, the Piazza di Santa Maria in Trastevere is the place for you!
Set just outside the basilica of the same name, this peaceful corner of Trastevere is popular with visitors without being overwhelmed by them.
The Fontana di Piazza Santa Maria is said to be the oldest monumental fountain in Rome, and its steps make a great perch for people-watching!
You can often get a seat there, especially during off-hours or during winter in Rome!
Take a food tour through Trastevere.
Trastevere is famous for its food scene, and in our opinion, it's one of the absolute best places to take a food tour in Rome!
We've actually taken a couple over the years, but in the summer of 2022, we greatly enjoyed this evening food tour through Trastevere and can highly recommend it.
Not only does the evening schedule make it very compatible with most Rome itineraries (not to mention most stomachs), but you'll have a chance to try a wide variety of traditional Roman foods while learning quite a bit about the history and culture of Trastevere.
I won't give it all away, but a few things on the list include sampling multiple wine bars, all four of the traditional pastas of Rome, and a traditional aperitivo.
You'll leave completely stuffed, and with a great working knowledge that you can use to order food in Rome for the rest of your visit.
Watch the sunset from Janiculum Terrace (Belvedere del Gianicolo).
One of the absolute best views of Rome can be found in Trastevere–and there's no better time to visit than sunset!
There's no (monetary) price tag associated with visiting Janiculum Terrace, either, making it one of the top free things to do in Trastevere.
However, you do have to climb a large hill to reach it, which might sound either wonderful or terrible if you've been eating your way through the neighborhood!
Janiculum Terrace is about a 15-20 minute walk from the Basilica di Santa Maria in Trastevere, and while you certainly don't have to visit at sunset, it is a wonderful time to be there.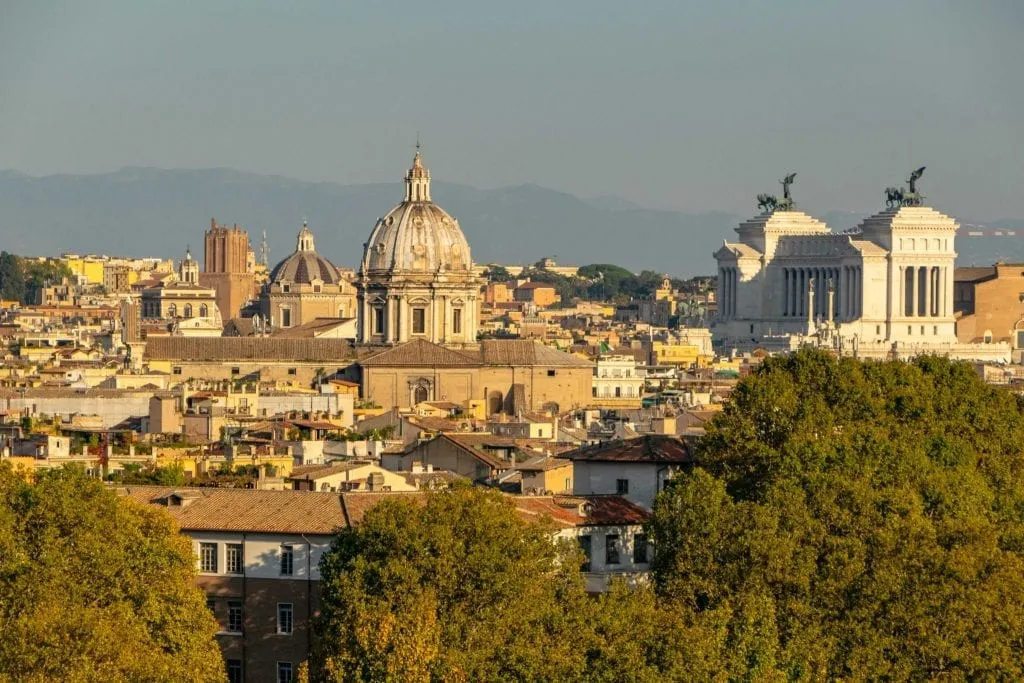 … and pay a visit to the Paola Fountain.
More of a point of interest than a true thing to do, the Paola Fountain is definitely worth keeping an eye out for as you climb up to the Janiculum Terrace!
Set along Via Garibaldi (at a curve in the road–it's hard to miss!), this enormous fountain was constructed in 1612.
Beautiful and imposing, the Paola Fountain reminds me a tad bit of the much more famous Trevi Fountain (which wasn't built until more than a century later–construction began in 1732).
Pay a visit to Villa Farnesina.
If you want to get off the beaten path in Rome while visiting one of the city's best-preserved Renaissance buildings, head to Villa Farnesina!
Set a bit apart from the rest of these Trastevere attractions, Villa Farnesina dates to the early 1500s and is most famous for one very special reason: its frescoes.
Several artists contributed to the masterpiece of the villa's frescoes, but none is as recognizable as Raphael himself, who painted one of his most notable works onto the ceiling of the Sala di Galatea here.
Villa Farnesina has limited hours (9:00 AM to 1:00 PM, Monday through Saturday), so keep that in mind if you'd like to visit!
Get underground at the Basilica of Santa Cecilia in Trastevere.
In a city with over 900 churches, it can sometimes be difficult to decide which ones are worth going a bit out of your way to visit–but the Basilica of Santa Cecilia in Trastevere is certainly one of them.
Set back from the road in a peaceful courtyard and dating to the 5th century, this basilica is an incredibly memorable place to visit.
The sanctuary itself is gorgeous, and features beautiful mosaics in the apse–some of which date as early as the 9th century.
Its most memorable feature, though, is its underground crypt.
As you descend, you'll immediately be struck by the size of the crypt, which is made up of several rooms.
Keep going, and you'll eventually find the dusty remains give way to a surprising and elaborate crypt that holds the remains of St. Cecilia and her husband, which dates to the 11th century.
It's one of the more memorable crypts we've visited in Italy, and definitely worth a peek!
The entrance to the crypt can be a bit hard to spot: if you're standing at the entrance of the church facing the altar, the entrance is in a small room on the left-hand side of the back wall (on the opposite side of the building from the altar).
Hand the nun working the entrance a couple of Euro in cash, and you're all good to descend (the church itself is free to visit).
Enjoy aperitivo in one of Rome's most picturesque neighborhoods.
As simple as it is delightful, experiencing aperitivo is a must-do in Trastevere!
If you haven't experienced it before, aperitivio is essentially Italian happy hour!
From (roughly) 5:00 PM to 7:00 PM each evening, restaurants and bars serve drinks with a side of "free" snacks, meant to whet the appetite for dinner.
Typically, this is extremely simple–think a handful of potato chips or peanuts–but sometimes you'll happen across a more elaborate set-up.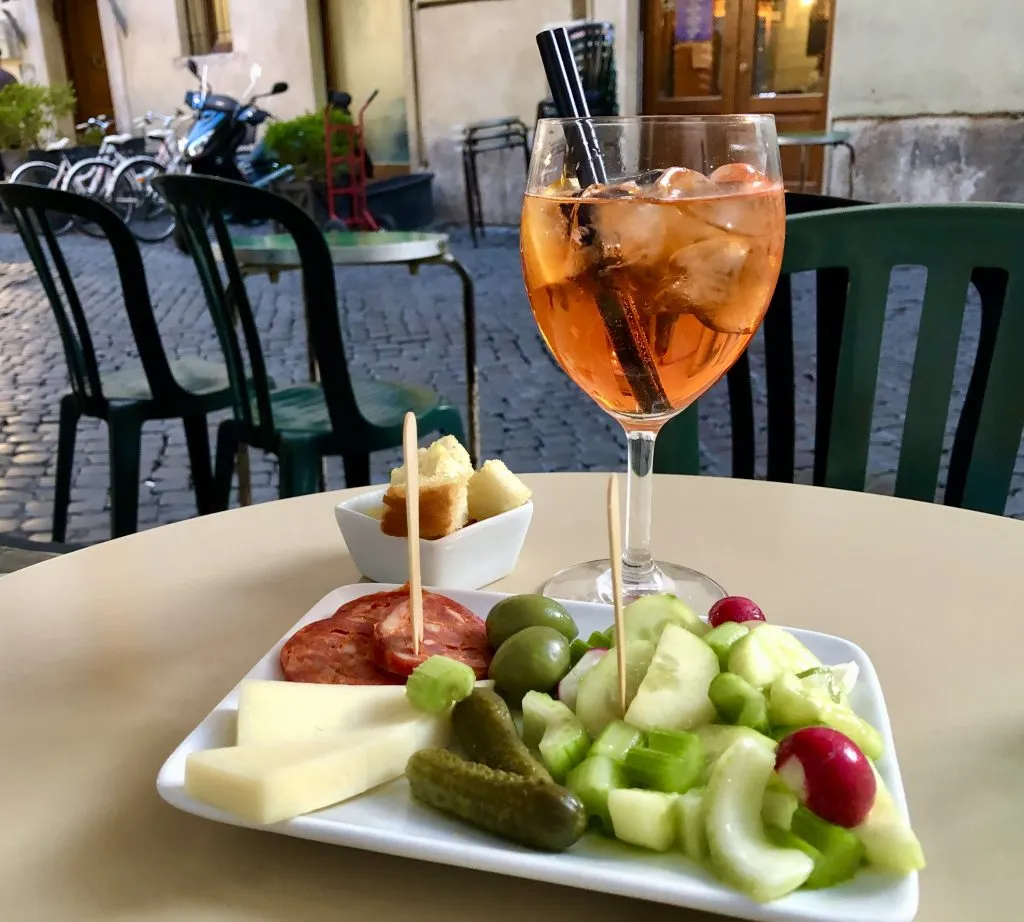 The most popular drinks to order for aperitivo include an Aperol Spritz and a Campari Spritz (which is much less sweet than its more-famous cousin), though beer, wine, and other cocktails are of course options are well.
All versions of aperitivo are entertaining in our book, but if you want to experience a downright casual one, head to the wildly popular yet incredibly affordable Bar San Calisto.
If you can't get seats, grab your drinks to go and wander over to the nearby Piazza di Santa Maria in Trastevere and see if you can grab a seat at the fountain!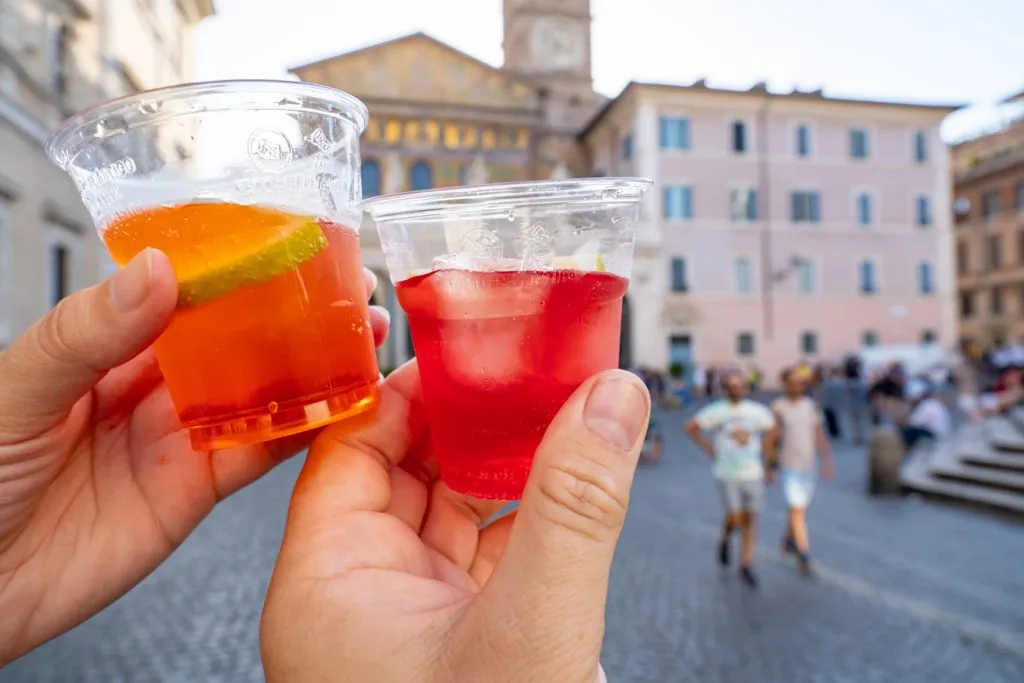 Soak up the atmosphere in Piazza Trilussa.
If you want to experience the lively atmosphere of Trastevere in the evening, complete with live music and generally lots of young students milling about, head to Piazza Trilussa!
Set right where Ponte Sisto deposits visitors into Trastevere, this famous piazza is home to a statue of a (drunk) poet and a beautiful fountain.
More than that, though, it is home to people–lots and lots of people.
If you're taking a taxi to or from Trastevere, this is also a convenient landmark to be dropped off at or picked up from.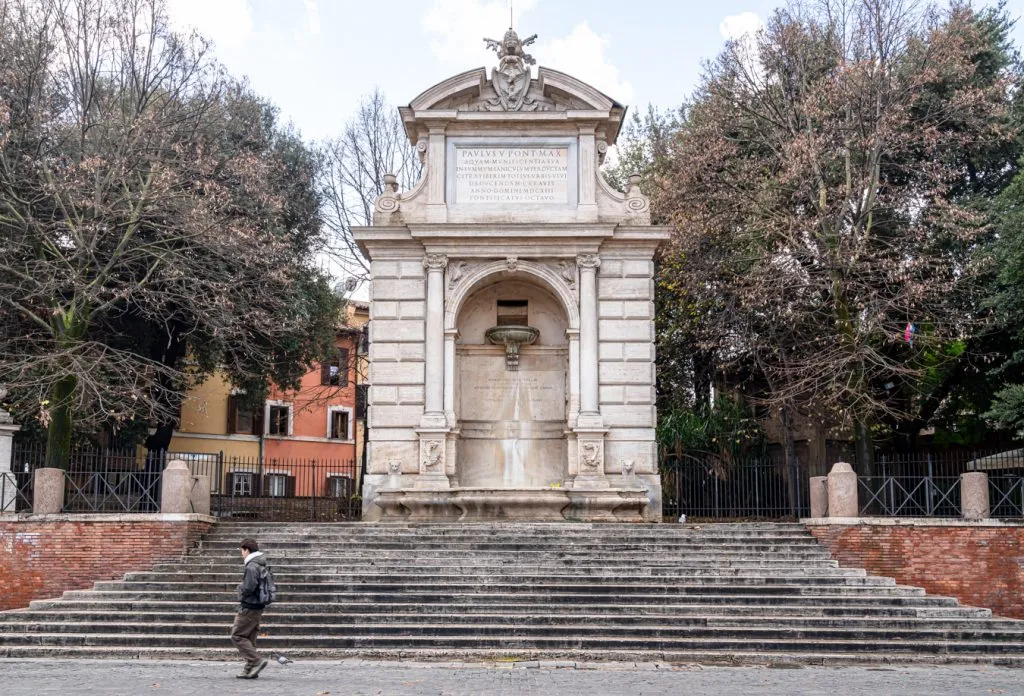 Relax in the Rome's Botanical Gardens.
Botanical Gardens probably aren't the first place that comes to mind when considering things to do in Trastevere, but they're a peaceful and beautiful off the beaten path option!
Exotic flowers, greenhouses, Japanese gardens, and even a couple of waterfalls–there are oodles of treasures waiting behind the gates of Rome's botanical garden.
Home to more than 3,000 species of plants, the botanical gardens are surprisingly quiet considering their obvious beauty.
They're also an easy way to enjoy cultivated gardens in Rome while avoiding the crowds at the also beautiful, but far more popular, Villa Borghese.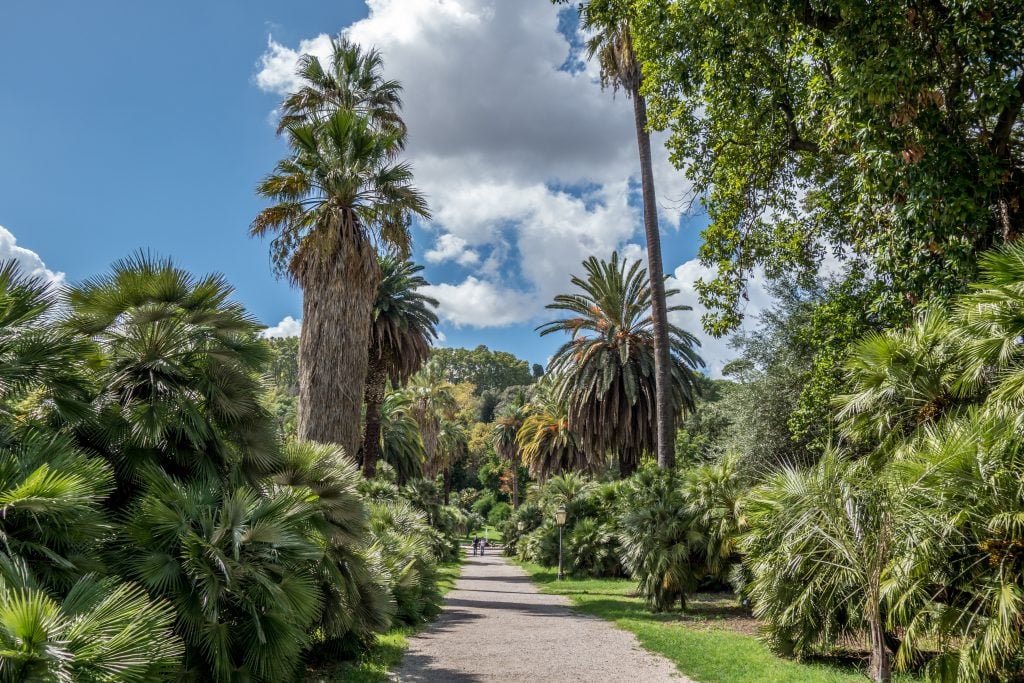 Check out the incredible Church of Santa Maria della Scala.
Completed in the 1600s, the Church of Santa Maria della Scala is one of many delightful examples of Roman churches that are stately but plain on the outside, and grand on the inside.
The chandeliers alone make this one worth a quick visit in our opinion, and the fact that it's set on a cozy piazza of the same name doesn't hurt, either.
… and if you plan ahead, the nearby Santa Maria della Scala Pharmacy.
Dating back 500 years, this historic monastery was once the workplace of friars–and today, it is one of the most beautiful and unique places to visit in Trastevere!
Located right next door to the church that shares its name, the pharmacy museum is home to scales, equipment, and one gorgeous ceiling under which friars once produced sought-after herbal medicines.
Here's the catch: if you want to visit, you'll need to schedule a tour in advance!
Here's how:
Meander down Trastevere's picturesque cobblestone streets.
Trastevere's tiny cobblestone streets–named vicoli, which translates literally to "alleys" but more accurately to something like "tiny lane"–are a large part of what makes this Roman neighborhood so enduringly popular.
And, meandering semi-aimlessly down many of them definitely belongs on your list of what to do in Trastevere!
Vicolo del Cinque, Vicolo della Luce, Vicolo del Buco, Via dell'Arco di San Calisto, Vicolo del Piede, Via Titta Scarpetta, and Via in Piscinula are just a few of the prettiest streets in Trastevere, but there are dozens to choose from!
Streets like Vicolo del Bologna and Vicolo del Leopardo are worth a wander, too.
Pay a visit to Tiber Island.
Technically (half) a river away from Trastevere but definitely worth adding to your list of things to see around the neighborhood is the quirky and memorable Tiber Island.
As the only island located in the part of the Tiber that passes through Rome, Tiber Island is unique in many ways!
It's also connected to the greater city by two footbridges (Ponte Cestio and Ponte Fabricio–more on those in the next section) making it easy to see.
While you're there, be sure to visit the Basilica of San Bartolomeo Apostolo, a replica of the original "Infamous Column" (where names of those out of sorts with the Church for whatever reason would be posted publicly), and enjoy views of the river.
Stop by the historic Tiber Island Hospital, too–this tiny island has a long (as in, thousands of years) history as a place of medicine and healing.
Enjoy the views from Trastevere's bridges.
Trastevere's close connection with the Tiber River means that that are many bridges connecting the district with the rest of Rome.
And, since this is Rome after all, the bridges tend to be historic, beautiful, at least partially pedestrianized, and, as a bonus, offer decent views of the river (the Tiber in Rome isn't that gorgeous of a river, though it's lovely in its way).
Here are a few that you might happen (literally) across.
Ponte Sisto
Completed in 1479, Ponte Sisto was built on the remains of an Ancient Roman bridge!
It's also a straight footbridge (no vehicle traffic) and dead-ends into lively Piazza Trilussa, making it one of the most popular ways to arrive in Trastevere.
Ponte Garibaldi
Just downriver from Ponte Sisto, Ponte Garibaldi is much newer than Ponte Sisto and does require visitors to share the crossing with vehicles.
However, it also boasts one of the best views of Tiber Island in Rome!
Ponte Cestio
If you want to literally walk across Tiber Island on your way to Trastevere, Ponte Cestio is the bridge for you.
Rebuilt in the 19th century to replace a bridge by the same name dating back to Ancient Rome, Ponte Cestio offers great views and a chance to visit Tiber Island on your way to or from the Trastevere neighborhood.
Ponte Cestio's corresponding bridge on the side of Tiber Island closest to the Jewish Ghetto has a different name–Ponte Fabricio (and this bridge is original, and the oldest in Rome!).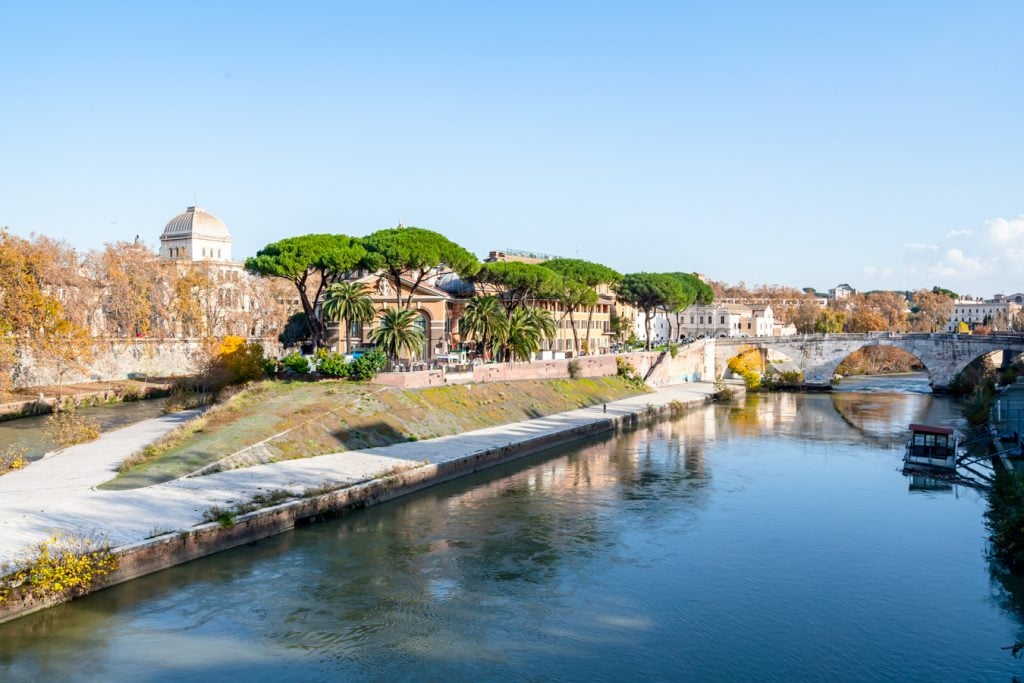 Other Bridges
A few other bridges to be aware of in Trastevere include Ponte Sublicio (which will take you toward Testaccio), Ponte Giuseppe Mazzini (which has a great view of Ponte Sisto), and Ponte Palatino (which has a view of the eastern side of Tiber Island).
Spend Sunday at the Porta Portese Flea Market.
Each Sunday, Porta Portese is home to a huge outdoor market that can be very fun to wander through!
While you can occasionally find some hidden gems of items, in general, it's best to keep your expectations in check–this is primarily a flea market.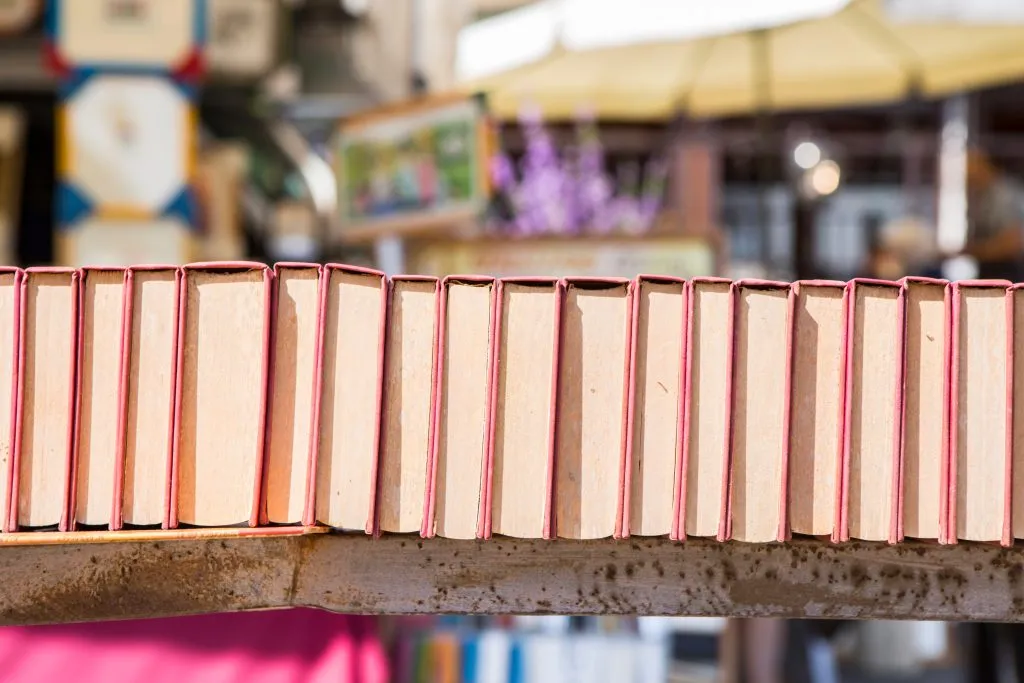 Still, though, it's a fun place to visit, and feel like you're experiencing a more local side of Trastevere.
And, if you want to pick up any small souvenirs from Rome, you might find something unique here!
If you want the widest selection, show up as early as possible–like before 8:00 AM.
It's best to keep an eye out for pickpockets here, as well, as it can get crowded.
If you're particularly concerned, a locking anti-theft backpack like this is a good option (we carry ours all over Europe).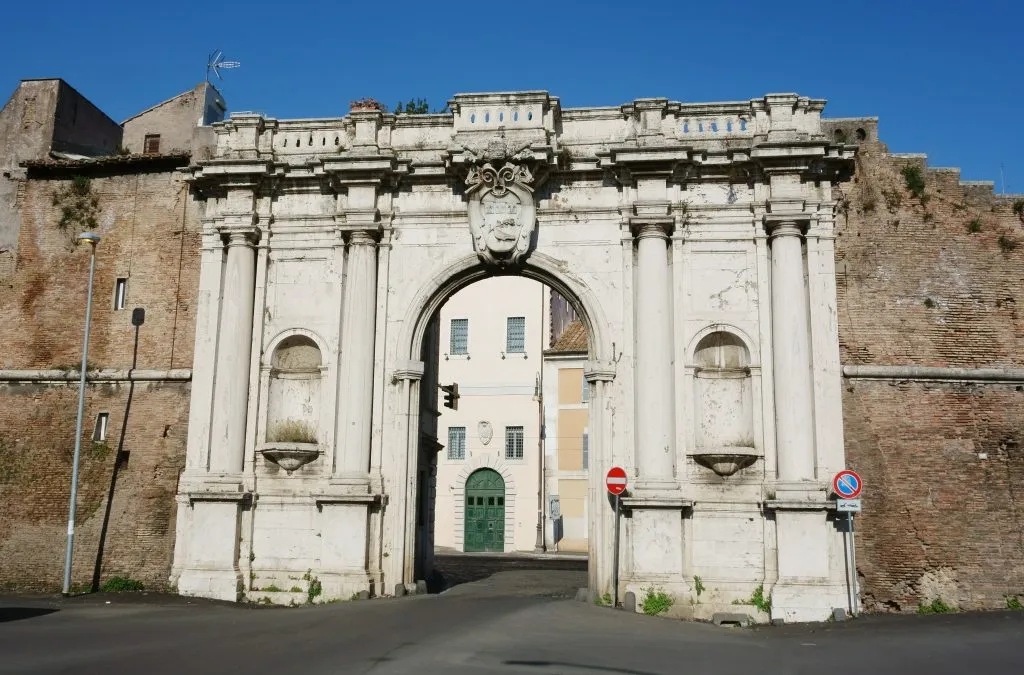 If you're visiting Trastevere with kids, take a break at the Piazza San Cosimato.
Piazza San Cosimato feels a bit different than the other Roman piazzas cataloged in this Trastevere guide: more local, less polished, and home to lots of kids!
You'll find a playground here, and frequently an assortment of kids running around playing throughout the square.
It makes for a lively family atmosphere!
If you want to stop by but would rather duck into an Enoteca for a bit of peace and quiet, Enoteca La Vite Roma Trastevere is just off of the piazza and offers great wine and snacks.
And, if you want to enjoy a traditional outdoor food market in Italy that's not half as touristy as Campo de'Fiori, stop by in the mornings (every day except Sunday).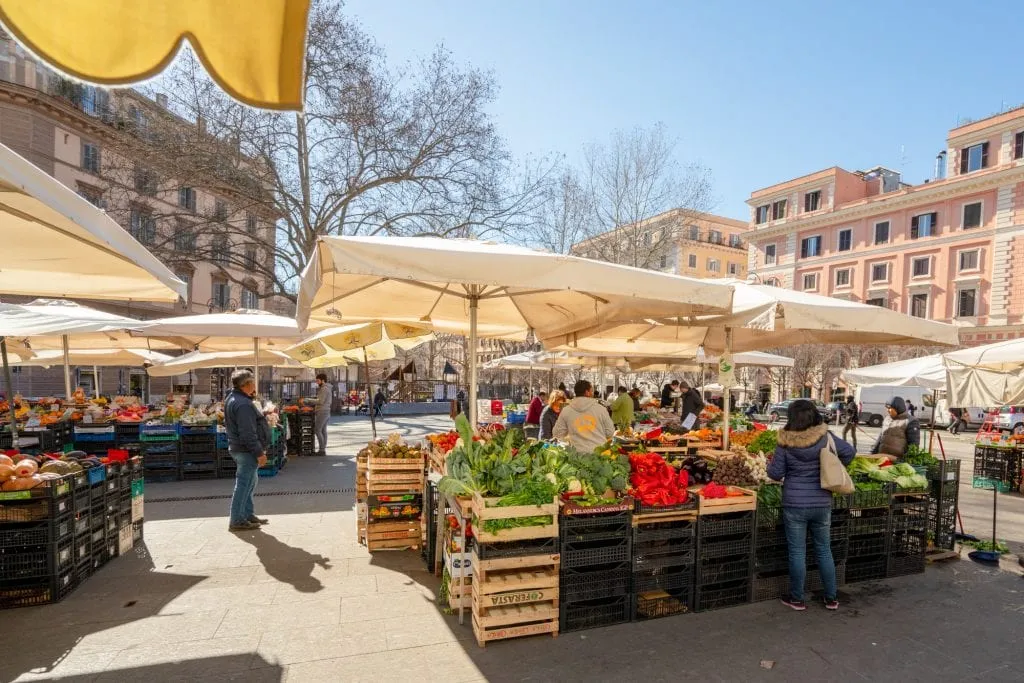 Where to Stay in Rome's Trastevere Neighborhood
If a picture-perfect neighborhood with neverending food options right outside your door sounds ideal, then you might want to consider booking a stay in Trastevere when visiting Rome!
That being said, there are definitely a couple of downsides to be aware of when basing yourself in the Trastevere district.
First, Trastevere isn't connected to the metro, so to get around, you'll want to get comfortable with Rome's bus system and prepare to do some extra walking.
Second, Trastevere is very popular at night with visitors, Romans, and students, so noise can be an issue on some streets (and near Piazza Trilussa).
These definitely aren't dealbreakers, but they are things to be aware of if you want to stay in Trastevere!
We'd recommend staying within a short walk of Ponte Sisto, Ponte Garibaldi, or in a pinch, Ponte Cestio if at all possible.
That way, you'll have all the benefits of staying in Trastevere while still being a quick hop, skip, and jump away from Centro Storico and the Jewish Ghetto.
Also–the neighborhood lends itself more to small bed and breakfasts (that may only have a handful of rooms) and rental apartments than large hotels, so if you find a property you want to stay in, book it!
Residenza delle Arti (which features an incredible included breakfast) is a great example of this and gets wonderful reviews!
For something sleek and modern inside with all the benefits of traditional Trastevere right outside your door, Giuditta in Trastevere and Nikis Collection Trastevere are excellent options.
Or, for a dreamy rooftop terrace that you won't forget anytime soon, check in to Ripagrande a Trastevere.
Where is Trastevere in Rome? (+ How to Get There)
Trastevere is located on the western side of the Tiber River, just across from Centro Storico and the Jewish Quarter.
It's located on the same side of the river as Vatican City, which is set to the north of the Trastevere neighborhood.
Most visitors arrive in Trastevere by crossing the Tiber River on foot from east to west via either Ponte Sisto (which dead-ends into Piazza Trilussa) or Ponte Garibaldi (which has excellent views of Tiber Island).
The Tiber River curves along the eastern and southern edges of Trastevere.
If you cross Porta Portese south out of Trastevere, you'll be near Testaccio, and if you cross Ponte Palatino, you'll be close to Circo Massimo and Aventine Hill.
How to Get to Trastevere, Rome
There isn't a metro stop in Trastevere, though you can get reasonably close (Piramide on Line B).
There is plentiful bus access, and of course taxis as well.
However, if you're staying in a centrally located place in Rome, there's a good chance you'll be able to walk to and from Trastevere in the course of your sightseeing.
Cool Restaurants + Places to Eat in Trastevere
Cataloging and sharing all the best restaurants in Trastevere would be a full-time job within itself–but we have several suggestions for great places to eat!
For something reliable, traditional, and enduringly popular, Trattoria da Enzo al 29 is an amazing option.
Somewhat unusually for Rome, they don't take reservations!
We recommend getting there before they open to shorten your wait time.
For something casual, Il Maritozzo Rosso is a wonderful quick option that is known for its savory takes on maritozzi pastries–but don't skip the carbonara, which is one of my favorites that I've had in Rome (seriously).
They have a location in Prati, too, if you don't have time to stop by when visiting Trastevere!
Nannarella is one of the more "touristy" restaurants in Trastevere, and while it wouldn't be our first pick, it's fine in a pinch (if you order the carbonara, add a bunch of extra black pepper yourself).
The perk of more tourist-friendly restaurants like Nannarella is that they tend to have large dining rooms, so if you're having trouble finding a table, your odds are good there (I'd make a guess that the also-popular Tonnarello is similar, though we haven't eaten there).
Eggs makes excellent pasta and offers a more modern style and interior that's a departure from what's typical in Trastevere.
For pizza, Pizzeria da Poeta and Ai Marmi are incredibly popular.
For dessert, Otaleg is often touted as one of the best gelato shops in Rome, and we can confirm it's wonderful!
If you're looking for Trastevere's famous ivy-covered bar, it's technically named Bar del Cinque and its exterior is just as charming in person (we haven't had a chance to go inside yet).
And, while it's not a restaurant at all, I can't resist mentioning Antica Caciara–if you're in the mood to shop for cheese or just treat your nose to the magnificent scent of the store, it's worth stopping by when visiting Trastevere.
This list of places to eat in Trastevere is nowhere near exhaustive, of course, but hopefully it helps you narrow down your options!
Tips for Visiting Trastevere, Rome
Go slow and meander on foot.
Trastevere is less of a place for checklists than a place for wandering through the many vicoli (narrow streets).
Definitely set aside time to see the Trastevere attractions that call to you, but also be sure to spend plenty of time moving about semi-aimlessly!
Trastevere is a photographer's dream, but whether you're snapping photos or not, the beauty is worth soaking up.
Stay for a meal.
When it comes to idyllic dining on cobblestone streets surrounded by colorful architecture while indulging in incredible food and wine, Trastevere hits it out of the park.
Restaurants range from very touristy (definitely check reviews before you go!) to incredibly local and everything in between.
The Trastevere area is one of our favorite places for a long meal in Rome, and we highly recommend planning to stick around for one when you visit.
… or aperitivo. Or both.
Don't have time for a meal?
Grab a spritz and a sidewalk table and enjoy aperitivo!
Don't expect every corner to be perfectly picturesque.
Two things are undeniably true about the general appearance of the Trastevere district: it's incredibly beautiful… and it has a surprising amount of graffiti (even for Rome).
These things aren't necessarily found on the same vicolo, of course, but it's something to be aware of as you explore!
If you find yourself on a less-than-charming street, just hop over to the next one.
FAQ For Visiting Trastevere in Rome, Italy
Is Trastevere worth visiting?
Yes, absolutely!
Trastevere is one of the most popular neighborhoods to visit in Rome for very good reasons, and it is definitely worth visiting during a trip to the Eternal City.
How much time do you need in Trastevere?
We'd recommend setting aside a minimum of 3 hours or so for Trastevere.
That will give you time to visit the most popular attractions like the Basilica of Santa Maria in Trastevere and Piazza Trilussa, enjoy a long meal or aperitivo, duck into a few small businesses, and meander through the vicoli without feeling rushed.
You can easily spend much longer in Trastevere, too, especially if you're staying in or near the neighborhood.
Where is Trastevere in Rome?
Trastevere is located just over the Tiber River from Centro Storico and the Jewish Quarter.
It's on the same side of the river as Vatican City and is set to the south of the microstate.
What is Rome's Trastevere neighborhood famous for?
Trastevere is famous for its beautiful cobblestone streets lined with traditional architecture and its wonderful food scene.
The most famous tourist attractions in Trastevere include the Basilica of Santa Maria in Trastevere and the Janiculum Terrace, though the most popular attraction of Trastevere is arguably the atmosphere of the neighborhood itself.
Is Trastevere a good place to stay in Rome?
Trastevere has both benefits and drawbacks as your base when visiting Rome.
Staying in Trastevere will allow you to enjoy its restaurant scene in-depth and enjoy the neighborhood in the quiet mornings and lively evenings.
However, while still quite central, Trastevere isn't the best-connected neighborhood in Rome, so moving about the city takes a bit more legwork as compared to, say, staying in Centro Storico–but it's extremely doable.
Map of the Best Places to Visit in Trastevere
Take This Map With You! Click each highlight to pull up the name of the destination. To save this map to "Your Places" on Google Maps, click the star to the right of the title. You'll then be able to find it under the Maps tab of your Google Maps account! To open the map in a new window, click the button on the top right of the map.
Planning an Upcoming Trip to Rome?
Heading to Rome soon?
Rome is one of our favorite cities in the world, and we have written about it (and Italy as a whole) extensively.
You can browse 100+ Italy blog posts here, or check out some more of our guides to Rome (we have more than 20):