A chandelier hanging directly over a road, a fountain dotted with sculptures of frogs, and whimsy in every direction you look: welcome to Quartiere Coppedè, one of the most delightfully unexpected corners of Rome.
This is a neighborhood that looks like it belongs somewhere between a 10-year-old's dream of a fairytale castle and one of Gaudi's prized corners of Barcelona–and yet, it feels and remains delightfully Roman.
Want to visit a corner of Rome that few tourists happen to see and that a casual visitor to Rome will almost never stumble across accidentally?
Come to Quartiere Coppedè.
Some links in this post may be affiliate links. If you make a purchase through one of these links, we may earn a small commission at no extra cost to you. Please see our

disclosure policy

for more detail.
A Brief History of Quartiere Coppedè
Quartiere Coppedè is the work of Florentine architect Gino Coppedè, who designed the neighborhood ("quartiere" means "neighborhood") from 1913 to 1927, when he passed away.
About 40 buildings call the small quarter home, and while you'll find quite a bit of Art Nouveau architecture here, architectural details and influences ranging from Baroque to Medieval to Greek to Gothic are evident–Quartiere Coppedè is truly a mishmash of fanciful inspiration and childlike whimsy.
What to Do in Quartiere Coppedè
Truthfully, there is not much to do in Quartiere Coppedè–the main reason to visit is simply to marvel at the buildings. There aren't any restaurants, cafes, or shops here, and you'll likely only see a handful of other tourists poking around. This is a place to slow down and meander.
Come prepared to soak up details and notice new facets of the buildings each time you lay eyes on them, and ideally, arrive with a camera in hand.
The most photographed section of the quarter is the arched entryway off of Via Tagliamento–this is where you'll find one of the most fantastic buildings as well as the peculiar and memorable chandelier.
Right down the road sits the tiny and adorable Piazza Mincio, home of the Fontana delle Rane (Fountain of Frogs), which is known not only for its whimsical frog statues but also for the fact that the Beatles once famously plunged themselves into it after a concert in Rome.
The Fontana delle Rane is honestly one of my favorite small fountains in Rome, perhaps second only to Fontana delle Tartarughe (Turtle Fountain) in Piazza Mattei.
Yes, the smaller fountains are not even in the same universe as something like the Trevi Fountain or the Fontana dei Quattro Fiumi (Fountain of the Four Rivers) in Piazza Navona, but small fountains can be lovely in their own right, and a dash of whimsy makes them all the more delightful.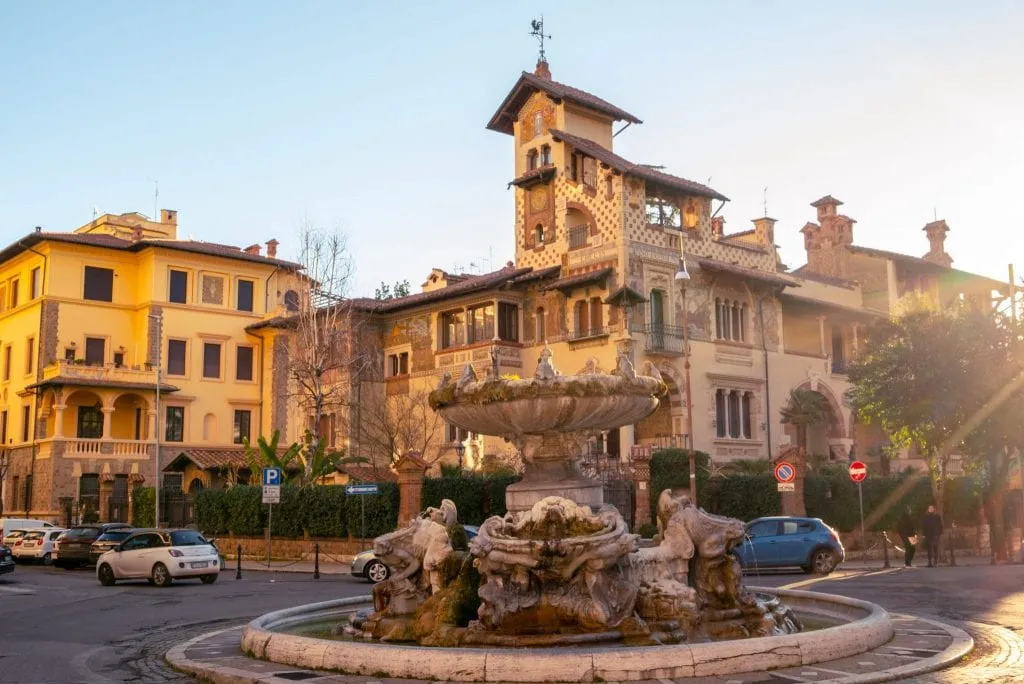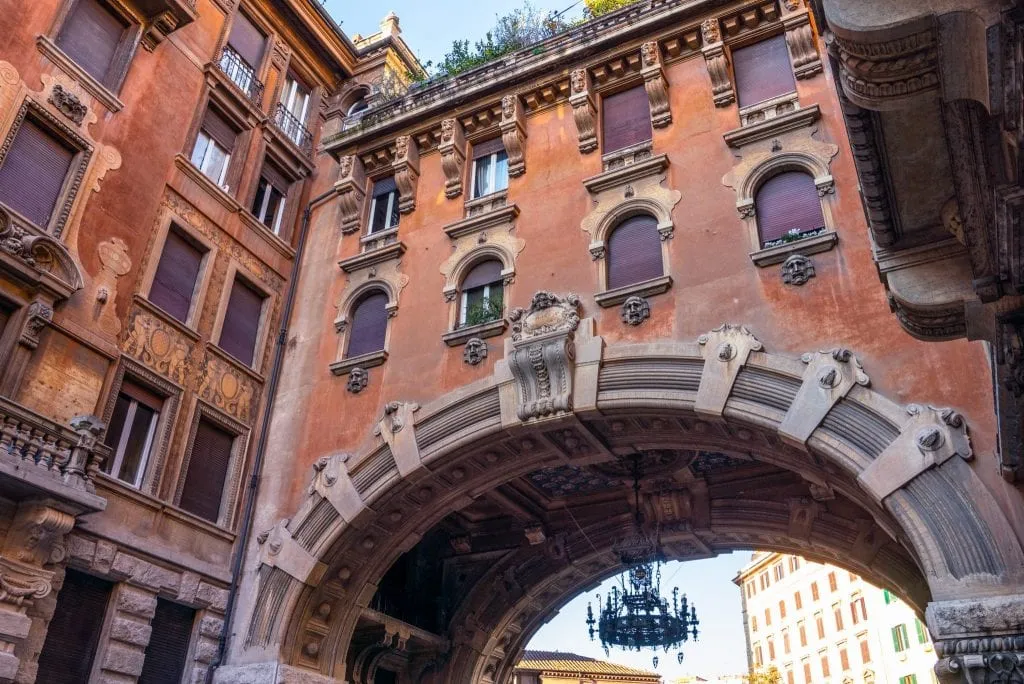 How to Visit Quartiere Coppedè
Odds are, you won't find Quartiere Coppedè in Rome accidentally–it's small and a bit off the beaten track, hidden inside the larger Trieste neighborhood–but that doesn't mean it's hard to get to!
Here's how we suggest visiting.
Tram
Trams 3 and 19 both run to Piazza Buenos Aires, which is just a 2-minute walk from Piazza Mincio.
Taxi
If you'd rather be driven than hop a tram, it's fairly inexpensive to take a taxi from the central tourist sights in Rome to Quartiere Coppedè.
We recommend using the MyTaxi app (a localish answer to Uber) in order to ensure you get a good rate.
Walk (After Visiting Galleria Borghese)
Would you rather stretch your legs and walk to Quartiere Coppedè?
If so, that's definitely an option–your best bet is to head over after visiting the Galleria Borghese, which is less than a 20-minute walk away.
However, unless you're up for quite a long walk, you'll probably want to take another form of transportation back into the more touristy areas of Rome, so come prepared to either take a tram or taxi back after you finish poking around Quartiere Coppedè.