Sketching out a Prague travel budget and curious about how much a trip to Prague costs? We can help!
For a major European city, this beautiful Central European city remains somewhat of a bargain–though thanks in part to its increased popularity in the last couple of decades, you won't find prices as low as some places in, say, far Eastern Europe or some of the Balkan countries here.
The Prague trip costs outlined here represent our time spent backpacking Prague on what we would consider a flashpacker budget.
Basically, no to dorm rooms, (mostly) yes to a/c, and no to major luxuries.
Some links in this post may be affiliate links. If you make a purchase through one of these links, we may earn a small commission at no extra cost to you. Please see our

disclosure policy

for more detail.
We spent 4 full days in the capital city, averaging a total Prague travel budget of $141.39/day for two people, or $70.69 per person, per day. This added up to a total cost of $565.57 for our nearly trip.
All prices for our trip to Prague costs are listed in USD unless otherwise noted, and, as usual for our travel budget roundups, we don't include the costs of entering or leaving the city here, as those expenses can vary so dramatically depending on your starting point.
Our General Impression of Travel Costs in Prague
Typically, we aim for our time in European cities to involve a reasonably priced Airbnb or hotel, a few entrance fees to points of interest, and perhaps an occasional splurge of an excursion, and a food budget split between groceries or street food and sit-down restaurants.
As we worked through our Prague itinerary, we did well with the first two… and not so well with the last. We spoiled ourselves by eating out twice a day, every day in Prague–and our travel budget for Prague paid for it.
Luckily, this delightful city is still such a bargain for Central Europe that it didn't dent the daily budget too badly–here's how we fared.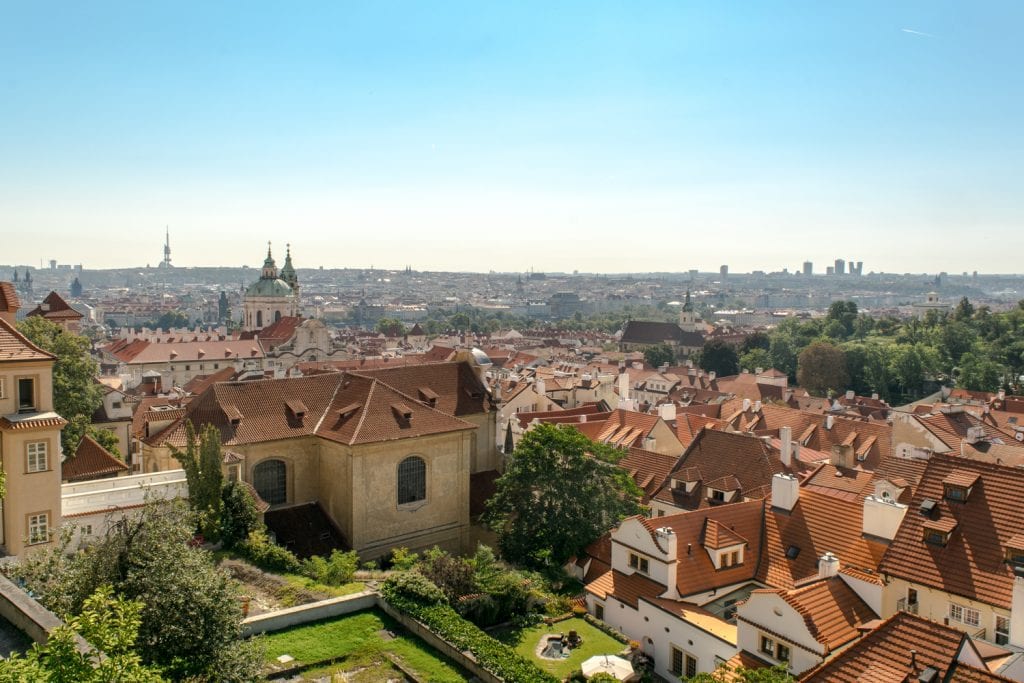 Our Lodging Costs in Prague
Total: $265.51 for 5 nights, $53.10/night.
We loved the location of the Airbnb flat that we rented in Prague!
There are tons of excellent hotels in Prague, but for this trip, we were looking for something a bit homier.
Our Airbnb was in a quiet neighborhood, but close to restaurants and an easy walk to the tram and metro to get downtown–it hit all of our must-haves when we were deciding where to stay in Prague.
Where We Stayed in Prague
Airbnb Flat in Prague 2 — Karel's flat was in the perfect location for us: a quiet neighborhood with plenty of restaurants nearby, a 10-minute walk to the trams and metro to get into the city center, and available at a reasonable price.
The flat was comfortable and the wifi worked well: we wouldn't hesitate to stay there again!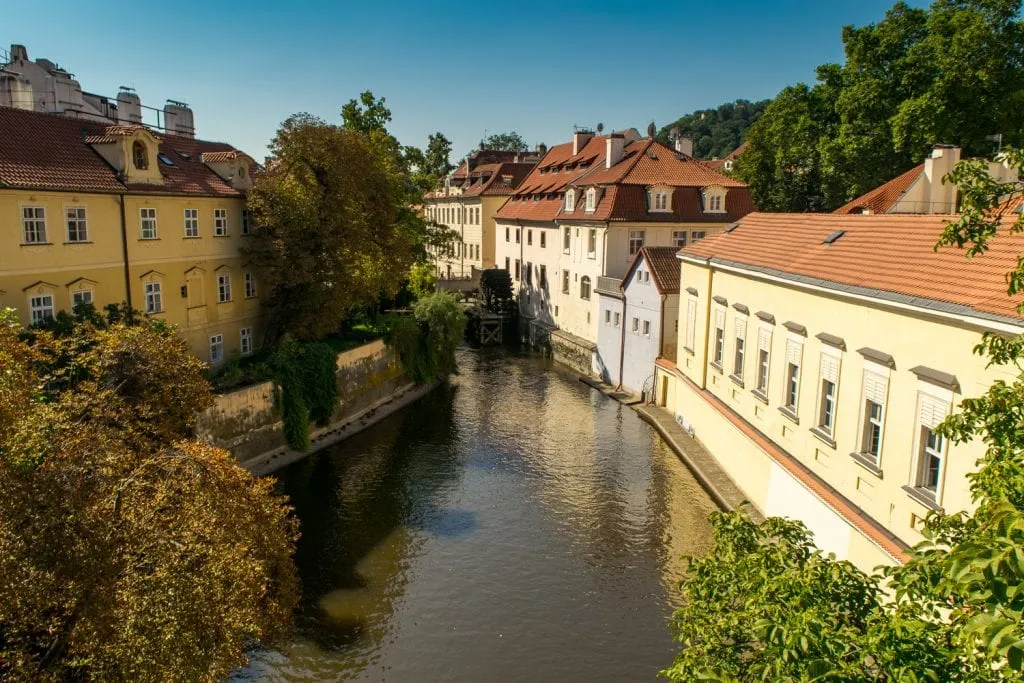 Our Transportation Costs in Prague
Total: $43.22
Public transportation tickets in Prague are very affordable and start at a little over $1.00 for a ticket that's good for 30 minutes.
Uber is also prominent in the city and inexpensive (especially compared to the NYC Uber prices that we experienced just a couple of days before arriving in Prague–yikes), averaging $3.50-$4.50 for a 10-15 minute journey.
Our Restaurant Travel Budget for Prague
Total: $159.60
… And, this is where our attempt to experience Prague on a budget went off the rails.
We enjoyed getting back to the eating outside, soaking-in-the-atmosphere dinner culture of European cities a little too much upon arriving in Prague, and added a few too many desserts and drinks to our bills in the process–but at least there's a lot of delicious food in Prague that we got to enjoy!
It was definitely a reminder that we need to be cooking at home more–but then again, at 8 meals out for two people, our $159.60 cost averages out to less than $10/person/meal. Hardly the end of the world!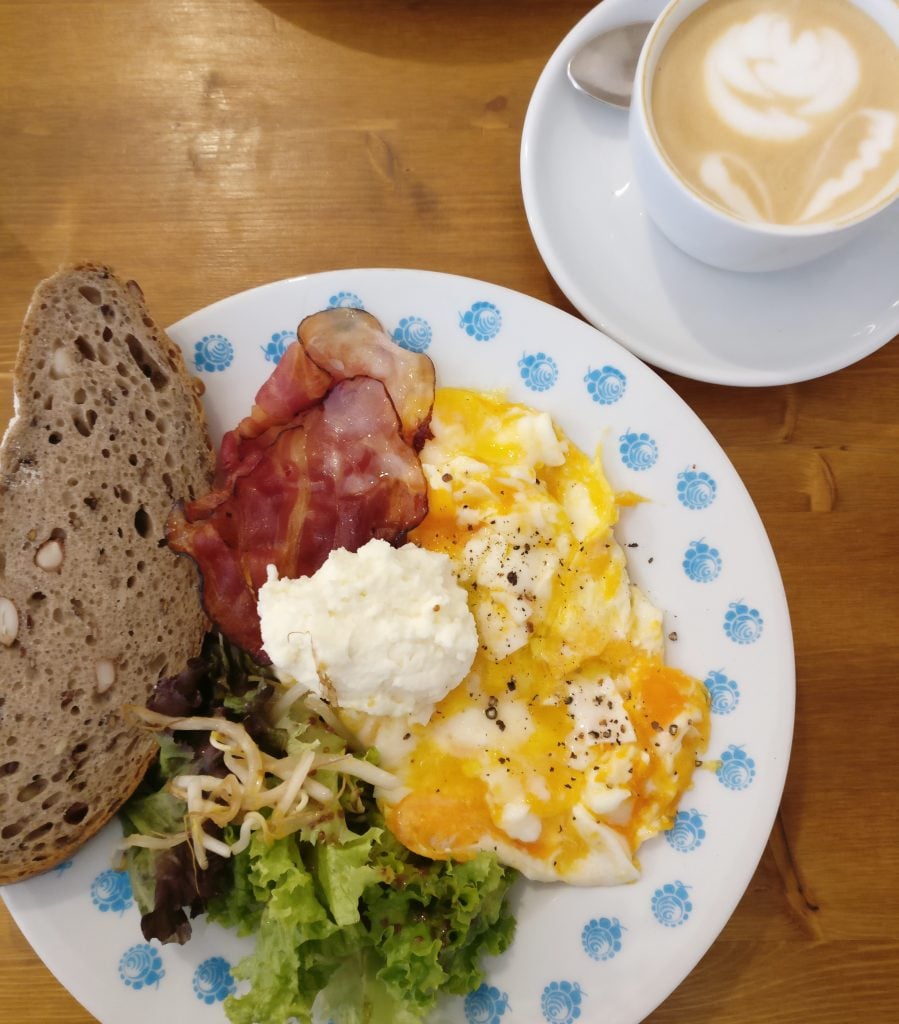 Our Grocery Expenses in Prague
Total: $1.82
… Raspberries. Our grand total of groceries in Prague consisted of a delicious carton of raspberries.
Clearly, checking out the bill from above, we should have bought more groceries and eaten at home more, but alas.
Our Tour + Excursion Prague Travel Budget
Total: $72.66
We loved getting out and exploring Prague!

Seeking out the best views in Prague was a generally affordable experience, with tickets to climb most of the towers running under $5.00.
Visiting Prague Castle was a bit more expensive than we anticipated–the "small" tour cost about $11.00/person, plus an extra $7.00/person to climb the Great South Tower at St. Vitus.
Looking back, we would have skipped the self-led castle tour (the grounds are free), which ended up being fairly unmemorable, and just paid to climb the tower of the cathedral.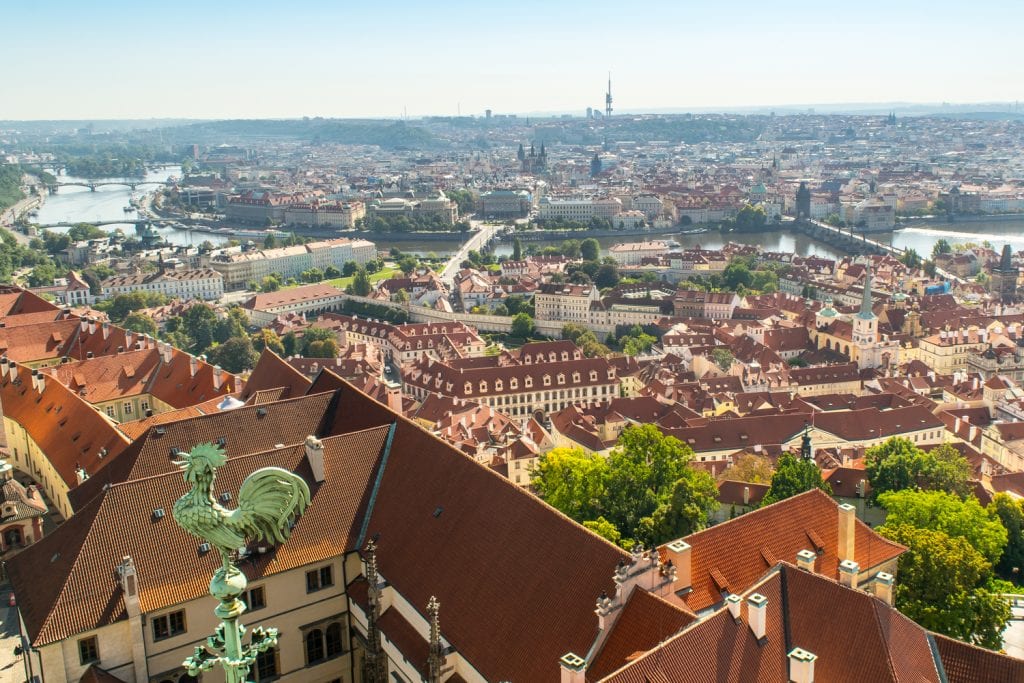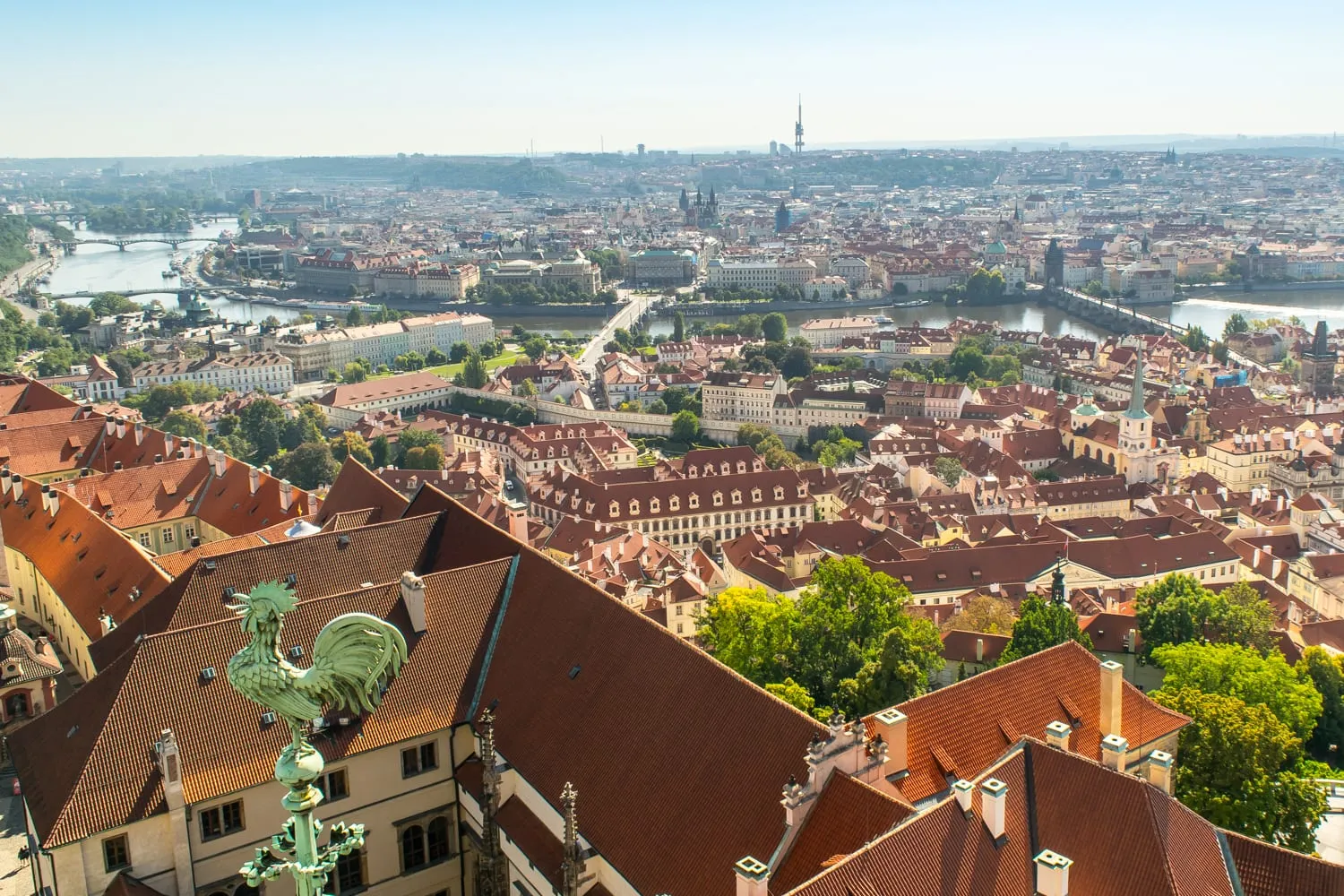 When we arrived, though, we were confused and ended up thinking that we could only climb the tower after already purchasing our tour tickets.
Our total trip to Prague cost doesn't include many museum entrance fees, but we loved our time at the Kafka Museum–they did an amazing job putting you into Kafka's head while in there, I almost felt like we were stepping foot into The Trial
by the end of the tour.
Not an altogether pleasant feeling, true, but it was definitely an interesting museum, and absolutely worth visiting if you're a Kafka fan.
At around $9.00/ticket, the museum was a bit more expensive than we expected, but worth it–they obviously put a lot of effort into putting the experience together.
If you're trying to decide what to do in Prague, be sure to check out some Prague travel tips before you go to make sure you pick the right experiences for you!
Miscellaneous Prague Travel Expenses
Total: $22.76
The only miscellaneous expense we had in Prague was purchasing our SIM cards, which are still serving us well as I write this blog post from Slovakia.
There's no denying that we spent more than we intended to on our daily budget for Prague.
A combination of excitement at being back in Europe and adjusting to planning our days around Jeremy's work schedule (he works typical US East Coast business hours) caused us to spend more than we would have liked.
We won't sweat it too much, though–we definitely feel like we are back in our groove in Slovakia now, and expect to see our total costs fall to around $50/person/day in most European destinations–perhaps less in some spots.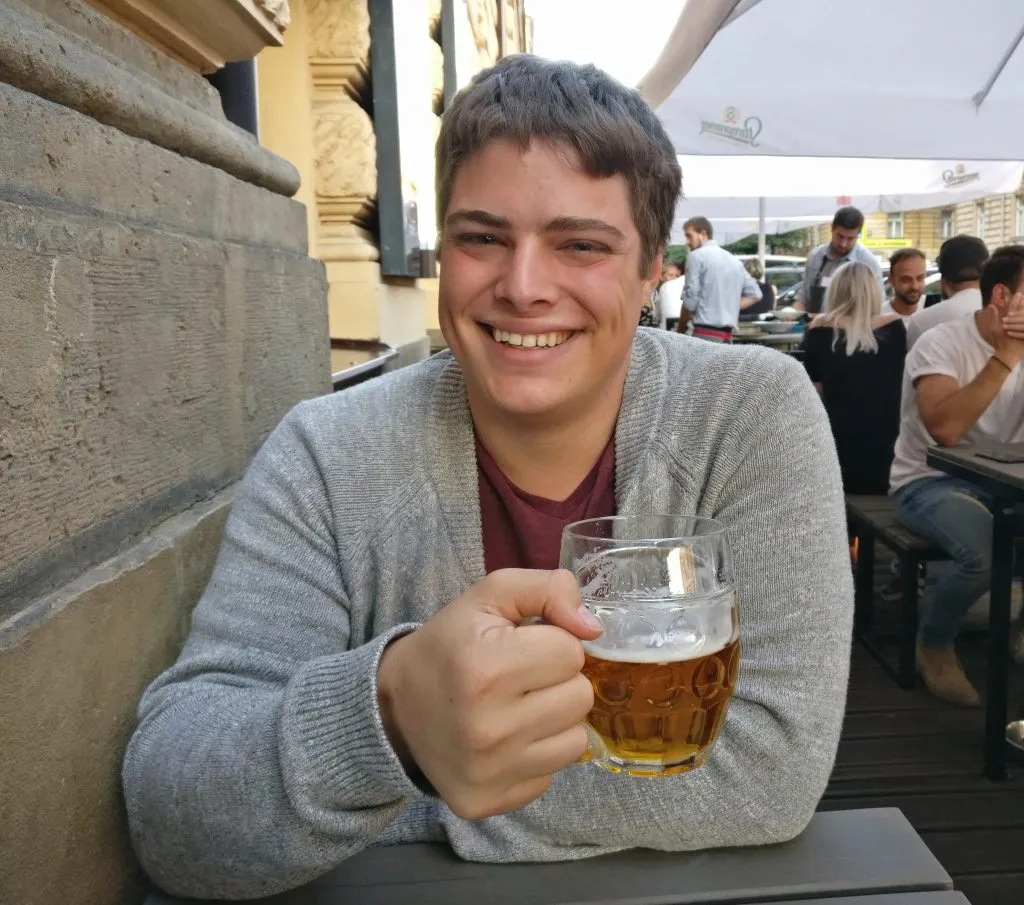 There's no doubt that traveling during Europe's offseason would have helped these costs, as well–landing in August meant that we were still in the thick of summer travel.
For us, our Prague travel budget also serves as a great example of the financial benefits of traveling slowly.
A combination of it being our first destination back in Europe and only having four days scheduled in the city incentivized us to run from one place the next checking off things to do in Prague, which we all know is an expensive way to travel.
Had we spent two weeks in Prague, or slowly traveled through more of Czechia and visited cities like Brno and Český Krumlov, I would expect to see our daily cost drop significantly.
---