From the Blue Ridge Mountains in the north to the sandy beaches of the southeast, there are so many unique places to visit in Georgia!
We've road-tripped through Georgia more times than I can count, spending time all across the state (though I'll admit–it's hard to pull ourselves away from Savannah, one of our favorite cities in the world).
To ensure that we've covered a wide variety of the beautiful places in GA to visit, though, we've teamed up with several other travel bloggers and asked them to share their favorite corner of the Peach State.
Magnetic cities, beautiful state parks, interesting small towns, and beyond: here are the best places to visit in Georgia!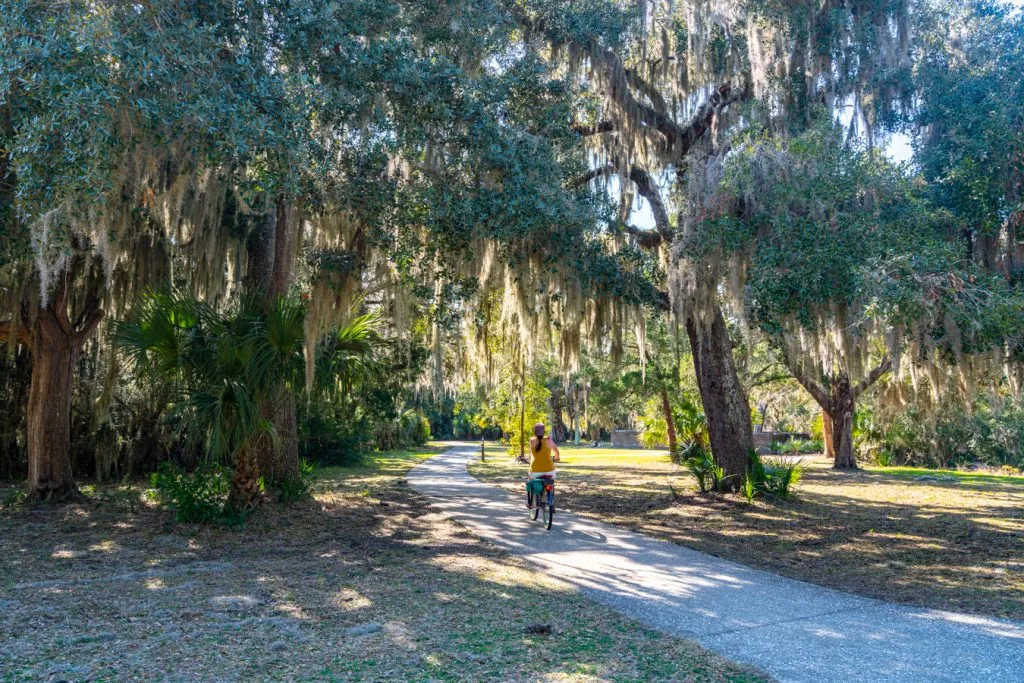 Best Cities to Visit in Georgia
Savannah
Without a doubt, the small but stunning city of Savannah, Georgia is one of the most beautiful places to visit in Georgia.
Featuring absolutely stunning architecture, 22 of its original 24 town squares, endless oak trees dripping with Spanish moss, and some of the best food in the country, spending a few days in Savannah is bound to be a delight.
While you're there, be sure to meander down beautiful Jones Street, check out Forsyth Park, hear some of the city's most enduring legends on a ghost tour, enjoy views from River Street, and take in some of Savannah's complex history at its various house museums and houses of worship.
Don't forget to set aside plenty of time to eat: while there are dozens of incredible restaurants in Savannah, favorites include The Olde Pink House and The Grey for special occasions, The Collins Quarter for their legendary lavender mocha latte, and Leopold's Ice Cream for a scoop of their famous Tutti Frutti ice cream.
Whether you have one day in Savannah or a full year, you'll have a fantastic time exploring the Hostess City… and leave dreaming of your next trip back.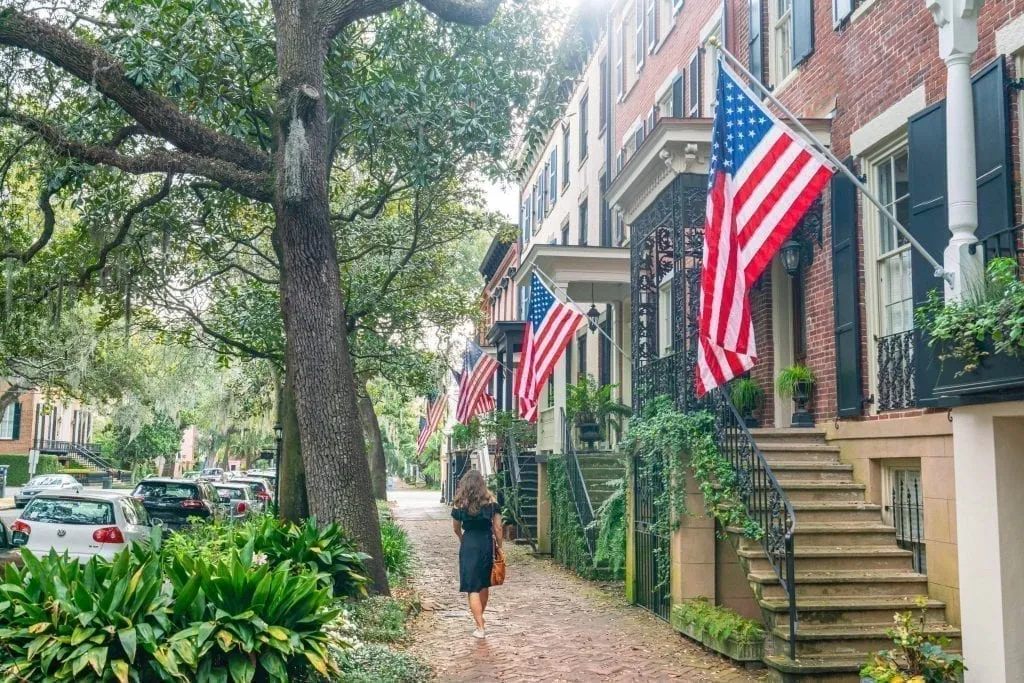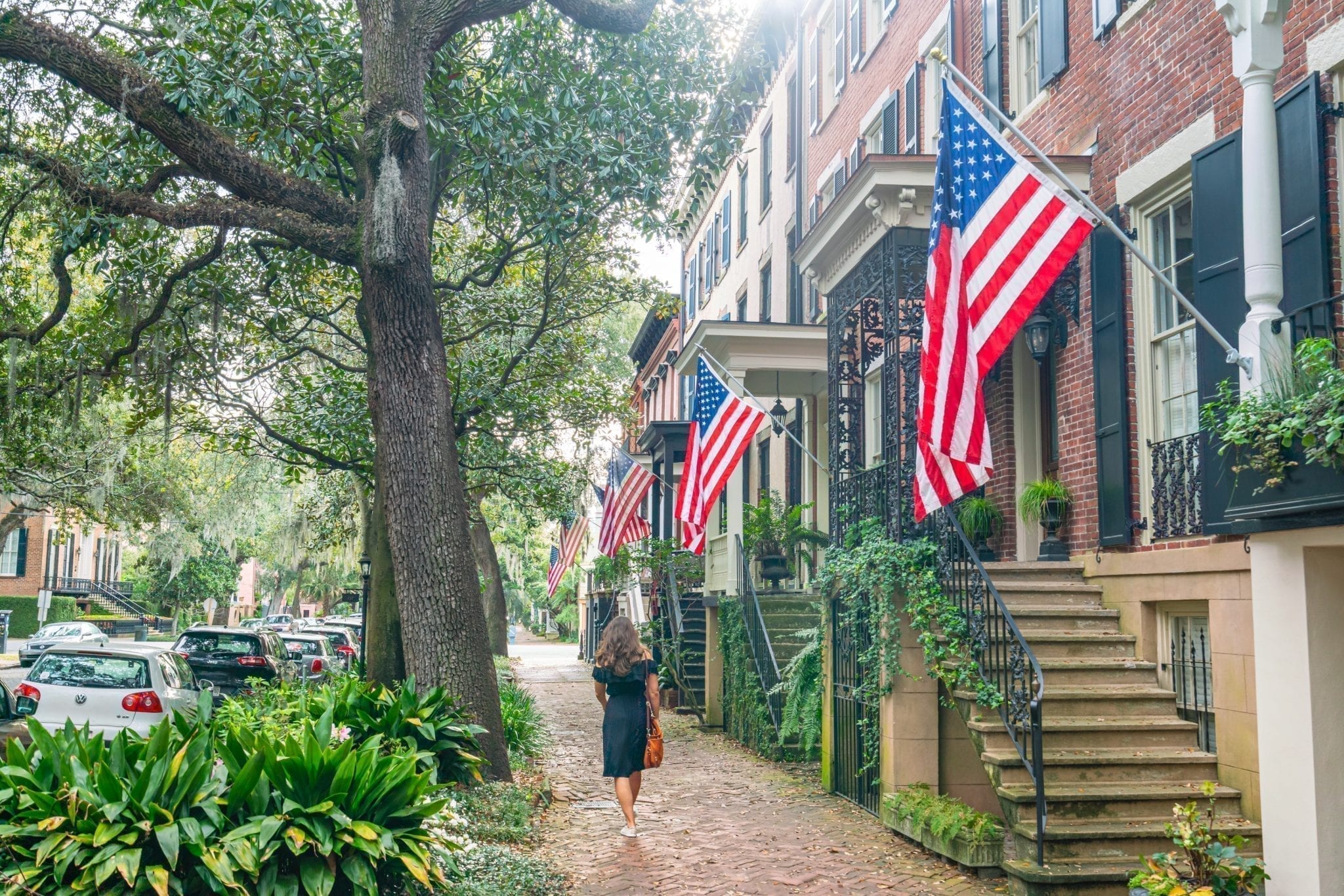 Augusta
From Rasika of Bae Area and Beyond
Looking for a city filled with a rich history, a strong art culture, and outdoor attractions?
Add the charming city of Augusta to your Georgia bucket list!
This city is filled with hundreds of dinings options and dozens of parks, museums, and galleries.
Visit the Augusta Sculpture Trail in downtown Augusta to walk around 10 stunning sculptures.
Or, walk along the Savannah River on the Augusta Riverwalk.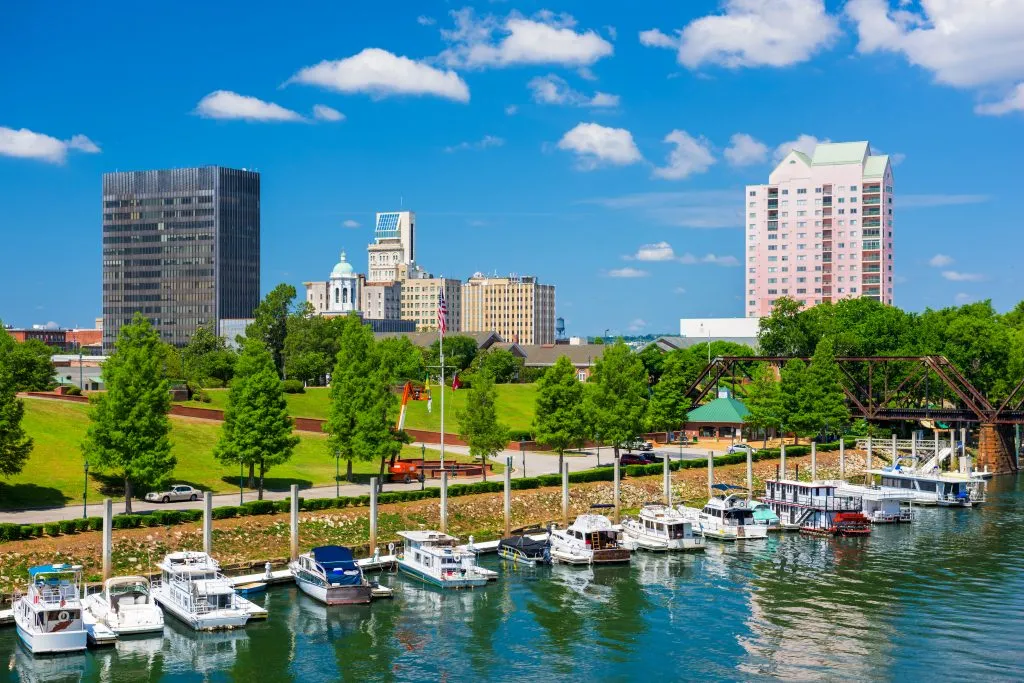 Near the Riverwalk, stop by at the Morris Museum of Art, the first museum in the country to focus on the art history and culture of the American South.
It holds more than 5000 pieces of artwork from the 1800s to now.
Check out the Aqueduct Park, a park famous for a 19th-century aqueduct with rock arches and a waterfall.
Thinking about when to visit? You definitely need to visit Augusta during the spring season to see flowers bloom including azaleas!
Atlanta
From James Ian of Travel Collecting
Visiting Atlanta is a must if you go to Georgia.
There are several attractions not to miss, many of them centered around the pretty Centennial Olympic Park, where the 1996 Olympic Games were held.
Atlanta was Dr. Martin Luther King's home, and you can visit his house, which has been turned into a museum.
You can also visit the fascinating and important National Center for Civil and Human Rights, to learn more about him and the history of the Civil Rights Movement.
The city is also the headquarters of the most famous soda company in the world. A visit to the World of Coca-Cola is to immerse yourself in all things Coke.
Your visit will end with the chance to sample about 200 different sodas from around the world!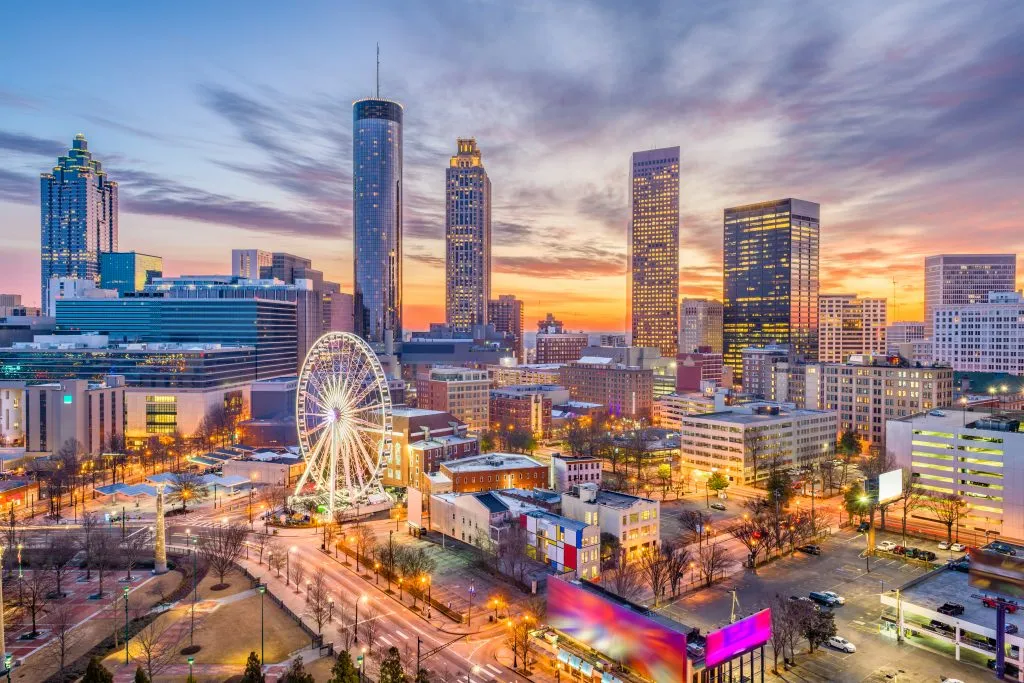 One of the most popular attractions in Atlanta has to be the Georgia Aquarium, one of the largest in the world. There are several sections inside, centered around different climates.
Perhaps the most amazing part, however, is the enormous deep water Ocean Voyager tank, filled with gigantic whale sharks, manta rays, and turtles.
You can even take a backstage tour and see the tank from the top (recommended).
Finally, a trip to Atlanta wouldn't be complete without trying good southern cooking!
This popular Atlanta food tour will introduce you to southern cooking in style (be sure to come very hungry).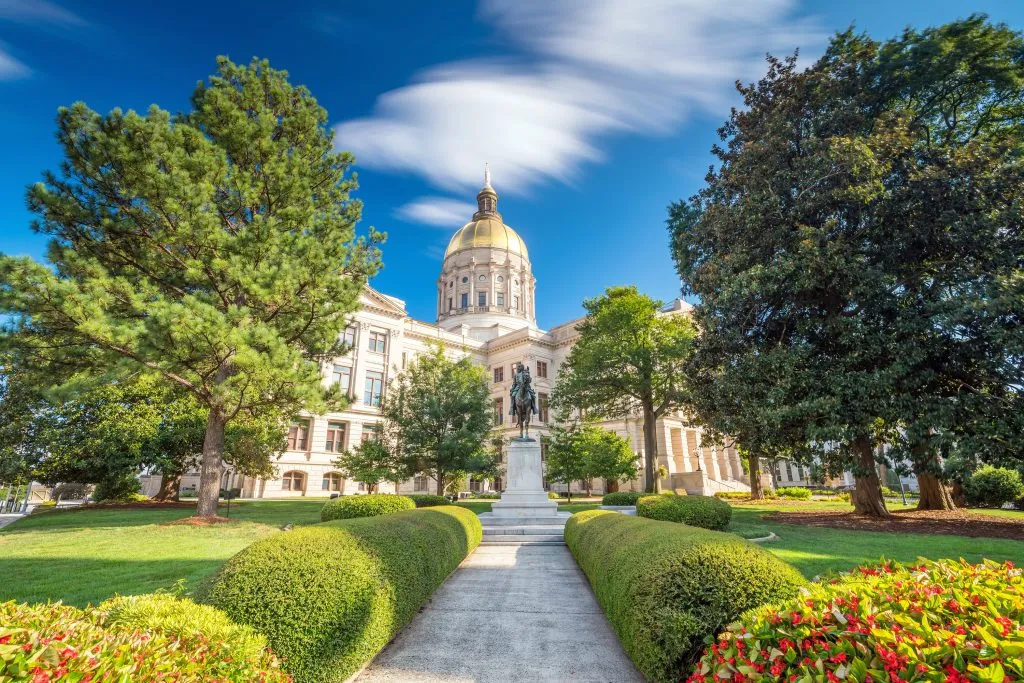 Athens
From Alanna of Periodic Adventures
If you're not into the college football scene, Athens might not seem like an interesting destination, but it's full of hidden gems, fun events, and even has pretty great food and craft beer scene.
Athens has a unique culture meshing a college town with the arts. It's home to REM and the B-52's, so music is a big deal here.
Catch a show at the Georgia Theatre, 40 Watt Club, Live Wire, or even The Foundry…you never know if you're witnessing the birth of a new big band!
You can experience Athens culture at annual events like the nighttime bicycle race, Twilight, local music festival, AthFest, and Boo-le-Bark, the Halloween costume parade for dogs!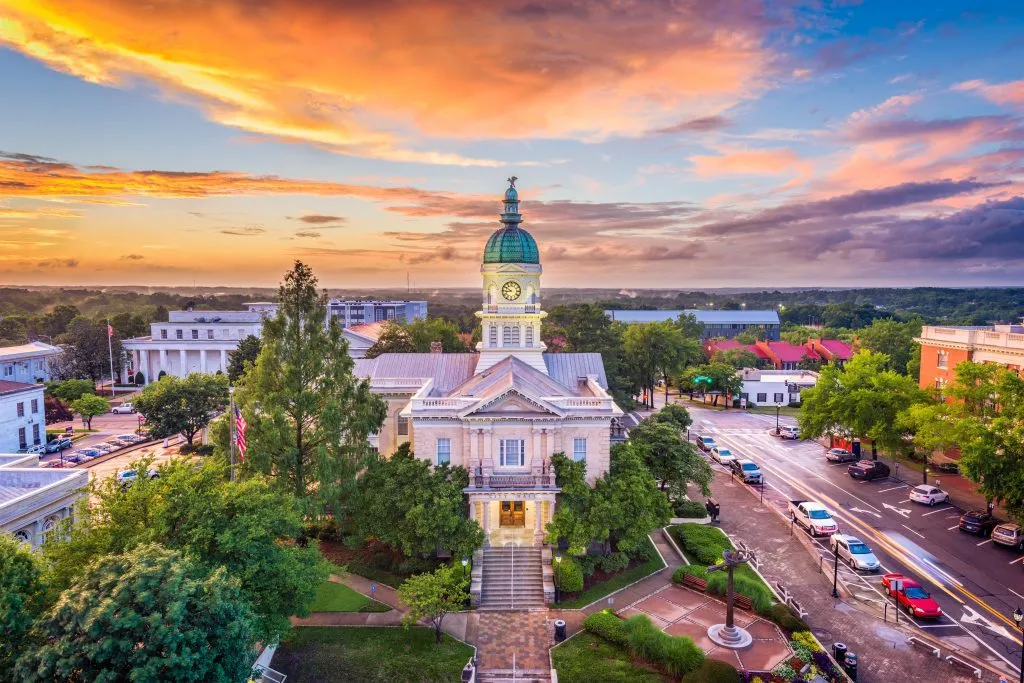 Try local Athens eats like Mama's Boy, with biscuit sandwiches, Trappeze, home of raspberry habanero ketchup, and The National, with Southern-influenced Mediterranean dishes.
There are many awesome breweries in Athens. The most famous of which is Creature Comforts, located in downtown Athens.
However, don't miss Terrapin, Southern Brewing Company, and Akademia!
No discussion of Athens would be complete without mentioning the Georgia bulldogs football team! If you can go to a game, it's an unforgettable atmosphere!
You can tailgate for hours prior to the game and once inside you can't help but cheer on the Dawgs!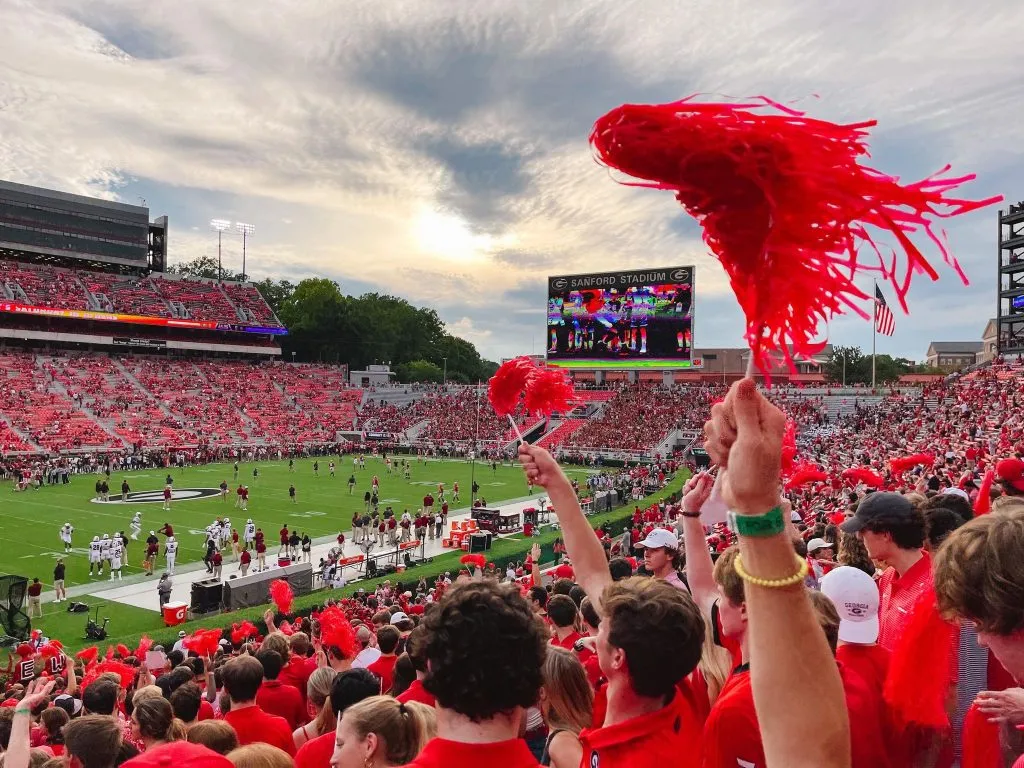 Marietta
From Vicky of Buddy the Traveling Monkey
One of the best places to visit in Georgia is the city of Marietta. It's located about 45 minutes northwest of Atlanta.
There are a lot of fun things to do in Marietta, including museums, parks, theaters, and restaurants. The charming thing about Marietta is that even though it continues to grow, it still feels like a small town.
To learn more about Marietta's history, you should stop by the Marietta Museum of History.
Of course, the heart and soul of the city can be found in Historic Marietta Square.
Many Marietta events are held on the square throughout the year, and all around it are over 70 shops, restaurants, and entertainment venues.
Marietta's newest hot spot is the Marietta Square Market. Inside what was once a warehouse, the space is now an awesome food hall with 18 restaurants.
It's a great place to hang out with family and friends while chowing down on some good eats.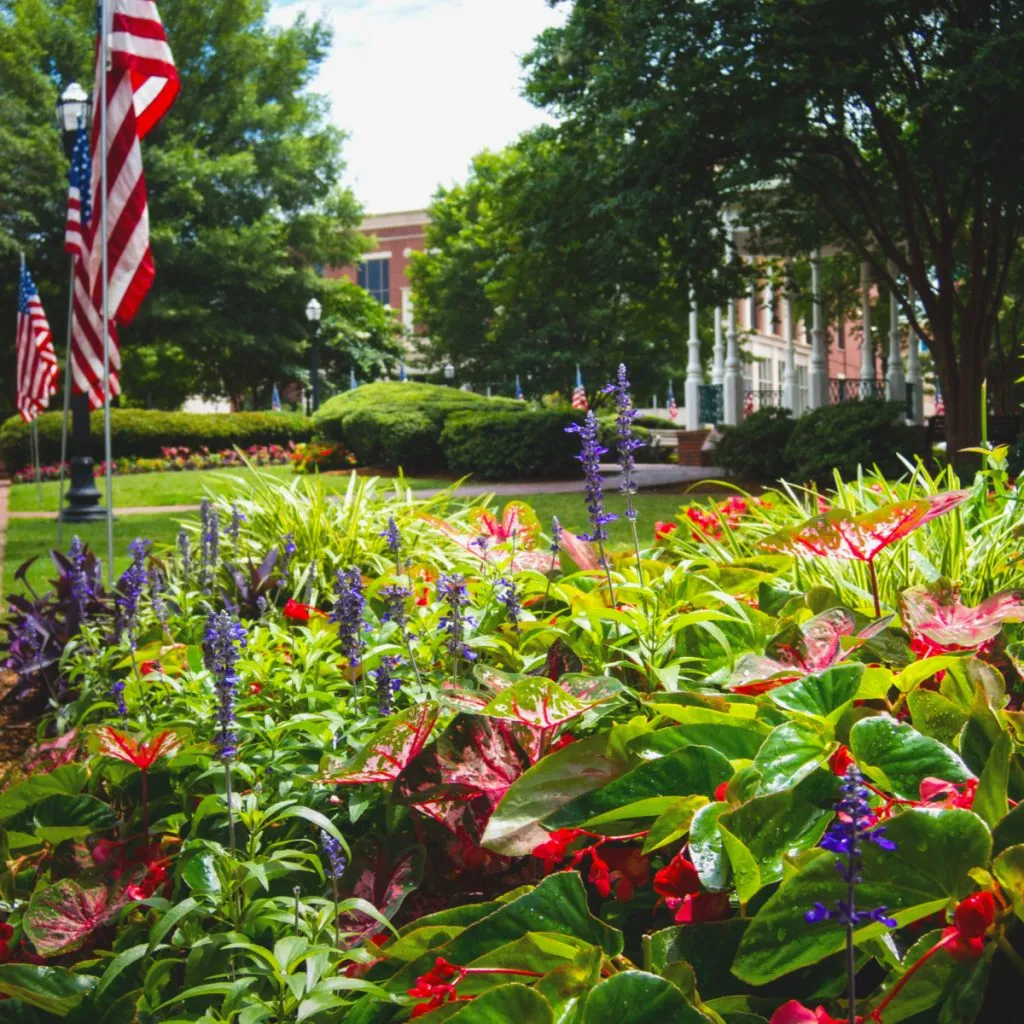 Cool Small Towns to Visit in Georgia
Helen
From Anjali of Cheerful Trails
Nestled amongst the surrounding breathtaking beauty of the Appalachian Mountains is a Bavarian-inspired town, Helen, that ranks among the most unique places to visit in Georgia.
With lots of natural beauty and artsy charm, there are plenty of things to do in Helen and the surrounding area.
Boutique stores, craft shops, vineyards, breweries, cute cafes, and the eventful Oktoberfest attracts year-round visitors.
Helen hosts Oktoberfest throughout the months of September and October. It is the longest-running and the most fun Oktoberfest in the United States.
If you are up for some wine tastings, visit the Habersham Winery, one of the finest and oldest wine producers in Georgia.
Take a leisurely walk through the Unicoi State Park and enjoy the awe-inspiring views of the lake, hike trails, thick wilderness, and alpine landscapes.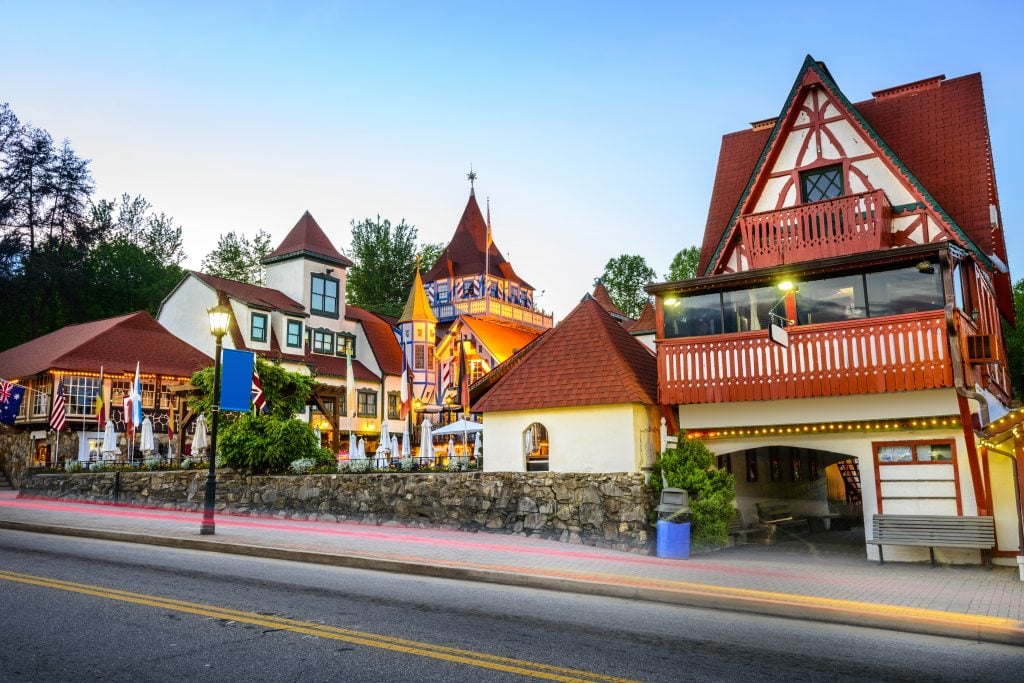 You can also indulge in water activities such as canoeing, kayaking, paddleboarding, and ziplining over the lake.
Next, see the spectacular Anna Ruby Falls.
This serene natural wonder is one of the most romantic places in Helen.
To try the authentic German flavors in Helen, make your way to the Bodensee Restaurant. They serve the tastiest goulash, spaetzle and wursts.
With Bavarian-themed architecture and German vibes, Helen is one of the prettiest towns in Georgia to visit.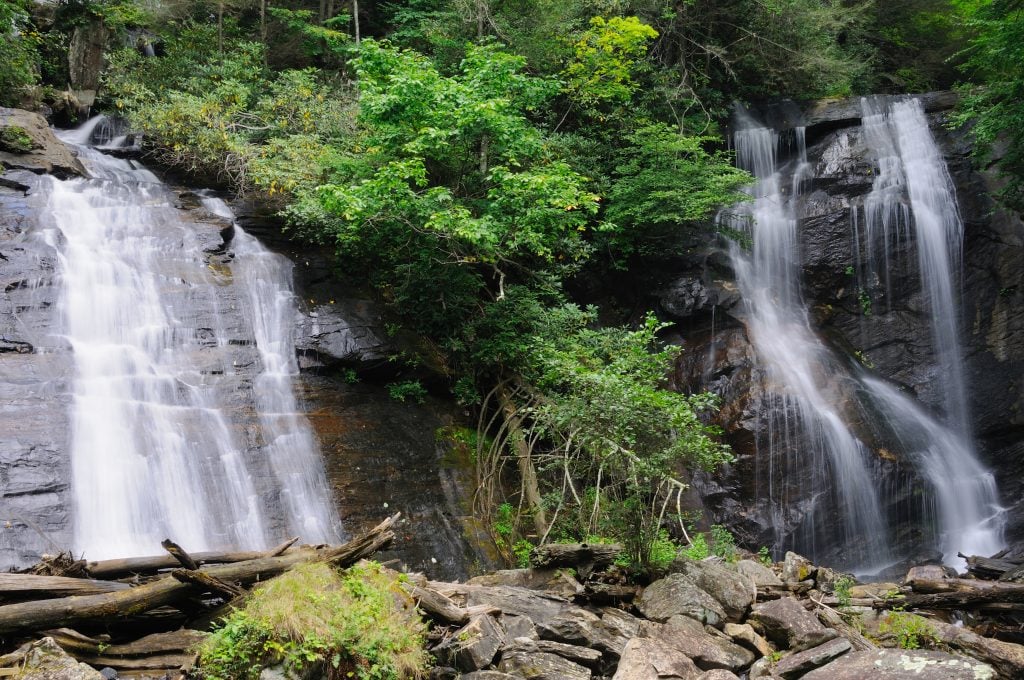 Covington
Picturesque and charming, the small town of Covington is such a beautiful place in Georgia to visit that it is most famous for being a filming location!
Movies and TV shows from "The Dukes of Hazzard" to "Sweet Magnolias" have been filmed in Covington, GA.
Perhaps most notably in the last decade, the long-running show "The Vampire Diaries" shot heavily in Covington, where the town itself played Mystic Falls, Virginia.
Popular set locations such as the exterior of the Gilbert House and the Lockwood Mansion can be found in Covington!
Beyond filming locations, you can find plenty more things to do in Covington such as touring historic homes, enjoying the shops and restaurants in the charming town center, and even taking a ghost tour at night.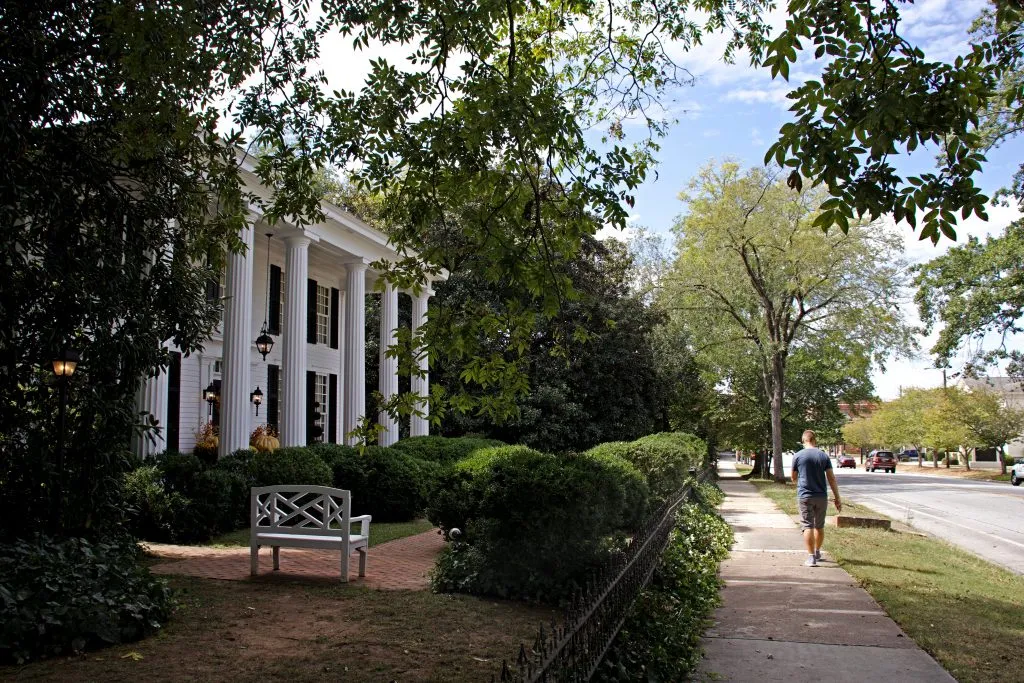 Blue Ridge
From Bret and Mary of Blue Ridge Mountains Travel Guide
Located approximately 90 miles north of metro Atlanta in the heart of the Blue Ridge Mountains, the once-sleepy town of Blue Ridge has grown over the past decade to embody the very best elements North Georgia has to offer.
The downtown area has loads of small-town Southern charm, with a welcoming mixture of hospitality, history, trendy boutiques, and old-fashioned general stores.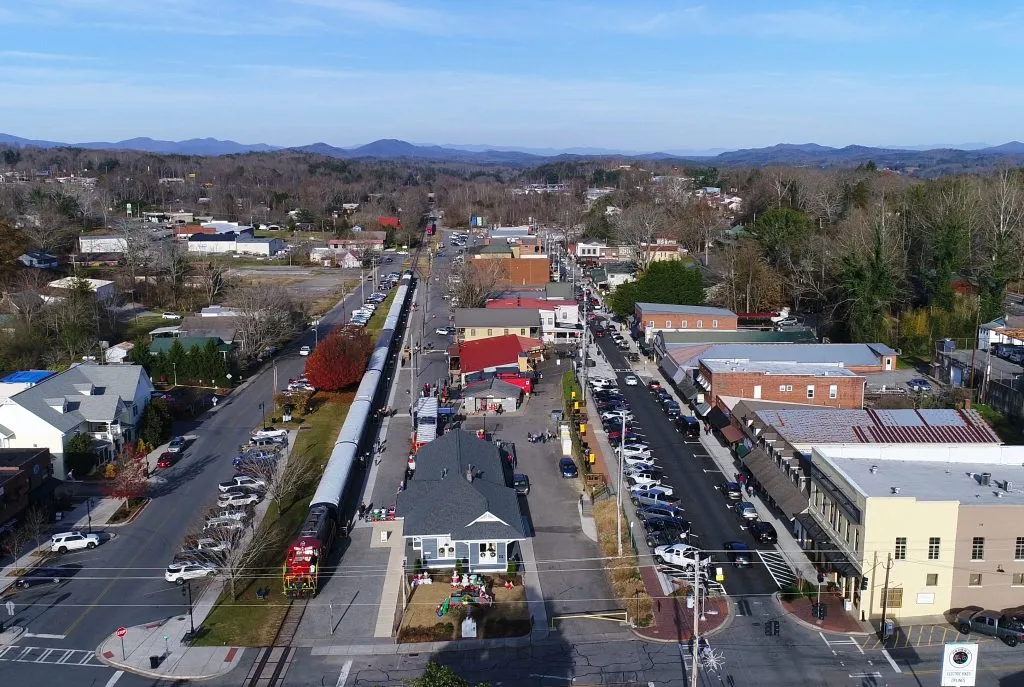 It's also where you'll find a diverse array of excellent restaurants (Black Sheep, Harvest on Main, and Masseria Kitchen & Bar chief among them) and the Blue Ridge Scenic Railway, which takes visitors on a picturesque ride north along the Toccoa River to the twin towns of McCaysville, Georgia and Copperhill, Tennessee.
But many of the best things to do in Blue Ridge GA are just outside the heart of town.
From apple-picking and fresh baked goods at Mercier Orchards and picnics at Lake Blue Ridge to fishing and whitewater rafting the Ocoee River and hiking the Benton MacKaye Trail and/or Appalachian Trail, Blue Ridge is a haven for nature lovers and outdoor adventurers.
There are also tons of rental cabins, ranging from rustic to luxurious, available for those who just want to sit in a rocking chair on the porch and immerse themselves in the sheer beauty of it all.
Decatur
From Elizabeth of The Fearless Foreigner
Decatur is one of the best places to visit in Georgia, located just east of Atlanta.
You can easily reach Decatur in a quick drive or short trip on MARTA, Atlanta's public transportation system.
Even though it is its own city, many consider Decatur to be one of the best neighborhoods in Atlanta.
While it is handy to the big city of Atlanta, Decatur has a great small-town feel.
The heart of the city is located around Decatur Square. You will find many restaurants and boutique shops in this area.
The Dekalb History Center Museum in a historic courthouse is also located around the square.
If you love street art, you don't want to miss Decatur.
As you wander around keep your eyes open for secret hidden doors. Look up on light posts to spot tiny murals.
Plus, sculptures and big wall murals can be found throughout the city.
CC BY-SA 3.0, via Wikimedia Commons
Thomasville
From Disha of Disha Discovers
One of the best places to visit in Georgia is the small town of Thomasville.
Known as one of the prettiest towns in Georgia, Thomasville has so much to offer.
This small town has a truly historic feel to it. There are several museums to explore including Thomasville History Center, Jack Hadley Black History Museum, Confederate Prisoner of War Camp, and more.
Also, the downtown streets are lined with bricks making it very picturesque.
Moreover, Thomasville is brimming with delicious restaurants and cafes.
One of the best things to do in Thomasville is to go on a food and drink tour. You won't regret sipping and eating your way around town.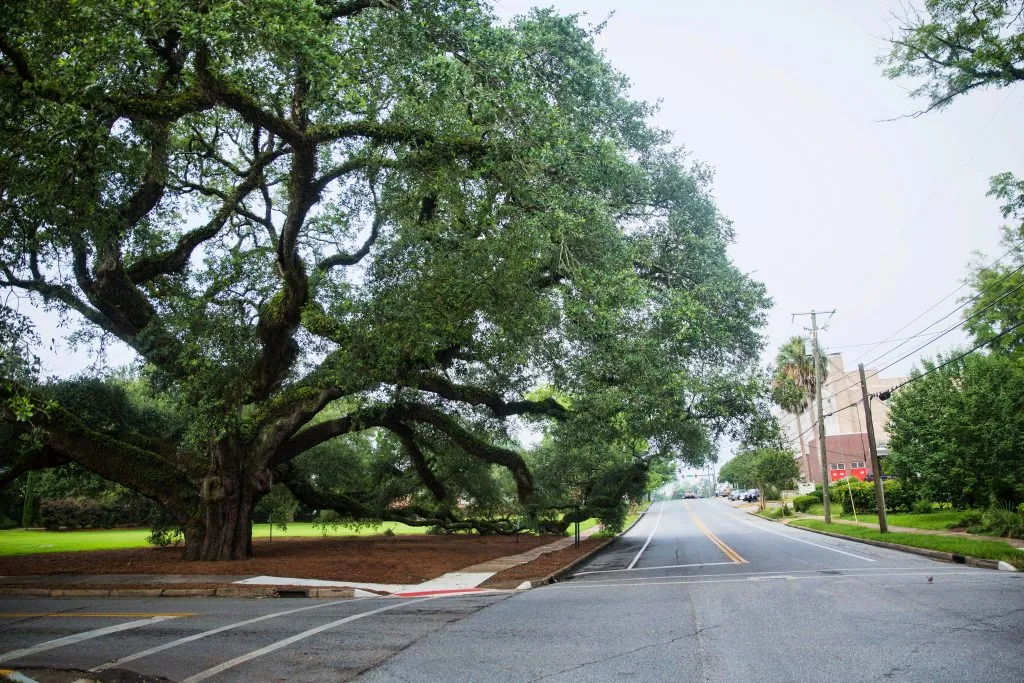 Be sure to stop at Jonah's Fish & Grits. Their shrimp and grits are famous and for good reason.
You'll also want to take your picture next to the Big Oak. This oak tree is more than 327 years old!
Next, visit the Rose Garden & Cherokee Lake Park. You might even see thousands of roses in bloom depending on when you visit.
Last but not least, be sure to visit the Birdsong Nature Center.
There are several walking trails and you'll be surrounded by the sound of birds.
All in all, Thomasville has so much charm and there's something new for you to explore every street you walk down.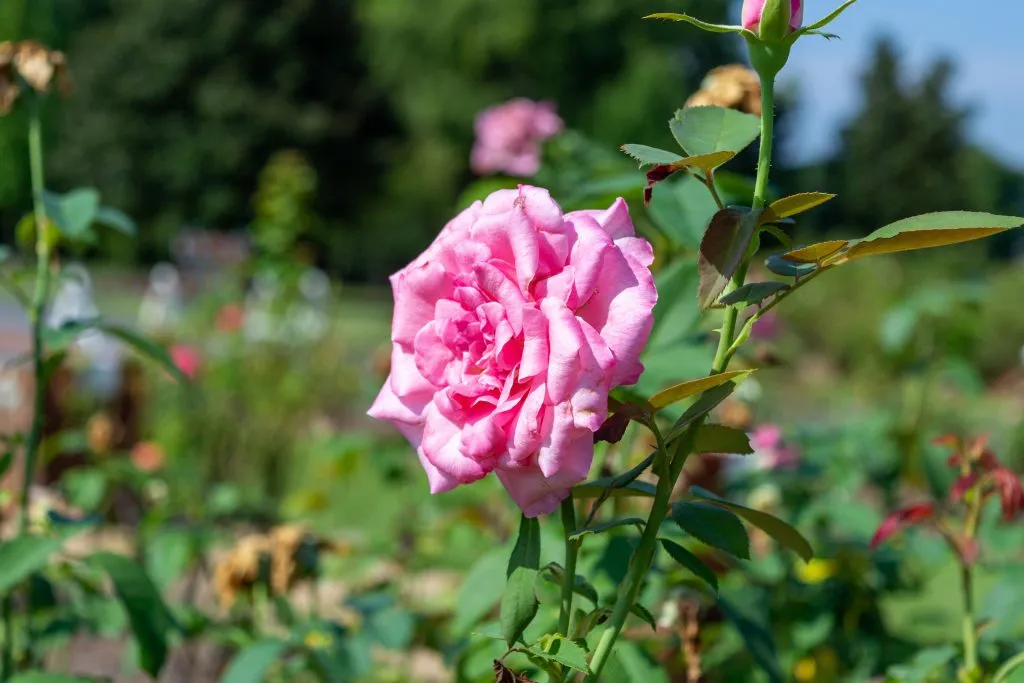 Naturally Beautiful Places in Georgia
Tybee Island
One of the most popular beaches in GA for out-of-town visitors, thanks in large part to its proximity to Savannah, Tybee Island is located just half an hour from the Savannah Historic District… but feels worlds away!
This classic southern beach town is dominated by long stretches of sandy beach, perfect for spending a day on the water.
Off the beach, other fun things to do in Tybee include taking a dolphin tour, going sea kayaking, and visiting the Tybee Lighthouse & Museum, where you can climb 178 steps in order to experience beautiful, sweeping views of the island and surrounding area!
Chattahoochee River National Recreation Area
From Elizabeth of The Fearless Foreigner
The Chattahoochee River National Recreation Area (CRNRA) is one of the best places to go in Georgia for hiking year-round.
It is a 48 mile stretch along the Chattahoochee River north of Atlanta. It is run by the National Park Services and is full of hiking trails.
The CRNRA is divided into 10 units or groups of trails. Altogether there are about 66 miles of trails.
The trails are mostly wooded, dirt trails that go along or close to the river. They range from easy to moderate in difficulty.
All the trails are well marked on the maps and by markers on the trails. Most of the trails are for hikers only, but some allow mountain bikers as well.
Each trail is a little different. East Palisades is one of the most popular due to its bamboo forest.
Sope Creek has some interesting Civil War ruins that you can climb around on and explore.
Check out more information about each trail in the CRNRA and see which one you want to hike first!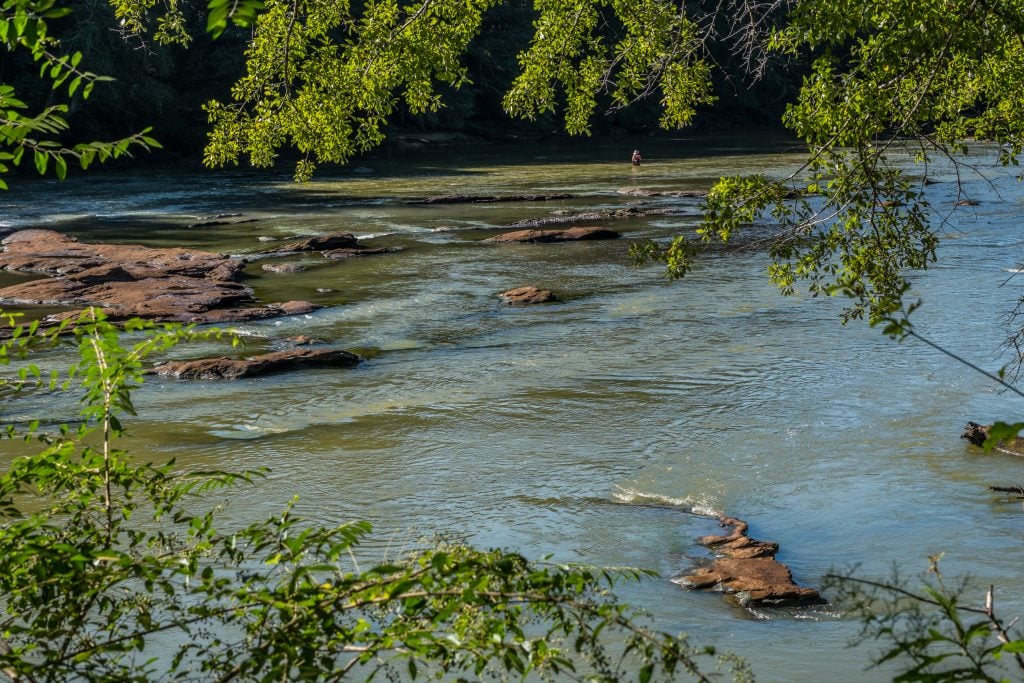 Jekyll Island
From Chris and Heather of A Brit and a Southerner
If you are looking for a hidden gem full of natural beauty, look no further than the breathtaking Jekyll Island, one of the best vacation spots in Georgia.
Recognized as one of Georgia's Sea Islands, this barrier island is packed full of attractions along with miles of wide-open beaches that attract visitors from all corners of the globe.
Stay at the historical Jekyll Island Resort for the ultimate experience, enjoying fine dining with fresh takes on authentic Southern cuisine, along with gorgeous architecture that is stereotypical of the history of this area.
The resort dates back to the prominent families of the Vanderbilts, Pulitzers, and Rockefellers who were once winter residents on this island.
Guests here can swing a croquet mallet on the front lawn before experiencing a decadent afternoon tea.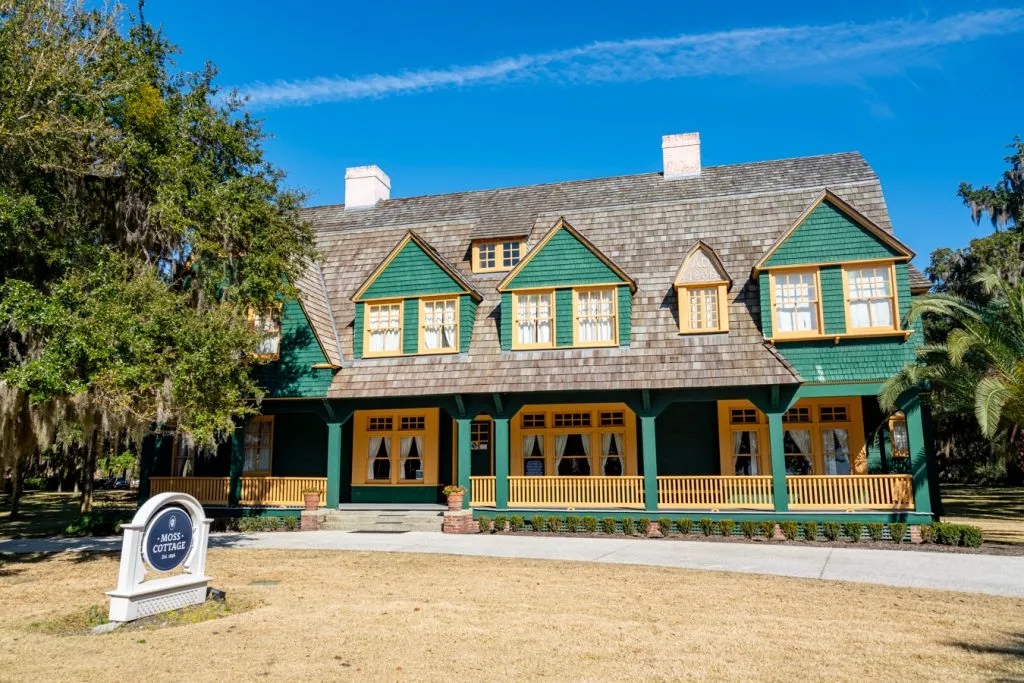 The nearby Georgia Sea Turtle Center is within short walking distance of Jekyll Island Resort and is well worth experiencing to learn about the various initiatives that are taking place to protect the natural habitat along the coastline.
Take a trolley tour around the 240-acre historic district to admire more gorgeous architectural masterpieces dating back to the 19th century, while learning about some of the iconic figures that once walked around these grounds.
When you are ready to venture further away from the resort, head over to Driftwood Beach to experience a unique sight that is particularly spectacular at sunset with the weird and wonderful driftwoods providing the perfect backdrop for epic photographs.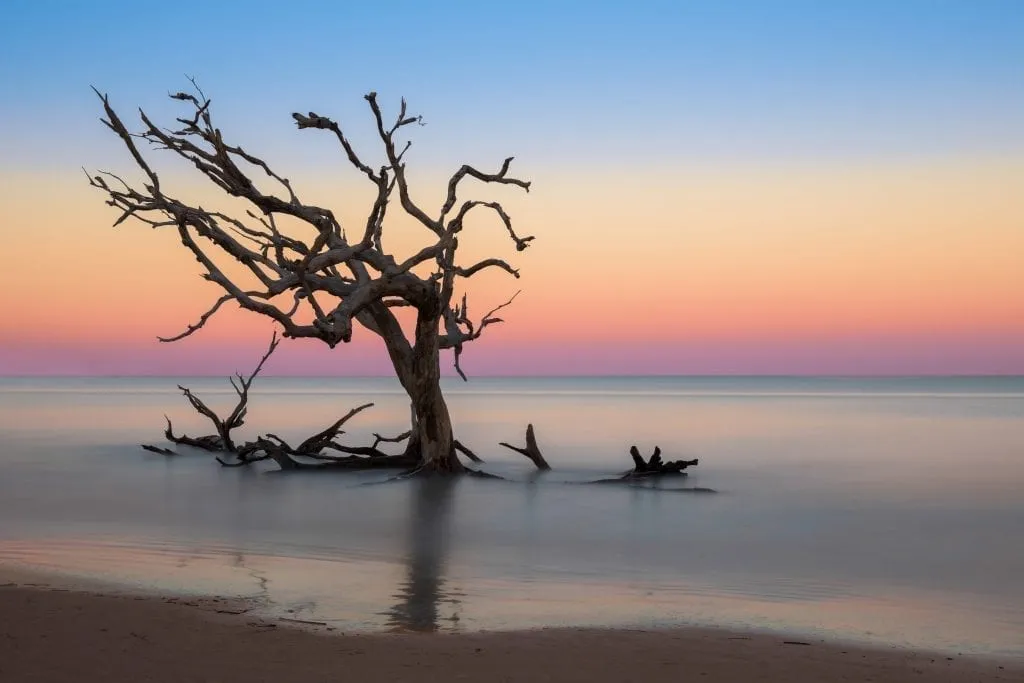 Providence Canyon State Park
From Victoria of Southern Trippers
If you are looking for the best places to go in Georgia, this is it!
Providence Canyon is known as the "Grand Canyon Of Georgia" and it looks a little bit like a miniature Grand Canyon!
The deepest part of the canyon is 150 feet deep and it was formed in the 19th century as a result of poor farming practices coupled with natural forces.
Today, it is a popular place for hiking and camping and is the perfect weekend getaway for families.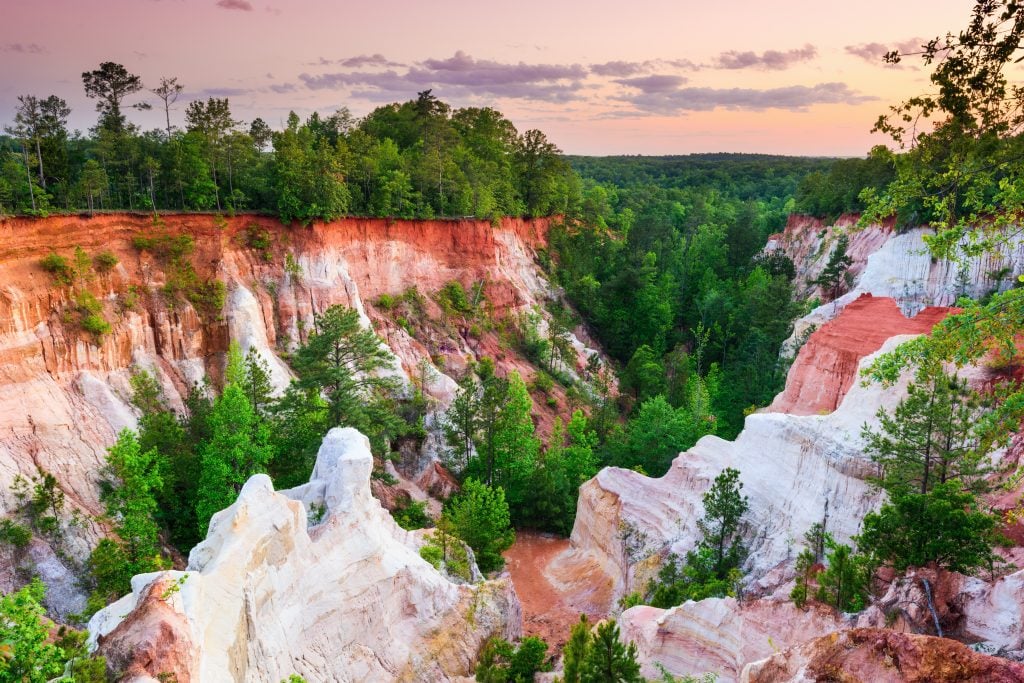 One of the best tips for Providence Canyon State Park is to get there early on the weekends as it fills up quickly!
The canyon is located around 40 minutes away from Columbus.
It is free to enter, you just have to pay $5 for parking.
When you visit, make sure to bring your own food and water as there are no dining facilities in the park.
You can hike along the rim or down into the canyon at this unique place to visit in Georgia!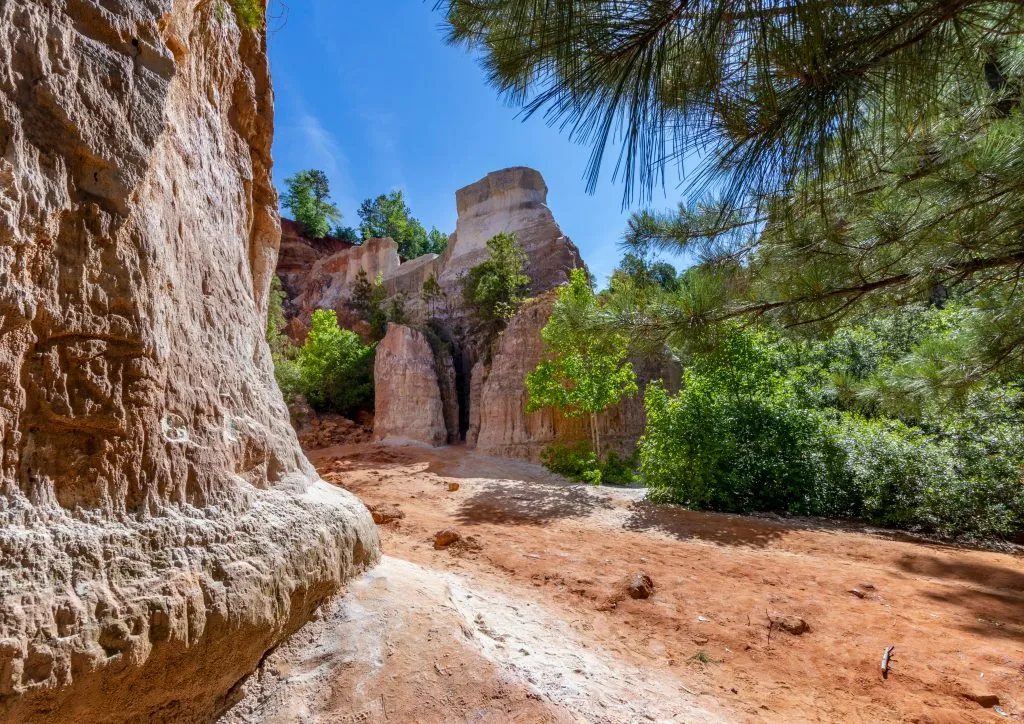 Cumberland Island
From Ruby of A Journey We Love
Cumberland Island is a beautiful barrier island off the coast of the Florida-Georgia Border that is one of the most memorable travel destinations in Georgia.
The island is managed by the National Park Service as part of the Cumberland Island National Seashore and is only accessible by ferry.
The ferry arrives twice a day, one at 9:00 AM and at 11:45 AM.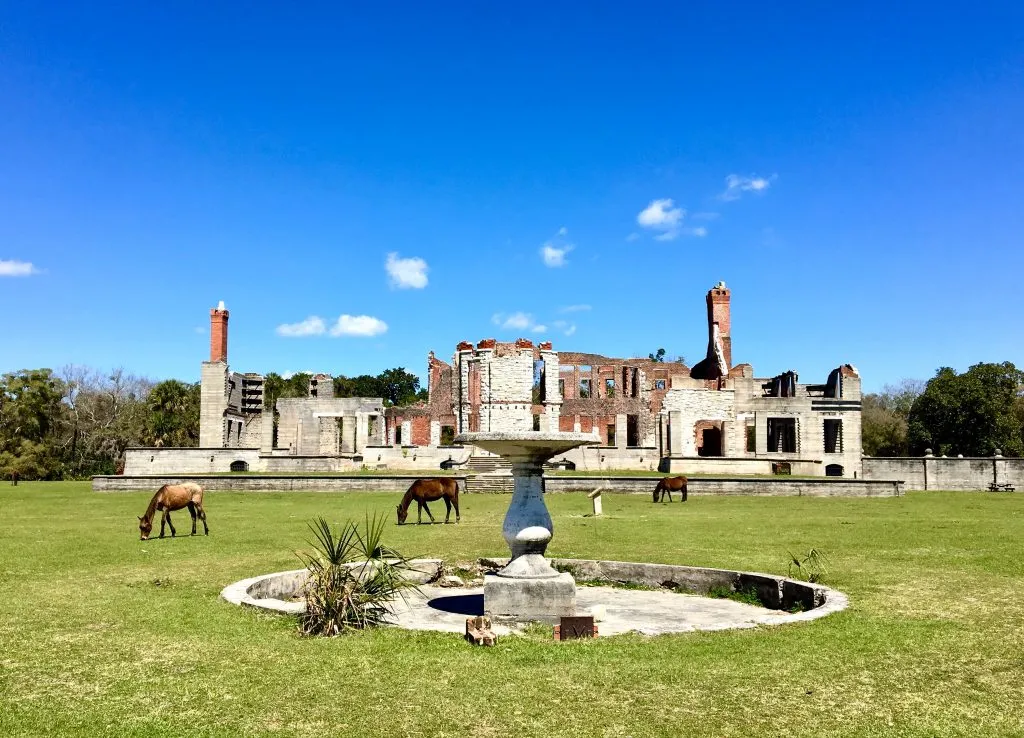 To see the historic places on the island like Plum Orchard Mansion, Dungeness Ruins, and the First African Baptist Church, it is best to take the Lands and Legacies tour offered by the NPS for $45 a person.
You may opt to tour on your own by hiring bicycles (available at the visitor center for a fee: first come first serve), where you can see pristine beaches, the wild horses of the island, and a lot of nature.
The island is known for its ruggedness and its ties to history.
If you have a bit more budget to spend, stay a few nights at the Greyfield Inn, Cumberland Island's only hotel.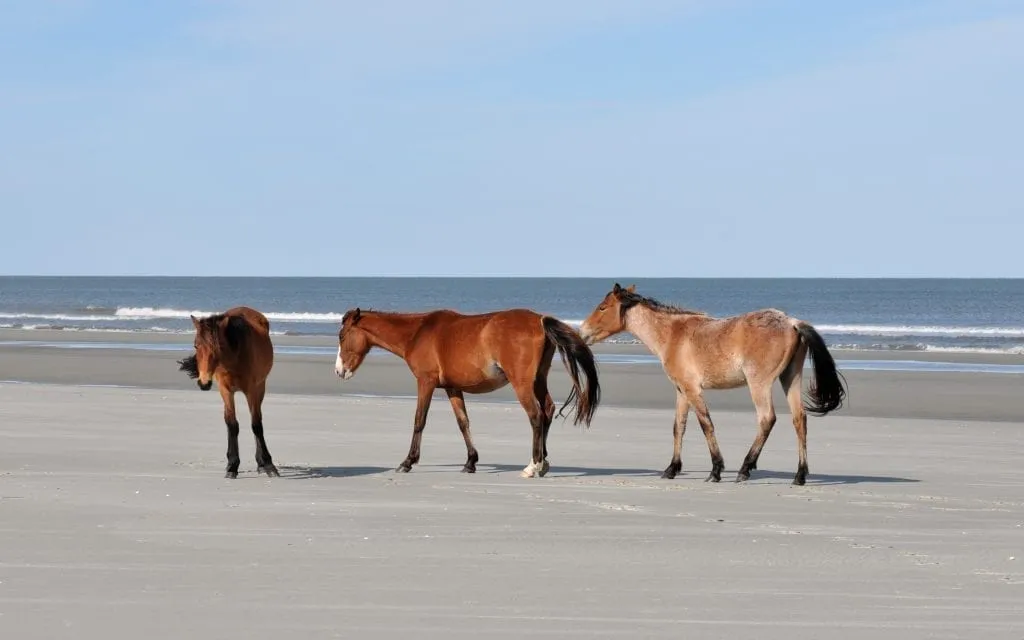 More of the Best Places to Visit in Georgia
Fort Pulaski National Monument
Built in the mid-19th century and surrounded by an impressive moat, Fort Pulaski is an imposing structure to this day.
For visitors to Savannah, Fort Pulaski is an easy addition to a Georgia vacation (technically, its address places it in Savannah–but for visitors who have been busy traipsing through the city's squares, it certainly feels like a world away).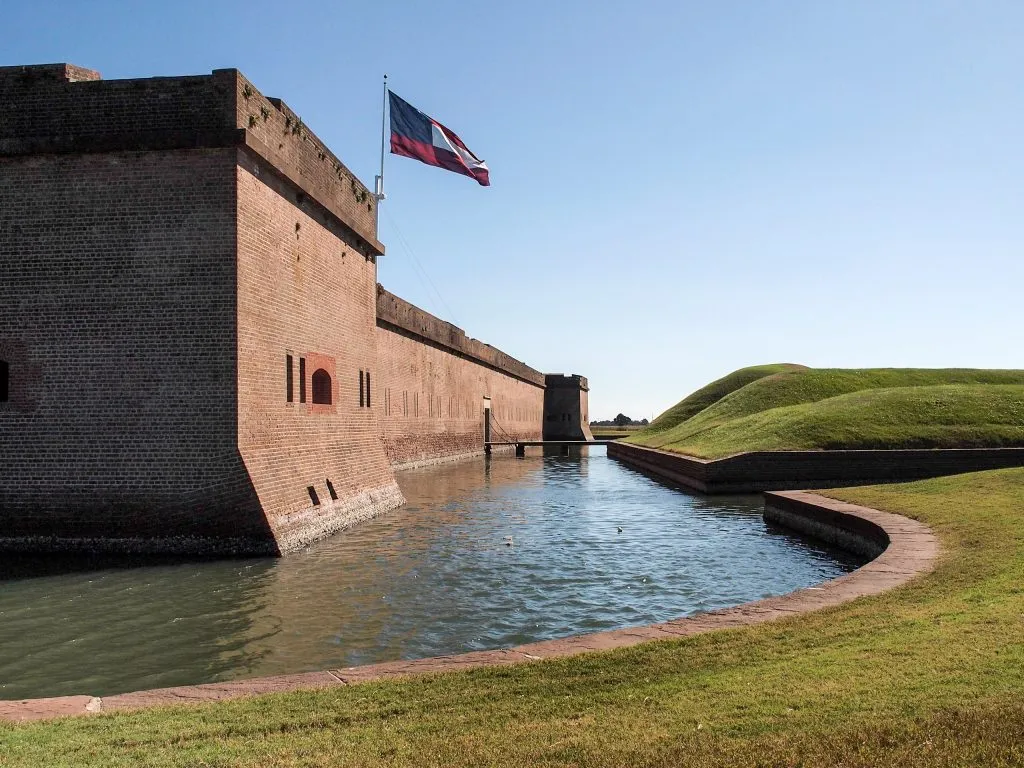 Like so many forts along the Atlantic Coast, Fort Pulaski played a role in the Civil War.
The only battle that took place at Fort Pulaski was between Union and Confederate troops, which ended in the Union taking control of the fort in 1862 and maintaining control of it from then on.
While you're there, be sure to tour the fort and associated museum, as well as sample one of the beautiful nature trails that show off the Savannah River, the surrounding marsh, Tybee Island, and more.
If you're interested in state history, be sure to add Fort Pulaski National Monument to your list of places to go in Georgia!