Colorful, compact, and teeming with beauty in every direction, Italy's beloved Cinque Terre is an absolute delight to photograph–especially when you head to the most instagrammable places in Cinque Terre!
If you've spent any time on social media in the last several years (or just picked up an Italy guidebook or two in the last couple of decades), odds are that you've seen at least a few of these Cinque Terre photo locations pop up before.
Here's how to find the best photography locations in Cinque Terre in person!
Some links in this post may be affiliate links. If you make a purchase through one of these links, we may earn a small commission at no extra cost to you. Please see our

disclosure policy

for more detail.
Best Cinque Terre Photo Spots in Manarola
Manarola is arguably the most popular village of the five, especially for Cinque Terre photography, and has graced the cover of many guidebooks over the years.
Here are its most instagrammable angles!
From the path that lines the outskirts of the harbor.
The paved trail that leads away from Manarola's harbor and winds toward Nessun Dorma might just be the best-known of all these instagrammable places in Cinque Terre.
It's also among the easiest to access of all these spots–a short stroll from the harbor is all it takes!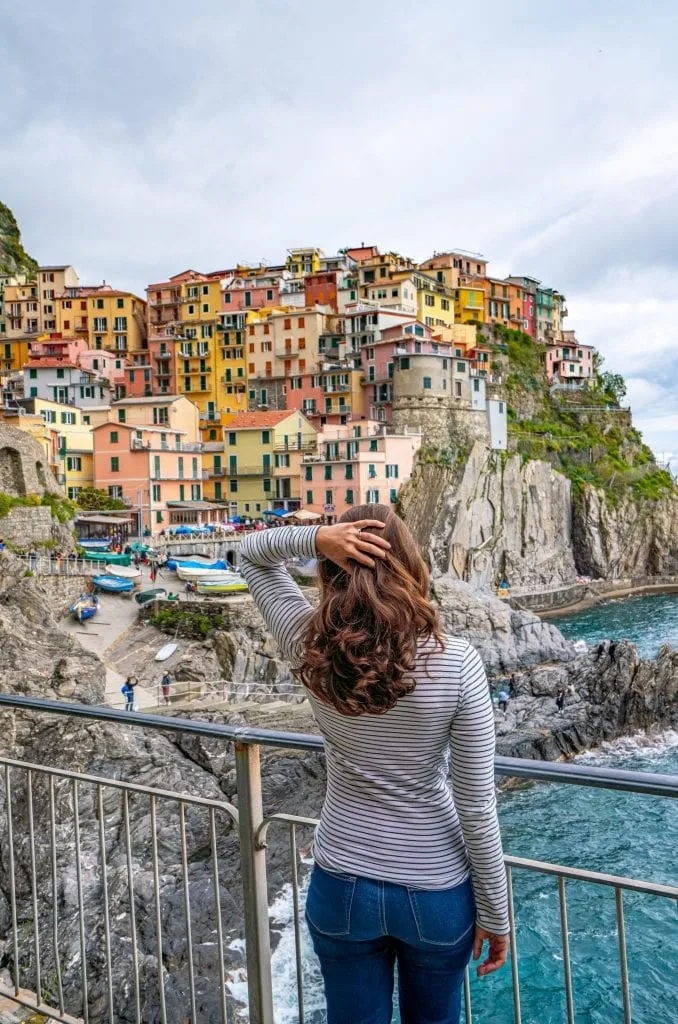 From Nessun Dorma.
This insta-famous restaurant is the ideal place to snap postcard-worthy shots of Manarola with an Aperol Spritz in hand–and their bruschetta gets rave reviews, too!
Come here for snacks and drinks, though, not a meal: their menu is fairly limited.
Among the vineyards above town.
Climb up, up, up above Manarola–essentially right on top of the path mentioned earlier–and you'll find yourself among Manarola's vineyards.
This quiet spot isn't nearly as crowded as the more easily accessed spots below, allowing more unusual photography angles.
And, while the views of the village are a bit more limited here, this area still makes our list of the best photo spots in Cinque Terre.
From the rocks in the harbor.
If you look down at Manarola's harbor as you admire it from above, you'll notice people swimming within a circle of large rocks in the harbor.
And, you should absolutely consider joining in!
Even if you don't feel like swimming (or, like our most recent Cinque Terre trip, the weather doesn't cooperate), you should still consider climbing down to snap photos of Manarola from below.
Where to Take Cinque Terre Photos in Riomaggiore
Colorful Riomaggiore is an absolute delight to photograph–especially when you're overlooking its adorable harbor!
Here are its best angles.
From the slippery rocks along the harbor.
Be careful as you climb over these rocks–you wouldn't be the first to fall on them–but the view looking up at Riomaggiore from here is one of the most popular photo spots in Cinque Terre!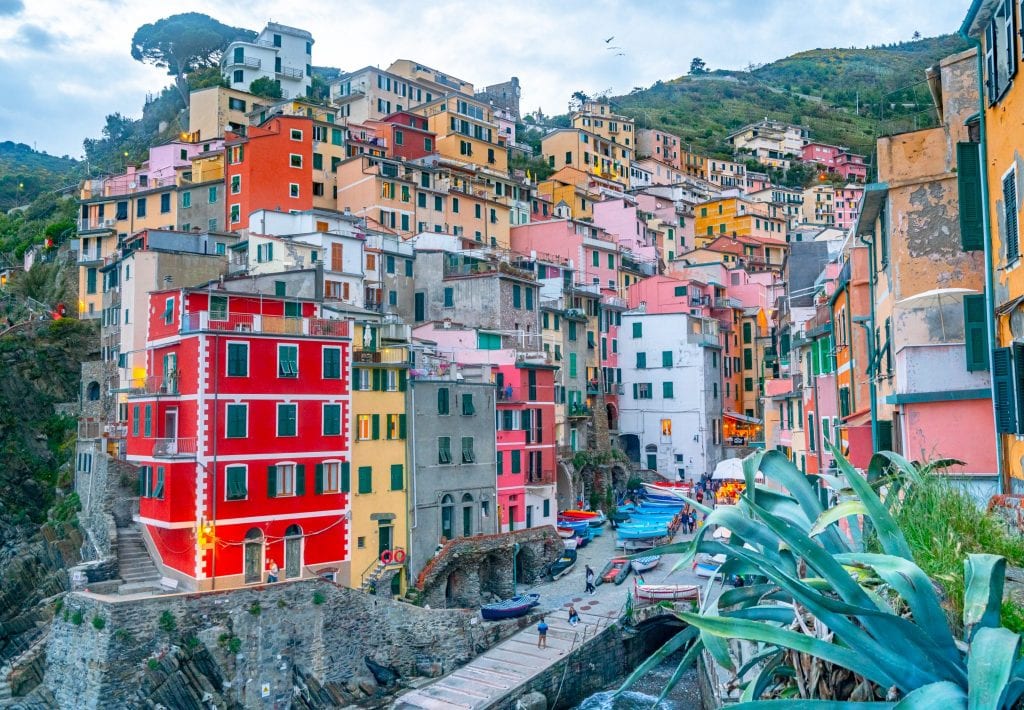 From the trail leading away from the harbor.
The direction leading away from the villages of Cinque Terre entirely has the best view in our opinion.
You've no doubt seen several dozen photos from this slice of trail!
If you cross to the other side of the harbor, the views are pretty magnificent there, too.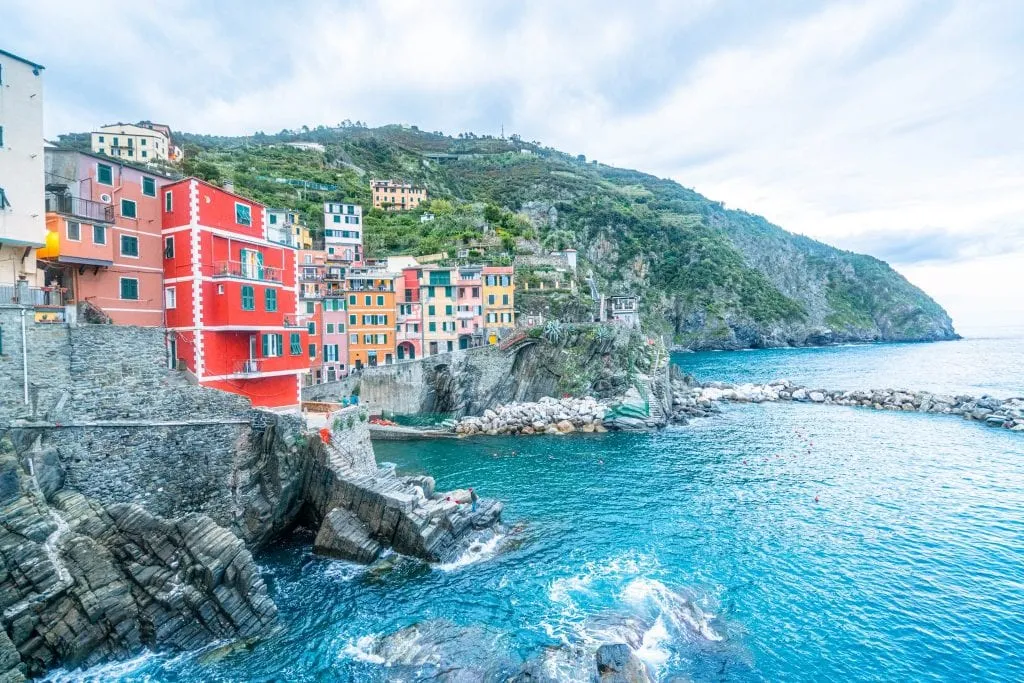 Most Instagrammable Places in Vernazza
In our personal opinion that not everyone shares, we consider Vernazza our favorite of the five villages, and the most photogenic village in Cinque Terre (most people seem to prefer Manarola).
A big part of why is that the village is stunning from above from not one angle, but two–so obviously we'll start with those when rounding up the best Instagram spots in Vernazza!
As you hike in from Monterosso al Mare.
As you approach Vernazza after hiking in from Cinque Terre, you'll be treated to an absolutely phenomenal view of the harbor which is among the most popular photo spots in Cinque Terre.
However, to access this view you will need to access the paid section of the trail with a Cinque Terre card.
There's a kiosk available to purchase them at the trail's entrance if you don't happen to have one already.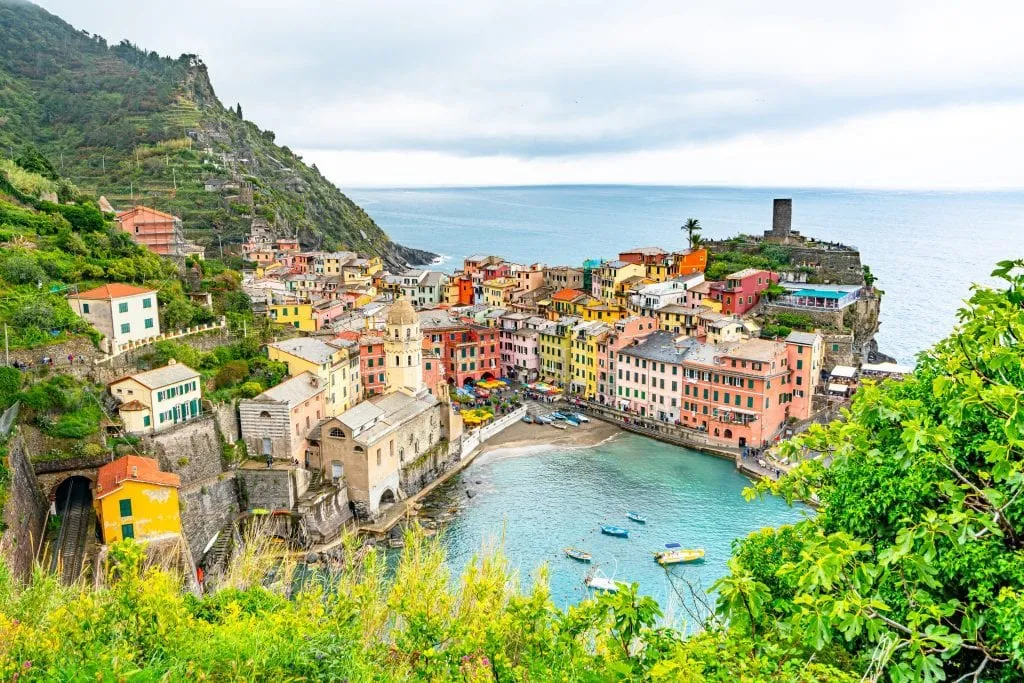 As you begin the hike to Corniglia.
Start hiking to Corniglia from Vernazza, and you won't get very far–in fact, you won't even reach the paid section of trail–before you're confronted with what is possibly my favorite photo location in Cinque Terre: this view of Vernazza jutting out to sea.
It's only about a 5-10 minute walk/climb from the center of town, so even if you're not much of a hiker, consider taking some time out of your day to seek out this view!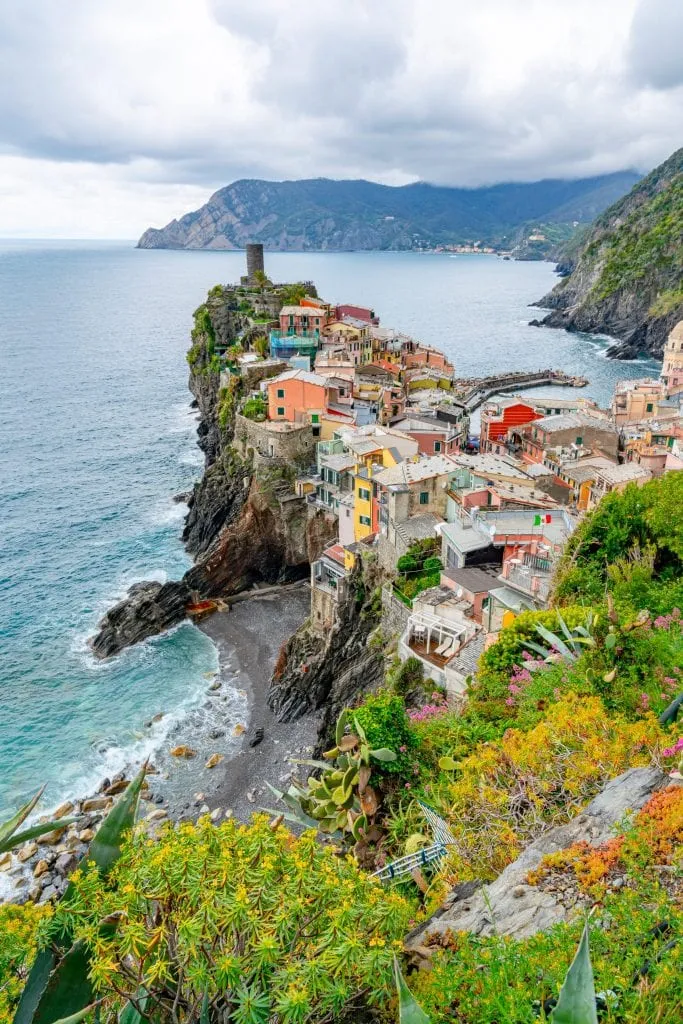 From the top of Castello Doria.
Vernazza's beautiful Castello Doria, perched on the edge of the sea, is photogenic in its own right–but the views from the top are also pretty magnificent!
From the edge of the harbor.
Vernazza has one of the prettiest harbors in Cinque Terre, and it's incredibly easy to access.
Simply walk straight down to the water from the train station, and in a matter of minutes, you'll be watching tiny fishing boats bobbing in crystal-clear water in front of the village.
Be sure to turn around, too–the views of the landscape looking back toward Monterosso al Mare are lovely from the rocks on the edge of the harbor.
Where to Snap Photos in Monterosso al Mare
Of all the Cinque Terre villages, Monterosso al Mare is the truest beach town.
As the only village with a long expanse of sandy beach, this is the village to head to if your Cinque Terre photography project is focused on colorful umbrellas and idyllic beach scenes.
Overlooking the beach as you leave town.
As you say goodbye to Monterosso al Mare and begin climbing toward Vernazza, there are phenomenal views to be had of the village, beach, and the Spiaggia di Fegina as you look back.
Many of the best angles can be captured before the official trail to Vernazza starts, too, meaning that these instagrammable spots in Cinque Terre don't require you to pay to admire them.
From above as you approach the coast.
As you exit the central area of Monterosso al Mare and approach the beach, you'll be elevated above the town's famous beach.
In other words, a photographer standing above the beach has an incredible vantage point to capture people, colorful umbrellas, and the sea as it laps the shore!
With the Spiaggia di Fegina.
This large rock formation is iconic in Monterosso al Mare, almost a symbol of the village.
The rocks are also incredibly photogenic, especially when paired with the beach!
Cool Photography Locations in Corniglia
Corniglia is the least-visited of the Cinque Terre villages, in part because of the steep climb you need to complete to access it from the train station (that or wait for a frequently uncomfortably crowded bus, anyway).
Once you arrive, though, the village is charming and beautiful, featuring some of the best views of the natural landscape and the lightest crowds in Cinque Terre.
Along all the tiny streets.
Corniglia is a delightfully compact maze of a town, all tiny alleys and stairways leading to unexpected viewpoints.
The slightly-less-over-the-top crowd levels as compared to the other villages make Corniglia one of the easiest town centers to photograph in Cinque Terre.
From the edge of town, overlooking the cliffs.
Located high in the hills (it's the only Cinque Terre village without a harbor!), Corniglia boasts some of the best views of Liguria's natural coastline in Cinque Terre, and it's definitely worth admiring.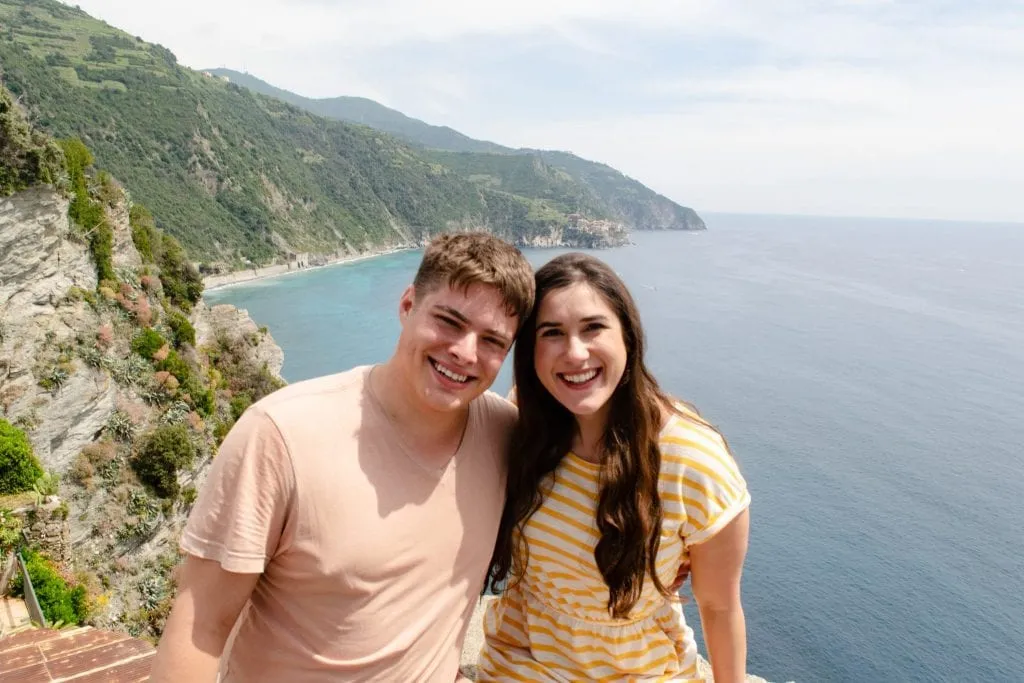 Tips for Photographing Cinque Terre, Italy
Be careful on the rocks!
I mentioned it above, but it's worth repeating: you wouldn't be the first to fall on the slippery rocks in the harbors of these beautiful villages.
Be careful as you seek out the most instagrammable spots in Cinque Terre!
Absolutely do not cross into private property.
I see this all the time on Instagram and it drives me crazy.
The residents of Cinque Terre are definitely used to have tourists around, but when they put up fences and signs asking that their private property be left alone, that should absolutely be respected.
Treat the villages with care, and remember–2.5 million people visit Cinque Terre every year and many of them see the same signs. Trespassing isn't a secret or a good look.
Respect trail closures.
Cinque Terre's landscape is fragile and can be dangerous.
Landslides are an issue (hence why what was once one of the most popular trails, the Via dell'Amore, has been mostly closed for years).
Injuries and deaths are rare, but not unheard of–and like any other place with landslides, precarious heights, and water, caution is necessary.
When trails are closed, either due to weather or for repairs, be sure to respect it.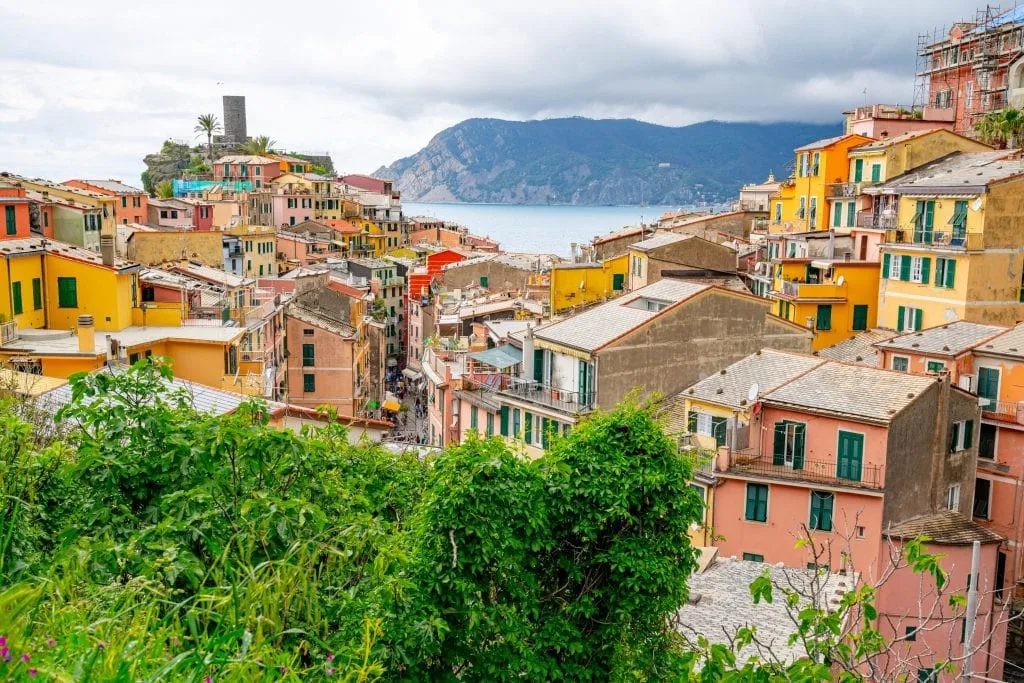 Wake up early for the best results (especially during the summer).
This is true of most popular photography locations, of course, but it's also great advice for taking pictures in Cinque Terre.
Early morning equals beautiful light and far, far fewer crowds.
Don't try to photograph all five villages in one day.
If you're focused entirely on photographing Cinque Terre and only have a day to do so, I'd recommend starting with Vernazza, Manarola, and then either Riomaggiore (if you'd like another harbor) or Monterosso al Mare (if you'd like to photograph the beach).
That'd be my personal order of priority, but of course, everyone has their own dream shots when seeking out the best photo spots in Cinque Terre!
For even more Cinque Terre photo opportunities, hit the water!
A boat ride between the villages, which runs regularly during the high season, is a great way to get unique angles on both the villages and the surrounding landscape.
Manarola is the perfect village for sunset.
We've all seen plenty of photos of Manarola at sunset, right?
It's not only one of the most instagrammable places in Cinque Terre, it's probably one of the most-photographed places in Italy!
… But that being said, Riomaggiore at sunset is pretty lovely, too, and offers opportunities to take stunning Cinque Terre photos.