Known for their beautiful colors, stunning cliffside setting, and many local hikes, the five fishing villages of Cinque Terre are undeniably one of the most famous coastal getaways in all of Italy–so it's no surprise that several visits later, we've assembled quite a list of Cinque Terre tips, tricks, and pieces of advice for visiting this gorgeous slice of the Italian coast.
Here are the Cinque Terre tips we think everyone should hear before arriving for the first time!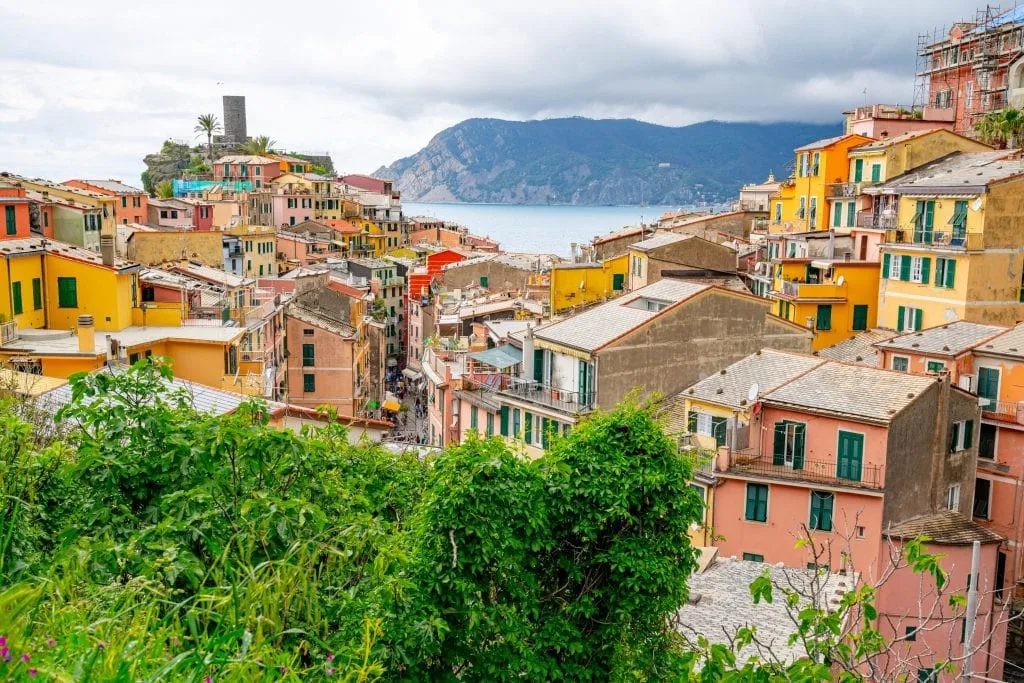 Tips for Exploring Cinque Terre
Shoulder season is the best season to visit Cinque Terre.
Unless you have your heart set on near-guaranteed swimming conditions during your trip to Cinque Terre, shoulder season–spring or fall–is truly the best time to visit the villages.
It's no secret that Cinque Terre struggles with the number of visitors who come during the summer and often overwhelm the villages and their infrastructure, and those realities combined with simply how crowded Cinque Terre can be makes summer less than ideal for a visit.
Winter, however, isn't the best time to visit either–even if you're not worried about swimming, you're still likely to find many businesses closed for the season in addition to the cold weather.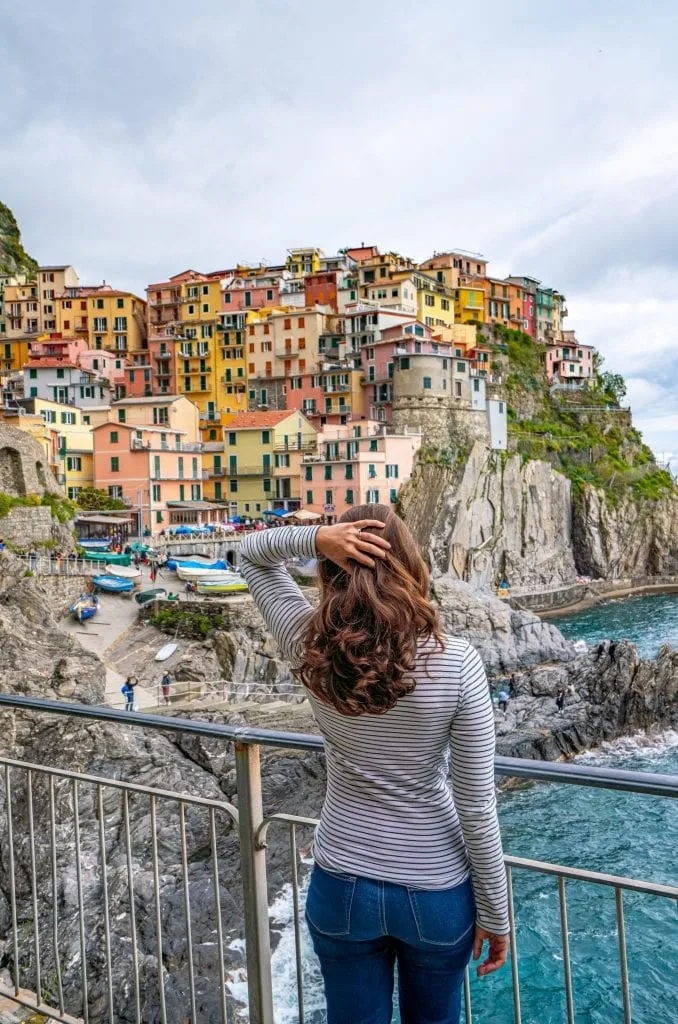 If you're looking to lay out on the beach, head to Monterosso al Mare.
Monterosso al Mare is home to the only traditional beach–complete with sun chairs–in the five villages, though you can have a fun swim in the harbor of Riomaggiore or Manarola!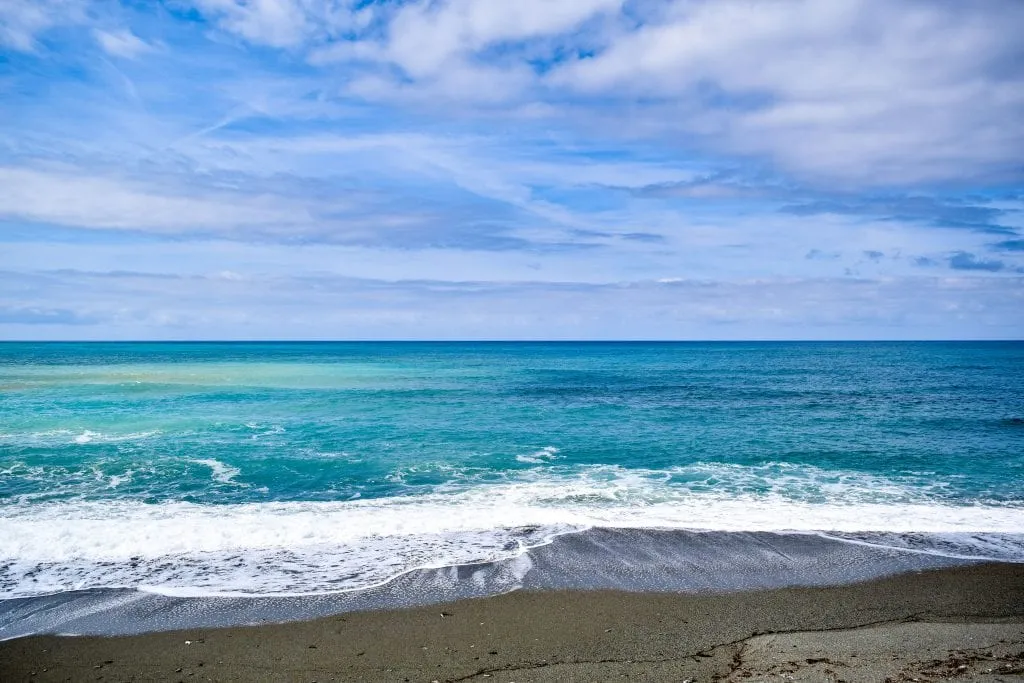 If you want to hike between villages, you'll need a Cinque Terre card.
If there's one Cinque Terre tip we can give for getting around, it's this: purchasing a Cinque Terre card will make your visit go much more smoothly than it would otherwise.
A Cinque Terre card will allow you to use the trails, the wifi network in the villages, the buses, and also allow entrance to the toilets at the train stations in the villages (sounds silly, but at 1 Euro/use, those costs can add up!). You can also add on an option to your Cinque Terre card to use the trains, which we highly recommend.
As of the time of writing, a one day Cinque Terre card runs 7.5 Euros for adults or 16 Euros with train access. You can check updated prices and information here.
Vernazza is often considered the prettiest of the villages–and we agree.
Unlike most of the villages, which have one postcard-worthy, picture-perfect viewpoint, Vernazza has two–one visible when approaching the village from Monterosso al Mare, and one visible when approaching the village from Corniglia.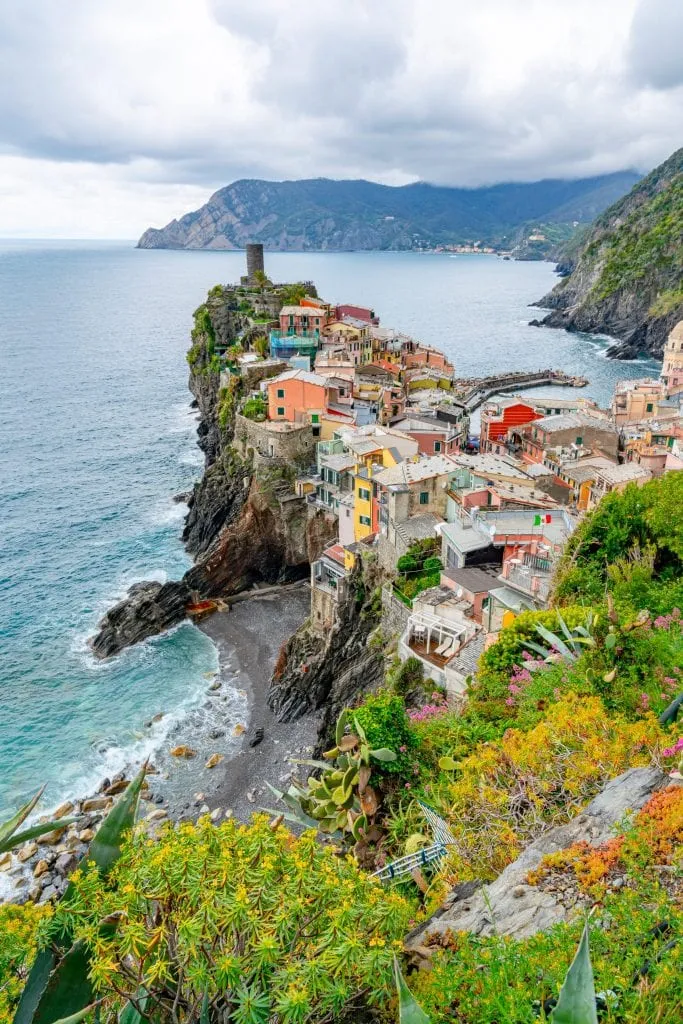 … But you don't have to hike (much) to access Vernazza's viewpoints.
The one of the harbor is visible about 10 minutes up the trail (though in the paid area, so you'll need a Cinque Terre card to see it), and the one of the town jutting out to sea is only about five minutes up the trail–and you don't even need to be on the paid section of the trail to enjoy it!
Don't trespass.
I cringe every time that I see people hopping fences and blowing past private property signs to get photos of Cinque Terre's viewpoints (and then shamelessly posting their conquests on Instagram for the world to see, of course).
The locals are put out enough by absorbing the mass of tourism that has come to this part of the world–don't be a jerk about it.
This goes for anywhere, of course, but Cinque Terre does seem to attract more than its fair share of fence-hoppers–and if I could only give one travel tip for Cinque Terre, it would be this one.
Looking for that famous viewpoint? It's in Manarola.
If you've seen one photo of Cinque Terre, it's probably of the harbor of Manarola–and the view is a less than 5-minute, flat walk from the village. It's also free to visit!
Want to get a higher viewpoint? The Nessun Dorma restaurant serves light food and beautiful cocktails that are wonderful to enjoy while admiring Manarola's most famous angle.
You have to eat pesto while in Cinque Terre.
Liguria is known for its pesto, especially served as trofie al pesto, and it is an absolute delight! This is perhaps the most important of these Cinque Terre tips as far as your taste buds are concerned: don't leave without devouring at least one serving.
… and the seafood, of course.
These are fishing villages, after all–and the seafood in Cinque Terre is magnificent as a result.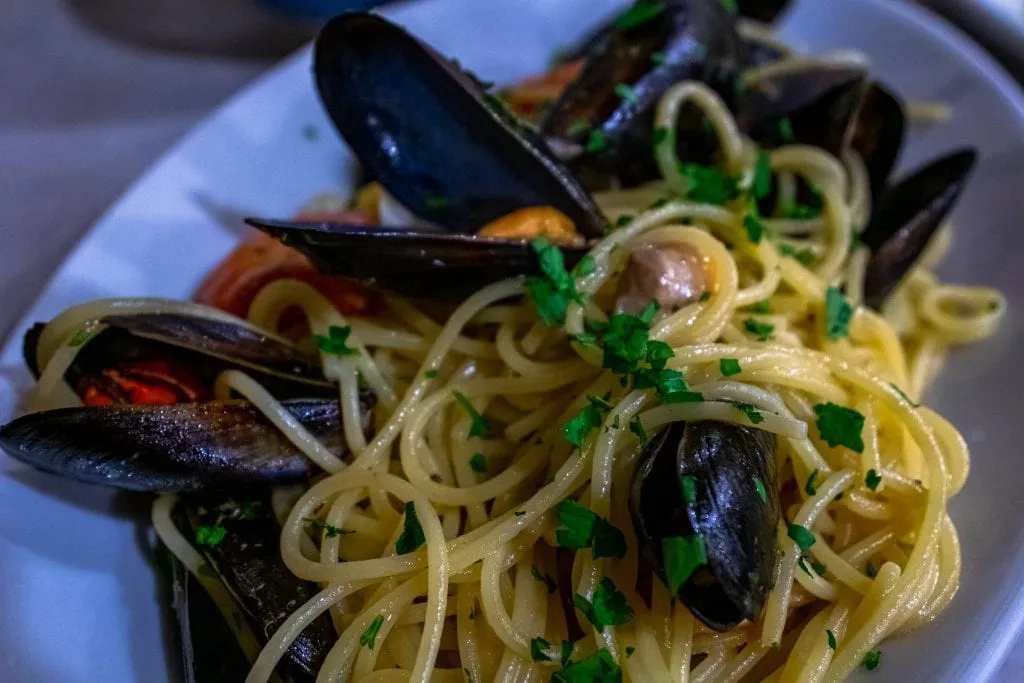 Where to Stay in Cinque Terre Tips
If at all possible, you should really spend (at least) one night.
While it is possible to visit Cinque Terre as a day trip, we strongly recommend booking at least one night there if at all possible.
The villages have a quiet(er) beauty to them when the many daytrippers leave, the sunsets are gorgeous, and there's simply something special about seeing Cinque Terre under the cover of darkness.
Ideally, we'd recommend 3 nights in the villages, but of course, that doesn't always fit into a trip's itinerary.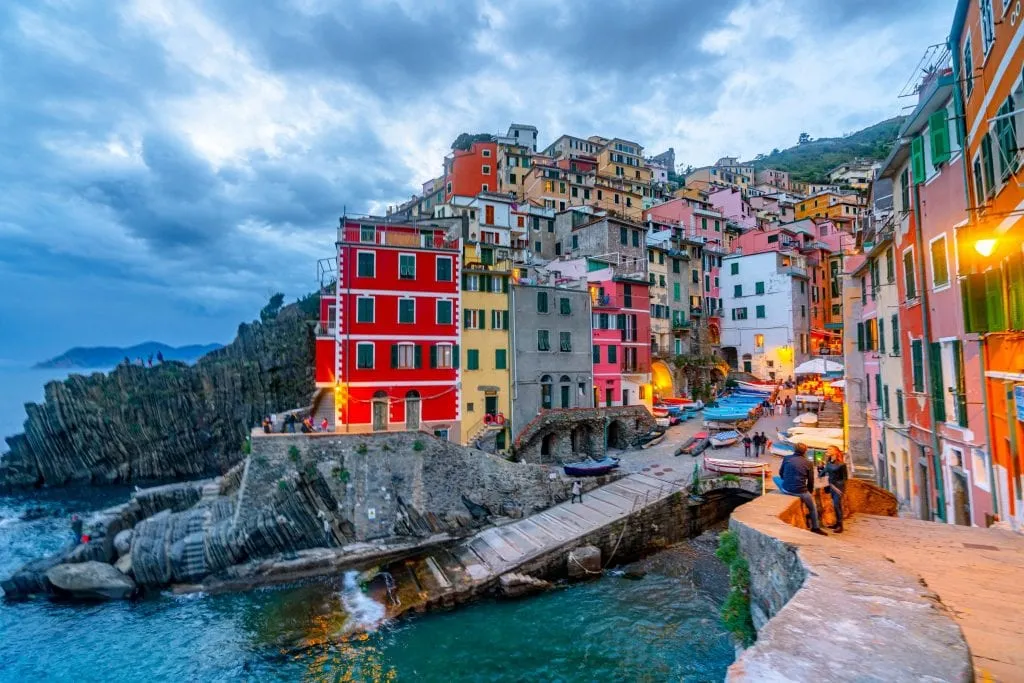 When deciding where to stay, not all villages are created equal.
Riomaggiore is our personal favorite village to stay in–it's a great mix of beautiful views, several restaurants to choose from, and quiet streets to stay in.
Monterosso al Mare is the best pick for beach lovers, and Manarola or Vernazza for those looking to soak up stunning views overnight.
The only village we personally wouldn't choose to stay in is Corniglia, for the simple fact that it requires more effort to get in and out of than the other four villages.
If you find a hotel or apartment you like, book it.
Unlike major cities like Rome and Milan, Cinque Terre's villages are small and don't have any large hotels–only boutique properties and family-run spots.
For this reason, places to stay in Cinque Terre sell out fast. If you find one you like, book it now!
Places to Consider Staying in Cinque Terre
Luciano Guesthouse (Riomaggiore) — This is where we stayed during our most recent visit to Cinque Terre, and we can't recommend it enough! The property was clean and lovely, and the customer service offered by Francesco and his wife during our stay was absolutely top-notch. We would be thrilled to stay again!
Scorci di Mare (Riomaggiore) — Want to stay a 3-minute walk from the beach and see the sea from your window? Scorci di Mare is the perfect spot for you. Riomaggiore is small, beautiful, and easy to navigate, making it the perfect reprieve from busy days (and all the other villages are a short train ride away). Plus, Scorci di Mare comes with the bonus of having a Michelin-honored restaurant located practically next door!
Da Baranin (Manarola) — Cinque Terre is expensive, there's no getting around it. For a budget option, consider Da Baranin–you'll need to climb up and down a steep hill as a trade-off, but you'll get to stay in Manarola for a very affordable price tag!
Ca de Lelio (Manarola) — With cozy, modern rooms and a great location in Manarola, Ca de Lelio will have you perfectly situated to explore the villages.
Cinque Terre hotels too expensive? Consider La Spezia or Levanto.
Given its small size and intense popularity, it's no surprise that Cinque Terre is far from the most affordable place to book a hotel in Italy.
If you want to spend a couple of days enjoying all that Cinque Terre has to offer but also want to travel on a bit more of a budget, consider staying in one of the towns that border Cinque Terre instead.
Levanto and La Spezia are both lovely options that have easy train access to Cinque Terre.
Absolutely can't spend the night? Book a tour.
If spending a night in Cinque Terre simply doesn't fit into your schedule, a day trip is the next best thing!
If you're driving yourself and/or coming from somewhere reasonably close, this is easy enough to do independently.
If you're coming from as far away as Florence or Milan, however, an independent day trip is quite the hassle, and we recommend booking a tour instead: this one from Florence and this one from Milan are both well-reviewed and popular.
Book your day trip to Cinque Terre from Florence or Milan today!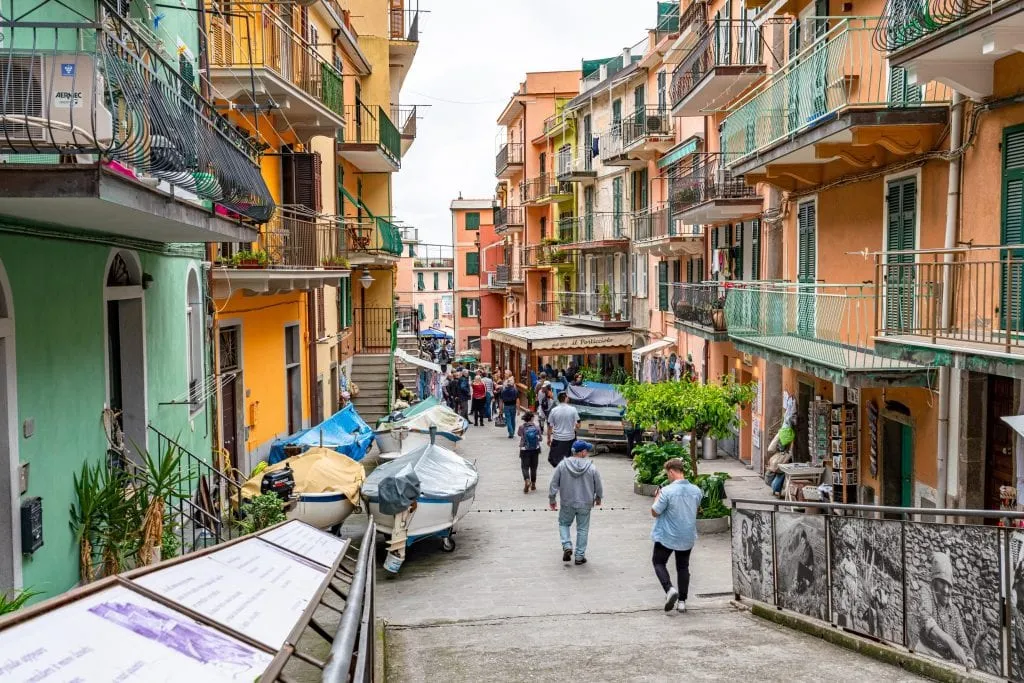 Hiking Tips for Cinque Terre
Confirm your hiking plans with a local before you start.
Landslides, storms, maintenance issues… because of these concerns and more, sections of Cinque Terre's trails have opened and closed many times over the years.
Because of the constantly shifting access, we recommend chatting over any hiking plans with a local (your hotel operator or a guide in one of the tourism offices at each train station is a great option) before you get started.
That way, you can get the most up-to-date information on available hikes, get a heads up on any quirks, and perhaps even learn about new trails you weren't familiar with before!
If you only have time for one hike, hike from Monterosso al Mare to Vernazza.
This hike isn't an enormous time commitment (it takes about 2 hours on average) and is incredibly beautiful.
The views of Vernazza as you approach the village are absolutely magnificent, hence why we suggest hiking this way instead of from Vernazza to Monterosso al Mare as part of this list of Cinque Terre tips!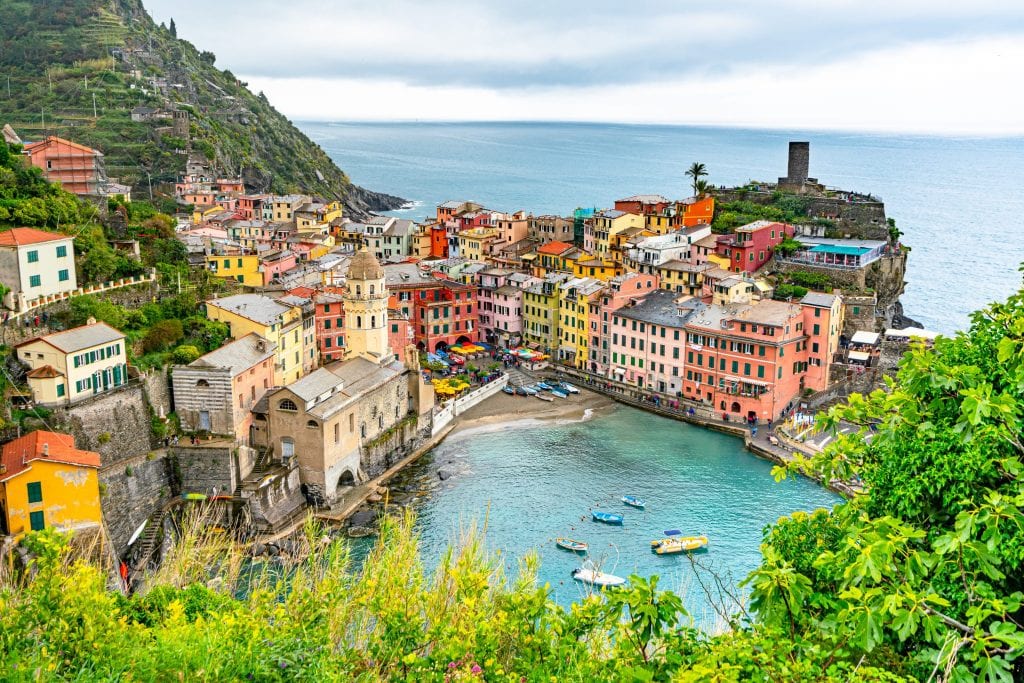 Getting Around Cinque Terre
Beware of train strikes.
On our very first visit to Cinque Terre, we were hit with a train strike that massively impacted our plans, so keeping an eye out for these will always be on our personal list of Cinque Terre tips!
Luckily, Italians plan their strikes in advance, so ask around before setting off for the day if you're concerned.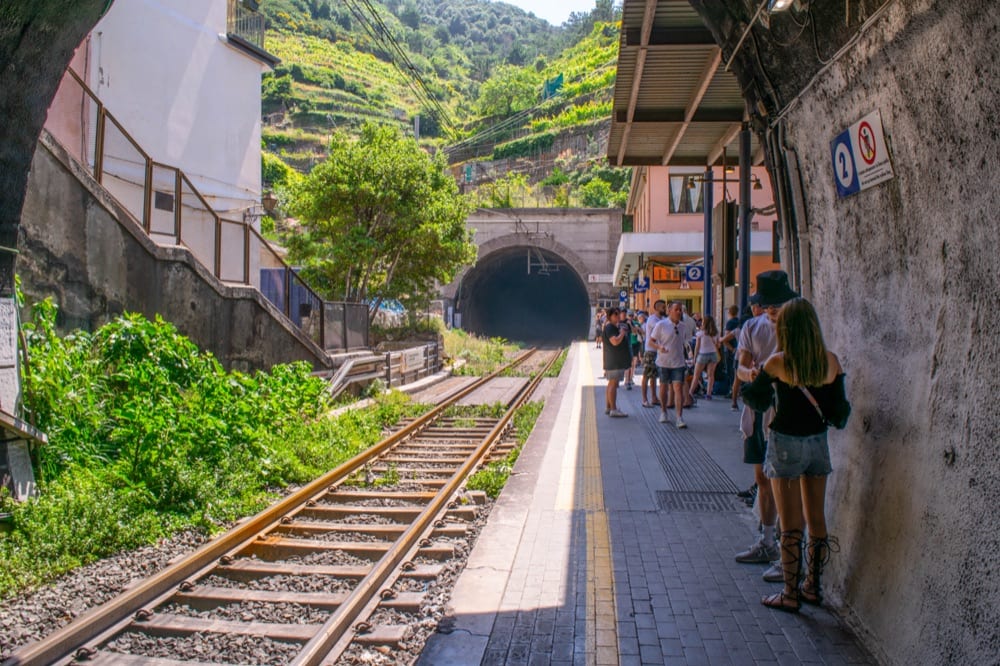 … But also, the train is (often) the best way to get between the villages of Cinque Terre.
When at all possible, the train is generally the best way to get around the villages of Cinque Terre (when you're not hiking, anyway). It's inexpensive, it's fast, it's easy, and as the train stations (except in Corniglia) are right inside the towns, the trains are very easy to access.
Don't forget about the boats (during the summer, that is).
Ferries between the villages of Cinque Terre also run during high season–if you're there when the ferries are running, we recommend taking the boat at least once in order to appreciate Cinque Terre from the water!
The exception is Corniglia, as it is the only village in Cinque Terre without a port.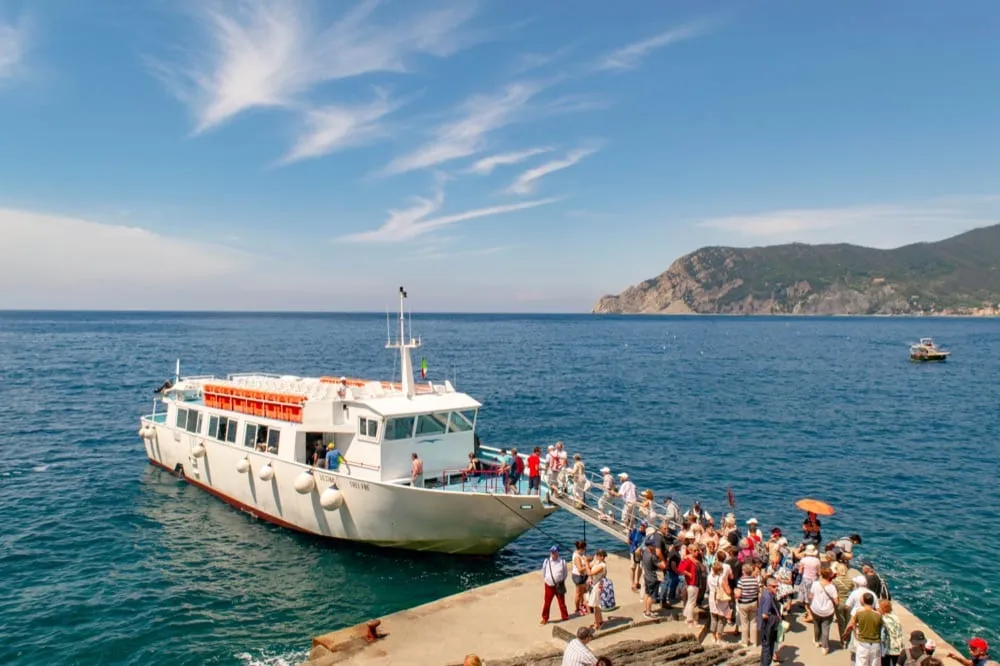 Don't drive to Cinque Terre.
It is much easier to take the train between the villages than drive between them.
If you do bring a car to the area, we recommend parking it in Levanto or La Spezia (both train stations have paid parking garages available) and then taking the train to Cinque Terre from there.