Magnificent coastal views, colorful boats bobbing in harbors, pastel villages that climb high into the cliffs, and delicious food: is it any surprise that spending at least one day in Cinque Terre is on just about everyone's Italy bucket list?
These five gorgeous villages on the Ligurian coast are as lovely as they are popular, and even if you can only squeeze in one day in Cinque Terre, they are worth the trek to visit.
Trying to see Cinque Terre in one day?
We've had a chance to visit Cinque Terre several times, both on day trips and on longer, multi-day stays.
We designed this Cinque Terre itinerary to give you a taste of all five villages–and if you're anything like us, there's a good chance you'll leave Cinque Terre already clamoring to come back.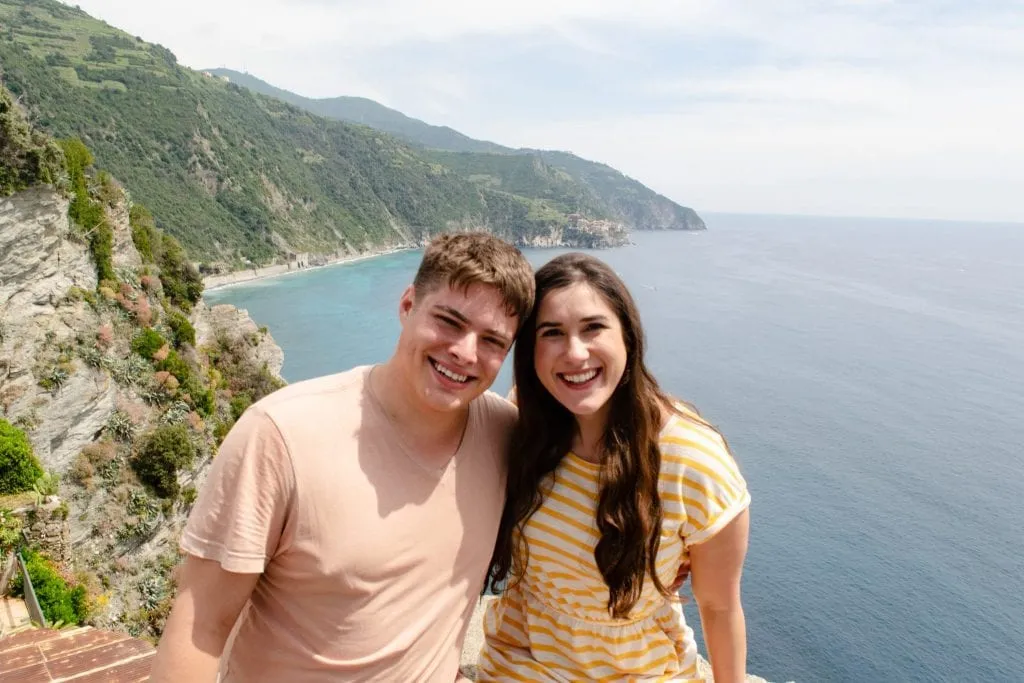 Some links in this post may be affiliate links. If you make a purchase through one of these links, we may earn a small commission at no extra cost to you. Please see our

disclosure policy

for more detail.
Is One Day in Cinque Terre Enough?
One of the most common questions from people considering a day trip to Cinque Terre is whether or not one day in Cinque Terre is enough time to justify the hassle of traveling to the villages–and it absolutely is!
Whether you want to squeeze in a brief taste of all five villages or explore 2-3 of them more deeply, one day in Cinque Terre is long enough to appreciate the beauty of the region.
(… And to devour at least one serving of trofie al pesto, a very important inclusion on any Cinque Terre itinerary).
That being said, if you can squeeze in more time in Cinque Terre, you absolutely should!
We've visited the villages both as day trips and over a multi-day stay, and can absolutely attest that a few days in Cinque Terre is even better than one.
Planning a day trip to Cinque Terre?
While this itinerary for Cinque Terre can work for both a day trip or an overnight one, it's more geared toward someone who has a long day to work with, either by spending the night or staying nearby.
If you're planning to take a day trip to Cinque Terre from Florence or Milan, we recommend booking a well-reviewed tour like this in order to make the most of your time!
We go through the reasons why in more detail in this blog post, but essentially, Cinque Terre is a bit too far from Florence (or Milan) to make a practical independent day trip.
If you're staying a bit closer to the villages–say, in Genoa, Pisa, or even Lucca–an independent day trip becomes more feasible.
The Perfect One Day Cinque Terre Itinerary
Start your morning in Monterosso al Mare.
As the largest village in Cinque Terre (by area, anyway–Riomaggiore has the highest population) and the only village with a sandy beach, Monterosso al Mare is the perfect place to kick off your one day in Cinque Terre.
Grab a coffee and cornetto at the bar, stroll through the shops, and, if it interests you, duck into the highly memorable Oratorio dei Neri, which is a church decorated with human skeletons.
After getting your fill of the town, head down to Monterosso al Mare's sandy beach, which is the main beach of Cinque Terre.
Depending on what kind of day you have planned (and how early you started your day!), you may want to rent one of the colorful umbrellas at the lido (beach club) and enjoy the water for a couple of hours… or you may want to move on.
Just be sure that if you do stop to swim that you don't stick around too long, because several other villages are calling!
Head to our favorite village in Cinque Terre: Vernazza.
Colorful, busy, brilliant Vernazza is our personal favorite village in Cinque Terre!
Everything from its harbor to its small castle to its beautiful viewpoints to its tiny back streets is a delight, and no one day in Cinque Terre is complete without seeing it.
However, depending on what kind of day you have planned for yourself, there are two ways to consider reaching Vernazza from Monterosso al Mare.
Option 1: Hike to Vernazza.
The hike from Monterosso al Mare to Vernazza is considered one of the most difficult sections of the famous Blue Path in Cinque Terre due to its elevation changes.
… But it's also considered one of the most rewarding, particularly the first glimpses you get of Vernazza as you approach the village from above.
The views are truly stunning (you can get a glimpse of what I'm talking about in the top photo of this blog post), so if you're hoping for an active day in Cinque Terre, absolutely consider the hike!
Hiking from Monterosso al Mare to Vernazza takes about 2 hours, give or take.
On the far side of Vernazza from Monterosso al Mare, before the official paid hike to Corniglia starts but after quite a steep climb, you'll come to another stunning view of Vernazza.
Even if you're not hiking much during your day in Cinque Terre, we recommend taking 10 minutes to climb up and admire this view!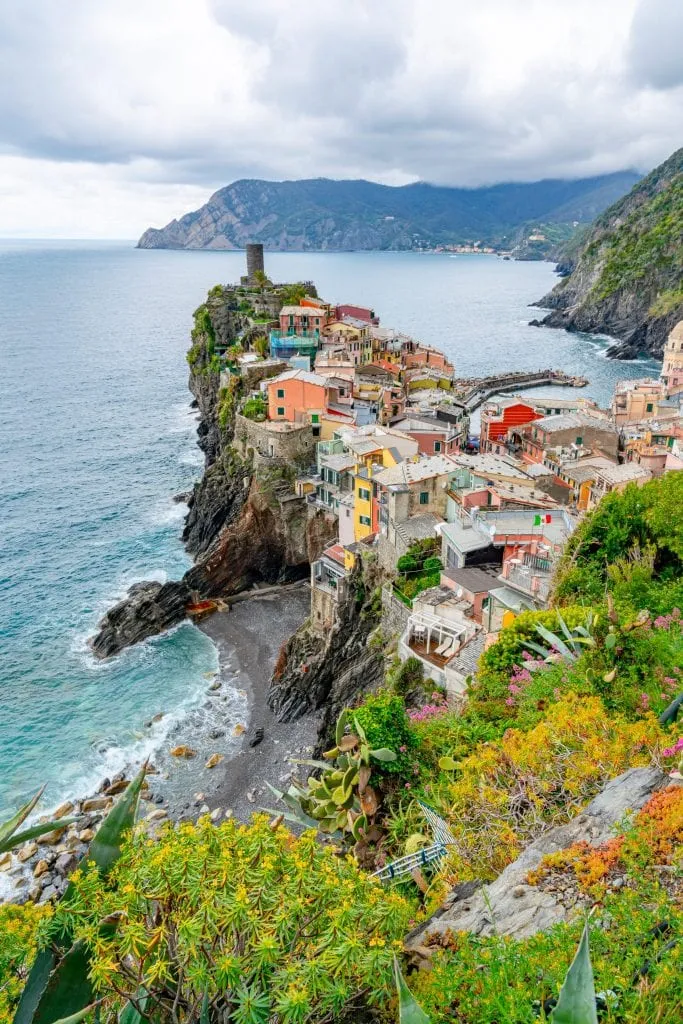 Option 2: Take the train or boat to Vernazza.
Not much of a hiker, or just want to save time for other adventures during your one day in Cinque Terre?
If so, opt for taking public transportation to Vernazza!
The train (under 5 minutes of travel time) is the most popular public transportation option between the two villages.
If you're visiting during the summer/high season, you can also take a ferry!
The ferry is slower–it takes 15 minutes or so–but the trade-off is getting to enjoy gorgeous views of Cinque Terre from the water.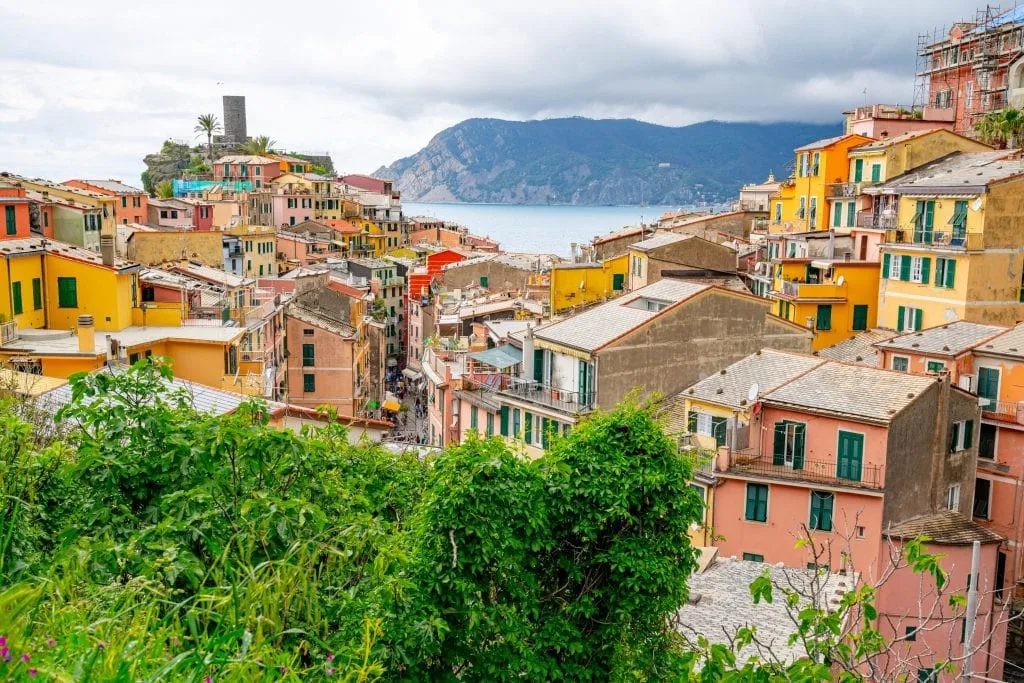 Make your way to Corniglia.
As the highest set of the Cinque Terre's five villages and the only one without a harbor, Corniglia has a bit of a different vibe than the other four villages.
The views, especially of the surrounding vineyards and cliffs, are gorgeous, and the tiny, winding streets are lovely to explore.
If you'd like to hike to Corniglia from Vernazza, it will take about 90 minutes, and alternatively, you can take the train (no boats stop in Corniglia due to its location and lack of a harbor).
Bear in mind that even if you travel to Corniglia by train or bus, you'll still need to either climb a steep staircase up to the village or wait for an (often extremely crowded) shuttle to take you to the top.
While Corniglia is beautiful, if you're running out of time and absolutely have to cut one village from your Cinque Terre itinerary, we'd probably recommend cutting this one–but that's not to say it's not lovely and worth seeing during your day in Cinque Terre.
Hop the train to Riomaggiore.
At this point on your one day in Cinque Terre, we recommend skipping past Manarola and heading right to Riomaggiore, the southernmost village of Cinque Terre, via train.
Riomaggiore is home to the largest population of the five villages (around 1500 people), and yet it feels delightfully tiny.
In Riomaggiore, you'll find postcard-worthy views, tasty seafood, and even a few places to (carefully) cliff jump if you feel so inclined!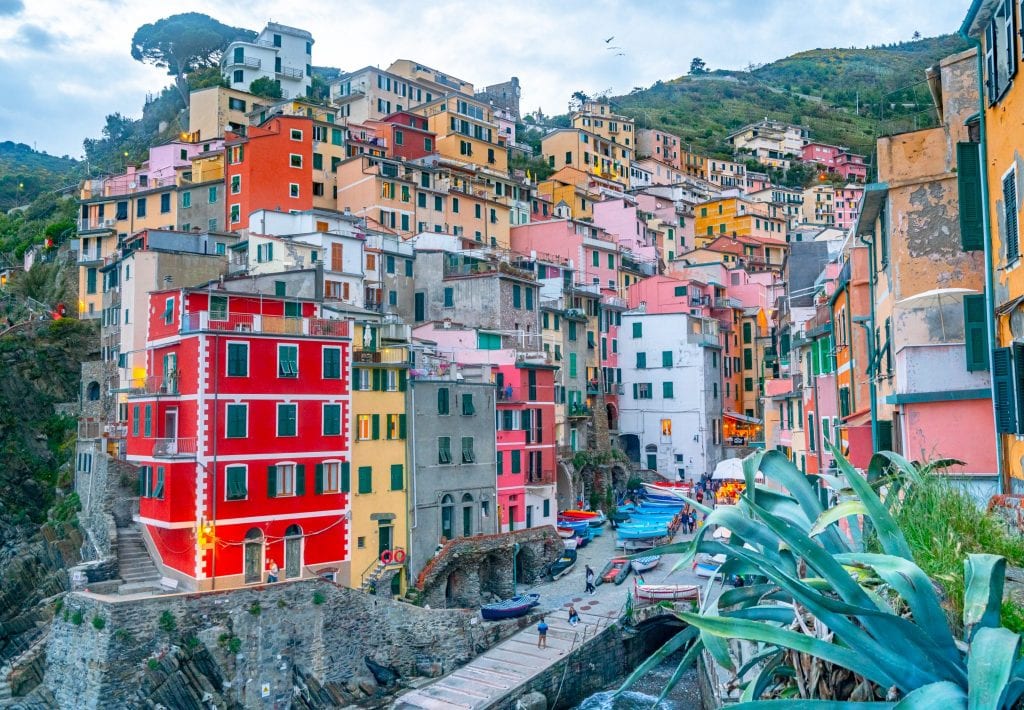 Double back to Manarola for sunset.
We've saved the most iconic for last: Manarola, with its lovely promenade, oodles of restaurants, and charming harbor perfect for swimming, is arguably the most popular village in Cinque Terre.
If you've seen one photo from the villages, it was probably one taken here!
Manarola's promenade is the perfect place to watch the sunset in Cinque Terre–witnessing the changing light softening the pastel colors of the buildings is such a peaceful way to end one day in Cinque Terre.
If you want to enjoy the sunset while soaking up unforgettable views over Manarola, you'll want to pay a visit to the much-photographed and tasty Nessun Dorma (reservations are a must).
They don't serve a full menu, so you'll need to move on for dinner–but it's hard to imagine a more perfect setting for your early-evening aperitivo.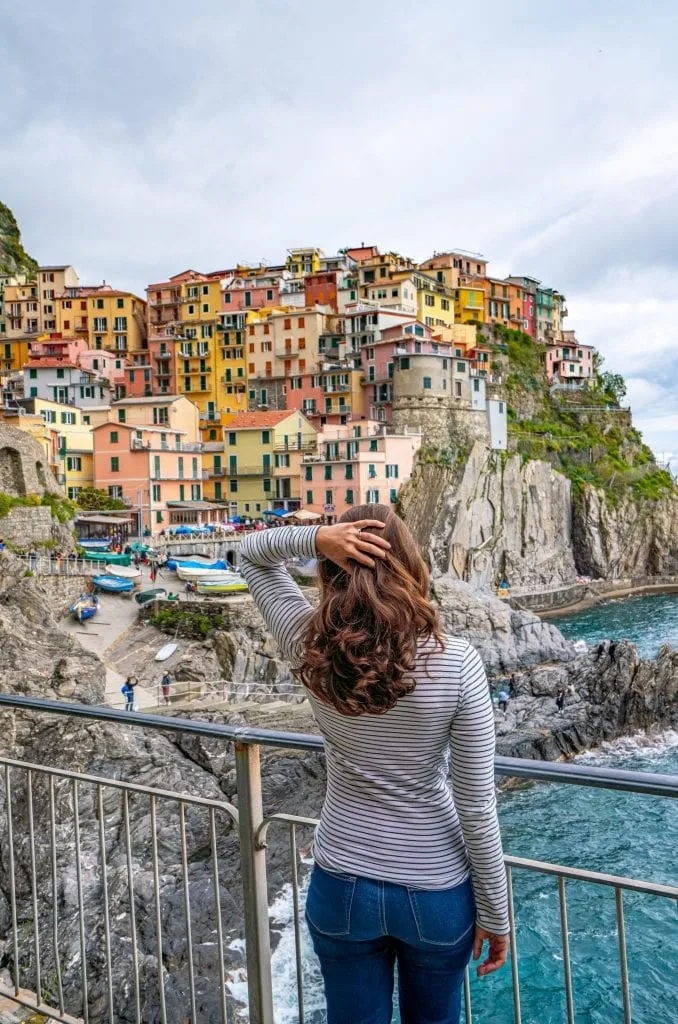 Where to Stay in Cinque Terre, Italy
Planning to spend the night in Cinque Terre?
Of the 5 villages, the only one we would recommend not staying in is Corniglia, as it's the most difficult to get in and out of.
Other than that, all the villages have their perks–Monterosso al Mare has the biggest beach, Manarola has the most Instagram-famous viewpoint, and Vernazza and Riomaggiore are simply drop-dead gorgeous.
Bear in mind that many properties in Cinque Terre can involve a climb to reach them, so if mobility is a concern, be sure to double-check the location.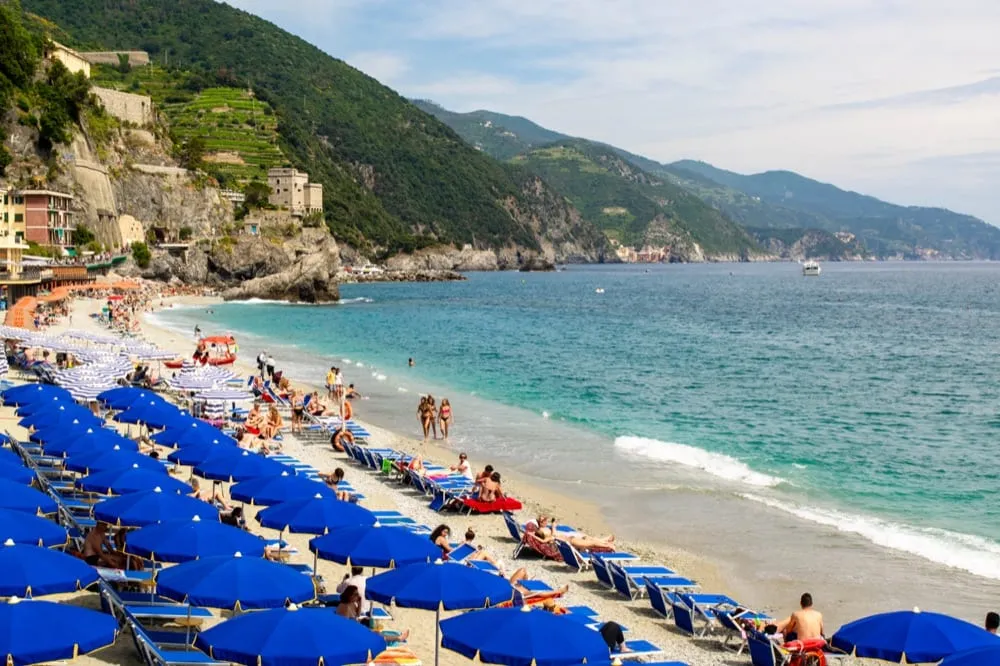 Most properties will offer porters to carry your luggage for you for a small fee, so if clamoring through town with your luggage doesn't sound like fun, be sure to ask your hotel about their services!
Here are a few very well-reviewed properties to consider during your time in Cinque Terre:
Luciano Guesthouse (Riomaggiore) — This is where we stayed during our most recent visit to Cinque Terre, and we can't recommend it enough!
The property was clean and lovely, and the customer service offered by Francesco and his wife during our stay was absolutely top-notch. We would be thrilled to stay again!
Scorci di Mare (Riomaggiore) — Want to stay a 3-minute walk from the beach and see the sea from your window?
If so, the popular Scorci di Mare is the perfect spot for you!
Da Baranin (Manarola) — Cinque Terre is expensive, there's no getting around it.
For a budget option, consider Da Baranin–you'll need to climb up and down a steep hill as a trade-off, but you'll get to stay in Manarola for a very affordable price tag!
Getting Around When Visiting Cinque Terre
Use the Cinque Terre card.
If there's one tip we can give for getting around Cinque Terre, it's this: purchasing a Cinque Terre card will make your day in Cinque Terre go much more smoothly than it would otherwise.
The Cinque Terre card will allow you to use the trails, the wifi network in the villages, and the buses, and also allow entrance to the toilets at the train stations in the villages (sounds silly, but at 1 Euro/use, those costs can add up!).
You can also add on an option to your Cinque Terre card to use the trains, which we highly recommend with this one day Cinque Terre itinerary.
As of the time of writing, a one day Cinque Terre card runs 7.5 Euros for adults or 18.2 Euros with train access.
You can check updated prices and information here.
Tips for Riding the Trains in Cinque Terre
Train service runs between all five villages at a rapid pace–you'll never need to wait more than a few minutes for a train during the day.
It only takes 15 minutes by train to travel between Monterosso al Mare and Riomaggiore, the two villages at either end of Cinque Terre, so you'll never be on the train for long!
Only downside? Strikes.
Train strikes are an occasional issue in Cinque Terre–we got caught by one on our first trip to the villages, and we have friends who have run into the problem as well.
While it's unlikely you'll run into an issue if you hope to rely on train service in Cinque Terre, keep an eye out for planned strikes.
You can use this website to check for strike information (though fair warning, it is in Italian!).
Tips for Hiking in Cinque Terre
Obviously, hiking between the villages of Cinque Terre is one of the most popular ways to travel between the five towns and is a huge draw for visitors to the area!
Unfortunately, rock slides and other environmental changes can cause regular shifts in which trails are open to visitors at any given time, so plan to do some research before committing to a certain route during your day in Cinque Terre!
If you're planning on hiking during your day trip, we recommend double-checking your plan with a local (the tourism offices in the train stations are always a reliable option) once you arrive in Cinque Terre, as the trails are known to open and close due to landslides, storms, etc.
You can also check the updated status of the various Cinque Terre trails on this website.
Keep in mind that the availability of the trails is also weather-dependent–we have seen them closed for safety due to rain in the past.
Tips for Taking the Ferry in Cinque Terre
During the summer/high season, you can also travel between the villages of Cinque Terre by boat!
The only one of the 5 villages not connected to the others via ferry is Corniglia, which doesn't have a harbor.
If you have a bit longer to spend visiting Cinque Terre, you can also take the ferry to Portovenere, the beautiful "sixth town" of Cinque Terre that receives a fraction of the visitors that the main five do!
You can check the timetable and fares here.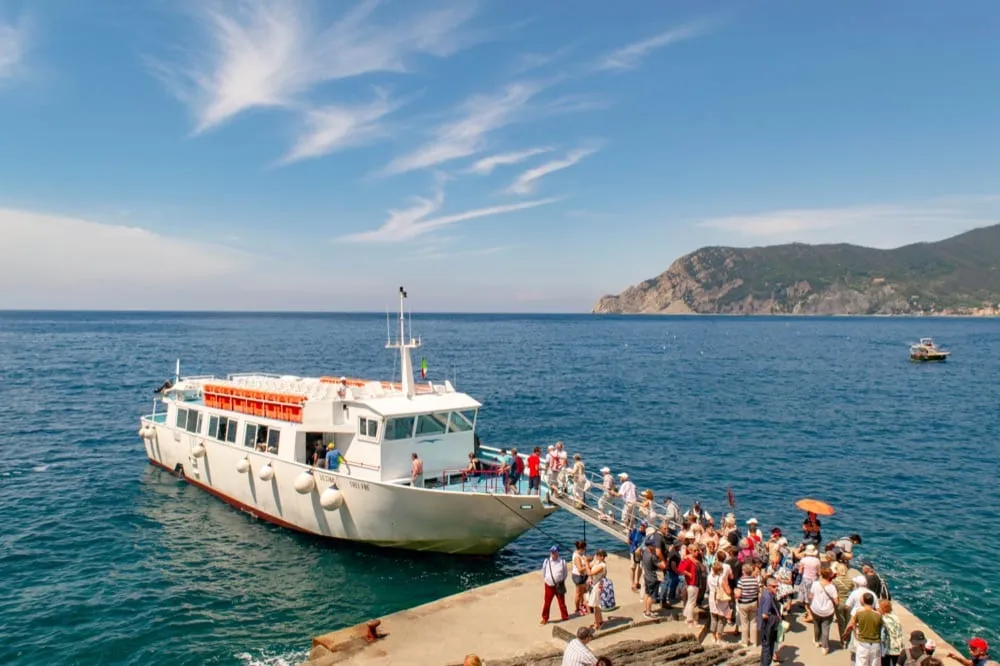 Is a Cinque Terre Tour Necessary?
We covered this a bit above, but if you're on the fence about booking an organized day trip to Cinque Terre for a day, here's a good rule of thumb: if you're not spending the night and you're staying more than 1.5 hours away from Cinque Terre, book a tour.
Otherwise, it's not necessary.
However, Cinque Terre is a bit of a pain to get to, especially if you're talking about taking public transportation from major cities like Florence and Milan.
If you're planning a day trip to Cinque Terre from one of these cities, it's absolutely in your best interest to book a tour that will handle transportation and logistics for you.
Florence and Milan are both so far from the villages that taking a day trip to Cinque Terre is just barely feasible.
This day trip from Florence and this day trip from Milan are both well-reviewed and popular!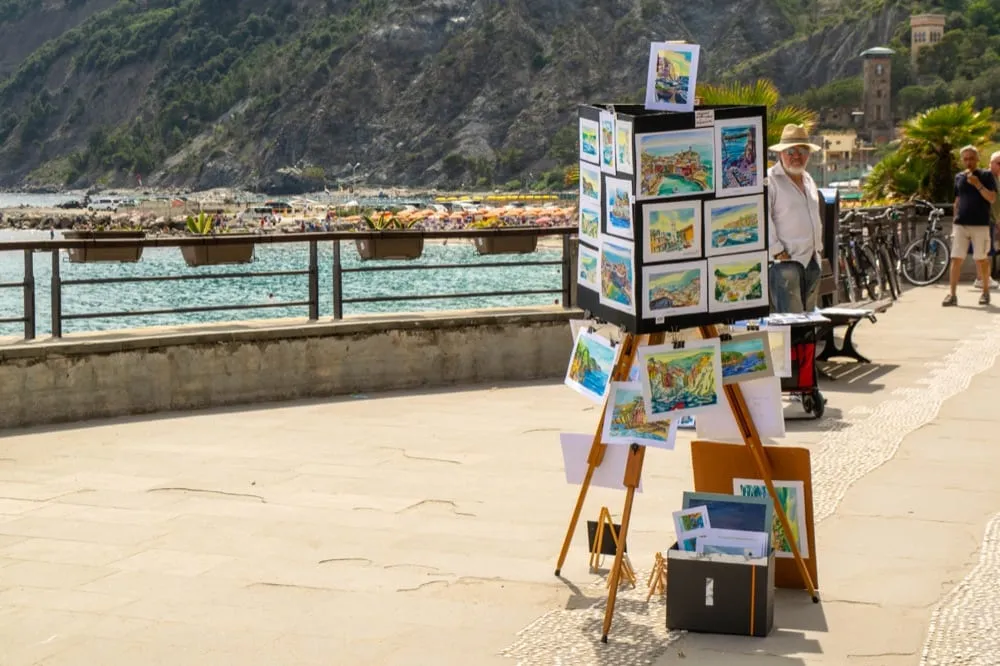 What to Pack for One Day in Cinque Terre
Travel Insurance — We don't ever suggest traveling without travel insurance, and visiting Cinque Terre, especially if you plan on hiking and/or swimming, is definitely a case of better safe than sorry.
Water Shoes — Planning to go swimming in the harbor of Manarola and/or Riomaggiore? It's tons of fun, but the sharp rocks can definitely be hard on your feet.
You'll be SO much more comfortable by bringing water shoes along for the ride!
Sunscreen
— Because sunburns are never a good look in vacation photos.
Travel Adaptors for Italy
 — If you're coming from outside of Europe, you'll definitely need adaptors for your electronics.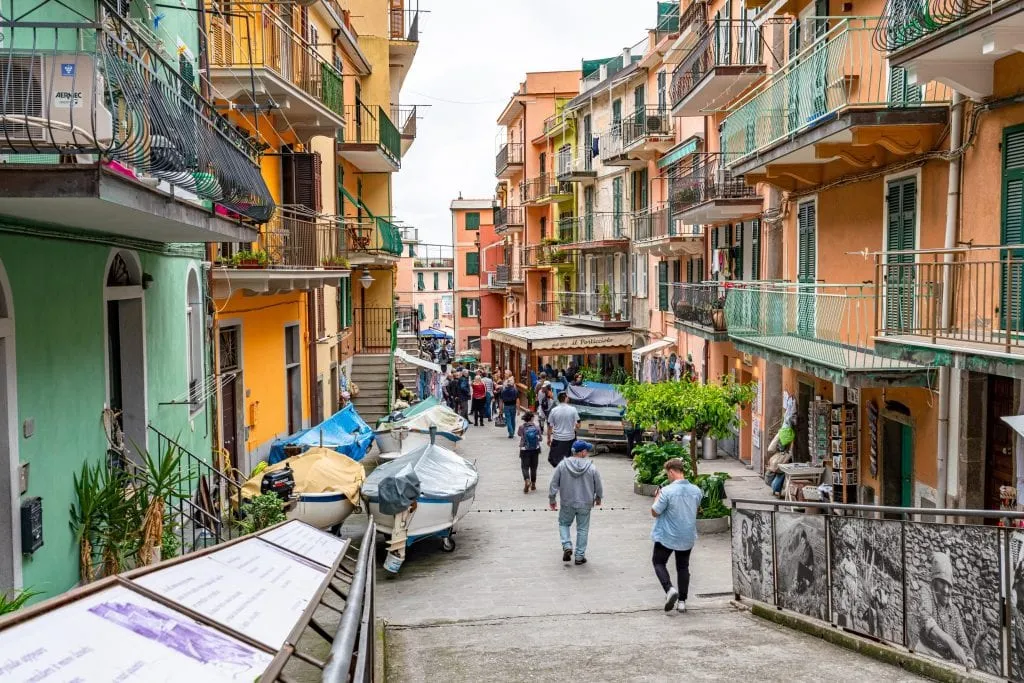 Tote Bag
— Incredibly light and easy to pack, a tote bag can serve as a grocery bag, beach bag, laundry bag, or just about anything else. They're incredibly handy and make an excellent beach day bag when visiting Cinque Terre!
Sunglasses — You'll be glad you put these on your packing list for Cinque Terre!
Swim Goggles
— If you're hoping to swim, definitely add goggles to your Cinque Terre packing list–they're cheap, small, easy to pack, and make swimming so much more fun!
Dry Bag
— Using a dry bag to keep your camera and cell phone safe (without leaving them behind) while swimming or taking a boat ride is an easy and inexpensive way to limit stress during your one day in Cinque Terre!