So, you have one day in New York City and want to make the most of it?
While seeing NYC in a day (or a lifetime) is, of course, an exercise in futility, with some careful planning and a little luck, you might be surprised at just how many of the city's most iconic sights you'll be able to see with only one day in New York!
If you're prepared to wake up early, walk a lot, and dive right into the bustle of the city, you can see a wide variety of the top attractions in Manhattan in one day–plus squeeze in a tiny taste of Brooklyn, too.
Based on our many, many visits to the city, plus a little help from local friends, this is what we suggest doing if you find yourself in NYC with only a day to spare.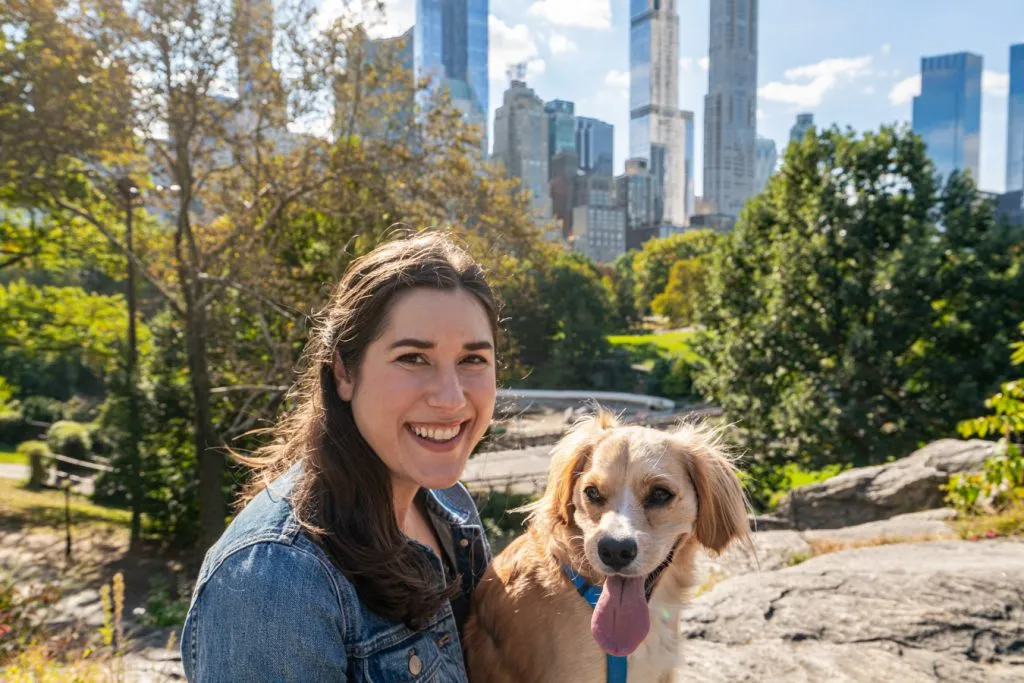 Who is this one day in New York guide for?
We designed this guide to visiting NYC in a day with the idea of a first-time visitor in mind.
This New York travel guide is for someone who wants to see some of the best-known attractions in the city but also maintain their independence, and someone who wants to balance seeing tourist highlights with independently wandering around the city.
We skip over options like hop-on/hop-off bus tours, instead structuring this one day in NYC itinerary to work with a combination of walking, subway rides, and potentially a ride or two in one of Manhattan's iconic yellow cabs.
If you've never seen New York before and want to visit the city's iconic attractions while traveling independently and avoiding hopping on one of the standardized tours you will undoubtedly see while in Midtown and the Financial District, then this guide is for you!
The Ultimate New York in a Day Itinerary
Morning: Brooklyn Bridge + DUMBO + (Maybe) Financial District
Start your one day in NYC with skyline views in DUMBO.
In Brooklyn's trendy waterfront DUMBO neighborhood, you'll be treated to some of the best views of Manhattan to kick off your one day NYC itinerary.
DUMBO, short for Down Under The Manhattan Bridge Overpass (New Yorkers love acronyms, or at least not using six whole words to describe a neighborhood), is a great place to get acquainted with Manhattan from afar before diving into your visit.
While you're there, quickly stop by Brooklyn Bridge Park, Pebble Beach, and Jane's Carousel, which are all in the immediate area.
And of course, don't forget to stop by the intersection of Washington Street and Front Street, where you can capture the iconic Manhattan Bridge photo for yourself.
Be sure to note the way that the Empire State Building is perfectly framed in the arch of the bridge.
Make your way to Manhattan on foot by crossing the Brooklyn Bridge.
The earlier in the morning that you arrive at the Brooklyn Bridge, the more pleasant both your walk across it and the rest of your one day in New York will be.
The views of the Manhattan skyline, the bridge itself, and even the Statue of Liberty in the distance are absolutely delightful, and there's no better way to start your day in New York!
By approaching Manhattan instead of walking away from it, you'll be treated to incredible views during the entire time you're crossing the bridge!
Be sure to keep an eye out for commuters (especially those zipping past on bikes) as you cross.
It takes about half an hour to cross the bridge if you move fairly efficiently, and can take much longer depending on how many photos you snap.
Optional: check out the Financial District.
I'll be honest: I'm hesitant to include the Financial District on this NYC in a day guide because adding these sights is really pushing the envelope of what you can see in New York City in a (realistic) day given everything else that is included here.
However, if you wake up very, very early, manage your transportation carefully, and speed through a few sights (like perhaps skipping DUMBO and heading right to the Brooklyn Bridge, or if you're willing to not spend much time in Central Park), it technically can be done.
And, I know some visitors to New York may want to include these popular sights in Lower Manhattan–they are pretty iconic!
So, my advice: if you hope to hit all of these locations, be prepared to move quickly and spend less time in other places.
To walk by these 5 attractions in Lower Manhattan, not including any time stopped at them, takes about 25-30 minutes, to give you an idea of the time commitment.
Charging Bull
Wall Street's Charging Bull is quick and easy to see.
I wouldn't necessarily stick around to wait in line for a photo with it unless you really want one, but if you're in the Financial District during your one day in New York, it's worth a peek!
New York Stock Exchange
Like the Charging Bull, the exterior of the NYC Stock Exchange is quick and easy to see–but it's also iconic.
Trinity Church
Still an active Episcopalian parish, the Gothic Revival Trinity Church certainly sticks out like a sore thumb among the sleek skyscrapers of the Financial District.
Known today for being the home parish of Alexander Hamilton, he and his family are buried in the cemetery next door to the church.
Oculus Building
Part shopping mall, part subway stop, part memorial, part bizarre marvel, the Oculus is nothing if not unforgettable.
What do you see when you look at it: a whale, a bird, something else entirely?
And when you step inside–do you feel a bit swallowed?
It's a bizarre place, but however strange, also an emotionally charged one: the Oculus is built right on Ground Zero, and, in addition to its other purposes, functions as a somewhat subtle memorial to 9/11.
9/11 Memorial
The emotional 9/11 Memorial is located right next door the Oculus, and if you are in the area, paying your respects here is an important part of visiting the Financial District.
You won't have time to visit the museum itself during this suggested one day in New York itinerary, though if it is important to you personally, of course you should.
If you want to visit the museum, we recommend purchasing a skip-the-line ticket in order to maximize your time, and simply considering what else in New York you have time for once you finish in the museum, rather than pressuring yourself to move quickly inside it.
Book tickets for the 9/11 Memorial & Museum here.

Historical context is especially important here, so if you'd prefer more detail, a this well-reviewed tour is a thoughtful way to learn more about this tragedy before entering the museum.
Afternoon: Midtown + An Epic View of the City
Visit the iconic steps of the Met.
This one day in New York itinerary doesn't really leave time to explore the Met itself, but the building is a great place to start your afternoon, whether you're arriving via metro, cab or Uber, and whether you're coming from the Financial District or from DUMBO.
Drop by the steps quickly, and then head into Central Park!
Make your way to Central Park for a quick walk.
With only one day in New York, you won't be able to dedicate tons of time to Central Park if you want to see several other iconic sights.
From your starting place at the Met, a fairly quick-paced 30-minute or a more leisurely 45-minute stroll through the park will take you past some of its best-known attractions.
This includes the Alice in Wonderland statue, the Loeb Boathouse with its pretty rowboats, the Bethesda Terrace, and the Central Park Carousel.
We recommend using Google maps to navigate to each of these locations in Central Park.
None of them are particularly out of the way, but you might be very close by without knowing it without the help of a map!
Once you reach the southern edge of the park, you'll be right next to the Plaza Hotel and ready to head down Fifth Avenue.
Stroll down Fifth Avenue and check out iconic spots.
New York's Fifth Avenue is among the most famous streets on the planet, and it's packed with some of the most famous storefronts and tourist sights in the world!
Here are just a few things not to miss during your walk down Fifth Avenue.
The Plaza Hotel
Located right next to the southern end of Central Park, you'll recognize this iconic luxury hotel from plenty of movies and shows over the years!
Rockefeller Center
Even if you're not headed to the Top of the Rock, the area immediately surrounding Rockefeller Center is definitely worth swerving slightly off 5th for.
Be sure to check out the Atlas statue as well as the exterior of Radio City Music Hall around the corner.
If you're traveling with kids (or kids at heart) and looking for an over-the-top Manhattan take on a beloved children's brand, Nintendo and Lego also have storefronts here.
St. Patrick's Cathedral
Arguably the most impressive religious structure in New York, the impressive Neo-Gothic St. Patrick's Cathedral looks almost out of place on modern, consumer-focused Fifth Avenue, but the building is stunning.
New York Public Library
The main branch of the New York Public Library, with its imposing lion statues guarding the front steps, is a city icon in its own right.
Be sure to step inside to admire the Rose Reading Room!
Take a short detour to visit Grand Central Terminal.
Grand Central Terminal, with its stunning interior and incredible turquoise ceiling, should absolutely be on your one day in New York itinerary!
You won't need long here, but considering that it's just a short walk from Fifth Avenue, it's definitely worth seeing in person.
If you're hungry and an oyster fan, also consider stopping by the iconic and beautiful Grand Central Oyster Bar for a snack.
If you're a fan of architectural quirks, be sure to also check out the Whispering Gallery in Grand Central Terminal as part of your one day New York itinerary!
Though you won't necessarily need to walk right up to it, while you're walking near Grand Central, keep an eye on the skyline as well.
The amazing Art Deco Chrysler Building (one of my favorites in Manhattan) is located nearby at 42nd & Lexington Avenue, and you'll be able to see it from some angles.
Head to the Empire State Building for some amazing views.
It may be one of the most touristy things to do in all of New York City, but there's a reason for that: the view of the Manhattan skyline from the top of the Empire State Building is absolutely phenomenal.
With only one day in New York, you should absolutely purchase your skip-the-line tickets for going to the top of the Empire State Building in advance, especially if you're visiting at any point other than the dead of winter.
Lines can be extremely long, and on a day as busy as this one, you definitely don't have time for them!

Book tickets to visit the top of the Empire State Building today!
Why the Empire State Building instead of the Top of the Rock?
Honestly, we included the Empire State Building instead of the Top of the Rock in this guide to seeing NYC in a day because we slightly prefer the view from the Empire State Building.
That combined with the fact that it's the more iconic NYC attraction of the two means it's the clear winner for one day in New York in our eyes–but if you'd rather head to the Top of the Rock, you sure can!
Simply purchase your skip-the-line ticket to the Top of the Rock and head up when you go by Rockefeller Center on Fifth Avenue (and like at the Empire State Building, we 100% recommend purchasing tickets in advance).
Not sure which climb is right for you?
This post can help you choose.
If you're looking for a newer, trendier view rather than a classic, we also hear great things about SUMMIT One Vanderbilt, and we plan to try it out soon!
One Evening in NYC: Broadway + Times Square
Head out for a show.
If you're any kind of theater fan at all or have even a passing interest in Broadway music, seeing a Broadway show is absolutely the best way to wrap up your one day in NYC.
There's truly nothing like it: the sets, the talent, the theaters themselves, the atmosphere.
While there are plenty of incredible performers who travel with touring shows across the country, there's a reason performing on Broadway in New York City is still the be-all, end-all dream of so many.
We make a point to see a show nearly every time we're in the city because it's such a memorable and fun way to close out a day in New York.
If you're not too picky on which show you see or want to see a classic that has been running for years, tickets can be surprisingly affordable, too–even at the last minute.
Check out fan favorites like Phantom of the Opera, Alladin, Chicago, and The Lion King for potentially inexpensive (by Broadway standards–I mean, this is still New York) tickets.
Phantom of the Opera, one of the longest-running shows on Broadway, is closing in 2023–so if you want to see it, now is the time.
If you want to see Hamilton, you'll need to plan a bit more in advance and/or be willing to shell out more money–but I've yet to see someone who didn't think the show was worth it.
Check prices & shop Broadway tickets for Phantom of the Opera, Chicago, The Lion King, Alladin, and more today!
Drop by Times Square after your show lets out.
After your show lets out, you'll be just a quick walk away from Times Square.
And, now that the sun has set, it will be at its best!
New Yorkers love to complain about Times Square, but as a visitor, I still say it's worth seeing once.
There's just something about standing outside surrounded by that much color that is impressive and interesting, and seeing it at night gives the whole thing another layer.
Be sure to watch your pockets here, though–I'm sure it comes as no surprise that Times Square is notorious for pickpockets.
Romina Tengg, CC BY 3.0 , via Wikimedia Commons
Where to Stay for One Day in New York
If you're taking a day trip to New York for one day, you can skip this section–but if you're planning to spend the night, this is for you!
With only one day in NYC, location is key when choosing a hotel in New York.
Here are a few options for centrally located, well-reviewed hotels that are geographically convenient to the sights in this New York travel guide.
Budget
Seton Hotel — Good reviews, a clean-but-no-frills property, and an excellent central location near Murray Hill are all excellent reasons for budget travelers to check into the Seton Hotel.
The Seton Hotel is a great pick for your one day in NYC if you want to be economical without dipping into a hostel (New York has very few hostel options) or staying further out.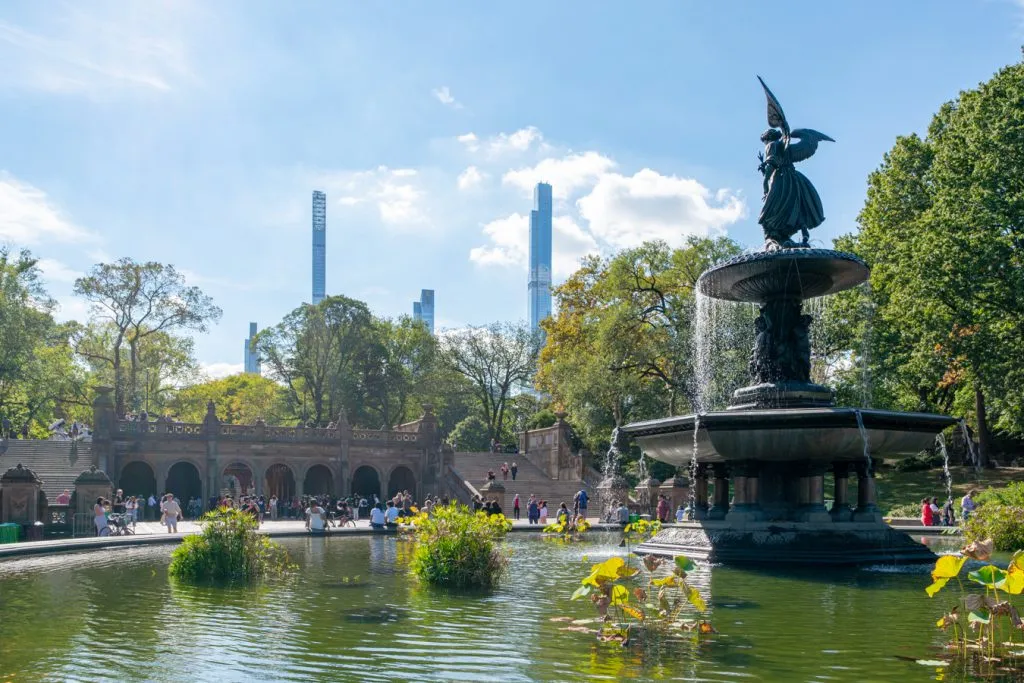 Mid-range
Club Quarters Hotel Midtown (Times Square) — We've stayed in this hotel personally and can confirm that the location and customer service make it a great option for a short trip to NYC.
Times Square can be a surprisingly affordable (in relative terms, that is) place to stay in New York.
The reason to consider staying nearby has nothing to do with Times Square itself, and everything to do with how well-connected it is transportation-wise to the rest of the city–it is very easy to get around from Times Square.
The Club Quarters brand gets great reviews for their customer service and crisp, modern hotels across the city, and makes an excellent mid-range choice.
And, of course–you can't beat being within walking distance of highlights like Times Square, Grand Central, and the Empire State Building!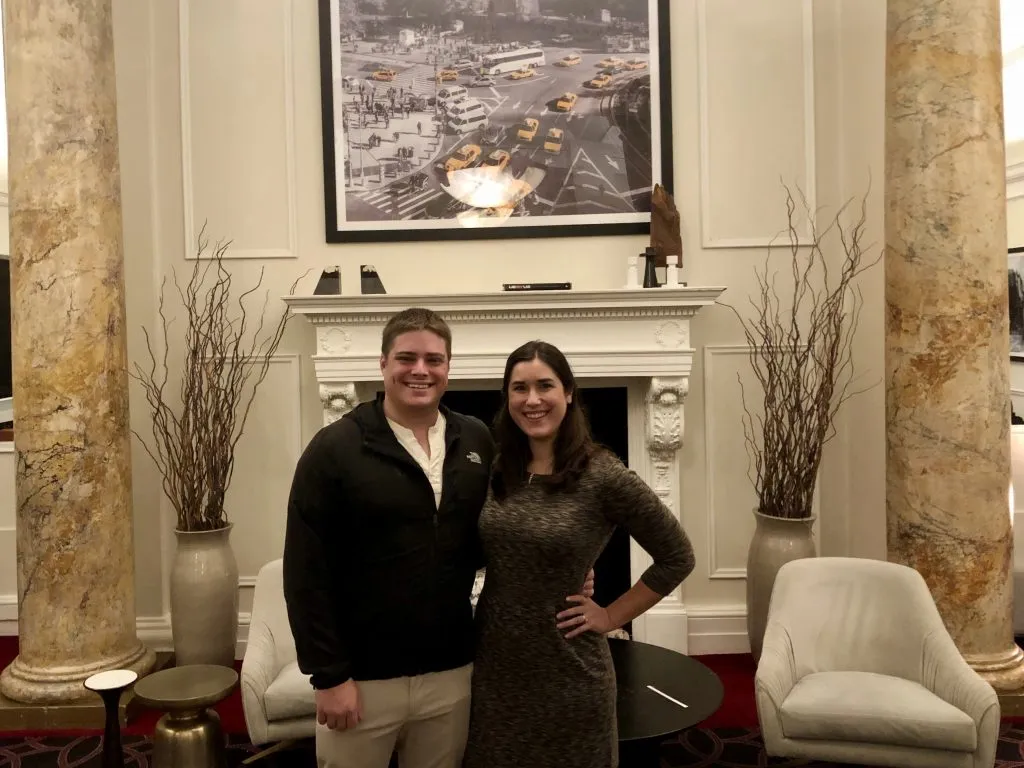 Luxury
Library Hotel — As there is no end to the number of luxury hotel options in the city, I'll go ahead and feature a very popular one that I'm personally dying to stay in!
The library-themed (and aptly named) Library Hotel is located right by the New York Public Library and boasts themed rooms, a stunning reading room, and a rooftop bar.
For bibliophiles–or just those looking for a swanky and popular property in a great location–you can't go wrong with the Library Hotel if you're looking for a piece of luxury during your visit to New York.
Looking for some other options for seeing NYC in a day?
Designing this guide to seeing New York in a day obviously included making some very difficult choices about what things to do in NYC to cut.
There aren't many cities on the planet with as high of a concentration of iconic things to do as New York City!
If any of the things in this travel guide don't appeal to you, don't hesitate to swap them out for ones that do. 
Willing to forgo some time in Midtown in favor of a museum?
The Met, the Natural History Museum, and the MOMA are all fairly easy additions to this itinerary (geographically speaking, anyway), and they're all absolutely incredible.
Not into Broadway shows?
Head to The Village for a tasty dinner and a little bar hopping for your night in New York instead.
More interested in getting a close-up of the Statue of Liberty than walking across the Brooklyn Bridge?
Head to the Statue of Liberty and Ellis Island (both are wonderful places to visit)–or just hop on the (free) Staten Island Ferry to get some epic views of her from the water.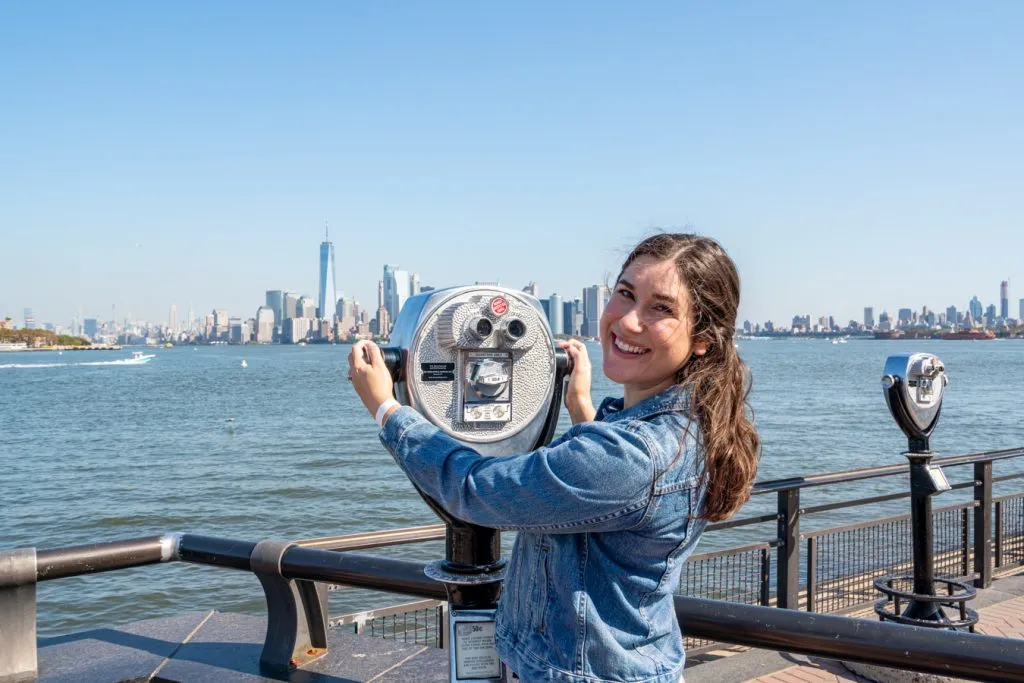 Want to save money and don't care much about views?
Skip the Empire State Building and dedicate more time to exploring Central Park instead.
Prefer restaurants with views to popular viewpoints? There are plenty of rooftop restaurants in New York with great views of the skyline!
Looking to do some unique souvenir shopping? Check out one of NYC's popular flea markets.
The bottom line is, there are infinite ways to customize an itinerary for one day in New York–so be sure you prioritize the sights that are most important to you.
Getting Around During One Day in New York City
A surprising amount of this one day New York itinerary is entirely walkable and is best seen on foot, but you will need additional transportation to get around at several points.
Most importantly, you'll need alternative transport to get back to Manhattan from DUMBO, and to get to/from the Financial District if you choose to visit.
You'll also likely need transportation options to reach your starting point at the beginning of the day, and possibly to get back to your hotel at night.
We recommend riding the NYC subway at least once–in fact, that's practically a sightseeing adventure in and of itself if you've never ridden it before!
But depending on your budget and the size of your group, you may want to mix in a couple of taxi rides and/or Uber rides as well.
How much does one day in NYC cost?
This one day in New York guide is actually fairly affordable by the city's standards.
With the exception of heading to the top of the Empire State Building and seeing a Broadway show, just about every suggestion on here is free to visit.
Of course, that doesn't include NYC food or transportation, both of which can add up.
NYC metro tickets run $2.75 each.
Taxis and Uber are more, of course, but can get surprisingly affordable if you're traveling with a group, so be sure to consider both options depending on where you're going (and how many people you're going with).
For food, we recommend splurging on one sit-down meal during this plan for seeing NYC in a day.
Meals running $15-20 for an entree at a casual restaurant are fairly easy to find, though, of course, the sky is the limit with NYC food prices, and to eat more casually at least once as well.
For your quick and inexpensive meals of the day, consider visiting a Halal cart for a classic NYC experience!
Or, if you're more of the burger-and-fries type, you can never go wrong with grabbing a quick bite at Shake Shack.
Your One Day NYC Itinerary Map
Take This Map With You! Click each highlight to pull up the name of the destination. To save this map to "Your Places" on Google Maps, click the star to the right of the title. You'll then be able to find it under the Maps tab of your Google Maps account! To open the map in a new window, click the button on the top right of the map.