From beaches to mountaintops, from iconic cities to small towns, from wineries to lakeshores, there is no shortage of romantic getaways in the USA.
As much as we love traveling abroad, the plethora of romantic escapes in the United States also leaves us with insatiable wanderlust–and with every road trip to visit family or weekend getaway, we try to cross yet another spot off of our long wish list.
Planning a romantic vacation within the United States?
We've teamed up with a couple of dozen other travel bloggers to round up some of the most romantic trips in America for couples, from tiny towns to iconic beaches.
Whether you're planning a honeymoon, an anniversary getaway, a Valentine's Day celebration, or even just a quick weekend away with your favorite person, this guide to USA trips for couples is for you.
If your list of romantic getaways in the USA isn't a mile long already, it's about to be.
USA Romantic Getaways in the Northeast
Boston
From Yulia of That's What She Had
For me, the perfect couples' trip in the US is having the opportunity to walk with my beloved around the city hand-in-hand.
Not many American cities give you this opportunity, but Boston does which makes it an ideal American romantic getaway.
Best of all, Boston has a harbor! You can enjoy a dinner of freshly caught lobsters at sunset and then walk by the waterfront.
Does this sound good? Well, here are a few more ideas about how to spend time with your significant other in Boston.
Have a dinner at the Omni Parker House Restaurant where, as the legend suggests, Kennedy proposed to Jackie Bouvier and where the original Boston cream pie was created over a hundred years ago.
Couples who share a love of cinema can check out the filming locations of their favorite movies.
For example, did you know that you can sit on a bench in the Boston Public Garden where the characters of Matt Damon and Robin Williams sat in Good Will Hunting?
And while you are in the Public Garden, take a ride on a swan boat, one of Boston's iconic attractions.
You can also stop by the bar where Will Hunting and his friends had a beer after work in the same movie.
Other romantic things to do in Boston include visiting the beautiful Isabella Stewart Gardner Museum, strolling along the Harborwalk, and even enjoying a sunset cruise overlooking the city.
Consider heading to a show in the theatre district, or heading to the North End to enjoy Italian-American food and beautiful architecture.
Where to Stay in Boston
Saranac Lake
From Danila of Travelling Dany
Saranac Lake is a cute city nestled among 46 High Peaks, Upstate New York.
If you are planning a road trip to the Adirondacks National Park, you can reach it by driving for about two hours from the Big Apple.
The difference between NYC and the amazing forest is striking: it feels unreal that you're still driving in New York State!
A massive clock tower welcomes visitors to this quaint little town, full of flowers and smiling faces.
Its main street is the perfect spot where you can walk hand in hand at night, with your significant other, crossing wooden bridges, and admiring historical buildings.
Saranac Lake, one of the most beautiful – and less touristy – towns in the Adirondacks, is absolutely breathtaking in the fall: foliage in this area lasts longer than in any other part of the States!
If your beloved one is a hiking addict, you definitely should try one of the trails starting from Saranac Lake.
The difficulty goes from easy to moderately hard and the forests are full of deer and squirrels!
The perfect spot to spend a romantic vacation in Saranac Lake is the Ampersand Bay Resort.
Wooden cabins on the shores of Lower Saranac Lake become romantic love nests where you can spend your evenings enjoying the jacuzzi or drinking hot cocoa next to the fireplace.
Because Saranac Lake is one of those lovely towns where everyone knows each other, and the food scene reminds you of the old times, you won't have any problem at all in finding the best foodie spots.
One of my favorite breakfast places in town is Origin Coffee: they bake homemade muffins every morning!
The perfect restaurant for dinner is Blue Moon Café, owned by an Italian-American couple who loves to cook and chat with their guests.
Be prepared to be treated with the best food: from the large servings alone you can definitely tell their Italian heritage!
Where to Stay in Saranac Lake
Portland
No, not Portland, Oregon–the lighthouse-and-lobster-loving Portland, Maine!
Known for its charming Portland Head Light, its warehouse-district-turned-trendy-neighborhood of Old Port, and many, many breweries, Portland is an absolute blast to visit.
If you and your partner are looking for a city vacation that also offers beautiful nature and a very relaxed, laid-back vibe, Portland is a fantastic choice.
While you're there, be sure to take a quick ferry over to nearby Peaks Island for a day, tour the beautiful Victoria Mansion, and enjoy (at least) one afternoon on a sailboat.
Of course, no trip to Portland is complete without snapping photos at the Portland Head Light, but Bug Light deserves a quick look, too!
Portland is also less than an hour by car from famous Kennebunkport–so if you want to mix a famous small town into this romantic getaway in the USA, you absolutely can.
Where to Stay in Portland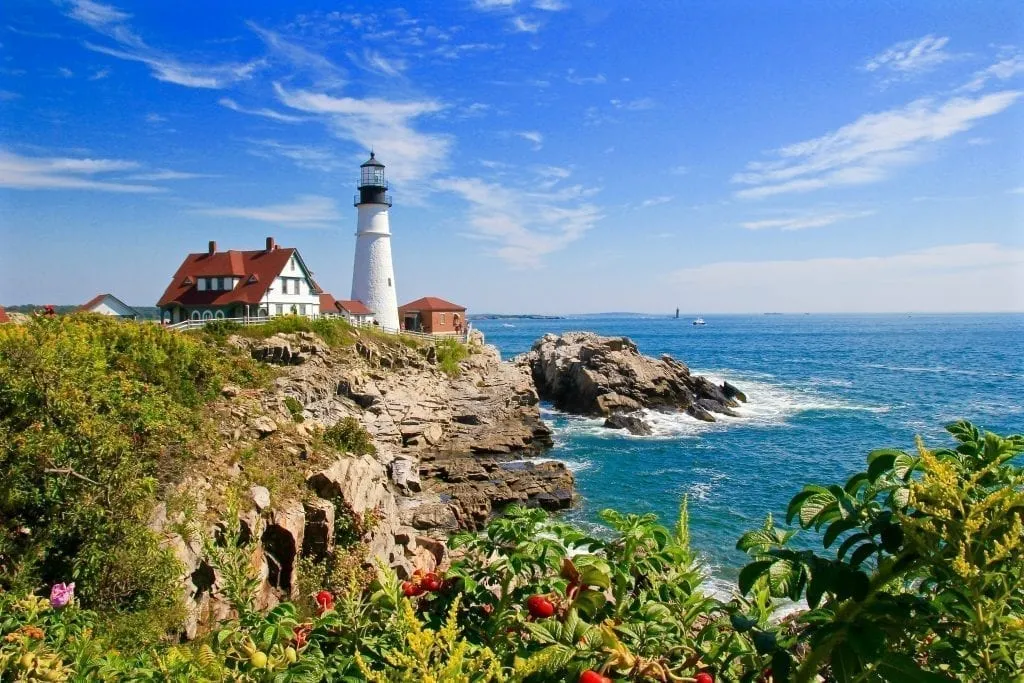 New York City
From James of Travel Collecting
As one of the most famous and electric cities in the world, there's no doubt that an action-packed weekend in NYC (or even a full honeymoon trip–both are popular) makes for an excellent romantic trip in the US for couples of all kinds.
Whether you and your partner are museum hoppers, foodies, park lovers, viewpoint seekers, or all of the above, New York City has plenty to offer!
For something memorable, start the day by sharing one of the enormous pastry baskets when you have breakfast at the famous Balthazar in SoHo.
This beautiful restaurant with enormous antique mirrors, red leather banquettes, and wait staff in long white aprons will transport you to another century.
For something uniquely New York, wander hand in hand through Central Park, then in summer rent a boat at the Loeb Boathouse and row around the lake before enjoying a romantic lunch at the lakeside restaurant.
In winter, go ice-skating at Wollman's Rink before having lunch at the nearby Palm Court restaurant at the famous Plaza Hotel.
Hop over to the Metropolitan Museum of Art for a coffee in their café overlooking the American wing or on the rooftop terrace overlooking Central Park in summer
If you're lucky enough to have your trip for 2 overlap with New York at Christmas, don't miss the chance to stroll hand-in-hand past the city's legendary decor.
Of course, no romantic getaway in NYC is complete without admiring the skyline from above at a classic spot like the Empire State Building or Top of the Rock, or from a trendy angle like what you'll find at Summit One Vanderbilt!
If you are downtown, you can rent Citibikes and cycle along the Hudson River then stop for lunch and a glass of wine at Battery Gardens restaurant with wonderful views of the harbor sparkling in the sunshine and the Statue of Liberty in the distance.
Don't miss the opportunity to take in a Broadway show with your partner, either!
Finish a perfect romantic getaway with a cocktail at the Aviary bar on the 35th floor of the Mandarin Oriental hotel where the views of midtown are to die for, or at Park in the Meat Packing District for a downtown experience in their covered garden or fireside bar.
Where to Stay in New York
Nantucket
Tiny, beautiful Nantucket is perfect for couples looking for a small island boasting both an adorable town center and sparkling beaches for their romantic getaway.
Located off the coast of Cape Cod in Massachusetts, Nantucket is a classic summer retreat and one of the best places to visit in New England.
While you're there, consider renting bikes to explore the island together, tracking down all three of Nantucket's beautiful lighthouses, visiting the Whaling Museum, and of course, enjoying a lobster roll or two!
The absolute best time of year to visit Nantucket is during the island's famous hydrangea season, which typically runs from late June through most of July (though of course, it can vary).
A 4th of July trip to Nantucket, while certainly a splurge, is easily one of the most romantic US getaway ideas!
Plan a photo shoot with the beautiful flowers and idyllic New England architecture to preserve your memories!
Where to Stay in Nantucket
Niagara Falls
Dial it back a few decades, and Niagara Falls was the place to take a honeymoon in North America–and while it's less iconic on the honeymoon scene now, it's still a wildly romantic place!
While this blog post does cover romantic destinations in the USA specifically, no discussion of couples vacations to Niagara Falls is complete without pointing out that while the portion of Niagara Falls located in the States is lovely, it's well worth bringing your passport along and crossing the border into Canada as part of your trip!
However, with boat tours, hiking trails, Old Fort Niagara, and more available on the New York side, it's safe to say that even a strictly American couples trip to Niagara Falls has plenty of romance to offer.
Don't miss the Cave of the Winds Experience that will take you right up to Bridal Veils Falls while you're there!
Prepare to get soaked–but that's an excellent excuse to relax in a hot tub with a glass of wine, great views, and your partner afterward.
Where to Stay in Niagara Falls
Romantic Trips for Couples in the South
Miami
Beautiful beaches, a unique culture that's all its own, fabulous architecture, and–of course–plenty of sunshine: you'll find all of this and far more by heading all the way south to Miami for your couples' weekend getaway!
When it comes to beaches, South Beach is often considered one of the best urban beaches on the planet, and we'd have to agree.
Don't limit yourself just to the beach, though!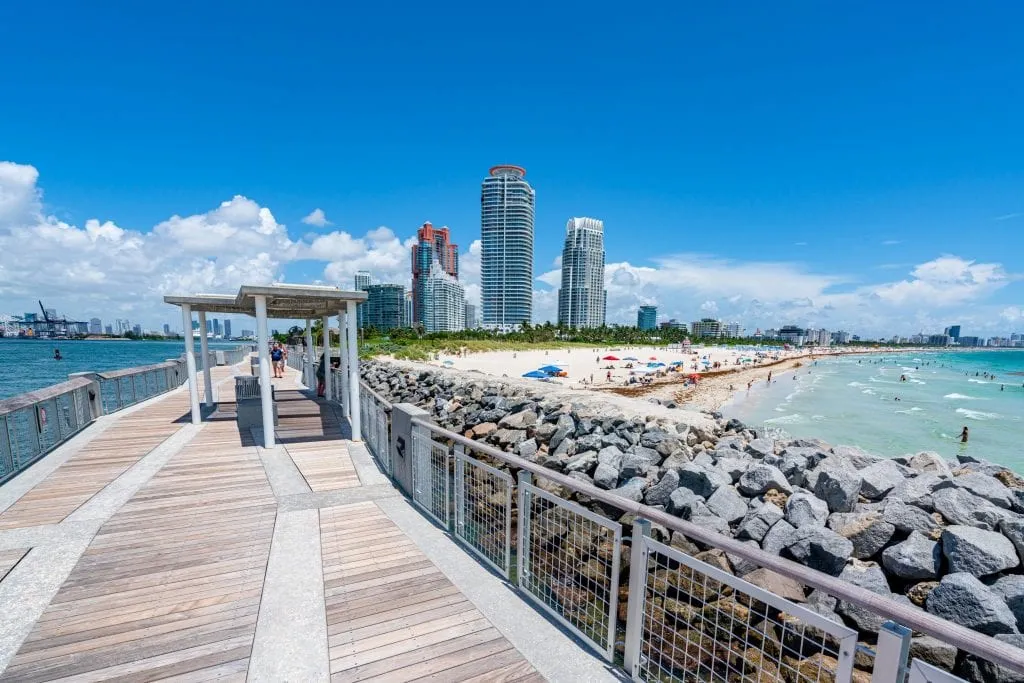 Be sure to explore Miami Beach's impressive Art Deco architecture, eat your way through Little Havana, admire street art in Wynwood, and check out the views from Biscayne Bay.
For a unique perspective on the city, consider taking a boat cruise–we were very impressed with how much we enjoyed ours!
For couples who hope to experience some unique nature in south Florida during their trip, consider also planning on a day trip to nearby Everglades National Park.
Or, if you have a few more days (say, an extra long weekend trip), you can road trip all the way to Key West, the southernmost point of the USA (more on that option below!).
Where to Stay in Miami
New Orleans
From Margie of DQ Family Travel
The ever-unique and dynamic city of New Orleans, where music spills out from every corner and the scent of food lingers in the air 24 hours a day, is absolutely one of the most romantic cities in the USA.
NOLA has such unique architecture that walking through the streets and seeing the French and Spanish influence that certain parts of the French Quarter can feel like you're in a European city.
Due to that European influence and the Creole culture that developed, the food in New Orleans is one of a kind.
Among the best things to do is walk through the Garden District or the French Quarter and sit down to eat some beignets, crawfish, jambalaya, fried oysters, or a shrimp po'boy.
Unsurprisingly, New Orleans is home to one of the top food scenes in the country.
The arts scene is also thriving in New Orleans as well. Walking through many parts of the city, you can find local painters and crafters selling their work, as well as plenty of beautiful bookstores.
The many public fountains and squares give the city a charming feel and people-watching can be quite interesting.
Since New Orleans is located at the mouth of the Mississippi River, you can enjoy a peaceful jazz cruise on the river as part of your trip!
At night, the city comes alive with street performers and sidewalk bars to enjoy a cocktail or two. Listening to a jazz band is a great idea while in New Orleans.
There is no shortage of music anywhere you go as restaurants are often playing some type of classic New Orleans jazz.
Overall, New Orleans is a fantastic city to enjoy with a loved one and stroll through the streets, eating, drinking, and enjoying its' unique charm.
Where to Stay in New Orleans
Nashville
From Allison of Eternal Arrival
While Nashville is a popular option for friends' trips and girls' getaways because of the fun nightlife, a Nashville weekend getaway is also a solid choice for US couples looking for a unique romantic trip.
Music-loving couples will enjoy the abundance of music-themed museums as well as nightlife options.
Stroll hand-in-hand through the Country Music Hall of Fame or visit the Johnny Cash Museum for a unique insight into the artistic genius who gave the world "Walk the Line" and "Ring of Fire."
While the honky-tonks on Broadway are always a raucous good time, couples would be better suited with a romantic visit to the Grand Ole Opry, a thrice-weekly live concert and radio show.
It's the longest-running radio broadcast in United States history and being part of it is great fun–be sure to take the tour backstage!
Other romantic things for couples to do include strolling the John Seigenthaler Pedestrian Bridge, which has beautiful views over downtown Nashville.
Couples will also love strolling around Centennial Park with its replica of the Parthenon.
Patient Instagram husbands will endure being dragged to the Gulch, a vibrant district with tons of colorful walls and street art including the famous "Nashville wings."
Finally, couples can stuff their face with delicious Nashville BBQ – two of my favorite spots are Acme Feed & Seed and Martin's BBQ.
Whatever you do, though, be careful with Nashville's famous hot chicken: the resulting stomachaches from trying chicken too far out of your comfort zone are far from romantic!
Where to Stay in Nashville
Savannah
Without a doubt, Savannah is one of our favorite romantic getaways in the USA.
Dripping Spanish moss, Savannah's 22 beautiful town squares, stunning antebellum architecture, and an epic food scene all contribute to making Savannah one of the most romantic cities in the USA.
During a weekend in Savannah with your beloved, be sure to stroll through the lovely Forsyth Park and down Jones Street (often called the most beautiful street in the USA!).
While you're there, learn a bit of history on one of Savannah's famed house tours (the Mercer-Williams House of Midnight in the Garden of Good and Evil
fame is a great starting place).
At night, give yourselves an excuse to hold each other tight on a ghost tour!
Art lovers can consider a visit to the Telfair Museum of Art or shopSCAD, the store run by the students of the well-known Savannah College of Art and Design, or browse the boutiques along Broughton Street.
Of course, no romantic trip to Savannah could be complete without at least one fantastic southern meal–Savannah's restaurants are legendary in the south.
The Olde Pink House, The Grey, and Elizabeth of 37th are all popular romantic choices for a bit of a splurge, and Alligator Soul is a great option for more adventurous eaters.
For dessert, consider stopping by the famous Leopold's Ice Cream, which has been a beloved Savannah tradition for nearly 100 years!
If ice cream isn't your thing, consider a visit to one of Savannah's charming coffee shops or to City Market instead–among other treats, City Market features candy stores selling pralines, one of the most well-known desserts in Savannah.
Where to Stay in Savannah
Key West
From Halef & Michael of RTW Guys
Few other places in the country rival Key West for popular romantic getaways in the USA.
Key West is the land of "Southernmost": Southernmost Highway, Southernmost Brewery, Southernmost Tattoos.
Understandable, as this is the southmost point in the continental United States that you can reach without ever leaving your car!
Key West is located just 90 miles from Havana, Cuba and, despite the touristy reputation, it can be an exotic and romantic destination for couples.
The island has no shortage of exciting history and tourist attractions.
Some of the more famous things to do in Key West include the Southernmost Point Buoy and Historic Marker, Duval Street, Ernest Hemingway House and Museum, The Key West Butterfly and Nature Conservatory, and the Key West Lighthouse.
Be sure to stop by the lighthouse for a classic Key West photo op with your partner!
Head out to Malloy Square for a romantic sunset.It is a popular place to view street performances, all while sipping coconut or pineapple drinks and snacking on fried conch bites.
And of course, no trip to Key West would be complete without trying a slice of Key Lime Pie (you might not want to bother splitting one, though–better for the relationship to each get your own!).
You can have a romantic moment with your loved one here.
Even though there are often hundreds of other people here, magical things can still happen!
If you are looking for a day trip gateway from Key West, we highly recommend an excursion to Dry Tortugas National Park. It is another romantic place to enjoy while you're in Key West!
Where to Stay in Key West
Charleston
From Michelle at The Wandering Queen
Charleston, South Carolina is one of the most romantic getaways in the USA.
The city is filled with southern charm, great food, colorful historic houses, gardens, parks, and much more, all perfect for exploring with your partner.
As one of the oldest cities in the south, Charleston is packed full of history–though much of it is unsurprisingly quite dark.
Taking a historic walking tour with your significant other is an absolute must.
Learning about the trials and tribulations the city endured over the years is not only educational but makes you appreciate its history even more.
The classic architecture takes you back in time, giving the city so much personality.
The lovely colors and architectural features make for great couples' pictures–Rainbow Row is one of the most popular photo spots in Charleston, and it's no surprise why.
One of the absolute best things to do in Charleston is to eat! The food is unbelievable and your days in Charleston should be food-centric.
Make sure to make reservations in advance if you want a great romantic dinner at well-known restaurants like FIG. Getting into the more popular restaurants can be difficult.
Of course, Charleston's location near the beach is also a big draw for couples looking for romance: Sullivan's Island, Folly Beach, and the Isle of Palms are all at your fingertips when visiting Charleston.
In the end, Charleston is a fun, charming city and is the perfect weekend getaway with your significant other.
Where to Stay in Charleston
Asheville
Of all of the romantic USA weekend trips covered here, Asheville is one of the best options for a couple divided on whether to visit a city or the great outdoors.
Home to an epic craft beer scene, the incredible Biltmore Estate, plenty of street art, and delicious food options, there's no doubt that Asheville appeals to the city lovers among us.
Its location right next door to plenty of wonderful hikes in the Pisgah National Forest and Great Smoky Mountain National Park, however, makes it a fabulous US weekend destination for couples who are outdoor enthusiasts, as well.
No matter what your interests are, try to make time during your trip to Asheville to drive a small piece of the Blue Ridge Parkway–especially if you're visiting in the fall and can enjoy the changing colors.
Often considered one of the most beautiful road trips in the United States, it's a romantic destination not to be missed.
For a beautiful stop on the Blue Ridge Parkway close to Asheville, hike the short trail to Craggy Pinnacle for sweeping 360-degree views of the mountains and an opportunity for some incredible couples photos.
Where to Stay in Asheville
North Carolina Coast
Whether you're visiting classic Outer Banks beach towns like Duck, Kitty Hawk, and Nags Head, heading a bit further south to the Crystal Coast to visit places like Beaufort and Atlantic Beach, or even heading all the way south to Wilmington, there's no doubt that the North Carolina Coast offers an incredible chance for romance.
Lined with small beach towns, historic lighthouses, excellent seafood, and even unique attractions like wild horses that live on deserted barrier islands, the North Carolina Coast is an unbeatable destination for a southern USA romantic getaway.
… And you can enjoy all that the NC coast has to offer without the prices of popular places further south in Florida or further north in New England.
While you're there, consider driving at least part of the stunning Outer Banks Scenic Byway, climbing to the top of a lighthouse or two for an incredible view (we're partial to Cape Lookout ourselves), enjoying the sunset from a boat, and spending plenty of time with your toes in the sand.
If you start your trip to the North Carolina Coast in Raleigh, you may be able to add other cool stops in Eastern NC as you make your way to the beach!
Consider visiting New Bern for its historic downtown, or Kinston to eat at Vivian Howard's celebrated Chef and the Farmer restaurant (be sure to make reservations well in advance!) before making your way to the coast.
Where to Stay on the North Carolina Coast
Romantic USA Getaways in the West
Carmel-by-the-Sea
From Dhara of It's Not About the Miles
If you are looking for a romantic getaway in California, consider a weekend in Carmel-by-the-Sea.
A charming little village in the Monterey Peninsula, Carmel-by-the-Sea offers a variety of activities in a really adorable setting.
Start your weekend with a romantic glass of wine and some fruit and cheese on the beautiful Carmel Beach, where you can sit on the sand and watch the sunset over the water.
Then, enjoy a romantic dinner at one of many world-class restaurants in the village before retiring to your room at one of the cute inns or bed-and-breakfasts in the village.
Carmel-by-the-Sea does not allow big chain hotels, so it's dotted with really cozy places to stay, complete with window boxes stuffed with flowers.
The next morning, enjoy a late breakfast, followed by a walk around the one square mile of Carmel Village.
You will see wonderful art galleries, one-of-a-kind boutique stores, and lots of fun food and wine places.
With its secret passageways, lovely courtyards, and great Spanish architecture, the village is perfect for strolling arm-in-arm. Then do a lazy laid-back brunch–a Carmel-by-the-Sea must!
In the afternoon, drive out to Point Lobos State Reserve, a stunning oceanside park a scant few minutes from the village.
Walk an oceanside trail, with the sea breeze ruffling your hair, and admire the wonderful views of the Pacific Ocean.
In the spring and summer, you'll see tons of wildflowers. There are always seabirds to watch.
On your way back, step into the Carmel Mission, one of the most beautiful missions built by the Spanish missionaries. Back in the village, enjoy some wine tasting before dinner.
On your final morning in Carmel-by-the-Sea, take a walk around the village to look for the fairytale cottages scattered about.
They are charming, historic, and incredibly fun to find.
Or, consider booking a pampering treatment at the luxurious spa at the Bernardus Lodge in nearby Carmel Valley, or driving out to Big Sur and back on the beautiful Pacific Coast Highway.
End your stay with brunch in the village before heading back home, refreshed and recharged!
Where to Stay in Carmel-by-the-Sea
Park City
From Dan and Michelle of Honeymoon Always
Located just 30 minutes from Salt Lake City, Park City, Utah, is an incredibly romantic destination in the USA.
The area is best known for its mountain resorts with amazing slopes for skiing, snowboarding, and all types of winter activities.
Depending on your expectations for romance, Park City has it all.
You can experience adventures during the day, creating memories to look back on for years to come by going on a snowmobile ride or taking a real bobsled ride at the Olympic Park.
After your adrenaline has been pumping, unwind and fill yourself back up at one of the many delicious restaurants.
The crisp winter air provides for a wonderfully romantic time together. You can enjoy some time resting your sore muscles in a hot tub or cuddling together around a fireplace.
Another great thing to do is to try out one of the spas in the area after a day of skiing to avoid tense muscles and to enjoy your time together.
Surrounded by snow-covered mountains, you don't really have to try hard to create a romantic atmosphere.
Just find a place to sit around a fire and look around at the beautiful scenery, and you already have all the makings of a romantic escape with your beloved.
On the chance that you make your way to Park City when it is not wintertime, there is still plenty to do.
You can find a lake to go stand-up paddle boarding or fishing, go ziplining, enjoy a breathtaking hot air balloon ride or go on one of the alpine slides and coasters.
Where to Stay in Park City
Estes Park
Known as the gateway to Rocky Mountain National Park, the charming small town of Estes Park makes for an incredible couples' vacation in the USA.
With its beautiful downtown (don't miss a chance to stroll along the riverwalk!), its huge prevalence of elk living in and around the town, its beautiful lake, and the world-class nature of nearby hiking opportunities, Estes Park belongs on any bucket list.
It's also perfect for couples looking for a mix of attractions: while the outdoors is most prominent, Estes Park itself also has plenty of restaurants and shops to enjoy!
While in Estes Park, be sure to stop by the historic Park Theatre, consider a whitewater rafting trip, go for a scenic drive, and check out one (or more) of the town's local breweries.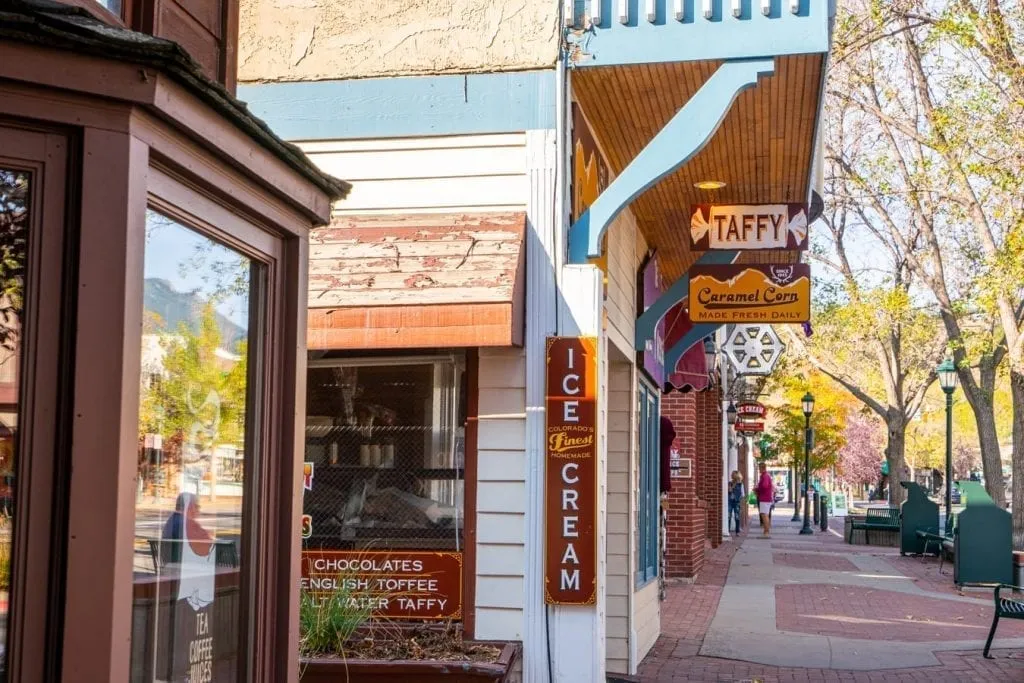 You can also pay a visit to the beautiful and historic Stanley Hotel, which inspired Stephen King's The Shining (in other words, it offers a great excuse to cling to each other in the darkened halls at night).
Even if you don't check in, consider stopping by the gorgeous Whiskey Bar & Lounge for a taste of the ambiance (but the hotel gets great reviews and makes for a great base in town, too).
And, of course, the main attraction lies just outside of town: no trip to Estes Park is complete without plenty of time spent in Rocky Mountain National Park!
Where to Stay in Estes Park
San Francisco
From Jyoti at Story at Every Corner
San Francisco is one of the most beautiful cities in the world, and definitely one of the most romantic getaways in America!
The first thing you'll notice is San Francisco's lovely cool weather (just be sure to avoid the June Gloom–the best "summer" month in San Francisco is actually September).
Throughout much of the year, the air is so crisp it fills up the heart with love and happiness.
There is so much to love about San Francisco, it's a challenge to list a few of the most romantic aspects of the city.
Of course, most couples on a romantic getaway will want to start with San Francisco's most famous landmark: enjoy the many vantage points and views of the world's most recognizable bridge, each offering its unique perspective.
For example, walk on the Golden Gate Bridge, picnic on Chrissy Field under the bridge, hike in Lands End state park, cruise on the Bay, walk around Treasure Island, or take a Segway Ride for many views of the bridge.
Not too far from the Golden Gate Bridge is the beautiful Palace of Fine Arts.
It's so calming to walk and admire the views or lie on the grassy hills, watch the swans, and have a picnic.
In the midst of the busy city of San Francisco are the enormous Golden Gate Park and its many attractions such as the Japanese Tea Garden, San Francisco Botanical Garden, Conservatory of Flowers, San Francisco Academy of Sciences, de Young Museum, Lloyd Lake, the Dutch Windmill and the beach on the Pacific Ocean.
One could spend hours relaxing at any of these beautiful sites, outdoors or indoors.
For the art lover in everyone, the San Francisco Museum of Modern Art is a great way to spend a half or a full day enjoying modern artistic creations, and for a different kind of art appreciation, consider a memorable performance at the San Francisco Symphony.
Last but not least, no romantic getaway to San Francisco could be complete without talking about its food.
San Francisco has amazing restaurants in every cuisine. Even for vegans, there are several incredible restaurants and chefs that make magic happen.
Some favorites include the Shizen Japanese, Herbivore, Hakkasan, Aster, Slanted Door, and Ghirardelli Square for dessert.
Where to Stay in San Francisco
Lake Tahoe
From Priyadarshini of Glorious Sunrise
Lake Tahoe is without any doubt a honeymooners' paradise in all seasons.
Nestled in the magnificent Sierra Nevada mountains on the border between California and Nevada, Lake Tahoe is famous for both its ski resorts and its beaches, making it a fantastic year-round romantic US trip idea.
Watersports, snowmobiling, gondola rides, hiking around incredible trails like Tahoe Rim trail, balloon rides, cruises, skiing, and much more can be appreciated in this amazing spot.
Of course, its namesake lake is the most beautiful lake we have ever seen with clear clean waters. It is known to be the largest alpine lake in North America.
Lake Tahoe is divided into two parts, north and south, and both sections of Lake Tahoe are equally mesmerizing.
North Lake Tahoe is home to Donner Summit Bridge, Hellman-Ehrman Mansion, Sand Harbor State Park, Squaw Valley tram, museums, and more state parks.
South Lake Tahoe has Pope beach, Zephyr Cove, Emerald Bay, Cave Rock State Park, Heavenly Gondola, Taylor Creek Visitor Cente, and many more attractions.
Do not miss doing the Heavenly Gondola ride and enjoy breathtaking views of the lake and the surrounding pine trees rising majestically into the sky.
Lower Eagle Falls is another place you should not skip.
This spot is not just about the gorgeous falls, but the unbelievable scenery you can enjoy when you climb to the top.
You can see the lake and beyond from here and you will simply want to stay there forever.
Where to Stay in Lake Tahoe
Oregon Coast
From Sarah of Discover the Pacific Northwest
With an abundance of rivers, lakes, waterfalls, and mountains plus dozens of quaint towns and hundreds of wineries, Oregon is a state made for romance.
However, the most popular destination for a US romantic getaway in the state has to be the beautiful Oregon Coast.
Oregon has 363 miles of stunning coastline to explore full of fabulous beaches, scenic harbors, iconic lighthouses, pristine parks, and soaring sand dunes.
There are also dozens of charming seaside towns offering a romantic home base from which to explore.
Historic Astoria is the closest coastal town to Portland and offers plenty to do including an old waterfront trolley, a thriving arts community, and lots of great restaurants and craft breweries.
Seaside is a true beach town with a fabulous boardwalk and nearby Cannon Beach boasts the famous "Haystack Rock."
Newport is probably the best-known and most popular coastal town for good reason as it has an iconic main street full of great seafood restaurants and boutique shops plus a bustling fisherman's wharf.
And this just gets you to the central coast, the list of lovely towns continues as you go further south.
Some of the top sights to see are Ecola State Park, Yaquina Head Lighthouse, Oregon Dunes Recreational Area, Three Capes Scenic Drive, and the Tillamook Cheese Factory to name just a few, and they all make incredible stops for USA romantic getaways.
Of course, a romantic coastal getaway is not complete without a seafood feast or two!
Our top tip is to stop at Kelly's Brighton Marina to catch some crab and clams then pick up wood for a beach fire to cook it up and watch the sunset.
Where to Stay on the Oregon Coast
Catalina Island
From Megan of Bobo & Chichi
When you think of romantic places for a couples' vacation, your mind might naturally gravitate toward islands–for very good reason!
Little do people realize that the US has its own romantic island getaways, including Catalina Island off the coast of southern California.
The tiny town of Avalon on Catalina Island is only 1 square mile and packed full of things to do for a romantic getaway with your lover.
Some of the best things to do in Avalon include kayaking through the harbor, ziplining with ocean views, sailing, scuba diving, snorkeling, and an unforgettable movie theater in the beautifully restored Casino.
Get a private cabana at Descanso Beach Club where you can have drinks and food delivered to you right on the beach looking over the Pacific Ocean.
You and your partner can also take a romantic stroll to the botanical gardens and play a flirty game of mini-golf.
Besides being full of activities there's also a great food and drink scene on Catalina Island.
The island really comes to life in the afternoon and at night when the day visitors leave and you feel like you have the town to yourself.
Consider staying in the gorgeous Mt Ada Bed and Breakfast owned by the Wrigley (yes, the gum family and former owner of Chicago Cubs) family overlooking the harbor and island
With people or not there's just something so romantic about the tiny little streets full of colorful little cottages that make Catalina Island perfect for a romantic USA trip for couples.
Where to Stay in Avalon
Pacific Coast Highway
From Deborah of Tag Along Travel
The iconic Pacific Coast Highway, with its sweeping views of the coastline, many adorable towns to visit, and stunning beaches to admire, is the perfect romantic trip in America for couples.
Whether you're celebrating an anniversary, a honeymoon, or just enjoying the company of your beloved, the famous PCH has lots to offer!
With far more potential stops for views, hikes, shopping, dining, beach access, and more than could reasonably be covered in one trip, the Pacific Coast Highway is a romantic getaway that can be enjoyed again and again.
Strolling along Huntington Beach Pier, admiring the views from the famous La Jolla, relaxing near the water in Malibu, touring the Hearst Castle, and touring taking a short detour to visit the whimsical Dutch-inspired town of Solvang are just a few of the many memorable places to visit along the PCH!
Mcway Falls and the Bixby Creek Bridge are absolute must-sees: as some of the best places to visit in California, couples photos here are a must!
Consider visiting Morrow Bay for delicious saltwater taffy while watching elephant seals sunning themselves near the shore for a fun wildlife-plus-food stop.
The pace and picturesque California setting are a terrific backdrop for celebrating a relationship and taking time to connect with your favorite person.
Designed by Alex and Phyllis Madonna in the late 50s, the resort includes 110 unique theme rooms, the pinkest and most sparkly retro dining room, and a dreamy pool and spa, all surrounded by gorgeous gardens.
Starting and/or ending your trip in the bigger cities along the PCH like San Francisco, Los Angeles, or San Diego is a fantastic way to add a city break to this incredible romantic vacation in the US.
Where to Stay on the Pacific Coast Highway
Willamette Valley
From Taima of Poor in a Private Plane
Cozying up next to the fireplace with that special someone, while sipping on a glass of one of the world's best Pinot Noirs.
Sounds like paradise, right?
Paradise exists and it is located in the Willamette Valley in Oregon.
Located just outside of Portland, the Willamette Valley is a great weekend destination to spend with that special someone.
McMinnville, OR which is located in the heart of the Willamette Valley is the perfect home base.
With several wine-tasting rooms to walk to and great restaurants, you will not be disappointed.
If you are looking to explore some of the best wines in the Pacific Northwest there are several wineries and vineyards just a short drive away.
Start your day with breakfast at Community Plate located in McMinnville followed by a stroll through town.
From there, make your way to Stoller Family Estates where you can enjoy your tasting flights while admiring views of Mt. Hood.
If you are looking for even more views check out White Rose Estate. On a clear day, you can get a view of all three peaks which is amazing.
After getting your fill of the beautiful views, Indulge in a vertical tasting at Adelsheim.
If you are hungry now is a good time to check out Red Hill Market for a yummy lunch. After lunch, try a sparkling wine-tasting flight at Argyle Winery.
Afterward, end your day with a meal at Gem Creole located in McMinnville.
And if you still have something left in you enjoy a nightcap on the rooftop at McMenamins Hotel Oregon–the perfect end to an American romantic getaway with your sweetheart.
Where to Stay in McMinnville
Seattle
From Corinne of Reflections Enroute
If you're looking for a romantic getaway in the USA, look no further than Seattle!
It's so easy to find romantic spots and activities in Seattle.
To start, take your honey and explore the world-famous Pike Place Market where the fish are flying and the vendors tout the freshest and best the city has to offer.
Around the corner is the very first Starbucks, so grab one of their traditional brown mugs and warm up in this cozy spot.
Afterward, head to the Space Needle where the views are spectacular, but you can walk on a revolving glass floor or bungee jump from up top as well.
Nothing is more romantic than getting your adrenaline pumping by taking a death-defying jump with your loved one!
Don't forget to have lunch and visit one of the museums as well. The Pop Culture Museum and the Chihuly Garden are both memorable and popular.
If you still have some time, head over to Gas Works Park and take some photos, maybe rent a kayak, or even fly a kite.
Then towards evening, you will want to get over to the Freemont, the hipster part of the city, and eat dinner at one of the many amazing restaurants like the RockCreek Seafood and Spirits.
Finally, you will want to go to the Mox Boarding House Game Store and Bar.
There you and your beau can pick out a game and either alone or with some new friends play any board game in the house while sipping on cocktails.
Where to Stay in Seattle
Denver
From Gena at Gena's Adventure
There is nothing better than surprising your significant one with a romantic getaway to Colorado!
And, though it's not traditional, winter is still a perfect time to visit colorful Denver.
In winter, Denver is snowy, but not too cold, so you are able not only pay visits to mountains and enjoy spectacular views, long night walks under the streetlights of Larimer Square, snowy streets, and hot chocolate make it all worth it.
While you're there, be sure to go ice skating hand-in-hand at Downtown River Rink followed by a hot chocolate together, try out couples snow tubing at Frisco Adventure Park, and head up to Flagstaff Mountain to enjoy a gorgeous sunset with views of Denver.
Be sure to leave time in your itinerary for the romantic Royal Gorge Train!
You can book a delicious dinner for two and make this one of the highlights of your romantic getaway.
Other must-have food experiences when visiting Denver include hitting up a wine tasting with fondue at Crú Food & Wine Bar to soak up their romantic vibes, getting a taste of Spain at The 9th Door Capitol Hill, and sharing a slice of famous Spring Fling cake at the best bakery in Denver (The Market at Larimer Square).
Don't hesitate to surprise your significant one with a romantic getaway to Colorado in winter!
Whether it's about winter activities, romantic dining, or unique experiences – this place has it all.
Want to expand your romantic trip beyond a city break?
Rocky Mountain National Park lies a tantalizingly close drive away!
Where to Stay in Denver
Coronado Island
From Julia at Small World This Is
Coronado Island is a great romantic USA weekend getaway for couples that lies right across the Coronado Bridge from San Diego.
Spend the day lounging on the immaculate, gold-flecked Coronado Beach and upgrade your beach day by renting a luxury lounge chair from Del Beach Services, which includes a meal and drink service. Enjoy relaxing and soaking up some vitamin D.
Take a leisurely stroll and look for the sunken SS Monte Carlo, which you can spot during low tide.
Rent a bike or even better yet a surrey bike, with which you can explore the wide streets and beautiful homes of Coronado.
Wander around downtown Coronado, which is compact and has plenty of cute coffee shops, one-of-a-kind boutiques, and restaurants to stop by on Orange Avenue.
Clayton's Coffee Shop is a classic diner option that serves up American comfort food like banana bread French toast.
Driving to Coronado is a popular and scenic option, but the ferry that leaves from downtown San Diego is a great alternative and gives you a stunning view of the city's skyline from the water.
If you plan to take the ferry, the Coronado Ferry Building has plenty to do from fine dining to bike and kayak tours of the island.
Where to Stay in Coronado Island
Las Vegas
From Montoya of The Spring Break Family
If you and your honey are looking for a romantic destination in America, look no further than Las Vegas, NV.
The area is, of course, known for gambling and being "Sin City" but it is also a very romantic place to visit.
It is the only city in the world where you can combine the romance of Rome, Paris, Venice, and more into one (quirky) locale.
Perhaps the most romantic activity in the city is a private gondola ride in the Venetian/Palazzo hotel on the strip.
You and your boo can take a ride for two down the hotel's canal while being beautifully serenaded by your gondolier.
If you are in the mood for relaxation, you can book a couples massage in the spa of any of the large hotels on the strip.
You can also spring for an in-room massage if you'd like something more private.
If skyline views are more your thing, you can get a killer view of the city from the High Roller at the Linq while sipping cocktails in a semi-private cabin.
You and your partner can also scale the Eiffel Tower at the Paris Hotel and see the twinkling lights of the city from their observation deck.
Romantic dinners are also on the menu, too!
Grab dinner at the Paris hotel on the 11th floor with jaw-dropping views of the strip, or venture a little off the strip to Top of the World restaurant in the Stratosphere Hotel to get a bird's eye view of the entire city.
The Barrymore near the Convention Center, Twist in the Mandarin Oriental Hotel, or any of the restaurants in Wynn Hotel's adult-only restaurants are also sure to spark a mood.
If the feeling of love overwhelms you during your trip, Las Vegas has several top-notch wedding venues that can do everything from a quickie wedding with Elvis (witness provided) to a full wedding complete with an audience and small orchestra.
No worries if you didn't pack a dress and tux–the city of romance can take care of that too!
… And no worries if you're already married, either: a spontaneous vow renewal with fun photos can make for quite the memorable souvenir!
From riding in a gondola (while being serenaded no less) to taking in a show, everything you need for a romantic getaway is located right in the heart of Las Vegas!
Where to Stay in Las Vegas
More Romantic Places in the US
Fredericksburg, TX
As one of the most popular towns in the Texas Hill Country, the charming small town of Fredericksburg, Texas is a fantastic place for a couples getaway in the US.
Known for its German heritage, antiquing opportunities, its festivals, and its many, many wineries, Fredericksburg is packed full of options for a little romance.
Some of the best things to do in Fredericksburg include exploring the wineries along Wine Road 290, strolling down Main Street, hiking nearby Enchanted Rock, eating delicious German food, and exploring the antique shops.
Depending on when you visit Fredericksburg, you may also be able to participate in the town's Oktoberfest or German-inspired Christmas festivities.
In the spring, wildflowers (especially the famous Texas bluebonnets) explode in the area, and in the summer, peach-picking is a local favorite.
Regardless of when you plan a trip to Fredericksburg, you're bound to have plenty of options for putting together a romantic escape.
Fredericksburg is located less than 2 hours from both Austin and San Antonio, making it easy to access for Texans and visitors alike.
Where to Stay in Fredericksburg
Chicago
From Patti of The Savvy Globetrotter
The beautiful city of Chicago is the perfect city for any couple looking for a romantic getaway in the USA.
There are plenty of fun things for couples to do together both outdoors and indoors, during the day or at night, whether on a budget or looking to splurge.
Couples that enjoy being outdoors can spend some time in one of Chicago's many parks including Millennium Park, which is home to Cloud Gate, the famous sculpture also known as The Bean.
For a romantic stroll, couples can walk along the Chicago Riverwalk and/or lakefront to enjoy the beautiful city and water views.
With miles of beaches along the lake, couples can even take a long walk on the beach.
For those that enjoy being on the water, you can go sailing, join one of the many cruises on Lake Michigan or take an architecture river cruise (the best way to enjoy the impressive architecture and city skyline).
For those interested in more cultural activities, Chicago is home to many excellent and well-known museums and cultural institutions.
For a romantic night on the town, couples can watch a play or comedy show, listen to music at a jazz club or have dinner at one of Chicago's many restaurants serving every type of cuisine.
One of the most romantic thing to do in Chicago is to have dinner or drinks at one of the many outdoor patios and rooftops while enjoying panoramic views of the beautiful skyline.
Chicago is an amazing city that has something for every couple no matter what your interests.
Where to Stay in Chicago
Mackinac Island
If you and your beloved are looking for a romantic US getaway that feels like you've stepped back in time, consider a summer escape to Michigan's gorgeous Mackinac Island!
Situated in Lake Huron, Mackinac Island is a classic Midwestern getaway and feels like an otherworldly destination.
For starters, no cars are allowed on the island, so prepare to leave yours behind!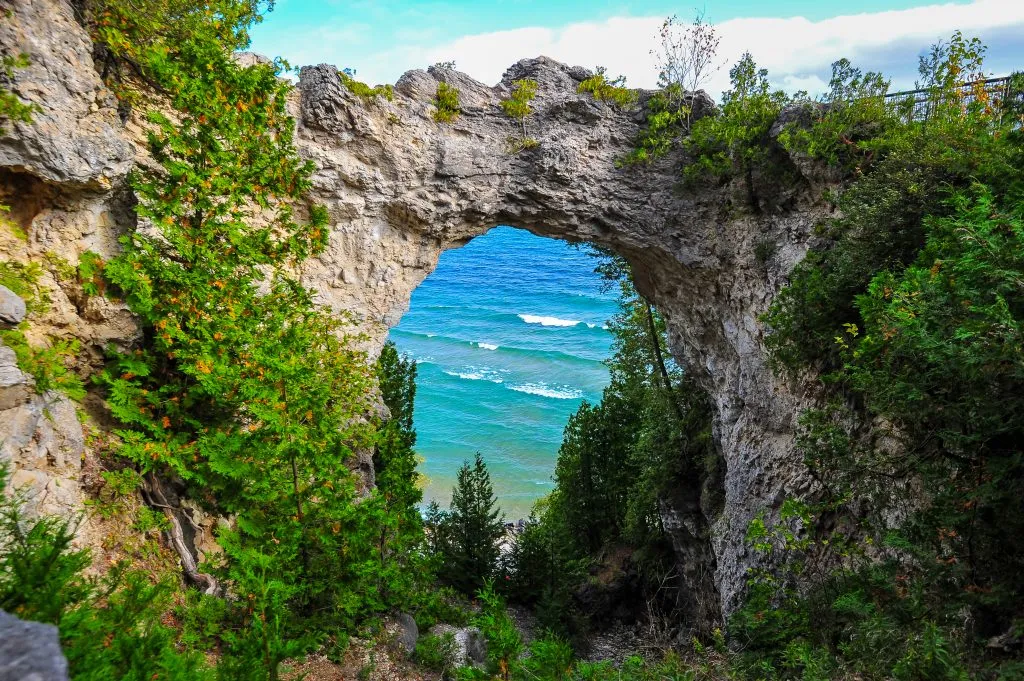 Bikes, horse-drawn carriages, and old-fashioned walking are the preferred ways to get around.
Visiting the famous Arch Rock, hiking along any of 70 miles worth of trails, visiting Fort Mackinac, and touring a historic home or two are all worth adding to your list.
And, of course, you can't miss the famous Grand Hotel Mackinac, one of the top places to visit on the island!
Buy a ticket to explore the building or grounds, or consider booking a romantic afternoon tea or even checking in for a stay.
Where to Stay in Mackinac Island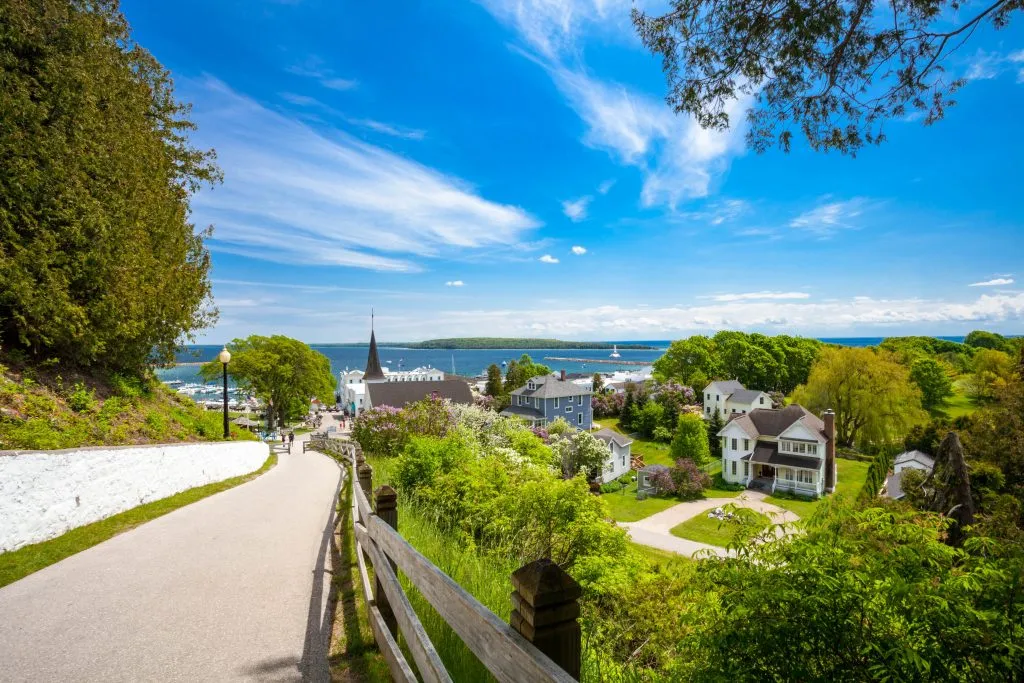 Honolulu
From Clemens of Traveller's Archive
If you're looking for a romantic getaway in the United States, look no further than Honolulu, the capital of the island of Oahu and also the entire state of Hawaii.
It is not only the commercial center of the island, but is also the home of the world-famous Waikiki Beach.
Every evening tourists make a pilgrimage to this beach to watch the orange-pink sunset–at least the ones who aren't already there from soaking up the sun all day.
If you are up for some romance, come here for sunset or book yourself a table at one of the nice hotels that are located right on the beach.
Imagine the perfect Hawai'i sunset and put some bubbles to it – sounds just perfect, right?
Waikiki has great waves for beginner surfers and is the perfect spot to try out a new skill with your beloved.
During the day it's time to seek out viewpoints: drive up the serpentines along the Tantalus Highway to get a full picture of O'ahu and bring yourself some typical Hawaiian poke bowl which you can best get at Keeaumoku Seafood.
This might just be the best lunch spot you ever visited!
Also, once in Honolulu, you can go on a little day trip to experience the beautiful North Shore, which is dotted with surf spots and home to some of the most amazing waves in the world.
Make sure to get to the sleepy village of Haleiwa where you can celebrate your romantic getaway with some bubbles and a nice lunch at Haleiwa Joe's or get yourself some takeaway and watch the surfers hit the waves at Waimea Bay before you secure yourself a sunset spot at the beach.
A classic couples' travel destination for generations, you can't beat Honolulu when looking for the most romantic getaways in the USA!
Where to Stay in Honolulu