Trying to put together the perfect 4 days in New York itinerary for your first visit to the city? You have your work cut out for you!
New York is alive in a way that few cities are. It is intense, enormous, intricate, invigorating, and ever-changing.
Restaurants, storefronts, fads–they all come and go with ease in New York. Yesterday's Instagram sensation is today's quiet dessert shop is (possibly) tomorrow's closed business.
A generation ago Little Italy thrived, now what's left of the neighborhood has been given over to tourists, and the Italian community is over on Arthur Avenue.
On and on New York goes–in every neighborhood and every borough, change is the constant heartbeat of the city.
And yet, there is the iconic side to New York as well: the Empire State Building, Grand Central Station, Central Park, the Brooklyn Bridge: any first trip to New York is likely to include those.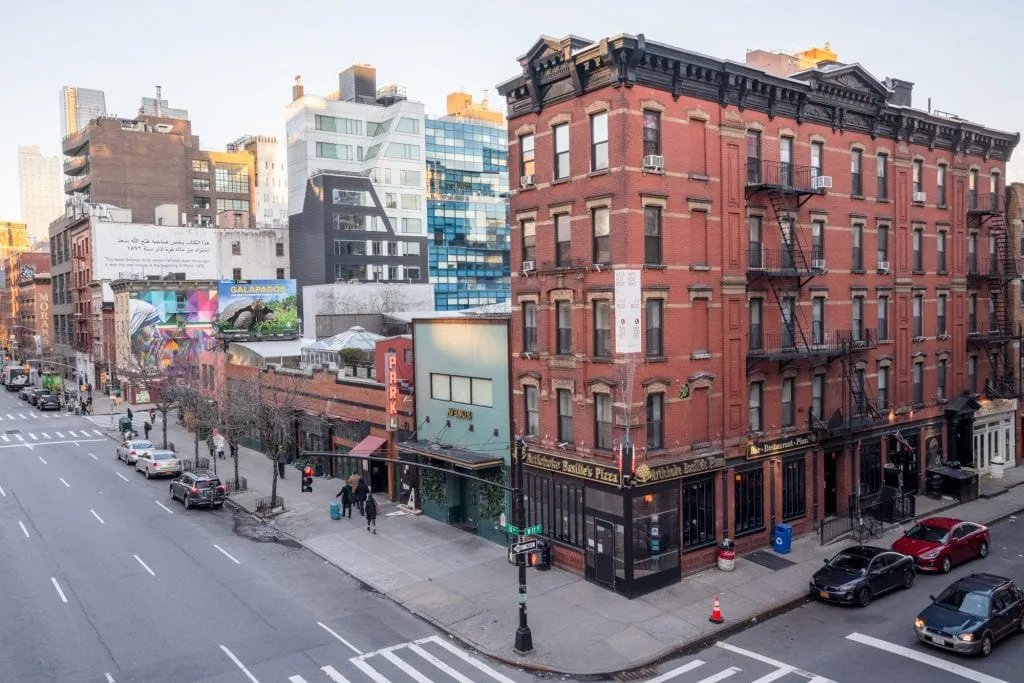 Some links in this post may be affiliate links. If you make a purchase through one of these links, we may earn a small commission at no extra cost to you. Please see our

disclosure policy

for more detail.
But ultimately, no one person experiences New York the same way, because New York isn't quite the same city to any one person (just ask the three people we love best in NYC: an employee at a tech startup, a longtime New York bartender, and a Williamsburg-dwelling artsy type who is allergic to Midtown–it's hard to believe that these three inhabit the same city sometimes).
After many visits to New York, often led around by our local loved ones and occasionally dragging them off to see iconic sights they'd rather skip (see: Times Square), this is what we know about New York: it's just as incredible as everyone says… and just as overwhelming, too.
We've put together this 4 days in New York itinerary to help curb that feeling of being overwhelmed, while also increasing the amount of joy and wonder found in a trip to New York. A visit here is a dream trip for so many–and with only 4 days in New York, you want to get it right.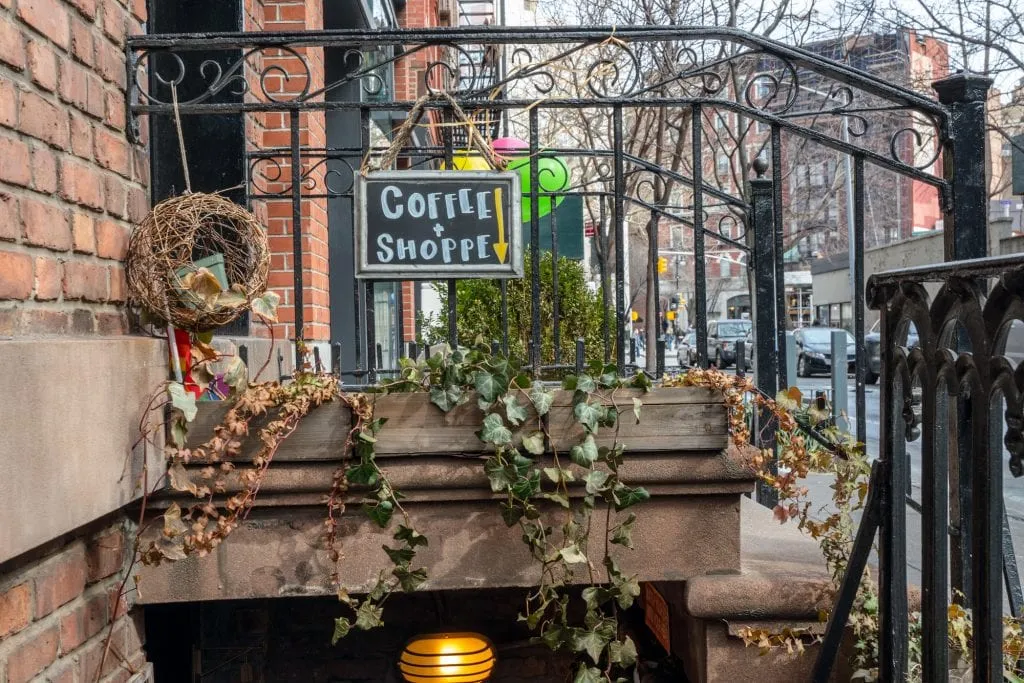 Who is this New York itinerary for?
There are as many possible New York itineraries as there are people in NYC (more than 8.6 million, that is), so this New York itinerary is designed with a particular visitor in mind: a first-time visitor to the city who wants to hit up most of the iconic things to do in New York, while also occasionally stepping a bit away from the crowds and tourist buses.
We've designed it for an independent traveler, someone happy to jump on a unique tour or buy tickets to an amazing attraction, but who isn't interested in being led around the city's best-known spots in an enormous group of people or boarding one of the giant tour buses that you often see in the Financial District and Midtown.
Of course, no 4 days in New York could hope to cover all the city has to offer–you'd need a lifetime for that–but this itinerary will ensure you leave feeling like you've definitely gotten a taste of New York City.
Day 1 in New York Itinerary: Upper Manhattan + Midtown
Map of Day 1 in New York
Take This Map With You! Click each highlight to pull up the name of the destination. To save this map to "Your Places" on Google Maps, click the star to the right of the title. You'll then be able to find it under the Maps tab of your Google Maps account! To open the map in a new window, click the button on the top right of the map.
Start your day at one of New York's most iconic museums.
There's no better way to kick off your 4 days in New York than with a peek inside one of the museums that make the city so famous!
New York is littered with museums, from the enormous and iconic to the tiny and quirky, but for this first morning, opt for one of the big three:
The Metropolitan Museum of Art (Upper East Side)
New York's premier art gallery, home to everything from American paintings to an impressive collection of historic armor sourced from around the world to Egyptian artifacts to entire Parisian rooms that have been relocated to New York.
Book your skip-the-line tickets for the Met now with no extra cost!

Prefer the context of a tour? This one gets great reviews and will show you the best of the Met.
American Museum of Natural History (Upper West Side)
Known for its impressive dinosaur fossils, including the first-ever found fossil from the tyrannosaurus rex, the American Museum of Natural History is home to a mind-bogglingly large collection of specimens pertaining to the natural world.
This is one of our favorite museums in the world, and the one we personally chose to visit on our very first trip to New York!
Shop skip-the-line tickets for the Natural History Museum now with no extra cost!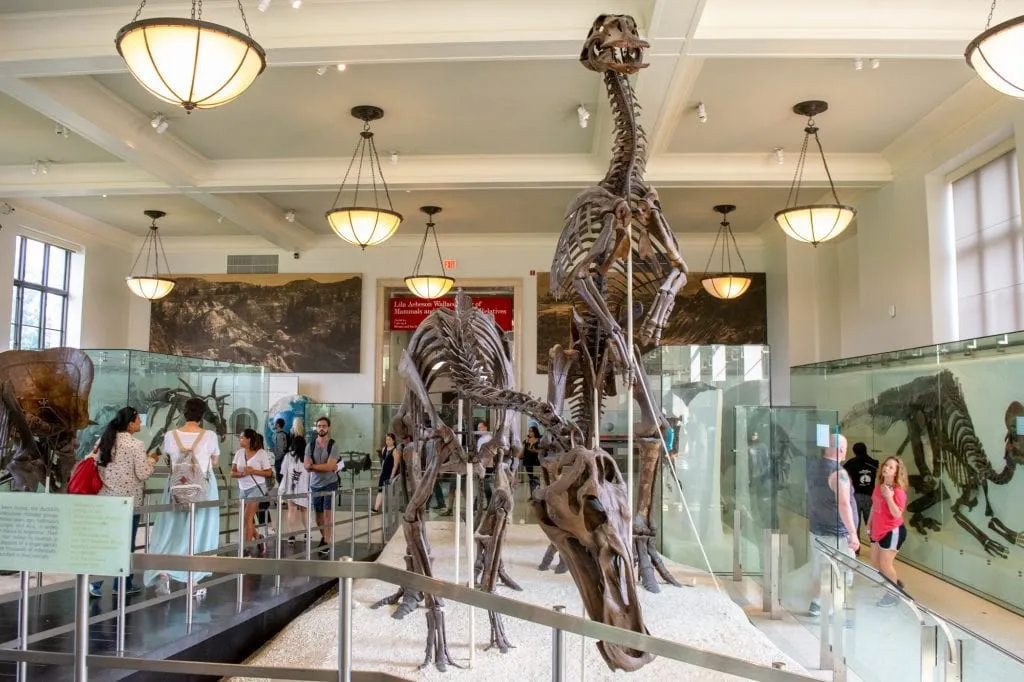 The Museum of Modern Art (Midtown)
More of a modern art person? Consider making your way to the famous Museum of Modern Art to start your 4 days in New York, which is home to, among many other things, Van Gogh's Starry Night and works by Andy Warhol and Jackson Pollock.
Keep in mind that while the Met and Natural History Museum are both right next door to Central Park and located a mere 15-minute walk across the park from each other, MOMA is a bit south of the park into Midtown–for that reason, if you decide that MOMA is the museum for you, you may want to start your morning with a stroll through Central Park and then head to the museum, rather than the other way around.
Book skip-the-line tickets for the MOMA today for no extra charge!
Stroll through Central Park.
What could possibly be more iconically New York than a walk through Central Park?
The park itself is enormous and could easily eat up an entire day's itinerary, which you quite honestly don't have time for when trying to see New York in 4 days.
Here are a few things to consider adding to your list: visiting Belvedere Castle, rowing across Central Park Lake in an adorable rowboat, checking out the Alice in Wonderland statue, strolling through the beautiful Bethesda Terrace Arcade, and meandering through The Ramble.
You probably won't have time to fit all that in–but all of these highlights are concentrated in the southern half of the park, south of the Met and the Natural History Museum, so make geographic sense for this New York itinerary.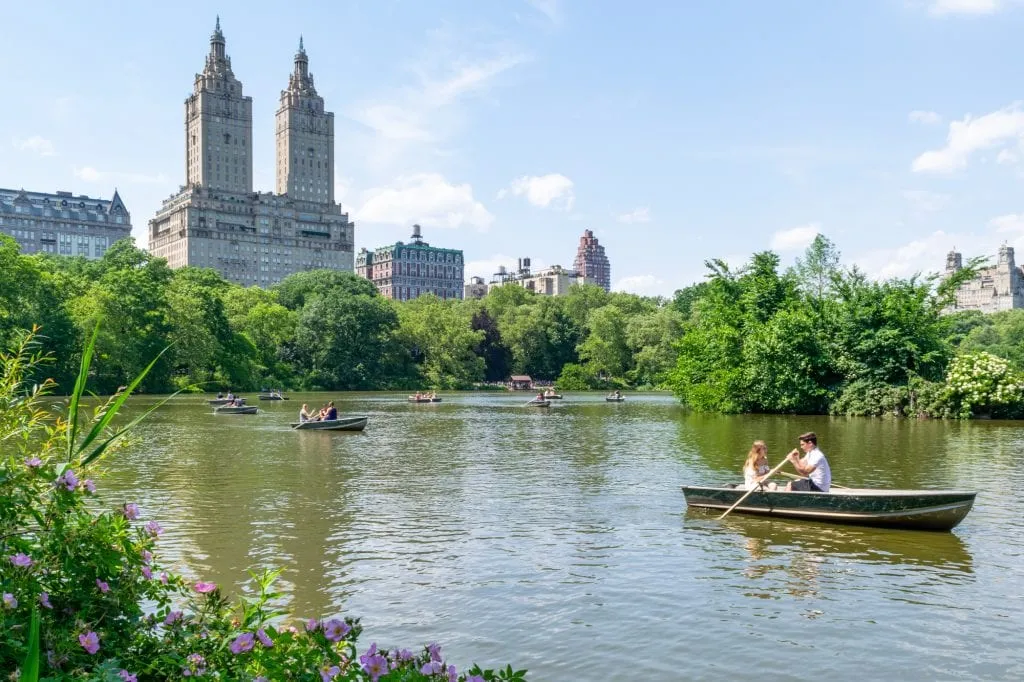 Wander down Fifth Avenue.
Combining transportation with sightseeing is the best way to check out Fifth Avenue: as you make your way further south toward the rest of the day's highlights, be sure to slow down long enough to ogle Fifth Avenue's famous stores and buildings!
Notable locations that you'll pass on this section of Fifth Avenue include the Plaza Hotel, Tiffany & Co., and Bergdorf Goodman. The Saks Fifth Avenue is also just a smidge past St. Patrick's Cathedral, so if you're the shopping type, be sure not to miss that stop, either!
Check out St. Patrick's Cathedral.
Arguably the most impressive religious structure in New York, the impressive Neo-Gothic St. Patrick's Cathedral looks almost out of place on busy, modern, consumer-focused Fifth Avenue, but the building is stunning and well worth a look inside.
Pay a visit to Rockefeller Plaza (and maybe visit the Top of the Rock).
Turn 180 degrees away from St. Patrick's Cathedral, you'll be facing Rockefeller Plaza.
Walk toward the plaza and you'll be confronted with Rockefeller Center, numerous recognizable stores (Lego, Nintendo, FAO Schwartz, etc.), the famous ice-skating rink in the winter, and Radio City Music Hall just slightly further down W 50th.
If you're ready for some epic skyline views of New York, this is also a great time to head to the Top of the Rock!
Want to experience incredible views from the Top of the Rock?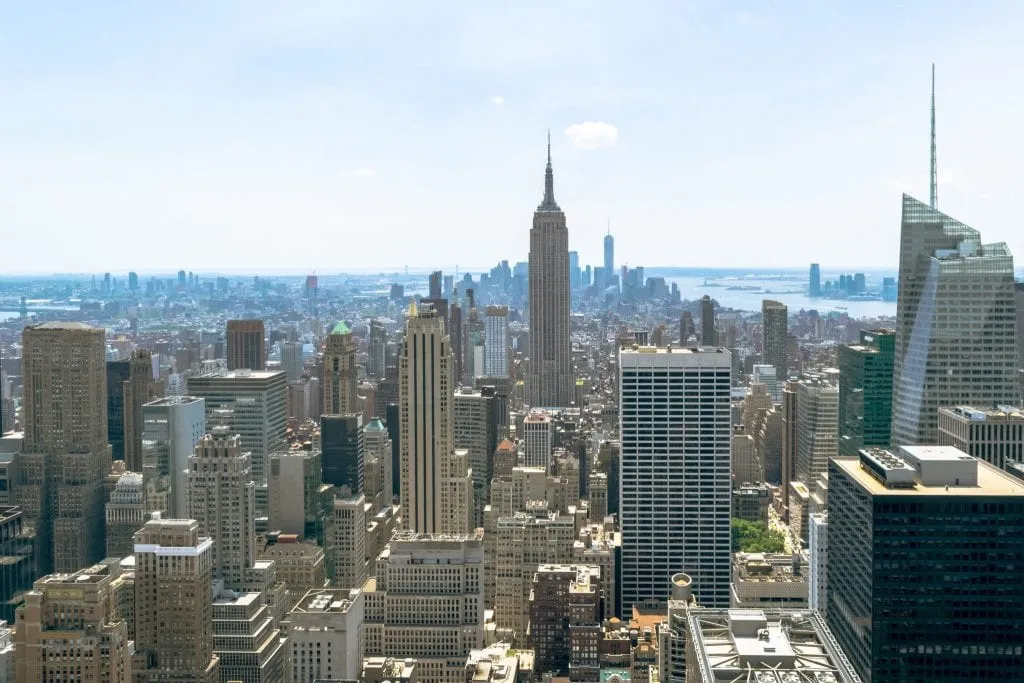 See a Broadway show.
Seeing a show on Broadway is the perfect way to spend your first evening in New York.
If you're hoping to see Hamilton, you'll still need to be prepared to pay through the nose for seats–but many shows, including fan favorites like Phantom of the Opera, Chicago, and The Lion King can all often be found for under $100/ticket if you're willing to grab the cheap seats (in well-designed theaters, there's no such thing as a bad seat in Broadway).
Check prices & shop Broadway tickets for Phantom of the Opera, Chicago, The Lion King, and more today!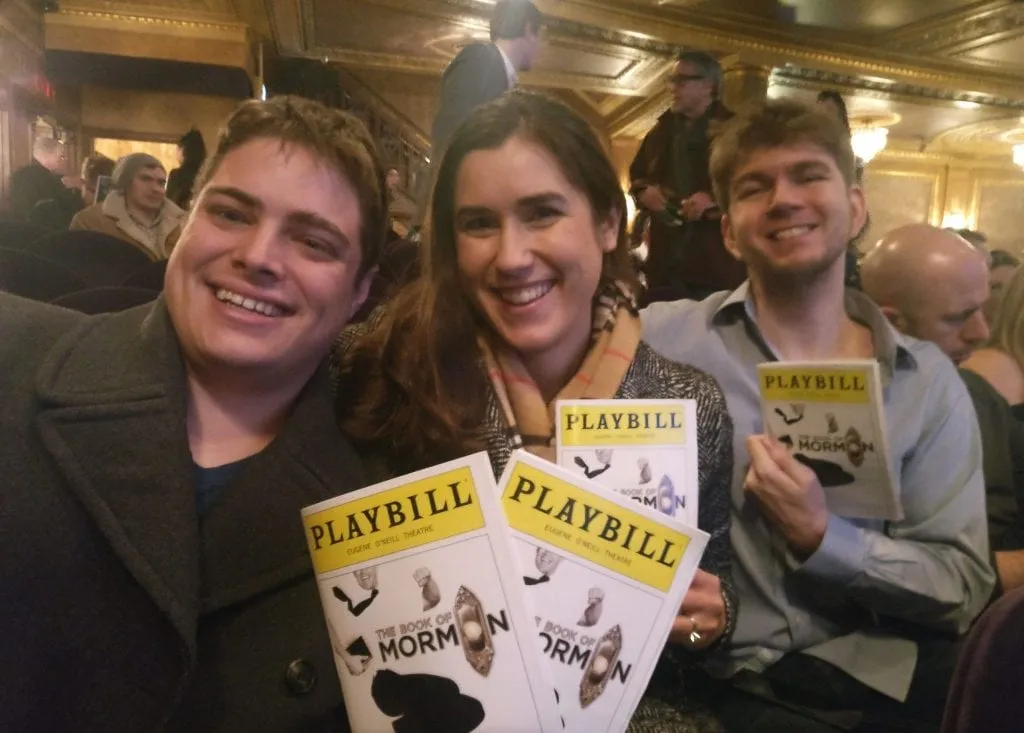 Drop by Times Square at night.
Yes it's cheesy, yes it's touristy, but it has to be done: Times Square at night is an absolute marvel, and finishing the night off here is a great way to end your first day in New York City, especially since you'll likely be right next door after wrapping up at your show of choice.
Be sure to be cautious of your pockets here–it's one of the riskiest places for pickpocketing in the city–but other than that, enjoy the lights and the photo ops (just remember: like any other tourist zone in the world, if you take photos of or make eye contact with one of the "characters" or street performers, they will want to be paid–we recommend not engaging with them at all).
Day 2 in New York Itinerary: Midtown + Museums
Map of Day 2 in New York
Get a classic New York breakfast to kick off your day.
What two things are more iconically New York breakfast than diners and bagels?
Since you're going to be kicking off sightseeing with Grand Central Station in a few minutes, we recommend heading somewhere nearby for breakfast.
While there are literally endless delicious restaurants in New York (including plenty of amazing New York brunches), for options within a reasonable walk of Grand Central, we can recommend Sarge's Delicatessen & Diner for somewhere with a great New York vibe and reasonable prices for a sit-down breakfast.
If you'd prefer a grab-and-go option, Bagel Express is nearby, tasty, inexpensive, and no-frills.
With either of these options, be sure to look up when you're walking down Lexington Avenue to get a peek at the Chrysler Building, which is one of my personal favorite buildings in the Manhattan skyline!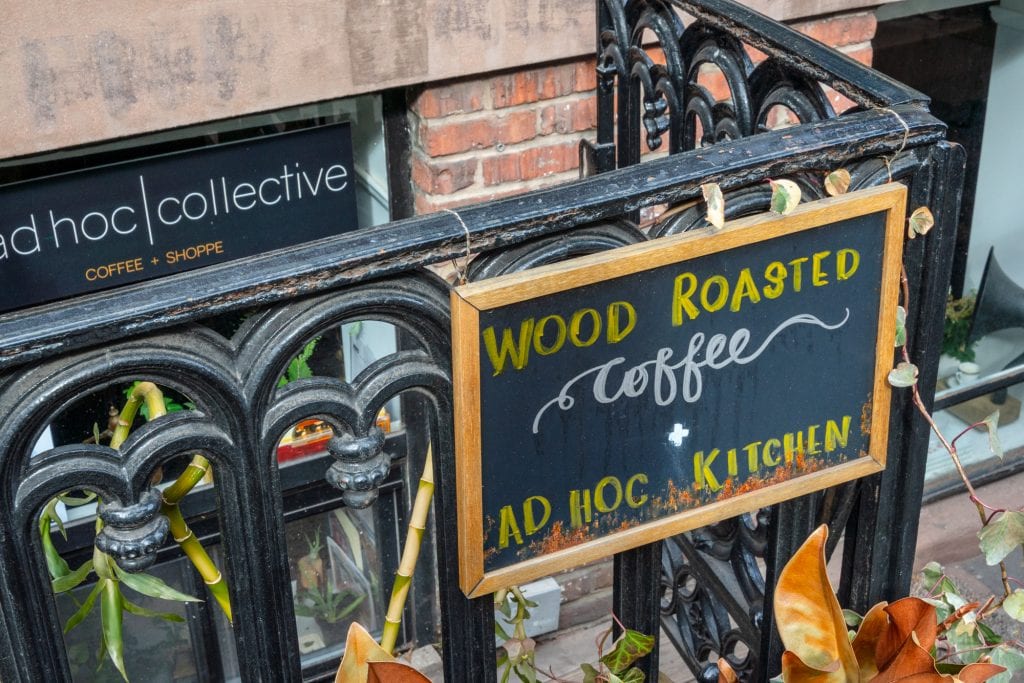 Check out Grand Central Terminal.
Grand Central Terminal is just as busy as you might expect–and also just as beautiful.
Somehow, in all the TV shows and movies I saw the station featured in growing up, I never managed to catch sight of the stunning turquoise ceiling–I saw it for the first time in person, and it's now one of my favorite features of the building.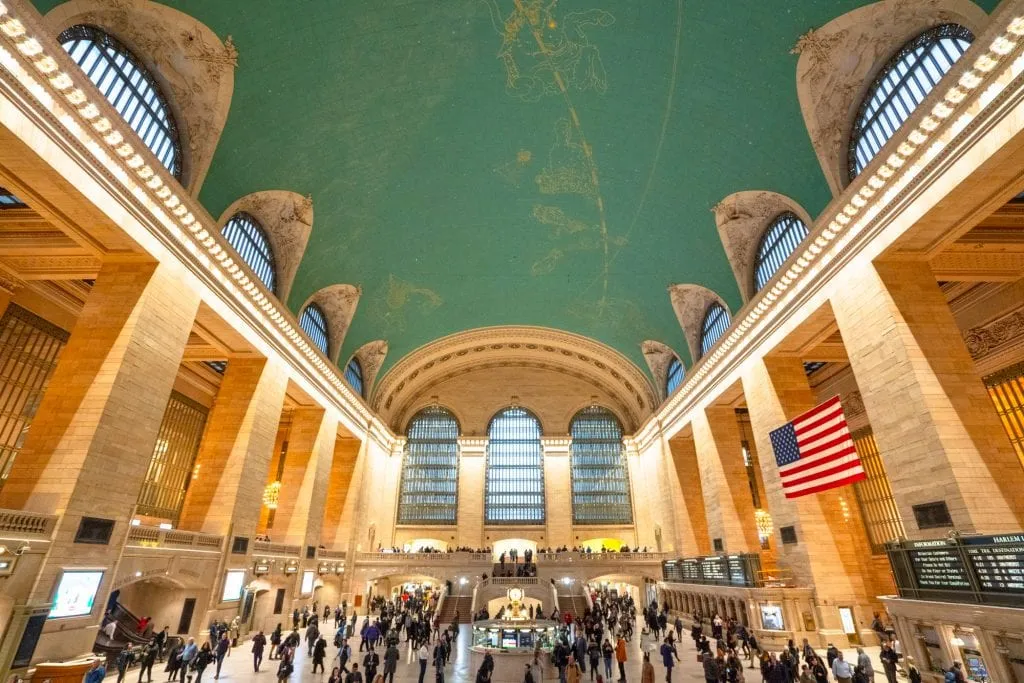 Optional: Not tired of books? Go see the Morgan Library & Museum.
Granted, with a $22 entrance fee, the Morgan (think J.P Morgan Chase) Library & Museum probably isn't going to be a must-see for any but the truest bibliophiles during their 4 days in New York, but as it's located just a few minutes south of Grand Central, it still bears mentioning here: the library itself is absolutely lovely, and there are plenty of interesting rotating exhibitions that come in and out (there was an intriguing looking one on Tolkien going on during our last trip to New York).
If you're not keen to part with your cash but still want to duck inside, admission is free on Friday evenings from 7pm – 9pm, and there are a few other free time slots available throughout the week to see the library only (so not including the adjoining museum).
Marvel at the New York Public Library.
New York's Public Library (to be clear: we're talking about the main branch on 5th Avenue here) is an absolutely unmissable piece of the city, especially for bibliophiles like us!
Not only is it absolutely gorgeous–the lion statues out front and the Rose Reading Room inside are both must-sees–it's also free to visit, which will give your wallet a much-needed break (as I'm sure you've noticed by now, working through an iconic 4 day New York itinerary isn't easy on the budget).
If you go by on the weekend, there's a good chance you'll see some wedding photos being snapped out front!
Still want to relax a little after visiting the library and not quite ready to move on? Bryant Park is right next door to the New York Public Library and a great place to rest your feet for a bit.
Say hello to the Empire State Building.
Is there a more iconic building anywhere in New York? Doubtful.
A visit to the Empire State Building–or walking by it at the very least–is an absolutely must-do during your 4 days in New York!
If you didn't visit Top of the Rock yesterday, or if you are addicted to viewpoints and want to visit both, this is the time to head to the top of the Empire State Building!
If you're visiting at any point but the dead of winter, you'll absolutely want to purchase a skip-the-line ticket to the Empire State Building–and even if you're purchasing a "normal" ticket, definitely be sure to purchase your ticket in advance, so that you can skip the ticket line itself at the very least.
Don't want to pass up the opportunity to see New York from the Empire State Building?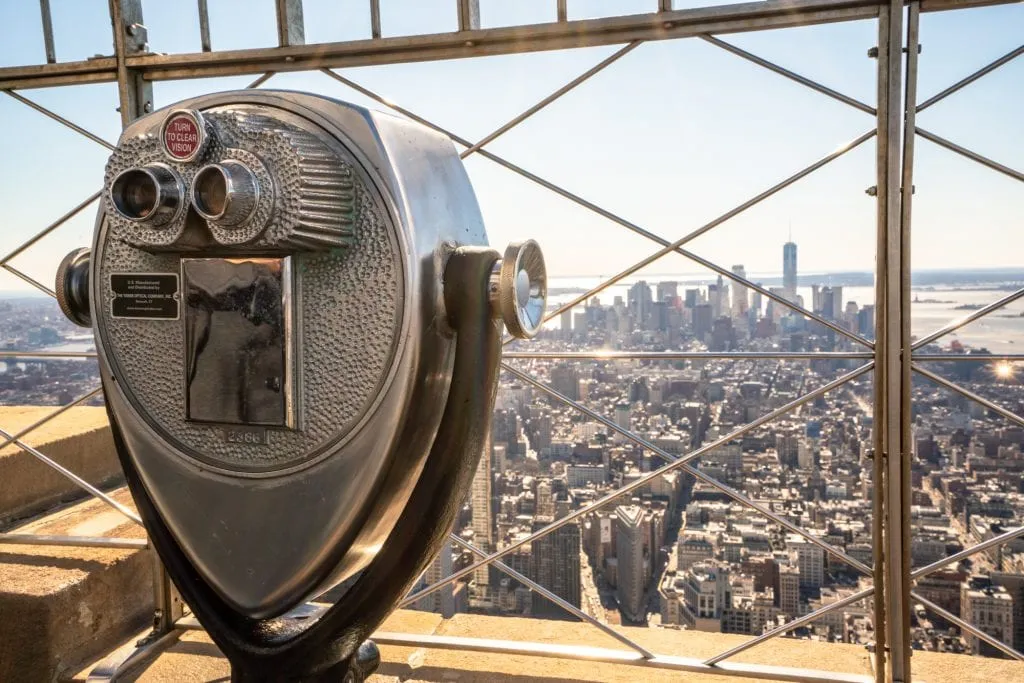 For lunch, head to either Murray Hill (Indian) or Koreatown.
While Chinatown is incredible, there is so much more to New York's international food scene than that!
After visiting the Empire State Building, you'll be in a great location to hit up either Murray Hill for some of the best Indian food of your life or Koreatown for some truly epic Korean barbeque.
There are literally endless restaurants in these neighborhoods, so we recommend googling to find out which options are near you, have great reviews, and are in your price point. Of course, this is New York–restaurants only get so cheap–but you definitely don't want to accidentally walk into a $$$ place when you're looking to spend $, you know?
Head down to the Flatiron Building.
New York's famous triangle-shaped Flatiron Building makes a great photo op, but if you'd like to stick around the area longer than it takes to snap a few shots, be sure to take a look around!
In the immediate vicinity of the building is the lovely Madison Square Park (home of the original Shake Shack), Eataly (dedicated to all things Italian food–the rooftop bar is a cool place to grab a drink if you're not hungry), the Museum of Sex (which gets mixed, bordering on mediocre, reviews), and the Museum of Mathematics (which gets primarily good reviews).
Also, on a completely related note: Shake Shack > In-N-Out any day of the week, and you should definitely stop by one whenever you're craving a quick and (relatively) inexpensive burger during your 4 days in New York.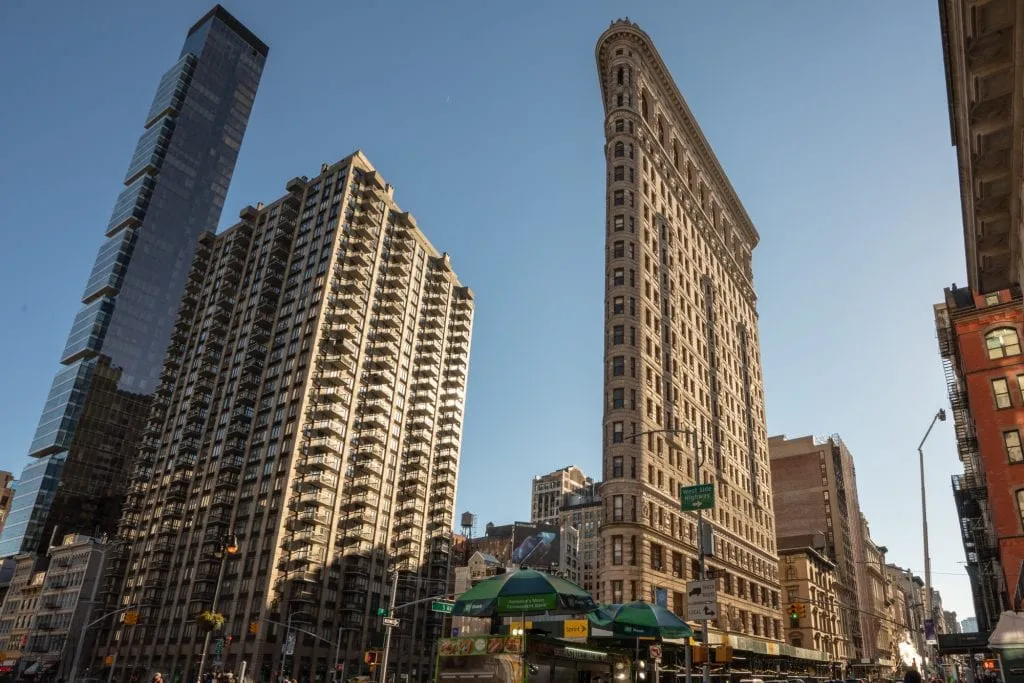 Drop by Union Square.
The #1 reason to visit Union Square? The Strand Bookstore.
Is our bias toward all things book related showing yet? Seriously, though, this giant bookstore sells everything from new bestsellers to used books to rare books to fun book-related items ranging from tasteful to kitschy, and it is worth adding to your New York itinerary.
Make your way to an epic New York Museum of your choice.
Yesterday you visited one of New York's most iconic museums–but since New York is home to an endless number of museums, we recommend finishing up your second day in the city with another one!
For most first-time New York visitors, this will probably be either the Met, MOMA, or the American Natural History Museum, depending on what you did on your first day–but if you'd rather get a bit more off the beaten track for this visit (or just aren't a museum person and want to find something else to do), the "More Time in NYC?" section below has some great ideas for you!
Day 3 in New York Itinerary: Financial District + Staten Island Ferry
Map of Day 3 in New York
Head to the Financial District and say hello to the Charging Bull.
The Financial District on the southern tip of Manhattan is chock full of memorable sights and locations.
The best place to get started in the morning is the most famous of them all: the charging bull statue in front of the New York Stock Exchange.
This spot is usually jam-packed with tourists who often form literal lines to get their photo with the bull.
If you want your own, other-people-free photo with the bull, we recommend getting a very early start.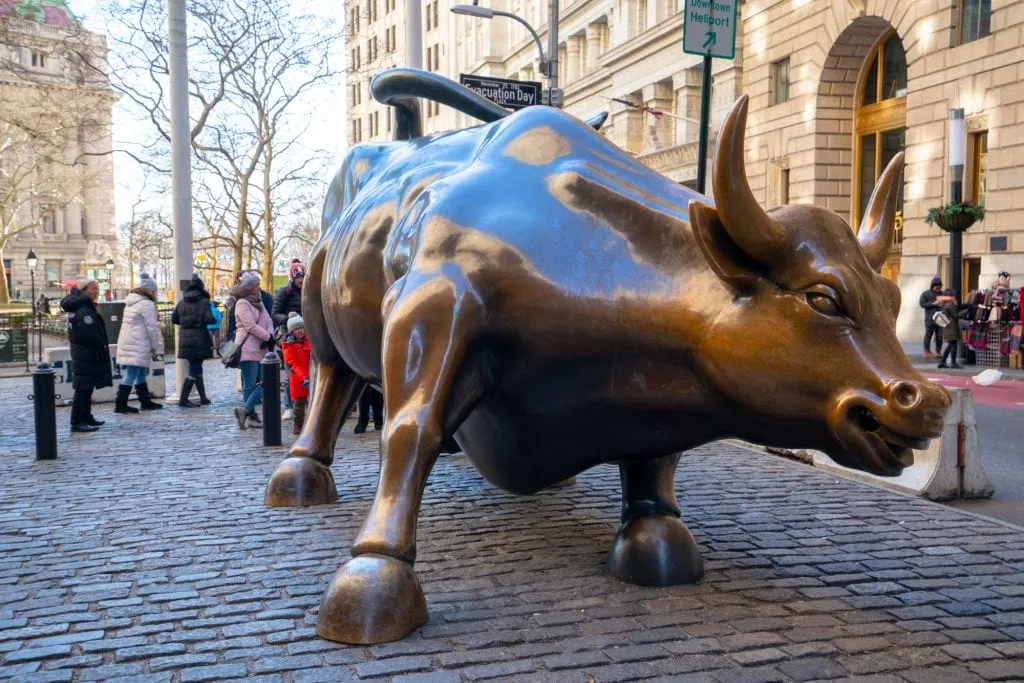 Drop by Federal Hall.
Though the current structure is the third iteration of the original 1703 building, Federal Hall is worth dropping in on for its significance to a piece of American history that far predates the more modern vibe of the Financial District as a whole.
This is the spot where George Washington was sworn in as president, where the first US Congress was held, and also–a bit earlier than the other two events–a letter to King George was drafted by the colonists formally protesting "taxation without representation".
Today, the current building (which was built as a Customs House) operates as a museum and is free to enter during business hours (9-5, Monday-Friday).
Check out Trinity Church.
The historic Trinity Church is still an active Episcopalian parish, and the Gothic revival building immediately sticks out on Wall Street as distinctly different from the more modern skyscrapers that surround it.
Hamilton fans will no doubt recognize Trinity Church, whose cemetery holds the Founding Father and his family. Hamilton was also involved with the church life, whose history predates the formation of the USA.
The church and its grounds are free to visit, so be sure to take a peek inside during your 4 days in New York.
Visit the unforgettable Oculus.
Part shopping mall, part subway stop, part memorial, part bizarre marvel, the Oculus is nothing if not unforgettable.
What do you see when you look at it: a whale, a bird, something else entirely? And when you step inside–do you feel a bit swallowed?
It's a bizarre place, but however strange, also an emotionally charged one: the Oculus is built right on Ground Zero, and, in addition to its other purposes, functions as a somewhat subtle memorial to 9/11.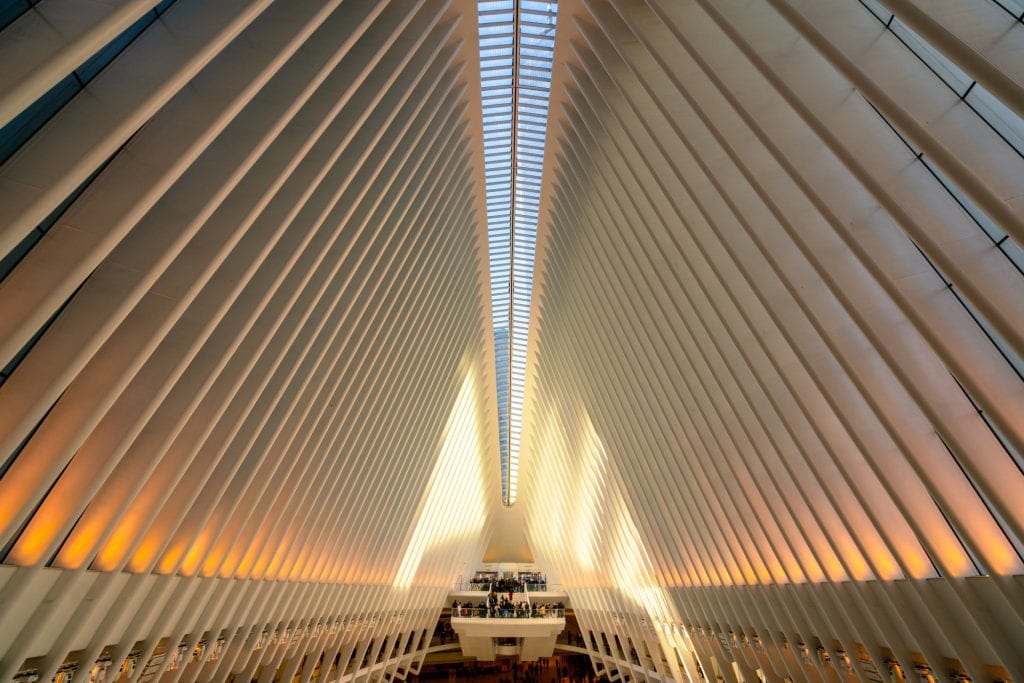 Pay tribute to a terrible piece of history at the 9/11 Memorial and Museum.
While most of this New York itinerary focuses on the fun, vibrant side of the city, there's no doubt that some of the most central pieces of New York's history are incredibly dark–perhaps none better known than 9/11.
The Twin Towers were in the Financial District near the southern tip of Manhattan, and today the 9/11 Memorial sits exactly where they once stood.
The memorial itself is hauntingly beautiful, and if you have the time (and are in the right headspace, as visiting is an emotional and powerful experience), strongly consider visiting the 9/11 Museum as well.
Regardless of whether or not you decide to visit the museum, though, absolutely make dropping by the 9/11 Memorial part of your 4 days in New York.
Book tickets for the 9/11 Memorial & Museum here.

Historical context is especially important here, so if you'd prefer more detail, a this well-reviewed tour is a thoughtful way to learn more about this tragedy before entering the museum.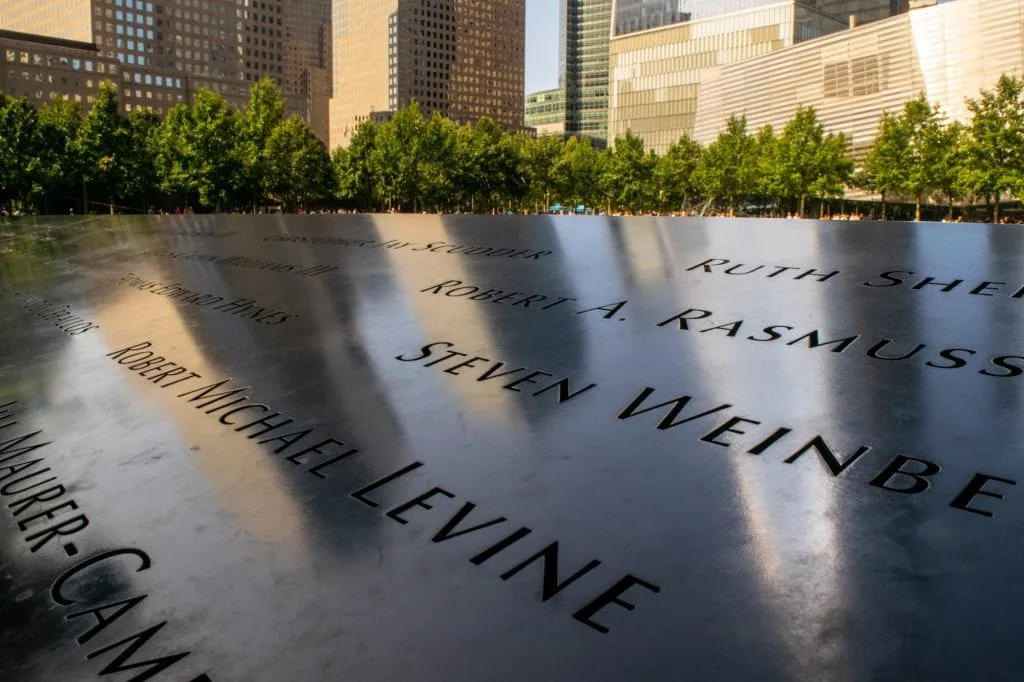 Take the Staten Island Ferry for amazing views of the Statue of Liberty.
Want absolutely incredible views of the Statue of Liberty and the Manhattan skyline… for free? Take the Staten Island Ferry!
This ferry runs every day, doesn't require a ticket, and drinking is allowed–so grab a drink (beer and wine are sold at both terminals), sit back, and enjoy the ride.
We do strongly recommend avoiding rush hour both to make the experience more pleasant and to avoid clogging up public transportation at peak times for commuters.
Once you're in Staten Island, depending on how much time you have, you can either turn right around and head back to Manhattan, or stick around the borough for a bit–Staten Island is largely residential, but it is home to the popular Flagship Brewery and is supposed to boast an incredible Sri Lankan food scene!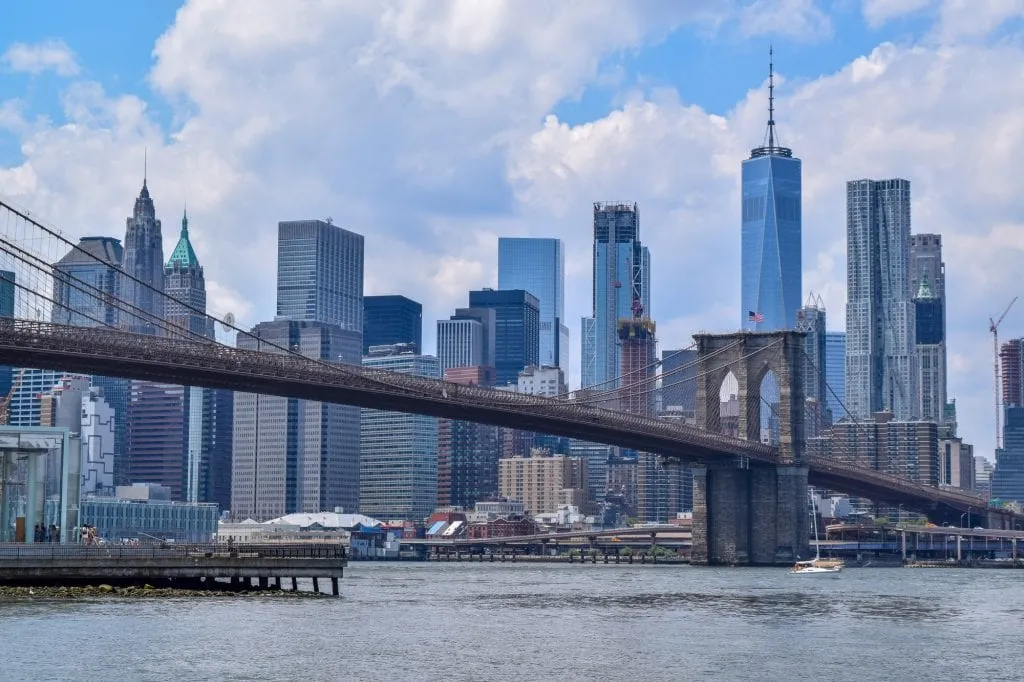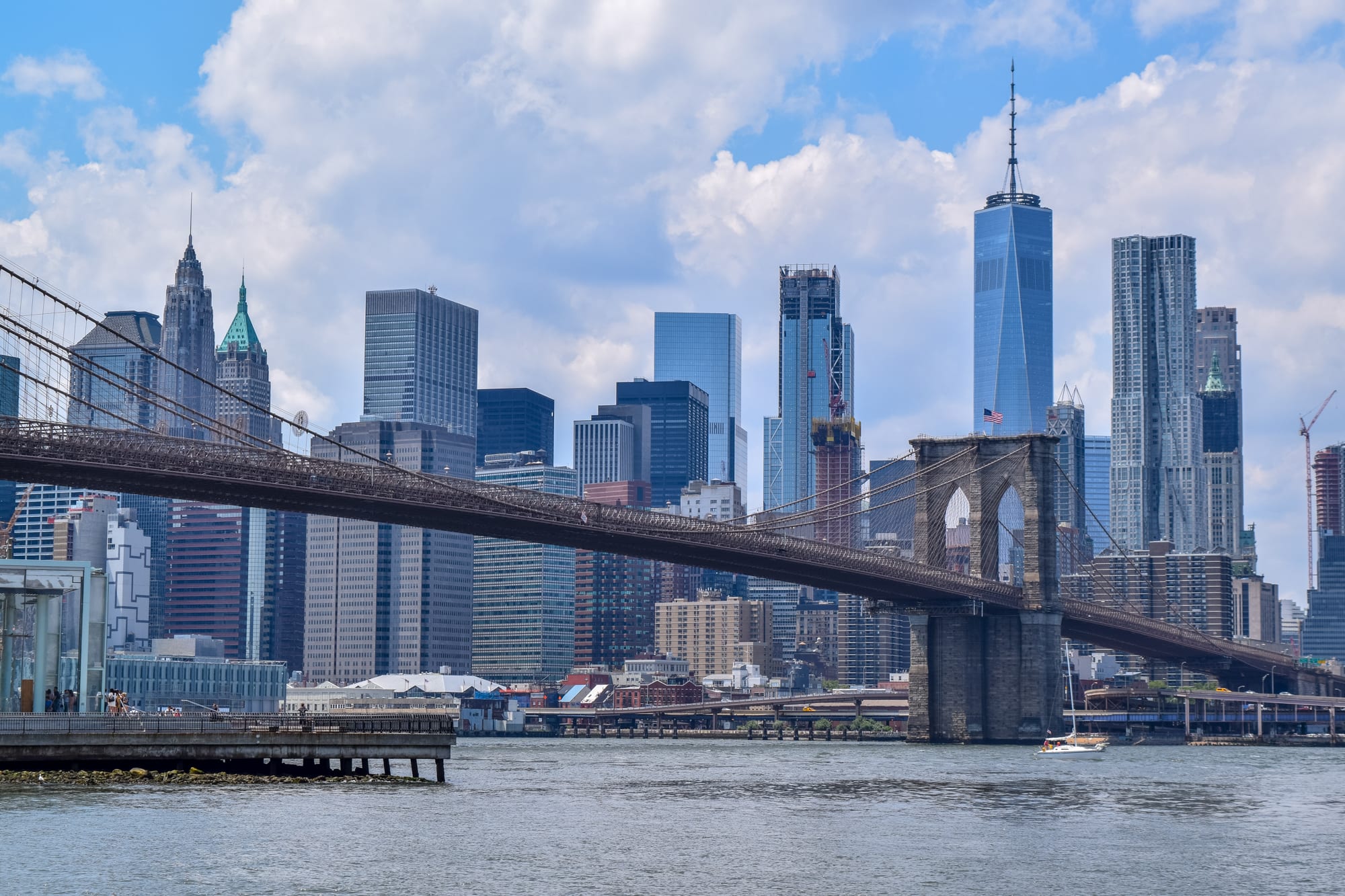 Enjoy a slice of New York nightlife.
There is far more to New York nightlife than Broadway and bars–though there are plenty of those, too!
For your third night in New York, make it a night of doing something memorable, exciting, and different than your usual night out–but what exactly that might be comes in all sizes and budgets!
Here are just a few ideas:
See a comedy show.
Comedy shows are constantly going on in New York–find a nearby club with good reviews and get ready to laugh!
Attend a TV show taping.
This one requires a bit more advance planning and being in the city at the right time of year, but if you've always wanted to be in the audience for a TV show, New York is the place to do it.
Check out Sleep No More.
An immersive theatre experience based on Macbeth, Sleep No More is extremely popular and an unforgettable way to spend an evening in New York!
Find a small concert.
No matter what your musical taste is, there's a concert going on in New York City on any given night that suits it! Many of them are fairly inexpensive–we've been to $20 shows in New York more than once.
Check what museums have free hours.
Generally, when the famous New York museums have their free hours, it's in the evening. For example, MOMA's free hours are Fridays from 4-8pm. If you're a big museum person, you may want to note which days are free at which museums before even arriving for your 4 days in New York!
Enjoy the jazz scene in Harlem.
Whether you head to a show at the iconic Apollo Theater or a less-known venue, jazz and Harlem go hand-in-hand, and you're bound to find some amazing music here.
Day 4 in New York Itinerary: The Village + Chelsea + Brooklyn
Map of Day 4 in New York
Start the day with a stroll across the Brooklyn Bridge.
The iconic, magnificent Brooklyn Bridge is an absolute must-see during your 4 days in New York–so I sure hope you're willing to get up early!
The earlier you get here, the better: the Brooklyn Bridge gets extremely crowded with both tourists and commuters alike, and you'll have a much more peaceful experience by showing up early.
We recommend starting on the Manhattan side of the bridge and walking toward Brooklyn for the sake of this 4 day New York itinerary.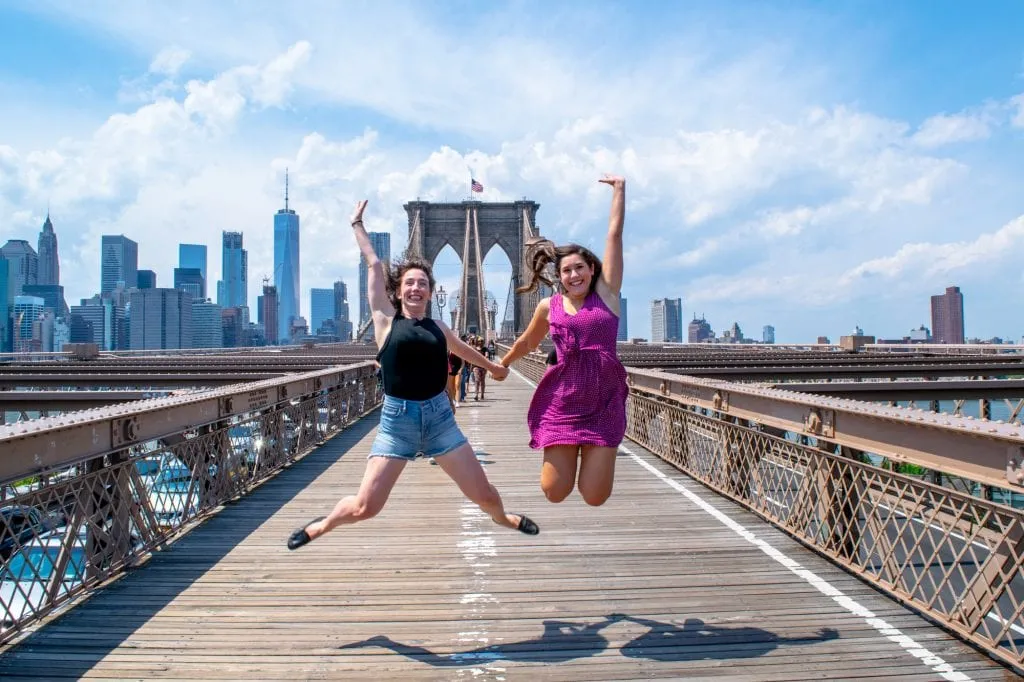 Enjoy photo ops around DUMBO.
Once you cross the Brooklyn Bridge, you'll be deposited in Dumbo (short for Down Under The Manhattan Bridge Overpass–New Yorkers love acronyms, or at least not using six whole words to describe a neighborhood).
Be sure to visit Brooklyn Bridge Park, Pebble Beach, and Jane's Carousel, all popular things to see in Dumbo.
And of course–don't forget to stop by the intersection of Washington Street and Front Street, where you can capture the iconic Manhattan Bridge photo for yourself–be sure to note the way that the Empire State Building is perfectly framed in the arch of the bridge.
Choose your own adventure: spend the morning in Brooklyn.
With only 4 days in New York, the sad truth is that there will absolutely not be enough time to see everything–so with what time you have to explore Brooklyn, make sure to visit exactly what you're craving most!
Here are a few ideas of how to have an incredible morning in Brooklyn: go walk around trendy Williamsburg and have a delicious brunch, attend the epic Smorgasburg food festival if you happen to be visiting on a Saturday, check out Prospect Park, go treasure hunting at Brooklyn Flea (Saturdays and Sundays), or take a street art tour through hipster Bushwick.
Alternatively, if you'd rather concentrate on more of Manhattan for this portion of your New York itinerary, this would be a great time to head to Chinatown for some delicious food, or SoHo/Nolita for some upscale shopping and cool street art. For the foodies of the world, this is also a great time to check out some of the best brunches in NYC.
Want to get a crash course in the highlights of SoHo, Little Italy, and Chinatown?

This popular tour will show you around!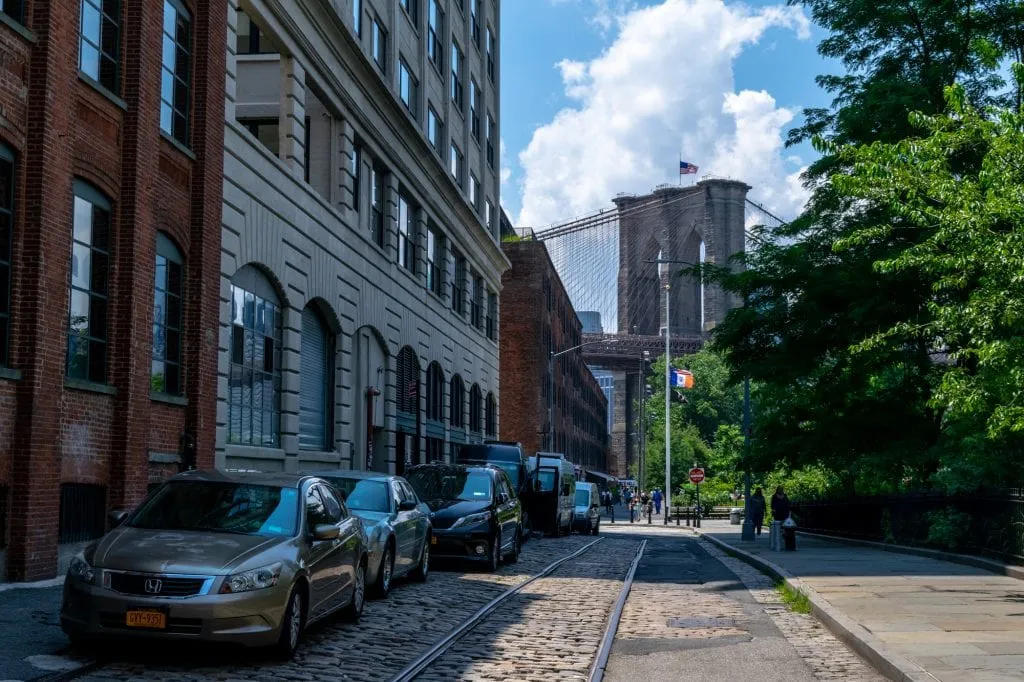 Head back to Manhattan & hit up Washington Square Park.
Washington Square Park is the center of NYU student life: campus buildings surround the square, it's a great spot for people-watching (and more importantly, dog-watching), and it's home to the famous Washington Square Arch.
Dō, the edible cookie dough Instagram sensation from a couple of years back, is nearby if you're looking for a trendy NYC dessert fix (we loved it the first time, weren't as impressed the second–but feel free to judge for yourselves!). And, while we're on the topic of Instagrammable food–Black Tap, famous for their freakshakes, is less than a 15-minute walk away.
If you choose to indulge in a sugary treat, keep it small, as there's more eating soon to come on this 4 day New York itinerary… unless that is, you're a true sweet fiend who wants to prioritize sugar above all other cuisines for the afternoon, in which case I present to you the Greenwich Village Cupcake Tour.
Dessert lovers, book your cupcake tour today!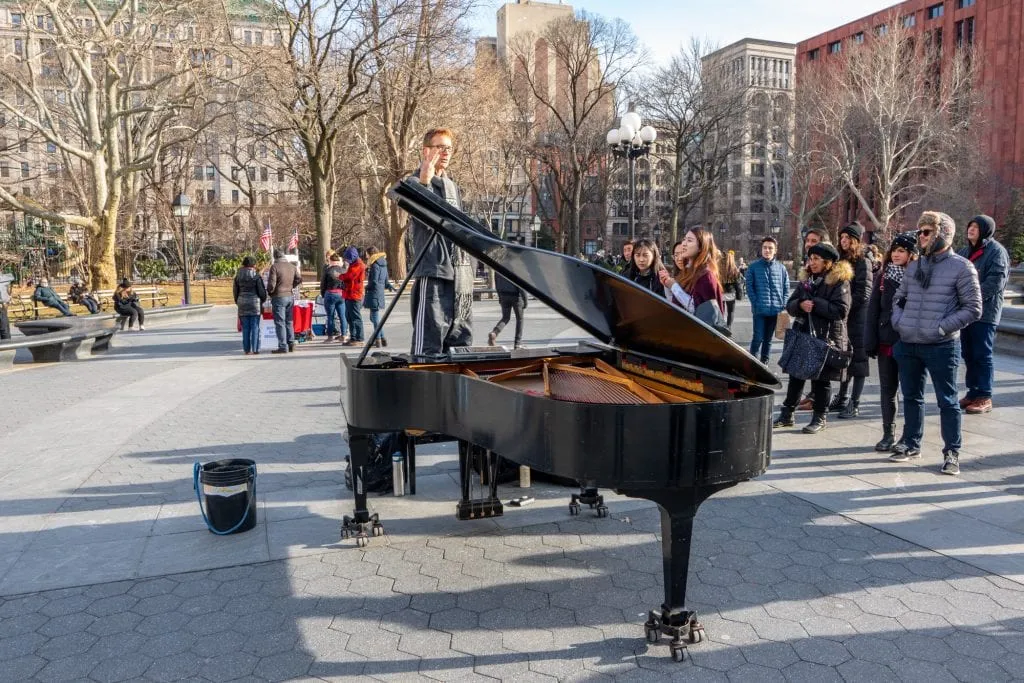 Admire beautiful brownstones & explore the West Village.
The West Village is one of the better-known areas of New York City and is full of classic New York charm.
This is one of the oldest parts of New York City, and the streets have a tendency to wind together somewhat incomprehensibly here, looping back in on themselves and generally feeling worlds away from the wide, manicured avenues of Midtown.
If you're a 90's sitcom fan, the West Village is probably best recognized as the home of Carrie Bradshaw and the gang from Friends (if you're the type to hunt down filming locations, you can find the buildings used for the exterior shots of both buildings nearby).
There's also a national landmark in the West Village: the Stonewall Inn, which was the birthplace of the LGBT rights movement in 1969.
Today, you can find everything from trendy boutiques to delicious brunch spots to improbably small and #instagrammable coffee shops in the West Village, along with beautiful residential streets.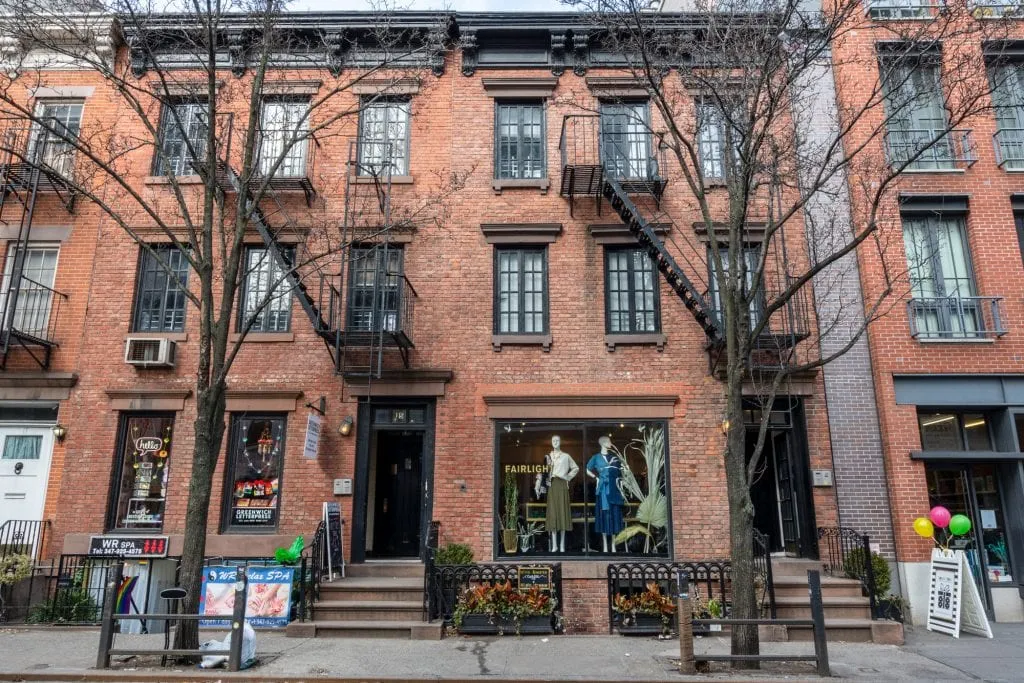 Pay a visit to the Chelsea Market.
Chelsea Market is practically overflowing with boutiques, shops, and endless delicious restaurants and food stalls (starting with Los Tacos No. 1, which is said to serve up some of the best tacos in New York).
Assuming you didn't go cupcake crazy this afternoon, we recommend considering a Chelsea Market food tour to make the most of the market here–with a short amount of time, this is a great way to taste some of the best that the market has to offer.
The tour includes a few architecture and history facts as well, so you'll be sure to stay entertained and to learn a bit more about New York in between bites.
Arrange your Chelsea Market food tour now!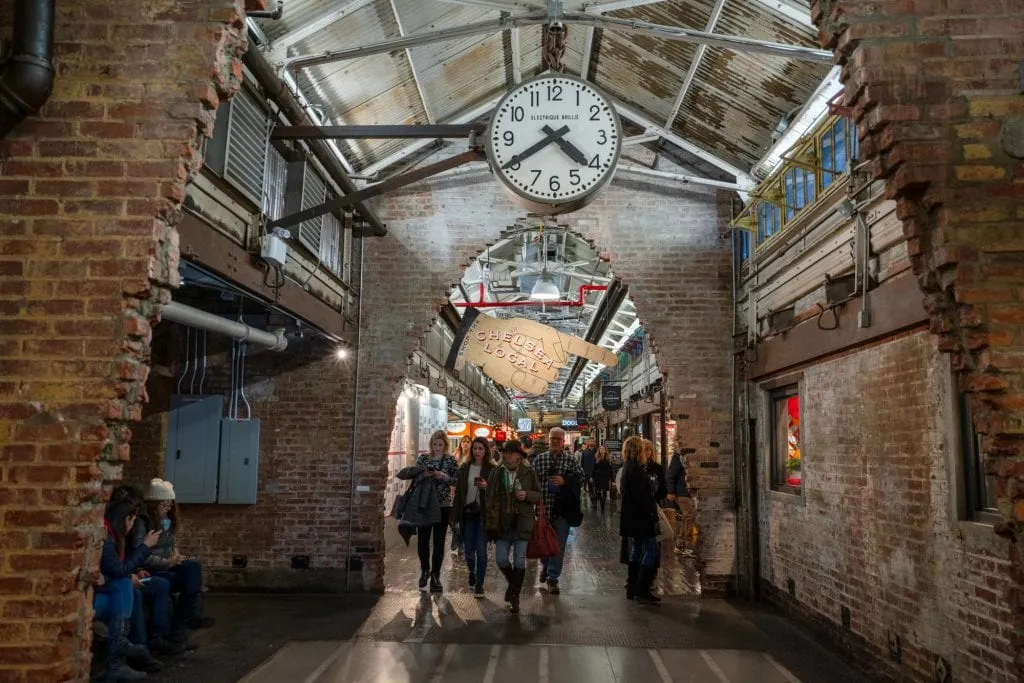 Enjoy a walk along the High Line.
Once a railroad track and now a park, the High Line is popular for so many reasons: it offers beautiful views of the surrounding area, it's an improbable and eclectic use of space (why put a garden in the sky?), and–perhaps most importantly–it's a great place to walk off the ridiculous amount of food that you probably ate in the Chelsea Market.
The entire High Line is almost a mile and a half long, and don't feel obligated to walk the whole thing–but definitely spend some time up there checking out the views and the art.
Head back to the West Village to close out your 4 days in New York City.
What better way to end your trip to New York than with dinner and a drink in one of the city's best-known areas?
If you're looking for a memorable final night in the city, here are a few bars in the West Village to consider–they all have incredibly different vibes.
Marie's Crisis Cafe
This tiny, sing-along piano bar is perfect for show tunes lovers: if you want a final Broadway fix in the city, grab a drink and sing your heart out (don't worry–it's loud enough that no one can hear you!) at Marie's Crisis Cafe.
Like so many places in New York, you'll probably have to wait in a line to get in… but you can just write that off as participating in an iconic New York ritual in and of itself.
Stonewall Inn
Whether you're looking for a chance to visit an iconic institution in the history of LGBT rights in the USA or simply looking for a great place to dance, you can't go wrong with a visit to the famous Stonewall Inn.
Fat Cat
Looking for a relaxed atmosphere, possibly some live music, pool tables, and board game rentals? Fat Cat is the place for you.
Art Bar
With a cozy vibe, reasonably-priced cocktails, and tasty burgers, Art Bar is a great option for a relaxed end to your trip to New York.
Be sure to walk through the front room and check out the cozy back room of the bar at some point!
Where to Stay in New York
There's no getting around it: New York is expensive, and lodging is one of the major factors that will drive up your budget.
If you can, we recommend staying in Manhattan, ideally in the Village or Midtown. We're absolutely spoiled by having a friend who lives just a few blocks from Grand Central that we stay with, and while Midtown isn't necessarily the most trendy section of the city, it is extremely well-connected and home to many iconic sights. It's also centrally located and easy to get in and out to explore the rest of the city.
The traditional choices to try to save a bit of money on lodging by getting out of Manhattan–Williamsburg, Dumbo, Astoria, Long Island City–are all quite popular themselves now but definitely take a quick look out there if you're trying to save cash.
Get much further out, though, and you're going to be eating up your 4 days in New York by sitting on the subway, so be wary of that!
Our number one tip for choosing a place to stay in New York? Make sure it's within, say, a 10-minute walk of the subway. Any further, and your commute every time you want to rest up in the hotel for an hour will get on your nerves immediately.
Also: renting a full apartment for less than 30 days where the host is not present on Airbnb is illegal in New York. If you want to rent a private room in a place where the host is staying, have at it–but those prices are high, too (I know you're shocked).
Here are a few well-reviewed hotel options to take a look at–you can't go wrong with the locations on any of them, and they should give you an idea about what you're going to be looking at budget-wise for lodging in New York:
Budget
Seton Hotel — Good reviews, a clean-but-no-frills property, and an excellent central location near Murray Hill: the Seton Hotel is a great pick for your 4 days in New York if you want to be economical without dipping into a hostel (New York has very few hostel options) or staying further out.
Mid-range
Club Quarters Hotel Midtown (Times Square) — Times Square can be a surprisingly affordable (in relative terms, that is) place to stay in New York. The reason to consider staying nearby has nothing to do with Times Square itself, and everything to do with how well-connected it is transportation wise to the rest of the city–it is very easy to get around from Times Square.
The Club Quarters brand gets great reviews for their customer service and crisp, modern hotels across the city, and makes an excellent mid-range choice. And, of course–you can't beat being within walking distance of highlights like Times Square, Grand Central, and the Empire State Building!
Luxury
Library Hotel — As there is no end to the number of luxury hotel options in the city, I'll go ahead and feature one that I'm personally dying to stay in: the library-themed (and aptly named) Library Hotel, which is located right by the New York Public Library and boasts themed rooms, a stunning reading room, and a rooftop bar. For bibliophiles–or just those looking for a swanky and popular property in a great location–you can't go wrong with the Library Hotel if you're looking for a piece of luxury during your 4 days in New York.
More Time in NYC?
A lifetime would literally not be long enough to explore all of the nooks and crannies of New York: there is a truly endless amount of things to do in the city, and its status as constantly evolving ensures that when one trend fades away, at least two more pop up in its place. Such is the nature of New York.
If you are lucky enough to have more than 4 days in New York City, here are just a few more things to consider adding to your wish list: visiting Flushing in Queens to see (read: taste) the city's largest Chinatown, spending an afternoon at the Bronx Zoo, going shopping at the boutiques in SoHo, checking out Arthur Avenue in the Bronx for a taste of what Little Italy in Manhattan used to be, paying a visit to Coney Island and nearby Brighton Beach, heading to the top of the Statue of Liberty (though to be honest, we've heard it's underwhelming), visiting Ellis Island, trying out a quirky brunch or afternoon tea, and seeing a Yankees Game.
You can also consider adding on some of the city's hundreds of fascinating and lesser-known museums to your itinerary: the Cloisters, the Frick Collection, the Museum of the City of New York, the Tenement Museum, the Queens Museum (home to an entire miniature replica of New York City!), and the New York Transit Museum are all great options.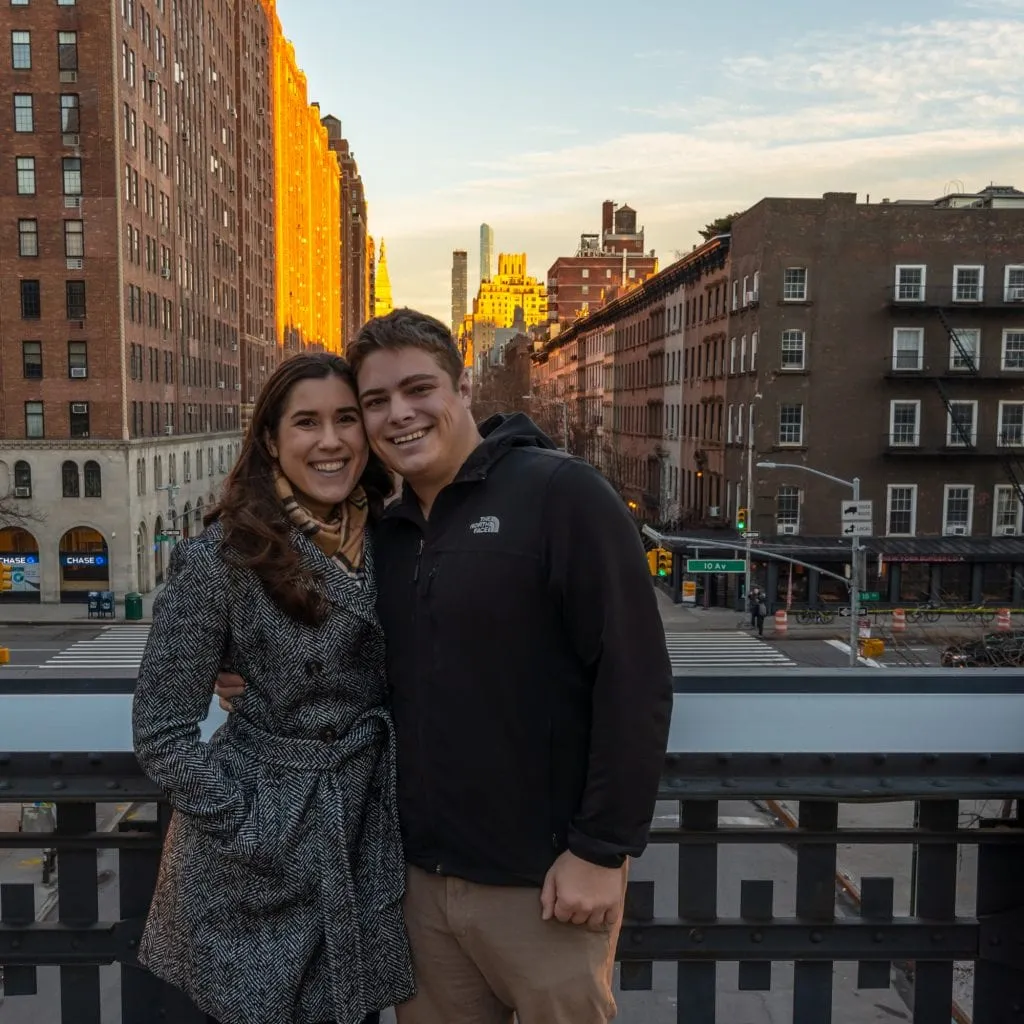 Getting Around During 4 Days in New York City
Wondering how exactly to get around during your 4 days in New York? Exactly how you end up managing transportation will depend on a combination of your travel style, budget, and group size.
Here's a quick rundown of your options.
Walk
Our number one tip for getting around in New York? Walk everywhere you can.
True, you'll still likely need to pick up alternate transport a few times a day–New York is enormous–but by walking where you can, you'll save money, see more of the city, and often not waste any extra time (seriously–check the time difference in driving, catching the subway, and walking–in some spots and especially during rush hour, you'll be shocked at home little of a time difference there is).
Subway
New York's subway is not known for being well-run–quite the opposite, actually–but it's still often one of the best ways to get around the city.
In order to ride, you must purchase a Metrocard, and from there you can buy a daily pass, a weekly pass, or simply buy tickets by the ride.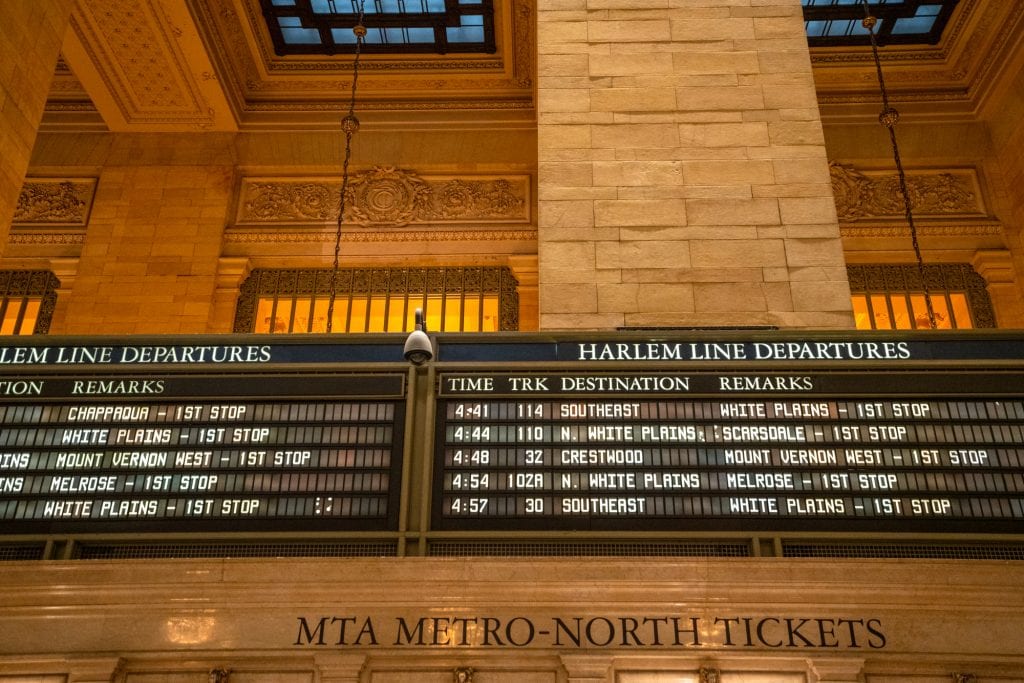 Uber & Lyft
Uber and Lyft are popular in New York (Uber a bit more so), and are great options if you want to be driven and are coming from somewhere that taxis aren't common.
At one point, ridesharing generally a bit cheaper than the taxis, but changes over time plus many back-and-forth legal battles with the city have moved the needle enough that they're normally about even on price.
Taxis
New York's iconic yellow taxis are most commonly found in Midtown, so if you're looking to hail one, that's the place to do it from! The taxis are happy to take you anywhere, but good luck stepping outside and picking one up in, say, Brooklyn.
When the numbers on top of the cab are lit up, that means that the cab is open and accepting rides, and you can stick your arm out and hail it.
All New York taxi drivers are required to use the meter, and we've never had an issue with one trying not to. You can pay by credit card.
Taxis are definitely a more expensive way to get around than the subway, but if you're traveling with a group, it can be more economical than you might think.
Buses
Due to traffic, New York's buses aren't known for always running on time, but if you're looking to get somewhere via public transportation that doesn't have a great subway connection during your 4 days in New York, they're an option.
You can use the Metrocard that you purchased for the subway on buses as well.
Rental Cars
Don't bother driving on a trip to New York. Just… don't.
Travel Tips for NYC
Pay careful attention to what airport you fly in and out of.
What do JFK, Newark, and LaGuardia all have in common? They all service flights to New York City–and they're not particularly close to each other.
Be sure to check and double-check what airport you're flying into and out of–the last thing you want to do is finish your 4 days in New York by heading from Manhattan to JFK when you need to be traveling from Manhattan to the airport in Newark!
Avoid empty subway cars.
If a subway car is empty, there's a reason for it. Your nose will thank you for braving the crowded car next door instead.
Don't let yourself get out-museumed.
New York is known, among many other things, for its world-class museums–and if you try to visit every museum you've heard of during your 4 days in New York, you'll no doubt walk away incredibly tired of them.
Save some–make that most–for a later trip, and prioritize just your two most coveted museums on this one.
If you want to visit an Instagram sensation, prepare to wait… and pay.
Freakshakes. Cookie dough. Giant cotton candy. The Color Factory. Mini kebabs served at your table. Colorful, Instagrammable NYC cafes.
Whatever the Instagram sensation is that recently happened across your social media feed, if it blew up within the past year, be prepared to wait in a long line to get your hands on it… and to pay a hefty fee.
There's nothing wrong with trying these things out–some are fabulous, some are mediocre–but don't plan your entire trip to New York around them, or you'll find yourself eating up too many precious sightseeing hours in line for gimmicks.
Consider picking one unmissable dish or experience, and then saving the rest for a different trip.
Bring cash.
A surprising number of New York bars and restaurants are cash-only, so come prepared!
Step out of the way if you need to stop on the sidewalk.
If there's one thing New Yorkers are notorious for, it is moving fast and being abrupt–or even rude–on the street.
They're not rude, they're just busy, and wondering why in the world someone is staring around like a lost puppy in the middle of their commute!
If you need to stop on the sidewalk to check directions, especially if you're in a crowded area, step off to the side first.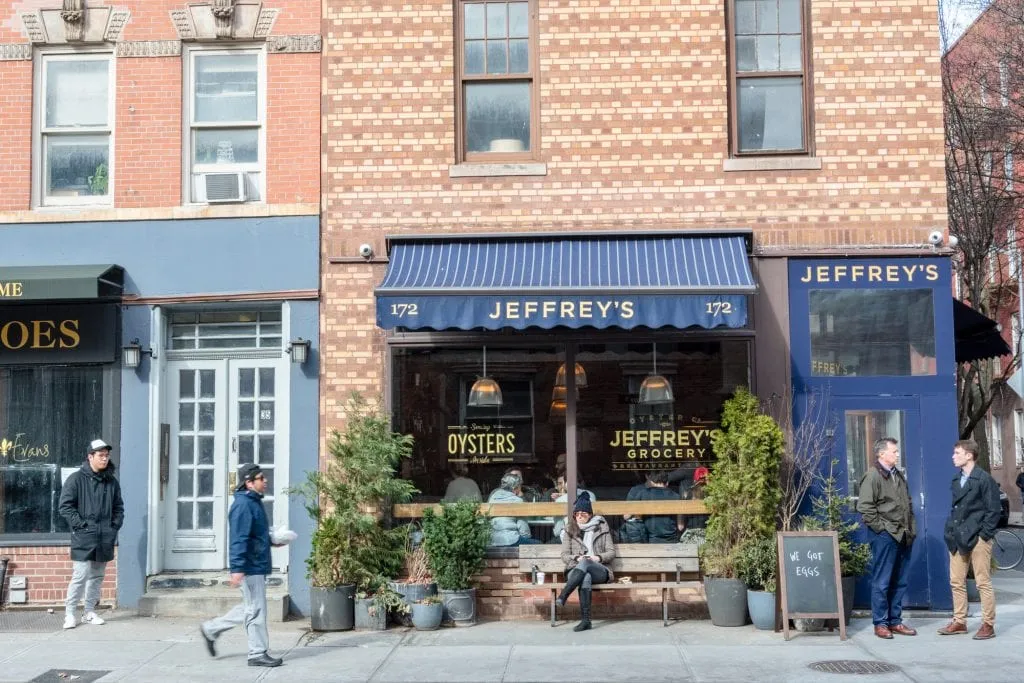 Wear very comfortable shoes.
Any New York itinerary is bound to involve lots and lots of walking, and this one is no different. Bring shoes that you feel comfortable wearing all day, and your trip will automatically improve.
Check restaurant reviews before sitting down.
New York's restaurant scene is consistently amazing… and constantly evolving. Every day, new restaurants open, old ones close, local favorites come under new management–it would literally be a full-time job to keep up with them all.
For that reason, we strongly recommend checking the reviews (we use Google reviews) on restaurants before picking a place to eat–it's the most reliable way to get up-to-date information about a location and ensure that you won't be disappointed with a single meal you eat during your 4 days in New York.