Hoping to plan a romantic honeymoon in the United States but not sure where to start? From dazzling cities to jaw-droppingly beautiful mountains to some world-class beaches, the best honeymoon destinations in the USA are incredibly varied and truly offer something for every kind of couple.
We've put together this guide to the best honeymoon locations in the US to give you and your beloved plenty of ideas on where to go, and divided these romantic USA honeymoon spots (which vary from classic to quite offbeat) based on your interests, to help you quickly identify which American honeymoon is for you!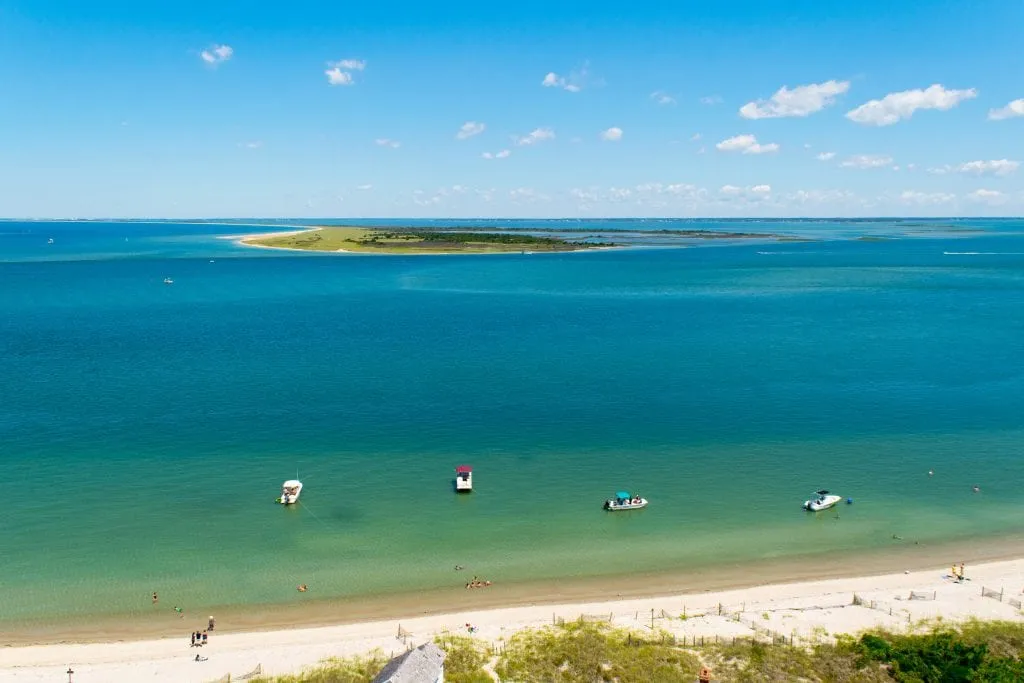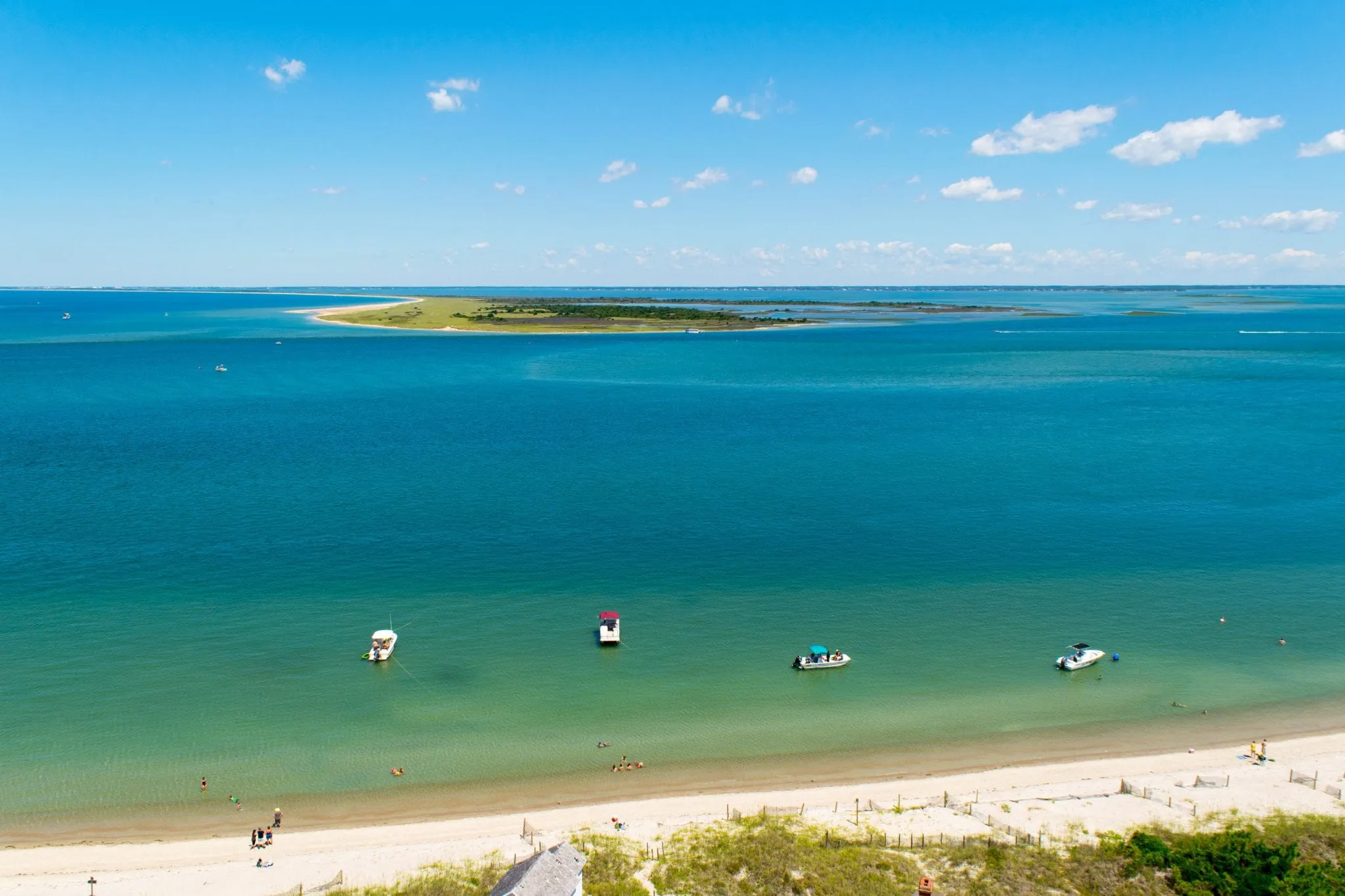 Best Cozy + Romantic Honeymoons in the USA
If you're looking for honeymoon locations in the United States that are cozy, romantic, and idyllic–think small towns and cities, nothing overwhelming, or beautiful nature that doesn't require an epic hike or big drive to access–these honeymoons in the USA fit the bill.
Nantucket
Tiny, beautiful Nantucket is perfect for couples looking for a small island boasting both an adorable town center and beautiful beaches for their honeymoon.
Located off the coast of Cape Cod in Massachusetts, Nantucket is a classic New England summer retreat.
Savannah
Beautiful Savannah, Georgia, with its incredible oak trees, ridiculously beautiful architecture, insanely delicious food scene, and slow-moving cadence, is one of our absolute favorite cities in the USA, and a ridiculously romantic one at that!
In addition to the beauty of the city, though, Savannah is also located next door to a lovely beach getaway on Tybee Island, adding another layer to your romantic retreat, and you can even combine it with a visit to St. Augustine in northeastern Florida if you'd like to add even more beach time to your honeymoon!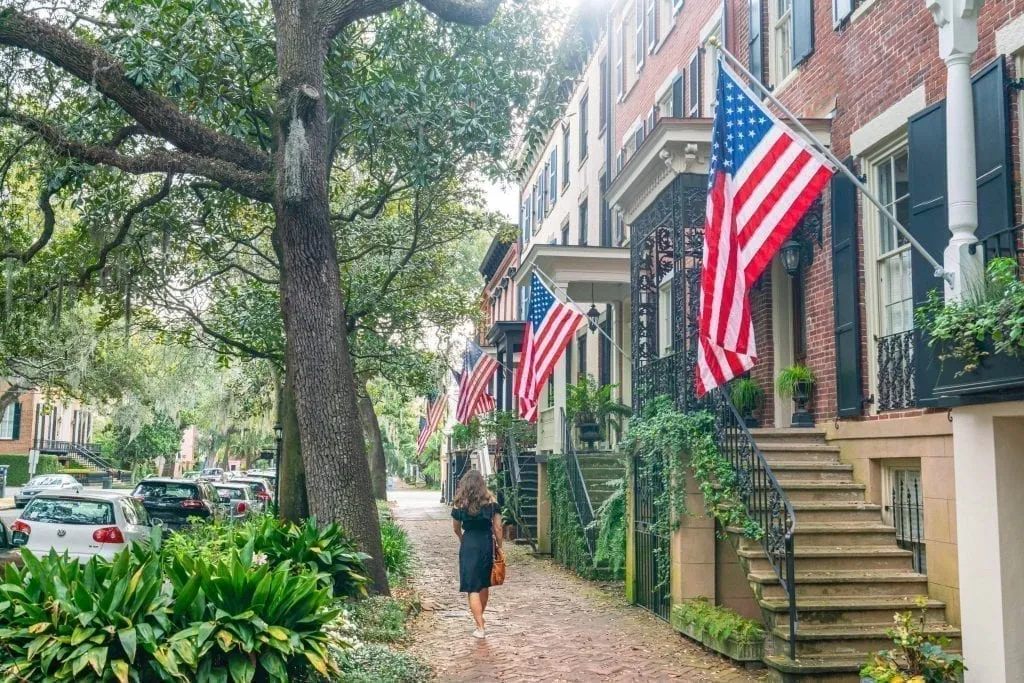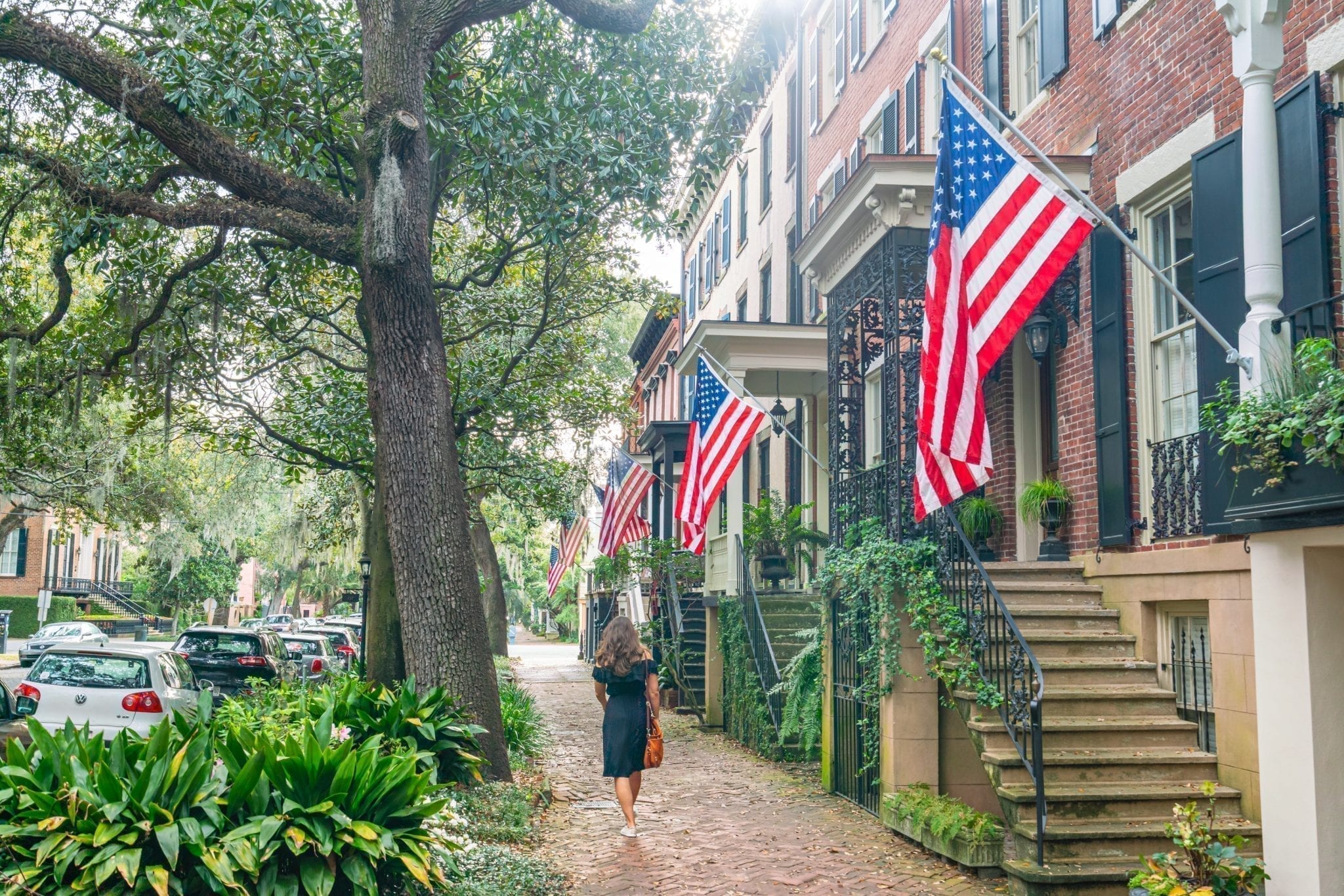 New England Road Trip
With its charming small towns, lovely landscapes, and rugged coastline, New England makes a classic US honeymoon spot–and while you can have an amazing honeymoon by simply choosing one adorable bed & breakfast and curling up for a week or two in Vermont, Maine, or elsewhere, you can also set off on a bit of an adventure and make a leisurely road trip of it.
From beautiful Boston to the stunning White Mountains to the many lighthouses of the coast, a New England honeymoon can include a huge variety of destinations–and if you and your beloved are scheduling a fall honeymoon and get to enjoy the region's world-famous foliage, that's all the better.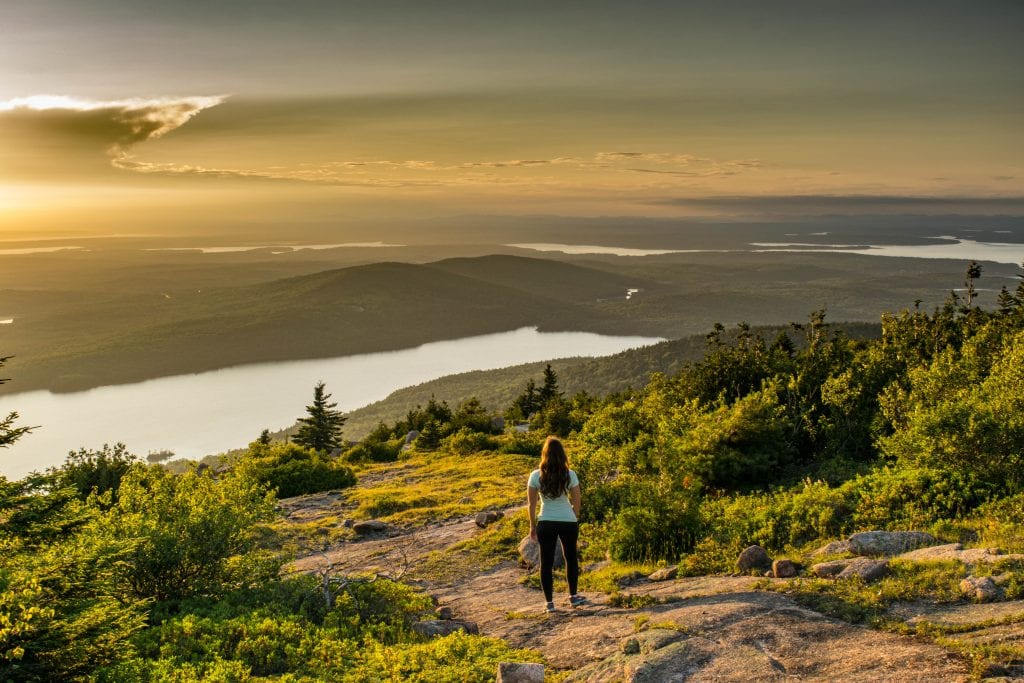 Niagara Falls
Dial it back a few decades, and Niagara Falls was the place to be on a honeymoon in North America–and while it's less iconic on the honeymoon scene now, it's still a wildly romantic place!
While this blog post does cover honeymoon destinations in the USA specifically, I'd be remiss not to mention here that while the portion of Niagara Falls located in the States is lovely, it's well worth bringing your passport along and crossing the border into Canada for a portion of your Niagara Falls honeymoon!
Asheville
Located on the edge of the phenomenal Great Smoky Mountains National Park and practically around the corner from the stunning Blue Ridge Parkway, Asheville, North Carolina, is the perfect place to escape for a honeymoon if you and your beloved want a solid mix of city and country options.
Asheville's hipster food and art scenes are legendary, allowing you to eat very well and enjoy life in a small city, but the hiking, white water rafting, and viewpoints nearby are also not to be missed.
Be sure to also squeeze in a visit to the ridiculously opulent Biltmore Estate, which will make you briefly wonder if you had been transported across the pond to a European honeymoon after all.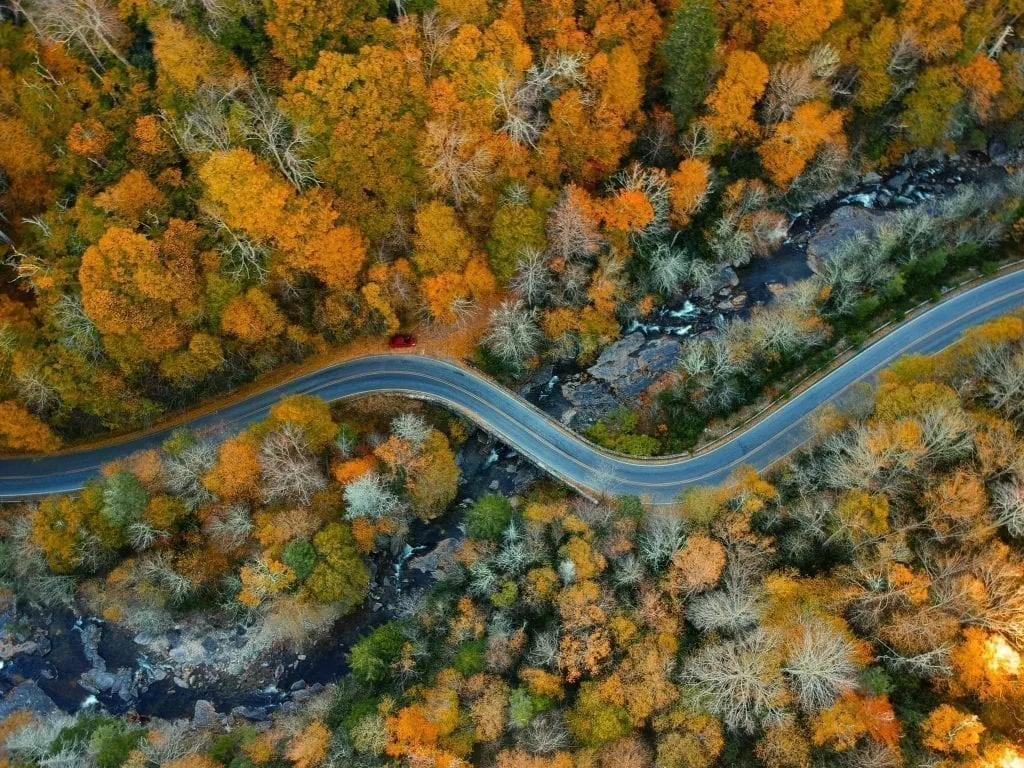 Martha's Vineyard
Featuring plenty of sandy beaches, charming lighthouses, and quaint towns, idyllic Martha's Vineyard–located off the southern coast of Cape Cod in Massachusetts–makes a fabulous honeymoon for couples looking for a classic and charming New England getaway!
Charleston
Located just two hours north of Savannah, the coastal city of Charleston is known for its architectural beauty, celebrated food scene, excellent nearby beaches, and its intense history–especially in both the American Revolutionary War and the Civil War.
Often compared to its neighbor Savannah, Charleston is also incredibly charming, but actually feels incredibly different, with a coastal vibe accented by its many palm trees.
For honeymooners looking for a laid-back, slow-moving USA honeymoon spot in the south that combines a charming city with plenty of beach time (Folly Beach, Sullivan's Island, and the Isle of Palms are all nearby), Charleston is an excellent option.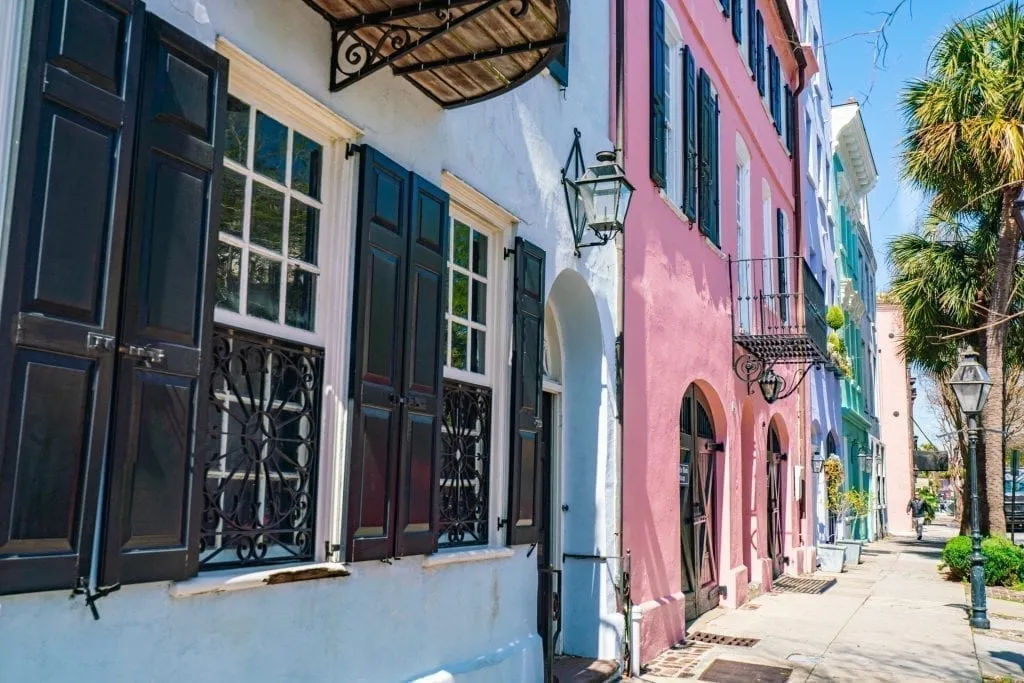 Best Tropical Honeymoon Destinations in the USA
You don't have to skip off to Asia or Latin America to find a fantastic tropical honeymoon!
These USA honeymoon destinations feature warm, humid climates, excellent beaches, and (in most cases) jungles as well!
Hawaii
The archipelago of Hawaii–and especially its four main tourism islands of Kauai, Maui, Oahu, and the island of Hawai'i (generally referred to as the Big Island)–is one of the most classic honeymoon destinations in the USA, and definitely one worth considering!
Choosing exactly which island(s) to visit as part of your Hawaii itinerary can often be just as hard as narrowing down your US honeymoon location to Hawaii, but whether you want to go hiking on Kauai, drive the Road to Hana on Maui, check out the otherworldly Volcanoes National Park on the Big Island, watch the sunset on iconic Waikiki Beach on Oahu, or some combination thereof, a Hawaii honeymoon has something spectacular to offer.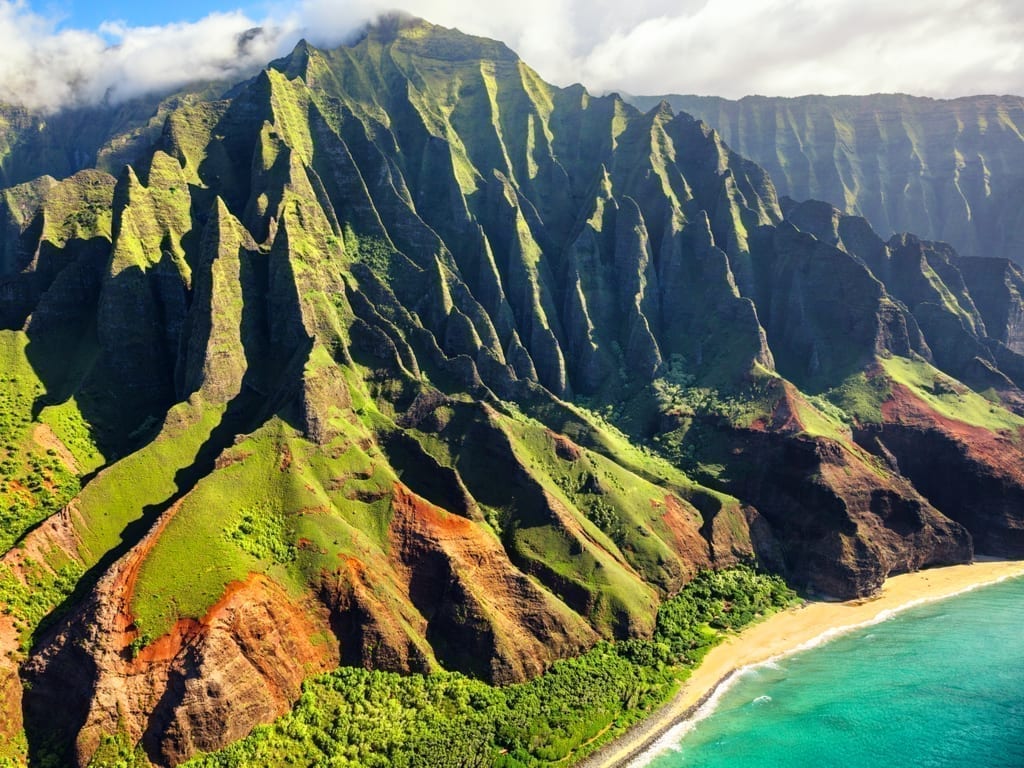 Puerto Rico
Want to honeymoon on a Caribbean island without dusting off your passport (or applying for one)? Consider Puerto Rico!
Located due east of the Dominican Republic in the Caribbean Sea, Puerto Rico is home to stunning beaches, an incredible rainforest, a delightful and colorful city in Old San Juan, and, as a US territory, is incredibly simple for US citizens to visit, as no passport is required, the currency is USD, and generally, even your cell phone will work without issue.
South Florida
From the vibrant Art Deco architecture of Miami to the tranquil beauty of the Keys, southern Florida makes a fantastic honeymoon location in the United States!
With plenty of sandy beaches, palm trees, delicious food, and world-class road trip views, a south Florida honeymoon has something to offer any couple looking for a little sunshine and warm air.
Consider starting your honeymoon in beautiful Miami, and spending a few days exploring the metropolis before hopping in a car and driving down to the whimsical towns and beautiful beaches of the Florida Keys–a route that is often considered one of the most beautiful road trips in the country!
Incredible Big City Honeymoon Ideas in the US
If you're the kind of couple to dream of city lights, skyscrapers, and phenomenal dining during your romantic honeymoon, these honeymoon spots in the USA are for you.
New York City
Iconic NYC has been a classic honeymoon spot in the United States for decades, but it still holds true: if your idea of the most romantic things to do includes exchanging a kiss at the top of the Empire State Building or paddling a rowboat in Central Park, a romantic New York getaway is a perfect choice.
Las Vegas
Shows, shopping, and plenty of gambling: Las Vegas is nothing if not a playground for adults, and that makes it an excellent USA honeymoon destination for couples interested in all kinds of nightlife.
While Vegas may be known for its nighttime escapades, though, there's plenty to keep you busy during the day, too, from pool parties to incredible desert day trips.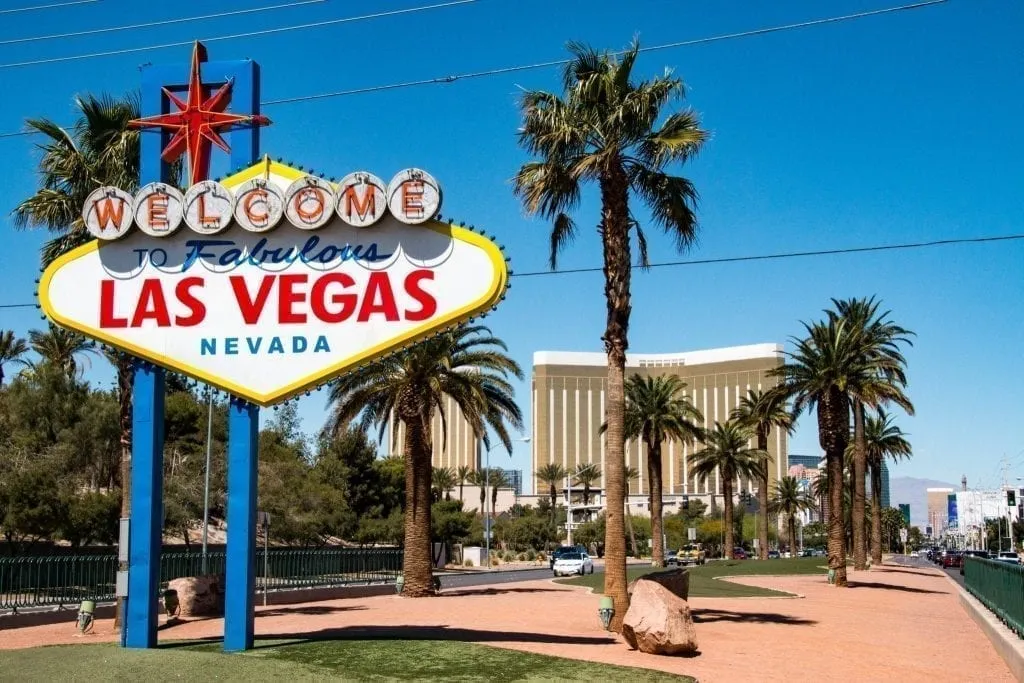 New Orleans
From an epic party scene to sobering history, from luxurious (haunted) hotels to quirky museums, from beignets to gumbo, and from jazz clubs to Mardi Gras, New Orleans is easily among the most downright unique cities in the USA–and it can, in all of its many contradictions and compliments, make for a downright fun American honeymoon!
And, while it's possible to splurge on a luxury New Orleans honeymoon, you can have a fantastic time in NOLA on a budget, too.
Boston
Beautiful, historic Boston, with its cobblestone streets, long history, and beautiful architecture, is one of the best honeymoon destinations in the USA for those who want to experience a stunning, walkable, historic city without leaving the country (Savannah ranks right up there with it, though it is a very different city from Boston).
While you're there, walk the Freedom Trail to learn about American Revolutionary War history, stroll through the beautiful North End and along the Harborwalk, relax in the Boston Common and Public Gardens, and hit the theater and food scenes.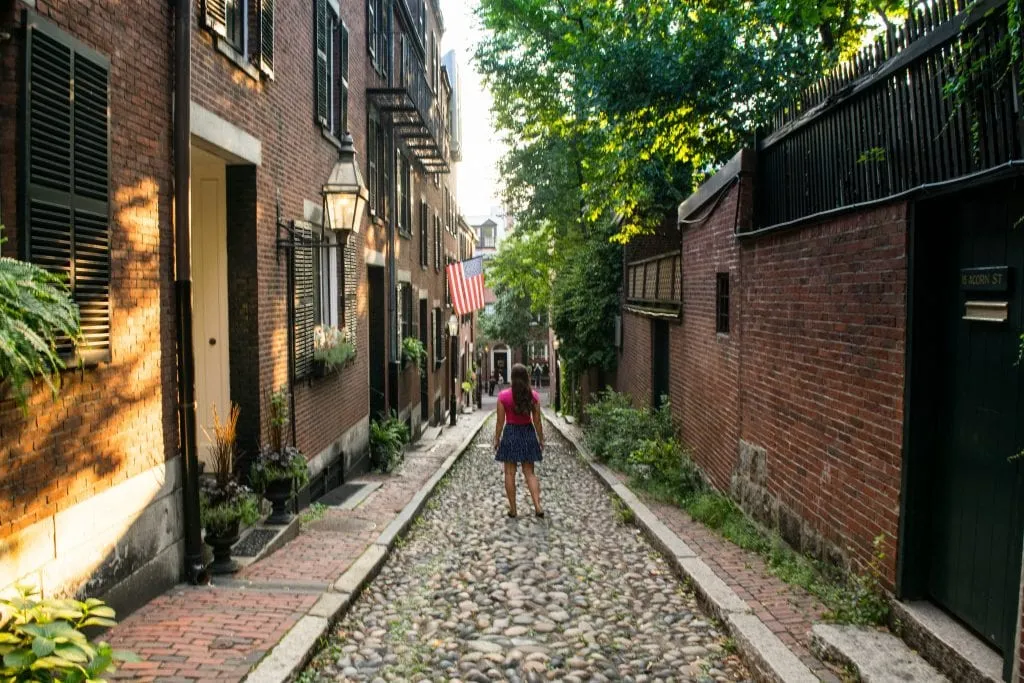 Chicago
Nestled right on the shores of Lake Michigan, vibrant, beautiful Chicago makes a fantastic city honeymoon spot in the US!
Be sure to eat plenty of that famous deep dish, see a show, admire the city's incredible architecture while soaking in some fabulous views of the skyline, and (if you're visiting in the summer) enjoy hitting the lake.
Best Honeymoon Spots in the US for Outdoor Adventure
Of all the many, many travel highlights our country has to offer, our national parks and potential for outdoor adventure top the list.
If you are the kind of couple who can't wait to get outdoors and go for a hike, these honeymoon spots in the US are for you, whether your idea of a great hike takes place in a searing desert, on a frozen glacier, or anywhere in between.
Arizona + Utah National Parks
Utah's Mighty 5 National Parks, the iconic Grand Canyon, and several stunning places in between (looking at you, Horseshoe Bend, Antelope Canyon, the Wave, the slot canyons of Grand Staircase-Escalante National Monument, and many more) can be combined into a truly epic US honeymoon road trip.
Outdoor-loving couples will be thrilled with the open-road aspect of this honeymoon, and it's easily customizable for just about any length of getaway, from a long weekend to spending months away!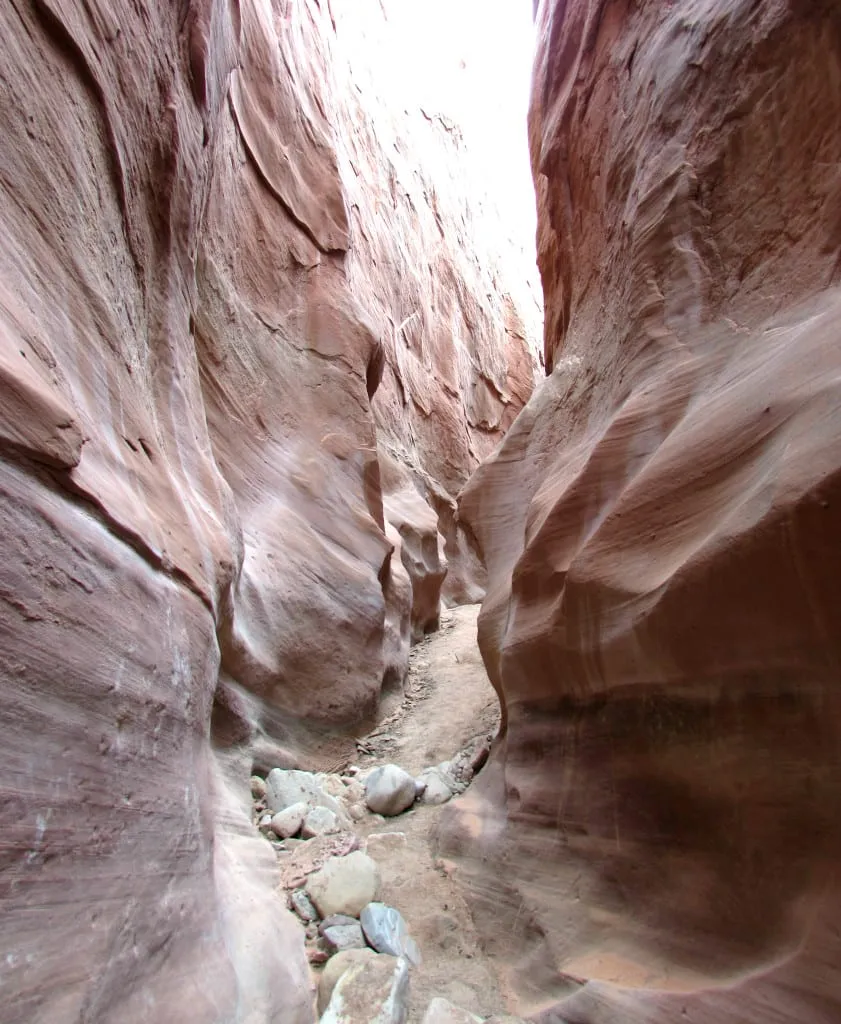 Alaska
There are few places in the USA that can possibly compare to the truly epic landscapes of Alaska–and what better time to plan a trip to the US's largest state than on your honeymoon?
Admire the breathtaking beauty of Denali National Park, kick back and enjoy the views along the Alaska Railroad, go whale watching and glacier hiking near Seward, and possibly make friends with a sled dog or two along the way!
Pacific Northwest Road Trip
Road tripping along the coasts of Oregon and Washington, perhaps with a few dips inland to hit up epic spots like Crater Lake, is an idyllic honeymoon idea for couples who want nothing more than to explore open roads and mountain tops together!

Home to rugged coastline, phenomenal mountains, and some beautiful towns and cities, the Pacific Northwest is a fantastic place for couples who love the outdoors to enjoy a romantic getaway.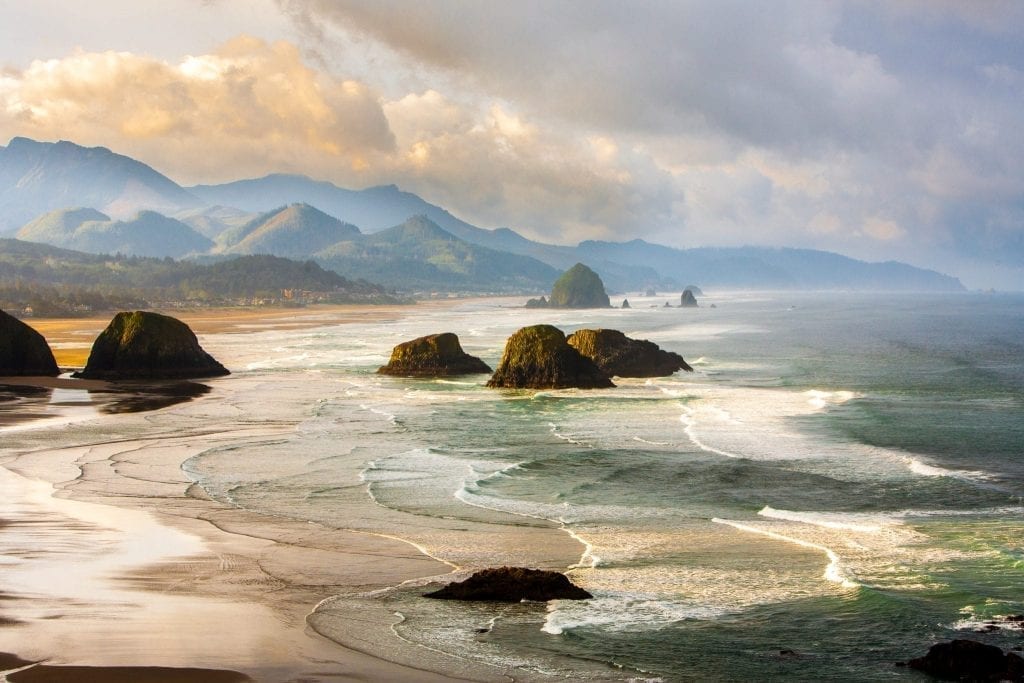 Jackson Hole
Surrounded by the stunning mountainous landscapes of northwestern Wyoming, Jackson Hole is known as the launching pad to two of the USA's most beloved national parks: Yellowstone and the Grand Tetons.
As a ski resort town, though, Jackson Hole and its surrounding areas are also home to some luxurious lodges, allowing you the opportunity to balance adventure during the day and luxury at night during your honeymoon if you wish!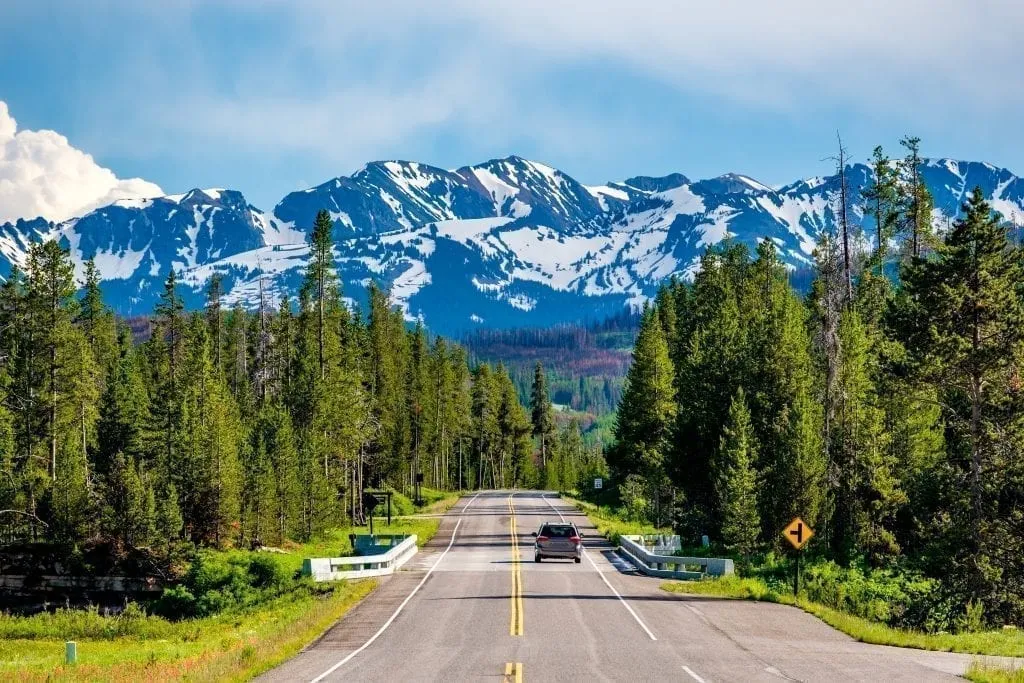 Lowkey Honeymoon Locations in the US
Prefer to plan a simple, lowkey honeymoon, where you and your beloved can enjoy quiet days together–and maybe even stick to a budget price point?
If so, then these honeymoon destinations in the USA might be for you!
Outer Banks
The Outer Banks of North Carolina, featuring seemingly endless sandy beaches, barrier islands, and adorable lighthouses, are one of our personal favorite picks for the best honeymoon destinations in the USA, in part because I grew up spending summers on the shores of North Carolina and have never stopped going back!
Offering surprisingly bargain prices for some truly stunning beach getaways, the Outer Banks are the perfect place to kick back and relax on a beach with your beloved–though we highly recommend mixing in a little boating, parasailing, or horseback riding in while you're there!
Sanibel Island
Located in southwest Florida, and yet tucked away in a corner that feels worlds away from the hustle of bustle in Miami, sits Sanibel Island, a romantic retreat known for its gorgeous beaches, beautiful shells that wash ashore, charming lighthouse, and tiny footprint, which all give Sanibel Island a downright cozy vibe that makes it perfect for honeymooners.
Gulf Shores, Alabama
Fun fact about Alabama: the beaches are quite lovely, with an under-the-radar vibe and affordable places to stay–especially compared to its next-door neighbor!
Located right next door to the more famous (and crowded, and expensive) Panhandle beaches of Florida, Gulf Shores is a lovely and peaceful alternative, perfect for a lowkey but incredibly charming Alabama honeymoon in the USA.
Other Epic USA Honeymoon Destinations
Some of the best honeymoon destinations in the USA simply don't fit into any of the categories above–but they are among the most classic US honeymoon locations!
Northern California
San Francisco. The Pacific Coast Highway. Redwoods. Yosemite. Wine country.
Northern California is such a fantastic USA honeymoon destination that it could conceivably fit into almost all of the honeymoon categories above!
If you're looking for a romantic trip away that has a little bit of everything, northern California might be the honeymoon for you–from fun things to do in San Francisco to San Jose, from Yosemite to Napa, there is no shortage of variety that you can add to a honeymoon in northern California.
Pacific Coast Highway
Northern California not quite enough for you?
The epic Pacific Coast Highway (also called Highway 1) can easily extend your honeymoon down the coast of California, reaching some of its most famous viewpoints and attractions along the way, including Big Sur, Monterey, and Malibu.
If you have enough time, start your honeymoon on the beaches of San Diego and drive all the way to the stunning Redwood National Forest!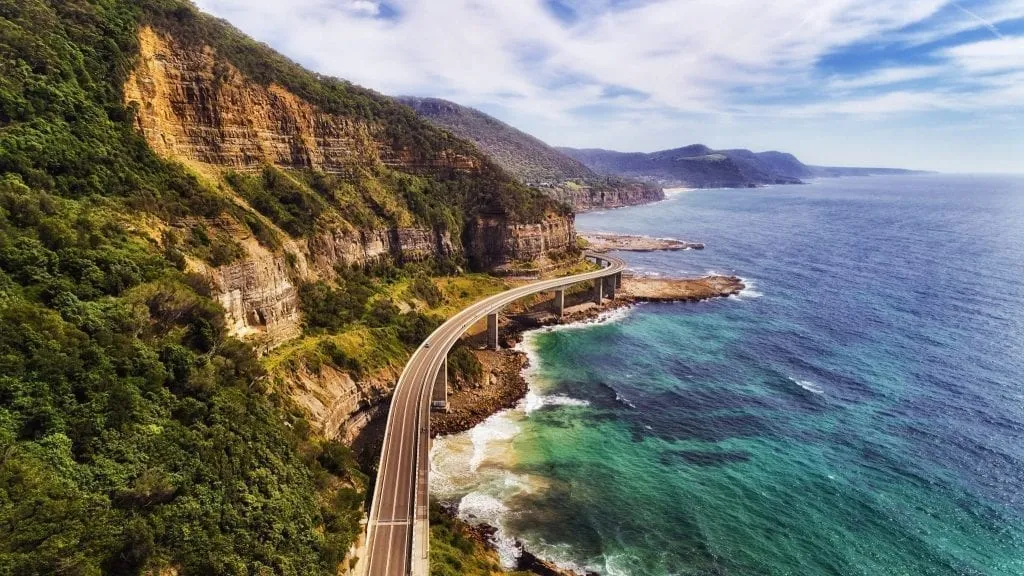 Disney
And, of course, we can't close out this USA honeymoon destinations blog post without mentioning one of the most beloved and classic honeymoon spots in the US of them all: Disney!
While the USA boasts two Disney parks, with Disney World in central Florida and Disneyland in California, it's Disney World in Florida that makes the best honeymoon!

Featuring four parks, dozens of resorts, and an endless supply of that famous Disney magic, Disney-loving couples will have the time of their lives being wined, dined, and doted on by cast members during a Disney honeymoon in the USA!