This post was written in partnership with Moon Travel Guides.
Home to many of the most famous sights in all of New York, Midtown may be far from the trendiest neighborhood in the city… but it's one that virtually all visitors to NYC will visit at least once, and there is absolutely no shortage of interesting things to do in Midtown.
It also happens to be our accidental stomping grounds in NYC: due to having a wonderful friend who lives a few blocks from Grand Central and lets us crash with him when we visit, we end up spending quite a bit of time in Midtown during all our trips to New York.
We teamed up with Moon Travel Guides to share a quick rundown of what you can find in Midtown–from the iconic to the (slightly more) under the radar.
To help with this post, Moon sent us a copy of Moon New York City to review, and we were impressed with what we found! If you want to help organize your trip to New York and get beyond the surface highlights of the city, Moon New York City (written by a native New Yorker, no less) is a great asset to bring along.
Our personal favorite thing about the book is how it is structured: every subsection, from sightseeing to restaurants, is divided into neighborhoods, making it far easier to navigate a trip to NYC than it would be otherwise.
If you make a list of the top, say, 20 things to do in Manhattan without knowing the layout of the city, it's very easy to plan a day that involves seeing Central Park in the morning, visiting the Statue of Liberty in the afternoon, and seeing a Broadway show at night–but the logistics of that day would be a nightmare of long subway or cab rides.
Much better to plan your trip Moon's way: pick a neighborhood, and focus on one place at a time.
For us, today–that's Midtown.
Top Things to Do in Midtown NYC
Midtown is home to some of the most famous tourist destinations in not only New York City, but in the entire world.
If you've ever planned to visit any of these five iconic sights, you've planned to visit Midtown.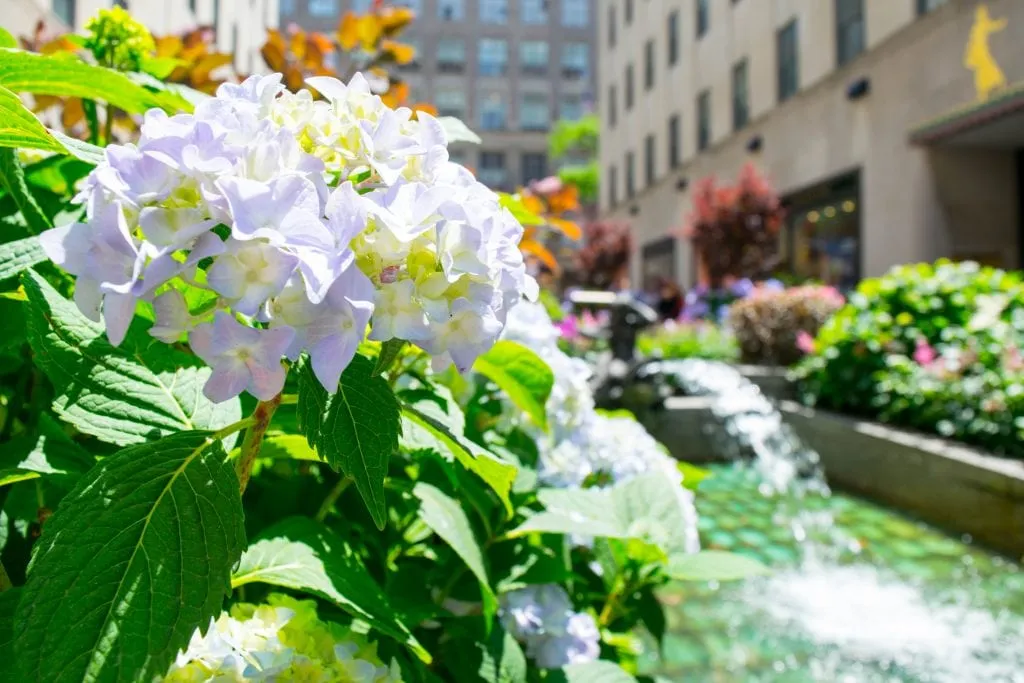 Empire State Building
Once the tallest building in the world, visitors have been flocking to the Empire State Building since 1931 in order to appreciate what is arguably the best view of NYC around.
If you're hoping to soak in some excellent skyline views, you won't be disappointed by adding a visit to the top of the Empire State Building to your list of things to do in Midtown.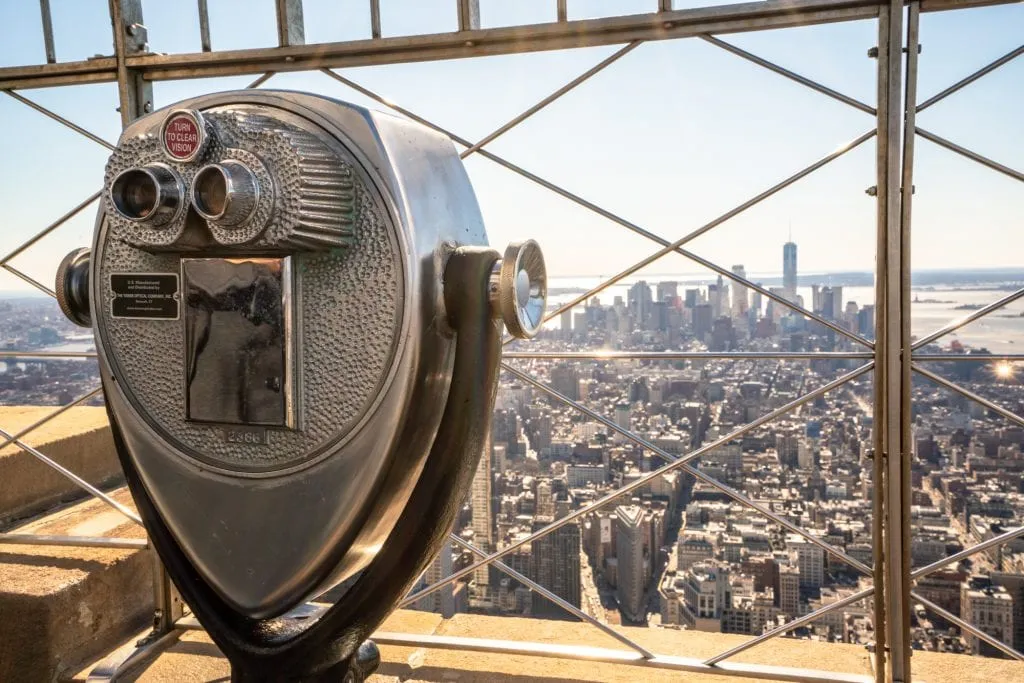 Times Square
The square where night never arrives: walk through Times Square at midnight, and the entire place is still so bright that it almost still feels like daytime.
Crowded and crawling with pickpockets, Times Square definitely has a bad rap among New York locals… but it's still a sight worth seeing once in your life.
Plus, if you're planning on snagging tickets to a Broadway show during your trip to New York, odds are you'll pass right by anyway!
Fifth Avenue
Home to some of the most iconic storefronts in the world, including Tiffany & Co., Bergdorf Goodman, and Saks Fifth Avenue, Fifth Avenue is a shopper's paradise and an interesting destination even for those not looking to make a purchase!
Moon New York City outlines some less shopping-heavy highlights of Fifth Avenue, including St. Patrick's Cathedral and the iconic Plaza Hotel, so be sure to bring it along when hunting down the sights!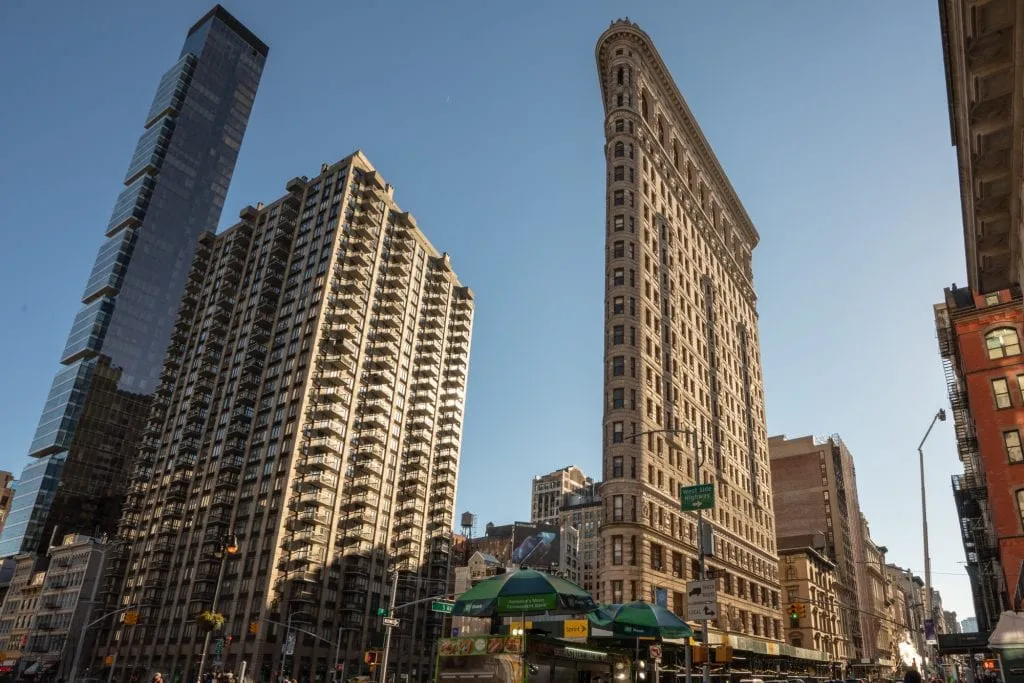 Rockefeller Center
Rockefeller Center is best known for two things: its gigantic annual Christmas tree, and the view from the top (aka–The Top of the Rock).
Both of these things are well worth seeing, but be sure to stop by regardless to check out the Atlas statue and the lovely surrounding area! 
Radio City Music Hall is right around the corner, and people looking for things to do in Midtown with kids will no doubt want to drop into the impressive Lego or Nintendo stores.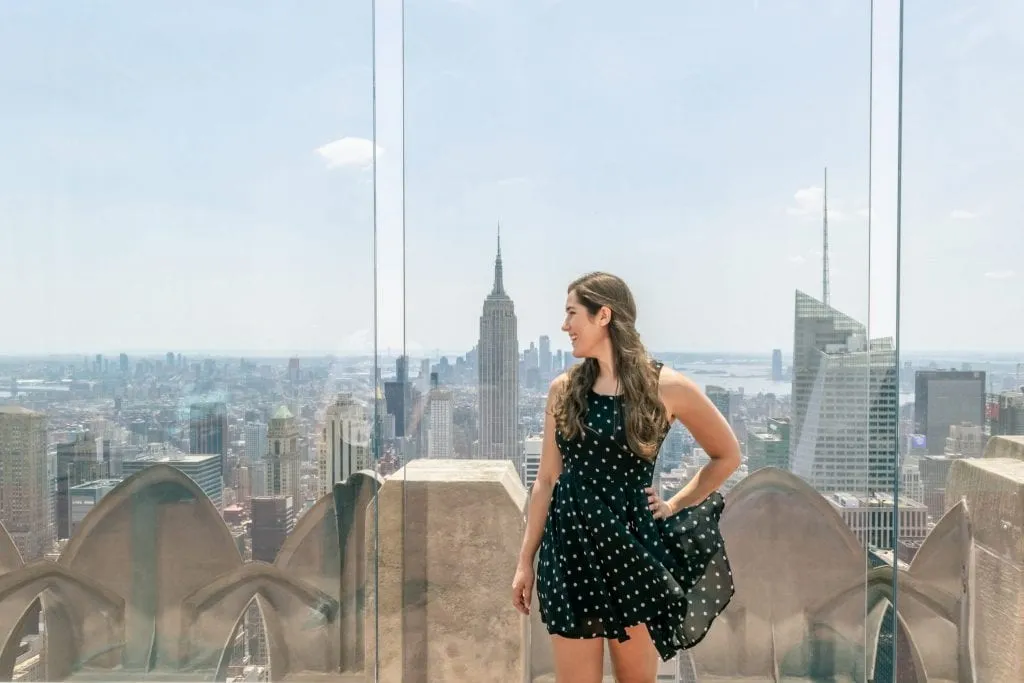 Grand Central Terminal
Grand Central Terminal just might be one of the most famous film locations in the world, with countless movies and TV shows using it as a backdrop.
Don't forget to look up when you're inside–personally, I never knew Grand Central had a painted turquoise ceiling until I saw it in person, and it's now my favorite aspect of the building.
If you're hungry, also ducking down to the famous and incredibly beautiful Grand Central Oyster Bar while you're there.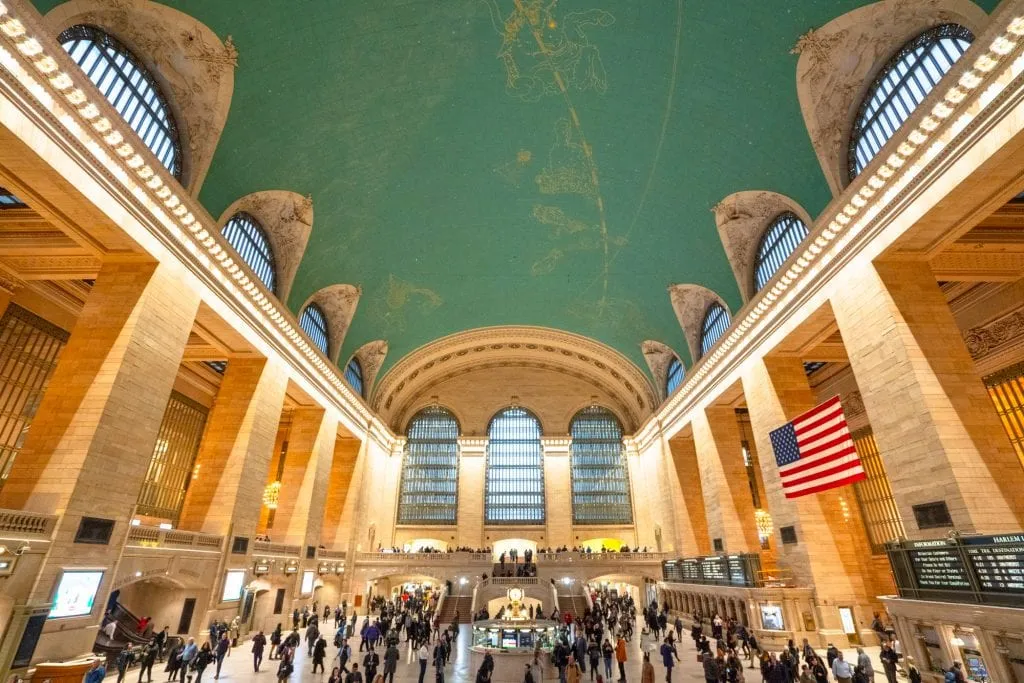 New York Public Library (Central Branch)
The Central Branch of the New York Public Library, famously guarded by its impressive lion statues, is a must-see for any bibliophile looking for things to do in Midtown.
Be sure to duck inside to check out the Rose Reading Room while you're there–visiting it is undoubtedly one of the best free things to do in New York.
Under-the-Radar Things to Do in Midtown NYC
I wouldn't necessarily go so far as to call these things to do in Midtown hidden gems–but they're definitely not as well-known than the options above!

Moon New York City is perfect for uncovering interesting spots like these that are somewhat less obvious to first-time visitors to NYC–not surprising when you know that the book was put together by a native New Yorker!
Morgan Library & Museum
Initially founded by Pierpont Morgan (think J.P. Morgan Chase Bank), the Morgan Library & Museum is extremely easy to access when visiting Midtown and is incredibly beautiful.
The museum is only a short walk away from Grand Central Terminal, and in addition to its gorgeous library, it also regularly houses interesting exhibitions.
The price to visit is quite steep, but at certain times during the week it does transform into one of the free museums in NYC, which is the best time to visit.
Chrysler Building
Once considered the ugliest building in the world, the Chrysler Building (located at 42nd & Lexington Ave) is now known as an Art Deco masterpiece and is my personal favorite building in Manhattan.
You can see it from the street when you're near Grand Central, so keep an eye out!
St. Patrick's Cathedral
The stunning Neo-Gothic facade of St. Patrick's Cathedral looks almost out of place on modern, consumer-focused Fifth Avenue–but as it is arguably the most incredible religious building in all of NYC, it's definitely worth adding to your list of what to see in Midtown.
Koreatown
Much smaller than famous Chinatown but incredibly fun to visit, Koreatown is packed full of delicious restaurants and entertaining karaoke bars.
If you are looking for a fun food experience in Midtown, we highly recommend diving into a feast of Korean barbeque while you're here.
Murray Hill
Looking for endless options for eating absolutely scrumptious Indian food? Head to Murray Hill!
We haven't been disappointed by a meal here yet–though like always, we do advise checking reviews before sitting down to your feast.
United Nations Headquarters
Interested in global politics?
The UN's headquarters are located in Midtown, and if you'd like, you can tour them during your trip to New York.
Carnegie Hall
Arguably the most famous concert hall in the world, attending a performance at Carnegie Hall is a dream come true for many.
If you're interested in the hall and don't have the opportunity to take in a performance, though, you can still take a tour of Carnegie Hall to get a behind-the-scenes look at the iconic venue.
Bryant Park
Located right next door to the main branch of the New York Public Library, Bryant Park is the smaller, slightly less-touristy cousin of Central Park to the north.
In addition to a near-constant roster of daily events ranging from yoga classes to chess lessons, Bryant Park is also known for its excellent ice skating rink during the winter!
Macy's Flagship Store
Are you a fan of the classic movie Miracle on 34th Street?
If so, a visit to the gigantic–and original–Macy's on 34th Street absolutely belongs on your list of things to do in Midtown.
If you're visiting New York during the Christmas season, be sure not to miss the enormous Santa display on the eighth floor of the store!