Warm beaches, snowy mountains, bustling cities, quaint small towns: one of the best (and most difficult) things about planning winter vacations in the USA is that we simply have so many to choose from!
With just about every climate, topography, and activity imaginable available somewhere in the USA in winter, narrowing down where to go can be quite the challenge!
Whether you're looking for a festive getaway in December, a post-holiday-season pick-me-up trip in January, or a please-let-this-cold-weather-end-soon escape in February, we have some winter vacation ideas here for you.
With the help of a couple of dozen other travel bloggers who all chimed in with their favorite trips, we've curated a collection of diverse and exciting travel destinations in the United States that are perfect for winter.
Here are the best winter vacations in the USA!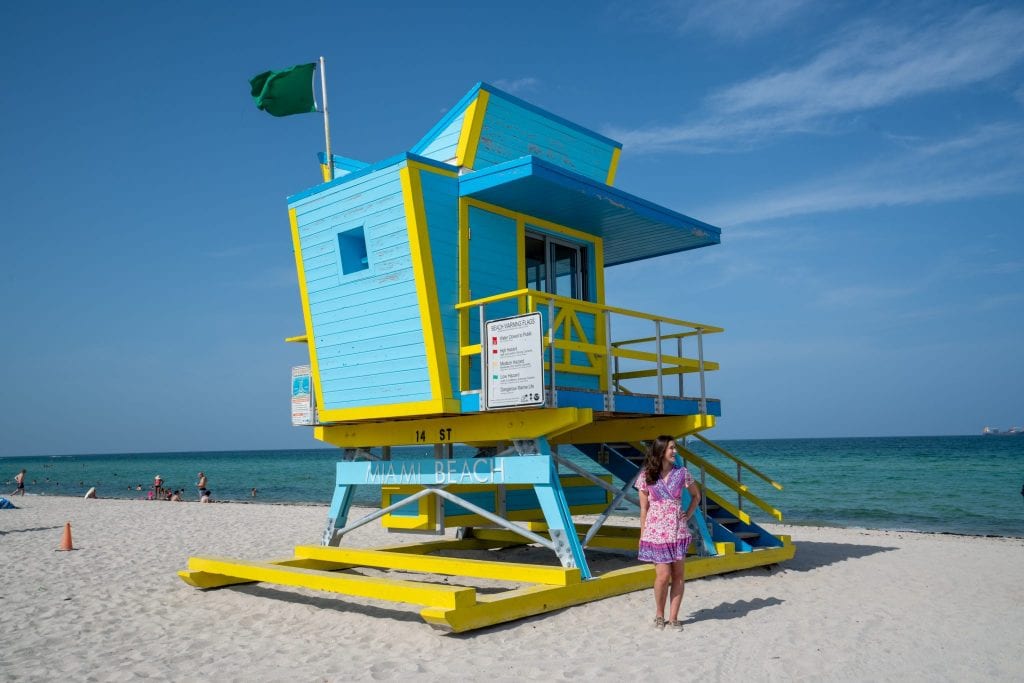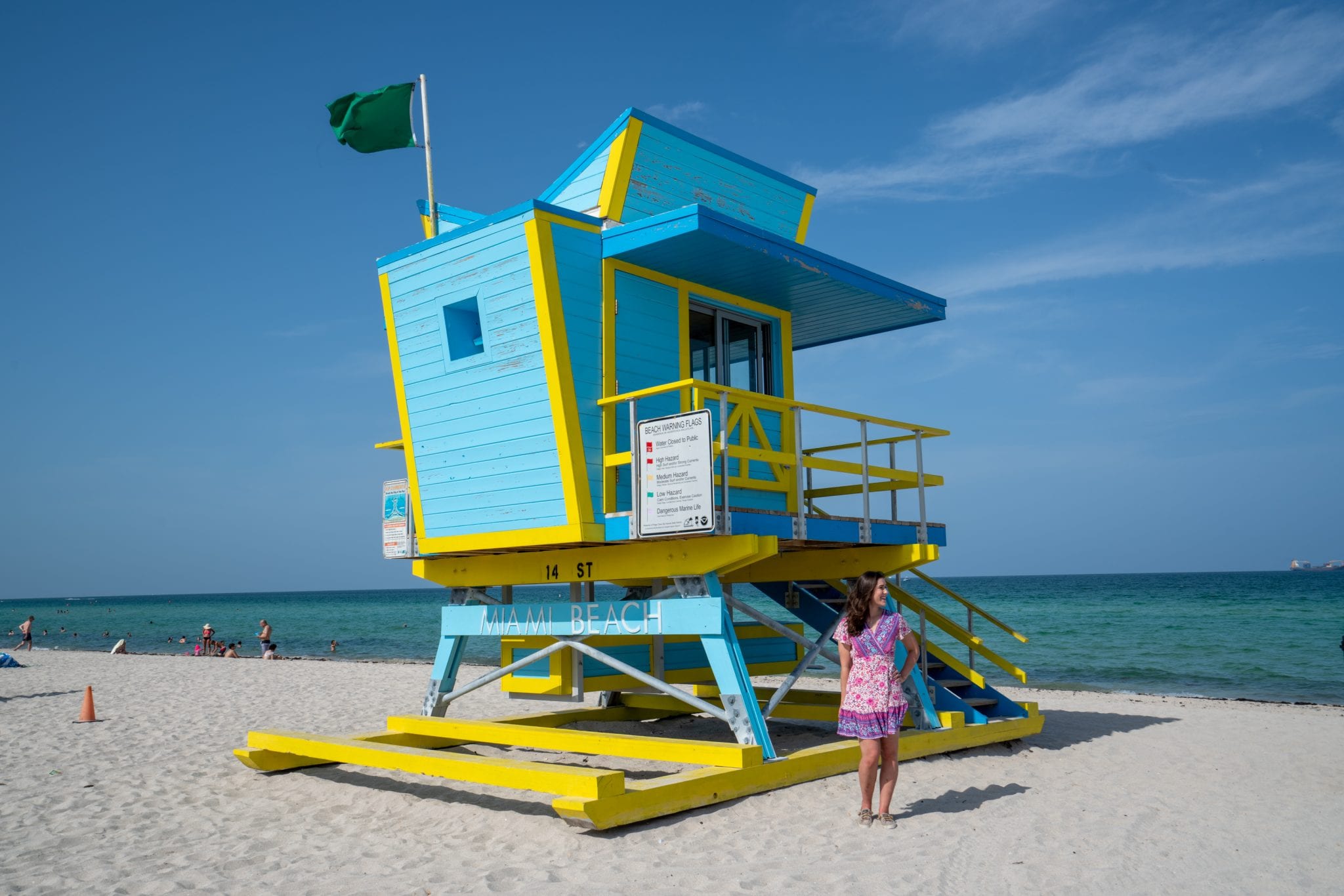 Incredible Cities for a Winter Vacation in the US
San Francisco, California
From Erin of Super Simple Salty Life
The city of San Francisco is known around the world for its iconic cable cars, Victorian homes lining steep streets, a diverse culinary scene, and of course the majestic Golden Gate Bridge.
Situated in Northern California, San Francisco has mild weather year-round and stays in the low-60s during the day even during the winter months.
As the 13th largest city in the U.S., there is something for everyone to fall in love with when visiting dynamic San Francisco.
For water enthusiasts, San Francisco is bordered almost completely by water from the San Francisco Bay to the Pacific Ocean, so activities such as boating, ferry rides, and kayaking are in abundance.
To the north, you'll find the famous Muir Woods, a national monument filled with forests of towering redwood trees ready for hikers to explore.
The Golden Gate National Recreation Area lies on both sides of the bridge and is the most visited area in the U.S. within the national park system.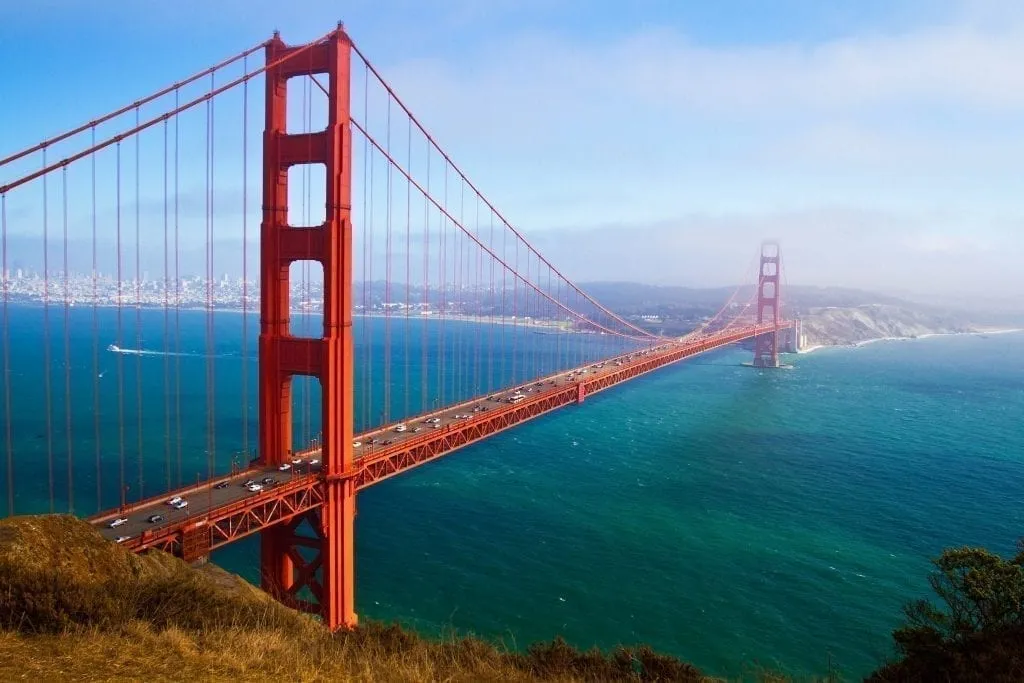 With 19 different ecosystems covering 80,000 acres, the park offers mountain biking, horseback riding, tours of Alcatraz Island, and one of the best views of the Golden Gate Bridge.
During the holidays, places such as Union Square, Pier 39, and Ghirardelli Square become decorated with hundreds of lights and Christmas decorations.
Various tree-lighting ceremonies take place and include life-sized gingerbread house displays, nightly light shows, and even a holiday boat parade at Fisherman's Wharf!
Be sure to check out the famous Macy's holiday window displays, the largest department store in Union Square.
Even City Hall enters the festivities, flooding the building in red and green lights complete with an outdoor ice skating rink.
Winter is an amazing time to be in San Francisco!
Where to Stay in San Francisco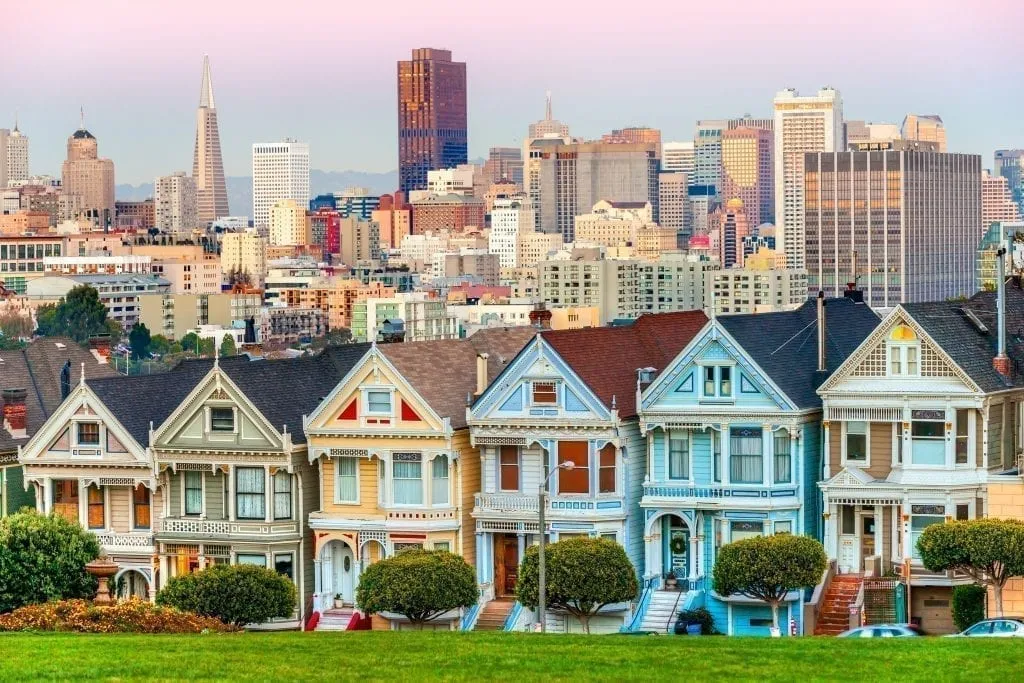 Chicago, Illinois
From Patti of The Savvy Globetrotter
There are many excellent reasons to visit Chicago in the winter–and why it is one of the best places to visit during winter in the USA!
Enjoy the city's many holiday events and activities during the holiday season including Christkindlmarket, an outdoor traditional German-style Christmas market.
Alternatively, visiting Chicago after the holiday season is over means fewer crowds at popular attractions and reduced prices for accommodation.
Winter in Chicago is usually cold and windy, so bundle up and head to Millennium Park to take photos at the famous Cloud Gate sculpture (also known as The Bean).
Enjoy ice skating with amazing views at McCormick Tribune Ice Rink right in front of The Bean or the ice skating ribbon at adjoining Maggie Daley Park.
Other fun outdoor winter activities in Chicago include outdoor curling and having drinks in an igloo.
For visitors that want to avoid winter weather, Chicago is full of incredible indoor attractions.
Spend time checking out the many museums and cultural attractions including the Art Institute of Chicago, the Field Museum, the Adler Planetarium, the Museum of Science and Industry, and the Chicago Cultural Center.
Warm up at Garfield Park Conservatory or Lincoln Park Conservatory, two beautiful botanical conservatories located in the city.
Head up to the 360 CHICAGO Observation Deck or the Skydeck Chicago at Willis Tower for panoramic views from above.
Other indoor things to do in Chicago during the winter include eating lots of deep-dish pizza, attending a comedy show, and listening to live music at blues and jazz clubs.
Where to Stay in Chicago, Illinois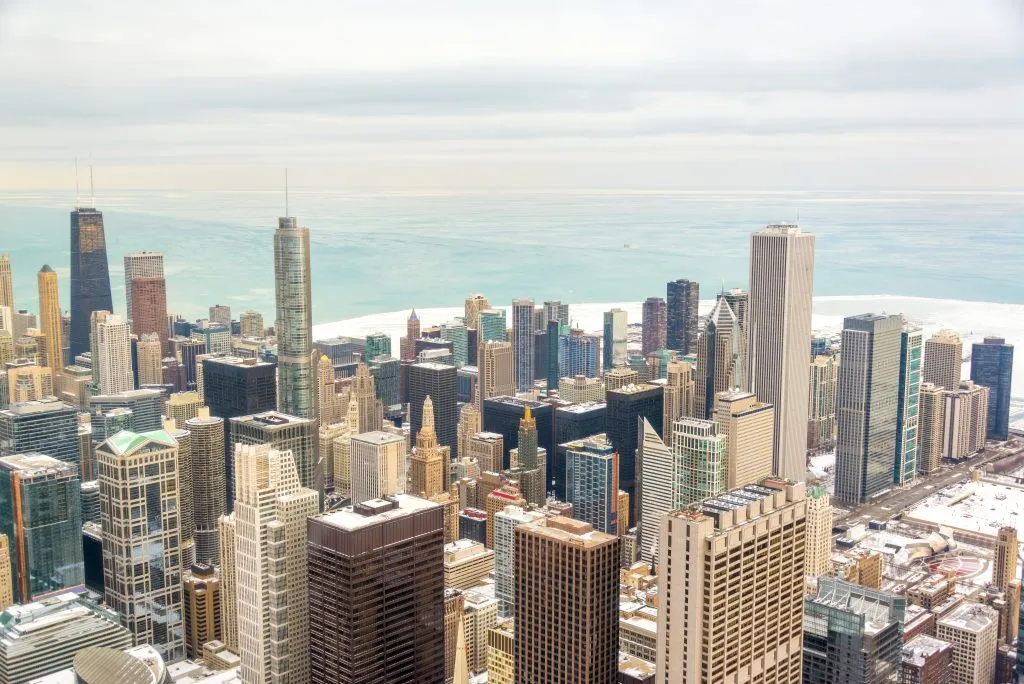 Savannah, Georgia
For a warm winter vacation in the USA that's heavy on excellent food and beautiful sights, head to Savannah, Georgia.
Featuring absolutely stunning architecture, 22 of its original 24 town squares, endless oak trees dripping with Spanish moss, and some of the best food in the country, exploring the best things to do in Savannah is always a blast.
And, since average high temperatures never dip below 60°F, even at the coldest times of year, winter is one of the best times to enjoy a weekend trip to Savannah: you can enjoy all the beauty of this Lowcountry city with none of the oppressive heat that stalks it much of the year.
While you're there, be sure to meander down beautiful Jones Street, check out Forsyth Park, hear some of the city's most enduring legends on a ghost tour, enjoy views from River Street, and take in some of Savannah's complex history at its various house museums and houses of worship.
Don't forget to set aside plenty of time to eat!
While there are dozens of incredible restaurants in Savannah, favorites include The Olde Pink House and The Grey for special occasions, The Collins Quarter for their legendary lavender mocha latte, and Leopold's Ice Cream for a scoop of their famous Tutti Frutti ice cream.
Have enough time for a quick day trip?
Tybee Island–also known as "Savannah's Beach"–is less than a 30-minute drive away, and while you certainly won't want to swim in the winter, strolling along the sand and climbing the lighthouse are a treat.
The photos of Savannah I've used in this blog post were all taken in February or early March–and as you can see, there's a good chance you'll be able to shed your coat during winter in the USA if you plan to visit Savannah.
Where to Stay in Savannah, Georgia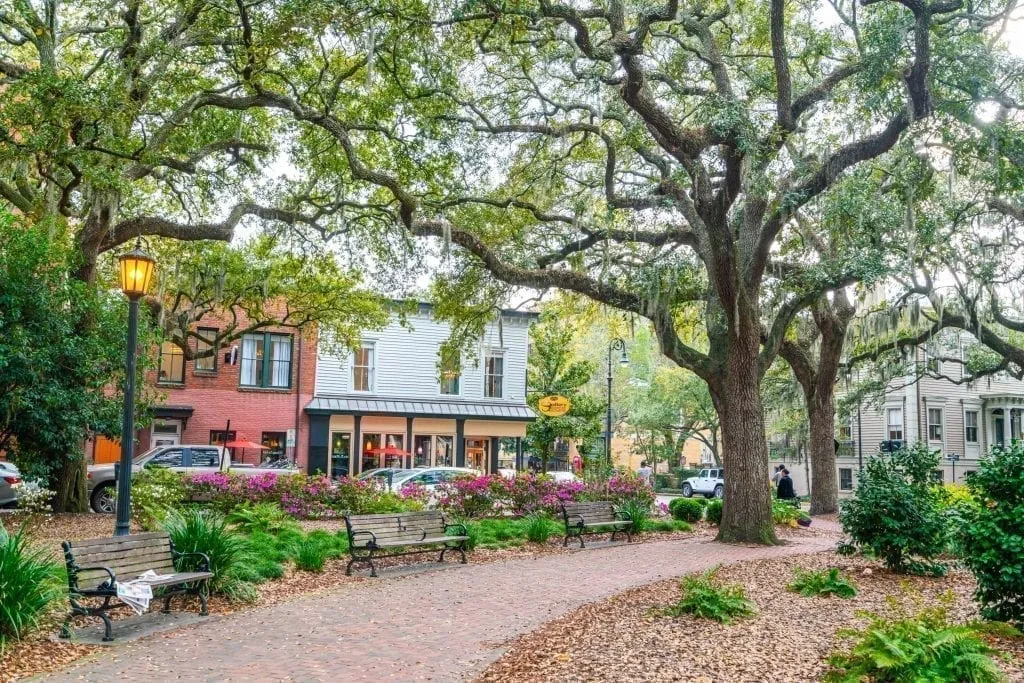 Boston, Massachusetts
From Linn of Brainy Backpackers
For travelers looking for a cold-weather getaway, one of the best cities to visit in the USA during winter is Boston.
Boasting a rich cultural history, you can enjoy an activity-rich city break even with cold temperatures down to 19 F.
Go ice skating in the country's oldest park, Boston Common, and enjoy a hot chocolate at the Frog Pond Cafe.
The winter in Boston is also an idyllic time to walk the Freedom Trail which takes you past 16 historic sites in Boston.
If the roads are snow-capped and you cannot see the 2.5-mile-long mark on the road that marks the trail due to the snow, don't worry.
Download the Freedom Trail app on your phone and you can follow it easily.
Other epic attractions in Boston include the sweeping views from the top of the Skywalk Observatory, these are especially beautiful at sunset and even more so if the city is covered in white powdered snow.
Museum lovers will also enjoy Boston, including visiting the Museum of Fine Arts Boston, the Isabella Stewart Gardner Museum, and the Boston Tea Party Ships & Museum, as well as many others.
The latter has the famous Boston tea party re-enactment going on every 16th of December which is a fun activity to attend if you happen to be there on that date.
A top tip for responsible tourism in Boston during the winter months is to bring your own reusable coffee mug so that you avoid can avoid extra waste when exploring the best things to do in Boston.
Where to Stay in Boston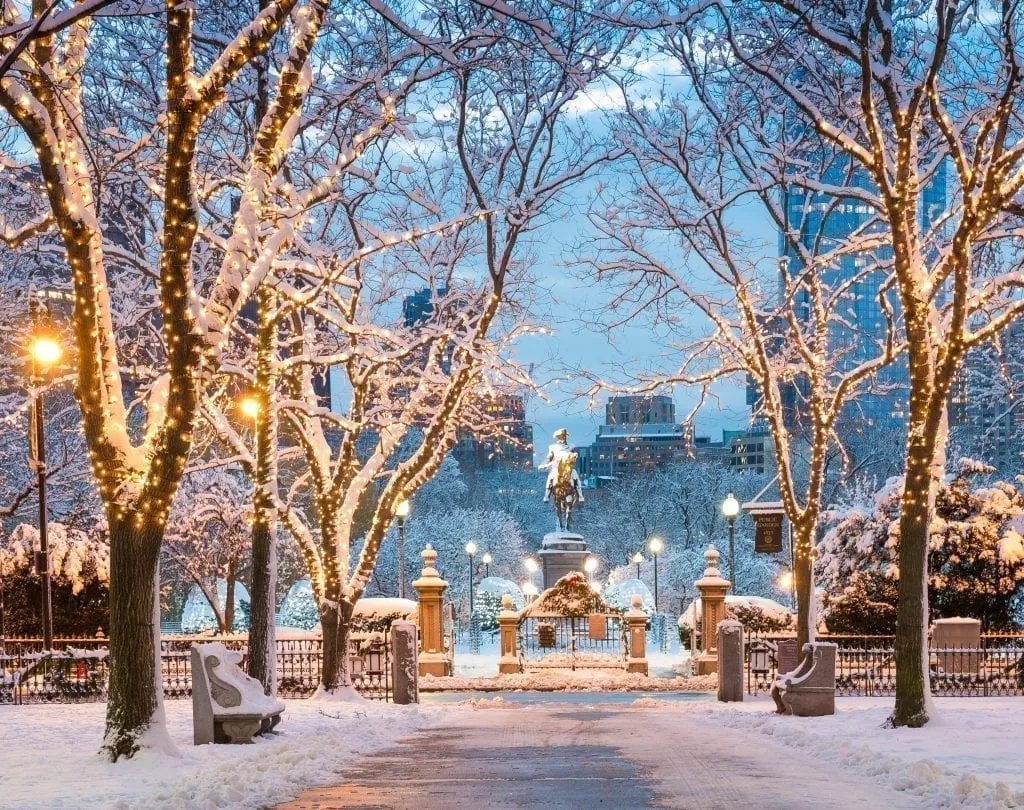 Orlando, Florida
From Candice of CS Ginger
Orlando is a great US winter destination for many reasons. The weather is warm and sunny, the attractions are world-renowned, and the city has a relaxed and welcoming atmosphere.
And, above all, the weather is perfect for soaking up the sun.
Orlando enjoys an average of 234 sunny days per year, so you're almost guaranteed to have good weather during your visit.
The average winter temperature is a comfortable 72 degrees Fahrenheit (22 degrees Celsius), so you can leave your winter coat at home.
Orlando is home to some of the most popular tourist attractions in the world, including Walt Disney World and Universal Studios Orlando.
Whether you're looking for thrills or just want to relax and take in the sights, there's something for everyone in this city.
There are also lots of fun day trips from Orlando like the Kennedy Space Center and Cocoa Beach.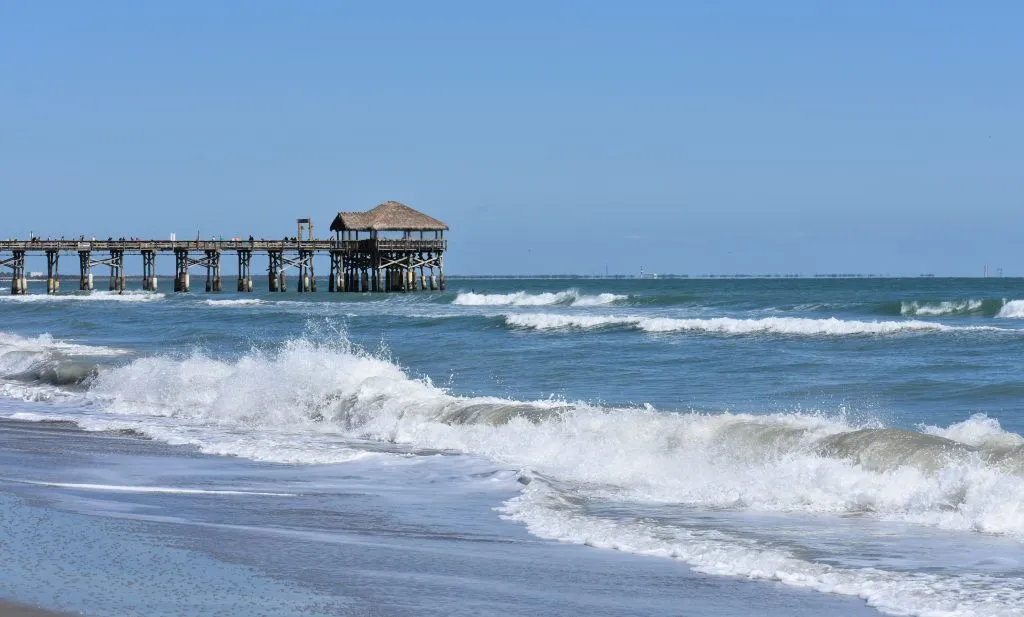 The nightlife and food scene often get overshadowed by the many parks and adventures, but the great food and fantastic winter weather make for a fabulous combination.
Because Orlando is a highly sought-after destination city, they also have countless malls, outlets, and boutique stores to explore.
There are top-notch hotels, with Orlando being home to some of the best hotels in the world. The range of places to stay works for almost everyone's budget.
For theme park lovers, shoppers, and sun seekers, Orlando, Florida is one of the best USA winter destinations you will find.
You will love all the city has to offer endless fun and adventure for the whole family.
Where to Stay in Orlando, Florida
Washington DC
From Diana of Travels in Poland
Wintertime in Washington DC, can be mesmerizing.
With the National Mall abound with trees and decorations, the nation's capital is a great destination for travelers looking for a fun winter getaway in the United States.
The National Mall contains nearly 20 museums, all free to the public.
While entry is free year-round, each museum decorates for the holidays, making the Mall and the museum interiors truly festive.
The National Gallery of Art's Sculpture Garden and the Washington Harbour both have skating rinks open to the public in the winter.
There are beautifully decorated trees at the US Library of Congress, in front of the White House and the US Capitol.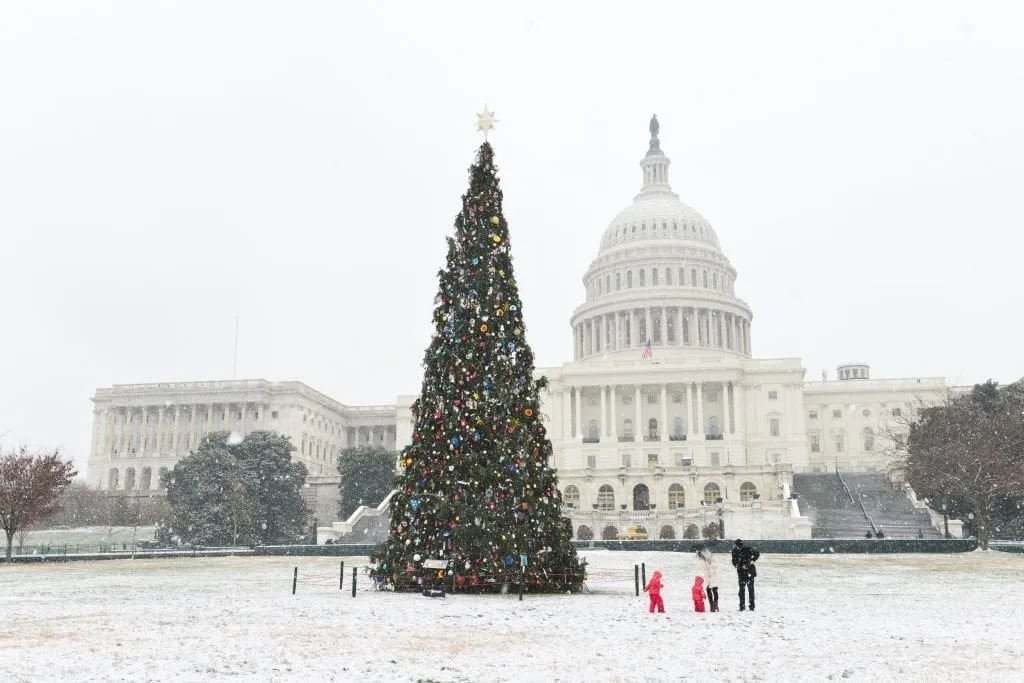 At the Wharf the Holiday Boat Parade is an annual celebration of beautifully decorated boats on the channel.
The Wharf also hosts holiday films through the month of December on a large LED screen.
As January is typically a low-crowd month (except for inauguration years, of course), it's a great time to take advantage of touring the city's museums as well as festivities.
In January, Martin Luther King Jr. is honored through parades and a wreath-laying ceremony in front of the monument.
For foodies, restaurant week allows visitors and locals alike to try a variety of flavorful dinners at a discounted price.
Given DC's expanding restaurant varieties, it's a fantastic way to try amazing new foods.
Where to Stay in Washington DC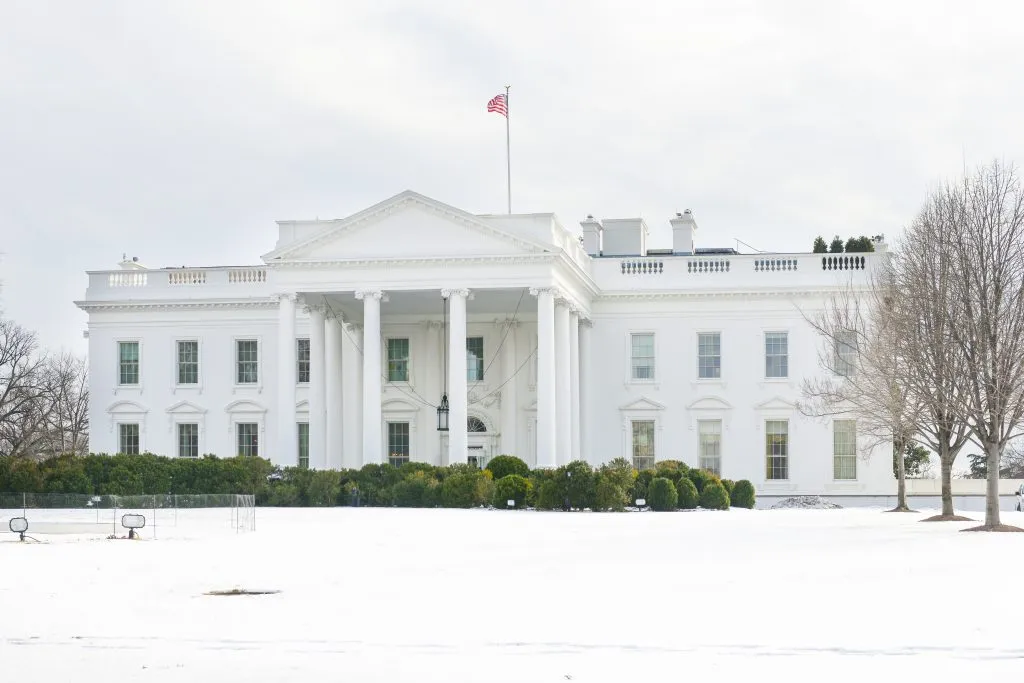 Miami
Beautiful beaches, a unique culture that's all its own, fabulous architecture, and–of course–plenty of warmth and sunshine: you'll find all of this and far more by heading south to Miami during winter in the US!
When it comes to beaches, South Beach is often considered one of the best urban beaches on the planet, and we'd have to agree.
Don't limit yourself just to the beach, though!
Be sure to explore Miami Beach's impressive Art Deco architecture, eat your way through Little Havana, admire street art in Wynwood, and check out the views from Biscayne Bay.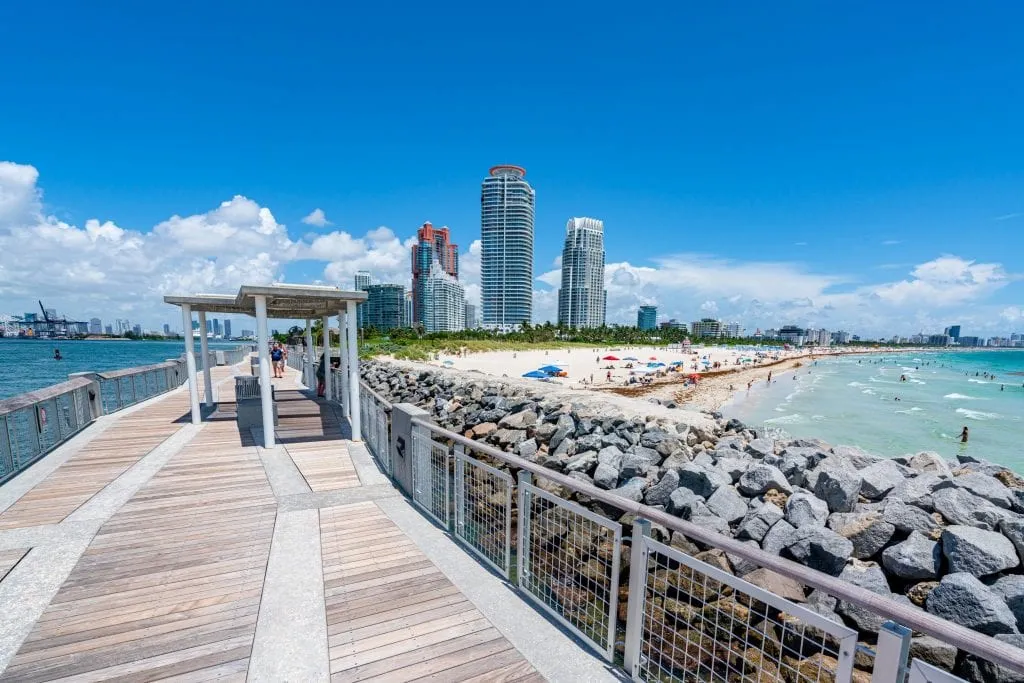 For a unique perspective on the city, consider taking a boat cruise–we were very impressed with how much we enjoyed ours!
For those who want to experience some unique nature in south Florida during their trip, consider also planning on a day trip to nearby Everglades National Park.
And, if you have enough time, you can easily combine a trip to Miami with a visit to the Florida Keys, another one of the best winter vacations in the USA.
Where to Stay in Miami
Nature-Focused Winter Destinations in the USA
Maui, Hawaii
From Megan of Next is Hawaii
If you're looking for a tropical escape to beat the post-holiday blues, Maui is easily one of the best winter destinations in the US!
Getting to Maui is usually cheaper during the winter (with the exception of the holidays) and the hotels tend to drop in price, as well.
There are plenty of incredible things to do in Maui year-round, but it is in the winter that the whales arrive!
Starting on December 15, the season for whale watching on Maui begins and you will have the chance to witness thousands of humpback whales making their way from the frigid waters of Alaska to the warmer waters of Hawaii to give birth.
The season lasts until March and it is one of the best reasons to visit Maui in winter.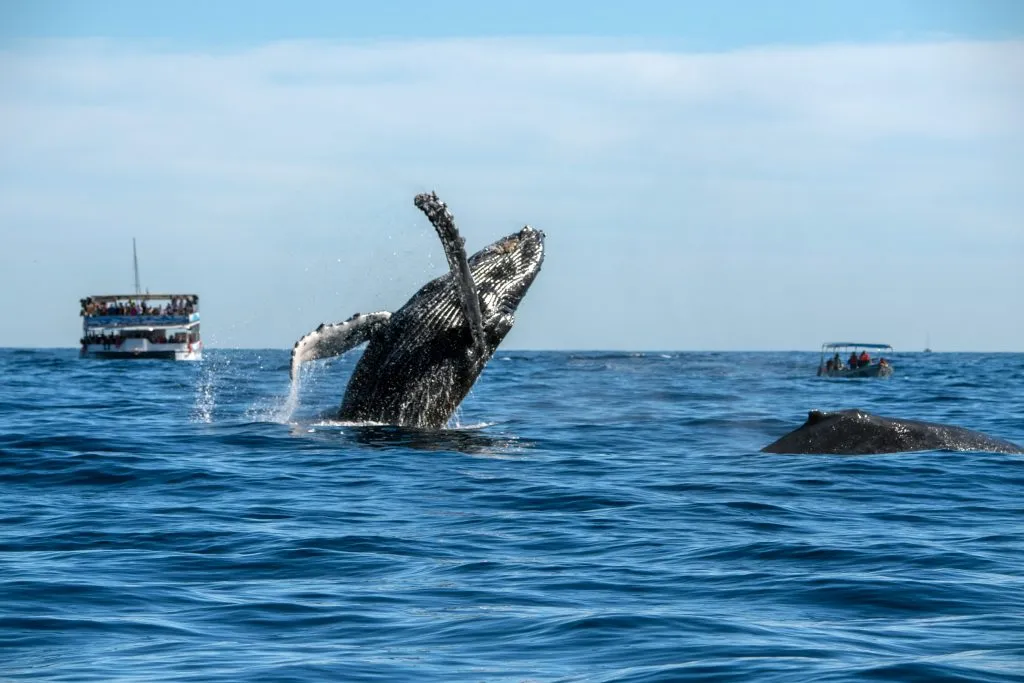 If you are visiting Maui during December, try to plan your dates around the famous lighting ceremony of the Banyan Tree in Lahaina.
While many snorkelers flock to Hawaii to take advantage of the blue water and coral reefs, wintertime is not ideal in most places on Maui.
However, if you stick to the south side of the island around Kihei and Wailea, you will have drier conditions and calmer waters, allowing for snorkeling excursions to Turtle Town and Molokini Crater.
A few other places to put on your Maui winter itinerary are 'Īao Valley State Monument, Haleakalā National Park, and famous Kaanapali Beach.
The Road to Hana is a canʻt-miss thing to do in Maui no matter what time of the year you visit and since the rain tends to be a bit heavier in winter, you will get to see the waterfalls at their most powerful during this time of year!
Where to Stay in Maui, Hawaii
Moab, Utah
From Meg of Fox in the Forest
If you're looking for one of the best USA winter destinations of all time then you can't beat Moab, Utah.
After all, this exciting town is an oasis for lovers of the great outdoors who flock here to enjoy all that Canyonlands and Arches National Park have to offer.
And winter is the perfect time to visit. Not only are the crowds of summer gone – minus the week in between Christmas and New Year – but many of the best hikes in Arches NP and Canyonlands NP remain open all year long.
Plus, off-season means infinitely more reasonable prices when it comes to accommodations.

However, do note that park services are reduced at this time of year. Therefore, you will need to come prepared with plenty of food and water.
You'll also need to bundle up since temperatures vary throughout the season from a high of 51F to a low of 19F.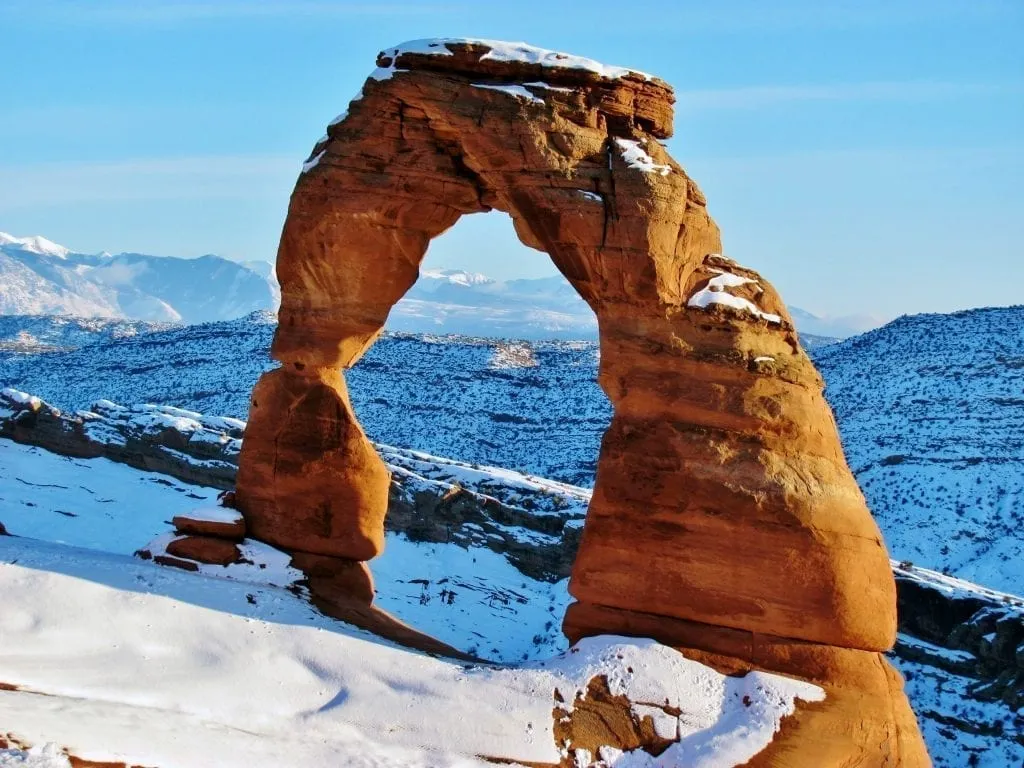 It's still pretty dry though, since, the area only receives about three days of rain monthly.

There's also something magical about heading to Arches and Canyonlands in winter and seeing the La Sal Mountains covered in a thin blanket of snow.

Plus, you can get up close and personal with iconic Arches National Park landmarks like Delicate Arch, Park Avenue, and Devil's Garden before heading to the Island in the Sky District of Canyonlands.
This part of Canyonlands National park is only about 40 minutes from Moab and is much easier to access in winter.
It's also home to popular hikes like Mesa Arch, Grand View Point, Aztec Butte, Upheaval Dome, and the Syncline Loop.
Don't miss the chance to watch the sunset from Dead Horse State Park when you're in the area, either!
Where to Stay in Moab, Utah
Apostle Islands National Lakeshore, Wisconsin
From Paulina of Paulina on the Road
Apostle Islands National Lakeshore is situated in Wisconsin Bayfield County.
The National Lakeshore is situated on the southwest shores of Lake Superior and is popular for its breathtaking sea caves and historic islands.
You will be able to explore 21 different historic islands on a USA winter getaway to the Apostle Islands.
Apostle Islands National Lakeshore, along with its beautiful islands, offers a lot of things to enjoy.
While most tourists prefer summer and spring to explore Apostle Islands, it gets even better during winter.
One of the main reasons why the Apostle Islands are worth visiting in winter is the ice caves and frozen waterfalls.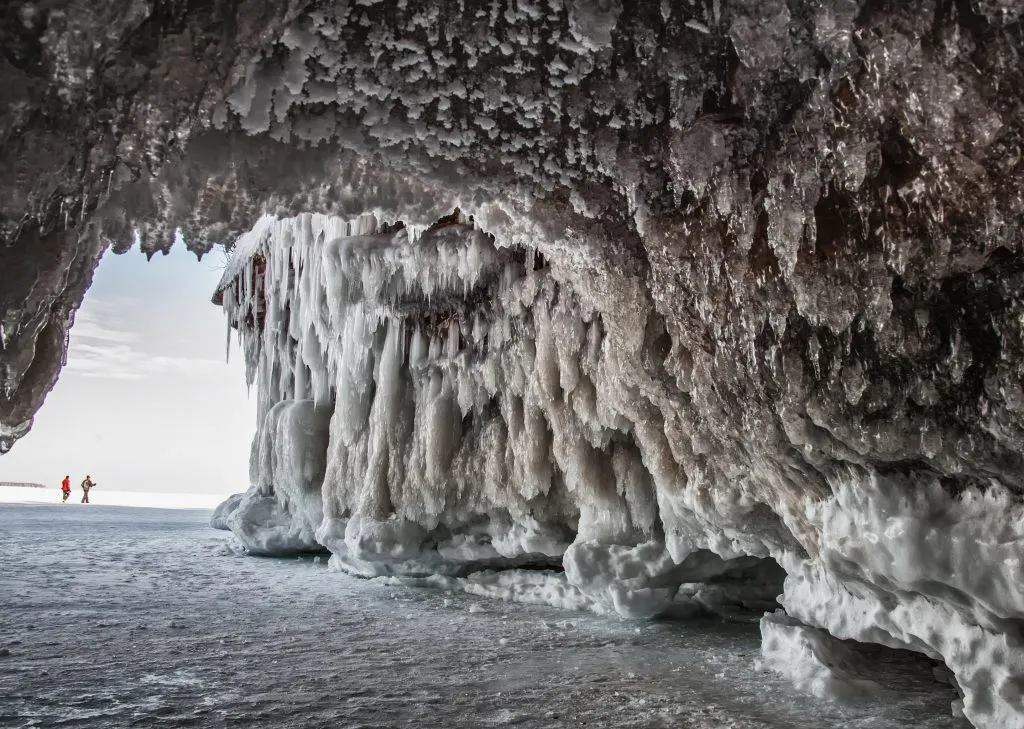 Do not miss the opportunity to admire the epic view of frozen waterfalls. Take your camera to capture the beauty of the ice-covered cliffs.
If you like to hike, do not miss out on the incredible landscapes on the Lakeshore Trail.
It is spread across 4.5 miles, but if you are an experienced hiker, you would love the views this trail offers. It starts in the Meyers Road parking lot.
Tip: Make sure to cover yourself up with lots of layers and bring a backpack with food, extra clothing and essentials–hiking in Wisconsin in the winter requires being cautious and putting safety first.
When you are looking for amazing winter hikes in Northern Wisconsin, Apostle Islands National Lakeshore is the right place.
From natural landscapes to historic lighthouses and light towers, you can witness a lot of beautiful attractions.
Where to Stay in Apostle Islands National Lakeshore, Wisconsin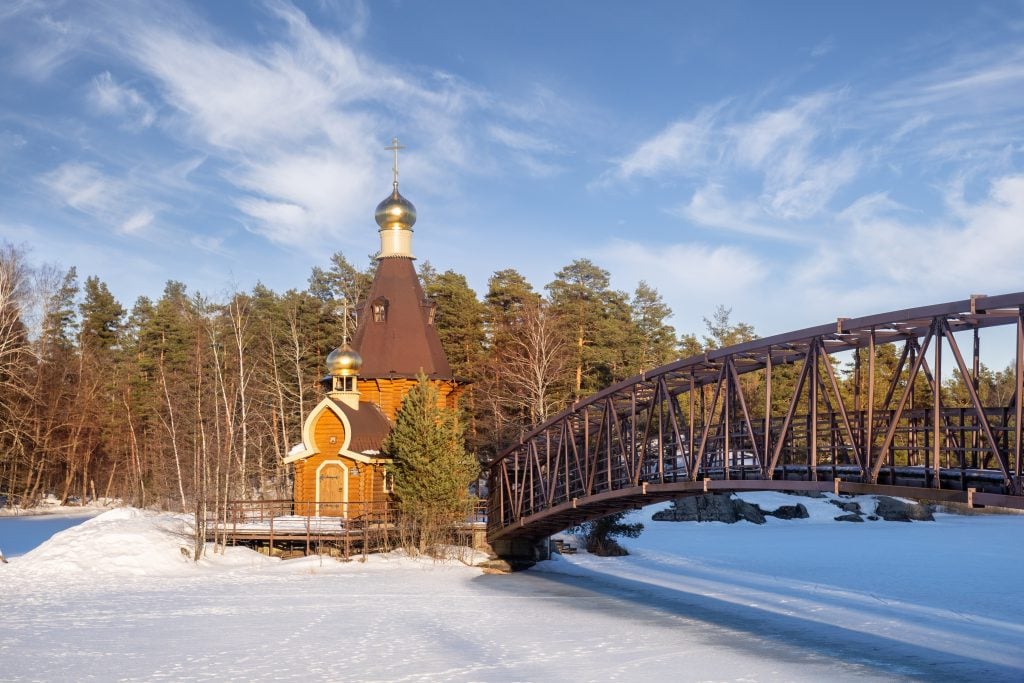 The Big Island, Hawaii
From Tabitha of Travel Compositions
While the Big Island of Hawaii is open year-round, it makes for an adventurous, warm winter vacation in the US.
Escape the cold at home with warm beaches, hot lava, and freshly brewed Kona coffee.
There aren't many opportunities in the world to visit an active volcano.
At Hawaii Volcanoes National Park (HVNP) you can witness glowing lava oozing and spurting its way to the surface. Visit after dark for the best experience.
There are 3 different colors of sand to find on the Big Island: white, black, and green.
See one of each by visiting Hapuna Beach, Punalu'u Black Sand Beach, and Ka Lae.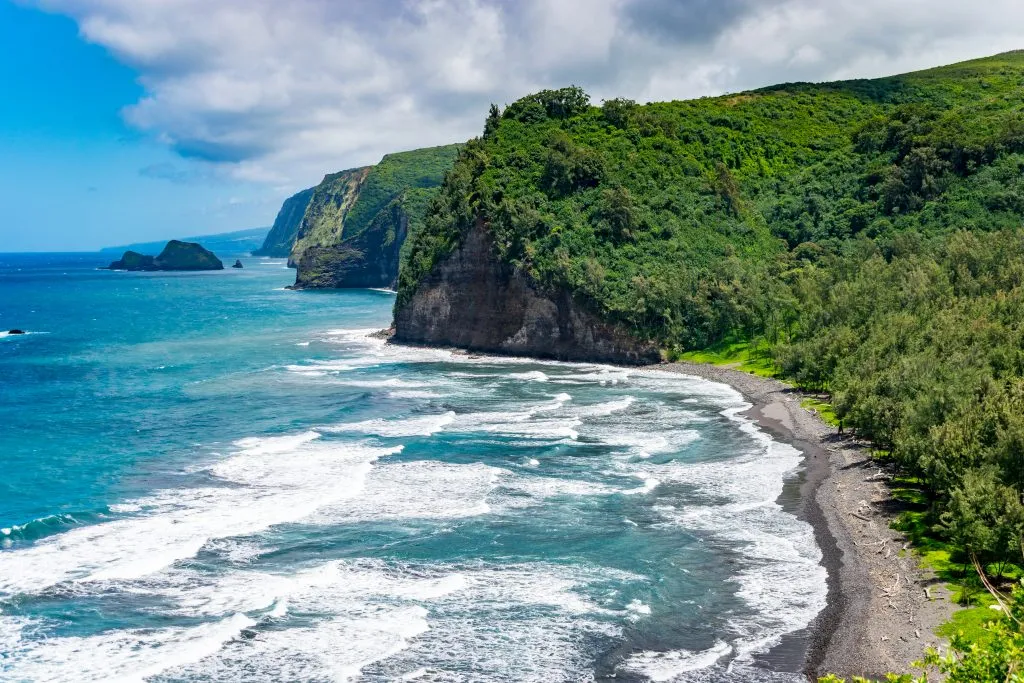 Coffee enthusiasts will enjoy visiting Kona coffee farms, learning about the coffee processes, and sampling their different brews. Explore beyond Kona to try the lesser-known Ka'u coffee.
Don't miss a once-in-a-lifetime opportunity to swim with manta rays.
Night snorkel tours depart from Kona to take you into the dark waters as these giants dance below you eating only plankton.
The Big Island is steeped in Hawaiian history with the birthplace of King Kamehameha I, and many sacred sites.
Visit the Place of Refuge, an ancient sanctuary where fugitives escaping the law could find their death sentence revoked if they made it there alive.
Petroglyphs in Waikoloa and HVNP baffle historians with their mysterious meanings.
Drive up Mauna Kea to watch the sunset and gaze at the Milky Way.
Technically, Mauna Kea is the tallest mountain on earth from base to tip at 33,500ft. However, it rises only 13,802ft above sea level.
For an adrenaline rush, jump off the cliffs at South Point, the southernmost point in the US.
Where to Stay in The Big Island, Hawaii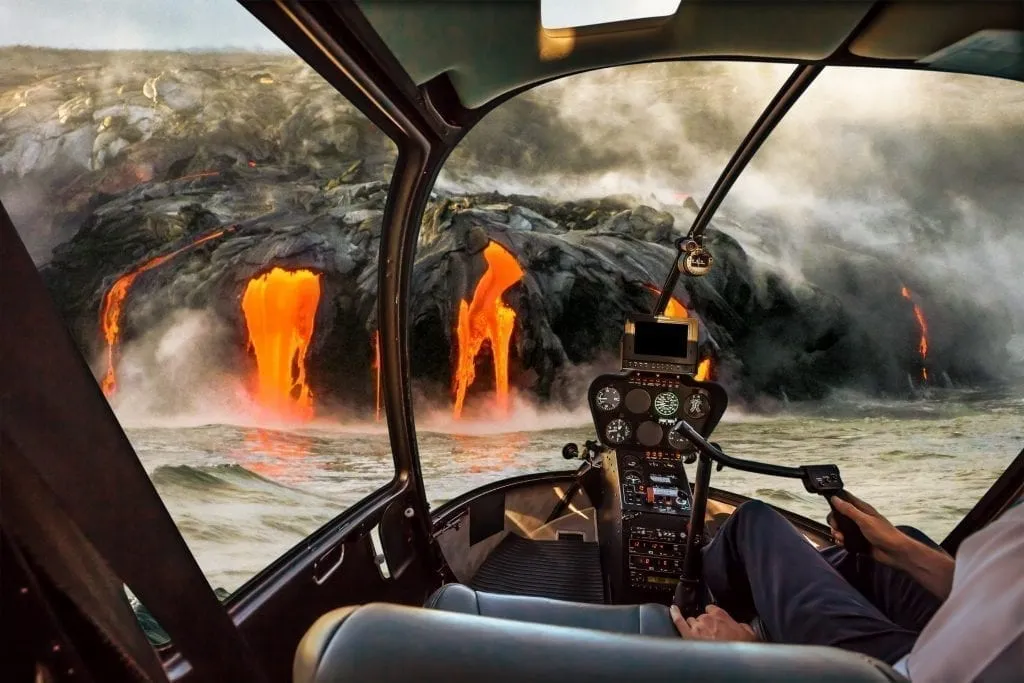 Zion National Park
From Giorgy of G-Extreme Travel
With its world-famous hikes and beautiful views, there's no doubt that Zion is a magical winter destination in the United States.
It's especially beautiful this time of year when the mountains, are often snow-covered and cool temperatures make it perfect for exploring nature.
The cool part of visiting this place in winter is less crowded and, during the winter months, you can drive all the way into the park rather than take the shuttle.
Take in all the beauty of this destination and enjoy the year-round activities.
The most famous hiking trails to do are the Narrows and Angel's Landing.
For something short but rewarding, hike the Canyon Overlook.
However, Zion is also full of plenty of less-known trails giving you a breathtaking view, and a peaceful, and still-warm atmosphere close to mother nature.
If you are not into hiking or camping, during this period of time you are allowed to drive from Zion to Mount Carmel.
And, if you're looking for roadside attractions during your road trip to Zion National Park, check out nearby Grafton Ghost Town.
Beyond hiking, Zion has plenty more activities to offer such as canyoneering, rock climbing, kayaking, or rafting is all you need to satisfy yourself.
Or pay a visit to the Zion Human History Museum, where you can learn more about Zion's human history and the Petroglyph Canyon.
Especially if you are camping inside the park, during nighttime, the sky is going to gift you a night stargazing under the milky way (depending on the weather conditions)!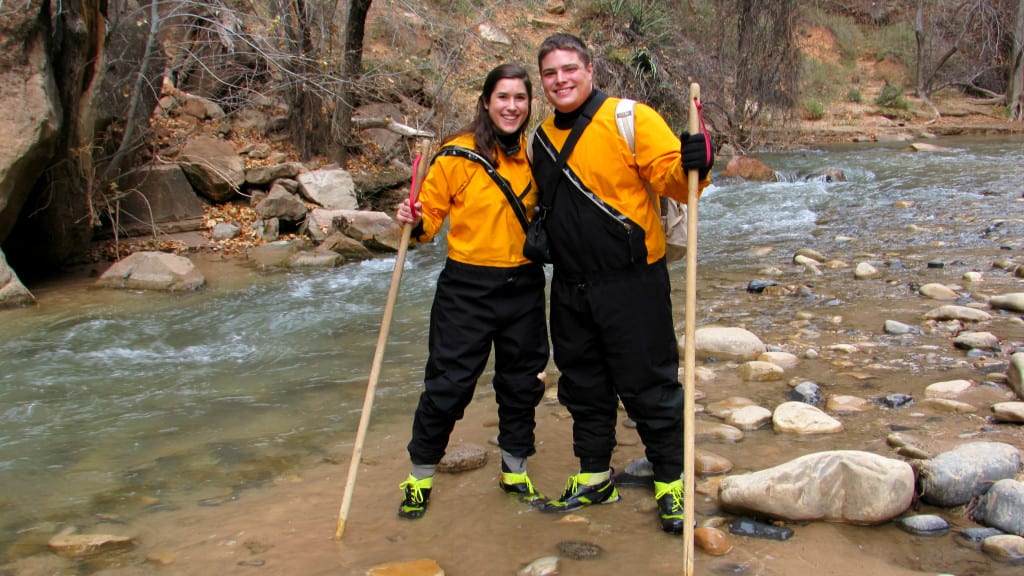 Where to Stay in Zion National Park
Anna Maria Island, Florida
From Trijit of Budget Travel Buff
Anna Maria Island in Florida is a haven for those looking to get away from the savage cold on a fun winter vacation in the USA.
The average winter temperature on Anna Maria Island hovers between 70 to 80 degrees, making it ideal for a winter beach vacation. It's cozy and pleasant, but not overly chilly.
The weather is perfect for taking part in outdoor activities including golfing, running, cycling, and kayaking.
Winter is a beautiful time for festivals, shopping, dining, and other classic Anna Maria Island activities like building sandcastles on the beach, sunbathing, and playing sand sports.
The beaches on Anna Maria Island are ideal for picnics with families, sunbathing, and playing. The beach consists of both fine sand and hard shells in some spots.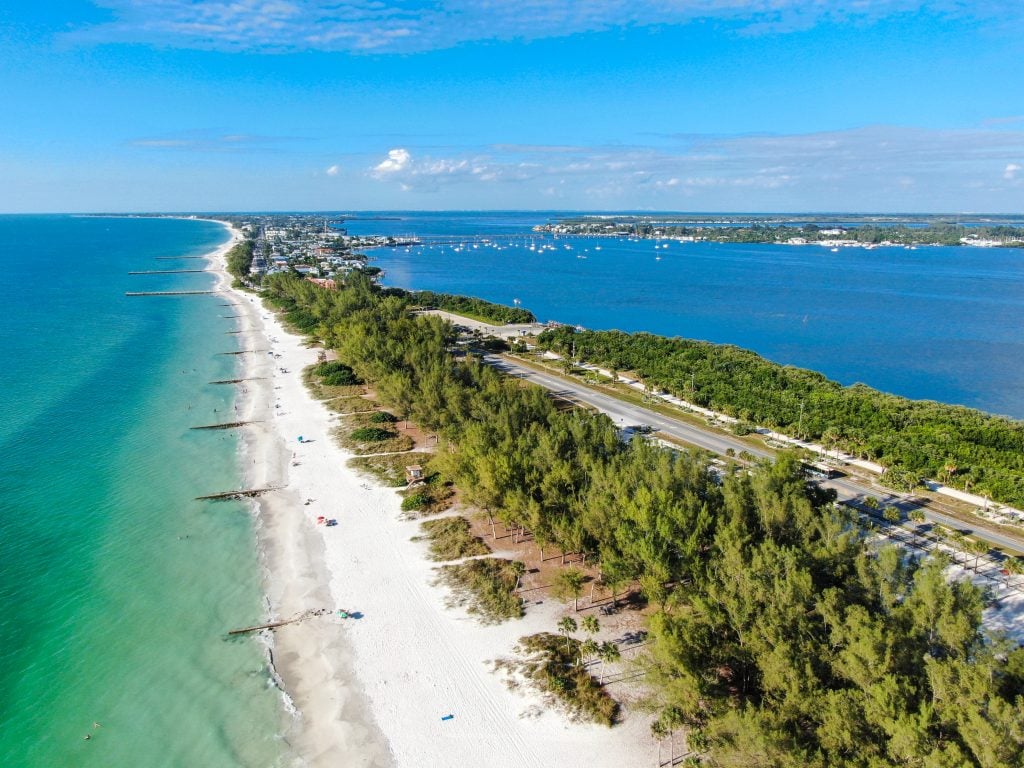 You can also watch dolphins playing nearby in the mornings.
Anna Maria Island is home to a wide variety of unusual wildlife including manatees, sea turtles, dolphins, and pelicans.
If you want a close-up view, think about going on a dolphin-watching boat. You can also rent a bicycle to explore the island at your own speed.
If you want to find out more about local activities and cuisine, go to Rod & Reel Pier. This neighborhood eatery is situated on a pier.
Because Anna Maria Island is less congested in January, it's a fantastic time to visit if you're looking for some peace and quiet.
Where to Stay at Anna Maria Island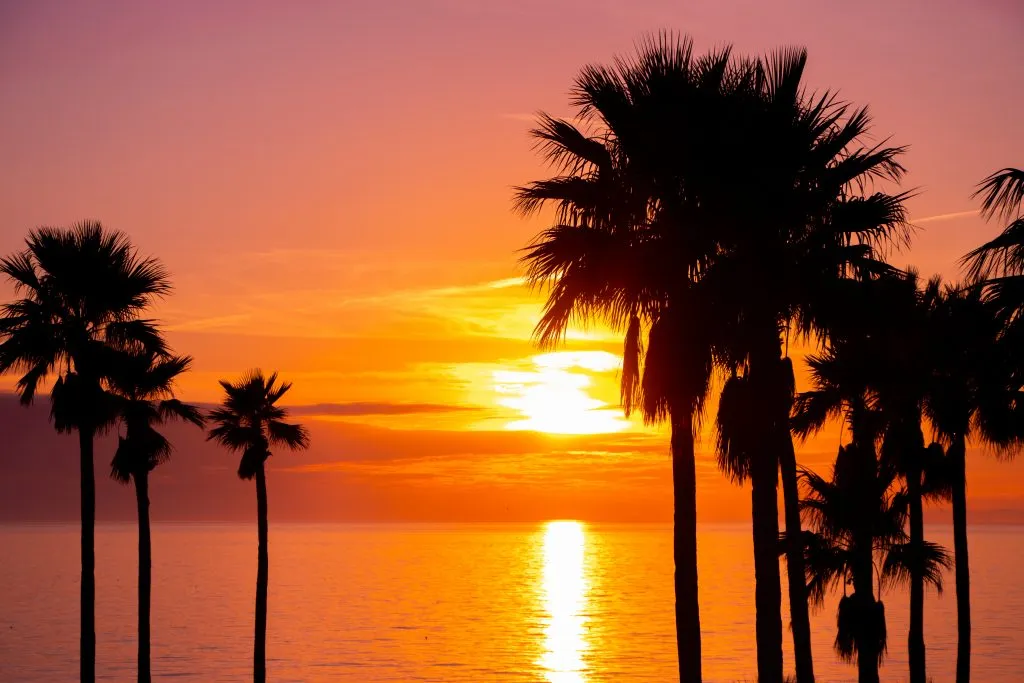 Kauai, Hawaii
From Sierra of Island and Alpine
If you are looking for a winter destination vacation in the US and are craving some sun and sand, the Hawaiian island of Kauai is a perfect choice.
Winter is mild on the islands, which adds to the perfect ambiance and peace that radiates from the Garden Isle of Kauai.
While you might experience some rain, that is what makes Kauai so green and beautiful!
It is very rarely raining on all sides of the island, so check the weather and plan your days accordingly.
With temperatures in the 70s typically, just pack a light sweater or windbreaker and plan on plenty of sun.
During winter months, crowds are down, and staying on the South Shore is advised as you are likely to find calmer waters near Poipu.
Snorkel on the beach there or on nearby Lawai Beach.
The cooler temperatures are perfect for hiking and the Mahaulepu Trail departing from Shipwreck Beach offers stunning views of the beach along the rocky trail.
Heading to Waimea Canyon also offers numerous options for hiking trails with the Kalalau Overlook being a must-do.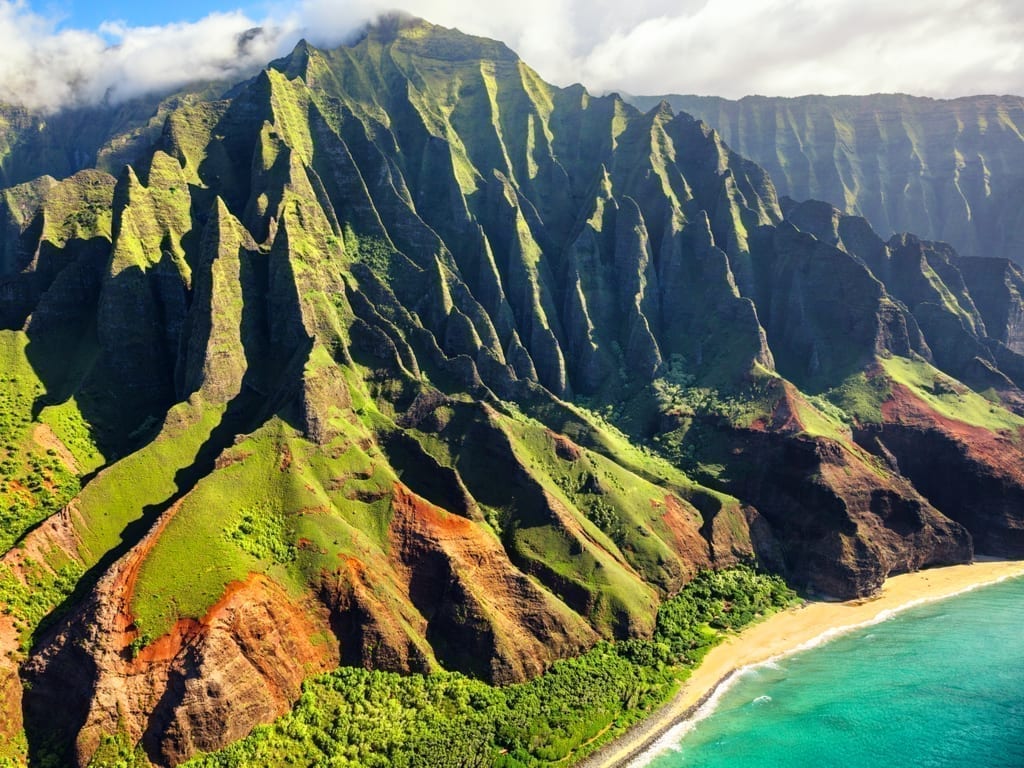 When heading to the lush North Shore, Anini Beach is a beautiful stretch of sand, Hanalei Bay offers its iconic pier for watching the sunset, and Ke'e Beach is great for a picnic.
If you really luck out on the weather, try hiking a mile or two of the Kalalau Trail for incredible views of the Na Pali coastline.
Viewing the coastline by scenic flight is an incredibly memorable and worthwhile splurge.
Winter is the perfect time for whale watching as the humpback whales make their migration.
Kilauea Lighthouse is a recommended spot to sit with your binoculars and watch them travel by. Whale-watching tours are also available by boat typically departing from Port Allen.
If you are lucky enough to be in Kauai for the holiday season, check out Santa decked out in Hawaiian attire in Poipu as he arrives in his outrigger canoe.
New Year's Eve fireworks on the beach are a magical experience.
Where to Stay in Kauai, Hawaii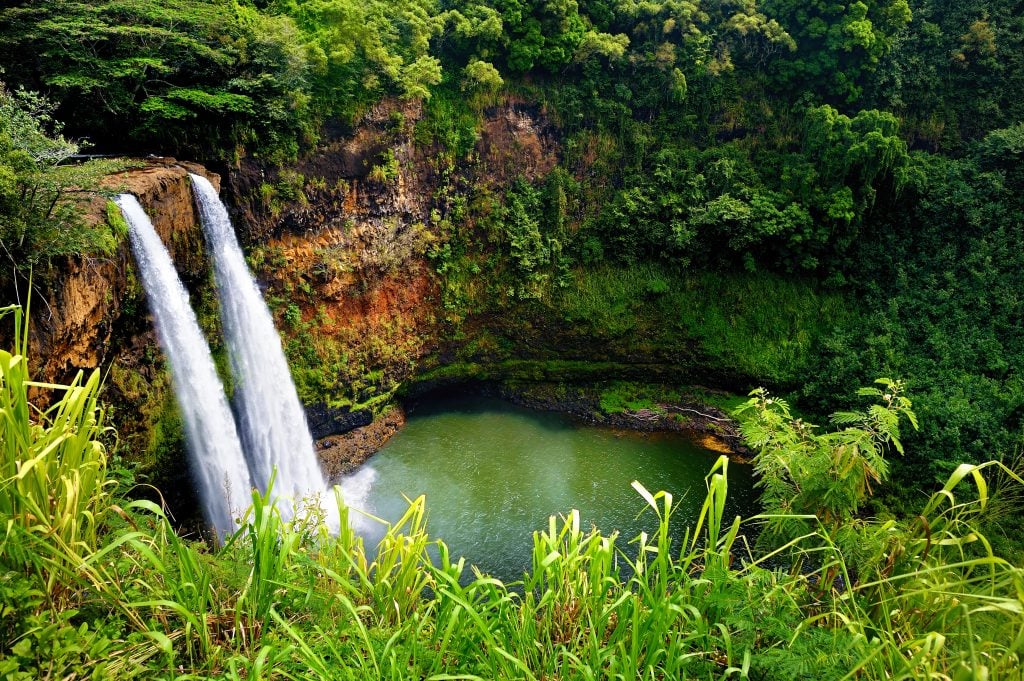 Stowe, Vermont
From Paula of Paula Pins the Planet
If you are looking for a fun USA winter destination, you should add Stowe to your bucket list.
A trip to Stowe is a classic New England getaway and the best things to do in Vermont in winter are a delight.
A paradise for winter sports lovers on a family vacation, a romantic getaway, or a trip with friends, Stowe's mountainous landscape is downright charming.
Stowe is a small but very cute town, and during winter it looks like a perfect postcard downtown.
Stowe's downtown is very picturesque, with well-preserved old houses, cafes, and with the white church as the main focal point of the town.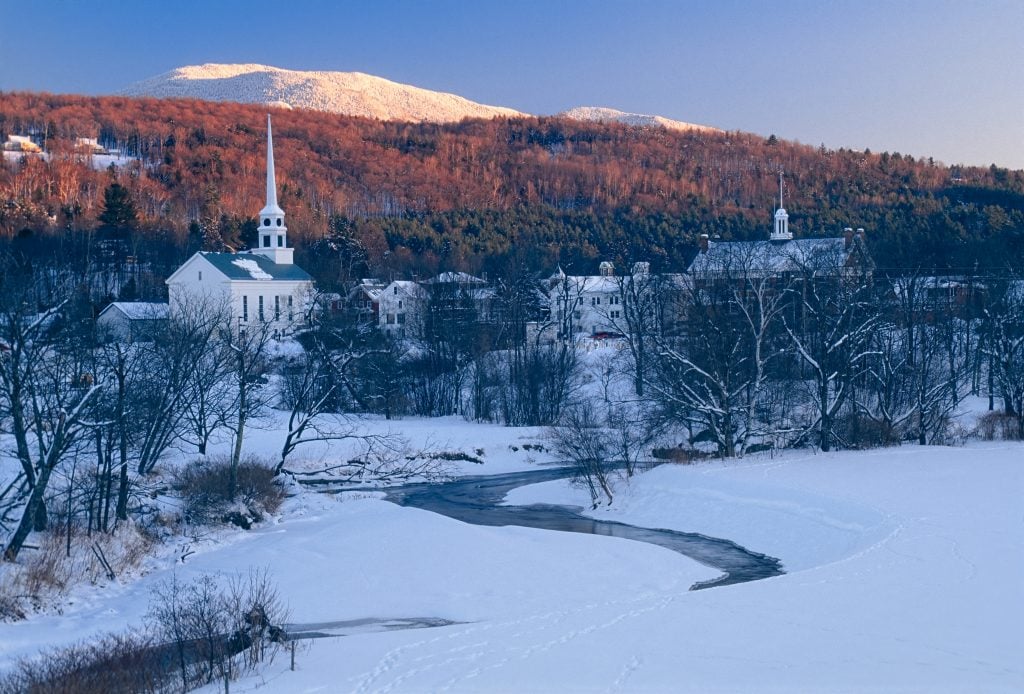 Visit the antique shops, stop at Shaw's General Store, and find some great bookstores.
But one of the highlights and best things to do in Stowe, VT in winter is to go skiing or snowboarding.
Stowe is considered one of the best ski towns in the United States, and it is a paradise for any winter sports enthusiasts because it has excellent powder, and the Stowe Resort offers some of the best slopes.
Where to Stay in Stowe, Vermont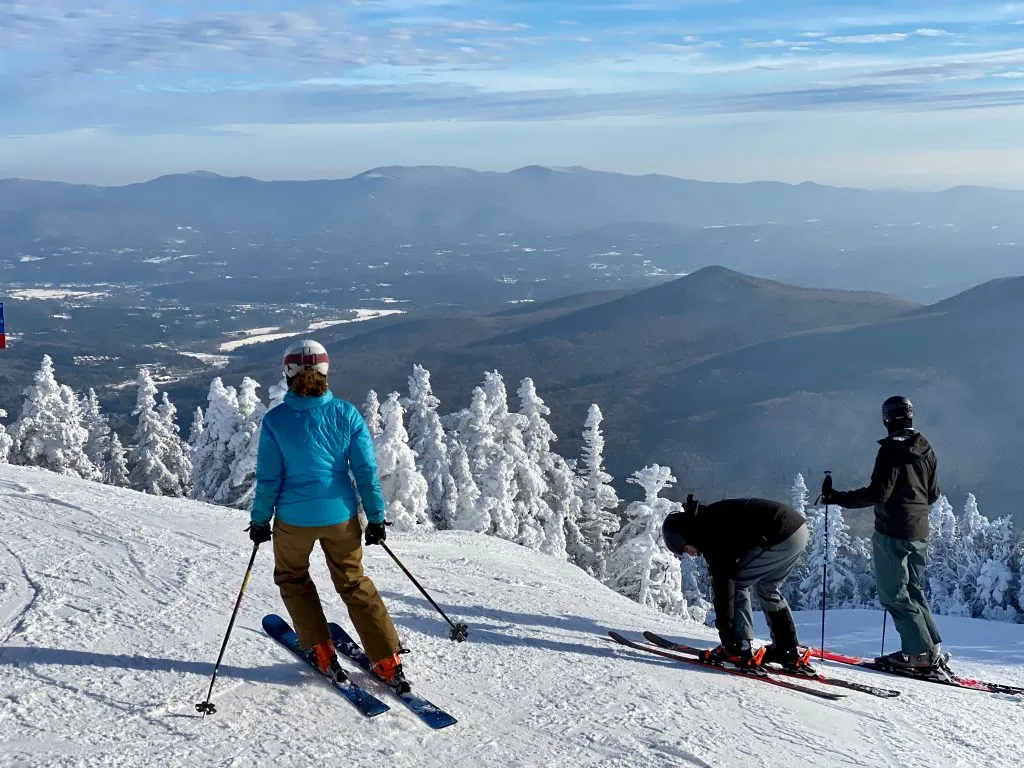 Saguaro National Park
From Katie of A Rambling Unicorn
If you're looking for the perfect destination to visit this winter, you can't beat Saguaro National Park in sunny Arizona.
Winter is a great time to visit this desert wonderland when the daily average temperatures range from 67 F to 77 F.
One of the best ways to begin your Saguaro National Park itinerary is with a scenic drive.
Cactus Forest Drive is a paved 8-mile loop that is popular with both cars and bikes.
The loop features plenty of pull-outs from which to see the park's famous cacti up-close – along with the native population of pig-like javelinas.
The western half of the park also has its own lovely byway called Bajada Loop.
This section is 6 miles long and passes some popular trailheads along with the Signal Hill Petroglyphs.
Be prepared for a bumpy ride, however, as the road is unpaved and not recommended for some vehicles.
Another great way to explore Saguaro is on foot, as the park features over 160 miles of hiking trails that traverse this magnificent high desert landscape.
These trails can be treacherous in summer months when temperatures regularly soar to over 100 F.
Even when hiking in winter, be sure to bring plenty of water and layers as temperatures can vary wildly in a single day.
Some popular trails in Saguaro National Park include the Valley View Overlook Trail, the Mica View Trail, and the Wild Dog Trail.
For more of a challenge, consider hiking the Tanque Verde Ridge Trail to Tanque Verde Peak for spectacular views.
Where to Stay in Saguaro National Park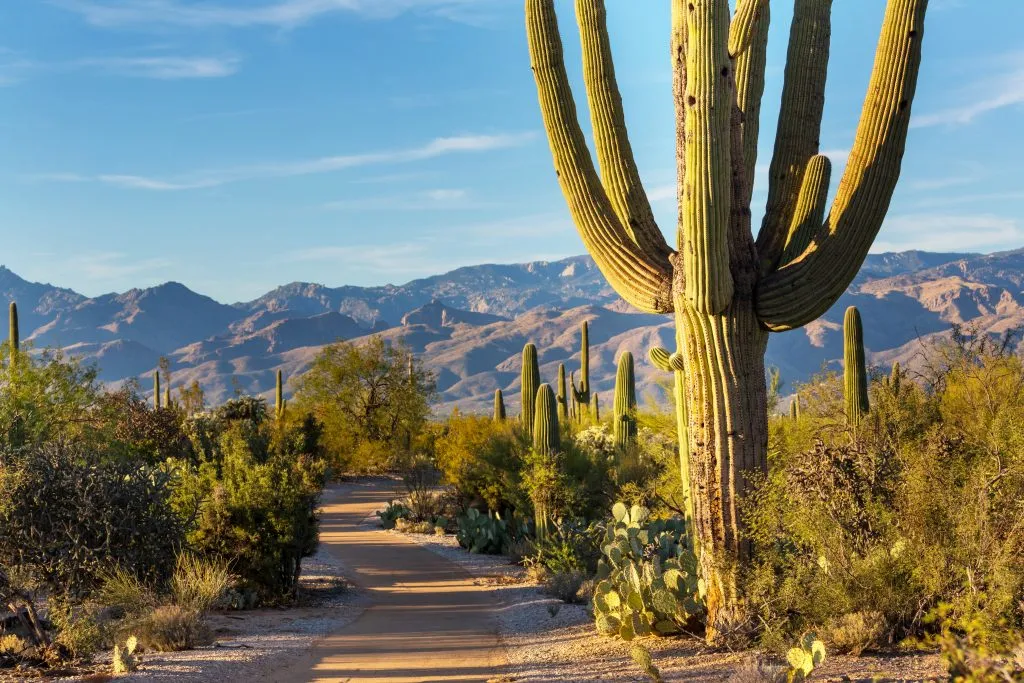 Oahu, Hawaii
From David and Intan of The World Travel Guy
The beautiful island of Oahu has everything that the Hawaiian islands are known for: great scenery, hikes, beaches, wildlife, and warm weather year-round.
Winter is a great time to visit and soak up sun!
The weather is warm and nice, without being too hot.
Oahu is loaded with great beaches in every corner of the island, so it's hard to know where to start.
One very nice white sand beach is Lanikai, on the windward side of the island. It's popular, but not too crowded.
There's also a nearby trail called the Lanikai Pillbox Hike, with amazing views of the whole area.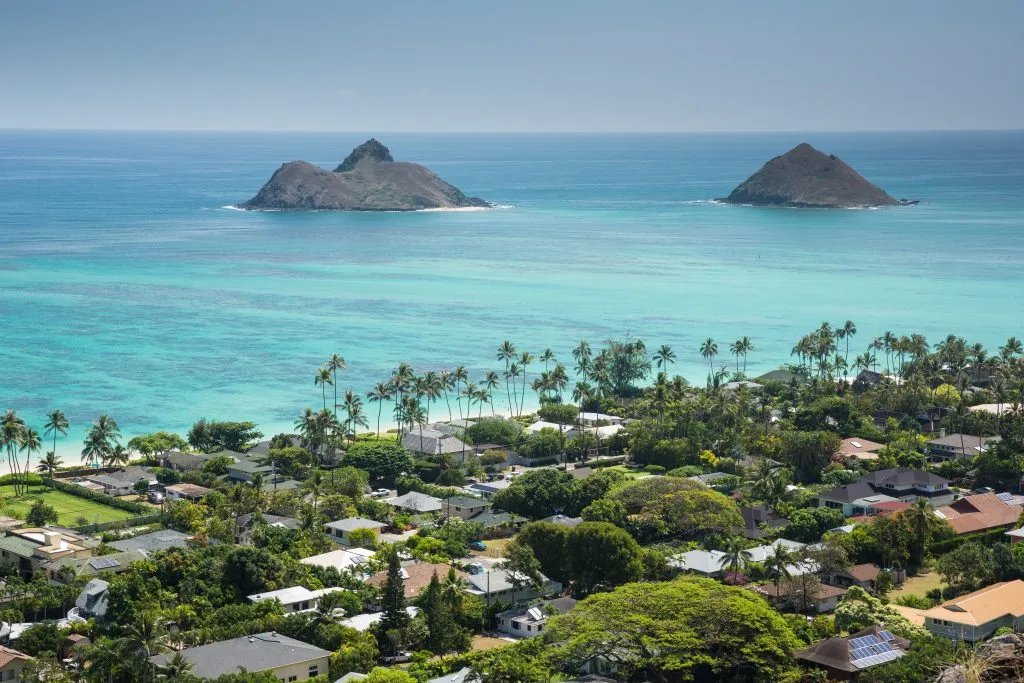 If you want to see a quieter and less touristy side of the island, drive up to the North Shore! It has some of the best surfing and a more laidback feel compared to Waikiki.
Some of the best North Shore Oahu beaches to visit include Laniakea and Sunset Beach, which are both very high quality.
Sunset Beach is known for its amazing sunsets (of course), and you can often see turtles relaxing on the beach at Laniakea.
Winter is also the best time to see whales in Oahu! The whale watching season generally runs from December to May, as this is when the whales like to come to the warm waters of Hawaii.
You can often see whales from the shore at places like Makapuu, or you can try to get a closer look with a whale-watching tour or boat charter.
Overall, Oahu is a fantastic place to visit in the USA in winter!
Where to Stay in Oahu, Hawaii
South Lake Tahoe
From Ossama of Awesome Traveler
South Lake Tahoe is one of the best places to visit in California during winter.
With a snowy landscape perfect for all kinds of outdoor, winter activities and events, a trip to South Lake Tahoe is fun for the whole family.
To enjoy the snow, the best time to visit is from October to May.
While perhaps a August or June trip to California is more common, snow sport lovers will greatly prefer the winter.
One of the most popular things to do in winter is riding the snowmobile race or tour. You can rent a snowmobile to roam around Lake Tahoe.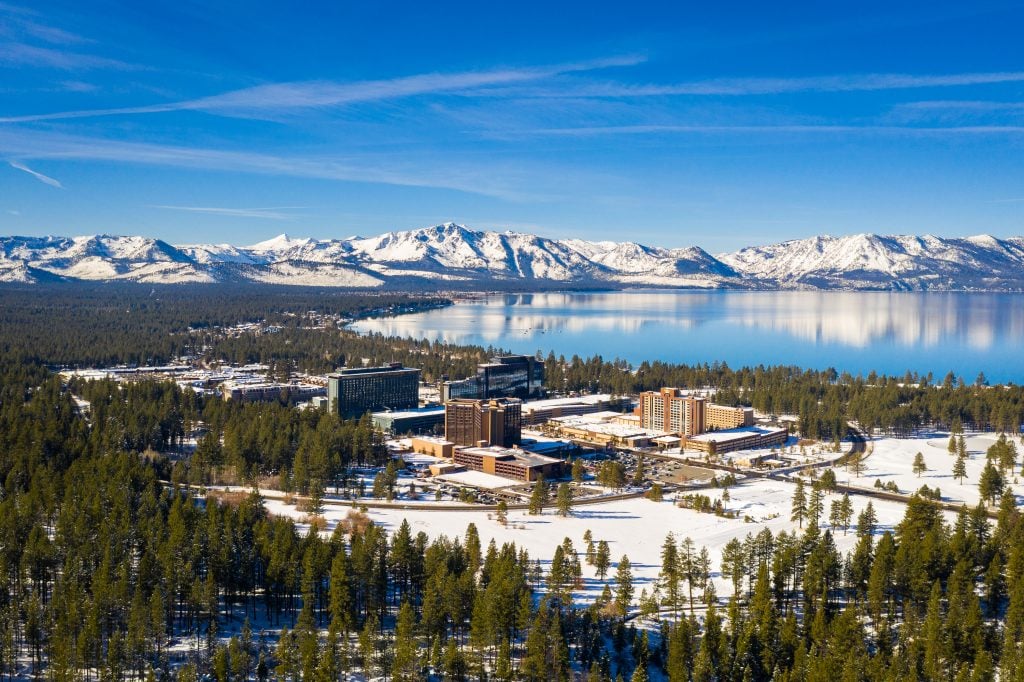 You can also enjoy sledding or snow tubing for an adrenaline rush. There are plenty of spots that you can enjoy with your kids.
Adventure Mountain and Blizzard Mountain are the best spots for snow tubing.
The Heavenly Gondola is one of the most popular places for skiing.
It has three ski resorts for all skills: basic, intermediate, and advanced skiers.
No matter what your skill is there is a spot for you at Heavenly Gondola when visiting South Lake Tahoe in winter.
Where to Stay in South Lake Tahoe
More Exciting USA Winter Vacation Ideas
Helen, Georgia
By Jillian Michelle of Adventure Dragon
Helen offers a unique winter experience for anyone wishing to experience a little bit of German culture in the middle of the North Georgia Mountains.
This fairytale town is modeled after Bavarian villages of the Alps, and every building is carefully constructed to look like it came straight from a storybook.
You can experience this charming aesthetic firsthand when you buy fresh fudge from the Hansel and Gretel Candy Kitchen or dine under a bridge along the riverfront at Troll Tavern.
There are so many things to do in Helen, and the quirky vibes follow you wherever you go.
December is the best time to plan a USA winter vacation in Helen due to the abundance of holiday activities.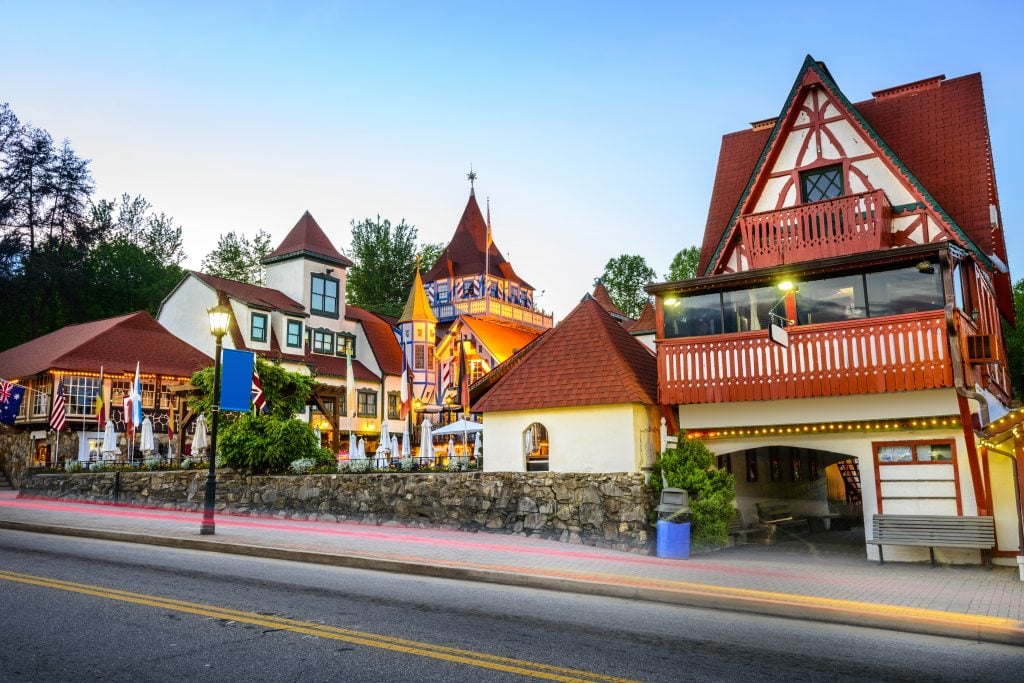 During the holiday season, the town hosts its own Christkindlmarkt, a German Christmas market that's become a popular place for tourists to shop for crafts, gifts, and candies made by local artisans.
There's also an annual parade and a tree-lighting ceremony where kids get the chance to meet Santa.
Nearby there's a local waterfall–Anna Ruby Falls–that's a popular attraction to visit any time of the year.
You'll also find a riverfront park that offers a relaxing place to go for a stroll beside the cascading water.
You can watch live glassblowing demonstrations downtown, mine for gold, or visit the most photographed landmark in the town–an authentic, working windmill!
Where to Stay in Helen, Georgia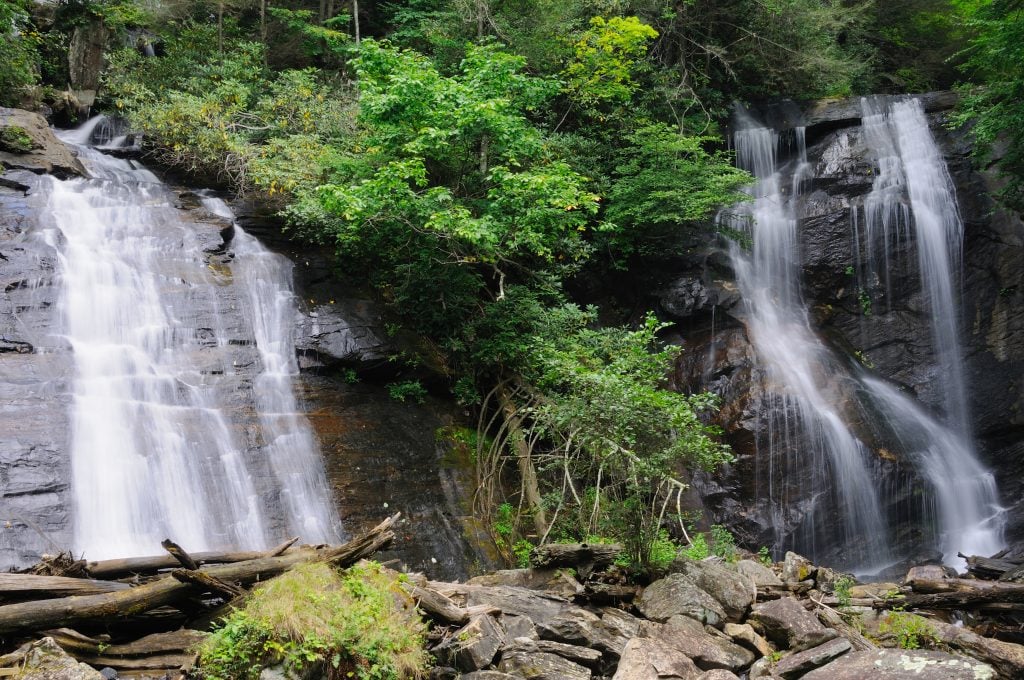 Solvang, California
From Reshma of The Solo Globetrotter
Solvang, located in southern California, is one of the best winter destinations in the USA if you are looking for a colorful, European-style Christmas holiday with your family or a romantic winter getaway with your special someone.
Located in Santa Ynez Valley, Solvang is famous for its Danish-style architecture and rich history.
Thanks to its Danish founders, the city is also renowned for Danish culture and celebrates many festivals, especially in winter.
The weather is pleasant in winter, and the fall and winter months are the popular seasons for enjoying the city at its liveliest.
If you are traveling during the second weekend in December, participate in the Solvang Christmas Parade, a beautiful event where the whole town is decorated.
Julefest is an exciting festival in Solvang that lasts from the last week of November to the first few days of January.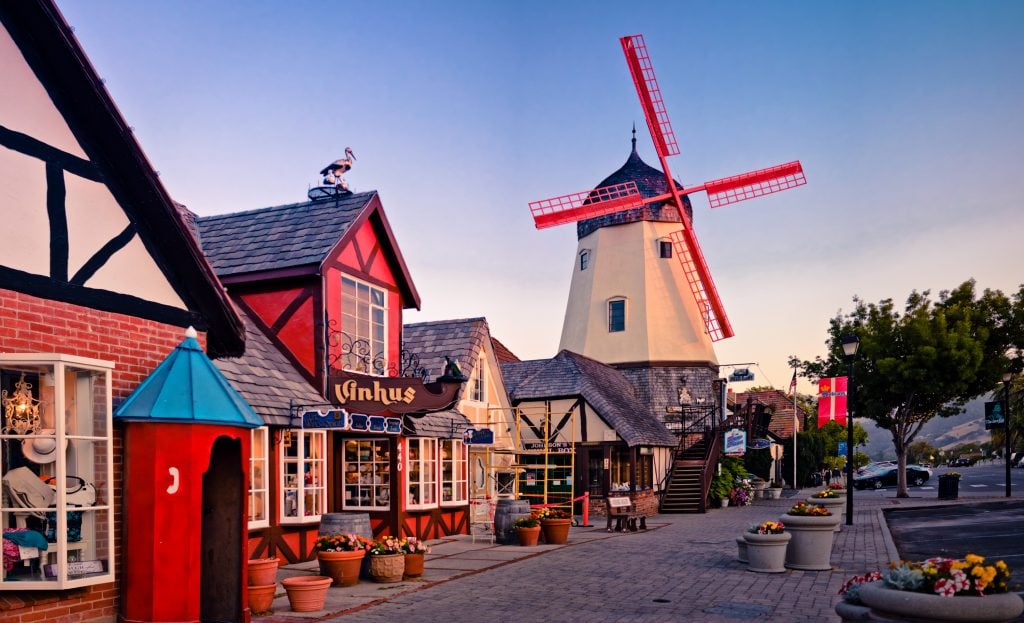 During Julefest, Solvang transforms into a Christmas paradise with loads of fun activities, from laser shows, light displays, lighting up the streets, candlelit tours, touring Santa's village, and fun games like a scavenger hunt for a Danish gnome.
There are many amazing things to do in Solvang in winter, with something for every type of traveler.
Explore downtown, home to many famous bakeries known for their Danish bakes.
Check out the traditional windmill and heritage landmarks in the center, including the Old Mission Santa Inés, an early-1800s Franciscan church.
Visit the Elverhøj Museum of History & Art to get to know the town's history.
Book tours to vineyards in Santa Ynez Valley, one of Central California's most famous wine regions, home to ancient wineries surrounded by rolling hills and lush groves. 
Where to Stay in Solvang, California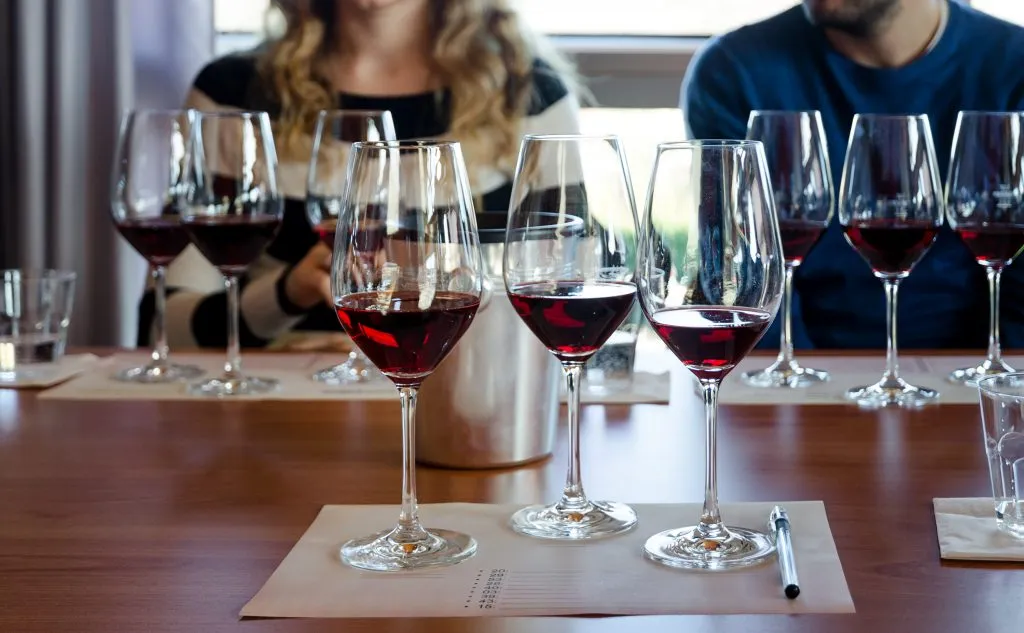 Kennebunkport, Maine
From Disha of Disha Discovers
Kennebunkport, Maine is a hidden gem for winter travel in the USA.
It's a quaint and cozy town that looks like it's straight out of a storybook.
This off-the-beaten-path gem offers plenty of outdoor activities to enjoy during the winter, including snowshoeing, cross-country skiing, and ice skating on one of the many ponds dotting the landscape.
When you need a break from all the outdoor activities, visit one of Kennebunkport's many shops and boutiques on Dock Square or curl up in front of the fireplace with a good book from one of the local independent bookstores.
Kennebunkport is one of the best Christmas towns in the USA, and you're in for a real treat if you're lucky enough to visit during the holiday season.
The Christmas Prelude is a festive multi-day event that includes caroling, a tree lighting ceremony, Santa visits, and more.
Last but not least, winter is a great time to take advantage of Kennebunkport's luxurious inns and cozy bed and breakfasts since it's quieter and less crowded than in the summer.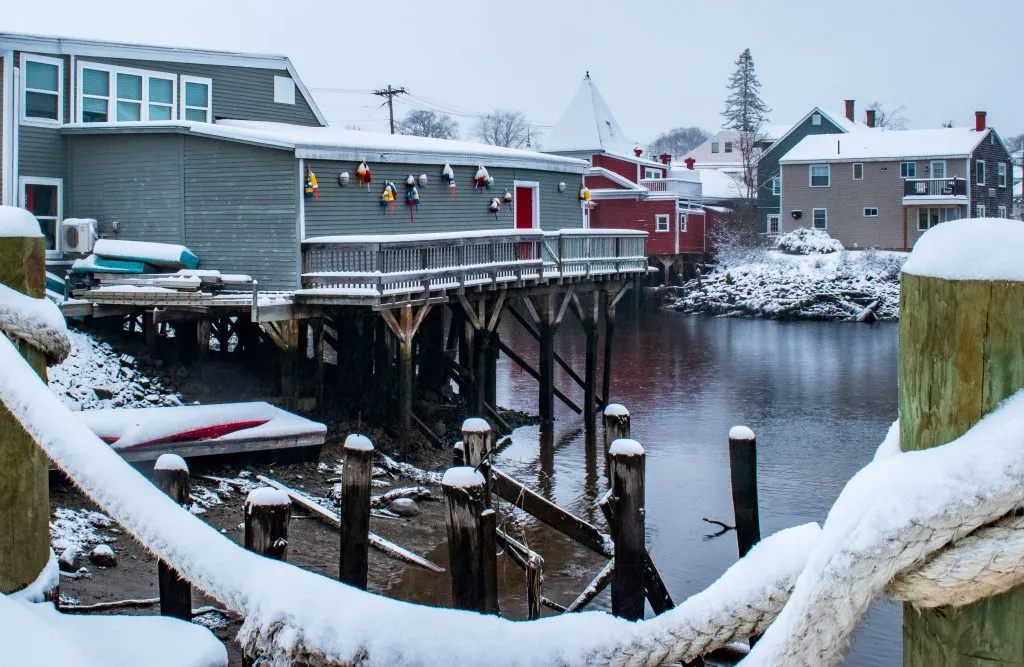 Snuggle up by the fireplace in your room after a long day of exploring and enjoy all that this charming town has to offer.
Other fun things to do in Kennebunkport include watching the sunset from the Mathew J. Lanigan Bridge, learning about the history of the trolley in Maine, and visiting Walker's Point, which is former President George W. Bush's estate.
Finally, Kennebunkport is home to several beautiful beaches, including Gooch's Beach, Colony Beach, and Mother's Beach.
Bundle up to enjoy a peaceful beach stroll in the winter!
Where to Stay in Kennebunkport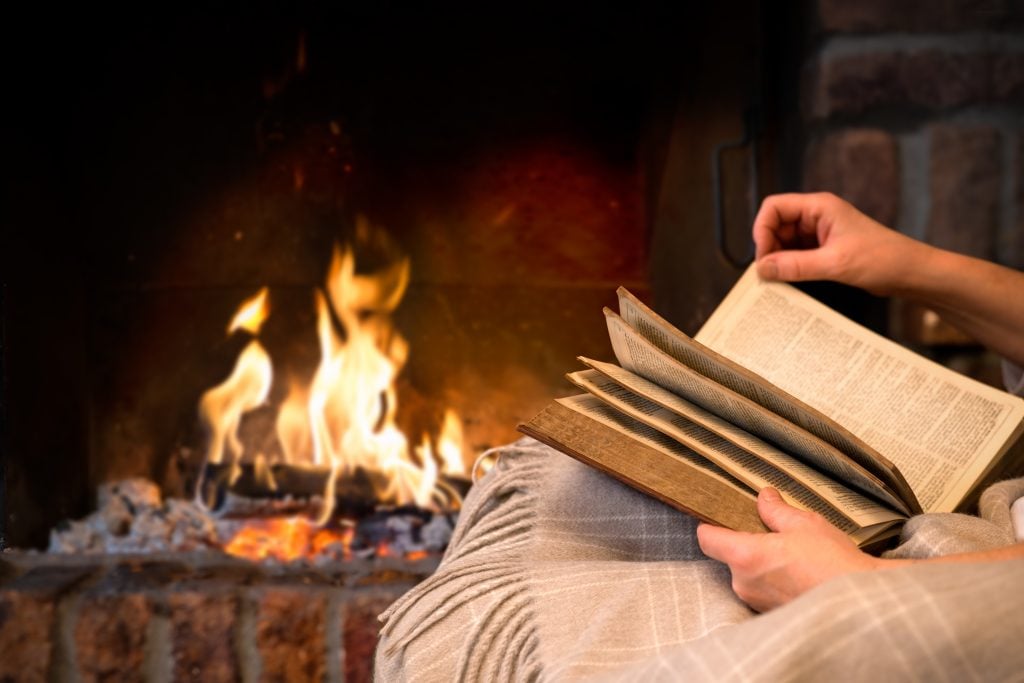 Palm Springs, California
From Kristin of Global Travel Escapades
Are you in need of a warm getaway this winter season?
If so, consider making Palm Springs your next destination for a warm winter vacation in the USA.
Throughout most of the year, the desert region experiences sweltering hot sunny days with little reprieve.
However, during the wintertime, the average temperature in Palm Springs is about 70 degrees.
This makes it the perfect place to escape the cold and snow of other parts of the country.
Plus, Palm Springs is filled with an assortment of fun things to do.
One popular activity is to spend the day with over 500 desert animals at The Living Desert Zoo and Gardens.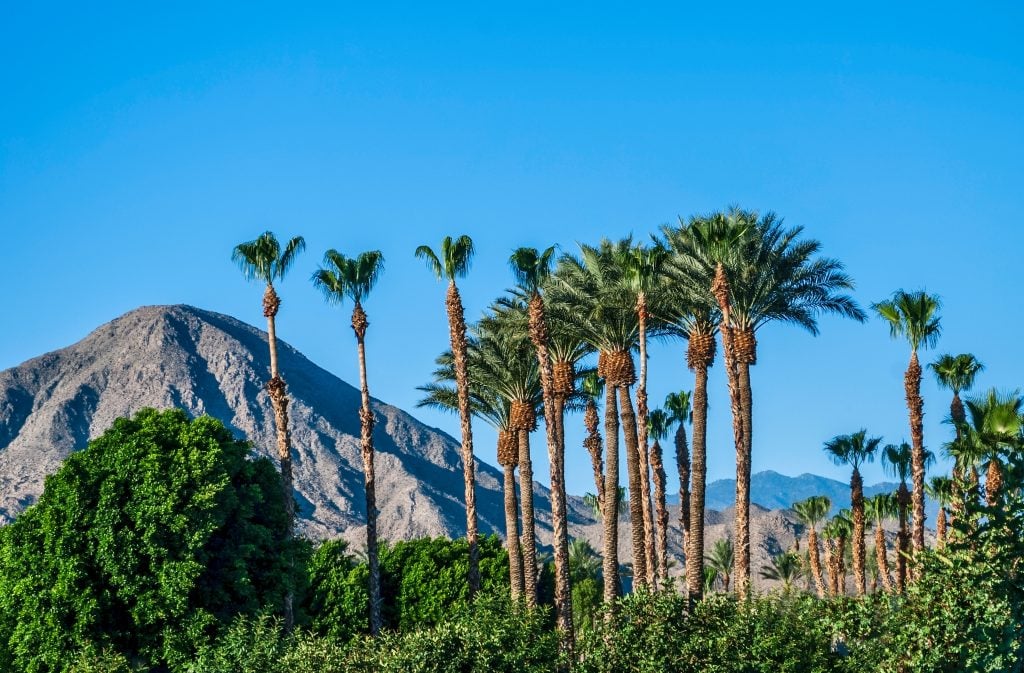 Here, visitors can not only observe the animals up close but also feed giraffes and groom several Nigerian dwarf goats.
The Living Desert Zoo and Gardens also regularly puts on a light show in the evening, making it a great activity for anyone looking to get into the holiday spirit.
Another attraction in the area is the Palm Spring Air Museum, which is a must-see for any aviation enthusiast.
The museum includes everything from fighter jets to post-war planes and everything in between.
All in all, Palm Springs is a great place to visit for those looking to escape the cold weather this winter season.
And with an abundance of things to do in the area, you're sure to find something that will fit your interests perfectly.
Where to Stay in Palm Springs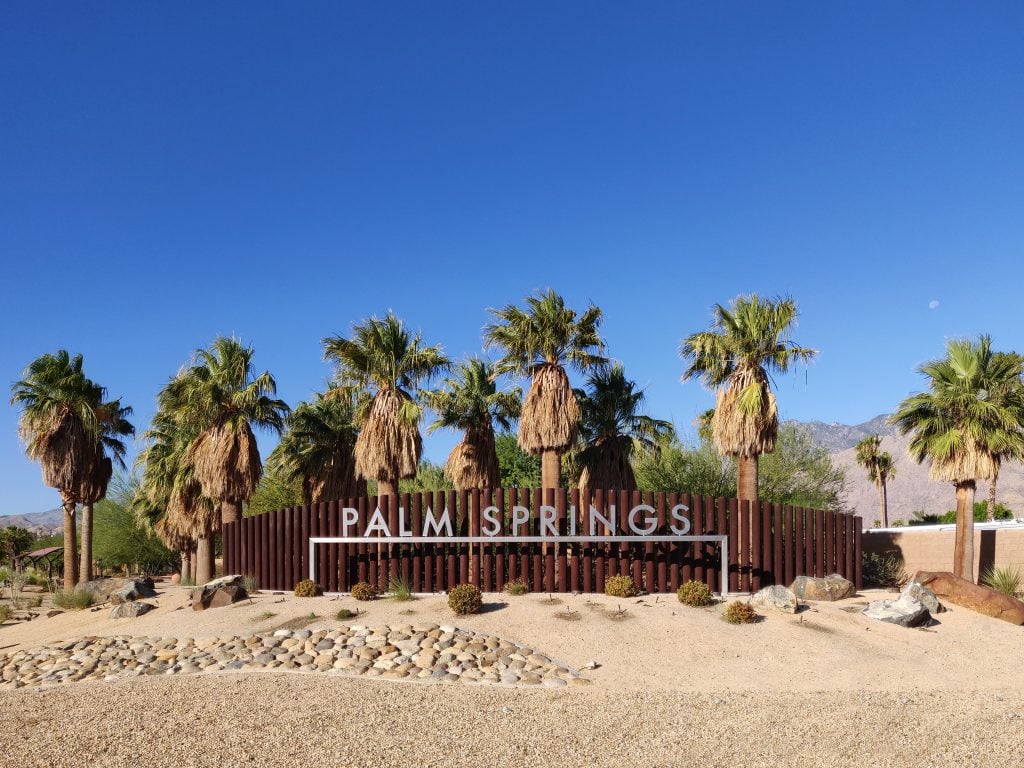 Woodstock, Vermont
From Samantha of New England Wanderlust
Woodstock, VT is one of the most charming and picturesque towns in New England year-round, but in the winter, there's something extra special about visiting.
Whether you're looking for a relaxing cozy getaway in a small town with character at every turn, or you're hoping to get outside to play in the snow, Woodstock has options for everyone.
The best thing to do in the winter in Woodstock is to just enjoy the beautiful town covered in a blanket of snow.
Start your day with breakfast and hot cocoa at Mon Vert Cafe, and then head out into the quaint village to shop at the boutiques and admire the gorgeous houses around town.
You'll definitely want to stop at Middle Covered Bridge right in the village, which makes for the perfect New England photo.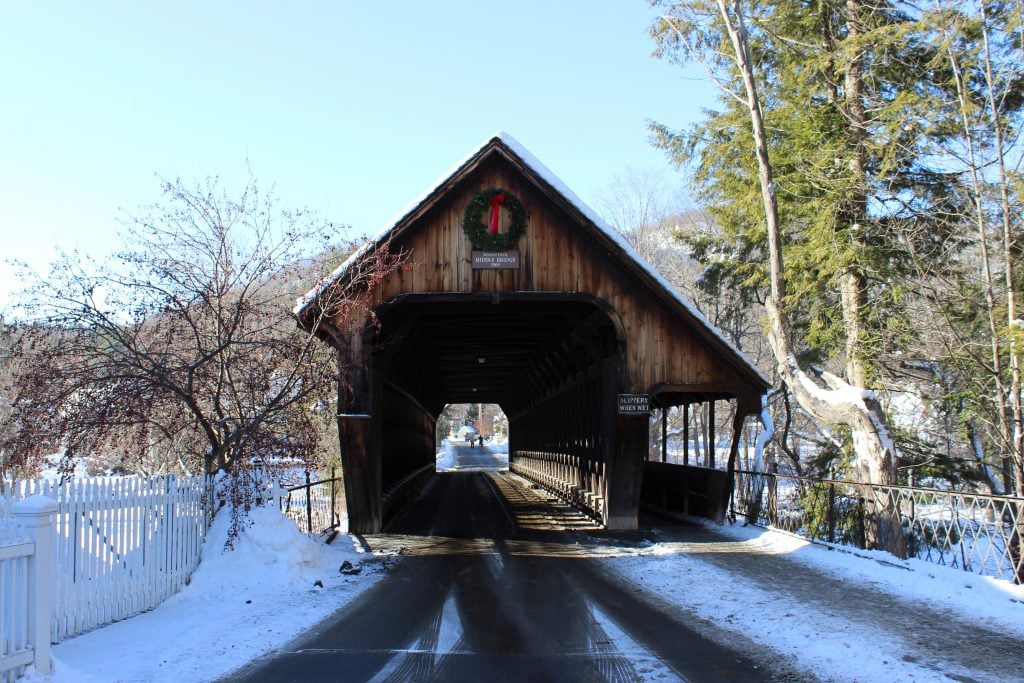 If you're hoping to hit the slopes during your visit, head to Saskadena Six, which is one of the very first ski resorts in the U.S., and is also a great place for beginners if you've never skied before.
But if you're a pro, don't worry! They also have plenty of exhilarating black diamond trails.
In February, you'll want to plan your visit around the Magic of Maple event at the historic Billings Farm & Museum, a working dairy farm with over 250 acres of scenic land to explore.
Watch live demonstrations of sugar-on-snow, a technique where fresh syrup is placed on freezing cold snow and turns into maple candy right before your eyes.
This is one of the coolest things to do in New England in the winter!
To end your trip to Woodstock, you'll want to book a table at one of the town's restaurants for a true Vermont farm-to-table dining experience.
Some awesome places to consider are The Prince & Pauper, The Lincoln Inn, and Malaza Bistro.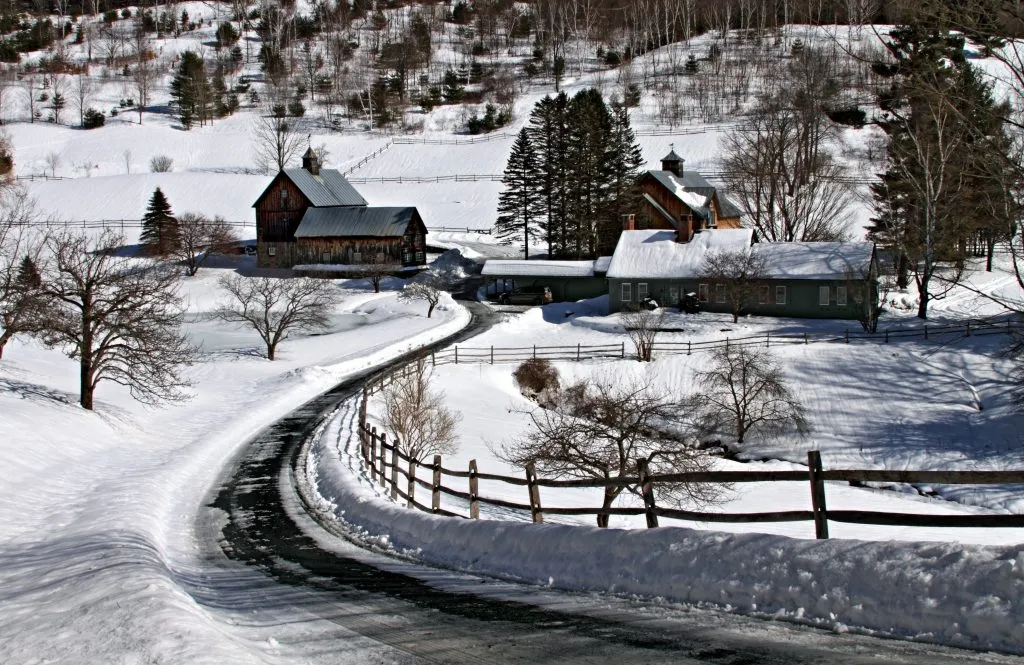 Napa Valley, California
From Tori of Tori Pines Travels
The best USA winter destinations are filled with holiday activities, incredible food and drinks, lots of time for relaxation, and mild weather.
No place does this better than Napa Valley, California.
Spend a whole week here, a weekend, or even just a day trip from San Francisco if you prefer.
The weather in Napa is perfect in the winter, with highs typically in the 50s and 60s.
It's easy to get to Napa, fly into the San Francisco International Airport, and rent a car or hire a driver to go an hour north of the city.
For an added bonus, take the route that leads you over the famous Golden Gate Bridge for the perfect photo opportunity.
Once you arrive in Napa, sit back and relax as you drink your way through the country's best wine.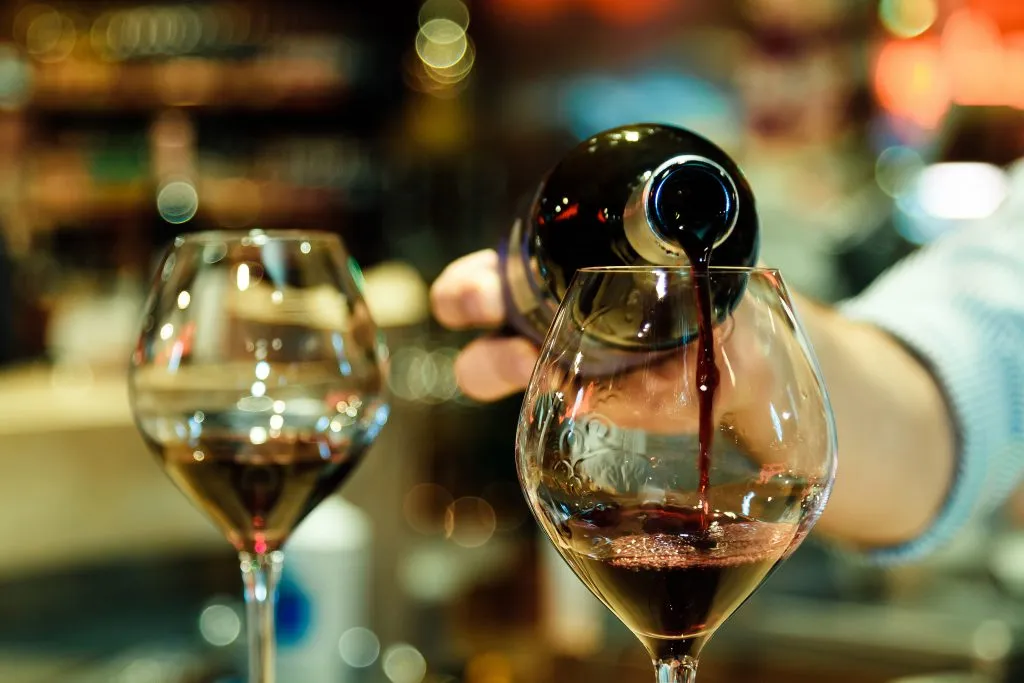 There are loads of vineyards up and down the valley, so pick a few and book tastings. Some favorites include Castello di Amorosa and Frog's Leap.
The holidays in Napa are done perfectly, with many festive events throughout the season, but the best experience is onboard the Napa Wine Train.
A luxury train that takes you through the valley where you can spend a few hours admiring the rolling hills, eating gourmet food, drinking local wine, and meeting Santa himself!
It's a great adults-only or family-friendly experience.
Pick one of the seven Michelin Star restaurants for dinner, or choose one of the numerous informal restaurants in town like Harvest Table, where the menu is seasonal and constantly rotating.
Where to Stay in Napa Valley
To relax in Napa Valley, book a room for a few nights at the Calistoga Motor Lodge and Spa.
You can enjoy the on-site hot springs where you can soak all of your holiday stress away while rejuvenating your skin with natural minerals.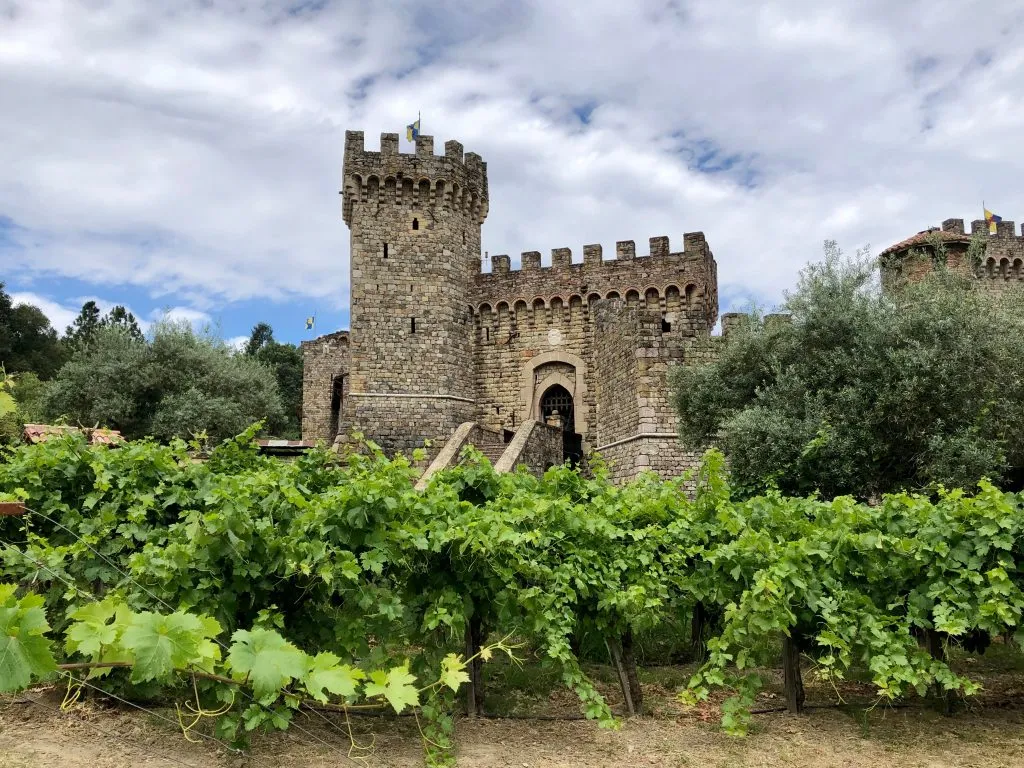 The Florida Keys
From Megan of MeganStarr.com
A fantastic place to add to your USA bucket list during the winter are the Florida Keys.
The Keys are made up of several islands going all the way from the southern tip of Florida to the island of Key West.
This classic Route 1 road trip is one of the most famous in the United States, especially during winter when the tropics have calmed down and there is little to no rain.
There is plenty to do in the Florida Keys year-round, and some of the top places to visit during a road trip are Bahia Honda State Park, Key West, Key Largo (home to John Pennekamp State Coral Reef State Park), Islamorada, and Marathon.
If you're into scuba diving, Marathon is one of the most famous places to go in the country (and snorkelers will love an excursion off of Key Colony Beach in the Middle Keys near Marathon).
Once you make your way to Key West, you'll find an array of things to do, such as taking a day trip to Dry Tortugas National Park, kayaking through mangroves, and snorkeling in the blue waters off the coast.
However, if you are around during winter, especially in December, there will be plenty of festivities to keep you occupied!
Be sure to watch the New Year's Conch Shell drop at Sloppy Joes on Duval Street, attend the I Love Stock Island Festival, and take a Holiday Historic Inn Tour.
Don't leave the island without a stop at Kermit's Key Lime Shoppe for some of the best key lime pie in Key West!
With the mosquitoes in hibernation and the rain long gone, winter is definitely one of the best times to visit the Florida Keys!
Where to Stay in the Florida Keys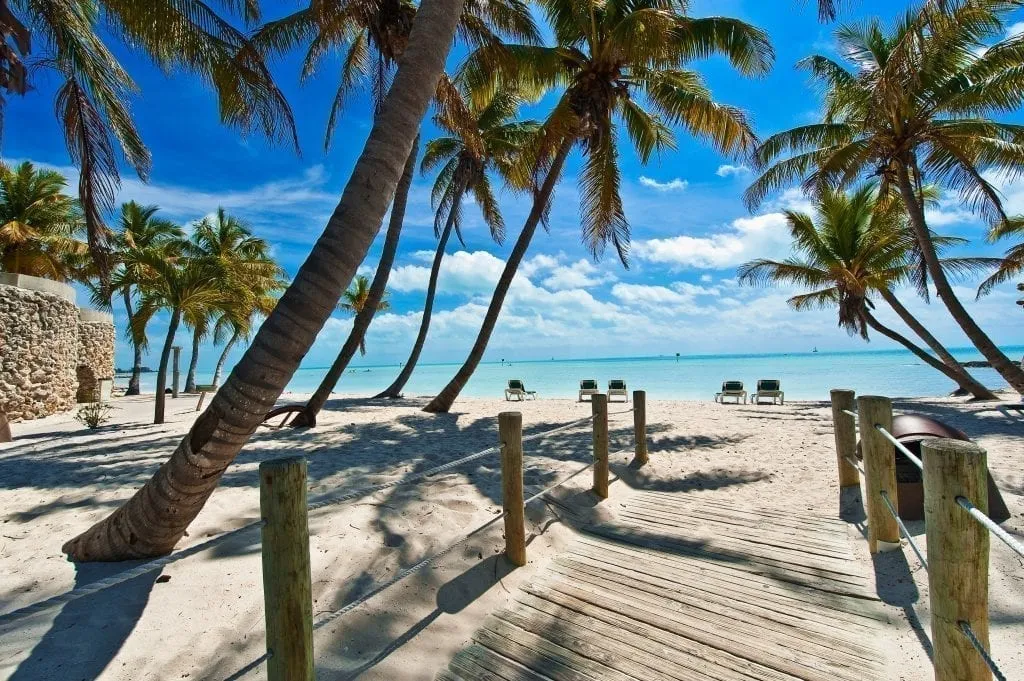 Sedona, Arizona
From Maggie of The World Was Here First
Known for its beautiful red rocks and New Age vibes, visiting the Arizona town of Sedona in winter is one of the best times to head to this gorgeous place.
Sedona is one of the most popular places to visit in the entire state but the crowds decrease significantly in the winter months, making it an appealing time of year to visit.
Expect the winter months to be a bit chilly but not overwhelmingly cold. Mornings and evenings are cold, with average lows landing around freezing.
Temperatures do warm up throughout the day, however, and it can be incredibly pleasant with average highs landing at around 60°F (16°C).
One of the best things to do during the winter months in Sedona is to hit the hiking trails.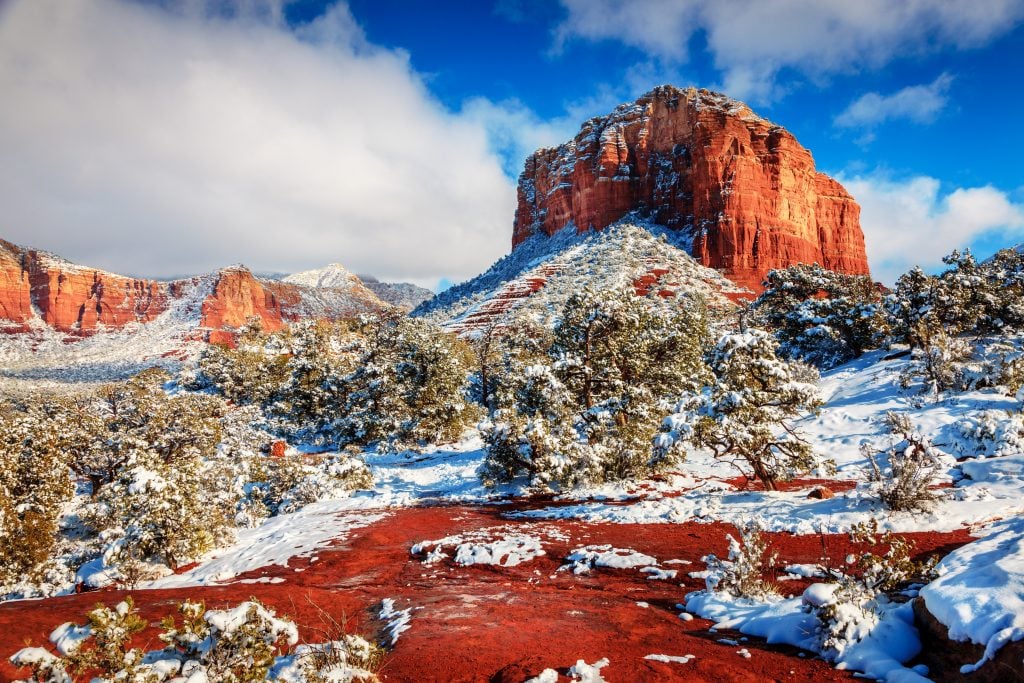 Because the summer can get very hot, it can be a lot more pleasant to go for a hike in the cooler months in Sedona.
Some of the most popular trails in the city include the Devil's Bridge Trail and the Cathedral Walk Trail.
Keep in mind that some trails (particularly the West Fork Trail) can get quite icy, so do be aware of this.
If you're looking to escape the cold, make sure to hit the shops at the renowned Tlaquepaque Arts & Shopping Village. There are lots of galleries and local storefronts to enjoy in this area.
All in all, visiting Sedona in the winter is a great idea if you want to experience this beautiful Arizona town with fewer crowds than in spring or summer.
Where to Stay in Sedona