Want to take a festive getaway this December but aren't sure where you want to go?
We teamed up with several other travel bloggers to create this bucket list of the best Christmas vacations in the USA, from classic white Christmas destinations to beach getaways that will have you pulling out your bathing suit and abandoning your heavy coat at home.
No matter what kind of vacation you're looking for, there's a US Christmas getaway here for you!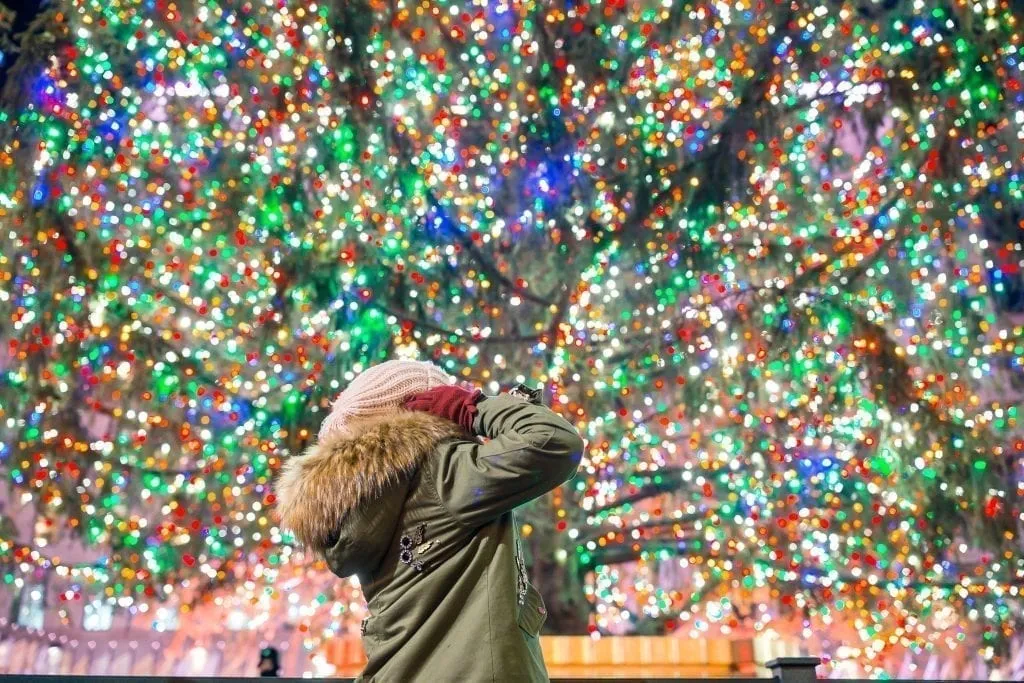 Coolest Cities for Christmas Vacations in the US
Washington D.C.
From Lara of Both Feet on the Road
If you are looking for the best USA Christmas trips, a visit to the National Christmas Tree in Washington D.C. has to be added to your bucket list!
For nearly 100 years, the lighting of The National Christmas Tree near the White House has been a tradition. With famous singers, the enormous tree, and spectacular lighting ceremonies are a must for all Christmas-lovers in Washington D.C.
However, even if you're not there at the opening lighting ceremony, you can admire the gigantic Christmas tree from 12-10 until the beginning of January.
The National Christmas Tree is surrounded by handmade Christmas ornaments representing all U.S. states and territories. Every night there are different musical performances around the tree. The lights or on between 4:30-10:00 P.M., so make sure you also visit in the evening for the best experience.
Besides ticking "visiting the National Christmas Tree" off your bucket list, there are a number of other great festive things to do in Washington D.C. around Christmas.
Including visiting one of the many Christmas markets, the festive lights at the National Zoo, the Georgetown GLOW, the U.S. Capitol Christmas tree, the Union Station tree, the Library of Congress Tree, The City Center Tree or the Botanic Garden Tree.
All beautiful festive decors to help you get in the holiday spirit!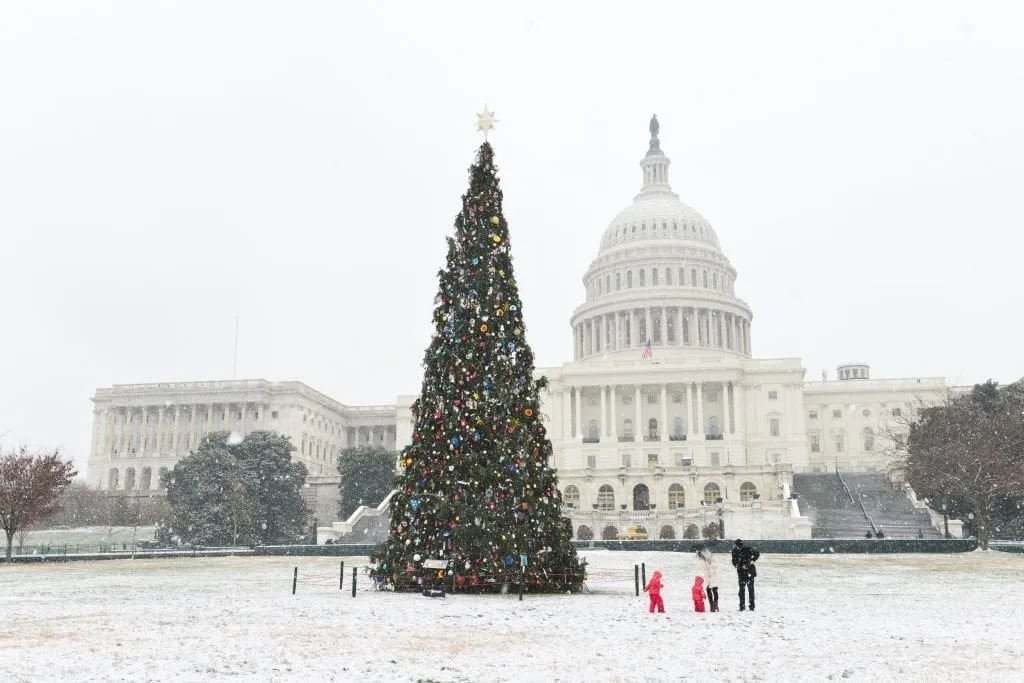 Chicago, Illinois
From Diana of Travels in Poland
Chicago is a beautiful place to visit for Christmas in the United States. As a city that tends to be quite cold in the winter, the chances of snowfall or cold weather are pretty much guaranteed. The city itself goes all out in creating a festive atmosphere for its residents as well as out of town visitors.
Chicago has an official tree lighting ceremony at Millenium Park every year. Typically the tree lighting is accompanied by musical performances. Millennium Park is also a short walk away from the German Christkindlmarket at the Daley Plaza which mirrors Christmas markets in Germany. There are dozens of booths, representing different parts of Germany in food and artisan items.
Chicago also has ZooLights at Lincoln Park Zoo as well as the Magnificent Mile Lights Festival. The latter has about one million lights adorning Michigan Avenue and creates an illuminated atmosphere during the Christmas season.
Not too far away is the Winter Wonderfest at Navy Pier where visitors can experience a festive and decorated pier with numerous holiday attractions geared towards kids and families. The Museum of Science and industry also hosts an exhibition where trees are decorated to showcase the way other countries and cultures celebrate the holidays.
Regardless of what one may choose to do, being in Chicago during Christmas is magical and an experience unlike anywhere else.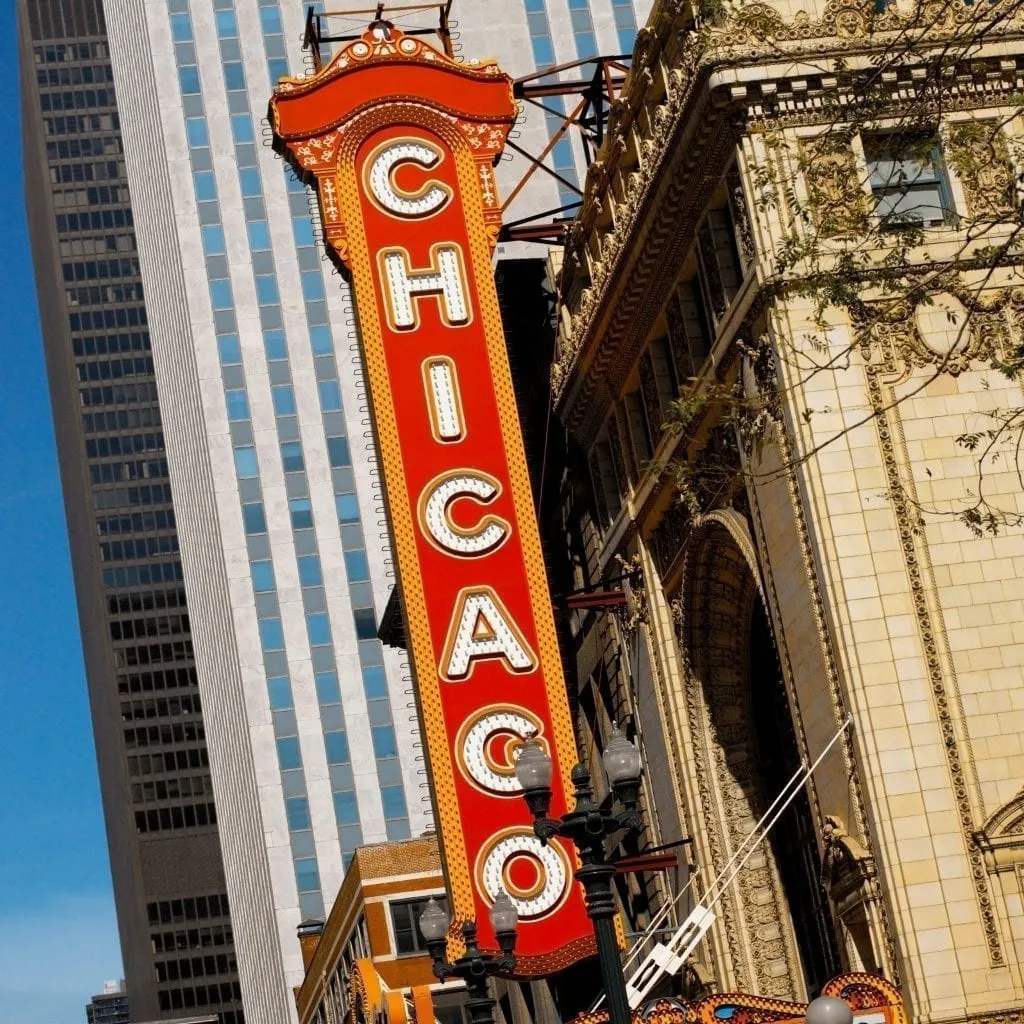 New York, New York
From Anisa of Two Traveling Texans
New York City does Christmas better than any other city in the world. The fabulous decorations, holiday markets, ice skating rinks, and special events all over the city are worth the trip! If NYC can't put you in the holiday spirit nothing will!
When it comes to decorations, the Rockefeller Center Christmas Tree is the most famous, but you should also check out the holiday windows at the big department stores likes Saks, Macy's, and Bergdorf. If you want to venture outside Manhattan, the residents of the Dyker Heights neighborhood in Brooklyn go all out!
If you are looking to buy gifts, check out the Bryant Park Holiday Market. You will find lots of boutique shops, delicious food, and even ice skating. Speaking of ice skating, there are several rinks in Manhattan. The Rockefeller Center one will be the most crowded, but you can also go to the one in Central Park.
One of the most popular Christmas traditions in NYC is the Rockettes Christmas Spectacular. The dancing and special effects are inspiring. Another special event is the Holiday Train Show at the NY Botanical Gardens. You can see miniature versions of many iconic landmarks.
This is just the tip of the iceberg, there is so much to see in New York during the holiday season.
Oklahoma City, Oklahoma
From Stephanie of Oklahoma Wonders
Oklahoma City might not be the first place you think of for a Christmas getaway, but there's a lot of special winter activities that take place here during the holiday season.
If you love theater and ballet, your first stop should be the Civic Center Music Hall to see the Oklahoma City Ballet's annual performance of The Nutcracker. This show tends to sell out early, so make sure to buy your tickets in advance.
If you're after beautiful Christmas lights, head to "Downtown in December" which is one of Oklahoma City's most popular festivals. This event also includes an outdoor ice skating rink, snow tubing, and free rides on the water taxi in the Bricktown Canal, as well as one-off parties like the tree lighting ceremony and Mistletoe Market.
You can also see great Christmas Lights in Nichols Hills. If it's a White Christmas, add a drive around Lake Hefner.
If you're a sports fan, you'll love attending a game at the Chesapeake Energy Arena to see the Oklahoma City Thunder. OKC's NBA team is often selected to play on Christmas Day, but even if they aren't at home on Christmas you can typically see a game in the days before or after Christmas.
If you're in town on New Year's Eve, you can head down to Bricktown's Opening Night Festival, the most popular New Year's Eve party in the state.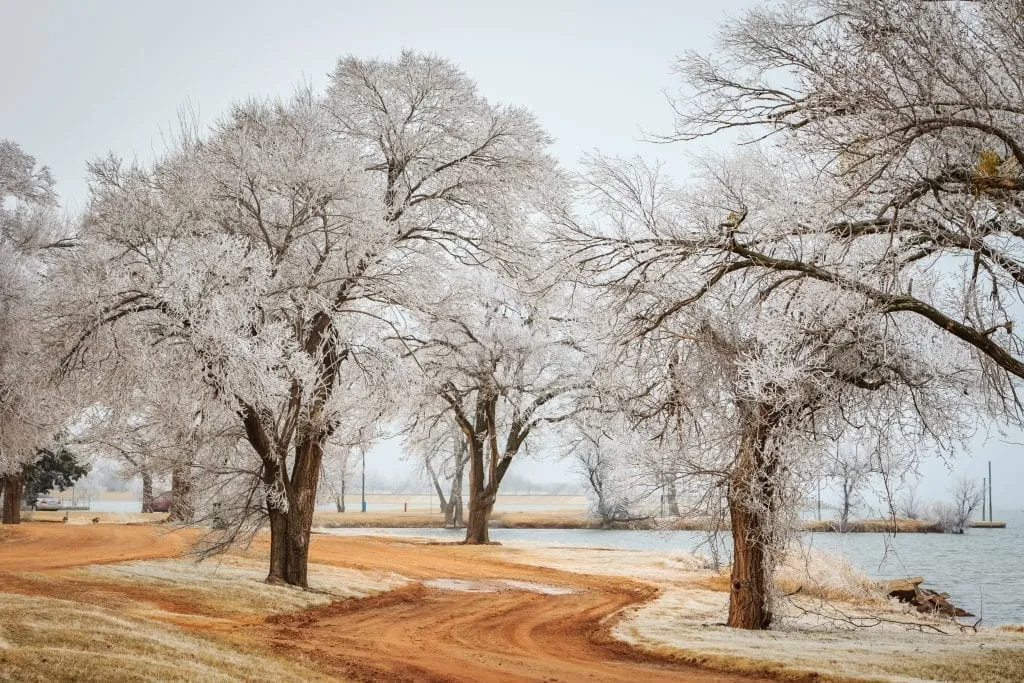 Boston, Massachusetts
New England's largest city is absolutely beautiful year-round, but during the holiday season, Back Bay sparkles a little brighter (with seemingly endless rows of Christmas lights), the already-stately brick homes of Beacon Hill are given a festive facelift, and Christmas trees dot the city.
You'll definitely want to pack your warmest clothes and heaviest coat to explore Boston in winter, but the city's incredible beauty shines bright in December, making Boston one of the best Christmas vacations in the United States.
While you're there, be sure to go ice skating in City Hall Plaza, check out the Boston Pops holiday show, and, if you're into the classics, the Boston Opera House's gorgeous Nutcracker performance.
It's hard to say where the best Christmas light displays are in the city–there are simply too many impressive neighborhoods to count–but the Boston Common, Fanueil Hall, Quincy Market, the North End, and of course, Back Bay and Beacon Hill as mentioned above, all deserve a wander.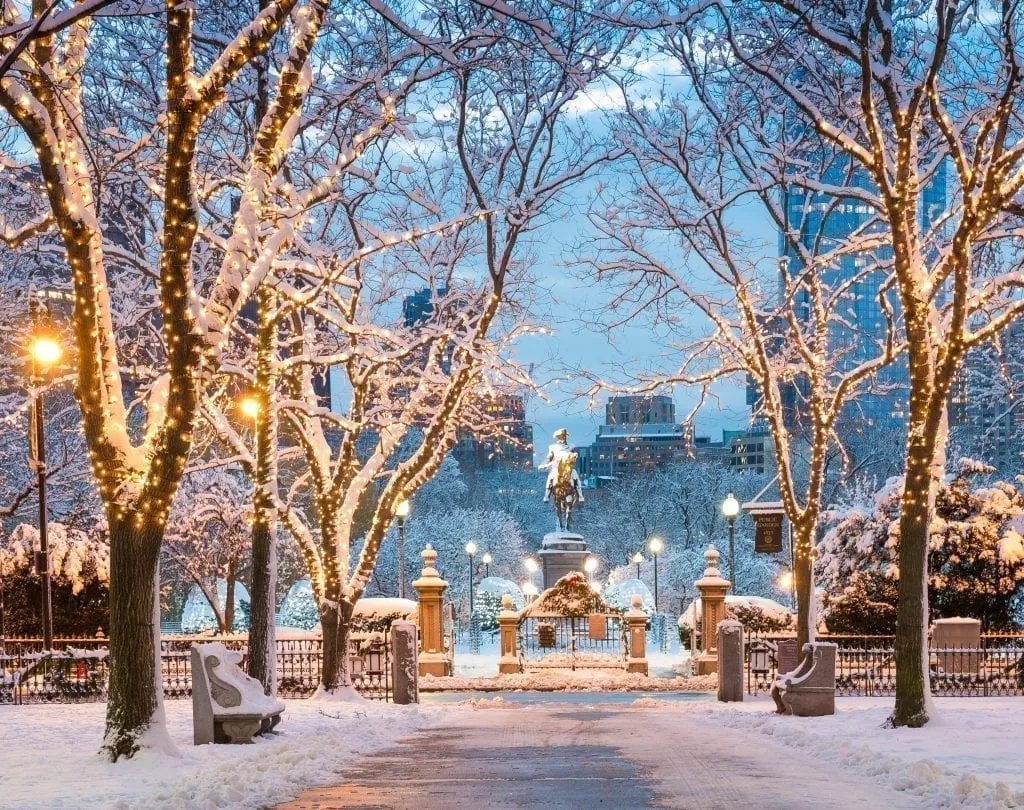 Philadelphia, Pennsylvania
From Derek of Robe-Trotting
Philadelphia is a wonderful city break to turn into a festive USA Christmas trip.
During the holiday season, Philadelphia comes alive with decorations and lights on every street. A Christmas Market springs up in LOVE Park, a wonderful photo spot all year long, as well as on City Hall's Dilworth Plaza.
There's a gorgeous Christmas tree in the City Hall courtyard and an ice-skating rink and hot chocolate stand on the plaza.
Another great destination is the ice-skating rink and Christmas vendors around Penn's Landing. It's larger and often less crowded than the City Hall festivities.
Another great stop for Christmas fun in Philly is the Macy's Department Store on Market Street. Inside you'll find the normal holiday shopping, but on the third floor is Dicken's Christmas Village.
It's a self-guided tour of animatronic scenes from Charles Dicken's classic, A Christmas Carol. There is also a light show and, of course, Santa Claus himself to entertain the whole family.
If you have more time in the city, explore festivities with some day trips from Philadelphia. About 30 minutes outside of the city you can visit Longwood Gardens for their seasonal Christmas displays. Longwood Gardens is a massive botanical gardens complex that celebrates the art of horticulture. For the Christmas season, they dazzle with lights, poinsettias, and even festive performances.
If you drive about two hours west, you can visit the Sweet Holiday Celebration at Hershey Park. The beautiful amusement park reopens for Christmas with rides and a beautiful light display. Downtown or just outside of the city, Philadelphia is a festive place to visit for the Christmas season.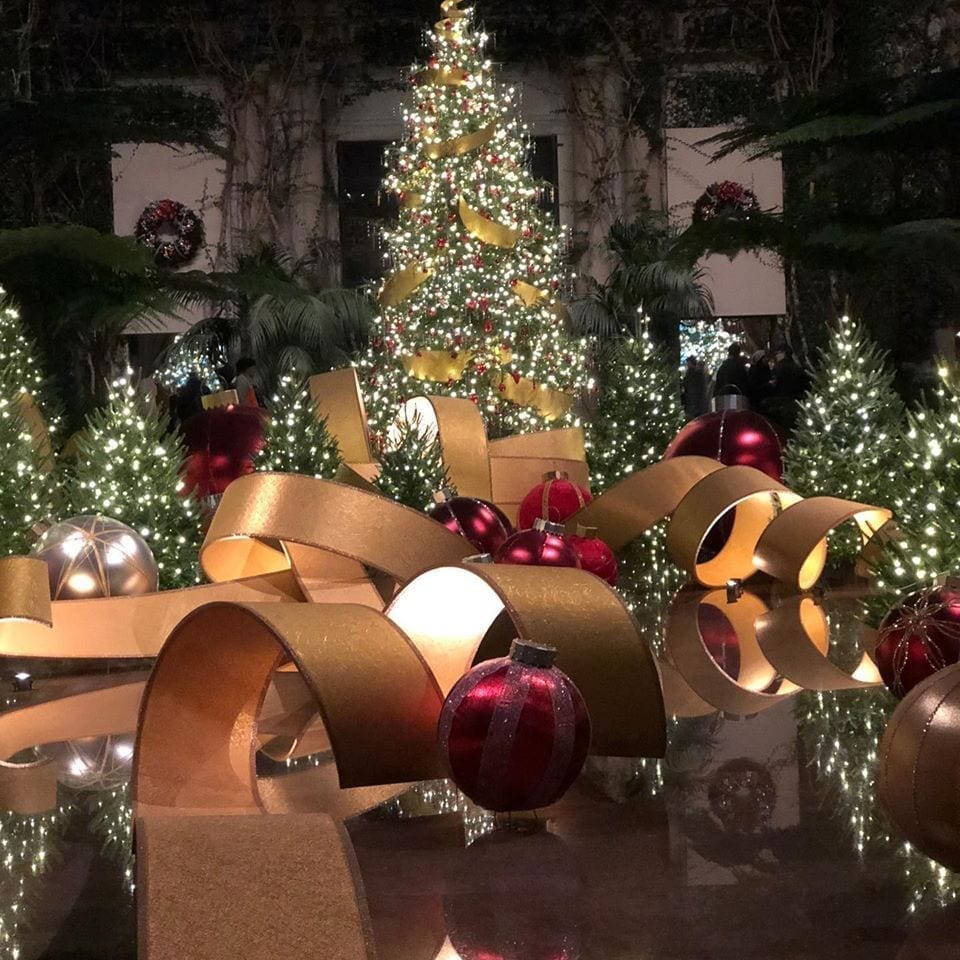 Milwaukee, Wisconsin
From Paulina of Paulina on the Road
One of my favorite Christmas trips in the US is exploring the largest city in Wisconsin: Milwaukee! Already throughout the year, Milwaukee has plenty of things to offer to its visitors. From spectacular museums such as the Milwaukee Art Museum and the Harley Davidson Museum and great restaurants….there is something to do in Milwaukee for every type of traveler.
During the holiday season the entire city lightens up and it's just the perfect setting for long walks.
Some of the best things to do in Milwaukee during winter are taking a brewery tour, go Christmas shopping in Mayfair Mall, and visit Milwaukee Winter Farmer's Market. The mission of the Milwaukee Winter Farmers Market is to connect neighborhoods to fresh, local food – from farm to market to table. The Milwaukee Winter Farmers Market brings together about 50 weekly vendors in the Mitchell Park Domes. The best thing is that here you can taste some homemade dishes too!
If you want to learn more about Milwaukee's brewing tradition, you might consider doing a brewery tour to the best ones. Milwaukee's most famous breweries are among others, Pabst Brewing Company, Miller Brewing Company, or Sprecher Brewing Company. It's a must on any trip to Milwaukee, also during winter.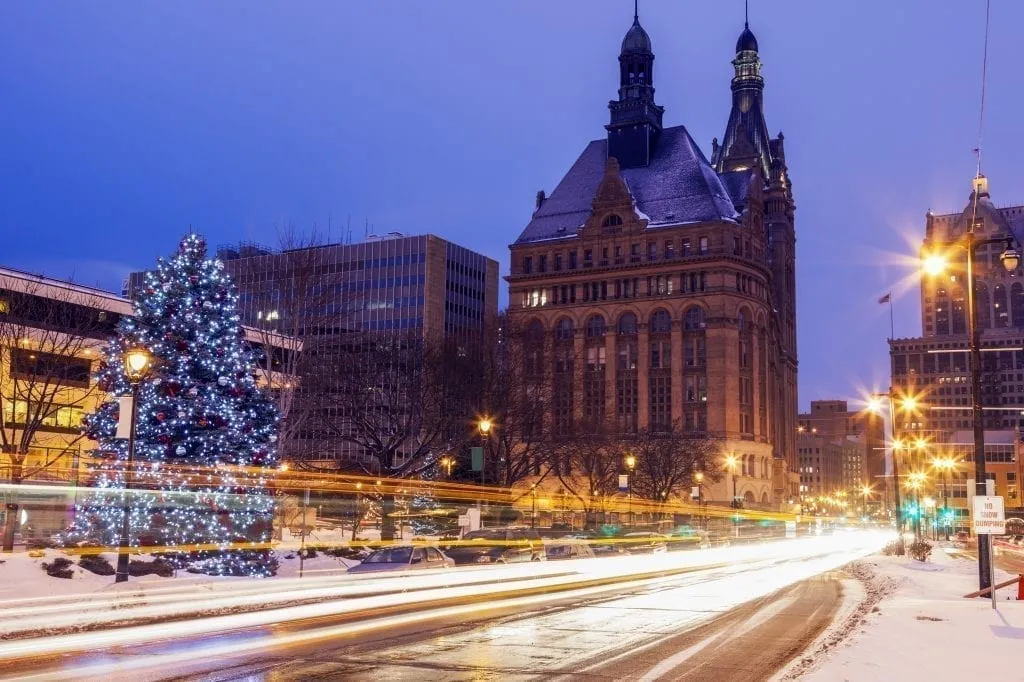 Los Angeles
From Jodie of Ala Jode
Combining beaches, city life, and fun for the whole family, Los Angeles is a great place to spend Christmas.
The weather in California in December is mild and sunny, making it a great time of year to visit, and California has some of the best weather in the state. Despite the sunny weather, your trip to LA won't be lacking any festive spirit. The city knows how to do Christmas in style – what else would you expect from the home of Hollywood? – with puts on a real show.
As well as the Christmas spectaculars put on by local theme parks, LA has a number of Christmassy events to enjoy. Little ones will love riding the Holiday Light Festival Train in Griffith Park, while all ages can enjoy the Christmas lights that stretch from Beverly Hills to West Hollywood.
For foodies, you can also enjoy one of the many Christmas Eve menus available around the city. If you're traveling to Los Angeles as a group, the annual Christmas pub crawl is a must! It's completely free to join and will take you to some of the best restaurants and bars along Long Beach – just make sure you bring your ID (and your Santa costume!).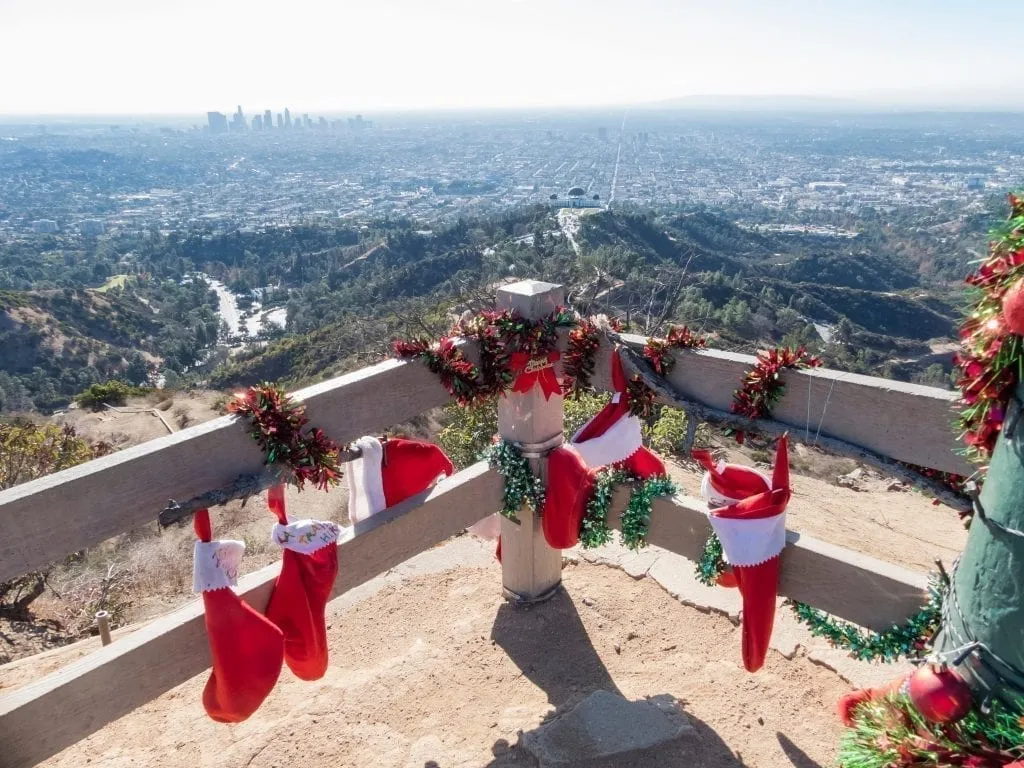 Detroit, Michigan
From Chelsea of The Portable Wife
Detroit may not be at the top of everyone's travel bucket list, but it's a truly magical city to visit at Christmastime. Between the vibrant downtown events, enchanting historic village, and a high chance of snow, you won't regret a Christmas trip to the Motor City.
Downtown Detroit has undergone a large-scale revitalization in the past decade, with the Campus Martius area getting a major makeover. This award-winning urban park transforms into a winter wonderland in December, with open-air ice skating, artisan craft stalls, and a towering Christmas tree. The surrounding streets are also lined with twinkling lights and illuminated branches, making a simple evening stroll into a festive experience.
Just outside the city center lies Greenfield Village, the famous living history museum depicting how Americans have lived and worked since the late 1700s. While nearly two million tourists come here every year to see historical places like Henry Ford's home and the Wright Brothers' bicycle shop, the Holiday Nights event draws in the Christmas crowd.
Every weekend in December, Greenfield Village dials the holiday magic up to 11. Visitors can step back in time as they ride in decorated Model T cars, pass by carolers in old-fashioned dress, and skate beneath the stars. All of the historic buildings are decked out in garland and lights, and the smell of roasted chestnuts wafts through the air. It's one of the closest places you can get to a European winter break without leaving the country!
San Antonio, Texas
From Ketki of Dotted Globe
San Antonio, located in southern Texas, is famous for its rich history and Spanish colonial heritage. It is home to many Spanish frontier missions including the famous Alamo, the beautifully landscaped Riverwalk, and many famous museums.
The city has amazing markets including the Farmer's Market in Pearl District and the Historic Market Square which has a variety of Hispanic goods. San Antonio is also a great destination for a family vacation with theme parks such as SeaWorld San Antonio and Six Flags located within the city. The San Antonio Zoo is also a great place to take the little ones.
While San Antonio is a year-round destination, it is especially lovely to visit San Antonio in winter, when the Riverwalk trees and bridges are decorated with a million lights. There is nothing more romantic than taking a stroll along the Riverwalk during this wonderful time of the year.
The Riverwalk restaurants have music and great Mexican food while the neon-lit riverboats add to the ambiance. The Christmas magic is present all over the city and even the horse carriages near the Alamo are decorated with fairy lights.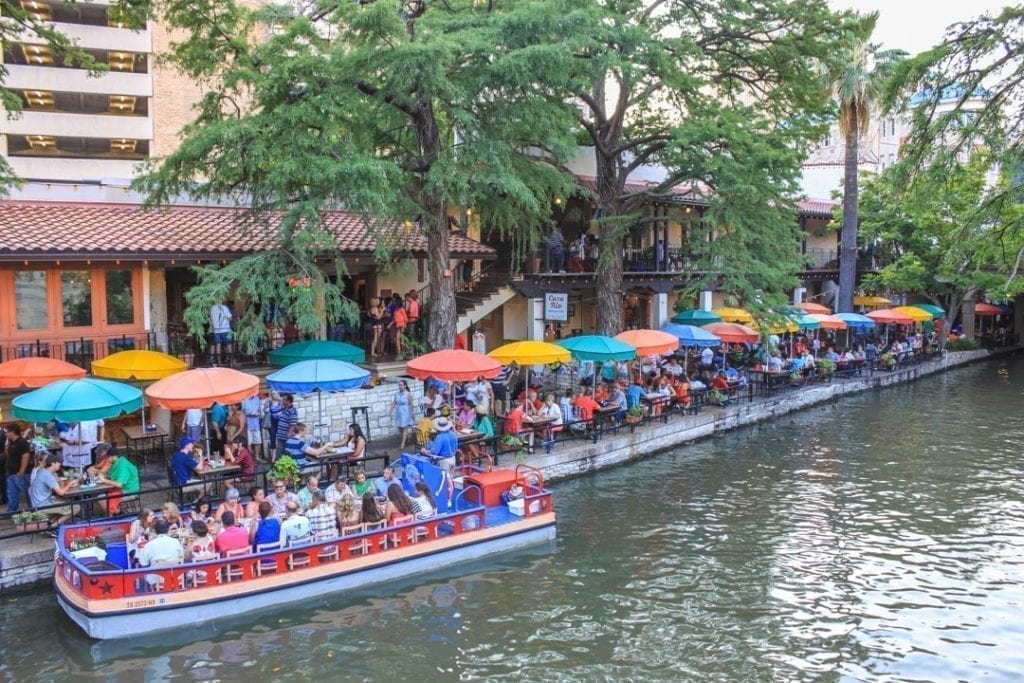 Charming Small-Town Christmas Getaways in the USA
Leavenworth, Washington
From Marissa of Postcards to Seattle
When you're looking for a getaway around the holidays, head to Washington State's small town of Leavenworth.
Located in the heart of the Cascade Mountains, you'll feel like you've gone to Germany with the Bavarian theme here. All the storefronts have a European feel to them, and you'll be delighted to find multiple sausage stands and beer gardens.
Christmas is the best time to visit Leavenworth, as the entire town is decorated in lights. You can find traditional German music and Christmas carols playing with musicians dressed in Lederhosen during the weekends. Mulled wine and spiced nuts are also sold this time of year for a special treat that makes you feel like you're at the German Christmas markets.
Kids will love sledding down the hill in the middle of town during the day. You can also visit the Gingerbread Factory and the Nutcracker Museum to take home a few souvenirs.
Speaking of nutcrackers, the whole family can go on a nutcracker hunt during this time of year to find a list of nutcrackers hiding around the museum. You won't want to miss out visiting Leavenworth in the winter.
Colonial Williamsburg
From Darcy of Plan, Ready, Go
Asheville, North Carolina
From Stephanie of Explore More Clean Less
Asheville, North Carolina is a quiet, quirky city with stunning mountain views and wonderful Christmas events!
Weather is typically mild and snow is rare, making it a nice escape from northern winds.
The main tourist attraction, the Biltmore Estate, goes all out with a replica gingerbread house and more than 55 decorated trees throughout the house and grounds. There are special tickets for candlelight tours with live choral singers but visiting during the day is special too!
The North Carolina Arboretum puts up a huge winter lights display that makes for a lovely night (but buy tickets early!) drinking hot cocoa. Strolling through the garden is extra special when it's decorated with over half a million twinkling lights in different, creative displays.
Kids will love the festive model train and free crafts to make while watching the animatronic winter animal show!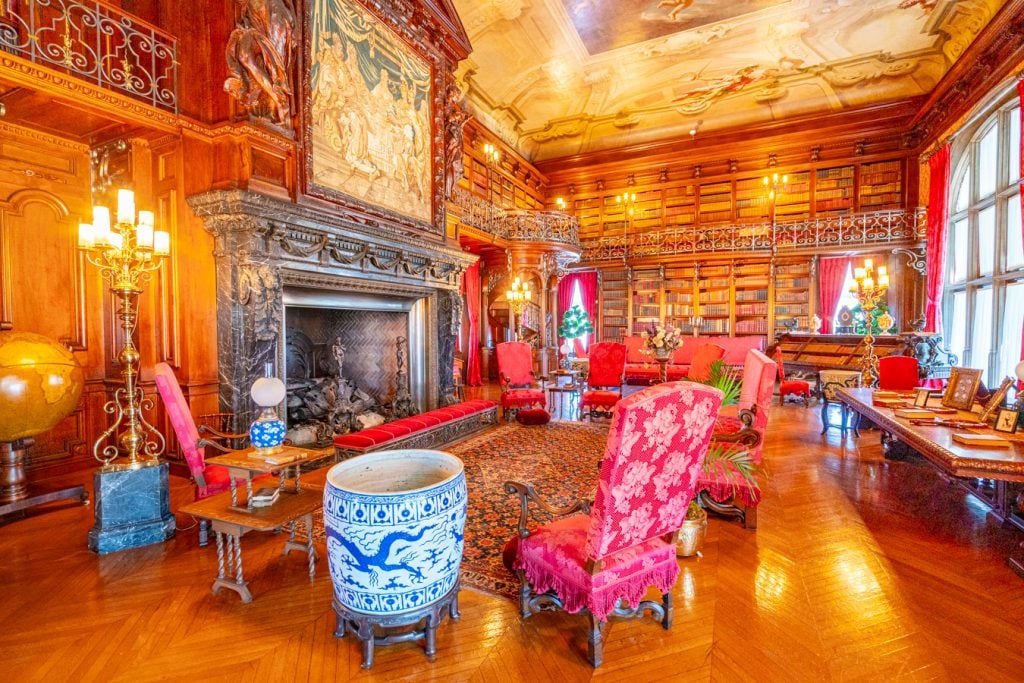 Downtown Asheville puts up lots of lights while musicians play holiday music on the street, perfect for dinner and stroll before you check out the famous National Gingerbread House Competition at the Omni Grove Park Inn!
Browse the content entries from young kids up through professional adults after you grab some cookies from the life-size gingerbread house concession stand.
The mild weather won't keep you from hiking to see waterfalls or mountain views, so be sure to pack a hat and make time to take an easy hike around Asheville before you head home.
Nature-Focused Christmas Trips in the United States
The Rocky Mountains, Colorado
From Meg of Fox in the Forrest
When it comes to beautiful mountain scenery, it doesn't get much better than the Colorado Rockies. Of course, you can find world-class skiing and snowboarding at one of Colorado's many ski resort towns. However, there are lots of other activities to enjoy when you need a break from the slopes. Visit one of the many beautiful Colorado winter hikes, take a dip in a famous hot spring, visit one of four National Parks, or take a snowmobiling tour.
There are lots of different mountain towns that make the perfect place to spend Christmas in Colorado. For those that like an upscale feel, check out Vail or Aspen. There's plenty of family-friendly fun to be had at Winter Park, Copper Mountain, Keystone Resort, and Steamboat Springs.
Those that want plenty of options simply must base themselves out of Frisco or Dillion where you can access Loveland Ski Area, Arapaho Basin, Keystone, Breckenridge, and more.
There's no wrong answer when it comes to spending Christmas in Colorado. With so many different places to choose from, you'll find plenty of winter-filled adventures that are suitable for almost any budget. If you love having a white Christmas and you're looking for an iconic mountain landscape, look no further than the Colorado Rockies.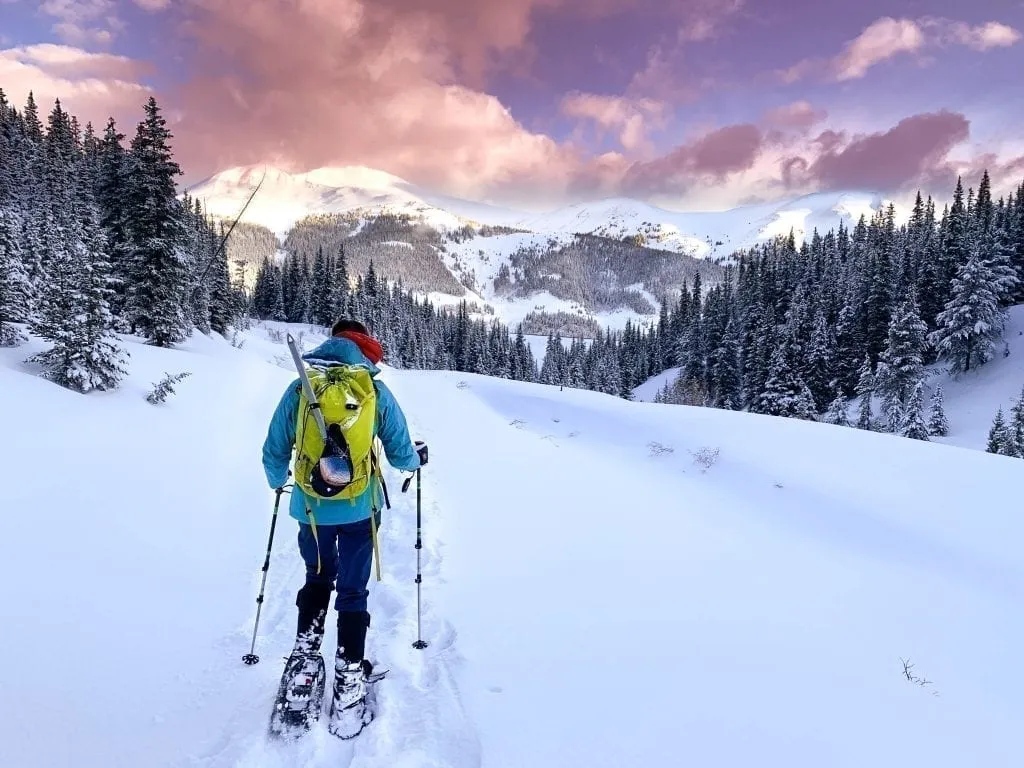 Yosemite National Park, California
From Allison of She Dreams of Alpine
If you're looking for a natural winter wonderland, Yosemite National Park is an absolutely magical place to visit during Christmas time.
Most people think of Yosemite as a summer destination, with visitors coming from all over the world to take in the awe-inspiring views of giant granite walls and to hike the best trails in Yosemite. However, a little-known secret about Yosemite is that it becomes uniquely breathtaking in the wintertime. Seeing the iconic monoliths of Half Dome and El Cap dusted in snow is a very special experience.
Also, winter in Yosemite features fewer crowds and a more relaxed atmosphere, as everyone gets into the holiday spirit.
If you visit Yosemite for Christmas, you'll have lots of fun winter adventure options to choose from, from snowshoeing to ice skating to skiing at Badger Pass Ski Area. Plus, the Majestic Yosemite Hotel, Yosemite Valley Lodge, and Big Trees Lodge all celebrate the season with Christmas festivities and grand holiday dinners.
Grab your winter gear and head to Yosemite National Park for a magical and merry Christmas experience you'll never forget!
Whitefish, Montana
From Jenn and Ed of Coleman Concierge
Everybody dreams of a white Christmas. It brings back memories of a simpler time when people still carol in the streets, and miracles wait around every corner. That spirit of Christmas past is alive and well in Whitefish, Montana.
The Whitefish Christmas season officially begins on the first Friday in December with the Whitefish Christmas Stroll. Carolers are singing, bells are ringing, and chestnuts are roasting on open fires. What's more, snow is already falling on the slopes of Big Mountain, which are visible from the decorated streets of the old fashion downtown. It's a white Christmas, just like the ones you used to know.
The freshly fallen Christmas snow is perfect for Whitefish's primary winter passion, skiing. Big Mountain is perhaps the best place to learn to ski in America. Besides having the perfect skiing snow from the moist Pacific air hitting the Rocky Mountains, Big Mountain also has an incredible learn to ski package where you get two half-days of skiing, including lessons and rentals for under $100. There are many things to do in Whitefish for every season, but Christmas is special.
Jackson Hole, Wyoming
From Sarah of Lets Grow Cook
The Wyoming town of Jackson is a simply awesome place to spend Christmas. Not only do you have 3 ski areas on your doorstep – Jackson Hole Mountain Resort, Snow King Mountain Resort, and Grand Targhee Resort, but the scenery, in general, is quite simply stunning.
To the north of the town are the jagged peaks of the Grand Teton National Park, and Yellowstone National Park is also close by. At Christmas Jackson's town square, quite normally adorned with shed elk antlers has them lit up for the festive season. Those elk antlers have been shed by elks overwintering at the nearby National Elk Refuge, which makes a magical place to take a horse-drawn sleigh ride to see these magnificent creatures up close.
Even Santa makes an appearance in the town square every day from December 15th until Christmas Eve when he's otherwise occupied, although he does begin his journey by rappelling out of the Jackson Hole aerial tramway at 1630 on Christmas Eve – another great reason to spend Christmas in Jackson!
The downhill skiing and snow sports here are simply beyond compare, but if its more gentle exercise you want, then taking a snowshoe tour through the National Park with the Park Rangers is a simply superb activity to undertake!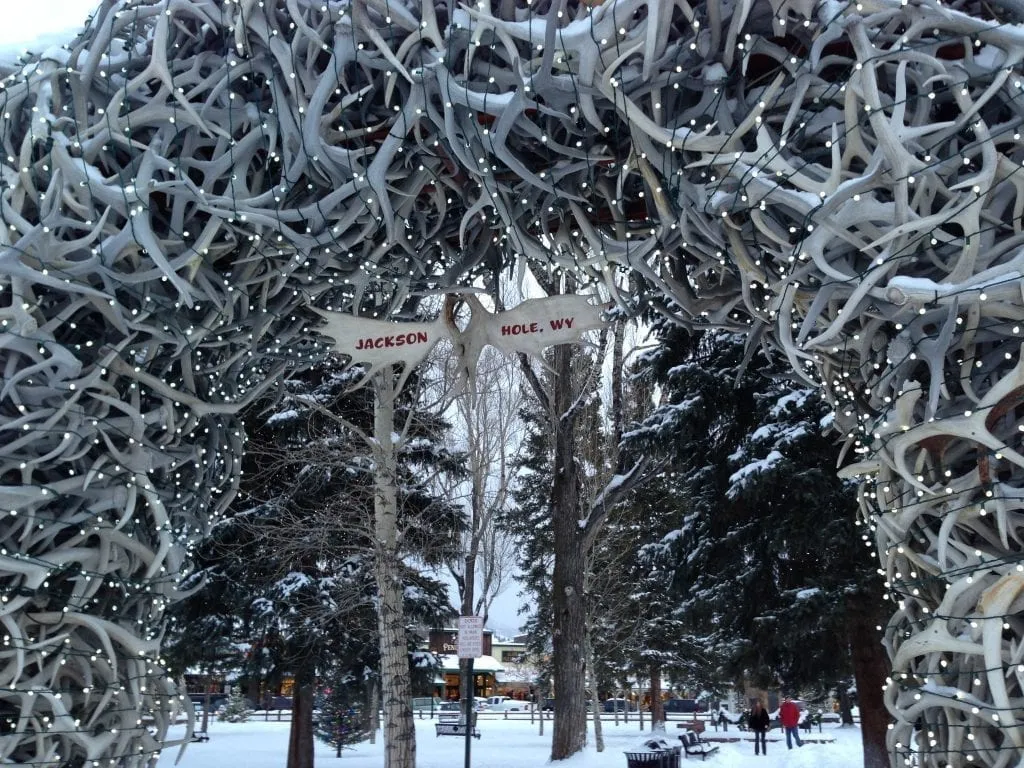 Colorado Springs, Colorado
From Oksana and Max of Drink Tea & Travel
If you want to combine holiday cheer with outdoor adventures, Colorado Springs is a great destination. In Colorado Springs you'll find the inner city alive with holiday spirit. The outdoor skating rink is a big hit and people come from miles around to attend the annual Parade of Lights. If you happen to miss the Parade of Lights, you'll still have a chance to check out some beautiful displays at the Cheyenne Zoo or the Broadmoor Hotel.
Just outside the city is Pikes Peak, one of the highest mountains in the area and a great place to explore year-round. However, Pikes Peak's Cog Train takes on another dimension during the holiday season. If you chose the Santa Train you'll be accompanied by Mr. and Mrs. Claus and their elves for the ride. It's a great activity for the little ones.
The Garden of the Gods is another famous Colorado Springs attraction. It is a great place to go for a hike if you would rather bliss out in nature for a few hours. However, don't miss stopping by the Garden of the Gods Trading Post during the Christmas season. It has become an iconic holiday shopping destination.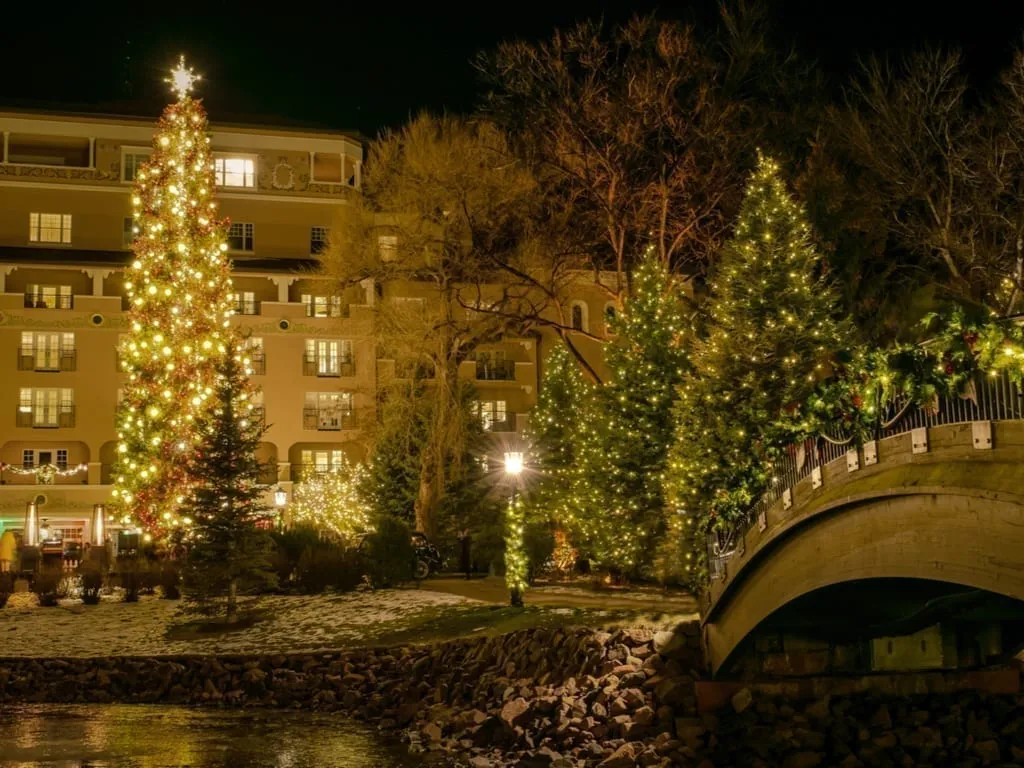 Monument Valley, Arizona/Utah
From Anna of My Travel Scrapbook
Monument Valley might seem like an odd place to go for Christmas cheer in the USA! Monument Valley is known for its iconic desert landscape of orange buttes where cowboys roam. Yet for a few months of the year, Monument Valley is covered in a light layer of snow! What an unusual place to celebrate Christmas cheer by seeing such an iconic US sight in the snow!
Monument Valley is in the American South-West in the Navajo Nation which straddles Utah and Arizona. There are many things to do and see in Monument Valley. You can visit famous movie spots such as Forrest Gump point and John Wayne point, eat local Navajo dishes, hike around the beautiful mesas and discover Navajo petroglyphs. In winter, you will want to cover up on the hikes in Monument Valley as it can get quite cold up on the plateau!
To warm up after your Christmas visit to Monument Valley consider staying at the Desert Rose Cabin in Bluff. They have an amazing pool meaning you can enjoy the winter landscape from the warmth of the swimming pool!
As it is low season, you will also avoid the summer crowds and have an amazing time at Monument Valley in winter!
Best US Destinations for Christmas at the Beach
Key West, Florida
From Pauline of Beeloved City
Key West is particularly famous for being the most southern point in the continental USA. Part of the Florida Keys, it's one of the best places to go for the perfect Christmas vacation.
With an average temperature of 67°F, December is one of the best times of the year to go to Key West and Florida in general. The weather is dry and warm, making it the perfect sunny escape in the United States!
Key West is surrounded by coral reefs. It's the ideal place to go on a diving or snorkeling trip. If you want to explore the mangroves and maybe see some manatees, another option is to go paddleboarding or kayaking!
After that, you can head to the Southernmost Point Buoy, it's a very nice photo spot!
Key West is also home to The Ernest Hemingway Home and Museum which was the official residence of the famous author.
If you are looking for shops and bars, bustling Duval Street will be the place for you! There is live music everywhere, it's a very nice place to relax and enjoy a drink.
In the evening, head to Mallory Square for the sunset celebration. You will get to enjoy one of the most beautiful sunsets in the world!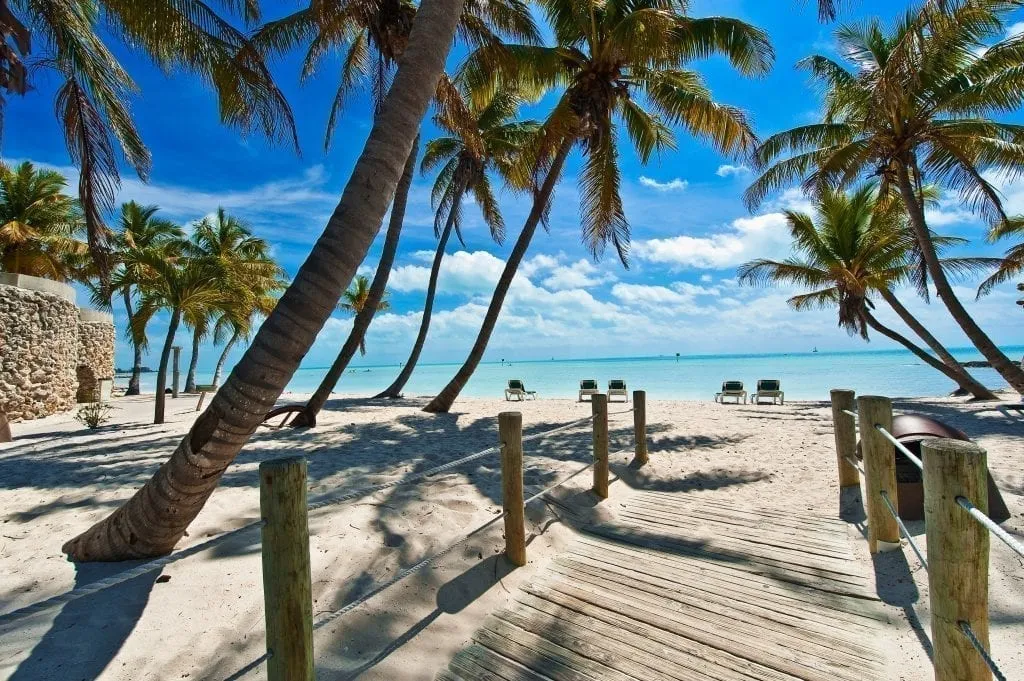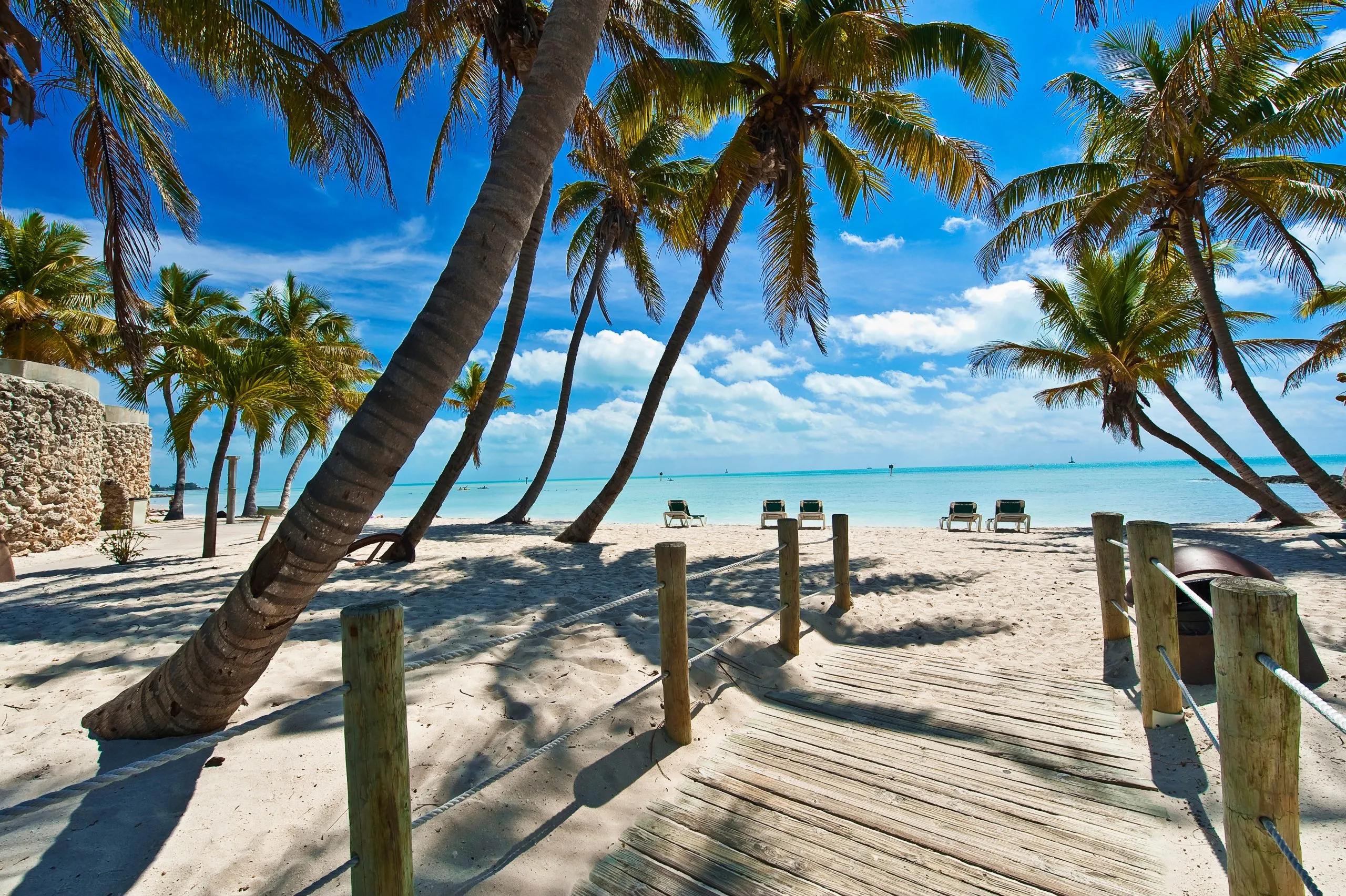 Galveston, Texas
From Patricia of Travel Fam Live
Galveston can be a great escape around the holidays, Christmas in particular. This barrier island is located about 50 miles from Houston and it'll offer an array of activities. With the festivities starting at the beginning of November, there is always something to see or do around the Island.
Founded in the early 1800s, Galveston has so much history and historical sites that would enhance anyone's Christmas. Around Thanksgiving weekend, all the City's Christmas trees are lighted and Galveston becomes a magical place. And the best part is that if you are lucky, you might be able to enjoy the beach even in December.
Lots of events take place to celebrate the holidays, among them, are:
The East End Victorian Homes Tour is a tour of some of the luxurious homes built by the first European settlers to come to Galveston (check the calendar for date and time).
Dickens on the Strand is a well-known festival organized by the Galveston Historical Foundation that brings you back to the Charles Dickens era. There is a parade, costume contest and a ball to celebrate the event. Dickens on the Strand has been happening for almost 50 years on the first weekend of December. The attendees will dress in Victorian Fashion and stroll up and down the Strand.
There is much more going on around the holidays, Moody Gardens Festival of Lights, A Lone Star Christmas, Ice Land at Moody Gardens, and many others.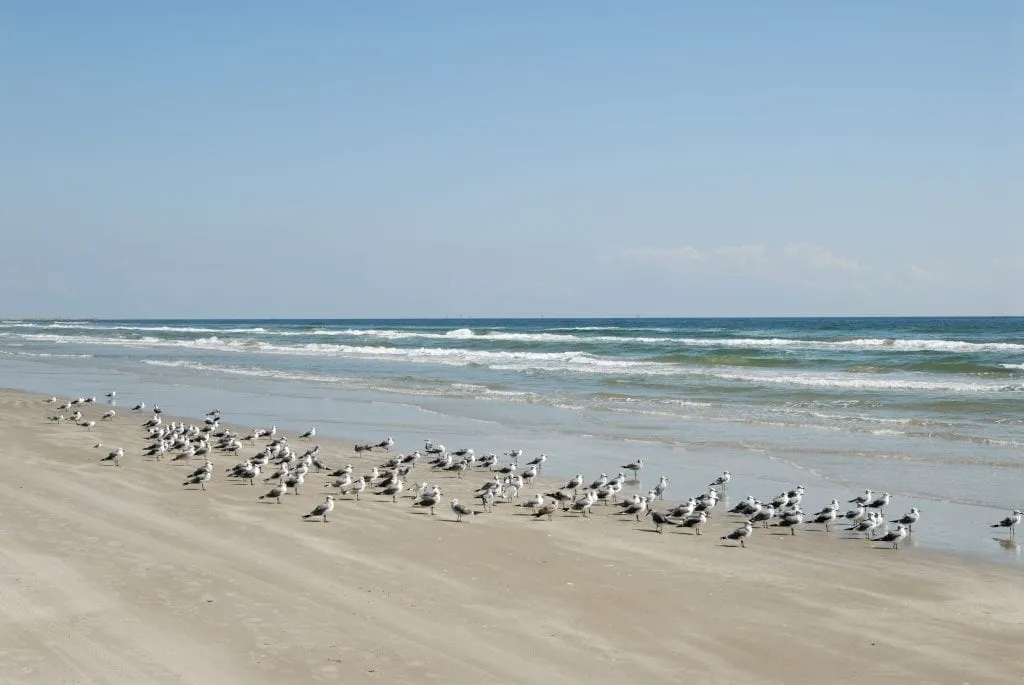 Oahu, Hawaii
From Anne of Travellers Archive
Spending a couple of days in Oahu will quickly let you fall in love with the island, its vibe, and its uniqueness.
The best thing to do on Oahu is leaving Honolulu behind and heading up North along the North Shore, which is one of the most famous surf areas in the world. It's not only the place where surfing was actually born but also an area where huge waves roll in and international pro surfers would quickly take their board for a ride in their "living room".
The best way to experience the North Shore is by car during a very easy and chilled day trip. Starting from Honolulu, your first stop could be the popular Dole pineapple plantation, which is not only a great place for pineapple ice cream but also a super historic place that shaped the economy of Hawai'i back in the days.
From here follow the Kamehameha Highway and make your way up to the old surfing village of Haleiwa, where you'll find little shops and an amazing lunch spot – Haleiwa's Joe.
Once filled up with fresh fish burgers follow up North and enjoy the constant views of the coastal landscape with amazing surf spots passing by, such as Sunset Beach, Waimea Bay, and Banzai Pipeline. Usually, when the swell is up, you can simply stop on the side of the road and join hundreds of other visitors watching the pros take their waves. This will quickly turn into an unforgettable Christmas experience.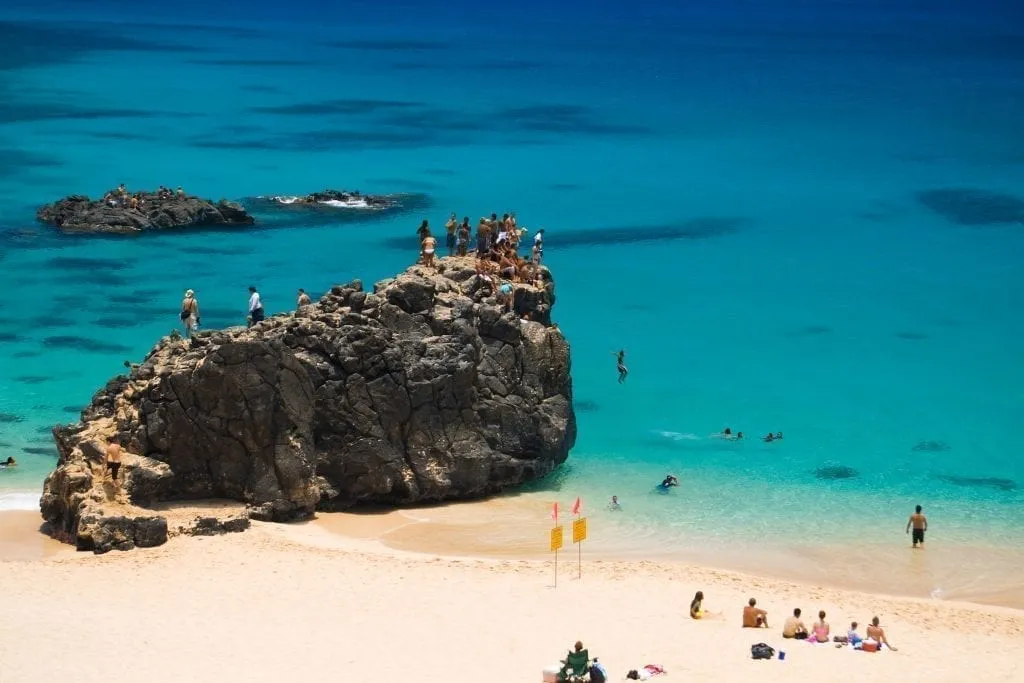 Destin, Florida
From Disha of Disha Discovers
Some people enjoy staying home for Christmas. Others like to get away and have a vacation. If you fall into the latter category, Destin, Florida is a great place to escape to for Christmas.
Destin truly feels like one of those picturesque towns you see on a Hallmark Christmas movie. While others are dealing with cold weather, you'll be hanging out on the beach in a t-shirt and a light jacket. If you're worried about not having a white Christmas, don't worry too much. The gorgeous white sand on the beaches is just as white as snow.
Also, Destin offers several Christmas activities throughout the month of December with everything from tree lightings to parades.
Aside from Christmas activities, there are plenty of other great things to do in Destin. The Destin Harbor Boardwalk is filled with restaurants and shops. It's fun to walk around and sample fresh seafood from all of the eateries.
Another memorable thing to do in Destin is to take a sunset dolphin cruise. It's a magical experience, especially at sunset.
The best part about spending Christmas in Destin is that there won't be very many tourists around. By then, peak season has died down and you can enjoy everything Destin has to offer without tons of people around.