There's a conversation that I've had with fellow travelers too often and in more places than I can count, from Krka National Park in Croatia to Volcano Acatenango in Guatemala:
"Oh, I'd love to go to the United States one day! What do you think of LA?"
"Actually, other than a short layover that we spent in Santa Monica, we've never been there."
"Oh! What about San Francisco?"
"Nope, not there either."
"New York?!"
"…Still no!"
… At which point my new travel pal generally pauses, and probably starts to wonder if Jeremy and I have ever stopped to enjoy our own country.
And we have, truly: from hiking in the Grand Canyon to admiring the Outer Banks of North Carolina, and from devouring TexMex in San Antonio to basking in the beauty of Spanish Moss in Savannah, we have been slowly making our way through the United States as lovingly as any other travel destination we covet.
As of leaving for what has become an open-ended life of travel in May 2016, we had visited 16 US states together. Now, we're up to 20, and expect that figure to rise a bit more in the next couple of months.
Number 20 on our list? Finally, finally New York–the city of fascinating neighborhoods, a fast-paced life, endless museums, beautiful parks, and, of course, utterly delicious food from an epic restaurant scene (including plenty of restaurants featured in movies!).
After almost a decade of Jeremy's brother living in New York City, about three years of two of my closest friends living there, and a lifetime of knowing NYC as one of the most popular travel destinations in the world… we completely agreed that it was well past time for a visit, and hopped on a Megabus from Boston to NYC to enjoy the city for a few days.
We spent a quick and busy summer weekend in New York City, balancing a decent mix of time focusing on loved ones and time being wide-eyed tourists on our first visit to the city that never sleeps, and visiting parts of New York as diverse as the Upper West Side and Bushwick, and experiencing things as iconic as Top of the Rock and as laid-back as perusing bookstores in Brooklyn and checking out some (relatively) cheap bars in NYC.
Leaving out the ooey-gooey love fest that is how we felt about visiting loved ones in their adopted home for the first time (in short: wonderful, and full of fun memories ranging from pursuing bookshops to offering sympathy on the challenges of dating in NYC), here were our biggest highlights from our weekend in New York City:
Top of the Rock
Going to the top of the Rockefeller Center and admiring (and photographing) the famous New York City skyline was easily one of the highlights of our trip–so much so that even given the relatively high price of $34 USD/person (this is NYC, after all), that we will probably do it again eventually.
Plus, we even got to see a teeny-tiny image of the Statue of Liberty from up there–the closest we got to her on this first weekend in New York City!
The American Natural History Museum
The Met can wait–all we wanted to see in a museum on our first weekend in New York City was the dinosaur fossils! Luckily my friend Hallie slowed us down, because it was definitely worth it to also dedicate time to the taxidermied animals from around the globe, many of which were shot and shipped back to the United States by Teddy Roosevelt himself.
While I could never support that practice today–and much preferred the frolicking live elephants in Southeast Asia to the stiff ones in the museum–there's no denying that the dioramas were historical and very cool.
There's also no denying that the fossils were cooler.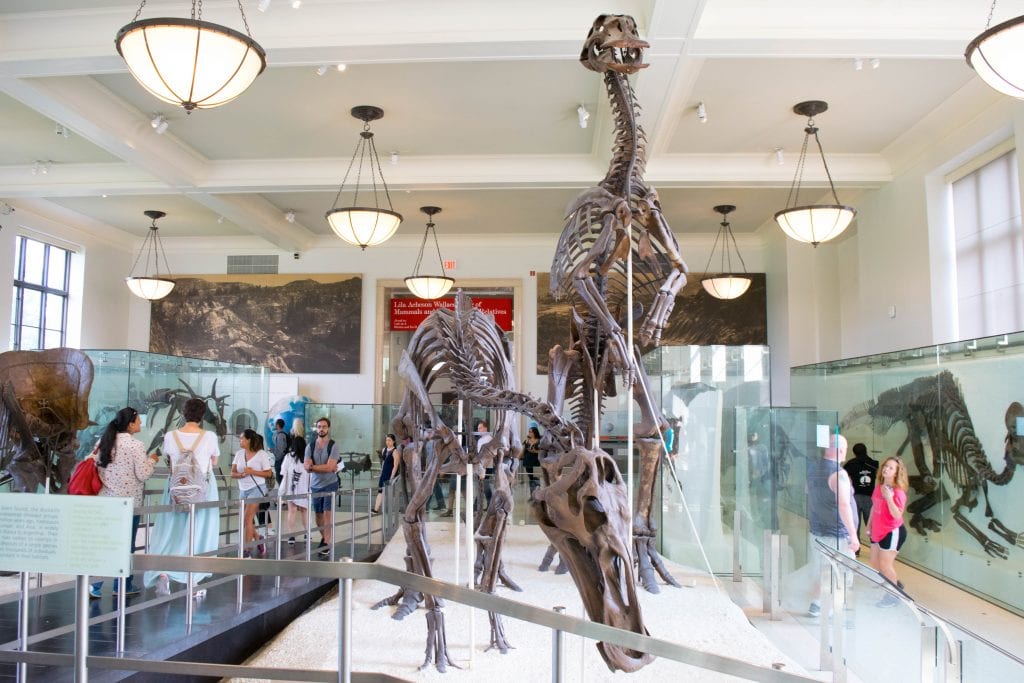 Devouring Amazing Thai Food
Since leaving Thailand, Jeremy and I have been in search of the amazing taste of the Thai food that we fell in love with there: specifically, Red Thai Curry for Jeremy and Chicken Pad Thai for me.
There have been some really bad imitations that we have tried in the meantime (which is partially our fault, because your expectations can really only be so high for Thai food in places like San Cristobal de las Casas, Mexico or San Juan del Sur, Nicaragua).
But New York, glorious New York, home of excellent versions of almost every conceivable cuisine under the sun, definitely didn't let us down: we ate at Lantern, asked them to pile on the spice… and the food tasted just like it did in Bangkok.
Central Park
I can't help but include Central Park on this list because it was beautiful and iconic to see, not to mention a great place to rest our feet in the afternoon–but honestly? Jeremy and I both prefer the cozy Boston Common and Boston Public Gardens. Sorry, New York lovers.
Our First New York Diner Experience
Our friend Michael took us to breakfast at a Jewish diner near his new apartment (Sarge's Diner), and it was exactly what a tourist hopes for from a New York diner: small. Lots of fish in the glass case near the counter. Red booths. Dark lighting. Signed photos of celebrities who have visited on the walls. A waitress with a thick New York accent.
… And delicious food served with some of the best coffee I have ever had in my life.
We may or may not fully intend to go back on our next visit.
The Lego Store
Because in addition to being able to marvel at truly impressive Lego kits, seeing Jeremy's face light up like a five-year-old's on Christmas morning just made me so happy.
Grand Central Station
Visiting Grand Central felt a little bit like stepping into a living movie or TV set: we've all seen it depicted a thousand times with hundreds of different moods depending on the scene in question.
Being there made it take on even more of a life of its own–and in all the movies and shows I've seen Grand Central Station in, I've never caught sight of the majestic turquoise ceiling, which ended up being one of my very favorite features of the building.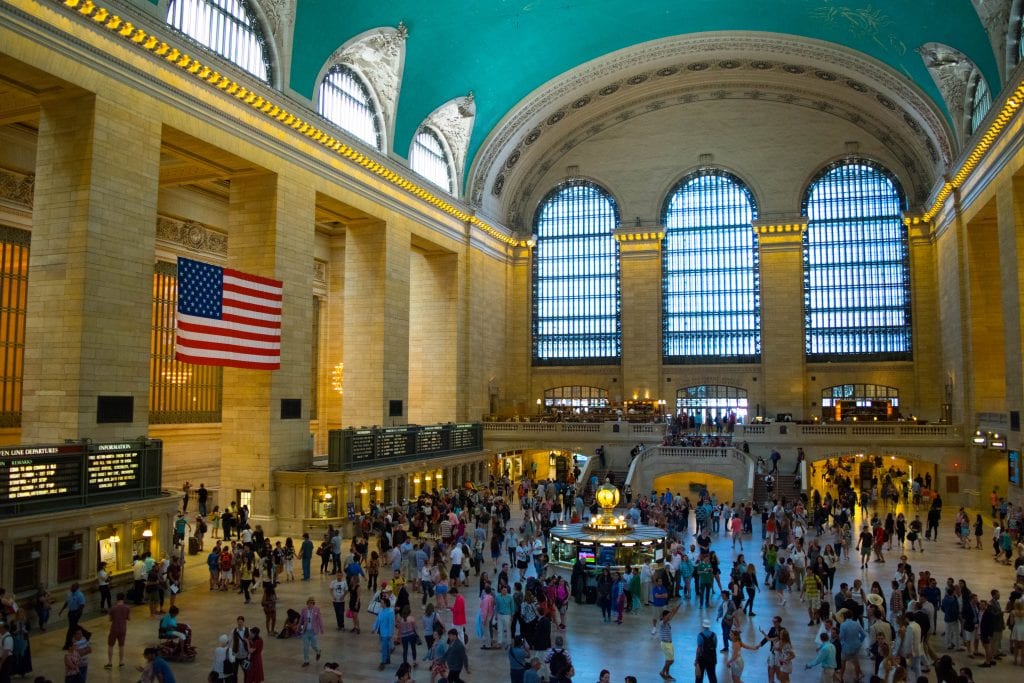 Our first weekend in New York City couldn't have gone any better–while I don't feel like we've gotten to know the city at all beyond a tiny taste, it was so much fun to finally start working our way through one of the most iconic cities in the world. With tons left to see and people we love asking us to come back, it's only a matter of time until we visit New York City again.
If you're planning your own trip to New York, check out this NYC trip itinerary!