A weekend in New York City is one of the top short getaways in the country for very good reason… but experiencing New York in 2 days or less is quite the challenge!
Luckily, though, you don't need to check off every single one of the incredible things to do in the city in order to have a fantastic weekend getaway in NYC.
We've visited New York more times than I can count at this point, on everything from quick overnight visits with friends to week-long stays.
Every trip, no matter how long or how short, leaves us even more enchanted with the city than we were before (and it's worth mentioning that our love of New York has been a slow burn: on our very first trip to NYC, we walked away liking it, but not loving it).
If you're planning a weekend trip to New York and want to make sure you fall in love immediately, here's how to make the most of 2 days in NYC!
Who This New York Weekend Itinerary Is For
We designed this New York weekend itinerary for first-time visitors to the city who want to pack in as many of NYC's iconic attractions as possible, without getting overwhelmed or spending all of their time on a group tour.
If you're an independent traveler who doesn't shy away from touristy attractions but also wants to spend plenty of time pounding the pavement and exploring New York's neighborhoods on foot, then this is the 2 day weekend in New York City itinerary for you.
Of course, with new attractions constantly popping up and many lifetimes worth of things to do in New York, there are as many possible 2 day NYC itineraries as there are people!
Don't hesitate to cut stops that don't appeal to you or add any must-sees that you've had on your bucket list.
Spending a long weekend in New York and looking for a deeper itinerary?
We have more ideas for things to do in our 4 day NYC itinerary.
Looking for a more compact itinerary?
Our one day NYC itinerary is a quick but effective blitz through the highlights of the city!
The Ultimate 2 Day Weekend in NYC Itinerary
Day 1 in NYC: Museums, Central Park, Views + Broadway
Start your weekend in New York with one of the city's top museums.
There's no better way to kick off your weekend in New York than with a peek inside one of the museums that help make the city so famous!
New York is littered with museums, from the enormous and iconic to the tiny and quirky, but to start your weekend off right, we recommend heading to one of the big 3.
The Metropolitan Museum of Art (Upper East Side)
The Metropolitan Museum of Art, also known as the Met, is New York's premier art gallery.
Here, you can find more than 2 million works of art, including everything from American paintings to an impressive collection of historic armor sourced from around the world to Egyptian artifacts to entire Parisian rooms that have been relocated to New York.
This is also where you'll find the famous steps of the Met that have shown up in so many movies and TV shows over the years!
Book skip-the-line tickets for the Met today, with no extra cost!

Want to make sure you don't miss anything iconic?

This popular tour gets rave reviews and will show you the best of the Met!
American Museum of Natural History (Upper West Side)
Known for its impressive dinosaur fossils, including the first-ever found fossil from a Tyrannosaurus rex, the American Museum of Natural History is home to a mind-bogglingly large collection of specimens pertaining to the natural world.
This is one of our favorite museums in the world, and the one we personally chose to visit on our very first trip to New York!
The Museum of Modern Art (Midtown)
More of a modern art person?
Consider making your way to the famous Museum of Modern Art to start your quest to explore New York in 2 days!
The Museum of Modern Art is home to, among many other exhibits, Van Gogh's Starry Night and works by Andy Warhol and Jackson Pollock.
Note that timed-entry tickets are required for visiting MOMA!
New York Travel Tip: Keep in mind that while the Met and Natural History Museum are both right next door to Central Park and located a mere 15-minute walk across the park from each other, MOMA is located south of the park in Midtown.
If you plan to visit MOMA, start your morning with a stroll through Central Park and then head to the museum, rather than the other way around.
Book your timed entry ticket for the Museum of Modern Art today!
Explore Central Park.
No weekend in NYC could possibly be complete without a visit to one of the most famous parks in the world!
Central Park is enormous and could easily eat up an entire day's itinerary, which you quite honestly don't have time for when trying to see New York in 2 days.
Here are a few park attractions to consider adding to your list: visiting Belvedere Castle, rowing across Central Park Lake in an adorable rowboat, checking out the Alice in Wonderland statue, snapping a photo on Bow Bridge, and visiting Bethesda Terrace.
If any particular Central Park attractions are must-sees for you, we highly recommend using your phone to navigate to them–otherwise, it'd be very easy to stroll through Central Park for ages and never see them, even if they're technically just around the corner from you!
Make your way down Fifth Avenue.
Combining transportation with sightseeing is the best way to check out Fifth Avenue!
Exit Central Park at the southeast corner to position yourself to catch sight of some of the most famous Fifth Avenue attractions.
As you make your way further south toward the rest of the day's highlights, be sure to slow down long enough to ogle Fifth Avenue's famous stores and buildings.
Notable locations that you'll pass on this section of Fifth Avenue include the Plaza Hotel, Tiffany & Co., and Bergdorf Goodman.
The Saks Fifth Avenue is also just a smidge past St. Patrick's Cathedral, so if you're the shopping type, be sure not to miss that stop, either!
Stop by St. Patrick's Cathedral.
Arguably the most impressive religious structure in New York, the impressive Neo-Gothic St. Patrick's Cathedral looks almost out of place on busy, modern, consumer-focused Fifth Avenue.
That's part of its appeal, though, and the building is stunning and well worth a look inside.
Check out Rockefeller Center (and maybe Top of the Rock).
Turn 180 degrees away from St. Patrick's Cathedral, you'll be facing Rockefeller Plaza.
Walk toward the plaza and you'll be confronted with Rockefeller Center, many recognizable stores (Lego, Nintendo, FAO Schwartz, etc.), the famous ice-skating rink in the winter, and Radio City Music Hall just slightly further down W 50th.
We highly recommend experiencing one of the best views of the Manhattan skyline on the first stay of your weekend in New York City, but whether that's at Top of the Rock or the Empire State Building is entirely up to you!
If you do want to visit Top of the Rock, this is the perfect time to head up.
Head over to Grand Central Terminal.
Grand Central Terminal is just as busy as you might expect–and also just as beautiful.
Somehow, in all the TV shows and movies I saw the station featured in growing up, I never managed to catch sight of the stunning turquoise ceiling, and it's now one of my favorite features of the building.
If you're a fan of architectural quirks, be sure to also check out the Whispering Gallery in Grand Central Terminal as part of your 2 day New York itinerary!
Visit Bryant Park and the New York Public Library.
New York's Public Library is made up of many buildings, of course, but the famous Stephen A. Schwarzman building on 5th is an absolutely unmissable piece of the city, especially for bibliophiles like us!
The iconic lion statues out front and the beautiful Rose Reading Room are both must-sees.
Not only is the building absolutely gorgeous, but it's also free to visit, which will give your wallet a much-needed break (as I'm sure you've noticed by now, spending a weekend in NYC isn't necessarily easy on the budget).
Depending on what time you visit, there's a good chance you'll see some wedding photos being snapped out front!
Want to relax a little after visiting the library and not quite ready to move on?
Bryant Park is right next door and is a great place to rest your feet for a bit.
Experience the most iconic view in New York City.
As arguably the most iconic building in New York City–and definitely the most iconic viewpoint–a visit to the Empire State Building is a must when exploring New York in 2 days!
Personally, I love the view from the Empire State Building.
Sure, the building itself isn't in the shot, but being able to see all the way down to the Financial District and beyond, with the shape of Manhattan clearly carved out before you, is a marvel.
If you plan to head to the famous viewpoint on the 86th floor of the Empire State Building, you should absolutely book your tickets ahead of time: as one of the top things to do in NYC, it gets incredibly booked up!
Want to experience a brand new observation deck instead of one of the classics during your weekend trip?
Summit 1 Vanderbilt is located very close to Bryant Park and is another great option.
Book your tickets for the Empire State Building Observation Deck today!
Hit the theater and enjoy a show on Broadway.
There's no better way to spend your first evening in New York than by taking in a Broadway show!
Personally, I adore the theater and we prioritize seeing at least one show every time we visit NYC, but even if you're not generally a theater person, it's worth experiencing the immersive experience of Broadway at least once.
While tickets to, say, Hamilton, might be exorbitantly expensive or even nearly impossible to come by, tickets to long-running classics like Chicago, Phantom of the Opera, Book of Mormon, or The Lion King are very easy to nab (even last-minute) and can be quite affordable.
Experience Times Square at night.
Yes it's cheesy, yes it's touristy, but it's an iconic part of experiencing a weekend getaway in New York City!
Times Square at night is an absolute marvel, and finishing the night off here is a great way to end your first day in the city, especially since you'll likely be right next door after wrapping up at your show of choice.
Be sure to be cautious of your pockets here–unsurprisingly, it's one of the riskiest places for pickpocketing in the city.
Other than that, though, simply enjoy the lights and the photo ops!
Just remember: like any other tourist zone in the world, if you take photos of or make eye contact with one of the "characters" or street performers, they will want to be paid–we recommend not engaging with them at all.
Day 2 in NYC: Brooklyn + Lower Manhattan
Start your morning in DUMBO.
When you're prioritizing top attractions and trying to see NYC in 2 days, the inevitable result is that most of your time will be spent in Manhattan–but on your second morning, try squeezing in a tiny taste of Brooklyn!
DUMBO (Down Under the Manhattan Bridge Overpass), is the Brooklyn neighborhood located right next door to the Brooklyn Bridge.
Here, you'll find cobblestone streets, many boutiques, plenty of cafes, popular parks, bookstores, and a couple of the top photo spots in NYC.
Don't miss the historic Jane's Carousel or the skyline views from Pebble Beach!
And of course–don't forget to stop by the intersection of Washington Street and Front Street, where you can capture the iconic Manhattan Bridge photo for yourself.
Be sure to note the way that the Empire State Building is perfectly framed in the arch of the bridge!
Make your way to Manhattan by walking the Brooklyn Bridge.
What better way to head back to Manhattan for the day, than by walking across the iconic Brooklyn Bridge?
By walking from Brooklyn to Manhattan rather than the opposite, you'll be treated to stunning views of Manhattan's skyline the whole way across.
The bridge is about 1.1 miles long, but it's best to plan about an hour to walk the bridge in order to leave plenty of time for taking photos and soaking in the views!
Pay your respects at the 9/11 Memorial and Museum.
Without a doubt, visiting the 9/11 Memorial and Museum is the most emotionally devastating part of this itinerary for a weekend in New York.
It's also, of course, inseparable from visiting the Financial District in Lower Manhattan, the neighborhood that once called the Twin Towers home.
The memorial and the museum are technically separate destinations.
The memorial, which is located in the footprints of the two towers, is sobering and free to visit.
On the other hand, the museum is an intense, heartbreaking account of the events of 9/11 and the rescue and recovery events that followed, and is home to tens of thousands of artifacts and exhibits, including the preservation of first-person testimony.
If you hope to visit the museum, you'll need to purchase tickets in advance.
Regardless of whether or not you tour the museum during your trip, we highly recommend taking a moment to reflect at the memorial.
Check out the Oculus.
Part shopping mall, part subway stop, part memorial, part bizarre marvel, the Oculus is nothing if not unforgettable.
What do you see when you look at it: a whale, a bird, something else entirely?
And when you step inside, do you feel a bit swallowed?
It's a bizarre place, but however strange, it's also an emotionally charged one.
The Oculus is built right on Ground Zero, and, in addition to its other purposes, functions as a somewhat subtle memorial to 9/11.
… and the One World Trade Center.
As the tallest building in the Western Hemisphere, and the skyscraper that was built as the direct result of the Twin Towers being destroyed on 9/11, it's safe to say that the One World Trade Center was always bound to be a famous New York City landmark.
However, it's also home to an incredible view of NYC from its 100th, 101st, and 102nd floors!
If you're looking for an alternative to the classic observation decks mentioned yesterday on this itinerary for a weekend in New York, the One World Observatory is a fantastic alternative (or, if you're particularly fond of skyline views, an addition).
Visit Trinity Church.
The historic Trinity Church is still an active Episcopalian parish, and the Gothic revival building immediately sticks out on Wall Street as distinctly different from the more modern skyscrapers that surround it.
Hamilton fans will no doubt recognize Trinity Church, whose cemetery holds the Founding Father and his family.
Alexander Hamilton was also involved with the congregation, whose history (though not the current building) dates to the 17th century.
Stop by Federal Hall.
Though the current structure is the third iteration of the original 1703 building, Federal Hall is worth dropping in on for its significance to a piece of American history that far predates the more modern vibe of the New York City Financial District as a whole.
It's also right by the New York Stock Exchange, so it's an easy addition to your itinerary for NYC in 2 days!
This is the spot where George Washington was sworn in as president, where the first US Congress was held, and also where–a bit earlier than the other two events–a letter to King George was drafted by the colonists formally protesting "taxation without representation".
Federal Hall National Memorial is operated by the National Park Service and typically operates as an interesting and free-to-visit museum.
Unfortunately, in 2021, the memorial itself closed to the public due to structural concerns with the building.
We recommend checking the NPS website for updates regarding the future opening of Federal Hall.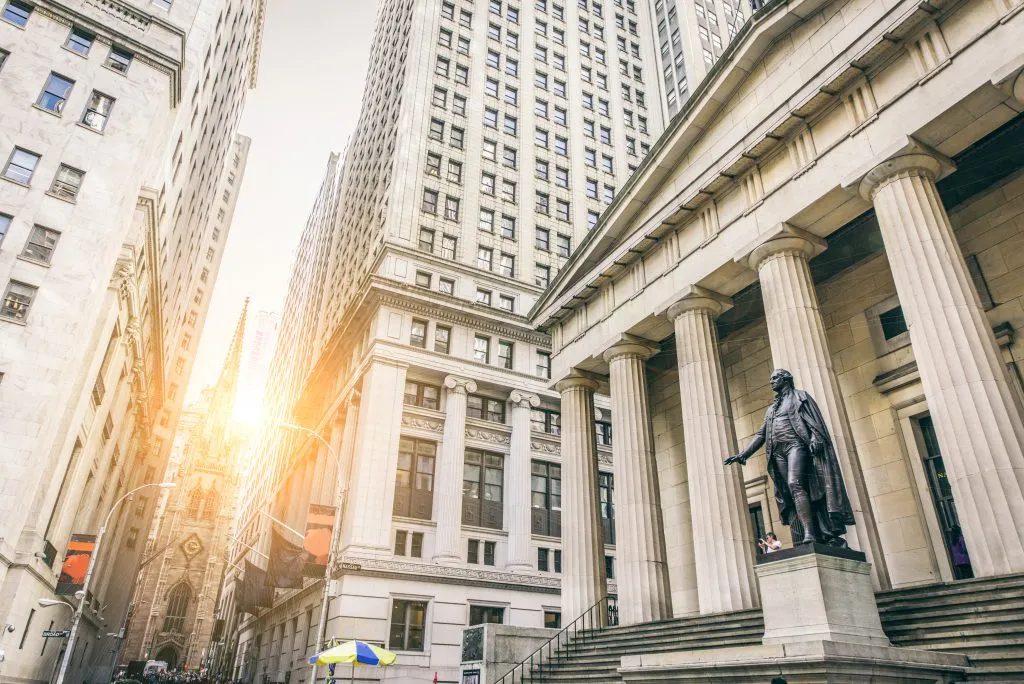 Take a quick photo at the famous New York Stock Exchange.
Though visitors can't go inside the Exchange, it's worth taking a quick look at one of the most famous buildings in the city as you walk by during your 2 days in NYC!
Say hello to the Charging Bull.
To me, the Charging Bull is synonymous with the Financial District, and it's hard to imagine that it wasn't always there, waiting to greet visitors enjoying a weekend trip to New York.
In reality, though, you don't have to go far back in history to find the origin of the Charging Bull: artist Arturo Di Modica first debuted the statue (without permission) in 1989.
The bull was conceived as a testament to the grit and determination of the American people, and New Yorkers in particular.
Today, it is incredibly popular to visit, so prepare to wait in line (or arrive at dawn) if you want to grab a photo with it!
I took the photo included here by standing off to the side and snapping quickly while two people changed places.
Head down to the Battery and enjoy the Statue of Liberty views.
The Battery is one of the most famous parks in NYC, in large part because it is where visitors board ferries to the Statue of Liberty and Ellis Island.
The Battery is also worth visiting for other reasons, though.
It's home to Castle Clinton National Monument, beautifully shaded green space, many monuments and memorials, and views of the Statue of Liberty–a must-see if you don't plan on getting closer to the monument during your NYC weekend trip (more on that below).
Wrap up your 2 days in New York in one of 3 ways.
To wrap up your weekend in New York itinerary, it's simply too hard to narrow it down to one option!
Each of the 3 options outlined in this choose-your-own-adventure section of the itinerary offers a chance to see an iconic side of New York.
Pick the one that best appeals to your travel style and make the most of the end of your New York vacation!
Option 1: Visit the Statue of Liberty or Ellis Island.
Want to visit one of the most popular tourist attractions in the world?
From The Battery, head to Liberty Island to experience the Statue of Liberty National Monument for yourself!
It took us an embarrassingly long time to get here, and we absolutely loved the experience and highly recommend it: everything from the views from the ferry to seeing the statue up close was a delight.
That being said, we opted not to climb the statue after hearing less-than-stellar reviews from local friends and had no regrets about that.
Also, with only an afternoon to work with, you likely won't have time to visit the Statue of Liberty and Ellis Island during your NYC weekend, so you'll need to choose one or the other (the statue is more iconic, Ellis Island's museum is larger and arguably more interesting–your call!).
Visiting both, while possible, would eat up most of your second day in New York City.
The same ferry will take you to either destination.
Book your visit to the Statue of Liberty and/or Ellis Island today!
Option 2: Explore Washington Square Park and the West Village.
Washington Square Park is the center of NYU student life: campus buildings surround the square, it's a great spot for people-watching (and more importantly, dog-watching), and it's home to the famous Washington Square Arch.
From there, it's easy to explore the West Village, one of the most famous neighborhoods in the city and one that is full of classic New York charm.
This is one of the oldest parts of New York City, and the streets have a tendency to wind together somewhat incomprehensibly here, looping back in on themselves and generally feeling worlds away from the wide, manicured avenues of Midtown.
If you're a 90s sitcom fan, the West Village is probably best recognized as the home of Carrie Bradshaw and the gang from Friends (if you're the type to hunt down filming locations, you can find the buildings used for the exterior shots of both buildings nearby).
There's also a national landmark in the West Village: the Stonewall Inn, which was the birthplace of the LGBT rights movement in 1969.
Today, you can find everything from trendy boutiques to delicious brunch spots to improbably small and photogenic coffee shops in the West Village, along with beautiful residential streets.
If you're the kind of traveler who wants to spend part of their weekend in New York meandering through a maze of interesting streets, this is the itinerary option for you!
Option 3: Head to Chelsea Market and the High Line.
The Chelsea Market and High Line are also fabulous places to wrap up your 2 day New York itinerary!
Chelsea Market is practically overflowing with boutiques, shops, and endless delicious restaurants and food stalls (starting with Los Tacos No. 1, which is said to serve up some of the best tacos in New York).
To make the most of the overwhelming amount of choice, we highly recommend a Chelsea Market food tour to make the most of what the market has to offer.
The tour also includes a tour of the High Line and plenty of architecture and history facts, so you'll be sure to stay entertained and learn a bit more about New York in between bites.
Once a railroad track and now a park, the High Line is popular for so many reasons.
It offers beautiful views of the surrounding area, and it's an improbable, memorable, and eclectic use of space (why put a garden in the sky?).
The entire High Line is almost a mile and a half long, and don't feel obligated to walk the whole thing–but even if you don't sign up for a tour, definitely spend some time up there checking out the views and the art!
Where to Stay for a Weekend in New York City
There's no getting around it: New York is expensive, and lodging is one of the major factors that will drive up your budget.
If you can, we recommend staying in Manhattan during your 2 day New York weekend getaway, ideally in the Village or Midtown.
We're absolutely spoiled by having a friend who lives just a few blocks from Grand Central that we often stay with, and while Midtown isn't necessarily the most trendy section of the city, it is extremely well-connected and home to many iconic sights.
It's also centrally located and easy to get in and out to explore the rest of the city.
The traditional choices to try to save a bit of money on lodging by getting out of Manhattan–Williamsburg, DUMBO, Astoria, Long Island City–are all quite popular themselves now, but definitely take a quick look out there if you're trying to save money.
Get much further out, though, and you're going to be eating up your 2 days in New York by sitting on the subway, so be wary of that!
Our number one tip for choosing a place to stay in New York?
Make sure it's within, say, a 10-minute walk of the subway.
Any further, and your commute every time you want to rest up in the hotel for an hour will get on your nerves immediately.
Also: renting a full apartment for less than 30 days where the host is not present on Airbnb is illegal in New York.
If you want to rent a private room in a place where the host is staying, have at it–but those prices are high, too (I know you're shocked).
Here are a few well-reviewed hotel options to take a look at–you can't go wrong with the locations on any of them, and they should give you an idea about what you're going to be looking at budget-wise for places to stay in NYC.
Budget
Seton Hotel — Good reviews, a clean but no-frills property, and an excellent central location near Murray Hill all make the Seton Hotel an appealing option on a budget in NYC.
The Seton Hotel is a great pick if you want to be economical without dipping into a hostel (New York has very few hostel options) or staying further out.
Mid-range
Club Quarters Hotel Midtown (Times Square) — Times Square can be a surprisingly affordable (in relative terms, that is) place to stay in New York.
The reason to consider staying nearby has nothing to do with Times Square itself, and everything to do with how well-connected it is transportation-wise to the rest of the city–it is very easy to get around from Times Square.
We've personally stayed in this hotel and while the room was small, the customer service was excellent and the location was phenomenal.
You can't beat being within walking distance of highlights like Times Square, Grand Central, and the Empire State Building!
Luxury
Library Hotel — As there is no end to the number of luxury hotel options in the city, I'll go ahead and feature one that I'm personally dying to stay in!
The library-themed (and aptly named) Library Hotel is located right by the New York Public Library and boasts themed rooms, a stunning reading room, and a rooftop bar.
For bibliophiles–or just those looking for a swanky and popular property in a great location–you can't go wrong with the Library Hotel if you're looking for a piece of luxury during your weekend in New York City.
More than 2 Days in NYC?
Have more than a couple of days in New York City to work with and want to craft a longer NYC itinerary?
There is an absolutely overwhelming number of options to work with!
Here are just a few more things to consider adding to your list of sightseeing options: visiting Flushing in Queens to see (read: taste) the city's largest Chinatown, visiting the (touristy, but enduringly popular) Little Italy and Chinatown in Manhattan, going shopping at the boutiques in SoHo, checking out Arthur Avenue in the Bronx for a taste of what Little Italy in Manhattan used to be, and paying a visit to Coney Island and nearby Brighton Beach.
If you're a sports fan, you could also head out to the Bronx for a Yankees game.
You can also consider adding on some of the city's hundreds of fascinating and lesser-known museums to your itinerary!
The Cloisters, the Frick Collection, the New York Transit Museum, the Museum of the City of New York, the Tenement Museum, and the Queens Museum (home to an entire miniature replica of New York City!) are all memorable options.
Hoping to experience more of Brooklyn? Neighborhood-hop through the borough, from trendy Williamsburg to refined Park Slope to quirky Bushwick, depending on your preferences.
From tracking down restaurants featured in movies to museum-hopping to seeking out the most memorable cheap bars in New York, there are truly millions of options for things to add to your NYC itinerary!
Getting Around During a Weekend in NYC
Wondering how exactly to get around when trying to see New York City in 2 days?
At the risk of stating the obvious, New York is dense, but it's far from small, and you'll need to plan on dedicating a decent amount of time to navigating the city.
Exactly how you end up managing transportation will depend on a combination of your travel style, budget, and group size.
Here's a quick rundown of your options.
Walk
Our number one tip for getting around in New York?
Walk everywhere you can.
We've intentionally designed this itinerary for 2 days in NYC to be as walkable as possible, grouping attractions by geography.
True, you'll still likely need to pick up alternate transport a few times a day–New York is enormous–but by walking where you can, you'll save money, see more of the city, and often not waste any extra time.
Seriously: check the time difference in driving, catching the subway, and walking–in some spots and especially during rush hour, you'll be shocked at home little of a time difference there is!
Subway
New York's subway is not known for being well-run–quite the opposite, actually–but it's still often one of the best ways to get around the city.
In order to ride, you must purchase a Metrocard, and from there you can buy a daily pass, a weekly pass, or simply buy tickets by the ride.
You can find updated fare details and information here.
If you're visiting NYC in the summer, be prepared for the fact that not all subway lines come equipped with air conditioning!
Uber & Lyft
Uber and Lyft are popular in New York (Uber a bit more so), and are great options if you want to be driven and are coming from somewhere where taxis aren't common.
At one point, ridesharing was generally a bit cheaper than the taxis, but changes over time plus many back-and-forth legal battles with the city have moved the needle enough that they're normally about even on price.
Taxis
New York's iconic yellow taxis are most commonly found in Midtown, so if you're looking to hail one, that's the place to do it from!
The taxis are happy to take you anywhere, but good luck stepping outside and picking one up in, say, Brooklyn.
When the numbers on top of the cab are lit up, that means that the cab is open and accepting rides, and you can stick your arm out and hail it.
All New York taxi drivers are required to use the meter, and we've never had an issue with one trying not to.
You can pay by credit card.
Taxis are definitely a more expensive way to get around than the subway, but if you're traveling with a group, it can be more economical than you might think.
Buses
Due to traffic, New York's buses aren't known for being reliably punctual, but if you're looking to get somewhere via public transportation that doesn't have a great subway connection, they are an option.
You can use the Metrocard that you purchased for the subway on buses as well.
Note that taking a bus to New York from a nearby city can be a great option–we've traveled from Boston to NYC via Megabus several times.
Rental Cars
Don't bother driving on a weekend trip to New York City.
Just… don't.
Travel Tips for Experiencing New York in 2 Days
Pay careful attention to what airport you fly in and out of.
What do JFK, Newark, and LaGuardia all have in common?
They all service flights to New York City–and they're not particularly close to each other.
Be sure to check and double-check what airport you're flying into and out of.
The last thing you want to do is finish your couple days in New York by heading from Manhattan to JFK when your flight is leaving from Newark!
Know that you can't see it all.
There's no such thing as a weekend–or a year–or a decade–that encompasses everything that one of the most magnetic cities in the world has to offer, so don't put too much pressure on yourself!
Make sure to leave enough time to enjoy each of the stops you do make, rather than worrying about hurrying to the next one.
Avoid empty subway cars.
If a subway car is empty, there's a reason for it.
Your nose will thank you for braving the crowded car next door instead.
Bring cash.
A surprising number of New York bars and restaurants are cash-only, so come prepared!
Step out of the way if you need to stop on the sidewalk.
If there's one thing New Yorkers are notorious for, it is moving fast and being abrupt–or even rude–on the street.
They're not rude, they're just busy, and wondering why in the world someone is holding up their morning commute!
If you need to stop on the sidewalk to check directions, especially if you're in a crowded area, step off to the side first.
If you want to visit an Instagram sensation, prepare to wait… and pay.
Freakshakes. Cookie dough. Giant cotton candy. The Color Factory. The Museum of Ice Cream. Colorful, instagrammable NYC cafes.
Whatever the Instagram sensation is that recently happened across your social media feed, if it blew up within the past year, be prepared to wait in a long line to get your hands on it… and to pay a hefty fee.
There's nothing wrong with trying these things out–some are fabulous, some are mediocre–but don't plan your entire weekend in New York around them, or you'll find yourself eating up too many precious sightseeing hours in line for gimmicks.
Consider picking one unmissable dish or experience, and then saving the rest for a different trip.
Wear very comfortable shoes.
Any New York itinerary is bound to involve lots and lots of walking, and this one is no different.
Bring shoes that you feel comfortable wearing all day, and your trip will automatically improve.
Check restaurant reviews before sitting down.
New York's restaurant scene is consistently amazing… and constantly evolving.
Every day, new restaurants open, old ones close, and local favorites come under new management–it would literally be a full-time job to keep up with them all.
For that reason, we strongly recommend checking the reviews (we use Google reviews) on restaurants before picking a place to eat during your trip to NYC.
It's the most reliable way to get up-to-date information about a location and ensure that you won't be disappointed with a single meal you eat during your weekend in New York City!