We adore Boston, and I love writing detailed travel itineraries–so you'd think this 2 days in Boston itinerary would have been fairly easy to write, right?
Nope!
As it turns out, a full summer of living in and exploring Boston in-depth with the intention of blogging about it resulted in having more favorite things to do in Boston than can be squeezed into a 2 day Boston itinerary–but lots of research and writing later, I've managed to whittle down the best of Boston into a 48 hour Boston itinerary.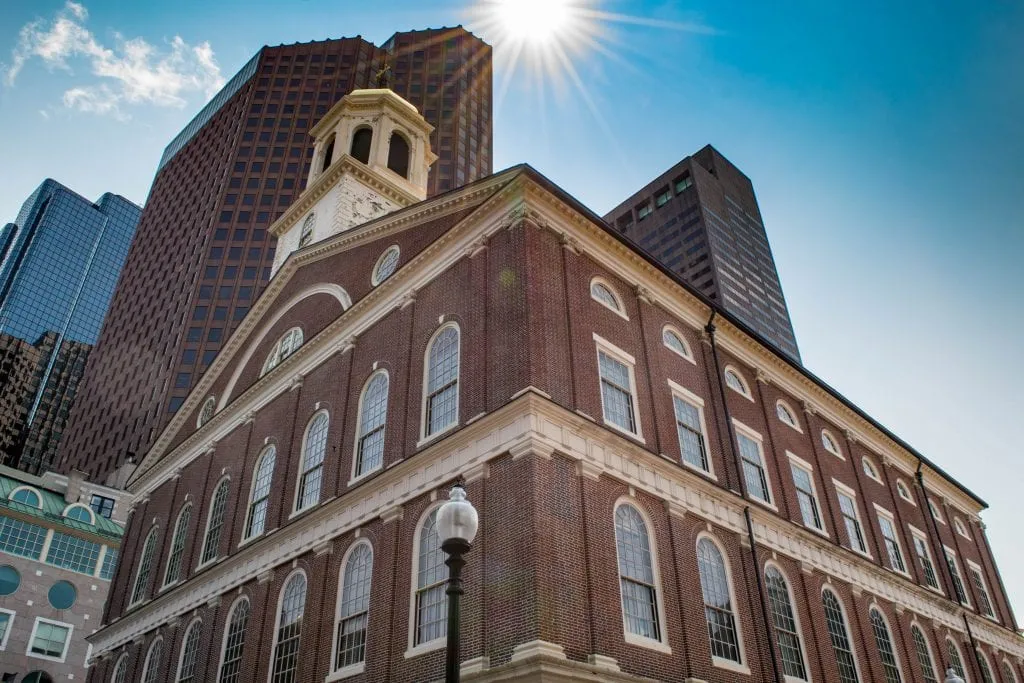 Some links in this post may be affiliate links. If you make a purchase through one of these links, we may earn a small commission at no extra cost to you. Please see our

disclosure policy

for more detail.
From someone who spent three months living there and fell head-over-heels for the city despite assuming that wouldn't happen, here is everything we recommend you do–plus all the logistics you need to know–to pull of the perfect 2 days in Boston.
Delicious food, literary interests, American history, pretty neighborhoods, penguins, and more can all be covered with just 2 days in Boston–but fair warning, your feet might be a bit sore at the end!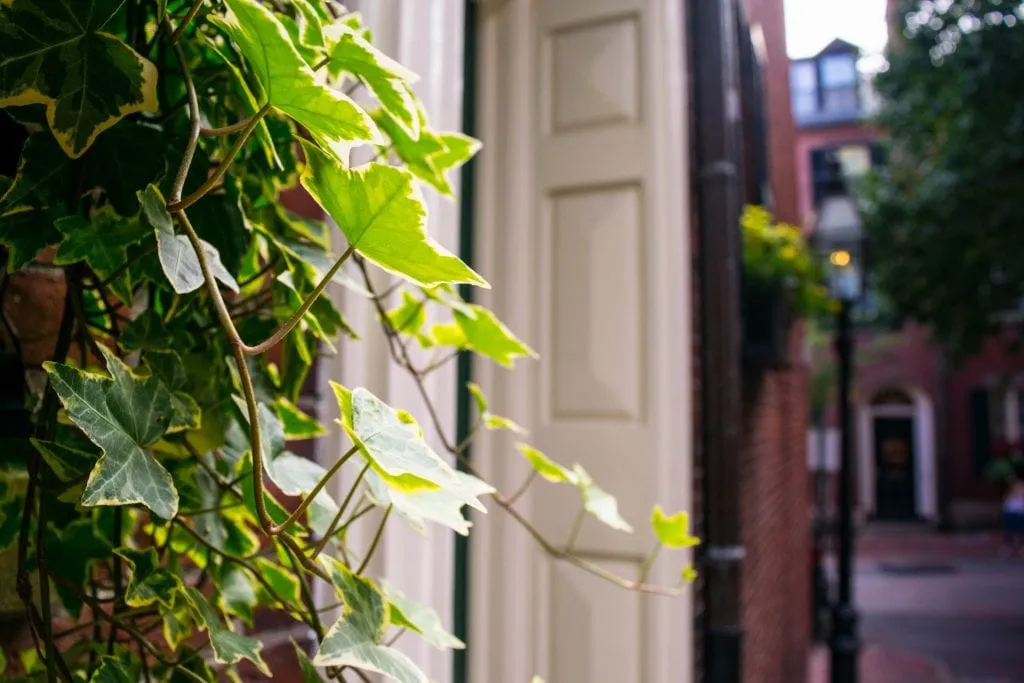 Day 1 in Boston Itinerary
Start your morning in the Boston Public Garden.
The Boston Public Garden is one of our favorite places in the city: quiet and beautiful, it's a great place to relax, take a walk, and enjoy a bit of peace in the midst of the hustle and bustle of the city.
Be sure to check out the Make Way for Ducklings Statue, put in place for the famous children's book that features Boston, while you're there!

If you'd like to enjoy views of the Boston Public Garden from the water, the swan paddle boats in the garden's pond are famously inexpensive at $3.00/ride.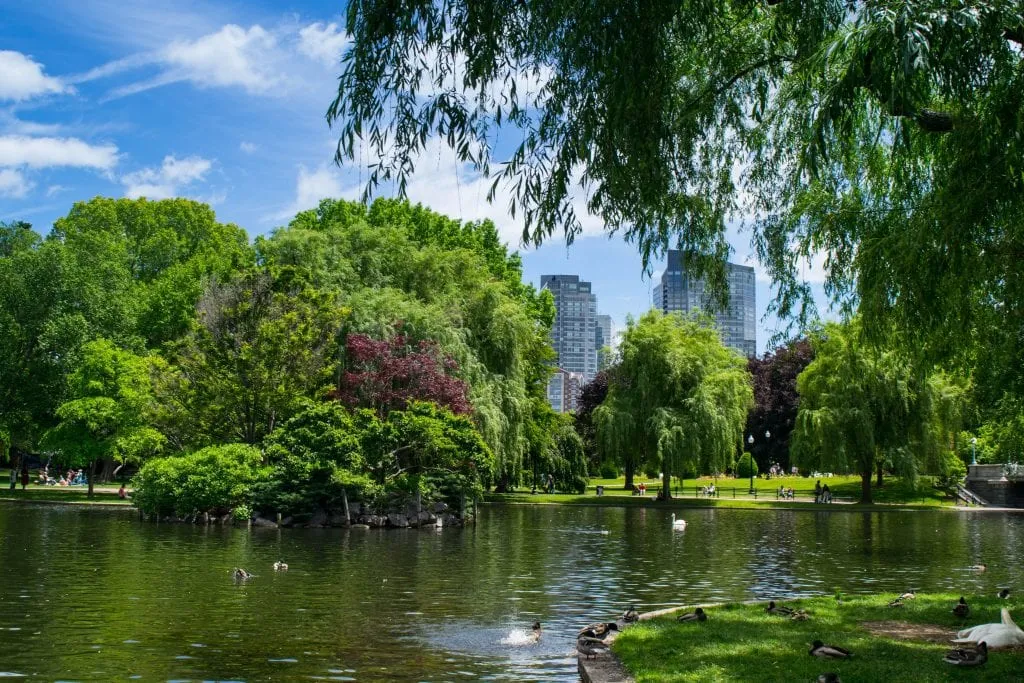 Head to Back Bay for brunch & beautiful houses.
Back Bay is one of Boston's trendiest addresses: here is where you'll find stunning mansions, high-end shopping, and the occasional burst of surprising quirkiness (like The Fairy Shop, which features oodles of Harry Potter memorabilia and makes my inner eleven-year-old quake with joy).
Commonwealth Avenue
Some of the most fashionable addresses in Boston can be found on Commonwealth Avenue: stretching into Back Bay from its endpoint at the Boston Public Garden, don't miss the chance to walk down this stunning street and gawk at the beautiful homes.
Boston Public Library
In addition to being exquisitely beautiful, bibliophiles across the USA owe a debt of gratitude to the Boston Public Library for its continuing advances forward: it was the first publicly funded library, the first library to open additional branches, the first to lend books out, and more recently, the first to install free wifi.
In other words, they're pretty cool (and the reading room is a must-see during 2 days in Boston).
Trinity Church
One of the most beautiful churches in Boston, this 19th-century church sticks out amongst the more modern feel of Back Bay.
Peruse Brattle Bookshop.
As a book lover, I can't write a 2 days in Boston itinerary without including the epic Brattle Bookshop!
Dating back to the 19th century and specializing in used and rare books, Brattle Bookshop is located just off Boston Common and includes three stories and–my favorite–an outdoor courtyard stuffed to the brim with books.
Even if you don't make it inside, the courtyard is worth seeing: it boasts hundreds of inexpensive, used books (perfect for a cheap souvenir!) and enormous murals that climb the courtyard walls.
Stroll through Boston Common & enjoy views of the Massachusetts State House.
Boston Common is the heart and soul of Boston: within a few minutes walk you can be in Beacon Hill, Back Bay, at the Massachusetts State House, at the theatre, shopping at Downtown Crossing (this is where you'll find all the standard chain stores), or exploring a piece of American history.
The park is gorgeous to walk through–be sure to stop by the carousel and to take in the views of the gold-domed Massachusetts State House while you're there!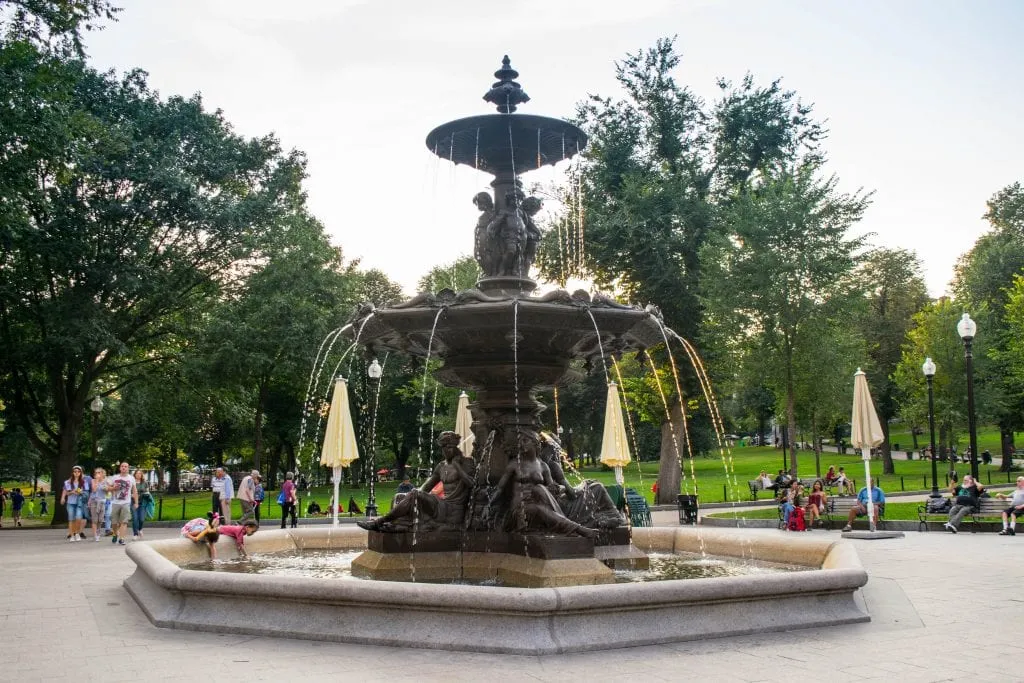 Pay a visit to Beacon Hill.
Beacon Hill is my favorite neighborhood to explore in Boston.
This is the Boston you see on postcards: redbrick mansions, black shutters, a cobblestone path or two, tree-lined streets.
It is absolutely stunning to wander through–we recommend walking from Boston Common up to Louisburg Square, which boasts some of the most prestigious addresses in Boston (former Secretary of State John Kerry lives here), and then taking a quick stroll to Acorn Street to take advantage of one of Boston's most photogenic spots.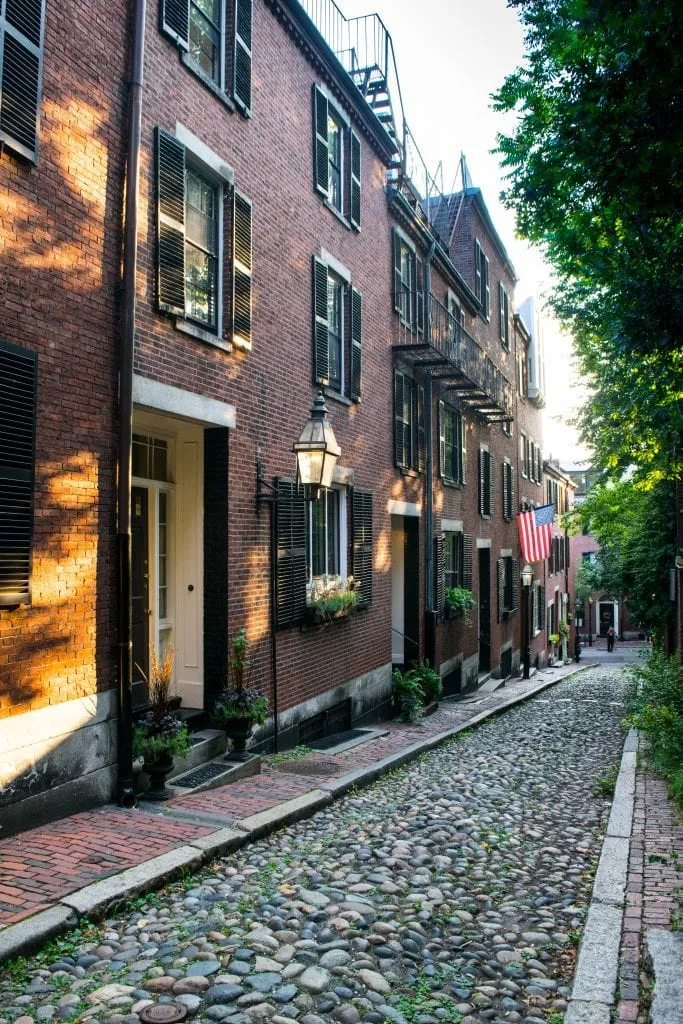 Visit Park Street Church & Granary Burying Ground.
After enjoying a bit of time in Beacon Hill, head back down to Boston Common and pay a visit to the Park Street Church and Granary Burying Ground, which are right next door to the Common.
You'll notice a large monument with a very familiar name in Granary Burying Ground: Benjamin Franklin's parents are buried here, and a monument to the family is erected toward the center of the cemetery.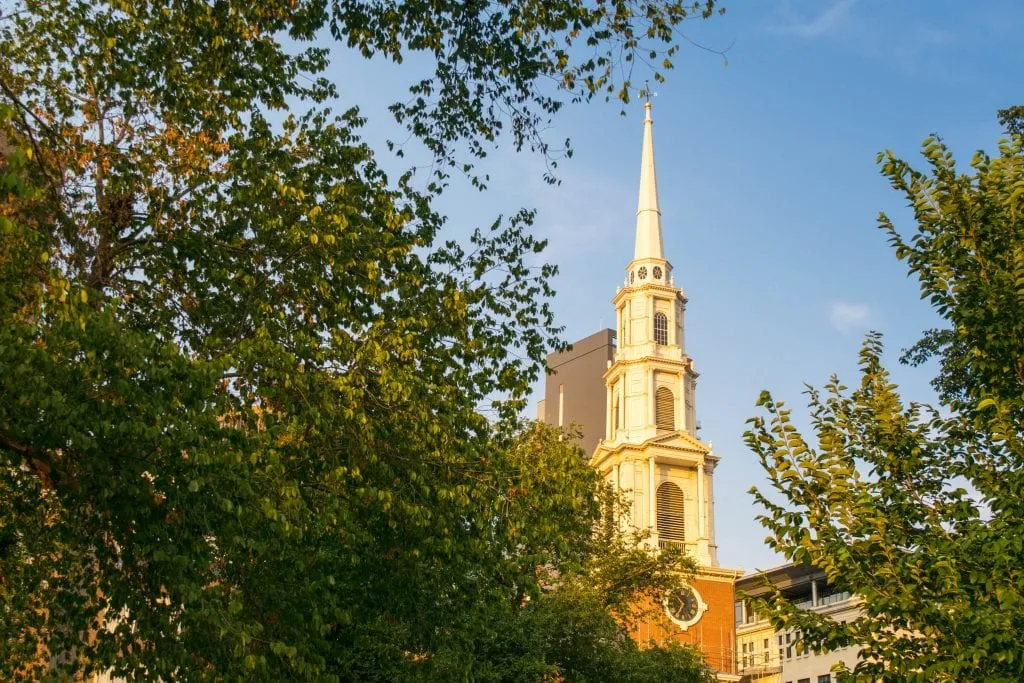 Stop by King's Chapel & Burying Ground.
The King's Chapel is my favorite church in Boston to go inside–not because it is ornate, but because it is so unique among US churches.
Built originally as an Anglican Church in the 18th century, the church has enclosed "boxes" instead of rows of pews. Originally, prominent families who were members of the church would have a box of their own that they would sit in each Sunday.
The King's Chapel still has an active congregation–but these days, instead of Anglicans, Unitarians call the chapel home.
Eat the original Boston Creme Pie at Omni Parker House.
Think you need to make a reservation and sit down to a meal to eat the original Boston Creme Pie?
You definitely don't!
The Omni Parker House has a small shop on the first floor selling the delicious cakes, and we recommend stopping to pick one up.
If you want to also try the original Parker House rolls (which are, in fact, delicious), consider planning a meal–home to one of Boston's many historic restaurants–at the Omni Parker House as well.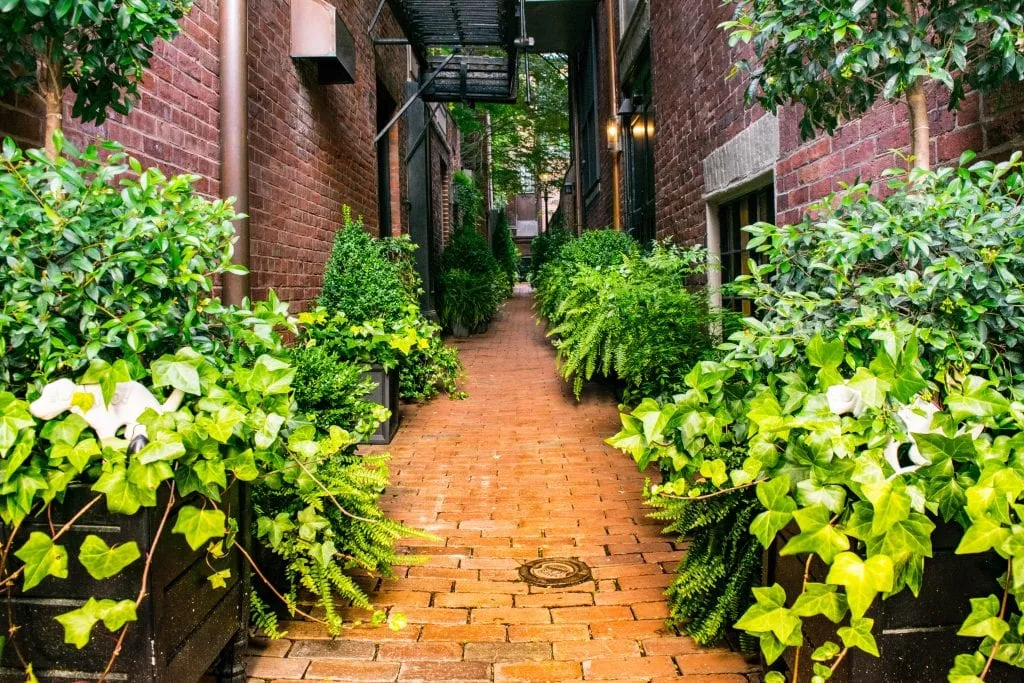 Take a peek at the Old Corner Bookstore.
The former home of Anne Hutchinson has acted as a bookstore, apothecary, home, Boston Globe souvenir shop, diamond store, and now a Chipotle: talk about evolution!
The building is still worth a nod as you go by, though, and also happens to be set right across from the Irish Famine Memorial–a striking statue worth taking a look at during your 2 days in Boston.
Pay a visit to the Old State House & the site of the Boston Massacre.
As you wander your way through Boston on your way to the Old State House, be sure to note the Old South Meeting House along the way!
The Old State House and the site of the Boston Massacre that is right out front is the perfect final sightseeing stop on your first day in Boston.
As the oldest surviving public building in Boston, the Old State House has seen more than its fair share of American history: it was once the seat of the colonial government, then became the seat of the Massachusetts state government and eventually Boston City Hall.
The Old State House has been a museum since the 19th century, after more than 100 years in public service and a brief stint as a commercial building.
Day 2 in Boston Itinerary
Begin in the Marketplace District.
Boston's marketplace district is all about the food, so come hungry (just ignore the hideous city hall that's across the street).
Boston Public Market
Looking for some New England specialties, whether to devour immediately or to take home?
Boston Public Market is the perfect spot for that: featuring exclusively New England-based products and companies, you can pick up anything from produce to donuts to crafts here.
This is one of my favorite spots in Boston–and not just because of how good the ice cream is!
Haymarket
If you're lucky enough to have your 2 days in Boston overlap with a Friday or Saturday, be sure to swing by Haymarket (located right in front of the Boston Public Market) to check out a fabulous farmer's market!
Faneuil Hall Marketplace
Made up of closely located Faneuil Hall, Quincy Market, South Market, and North Market, this is the heart of Boston's historic market district–and also one of the most touristy places in the USA.
While we definitely feel it's worth stopping by during your 2 days in Boston to appreciate the markets and the history behind them (Faneuil Hall dates back to the 18th century), unless crowds, chain stores, and overpriced food are your thing, you won't need to stick around long.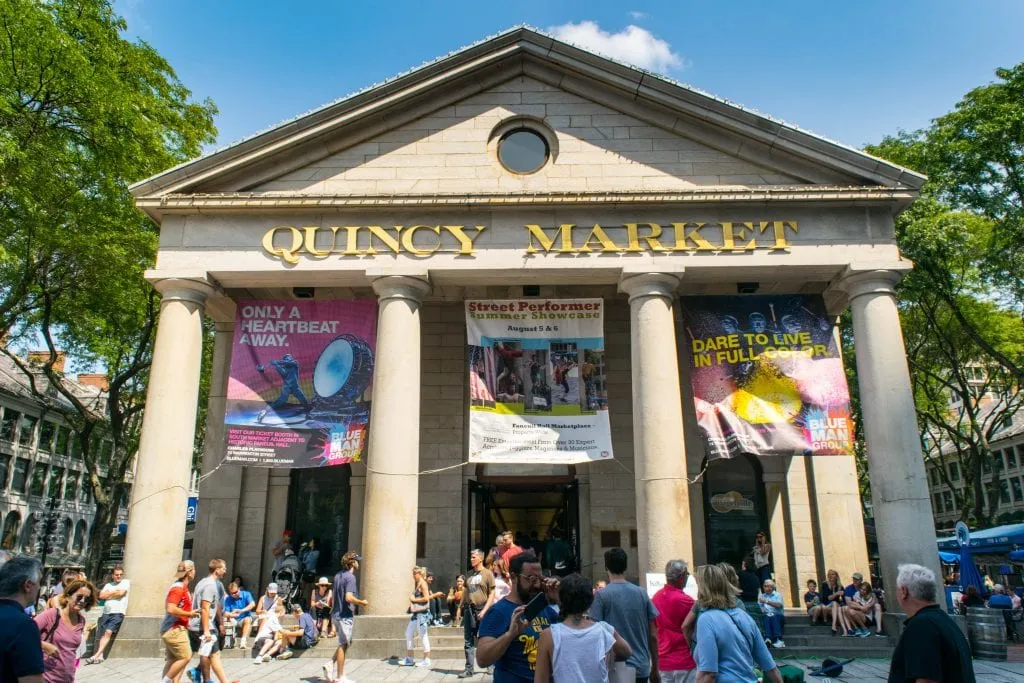 Stop by the New England Holocaust Memorial.
Right in between the Boston Public Market/Haymarket area and the Faneuil Hall Marketplace sits the sobering New England Holocaust Memorial.
It takes very little time to walk through–no line, no entrance fee–but is absolutely worth taking a moment to slow down and appreciate.
Head into the North End.
Boston's North End (also known as "Little Italy", though you won't catch a local calling it that) is the oldest neighborhood in Boston and a fascinating sort of place: once a neighborhood popular with Italian immigrants, today it is more popular with tourists.
It's home to tons of Italian food (from the very good to the very bad), beautiful architecture, several noteworthy spots in American history, and a couple of very famous pastry shops.
Paul Revere House
The oldest remaining building in downtown Boston once belonged to none other than Paul Revere!
Whether you head inside for a tour or simply admire the facade as you walk by during your 2 days in Boston, be sure to note this piece of American history sitting in the North End.
Old North Church
And speaking of Paul Revere…
The whole "one if by land, two if by sea" story? That lantern was said to have been hung here, at the Old North Church.
Copp's Hill Burying Ground & Spite House
Boston's second-oldest cemetery holds more than 1200 marked graves that include plenty of notable burials from the colonial era… but that's not the only reason to visit.
Right across from Copp's Hill Burying Ground sits the Spite House (also known as the Skinny House), which is home to one of my favorite Boston stories.
As the story goes, two brothers inherited land from their father. While one was away serving in the American Civil War, the other brother built a large home, taking over part of the soldier's inheritance.
When the soldier returned home, he built the "Spite House"–incredibly skinny, and yet incredibly effective at blocking his brother's view.
The legitimacy of the story is somewhat questionable, but it sure is a classic Boston tale.
Mike's Pastry & Modern Pastry
If you've heard one thing about eating cannoli in the North End, it's probably about how delicious Mike's Pastry is.
If you've heard two things, it's probably that Modern Pastry is better and more "unknown".
Here's what we can tell you firsthand: Modern Pastry is tasty, and the line at Mike's Pastry was always too long for us to bother with (though we've heard from others it dies down sometimes–if you visit in the offseason, you might get lucky!).
Regardless of where you choose to get one, we do certainly recommend eating a cannoli or two during your 2 days in Boston.
Pay a visit to the penguins at the New England Aquarium.
The New England Aquarium is one of the best aquariums we have ever been to there's a huge emphasis on conservation, the exhibits are striking and education-focused, and the aquarium's location on the harbor means that it is even able to use the natural seawater for some of its exhibits!
Though the five-story ocean tank, complete with an ancient sea turtle named Myrtle, is incredible, the real showstopper for us is the penguins.
We adore penguins, and the New England Aquarium is home to several species.
If you want to see something truly adorable, visit the aquarium at 9:00am or 2:30pm–aka penguin feeding time.
Want to avoid waiting? Purchase a skip-the-line aquarium ticket before you get there!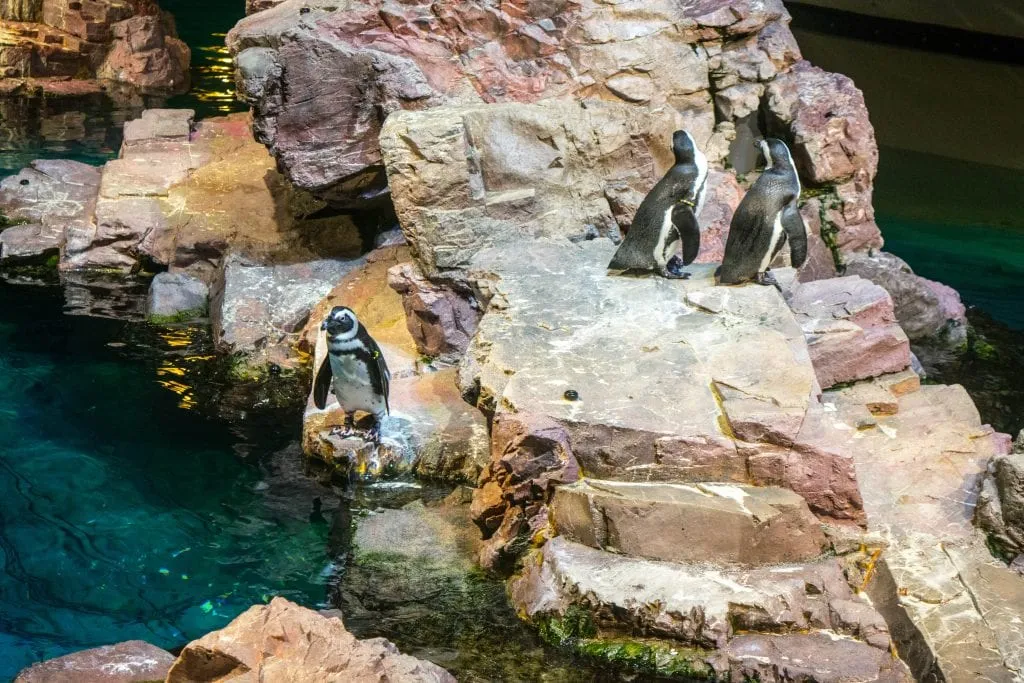 Take a stroll along the Harborwalk.
At around 43 miles long, you definitely won't see even a quarter of the Harborwalk with only 2 days in Boston–but this continuous trail along Boston's coastline is definitely worth checking out for a little bit.
Luckily, the New England Aquarium is located right on it, making it easy to go for a walk before or after your visit.
Enjoy the sunset from the water with a harbor cruise.
The perfect end to a 2 day Boston trip isn't in Boston at all–it's in the water, staring back at the city that boasts one of my favorite skylines in the world.
We recommend taking a harbor cruise around sunset to enjoy the end of the day–cruises are available at literally all price points, from a basic group cruise in a shared boat to a private sailing experience complete with dinner and wine.
For a less expensive harbor cruise, this sunset cruise is a great option!
But what about the Freedom Trail?
If you know one thing about Boston, it's probably the Freedom Trail: the famous 2.5-mile trail covers 16 historical sights related to American history in Boston, and is easily one of the most popular things to do in the city.
So don't worry–it's definitely on the list!
In fact, 14 of the 16 sights on the Freedom Trail are covered in this 2 days in Boston itinerary, including Boston Common, Park Street Church, King's Chapel, Faneuil Hall, every historical sight I discuss in the North End, and more.
If you follow this Boston itinerary on your weekend in Boston, you'll spend quite a bit of time walking the Freedom Trail, and you'll have tons of opportunities to check out the brick markings that denote where it leads!
Rather than simply list something so vague and malleable on our 2 days in Boston itinerary, though, we wanted to be sure to give specific suggestions–after all, the trail can be seen in any order and doesn't need to be done all at once.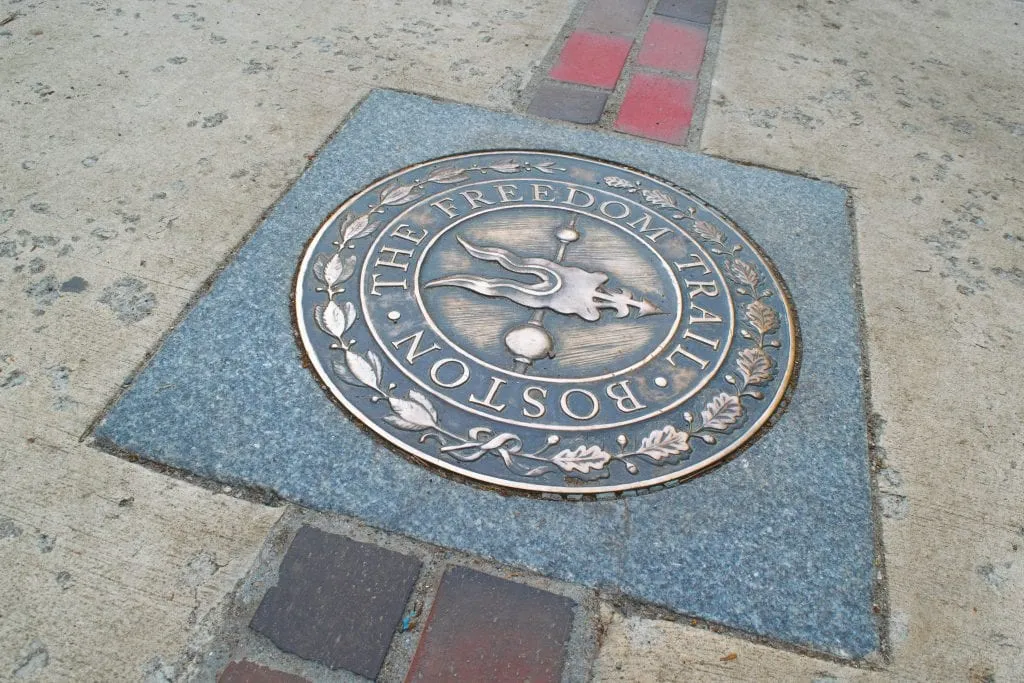 Don't want to walk? Consider a Duck Tour.
Cheesy? Yes.
Entertaining? Absolutely.
Boston's Duck Tours are famous for the unmistakable truck-slash-boat contraptions that they cart tourists around in by both land and sea. Corniness aside, if you're looking for an excellent way to get an overview of Boston's most famous sights and history without too much walking a Duck Tour might be the right choice for you!
The tours do sell out, especially in the summer, so be sure to book in advance if you want to make a Duck Tour part of your 2 days in Boston itinerary!
Book your Boston Duck Tour today!
Where to Stay in Boston
With only 2 days in Boston, we recommend staying somewhere close to a metro that is near the center of the action.
The North End is a tempting option, but it is fairly difficult to get in and out of. We'd recommend staying somewhere in Back Bay or the Historic Downtown if possible. The Theatre District (near Downtown Crossing and Chinatown) is another solid option with a great central location.
If budget is an issue, you may need to go a bit further out. That's not a problem–just make sure you're within walking distance of a metro stop!
Here are a few budget-to-midrange (Boston is expensive, there's no getting around it) hotels that we would consider if we were staying in Boston today:
If you're on a strict budget and are open to a hostel, Boston does have a few to choose from.
This one tends to be rated highly: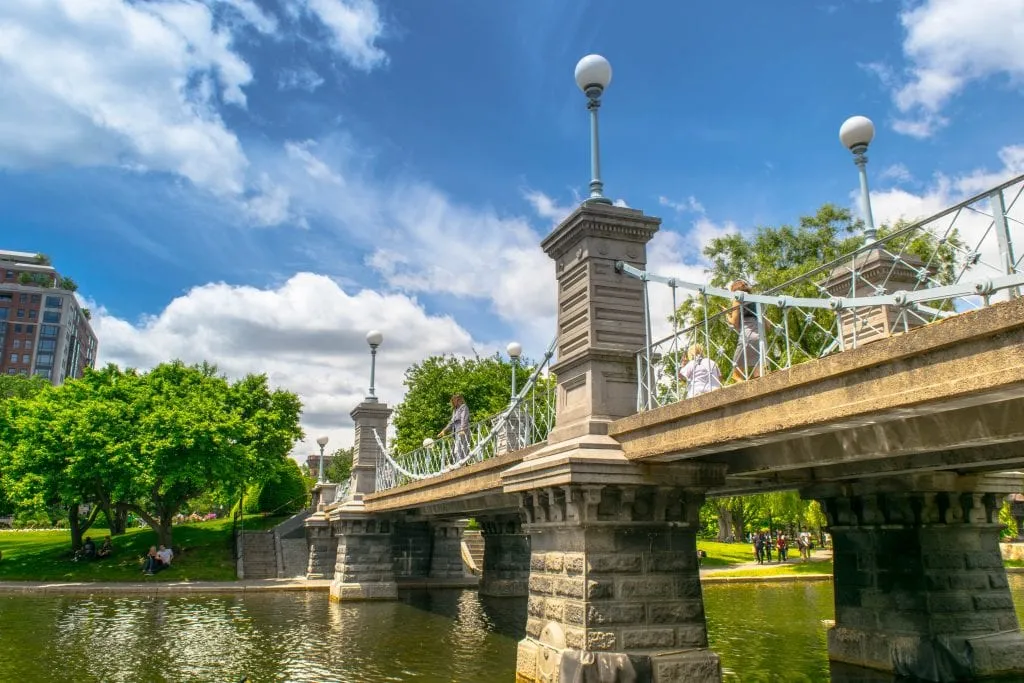 The Boston Go Card: Worth the Money?
The Boston Go Card is promoted as an all-access pass, allowing you to buy several Boston attractions at once.
With this 2 days in Boston itinerary, you won't need it: the 2-day pass won't allow you to break even or get ahead with the attractions listed here.
However, if you're staying in Boston longer, or you are interested in participating in a Hop On/Hop Off bus tour, completing a Fenway Park tour, visiting the Skywalk Observatory, or visiting several museums, then the Boston Go Card is probably the right option for you.
Find out more about the Boston Go Card and see if it's right for you!
More than 2 days in Boston, MA?
Boston is full of things to do: even after 3 months in the city, we still left with a to-do list longer than we would have liked.
If you're lucky enough to have more than 2 days in Boston, consider visiting Revere Beach (it's the oldest public beach in the USA!), touring the Samuel Adams Brewery, attending a Boston Red Sox game (or just touring Fenway Park, the oldest baseball stadium in the USA), taking a walk along the Charles River Esplanade, or heading out a bit farther along the Freedom Trail to take in the two remaining sights not covered on this itinerary, the USS Constitution and the Bunker Hill Memorial.
If you're a museum fan, Boston has enough to keep you occupied for months: for example, the Isabella Stewart Gardner Museum is built in the form of a Venetian palace, holds gorgeous artwork, and is the victim of a heist.
For science lovers, the home of MIT and Harvard has you covered: the Boston Science Museum and MIT Museum are both worthy of a visit.
With time to plan in advance, consider going stargazing at the Coit Observatory.
If you're visiting in the summer, a visit to the Harbor Islands is always a good idea for nature lovers.
I could keep going forever, but suffice it to say: you can do a lot with only 2 days in Boston, but you can't do it all!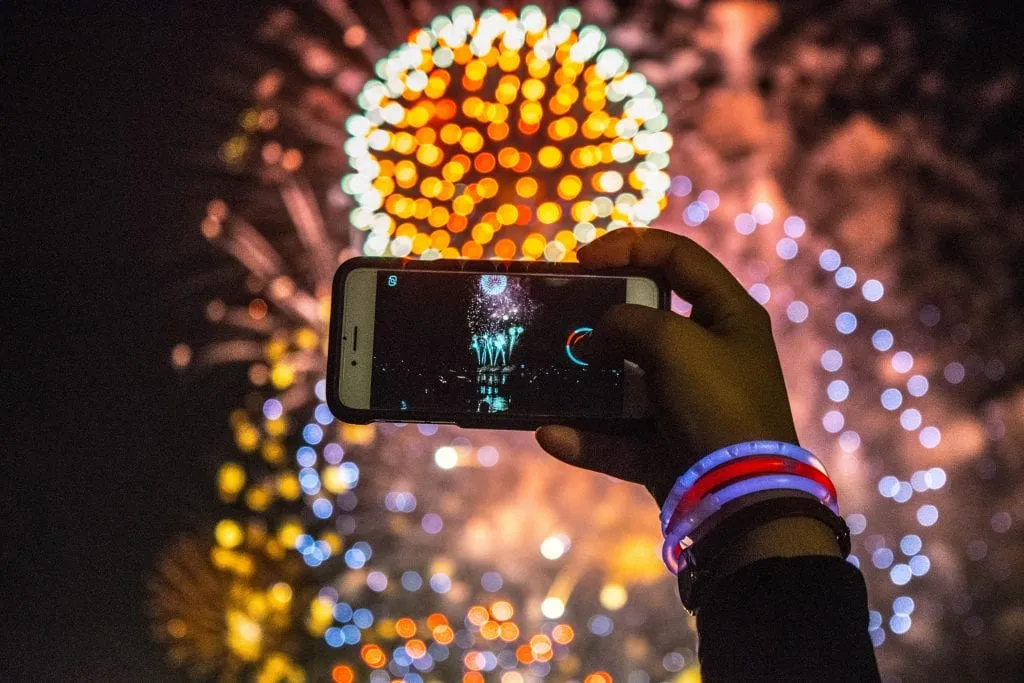 Where to Eat in Boston
We are far from experts on Boston cuisine (in fact, we tried to cook at home as much as we could convince ourselves to during our 3 months there), but we did end up having some truly stellar meals while in Boston.
Here are a few of the places we enjoyed–consider adding a couple to your 2 days in Boston itinerary!
Buttermilk & Bourbon —
Commonwealth Avenue (Back Bay)
I love biscuits.
More than that, I love southern biscuits, and I've been eating them all my life, in North Carolina and beyond.
So when I say that Buttermilk & Bourbon serves southern-style biscuits so delicious that I still think of them fondly a year later, I really mean it.
All of the food we had was incredible, and we can't recommend their brunch enough (and I assume lunch and dinner are fabulous as well).
[instagram url=https://www.instagram.com/p/BX-XsBYBY5J/?taken-by=ourescapeclause]
Neptune Oyster —
Salem Street #1 (North End)
I'm not a huge oyster fan, but Jeremy sure enjoyed these (and the lobster roll he happily consumed after downing the oysters).
A friend of ours took us here when she came to visit us in Boston, touting it as one of her favorite restaurants–and judging by the fact that she looked to be having almost a religious experience the entire time she was eating their oysters, it's a well-earned spot on her list.
As the resident non-oyster eater, I can attest that their burger was delicious.
Ristorante Euno —
Salem Street (North End)
Many Italian restaurants in the North End are duds.
Ristorante Euno is not one of them–in fact, this is the only restaurant in the USA we have eaten in that even begins to approximate having dinner in Italy.
We ate here with a big group and had the opportunity to taste everything from several kinds of pasta to veal to steak to we-stopped-counting-at-some-point amounts of wine, and it was all delicious.
Tatte Bakery and Cafe —
Charles Street (Beacon Hill)
Tatte Bakery & Cafe has several locations around Boston, but the Beacon Hill location is easy to reach as part of your 2 days in Boston itinerary!
Home to delicious sweets, tasty sandwiches (I had a brie and prosciutto sandwich that was incredible), and pastries that look too beautiful to eat, Tatte Bakery is a great place for a snack or quick lunch while you're running around trying to see Boston in 2 days.
Bell in Hand Tavern —
Union Street (Marketplace District)
America's oldest tavern has been pouring ale since 1795, so you'd assume that puts them at risk of being gimmicky with mediocre food, but nope!
We never had a bad dish at Bell in Hand Tavern, and their burgers are incredible.
If you're hungry while in the marketplace district, this is the stop for you!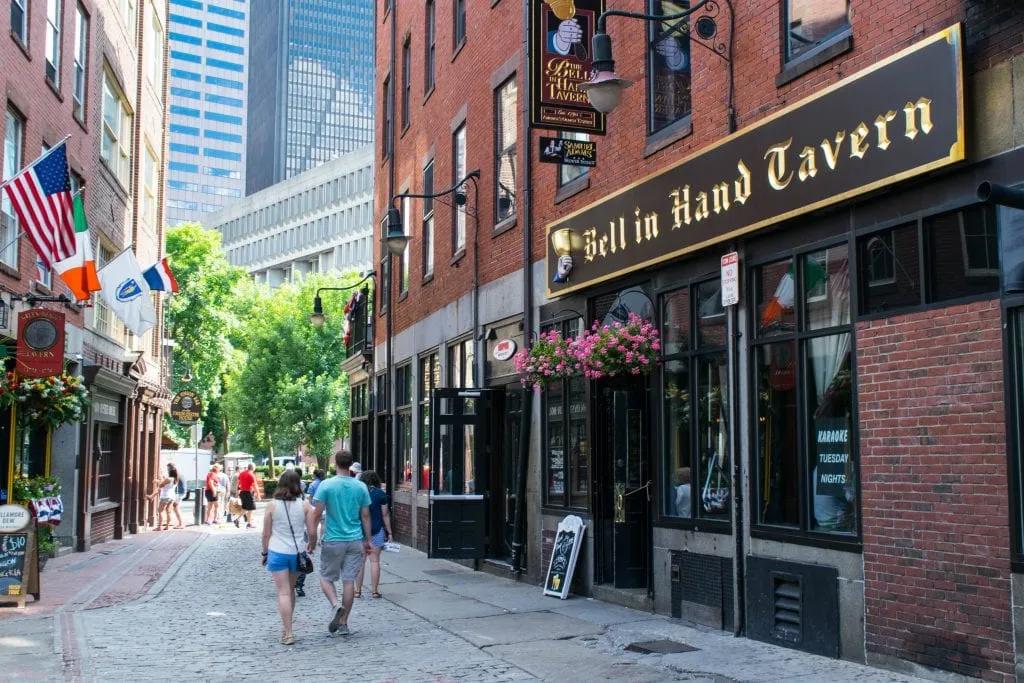 Pomodoro —
Hanover Street (Brookline Village)
This one is located out in our old stomping grounds of Brookline Village–and quite honestly, with only 2 days in Boston, I doubt you'll make it out there.
If you're staying longer, though, I can't recommend a wander through Brookline Village enough (it's adorable!), and would definitely suggest adding in a stop at Pomodoro while you're there.
We had one of our best meals of the summer at Pomodoro, and I would love to visit again and soak up all their delicious Italian food and wine.
There is a catch: they only take cash, so come prepared or be ready to march to the ATM down the street once you finish eating (we may or may have had to do this).
Union Oyster House —
Union Street (Marketplace District)
Right across the street from America's oldest tavern sits America's oldest restaurant, which has been serving up seafood (and especially New England chowder) since 1826.
We didn't eat here personally, and reviews are mixed–some say the food is excellent, some say it is just okay. Most agree that you're paying a bit more to eat at a historical location, which is not surprising.
Regardless of the ups and downs, though, I couldn't bear to leave it off–even if you just snap a photo of the exterior as you walk by on the Freedom Trail, it's worth being aware of this landmark during your 2 days in Boston.
[instagram url=https://www.instagram.com/p/BXacBR1hALQ/?taken-by=ourescapeclause]
Parker's Restaurant at Omni Parker House —
School Street (Historic Downtown)
I'll admit: the main dishes here were good-not-great for the prices they charge… but gorging ourselves on the original (and delicious) Parker House Rolls and Boston Creme Pie made us glad we experienced the food once.
If you want to try out Parker's House, we recommend going for lunch or brunch to keep costs down a bit.
Dunkin' Donuts —
Literally Everywhere
Okay, this is (mostly) on here as a joke–but okay donuts and subpar coffee aside, there's no denying that Dunkin' Donuts is a true Boston experience.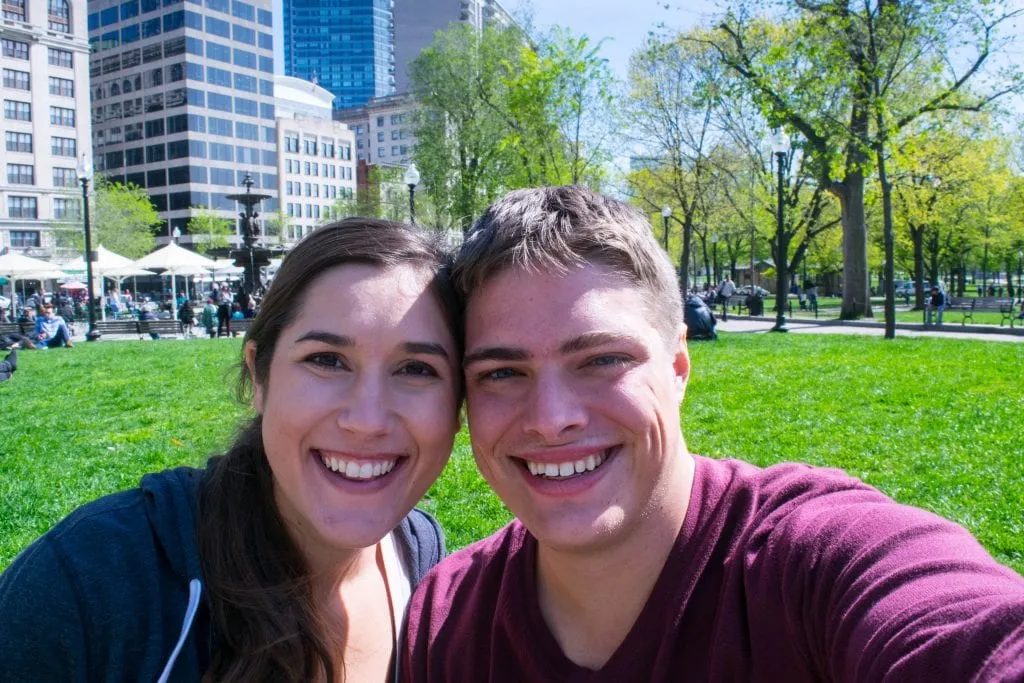 Getting Around Boston
Boston is consistently rated as one of the most walkable cities in the USA and is also home to one of the densest public transportation networks in the country.
During our 3 months in Boston, we relied exclusively on the subway, the occasional bus, and our feet to get around the city, and we recommend you do the same during your 2 days in Boston.
There are two ways to buy tickets to the metro system: with a CharlieCard (which is free and reloadable), and individually.
The CharlieCards can be picked up from any attendant in the subway stations, but they aren't always available.
It's an extra $0.50/ride to purchase a ticket without a CharlieCard, and with only 2 days in Boston, I wouldn't worry too much about getting one.
Bonus piece of history: if you ride the Green Line of Boston's metro system, specifically between Park Street and Boylston, you'll be riding on one of the oldest metros in the world (and arguably the oldest one in the USA).