Tucked away in wine country and packed with historic attractions (including one very famous chapel), the best things to do in Évora, Portugal are both fascinating and varied.
As a UNESCO World Heritage Site and the capital of Portugal's Alentejo region, Évora makes for an exciting day trip from Lisbon or a standalone destination in its own right.
If you're wondering what's special about Évora–we've covered that in detail here.
From a Chapel of Bones to a 7,000-year-old megalithic complex and beyond, here's what to do in Évora, Portugal!
Where is Évora, Portugal?
Unlike many of the best places to visit in Portugal, Évora is not located on the coast and doesn't have a beach–but this inland destination is worth the trek.
Set about 87 miles (140 kilometers) east of Lisbon in South-Central Portugal, Évora is a worthy addition to any Portugal itinerary.
We'll cover how to get to Évora from Lisbon in more detail later in this travel guide, but suffice it to say that you have the option of driving, taking the train or bus, or booking a day trip like this popular one.
Book your day trip to Évora today!
The Best Things to Do in Évora, Portugal
Step inside Évora's Chapel of Bones.
Without a doubt, the most famous of all of the attractions in Évora is the city's Chapel of Bones (Capela dos Ossos).
Constructed in the 17th century at the behest of Franciscan friars, the chapel served a dual purpose.
First, to re-inter the bones from many cemeteries that needed to be relocated as the city grew, and second, to provide residents of the then-wealthy city a chance to reflect on the fleeting nature of human life.
The chapel is said to have been built in the model of the ossuary of San Bernandino all Ossa in Milan, though if anything, I'd argue Évora's version is more memorable (we have a photo of the Milan chapel in this blog post).
The Chapel of Bones remains captivating 400+ years later, and visiting is absolutely one of the best things to do in Évora.
Once you finish visiting the chapel, there's a small museum that is included in your ticket to check out upstairs, featuring traditional art as well as–somewhat incongruently–a collection of hundreds of nativity scenes from around the world.
… and check out the Church of São Francisco.
The Chapel of Bones is technically part of the Church of São Francisco, though today they have separate entrances next door to each other.
While the chapel requires a ticket, the Church of São Francisco is free to visit and worth ducking into when visiting Évora, Portugal.
Deceptively plain on the outside (though with a few Manueline details if you look closely), the Gothic interior of the church is striking.
The opulent chapel to the left of the altar is particularly worth seeing, so be sure to walk all the way to the front when visiting!
Admire the Roman Temple of Évora.
When imagining the ruins of Roman temples scattered around the world, Évora probably isn't the first location that comes to mind.
And yet, you'll find a Roman temple dating to the 1st century CE right in the center of town!
Located next door to the cathedral, the temple is a popular place to visit in Évora, though you can't go inside.
The temple is often referred to as the Temple of Diana, though that is inaccurate: the first reference to the "Temple of Diana" didn't appear until the 17th century, well over 1500 years after the temple's initial construction.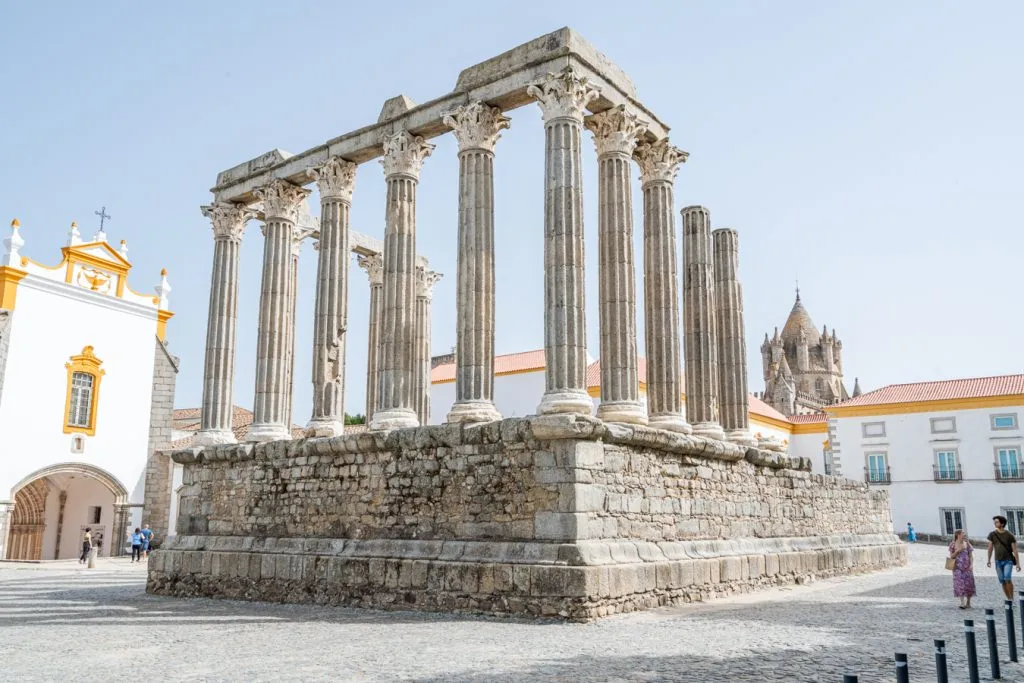 Climb to the top of the Évora Cathedral (and explore inside).
At more than 800 years old, the Évora Cathedral is the largest medieval cathedral in all of Portugal–and visiting is rightfully near the top of any list of what to do in Évora.
While the soaring interior, beautiful cloisters, and attached museum are all worth visiting, the cathedral is most famous for the views from its rooftop.
A mere 106 steps (a bargain for European cathedrals!) will deliver you to the rooftop, where you'll be treated to stunning views of the cathedral's magnificent architecture as well as the Alentejo countryside and the city of Évora itself.
People-watch in Giraldo Square.
As Évora's largest and liveliest square, having a coffee or snack while people-watching in picturesque Giraldo Square (Praça do Giraldo) is a delightful way to pause between more typical tourism activities in Évora.
With roots in the 13th century, this laid-back square has many, often dark, stories to tell, starting with the fact that it was heavily featured in Évora's struggles with the Spanish Inquisition.
Today, though, Giraldo Square is both a Portuguese National Monument and a charming place to relax when visiting Évora.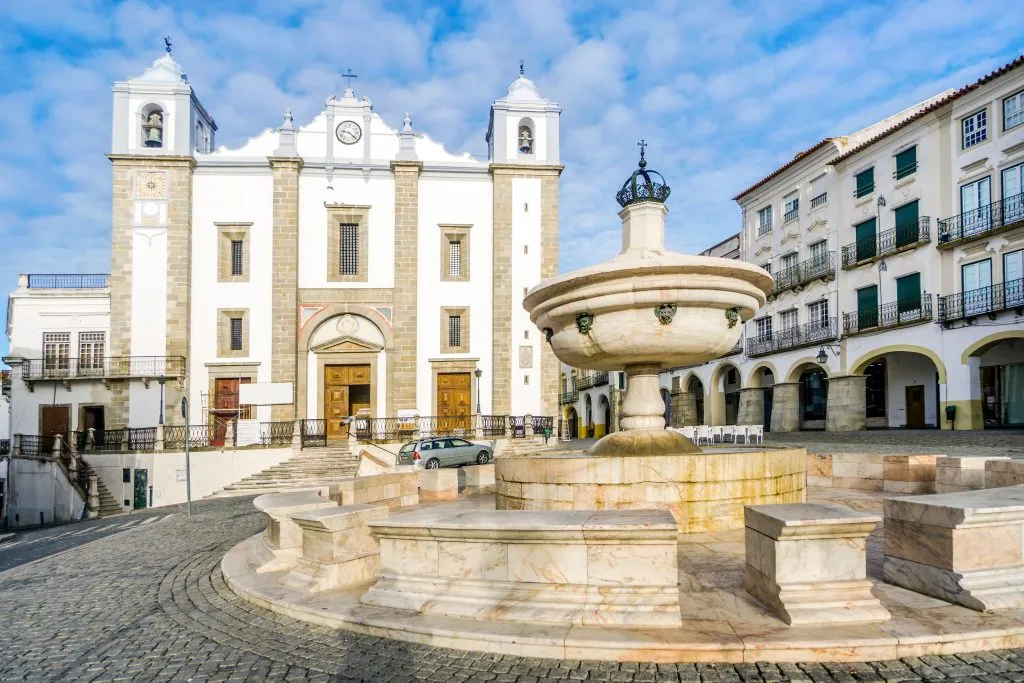 Browse for souvenirs along Rua Cinco de Outubro.
Looking to do a little souvenir shopping in Évora?
If so, head directly to the bustling Rua Cinco de Outubro, which is lined with souvenir shops and handicraft stores, which are often set up with their wares spilling delightfully into the street.
You'll certainly find plenty of the same mass-produced souvenirs you'll find anywhere else in Portugal here, but if you're looking for something more unique, there are options for that, too.
We loved the local art and decor available at Gente d a Minha Terra (39 Rua Cinco de Outubro), and definitely didn't walk out empty-handed.
If you're looking to purchase a souvenir that's local to Évora and not just Portugal overall, consider cork items.
Stop by the facade of the Church of Nossa Senhora da Graça.
Dating to the early 16th century, this the Church of Nossa Senhora da Graça has a striking facade that is worth adding to your Évora itinerary.
Unfortunately, the church has extremely limited hours, so you probably won't be able to go inside.
The attached convent is used by the Portuguese Armed Forces and is not open to the public at all.
That being said, since the Church of Nossa Senhora da Graça is a mere 2-minute walk from the Chapel of Bones, it's worth a quick detour for the statues on the front of the facade alone!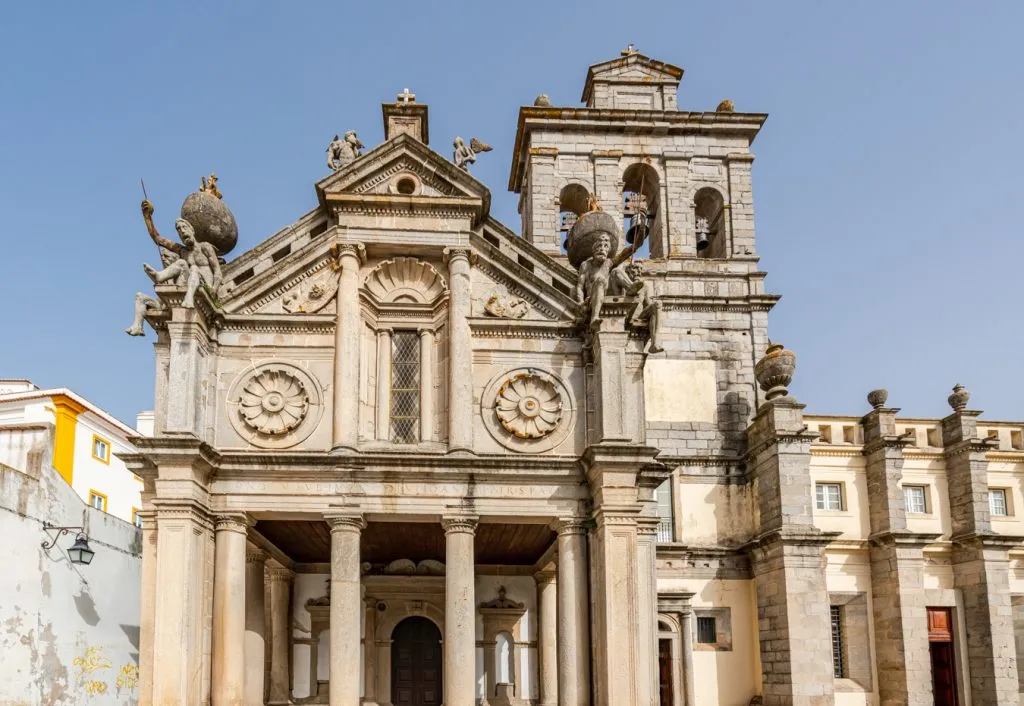 Explore the Public Gardens.
Évora's pretty public gardens are the perfect place to relax, enjoy some shade, and make friends with peacocks (it wouldn't be a Portuguese park without peacocks, after all).
Beyond the simple joys of the park, though, there are a few other attractions to keep an eye out for in the Public Gardens, including the Royal Palace of Évora, which hosts a revolving door of exhibitions.
Don't miss the "fake ruins" either, which despite their appearance, only date to the 19th century and are more of a photo op than anything else!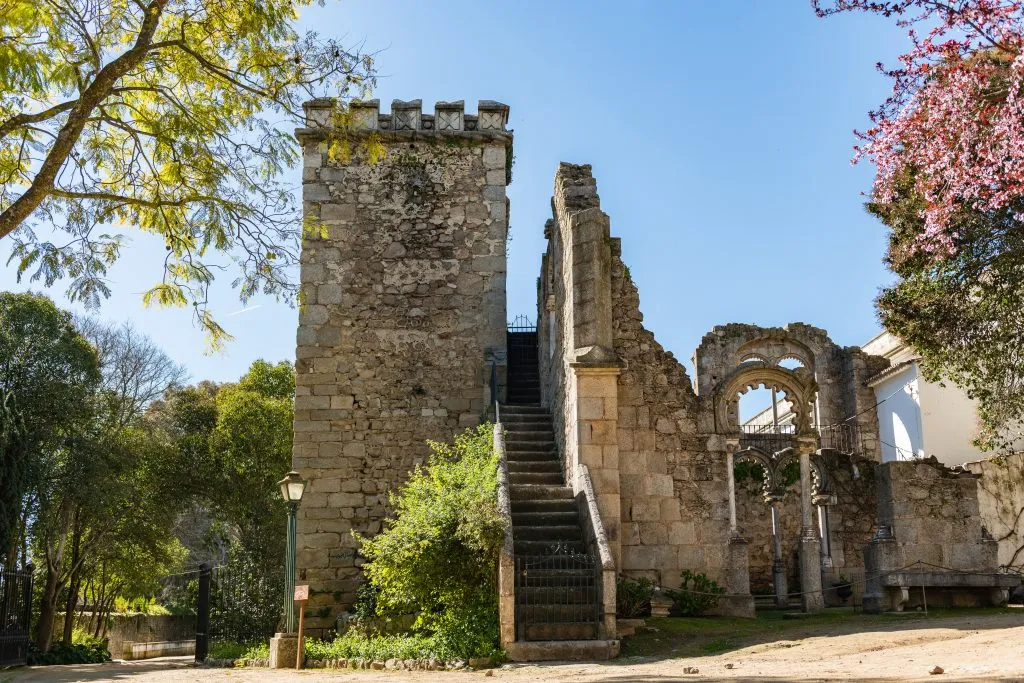 Sample some sweet queijadas de Requeijão de Évora.
It would probably take a lifetime to discover and catalog each and every version of delicious Portuguese pastry that is sold in this small country–sometimes it seems that every village has its own tasty treat to try!
One of the more famous in Portugal (though certainly nowhere near as famous as the iconic pastel de nata) is the queijadas de requeijão de Évora.
To keep it simple, consider these Évora's version of a personal cheesecake, featuring sheep's cheese, sugar, and the (ever-present, in Portuguese sweets) egg yolk.
You'll find them in any bakery in town, and you won't regret taking the time to stop!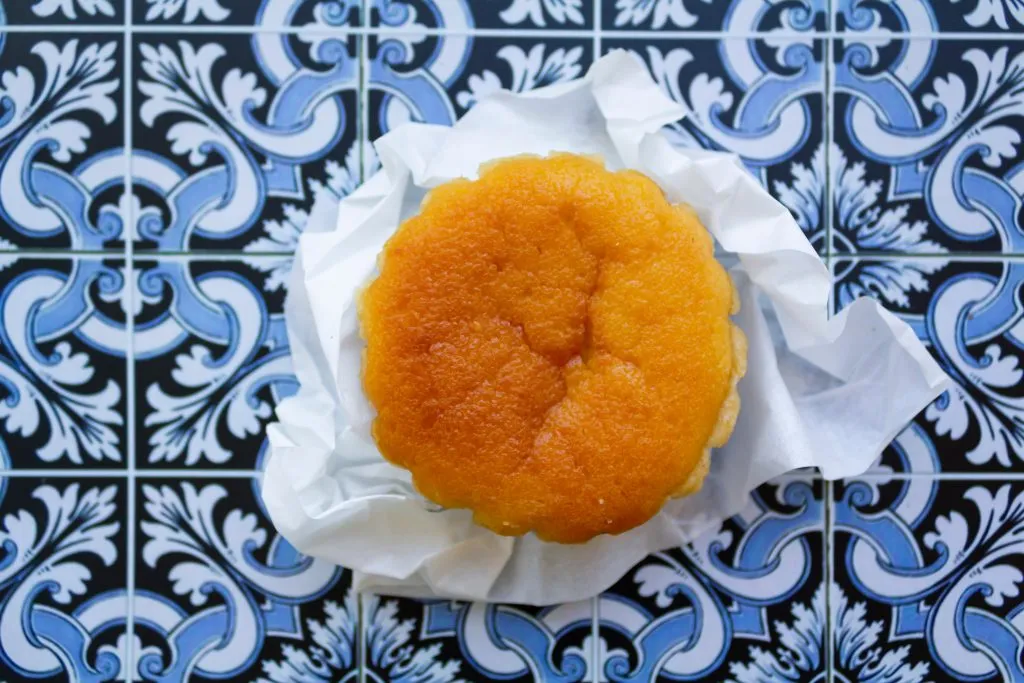 Wander the yellow-trimmed back streets of Évora.
Aside from its most famous attractions like the Chapel of Bones and the Évora Cathedral, the capital of Alentejo is perhaps most recognizable by its distinctive paint job!
All throughout the town center, you'll find buildings painted white and trimmed with bright yellow, giving the Évora a cheerful atmosphere.
And, while the areas surrounding the most popular attractions can be bustling, Évora as a whole is a fairly quiet place.
If you want to have a pretty yellow-and-white street all to yourself for a moment, it's not difficult to accomplish!
Stop by Évora's aqueduct and town walls.
The first time we laid eyes on the Água de Prata Aqueduct, it was because we were driving under it!
Less of an attraction and more of a quick point of interest, Évora's aqueduct stretches beyond the historic center of the city, dates to the 1500s, and is worth noting as you explore.
And, if you're visiting Évora as part of a Portugal road trip, that's easy to do, as the road that curves around the outside of the city center passes right underneath the aqueduct.
Similarly, the town walls: while you can't necessarily specifically visit Évora's 14th-century town walls the way you can in, say, Óbidos, Évora is still a walled city that is striking to admire.
Walking through the imposing medieval town walls to enter the city center is a delight!
Pay a visit to some of Évora's small museums.
If you only have time for one museum in Évora, make it the aptly-named Museum of Évora, where you'll find artifacts and art from over the very long life of the city.
If you have time to keep exploring, though, consider touring the interior of Cadaval Palace, checking out the Carriage Museum, or the Artifacts and Design Museum.
While simply walking through Évora is arguably like exploring a museum, it can be worth taking the time to visit a specifically curated collection, as well!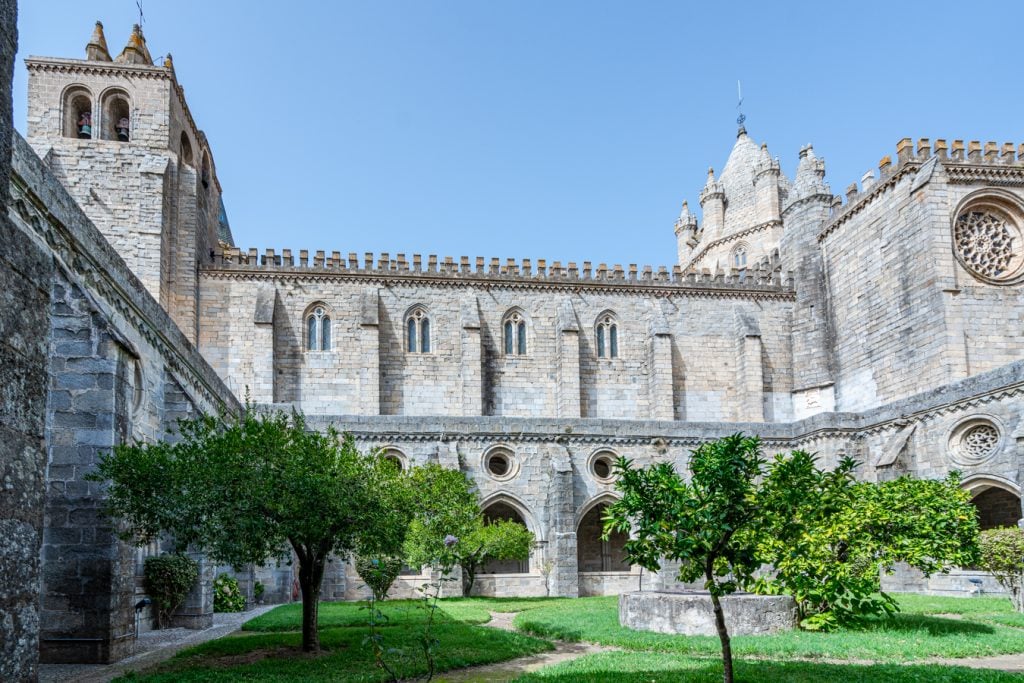 Interesting Things to See Near Évora
Explore Alentejo's wine route.
The Rota dos Vinhos do Alentejo, or Alentejo Wine Route, is not nearly as well-known as the famous Douro Valley to the north–but it is a delight to explore!
Whether you'd like to join an organized tour or simply pick out a couple of wineries to sample, using Évora as a launching pad to visit the Alentejo Wine Route is a fantastic idea.
The Cartuxa Winery is located within walking distance of the historic center and is a popular option for travelers who want to visit an Alentejo winery without a car.
If you're planning a day trip to Évora from Lisbon and your tastes run more to vintages than megaliths, this day trip is a fun option.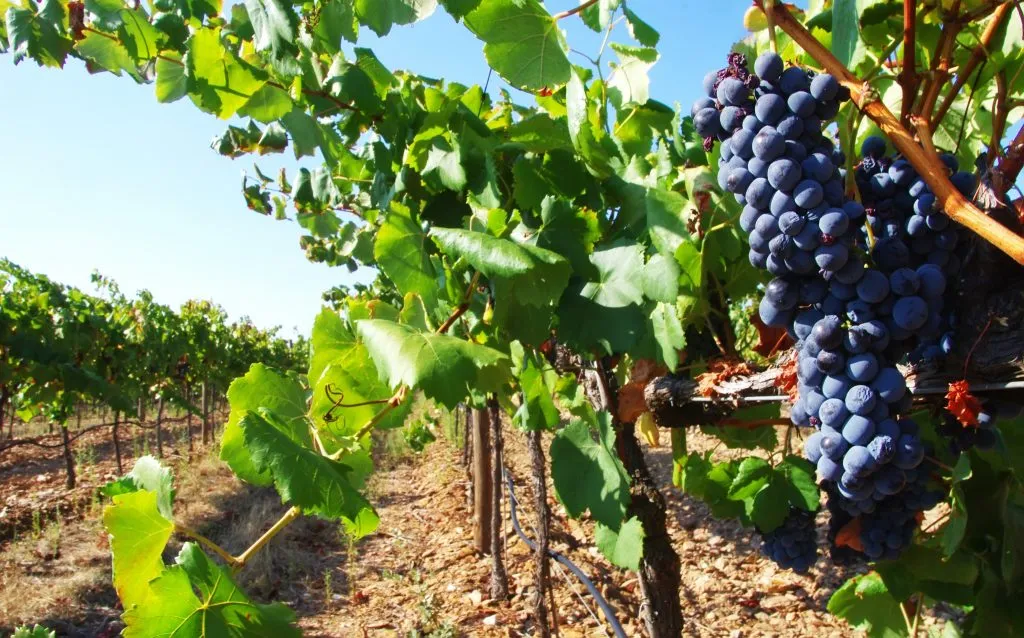 Check out the fascinating Cromlech of the Almendres.
Did you know that there is a megalithic complex in Portugal that is 2,000 years older than Stonehenge?
That's right: the Cromlech of the Almendres was built roughly 7,000 years ago, is the largest megalithic complex on the Iberian Peninsula… and is close to Évora.
The sheer unexpectedness of the monument, paired with its setting amongst the cork forest and farms, makes it one of the most memorable places to visit in Alentejo.
It's simple (and free) to visit by car.
You'll need to drive down a dirt road to do so, but the road's quality is fine. We were driving a very small car and didn't have any issues with the route.
Some day trips to Évora, like this popular one, also include a stop here.
The Cromlech of the Almendres isn't the only megalithic monument in Alentejo or even the only one near Évora!
You can easily visit the Almenders Menhir at the same time, for example (it's made up of only one standing stone, though an impressive one).
The Cromlech of the Almendres is the biggest, though, and incredibly interesting to see!
Learn about Portugal's cork production.
Did you know that Portugal is the largest cork producer in the world?
And, more specifically: more than half the world's cork production comes from the region of Alentejo.
With staggering statistics like that, it's perhaps no surprise that you can see cork trees bearing distinct marks of harvest (each tree is harvested once every 7-10 years) as you explore Alentejo, including when you visit the megalithic complexes.
If you'd like to learn the ins and outs of Portugal's cork trade in more detail, a tour like this is the perfect option and will take you deep into the cork forest.
Book your Alentejo cork tour today!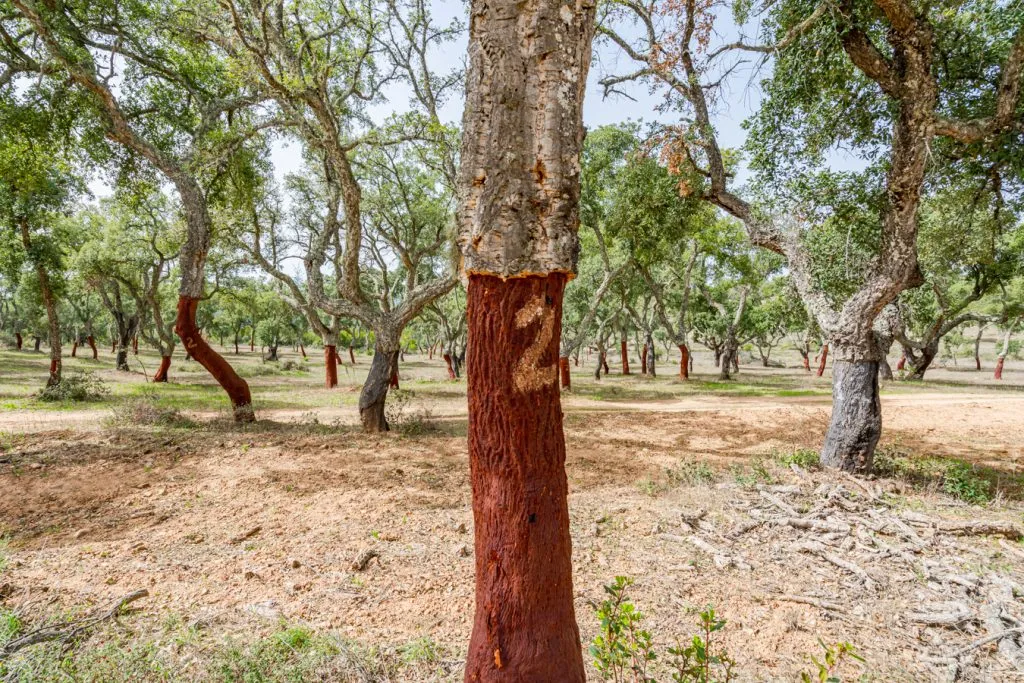 Where to Stay in Évora, Portugal
Évora is a very affordable place to stay as compared to Portuguese hotspots like Lisbon, Porto, and the Algarve (which, it's worth pointing out, are already quite affordable as compared to many other popular European travel destinations).
As a result, it's a fantastic place to save some cash on your trip to Portugal or to splurge on a more unique property than where you would normally stay (like inside a 15th-century convent, for example).
The Évora Olive Hotel and Templo Boutique Hotel are 2 excellent, well-reviewed boutique hotels that are located within the city center and are a short walk from the city's top sights.
For something more unique inside the city center, Albergaria Do Calvário is the perfect option: housed in a 16th-century olive mill and also located within a 5-minute walk of some of Évora's major attractions, it's the best of all worlds.
If you're driving to Évora and would enjoy a luxurious, peaceful retreat in the countryside at the end of your sightseeing each day, the historic Convento do Espinheiro, which is located in a 15th-century convent, is a fantastic choice.
The property features both an on-site restaurant and spa and is in the perfect location for combining a trip to the greater Alentejo region with experiencing the best things to do in Évora.
Getting To + Around Évora
Despite being located inland rather than on the popular coast, Évora is a fairly simple place to get to in Portugal.
From Lisbon, it takes about 1.5 hours to reach Évora by train, bus, or car.
If you'd like to enjoy the region surrounding Évora, we highly recommend either renting a car or signing up for an organized day trip like this popular one.
Driving from Lisbon to Évora is fairly simple (most of the route is on the same highway) and there is ample parking outside the city walls.
However, a tour offers better organization, more context, and the ability to enjoy the view rather than worrying about driving and parking!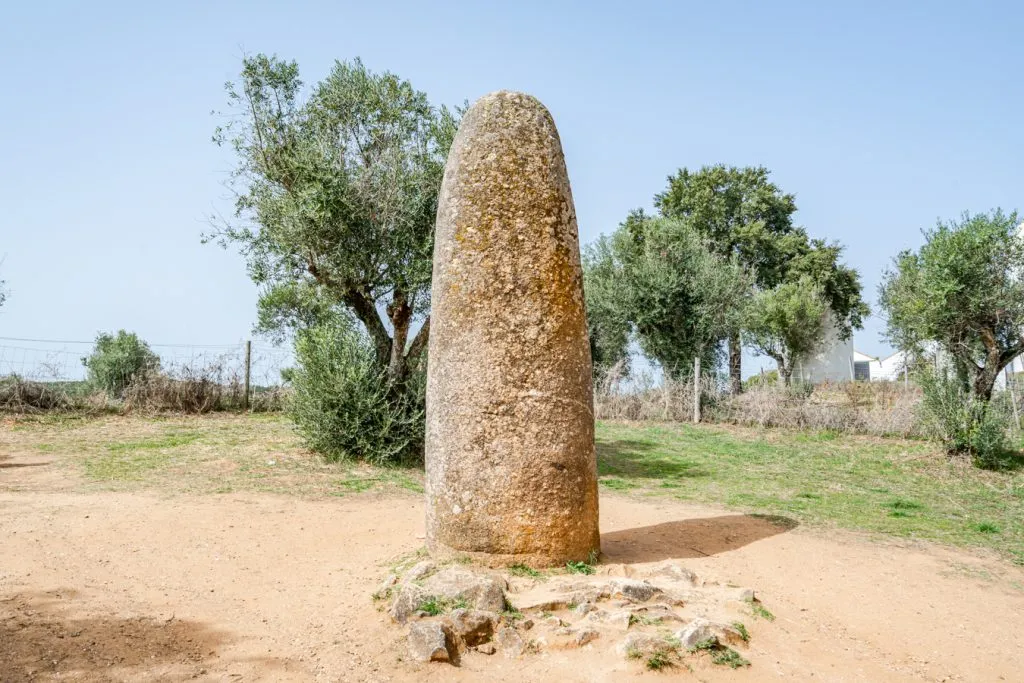 If you choose to visit Évora via train, keep in mind that there are only a handful of trains a day between Évora and Lisbon, so while it's perfectly doable, you'll need to keep an eye on the time and plan your day carefully.
Once you're in Évora's historic center, walking is the easiest–and really, only–way to get around.
The center of the city is quite compact, and the vast majority of the Évora attractions that we've covered in this blog post are located within a short walk of each other.
Shop rental cars or book your day trip to Évora today!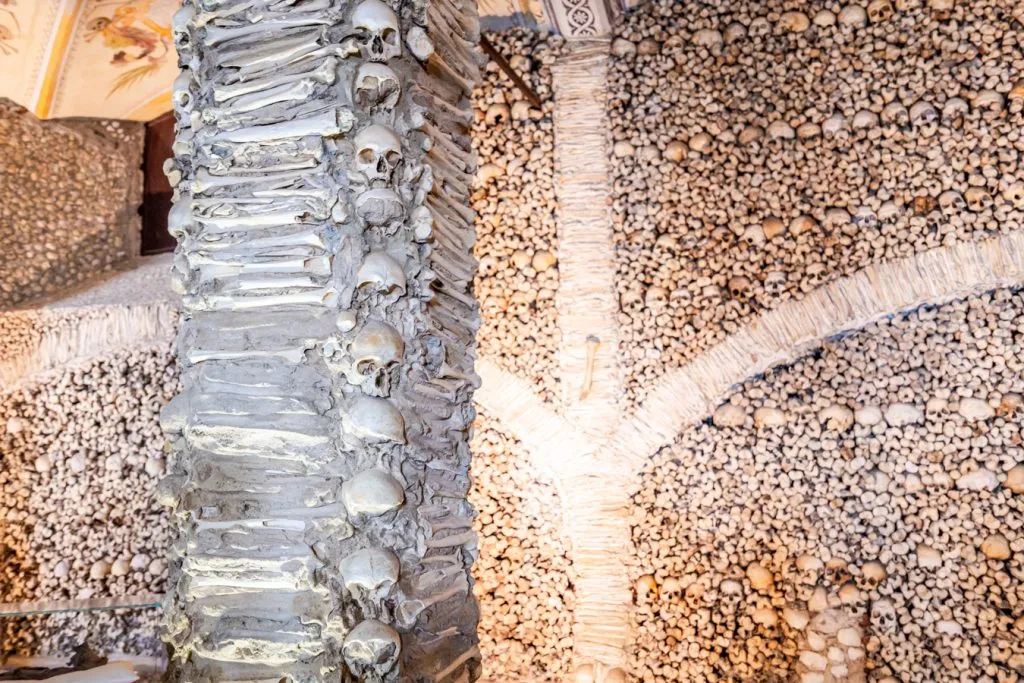 FAQ For Visiting Évora, Portugal
Is Évora worth visiting?
Yes, absolutely!
Évora is a memorable addition to any Portugal trip, and we highly recommend visiting if you have time.
While the Bone Chapel, Cathedral, and Roman Temple are probably the most recognizable Évora attractions (and they're all worth visiting), surprises like the megalithic complexes, delicious wine, and charming historic center are also a delight.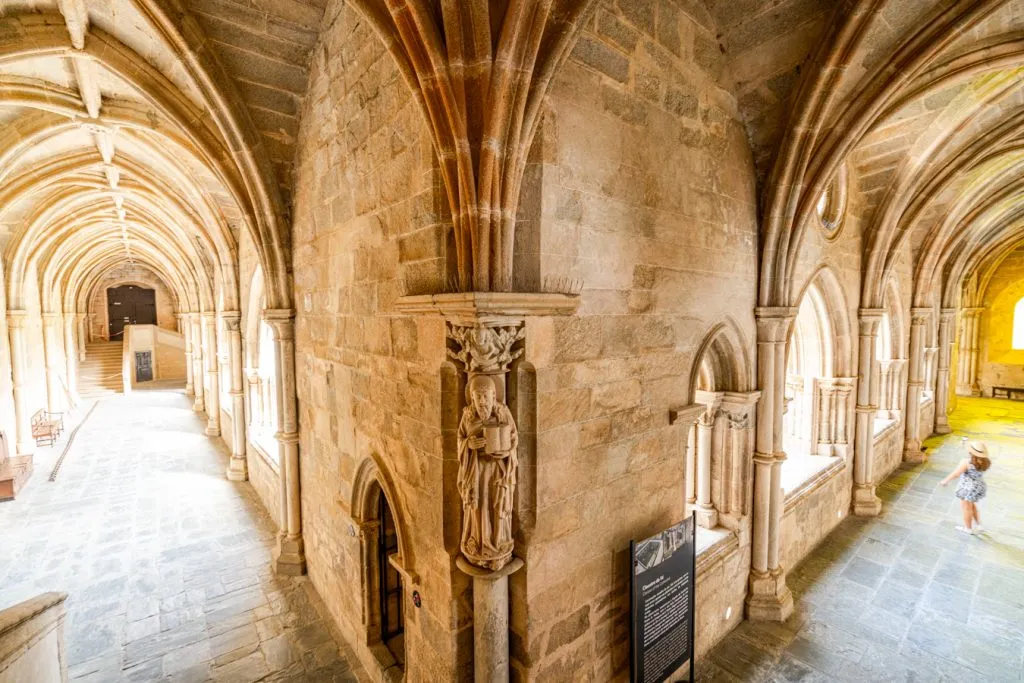 How many days should I spend in Évora?
One day in Évora is long enough to see the highlights.
With one well-planned day, you'll be able to visit the Bone Chapel and Cathedral, stop by the Roman temple, visit a couple of churches, have lunch, and explore the town center.
If you are the type to move fairly quickly with your sightseeing, and you have access to a car or are visiting Évora as part of an organized day trip, you'll also potentially have room in your schedule to visit a winery or megalithic complex outside of town.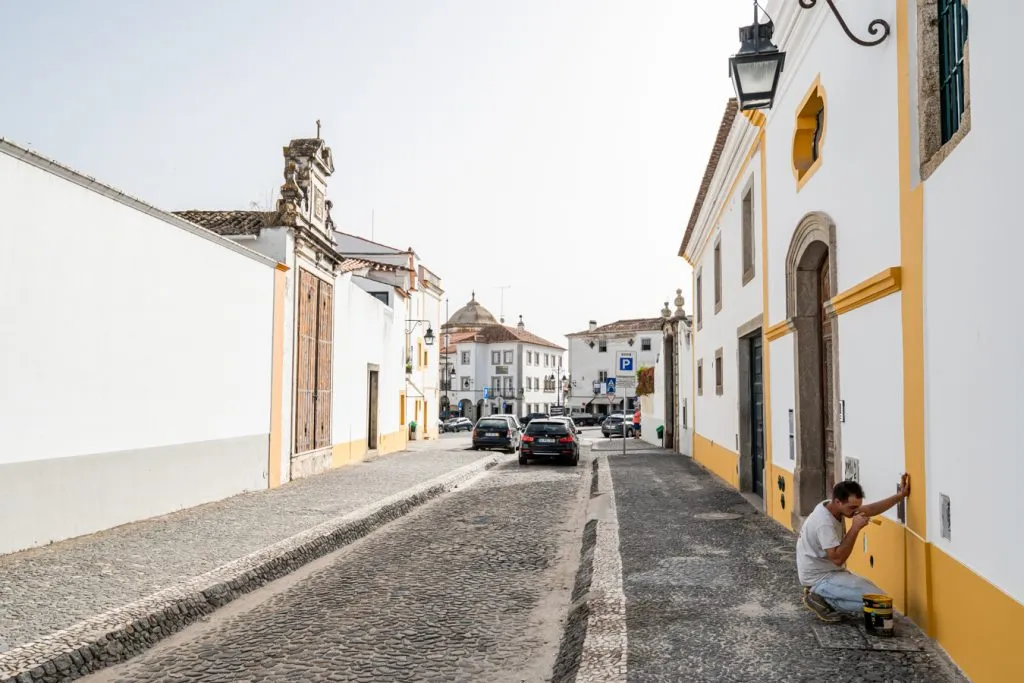 Do I need a car to visit Évora?
If you'd like to visit Évora independently and are only focused on the attractions in the town center, you won't need a car.
The train station is about a 15-minute walk from the Bone Chapel, and from there, you can continue on to the other things to see in Évora.
However, if you want to visit the megalithic complexes or visit any vineyards outside of town, it's best to visit Évora via car or tour.
If you'd like to rent a car, we recommend shopping through Discover Cars, which will allow you to sift through all your options and choose the right car for you based on price, the reputation of the company that is renting it, and the terms of the rental contract.
Can I take a day trip from Lisbon to Évora?
Yes, absolutely–Évora makes for an excellent day trip from Lisbon, and is a less-crowded alternative to places like Sintra (though don't get me wrong: Évora is still quite popular).
You can reach Évora from Lisbon in about 1.5 hours via train, car, or tour.
If you choose to take the train, we recommend carefully checking the train schedule between Lisbon and Évora before leaving: while a day trip via train is perfectly doable, there are only a handful of trains per day and you'll need to plan your day around them.
Alternatively, driving to Évora offers the most freedom (it's a fairly standard highway drive), and booking an organized day trip like this will allow you to make the most of your limited time.
However you visit, though, you'll definitely be able to enjoy many of the best things to do in Évora in a day!