Traveling to Portugal for the first time and want to make sure that you're planning the perfect trip?
After living in Lisbon as American ex-pats, we have lots of tips (spread across dozens of blog posts and counting) for planning a trip to Portugal!
We've compiled this simple checklist for planning your first trip to Portugal with the hope that it will help you fall in love with traveling the country as much as we have–and with any luck, you'll have the chance to return again and again.
Here's what to know about planning a trip to Portugal, organized with an easy-to-use checklist that will help you book your Portuguese vacation in no time!
Your 11-Step Checklist for Planning a Trip to Portugal
Step 1: Check visa requirements for visiting Portugal.
Based on the geographic readership of Our Escape Clause, the odds are that the vast majority of you will not need a visa to visit Portugal for up to 90 days for tourism purposes.
This includes citizens of the USA, Canada, the UK, Australia, and of course, anyone from an EU member state.
Portugal is part of the Schengen Zone, and therefore, anyone who needs a Schengen Visa to visit the area will need one to visit Portugal.
In the future, the ETIAS system–essentially an e-visa procured by filling out paperwork online before traveling–will come into effect for the Schengen Area.
After multiple delays, is currently slated to begin sometime in 2025.
It's best to always confirm visa requirements through official sources before traveling!
Step 2: Book your flights to Portugal!
When shopping for flights to Portugal, you'll no doubt notice that Lisbon has–by far–the biggest international airport in the country.
Technically called the Humberto Delgado Airport (LIS), though I've never heard anyone refer to it that way outside of official signs, it's the most likely first stop in Portugal for travelers coming from outside of Europe.
The Porto Airport (OPO, or Francisco Sá Carneiro Airport) also services a fair number of flights from outside the continent, and the number of international flights has been increasing over the years.
If you're visiting Portugal as part of a multi-country Europe trip and are arriving from within the continent, the Faro Airport (FAO, or Gago Coutinho Airport) may also be worth checking out–especially if you're looking at budget carriers.
Planning to visit another destination before or after Portugal?
Be sure to check if the TAP Air Portugal Stopover program, which allows you to build a 1-10 day Portugal "layover" into a flight to a different destination, is right for you!
We actually took advantage of the program on our own first trip to Portugal several years ago and used it to add 4 days in Lisbon to our originally planned trip from the USA to Paris.
Step 3: Narrow down your Portugal itinerary.
This might be both the most fun and most stressful part of planning a trip to Portugal: finalizing where exactly you're going to go!
Our recommended 10-day Portugal itinerary systematically covers the top places to visit in Portugal (Lisbon, Sintra, Porto, the Douro Valley, and the Algarve), but ultimately, the sky's the limit!
And, while you can easily extend that itinerary by simply adding more days to each destination (they all deserve it), there are also dozens of other options that might call your attention!
For less-crowded beach towns, head to the eastern edge of the Algarve (Tavira has lots to offer), or check out towns on the Silver Coast between Lisbon and Porto like Peniche (don't miss the Berlengas Islands!), Averio, Ericeira, and Nazaré.
If wine, ossuaries, and underrated cities are your vibe, consider checking out Évora.
Love city-hopping? Portugal's third city, Coimbra, is an ancient university town with lots to uncover.
Are monasteries your thing? If so, don't miss the UNESCO-recognized monasteries of Alcobaça, Batalha, and Tomar (if you head this way, the walled town of Óbidos is another must-see in the area).
Want to get far off the beaten path? Consider a visit to Peneda-Gerês National Park or to Monsanto, which is not only historic, beautiful, and uncrowded, but served as a House of the Dragon filming location.
… And of course, not only do these options barely scratch the surface, but they're all located on mainland Portugal.
With enough time, you can stretch your itinerary even further afield with visits to Madiera and/or the Azores Islands, though each of them offers enough to do that they can also be standalone trips in their own right.
Step 4: Finalize your Portugal travel budget.
Now that you know exactly when your Portugal vacation is happening, how much your airfare was, and the kinds of things you want to do there, it's time to finalize your Portugal travel budget!
We recommend taking the total amount you hope to spend during your first time in Portugal, subtracting any splurges or major expenses you know are coming (a pricey tour, some souvenir shopping, etc), and then dividing the remaining amount by the number of days you'll be exploring the country.
Just like that, you have your daily budget for traveling in Portugal, or the amount of money you should try to stay under each day when you add up what you spend on food, activities, and intra-city transportation.
We detail this strategy more thoroughly in our travel budgeting guide, and we've been using the same simple method for more than a decade!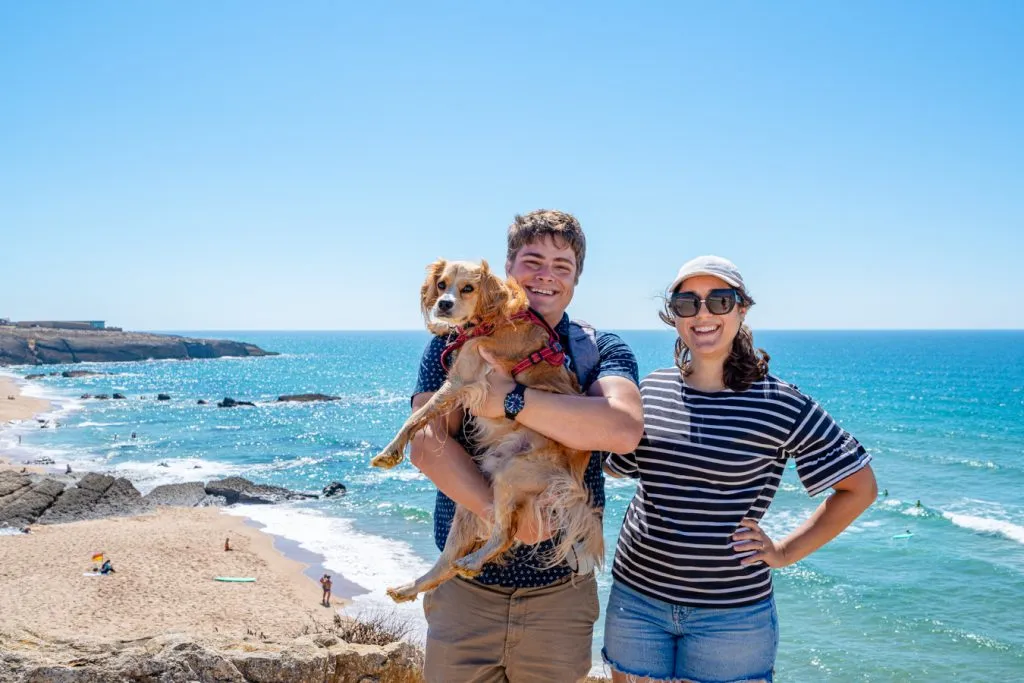 Step 5: Book some activities in advance.
Hoping to enjoy some incredibly memorable tours and experiences in Portugal?
If so, be sure to book them in advance–and the more popular they are, the earlier you'll want to book (especially if you're traveling during the summer).
This is especially true for day trips like Sintra (this Sintra day trip is one of the most popular day tours in the country), as well as attractions like the Jerónimos Monastery.
Sintra is, without a doubt, one of the most important places in Portugal to plan ahead for, whether you hope to visit on a guided day trip or simply by pre-booking tickets to places like Pena Palace and Quinta da Regaleira in advance.
(Our detailed guide to visiting Sintra can help you plan that experience in detail.)
Some other experiences we have loved in Portugal include this delicious food tour (perfect for learning about Portuguese cuisine at the beginning of your trip), as well as a sunset cruise on the Tagus.
If you'd like to visit the Douro Valley but don't want to drive there (too much port to enjoy!), pre-booking a day trip from Porto is also an excellent idea.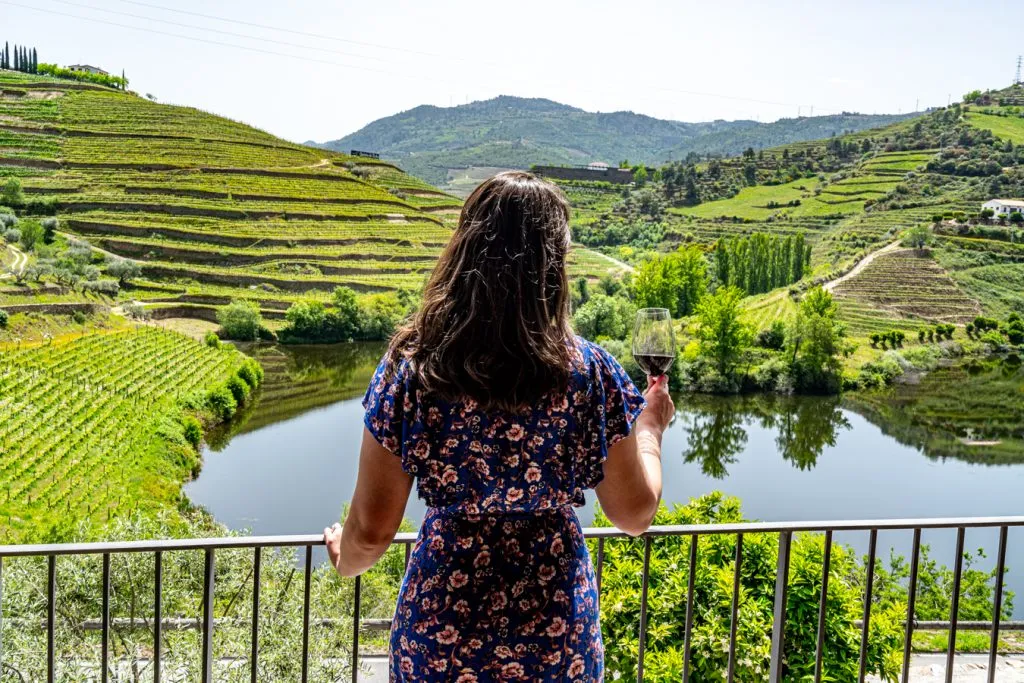 Step 6: Decide where to stay in Portugal and book your accommodation.
Now that you have the backbone of your vacation sketched out, it's time to decide where to stay in Portugal!
We have specific recommendations for where to stay in posts about each destination we've written about (like this blog post about Lisbon and this one about Porto), but overall, our general recommendation is to search for well-reviewed and centrally located properties within walking distance of some attractions.
These days, we book virtually all of our hotels and apartments in Portugal (and beyond) through Booking.com.
We typically aim for staying somewhere with an 8.0 rating or better, though that can vary a bit depending on the season, availability, how many hotels are in the area, etc.
A couple of hotels that we have particularly enjoyed throughout our travels in Portugal include Tivoli Lagos in the Algarve and NH Porto Hotel Batalha.
Step 7: Learn a little bit of (European) Portuguese.
As you're planning your trip to Portugal, be sure to take the time to learn a little bit of Portuguese before you go!
Is it entirely necessary?
No, but it will be very appreciated!
(And whatever you do, definitely don't speak to a Portuguese person in Spanish because it's "the same" unless you want them to potentially tell you all about how it is very much not the same!).
For English speakers, Portuguese spelling and pronunciation don't necessarily always match up in an intuitive way, but preparing a few phrases in advance (and maybe bringing along a phrasebook like this) can help.
Keep in mind that many online resources teach Brazilian Portuguese pronunciation, which is a bit different from European Portuguese.
For a few phrases on a short trip, it'll do in a pinch, but seek out specifically European resources if you can.
Here are a few phrases to add to your arsenal:
Basic Portuguese Phrases to Learn When Planning a Trip to Portugal
Bom dia. — Good day.
Boa noite. — Good evening.
Adeus or Tchau (Pronounced like "ciao".). — Goodbye.
Por favor. — Please.
Obrigado (if a male is speaking) or Obrigada (if a female is speaking). — Thank you.
De nada. — You're welcome.
Fala inglês? — Do you speak English?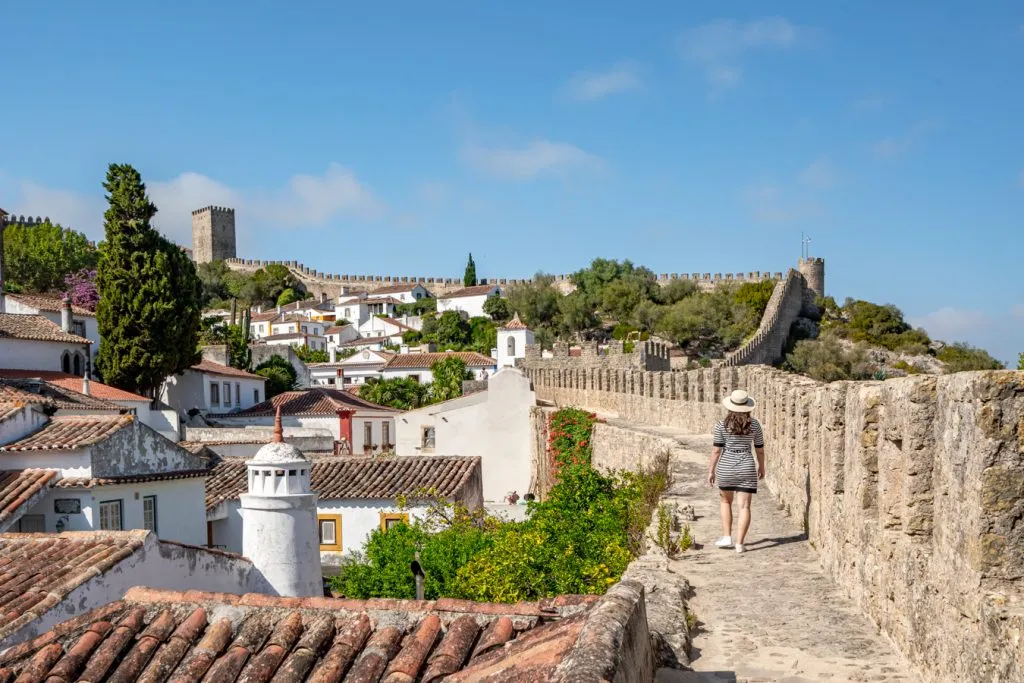 Step 8: Make a packing list for Portugal (and shop!).
Generally speaking, packing for Portugal is fairly simple: a standard Europe packing list will cover most of what you need (here are our suggestions for spring, summer, fall, and winter).
However, you'll definitely want to pay close attention to your footwear.
Not only does a typical Portugal vacation involve climbing lots of hills (both Lisbon and Porto are full of them!), but it's also a bit hard on your feet in other ways.
The distinctive Portuguese pavement (or calçada portuguesa) that you'll see throughout the country offers its challenges: these walkways are both beautiful and a bit of a hazard in the rain.
They're incredibly slippery when wet, especially if they happen to have fallen leaves sitting on them.
Watch your step, especially on hills, and opt for shoes with some grip on them!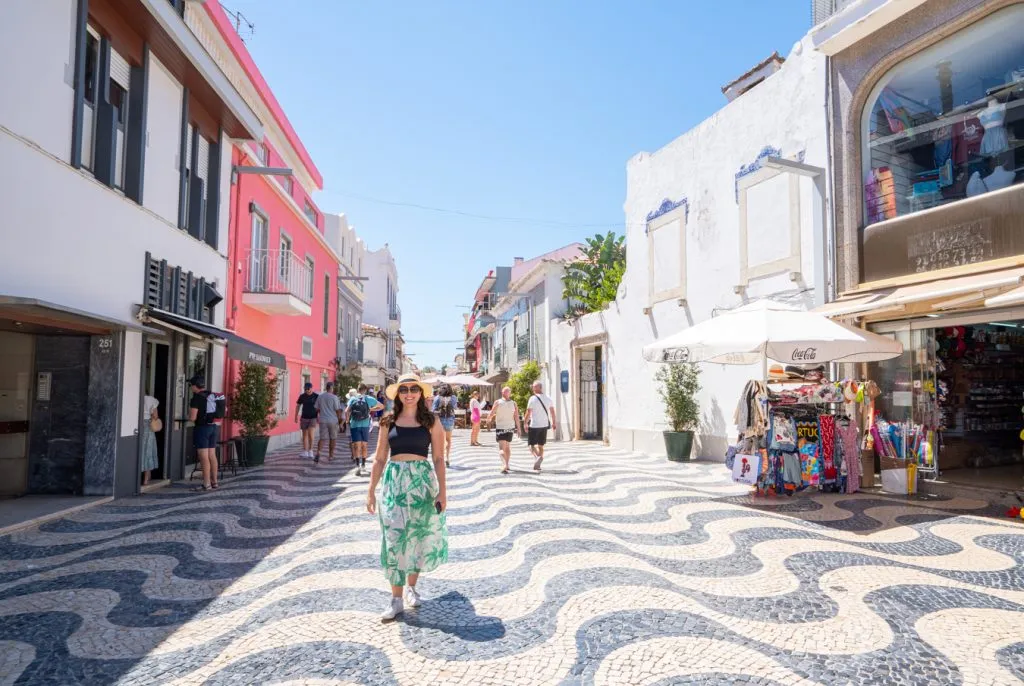 Here are a few other useful odds and ends to add to your Portugal packing list:
Travel Adaptors for France — If you're coming from outside of Europe, you'll definitely need adaptors for your electronics–don't forget to add buying these to your to-do list for planning your trip to Portugal!
Comfortable Day Bag — We currently use Pacsafe's sleek anti-theft backpack and love it, but if you don't want to shell out the cash for this trip, that's totally understandable.
Just aim for something comfortable to wear, not flashy, and medium-sized–we used a Northface Jester backpack for years and loved it as well.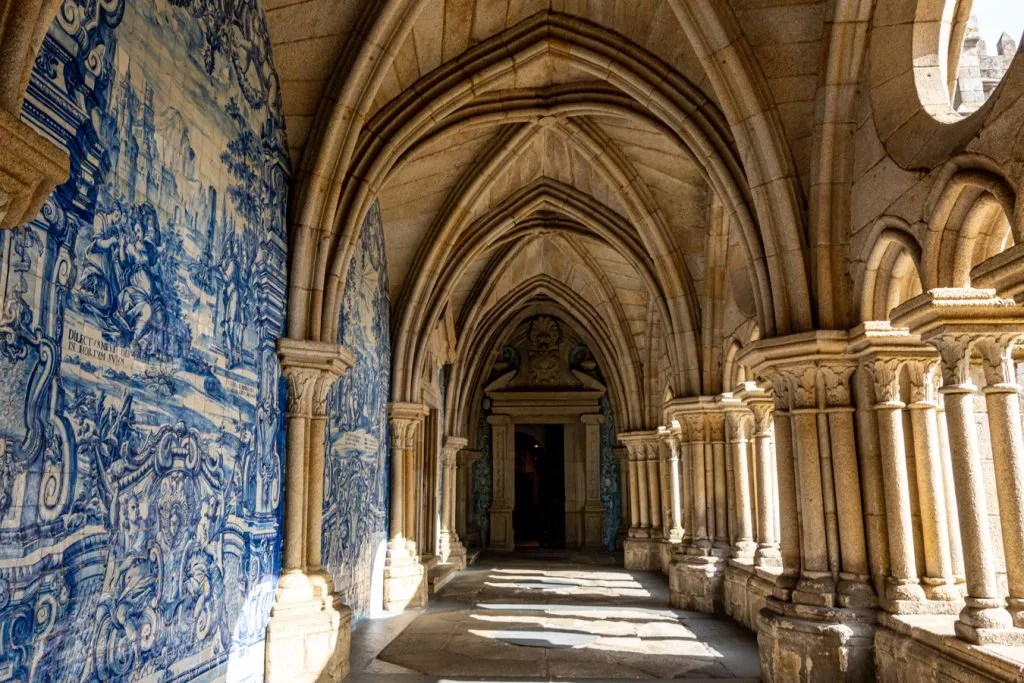 Reusable Water Bottle — Save both money and plastic during your trip to Portugal and add a reusable water bottle to your packing list!
I love this metal one, and you'll be glad to have it on you after snacking on the pastéis de nata that you'll undoubtedly pick up on the go!
Sea Bands & Non-Drowsy Dramamine — If you're planning to hit the water during your trip to Portugal and are prone to motion sickness like me, I strongly recommend adding Sea Bands to your packing list.
I use them on all boats and the occasional bus, and if things get really bad, take some Non-Drowsy Dramamine as well.
You don't want to miss out on the joys of boating around the coast or rivers due to seasickness!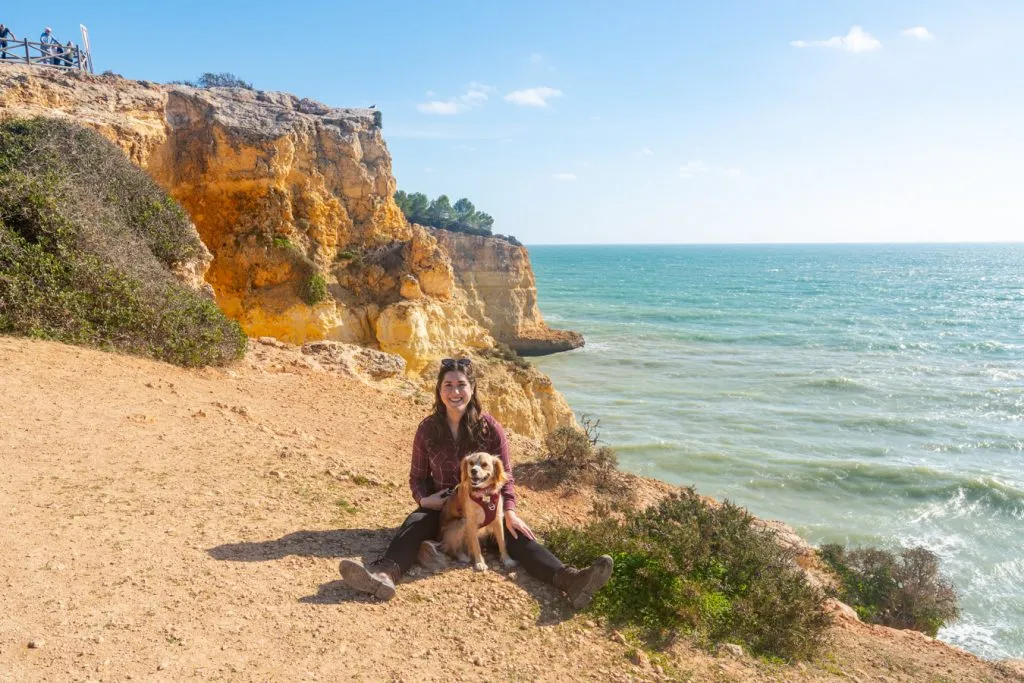 Step 9: Purchase travel insurance for your Portugal vacation.
Don't forget to purchase travel insurance before jetting off to Portugal!

While Portugal is generally a perfectly safe place to visit, traveling, in general, opens you up to vulnerabilities that you simply don't have at home.
If you miss a plane or train, have your luggage get lost, get pickpocketed, or worse, get injured, you'll be glad that you have insurance.
Given how inexpensive travel insurance is when purchased in advance (especially as compared to the price of plane tickets to Portugal!), it's well worth the investment.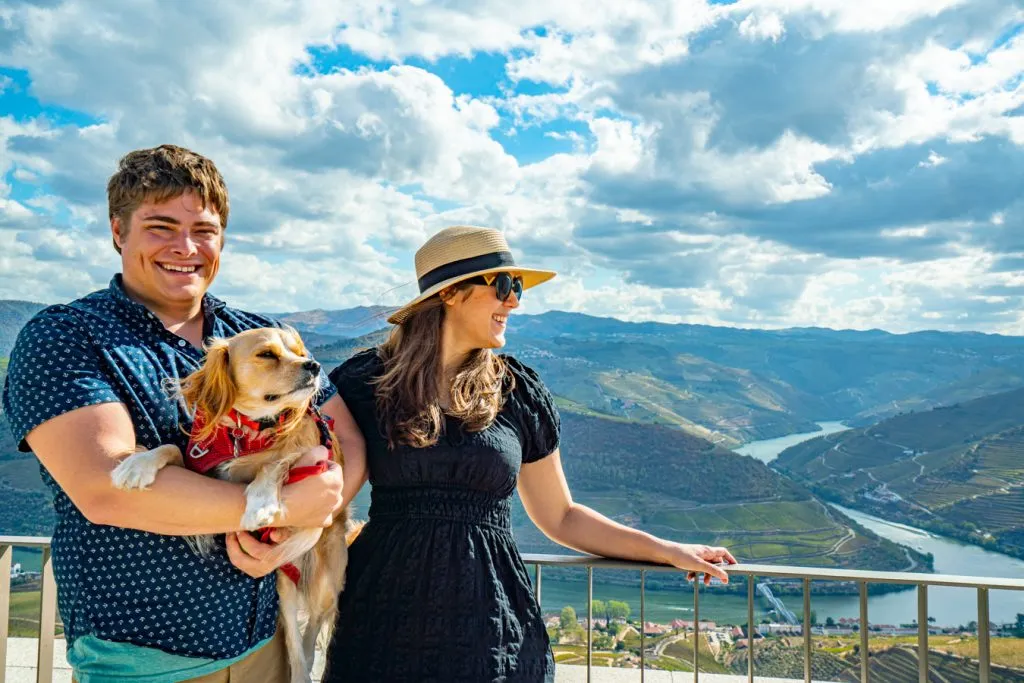 Step 10: Make an arrival plan.
This part of planning a trip to Portugal is as simple as it is important: make an arrival plan.
When you arrive in (most likely) Lisbon or Porto, you're undoubtedly going to be exhausted, overwhelmed, and probably a bit jetlagged, too!
No matter how many times we arrive in a new place, it never stops being a tiny bit stressful, simply because there are a lot of variables at play in the first few hours of arriving somewhere new.
Make life easier on yourself by thinking ahead: when working on your plan for traveling to Portugal for the first time, figure out what your exact steps will be after the plane lands.
That means exactly how far away your hotel is, how you'll get there from the airport (metro, taxi, airport transfer?), and if you'll be traveling by taxi, what a reasonable price is.
Unlike some European cities, neither Lisbon nor Porto have regulated flat taxi fares from the airport, so you'll likely need to negotiate (15 Euro or so is generally a solid rate in Lisbon).
Technically, taxis are expected to always use the meter–but traveling from the airport to the city center is often an exception to that rule when on the ground.
Though it's not strictly necessary or the most budget-friendly option, if you'd like to make arriving in Portugal very easy for yourself, consider treating yourself to a private airport transfer when you arrive!
Here are well-reviewed airport transfer services for Lisbon, Porto, and Faro.
Step 11: Enjoy an amazing trip to Portugal!
Once you've done the planning… it's time for the fun part!
Enjoy every step of your first trip to Portugal, from the confusing parts to the magical ones–and yes, both will probably end up with a prominent place in your memories.
I vividly remember arriving in Portugal for the first time, jet-lagged, exhausted, and fresh into Lisbon off of a red-eye from New York City.
We were bleary-eyed and uncertain when getting a taxi from the airport and dropping off our luggage… but shortly thereafter grabbed a coffee at Fabrica da Nata (a place that would become a regular stop of ours in later years) before enjoying a Campo de Ourique food tour on our first morning in the country.
The thrill of enjoying a sunset cruise on the Tagus, taking a day trip to Sintra for the first of many times, tasting our first pastel de nata, and meandering the streets of Alfama left quite an impression on us: only a few years after our very first trip to Portugal, we moved to Lisbon for a beautiful, sun-soaked year.
I can't guarantee that every first trip to Portugal will be quite as life-changing–but I can't guarantee that it won't, either.
Read More About Visiting Portugal
Excited to be planning your first trip to Portugal and want to keep reading?
We'd be thrilled to help!
You can browse our dozens of Portugal blog posts here, or check out these guides: