Whether you're looking to warm up under the winter sun, make the most of peak season in the snowy Alps, marvel at a whimsical Christmas market, or simply escape the crowds and appreciate one of Europe's iconic cities during the offseason, there are so many incredible winter destinations in Europe.
Sure, you'll need to be prepared for lots of darkness (hello 4:30 PM sunsets!) and to make sure you really love whatever coat you pack (because it will feature in basically all of your photos), but visiting Europe in winter offers incredible charm and just as much variety as the more popular summer months!
We love traveling during winter in Europe, whether it's to appreciate Rome in January without the crowds or to get a little February sunshine in Andalucia.
While December, January, and February are the heart of European winter travel, depending on what you're looking for, you might be able to count parts of November and March in this guide, too.
Here are some of the best places to visit during winter in Europe, no matter what kind of trip you're after.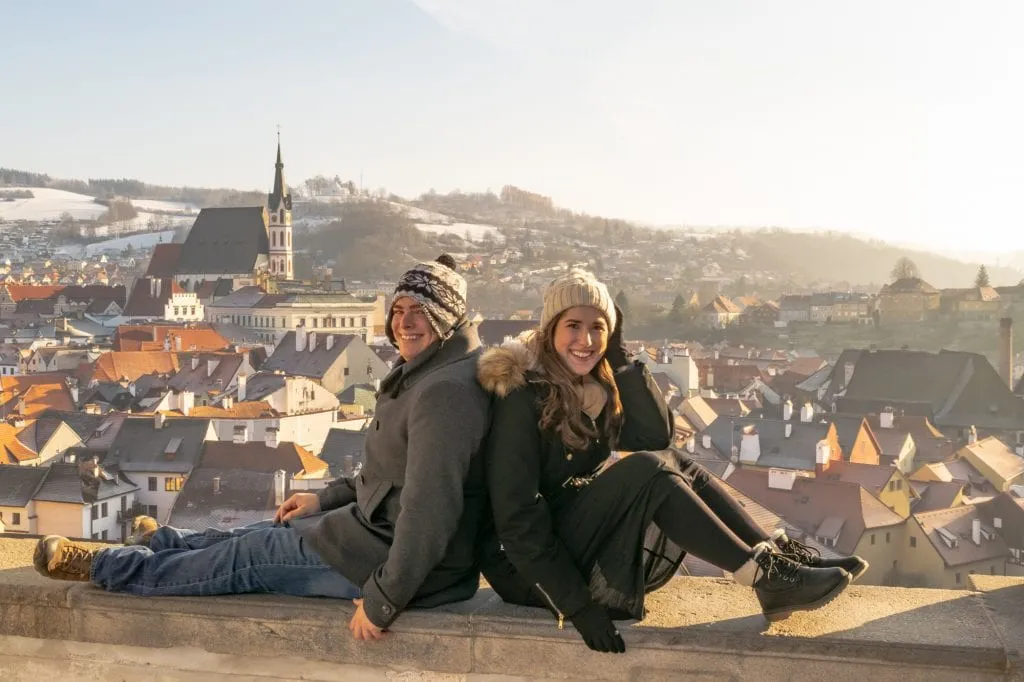 Festive Destinations for Winter in Europe
Rounding up all of the excellent places for festive cheer during December in Europe is an enormous task!
For that reason, we have a full roundup of 31 Incredible Christmas Markets in Europe to check out in addition to this more general winter travel guide.
There's no doubt that some destinations stand out above the rest, though, which is where this overview comes in.
Here are some of the absolute best Christmas destinations to visit in Europe!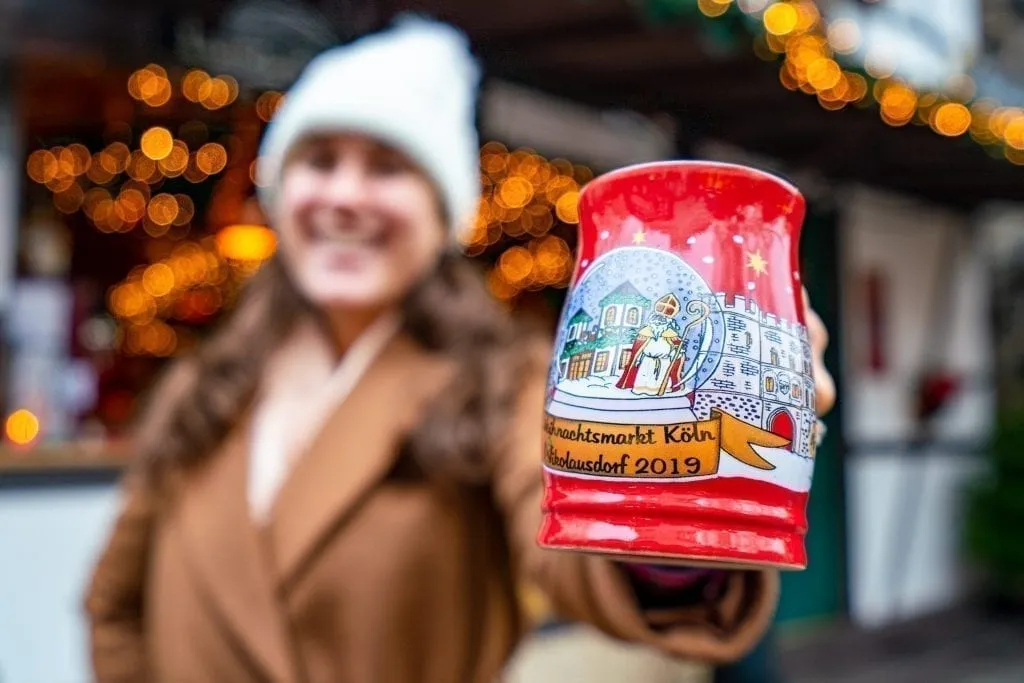 Germany
While I've tried to keep this guide limited to specific regions or cities, rather than countries, it would be an enormous oversight to not include Germany as a whole.
The most classic destination for Christmas markets in Europe, Germany is one of the absolute best places to visit in Europe in December (and in some cases, November and January, too–not all Christmas markets close right after the holiday).
Some of the best cities for markets include Cologne, Nuremberg, and Dresden (home to the oldest Christmas market in the world!), though virtually all cities and towns have something to offer.
Looking for something smaller?
Check out Rothenberg ob de Tauber or Heidelberg!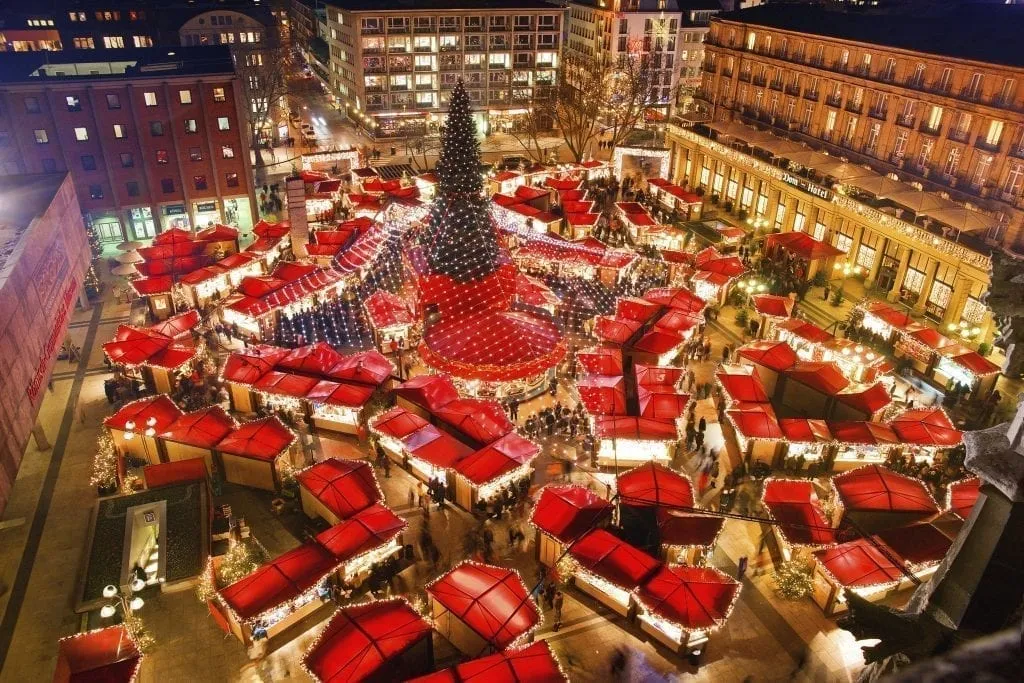 Alsace, France
Known for its delicious cuisine, wine, half-timbered houses, canal cities, and unique culture that blends many aspects of both French and German culture, Alsace is located in northeast France.
It also happens to be one of the most festive holiday destinations in Europe!
From popular cities like Strasbourg and Colmar to idyllic villages like Riquewihr, Obernai, Ribeauvillé, Eguisheim, and Kaysersberg, Alsace is an absolute dream of a destination.
While summer tourism centers around its wine trail, in winter, it's the legendary Christmas markets that take center stage–and they more than live up to the hype.
Austria
Like Germany, Austria is simply too festive in the winter to categorize anything but the country as a whole as one of the best winter destinations in Europe!
Luckily, thanks to its small size and excellent train system, you can cover quite a bit of ground on a winter trip to Austria.
The standout cities of Vienna (home to a whopping 12 distinct Christmas markets) and Salzburg (home to some of our favorite Christmas markets on the planet) are both must-sees.
Lesser-known but beautiful Linz, gorgeous Graz, and charming Innsbruck (known for its phenomenal winter sports as well as its markets) are also well worth a look.
And, of course, you can't forget idyllic Hallstatt, one of the most beautiful small villages in Europe!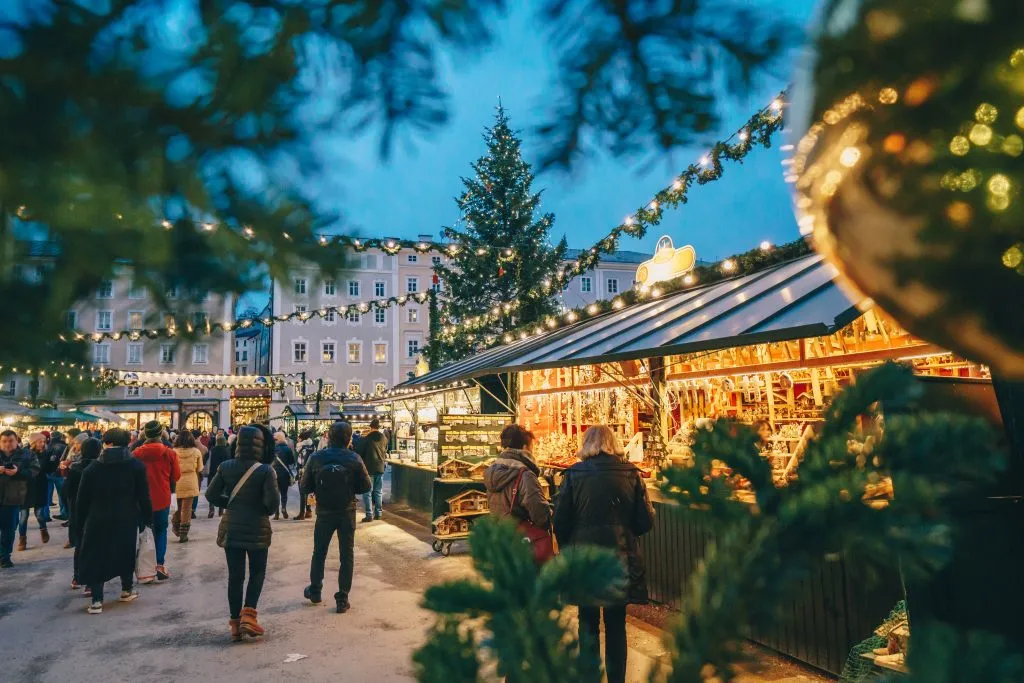 Budapest, Hungary
Featuring gorgeous Christmas markets, an excellent setting on the Danube, and delicious traditional food that lends itself to being enjoyed during cold weather, Budapest is a standout destination in Europe in December.
From Budapest's biggest (and oldest) market in Vorosmarty Square to other standouts like the Advent Feast of the Basilica, you'll have plenty of festivities to choose from in Budapest.
Plus, the city itself is a delight in winter, from the magical views from Fisherman's Bastion to the charm of Budapest's regal cafe culture (order an Esterhazy Cake at Central Cafe for us!).
As a bonus, Budapest is an easy 2.5-hour direct train ride away from Vienna, making Budapest a fun addition to a winter getaway to Austria.
Basel, Switzerland
Switzerland may be most famous for its mountains, but its cities are incredibly delightful too–and in the winter, none shines quite as bright as Basel!
Nestled in northwest Switzerland, the small city of Basel is situated on the Rhine River, not far from the Swiss border with Germany and France–giving it plenty of inspiration for its holiday festivities.
In addition to its gorgeous Christmas markets and overall beauty, you'll find plenty of winter-friendly attractions in town, too.
Be sure to visit the Munster Cathedral (and climb to the top), meander through the fine arts museum, and check out the incredible City Hall.
And, if you're feeling like a bit of a completionist, be sure to head to Dreiländereck, where you can walk through Switzerland, France, and Germany all in a matter of minutes!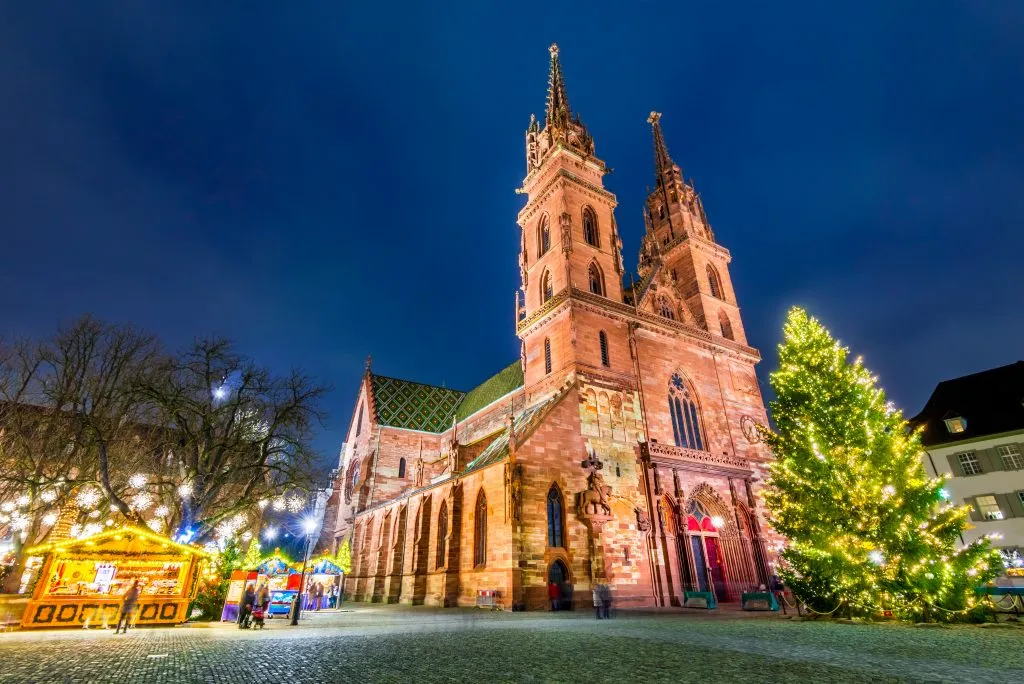 Prague, Czech Republic
Prague has long been one of those particularly gorgeous European cities that captures the imagination when admiring it from its many angles–and that's just as true in winter!
Strolling over the Vltava River along the Charles Bridge, admiring the famous Astronomical Clock, and exploring Prague Castle are all absolutely wonderful activities in winter.
Add in the city's incredible Christmas markets in December (featuring plenty of Czech beer, of course), and Prague becomes one of the top winter travel destinations in Europe.
Be sure to climb up to the top of the Old Town Hall Tower to admire one of the best views of Prague and to enjoy a jaw-dropping view of the Christmas market held in the Old Town Square!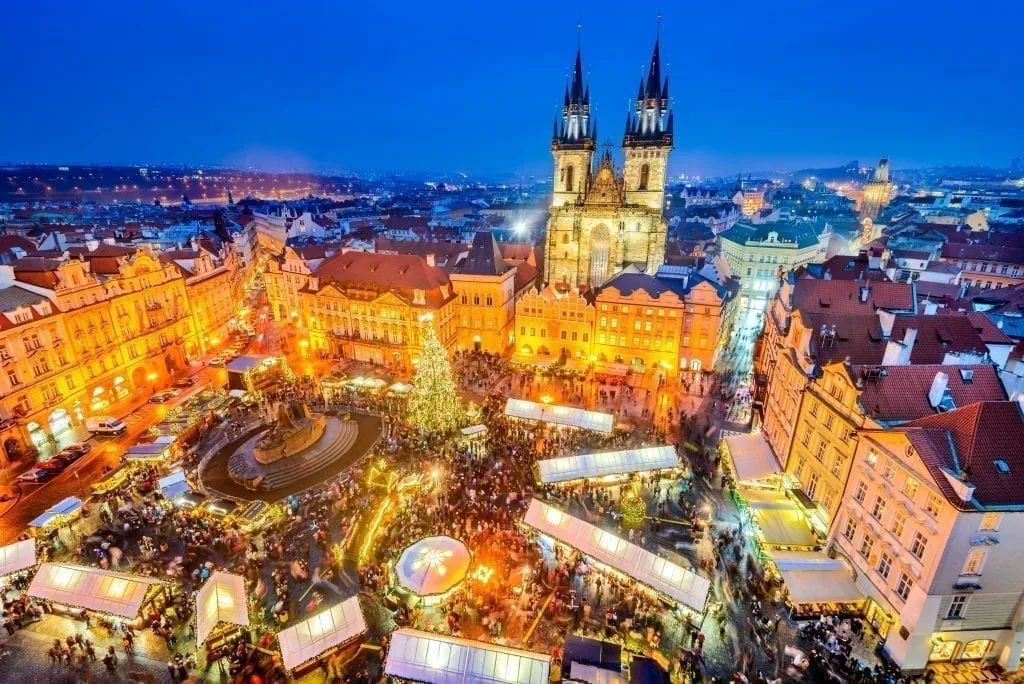 Warmest Places in Europe for Winter Sun
While I wouldn't necessarily categorize any of these places as "warm" in the summer sense of the word, if you're looking for a bit of sunshine and fresh air, these (relatively) hot winter destinations in Europe are excellent options!
Sure, you'll be photographing beaches instead of donning a bathing suit and jumping into the water–but with a little luck, you may even get to leave your coat behind when exploring.
… And, as a bonus, most of these sunny European destinations are much less crowded and much less expensive during the winter months (the Canary Islands, as the warmest place in Europe in winter, are an exception).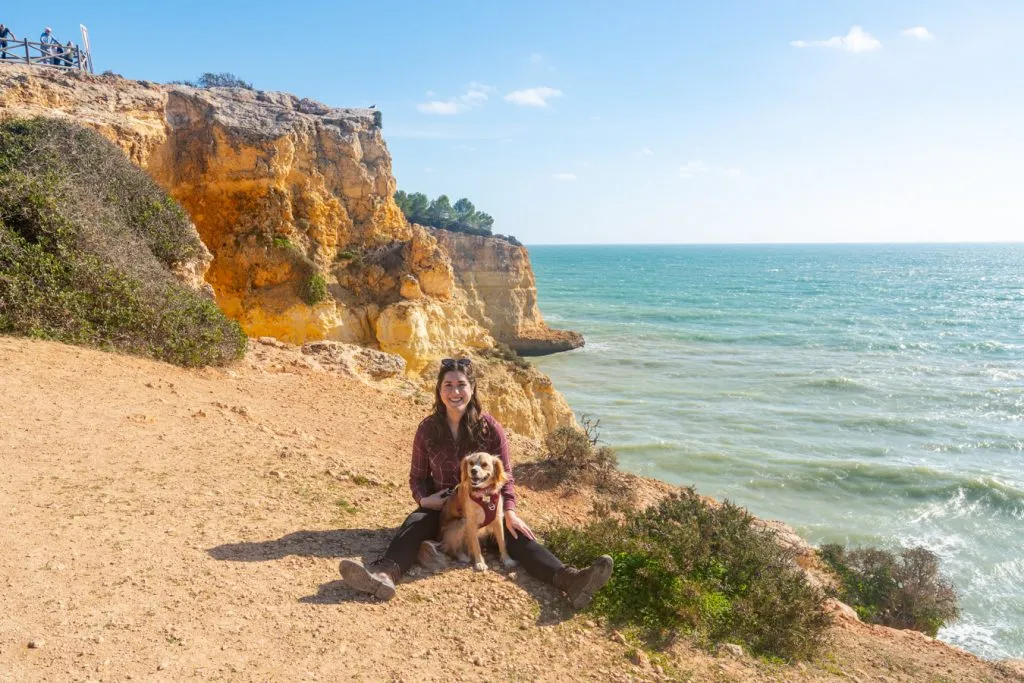 Sicily, Italy
With its stunning architecture, complicated history, delicious food, and dramatic landscapes (hello, Mount Etna!), Sicily makes a fantastic getaway for travelers looking for winter sun in Europe.
Since visiting Sicily in, say, January or February rules out beach time, a winter trip is a perfect opportunity to take advantage of even more affordable prices than usual to appreciate the island's incredible cultural sights.
Marvel at the Valley of the Temples in Agrigento, get lost in Ortigia, taste the chocolate of Modica, admire the views from Taormina's Greek Theater, and tour Palermo's impressive cathedral.
We also loved this food and history tour in Palermo, and highly recommend it!
Hoping to visit Mount Etna?
You absolutely can–and in winter, you may even get to see it covered in snow.
Malta
During the summer, popular parts of Malta are often overwhelmed with cruise ship passengers–but by visiting Malta in winter, you can skip the crowds and keep the sunshine!
The country's capital, Valletta, is the sunniest city on the continent, making it the perfect place to seek out the winter sun in Europe.
Other fun things to do include exploring the Silent City of Mdina, the charming fishing village of Marsaxlokk, and exploring the rocky and beautiful coastline of the island of Gozo (you'll just need to skip the swimming).
With its arid landscape and intense heat, Malta can be quite brutal during the summer.
But, on the flipside, it can be equally as mild in the winter, with Valletta reaching an average high of 60°F/15°C in January and February.
Madeira
Sometimes called the "Hawaii of Europe" (though a few other winter sun destinations compete for that title!), Madeira is located off the northwest coast of Africa.
As an autonomous region of Portugal, Madeira is easy to access from mainland Europe but often feels worlds apart, with incredible landscapes and a food and wine scene all its own (if you're familiar with Madeira wine–this is where it comes from!).
Some of the best things to do in Madeira include visiting the Valley of the Nuns, admiring Cabo Girao, and tasting the famous Madeira wine.
Be sure to also make time to hike the levadas–unique channels that were built into the side of Madeira's mountains.
And, for travelers planning a trip over the New Year, Madeira's capital city of Funchal puts on a fantastic firework display each December 31!
The Canary Islands, Spain
Arguably the most classic winter sun destination in Europe, the Canary Islands are–like Madeira–located off the northwest coast of Africa (though even further south than Madeira).
Without a doubt, the Canary Islands are among the warmest places in Europe in winter!
With average high temperatures hovering around 68°F/20°C, there is no better place to enjoy a bit of heat and sunshine in Europe over the winter.
The archipelago that makes up the Canary Islands boasts something for everyone, with some of the most popular islands being Gran Canaria, Lanzarote, and Tenerife.
Tenerife is the busiest island, with adorable villages, sandy beaches, and plenty of activities to keep you busy from day to night.
Meanwhile, Lanzarote is known for its dramatic volcanic landscapes.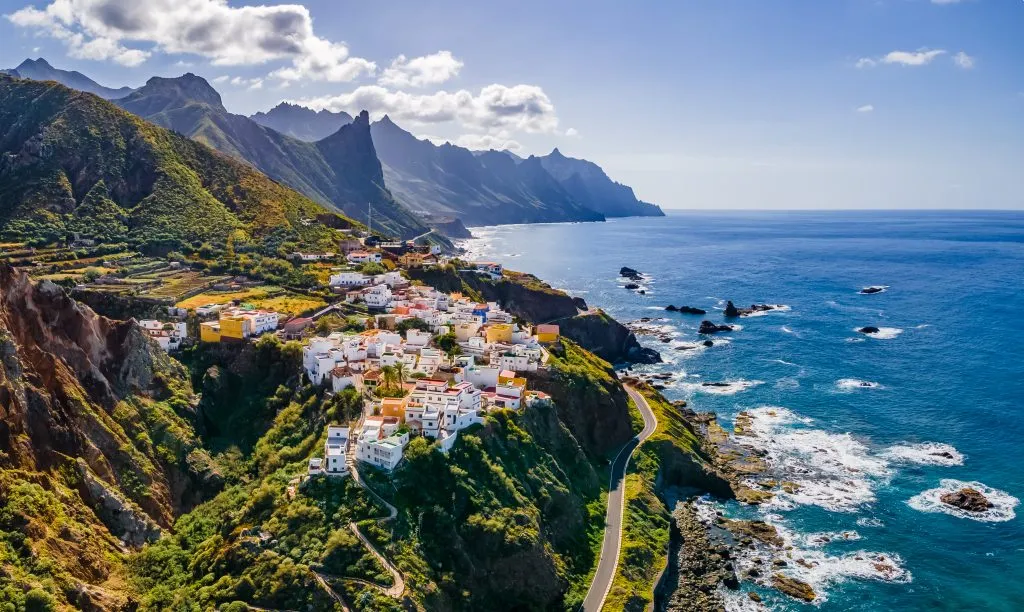 The Algarve, Portugal
With its sunny weather, mild temperatures, and excellent hiking, Portugal's Algarve is without a doubt one of the best places to visit in Europe in winter!
From exploring charming towns like Lagos, Carvoeiro, Sagres, and Tavira to hiking gorgeous trails like the Seven Hanging Valleys Trail, you'll find plenty to do during winter in the Algarve.
And, quite honestly–the water in the Algarve stays so cold during the summer that if you come from a hot climate like us, you may not want to swim during the summer anyway (making winter the perfect time to visit).
Not swimming seems like a small price to pay for having iconic beaches all to yourself!
We loved our January trip to the Algarve and would love to visit in the winter again.
Andalucia, Spain
Whitewashed villages, sandy beaches, vibrant cities, and some of the most stunning architecture in the world (hello, Alhambra!), Andalucia is one of the absolute best places to visit during winter in Europe if you're looking for warm weather and a bit of sunshine.
Sure, you won't want to swim when visiting the beaches of the famous Costa del Sol, but they're still worth strolling along.
And, cities along the coast, like Malaga, are much more pleasant to explore in winter than during notoriously the hot and humid summer.
While visiting Andalucia, be sure to tour the Alhambra in Granada, check out the Plaza de Espana in Seville, admire the stunning views from Ronda, and tour the incredible Mosque-Cathedral of Cordoba.
And, if you can't decide what kind of winter vacation in Europe you're looking for, don't worry: in Andalucia, you can truly do it all.
The mountains surrounding Granada are home to the only ski resort in Europe where you can enjoy downhill skiing with a view of the Mediterranean Sea in the distance!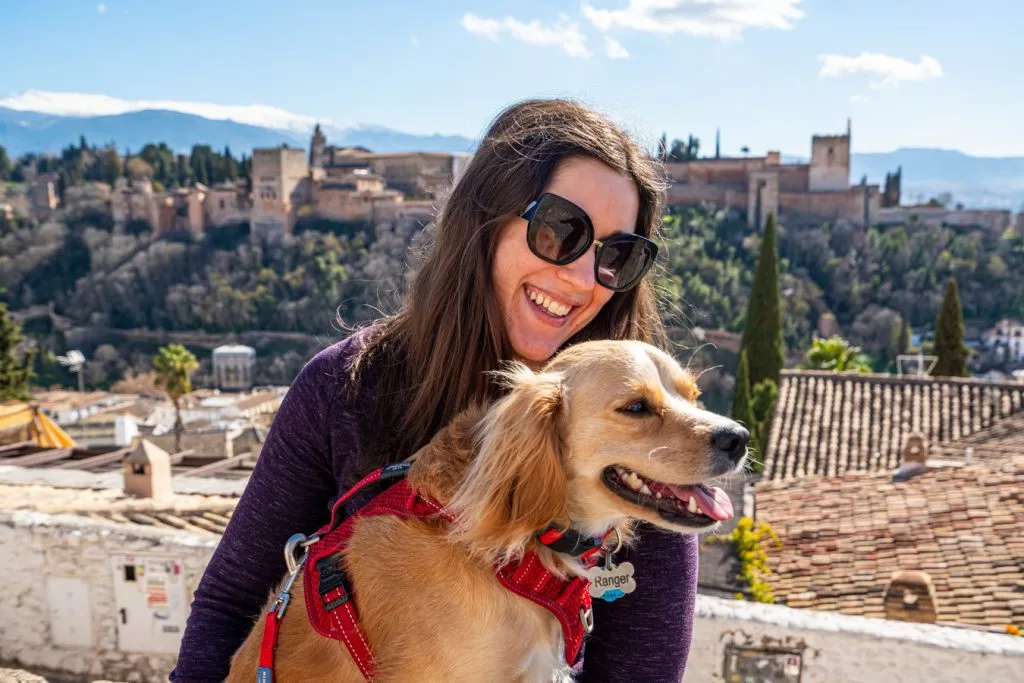 Crete, Greece
As Greece's largest and almost southernmost island (Gavdos has it beat there), visiting Crete in winter may not be the typical Greek vacation, but it can be a delightful one!
From restaurant-hopping in Heraklion to enjoying the charming Venetian harbors of popular towns like Chania and Rethymnon without the crowds you'll experience during the summer, visiting Crete in winter has plenty to offer!
While it will be too cold to swim (expect temperatures around 60°F/15°C), the beaches are still beautiful and well worth admiring from the shore.
And, let's be real: a centerpiece of any well-planned trip to Greece is its food!
The Greek coffee, local food, and local wine are all ready and waiting to be enjoyed during a winter trip to Crete.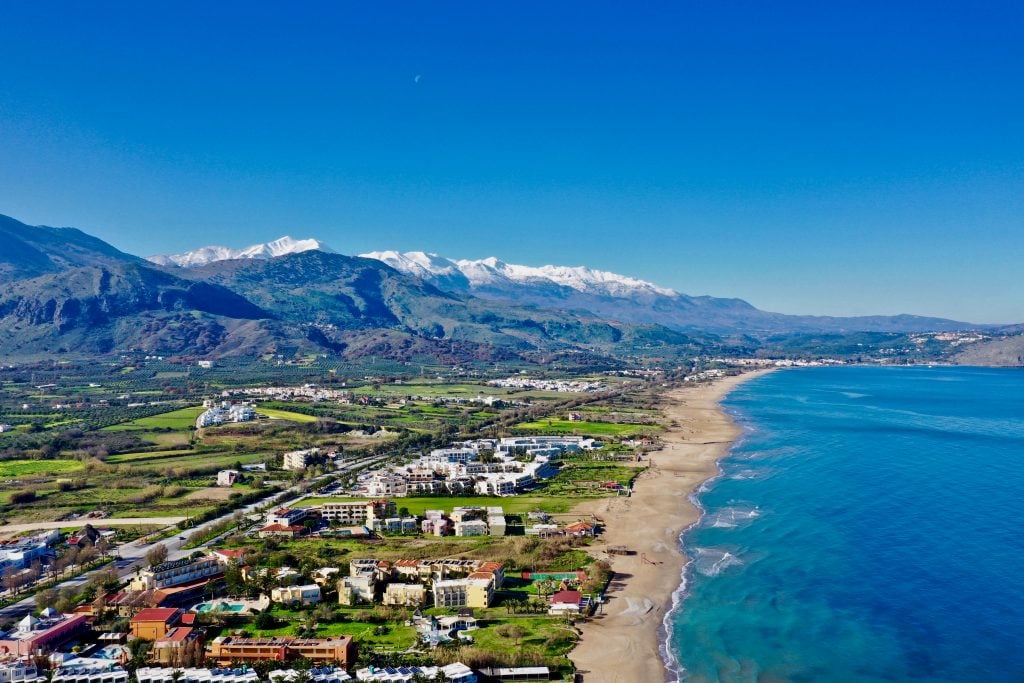 Cyprus
As one of the warmest places in Europe during winter and boasting around 340 days a year of sunshine, it's safe to say that Cyprus is a fantastic winter sun destination!
If your dream trip to Cyprus includes getting away from the beaches to hike in the Troodos or Kyrenia Mountains, soaking up deeply interesting history in Nicosia, and enjoying a bit of European winter sun, you'll have a great time.
While sunsets are still fairly early and the closest you'll get to the sea is looking at it, Cyprus in winter is a special–and uncrowded–experience.
And, while Cyprus is known to foreigners primarily as a winter sun destination, head high enough into the mountains and you can ski there, as well!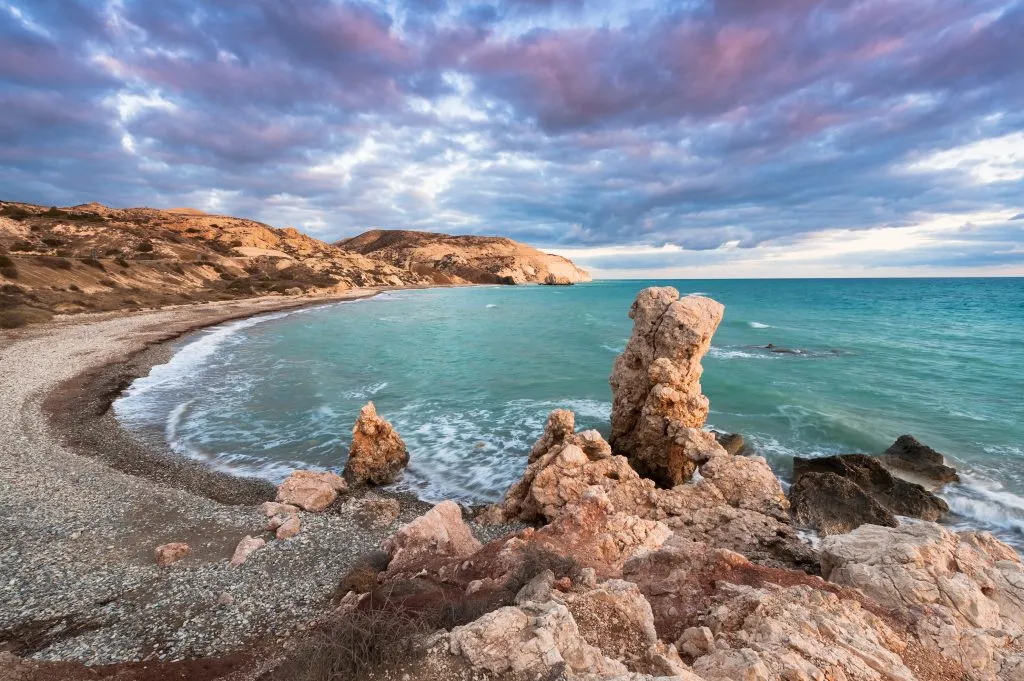 Epic Snow + Northern Lights Winter Destinations in Europe
If your idea of the perfect European winter vacation includes lots of snow and/or plenty of opportunities to chase the northern lights, these epic adventure destinations have you covered!
Rovaniemi, Finland
Located in Finnish Lapland and home to the famous Santa Clause Village each holiday season, Rovaniemi is the perfect winter destination in Europe for travelers looking to combine outdoor adventure with festive cheer!
With its child-centered Santa Claus Village, it also ranks among the absolute best places to visit in winter for families.
Reindeer sleigh rides, snowmobiles, dog sledding, and–of course–night-time expeditions to try to spot the magnificent northern lights–are all among the top things to do in Rovaniemi in winter.
Back in the Santa Claus Village, you'll find kid-centered versions of many of these classic Lapland activities, too.
Don't forget to send a letter home from Santa Claus' Main Post Office while you're there, either!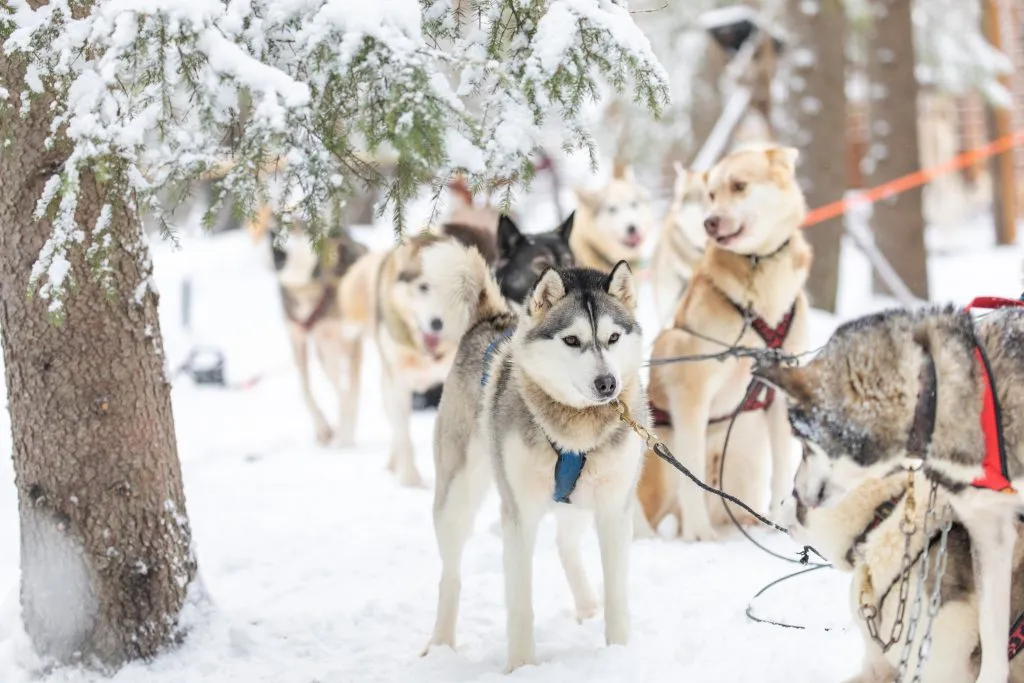 Tromso, Norway
As one of the world's most cherished destinations for chasing the northern lights, Tromso, Norway is absolutely one of the best places to visit in Europe in winter!
While–and I cannot repeat this enough in this article–viewing the lights is never guaranteed, professional night tours like this give you the best odds of spotting them in Tromso.
And, beyond the lights, a full array of winter adventures await in Tromso.
Consider signing up for a dog-sledding experience, visiting a Sámi reindeer farm, and even going whale-watching!
Taking the cable car up for sweeping views of a very snowy, beautiful Tromso in winter is another must!
Chamonix, France
Nestled in the French Alps, not far from the border between France, Switzerland, and Germany, you'll find the (rightfully) famous European winter travel destination of Chamonix situated in the shadow of Mont Blanc.
Most famous for skiing, Chamonix rose to prominence a century ago when it hosted the first-ever Winter Olympic Games in 1924.
Today, it is known for its incredible skiing and winter sports, and its access to some of the absolute best views of Mont Blanc.
You can also step inside the Mer de Glace–the largest glacier in France–during a winter trip here.
While Chamonix's comparatively high prices mean that it will mostly appeal to skiers, you don't need to be a skier to appreciate the beauty of this Alpine town in winter!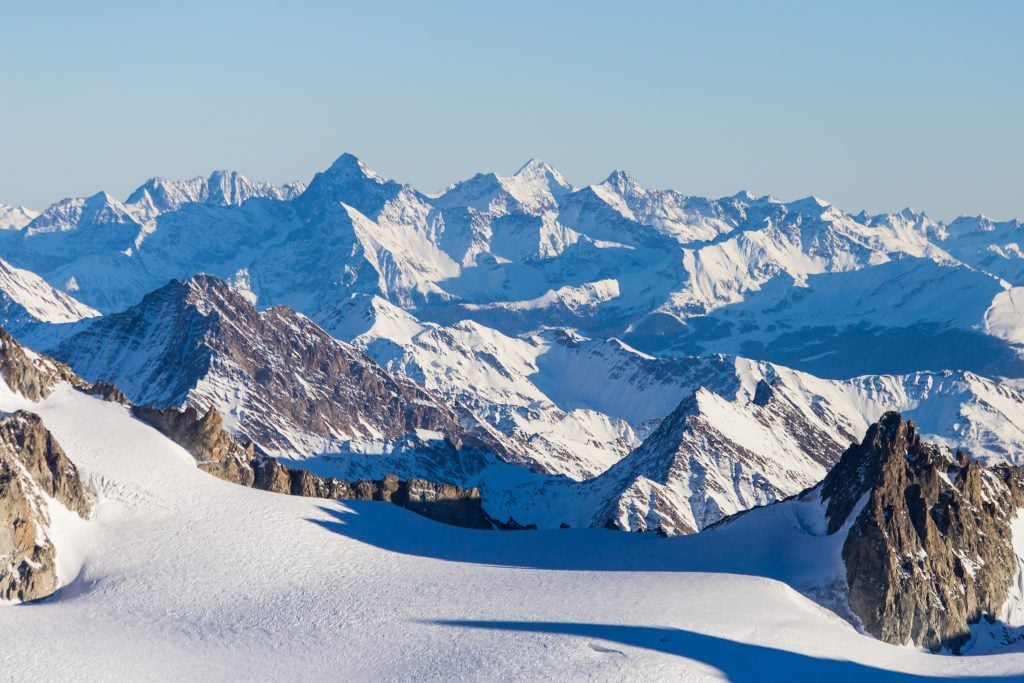 Abisko, Sweden
Located north of the Arctic Circle in Swedish Lapland, Abisko is known for its sheer amount of darkness over the winter, including periods of "polar night" where the sun never rises!
This is an enormous asset, however, for its biggest tourism draw: spotting the northern lights.
After all, there's nothing like 24/7 darkness to give you the biggest odds possible to admiring the Aurora Borealis.
Like other Arctic destinations in Europe, you'll also be able to enjoy activities like reindeer camps, dog-sledding, snowmobiling, and more during your winter getaway.
That being said, in Abisko, there's no doubt that catching sight of the northern lights is the star of the show!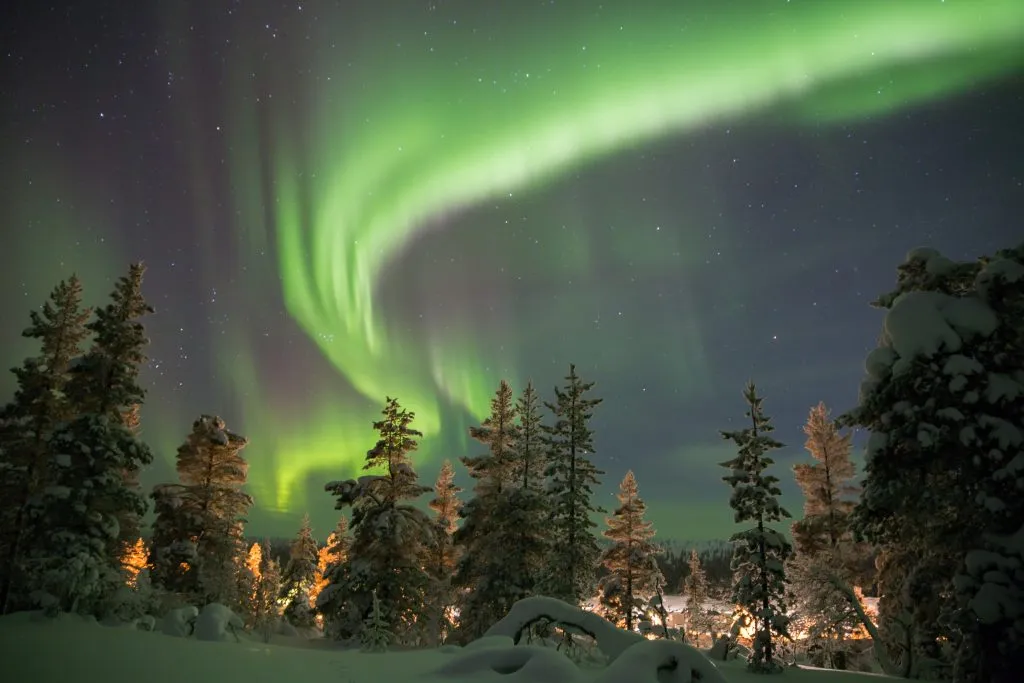 The South Coast, Iceland
The South Coast of Iceland is downright magical during any time of the year, but to experience a side that most visitors don't see, head there in winter!
Many of Iceland's top attractions, including the famous Skogafoss Waterfall, Jokusarlon Glacier Lagoon, and the town of Vik, can be found here.
This is also where you'll find Vatnajokull Glacier, the largest glacier in Europe and one of the most popular ones to hike on.
One of the biggest draws of Iceland's South Coast in winter, though, is something you can only do during the cold months: hiking inside the ice caves!
You can also spot the northern lights here–fingers crossed–but of course, it's never a guarantee.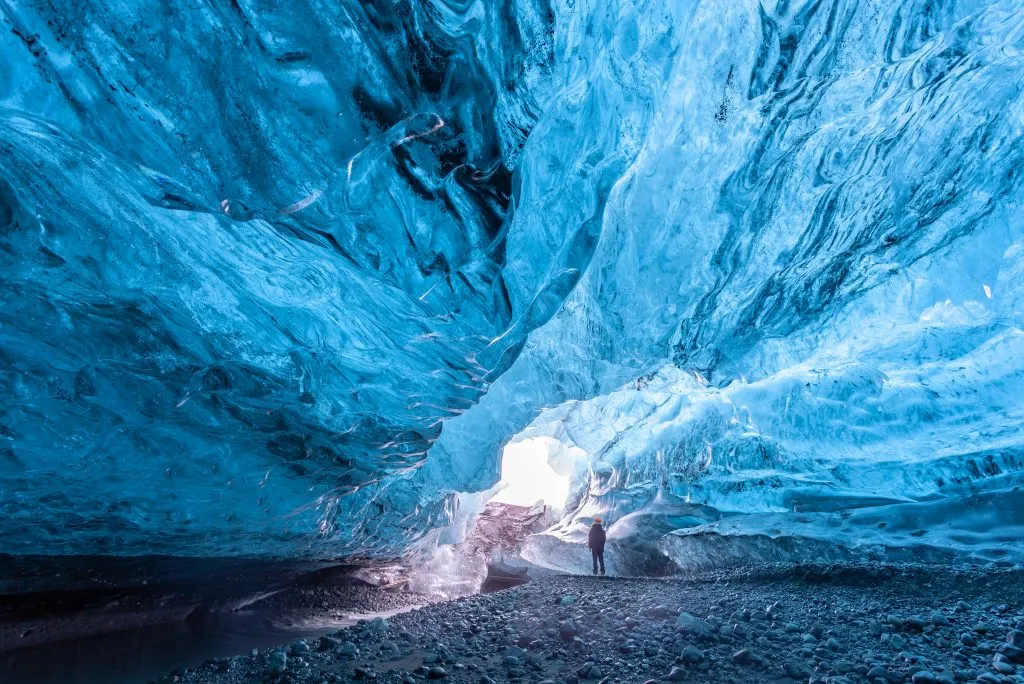 Iconic Destinations in Europe to Visit in Winter
Visiting Europe in winter is incredible for once-in-a-lifetime epic experiences like the northern lights and festive events like Christmas markets, sure… but there's another (less crowded) side to visiting Europe between November and March, too.
During these dark and admittedly sometimes dreary months, many of Europe's most iconic cities–places known to be described with adjectives like "overtouristed" during the summer–receive a mere fraction of the tourists that they do during the high season.
The result is pleasant, beautiful cities, views of stunning architecture that you have enough elbow room to enjoy, and museums that can be sampled at a leisurely pace.
If you're looking to take advantage of the off-season lack of crowds and lower prices, here are some of the best cities to add to your list!
Venice, Italy
Ethereal, beautiful Venice, with its gondolas, canals, opulent architecture, and downright implausible existence, is one of those places that people seem to either love or hate.
… and if you want to love it, you'll be much more likely to do so by visiting in winter!
Sure, you'll need to bundle up and expect gray weather–but honestly, Venice looks gorgeous under clouds.
It's an excellent trade in order to experience St. Mark's Square when it's not literally covered by tourists (the exception: during Carnival).
Winter is when Venice is most prone to its "acqua alta", or high water–in other words, flooding–but the vast majority of the time, this won't disrupt your trip at all.
Paris, France
Years ago, when planning our first-ever trip to Europe, we decided to spend a week in Paris during winter!
We loved it enough that we've happily returned to Paris in the winter several times since (and in all the other seasons as well–after all, "Paris is always a good idea.").
Yes, the skies will typically stay gray, and you should absolutely pack a travel umbrella, but the moody weather suits Paris just fine!
Enjoy the Louvre with a fraction of the crowds, ice skate in view of the Eiffel Tower, and enjoy a daily bowl of delicious French onion soup, and you'll quickly forget the weather.
If you happen to visit in December or early January, be sure not to miss the Christmas markets and decor, either–the Galeries Lafayette Christmas tree alone is worth going out of your way for.
Rome, Italy
Without a doubt, the biggest reason to visit Rome in winter is the lack of crowds.
We've spent time in Rome during almost every month of the year, and the difference in crowd levels during December, January, and February are downright astonishing compared even to the shoulder seasons!
And, while the days are shorter, Rome's attractions are arguably better appreciated during winter.
This is not only due to the lack of crowds, but to the lack of heat (did you know that most of the Vatican Museums aren't air-conditioned? Just saying.).
Rome is quite possibly our favorite city in the world, and from touring the Colosseum to marveling at the Pantheon to devouring delicious pasta daily, a winter trip to Rome is an excellent experience.
One reason not to visit Rome during the winter though? Christmas markets.
They exist–technically–but if that's what you're after, head to Central Europe instead.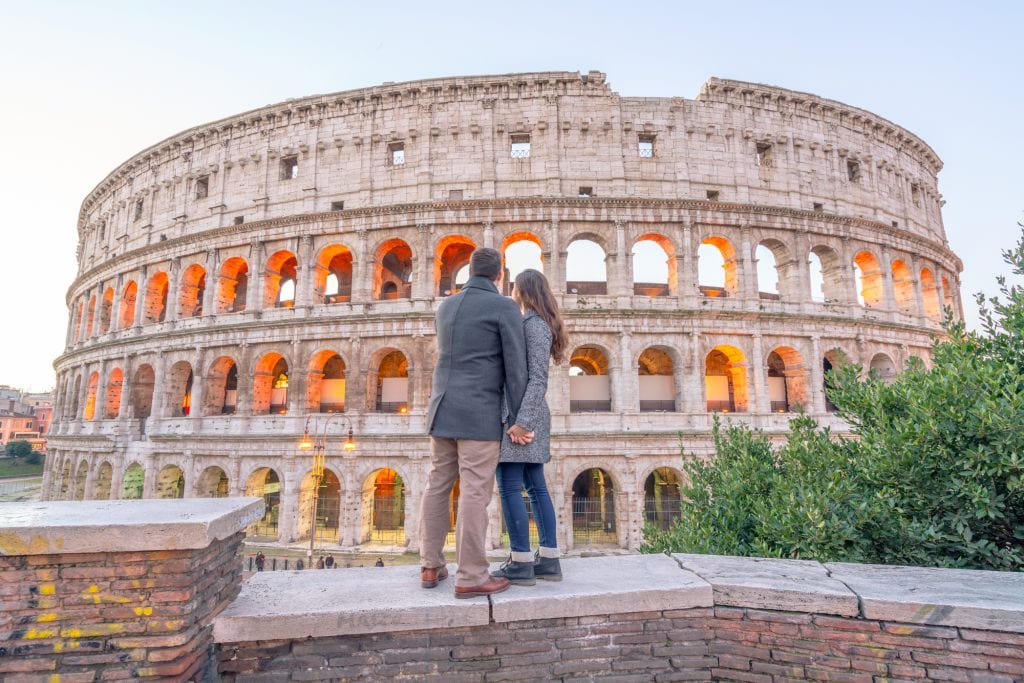 Dubrovnik, Croatia
There's no doubt that many of the best things to do in Dubrovnik, from swimming in the Adriatic Sea to kayaking around Lopud Island, are only available in the summer.
If you're in the mood for something a bit unorthodox, though, let me say: winter in Dubrovnik has its charms!
We spent 2 weeks enjoying Dubrovnik in February, and the experiences of walking the city walls almost completely alone, strolling through the city without fighting the crowds, and enjoying winter sunsets was an absolute delight.
And, even better: no cruise ship crowds.
Dubrovnik doesn't get particularly cold (average highs in February reach
56°F/10°C), making it a mild way to experience some winter sun, too.
We snapped this photo on the city walls in in February, where we only passed about 5 other people during the entire experience!
Barcelona, Spain
Barcelona may be on the Mediterranean, and it may feature beaches… but really, at its heart, Barcelona is not a beach town.
And, as a result, it makes for a fantastic winter trip in Europe!
Skip the overwhelming heat and intense crowds of the summer, and instead opt to marvel at masterpieces like La Sagrada Familia and Casa Batllo in the winter (and, as a bonus, the facade of Casa Batllo is more visible in the winter, too).
From browsing Mercado La Boqueria to strolling around Las Ramblas to soaking up the views at Park Guell, virtually all of the best things to do in Barcelona are improved but visiting in the offseason.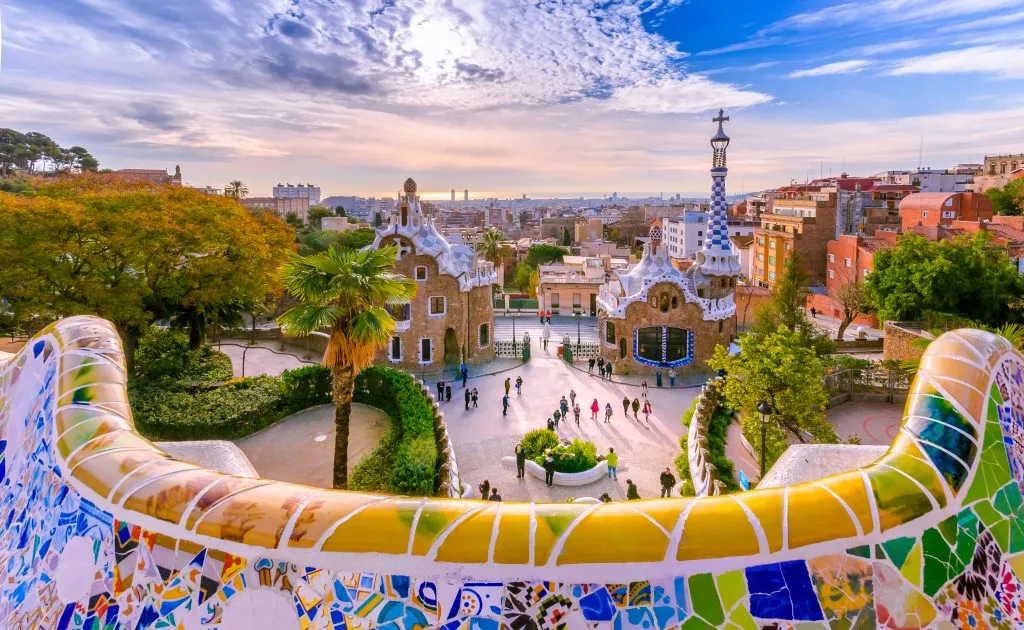 Amsterdam, The Netherlands
During the summer months, Amsterdam is known as one of the most crowded and touristic cities in Europe… but in the winter, that all melts away!
Yes, you will be cold (the humid, damp cold of Amsterdam is not to be underestimated), and the days are short, but in exchange, you can explore the canals, peruse the cheese shops, and marvel at the museums with far fewer crowds!
Hearty, cozy Dutch snack foods, such as oliebollen, pancakes, stroopwafel, and even Chocomel, are also a delicious addition to your time in Amsterdam in winter.
And, while you probably won't experience snow or frozen canals (sadly not a common experience), the charms of Amsterdam's architecture, history, and culture are more than enough to make a winter visit worth the effort.
Essential Tips for Visiting Europe in Winter
Plan your days based on the available daylight.
While gray clouds, rain, and possible snow are all pretty much expected by travelers visiting Europe in winter, the incredibly short days can be harder to adjust to (at least, they were for us).
For example, in mid-December, the sun sets around 4:55 PM in Paris, around 4:00 PM in Vienna, around 3:30 in Reykjavik, and 1:30 PM in Rovaniemi.
Depending on where you go and what you plan to do, the amount of daylight available can greatly impact your plans!
Book epic excursions toward the beginning of your trip (and be flexible).
This is especially important for extremely weather-dependent activities, like spotting the northern lights in Iceland or dog-sledding in Tromso.
As magical as these experiences are, a snowstorm or poor lighting conditions can derail them.
By booking your most sought-after activities at the beginning of your trip, you can leave yourself room to reschedule and try again later.
Don't assume winter is offseason everywhere.
When it comes to popular European winter destinations like Lapland for the Northern Lights or Vienna for Christmas markets, the sooner you can book your hotels and tours, the better.
Hotels and tours both fill up, and we have had to stay further out of the center than we would like more than once due to procrastinating on deciding where to stay!
We book our hotels and rental apartments through Booking.com, and our tours primarily through Get Your Guide or (in certain destinations) Take Walks.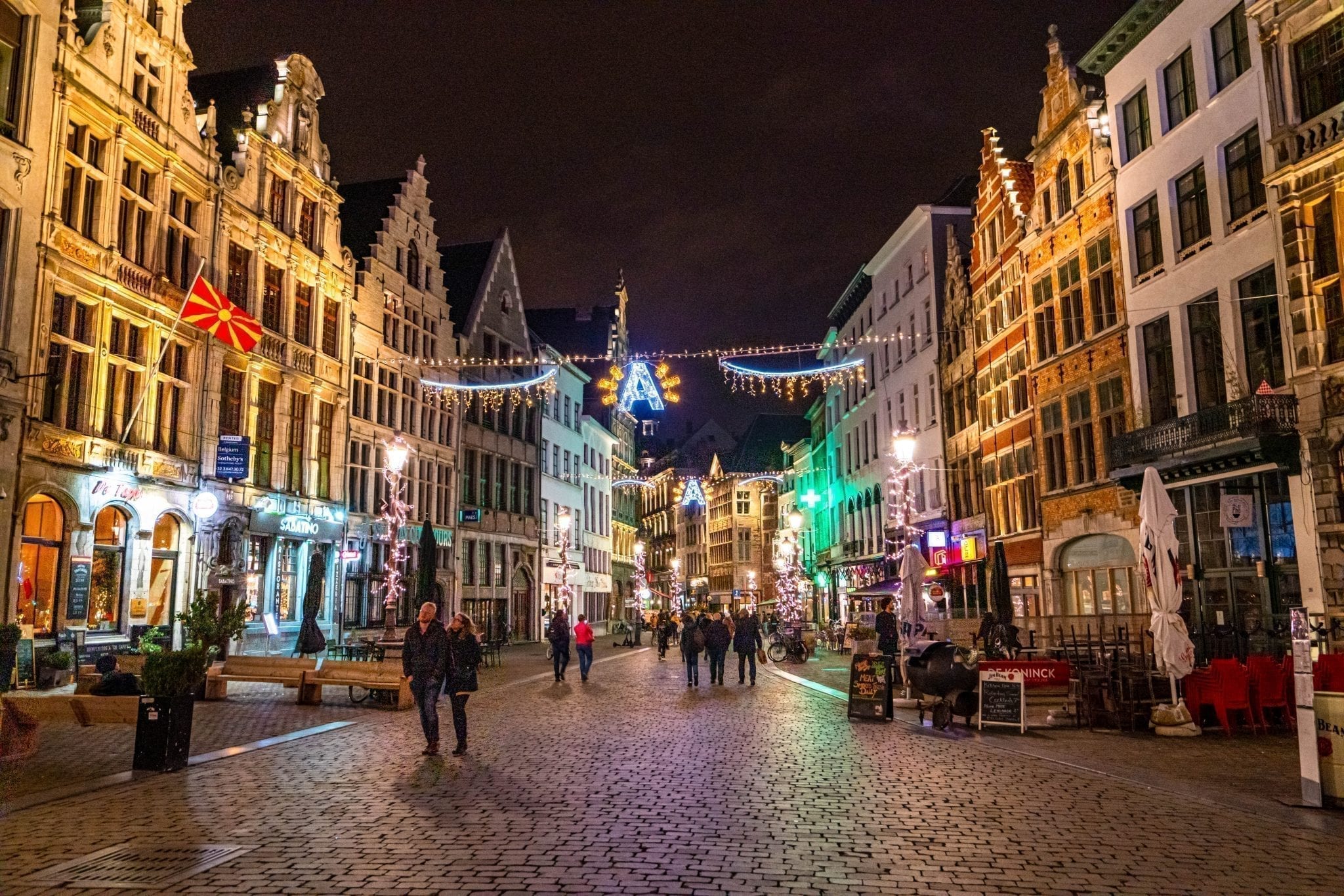 Make sure you love your coat, hat, and gloves!
… because they will be in just about every picture you take!
Unlike during the summer, visiting winter destinations in Europe often means ending up with photos where you look like you wear the same thing every day.
That's not a bad thing, but make sure you love what you bring!
Bringing a second coat can be a heavy inconvenience, but mixing things up with different hats and scarves is much easier.
Bring a travel umbrella with you!
This is especially important for cities–Lisbon may be known for its sun, for example, but it gets plenty of rain in December and January!
You can purchase an umbrella when you arrive, too, but as someone who has had to throw away one too many cheap umbrellas while traveling, it's better to be prepared and bring your own.
Warm, comfortable boots are an absolute must.
Bonus points if they're waterproof!
Cold feet make everything less pleasant when sightseeing.
I love my Ugg Kesey Motorcycle Boots and have been wearing them when exploring Europe in winter for years now.
Which month you travel will influence your winter trip to Europe.
January through March, for example, are most popular for hunting for the northern lights (though of course, there's never any guarantee of seeing them and you can see them outside these months!).
January and February are popular for winter sun getaways in southern Europe, and the days will (slowly) be getting longer as winter wears on.
And, it should go without saying, December is the most popular month for Christmas market trips, but with careful planning, you can visit some markets during a November or January Europe trip, too.