On our very first trip to Portugal, taking a day trip to Sintra from Lisbon–and specifically, seeing the colorful Pena Palace–was the highest priority on our bucket list.
Ever since, we've remembered the glistening view of Pena Palace from the Cruz Alta viewpoint, perched improbably on its hill in the distance (scroll up for a peak at that) as one of the most memorable viewpoints in Portugal–and at this point, after living in Lisbon for more than a year, we have seen a lot of Portugal!
Many, many Sintra day trips after that first one, it's safe to say we've seen virtually all sides of the town that is the most popular day trip from Lisbon.
If you're planning a day trip to Sintra from Lisbon but are a bit confused about the logistics, from whether to book a tour to exactly how many castles and palaces it's realistic to see in one day (hint: probably fewer than you think), this Sintra day trip guide has you covered.
This is the Sintra travel guide we wish we would have had years ago on our own first day trip to Sintra, and our hope is that it helps your one day in Sintra become as memorable as our first trip was.
Here's everything you need to know about planning a Sintra day trip from Lisbon!
Do you need a tour to visit Sintra from Lisbon?
As you sketch out your Sintra day trip, you're likely asking yourself a very common question: is it better to book an organized day trip like this (easily one of the most popular, if not the most popular, day trips in the country) or to travel independently?
And the answer is: it depends!
There are very good reasons to book a day trip to Sintra, and plenty of compelling reasons to go it alone as, well.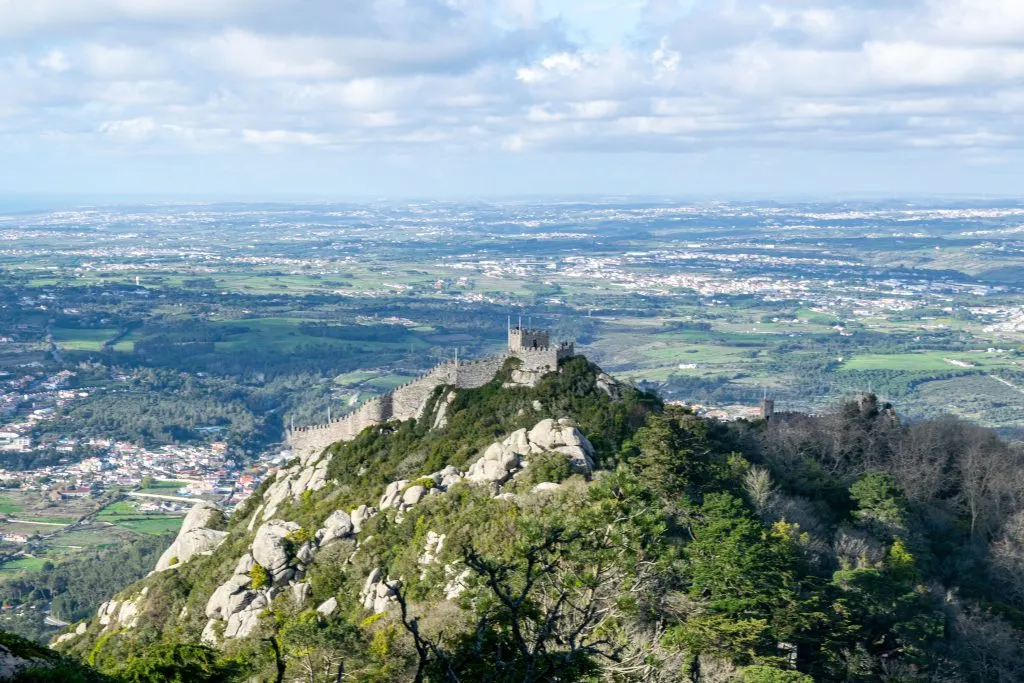 The pros of taking a tour are simple: as the palaces in Sintra are far enough apart that you can't walk between most of them, parking is very tricky, and waiting in line for the bus is a hassle, it saves you time and allows you to see more.
It also allows you to visit spots that are a bit further out, like Cabo da Roca, in the most efficient way possible.
The cons are simple too: with so many stops to make, you won't have much time to linger.
If you'd rather travel independently, you can absolutely do that as well, though we recommend nabbing your tickets for Pena Palace and Quinta da Regaleira, at a minimum, in advance.
If you do choose to book a tour…
… keep in mind that different tours cater to different focuses on Sintra!
This popular day trip (reviewed over 6,000 times and counting), for example, only includes one palace (Pena Palace), but also includes visits to Sintra's town center, Cabo da Roca, and Cascais.
Meanwhile, this tour visits both Pena Palace and Quinta da Regaleira but skips Cabo da Roca in order to build in enough time to visit both palaces.
As you'll see throughout this guide, whether you book a tour or visit independently, designing a one day Sintra itinerary is all about making hard choices: it's simply impossible to see it all!
Book your Sintra day trip today!
Prefer a private tour?
Want to enjoy the best of both worlds, combining complete control over your schedule with incredibly simple transportation?
If so, a private tour of Sintra like this may be right for you!
While a bit pricier than a group trip, note that most private Sintra day tours charge per group or 2 or 3, rather than per person, making the cost more similar than you might think at first glance.
A private tour also gives you the opportunity to change your schedule on the fly, meaning that you'll spend far less time watching the clock than on a group tour or independent day trip.
How to Travel From Lisbon to Sintra (And Back)
When traveling from Lisbon to Sintra independently, by far the easiest method is to take the train.
Trains depart every 40 minutes or so (more frequently during weekday rush hour) from Rossio Station, which is located in the heart of Lisbon's tourism district–virtually around the corner from Rossio Square in Baixa.
It takes about 40 minutes to arrive in Sintra, and when you do, you'll be within an easy walk of stops for both of Sintra's main bus routes that head to the palaces (more on that in the "getting around Sintra" section later).
Train tickets are inexpensive and easy to purchase at the counter in the train station, but if you happen to have a Lisbon Card, it covers your train tickets (though it needs to be activated before it can be used!).
Note that the Lisbon Card no longer covers entrance to any of the palaces.
When traveling from Sintra to Lisbon, the train is just as consistent–however, it necessitates getting back to the Sintra train station at the end of your day trip, which will undoubtedly be a bit of a haul from your last sightseeing stop.
Alternatively, Uber operates within Sintra, and it's easy to call for a ride back to Lisbon.
In theory, it takes about 30-40 minutes to drive from Sintra to central Lisbon, but with traffic, it realistically tends to take closer to 45-55 minutes or so.
The one method of transportation you should not entertain when visiting Sintra for the day?
Driving yourself!
Parking is extremely limited in Sintra (even more than a few years ago), and on top of that, driving around the palaces and town center is a congested experience.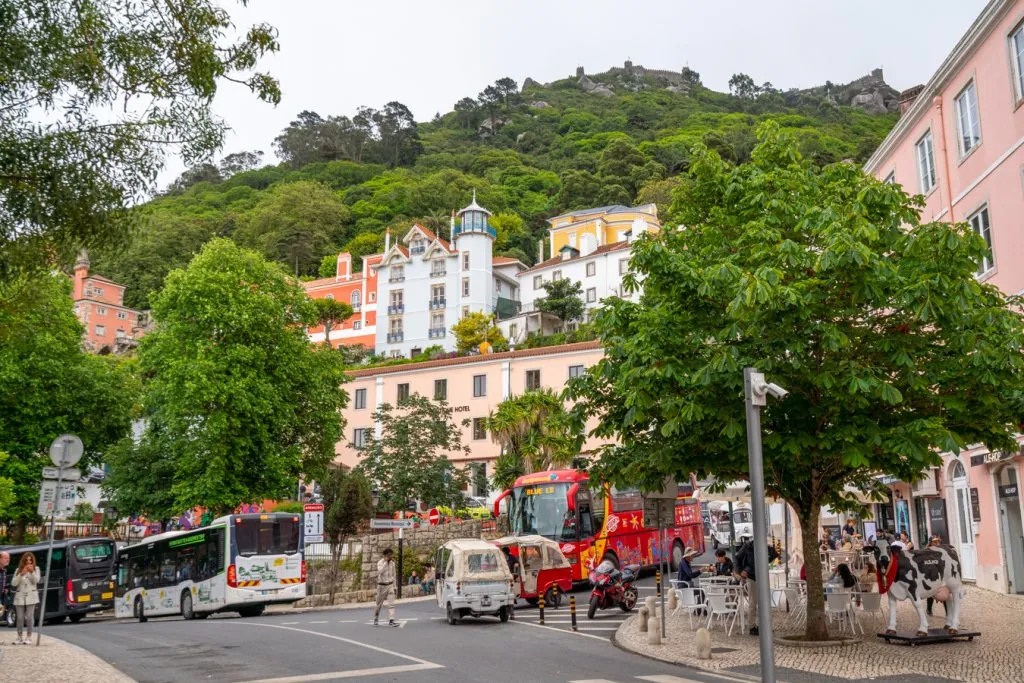 The Best Things to Do in Sintra in One Day
While there are many wonderful things to do in Sintra, we've focused this section on the best Sintra attractions to visit on a day trip.
Unfortunately, the reality is that even this abridged list is made up of too many things to see in Sintra in one day–aiming to enjoy 2-3 of them makes for a full, but still realistic, day trip.
We'll cover a few more things to do in Sintra (which includes some of our offbeat favorites!) in the "should you spend more than one day in Sintra" section later on.
For now, here are the best places to visit in Sintra in one day!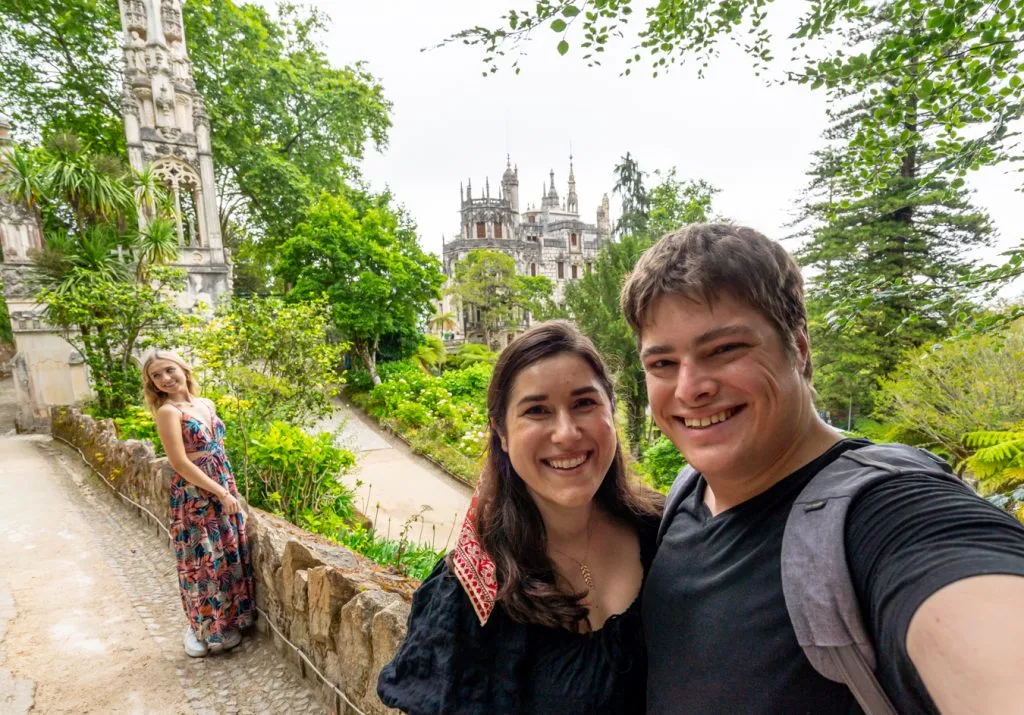 Marvel at the vibrant Pena Palace.
If there is a crown jewel of Sintra, it's undoubtedly Pena Palace.
Seeing a photo of the vibrant and whimsical Pena Palace was one of my first glimpses of Portugal, and probably one of yours, too!
Restored by the royal family in the 19th century on the site of a former monastery, Pena Palace is known for its views (don't miss the Cruz Alta viewpoint or the palaces' terraces), its expansive grounds, and its beautiful interior.
Pena Palace is actually technically called the Pena Palace and Park, thanks to just how expansive the grounds are, and how much there is to see on them (including the Chalet and Garden of the Countess of Edla).
Note that while you can opt for a cheaper ticket to only access the park, rather than the park and palace, that cheaper ticket does not include the palace terraces (the ticket structure used to be different, so there is some confusion online).
If you want to have access to the terraces (and you do), opt for the full park and palace ticket–and be sure not to miss your timed entrance to view the interior, if you plan to step inside!
Patrol the walls of the Castle of the Moors.
Dating to the 8th century, the Castle of the Moors (also called the Moorish Castle) is the oldest of the castles of Sintra.
And, despite the fact that all of the city's palaces are sometimes referred to as Sintra's castles, the Castle of the Moors is the only one that served a traditional fortification purpose, acting as a defense system for the surrounding area during Portugal's Islamic period.
Today, the Castle of the Moors is best known for its series of battlements that offer some of the absolute best views in Sintra–which makes perfect sense, when you remember that being able to see as far as possible was a major purpose of the construction!
The Moorish Castle also has the distinction of being a reasonable walk downhill from Pena Palace, making combining the two one of the easiest ways to structure a day trip to Sintra.
Enjoy the whimsical grounds of Quinta da Regaleira.
If you've seen one photo of Quinta da Regaleira, it's probably of the famous Initiation Well (of which there are actually two!).
And, if you've seen that photo, you're no doubt intrigued by the idea of seeing it!
Quinta da Regaleira is (in today's form) the brainchild of the wealthy Carvalho Monteiro and Italian architect Luigi Manini, who was responsible for transforming the property into Monteiro's whimsical vision in the early 20th century.
Visiting the grounds of Quinta da Regaleira is a bit like falling down the proverbial rabbit hole, so to speak.
There are tree-lined paths, caves, grottos, waterfalls, flowers, towers to climb, and wells to descend into.
Plus, of course, a palace to tour (though to be perfectly honest, the interior paled in comparison to the grounds for us).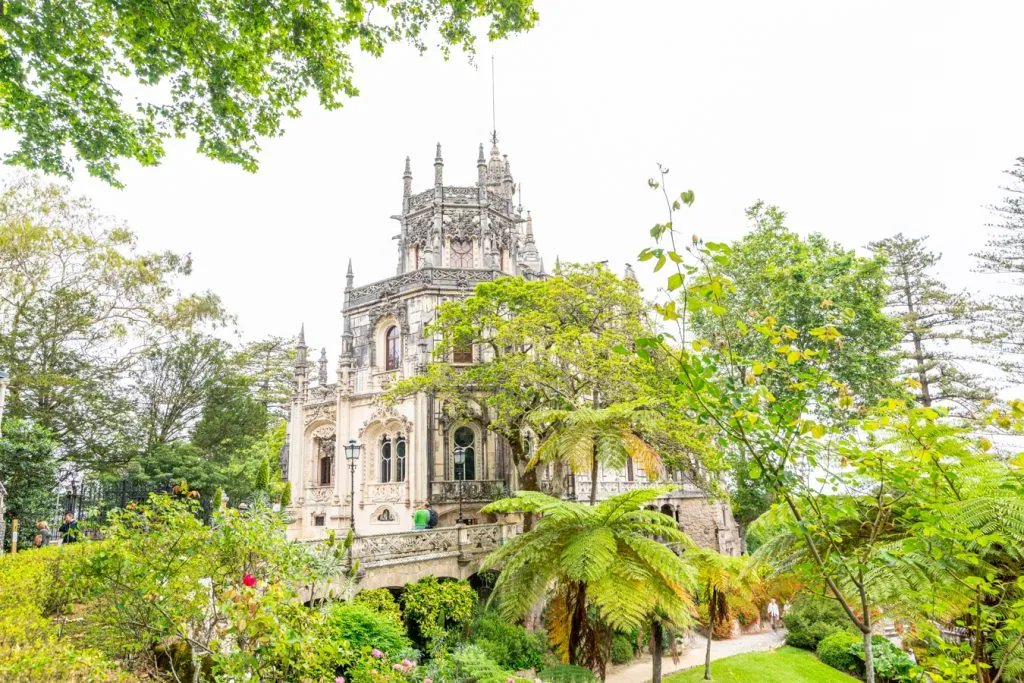 Admire the azulejos of the Sintra National Palace.
Restored and expanded continually for hundreds of years, the Sintra National Palace is one of the (slightly) lesser-known palaces of Sintra.
The home of the Portuguese royal family at various points, the Sintra National Palace lacks the extreme views offered at Pena Palace or the Castle of the Moors, and the whimsy of Quinta da Regaleira.
In exchange, though, it offers one of the best interiors of any palace in Sintra, as well as one of the longest histories.
It's also known for its traditional azulejos, so iconic in Portuguese culture.
The Sintra National Palace is also the closest palace to Sintra's town center, making it one of the easier destinations to add on when trying to optimize your Sintra itinerary.
Pay a visit to Sintra's historic center and taste traditional pastries.
Not all day trips to Sintra will leave you enough time to meander through the town center–but if yours does, it's worth a quick look!
The entire town of Sintra is listed as a UNESCO World Heritage Site, and it has all the markings of a resort-town-turned-tourist enclave: meandering streets, small shops selling Portuguese souvenirs, and many restaurants.
… Plus, this being Portugal, plenty of pastry shops!
Sintra, specifically, is known for two pastries: the travesseiro and queijada de Sintra.
Like so many Portuguese desserts, including the iconic pastel de nata, egg yolks, sugar, and pastry dough feature prominently in a travesseiro, while the queijada de Sintra steps outside the box a bit and features sweet cheese.
To sample them from the most iconic bakeries, head to Casa Piriquita and Queijadas da Sapa (known for queijadas).
Step off the beaten path at the Palace of Monserrate.
Built in the mid-19th century on the site of a former palace of the same name, Monserrate Palace is one of Sintra's most off-the-beaten-path palaces… and one of my favorites.
Steeped in Romanticism from every angle, the architecture is unique, the interior worth a tour, and the grounds magnificent.
Don't miss the Chapel Ruin when exploring the grounds!
Ethereal and otherworldly, it took me right back to visiting Angkor Wat halfway across the world and is one of my personal favorite spots in Sintra.
The upside of visiting Monserrate–other than its many charms–is that it tends to be much less crowded than the most popular palaces.
The downside is that there's a reason for that: as the palace furthest away from Sintra's town center of those covered in this section of our guide, it's a bit more of a commitment to get to.
If you'd like to visit, it's most easily paired with Quinta da Regaleira.
Soak in stunning views at Cabo da Roca.
Long believed to be the westernmost point of mainland Europe, and now simply a stunning viewpoint, Cabo da Roca boasts some of the best views of the Portuguese coast that you can find close to Lisbon!
We love this viewpoint and have visited several times, but it's located about 30 minutes by car from most of the palaces (on the western edge of the Sintra-Cascais Natural Park, as opposed to the eastern side where you'll find Sintra's town center).
For reasons of time, most travelers day-tripping to Sintra from Lisbon will only visit Cabo da Roca if they book a guided tour, though the bus system (Route 403) does technically head out there.
If your trip to Portugal doesn't include time in the Algarve, we'd recommend placing Cabo da Roca a bit higher on your priority list than if, say, you're headed to Lagos after Lisbon.
It doesn't necessarily need to be from this spot, but admiring the sparkling sea from the perch of a cliff should definitely be on your Portugal bucket list!
3 Example One Day Sintra Itineraries
There are two unavoidable realities when it comes to planning a one day Sintra itinerary: first, the bad news, which is you can't see (even close to) everything.
But here's the good news: each and every palace is unique and beautiful, and whichever you decide to visit–even if it's only one of them–you'll have a wonderful day and feel like you got a solid taste of what it's like to visit Sintra.
That being said, here are a few recommended one day Sintra itineraries, structured based on organizing your day geographically.
Ultimately, any combination of 2 places to visit is reasonable, and for speedy sightseers who get an early start, 3 is doable.
When recommending an itinerary for one day in Sintra to friends and family, though, we would tend to suggest combining: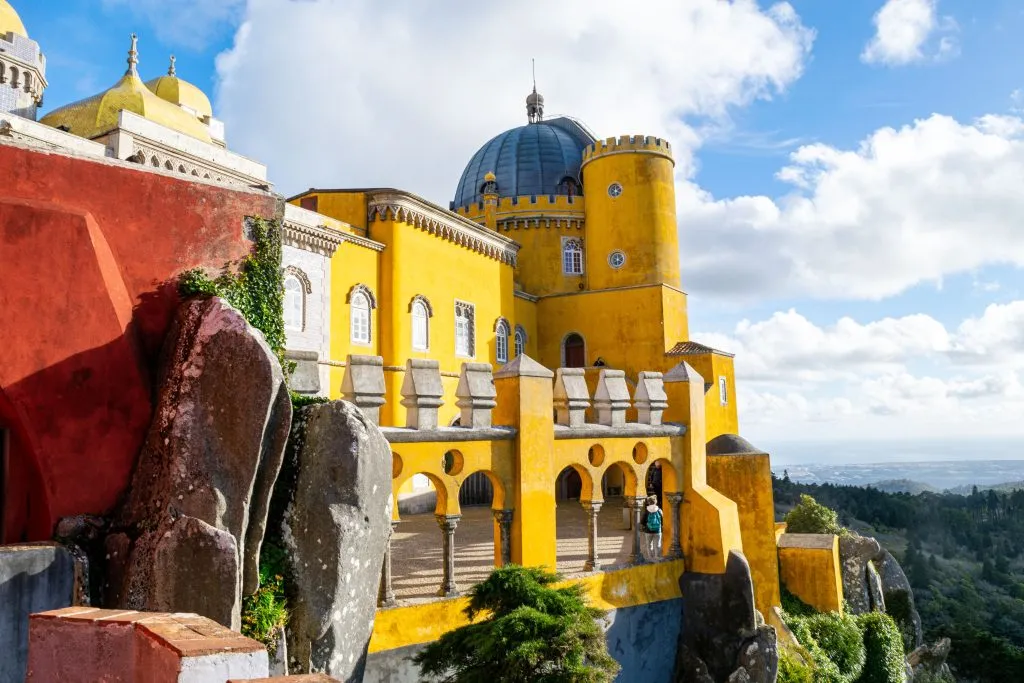 Pena Palace + Quinta da Regaleira + Cascais
One of the most classic Sintra itineraries, popular with guided tours like this who want to show travelers a little bit of everything.
Pena Palace and Quinta da Regaleira are the most popular palaces in Sintra, and they also simultaneously take the longest to see of the palaces and are situated more or less across town from each other.
For that reason, while you certainly can visit both in one day independently, an organized day trip is extremely helpful for managing your day with this itinerary (especially if you're visiting during high season when the buses get backed up).
Book your day trip to Sintra today!
Pena Palace + Castle of the Moors + Sintra Town Center
Perfect for travelers who want to soak up the views, Pena Palace and the Castle of the Moors are conveniently located within walking distance of each other (cutting down on bus time and waiting time).
Note that Pena Palace is often more crowded in the mornings (since everyone rushes there), so you can try to balance the crowds by starting with the Castle of the Moors.
That being said, you'll then be walking uphill to Pena Palace, rather than downhill–so there are definite pros and cons to each strategy!
If your goal is to see as many palaces as possible, you might be able to squeeze in the Sintra National Palace here–but if you do, I'd skip touring the inside of Pena Palace to save time.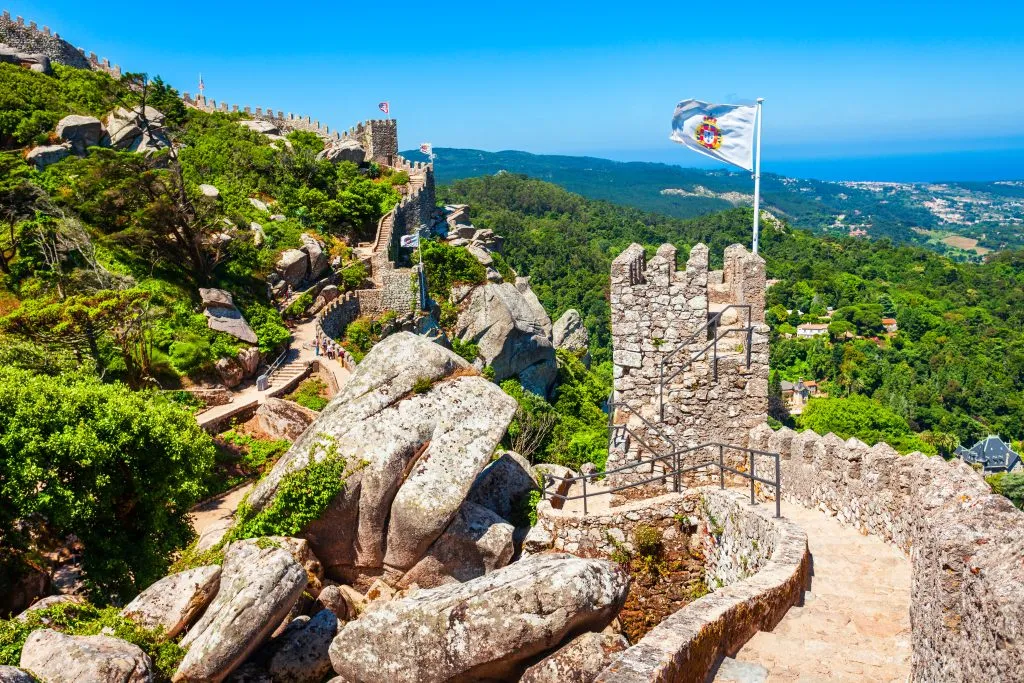 Monserrate Palace + Quinta da Regaleira
More interested in whimsical gardens and getting a little breathing room from the crowds than seeing the iconic Pena Palace?
If so, skipping the crowded 434 bus entirely and opting to visit Monserrate Palace and Quinta da Regaleira might be right for you!
Start at Monserrate Palace, enjoying the relatively small and peaceful interior, and the expansive gardens, before heading to Quinta da Regaleira.
Keep in mind that while the two palaces look close on the map, they're about a 45-minute walk along a narrow road from each other, so skip the walk and hop on the bus!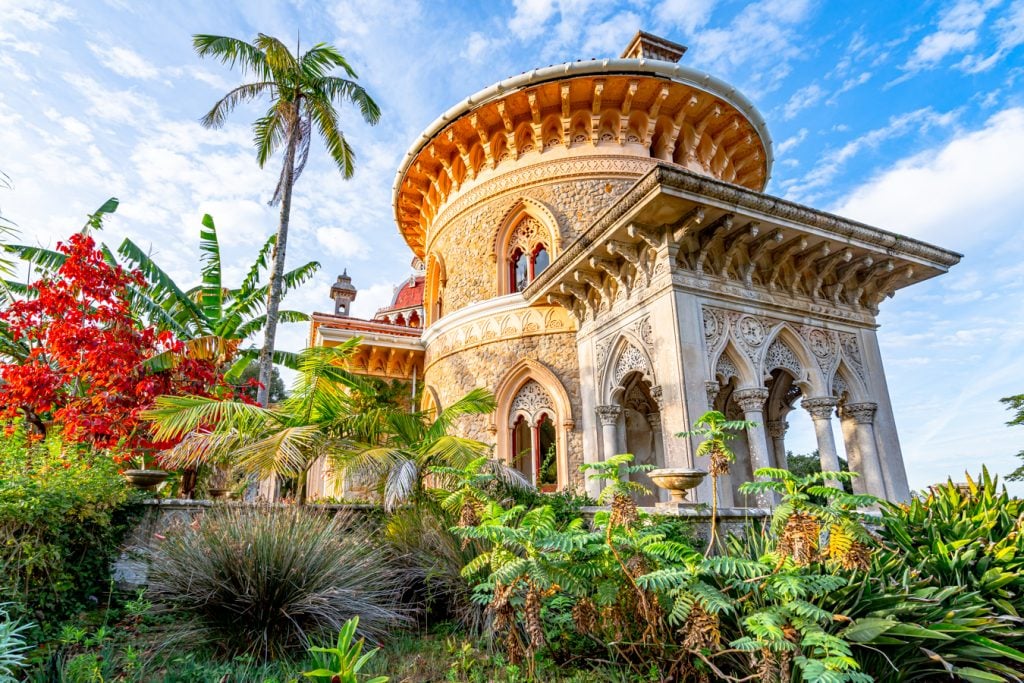 Getting Around During a Day Trip to Sintra
Once you arrive in Sintra and choose which palaces to visit, you're not done deciding how to get around!
Sadly, you can't walk everywhere in Sintra, due to the distance between the palaces (the steep hills, crowds, and traffic don't make it any more appealing to try, either).
Driving is not a good option in Sintra, either: traffic is heavy and parking is extremely limited.
During the summer high season, the road leading to Pena Palace is even closed to car traffic entirely!
Instead, opt for one (or more) of these options to navigate during your Sintra day trip.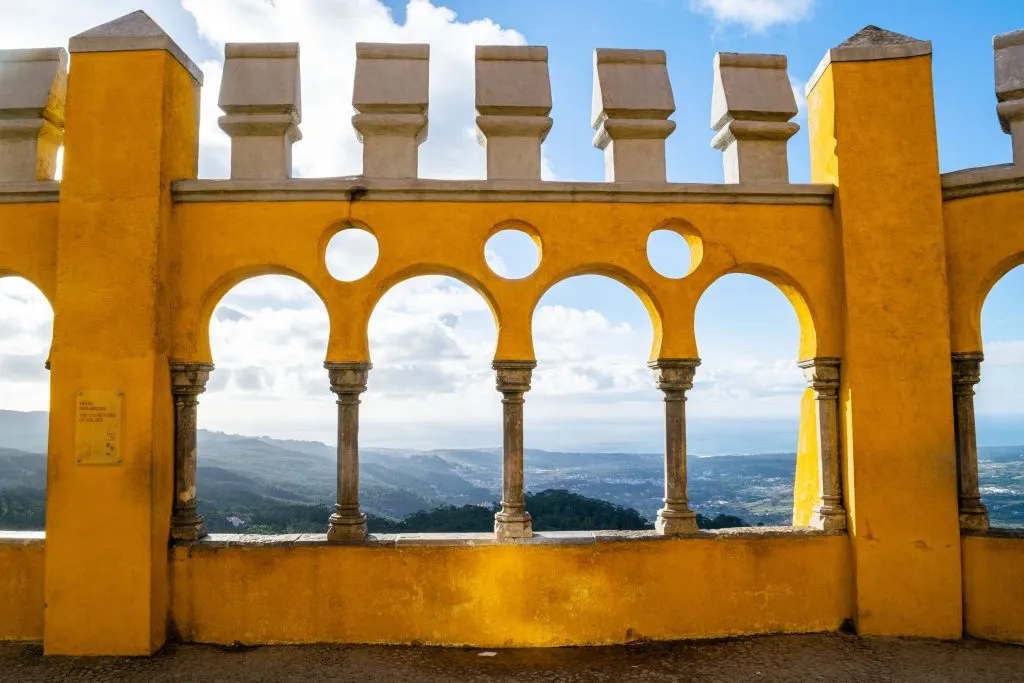 Bus
Sintra has a handful of bus routes that are targeted specifically at tourists visiting the palaces, and are therefore easy to find (they stop near the train station) and use.
For independent travelers, this is generally the most popular way to get around Sintra.
The most popular is Route 434, which travels to Pena Palace, the Castle of the Moors, and Sintra Vila (the historic center).
You also access the Sintra National Palace from this route.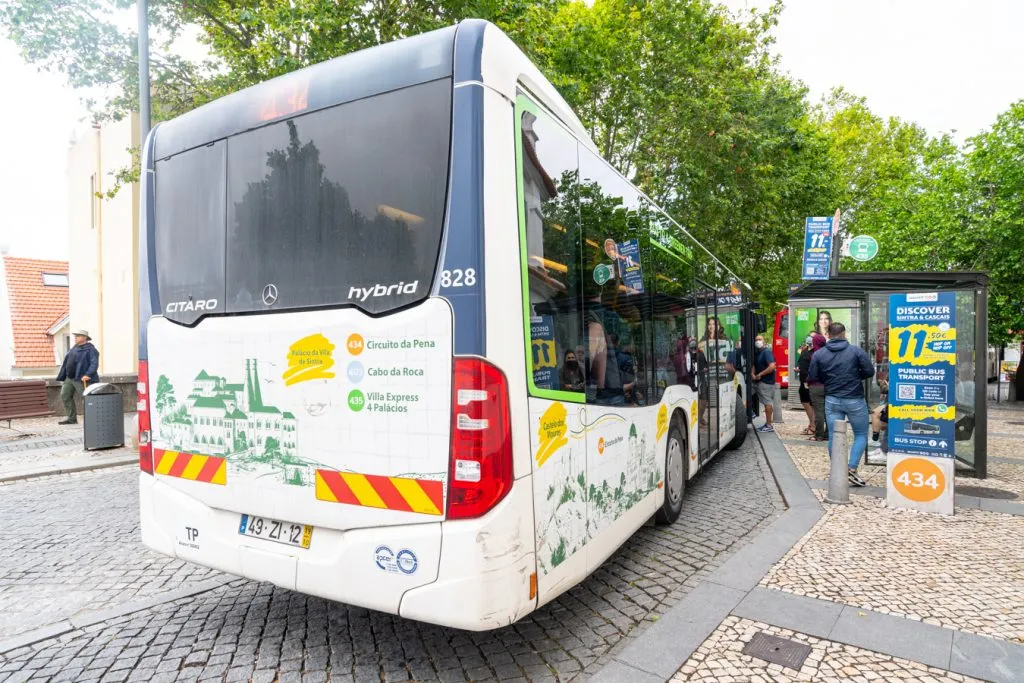 A smaller bus operates on Route 435, which heads to Quinta da Regaleira and Monserrate Palace.
You can see a map of these routes here, and purchase hop-on/hop-off tickets either at the ticket office across from the train station or from the driver.
These buses can get very crowded, so be prepared for long lines, traffic delays, and standing-room-only levels of crowds.
If you plan to visit Cabo da Roca via public transportation, Route 403 is the bus to look for.
Taxi/Uber
Don't want to navigate via bus routes?
Grabbing a taxi or Uber is another useful option–with one caveat.
Due to traffic restrictions, and traffic in general, they may not be able to drop you as close to the palaces as you would prefer (especially the most popular ones, like Pena Palace).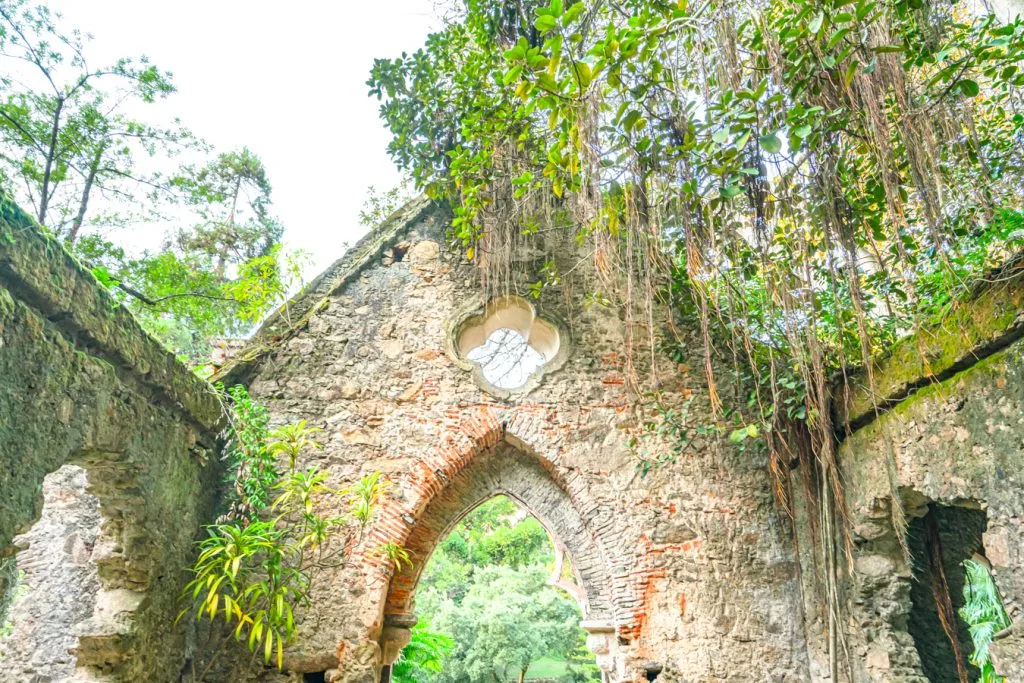 Tuk-Tuk
In recent years, tuk-tuks have become very popular with visitors hoping to get around Sintra more efficiently than via car (thanks to their small size) and more comfortably than via bus.
However, tuk-tuks are also undoubtedly the most expensive option for getting around Sintra as well.
If you opt to use one, be sure to negotiate the price very clearly before hopping in!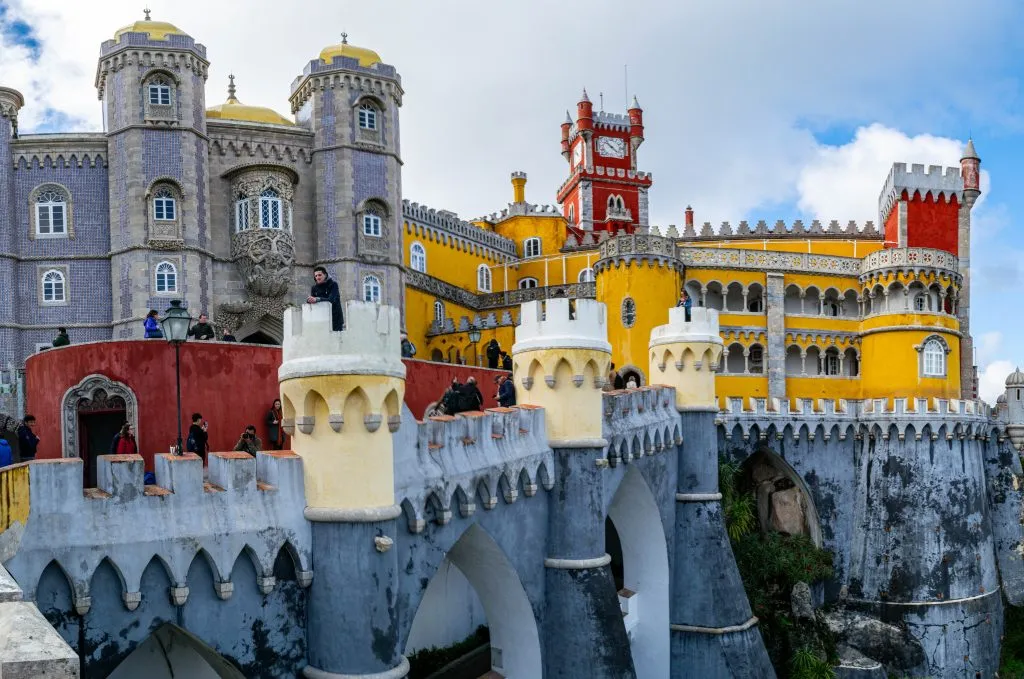 Should you spend more than one day in Sintra?
Overwhelmed looking at just how many things to do in Sintra there are, and wondering if you should spend more than one day in town?
You're not alone!
The easy answer to the question is yes, of course–spending 2-3 days in Sintra is ideal, and will allow you to sample all the best things to do in Sintra in a day, and get off the beaten path, as well.
Attractions like the Capuchin Convent, Praia da Ursa (arguably one of the most picturesque beaches in Portugal), Villa Sassetti, and the Queluz National Palace (one of my favorites around town, and we had it almost to ourselves when we visited), are absolutely worth your time.
Plus, the chance to spend time in the town center and enjoy the most popular palaces at your leisure instead of constantly checking the clock is tempting, too!
Of course, the reality is that most travelers have very limited time to work with on their trip, which is why our recommended 10 day Portugal itinerary only includes one day in Sintra.
If you have 2 weeks or more in the country and Sintra is toward the top of your bucket list, I'd absolutely consider adding another day.
If you aren't sure it appeals to you as much as some of the other incredible places to visit near Lisbon (just a few of my favorites include Cascais, Evora, Obidos, and the UNESCO monasteries of Batalha and Alcobaca), it's safe to say that you can see enough of Sintra in one day to opt to stick with a day trip, too.
Tips for Taking a Sintra Day Trip From Lisbon
Get an early start (or stay late).
Sintra is beautiful, but it's also ridiculously popular… and ridiculously crowded.
During the summer especially, crowds can reach theme-park levels, with what feels like lineups around every corner.
The more you can opt to avoid peak times in the middle of the day, the more relaxed your day trip to Sintra will be!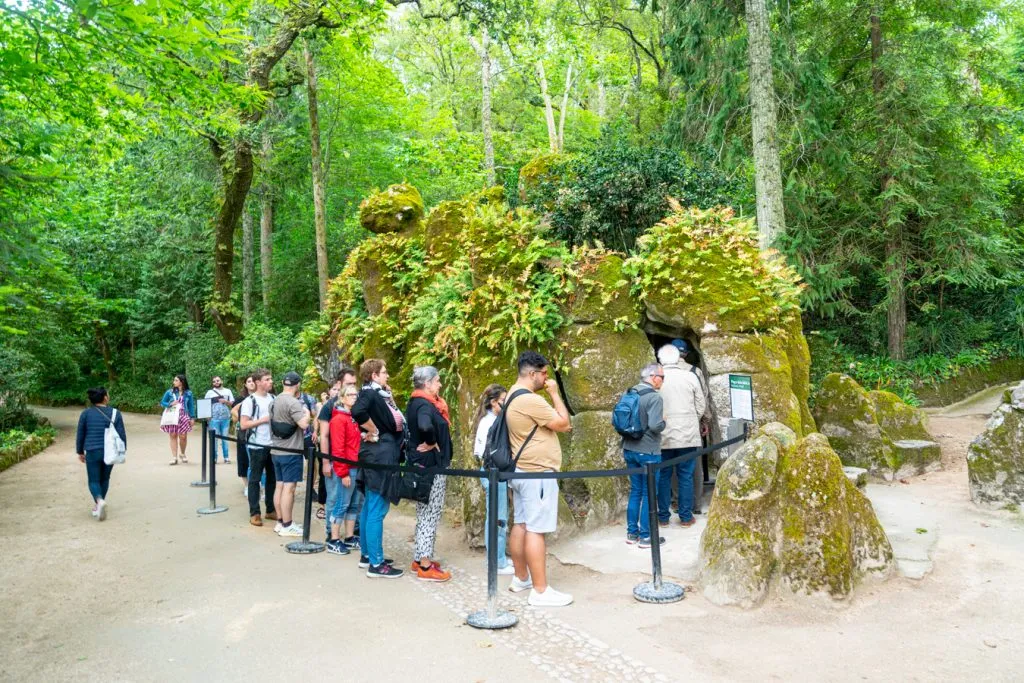 Don't bite off more than you can chew.
Tempting as it can be to squeeze in just one more palace, the more time you have at each, the better!
Personally, we never visit more than 2 palaces in one day, and don't think there's anything wrong with a Sintra day trip that only features one, as long as you pick the one you're most excited about!
For speedy and ambitious travelers, 3 is doable in one day, though you won't have much time to linger in any one spot.
Not having time to see it all is frustrating, but then again, so is having to cut each visit short and miss cool features of the properties!
Be picky about which palaces you step inside.
With only one day in Sintra, you'll need to be very picky about which palaces you visit–including when to go inside!
Sintra's most popular palaces, Pena Palace and Quinta da Regaleira, are known for being interesting enough on the inside… but the exteriors are where they truly shine!
Despite paying for an entrance ticket (if you're traveling independently) to one or both of these palaces, make it a separate decision whether or not to eat up precious time on your Sintra day trip going inside.
The answer is different for everyone, but having been inside both, I can confirm that as far as we're concerned, the exteriors (and grounds) are the best parts.
For Pena Palace, note that you do need a combined Pena Palace and Park ticket to access the palaces' terraces (which are incredible).
This is a new rule as of a couple of years ago (previously, a cheaper park-only ticket allowed you access to the terraces), so be sure to purchase the right one!
Wondering which of the Sintra palaces has the best interior?
Generally, the Sintra National Palace, with its many azulejos, is considered to hold the honor, and Pena Palace and Monserrate have their high points, too.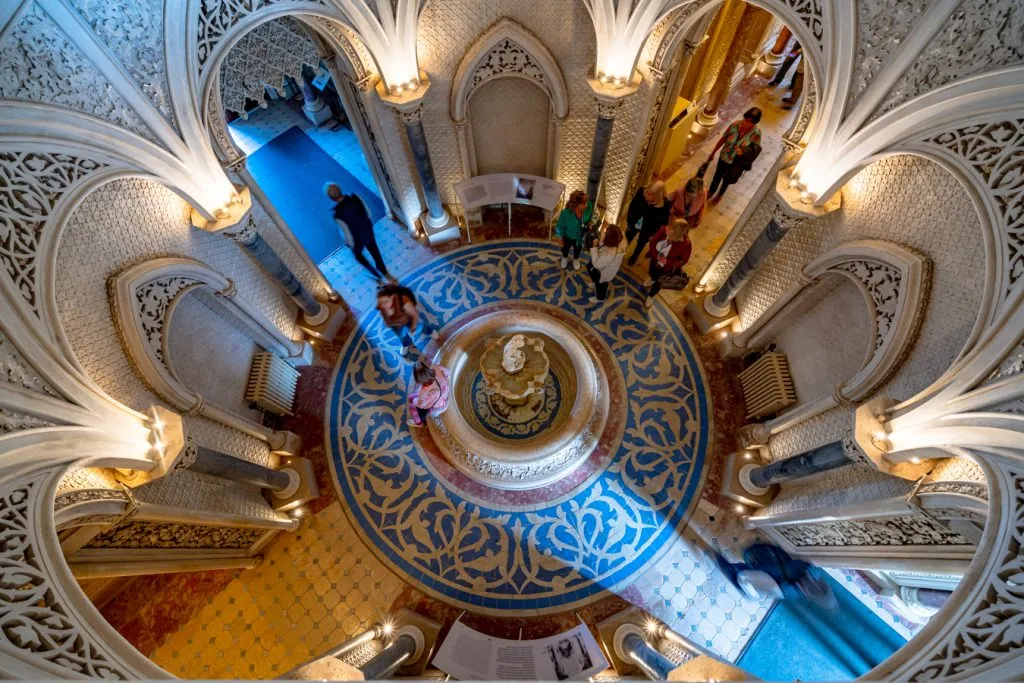 Be aware of the potential for motion sickness.
Sintra's famous hills have a side effect: the roads are very windy, and thanks to the many trees (and stone walls) lining them, they don't tend to have great sight lines, either.
Add in stop-and-go traffic, and, well… let's just say the bus or car journey to the palaces isn't the most fun part of the day.
If you have a tendency to get motion sick like I do, consider coming prepared with your usual remedies (I opt for Sea Bands, and non-drowsy Dramamine in a pinch).
Keep an eye on the bus schedule as you explore.
This goes for whether you're keeping an eye out for your tour bus or for one of the public buses available to tourists in Sintra!
Whichever transportation option you choose, unless you're on a private tour, a big part of taking a Sintra day trip is time management.
This is especially important because, given their expansive grounds, the drop-off points for various palaces and the places you'll actually spend the bulk of your time are not necessarily right next door to each other.
As you walk into the grounds of a given palace, keep an eye on your watch to know how much time to allot on the walk back!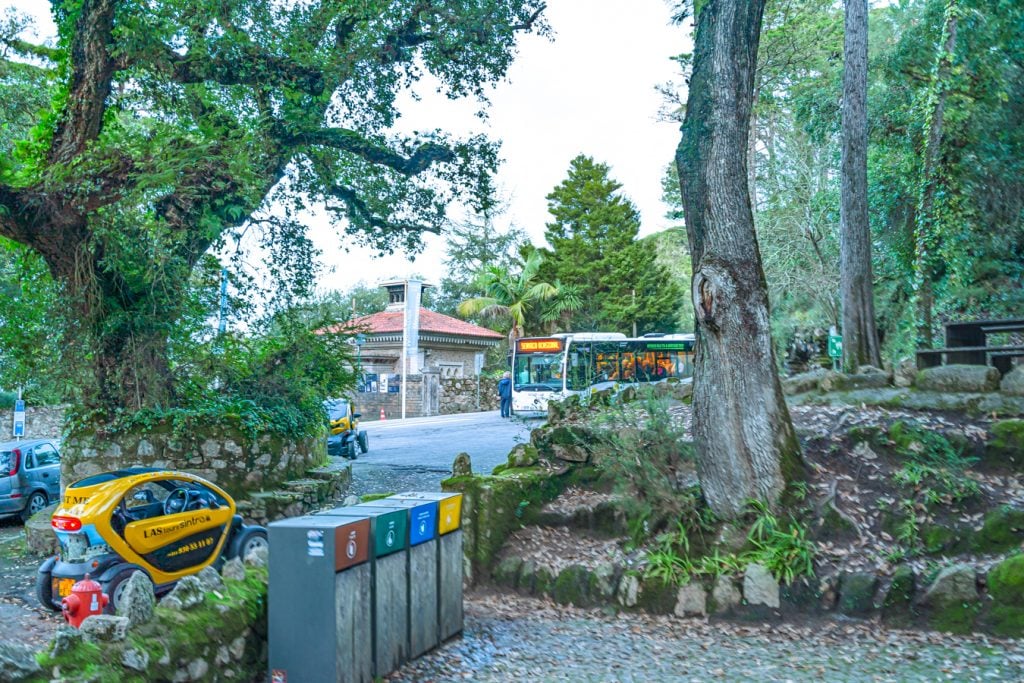 Be very careful when walking between palaces in Sintra!
While several of the Sintra palaces are technically within walking distance of each other, and you'll probably want to walk between a couple of them, be sure to keep your eyes on the road!
The roads through Sintra have a tendency to be narrow, lined with stone walls, and to not leave a lot of room for pedestrians.
While people safely walk there every day, it's not exactly a relaxing experience with tuk-tuks, buses, and cars going by, so be cautious!
Be prepared to be on your feet most of the day.
Between climbing hills and climbing staircases, you'll get quite a workout on a standard day trip to Sintra!
This isn't a time for casual sandals or anything with a heel: be sure to wear shoes you're comfortable walking and standing in all day!
Sintra's palaces are further apart than you think.
When you hear "small city in Portugal", you'd be forgiven for assuming that many of its top attractions are within walking distance of each other–but in Sintra, that's far from the case!
With a couple of exceptions, like walking downhill from Pena Palace to the Castle of the Moors, and walking from Quinta da Regaleira to Sintra National Palace, you'll need to hop in a vehicle (bus, taxi, or tuk-tuk) between each palace.
The biggest limiting factor to this–other than the traffic–is that it eats into your limited time visiting Sintra.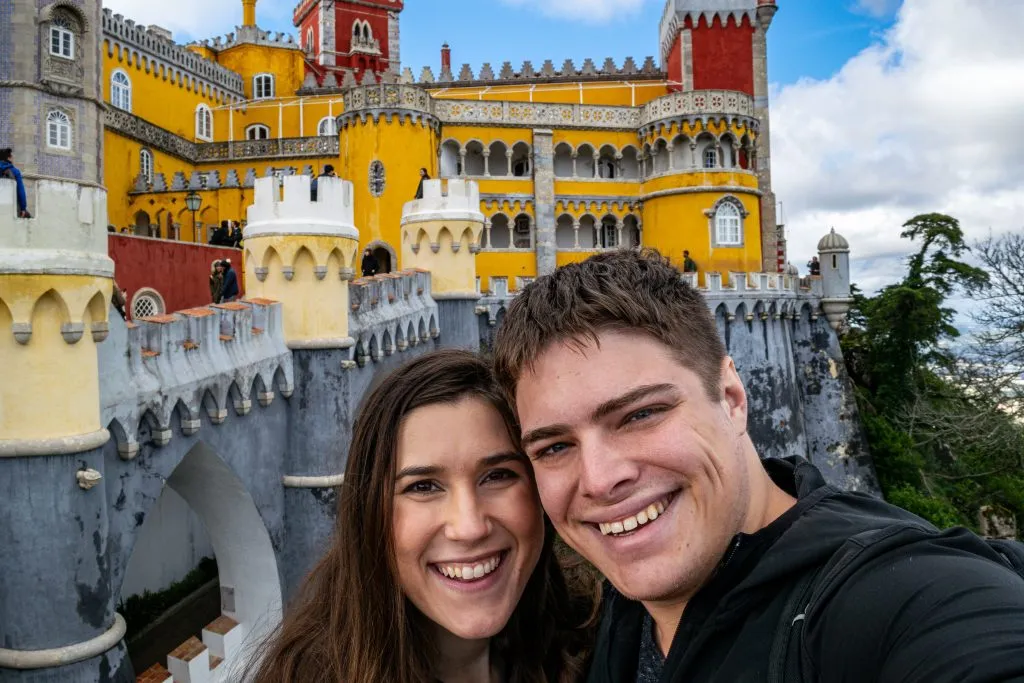 Keep in mind that Sintra's most famous attractions are newer than you might think.
It doesn't make much of a difference in their whimsical nature or beauty, but it's worth keeping in mind that several of Sintra's most famous features are newer–and some are less royally connected–than you might think!
With the exception of the Castle of the Moors (built in the 8th and 9th centuries, indisputably the most historic of them all), none of Sintra's castles are exactly, well, castles, either.
The bulk of the Sintra "castles" that we visit today are vacation homes of the wealthy built during the Romantic Era of the 1800s–which is, of course, exactly why they are so whimsical!
They did tend to be built on the grounds of older buildings (hence the Chapel Ruin, for example), but the iconic facades themselves aren't particularly old.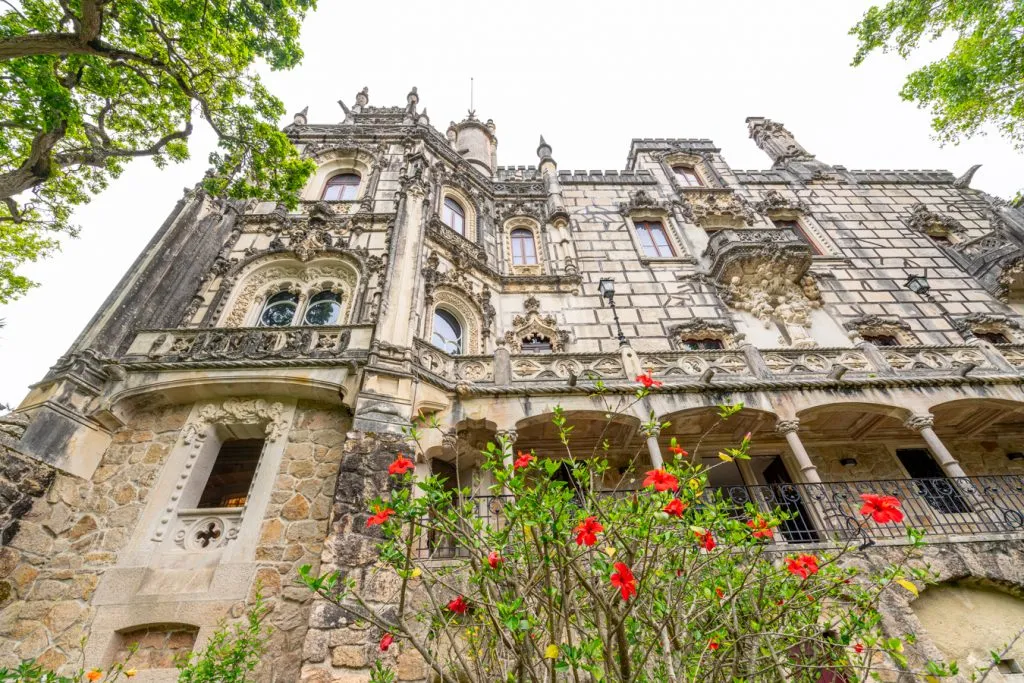 Plan your Sintra day trip for a clear day if you can.
One of the best parts about visiting Sintra–particularly Pena Palace, Pena Park, and the Moorish Castle–is the views!
On a clear day, you can see all the way to the sea.
While spending one day in Sintra can be very rewarding on a cloudy day too (and the smaller crowds are a big perk!), it's definitely worth prioritizing visiting on a day when the views are at their best.
Avoid weekends (and cruise ship days) when possible.
Whether we're talking about international visitors on weekend getaways, locals, or travelers coming in on cruise ships, Sintra is a ridiculously popular place to visit.
While this is understandable, it does mean that it's best to avoid weekend days if you can!
Tuesday, Wednesday, and Thursday tend to be the least crowded days to visit Sintra (though don't confuse this with being uncrowded, unless you choose to head out on a rainy day in February).
In addition to picking the day of the week, you may want to check your schedule against Lisbon's cruise ship arrivals–if you can opt to visit on a day when fewer (or smaller) ships are in port, your day trip to Sintra will be easier for it.
FAQ For Visiting Sintra From Lisbon
How much time is enough for Sintra?
To have a chance to enjoy all of the cool things to do in Sintra, from touring the many palaces to enjoying the area's natural beauty, a 2-3 day visit is ideal.
However, for most people planning a trip to Portugal, taking a day trip to Sintra from Lisbon is more realistic, and it's definitely enough time to make visiting Sintra worth the (relatively short) journey from the capital!
How long does it take to travel to Sintra from Lisbon?
It takes about 40 minutes each way to travel between Sintra and Lisbon (Rossio Station) by train.
By car, the route is theoretically about the same or a little faster, but in reality, driving often takes longer due to traffic.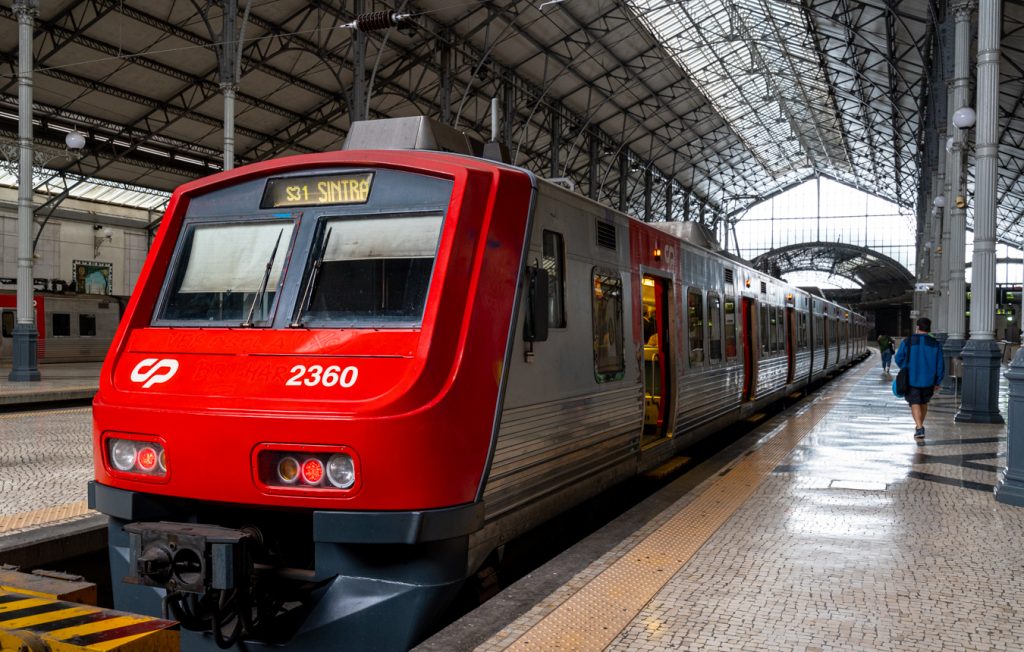 Can you do Sintra in half a day?
While you won't see a ton in half a day–in fact, for an independent traveler, we'd recommend only visiting one palace on a half-day trip to Sintra–it can definitely be worth the effort!
Many organized day trips, including this popular one, don't actually spend all day in Sintra, instead combining it with a visit to Cascais and/or Cabo da Roca (technically part of Sintra, but far from its center).
While more time is virtually always better when it comes to appreciating a travel destination, if you only have a half-day to visit Sintra and are dreaming of seeing it, you won't regret making the effort to go.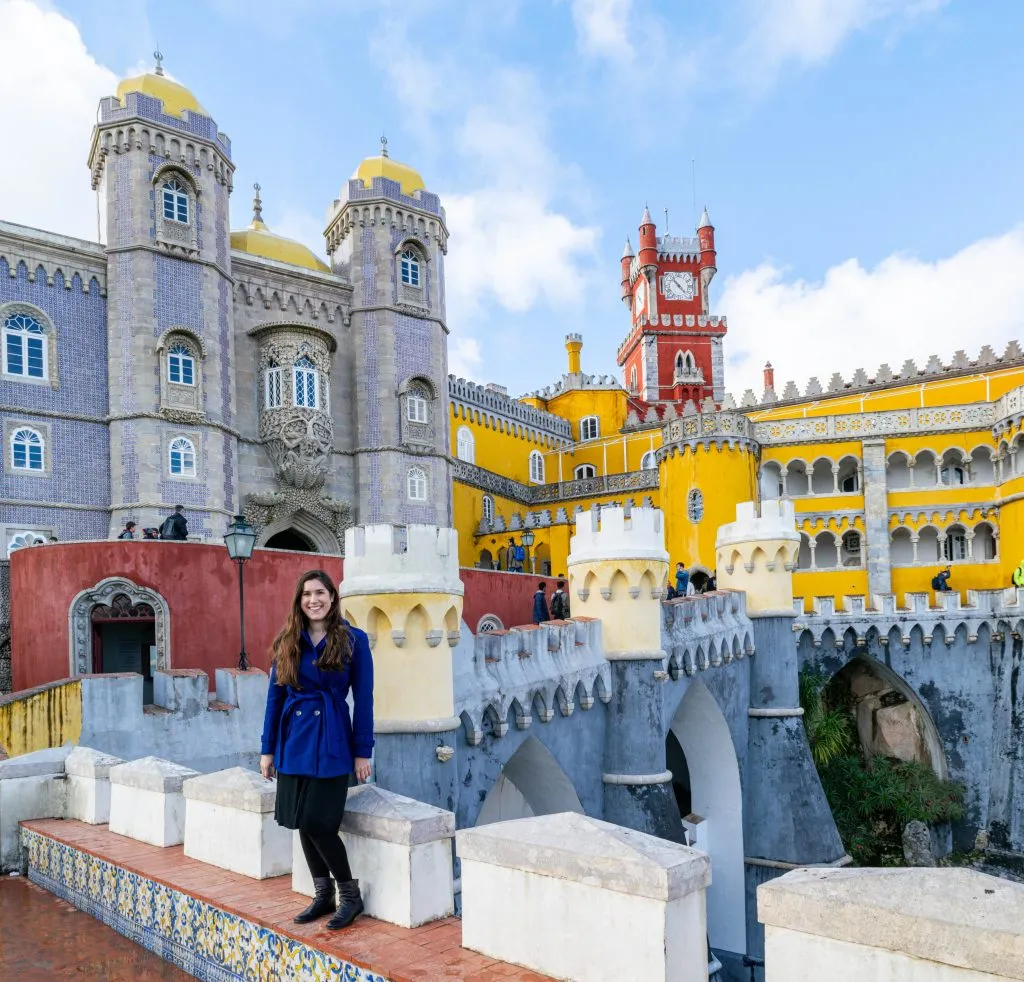 What are the best places to visit in Sintra?
The two most popular palaces to visit in Sintra are Pena Palace and Quinta da Regaleira, and they're both worth your time.
For travelers seeking views, the Castle of the Moors is excellent.
For those wanting the best palace interior, head to the Sintra National Palace.
And to escape the crowds, Monserrate Palace or Queluz National Palace (far out of the way but very uncrowded) have a lot to offer.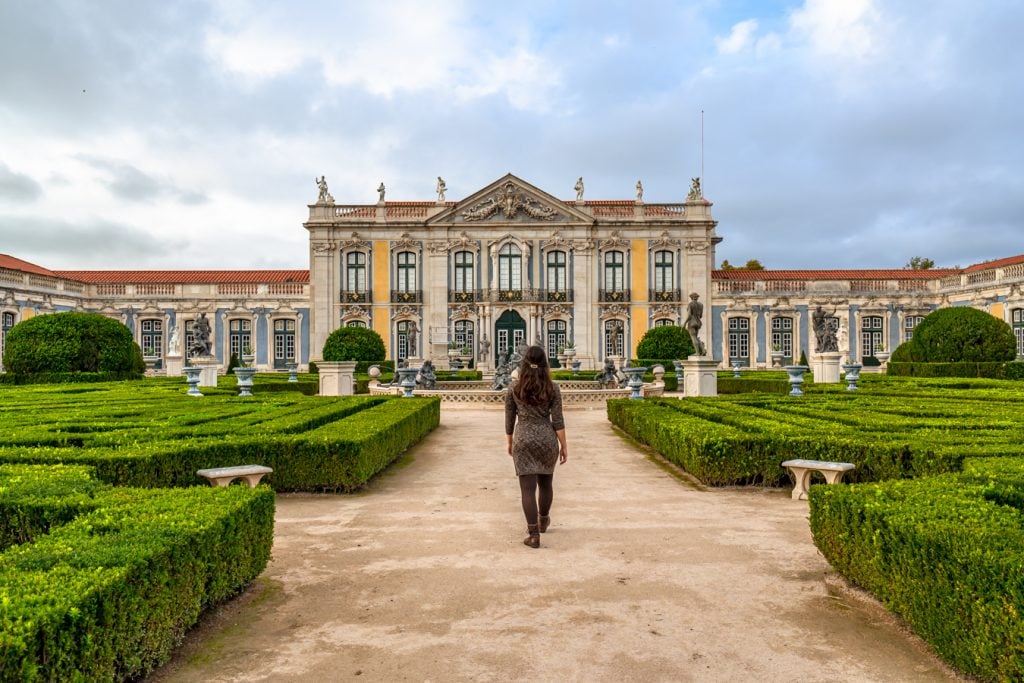 What are the least crowded palaces in Sintra?
Of Sintra's five most famous and centrally located palaces, the Sintra National Palace and Monserrate Palace tend to draw the smallest crowds.
Can you walk everywhere in Sintra?
No, you can't realistically walk everywhere when visiting Sintra for a day.
Plan to use the bus, taxi/Uber, and/or tuk-tuk services in addition to walking.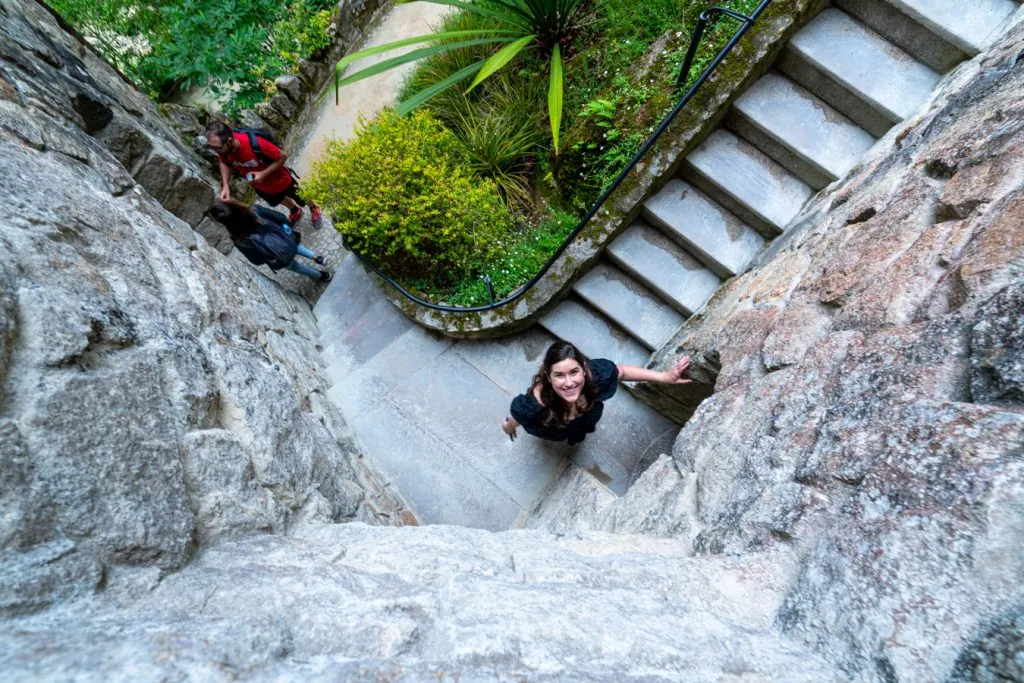 Is Sintra worth visiting?
As one of the most famous and unique places to visit in Portugal, Sintra is worth visiting!
However, that does come with a caveat: Sintra's popularity and proximity to Lisbon make it very crowded, and while it is a very worthwhile day trip from Lisbon, it's not the only one.
If you have a low tolerance for crowds and little patience for lines/queues, you may prefer to peruse some of the other incredible day trips from Lisbon, which range from palaces with more elbow room to beach towns to ossuaries to monasteries and beyond!
In other words, a Sintra day trip from Lisbon is delightful, but if it's not right for you, you certainly don't have to visit Sintra in order to enjoy a very rewarding trip to Portugal.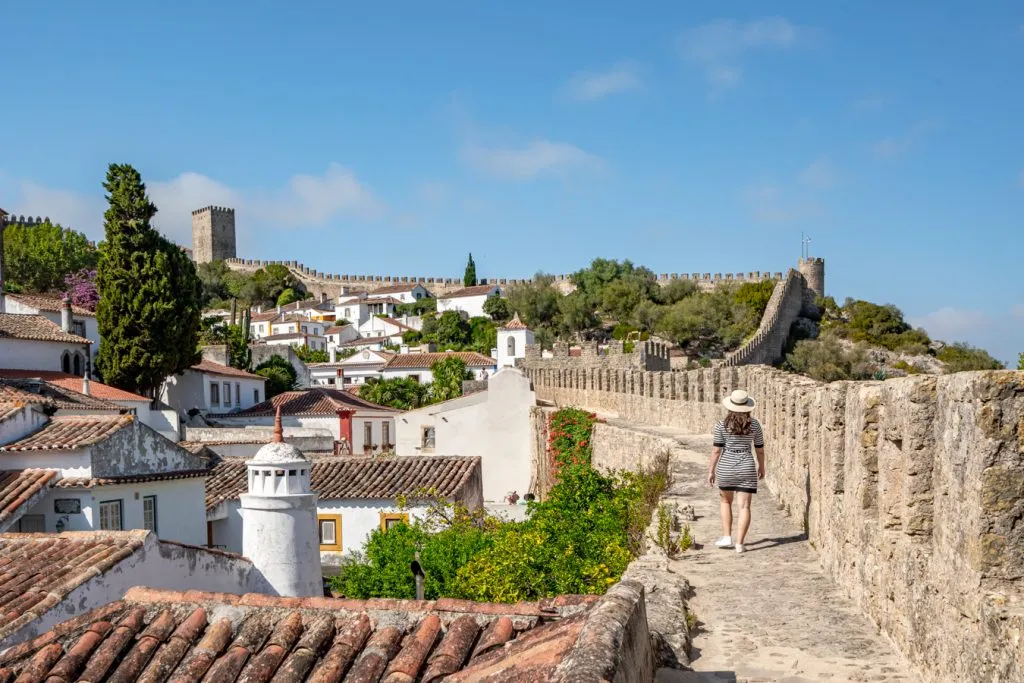 Read More About Visiting Lisbon + Portugal
Planning a trip to Portugal soon and want to keep reading?
You can browse our many Portugal blog posts here, or check out these guides: